Happy Monday lovelies! I am absolutely thrilled to be blogging this beautiful wedding with you on today; full of gold, glitter and the most wonderful dress, all complimented by a stunning venue, it is absolutely guaranteed to lift your spirits and smooth away any Monday blues. Let me whisk you away through our elegant wedding blog to sunny Somerset.
Model Thea, and her groom Andy, a creative Director for a marketing company, married in a whirl of tulle and laughter at the very lovely Kilver Court, Somerset on the 27th of September last year.
"The style of the wedding evolved several times as we were planning it, but I always wanted to keep it a bit glamorous and with a reference to the beautiful garden outside. I've always been a bit of a magpie, so twinkly elements were a must! We ended up with a sort of glamorous fairy tale dinner party theme."
Photography by John Barwood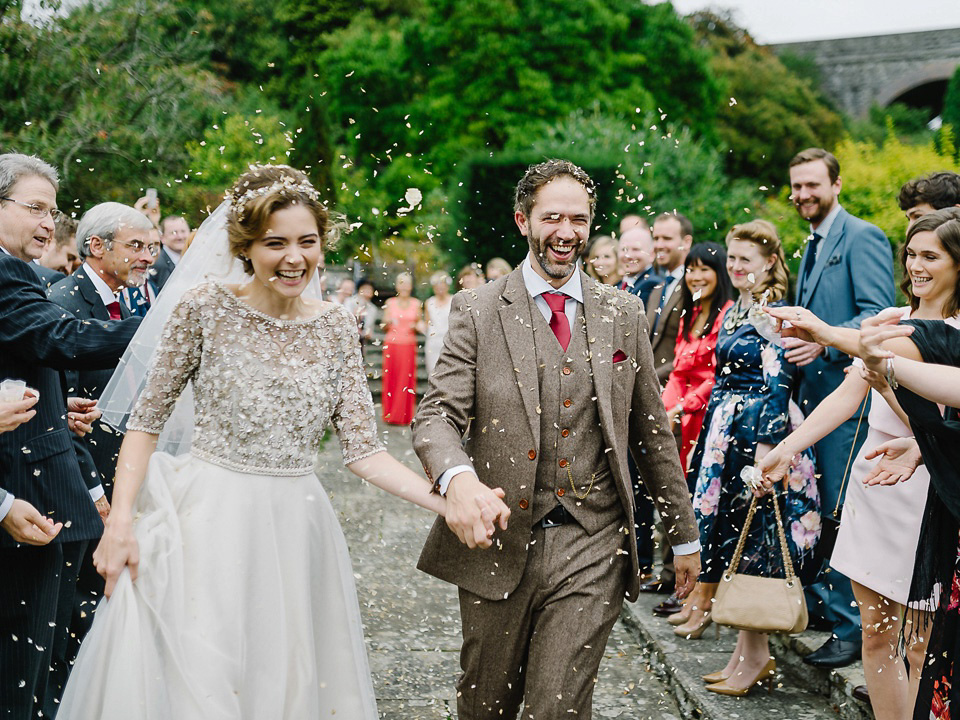 If you are feeling like you have seen Thea somewhere before, then you are probably right, as our beautiful bride is the current face of Halfpenny London's 2014 and 2015 dress collections, so has plenty of experience in front of the camera in a swishy white frock! It's a real privilege to see her in her very own bespoke wedding dress in these beautiful images by friend and photographer John Barwood.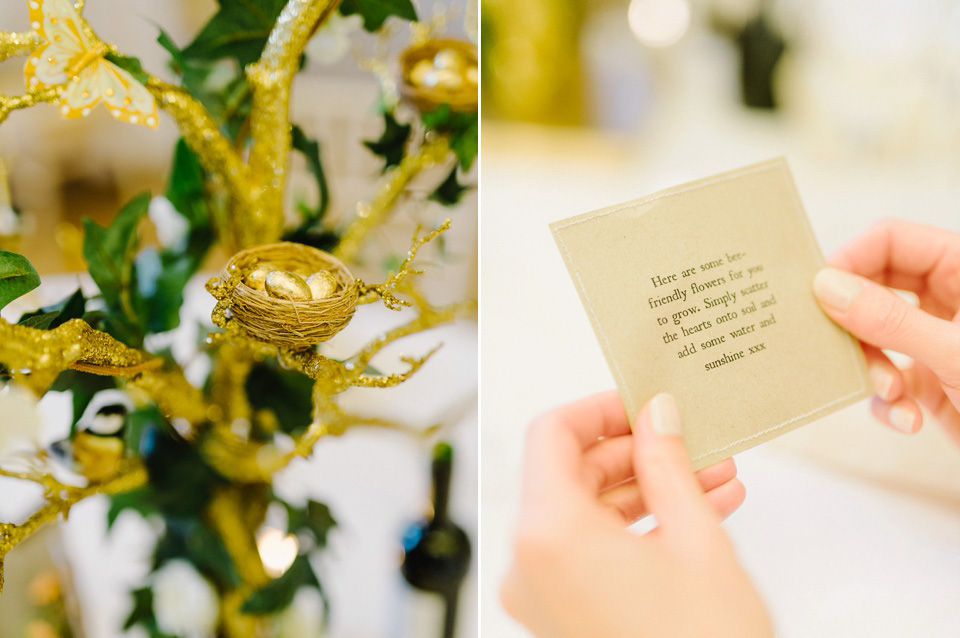 As the face of the Halfpenny London 2014 and 2015 collections, Thea had no problem deciding who would be the creator of her own wedding attire.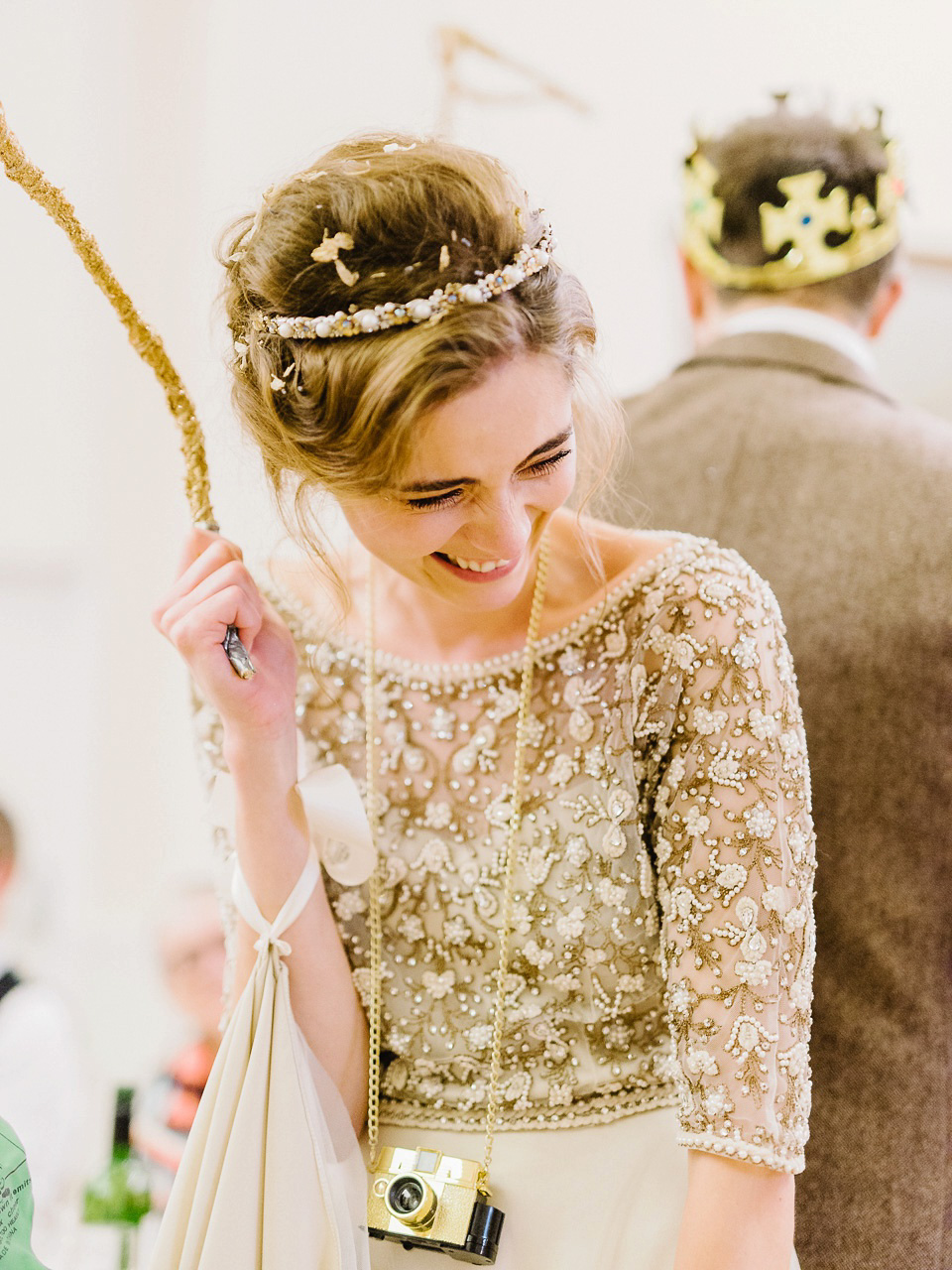 I'm such a fan of Kate's work- the material and detailing are always exquisite, and outside of the wedding world she has been involved in some really exciting projects. Serious talent.

"Our photographer was our friend and usher John Barwood who we met through our friend and bridesmaid Sophie (his wife and photography partner). There is something very special about having a friend take your wedding photographs (although I think Sophie and John are the sort of couple you feel friends with the moment you meet them!) and we had always loved John's style of photography; the natural way he captures couples and the beautiful landscape shots.
We knew we didn't want too many staged photos and John and Sophie are amazing at catching all the moments throughout the day in a more spontaneous and subtle way."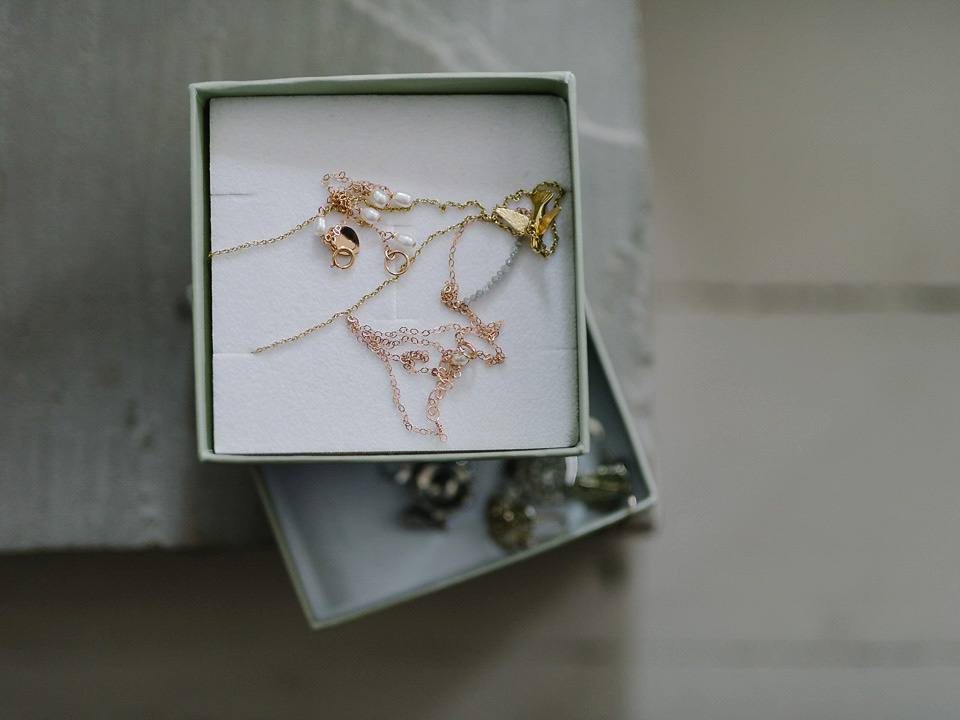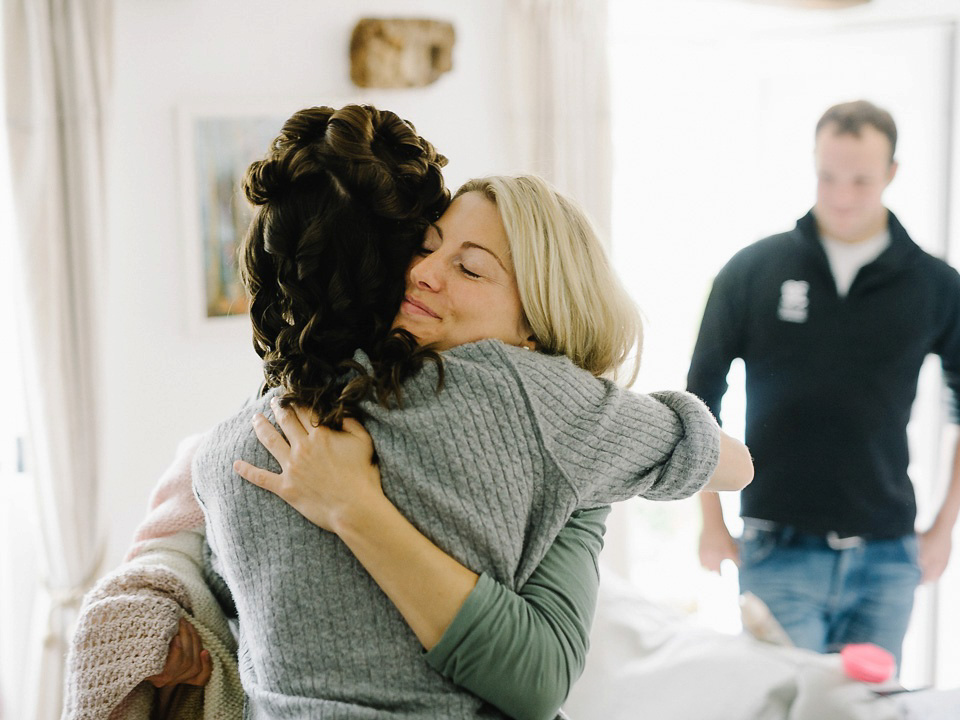 "My friend Sai Bennett offered to do my hair and make up, which was incredibly generous of her and also life-saving as until that point I was planning on doing it myself (completely underestimating what a teary mess I would be on the morning of the wedding!). She was amazing, and also the perfect calming influence at such an emotional time."
Thea finished her look with small diamond earrings and bracelet, a squirt of Molecule 01 by Escentric Molecules and a delicate pearl and crystal tiara. Perfection.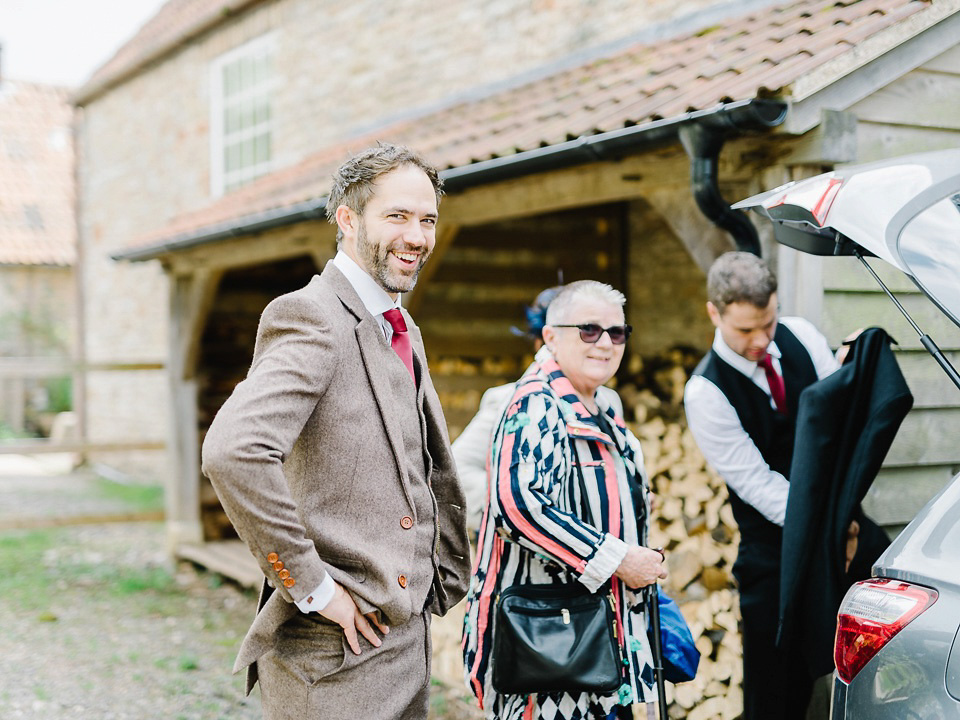 "A mutual friend introduced me to Kate as he knew she would be the perfect choice. He was right – the minute I walked into her beautiful showroom in Bloomsbury and met her I knew she would create the most incredible dress. Her designs have that perfect blend of vintage style, femininity and glamour, and she has an innate feel for what you want and what will look good on you.
I also loved how all of her pieces are made by hand in her studio underneath the showroom; she has the most wonderful team working for her and it is very special being able to meet the people who are actually putting your dress together. I've since worked with her on two of her shoots, and it was such a treat being able to wear all of her dresses!"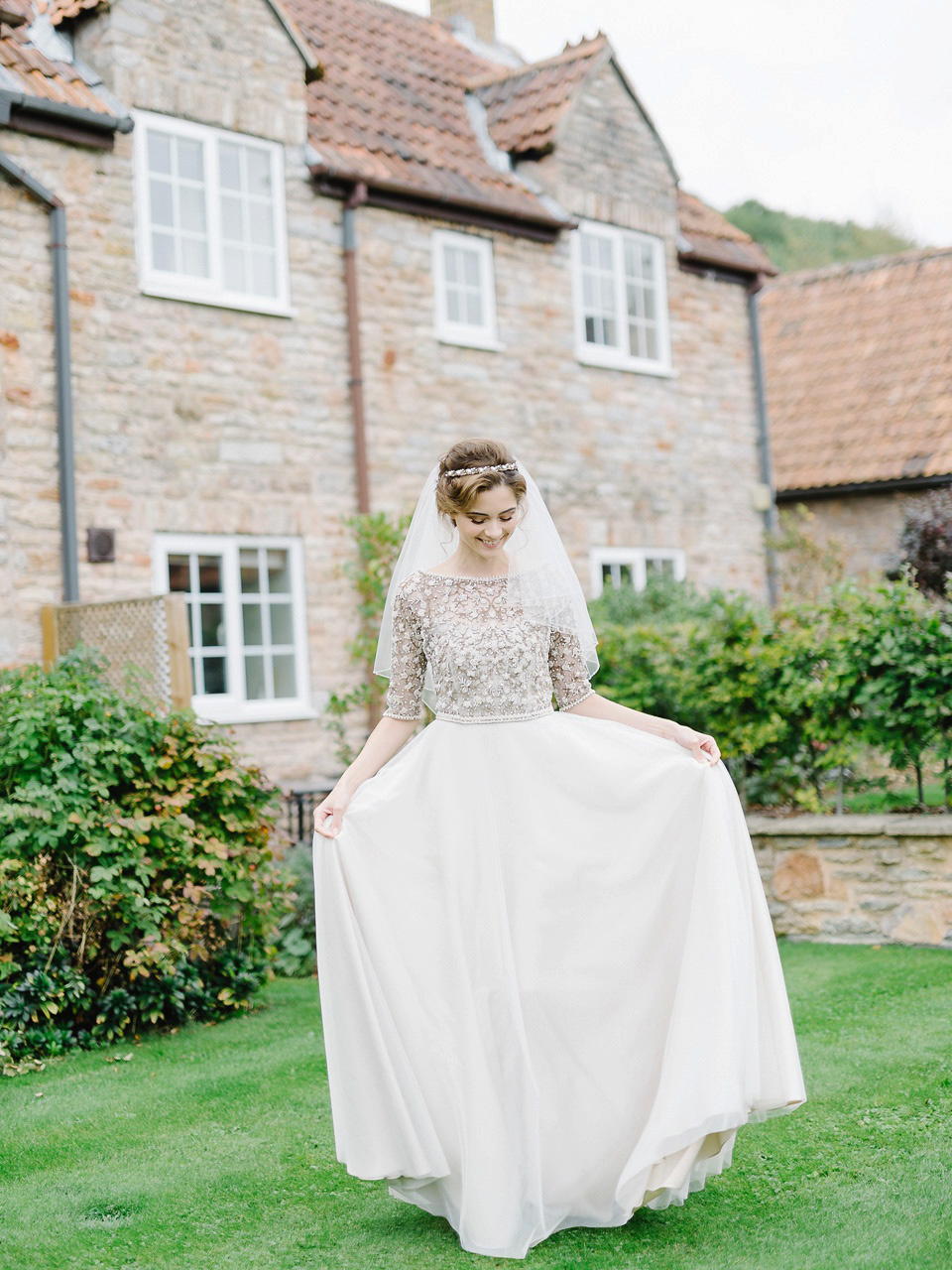 "Kate designed a bespoke dress for me based on some rough ideas I had about how it should feel on and how it should move. I knew I wanted there to be movement in the skirt so that it would be good for dancing, and nothing too restrictive so I felt free and comfortable throughout the day. She designed a slip dress with a very full skirt in a pale champagne silk, with two layers of tulle added from the waist down.
She then made a wonderfully sparkly hand-beaded lace top in gold with elbow length sleeves and an open back, which could be worn on top. I loved how this gave the dress two different looks: super glam and more simple. It moved beautifully, and the full skirt was so much fun to dance and twirl in!"
We featured designer Kate Halfpenny's own wedding on the blog in early June 2014, if you can spare a few extra moments- its well worth it!
"The bridesmaids all chose their own dresses. I really wanted them to feel comfortable in what they were wearing, so we decided on a colour scheme (white/cream) then I let them find something they liked. I loved the final result, each one in something different that reflected them. It also looked lovely having them in white as I was wearing more nude/champagne colours.
We all did their hair together on the day, which was so lovely- it felt like when we all used to get ready together before a night out. We plaited their hair into a crown around their heads and wove in gold thread, flowers and small diamantes."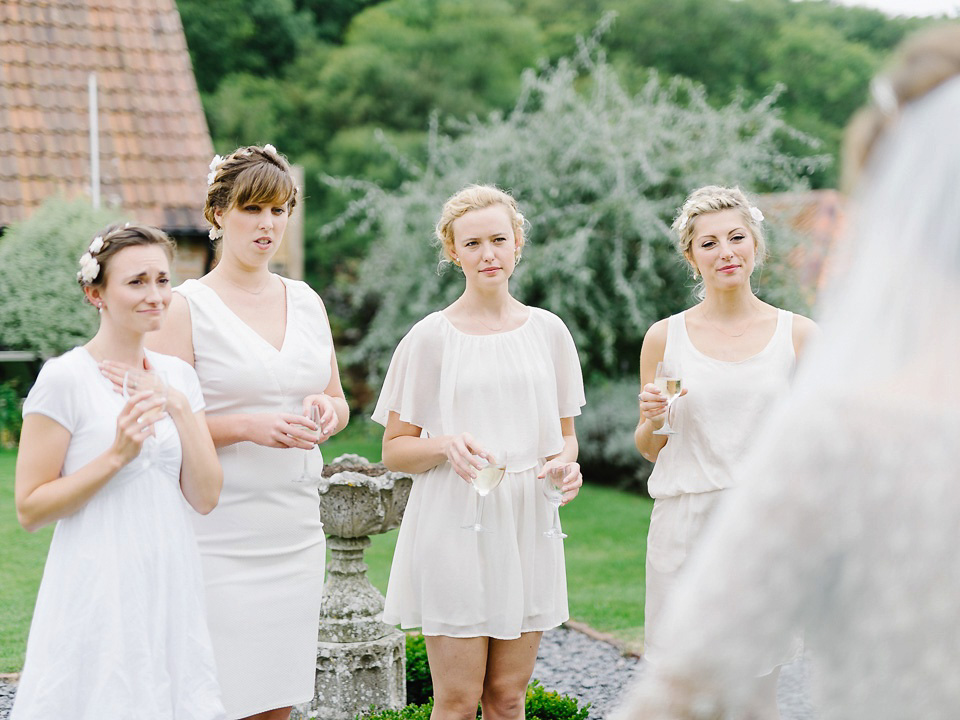 Neither Thea nor her maids carried bouquets, and so Thea gave her girls small gold bags to carry, filled with little useful things, and also gifted each lady a rose gold necklace, threaded with little diamond beads, to match her own bracelet. Each bridesmaid wore white or nude shoes and Thea also gave them each a pair of glittery gold slippers for when their heels became too much.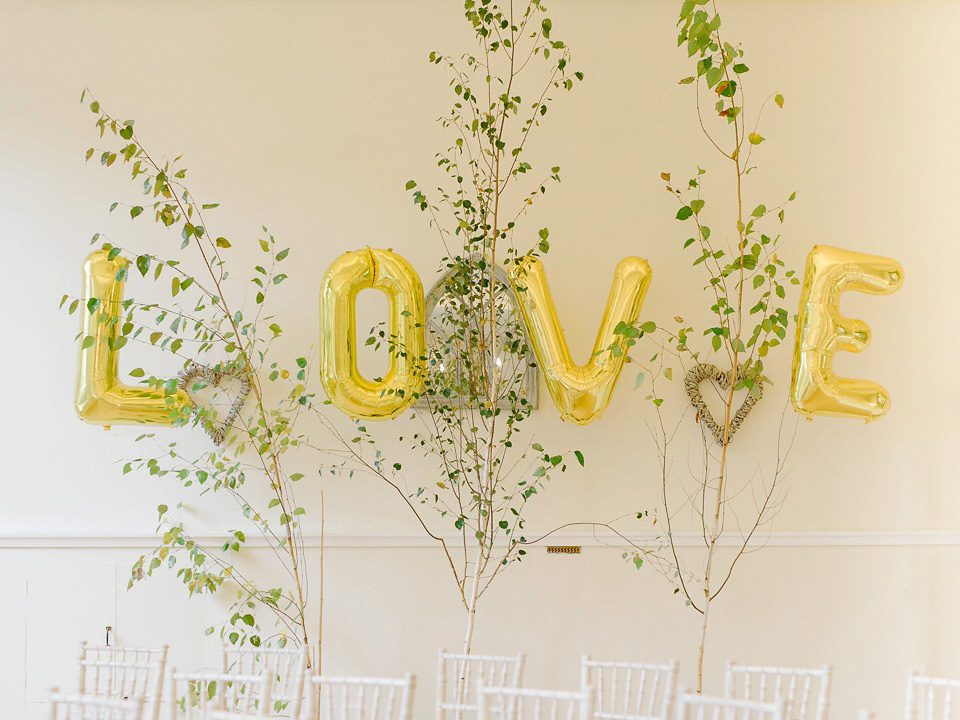 "We had been friends for ten years before anything more serious happened. Although there had always been chemistry between us, neither of us was very good at letting the other person know we liked them! Eventually, on New Year's Eve five years ago, our mutual friend Sophie (who is married to the lovely John who took our wedding photographs) took matters into her own hands and we've been inseparable ever since. Three years later, Andy took me to Carcassonne in France for my birthday and proposed on our candlelit balcony overlooking the city."
Andy wore a three-piece brown tweed suit from Victor Valentine with a white shirt, brown brogues and a burgundy tie and pocket square. He looks quite the country gentleman!
"He wanted something quite traditional but cut in a modern way, and this fitted the bill perfectly."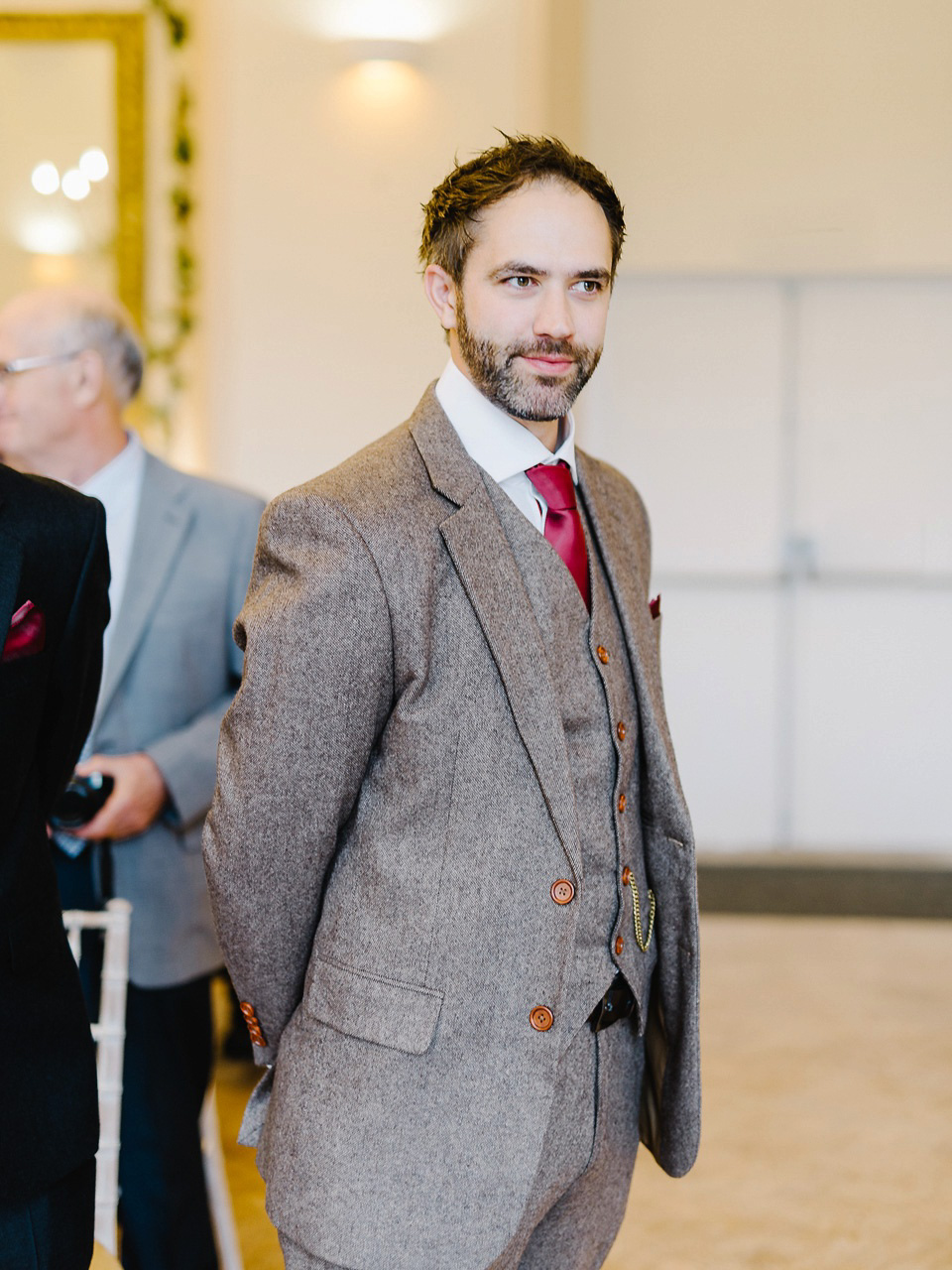 Thea walked down the aisle with both her Mum and Dad to Pachelbel's Canon in D- a traditional and very beautiful choice of music.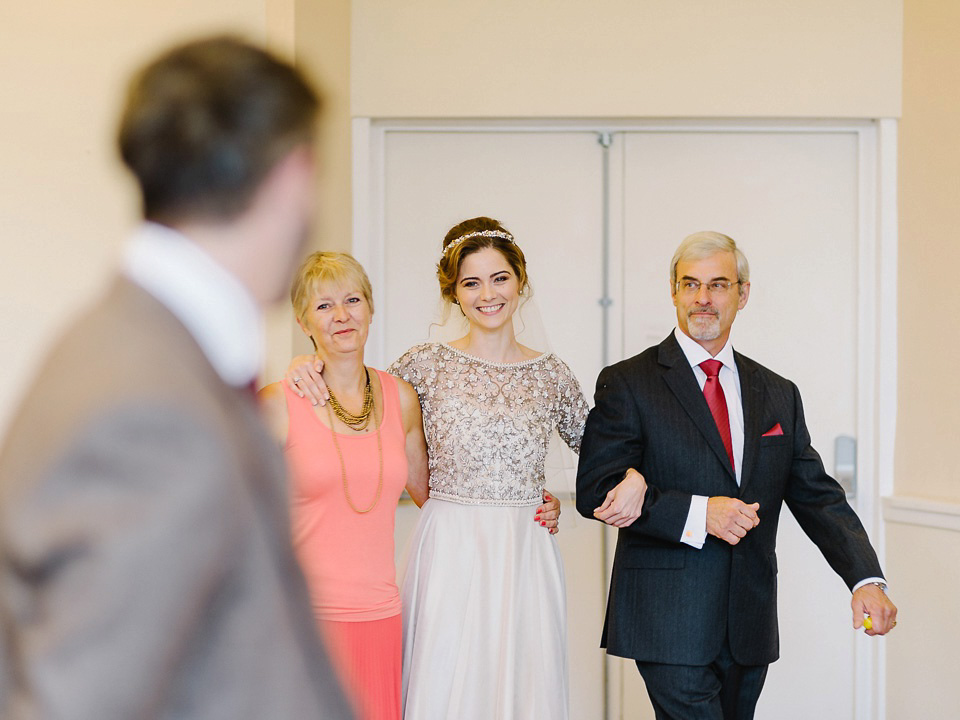 Bride and groom wrote their own vows, and for Andy's wedding present, Thea had a version of hers engraved onto a copper card for Andy to keep in his wallet- how lovely.
"Andy had a platinum band from Hatton Garden and I had a rose gold ring made in America with an orange blossom design engraved on. The engagement ring is in white gold, and I liked the contrast between the two metals, as well as the femininity of the flower design."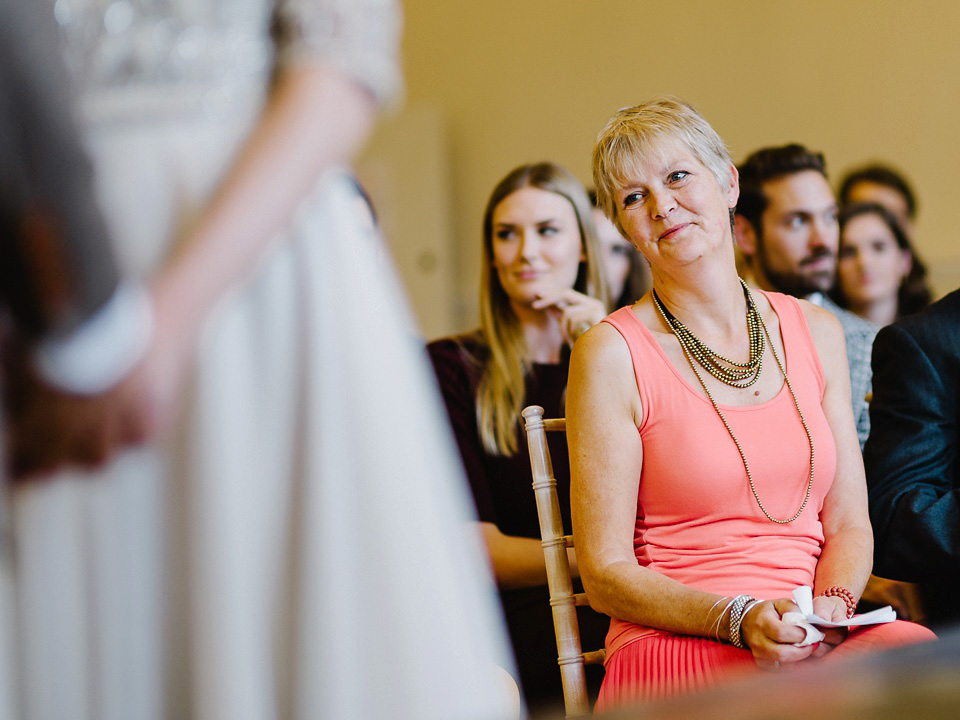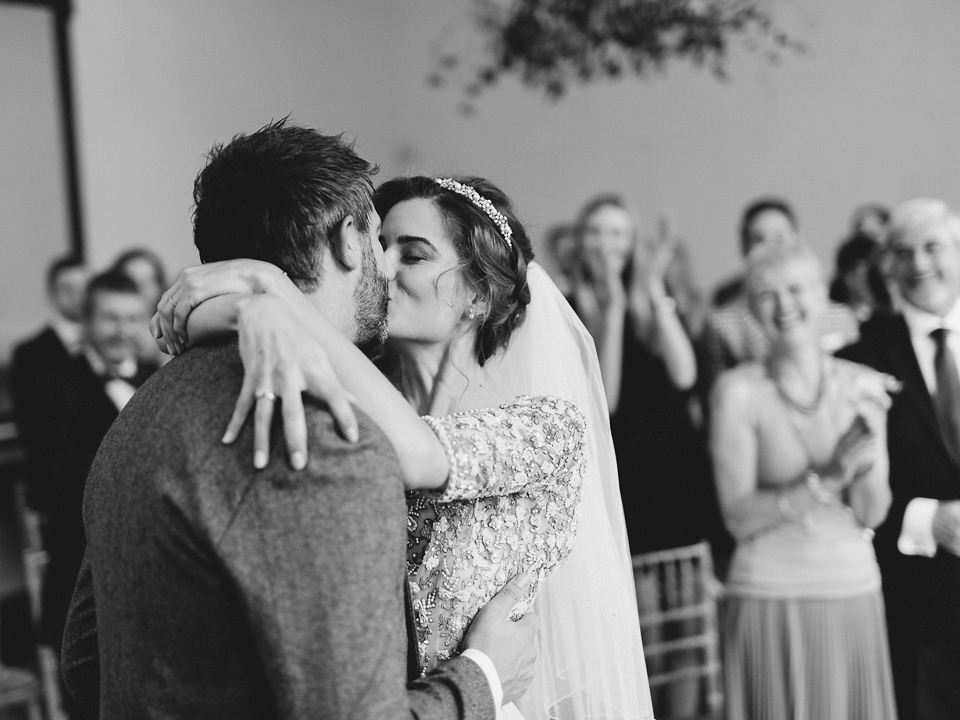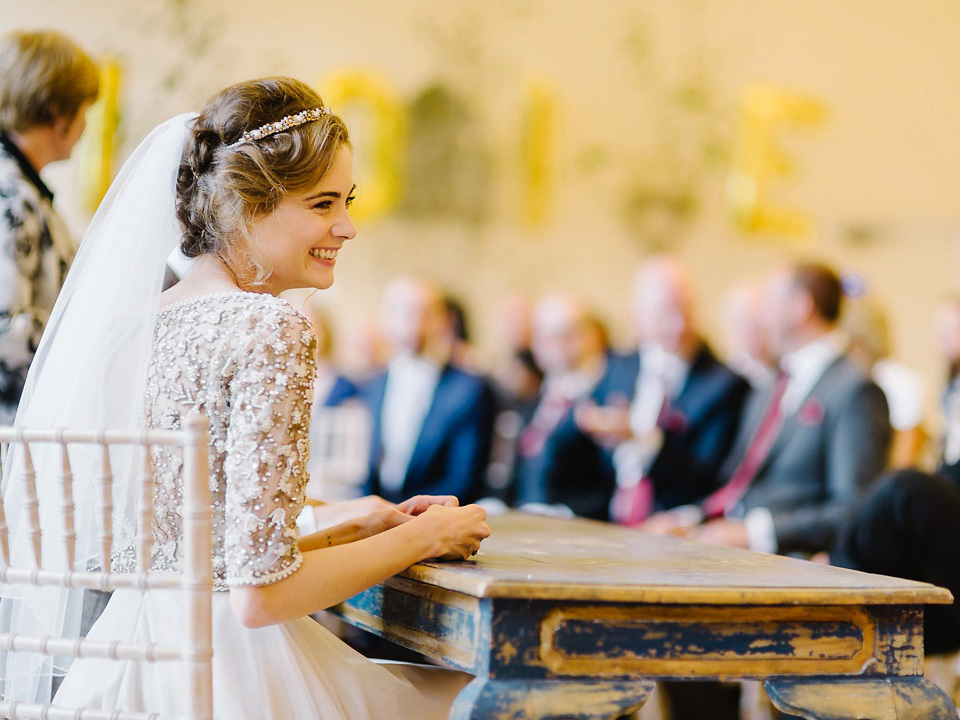 "The ceremony itself was definitely one of my favourite parts. I had been so nervous waiting outside, far more so than I had expected! I think all the weeks of planning had built up inside and I was realising that This Was It.
However, as soon as I walked through the door into the ceremony room the nerves completely disappeared. The ceremony itself was full of laughter, and a few tears! It was wonderful and an amazing start to our marriage."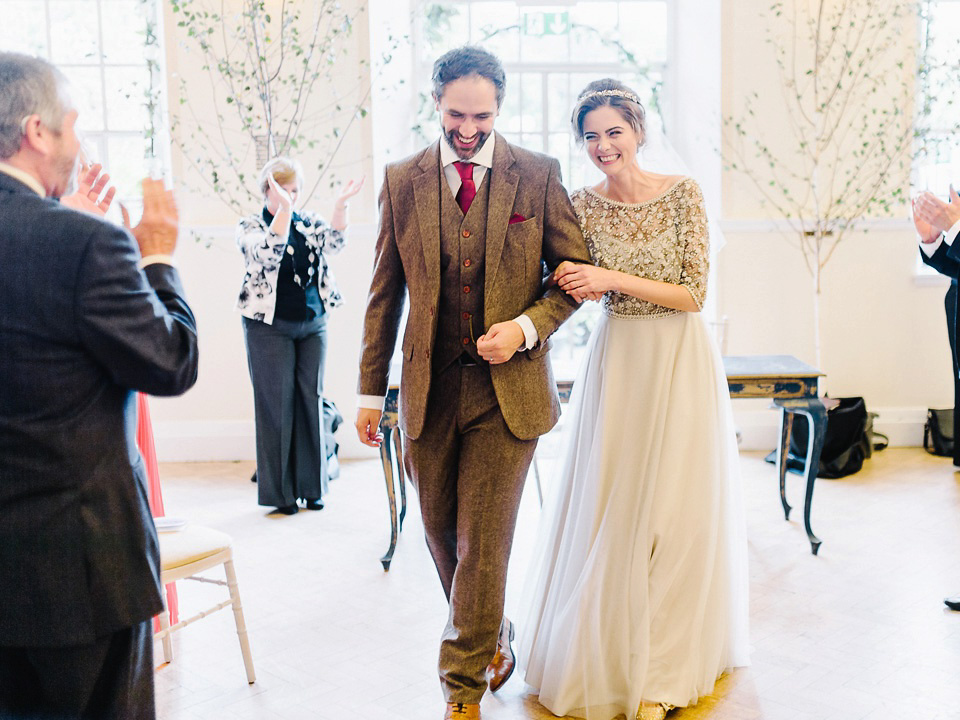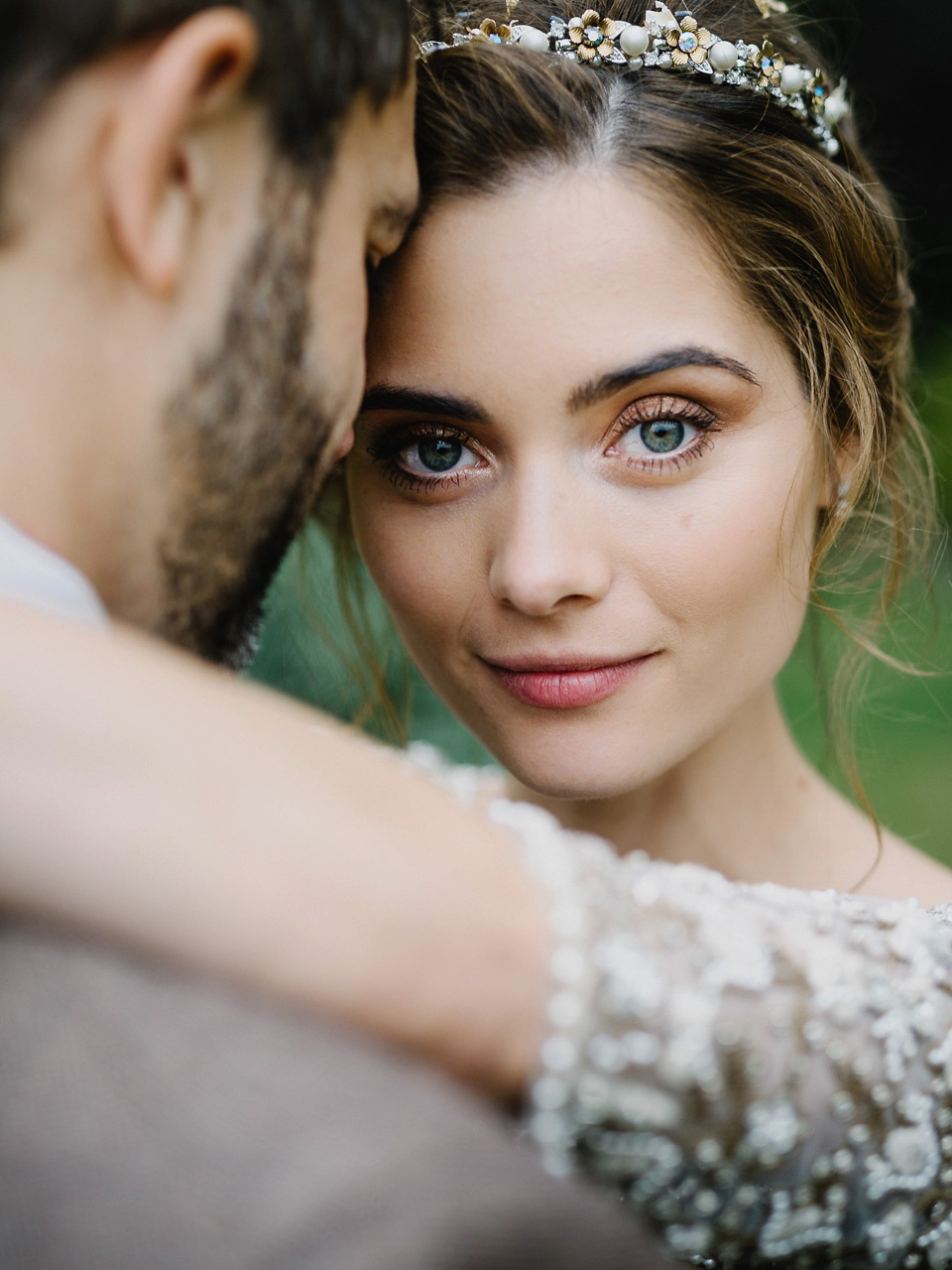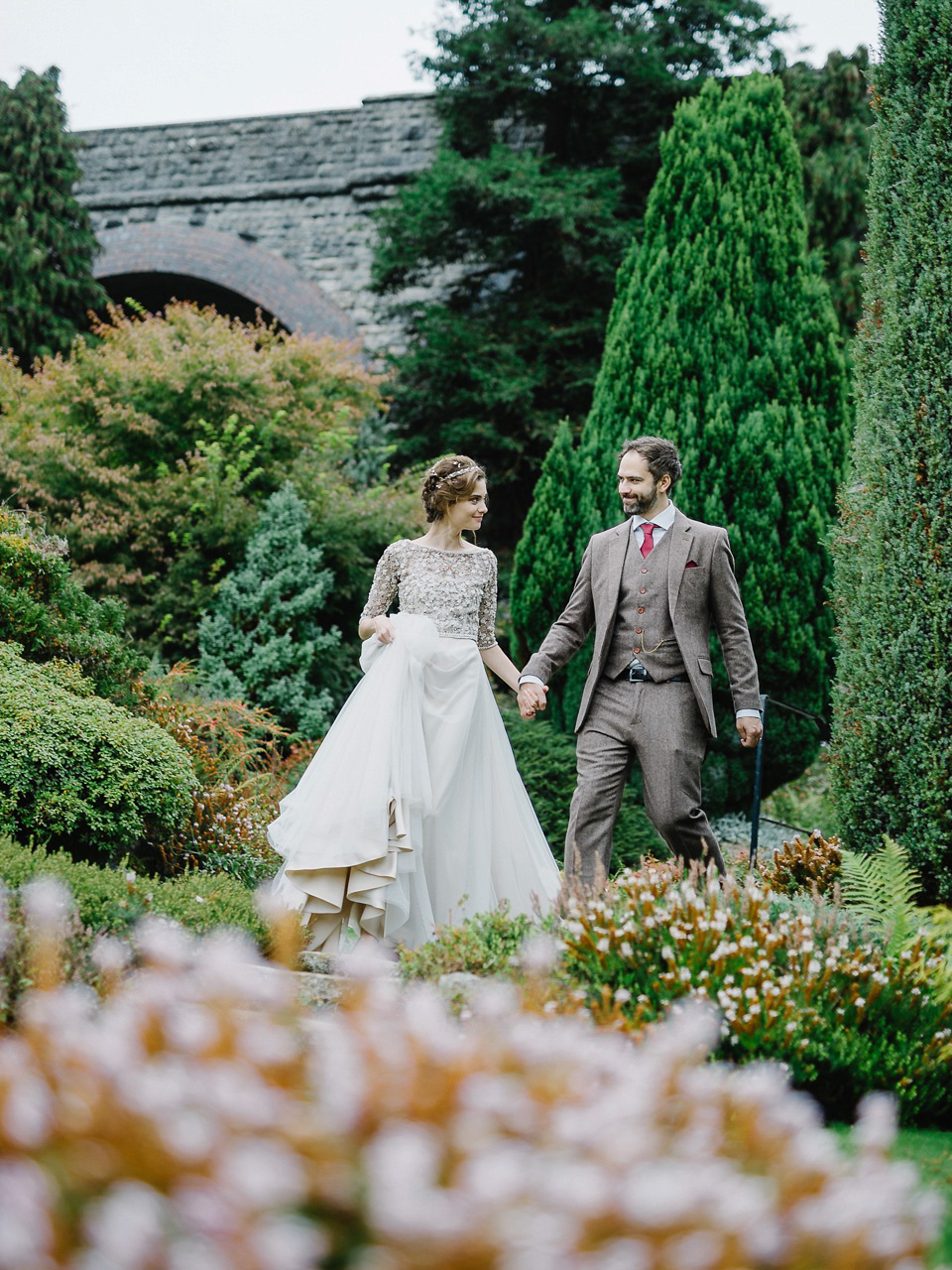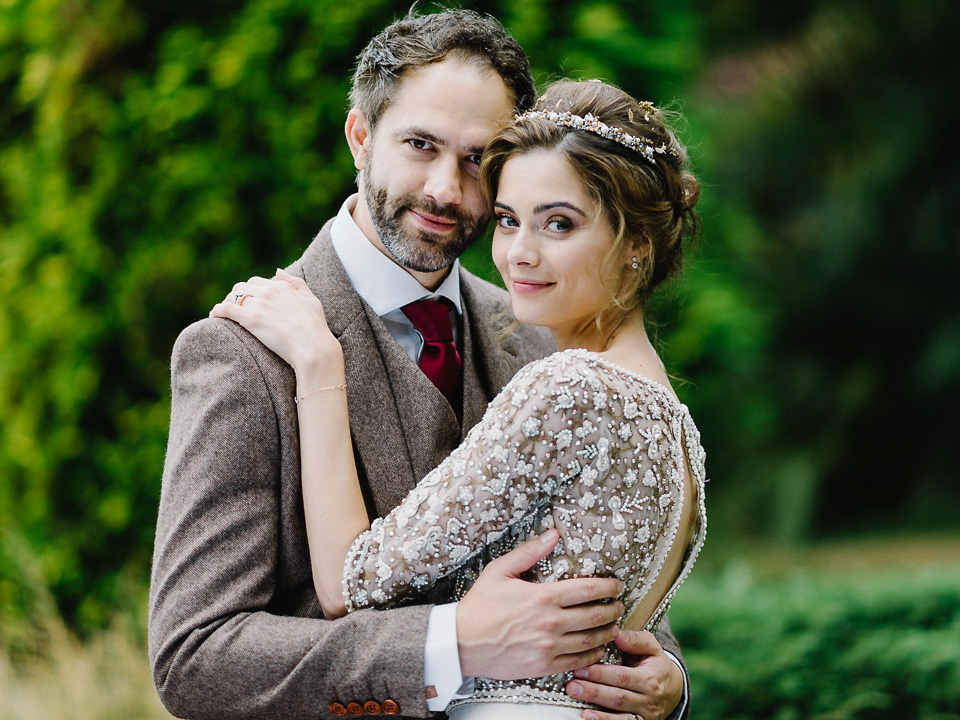 "We had been venue hunting for months, but when we found Kilver Court it just felt perfect. There was one main room with huge arched windows overlooking the most beautiful garden with a lake and a towering viaduct in the background. It's called the Secret Garden of Somerset, and you can see why. There's a real sense of it being hidden away from the world, and the garden itself is full of little paths leading off to secret places.
All of the people we met who worked there were so friendly, and we knew it would be a lovely place to get married."
The effort which went into the styling of this already beautiful venue is truly incredible, and it was all accomplished by Thea and her Mum!
We made all of the decorations ourselves, and my mum and I had three very busy weeks leading up to the wedding piecing everything together!
We had garden archways in each window and alcove of the main room, which we covered in artificial leaves and white roses and as the centrepiece of each table, there was a gold glittery Manzanita tree, which we covered in ivy and silk flowers, and then attached tiny nests with gold foil eggs inside, small birds and butterflies.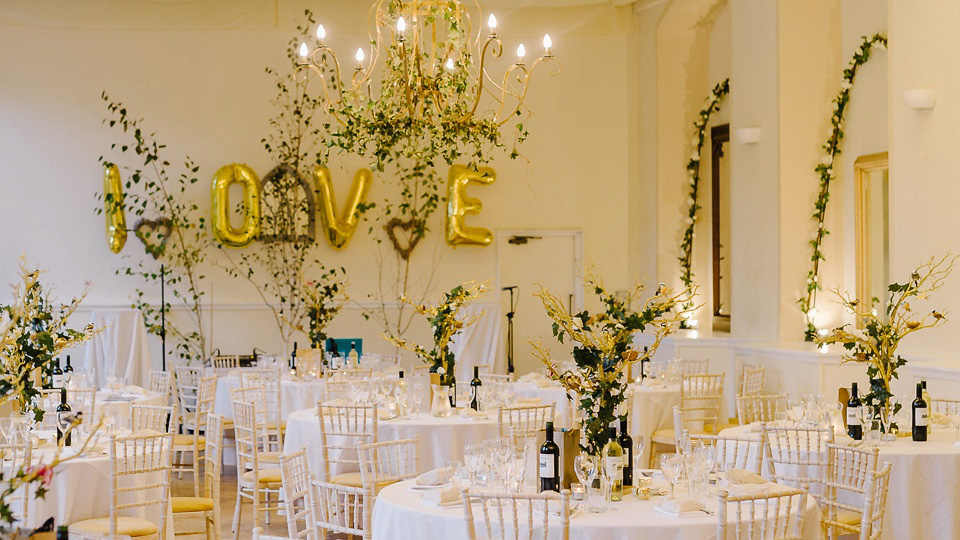 "We covered each table in glittery tulle, which unfortunately then came off on everyone (so I wouldn't recommend doing that again even though it looked amazing!) and I collected lots of glass tea light holders which went on each table, and my mum ordered several Diptyque candles in Rose to place throughout the room.
We also hung small lanterns all along the bridge in the garden, had small heart balloons filled with helium and attached to a balustrade outside the main door, two giant white balloons outside in the garden lit from within by tiny LED lights, and finally four giant gold balloons inside the room spelling out LOVE."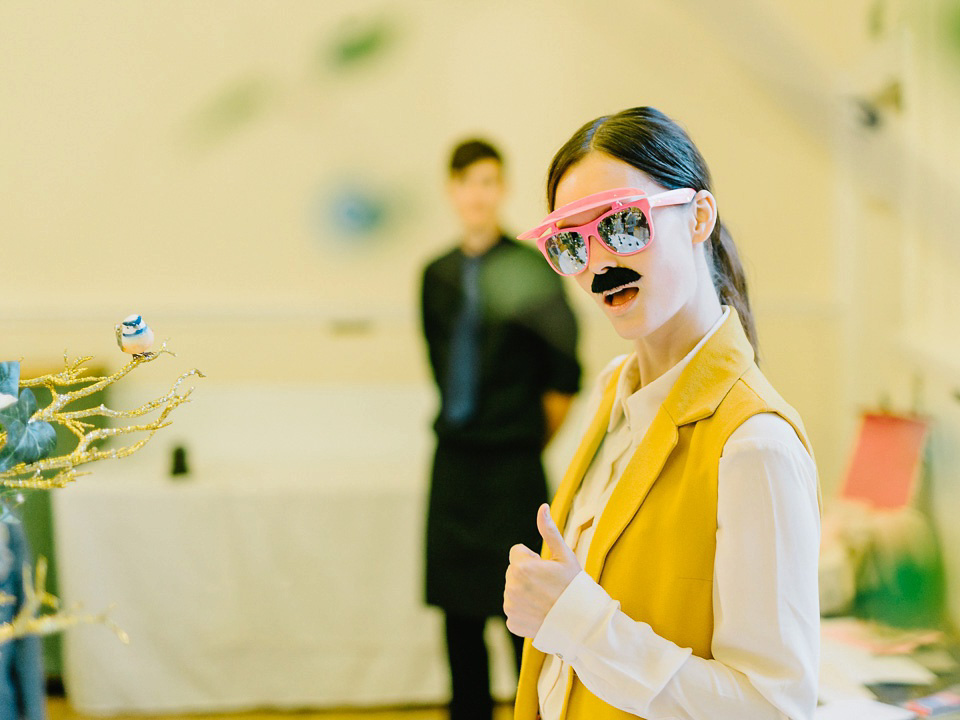 "The food was provided by Fosters Events. They served wonderful canapés (such as miniature fish and chips, and roast beef in tiny Yorkshire puddings) straight after the ceremony, and then we had tagine for the wedding breakfast, cooked in massive copper pans in the courtyard."
"We wanted people to have lots of fun, so we made up party bags for each guest with Kinder eggs, sweets, fortune cookies and little personalised seed packets inside. We then added fancy dress bags to each table, which doubled as the table numbers, with things like gold temporary tattoos, flower crowns, tiaras, stick-on moustaches and silly glasses inside. They seemed to go down very well, and Andy ended up wearing his gold crown all night!
We made the cake ourselves, with help from Andy's mum. She made us a fabulous fruitcake for the bottom layer, and we then added a chocolate sponge with Cointreau ganache filling for the middle tier and a lemon drizzle for the top. We decorated all the layers in white icing and then added edible gold lace on top."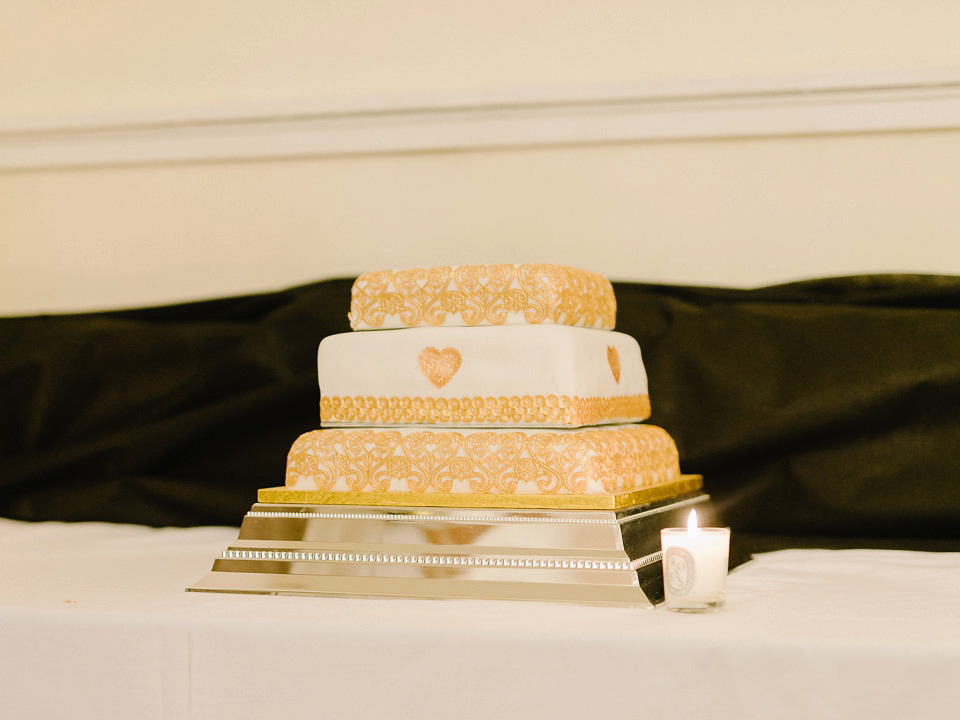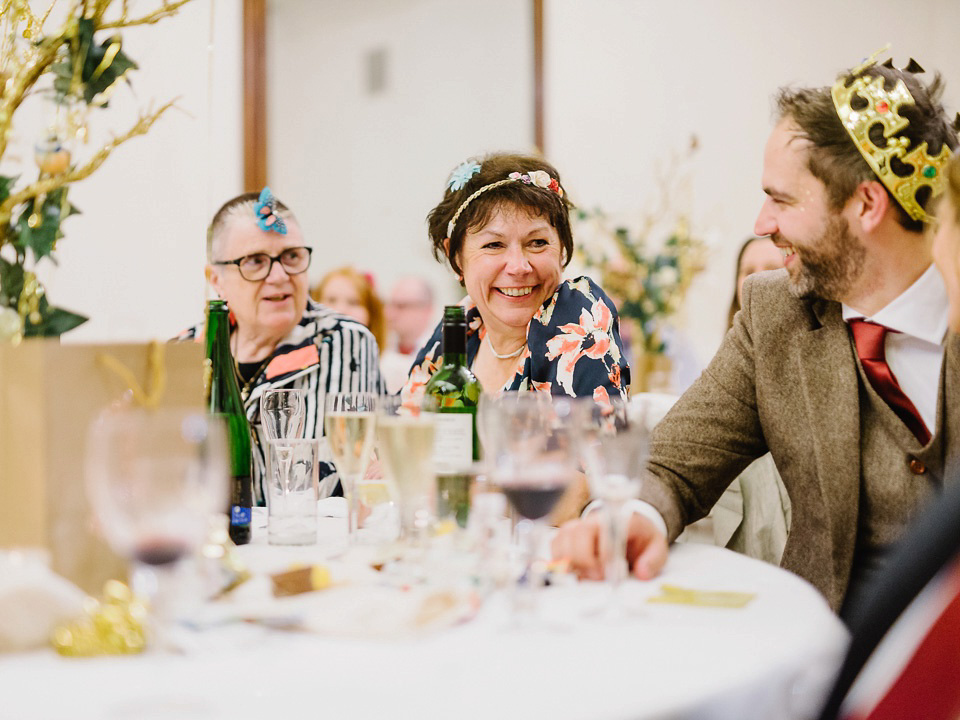 "We had fallen in love with Etta James' 'At Last' and thought it would make a perfect final song. There was something really lovely about doing a last dance instead of a first dance, as everyone was very relaxed by then, the intensity of the day had abated a bit and we could really enjoy that final dance together in front of all of our friends and family."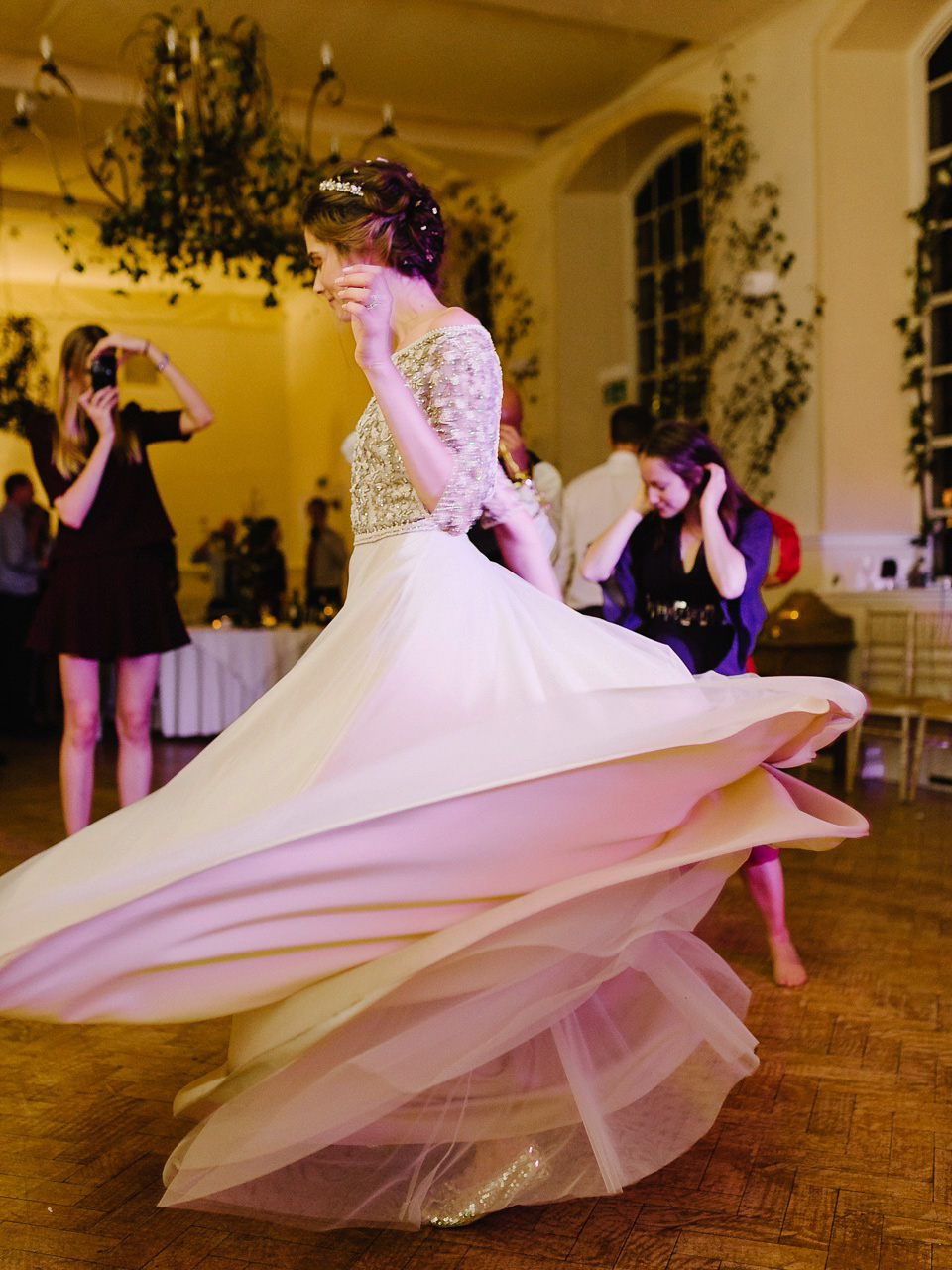 Instead of a traditional first dance, the couple decided on a last dance instead, and I love their reasoning behind it.
"John's friend Martin was our DJ and did an amazing job, keeping us dancing all night! He brought all the lights, speakers and microphones with him too, and created a brilliant atmosphere. The only organized activity we did was releasing flying lanterns into the night sky, which looked completely magical and I think was many people's favourite part of the day."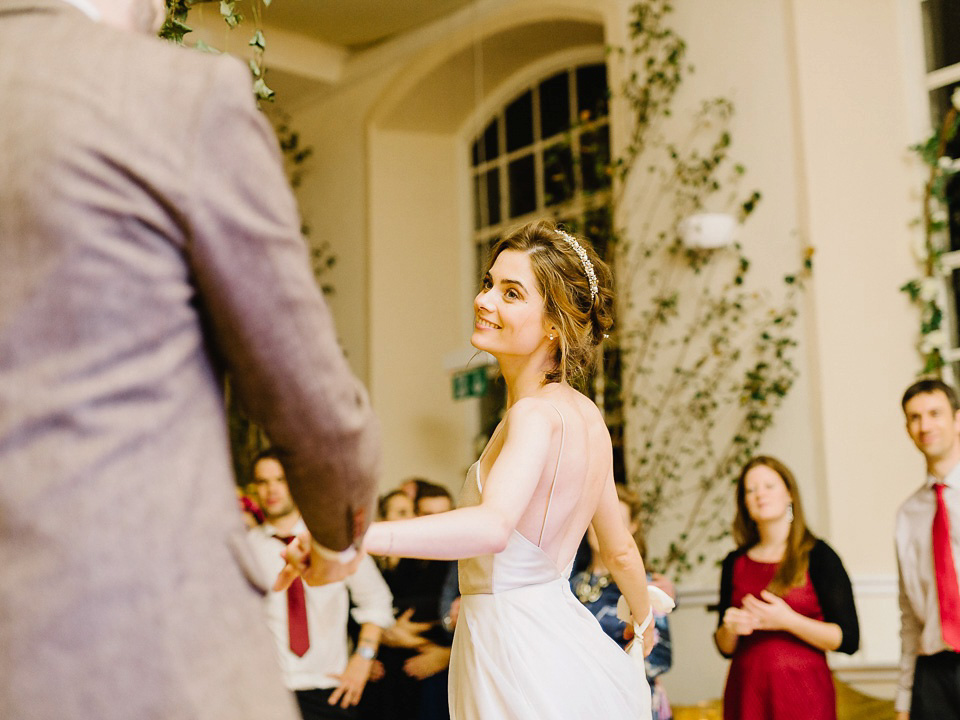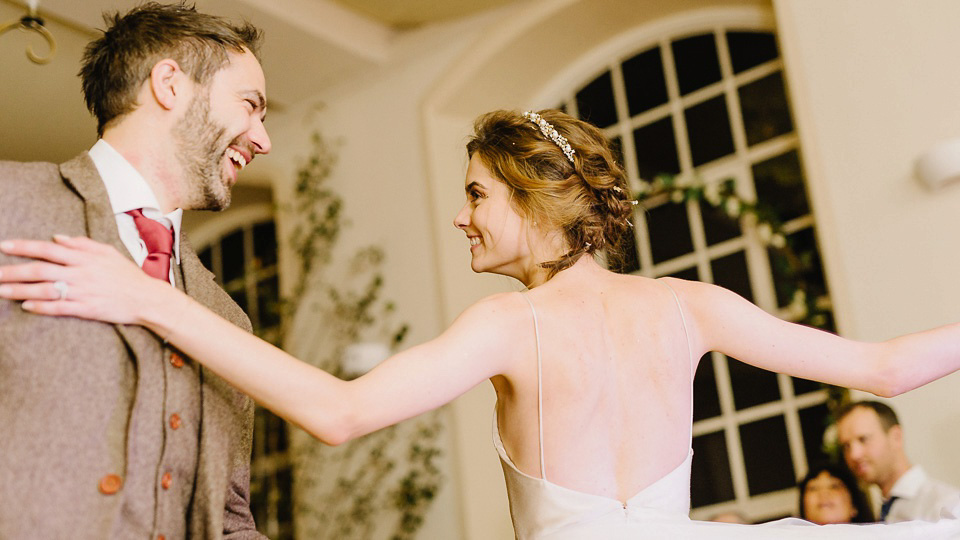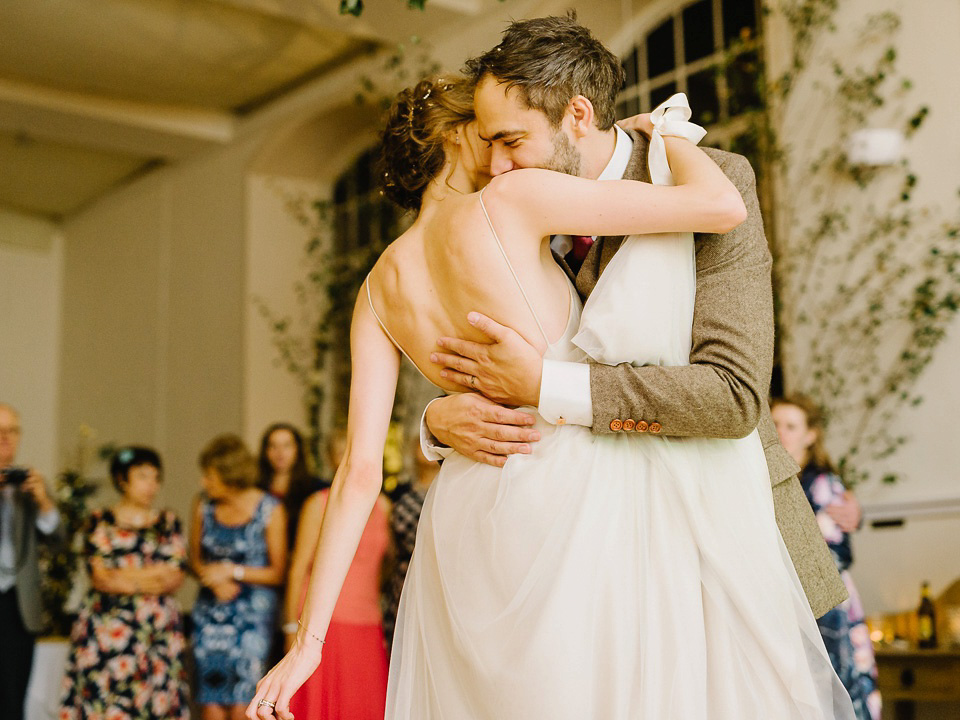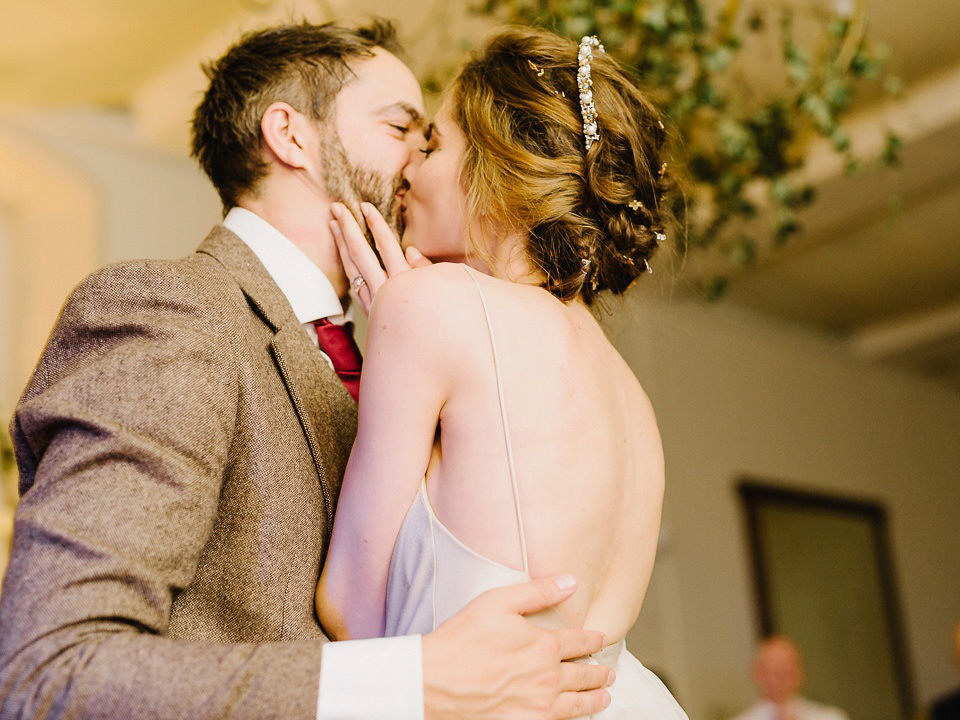 Words of Wedded Wisdom
"Don't feel you have to follow any traditions if they don't suit you. I didn't have a bouquet and had both of my parents walk with me down the aisle as it felt more me. Andy and I also spent the night before the wedding together rather than apart, and it was so special to wake up with him that morning and have a couple of hours just us, giving each other letters and presents and preparing for the day.
Also, wedding planning can get very overwhelming and stressful if you're worrying too much about keeping everyone happy and entertained. Just remember, at the end of the day, people love weddings! They are your friends and family and they love you, so they are going to have a wonderful time.
Finally, keep a notebook with information in and start noting your finances immediately. When a catering company quotes £X amount for a bottle of wine, work out straight away how much that adds up to in total. We were quite shocked at how much the total bill was going to be when we calculated it a month beforehand and had to make last minute changes!"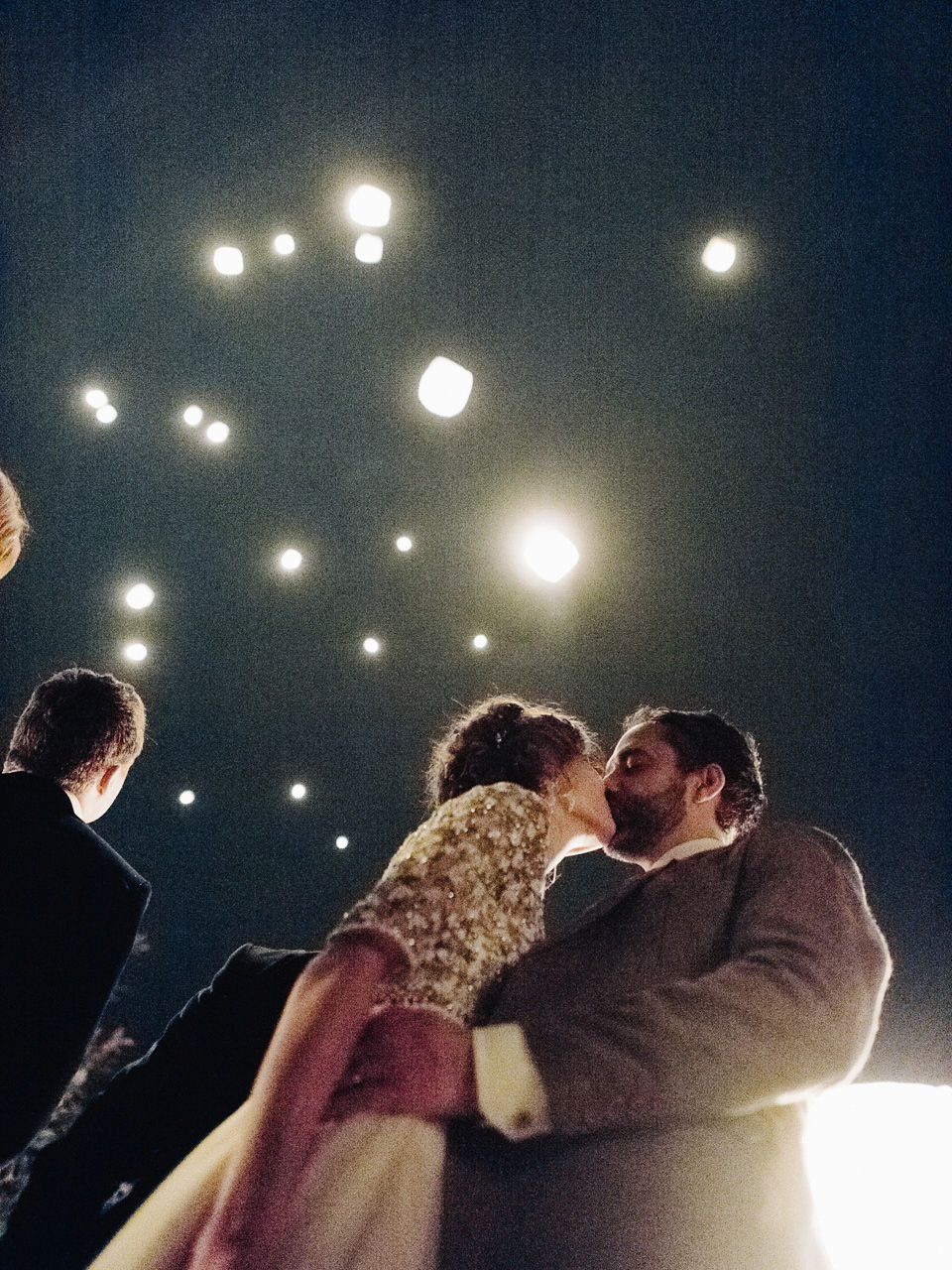 Thank you so much Thea and Andy, for sharing your beautiful day with us -it has been an absolute pleasure to feature, and of course thanks also to the very brilliant John Barwood for the gorgeous images. For another wedding by this gifted photographer, read this feature here, and for a look inside the fabulousness that is the Halfpenny London boutique, have a peek at this article.
I'll leave you to explore.
Much love,
Shona x
Photographer –  John Barwood Photography
Film – Day filmed by a family member
Venue  –  Kilver Court, Somerset
Wedding Dress – Bespoke by Kate Halfpenny, Halfpenny London
Veil –  Halfpenny London
Headpiece – Crystal and pearl tiara, given by Kate Halfpenny
Shoes – Benjamin Adams
Bride's Scent/perfume – Molecule 01 by Escentric Molecules
Hair and Makeup – Done by a friend
Accessories – Small diamond earrings in white gold, blue diamond bead bracelet
Groom's suit – Victor Valentine
Groom's accessories –
Groomsmen – Own suits, with ties to match Andy's
Bridesmaids dresses – All chosen by the bridesmaids
Cake – Made by the bride and groom, with help from Andy's mother
Entertainment – John Barwood's friend Martin DJ'd ([email protected])
Catering –Victor Valentine
Confetti – Shropshire Petals