Hello lovely people! I have a very stylish and elegant big day to share with you today, featuring the most gorgeous newlyweds, Adelle and James, and their two beautiful children. The couple's stunning nuptials took place on 18th October 2014 at Camden Town Hall, with the reception held at Trinity Buoy Wharf, London.
"We were given some great advice from Sarah at Trinity Buoy Wharf. She said to not overdo it! This led us down the path of choosing quite a muted palette, with lots of whites, creams, greys and blush."
Photography by Kat Green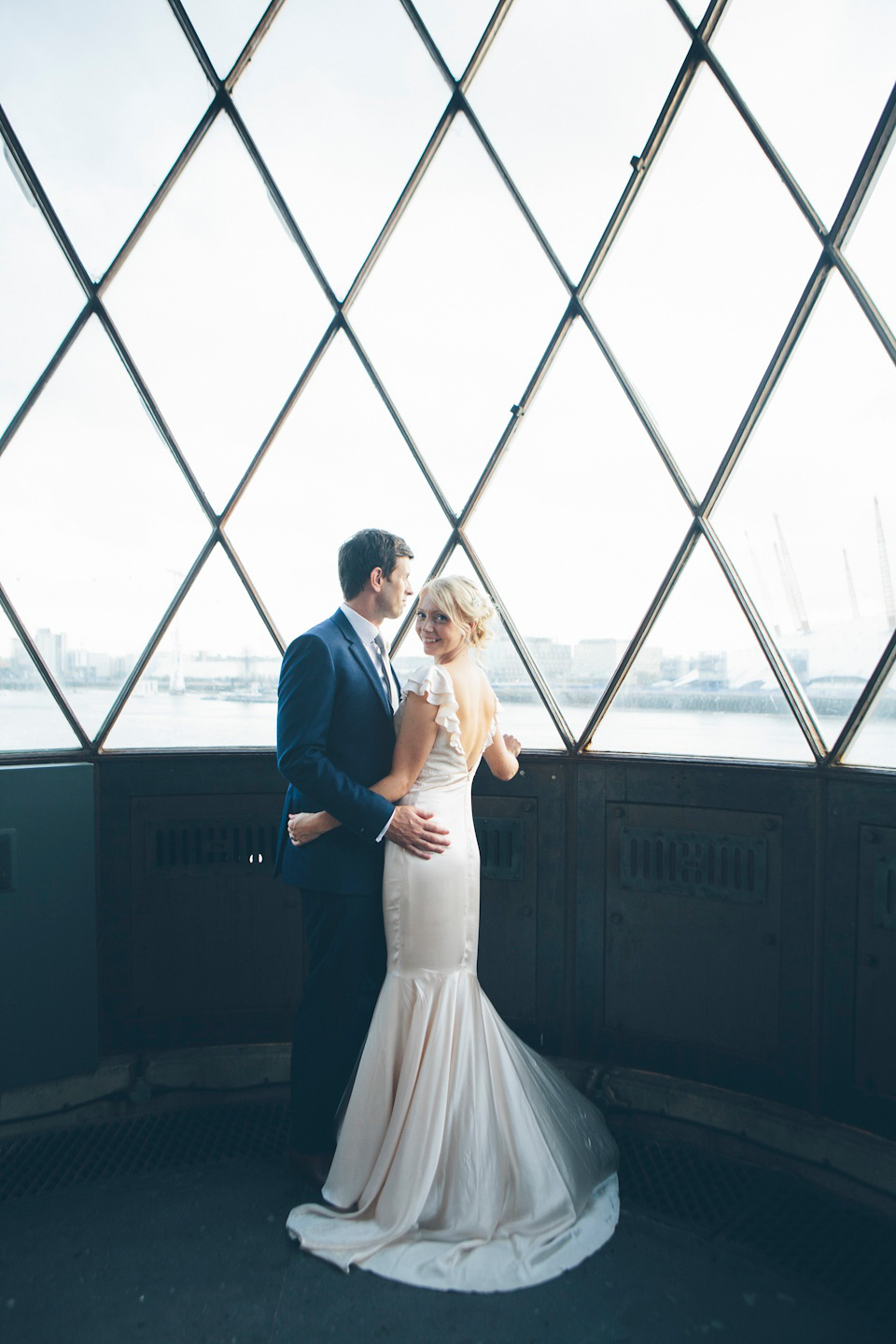 Adelle's stunning gown is 'The Pearly', by one of my favourite designers, Belle & Bunty. I adore the v-back and fluttery sleeves.
"I spent months looking on the internet for wedding dresses and settled on Belle & Bunty as the perfect designers for the style I wanted. I wanted something quite vintage looking, reasonably fitted and definitely not huge!"
"The Pearly was the first dress I tried on! The cut was amazing and the silk material was beautiful. I chose the blush rather than white as it was a bit different and seemed to suit my colouring more."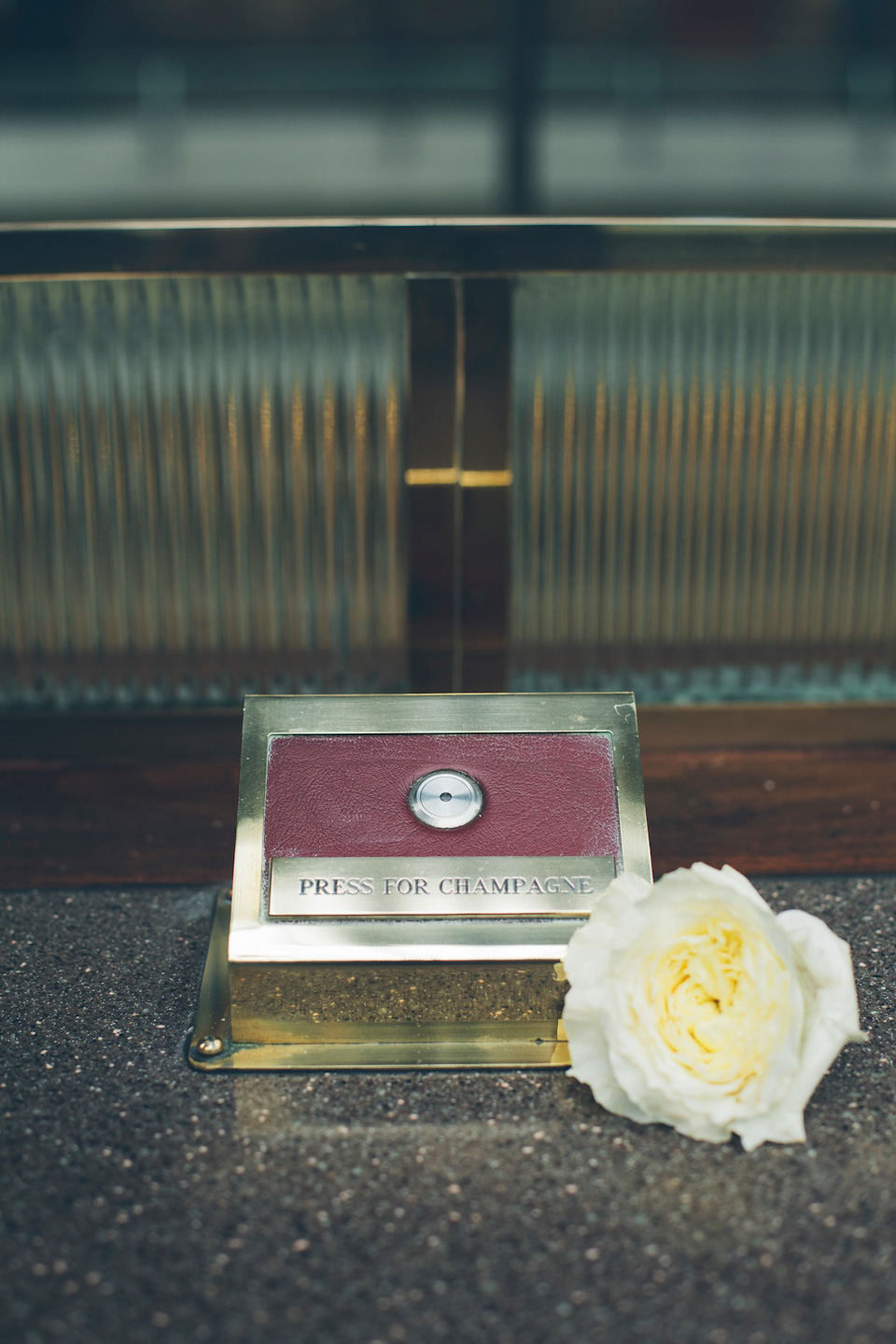 "I loved the fact Belle and Bunty dresses are all made here in the UK and they do multiple fittings to make sure the dress is a perfect fit."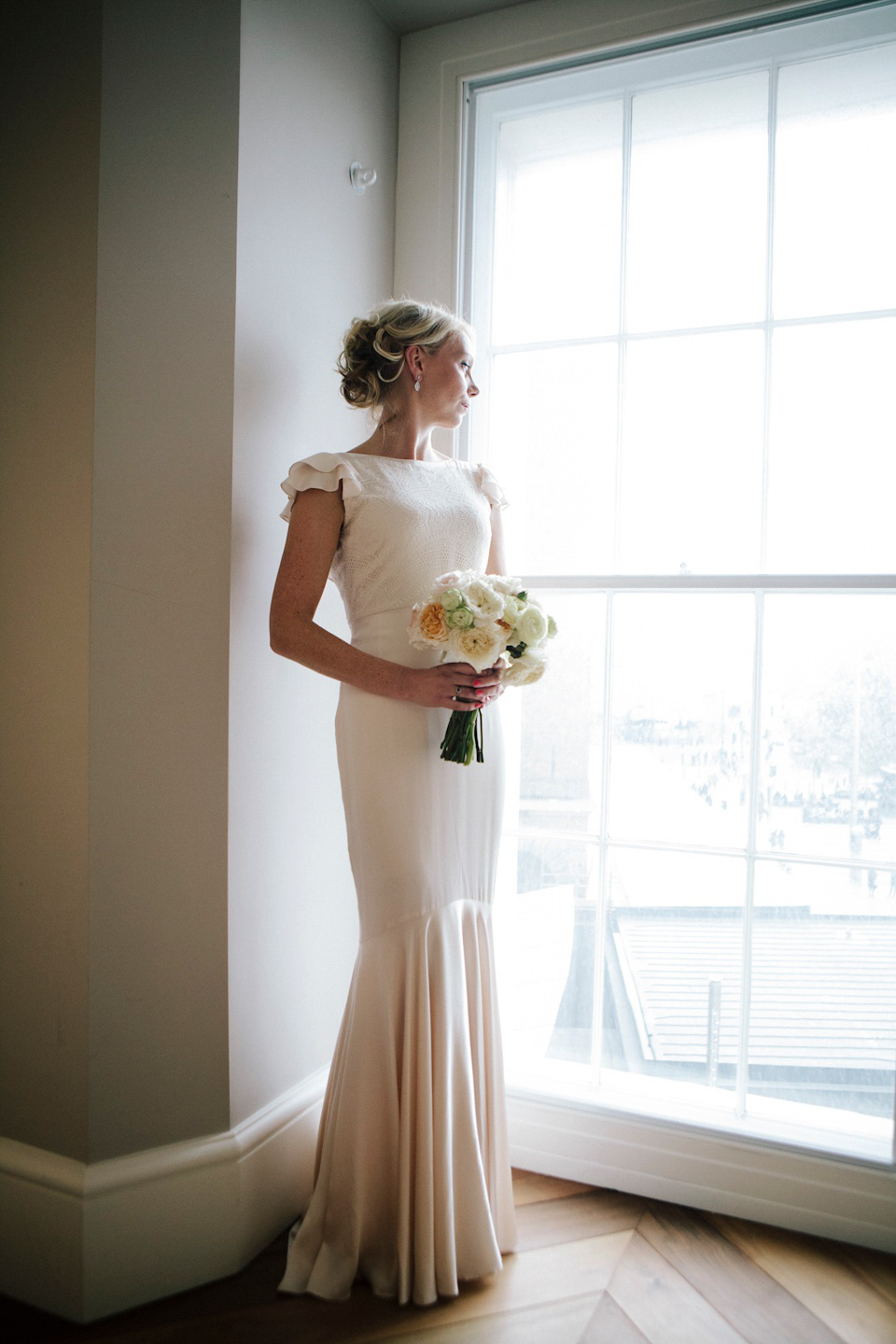 "We met over nine years ago when I worked with James' sister at the BBC. He turned up to her birthday party then won me over with a funny email at a later date. He took me to a gay bar in Soho for our first date and the rest is history! Two children later and we decided the time was finally right!"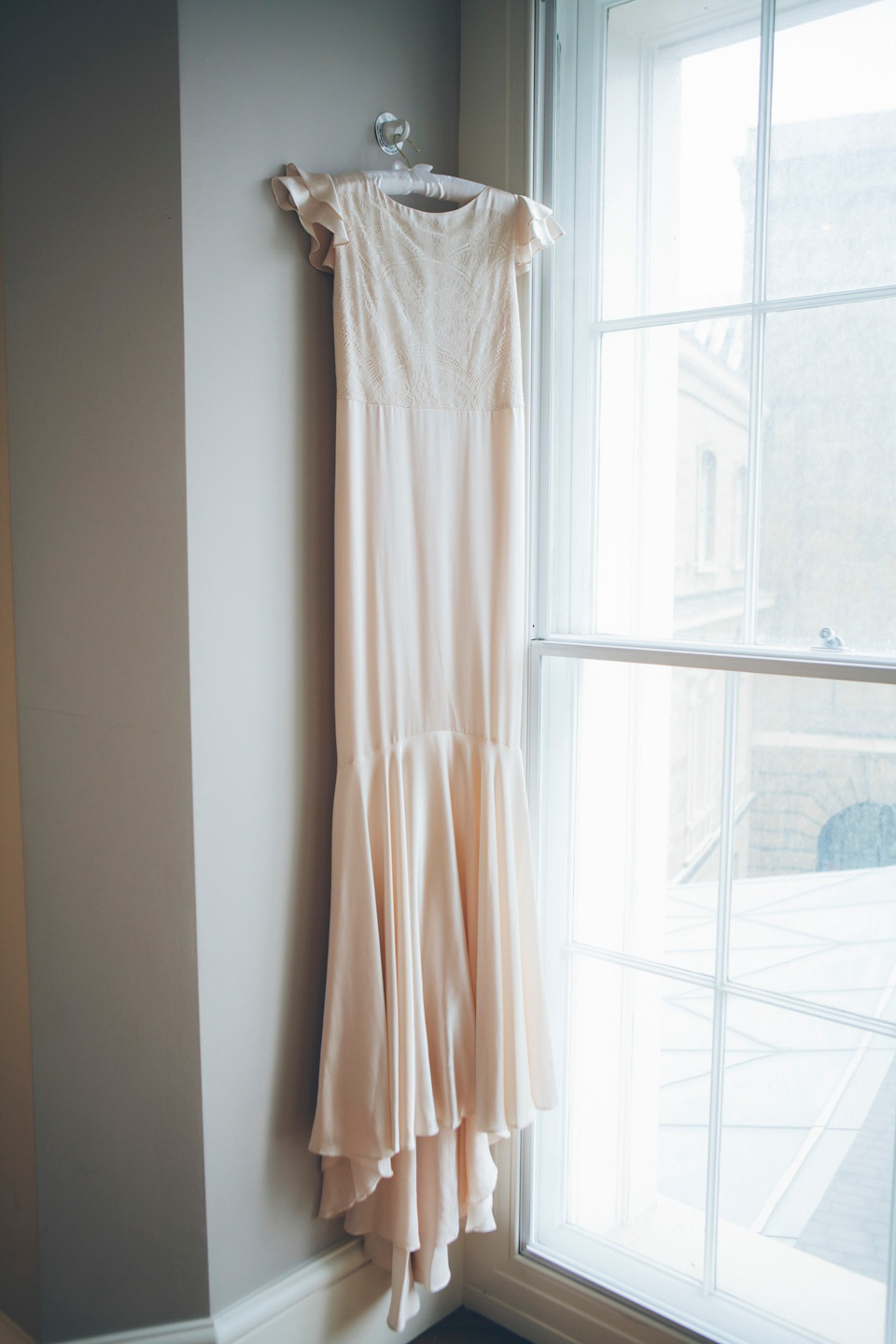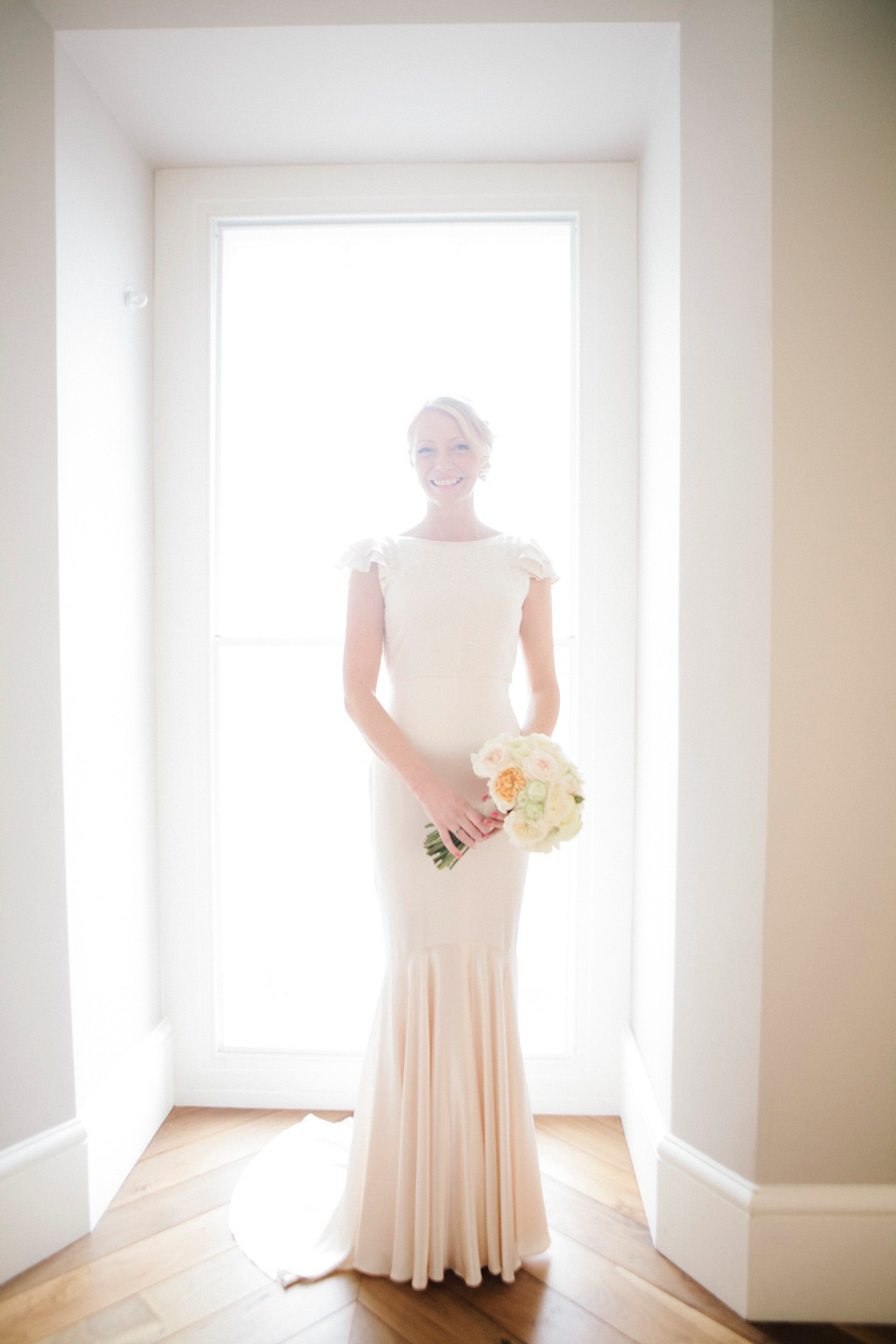 "I wore Jo Malone Peony and Blush Suede after a lovely 'smelling session' in John Lewis. It's not too sweet and I love peonies!"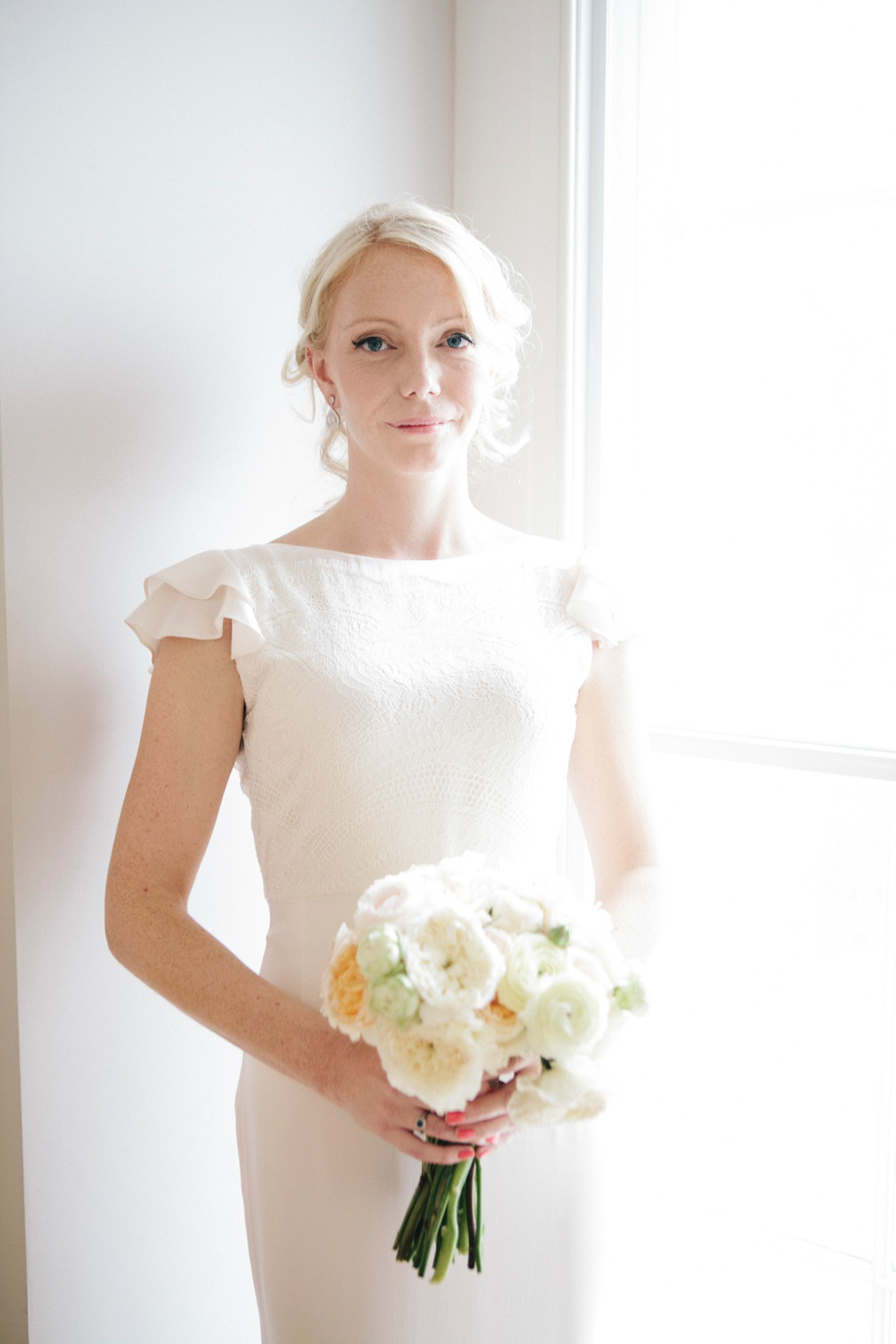 Adelle chose ever-popular Ghost dresses for two of her bridesmaids, with her maid of honour in a gorgeous maternity gown by Tiffany Rose.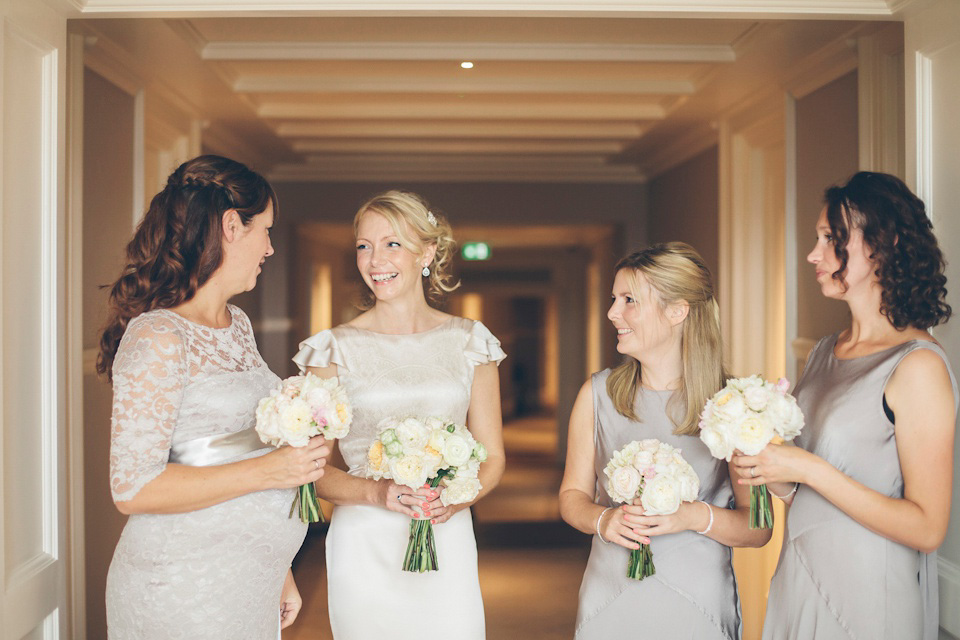 "My Gina shoes were gold, strappy and very high! I wore them to cook the kid's tea in for a few weeks before the wedding to get used to them. I managed until about 10pm on the before I had to ditch them."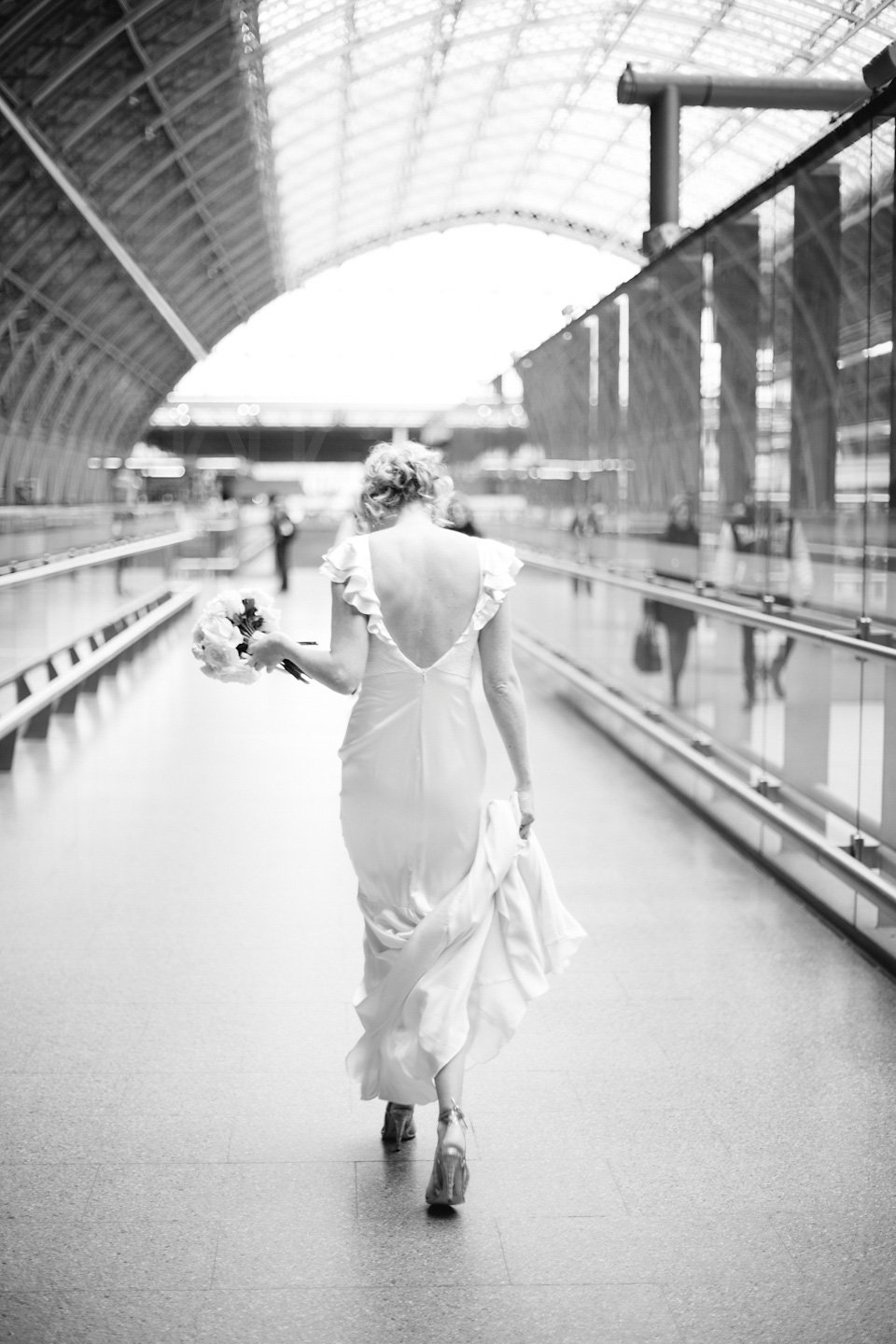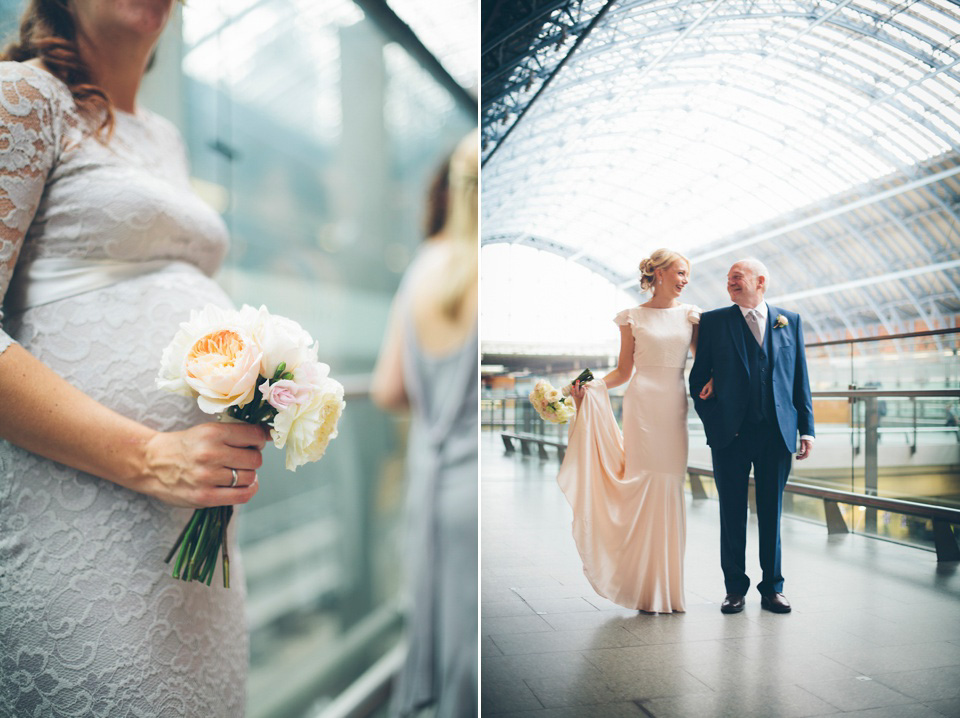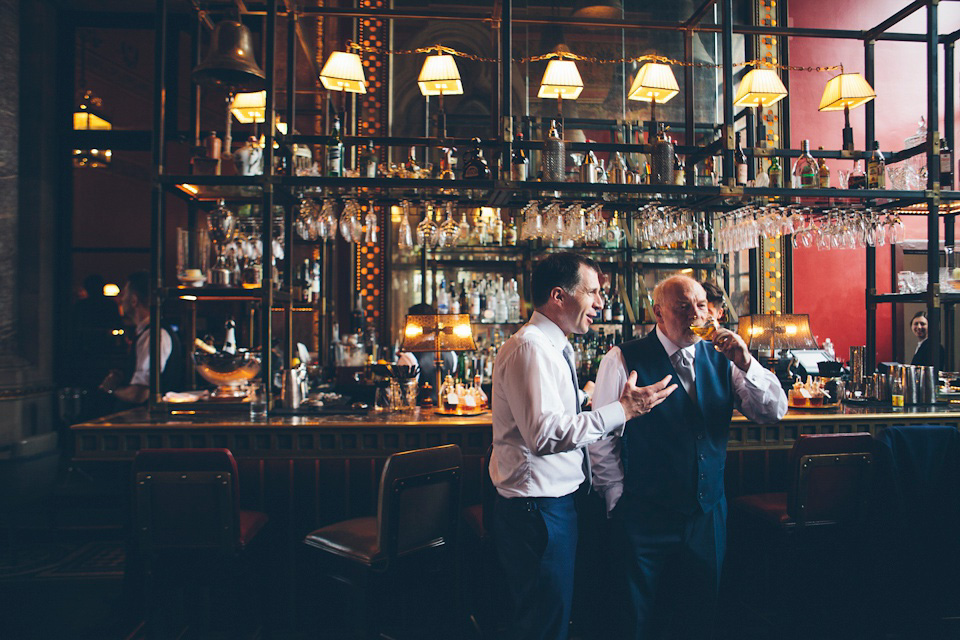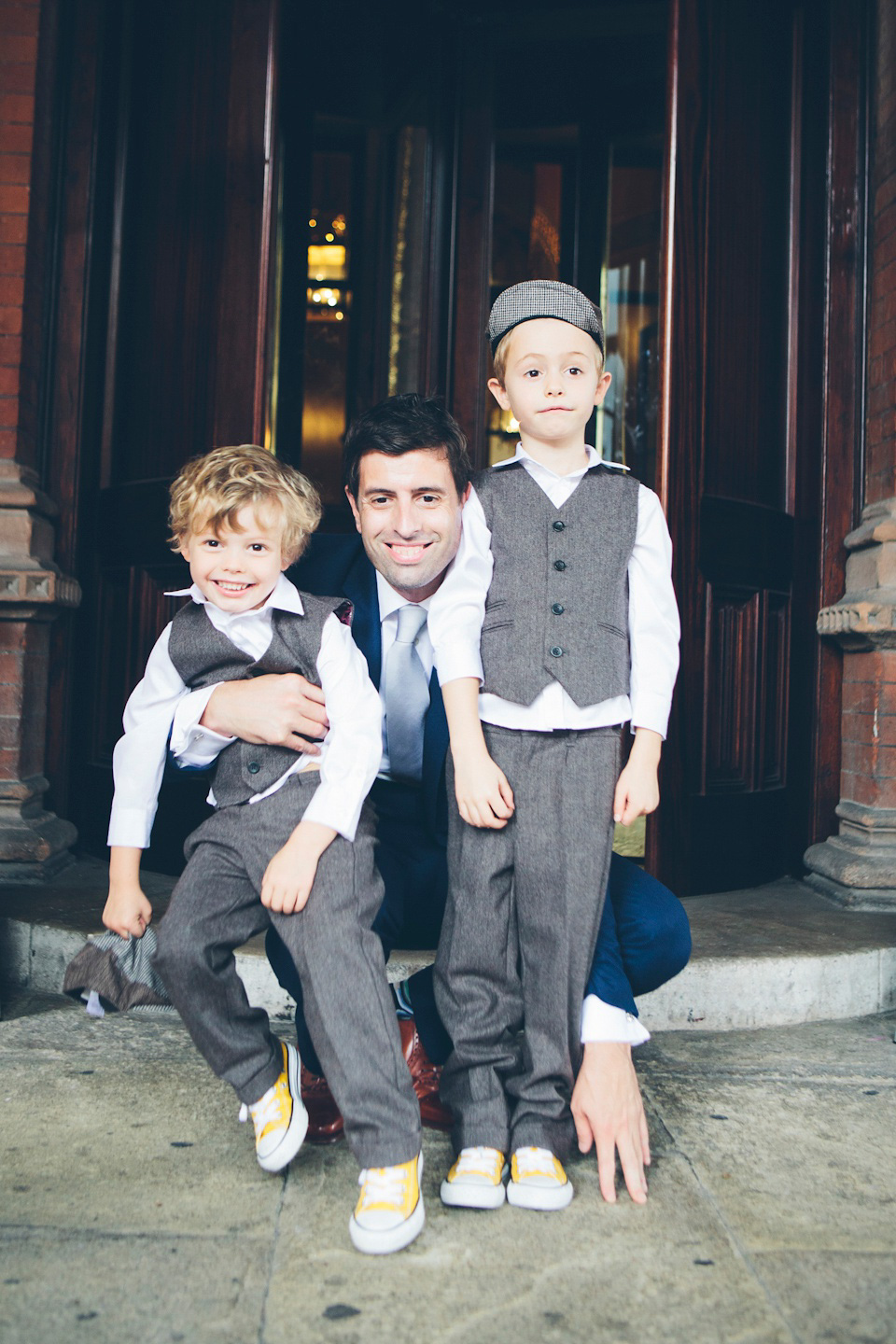 "Flowers were by Jam Jar Flowers. We focused on whites, creams, pale pinks and lots of natural foliage. Melissa at Jam jar understood the brief perfectly and we had a lovely natural scheme in small jars on each table."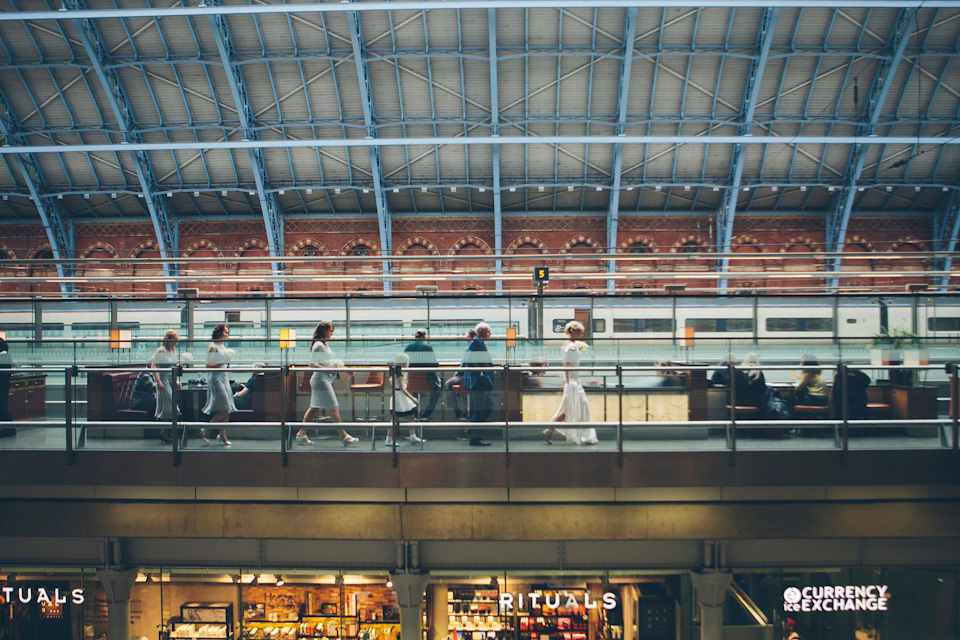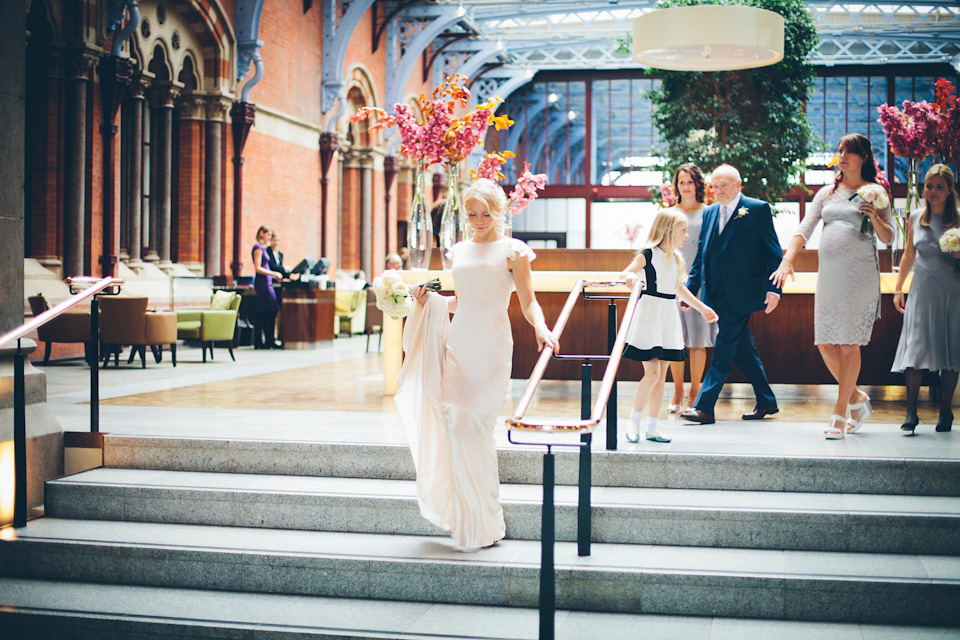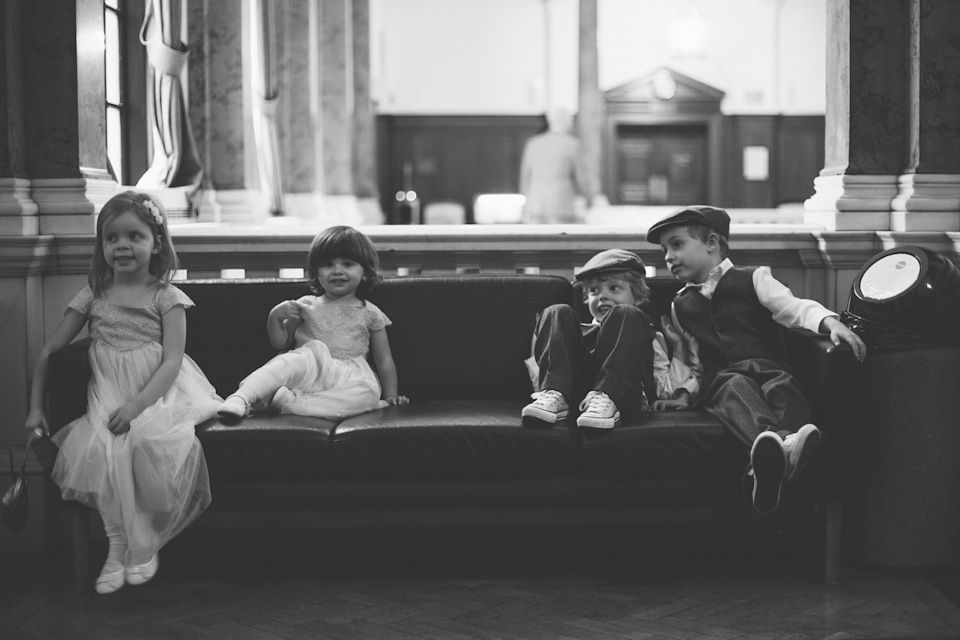 "Our ceremony was held at Camden Town Hall. Camden was perfect with the Council Chamber and its semi-circular layout. It is based on a Saxon Court and it was lovely to have all our friends and family surrounding us. The microphones added some extra amusement for the children!"
I love the couple's choice of readings – unusual and very moving.
"We had 'Nothing good gets away' by John Steinbeck from 'Letters of Note'. It is a letter from a father to a son about love and it is quite moving. We also had 'Love Poem Medley' by Rudy Fransico. My brother Paul read it in his broad Yorkshire accent, it was fantastic!"
"I got my ring from Buckingham Antiques in Marlow [no website], it arrived the day before the wedding! Talk about cutting it fine. 2 days before the wedding James still didn't have a ring (he couldn't find one he liked). James got married in a £7 ring from Topshop which he lost in the sea on our honeymoon and STILL does not have a wedding ring!"
The beautiful imagery today is provided courtesy of a "friend of a friend" of the couple, Kat Green.
"Kat is mainly a portrait, lifestyle and music photographer but that was perfect for us. We wanted a reportage style with hardly any posed shots. Kat was amazing, everyone commented on how good she was. She was always in the right place at the right time without you knowing she was there!"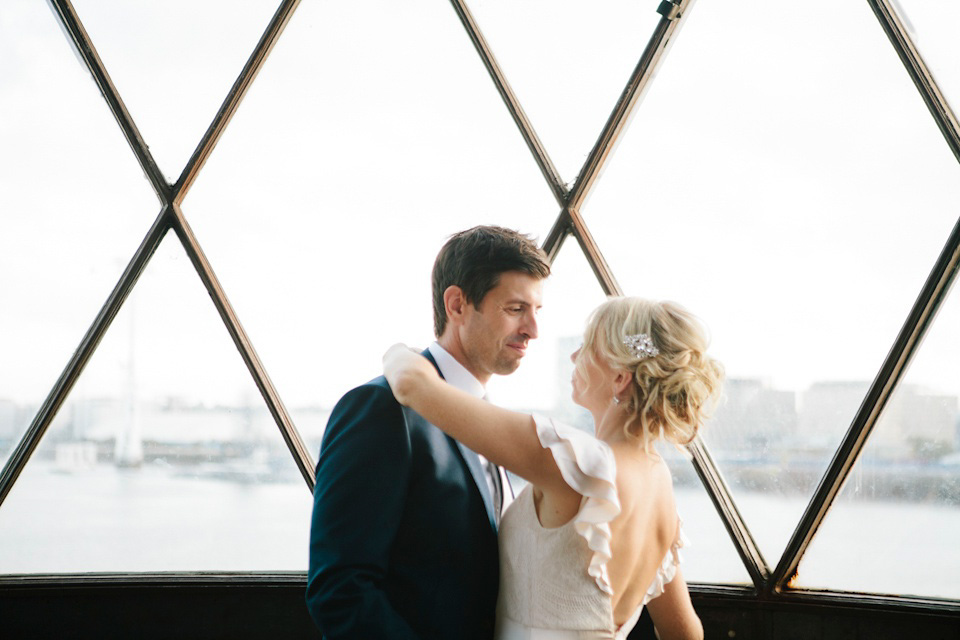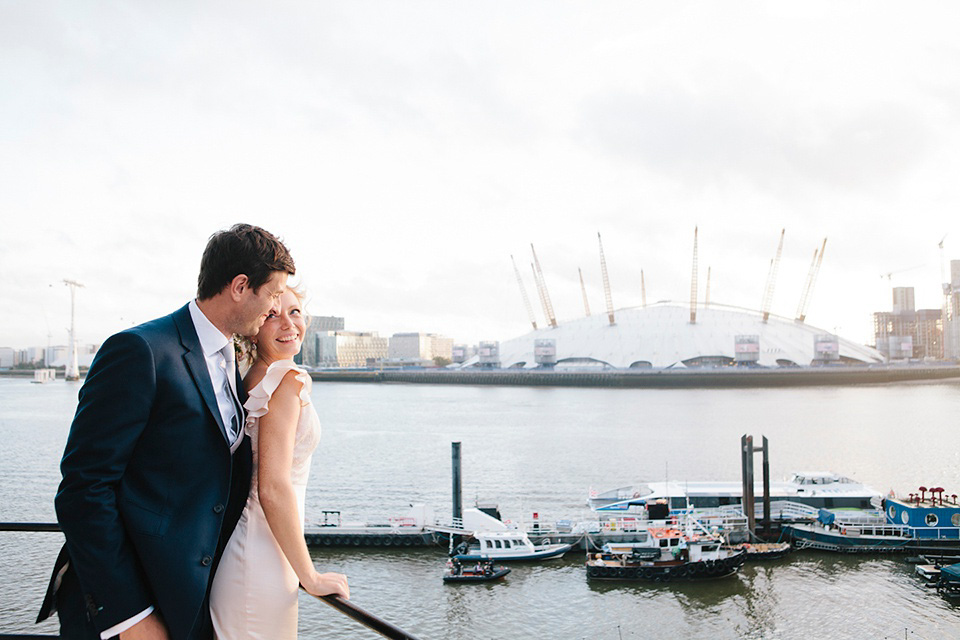 "We chose Trinity Buoy Wharf, London for our reception, we wanted a blank canvas really, and this venue is unique. It is an old Victorian building with the only lighthouse in London attached to it. It overlooks the Thames and the O2, the views are amazing."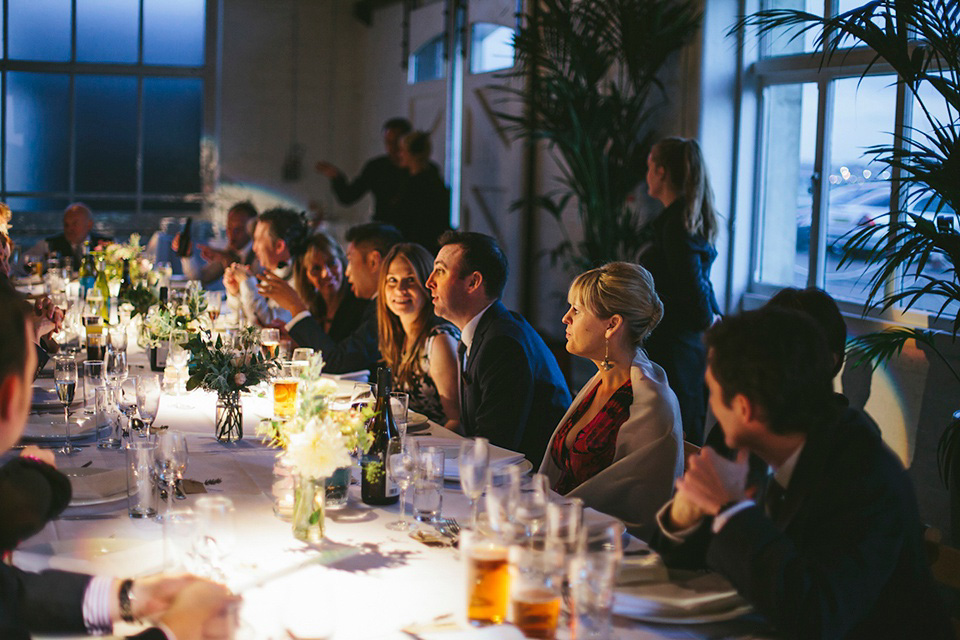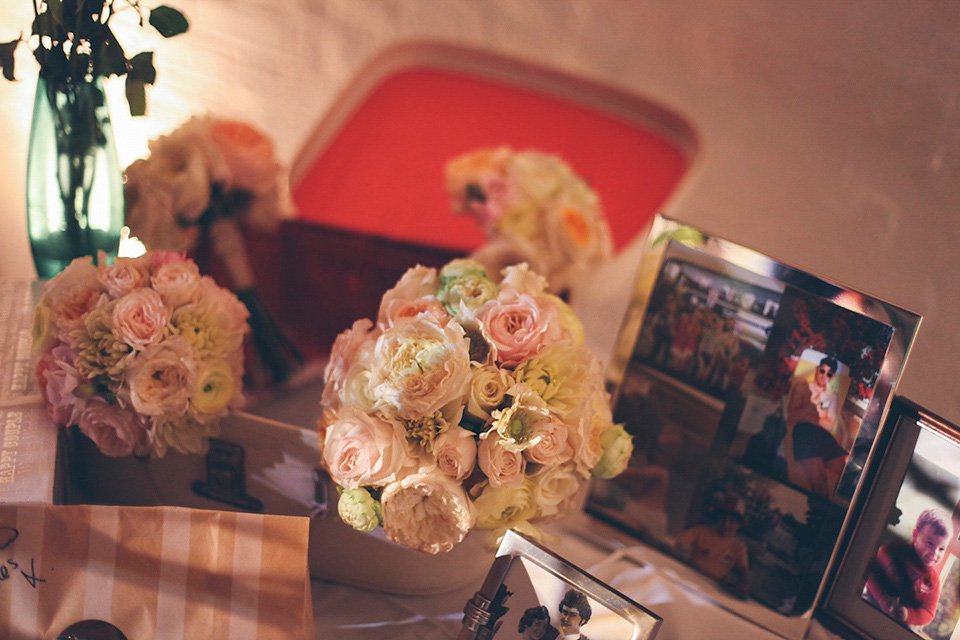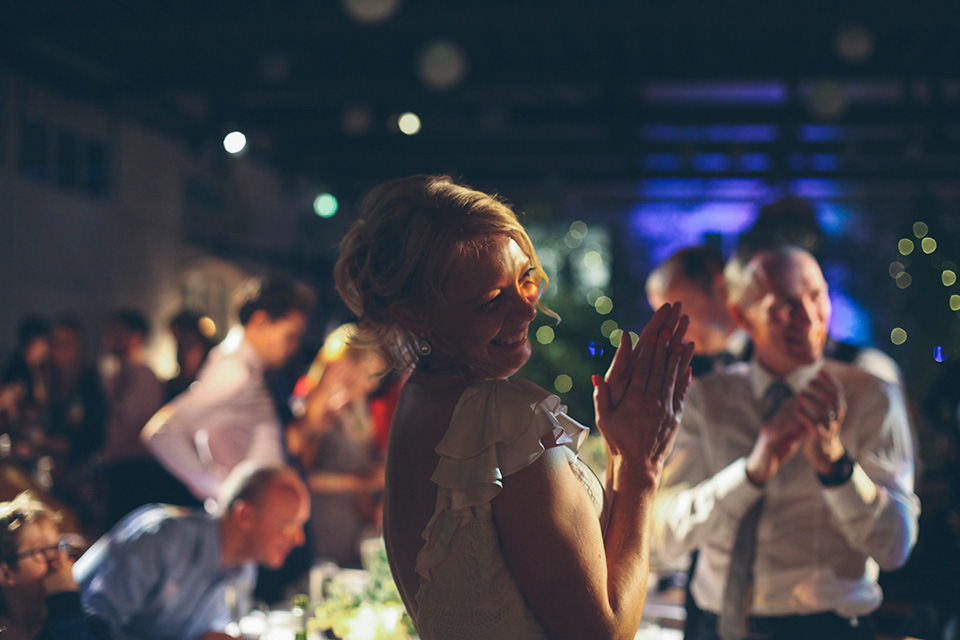 "Handmade Food, Blackheath were our caterers. They were amazing, the food was delicious. We had a free flowing 'feasting' menu which was lovely and relaxed. The service they provide is just top-notch and lots of people commented how lovely they were."
"Neither of us wanted a cake! So we went for a cheese board and brownies. This seemed to go down quite well at 11pm."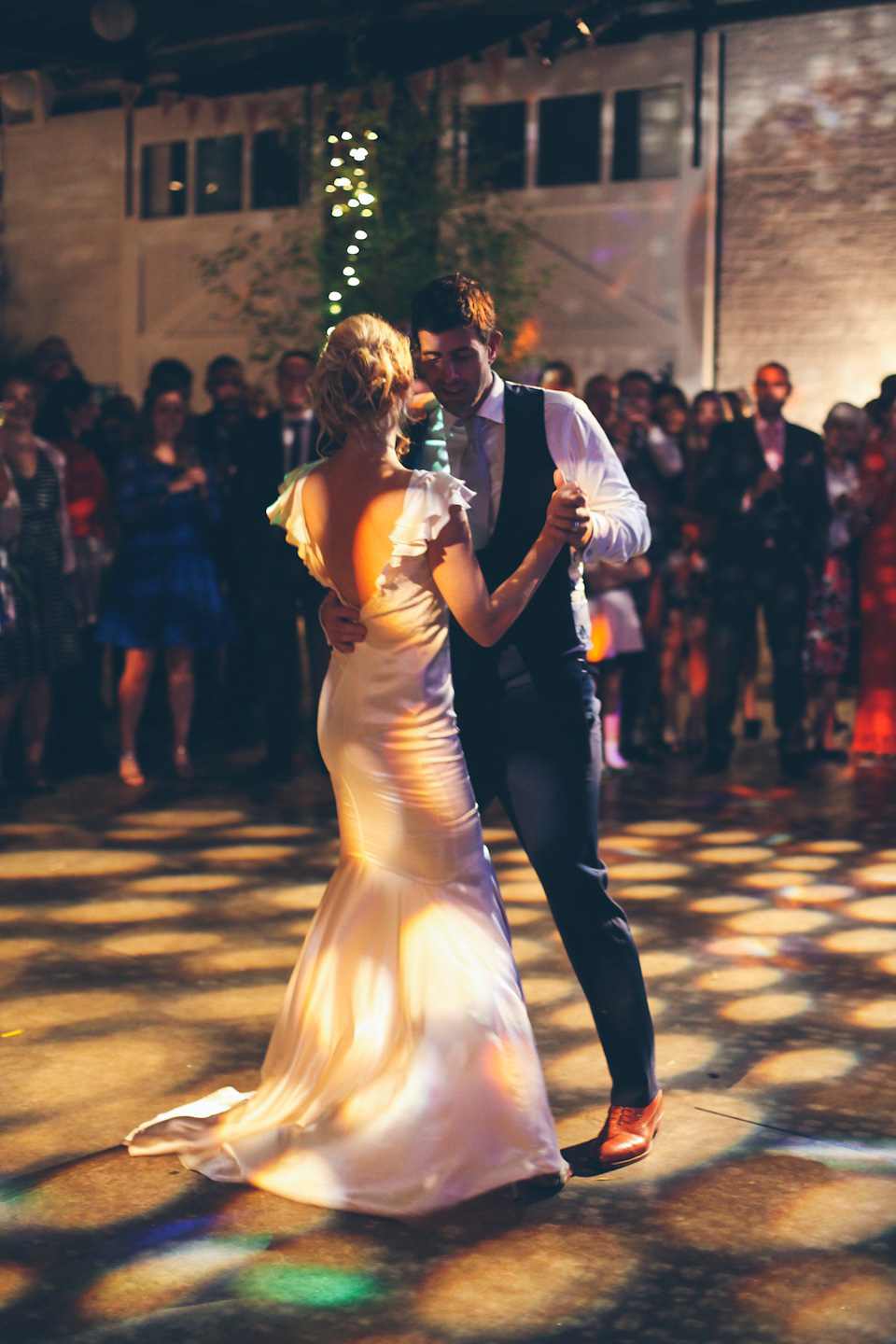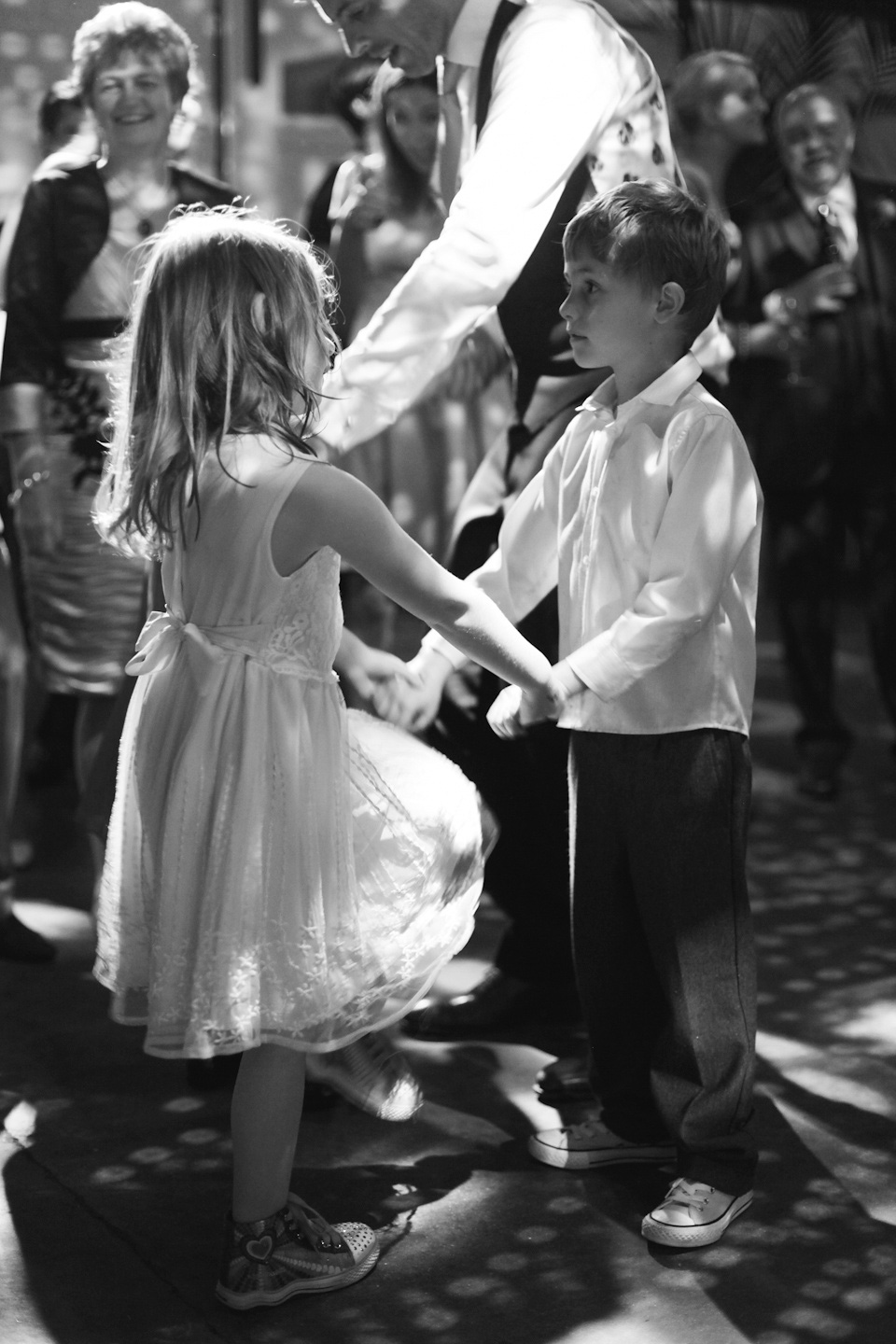 Words of Wedded Wisdom
"If you want to do DIY projects, don't leave them until a few weeks before the wedding. Accept all offers of help! James' ushers were absolutely amazing and we had a team of them and friends helping us decorate the venue the day before which eased stress levels! On the day just relax and enjoy, everyone says how quickly it goes and it really does. If anything goes wrong nobody will notice and it doesn't matter. For example, we had a playlist for the bus but could not get a music system sorted. Nobody cared or noticed. A few glasses of pre-ceremony champagne took away all my nerves for the vows!
Focus on what is important to you and that is where the budget goes. For us food and music were key. We didn't spend lots of money on décor, chair covers (!) and we had no cake!"
"I was an avid reader of Love My Dress, this was my favourite as it was updated daily with lots of inspirational weddings and there was a good variety of weddings."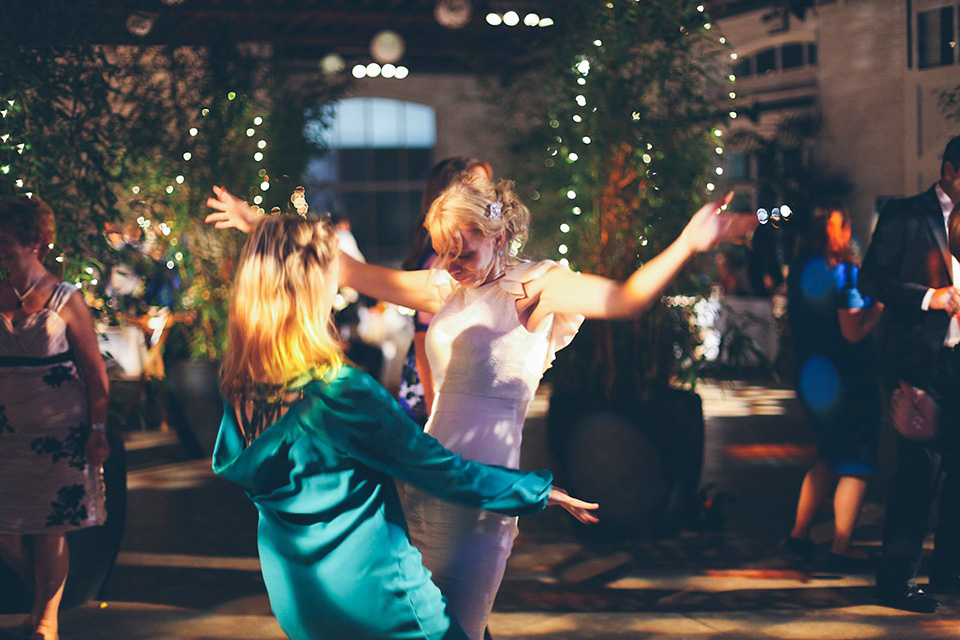 Wow, such a beautiful wedding, and Adelle's dress – there are no words! Congratulations to you both on your marriage, and I'm so pleased you got plenty of inspiration from Love My Dress whilst you were planning. Thank you to Kat Green for the wonderful photography today, hopefully we will see more of your work on Love My Dress soon. Have a wonderful Tuesday everyone.
Louisa x
Photographer – Kat Green
Dress – Belle & Bunty
Venue – Camden Town Hall and Trinity Buoy Wharf, London
Bride's shoes – Gina
Bride's earrings – Not on the High Street
Perfume – Jo Malone Peony and Blush Suede from John Lewis
Bridesmaid dresses – Ghost and Tiffany Rose
Bridesmaid accessories – hair accessories from Not on the High Street and bracelets by Stella & Dot
Groom's suit – Tailor Made London
Flower girl and page boy outfits – Monsoon
Florist – Jam Jar Flowers
Rings – Buckingham Antiques in Marlow [no website] and Topshop
Catering – Handmade Food, Blackheath
Hair and make-up – Victoria Percival
Entertainment – The Child via Alive Network