There's been quite a movement of late with many photographers, suppliers, stylists and curators turning their attention to fine art style. What is it about this particular genre of photography and wedding styling that is so popular right now? Whilst I am sure there is a correct and formal technical response to what fine art photography actually is and why it's so sought after, if I ask myself this question, then I guess my response would be because of it's refined elegance, feminine nature, and, when it comes to the photographs themselves, that sublime luminous quality of image – all warm, light and dreamy tones.
These photographs today were sent in by photographer Suzanne Li, an up and coming photographer based in Scotland who recently attended a a fine art wedding photography workshop with photographers Naomi Kenton and Holly Rattray of Belle and Beau.
Photography by Suzanne Li
Naomi Kenton, who most of your regular readers of Love My Dress will already know, is our resident photographer and the lady we work with on all the shoots we commission, is part of a movement of photographers who are embracing the fine art style and I for one am over the moon about this. The quality of work these photographers are producing is outstanding – forget any tacky pre-set edits that will age your wedding photographs over the next few years – these are timeless, elegant images, and clean, crisp, beautiful quality photographs will stand the test of time over the next 100 years and more. Time is taken to pose couple's in a flattering and natural way, and special attention is paid towards elegant details.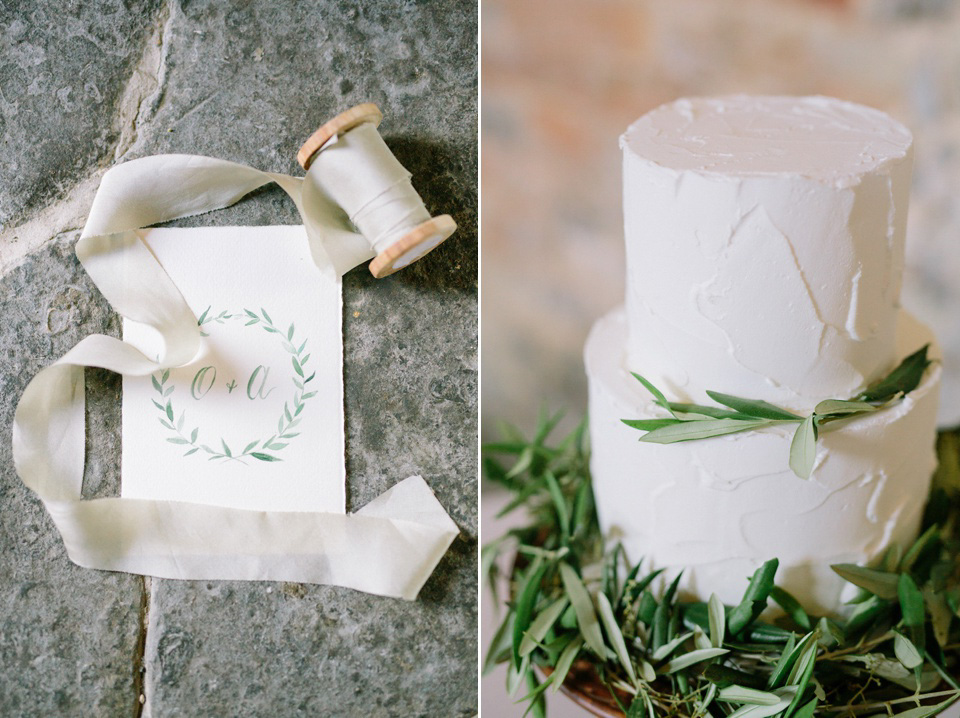 When photographer Suzanne got an opportunity to shoot at the workshop, these are the images she produced. I really loved the natural and effortless styling and thought you would like them too.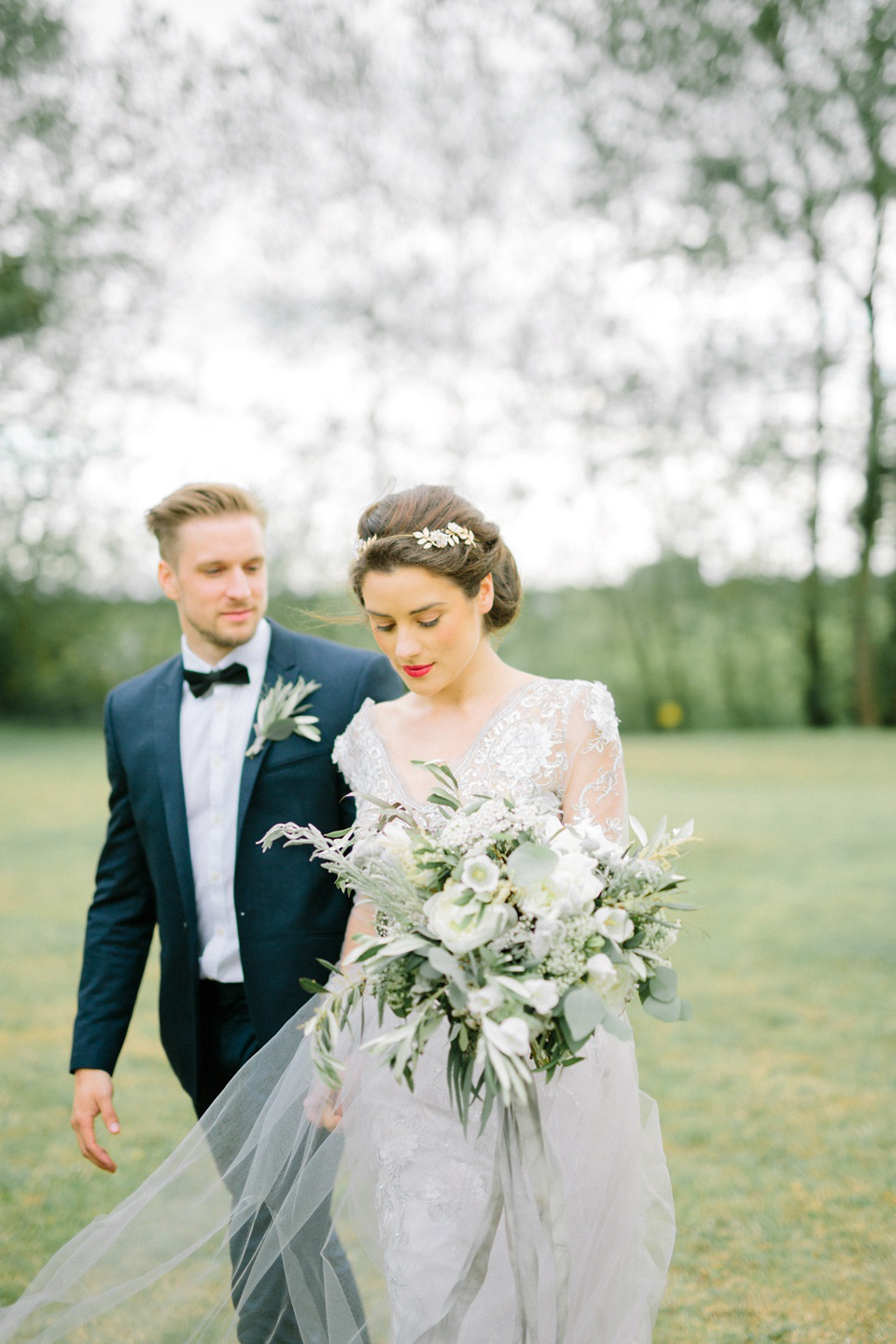 The beautiful model in these images is a very familiar face to me too – I actually spent most of last Saturday with her as she also happens to be a wedding photographer – and the very one who photographed my brother in law's wedding last weekend. She is the very charming Rachel Hayton (see her work here on Love My Dress).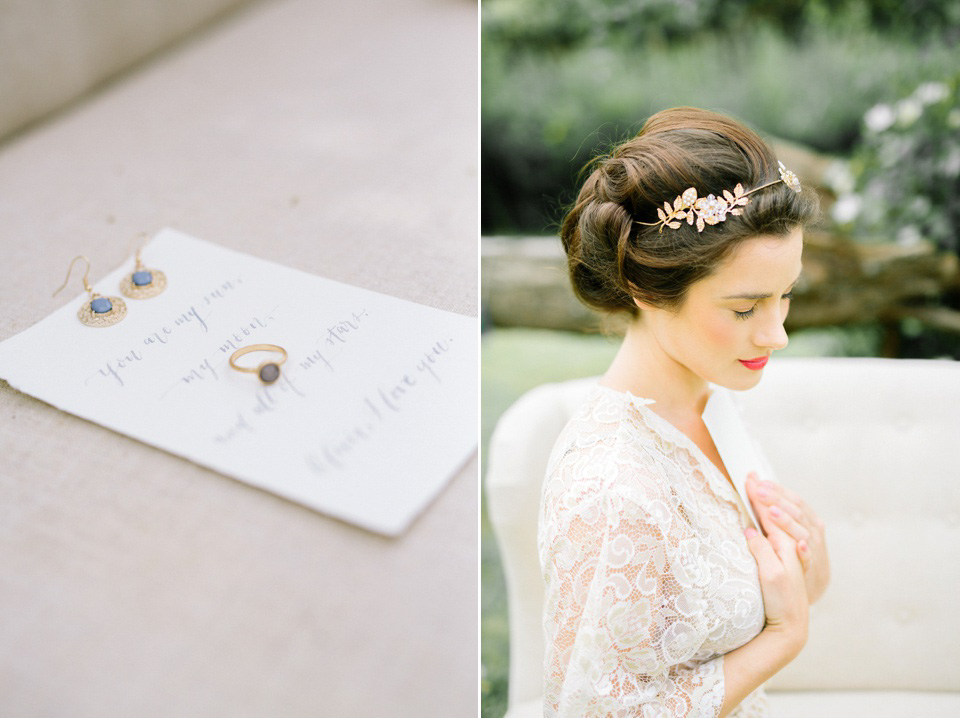 How many of you are planning on braving it and dining outdoors for your wedding? I love the idea of keeping the colour pallet simple and elegant – white flowers and olive leaves help bring a rustic backdrop and setting like the gorgeous Almonry Barn to life.   The Rose Shed supplied all the floral styling for this shoot – these amazing Bristol based florists are highly experienced in supplying beautiful wedding flowers all over the UK.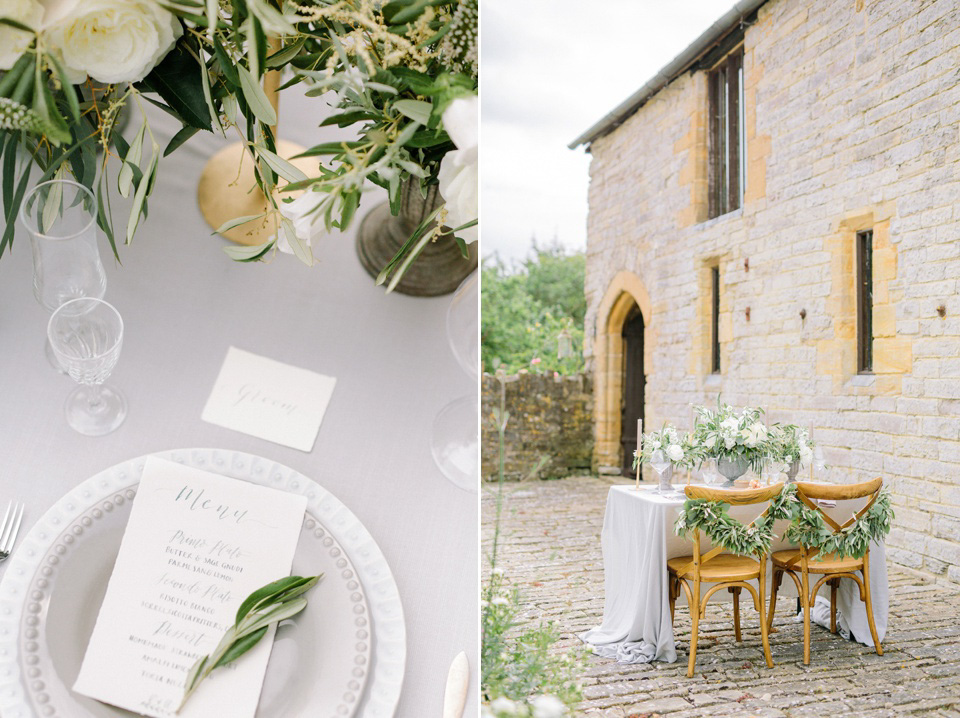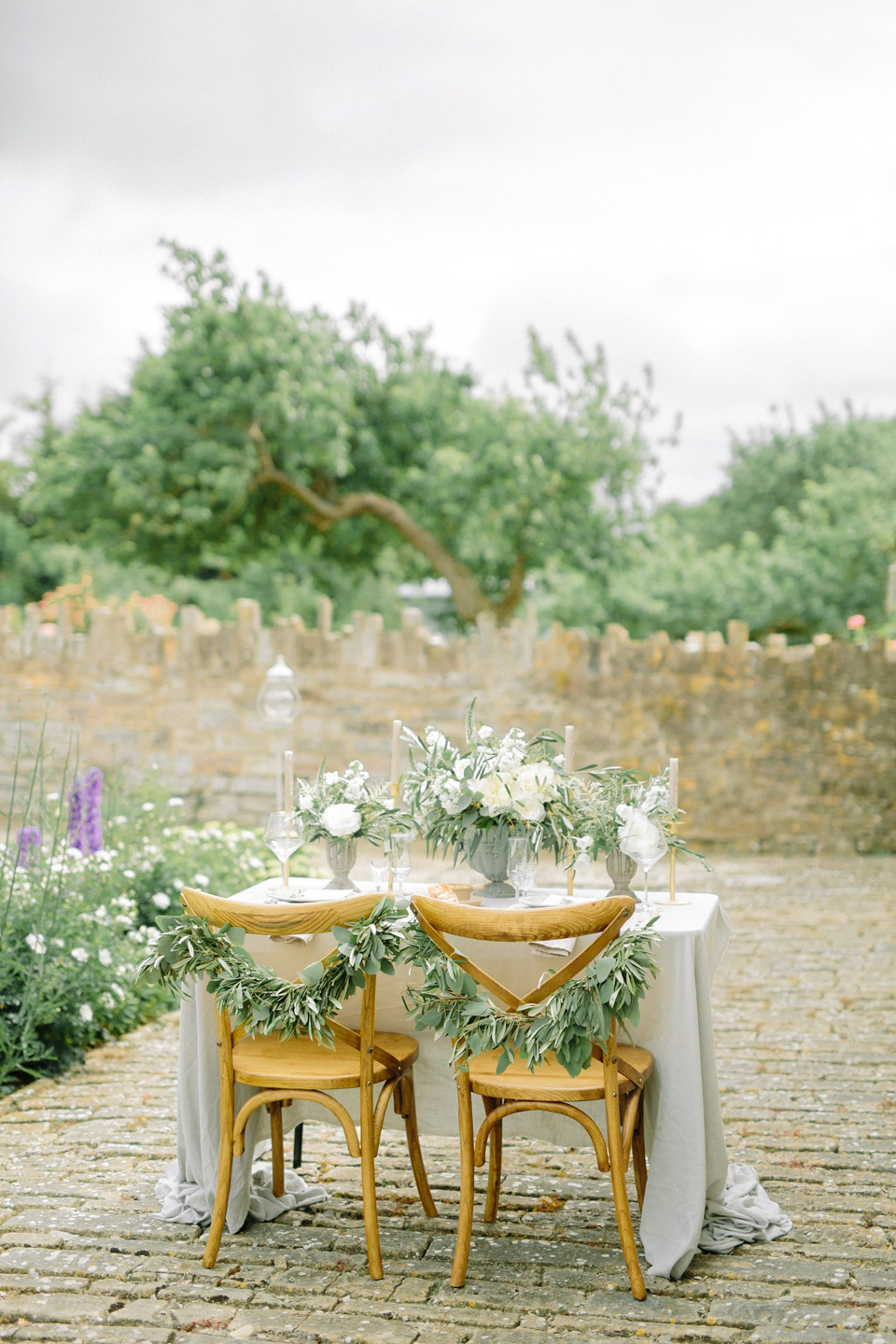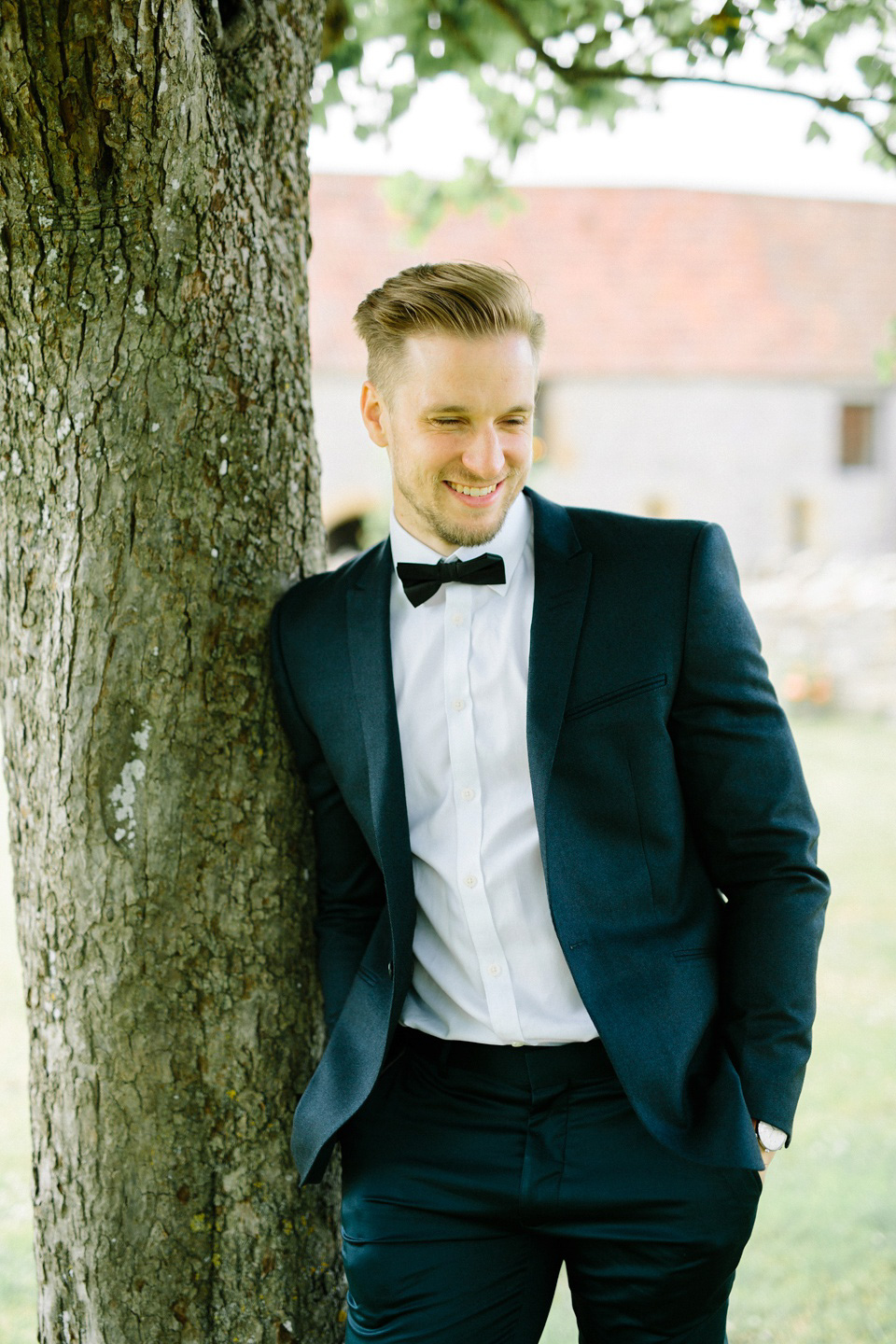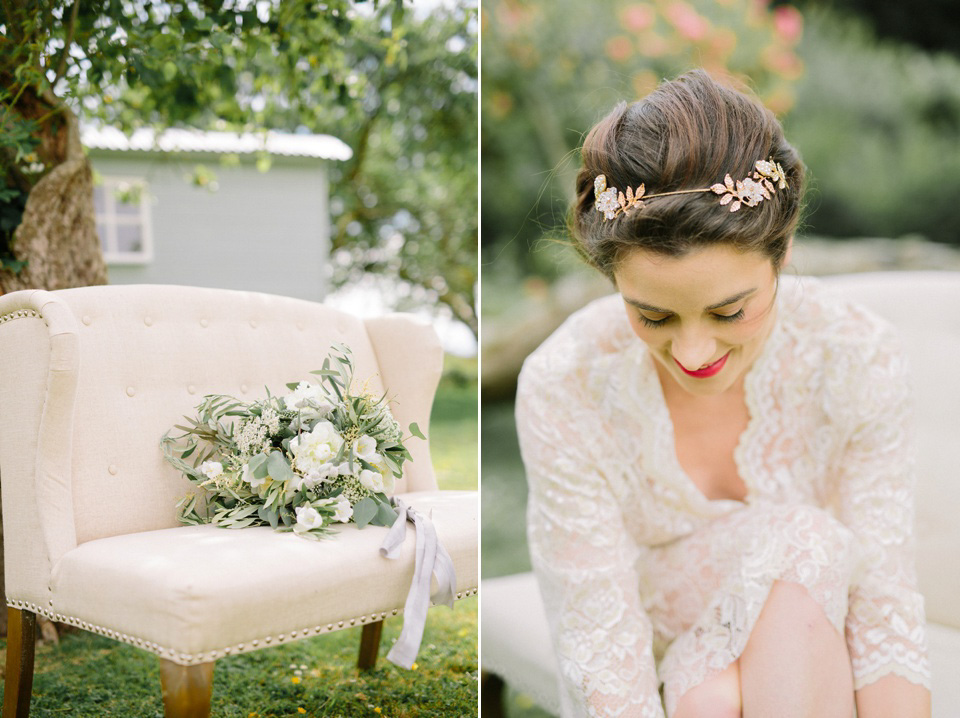 Aren't these shoes divine? I know they really are too because I own a pair. These heavenly embellished heels are by one of my favourite shoe designers, Harriet Wilde.
Huge thanks to Suzanne Li for sharing these beautiful photographs today – I hope you've been able to find something within them that inspires you.  Please take a moment to visit the websites of all those suppliers below who made these delightful images possible.
Love Annabel x
Photography – Suzanne Li
Venue – Almonry Barn
Dress and Accessories – Lady Evelyn
Flowers – The Rose Shed
Stationery – Gemma Milly
Ribbon – Lancaster and Cornish
Shoes: Harriet Wilde
Make Up – The Barn
Hair – Louise Alway
Model – Rachel Hayton