Good morning all, I hope this finds you well and happy on this here Friday morning – and I hope you're having a great week. This morning's beautiful new addition to our wedding blog comes to us courtesy of the lovely Hannah Duffy, a maker of beautiful wedding photographs who's work we only very recently shared when we featured this French wedding last month.
The images, all of which were shot on film, feature some beautiful portrait shots and capture the charming and laid back vibe of the day. Yvette, the beautiful lilac haired bride who runs 1000crows, an Etsy shop specialising in all manner of unique vintage finds, married Sean, a video game designer at Cambridge Registry office on the 1st of May this year,  followed by a reception at a local pub.
"Our reception venue was a local pub that has a great garden space and does lovely pub lunches. We started planning with lots of different ideas. I love antique and vintage things, so I suppose our styling was inspired by Spring pastels."
Photography by Hannah Duffy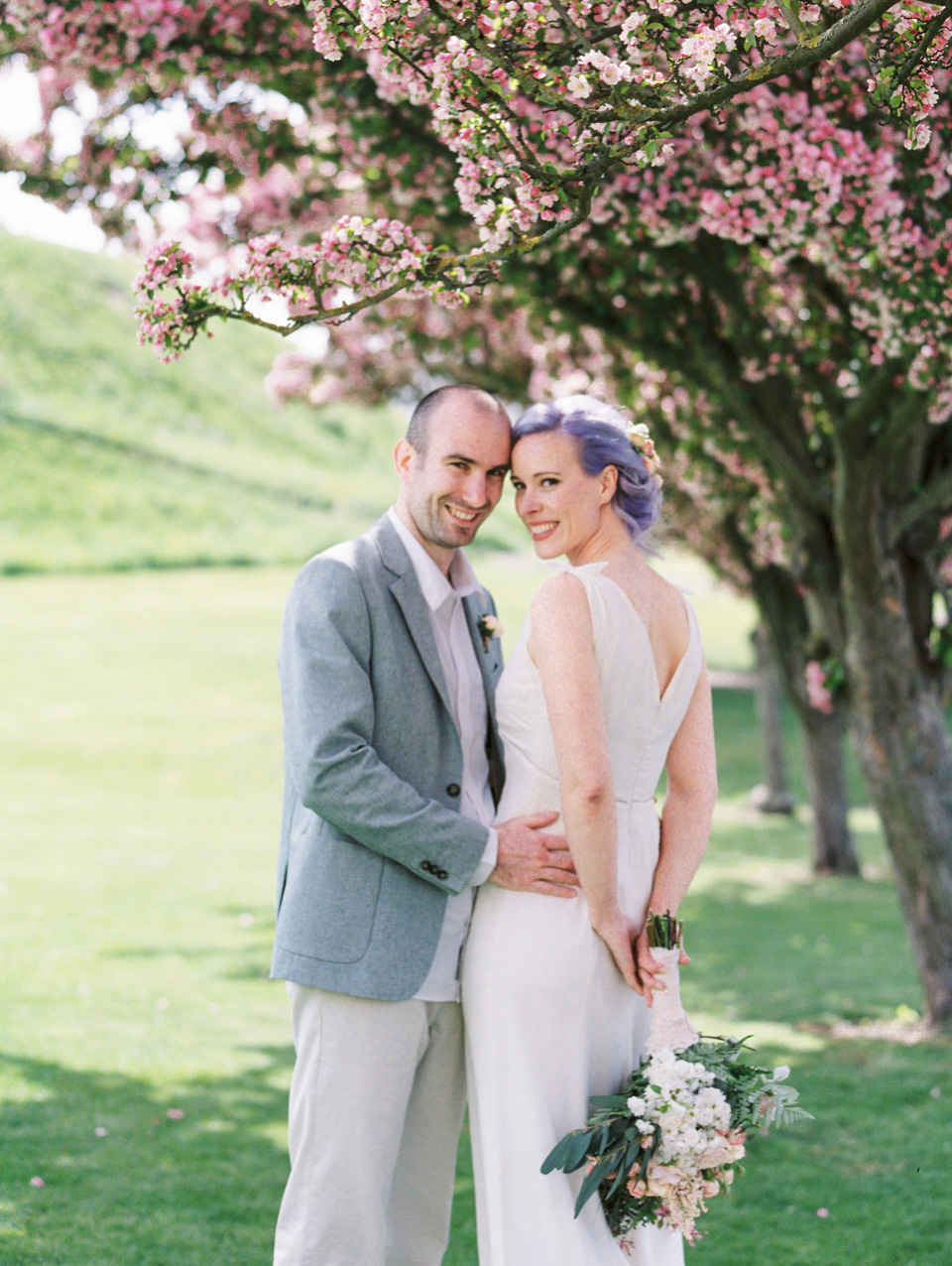 "Our actual engagement period was really short. We got engaged in September 2014, shortly afterwards we found out my Mum was ill and in January that she was terminal. We tried to hasten the process so she would still be able to witness it, we looked into options of getting married in the Netherlands (I am Dutch and my family all lives there), but had to abandon that because of the sheer amount of paperwork required."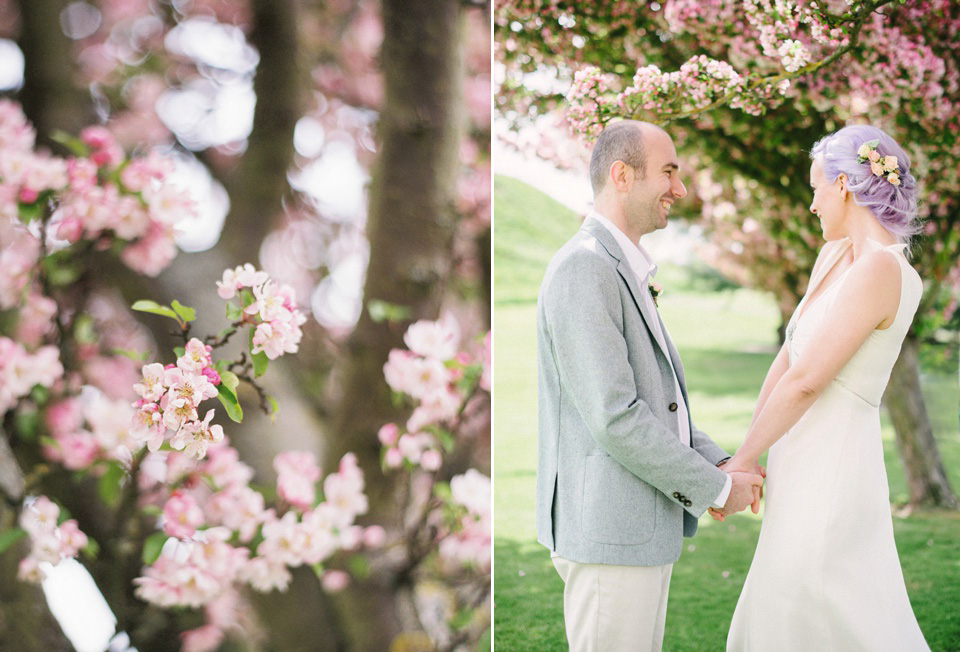 "We had to divert to the Cambridge Registration Office instead and opt for a live broadcasting, but unfortunately she didn't make it that far. She passed away in April. As she had urged us to keep the date, we did but we had been very close to calling to whole thing off for a later date."
The fabulous Izzy Wild came on board to create Yvette's beautiful wedding look.
"I knew that my hair had to be timeless and elegant and look 'effortless' (as normally I take no effort with my looks). When thinking about my favourite hairstyle of all time, it had to be a purple bob I had in 2009. Taking that as inspiration, we went with a soft violet, loosely pinned, up-do with pastel flowers.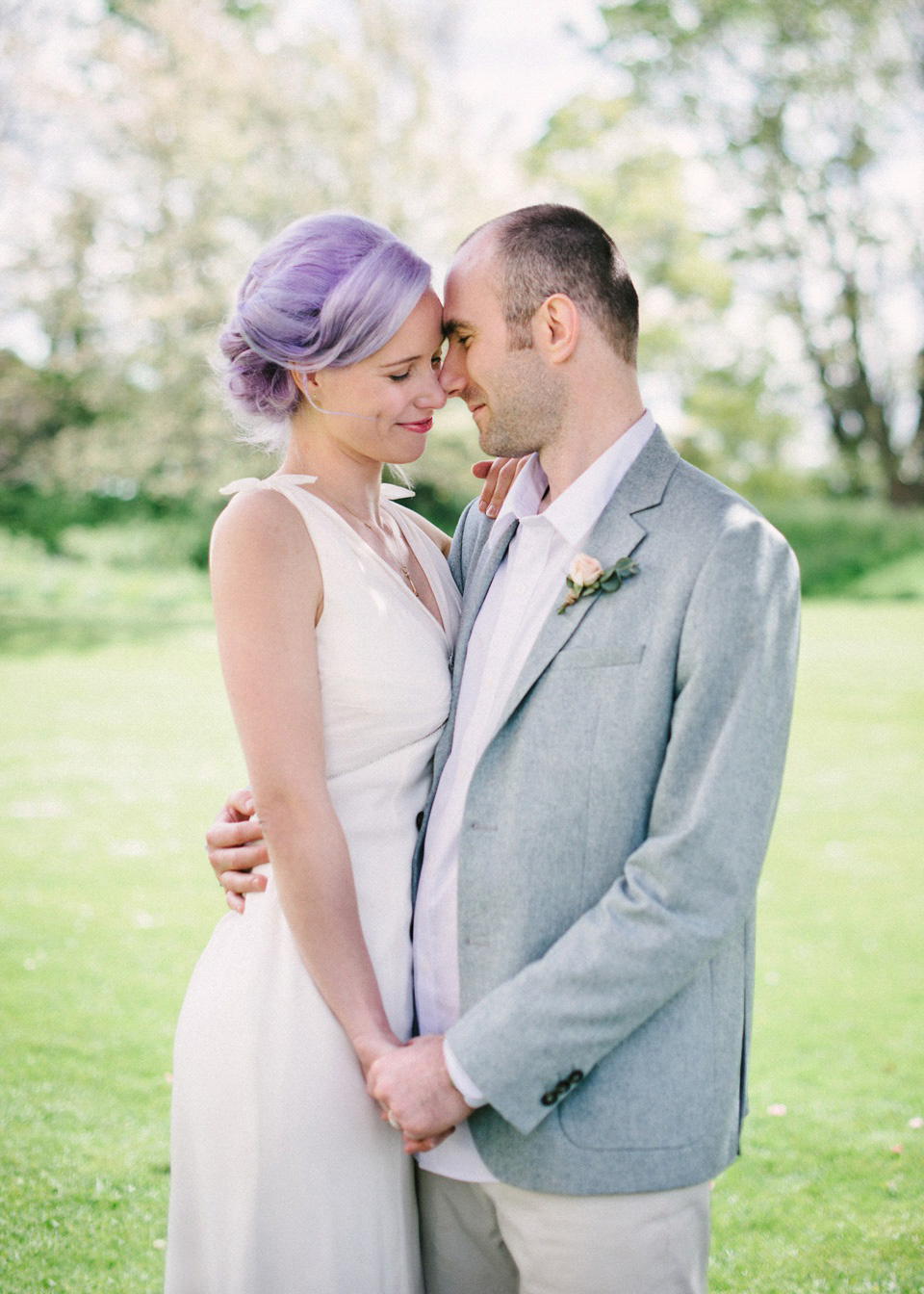 The couple met at high school but didn't hook up until a few years later at university.
"We sort of moved in together straight away in my tiny little 10x2m student room. We got along fantastically – both in that space and all other spaces we lived in afterwards – and in all that time Sean told me he had no intentions of getting married. Ever.
After being together for over 13 years I didn't think it would actually happen! He proposed on the beach in Biarritz (France) whilst we were on holiday. Apparently he had been planning it for a while – he had the ring for months – and he hid it really well."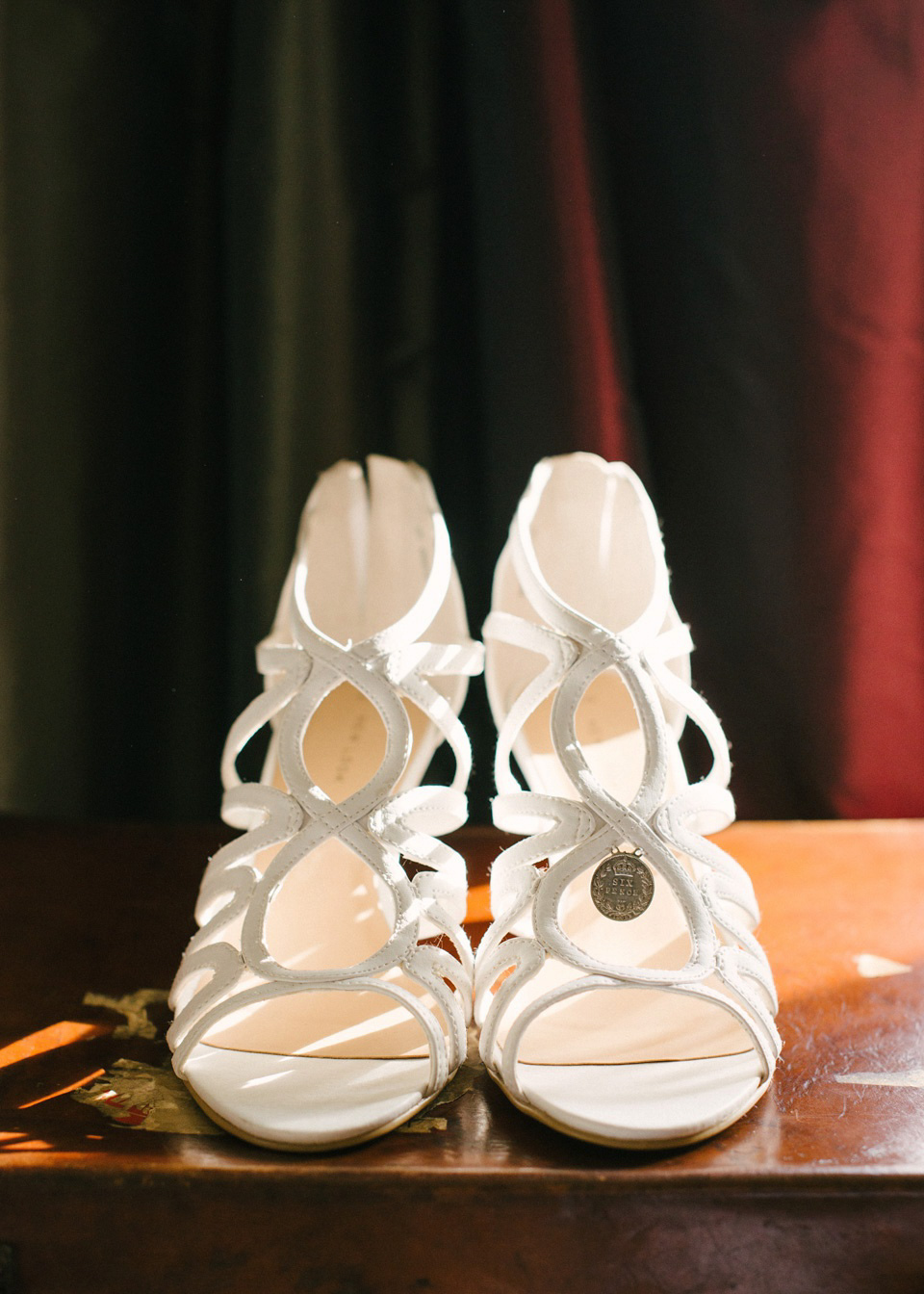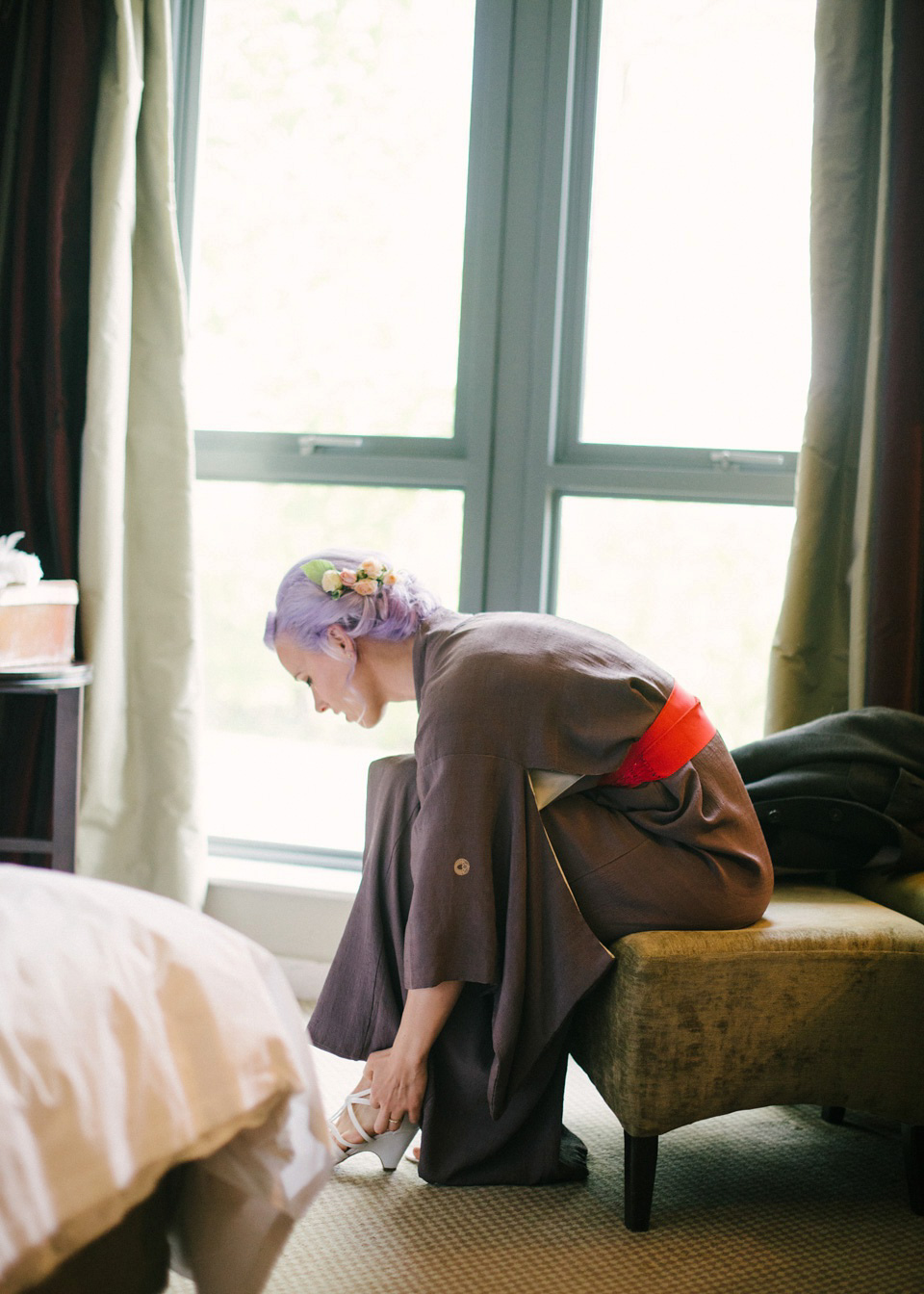 "I found our photographer Hannah Duffy through an online search and immediately loved her work. It's slightly vintage (which I love) and it was very important to me to find a photographer that could shoot film as well as digital on the day, and she said she could and would. She is such a lovely and relaxed person and I had so many compliments about her on the day. She made me (and Sean – which is a mean feat!) feel quite relaxed and comfortable and the pictures look stunning!"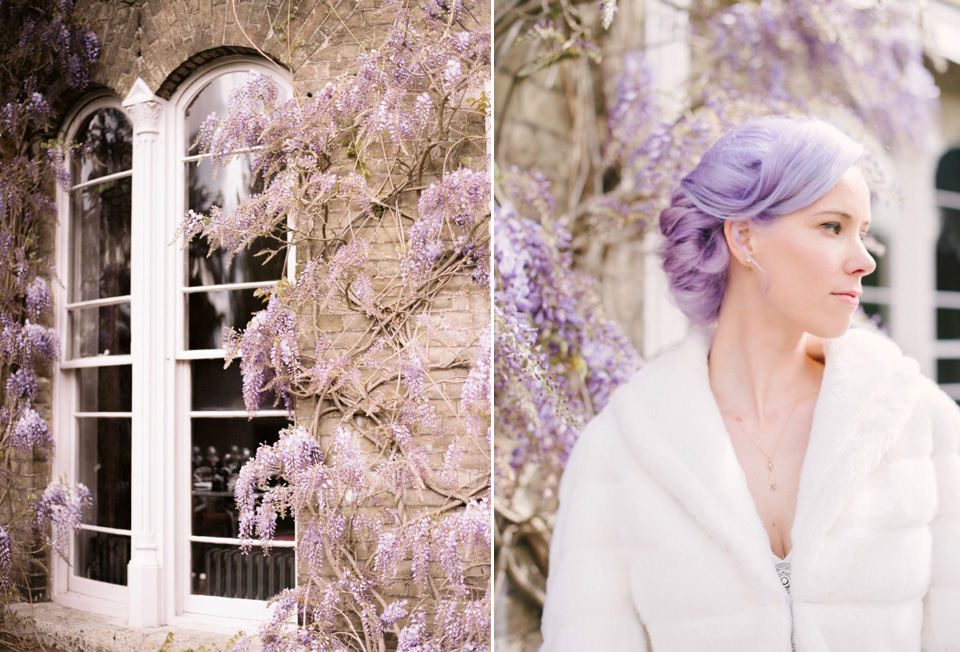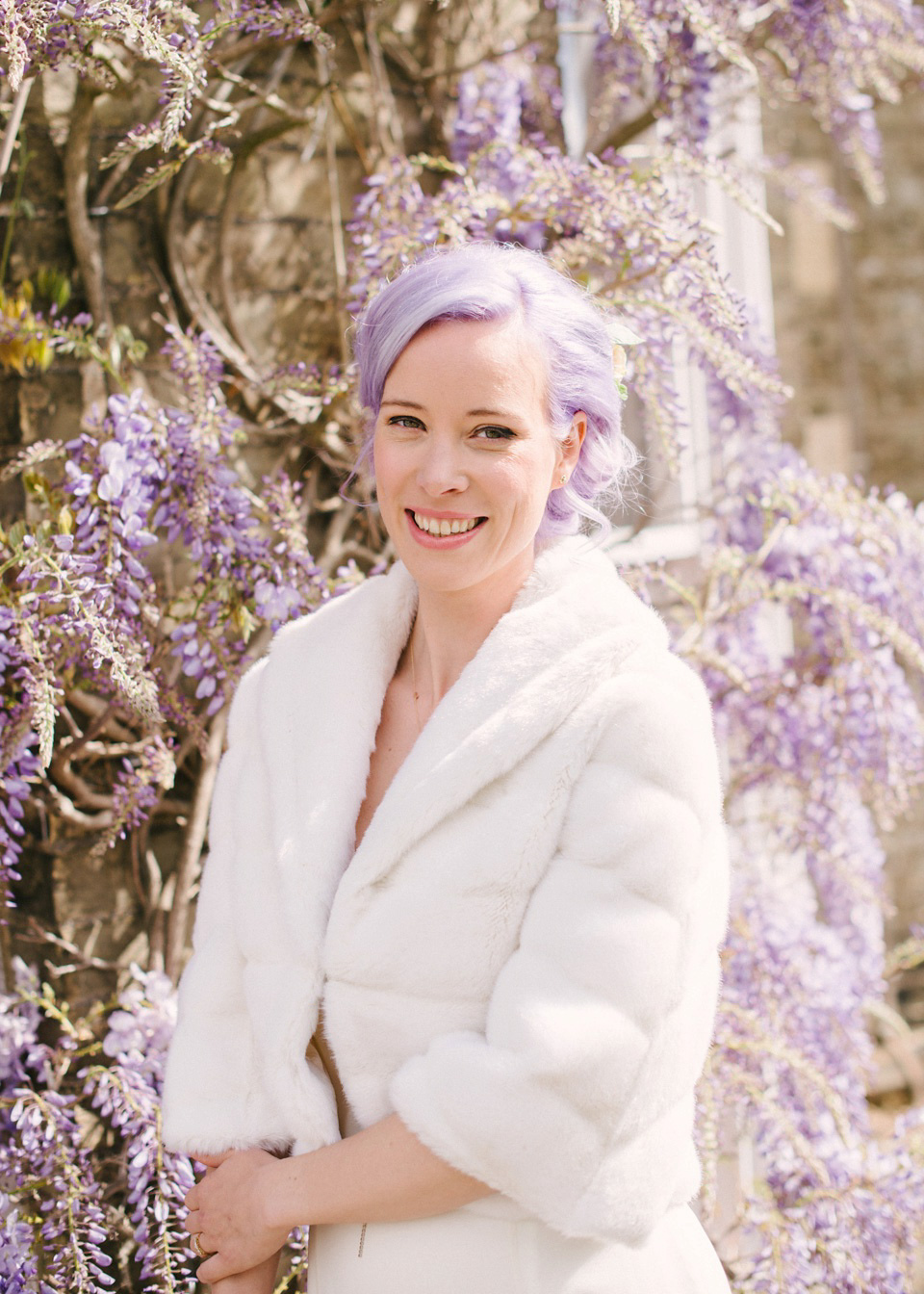 "We got our flowers from The Flower House in Cambridge. I wanted to do the arrangements myself and they were the only place I could find to order loose flowers."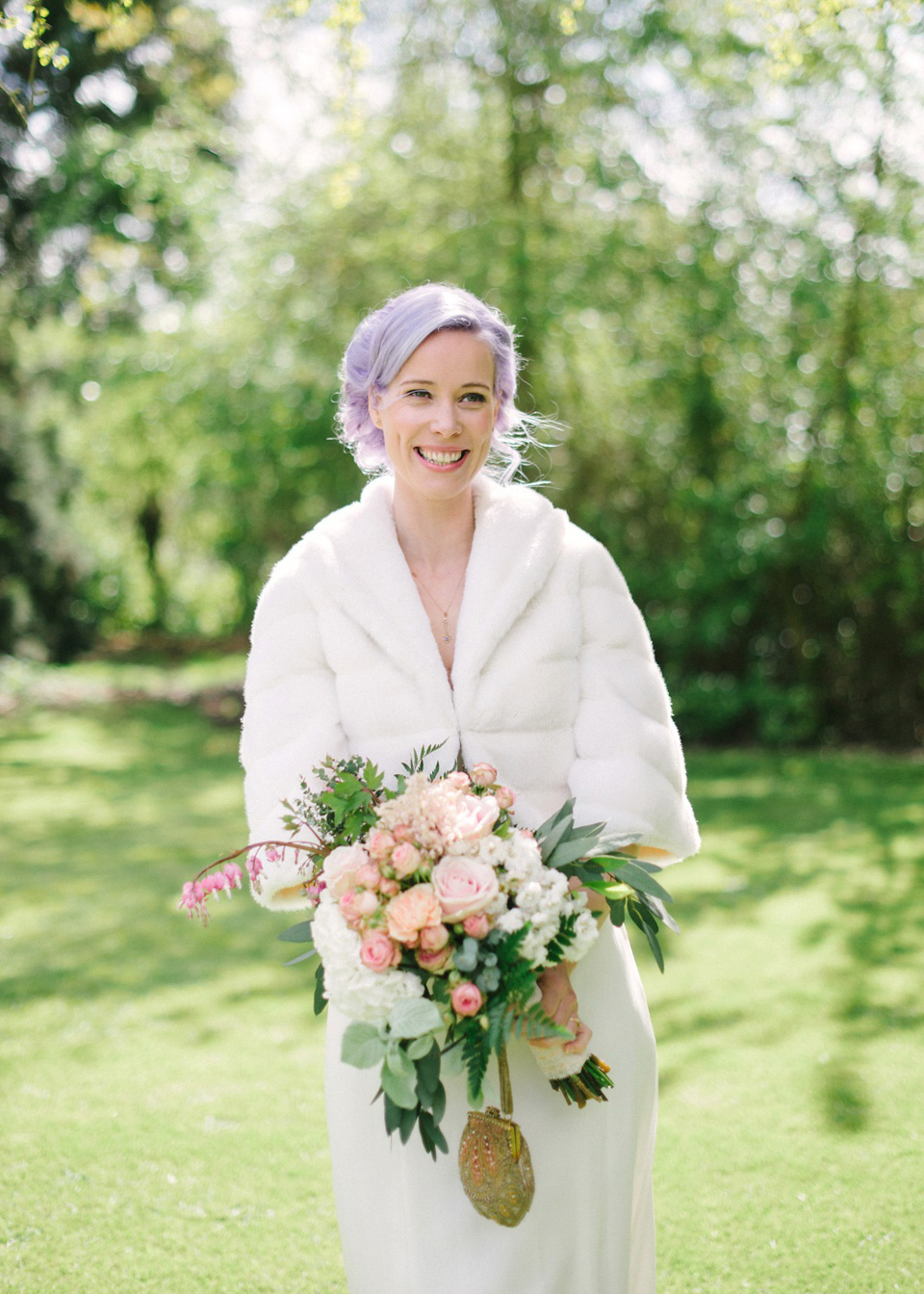 "Sean hates suits and ties so we wanted his wedding clothes to be in keeping with his personal style. He normally only wears skate or surf brands in loose casual fits so we opted for a fresh spring look in creams and a pastel jacket with a matching pair of dyed Converse. A simple buttonhole and we were done."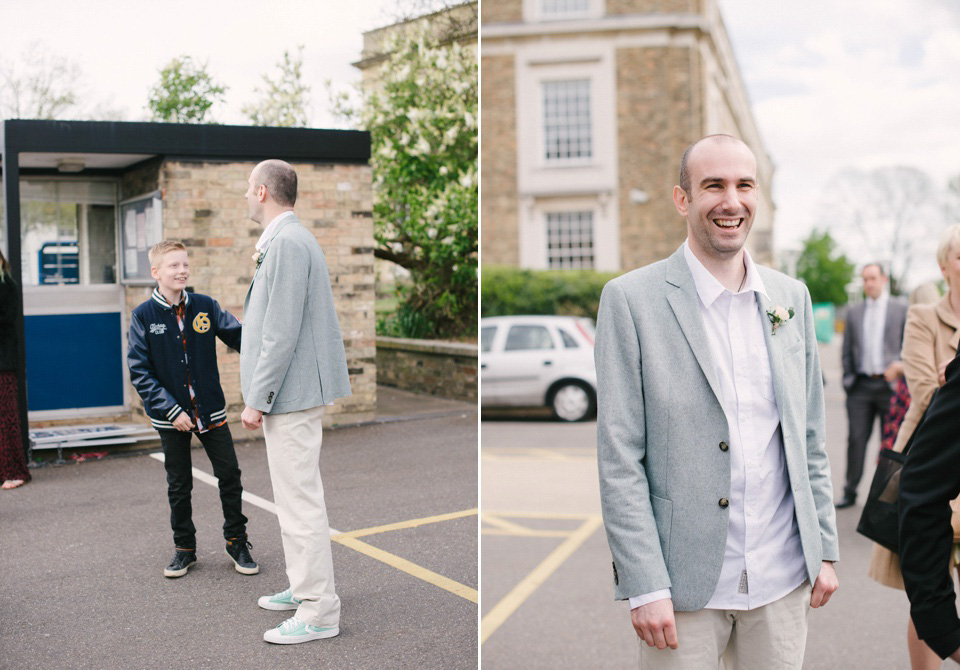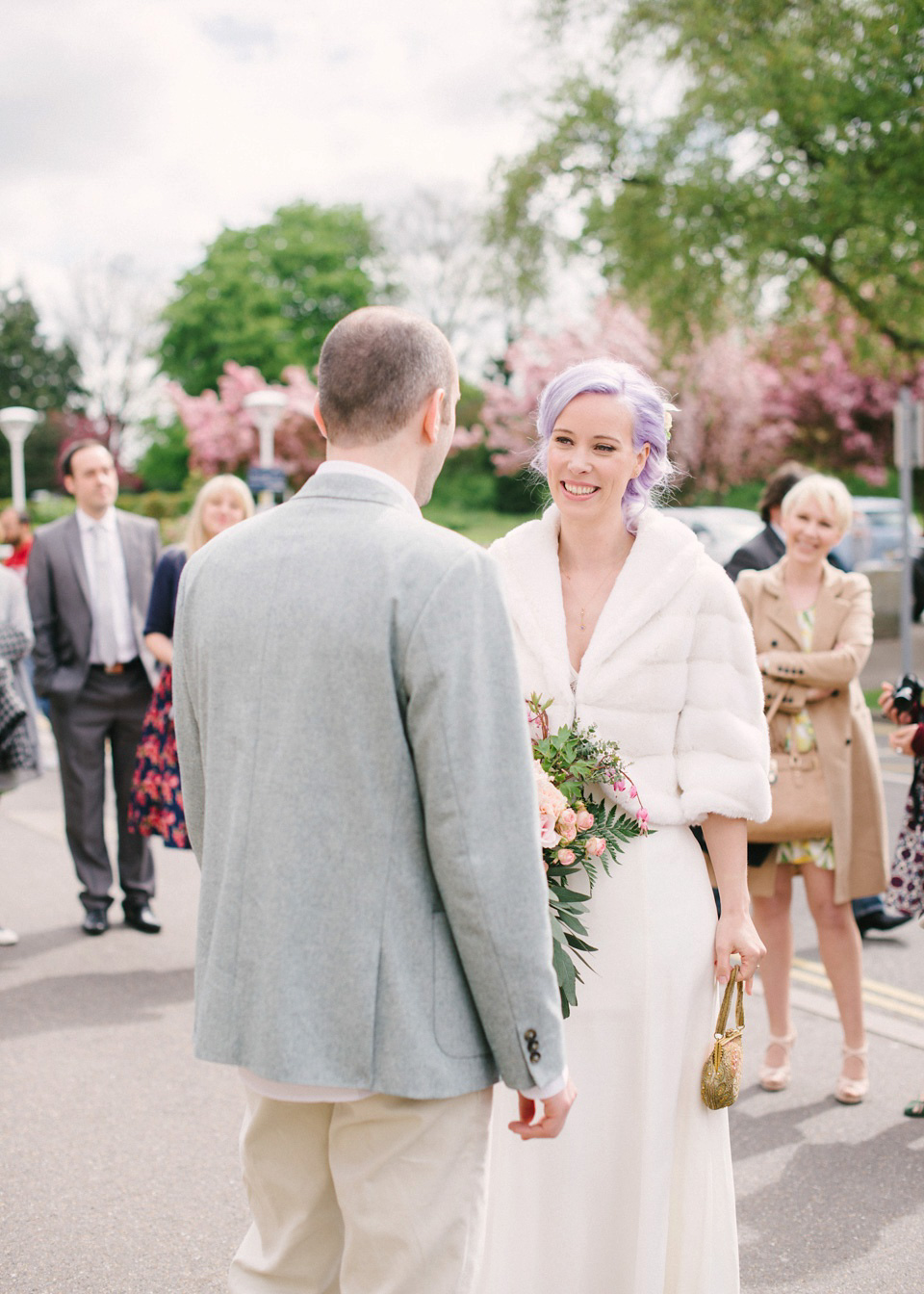 Yvette found her Johanna Hehir dress on eBay and set about making changes to both the size and the aesthetic of the dress so that it would fit her vision. While she admits it would have been less stressful to have had a better fitting gown to start with, the dress turned out beautifully. Opting for fresh flowers instead of a veil, I adore the simplicity of her look.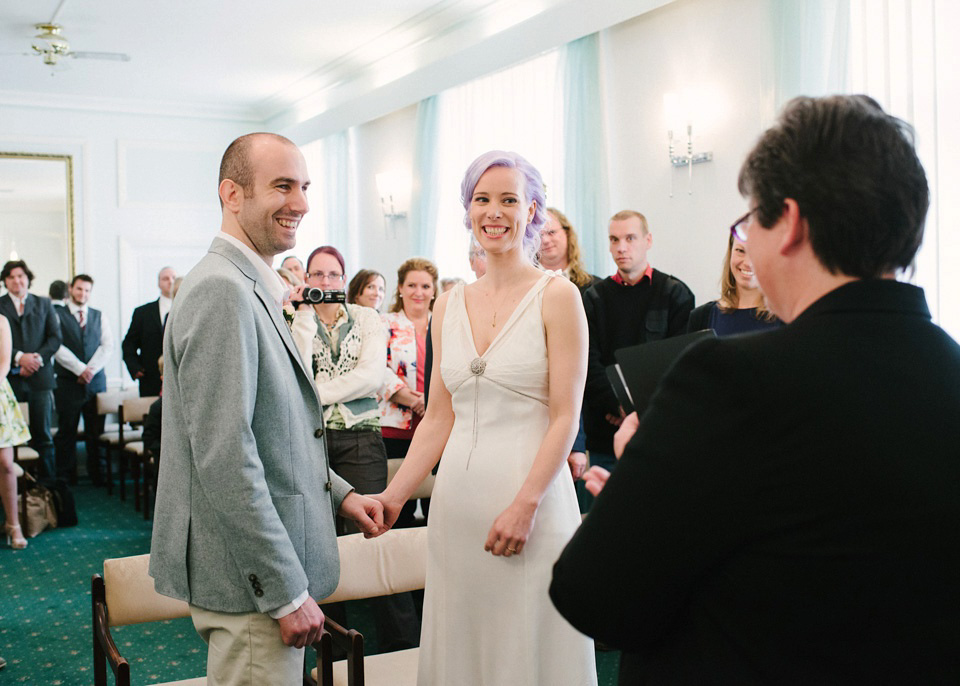 "After I got the dress I had a bunch of alterations done to it, including taking in the waist, the original bow at the front became part of the neckline as the bust area was really too small for me, rhinestones were added on the waistline, a reproduction art-deco brooch cinched in part of the bust and left-over clippings from the front bow were used to tie together the shoulder straps."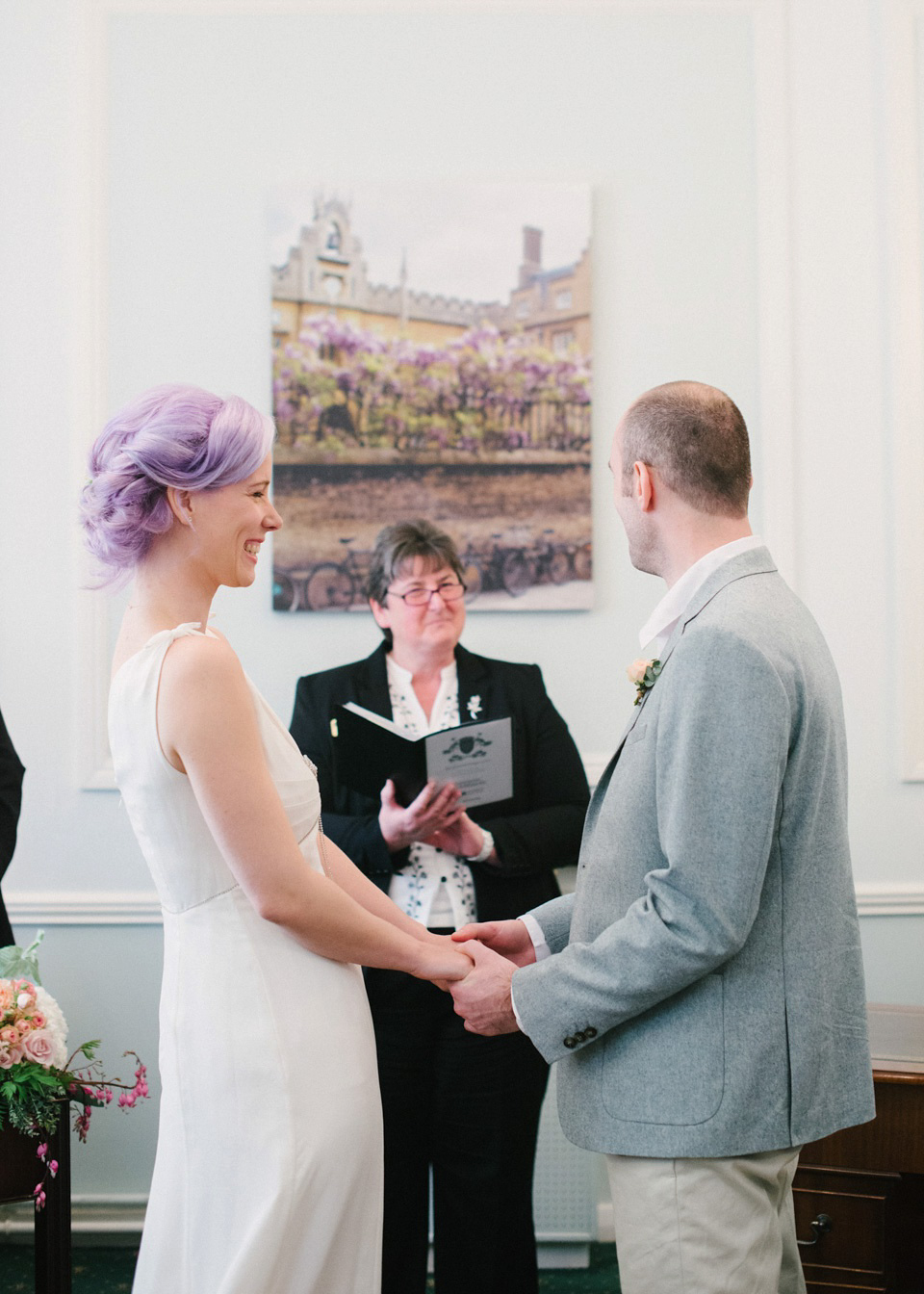 Keeping her jewellery to a minimum, Yvette wore gold single diamond earrings – an heirloom from her mother and an Edwardian Art Nouveau pendant, a gift from Sean.
"I wanted an 18 or 22 carat yellow gold D-shaped band, London hallmark pre-1940's, to match my 1913 Edwardian engagement ring. I found a 22ct version of what I was looking for in Gray's Antiques , for a price that wasn't stupid!
Sean opted for a Mokume Gane folded ring in 2 colours of silver, to represent the Japanese blades he so admires. We found his ring on Etsy, with an American seller Jyakijoshi."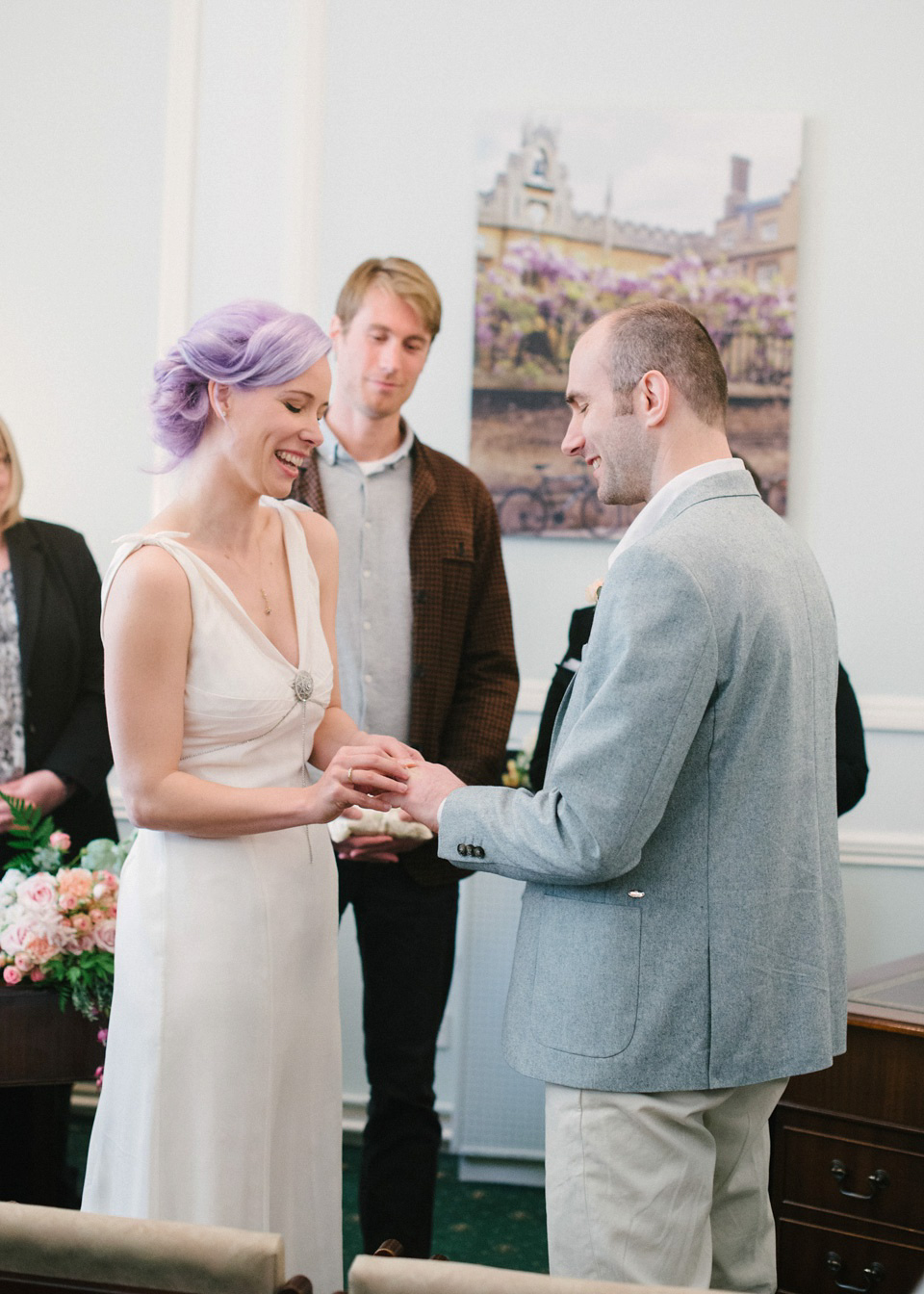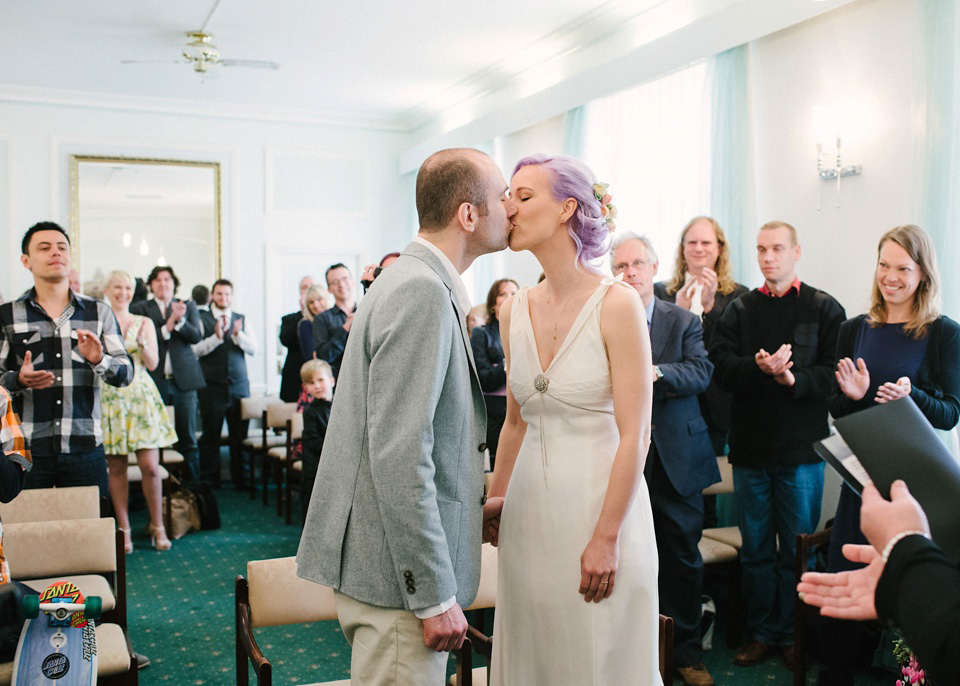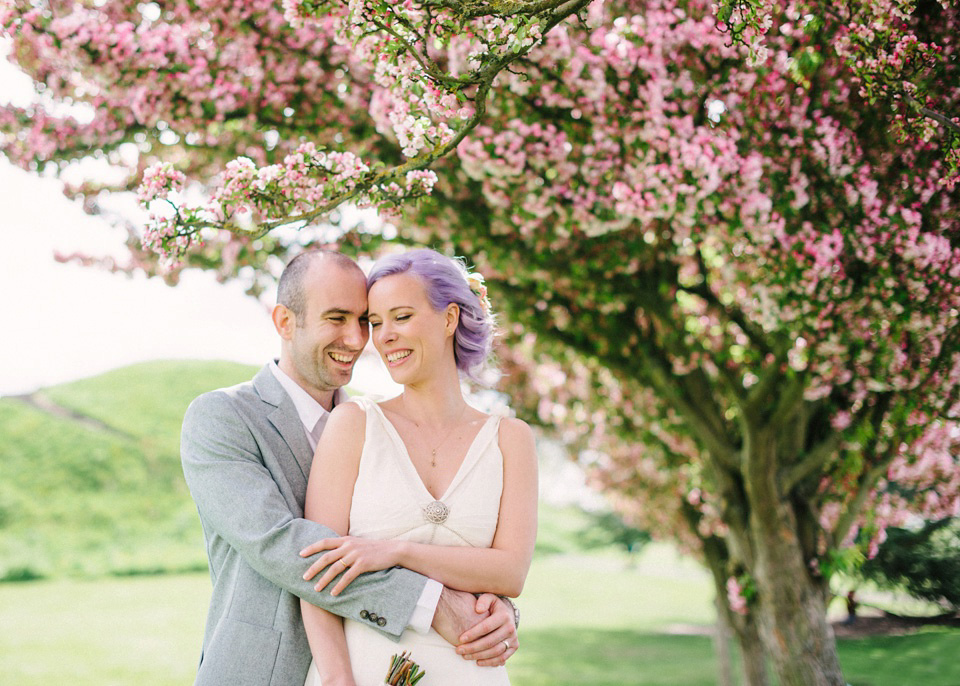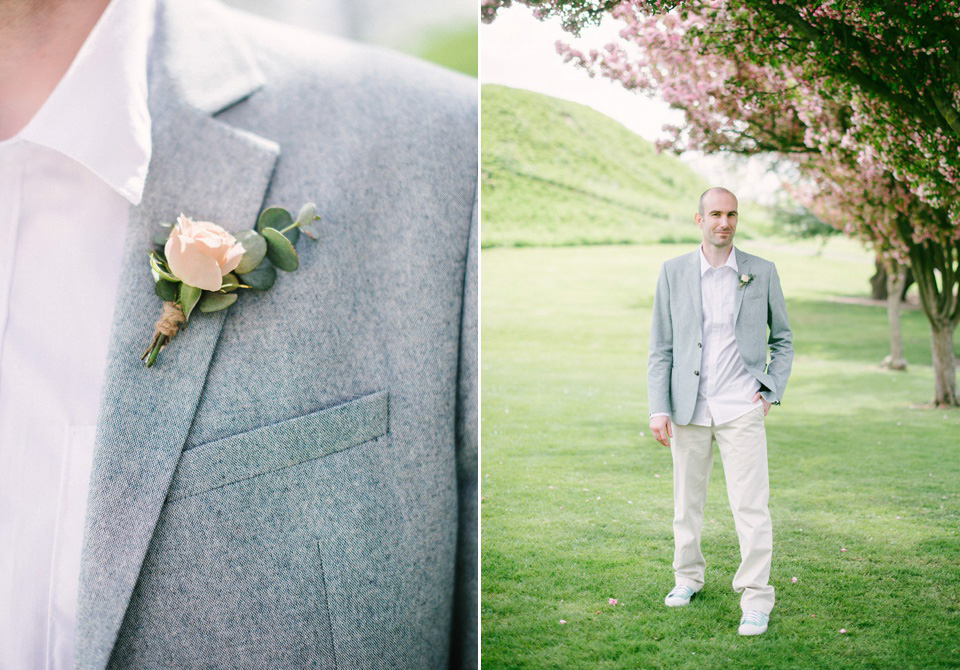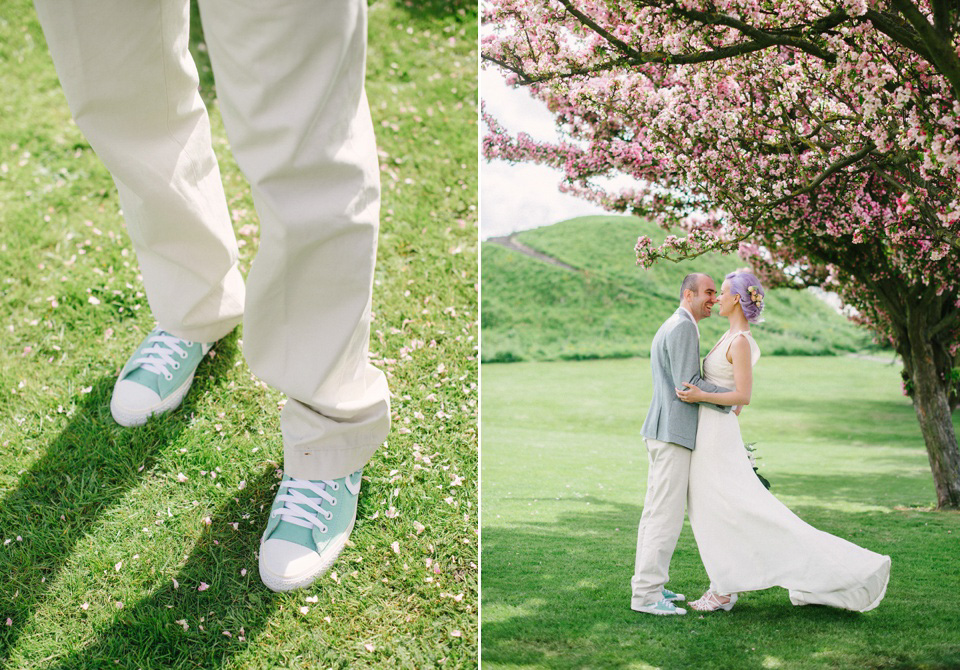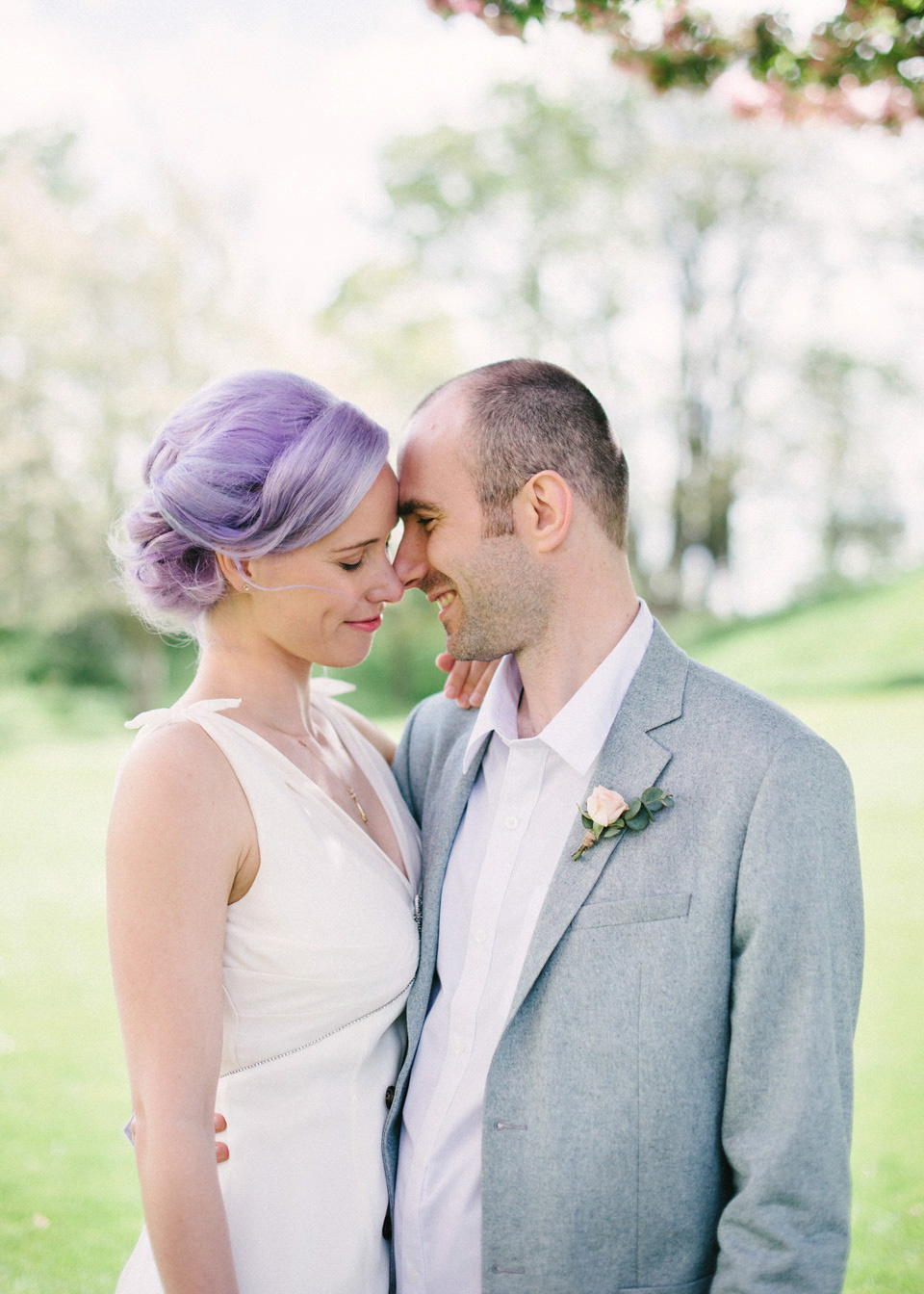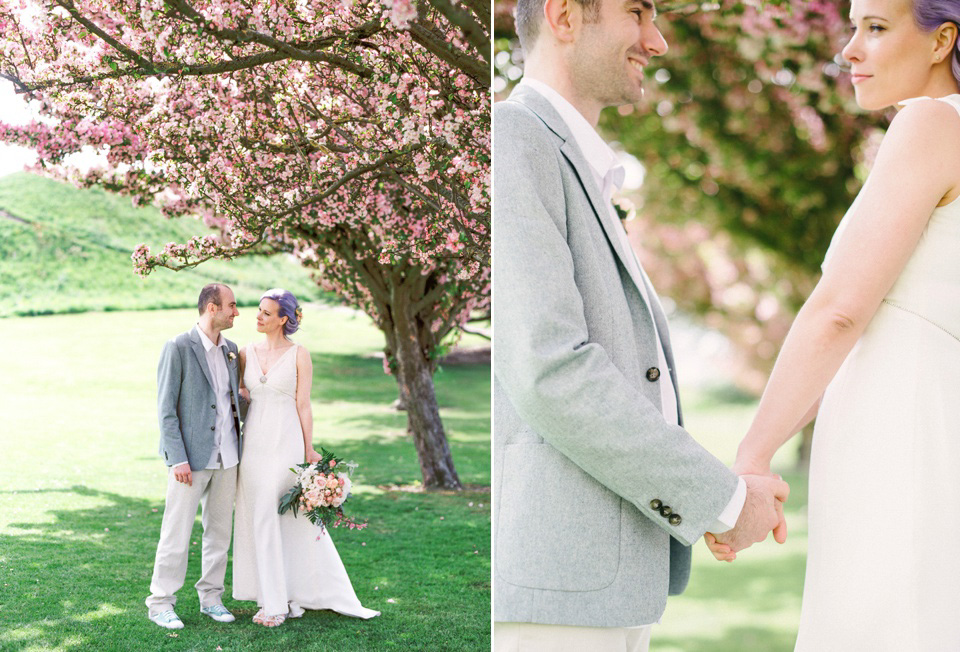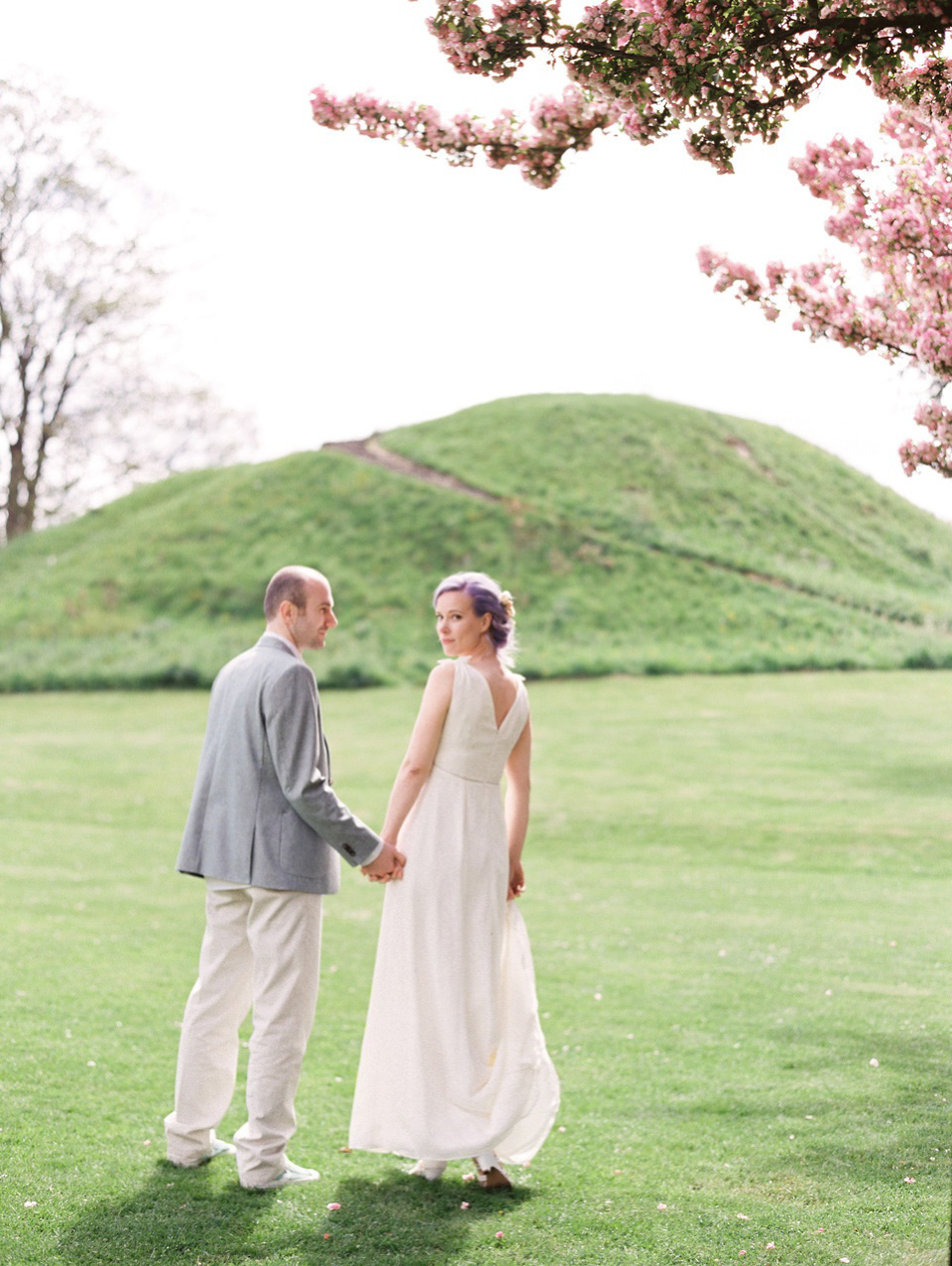 Yvette and Sean kept their wedding simple, with no attendants, readings or first dance. They walked down the aisle together to a classical piano adaptation of 'Forever' by Statovarius.
"The best part was having all of our family and friends with us after the ceremony, walking along to the pub and enjoying a sunny afternoon together."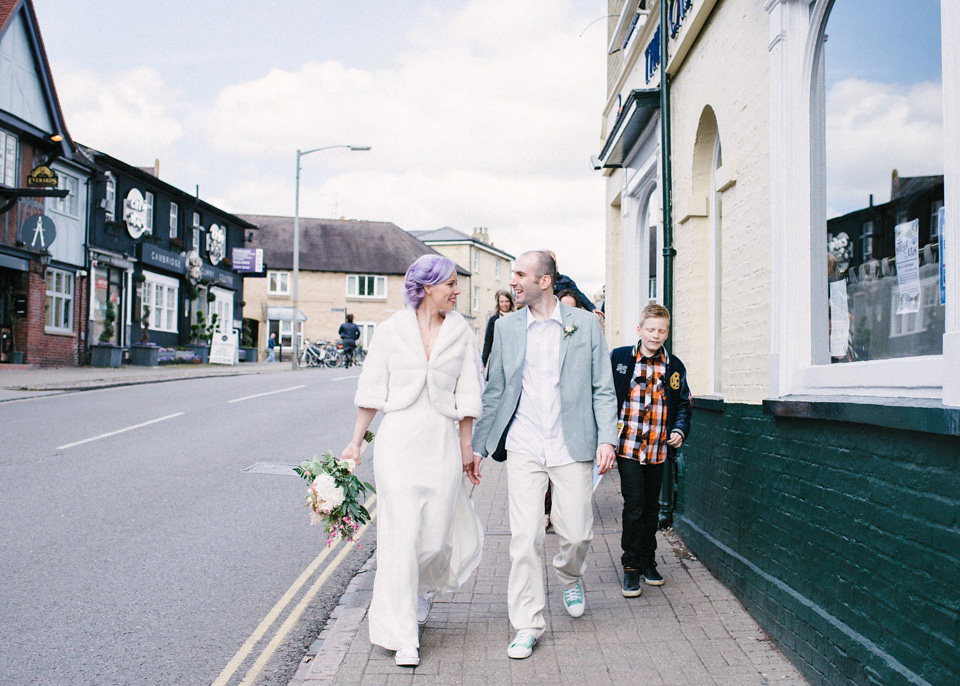 "Two Little Cats Bakery are a small local company. They sat down with us and helped us design the cake from scratch. We loved the flavours of the cake (triple chocolate, lemon and raspberry, green tea and white chocolate) and so did our guests. It was nearly finished when we left for our evening meal!"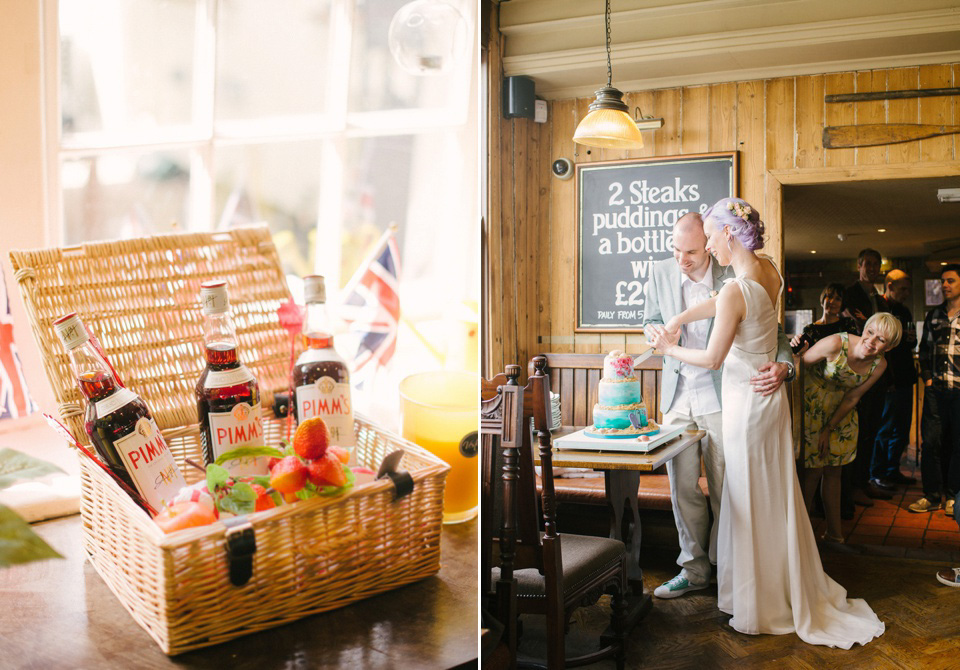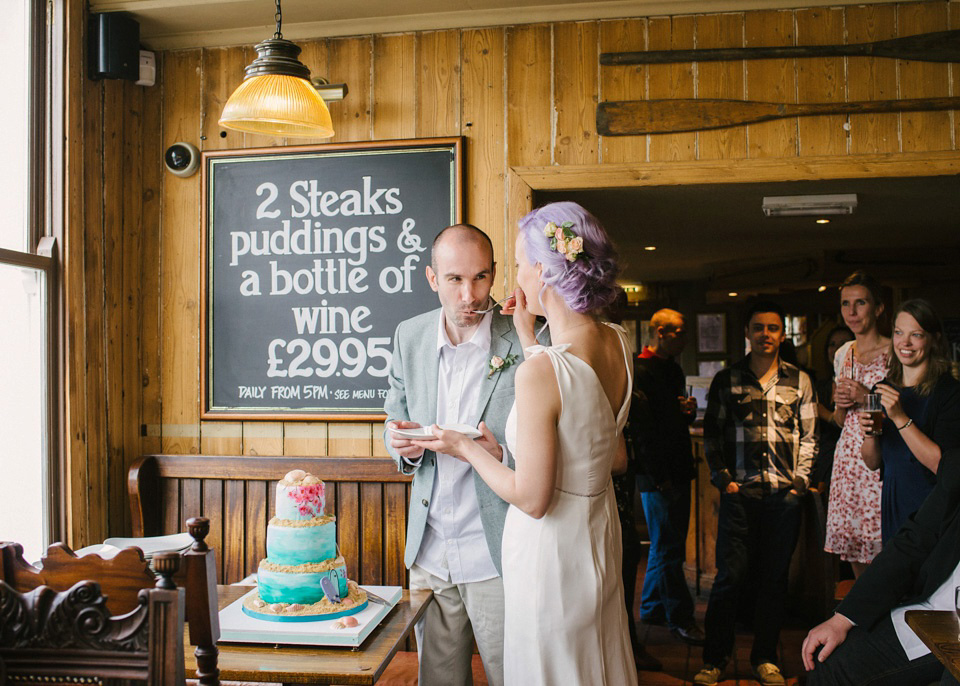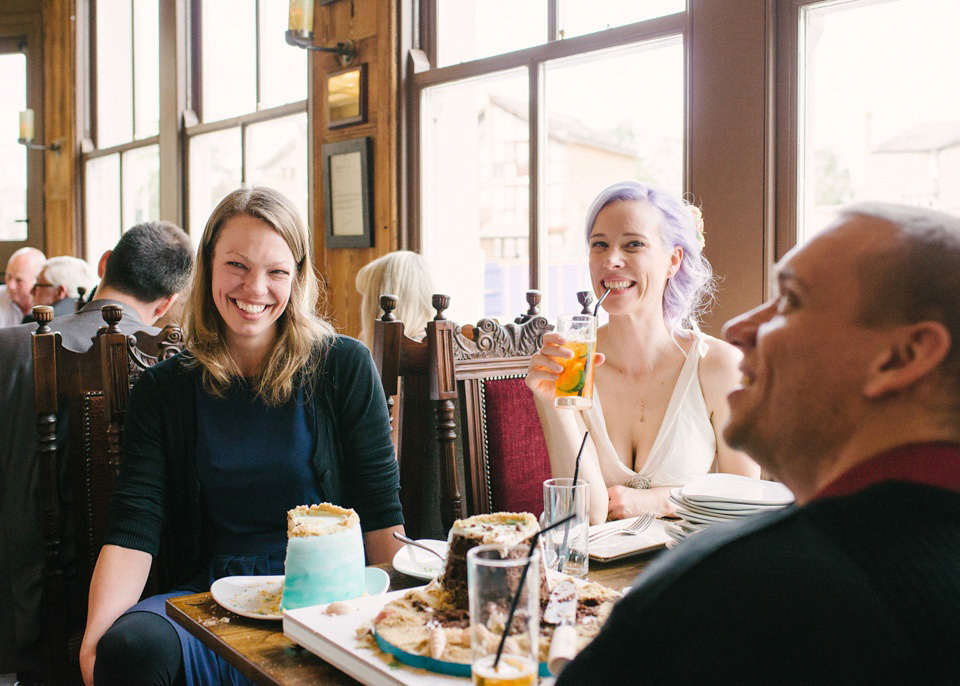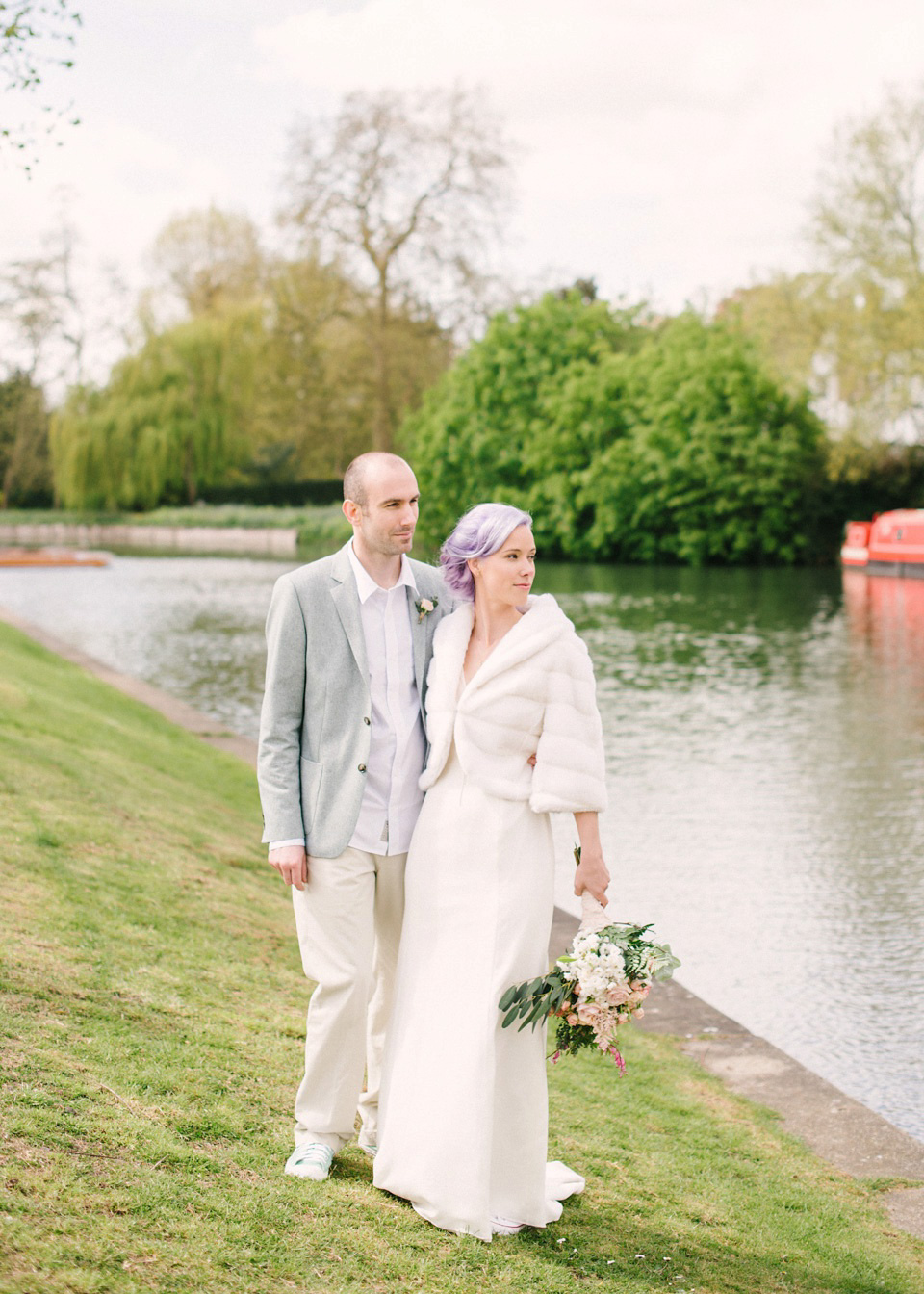 Yvette's white shoes were a bargain at just £5 from New Look. Her father gave her the sixpence sewn on. Later in the day she changed into a pair of white Converse.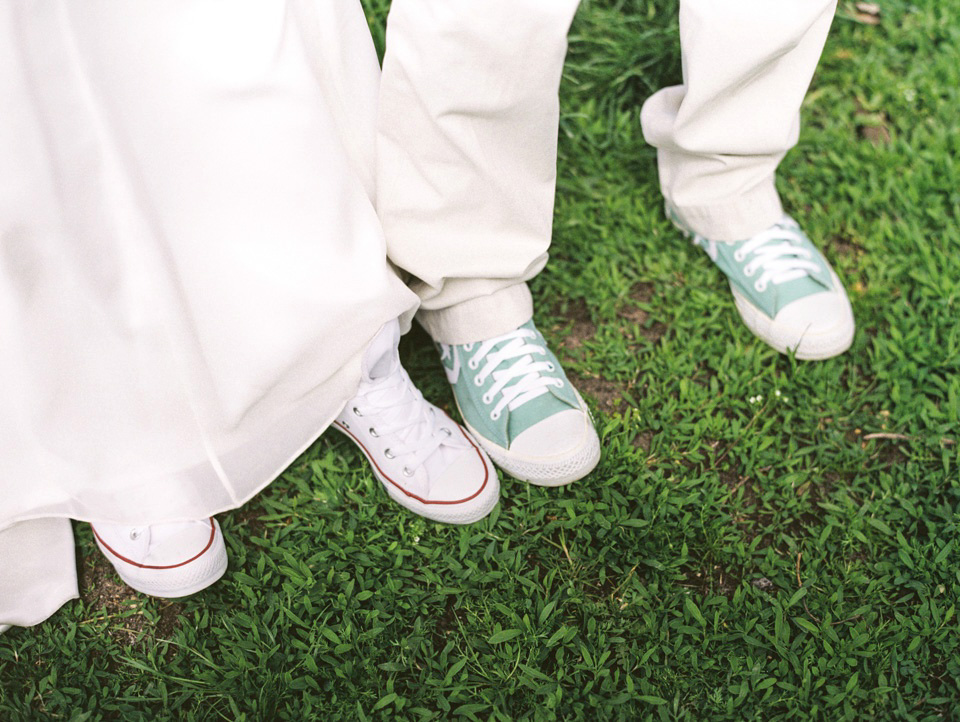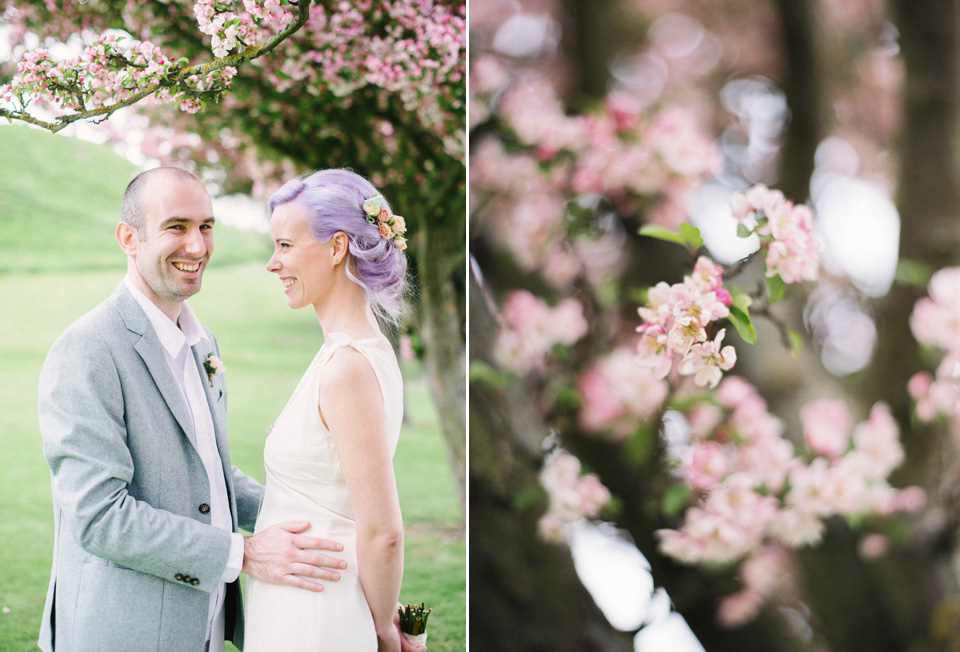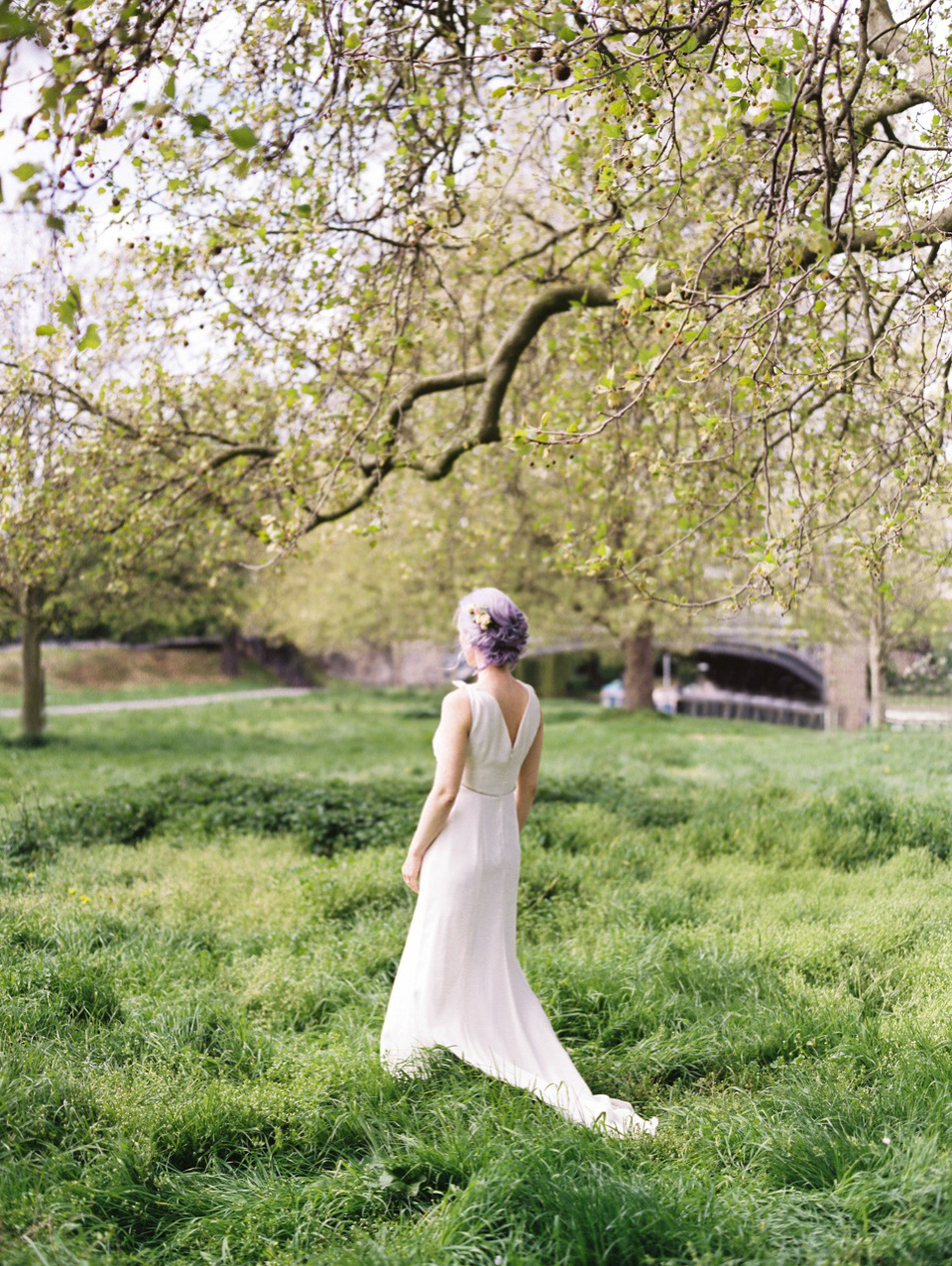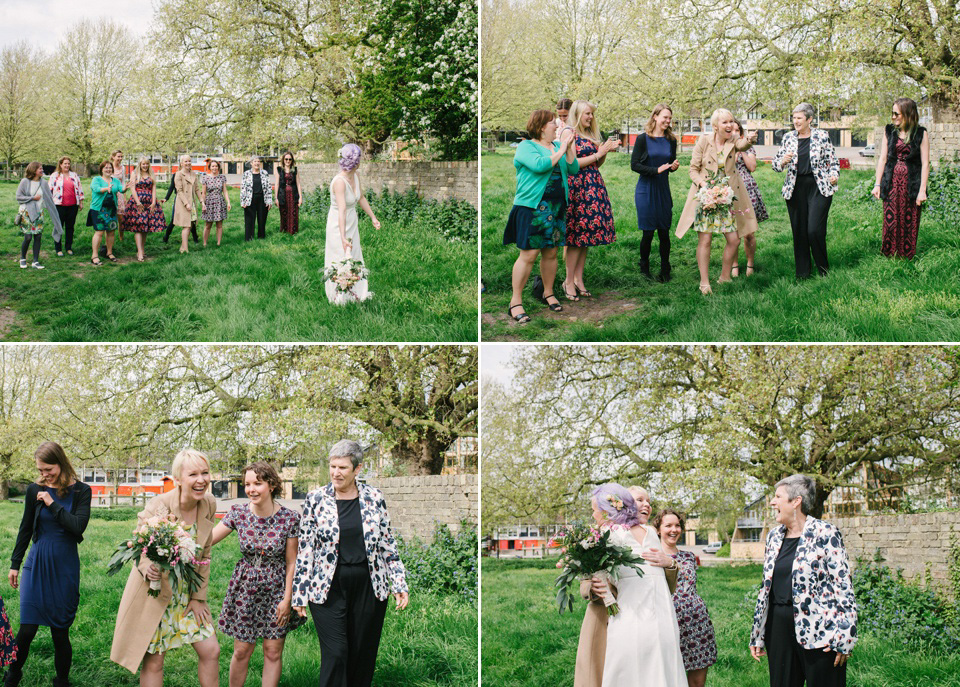 Words of Wedded Wisdom
"It's ok to get a little stressed out if your plans don't seem to all come together but remember that you're only doing all of this for one purpose: to marry the one you love. What anyone wears (you included!), what your cake looks like, what the weather does – has no importance for the rest of your lives together so don't worry, just enjoy your day."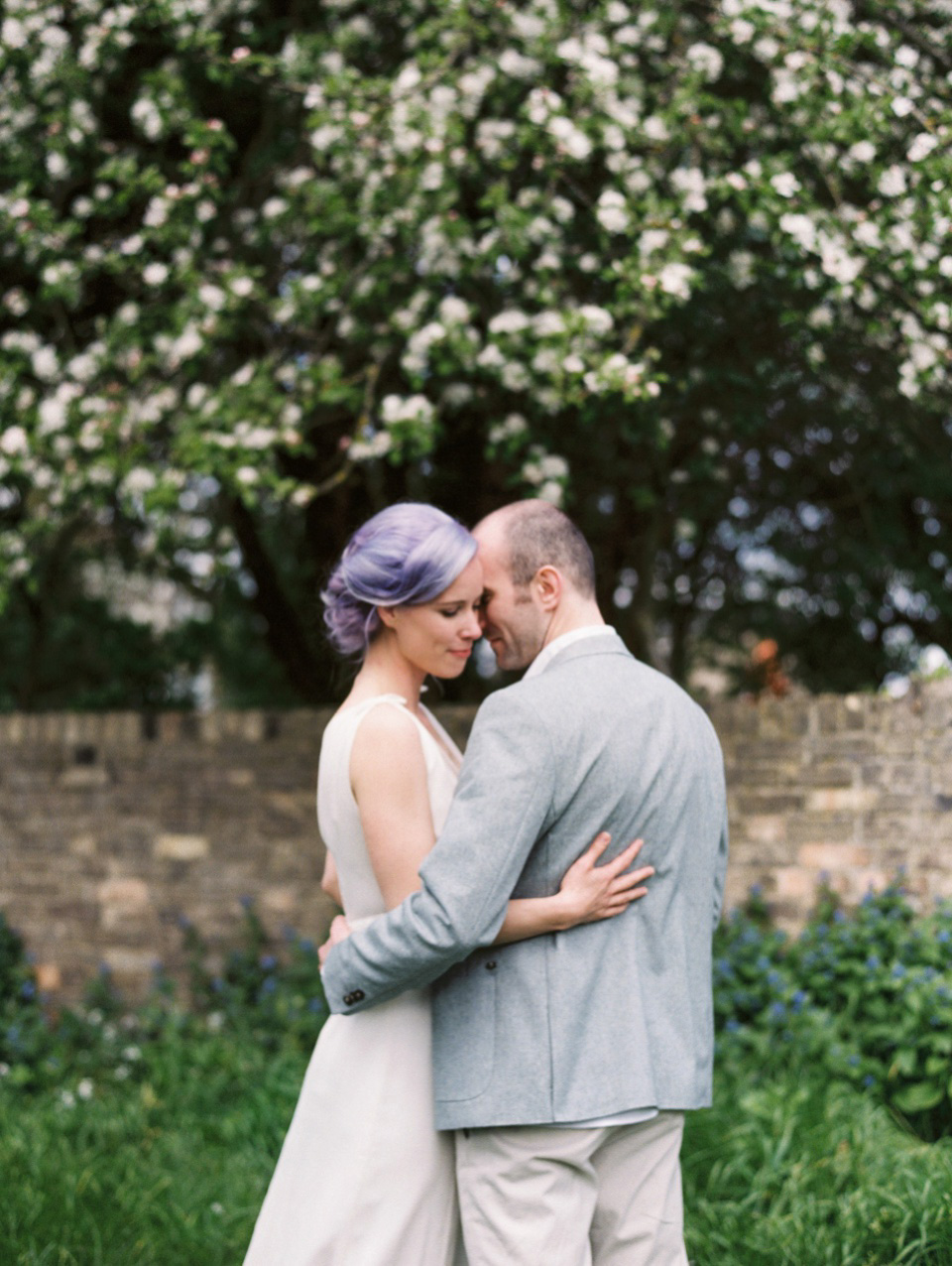 What a gorgeously relaxed wedding, Yvette is so right about the stress, nothing else matters on the day. I also love that she based her look on a style she had worn and loved before, are any more of our readers planning on revisiting a favourite hairstyle for your wedding?
Huge thanks must go to our couple, congratulations on becoming Mr & Mrs! Also a special shout to our amazing photographer Hannah Duffy, I'm sure we will be featuring more of her work in the future.
Love Caoimhe xx
Photographer – Hannah Duffy Photography
Venue – Cambridge Registration Office
Wedding Dress – Johanna Hehir
Shoes – New Look + Converse
Groom – Ralph Lauren Trousers + Volcom Shirt + River Island Jacket with Custom Converse
Florist – The Flower House, Cambridge
Cake – Two Little Cats Bakery, Cambridge
Rings – Gray's Antiques + Jyakijoshi
Hair Stylist and Makeup Artist – Izzy Wild