Good morning lovely ones, and thank you so much for patiently awaiting our first blog feature today – it was worth it , I promise you. Lauren and Joe tied the knot on 28th February this year at an the increasingly popular alternative style London wedding venue, The Asylum at Caroline Gardens in Peckham.  I love this wedding not just for it's colour and charm and lovely relaxed nature, but for the many wonderful moments that talented photographer David Jenkins has documented through his camera. These images tell the story of such a fun day full of celebration and love.
Below, lovely bride Lauren explains why she and Joe chose this particular venue. Enjoy and be inspired lovely wedding blog friends. I hope these images uplift you as much as they have me.
"I styled a photo shoot at The Asylum years ago and I remember thinking to myself 'I want to get married here' – I was single at the time though. We styled the venue so it felt religious (my family are catholic, but Joe's family are not religious), even thought it was a civil ceremony – best of both worlds!"
Photography by David Jenkins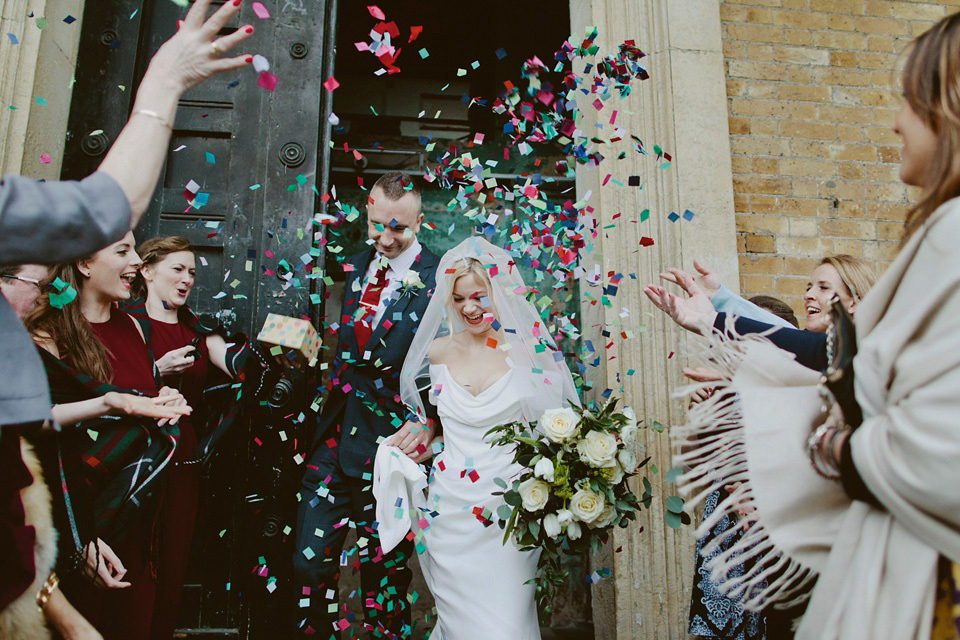 "I love candlelight and we're both obsessed with the history of London so an old crumbling London building, lit by candlelight on a winters day seemed perfect. And it really was."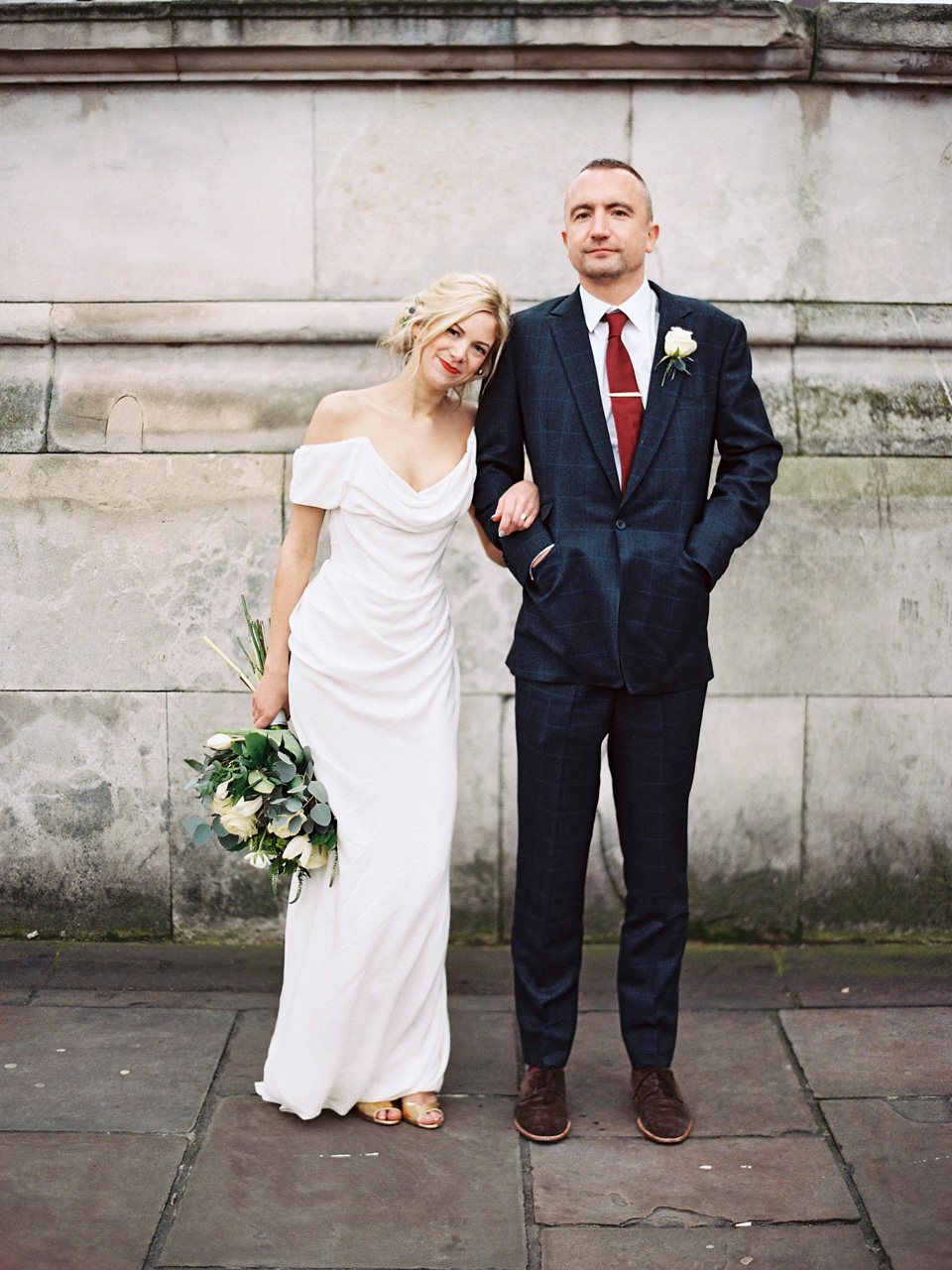 "Colour-wise we wanted to keep it very simple, the dark red came from my original obsession with dark red roses, but then decided on a different bouquet – but the ties and jumpsuits stayed dark red as it just seemed to work."
The bridesmaids wore ASOS jumpsuits + Kurt Geiger shoes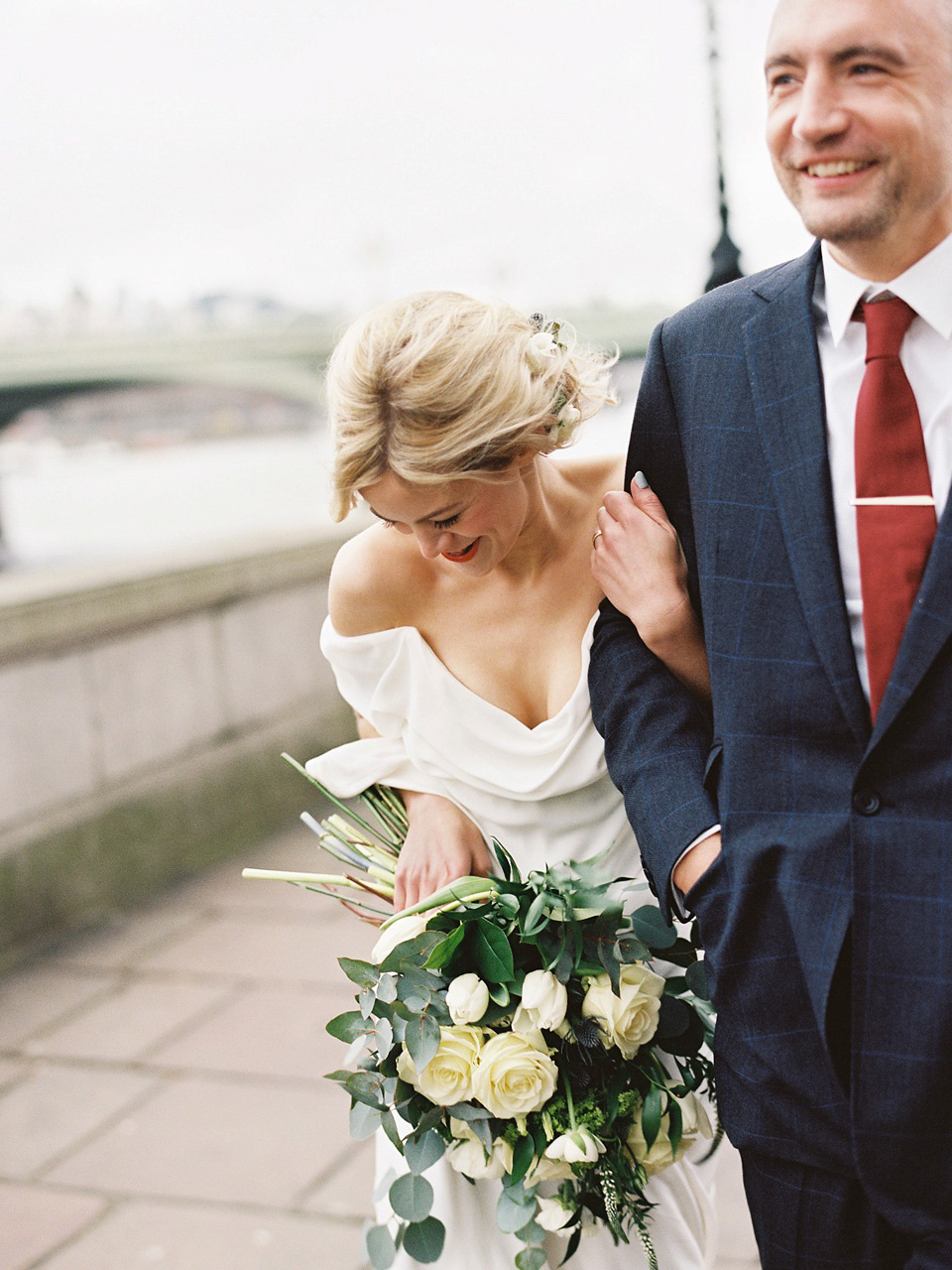 "Our photographer was David Jenkins – who was absolutely brilliant, and made the day fun and relaxed, there was nothing awkward or posy about it. I am a BIG fan of his wedding and personal photography."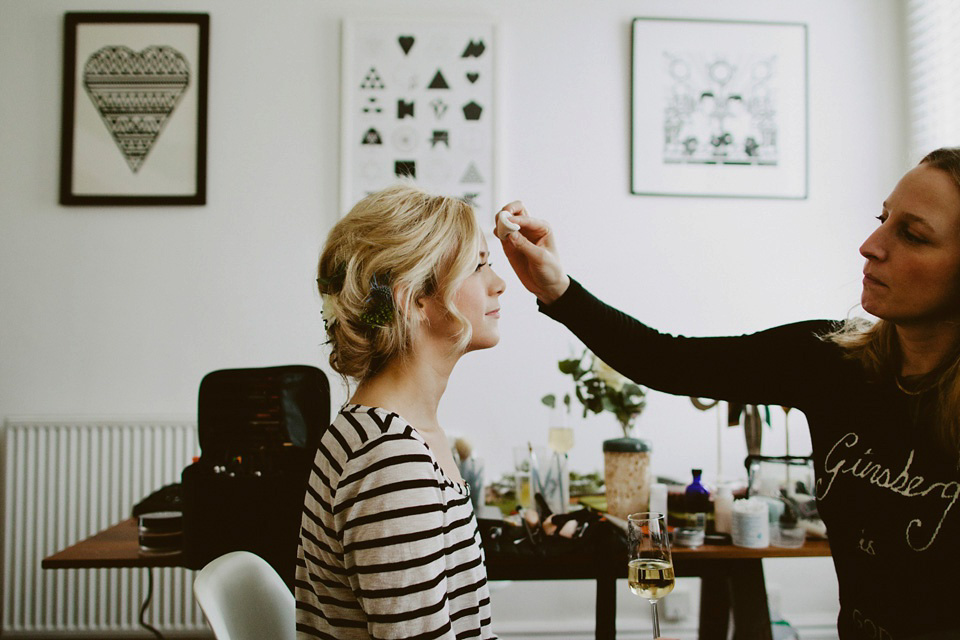 The couple were assisted by wedding and event planner Louise Perry.
"Louise Perry helped us with wedding planning, she was really great. We had two dry hire venues so there was a lot of planning and production involved. We wouldn't have been able to do it without her."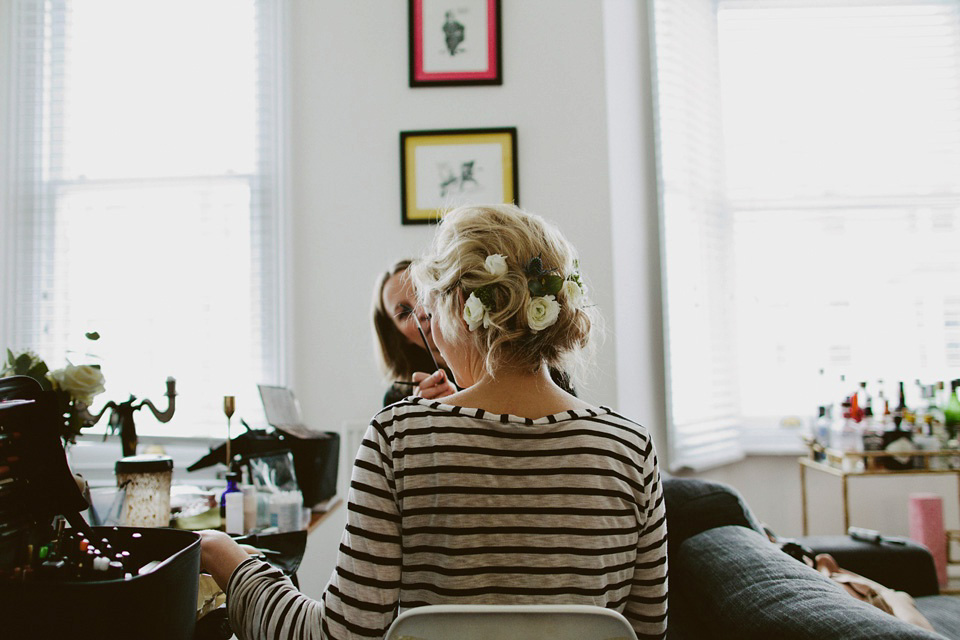 "Lisa Lawrence of Blooms and Bows was a total dream to work with. We wanted to go for some grand flowers in contrast with the decaying building to give it a feeling of fanciness. I think the candles and ivy mix was a no-brainer in that building."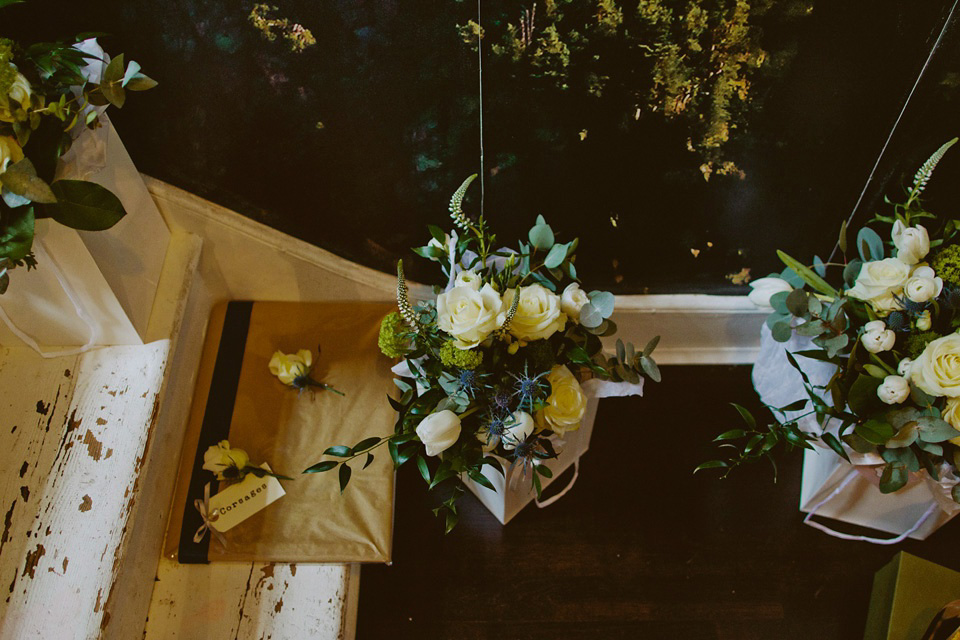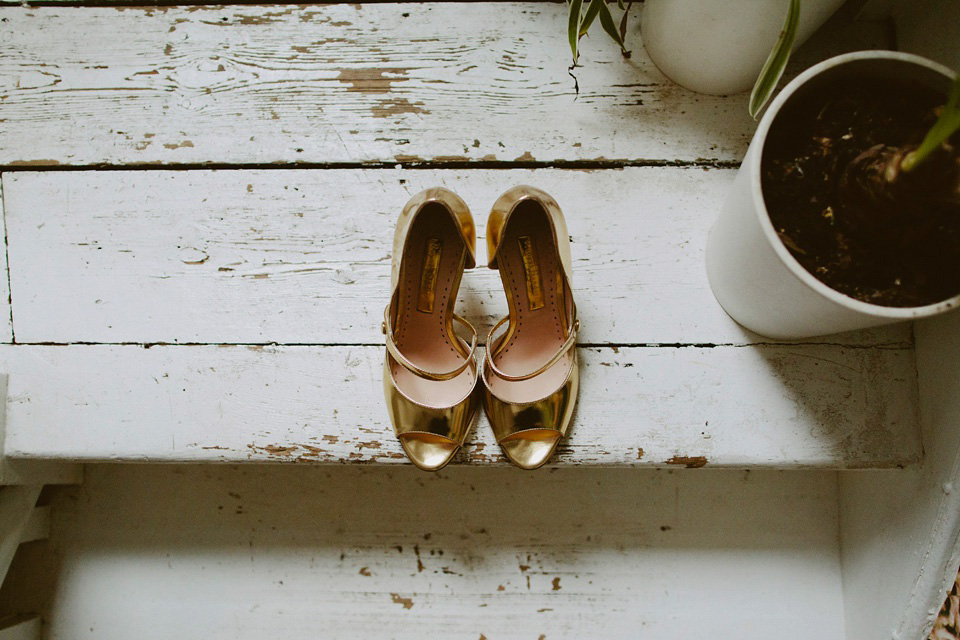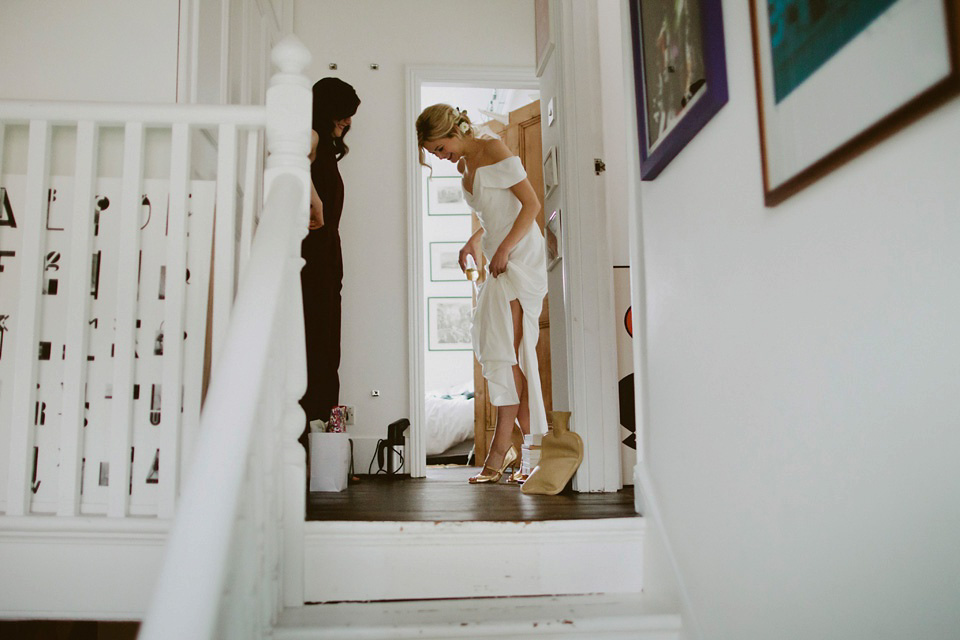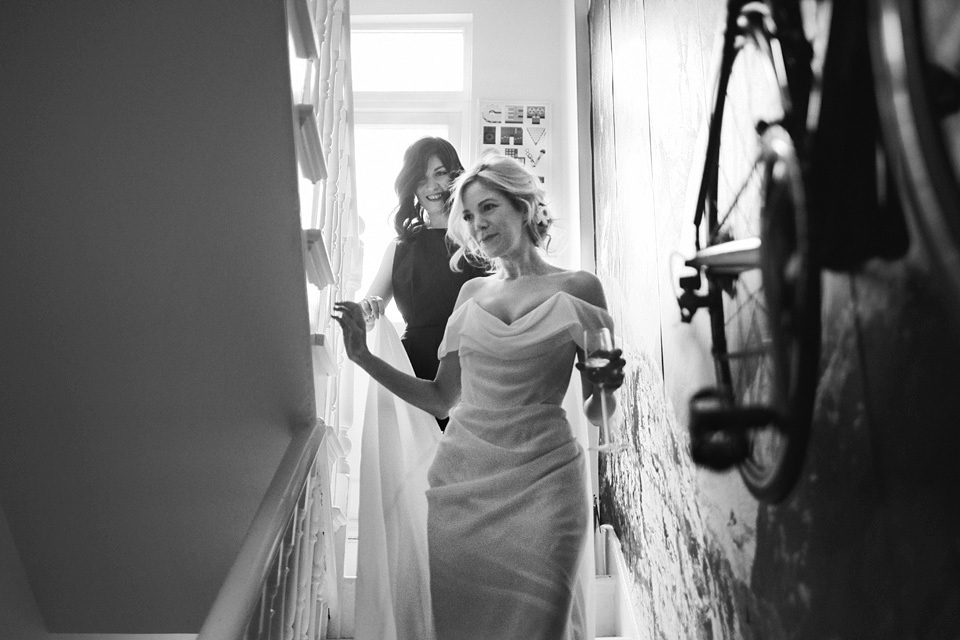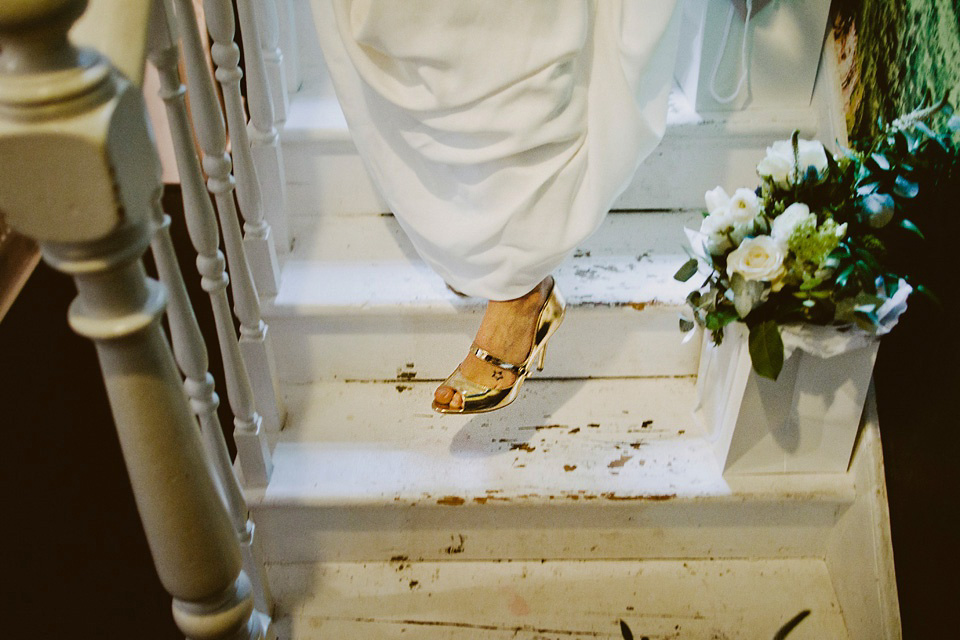 "My dress was by Vivienne Westwood – it was an ex sample I was able to get through work contacts. Originally I was going to get married in a white tailored jumpsuit, but I tried this dress on and loved it straight away. I like that it was simple yet also dramatic.
I wore just my great grandmothers wedding ring and my Mum's guardian angel pin that was fastened under my dress."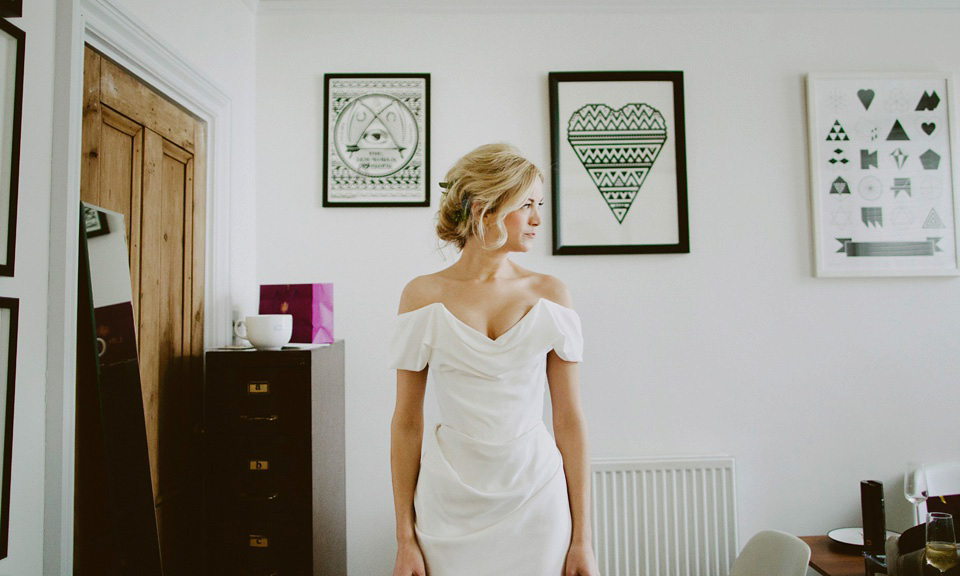 "The brilliant, Lucy Clemson of RSVP London did the invites, which we sealed with personalised dark red wax seals. We made the rest of the stationary ourselves."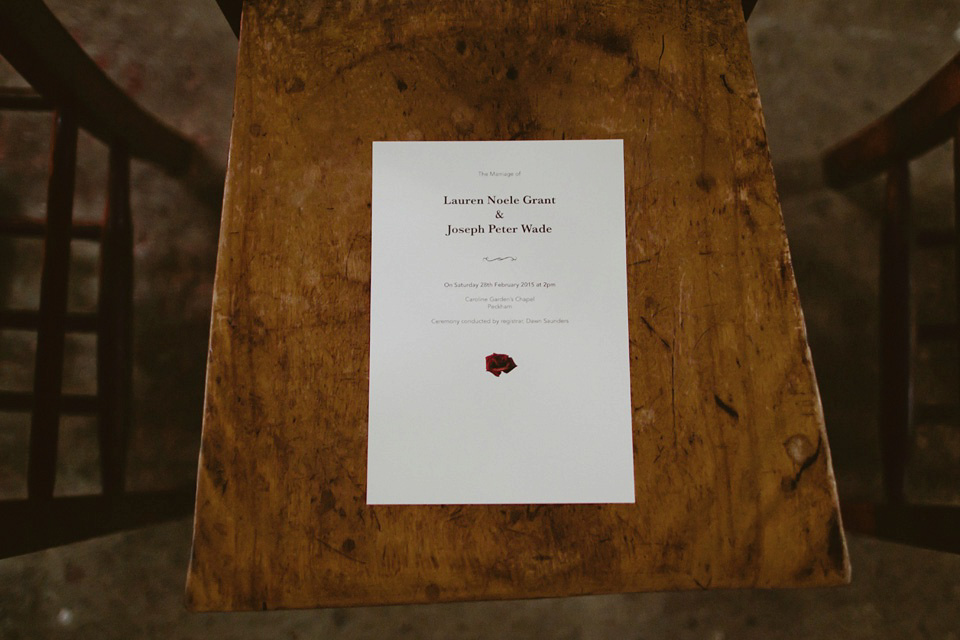 "Joe and I met at a New Years Eve party, he was wearing a fetching Norwegian knitted jumper, I felt drawn to him. He proposed later that year (after asking me Dad's permission).  He took me to Bath for the weekend and proposed on a park bench whilst we swigged out of a bottle of Pink Lanson."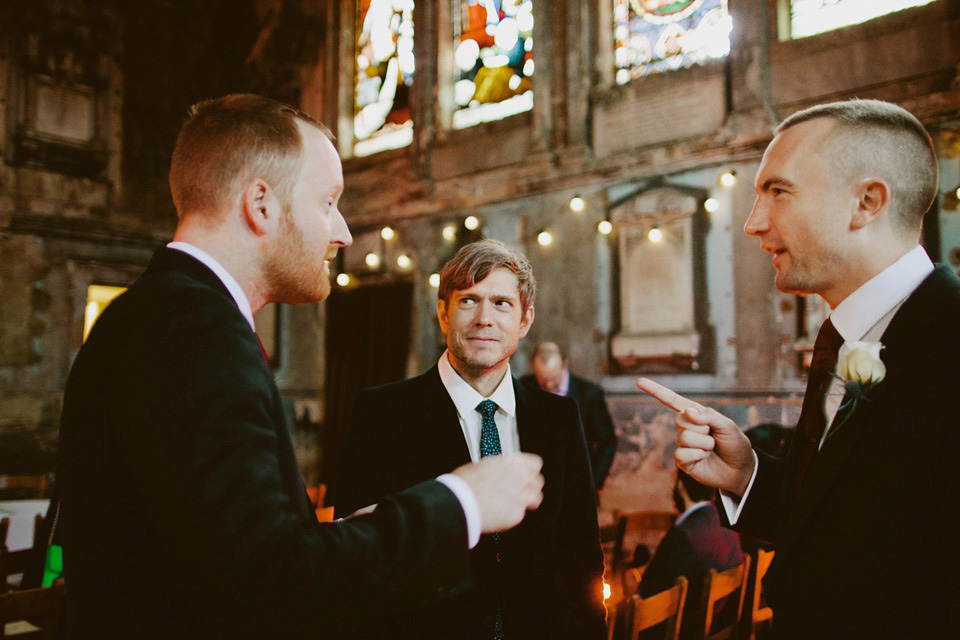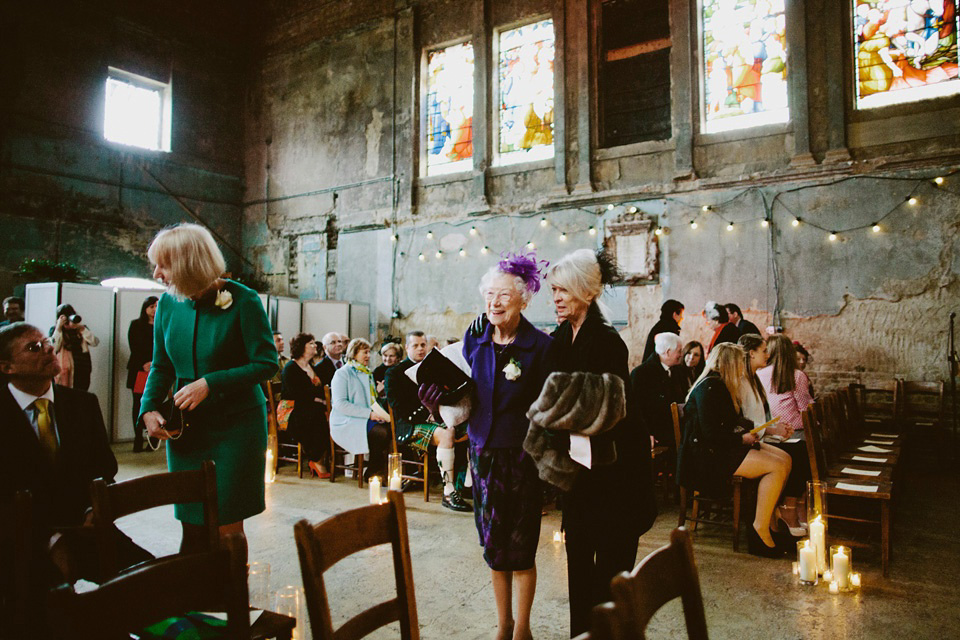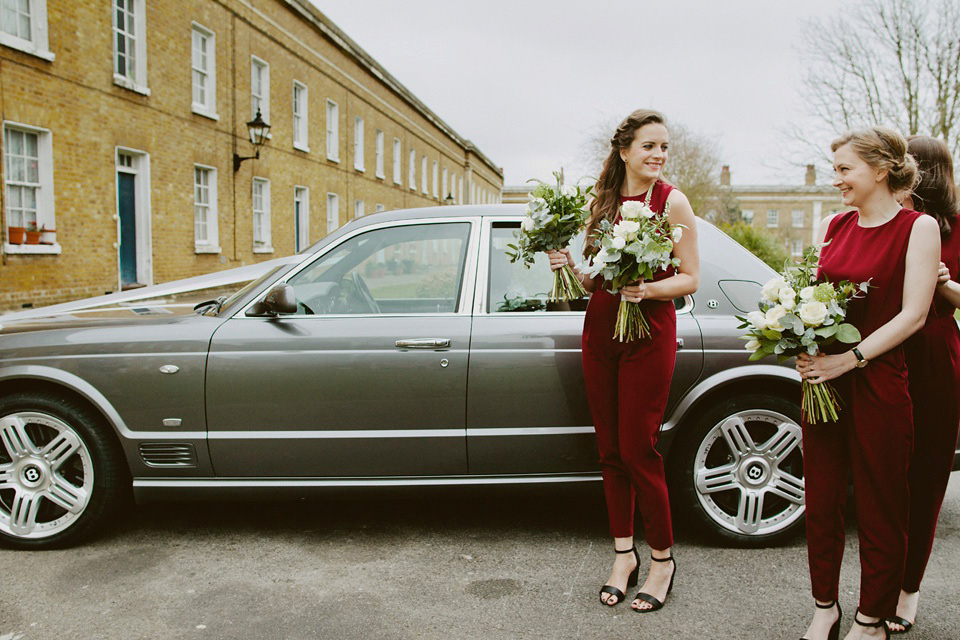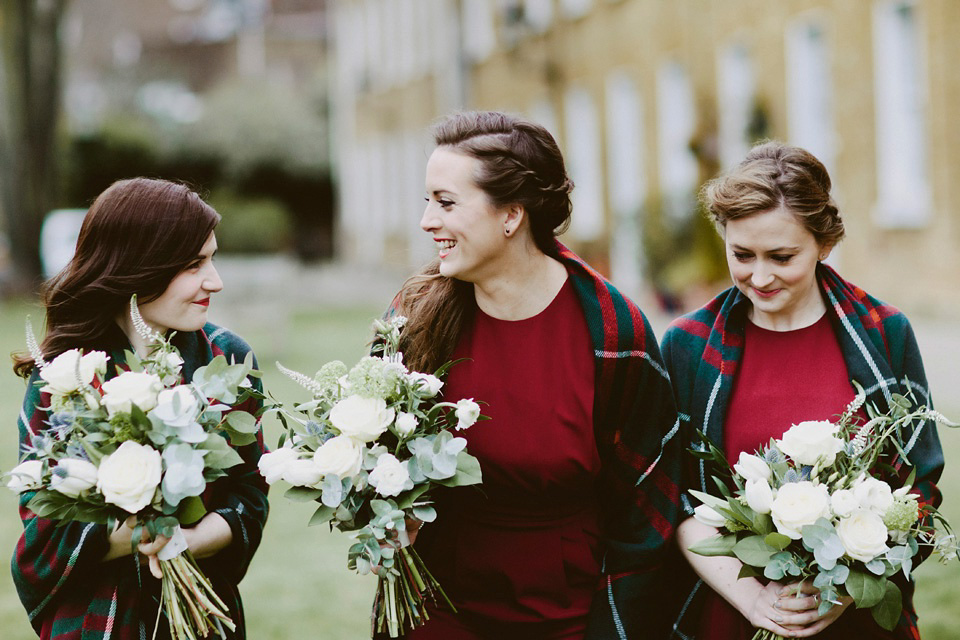 "My Mum is Scottish and my Dad is Irish so we had a few nods to their countries throughout the day too, like tartan shawls for the bridesmaids, thistles in my hair and my Dad's cousin from Tipperary sang 'Fields of Athenry' at the reception."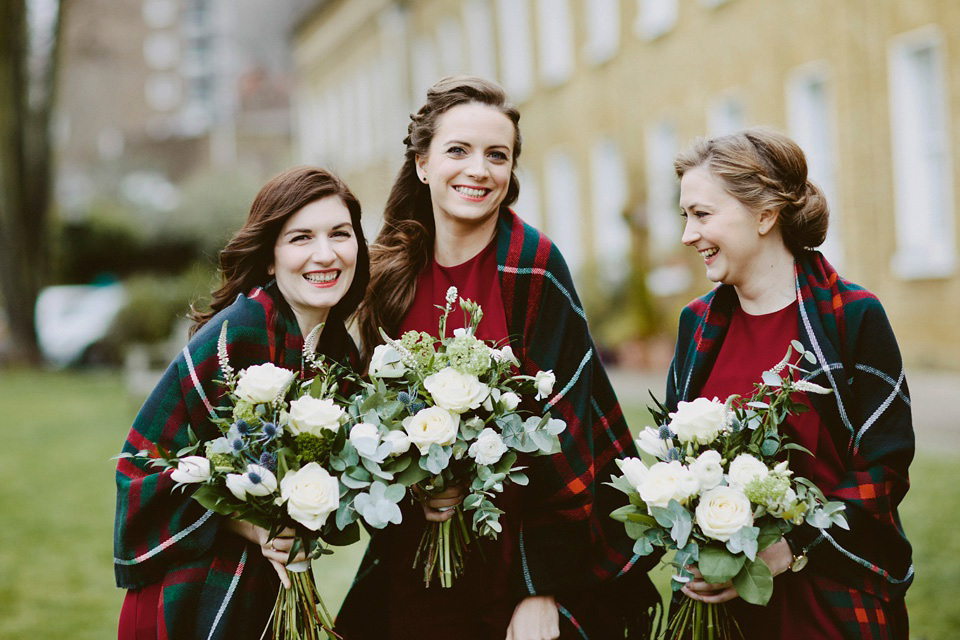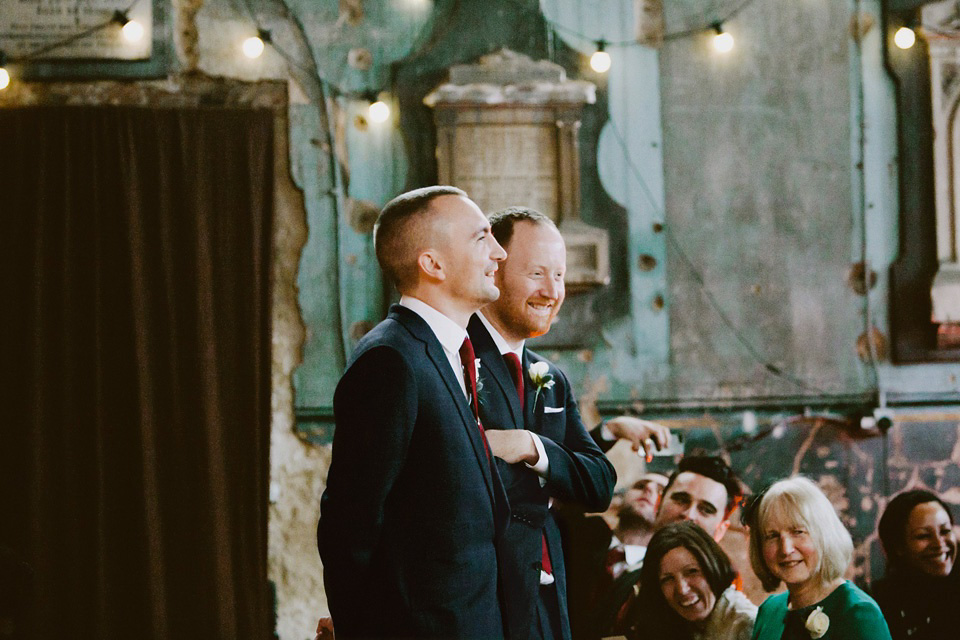 "My Wonderful Dad walked me down the aisle to 'Chapel Of Love'."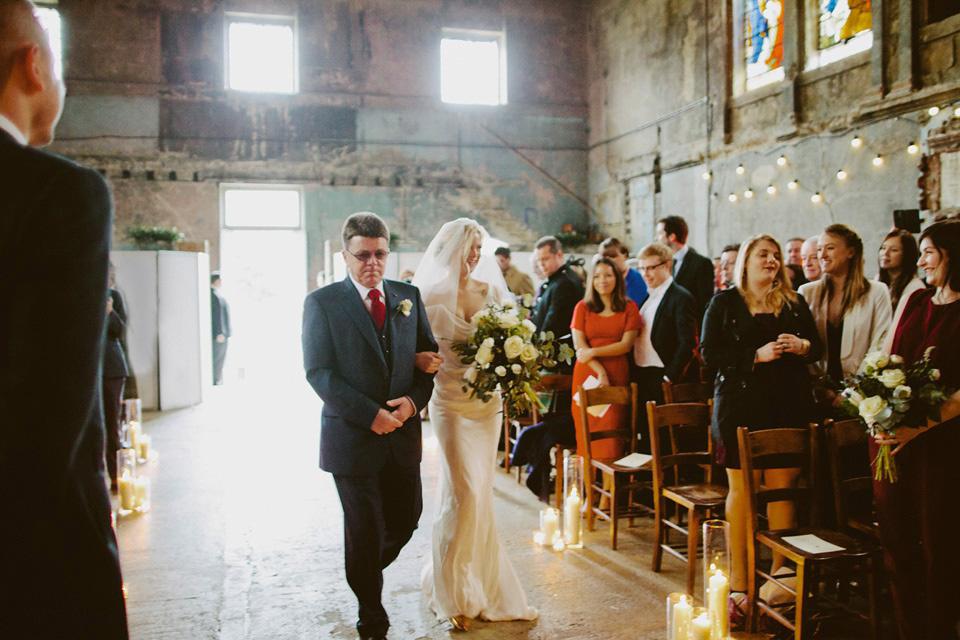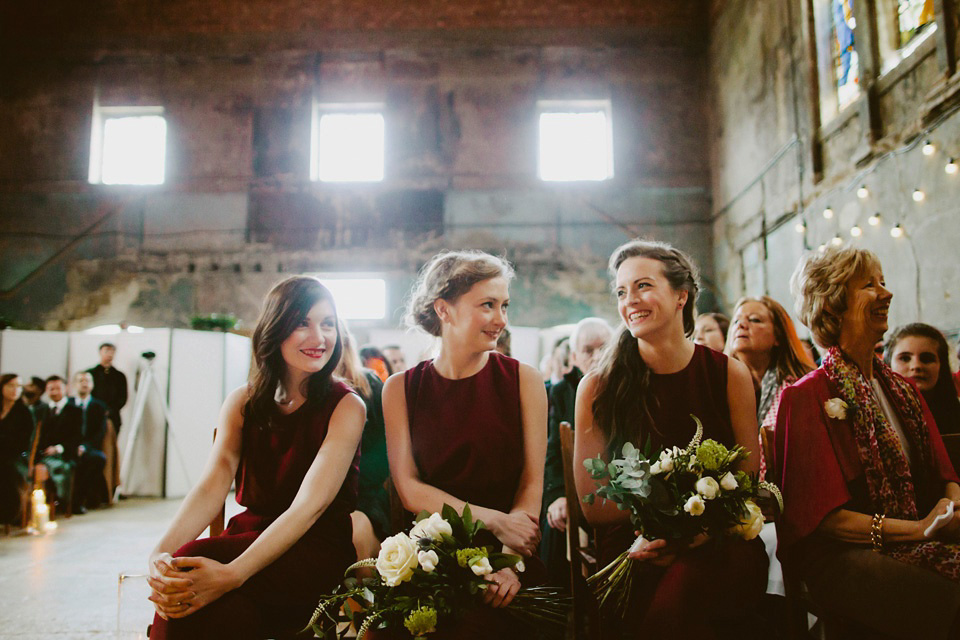 "The veil was a last minute ad on. I just thought 'You only get one day to wear a veil' I think Joe was quite surprised that I went with a veil. It was from  Joyce Jackson Veil from Olivier Laudus."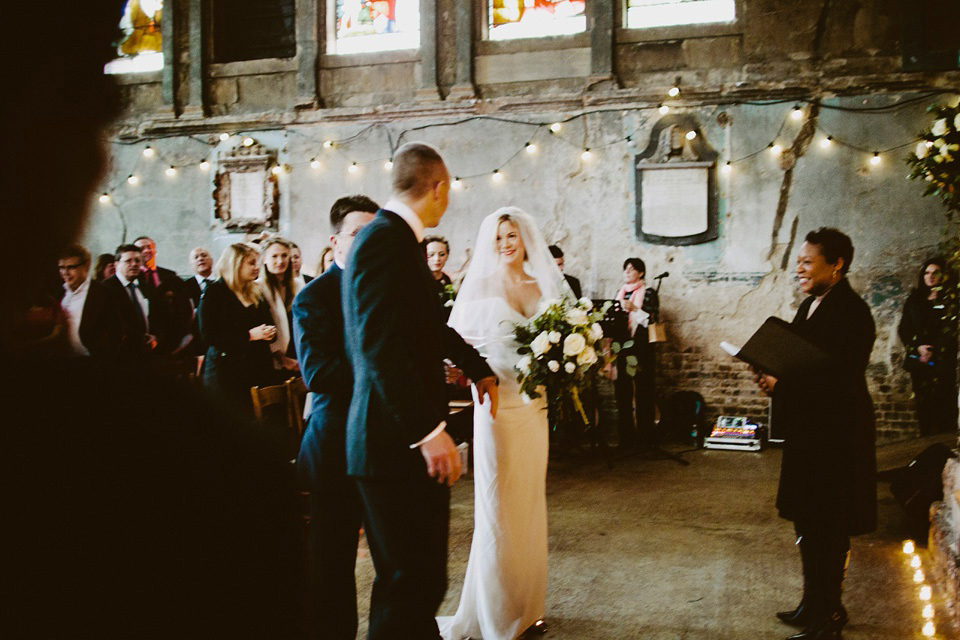 "Our Mum's did a Bob Marley reading, which was breathtaking – they were so brilliant. it was such a lovely reading. They were both nervous so decided to do the reading together."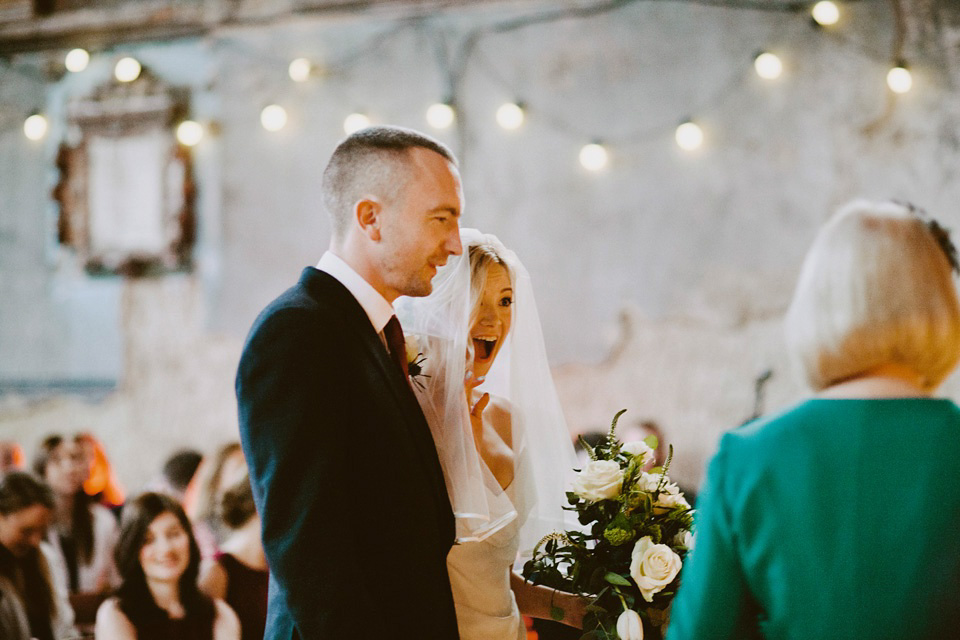 "Also my friend Diana read an email out that I sent her the day after Joe and I's first date, subject line; 'New Years Eve guy' where I explained a breakdown of Joe's entire outfit and how amazing it was, and said that he's the one! Ha! And our friend Cameron read a quote from When Harry met sally that we just liked and it fit in with the New Years eve theme of the previous reading."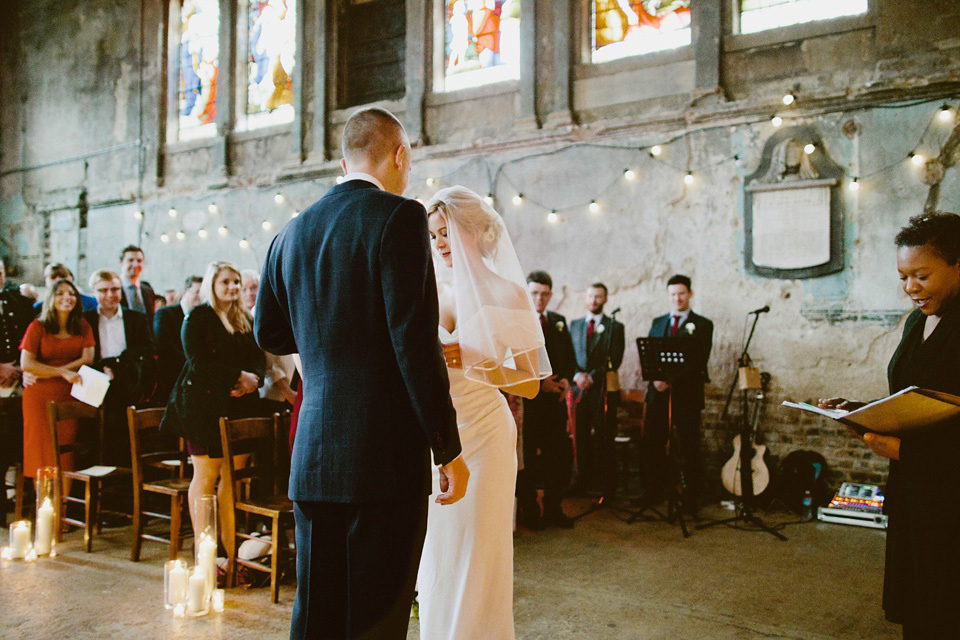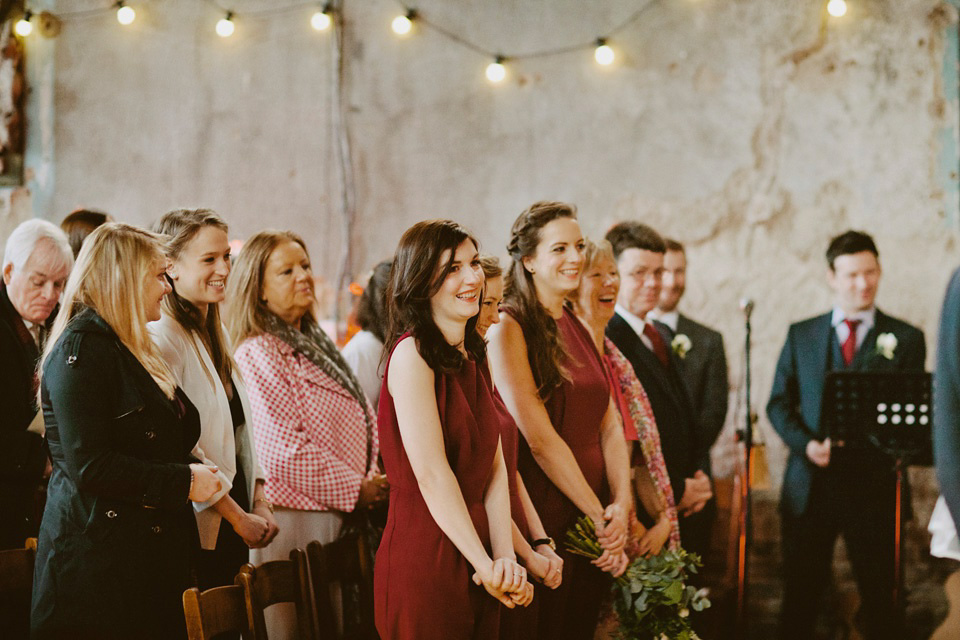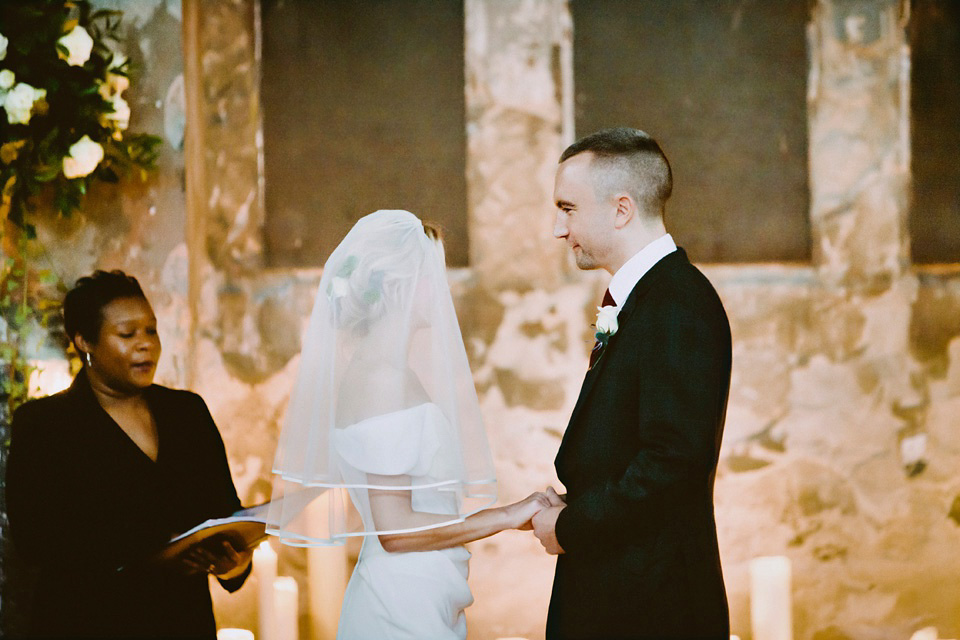 "My Brother's sang 80's songs as we signed the register."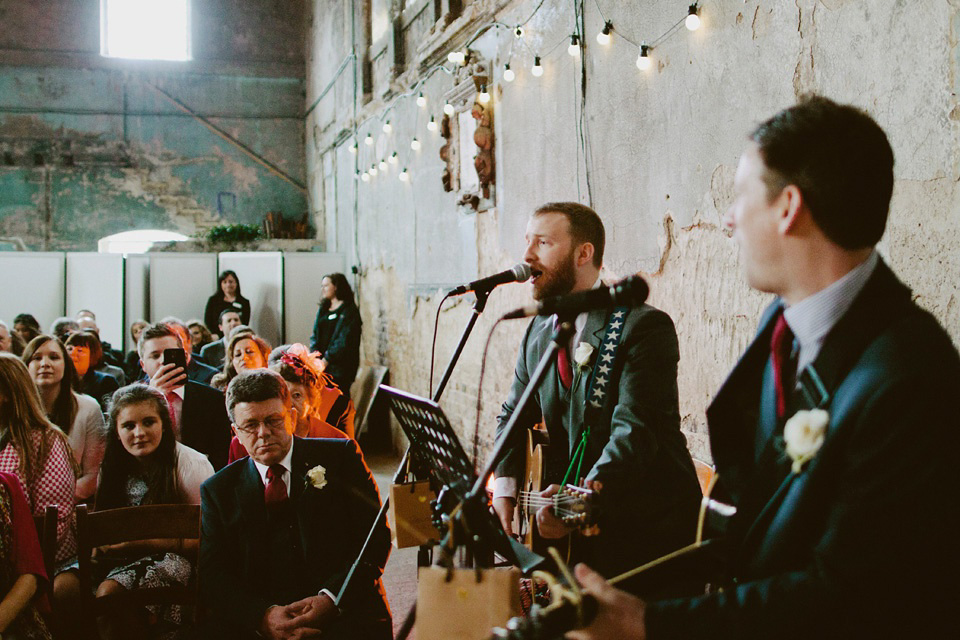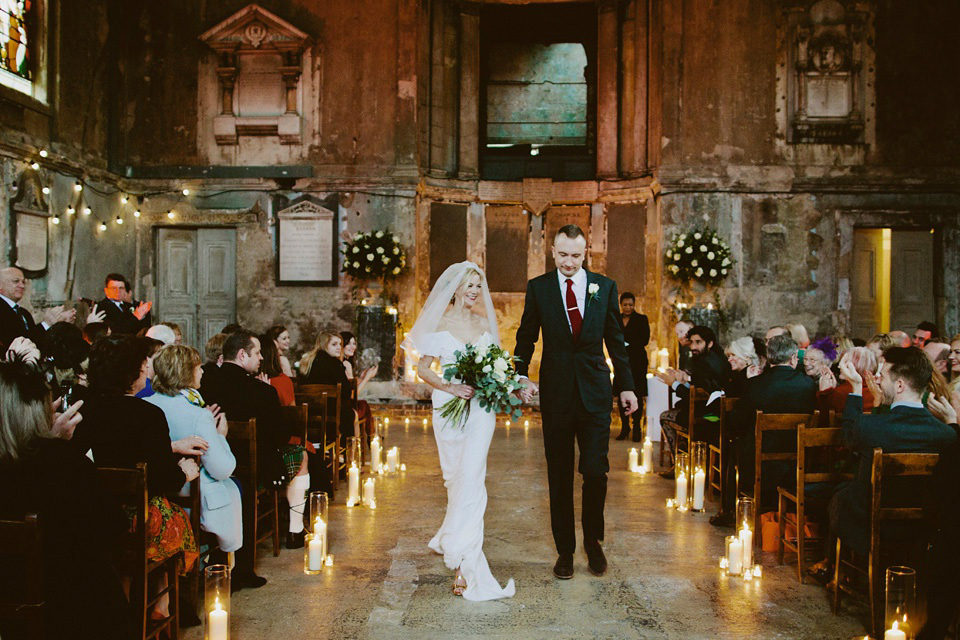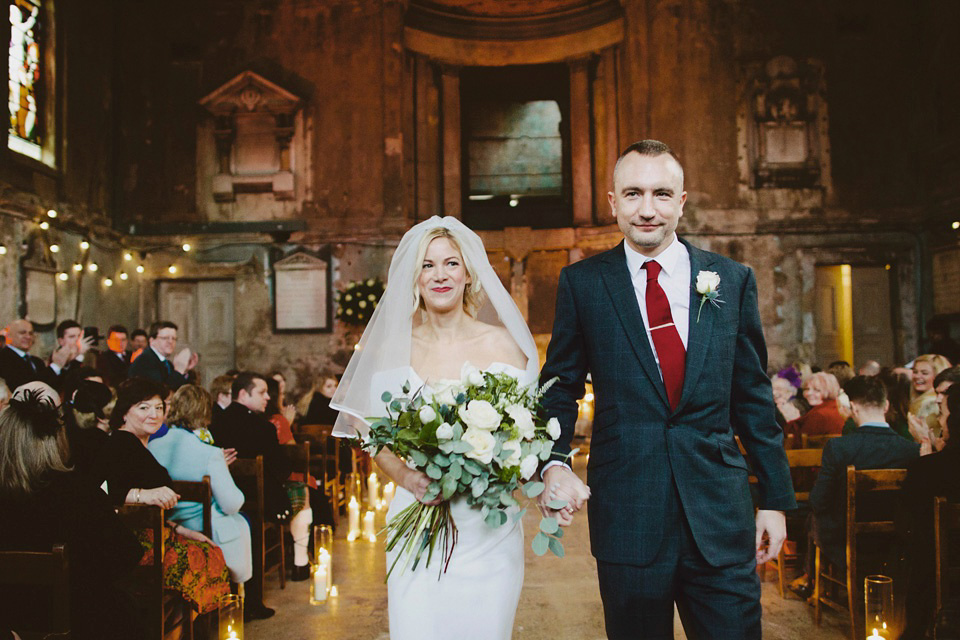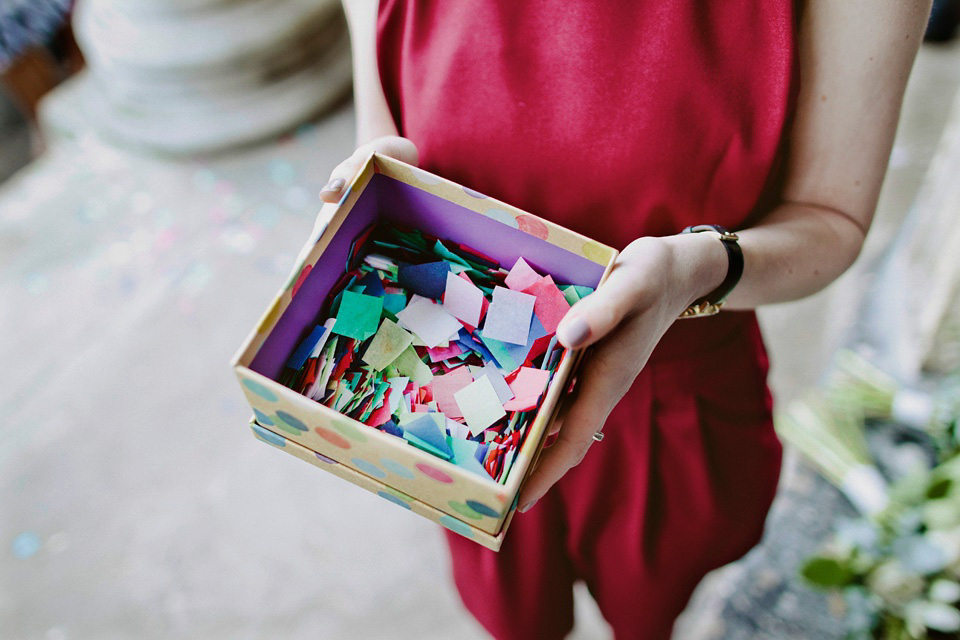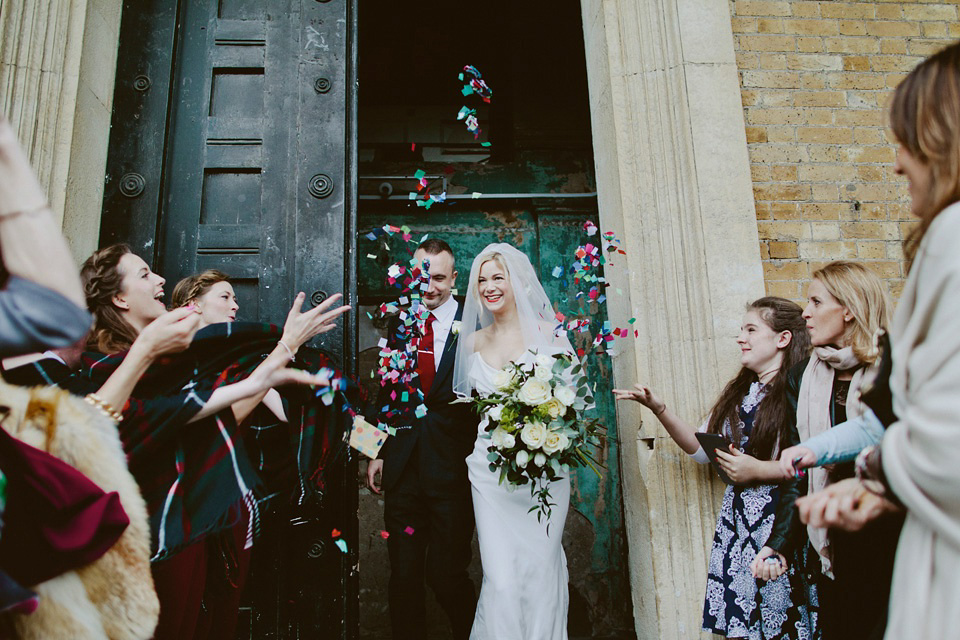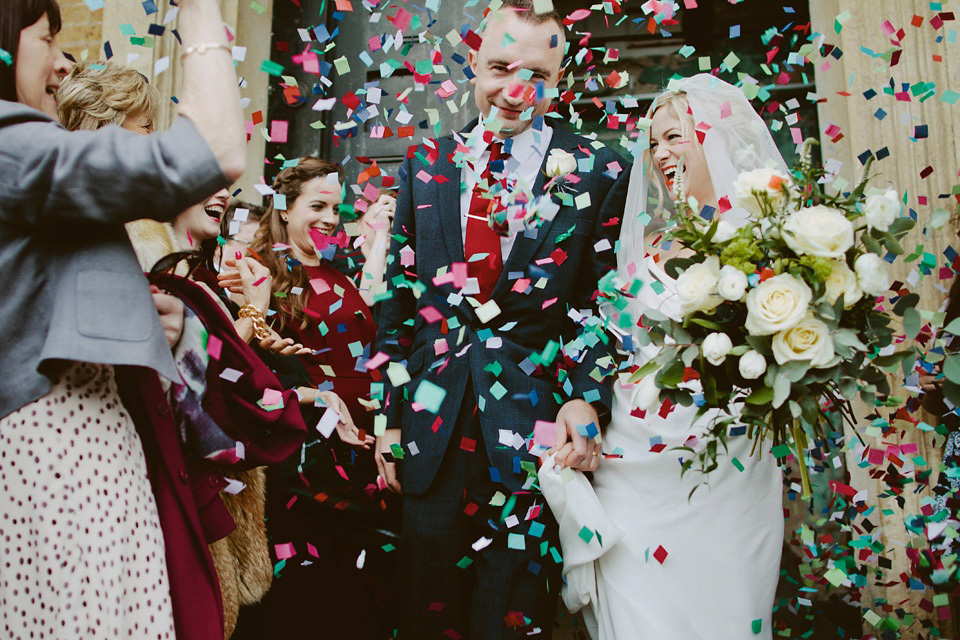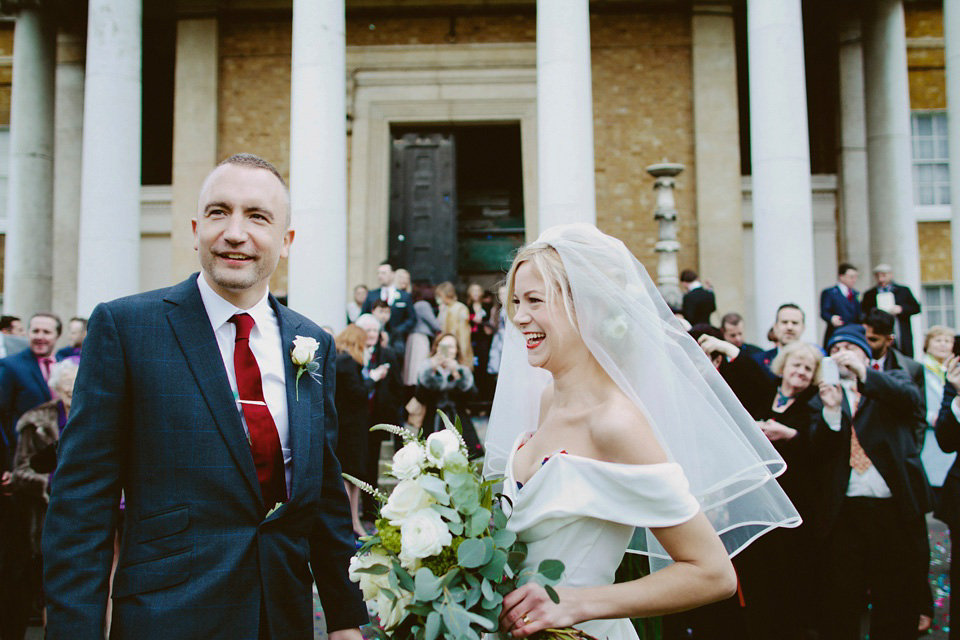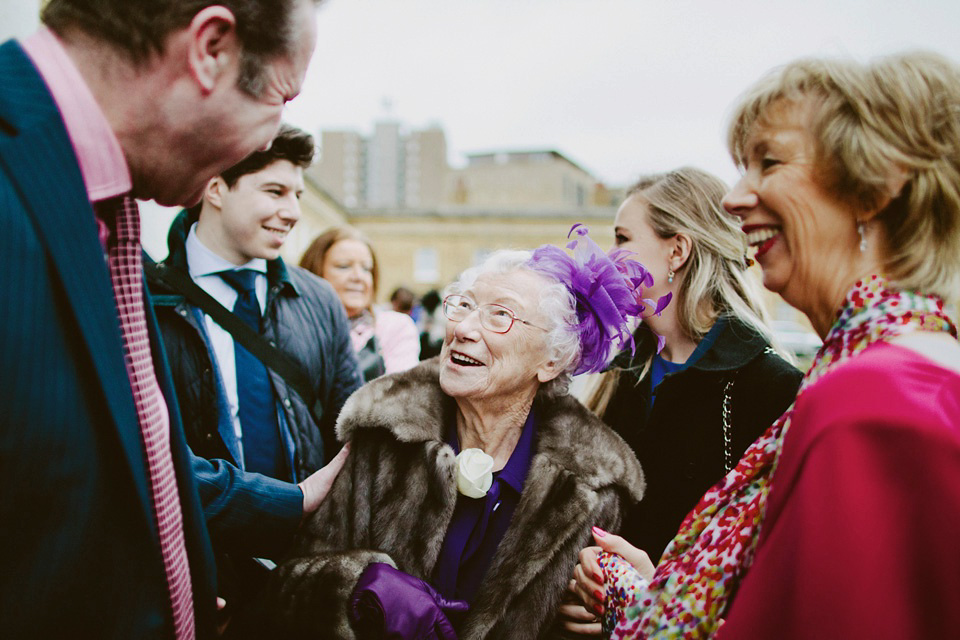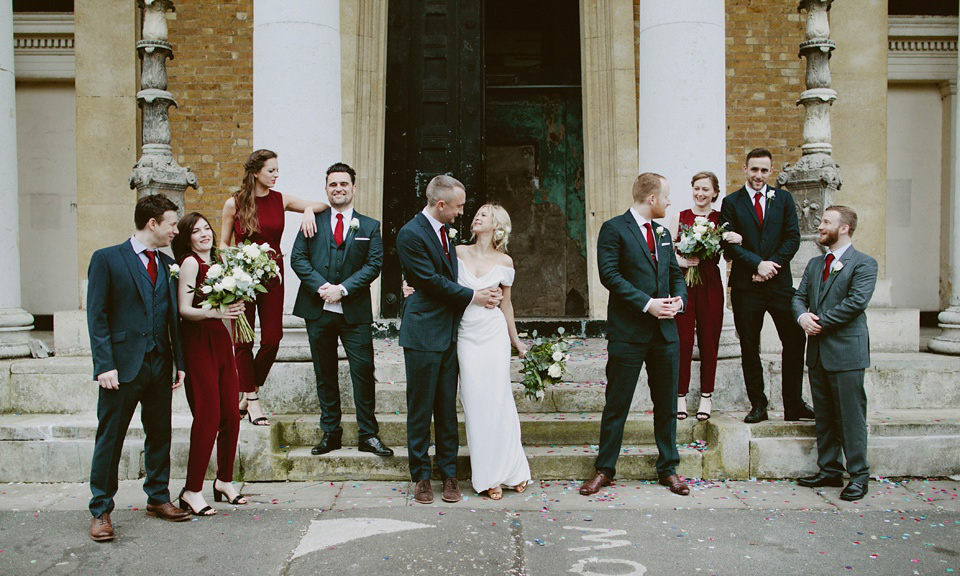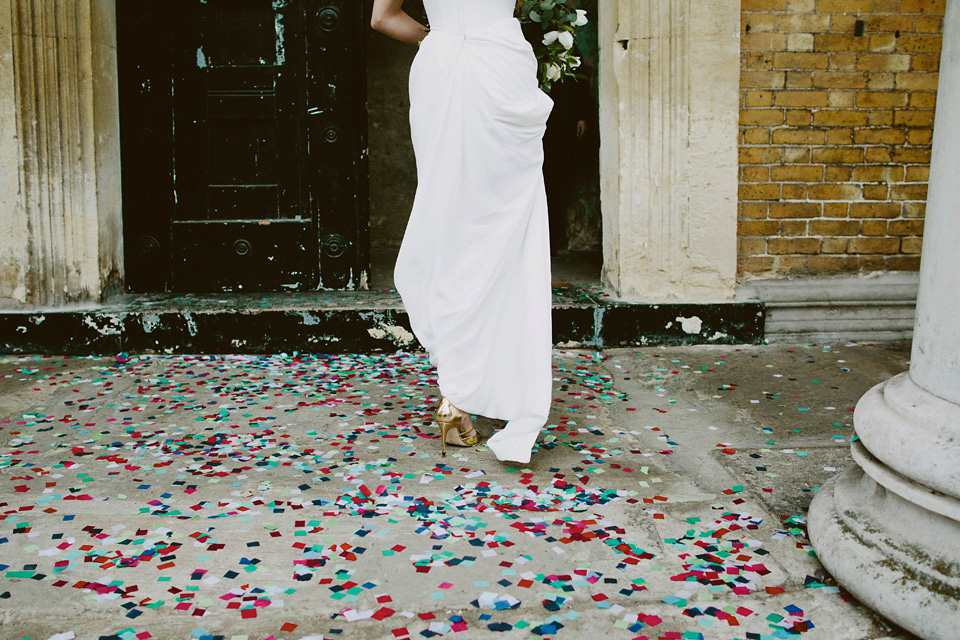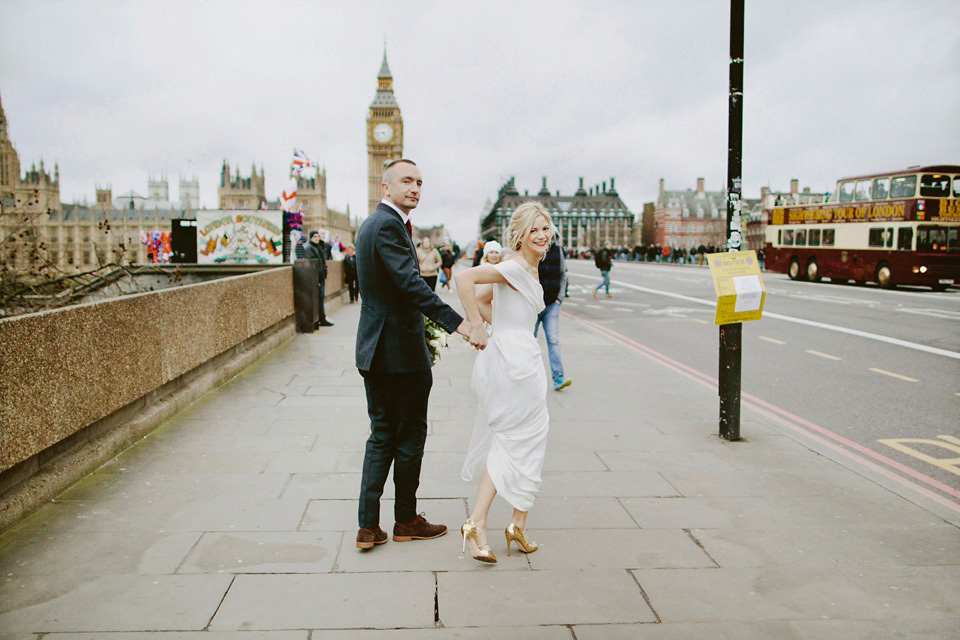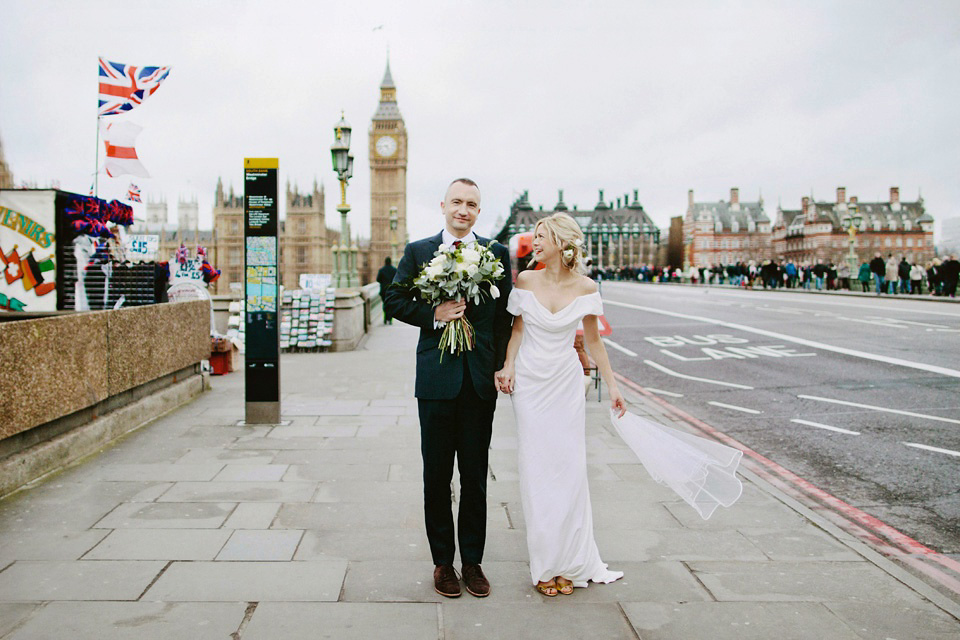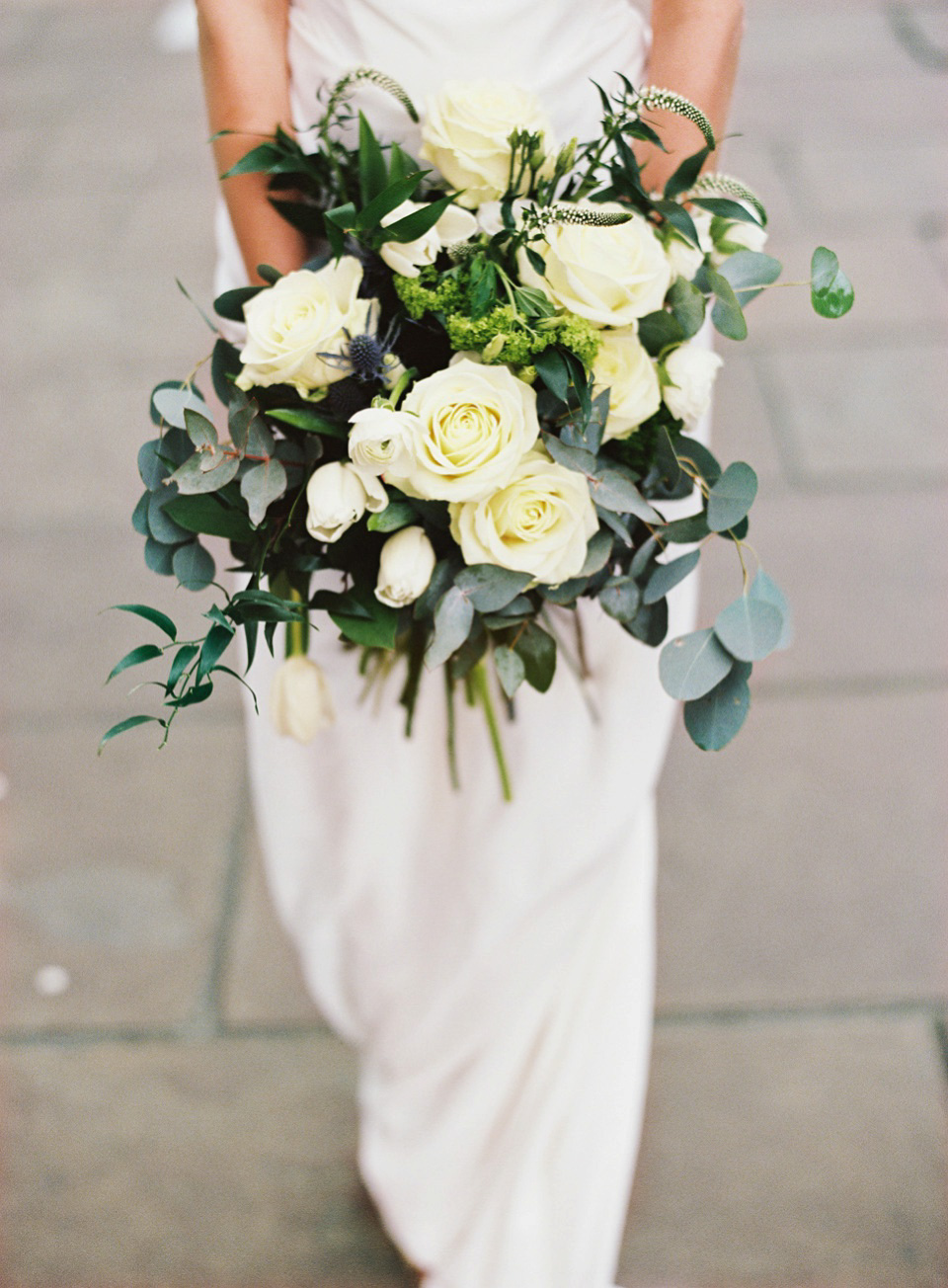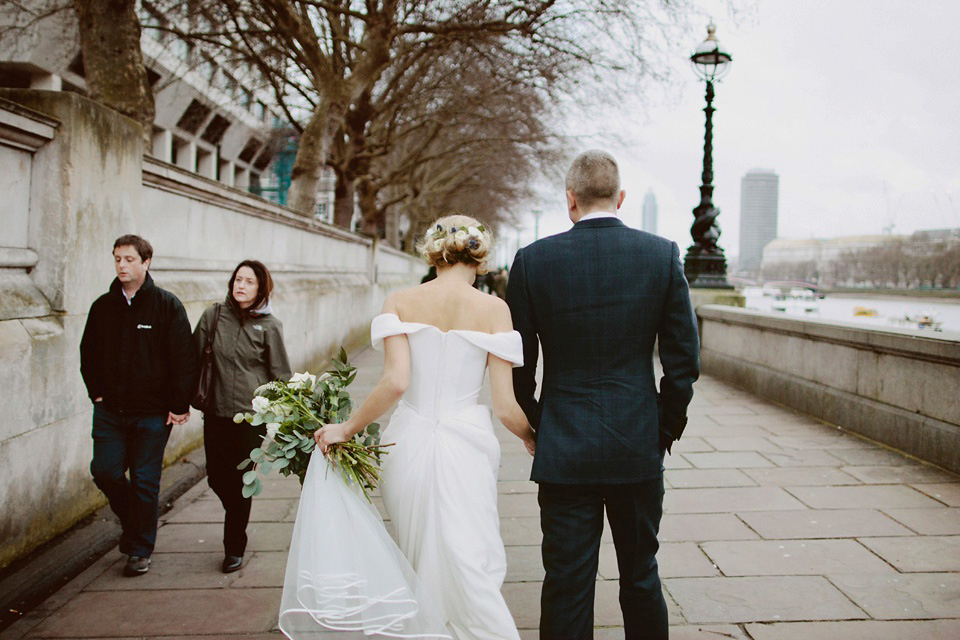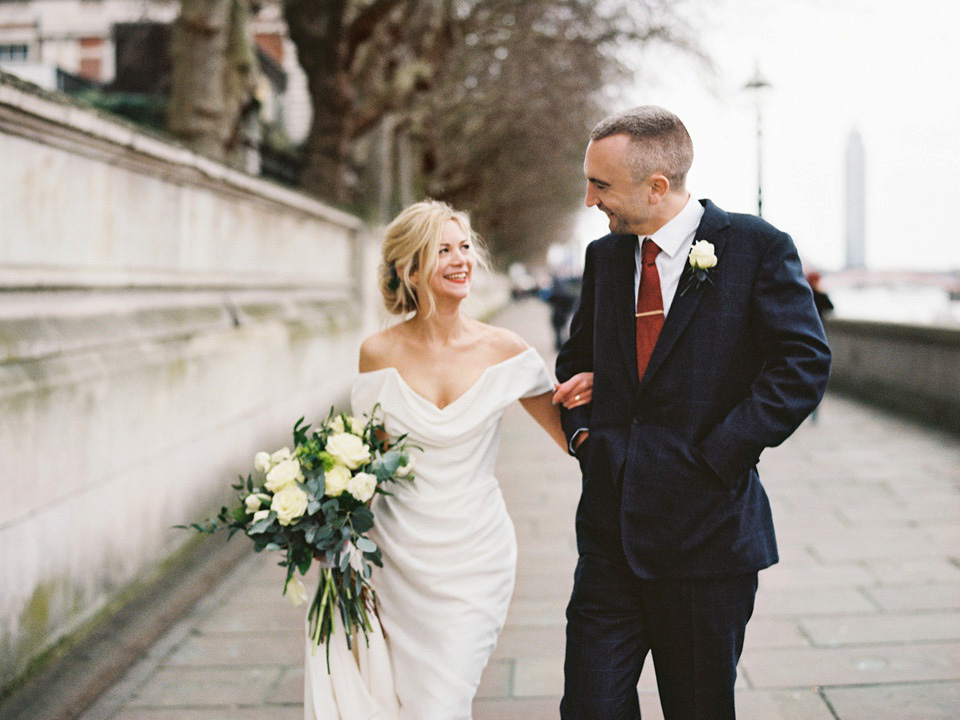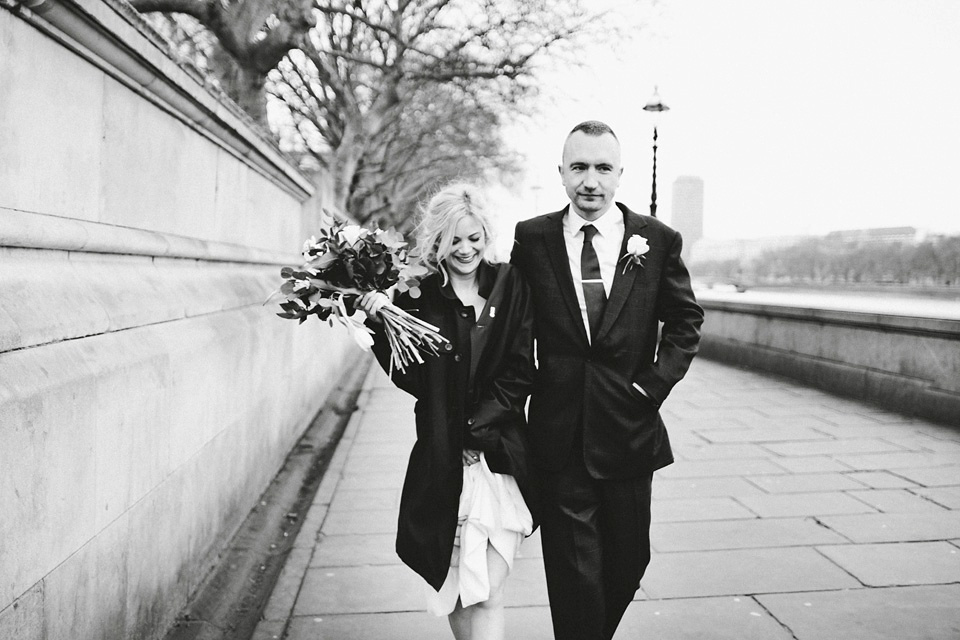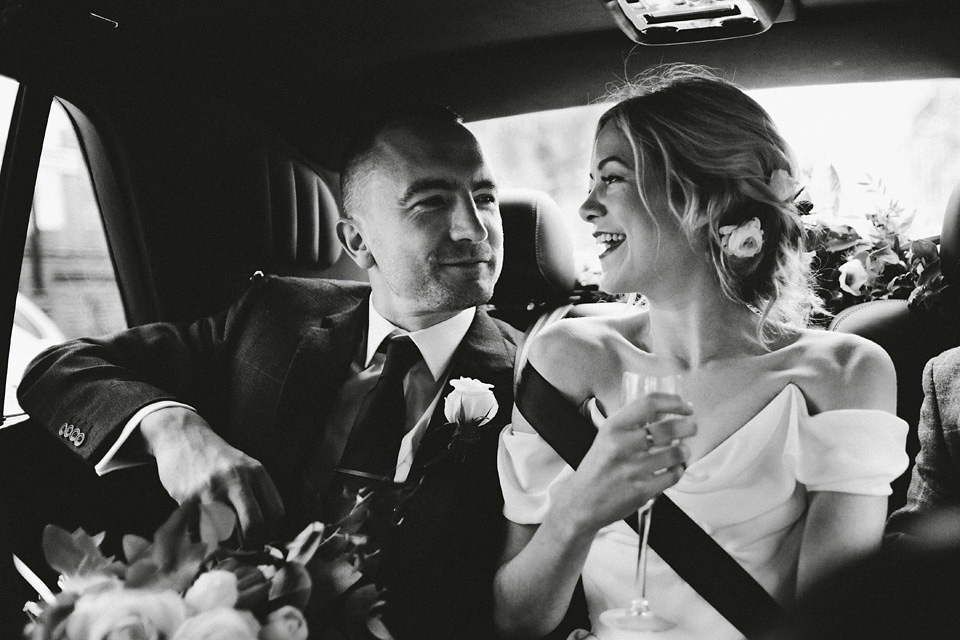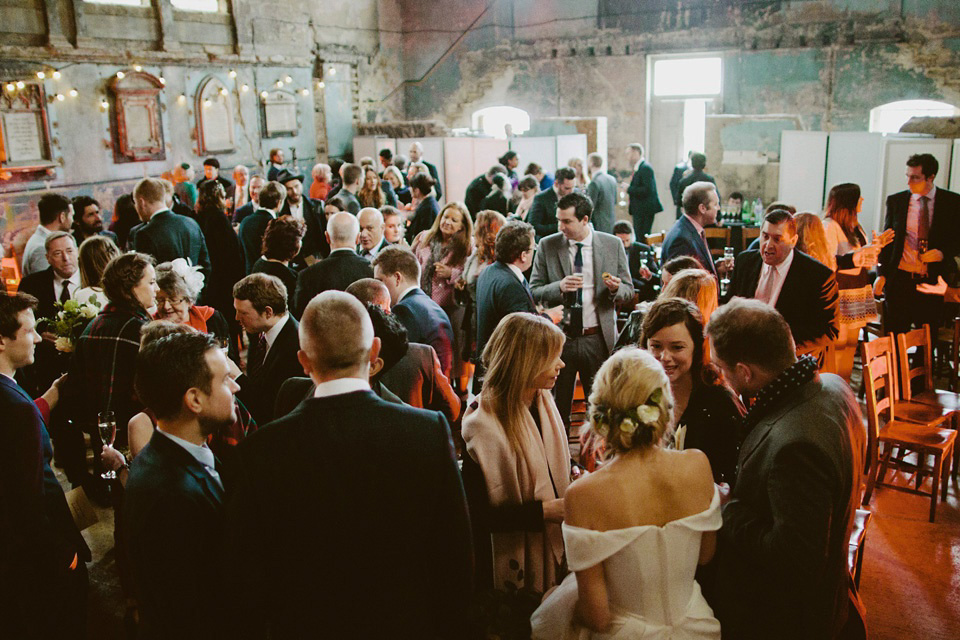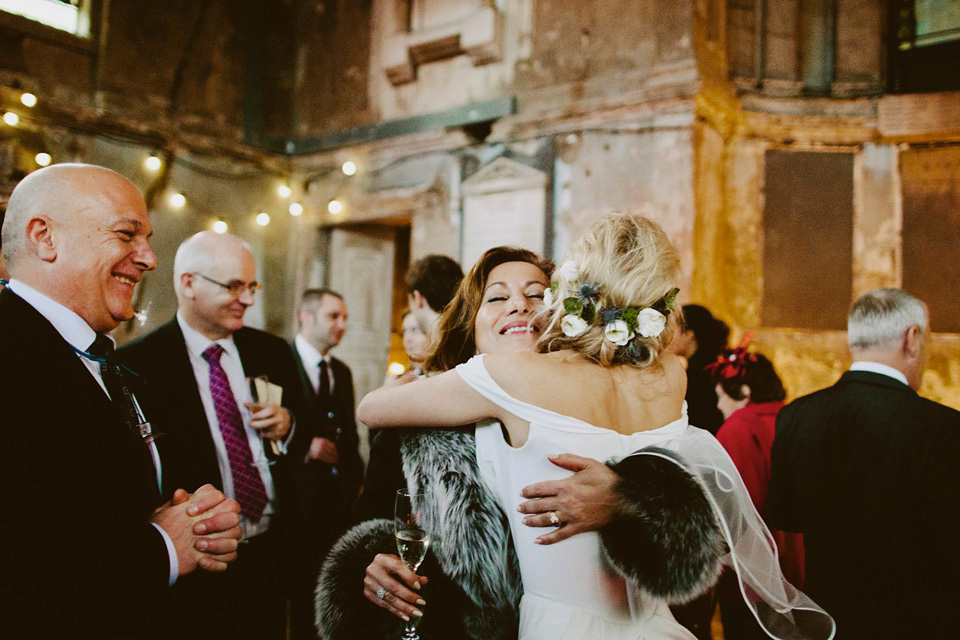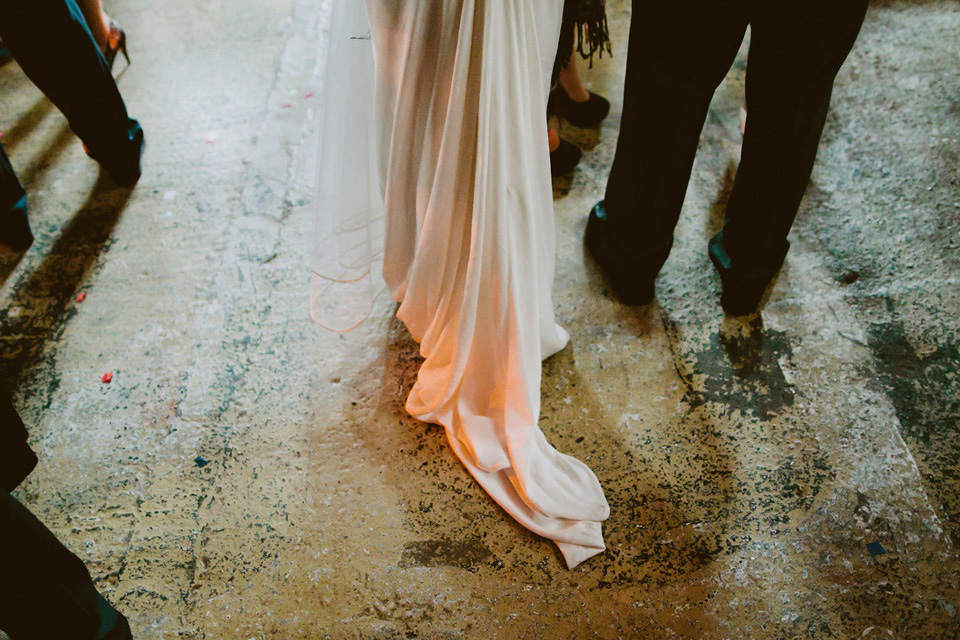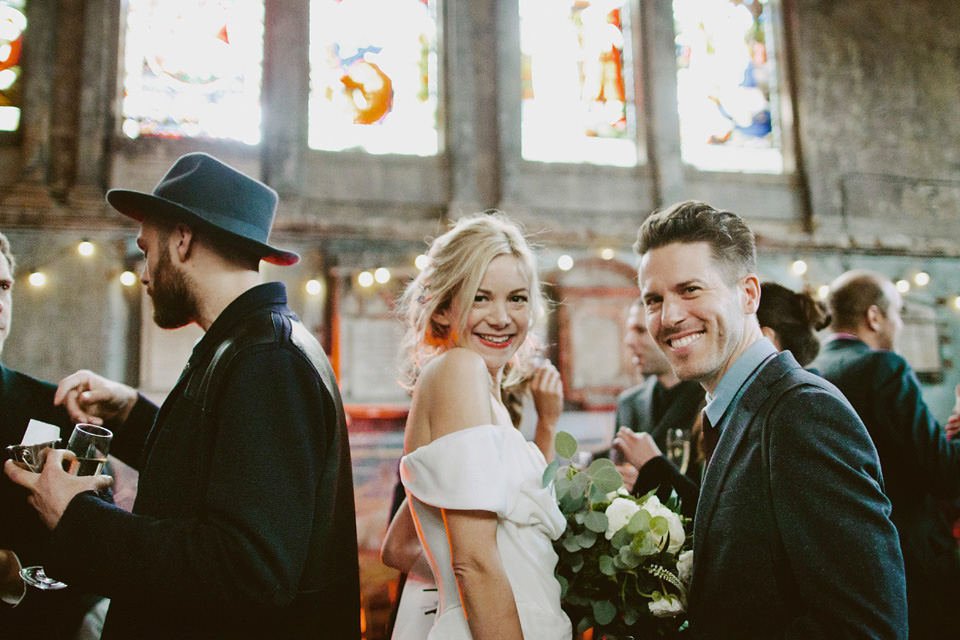 "We picked our favourite 10 books based in London, and bulk bought vintage copies at a good price. Each one was then assigned individually for each guest. We also did handwritten notes on the inside covers. And my Mum spent two nights tying tartan ribbons round all the books. The bookmarks sticking out the top doubled up as name cards so people knew where to sit."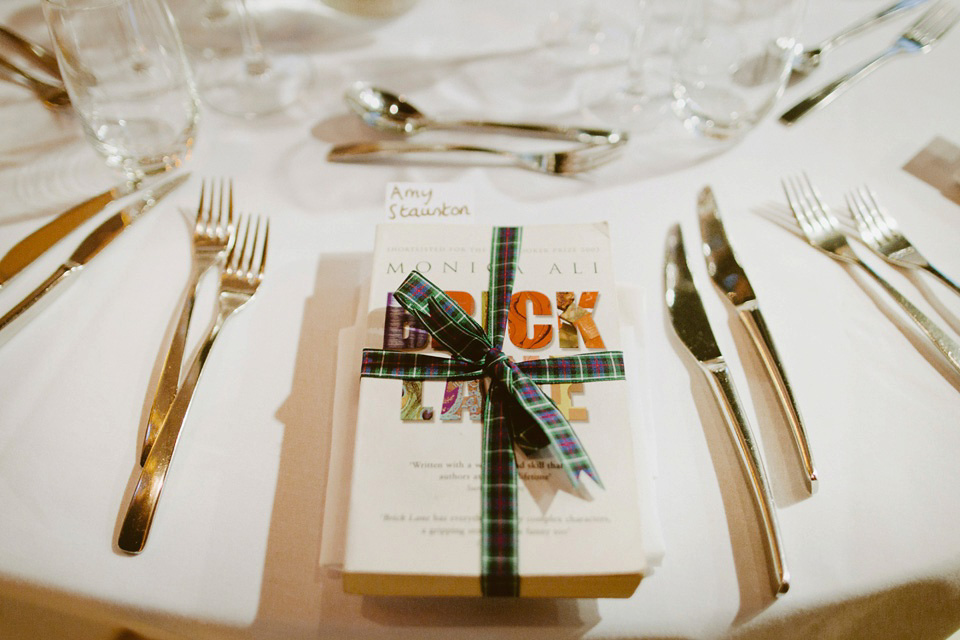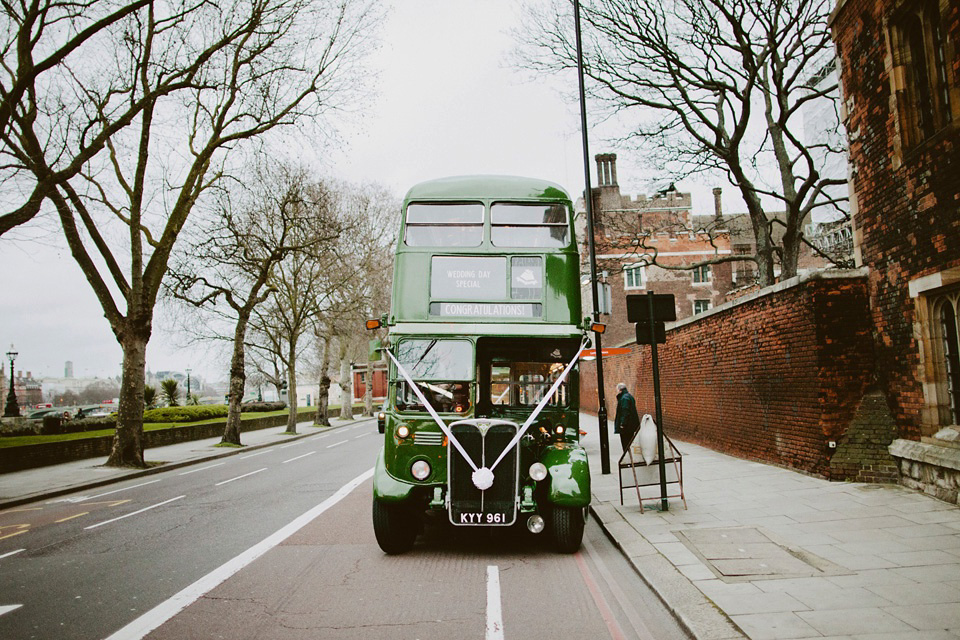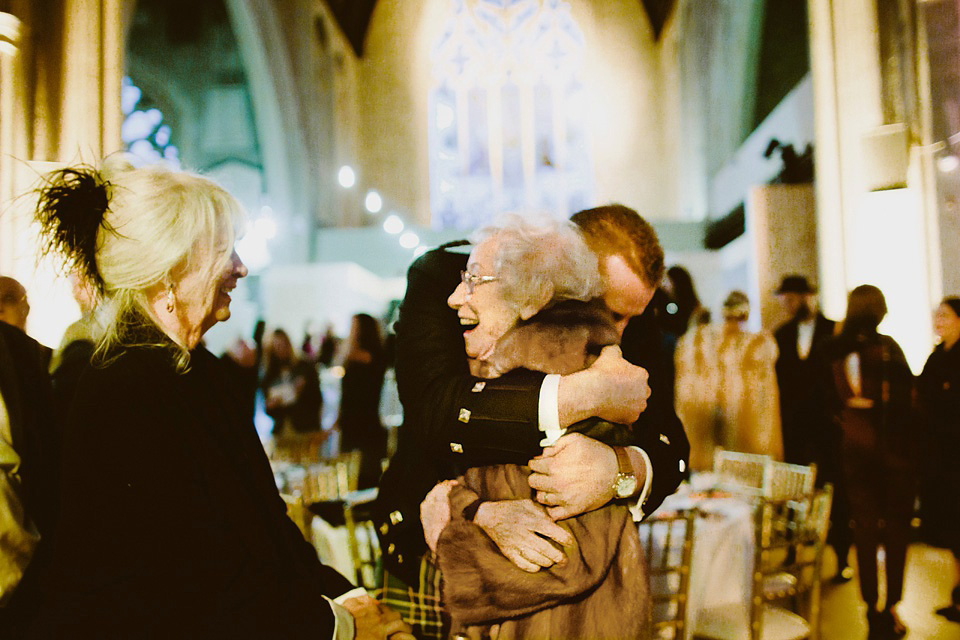 "For reception decor, we used lots of church candles, fairy lights, ivy, white roses, thistles and green foliage."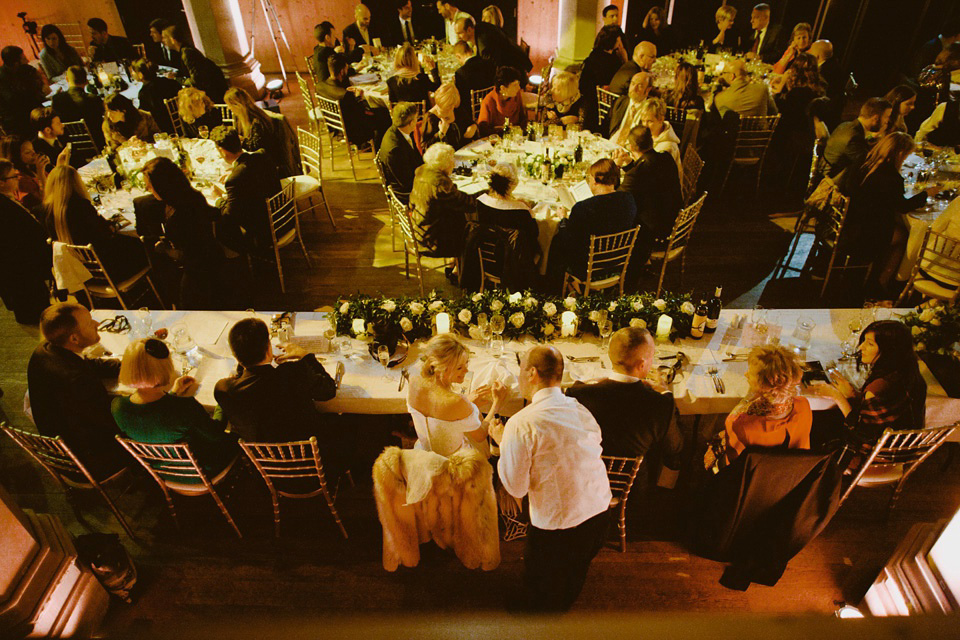 "Our cake was amazing and got so many compliments, I can't recommend Food, Wine and Company enough – they did us a cake made out of cheese (and included Cashel Blue cheese as my Grandfather is from Cashel) and handmade pots of pickle to serve with the cheese for guests in the evening. Which went down a treat!
On top of the cake was an illustrated personal cake topper by FridaBandida.com which was a surprise organised by our sister in law, Felicity who also handmade all the little cards to explain which cheeses were which when they were put out for the guests to eat later on."
"There was a fire drill at the reception venue, and the firemen came along we all got evacuated out onto the street just before dinner. It was inevitable that I was going to get a fireman's lift. That was fun!"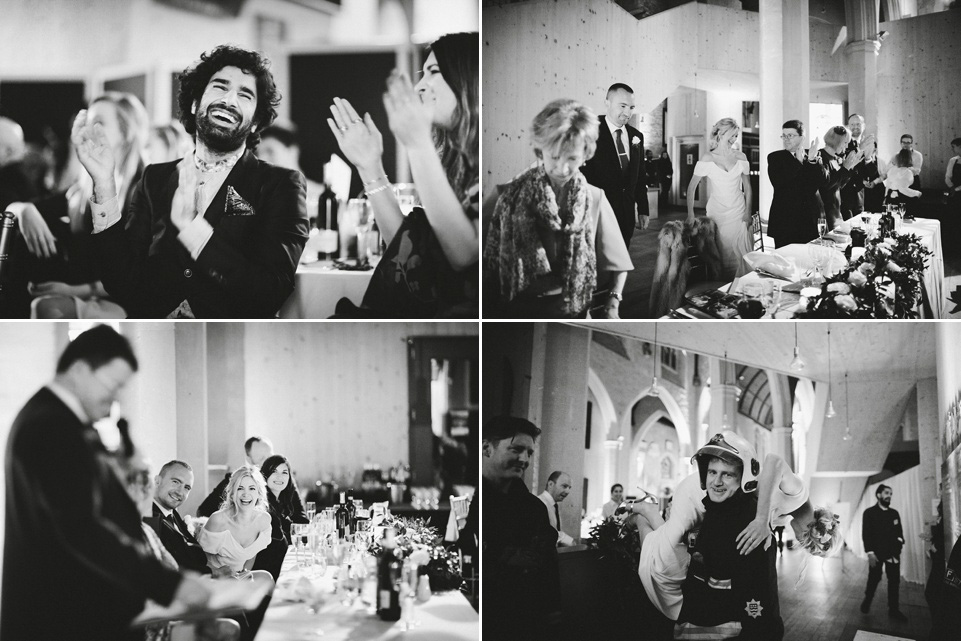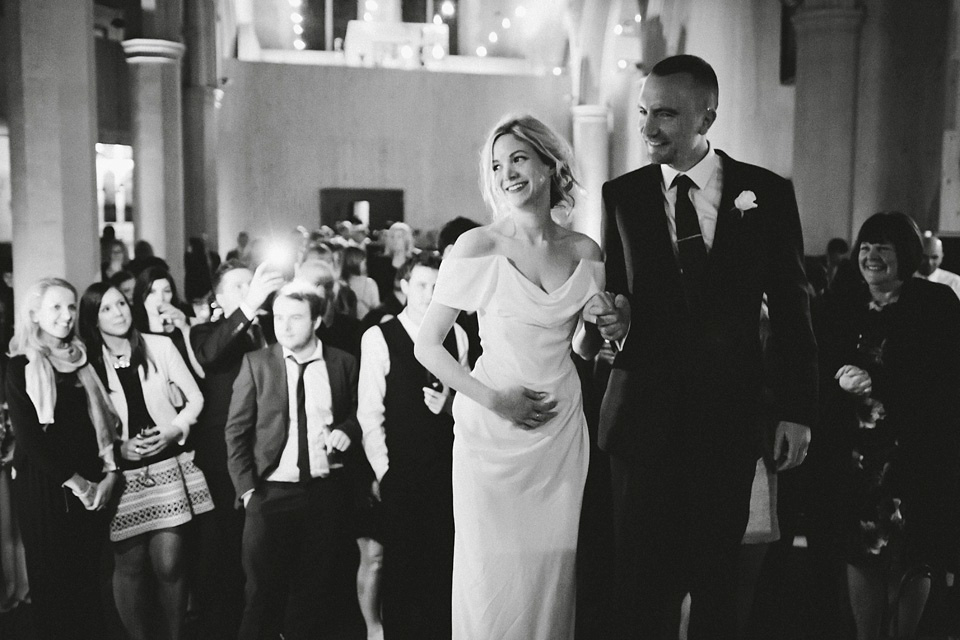 "Our first dance was to 'Electric Dreams' by The Human League, because we used to dance around to it a lot in my old flat when we first started dating. We did a routine, which the guests had a good laugh at as we'd drunk too much by then to remember most of it."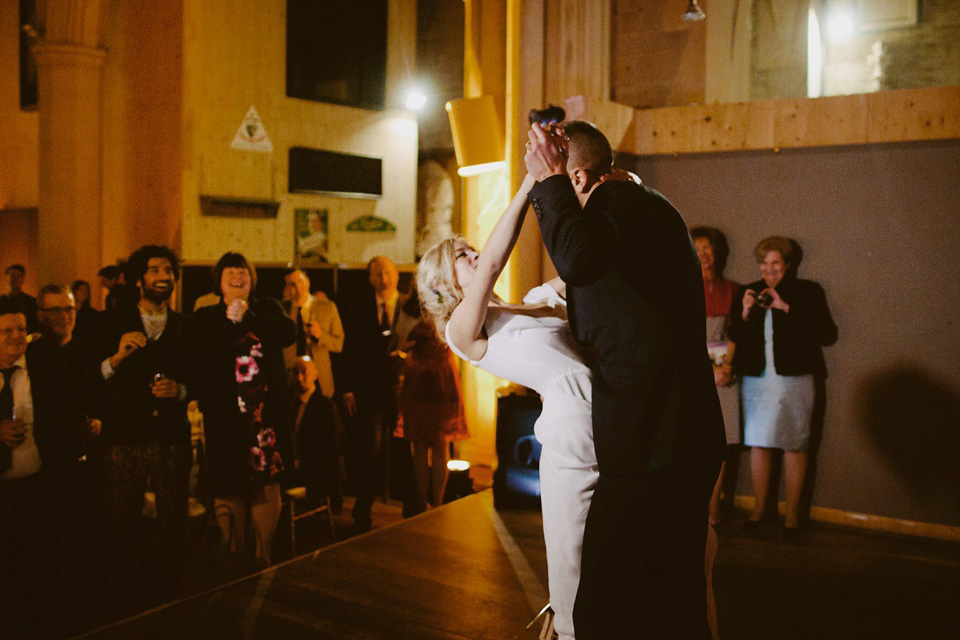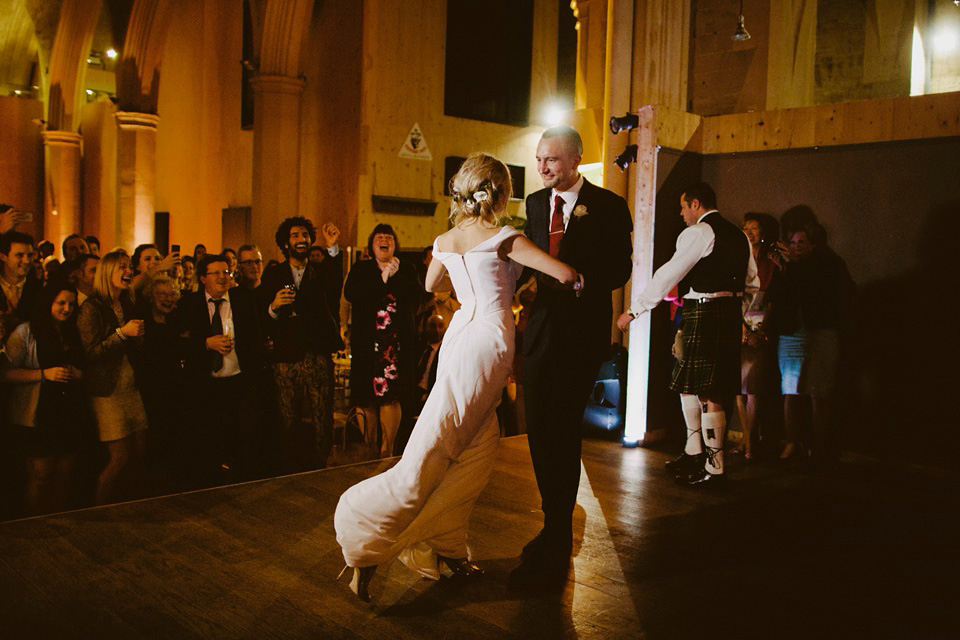 "There were so many shared favourite moments!  Having champagne breakfast with my Mum and maid of honour in the morning, driving to the chapel with my Dad, seeing Joe looking so dapper at the alter, I loved that he cried! Getting married to him! Our Mum's readings were really special as was my Brothers singing whilst we signed the register. I loved the speeches too, My Dad's speech and Joe's were hilarious. and then the first dance was funny.
Maybe my absolute favourite was getting back to the hotel with my new husband and ordering room service full roast dinners and more wine in bed and excitedly debriefing about our dream day."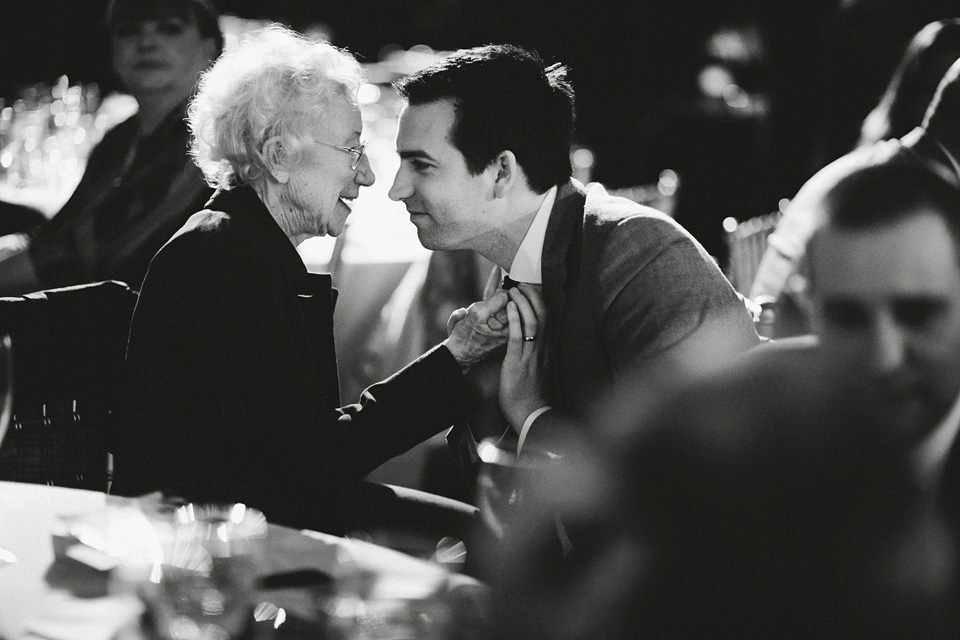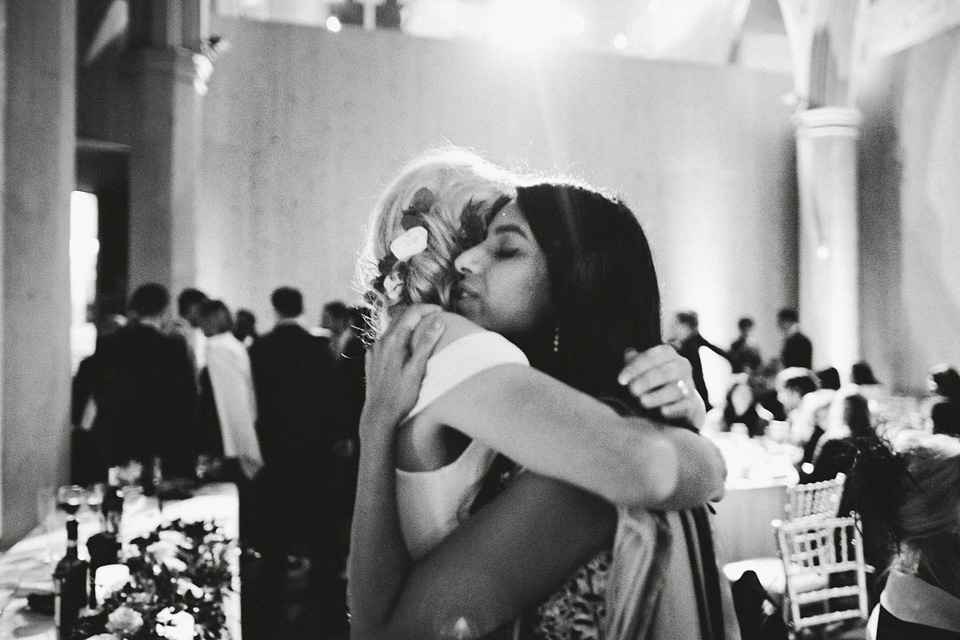 Words of Wedded Wisdom
"Try your best to not get too stressed and remain positive. The planning is as much fun as the day itself if you let it be, involving family and close friends is a great way to do this. Also don't get too bogged down with traditions that you feel like you have to do. I didn't want a hen do, and it was really stressing me out. So I just went out for dinner with my bridesmaids instead which was perfect.
You have to stick to your guns on some things and don't conform to what other people expect. You get to really see who your best friends are when planning a wedding if you let people in, a great friend of our's; Charlotte arranged the confetti, and had the colours made bespoke to match our wedding colours and arranged all the boxes, other family members and good friends really stepped up and helped to make the day so special and we'll never forget all the hard work and generosity.
Another piece of good advice is to arrange something for the next day, we went for a Sunday Roast at Soho House with a small group of close family and friends just so we all got to catch up properly. As you don't really get to talk to people properly on the day and we had friends flying in from all over the place that we wanted to chat to."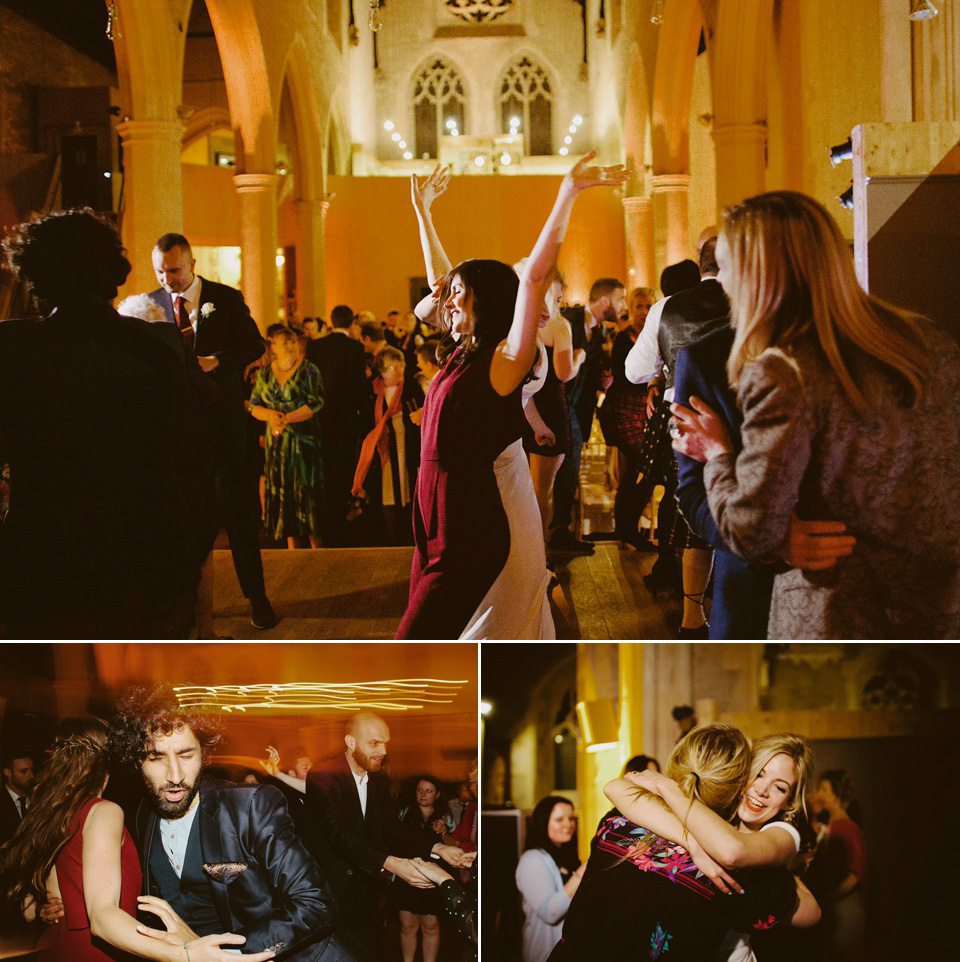 What a stunning day – I really have to work hard on selecting images for this post guys – there were so many I wanted to share!
As usual it is a complete pleasure to be able to share the work of photographer David Jenkins – more from whom  you can see on Love My Dress here.  You can also see more weddings at The Asylum on Love My Dress too.
Have a great start to the week you guys! Looking forward to sharing more with you this afternoon.
Love Annabel xx
Photographer – David Jenkins
Film – Cine Reportage (we're hoping to share separately soon)
Planner/Stylist – Louise Perry
Venue – The Asylum at Caroline Gardens in Peckha
Wedding Dress – Vivienne Westwood  (ex sample)
Veil – Joyce Jackson Veil from Olivier Laudus
Headpiece –  Flowers, thistles and some pins by
Shoes – Patent gold Mary Jane's by Rupert Sanderson
Grooms Suit – Cad & The Dandy + tie from Hawes & Curtis
Bridesmaids Dresses – ASOS jumpsuits + Kurt Geiger shoes
Florist – Blooms and Bows
Cake – Food, Wine and Company
Transport – Ensign Bus Company
Rings – Ming jewellery
Catering Company – Eden Catering
Entertainment – Wedding Smashers DJ
Stationery – RSVP London