Today, we are continuing on with our Gem-inspired bridal shower series with our glitter gem cake toppers! (And if you missed part 1 of the series, you can catch it here.) As Julia Child once said, "a party without cake is just a meeting", and boy do I agree! Whenever someone says party, my brain screams 'caaaaakes!', so with the help of the super-talented Asma from Sugared Saffron and inspired by the lovely vintage velvet ring boxes from Mrs Box, we recreated the perfect cake table layout to show you how to send your best girl off into married life. 
Stay tuned to the end of this tutorial for Asma's top tips for rolling perfect icing.
Photography by Lucy Davenport, concept + styling by BerinMade
What You'll Need
Scissors

Glue stick or paintbrush and PVA

Glitter paper

plastic rings—about 10mm in dia (I found 

these

 to work well)
Step 1: 
Cut glitter sheets into strips about 3 cm wide. This is the maximum width of your finished gem stone, so it would be good to size it up in proportion to your cake width.
My strips were 3cm wide and 9cm in length, so however wide your strips are, just cut the lengths in proportion to this.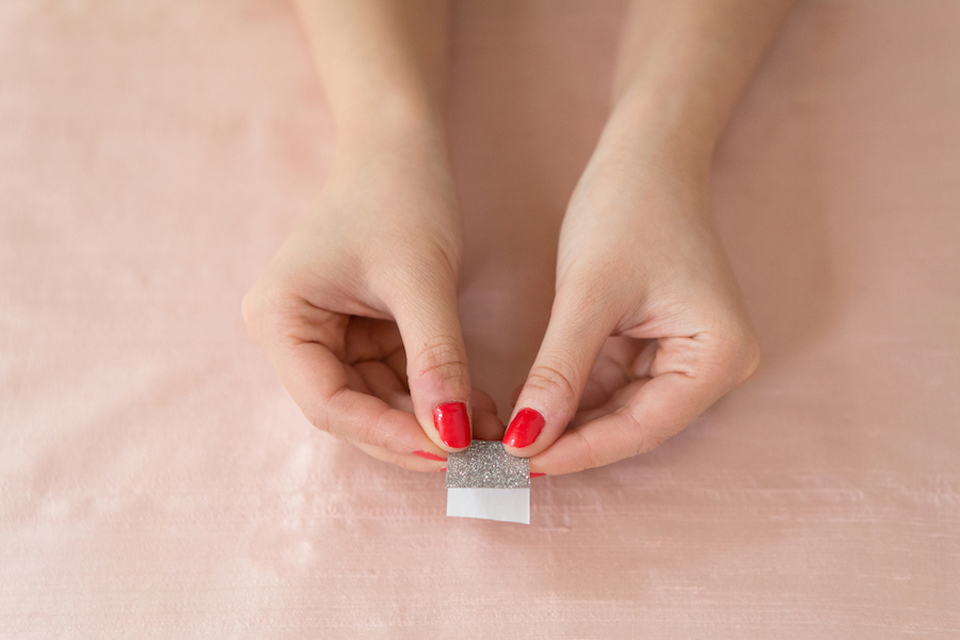 Step 2:
Fold the strip in half to make a rectangle, and cut off small corners on the top left and right where the fold line is.
Step 4: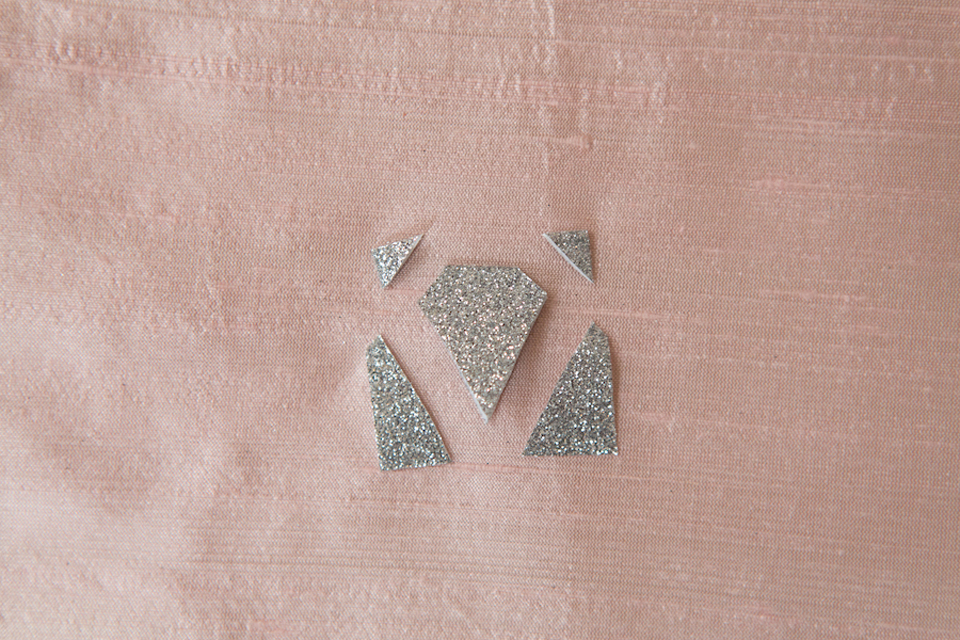 Cut off larger triangles along the bottom end, leaving a gem shape in the middle. 
Step 4
Open up the gem, apply glue on the inside, and close it on the ring.
Place the rings on their cake boxes and present to your guests!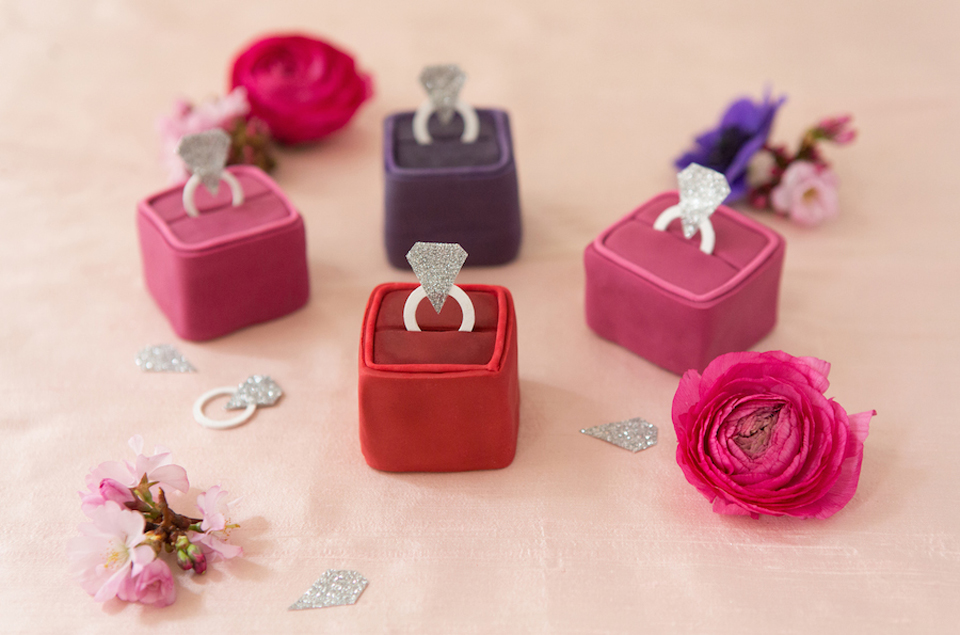 Top Tip for the Perfect Ring Box Cakes (from Sugared Saffron).
Cut the cakes from a large slab of sponge and measure them with a ruler so they're all the same size. Mine were 2″ across.

To achieve the deep jewelled tones, I coloured the sugar paste with concentrated paste colours. You can pick them up for a few pounds online or at your local cake decorating shop. 

You can cover the cake directly with sugar-paste, without a layer of buttercream or ganache underneath as they're so small. Just brush the sponge with simple syrup, cover with a layer sugar paste, and tuck the edges underneath. Roll your paste around 3mm-5mm, too thin and the texture of the cake will show through, too thick and you'll get a big mouthful.

Make the line across the top of the cake lightly with a modelling tool or butter knife, you don't want to cut through the paste.

Finish the box with a thin line of sugar-paste in a lighter shade. I used an extruder, but you can roll a thin snake of paste with the palms of your hand.
I hope you love experimenting with this latest DIY tutorial! Let us know how you get on.
Love Erin xx
Creative Direction/DIY Tutorial Erin Hung of BerinMade
Shoot Co-ordination – Tamryn Lawrence, Love My Dress
Photography – Lucy Davenport
Styling – Andri Benson of Always Andri
Flowers – Sarah Williams of The Flower Bird
With special thanks to Emma of Coco Wedding Venues for her support locating our shoot venue, RSA House
_______________
BerinMade is an award winning UK based wedding stationery and paper goods designer, who ships her beautiful products worldwide.  Please visit berinmade.com for further information.