Good morning again lovely ones – we're helping you make your way through the week with some of the loveliest wedding blog content on the web, which include this beautiful set of images of teachers Marianne and Alan's wedding.  The couple tied the knot just over a month ago on 27th June with the kind of effortlessly elegant and laid back wedding that I so love sharing on this blog.  Two things however stood out for me – that dress and that incredible gold headpiece. More on both these items shortly.  First, bride Marianne shares a little about how the look and feel of her wedding day came together.
"There wasn't really any particular inspiration for the wedding – we just chose things we liked as we went along. I pinned all the bits and bobs I liked onto a Pinterest board and sourced a lot of old vintage props from Ebay like our typewriter, sewing machine and suitcases and we took it from there."
Photography by Caro Weiss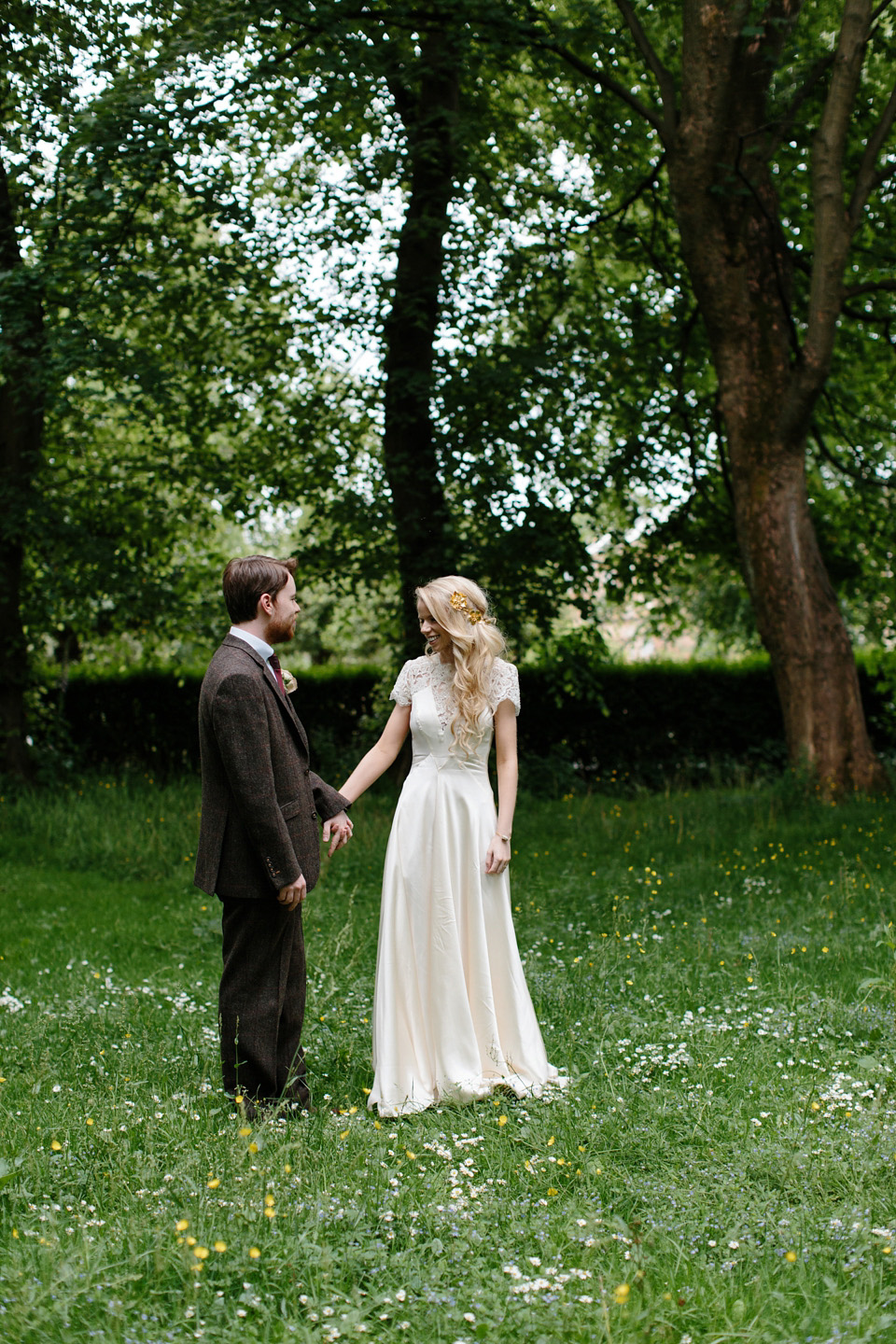 Rose gold headpiece by Twigs and Honey
"Our florist was Sophie from I Heart Flowers. I absolutely adored Sophie's flowers. I wanted my bouquet to be a bit wild and unstructured but really bursting with colour and life."
I recognised these cute glitter place names – we published a tutorial on the blog showing you how to create your own right here. It's so lovely to see them being used in a real wedding like this.
"I came across dressmaker Rowanjoy whilst browsing through the Glasgow Wedding Collective website. Her creations looked so glamorous and I instantly wanted to try them on."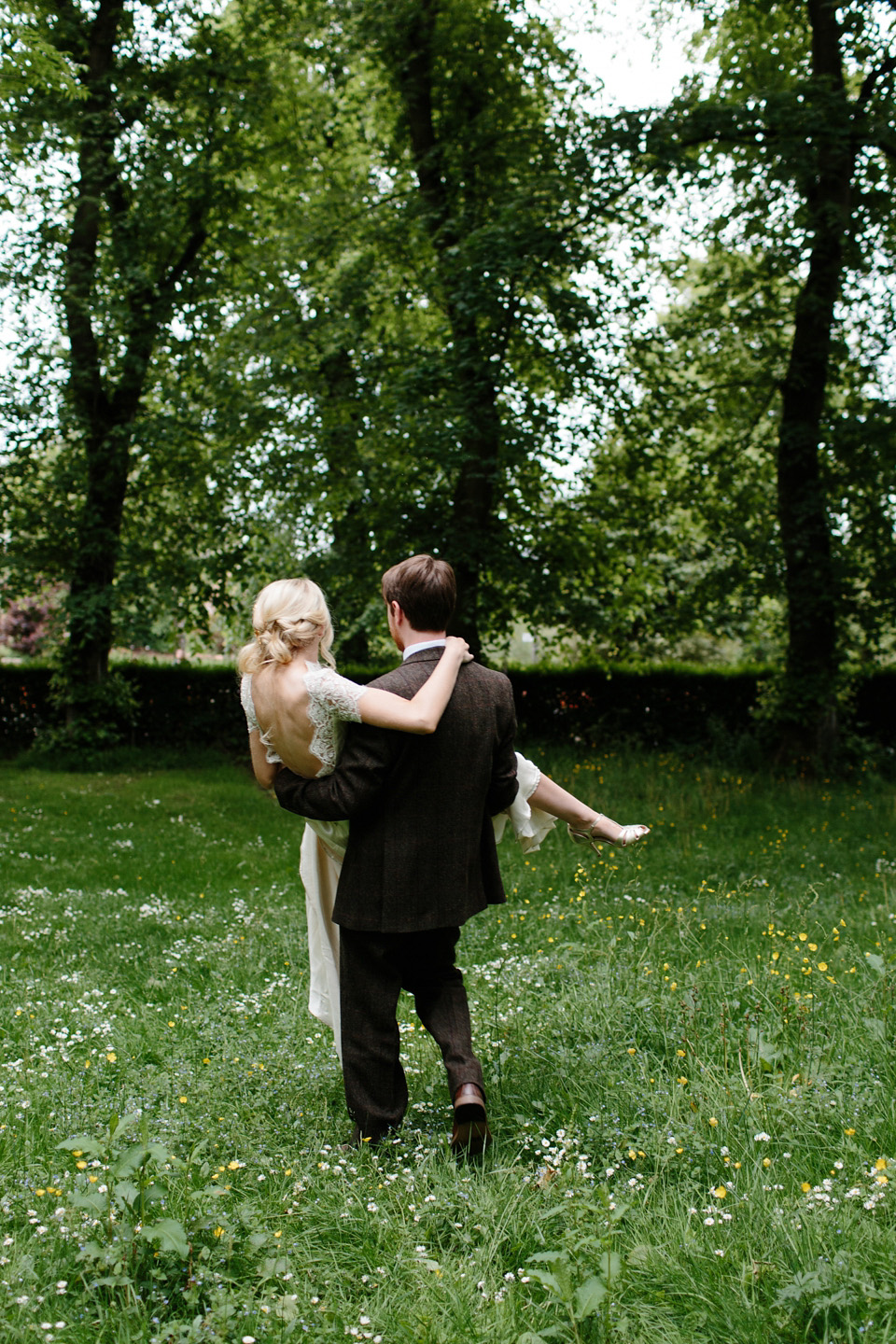 "Alan and I met when we were children. He is my best friend's brother. Amy (my wonderful red headed best pal) and I met when we were in primary year two, after bonding over a farm themed jigsaw puzzle and have been pretty inseparable ever since! Fast forward 15 years and I was pretty integrated into Amy's family (an honorary Hogarth, as it were). When holidaying one year with them in Aviemore, Alan and I became pretty close and he eventually asked me out after many flirtatious glances and the all go from Amy! He proposed to me 4 years into our relationship while we were on holiday in Paris (ahem, original).
We had popped in to Shakespeare and Co (the little bookshop) and upstairs we sat at the children's lit section while a gent played beautiful music on a piano. I commented about how lovely it was and he said 'Do you know what else is lovely … you! Would you like to marry me.' Who could say no to that! We were married 2 years after the proposal."
"I had tried on a few dresses in some shops around Glasgow but everything felt a little uncomfortable on me. I found a lot of the dresses very heavy, structured and constricting.
It was nice visiting my dress designer Rowanjoy as it allowed me some day trips through in Edinburgh! I absolutely loved the way I felt in her dresses.
They were so comfortable but also so flattering and glamorous. After trying on her entire collection I was torn between the silk of the Cecilia, the design of the Grace and the backless detail on the Ava. Luckily, Rowan is such a dressmaking wizard that she suggested combining these to make one super dress! Add a show stopping long train and I was sold."
"I picked a gold pair of 'Ginger' shoes from Rachel Simpson. I have a couple of pairs from their Agnes and Norman collection and knew that they were not only stunning but also comfortable to boot!"
"My veil was also by Rowanjoy. I wanted a long veil for the ceremony to compliment the long train on my dress. I commissioned Rowan as she knew what would suit my dress better than anyone. She made the most beautiful piece with gold edge trimming."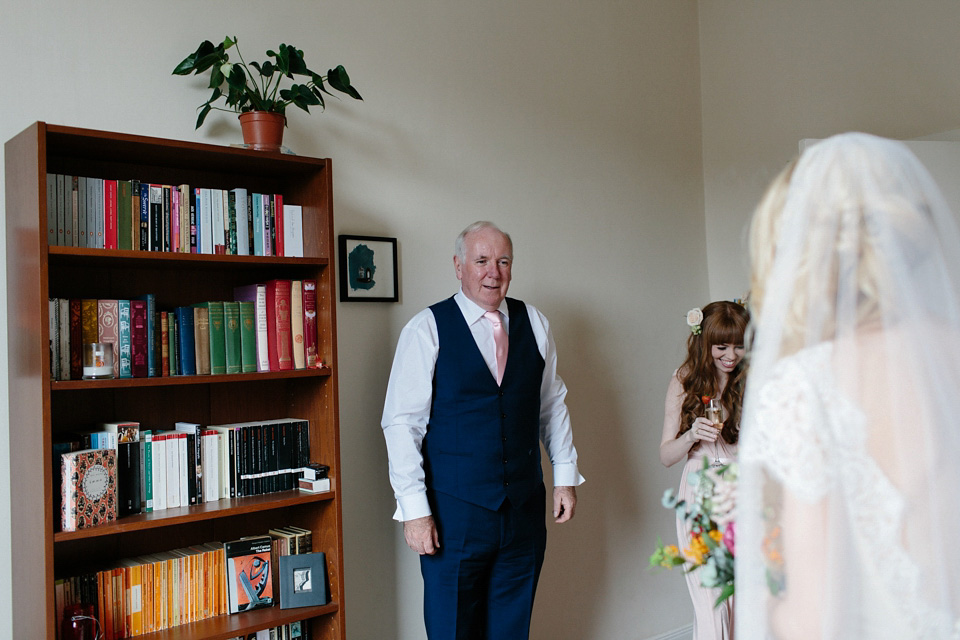 "The bridesmaid's had babies breath bouquets which really complemented their pink dresses and the ivory flowers they wore in their hair  – also supplied by Sophie of I Heart Flowers.
Sophie filled the old bike we borrowed full off beautiful potted plants and flowers as well as filling the teapots on the dinner tables!"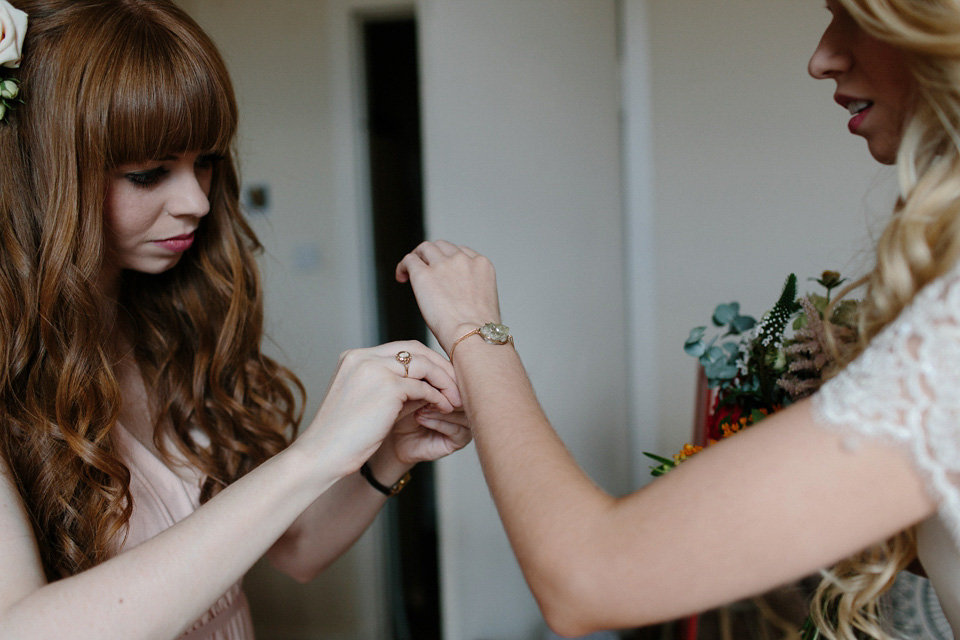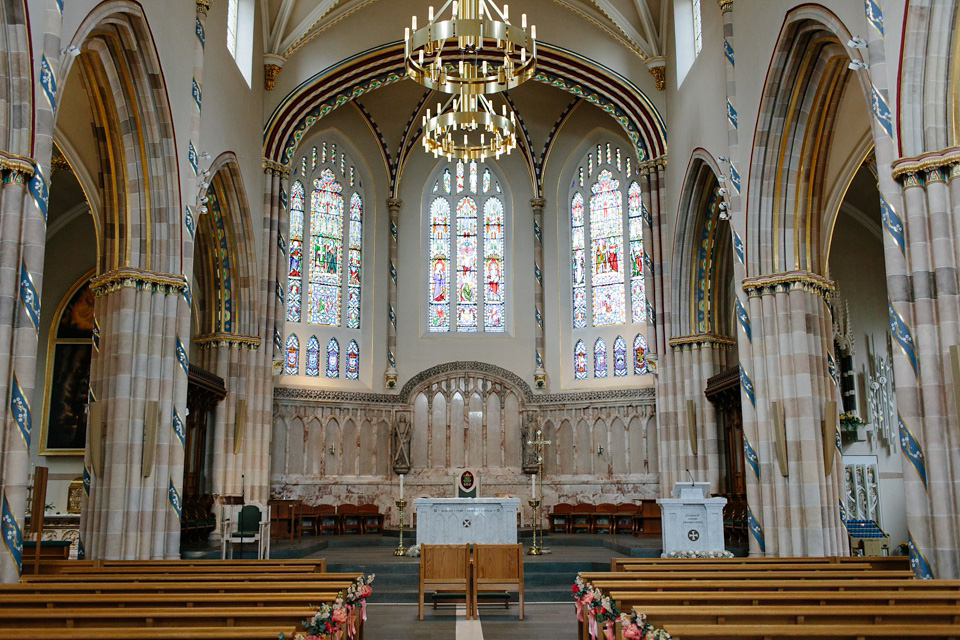 "Our ceremony took place at St Andrews Cathedral followed by a reception at Pollokshields Burgh Hall, Glasgow, Scotland. We were having a look at venues after we got engaged and fell in love with the dark wood, high ceilings and the stained glass windows in Pollokshields with the words 'Art, Literature and Music' written on them."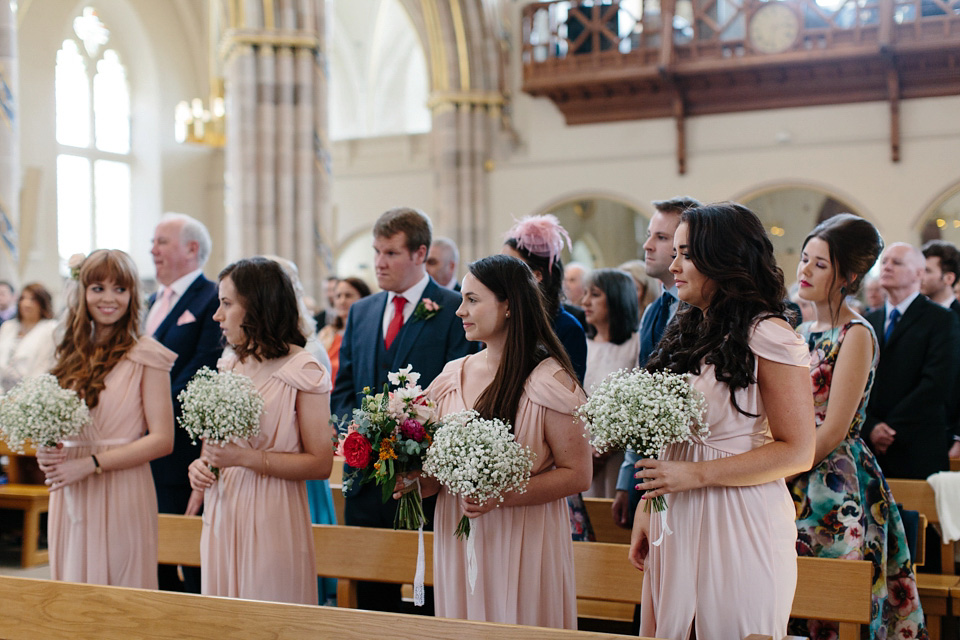 "My dad gave me away to the sound of Pachelbel's Canon in D – a classic.  
Our vows were classic Catholic wedding vows and we had two readings; 'St Paul to the Corinthians' and 'Song of Songs', which was read by my \aunt in the most beautiful way that it almost had me crying. We would have had 'The Canonisation' by John Donne as Alan's PHD was about John Donne, but thought it best to stick with the Catholic ones for the Ceremony."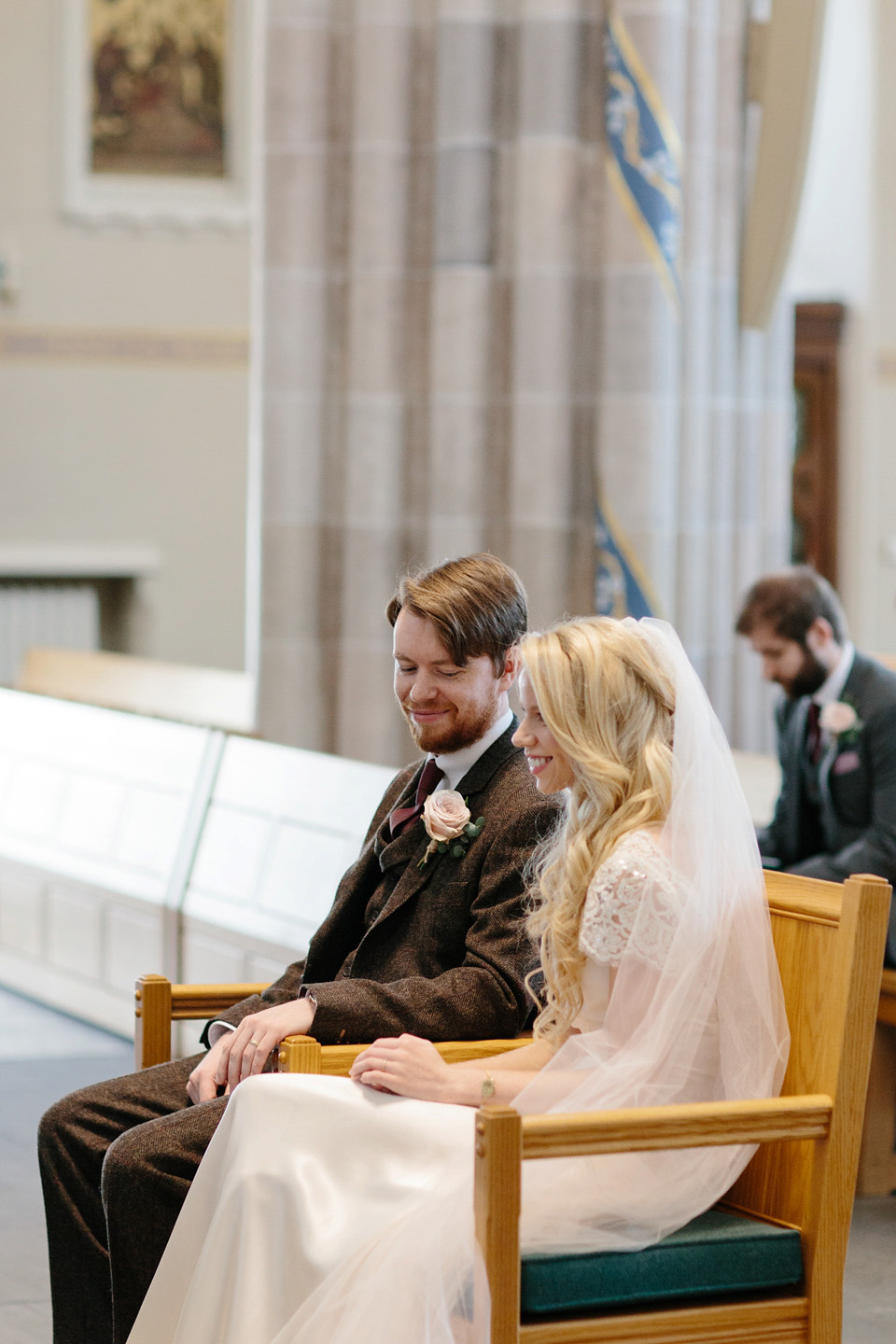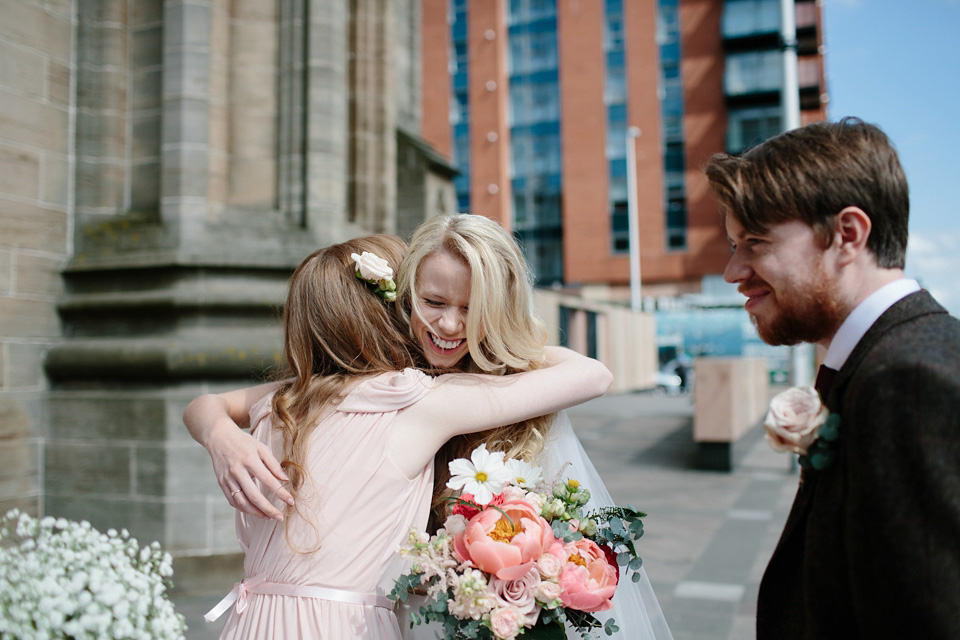 "In the evening I wore a gold rose headpiece by Twigs and Honey."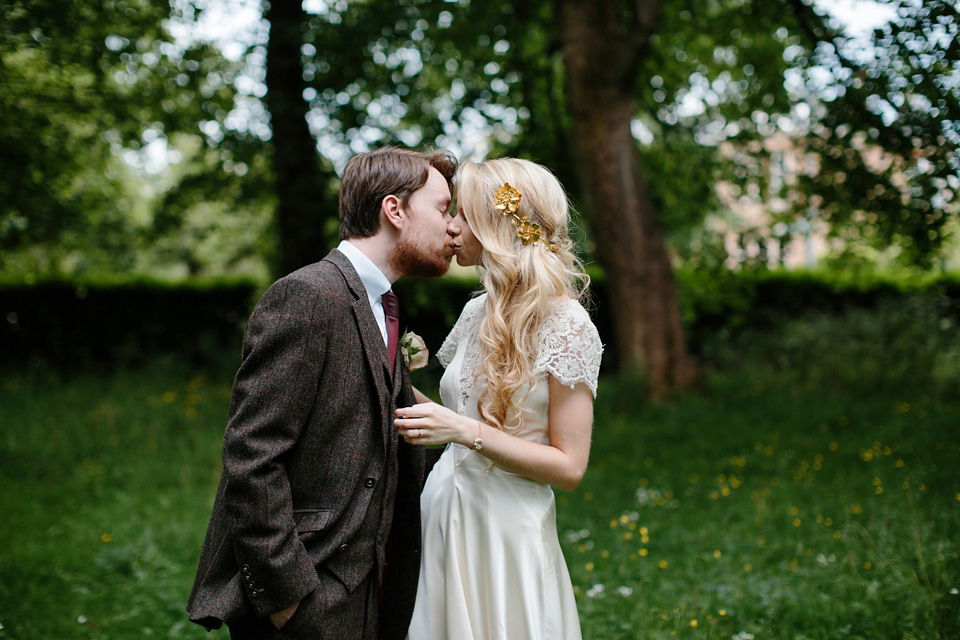 "Our photographer was Caro Weiss. When I found Caro through the Glasgow Wedding Collective. I knew she was 'the one' (finding this photographer was like finding the perfect dress!). Her style was exactly what we were looking for. All her work looked simply wonderful."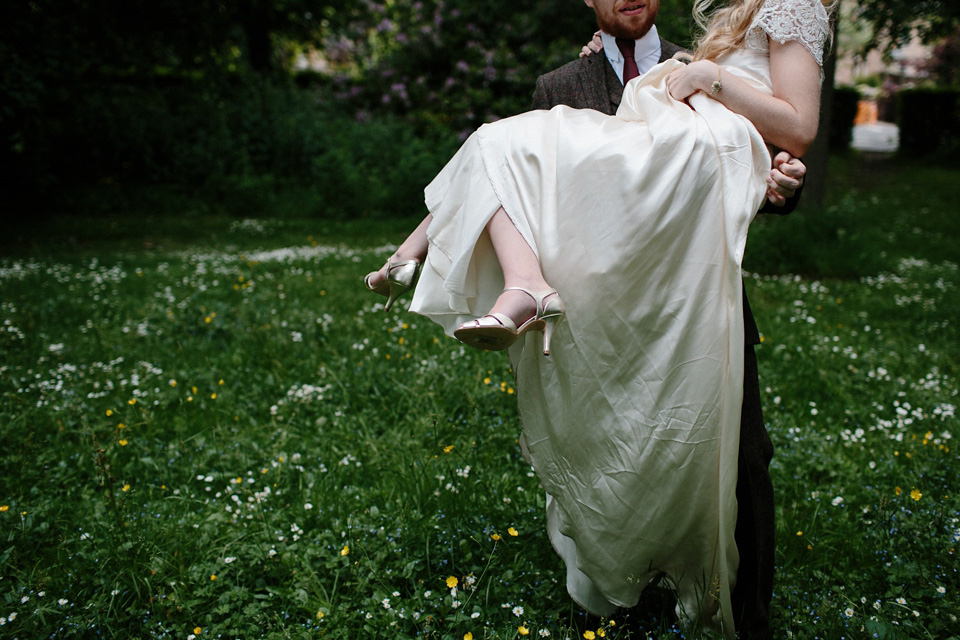 "There was something so crisp, clear and colourful about all her photographs, and all her brides looked so relaxed, happy and comfortable. There was no cheesy posing involved and I absolutely adore our pictures. I couldn't believe how many photographs she took! She was like a ninja with her camera! You didn't even notice her, which meant everything was so natural."
"Alan's ring was made by Ruth Laird Jewellery – an independent designer in Glasgow. It reminds me of the One True ring from Lord of the Rings. She makes the most amazing angular jewellery (I'm lucky enough to own a few pieces of her work myself).
Alison Macleod Jewellery made my engagement and wedding ring. I found her work on the Glasgow Wedding Collective and instantly fell in love with her rustic style. As I was waiting for my sculpted solitaire diamond ring getting made I trawled her website daily just staring at it. That and my wedding ring haven't been off my finger since."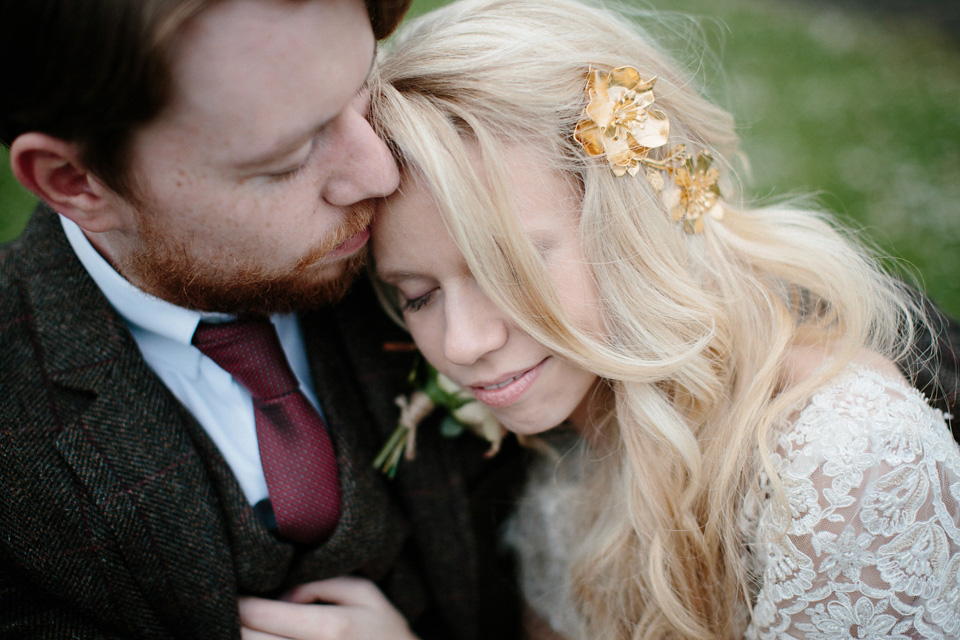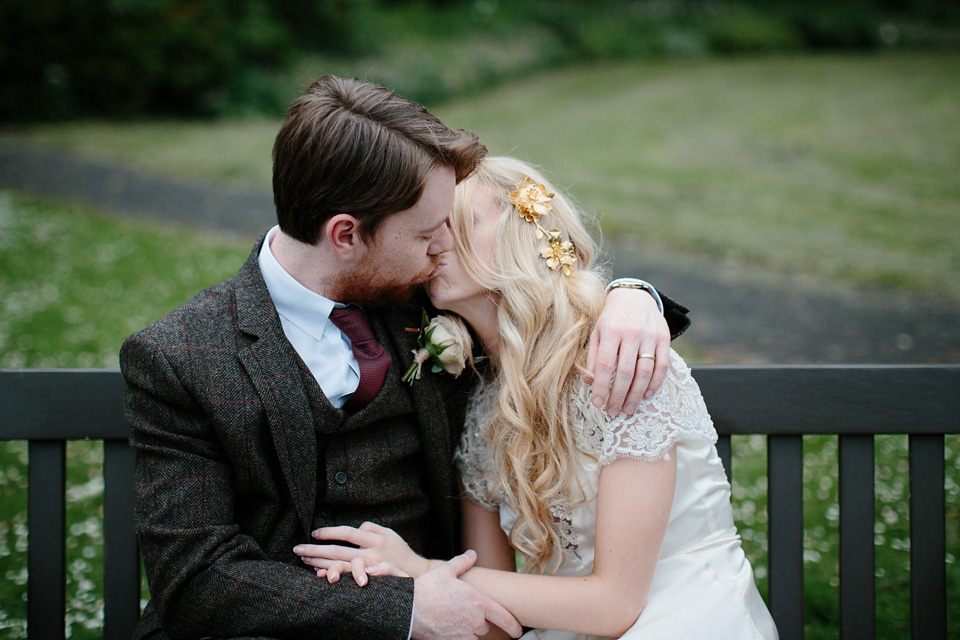 "To decorate our reception venue, we used candles, fairy lights, old books that had belonged to Alan's Nana and Papa and burlap table runners. We also hired crockery teapots from Butler and Taylor. I made the little diamond shaped placecards too – they took me an absolute lifetime so I wouldn't suggest anyone who is short on time attempting them!"
"Alan's friend Paul makes the most delicious jams! He made a selection of different flavours for us (Chilli jam, summer fruits, strawberry), which we gave out as favours to our guests."
"I can't speak highly enough of caterer John Thomson and his team! They had everything in the hall set up to perfection. Everyone raved about the food, which was delicious, and there was plenty of it (we were looking for a caterer which would provide a hearty meal, nothing too dainty). We were able to pick exactly what we wanted for each course and the night time buffet. John also gave great advice every step of the way. There were no hidden charges and the prices were excellent."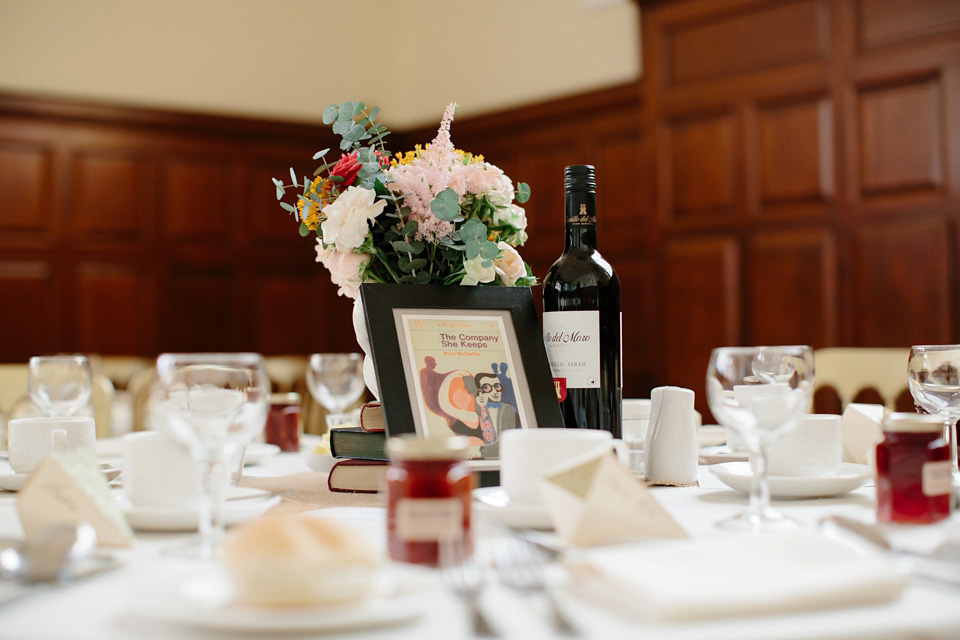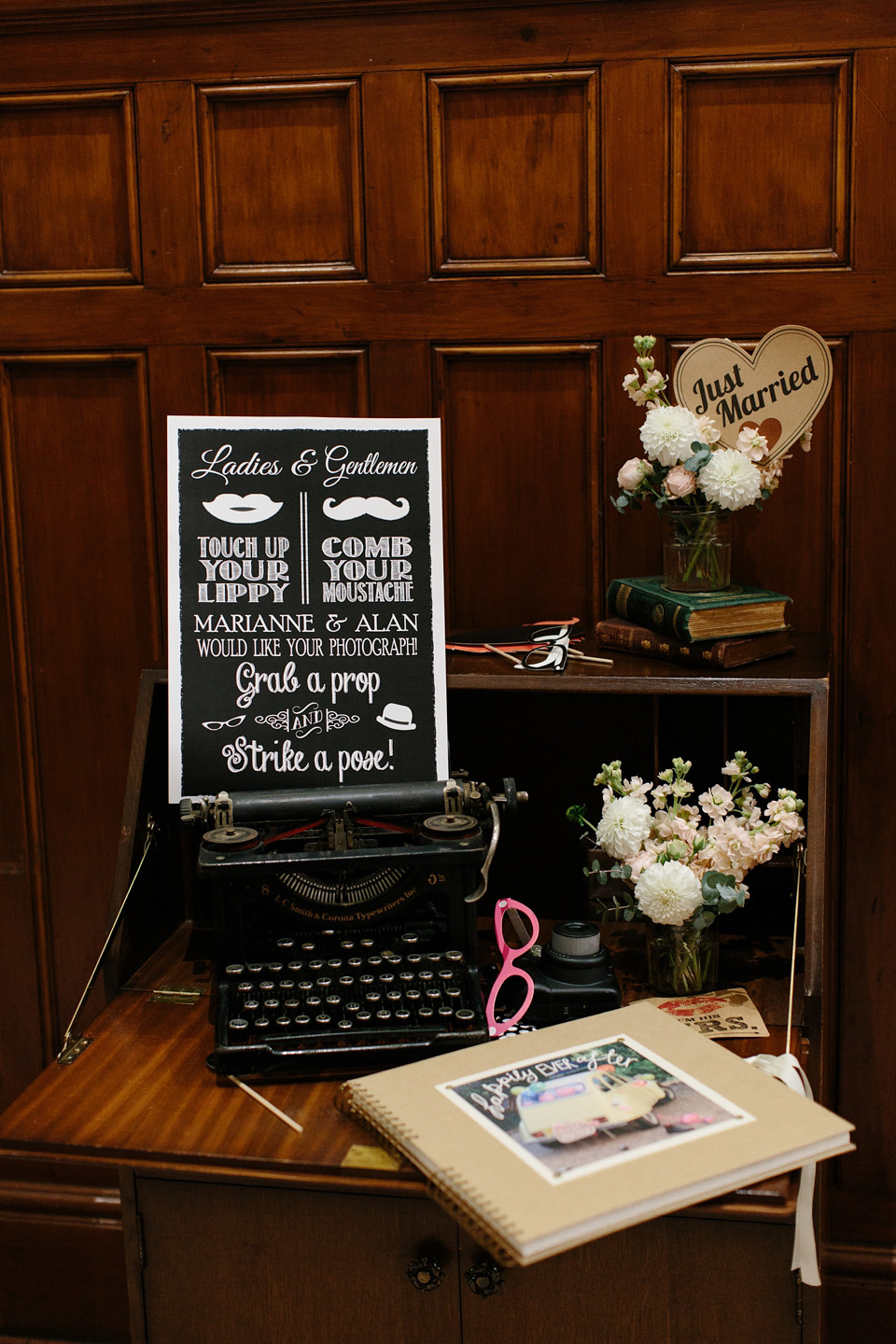 "My best friend and Alan's sister Amy (as well as being chief bridesmaid) made our cake. She's a lawyer by day and a baker extraordinaire in her spare time. I found a picture of a rustic looking cake bound with raffia and topped with a teacup and flowers on Pinterest.
Amy said she would give it a bash and by God the finished article looked amazing. She deserves a medal for all the work she put in!"
The speeches just before dinner really were hilarious and Alan had written me a little poem. Some excerpts are below."
I love Marianne, yes indeed I do
Love love love love, I'm assuming
that she loves me too
Because of the ceremony we've just been through
And some other bits of evidence'

'She has two eyes, a mouth
forehead, a nose and two fine ears,
With which she is listening to me
Now – and enjoying what she hears.
"Our first dance track was 'Come Here' by Kath Bloom. We are big film fans and when we first heard this in 'Before Sunrise' we thought it would be perfect as our first dance tune. (Its also very short and neither of us can dance to save ourselves so was the perfect length)."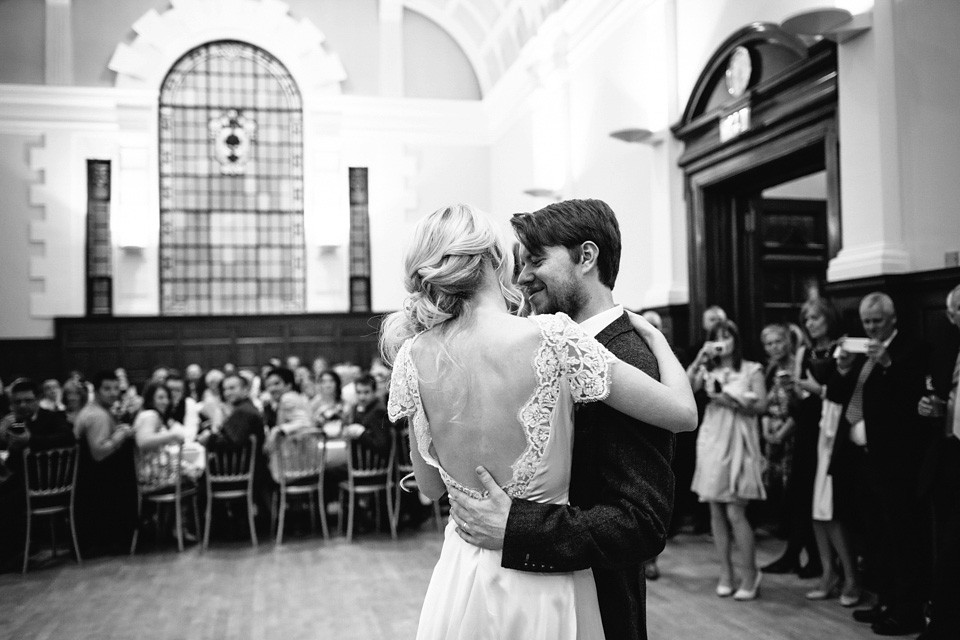 Words of Wedded Wisdom
"It's a cliché but the day really does go by in a flash. I would have liked to relax a little more instead of worrying about every little detail. I spent a lot of the day checking the guests were enjoying themselves but I would tell readers to make sure they themselves are enjoying the company, the food, the drink and the dancing.
I began to feel quite anxious on the lead up to the day but the ceremony was so relaxing and our singer Maria was so beautiful that it really left me feeling quite calm!
If we'd had the money, I would have loved to have purchased about three Rowanjoy dresses and changed throughout the day! (So decadent but such an appealing idea.
Finally, I was a huge fan of Love My Dress. I loved the real wedding features and the showcasing of all the beautiful suppliers. The real wedding features are such a treat. I love finding out about the couple and their little love story."
Oh Marianne, I'm so happy that you're new a fully fledged Love My Dress bride! I adore how this wedding blog inspires so many people, but it's the best thing to be able to feature the wedding of a bride who so loved visiting the blog for inspiration whilst planning.
As usual, our love and thanks to the super talented and amazing wedding photographer, Caro Weiss. You can see more from Caro Weiss Photography on Love My Dress right here.
I'd love to hear if you are planning on visiting an independent dress designer for your own wedding dress, of if you've been inspired by
Love Annabel xx
Photographer – Caro Weiss
Venue – St Andrews Cathedral + Pollokshields Burgh Hall, Glasgow
Dress + Veil – Rowanjoy
Headpiece – Twigs and Honey
Shoes – Rachel Simpson
Grooms Suit – Walker Slater in Edinburgh
Bridesmaids – Bridesmaids Dresses – ASOS + roses by I Heart Flowers
Florist – iHeartFlowers
Cake – baked by friends
Transport Hire – Jaguar MK IV + Bettle Cabriolet via Ecosse Classic Cars
Vintage china hire – Butler and Taylor
Rings – Ruth Laird Jewellery + Alison Macleod Jewellery
Catering – Catering Company – John Thomson Catering
Hair – Emma Greer (no website)
Makeup – Death by Lipsticks
Entertainment – string quartet Allestri