I wanted to spend a moment or two ahead of Kay sharing her fantastic Kitchen Party photographs, to say how proud and overjoyed I am that we get to share images like this on Love My Dress. Kay is one of our original team of Lovettes (blogging brides). I have so enjoyed all of her wedding planning updates so far, not least because of the lovely way Kay writes and because well, who doesn't love a romance that began in childhood? I have also loved Kay's features because of the contribution they have made to the cultural diversity of our much loved wedding blog.  This, for those of you long term readers will already know, is something really important to me personally and something I'm hugely passionate about. This will be the last of Kay's pre-wedding updates, for she tied the knot yesterday.  I just wanted to say so much love and congratulations to you both Kay and Sam! I truly hope you had a day filled to the brim with love, joy and laughter – I cannot wait to see the photographs and hear all about it. For now, over to you Kay and your amazing Kitchen Party.
_____________________________
I really am very excited to be sharing this post with you today, as this is the first traditional Zambian Kitchen Party ever to be featured on Love My Dress, or on any of the big wedding blogs in fact. For many of us, pre-wedding ceremonies play a major part in a marriage, and in my case, involved more guests than the wedding itself. I hope this post shows that it is possible to have a traditional ceremony that totally reflects your personality and style, and that traditional doesn't have to mean old fashioned or boring!
Film by Gerald Boye
A Kitchen Party symbolises the Mother of the Bride inviting her wise and experienced friends to share their advice with her daughter on how to look after her house, husband and children.
Photography by Laura Harvey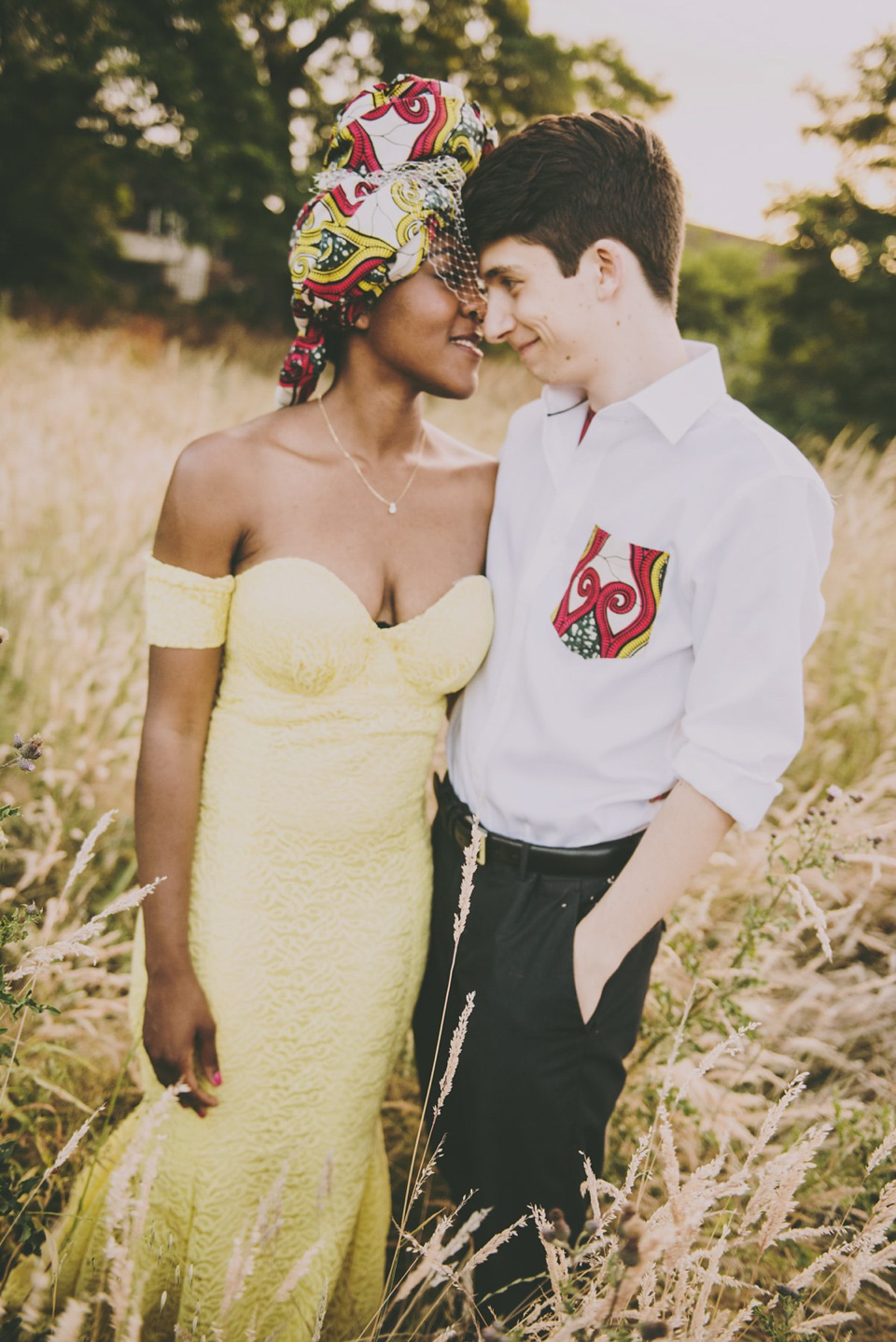 I first wrote about the Kitchen Party in a post back in February, soon after discovering that my mum's plan to host the party at home with just close family and a few friends had escalated into a full scale logistical operation with 200 guests.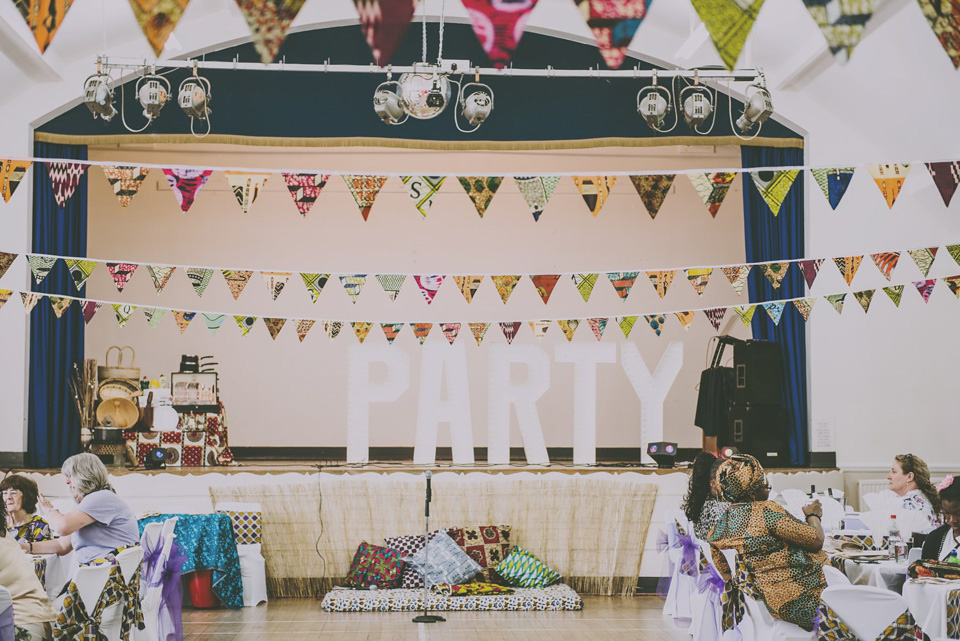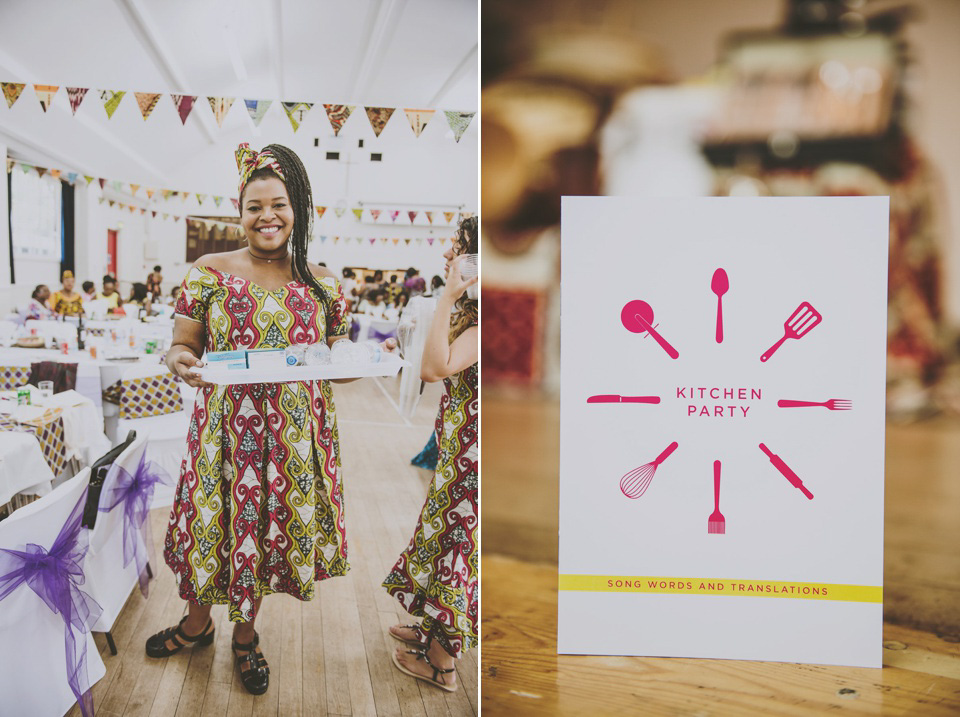 The Party kicks off way before the bride arrives; with the different groups including the servers (similar to bridesmaids) and the committee (the close friends of the brides mothers) dancing into the venue, dinner is then served straight away. Meanwhile, I was having a 'glamourous' meal in the back of a car in the car park waiting to be called in.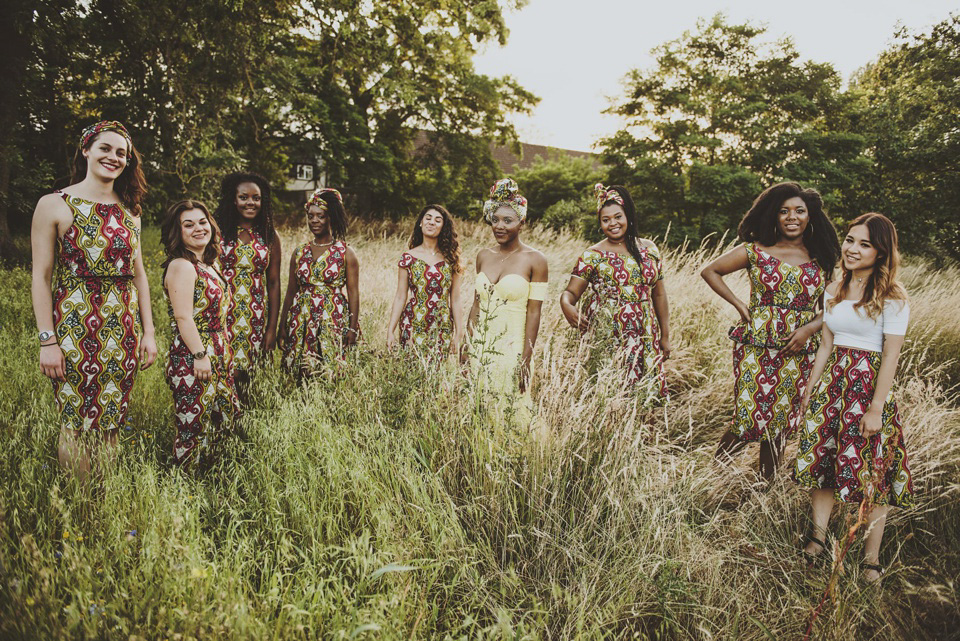 I entered the hall under a chitenge (Zambian patterned fabric), with my aunties leading and my sisters behind; and I stayed covered until the initial unveiling by Sam's mum and Aunty. Once I was unveiled, each table was then called up to present a word of advice for marriage, which was often in the form of a Zambian song and dance.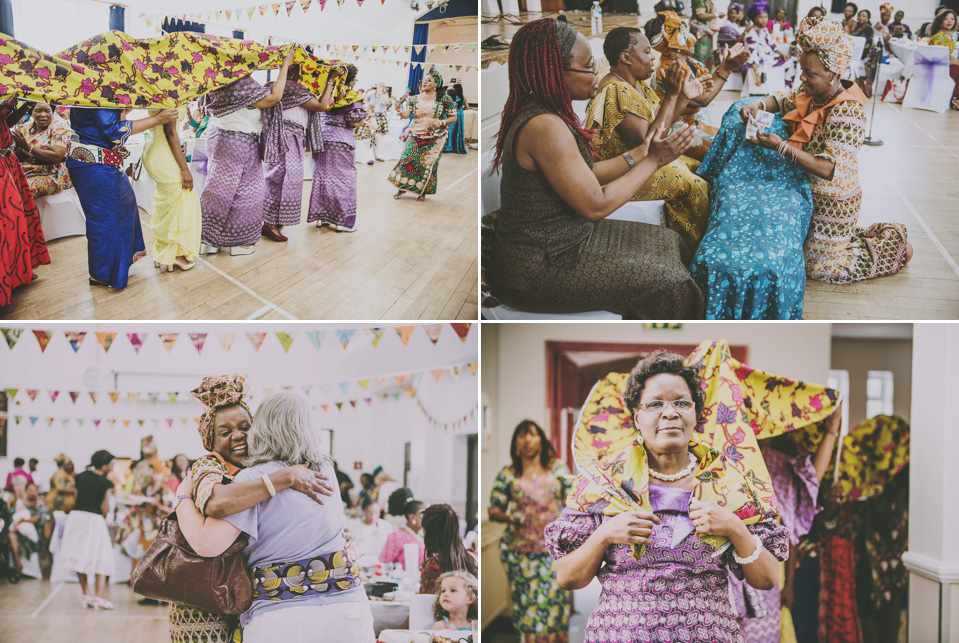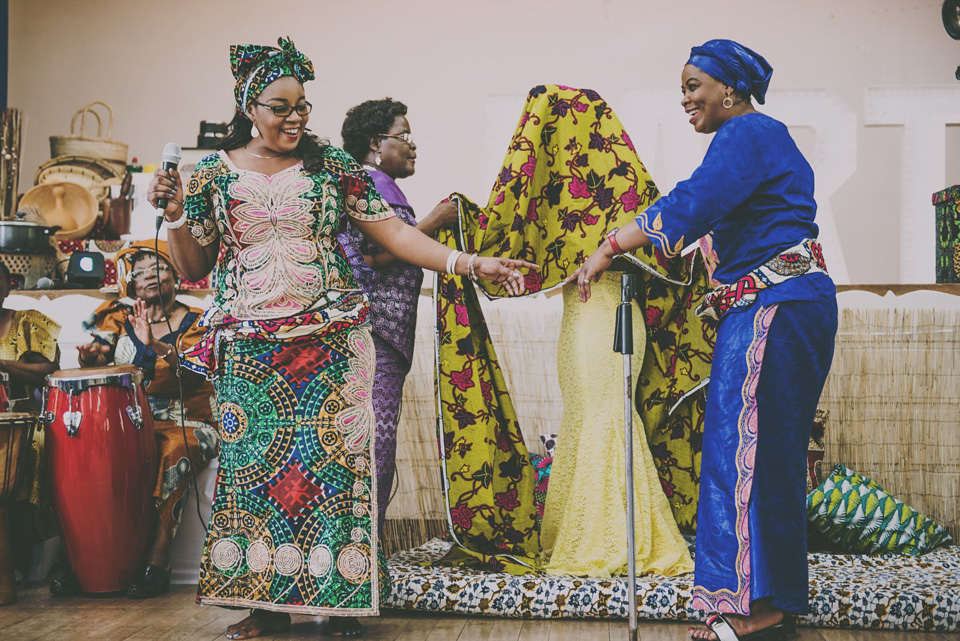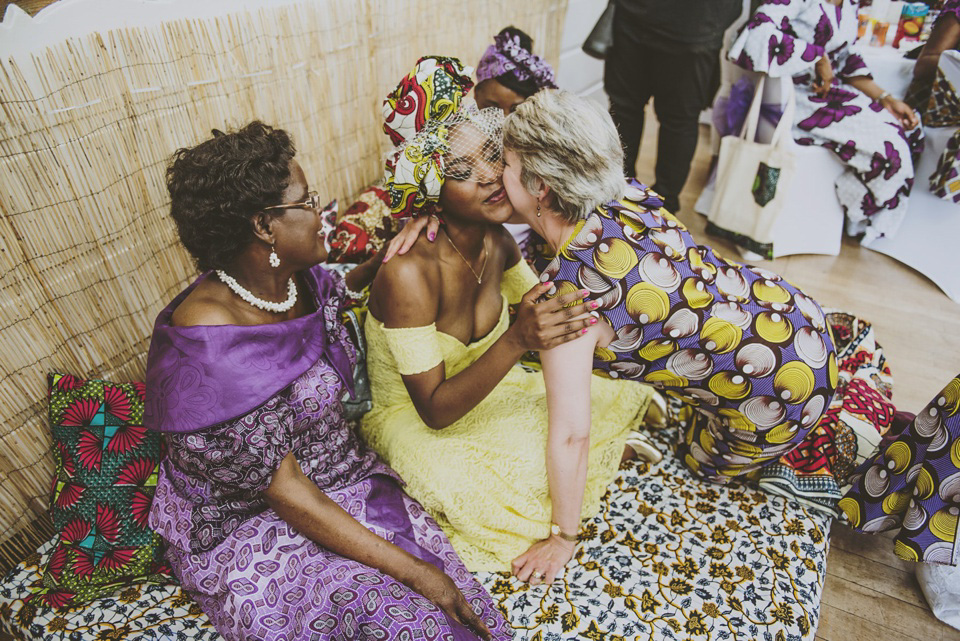 There was a particularly hilarious moment when a group of my sister's friends decided to present an interpretive Beyoncé medley after being called up without much warning.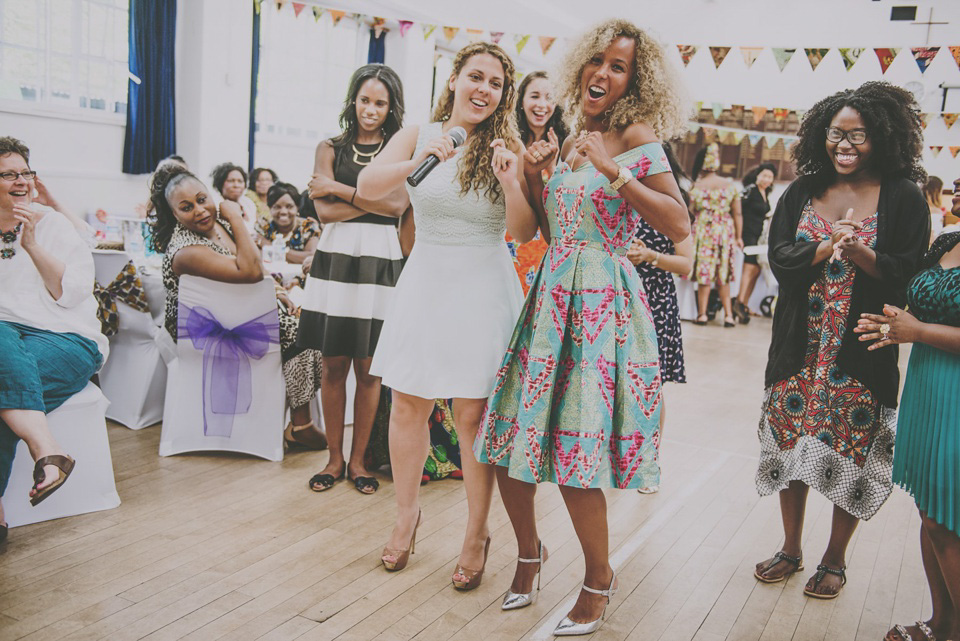 A few hours into the Kitchen Party, Sam was called to arrive at the venue along with four of his close friends for the official entrance of the Groom.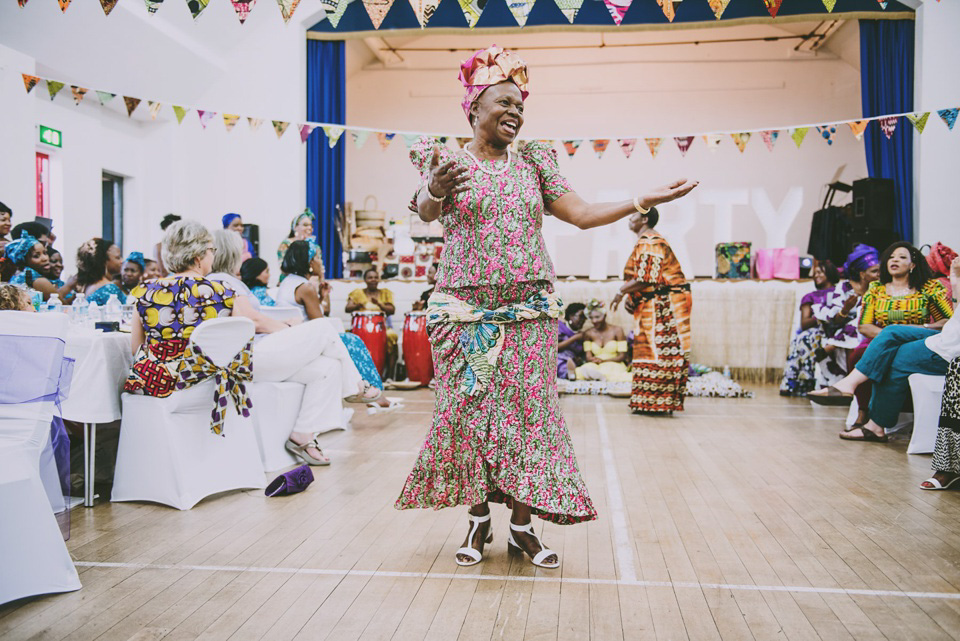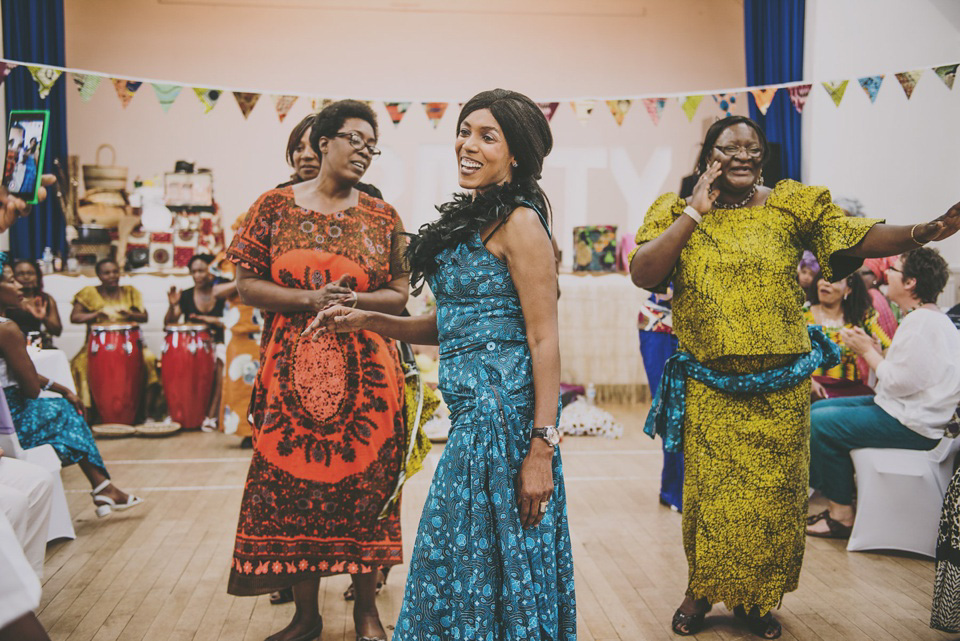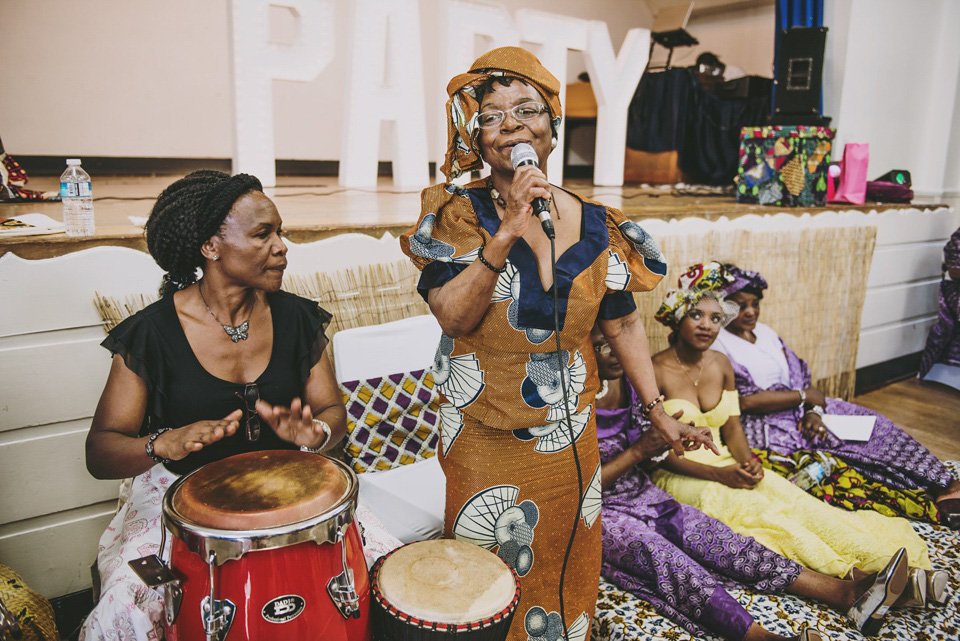 Before being allowed to enter, a member of the committee lay down in front of the door, blocking his way, until he put some money down. Sam then had to lie on his side and clap, which is a traditional sign of thanks and respect. Once they entered, Sam and his best man had to put down more cash until the Matron agreed that there was enough for me to be unveiled again.
Nearly all of the decorations were homemade. Sam's mum spent months making 40 meters of chitenge bunting; the table runners, chair bows and scatter cushions were made by my Aunty and eldest sister; my sisters and bridesmaids sewed chitenge pockets and fabric strips onto 200 tote bags to give away as favours; and Sam made all the stationery including a songbook with translations for the day.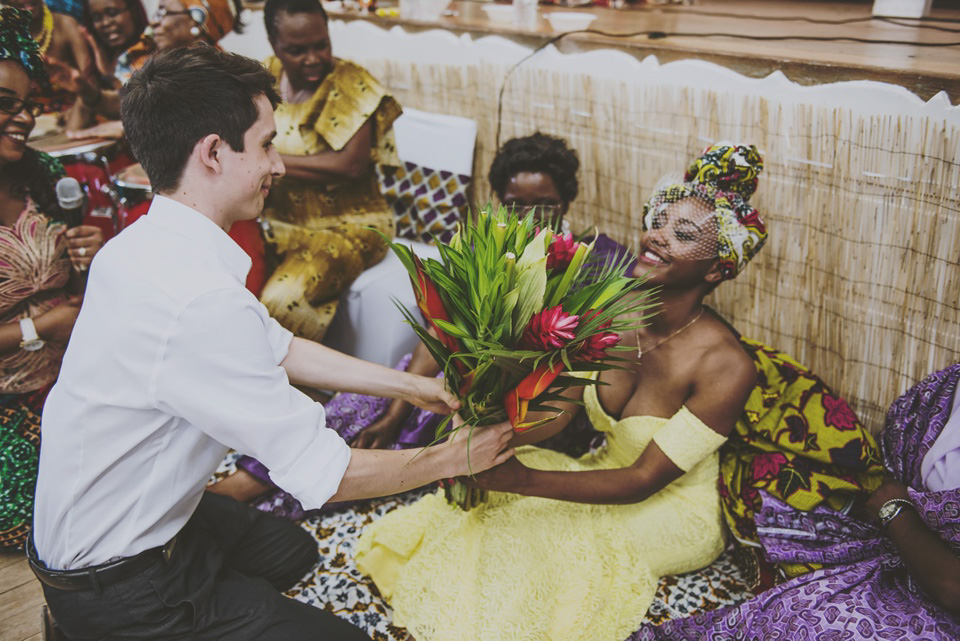 The Giant PA.R.T.Y. letters were from Doris Loves, who read my Kitchen Party blog post on Love My Dress and suggested I had a browse through their props for some inspiration, the letters worked brilliantly as a focal point to fill the stage. I had also originally planned to hire retro 60s crockery from Peace, Love and Daisychains, but the fear of the drum beat leading to smashed plates made me change my mind at the last minute, so we stuck to plastic.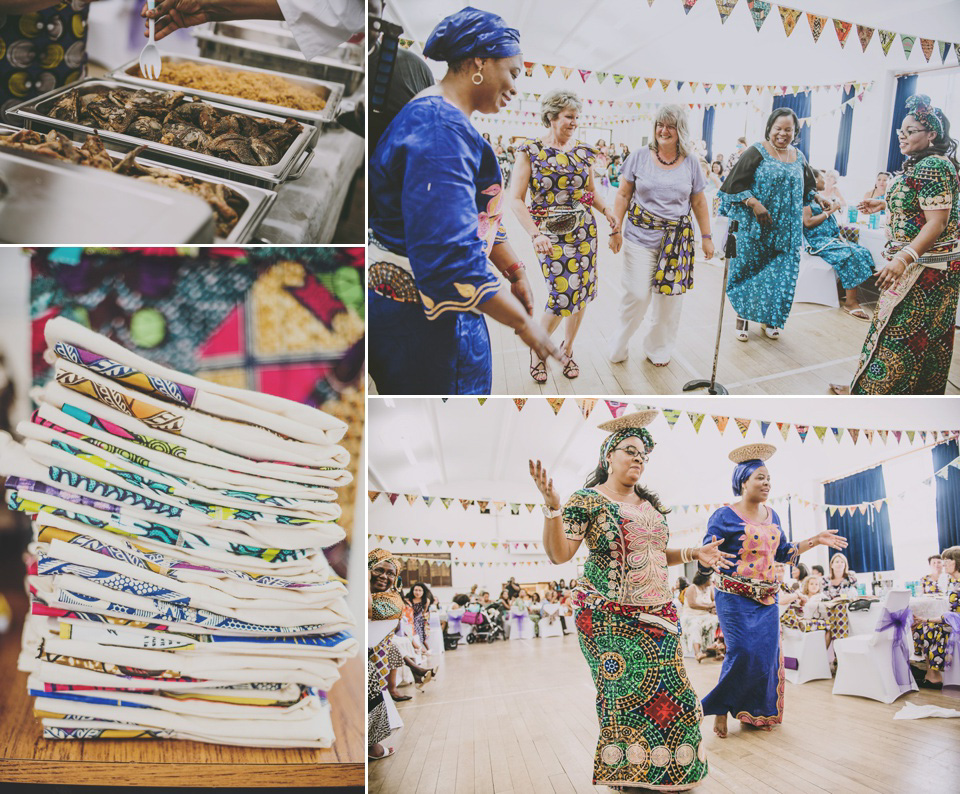 My Bridesmaid Kayla did my make-up and I didn't need to have my hair done as it was conveniently concealed beneath my head wrap. My sister's good friend Madeline, who I have known since I was a child, runs a head wrapping business called Kiyana Wraps.  She turned up with a bag full of her millenary materials, and added netting to chitenge to create a fascinator/head wrap hybrid. It's amazing to see how a strip of fabric can be transformed into a beautiful design, simply through twisting and folding.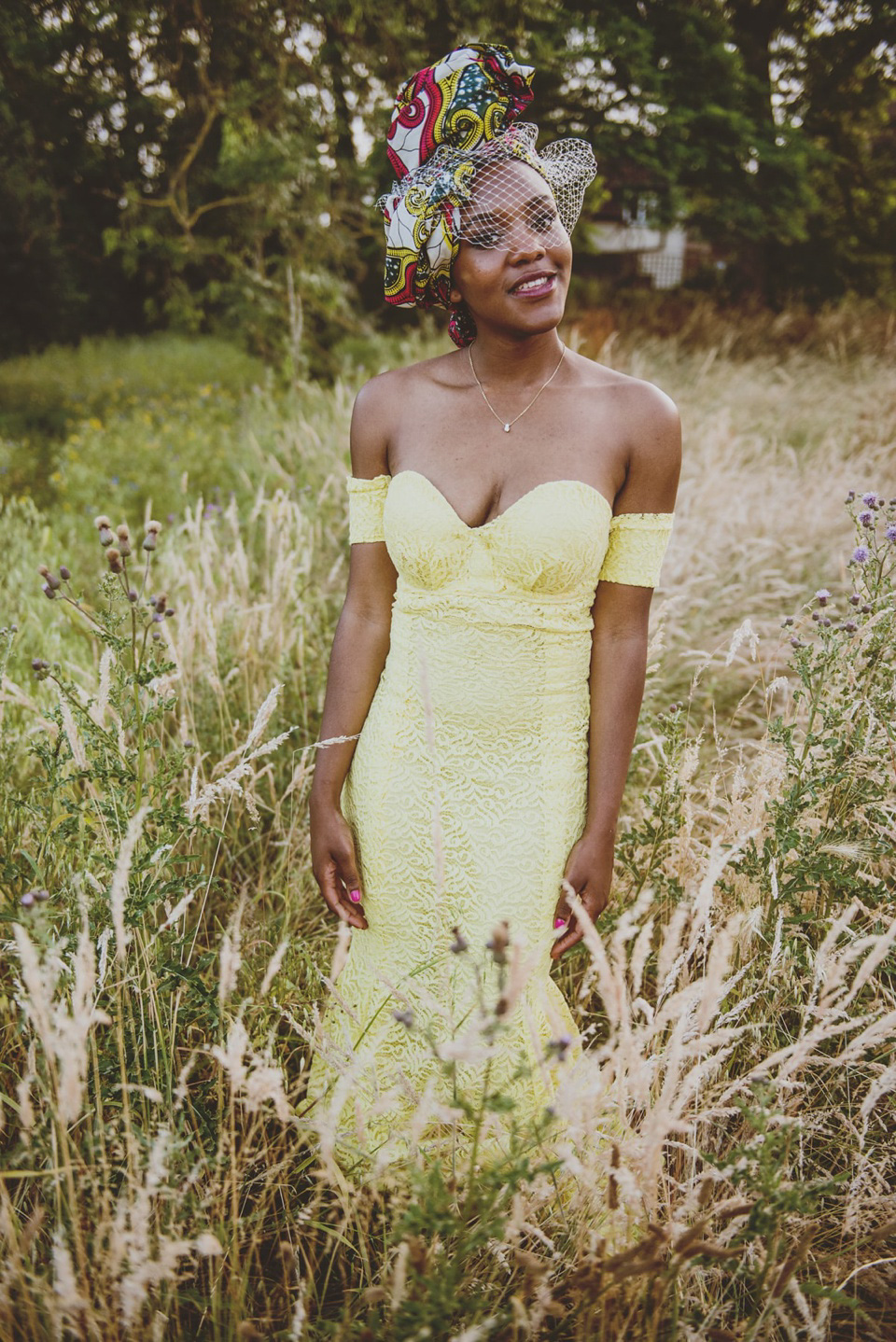 All of the outfits were made by local tailors specialising in African dress. My bridesmaids had a fuchsia and yellow pattern, and had different styles going all the way from a pencil skirt to a jumpsuit. The committee wore turquois, Sam's family wore dark purple and yellow, and my aunties wore Lilac. After going through what seemed like 100 options for my own dress, in the end I decided to go for bright yellow lace and accessorise with a bright pattern, as I wanted to look bridal but stand out at the same time.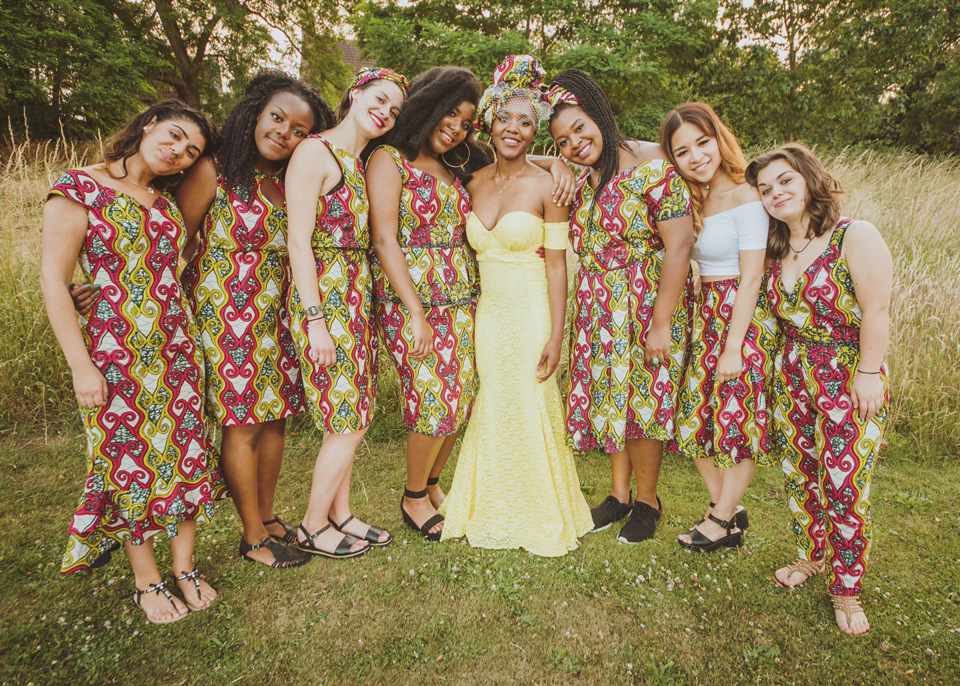 My photographer for the day was the amazing Laura Harvey, she completely captured the energy and colour of the day, and wasn't at all fazed by the fact that I hadn't been able to tell her anything particularly useful about what to expect. I love her style and would absolutely recommend her if you haven't got a wedding photographer yet.
The film was by Gerald Boye, who I had known through two of my bridesmaids since school. I had only ever seen music videos that he had filmed for new artists, so had no idea what to expect from the video of the day. It completely surpassed all of my expectations and brings back such good memories every time I watch it.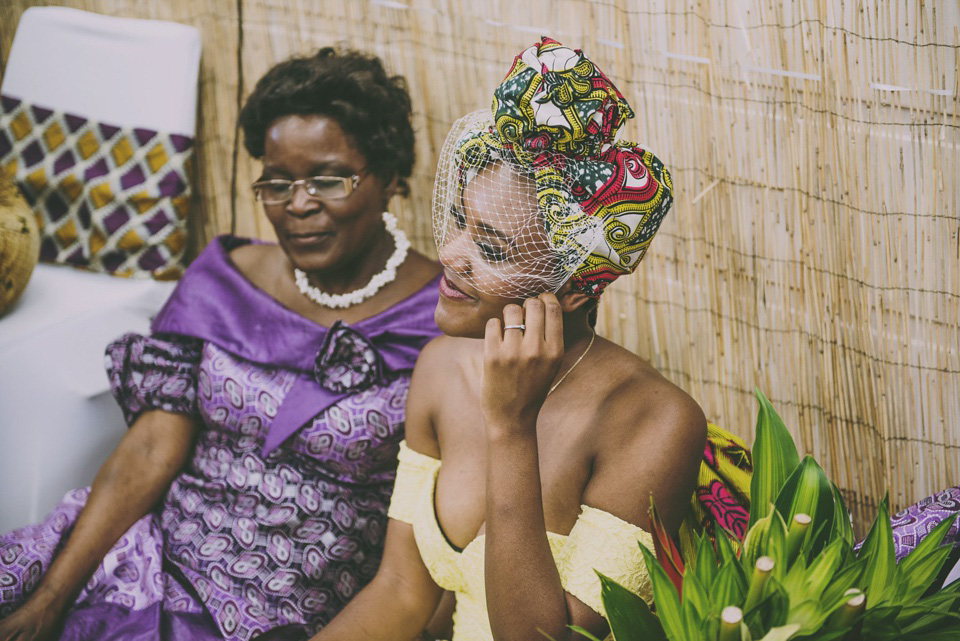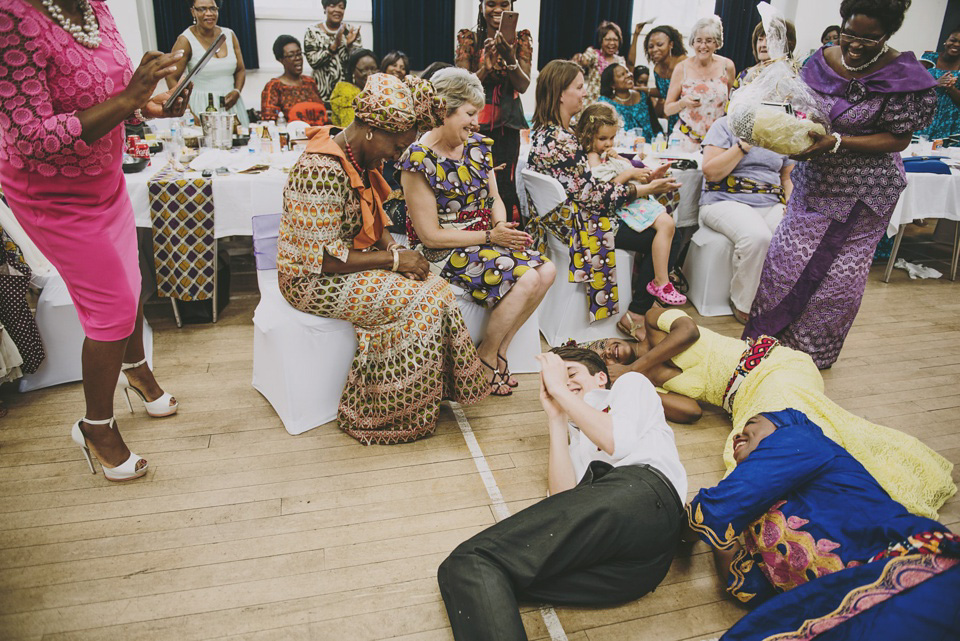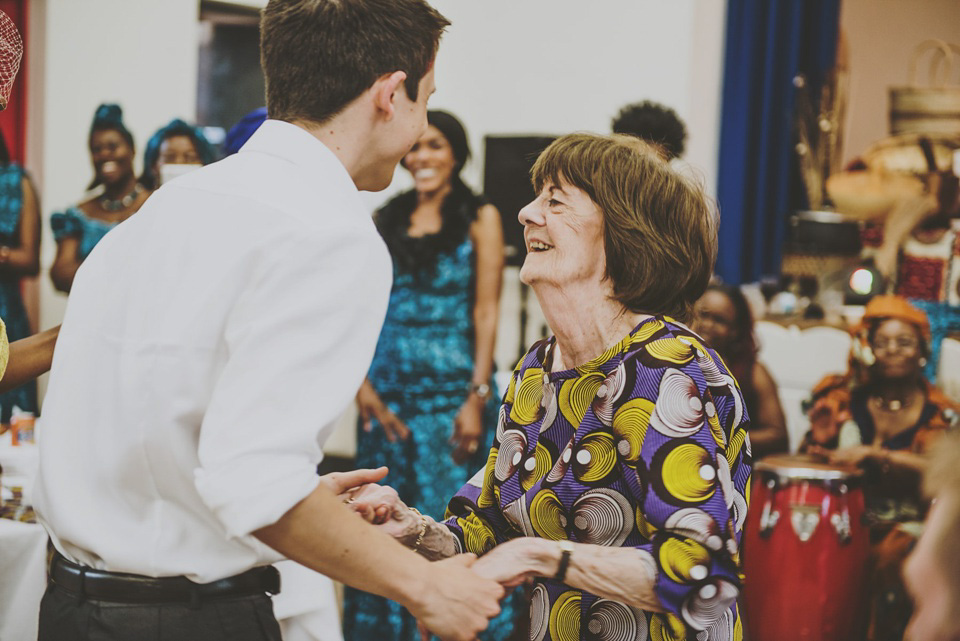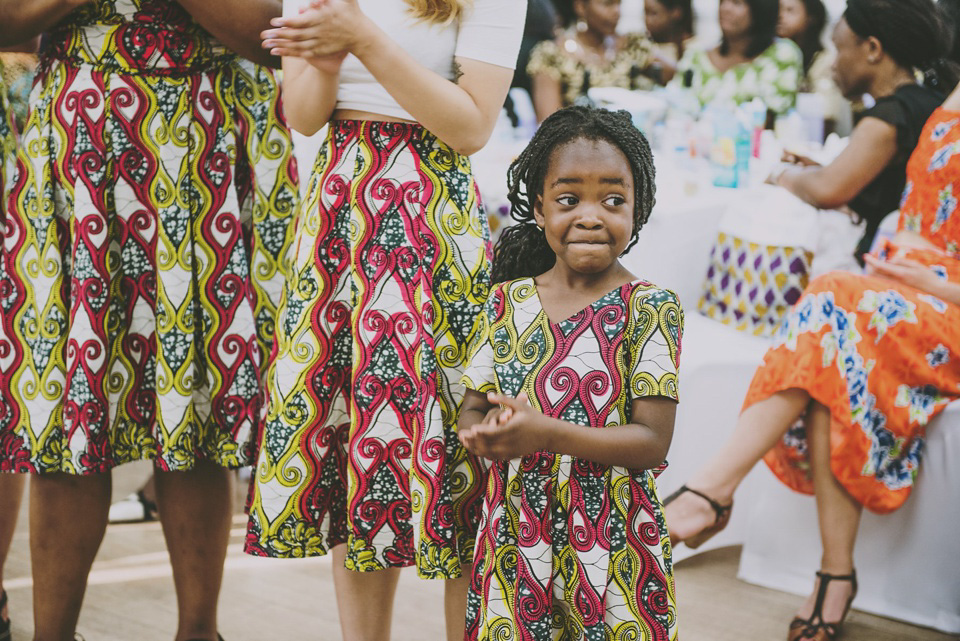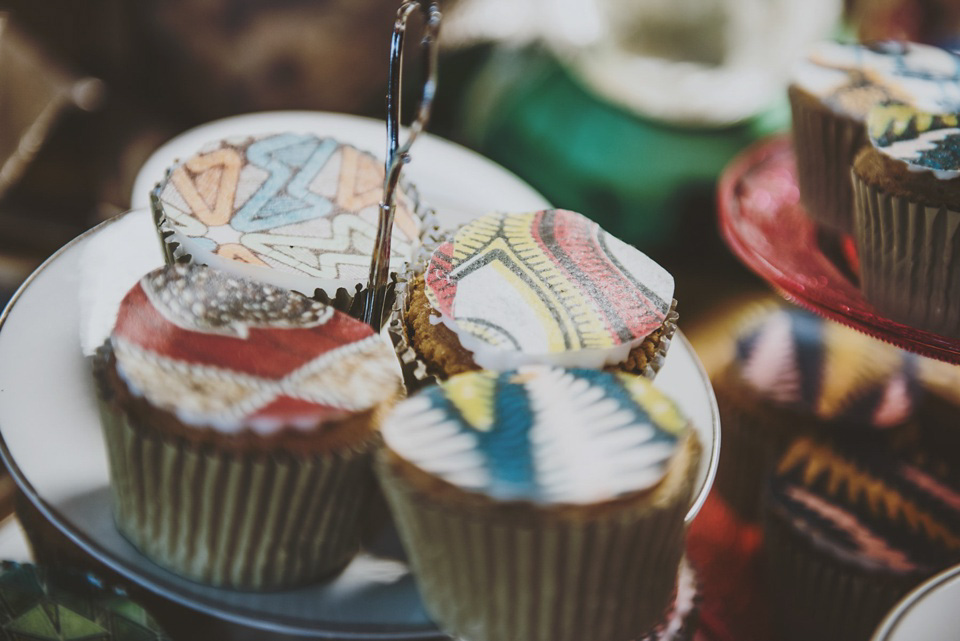 I had minimal involvement in planning the party, other than sticking my nose in with design ideas once in a while, so I really am grateful to all of my family and friends who worked so hard to bring the party together.
They all wanted the day to be perfect, and were willing to give up so much of their time to make it happen. It was also so lovely to see Sam's family embracing the culture and being so involved throughout. Next stop, the wedding! I can't wait to share that day with you too!
Love Kay xx
_________________________
Kay is a member of our original Lovettes team of blogging brides. She tied the knot yesterday! (3rd August 2015). You can read all her previous features for Love My Dress here.