Good morning all! Normally I would suggest combining your 'wedding blog break' with a cup of coffee and a sneaky biscuit, but it's so warm here in Yorkshire today I think a cold drink may be better suited! However it is with you though, do find a moment to sit back and enjoy this lovely wedding in the countryside today. You won't be disappointed.
Sarah and Dean married just a few short months ago, on the 3oth May, at the very beautiful St. James' Church in Elstead, Surrey, with their reception at the nearby Gate Street Barn. The church was chosen especially, as it is located in the village of Sarah's family home and is also where both her sister and best friend (also bridesmaids) were both married, so had real family and personal connections. The day was captured beautifully by Amy B Photography.
Photography by Amy B Photography
"I love all things vintage and the countryside location of the barn was the perfect setting. The powder blue theme came from the bridesmaids dresses which we bought very early on"
Sarah wore a dress by a designer I really wish I had discovered much earlier, as her collections are utterly beautiful – Annabel actually discovered Katya Katya Shehurina at The White Gallery back in 2011 and we have shared her creations on this blog a number of times since.  Sarah also went against the 'norm' and chose her frock in an unusual shade, to match the theme of their day.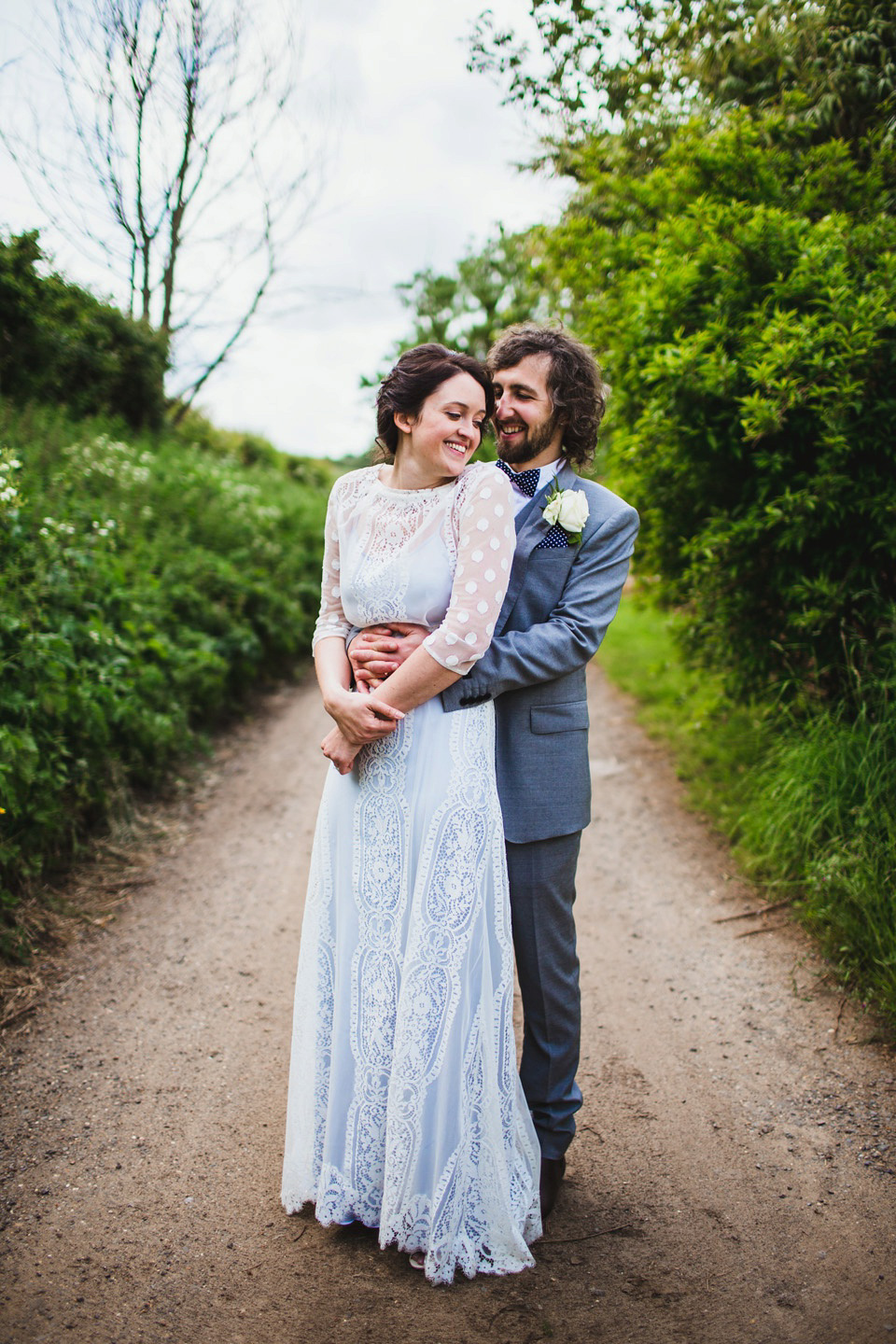 "I looked at many local bridal shops but I didn't find anything I felt was right for me. Then I saw a Katya Sheurina dress in one of my bridal magazines, found out where the boutique was and booked an appointment. I loved all the dresses in the shop as they are so unique and beautifully made but I knew my dress 'Emilia' was the right one for me.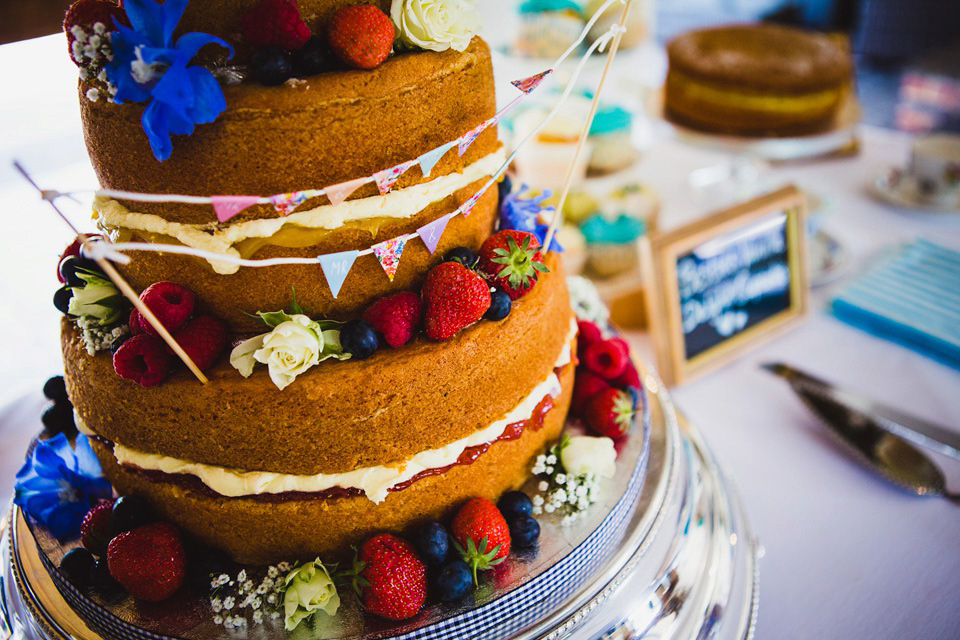 "I loved everything about the dress, but especially the quirkiness of the design with the spotty sleeves against the beautiful vintage inspired lace which was set off by the blue silk slip underneath which I chose instead of ivory. It was lightweight and easy to wear, wonderfully understated and different from anything else I had seen."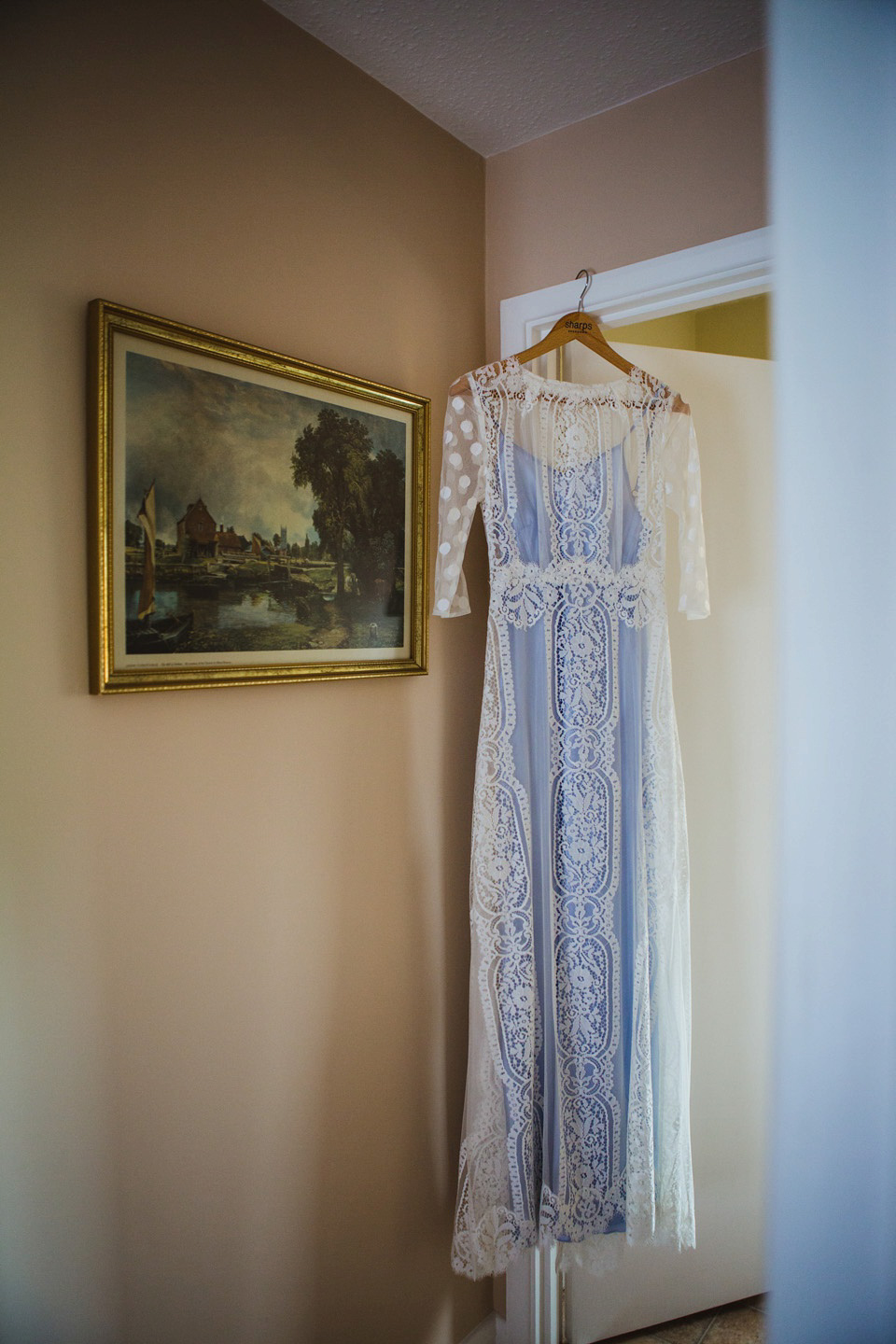 Sarah accessorised with a pair of elegant 'Mimosa' shoes in ivory, by Rachel Simpson, some freshly-cut gypsophila in her hair and squirt of 'Jour' by Hugo boss. I really admire her decision to keep her accessories to a minimum in order to let the dress speak for itself and it certainly works- she looked fabulously fresh and very beautiful, don't you agree?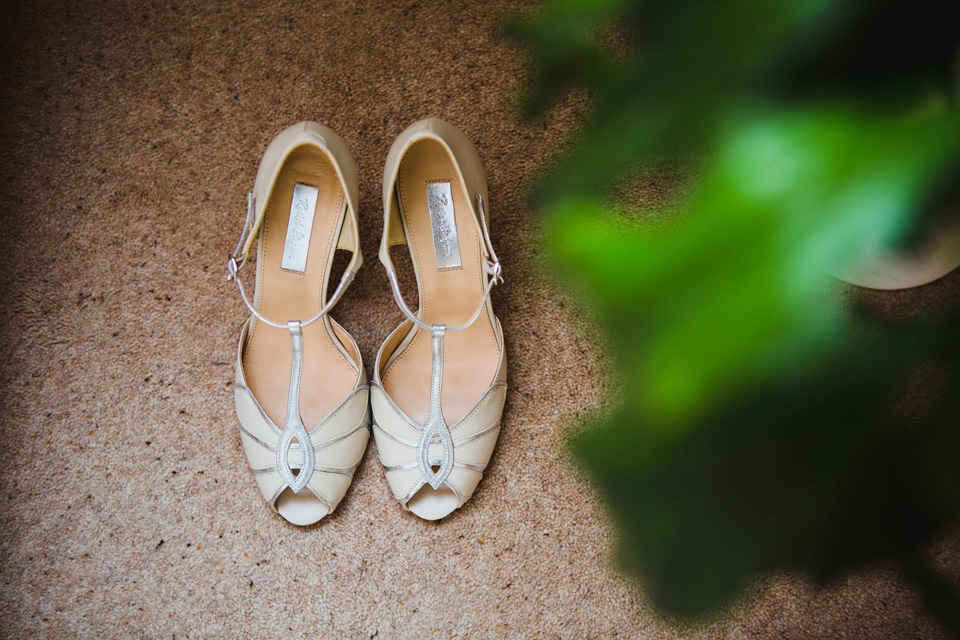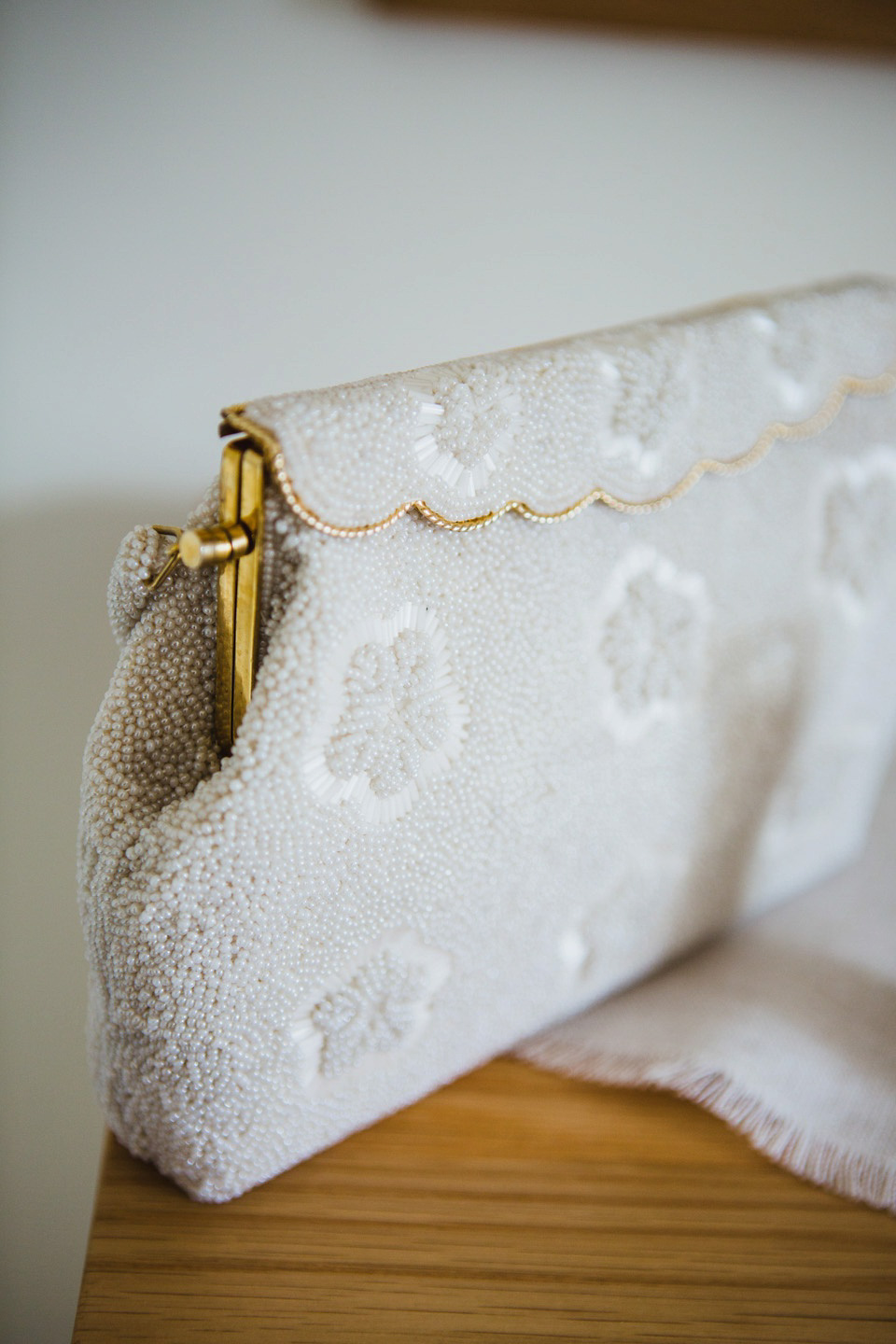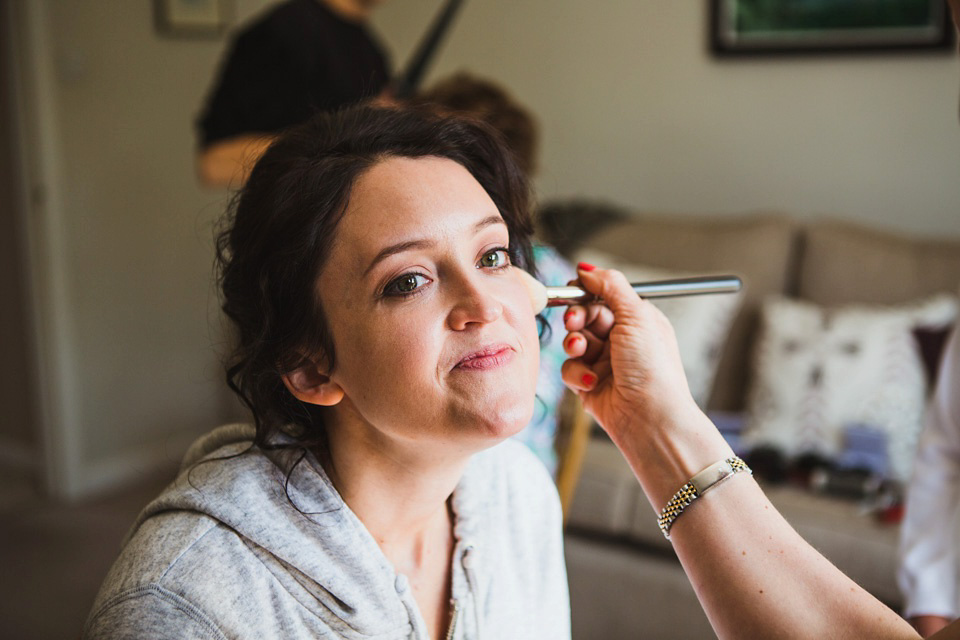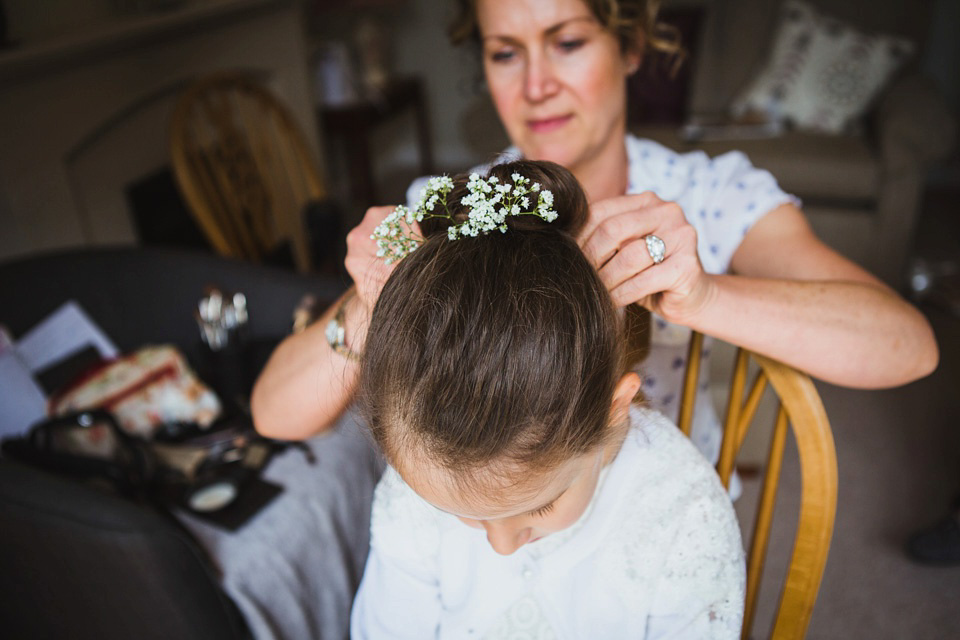 Not to be outdone, Dean sported a very smart Paul Smith suit in a pale grey/blue shade, worn with a navy and white spotted bow tie and pocket square, from Mrs Bow tie.
Sarah's adult bridesmaid wore rather gorgeous blue and floral shift dresses, purchased from Oasis, and the little flower girls looked fairy-like in tulle and lace dresses from Vert Baudet. So pretty!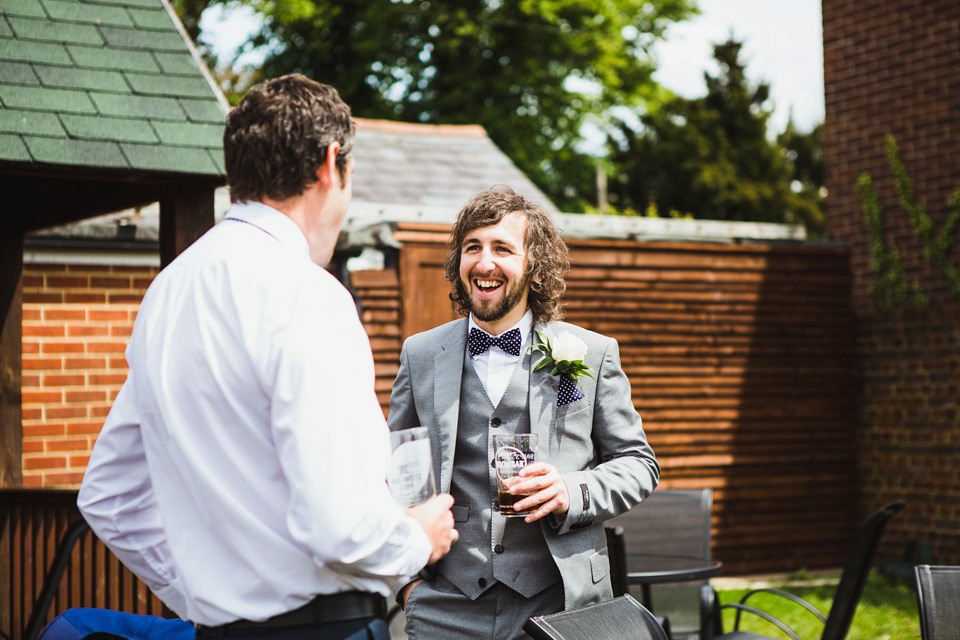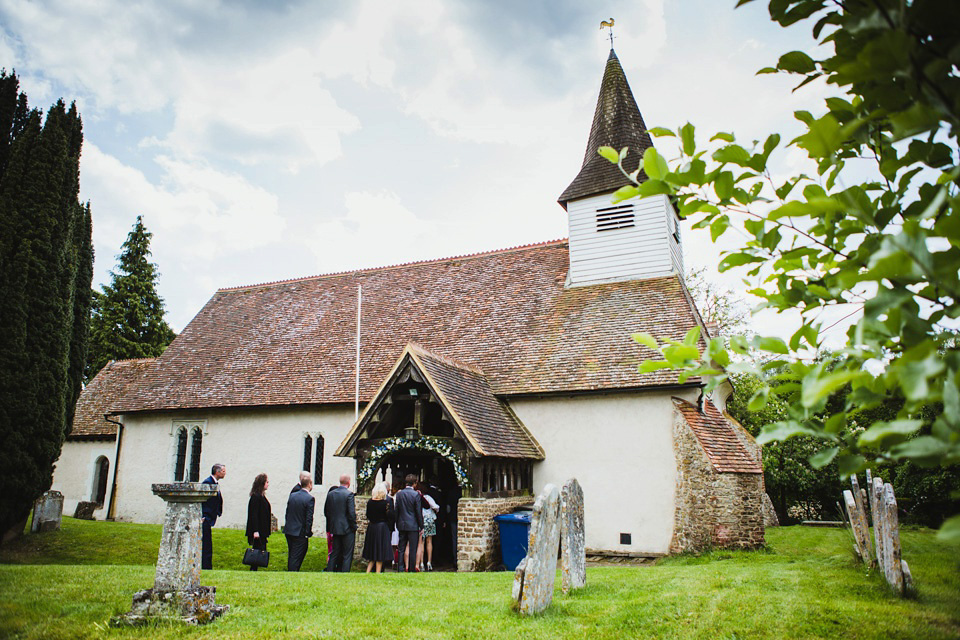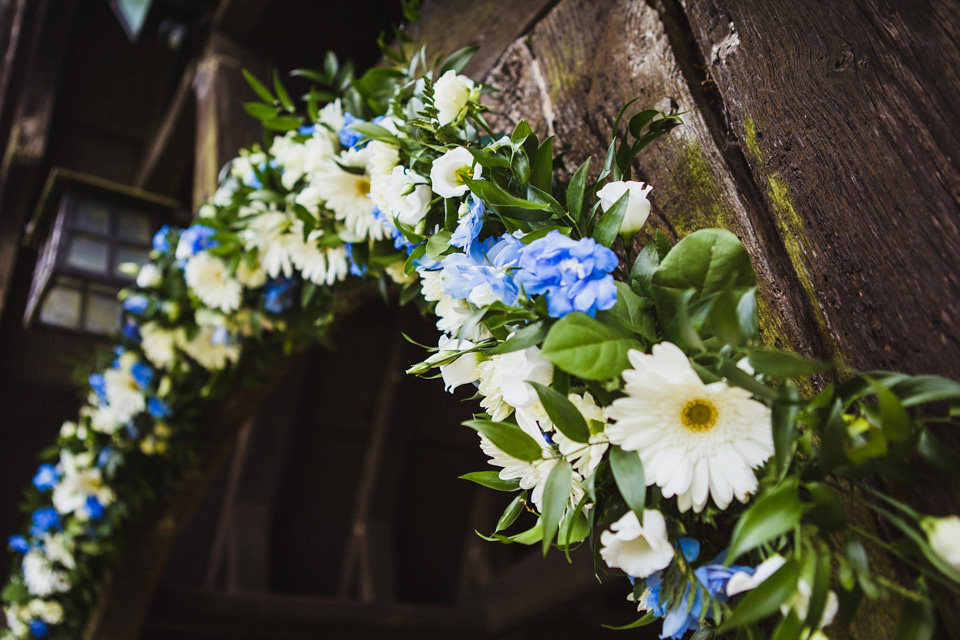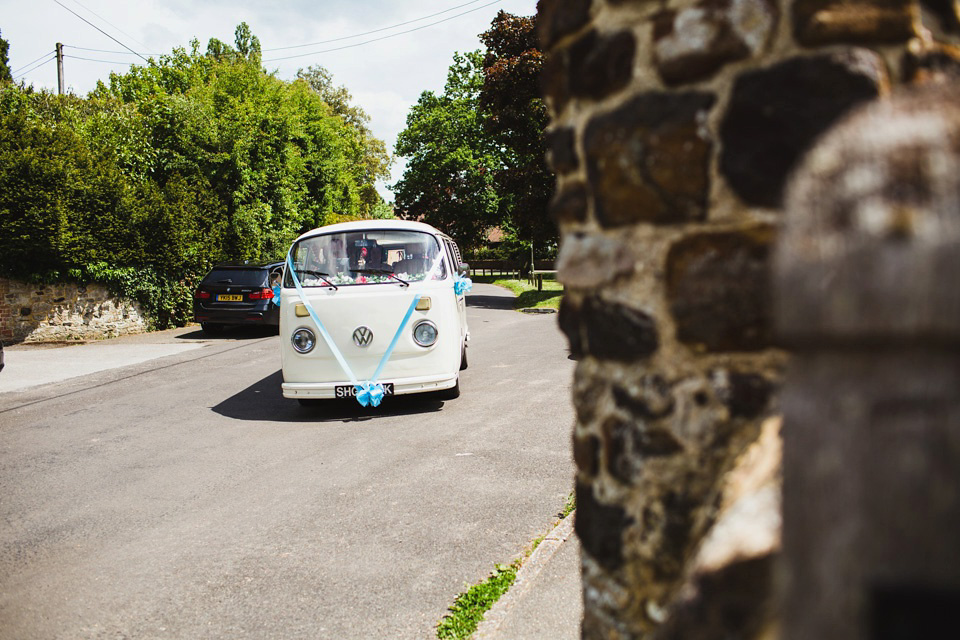 "We got engaged on Christmas day 2013. Every Christmas we write a poem to each other about the year that has past and our life together – on this occasion Dean's poem to me ended with 'Will you marry me?' When I turned to him that morning he had the ring he'd chosen in his hand! We had my parents staying with us for Christmas so he was able to ask my Dad the night before."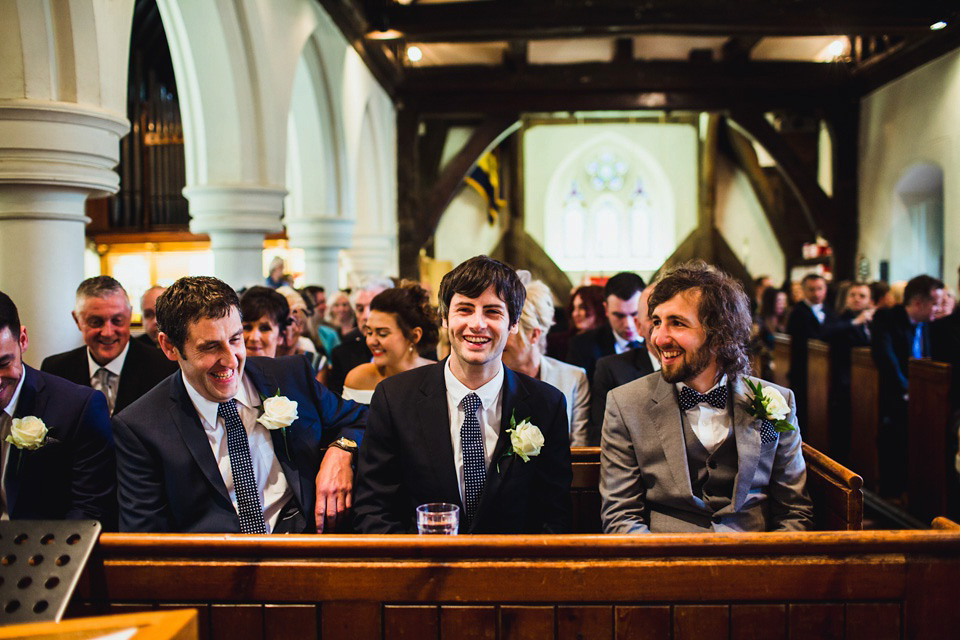 Full of smiles, Sarah was walked down the aisle by her father (in full Scottish regalia) to 'Cicadas & Gulls' by Feist, played by a friend on acoustic guitar.
"Being a church wedding, we had one religious reading which was 1 Corinthians 13, which begins 'If I speak in the tongues of mortals and of angels, but do not have love, I am a noisy gong or a clanging cymbal'."
"Our other reading was a poem read by my two nieces Olivia and Molly which was written by my sister's friend about Dean and I. My favourite part was the ending where the girls looked at us and read as follows…"
So to you both we all wish for you,
A future that is happy and bright,
And some advice for you, Uncle Dean,
Remember Auntie Sarah is always right!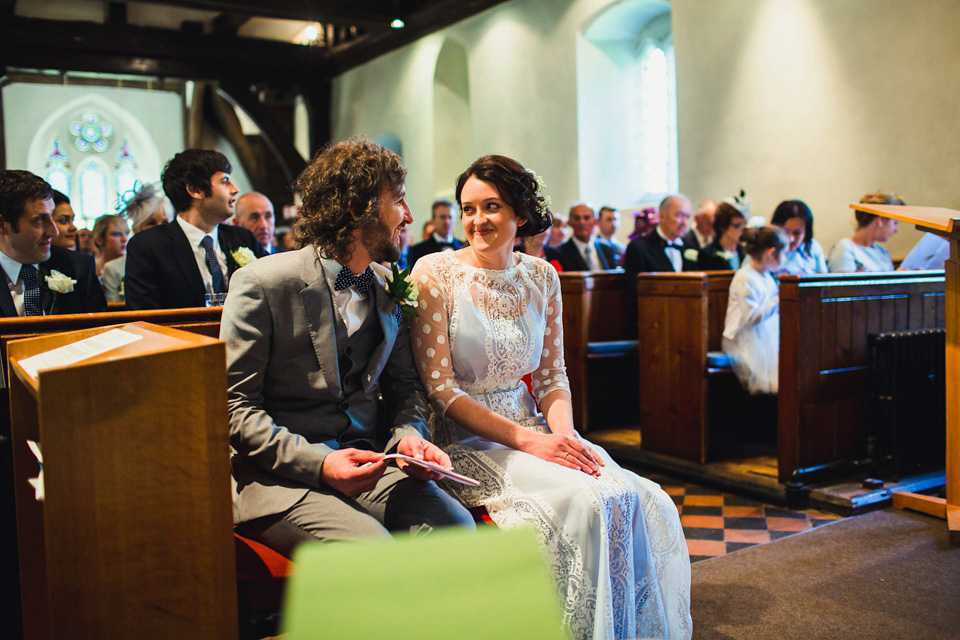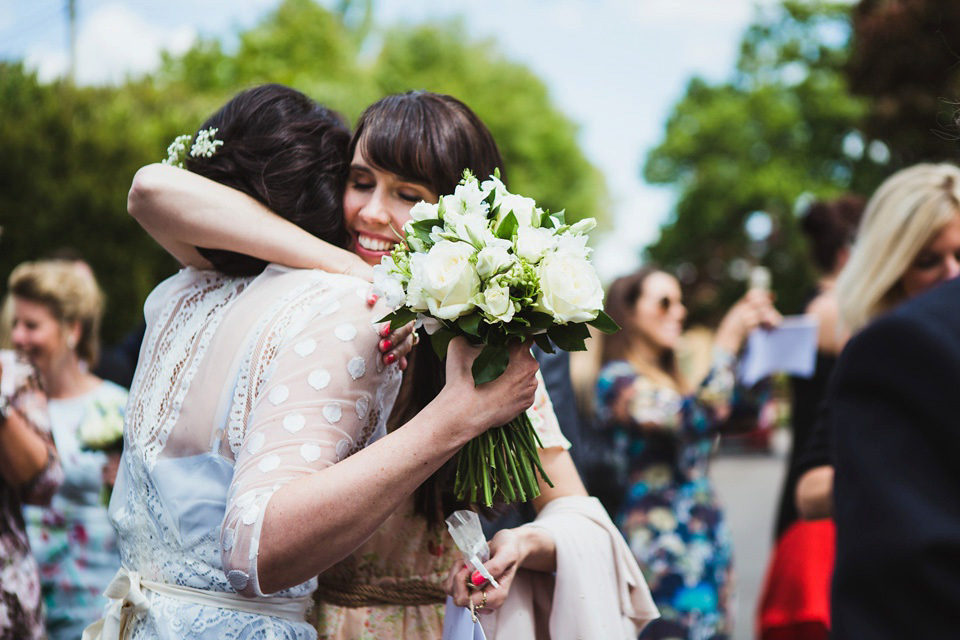 These smile-filled images are the work of Amy Barton of AmyBPhotography, a new photographer to Love My Dress, but one I'm sure we will see more of. Sarah and Dean were thrilled with Amy's style.
"I cannot recommend Amy enough! I knew as soon as I looked at her website that she was the perfect fit for our wedding- her relaxed and contemporary style of photography was just what we wanted. She took so many beautiful, colourful and creative shots, documenting the whole day wonderfully and discreetly and was so easy to get along with it was like having an old friend at the wedding. We were so happy with the final photos and our wedding album- we can't stop looking at them."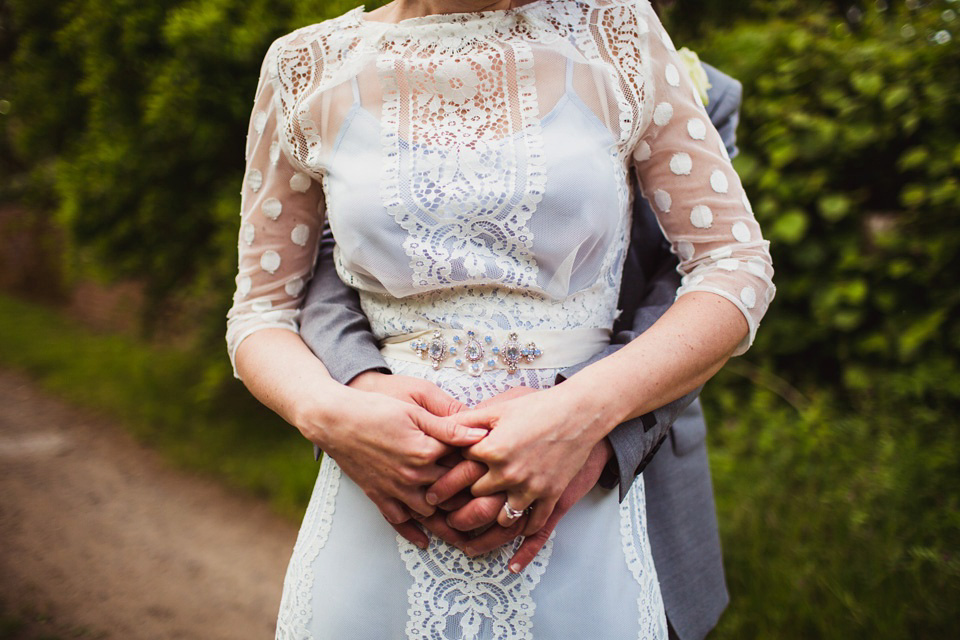 The day's catering was the work of Kalm Kitchen, who definitely helped make the day memorable for the couple's guests.
"We highly recommend these caterers; they were a big part of why we loved Gate Street Barn so much. Our guests had such lovely things to say about the amazing food served throughout the day/evening and their creative presentation"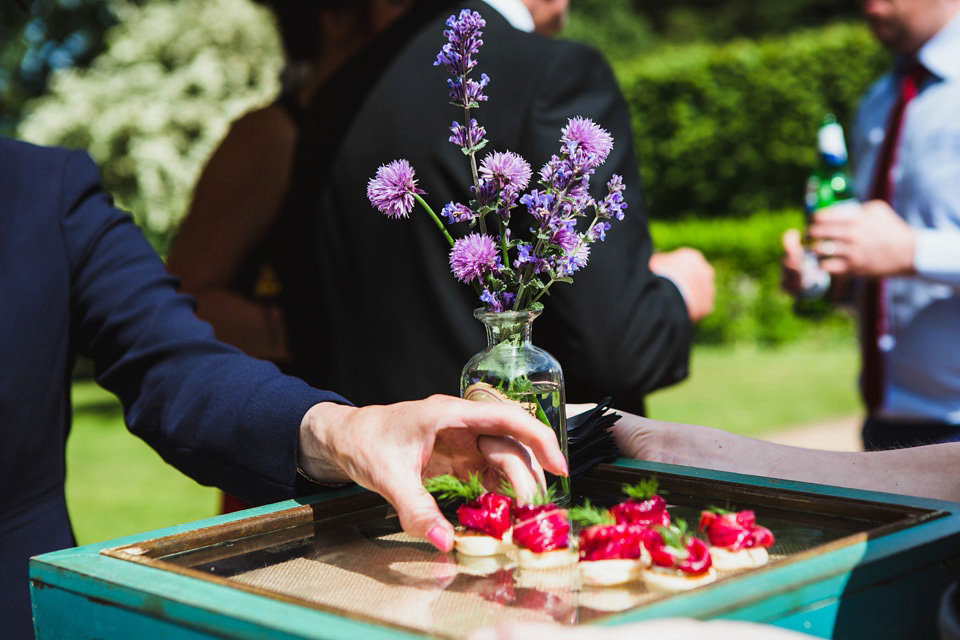 I do love unusual wedding day transport! Sarah and Dean travelled from ceremony to reception in cool classic style…
"We hired 'Pushka' the 1972 tin-top VW cream colour campervan from Buttercup Bus (Dean owns a similar campervan that we wanted to use as our transport but it wasn't up to the journey so we hired a stand-in!)"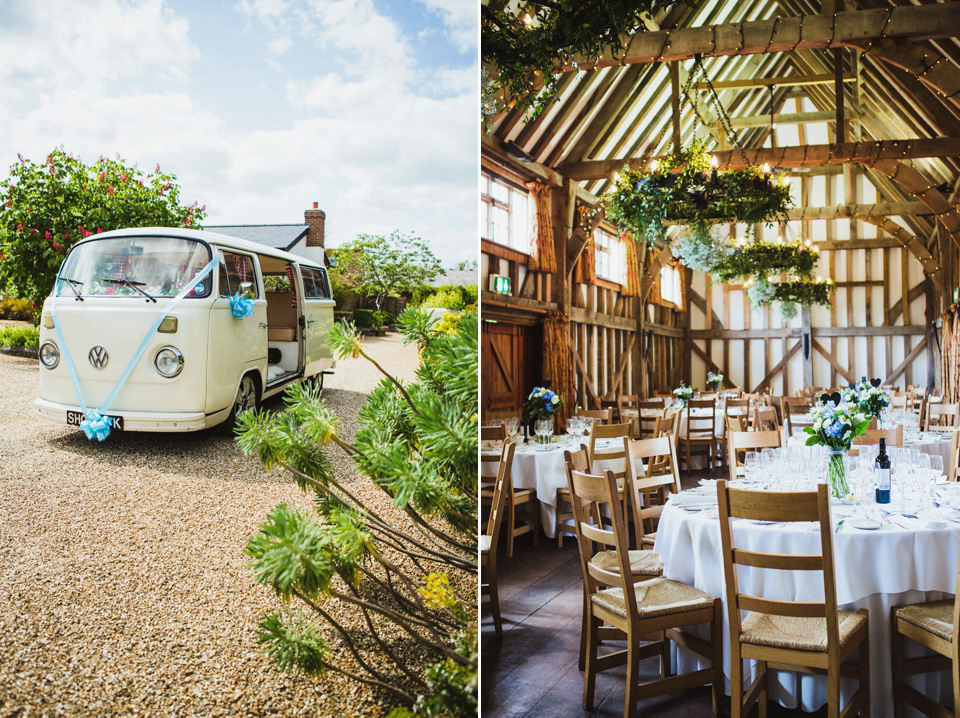 "We fell in love with our venue, Gate Street Barn just as soon as we saw it! It was the perfect size for us, but above all, the country farm setting, relaxed atmosphere and the beautiful barn, along with friendly and accommodating staff made a complete package.
We also chose the barn for their excellent choice of caterers and I loved the wooden chairs, having had a thing about not wanting standard chairs/chair covers."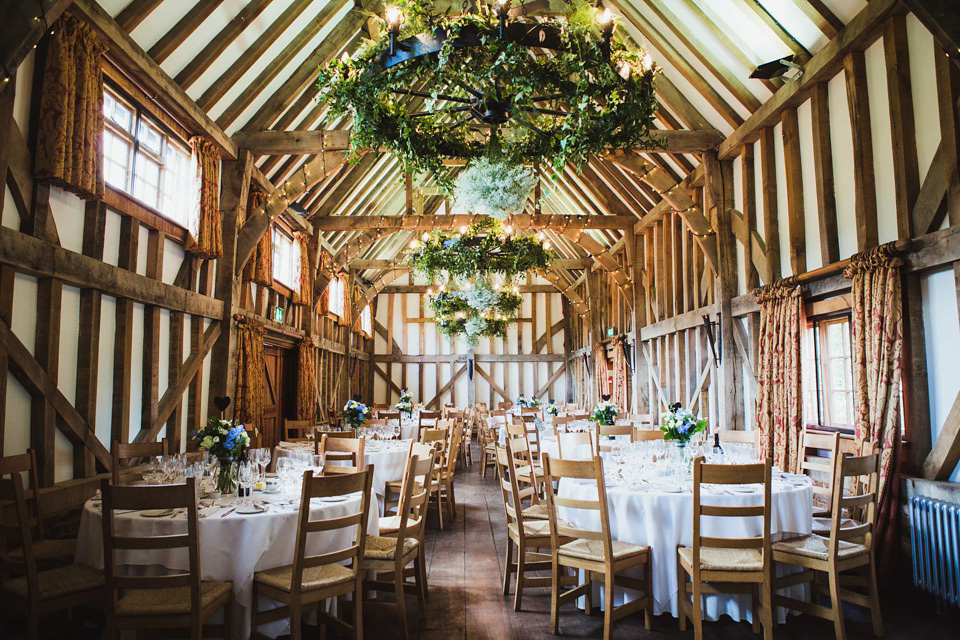 Both Sarah and her maids carried pretty posies in shades of green, cream and blue- simple but terribly elegant. The clever florists at Teasels Flowers also created a beautiful flower arch at the doorway to the church to greet both the bride and the guests on arrival, which looks so romantic strewn across the doorway of the old church.
"Teasels is across the road from where my (Sarah's) parents live and Felicity the florist is amazingly talented. I went for seasonal spring flowers, with a handpicked feel in-keeping with the country style. We kept it simple with white/ivory given the colourful bridesmaids dresses and the blue in my wedding dress, but with a hint of blue for the flower girls and the church & reception flowers."
As favours, each person received a stick of clotted cream rock from Cornwall (the happy couple's favourite place and also where they went on honeymoon- a lovely personal touch.
"We also made vintage teacup candles for the reception tables. We bought different styles of vintage teacups from charity shops etc and transformed them into pretty candles! They also made little gifts for friends and family afterwards."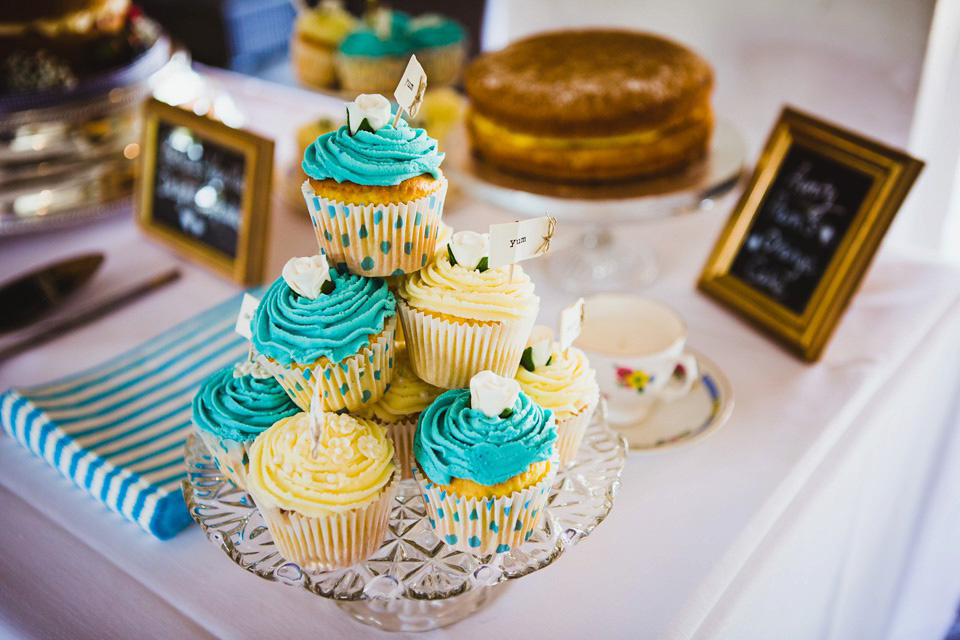 "I LOVE Victoria sponge cake so going for a naked cake was the obvious choice as I wanted the cake to taste like my Mum had made it (without her actually having to make it!) and didn't want it to be too fussy, just tasty and full of buttercream and jam- it didn't disappoint. It was the centrepiece on the table, amongst a few other homemade cakes on the table contributed by friends and family."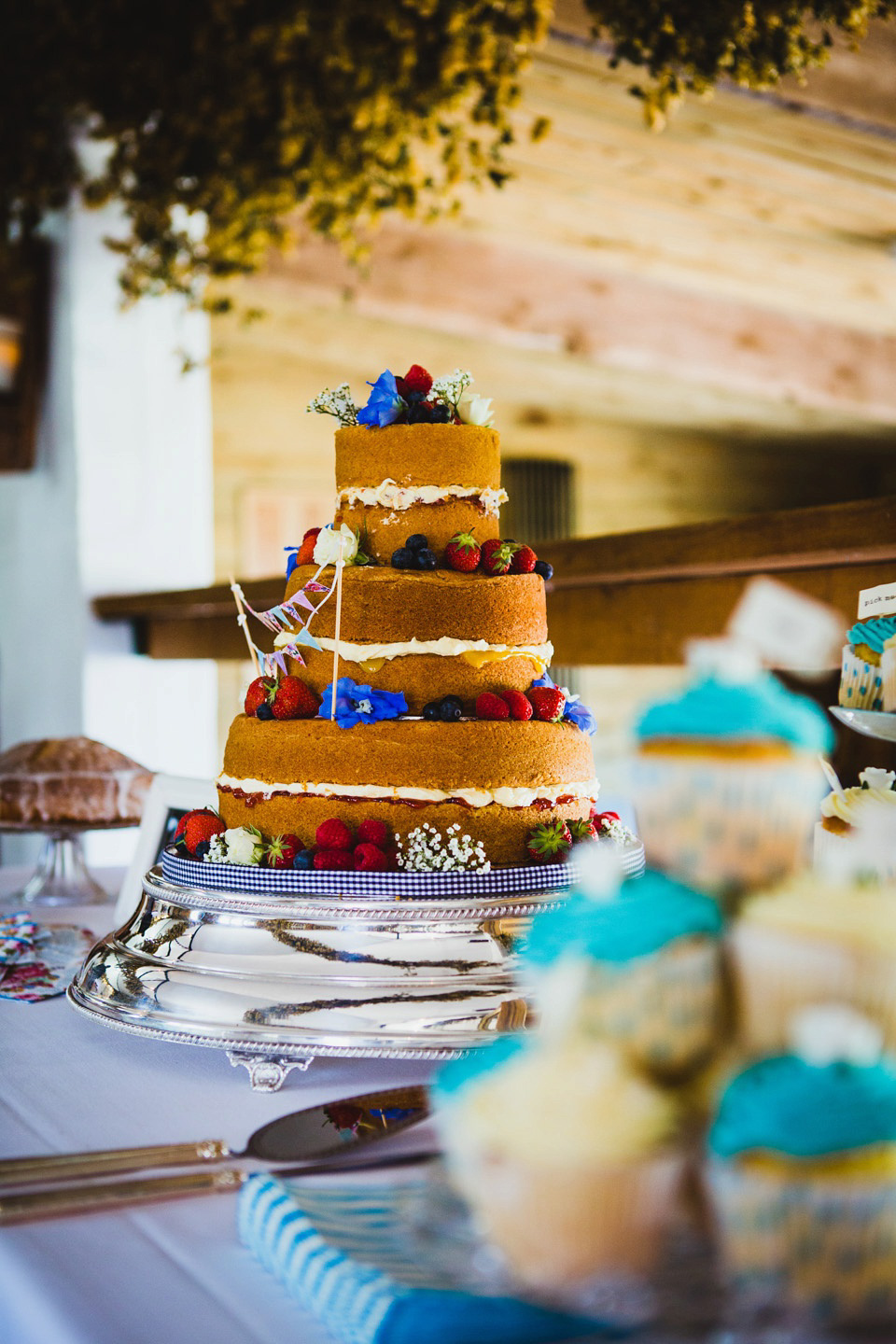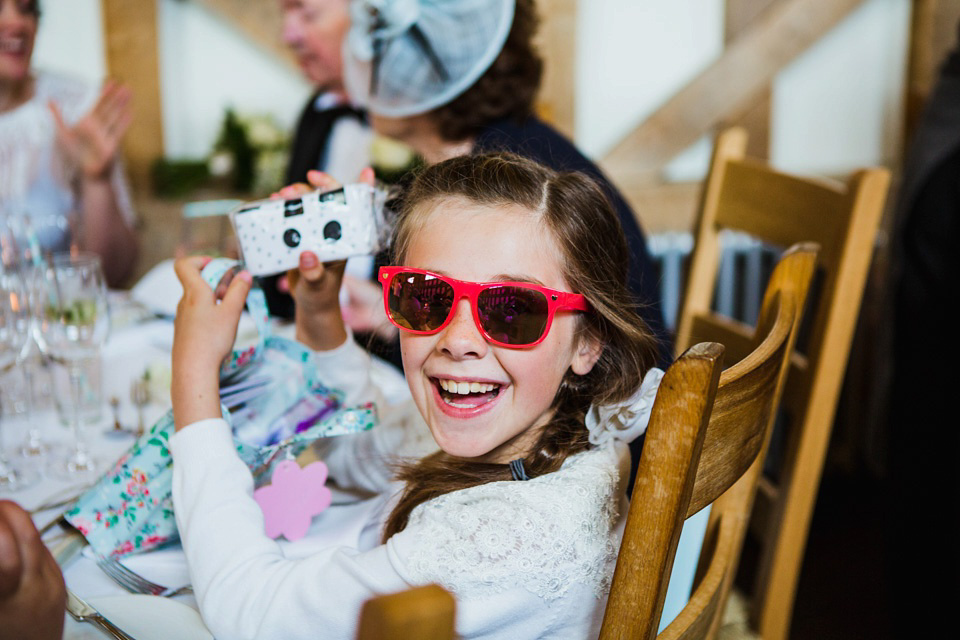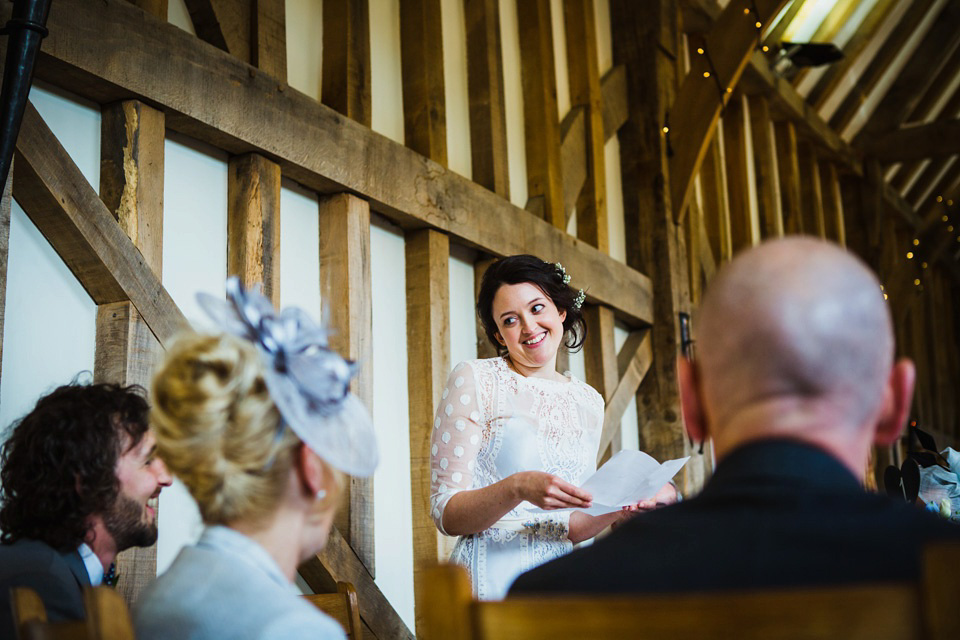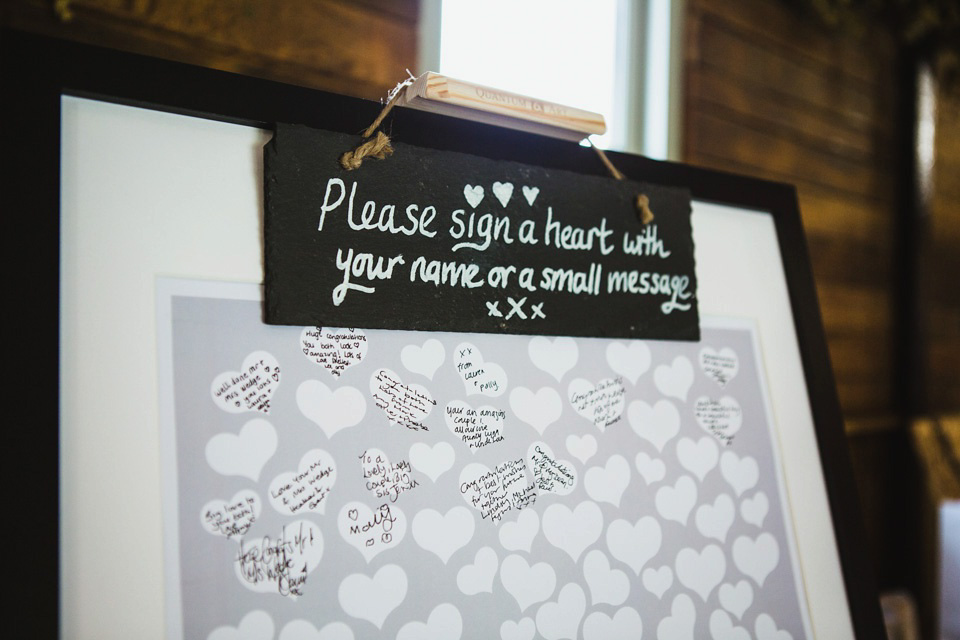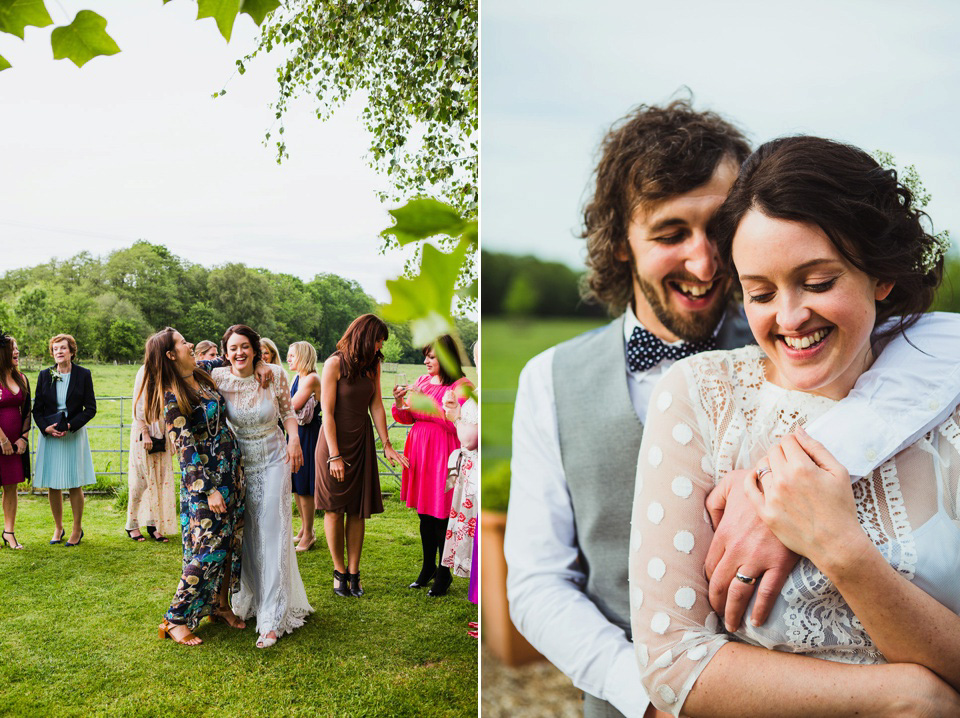 The couple booked Cousin Dim, a four piece 60s Blues/Rock & Roll live band, who kept the dance floor full all night, as well as playing Dean and Sarah's first dance….
"Our first dance was 'All Day And All Of The Night' by the Kinks. We chose this song for the lyrics and for the fact that it's upbeat and short! We didn't want anything slow and soppy!"
"The highlights for us both were definitely seeing each other for the first time at the altar, hearing Olivia and Molly read their poem about our life together, arriving at the barn to all our friends and family and our last dance at the end of the night – 'Champagne Supernova' – bringing a little bit of Manchester to the Surrey countryside!
I was so pleased with how everything turned out and how well the day flowed. I think the only thing I would do differently would be to take more time at the beginning to think about the venue . I wouldn't change ours for the world as I absolutely loved the barn but I think there can be a mad panic at the beginning to find a venue and because we knew nothing about wedding planning we didn't necessarily consider places that weren't obvious wedding venues."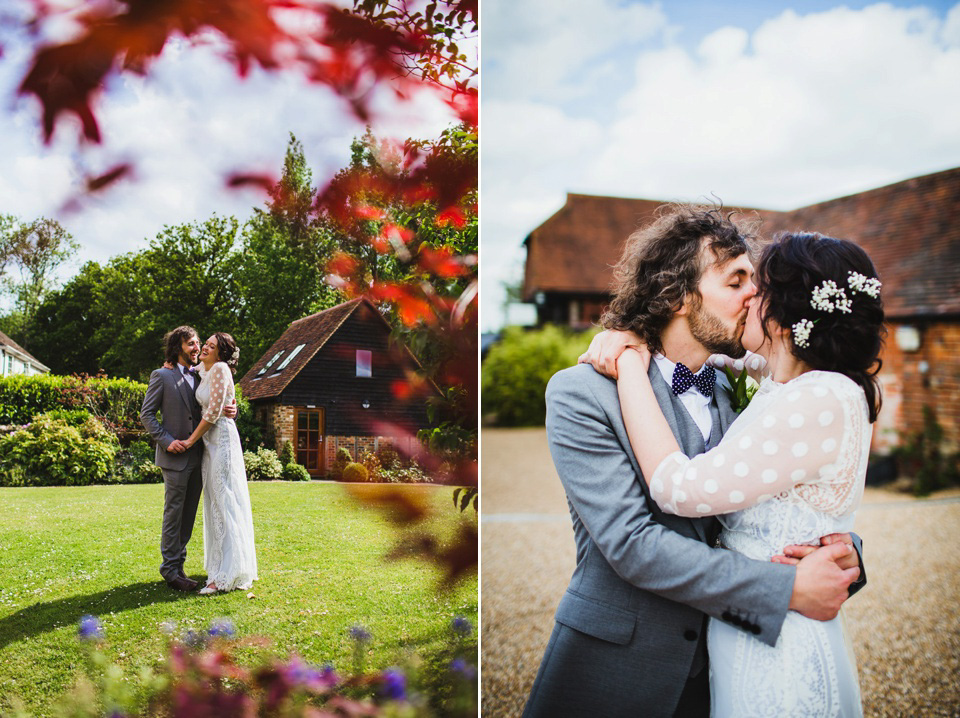 Words of Wedded Wisdom
"Try to relax and enjoy the planning! At the beginning I got caught up and stressed about each detail and decision and then realised that as long as I was choosing things that I actually liked or that meant something to us then it didn't matter if it didn't exactly match. Everything starts to fall into place eventually so make it a fun and exciting time picking all your favourite things together and remember that you can't please everyone all of the time, your wedding is about celebrating you and your partner."
Excellent words Sarah, and a very good point as regards venue hunting- take your time and really have a good scout around- you never know what you might find! Thank you both so much for sharing your day with our readers, and to Amy for her wonderful images. For more romantic and elegant Katya Katya Sheurina creations, take a peek here.
Much love,
Shona x
Photographer – AmyBPhotography
Venue – Gate Street Barn, Surrey
Wedding dress – Katya Katya Sheurina
Shoes – Ivory 'Mimosa' by Rachel Simpson
Perfume – Jour by Hugo Boss
Bridesmaid dresses – Oasis
Flowergirls – Vert Baudet
Flowergirl accessories – Accessorize + Joma Jewellery
Makeup artist – Ros Peat (no website)
Hair stylist – Kirsty Rollison (no website)
Groom's outfit – Paul Smith, with bow tie + pocket square by Mrs Bow Tie
Groomsmen – Own suits, with bow ties from Mrs Bow Tie
Florist – Teasels Flowers
Cake – Made by Judy Watkins (no website)
Rings – Fraser Hart, Manchester
Transport – 'Pushka'- VW campervan via Buttercup Bus
Catering – Kalm Kitchen
Entertainment – Cousin Dim
Stationery – The Wedding Stationery Store
Favours – The Buttermilk Confectionery Company