Lovely readers, I have an absolute gem of a wedding to share with you all on this beautiful wedding blog this fine Wednesday evening. This wedding has topped my list of all-time favourites, as it has a little bit of everything I love. I'm sure you'll find loads of inspiration as you pore over these gorgeous images by Joanna Nicole Photography.
Amelia, Project Manager for a national mentoring charity and Andrew, an IT Consultant, tied the knot on 2 May 2015 in Kent, with a magical bluebell setting for the ceremony and a glamping festival for the rest of their celebrations.
Photography by Joanna Nicole Photography
Headpiece by Kelly Spence
"I love the outdoors and the English countryside, and always had a dream of getting married in the woods with the bluebells in full bloom."
Dress by Sabina Motasem
"When Andrew proposed, we both agreed we'd like to find a venue that was outside, natural, simple, beautiful and private. I love rustic, vintage, weird things, so the wedding ceremony took on an otherworldly ethereal feeling."
"We also knew that we wanted a festival vibe to the weekend so looked for a campsite to hire nearby the woodland, which is when we found Bloomsburys Biddenden – an amazing glamping site, with a restaurant and bar on site."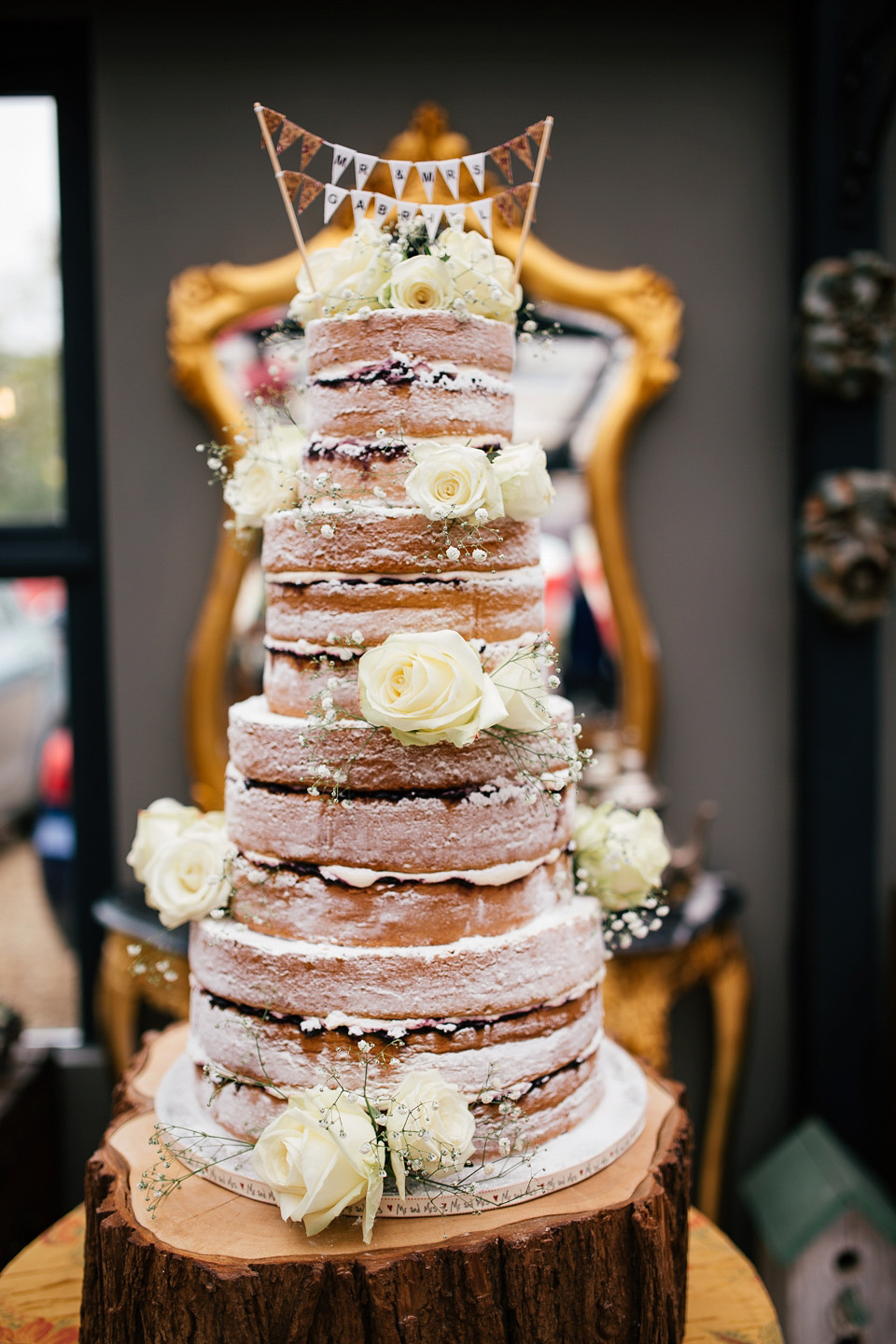 We're talking cakes – tonight!
"Andrew and I met in a pub in Twickenham on a rugby day. I was out with some friends from my basketball team, and he was visiting some friends who ran a pub in Twickenham. As we're both very tall you might say that our eyes met over the crowded room, but actually it was because his friend who was DJ-ing that evening was really rude to me when I asked him to play a Chaz and Dave song so I talked to Andrew for moral support.
Unfortunately he feels the same about Chaz and Dave!"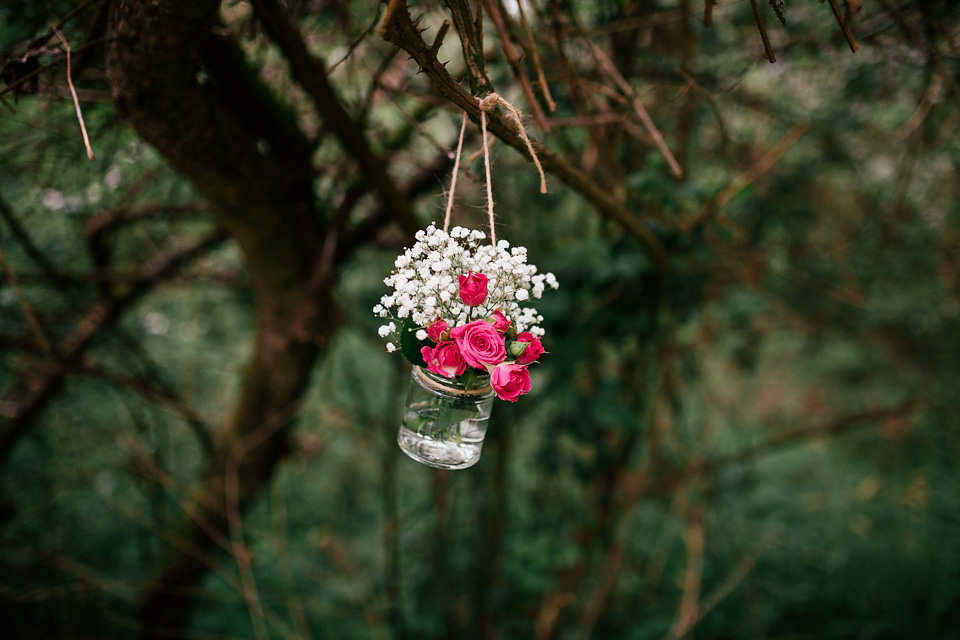 "Andrew proposed to me on my 30th birthday. He took me away for a surprise weekend to stay in a beautiful luxurious tree house in Norfolk. We had a lovely birthday meal at a local pub and when we got back to the treehouse he produced an amazing cake, some chilled champagne and got down on one knee and asked me to marry him! He had picked out a unique and beautiful antique engagement ring circa 1910 from Berganza in Hatton Garden. We were engaged for nearly two years before our wedding day as we knew that we wanted to take our time planning the wedding."

"I had planned to make my own bouquet but as the wedding drew nearer and I ran out of time to practice I decided to find a florist. My friend recommended One Flew Over and I'm really pleased she did. I met Jess and Charlie in a pub for a drink the week before the wedding and had a chat about what type of flowers I'd like.
I didn't really have a specific flower in mind, but I wanted to go with a wild, loose bouquet. I suggested the shapes I liked and the colours I'd like and I left them to it; having seen their previous work I completely trusted them to make something beautiful! The button holes and bouquets were beautiful."
"We wanted to add in a bit of tech to the wedding so we designed our own invites, and made a short stop-frame animation. When our guests received the invites they could scan the invite with an app on their phone called Layar and the invite would come alive with our stop frame animation. We built our own wedding website too to try to avoid too much paperwork.
I commissioned a very talented friend of ours, Chris Devlin to create Andrew a framed comic strip for the wedding day which covered lots of the adventures that we've shared together. Andrew has a love for comics, and his favourite character is Judge Dredd so when Chris and I were planning the comic strip together I knew he was the right man for the job when he suggested that Judge Dredd could marry us! Chris was a legend to work with. I was really involved in the design so that it included some key moments of our relationship and he turned the artwork around really quickly."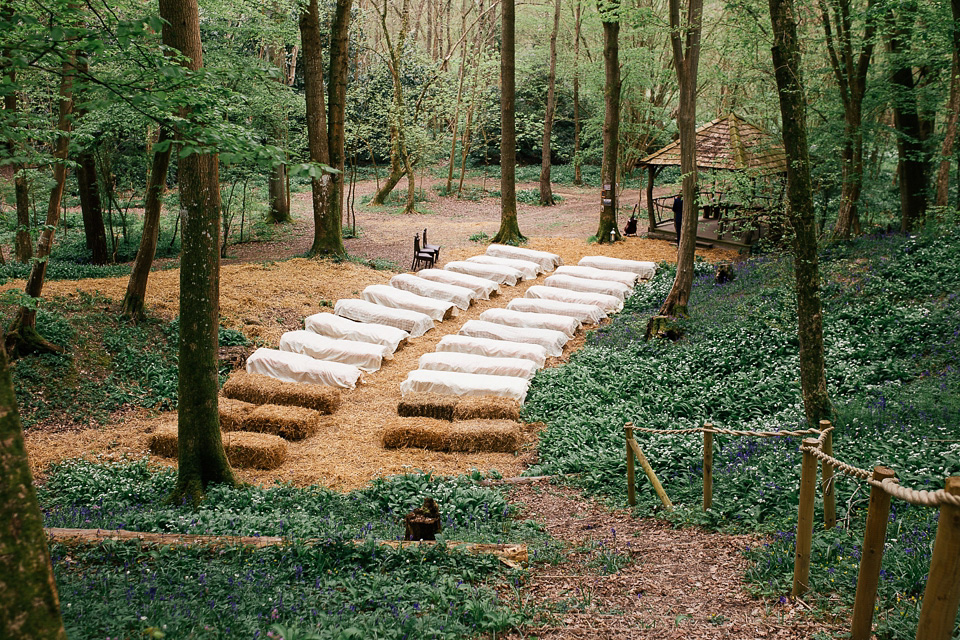 Brides-to-be – are you thinking about a wedding present for your husband-to-be? Check out Amelia's gift for Andrew, it's a brilliant idea.
To decorate, the couple hung recycled jars in the trees at the ceremony, a rustic look I have always adored. An eclectic mix of vintage furniture scattered around the venue added charm. And I'm a big fan of these white paper flags which were used to style the barn.
"For months before the wedding we saved jars from the recycling, and cleaned them up and used them as vases, hanging in the trees. In the barn we had some beautifully delicate Mexican paper flags that my godmother brought back for us from Mexico."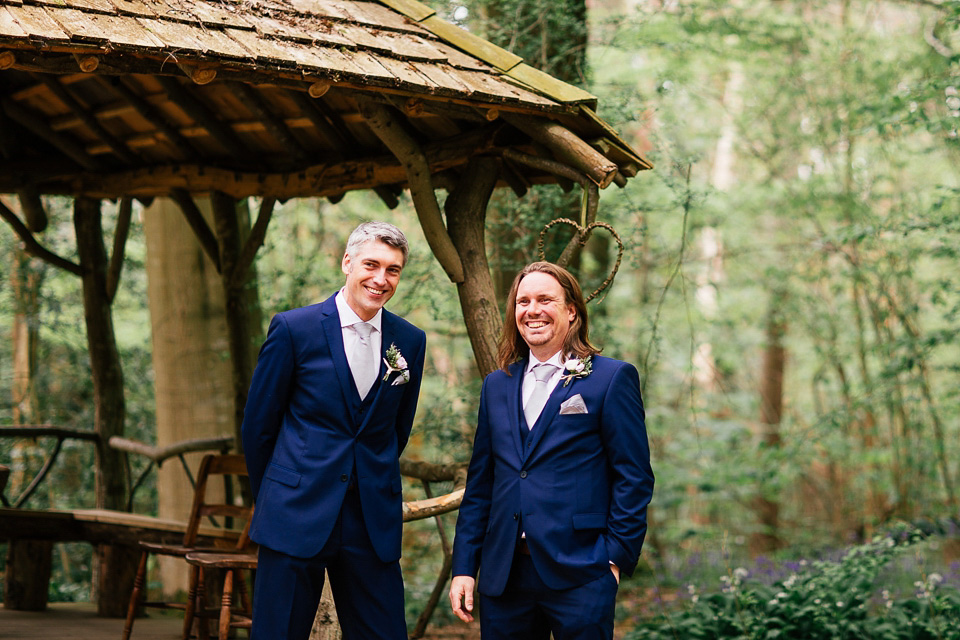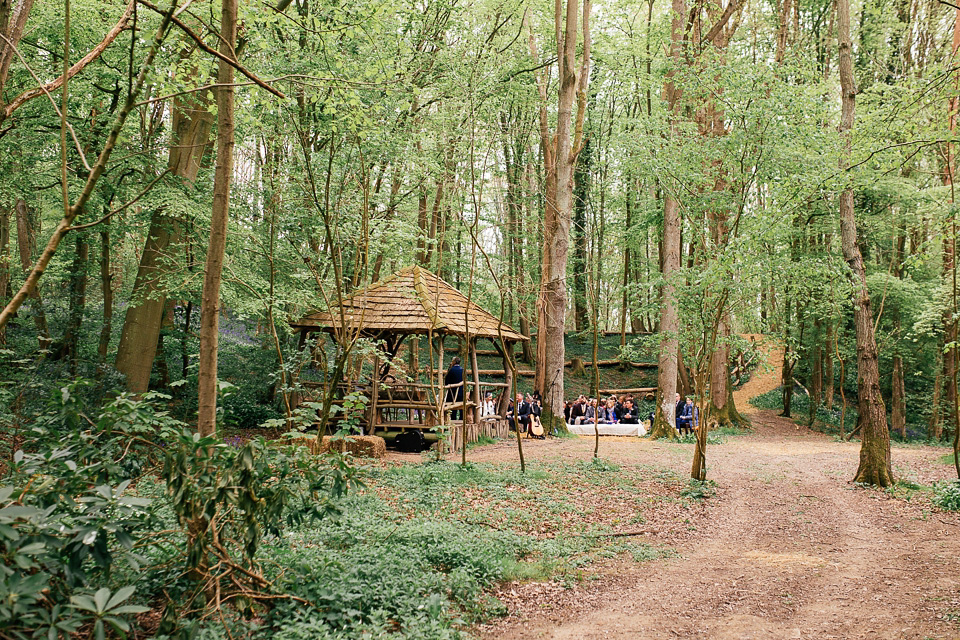 The bride wore her own Dune flat sandals in a champagne shade, which matched the colour of the dress perfectly, a sparkling Kelly Spence headdress, the 'Gin Fizz', added a spritz of aptly-named 'Wild Bluebell' cologne by Jo Malone and did her own hair and makeup.
"I did my hair and make up myself, so treated myself to a GHD Creative Wand for a beachy wave. I also had a wedding makeup trial at my local Bobbi Brown counter and bought my make up from them."
Amelia's divine Sabina Motasem dress, the Elsa design with Evelyn bodice, suited her tall frame to a tee.
"I bought the dress directly from Sabina which was a really special experience, as she was able to talk me through all the different options for the dress and really shared my love for the dress as it was her creation after all!
I knew that I wanted an unstructured and elegant dress that I would be comfortable in for the whole day, and as soon as I put this dress on it felt really special. I had originally planned to look for a vintage dress but being 6ft 1″ that proved quite difficult so I decided to look at designers who had a vintage and elegant feel about their designs. As soon as I saw Sabina's collection I fell in love with every single one of her dresses. My mind was made up about the designer; next I just had to pick which dress! After a long visit with a very patient Sabina I had narrowed it down to two options. Another teary visit with my mum and mum-in-law confirmed that I would go with the Elsa dress with the Evelyn bodice.
The Elsa dress is made from a beautiful heavy silk which felt so warm and luxurious to wear. I felt like a princess in the woodland."
Amelia's four maids wore lovely embellished drop-waist 1920's style dresses in two shades of neutral cream/fawn colour from Frock and Frill, various styles of their own wedges (which helped when traipsing through the bluebell woods) and accessorised with a thoughtful present from the bride.
"I bought my bridesmaids a necklace each as a thank you gift for all of their love and support over the years. I bought them a small silver Tree of Life pendant on a chain from a seller on Ebay. I thought the tree would remind them of the wedding in the woods."
Amelia's father David walked the beautiful bride down the aisle to 'Canon in D' by Pachebel, to a version played by the London Symphony Orchestra. The couple included a poem, song and a reading as part of the ceremony that was a mixture of their favourite and personal things.
"One of my bridesmaid's father is a jeweller so we were lucky enough to have our wedding rings made by him which was a special addition. It was important to us when planning the wedding that we try to use local small businesses as our suppliers so the fact that he was my best friends dad was lovely.
My engagement ring is an unusual shape so I knew I'd need to design a wedding band to go with it if I wanted to keep wearing them both on the same finger. Aurum Jewellers offered us a consultation session where we talked through a few different designs, and again, I very much left him to it as I know that is his area of expertise. We're both really happy with the results."
"Jo from Joanna Nicole Photography was the perfect photographer. In the nicest possible way, we didn't even really notice that she was there. She has captured the day and the emotions of Andrew and I and all our guests perfectly in a wonderful natural style. I couldn't have hoped for better photos to remember the day by."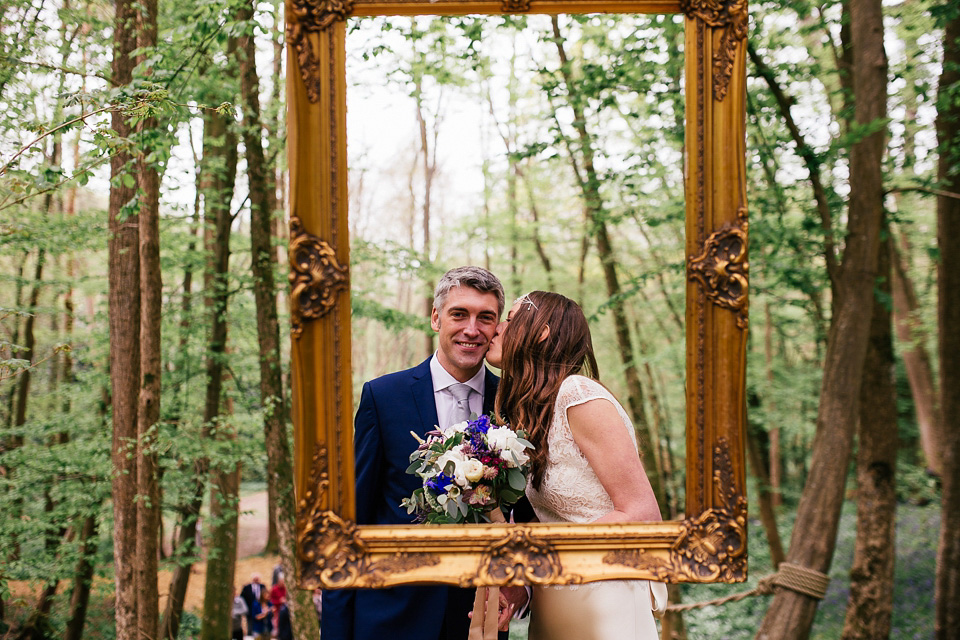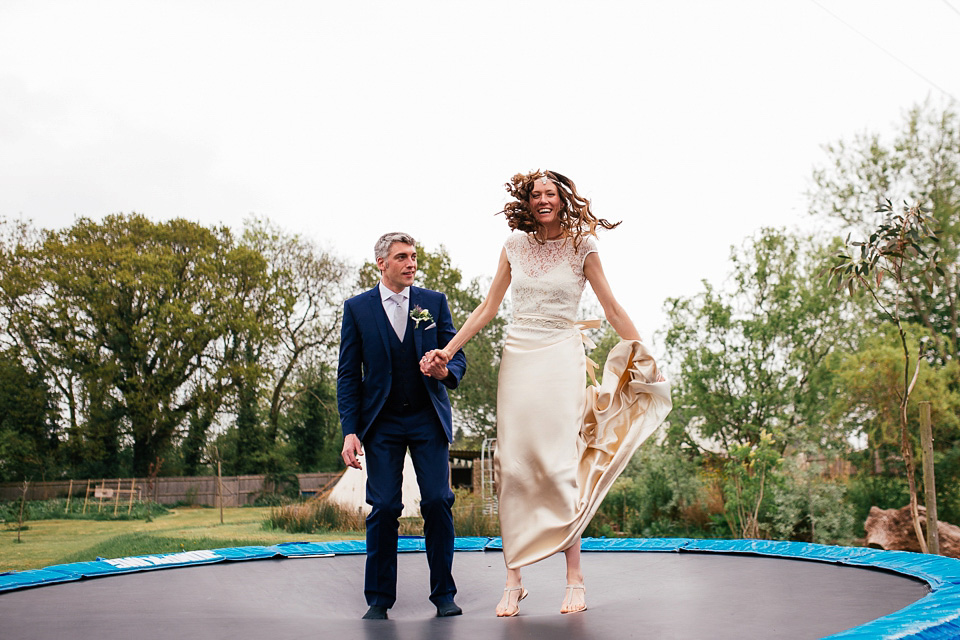 "Claudia at Bloomsbury shares my love for interesting and unusual old 'stuff' and so the restaurant was completely unique and fitted with the relaxed elegance of the rest of the wedding."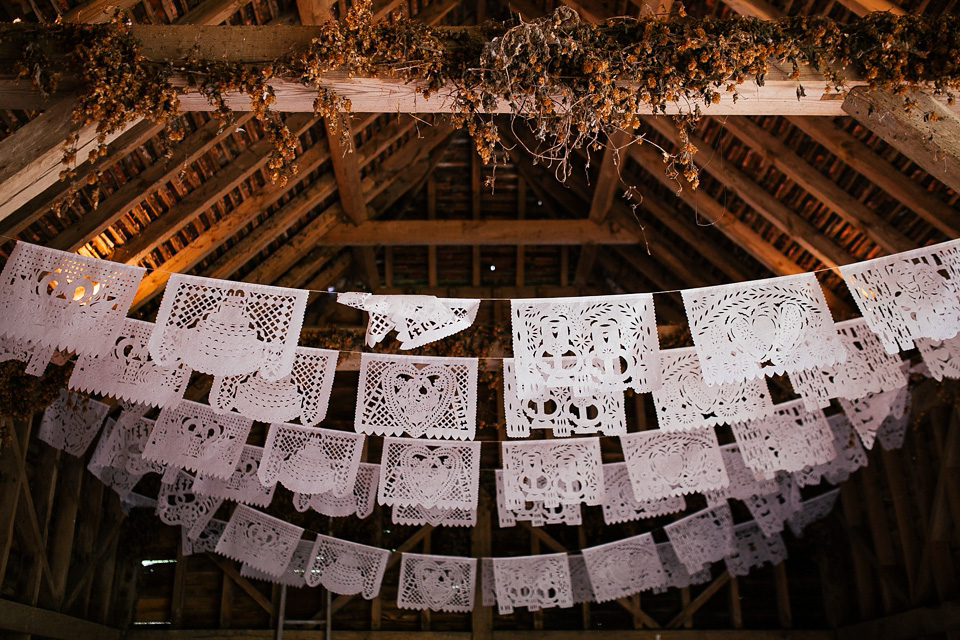 "Our wedding cake was a masterpiece loving crafted by my mother-in-law. We're trying to convince her to go into business!"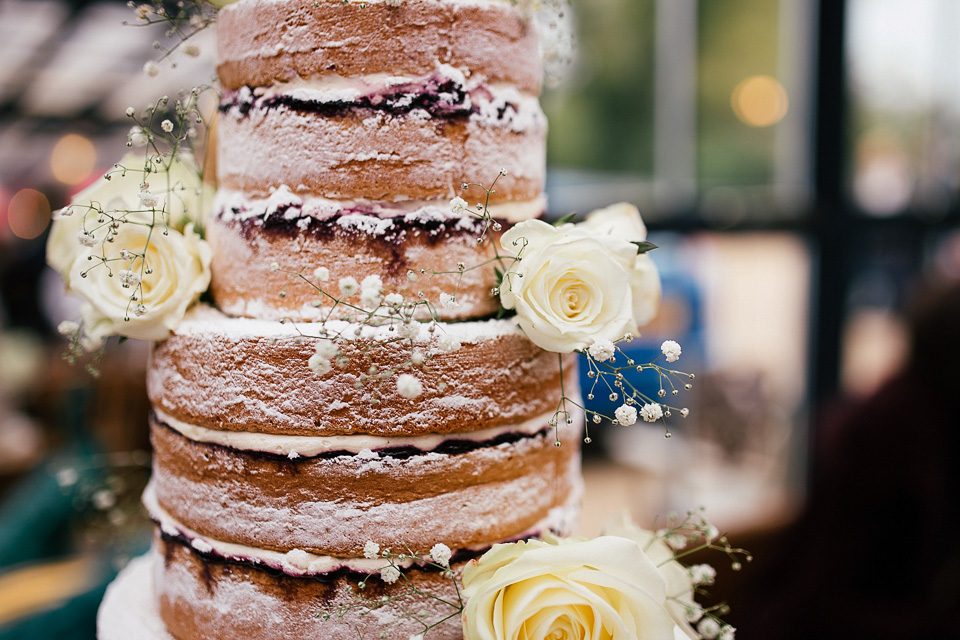 "Bloomsbury's catered for the wedding breakfast and the evening buffet. The wedding breakfast was a hog roast with a selection of delicious salads and the evening buffet was the biggest cheese board I have ever seen! We ordered some platters of picnic food from Marks and Spencer for the woodland during the barn dance and one of our ushers collected it on the morning."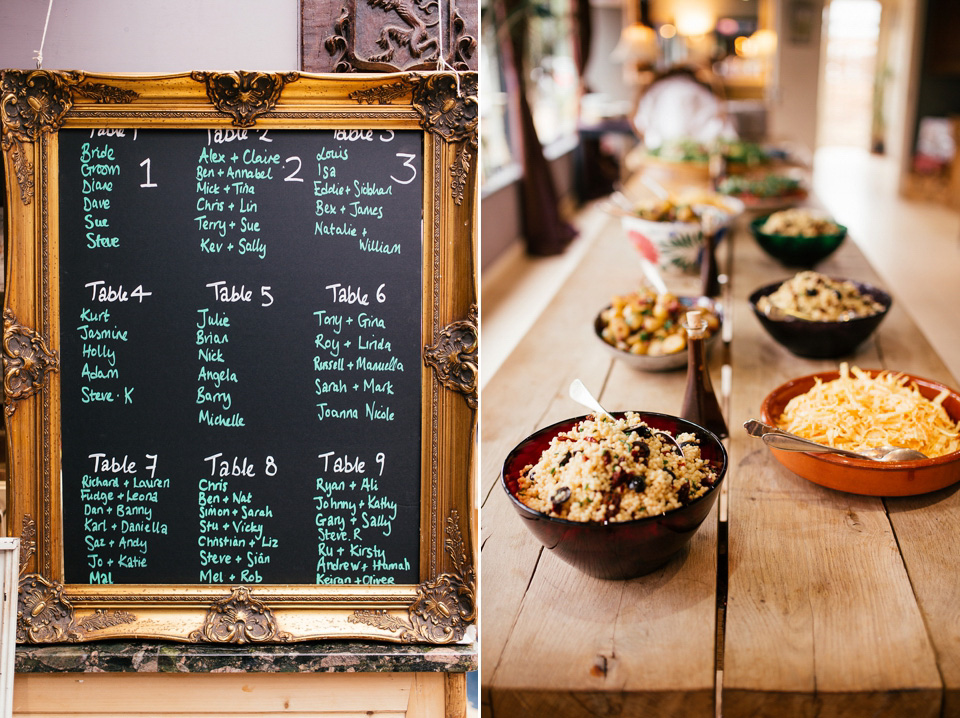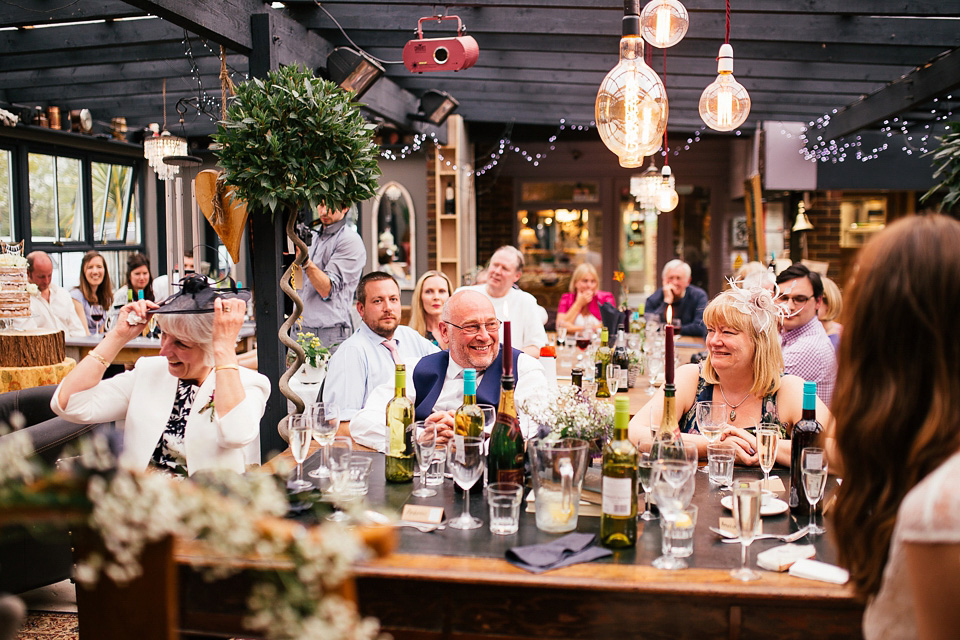 "It's really hard to pick a favourite part of the day, but it would have to be the wedding ceremony and the ceilidh we had afterwards. Listening to the readings during the ceremony was a really special time. Andrew and I had just said the most important words we'll ever say to each other, and then we had some of our closest friends and family reading some beautiful words to both of us.
I found that was the time that everything felt real (it had all felt a bit surreal up to then). Looking around the group of guests and catching people's eyes, sharing smiles and tears, and gripping onto Andrew's hand was a perfect moment."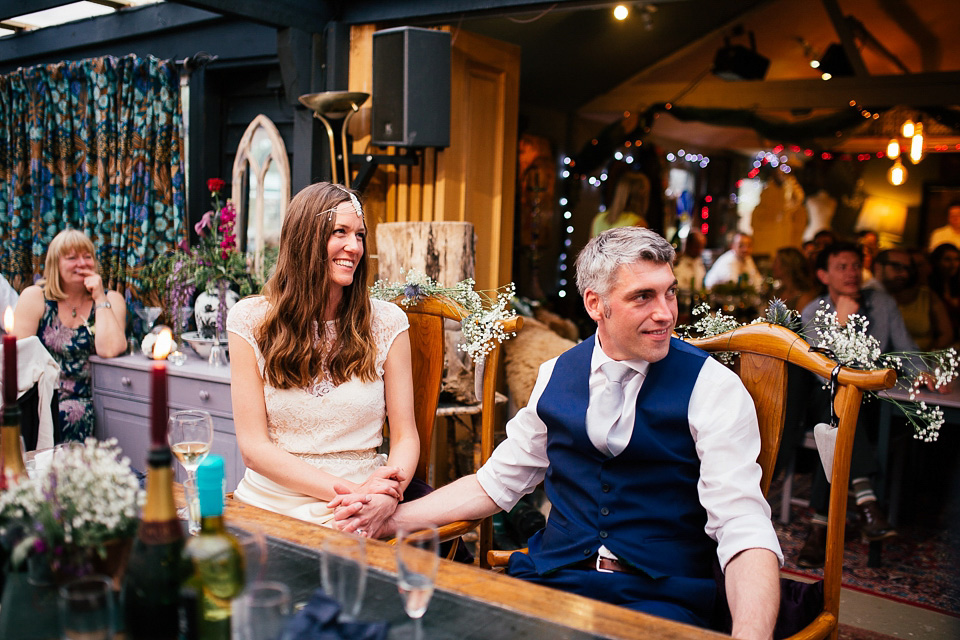 Words of Wedded Wisdom
"Before doing any research or making any decisions, I'd recommend trying to visualise the whole day, not just the venue, but the atmosphere, vibe and feel that you want the wedding to have. Try to stay true to that visualisation throughout the planning. I found it best to avoid looking on Pinterest and in wedding magazines as I found them a bit confusing.
If I felt overwhelmed I'd just stop and think about that first visualisation and that kept me true to myself, and true to my perfect wedding." 
Wow, wow, and wow! I am off to book a glamping experience after viewing Joanna Nicole Photography's fabulous pictures of Amelia and Andrew's weekend of wedding nuptials. And wishing it was May again so I can take a walk in a wood full of glorious bluebells. Big congrats to the happy couple – your day looks like it was full of such fun, laughter and heartfelt touches.
And be sure to click here for previous woodland settings we have previously featured here on Love My Dress if you're looking for a beautiful location to hold your ceremony.
Love Jo -xxx-
Photographer – Joanna Nicole Photography
Videographer – Louis Forte
Ceremony – The Paper Mill, Kent
Venue – Bloomsburys Biddenden, Kent
Dress – Sabina Motasem
Shoes – Dune
Jewellery – Kelly Spence
Scent/Perfume – 'Wild Bluebell' by Jo Malone
Bridesmaid Dresses – Frock and Frill
Bridesmaid Shoes – Own wedges
Bridesmaid's Accessories – Tree of Life silver pendant on chain from Ebay
Groom – Ted Baker suits from Moss Bros
Bridal Flowers – One Flew Over
Ceremony & Reception Flowers – Bride's Mum
Rings – Aurum Jewellers
Catering – Bloomsburys Biddenden and Marks and Spencer
Cake – Handmade by mother of the groom
Stationery – Designed by the bride and groom
Décor – Recycled jam jars and Mexican paper flags, a present from the bride's godmother
Hair and Makeup – by the bride
Entertainment – Abbey Capers for barn dance and Dirty Soles for evening band
Transport – Streamline