Hello lovely wedding blog readers! This morning's couple held their wedding reception in a venue described by The New York Times as 'Manchester's most venerable pub'. Taking inspiration from both the 1920s and the botanical art of the 19th century, our creative couple handcrafted their dream wedding day; a stylish and fun city wedding in the heart of their beloved Manchester.
Diane, a printmaker, wed Phil, a senior designer, on the 28th of February, at Manchester Town Hall, followed by a reception at Mr Thomas's Chop House and an evening party at sister pub, The Albert Square Chop House.
Photography by Neil Thomas Douglas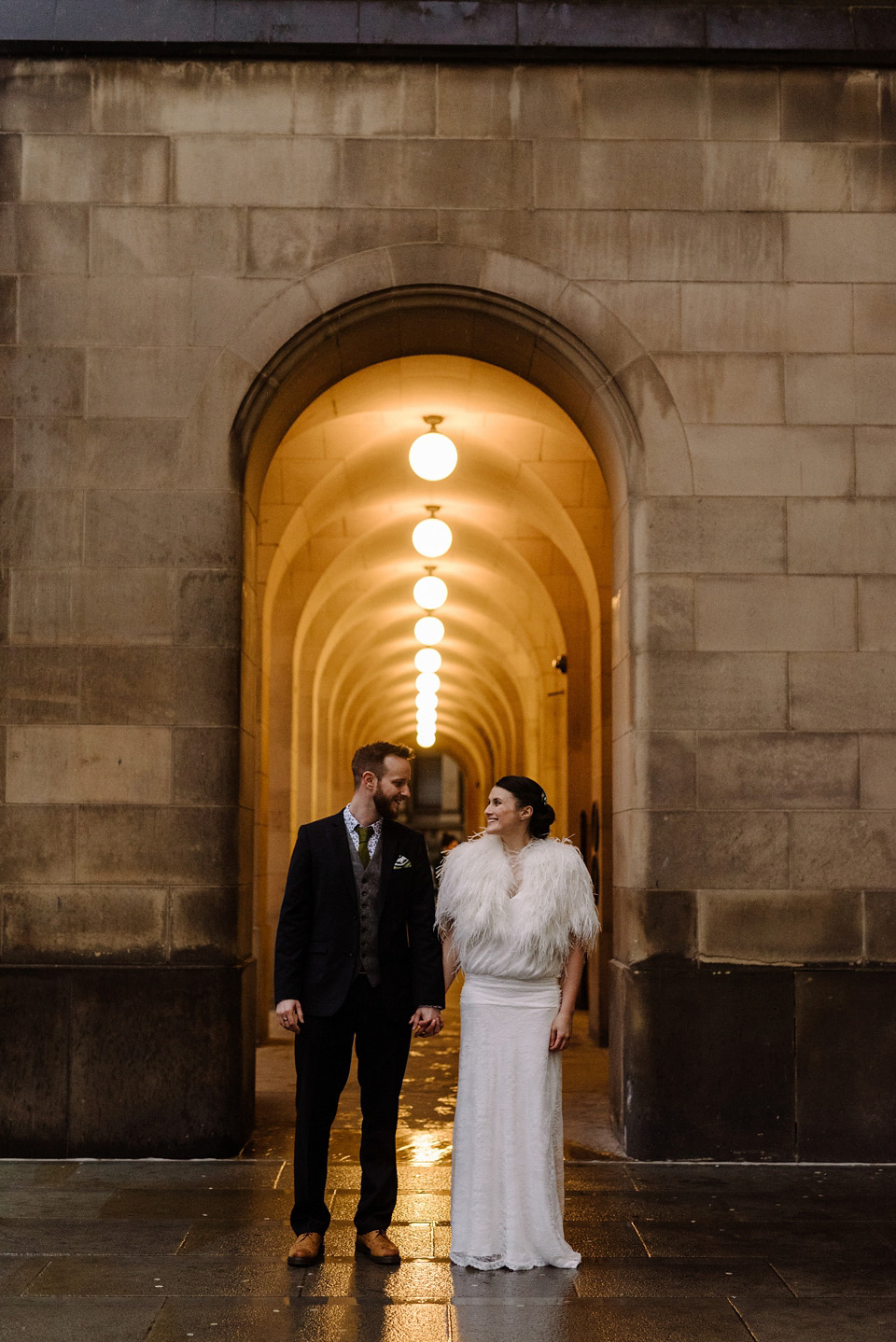 "We decided to get married in Manchester because we lived and worked in and around the city for many years. The city was our home for a large part of our lives, and Manchester Town Hall is absolutely stunning."
"We also wanted to share what we love about the city with our family and friends. We love the food, history, architecture, culture and atmosphere and wanted to try and capture some of that in the style of our day with the venues, flowers, food and general vibe."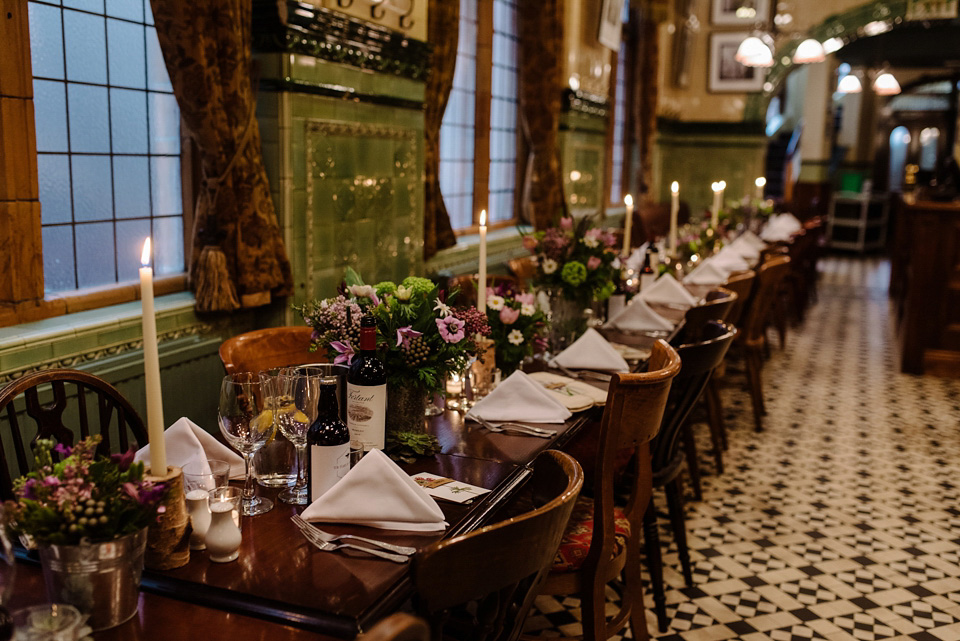 Diane opted for the 'Catroux' gown by Charlie Brear, a beautiful dropped waist, 1920s inspired number draped in delicate lace.
"I knew I wanted a vintage inspired dress and the elegant and stylish 1920s is one of my favourite fashion decades. I really liked Charlie Brear's designs and when I saw the 'Catroux' gown at The White Closet in Manchester I knew that it was my dress. We got married in February so I chose Jenny Packham's 1920s inspired feather wrap to keep warm. "
Continuing the 20s theme, our bride paired her dress with a glamorous feather wrap by Jenny Packham and gold t- bar heels by Rachel Simpson.
Diane accessorised with hair pins by Jennifer Behr, star earrings and necklace by Daniella Draper, and an antique tourmaline ring (a family heirloom leant to her by her mother the night before the wedding).
"Our photographer was Neil Thomas Douglas. Neil's style of photography was perfect for us, he captured everything we love most about the city as well as all the photo's we wanted with our friends and family. He didn't miss a moment!"
"Phil and I met while I was working at Phil's Auntie's bar. We got together ten years ago and planned to marry sooner but ended up spending all our savings on travelling (for our ten year anniversary, Phil made a website of our adventures, which you can see here. We now live in Amsterdam. Phil actually proposed to me twice, but the first proposal was so long ago he felt that it had reached its expiry date."
Phil looked handsome in his Topman suit, Dr Martens brogues and shirt, tie, and waistcoat from Ted Baker.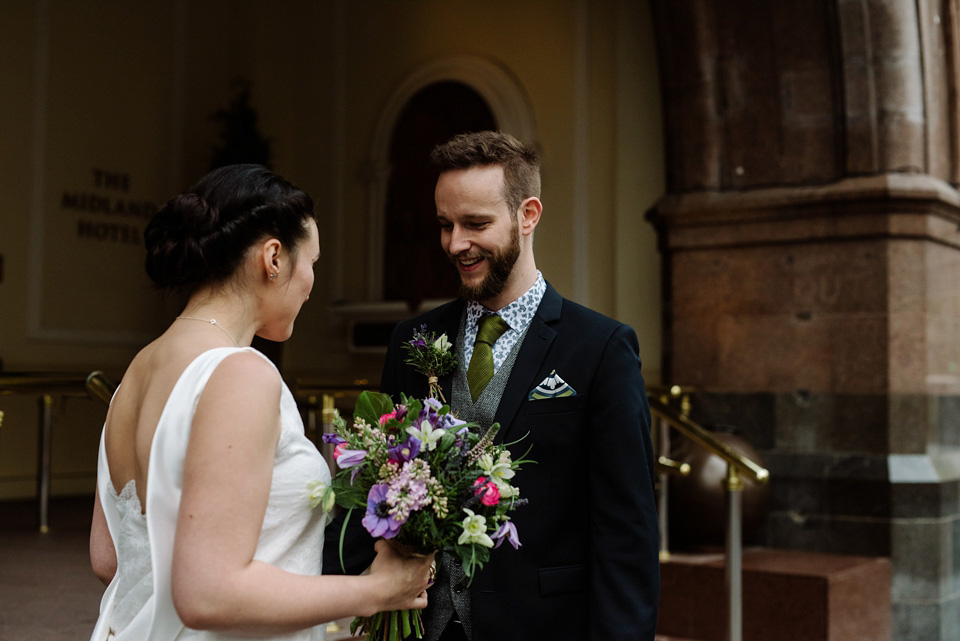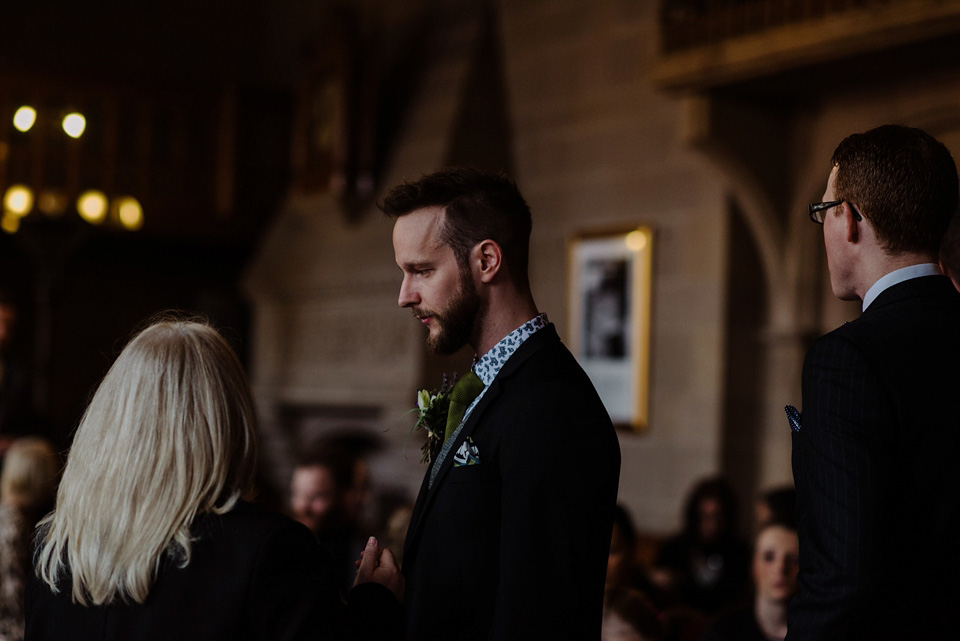 "Phil and I walked down the aisle together to the sounds of Yis Aye, a Cumbrian band who play traditional Celtic music. My best friend Amy plays fiddle in the band."
"For our readings we chose 'Falling in Love is Like Owning a Dog' by Taylor Mali because we both love dogs and our border terriers are a big part of our lives."
"For our wedding rings we opted for slim gold bands by young British designer Daniella Draper. I love Daniella's hand crafted designs and I like the thought of having a piece of home with me, wherever we are in the world."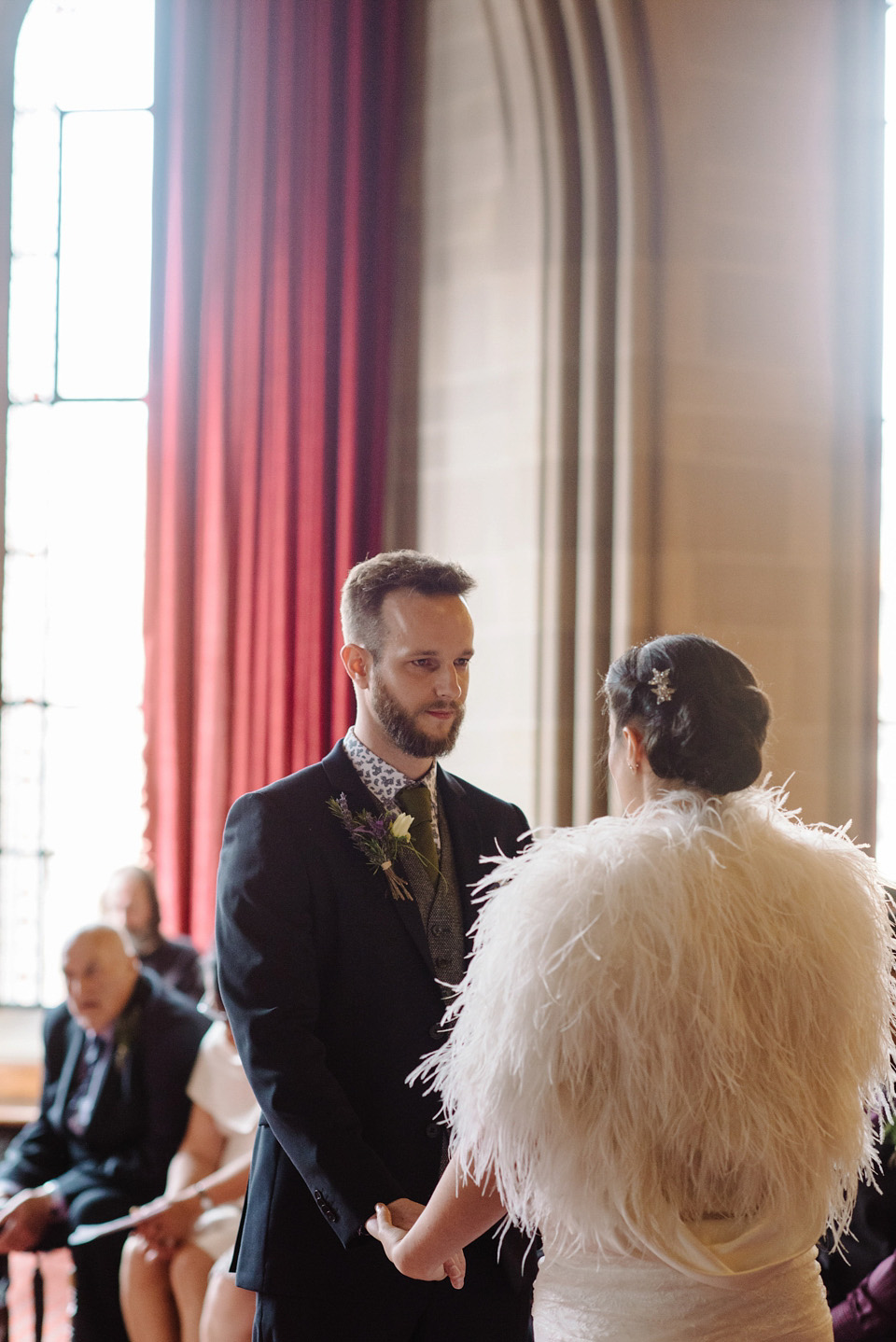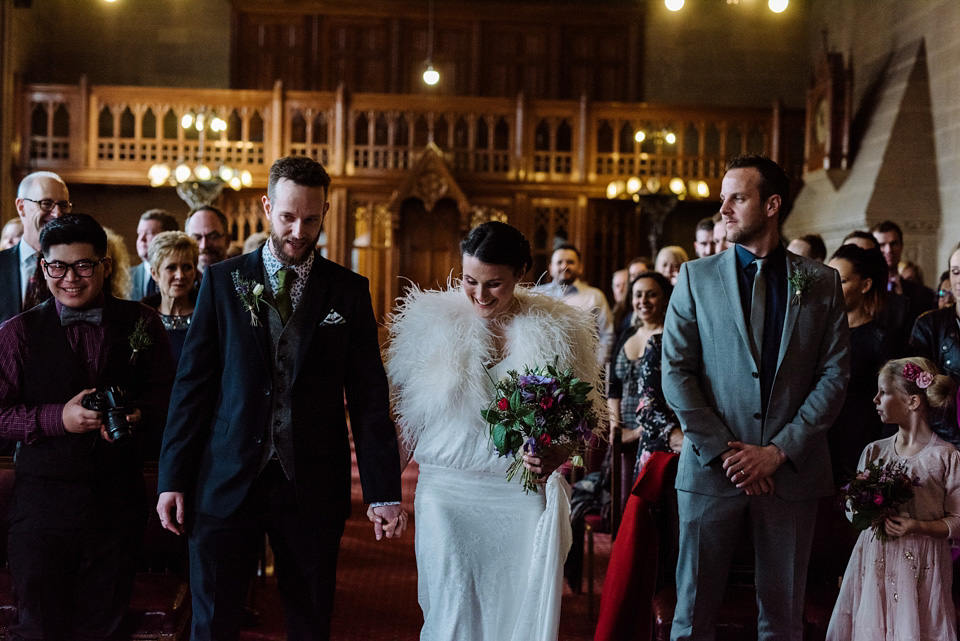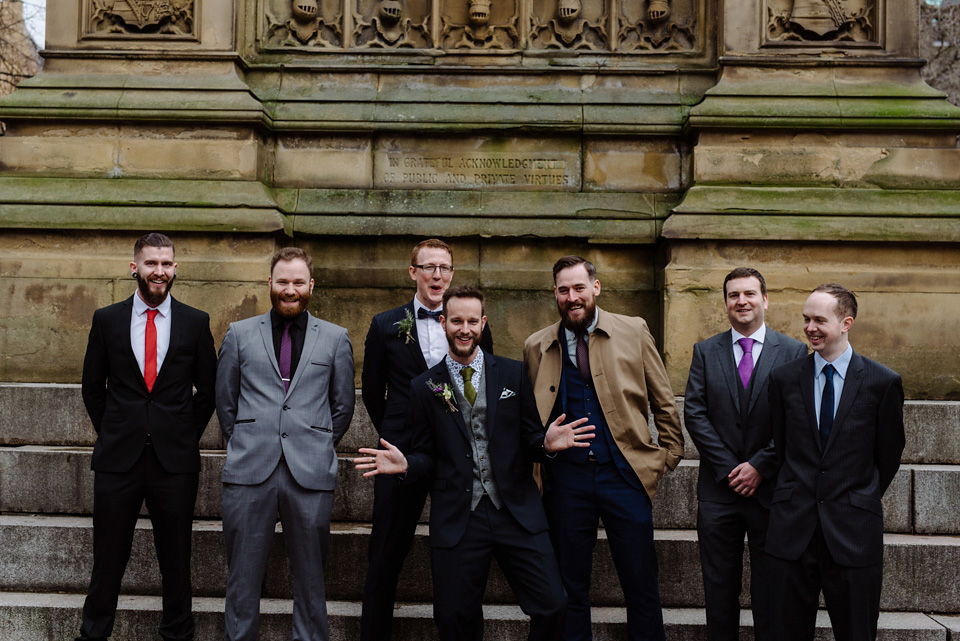 Instead of a traditional Maid of Honour, Diane opted for a 'Mate of Honour'! Our bride's 'Mate of Honour' paired his Nakal Clothing suit with Cherry Red Dr Martens. Meanwhile, Diane's niece (acting as flower girl) wore a lovely dress from Next, and her page boy nephew looked very sweet in a traditional Filipino Barong Tagalog shirt.
When it came to dressing their characterful venues, Phil and Diane kept things really simple, adding only carefully chosen floral arrangements.
"We picked venues that didn't need any decorating; Manchester Town Hall is stunning and Mr Thomas's Chop House is full of character. The only thing I wanted to add was some beautiful flowers. I wanted our flowers to have a botanical, garden feel about them and for the arrangements to look natural. We chose succulents, herbs, lavender, and daisies; purple and pink flowers with lots of foliage. Springbank Flowers did an excellent job."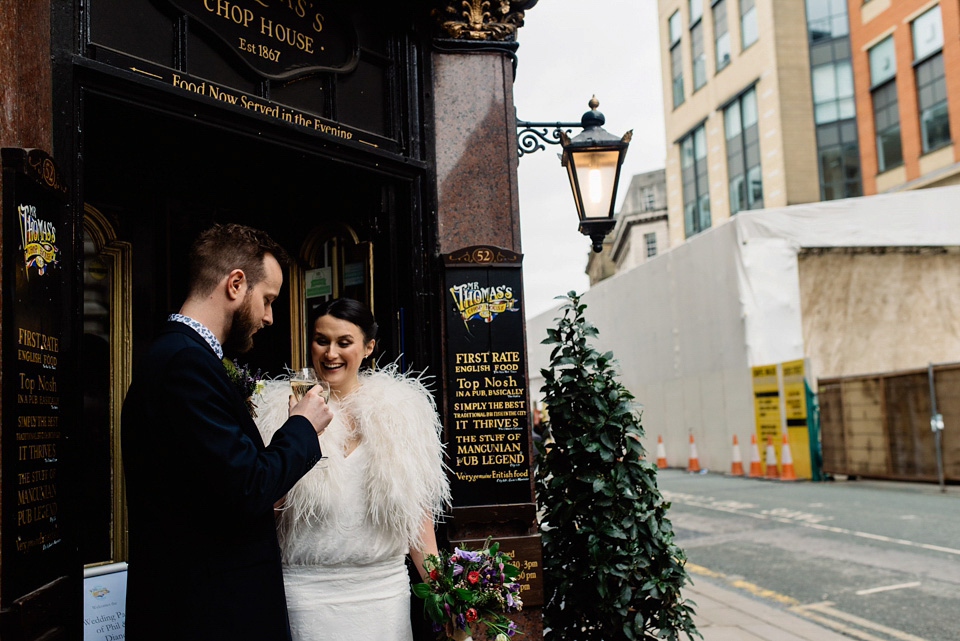 "We decided to have a wedding website instead of paper invites mainly due to the fact that it would cost a small fortune to send them out across Europe! Phil designed the website and I wrote the guest's menus on the back of botanical illustration postcards which also made pretty place cards. My Mate of Honour, Lee, drew the seating plan."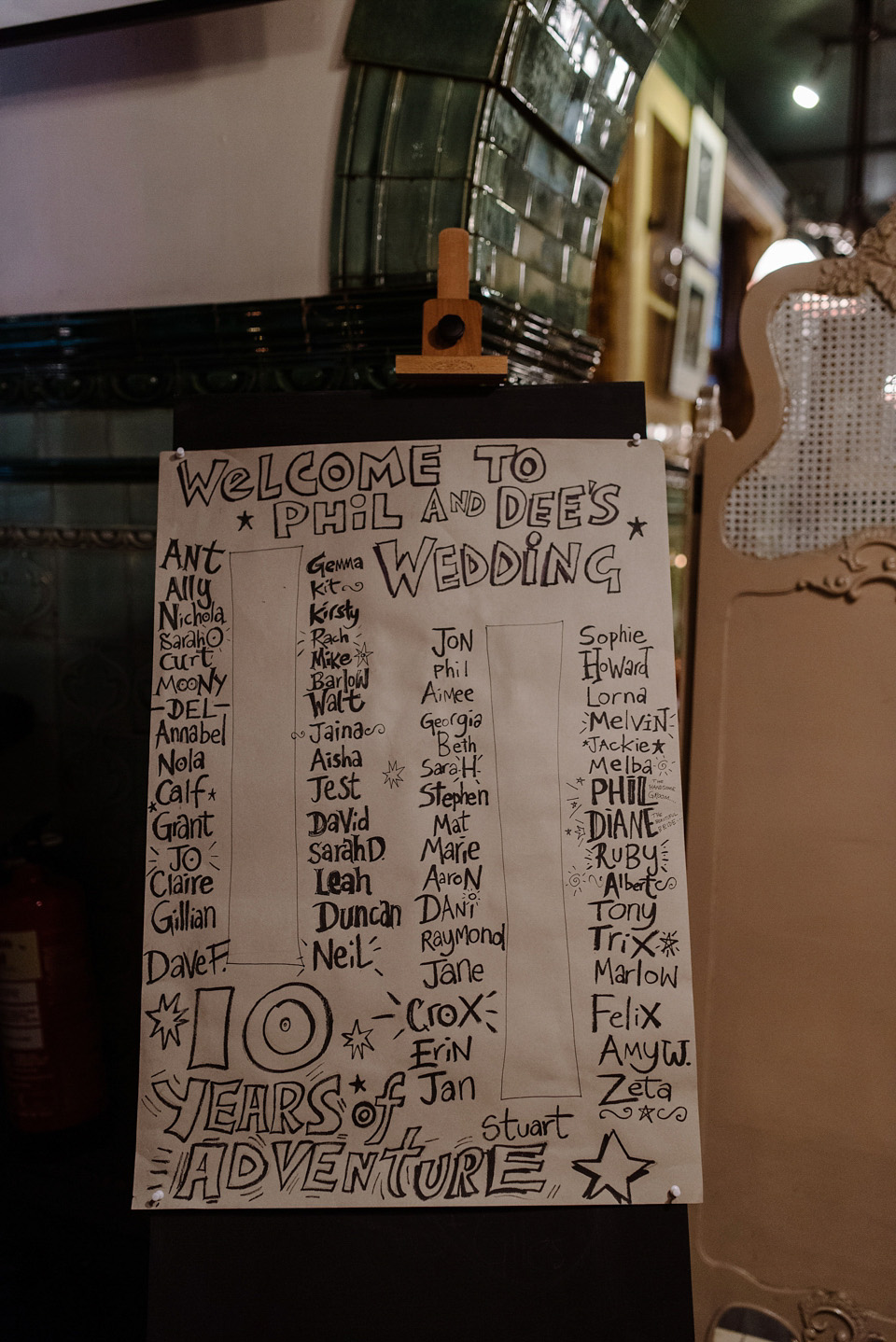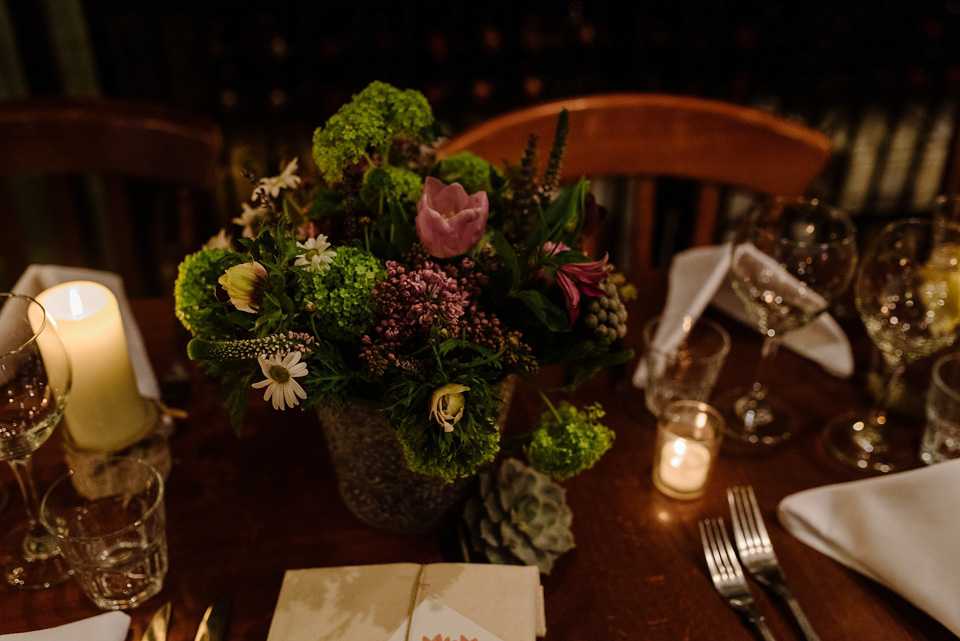 In a lovely touch, Diane used her skills as a printmaker to create bespoke tote bags for each of her female guests.
"For our favours I made hand printed tote bags for my female guests, personalised with each person's initials using the designs from my Industrial Alphabet print range. Before we moved to Amsterdam I worked at Bury Art Museum and Bury Archives and the print range was inspired by the town's textile history. For our male guests, my friends at the Silver Street Brewing Company made thirty bottles of beer with our wedding label."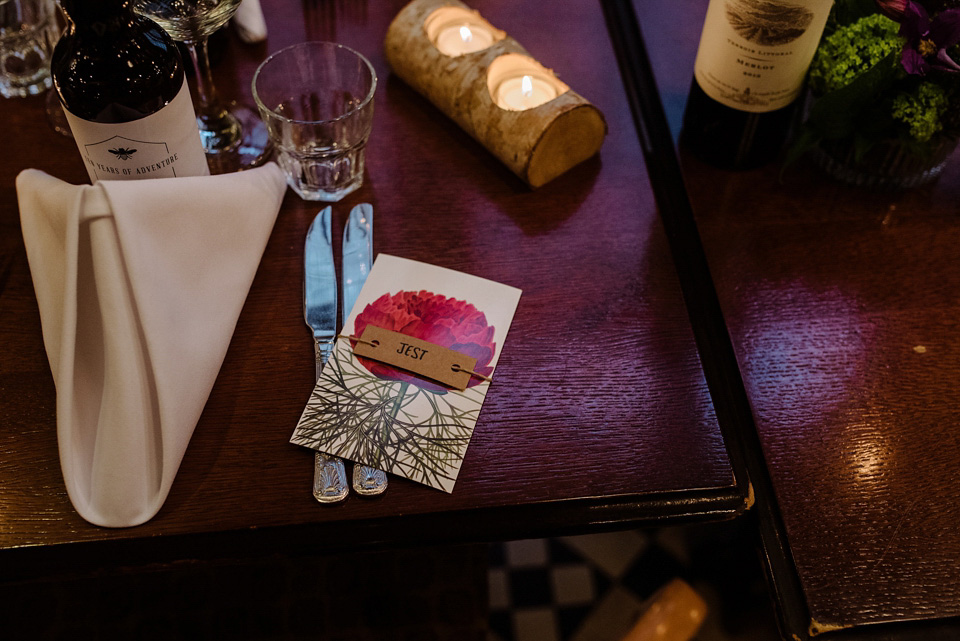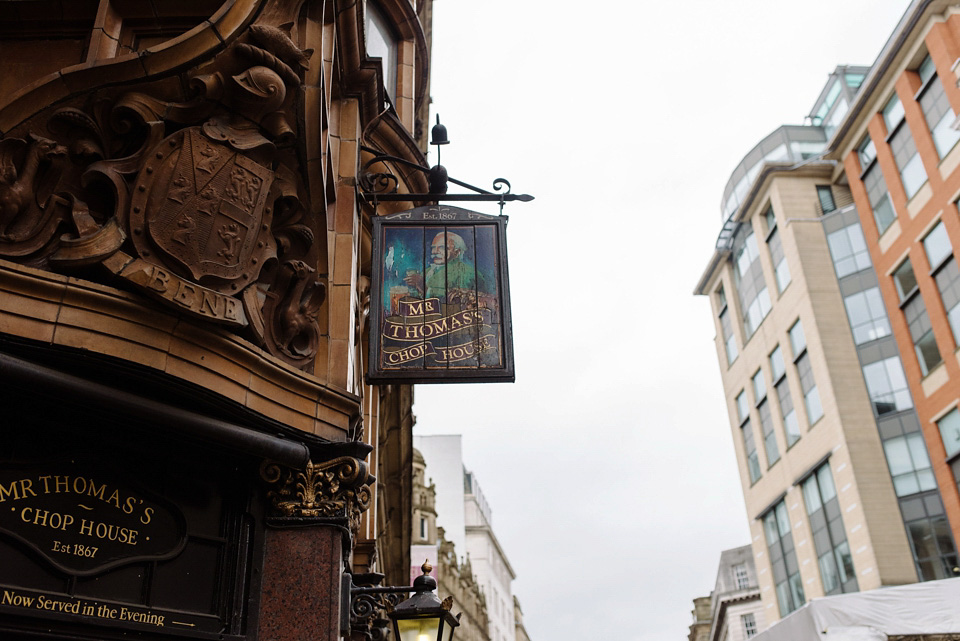 "The whole day was wonderful but I loved our wedding breakfast at Mr Thomas's Chop House. One of my favourite parts of the day were the speeches. My Mate of Honour gave an impromptu speech which included a toast to friendship and my mum read a lovely poem which made me cry (she then proceeded to tell me off for crying!). I read extracts from my diary as a teenager, reciting a story about when Phil and I were both in the same school play and how I had wanted him to sign my programme but was too shy to ask (Phil finally signed my programme on the day!).
Phil's speech was beautiful, reflecting on our adventures together and calling me his lobster (in reference to an episode of Friends). Finally Phil's best men (who were his brother and best friend) gave a hilarious and heartfelt speech."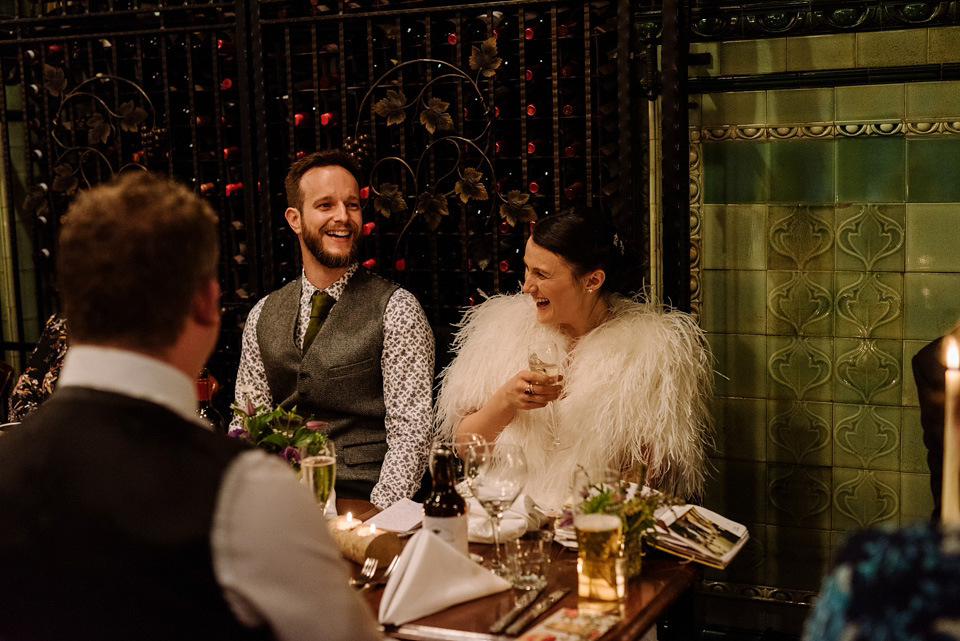 "Our evening entertainment was provided by Hi-life Entertainment. On the Hi-Life website you can select your favourite genre of music and they will choose a DJ to suit your requirements. From 80s power ballads to old school hip-hop, our DJ was great. He even let Phil perform all 7 minutes of The Sugar Hill Gang's 'Rappers delight'! For our first dance we chose Beyoncé's 'XO'."
Words of Wedded Wisdom
"First of all, be true to yourselves. I'm so happy that I can look back on our day and know it was 100% us.
Secondly, try and pick a reception venue that has an excellent team. I couldn't praise Mr Thomas's & Albert's Chophouse enough – they went above and beyond on the day.
Thirdly, invest in an excellent photographer. Finally, you've worked hard to organise your wedding so enjoy yourself on the day!
Finally, I wish I had relaxed more the evening before the wedding. I found myself running around meeting guests. In hindsight, I should have planned a quieter time."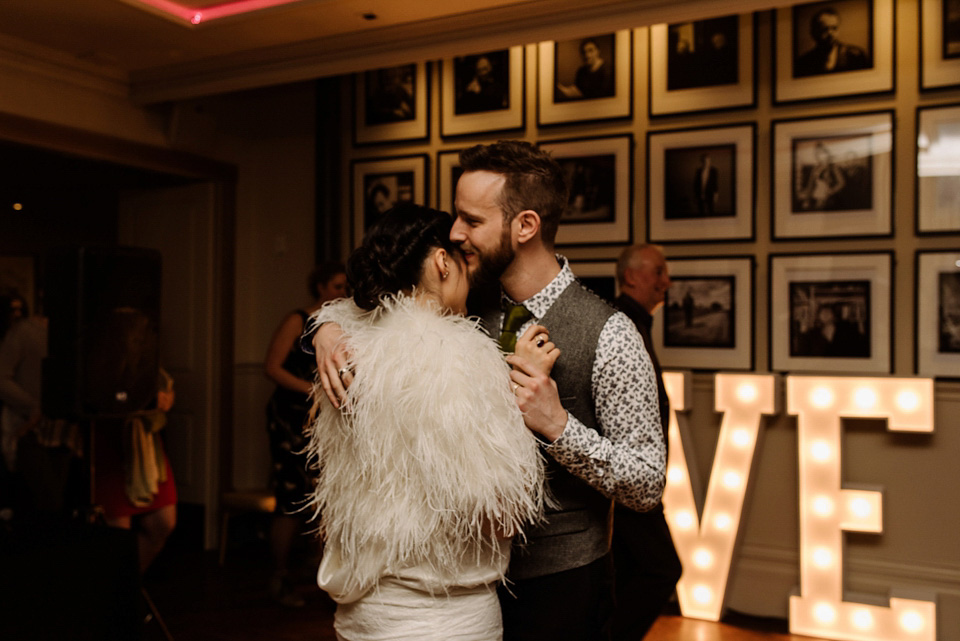 Huge congratulations Diane and Phil! Thank you to you both for sharing the details of your big day and to Neil Thomas Douglas for the lovely images. If you'd like to peruse other 1920s inspired weddings please click here. For more beautiful Charlie Brear brides, please follow this link. Have you been inspired by today's wedding? If so, we'd love to hear from you in the comments section below!
Only one more full day left 'til the weekend. Enjoy!
Annora x
Photographer – Neil Thomas Douglas
Venue – Manchester Town Hall + Mr Thomas's Chophouse + The Albert Square Chophouse
Wedding Dress – 'Catroux' by Charlie Brear via The White Closet
Headpiece – Jennifer Behr star hair pins + Daniella Draper earrings/necklace
Shoes – 'Jasmine' by Rachel Simpson
Accessories – 'Santorini' feather wrap by Jenny Packham
Bride's Scent/perfume – Coco Mademoiselle by Chanel
Groom – Topman suit + shirt, tie, tie clip & waistcoat from Ted Baker + Dr Martens brogues
'Mate of Honour' – Nakal Clothing suit + Dr Martens boots
Flowergirls – Next dress
Page Boys – Traditional Filipino Barong Tagalog shirt
Florist – Springbank Flowers
Cake – Created by the parents of the groom
Entertainment – Yis Aye Celtic band + DJ from Hi – Life Entertainment
Rings – Daniella Draper
Catering – Mr Thomas's Chophouse + The Albert Square Chophouse
Stationery – Created by the bride and groom
Hair and Makeup Artist – Joseph Elliot Hair & Beauty Salon