Hello again you lovely lot, and how are you today? I saw my little one off to school for the very first time this morning. Honestly and genuinely, I didn't expect to be left breathless with a huge lump in my throat and tears in my eyes. Me? I thought I was in complete control. All grown up and capable. Or something like that.  And yet it felt like a beautiful little chapter of pre-school life had slipped away right there, in those moments that I watched her as she slipped from my embrace and tottled off over to her new gang of school play-mates all sat huddled in the reading corner.  I'm grateful it's so easy to record special memories like this morning – the iPhone has quite literally transformed aspects of my life and I'm learning to feel more comfortable sharing more personal images online through Instagram too.
Talking of treasured photographs and memories, I was reminded of the importance of investing in a good photographer as I was preparing this particular feature. The phrase 'photography is memory' has been on my mind a lot of late. I'm trying hard to make an extra effort to record those little moments in time that I might lose to memory failure in years to come. Everything from simple, daily experiences to birthdays and celebrations too. I imagined bride Ange sifting through these images for the first time and shedding tears at the joy they are filled with, which made me so happy, because this lovely bride lost her father only ten days before her wedding – an experience she talks about in more detail below.
Graphic Designer Ange married Golf Course Greenkeeper Ben on 2nd April this year at the fabulously pink Museum of Kent Life. I thought I'd open this feature with a film for you to enjoy…
"If I could changed anything it would be to have Dad with us on our special day. Unfortunately ten days before our wedding my Dad suddenly passed away. It was such a sad time and I was left thinking what to do for the best? Do I cancel the wedding or not?"
Film by Frank Miller*
https://vimeo.com/124550531
"A month before this, my Nan had passed away and my Mum is very ill too so unfortunately couldn't make it to our wedding day.  The time when I thought was supposed to be my happiest was soon becoming my saddest. But in the end it just put things into perspective for me. The things that I had been worrying about in relation to the wedding just didn't seem to matter anymore.  I realised that all I wanted to do was marry Ben."
Photography by Assassynation
"We decided to make our day a happy one as that's what Dad would of wanted. It was so sad and shocking but I am glad I went ahead with our wedding, as it is a day I can look back on and remember the happy times, although it was very hard. I did feel a loss on the day but my amazing friends helped me through it.
Ben was my rock at this time and made me want to marry him and love him even more."
"Our wedding venue was The Museum of Kent Life – it was something a bit different and we loved the cute retro pink chapel to get married in and the wonderful village hall to dance in! It had the laid back and relaxed feel that we were after and it was fun and quirky too.  We found Kent Life was all we wanted and more! It also had a farm (which the kids loved) and vintage cottages as well as a lovely tea room. It was perfect for us and executed all our months of hard work well on the day. It was lovely to have everything in the same place and hotels very nearby for our family and friends to stay in too."
Hair + Makeup by Lipstick & Curls
Headpiece by Cherished Vintage 
"I wanted the bridesmaids in beautiful floral vintage dresses with pretty spring pastel colours. We saw these at Vivien of holloway and they were perfect. The girls had the dress altered slightly by a local seamstress called Jacqui Archer."
"I designed all the stationery from the invites and the table plan to the place names etc! And all the bits we decorated the venue with – all the frames and signs and so on."
Ange's shoes were by Jimmy Choo.
"My girls got my wedding shoes for my birthday present. So lovely!"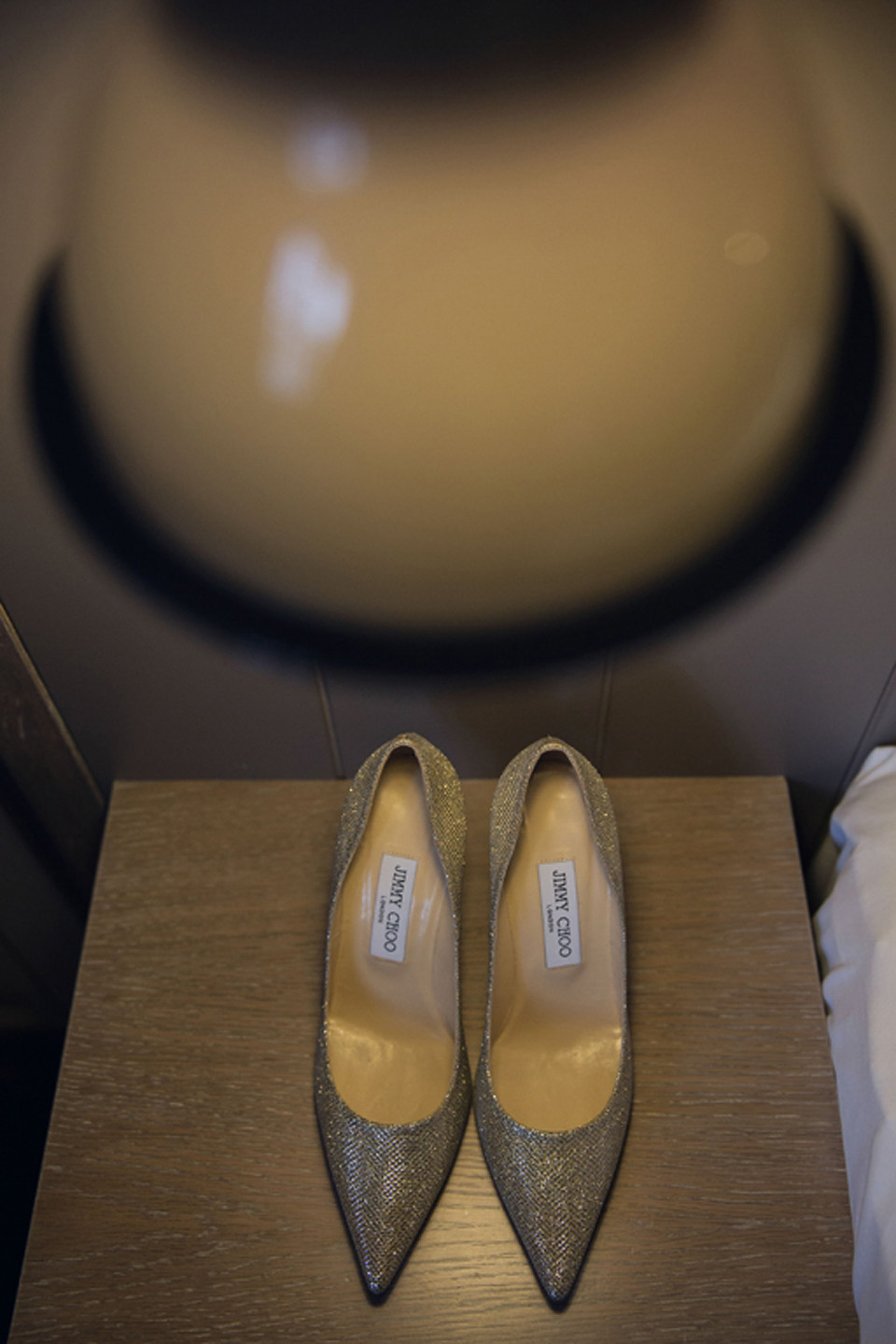 "Amanda of Lipstick & Curls is so talented and did such an amazing job on my hair and makeup. The styling for the bridesmaids and myself was just perfect."
"My wedding dress was designed by Johanna Hehir. The dress is called 'Elena' – I had the dress altered and the length made shorter as I wanted a ballerina length dress. The dress was purchased from Grace of Westcott in Dorking, Surrey – a beautiful shop that has sadly now closed down. I love that the dress was so elegant and simple. After visiting various shops with my bridesmaids and trying on loads of dresses I finally found 'the one'! I loved the top half of the dress – it came off the shoulder slightly and had button detailed at the back that went into a 'v' shape.
The length was originally longer but I had my heart set on a ballerina length as I love that style and vintage look so I had the dress altered and the length made shorter and had a petticoat made for under the skirt too. I felt the design of my dress suited my body shape well and I felt comfortable in that style too. By customising the dress I got exactly what I wanted and at the same time an unique one off dress (that nobody else would have!)"
"Our florist was Jackie Brooks – Jackie always gave such great advice, was very sweet and was such a great help too. I wanted to have flowers in vintage china and milk jugs – so Jackie recommended to have the vintage milk jugs in the chapel where we got married then later they could be used as centre pieces too! It looked so pretty and saved us money by doing it this way too, which is always good.
The flowers all looked and smelt so beautiful."
"My bridesmaids were amazing and I always had at least one of them with me when trying on the dresses and to all my dress fittings etc! I really valid their advice and opinions.  Having photos of myself in my dress helped me loads too – I could look back at the photos and see if things needed to be altered or adjusted more. Jane Ecob of 'A Perfect Fit' made the alterations to my dress – she was very helpful and did a wonderful job."
"Ben and myself both love music, we met at a music festival in 2008. Five years later, on 28th December 2013, Ben took me to our favourite seafood restaurant in Brighton and asked to marry me! After the meal Ben had arranged for us to meet all our friends for a party. It was so lovely. Sixteen months later we were married."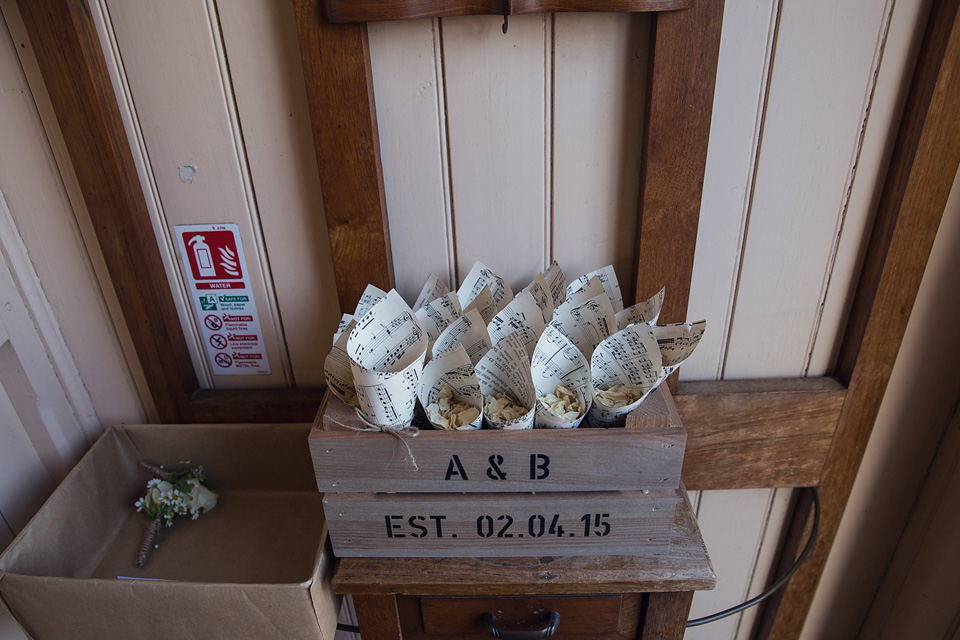 "We hired a gorgeous vintage blue Morris Minor from Quirky Wedding Cars. The car looked great in the photos and fitted in with our venue really well."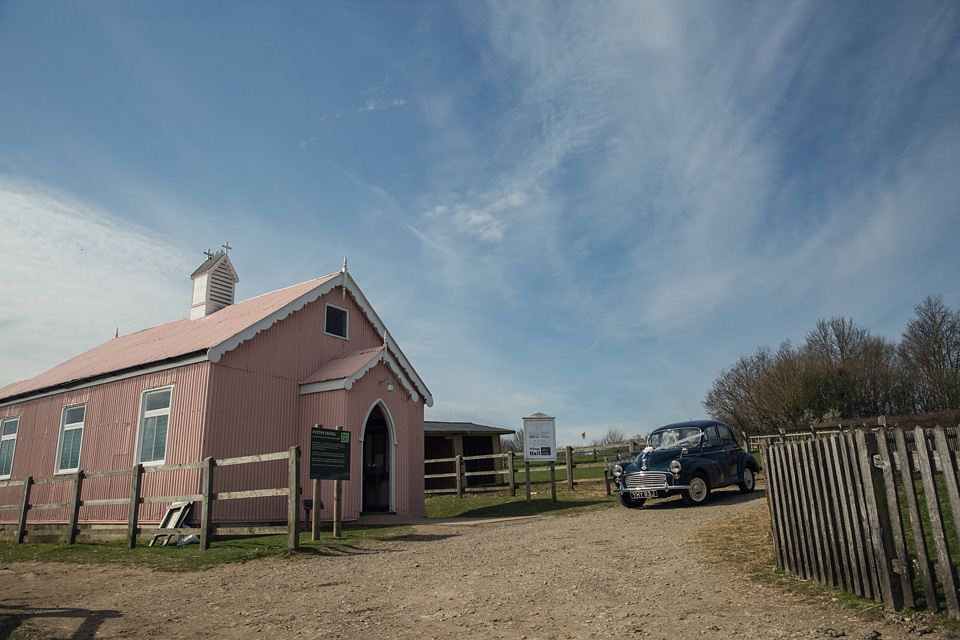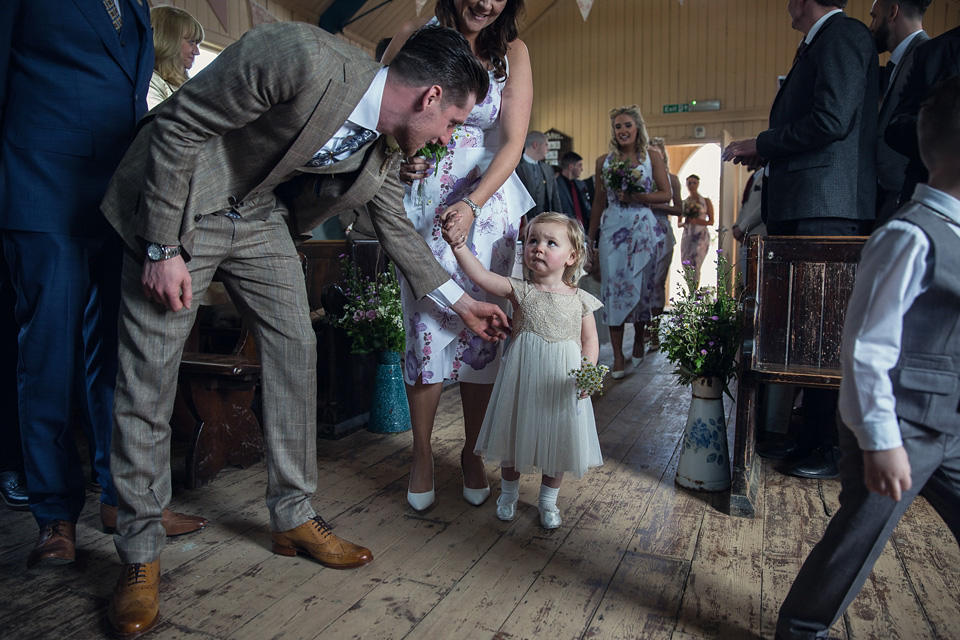 "My wonderful brother Dan walked me down the aisle to the sound of 'Mystery Jets – Radio America' (the Libertines Cover) – it's a song that Ben and I always listen to together (usually on our car journeys!) and it means a lot to us."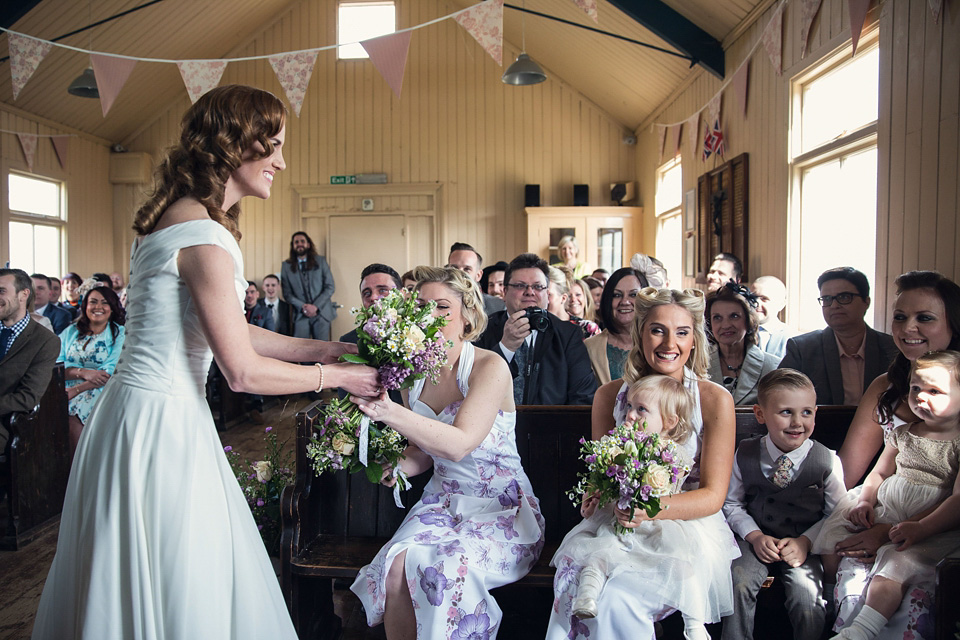 "My favourite part of the day was walking down the aisle I wish I could do it again and seeing Ben looking so handsome made my heart melt. 

When walking down the aisle it was so lovely seeing everyone's happy faces looking back at you! I could really feel all the love from our family and friends. It was just beautiful."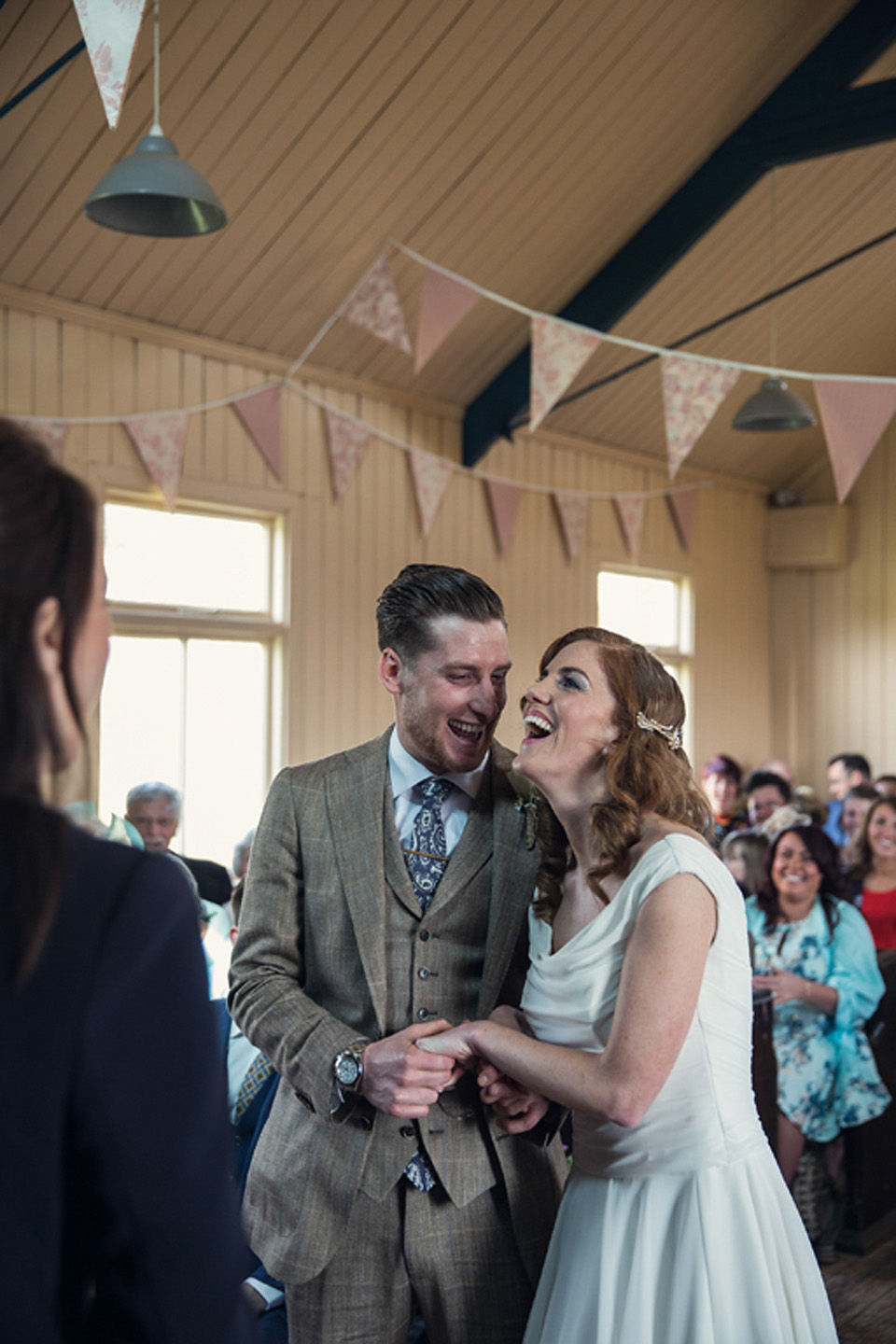 "We kept with the traditional vows as we felt they said everything we wanted too perfectly.  
Our best friend Claire did a reading for us. We wanted it to be a surprise so she choose the reading which was called 'the one' and the first time we heard it was at the ceremony! Claire put a copy of the reading in our wedding card so we could read it again. It was so lovely ."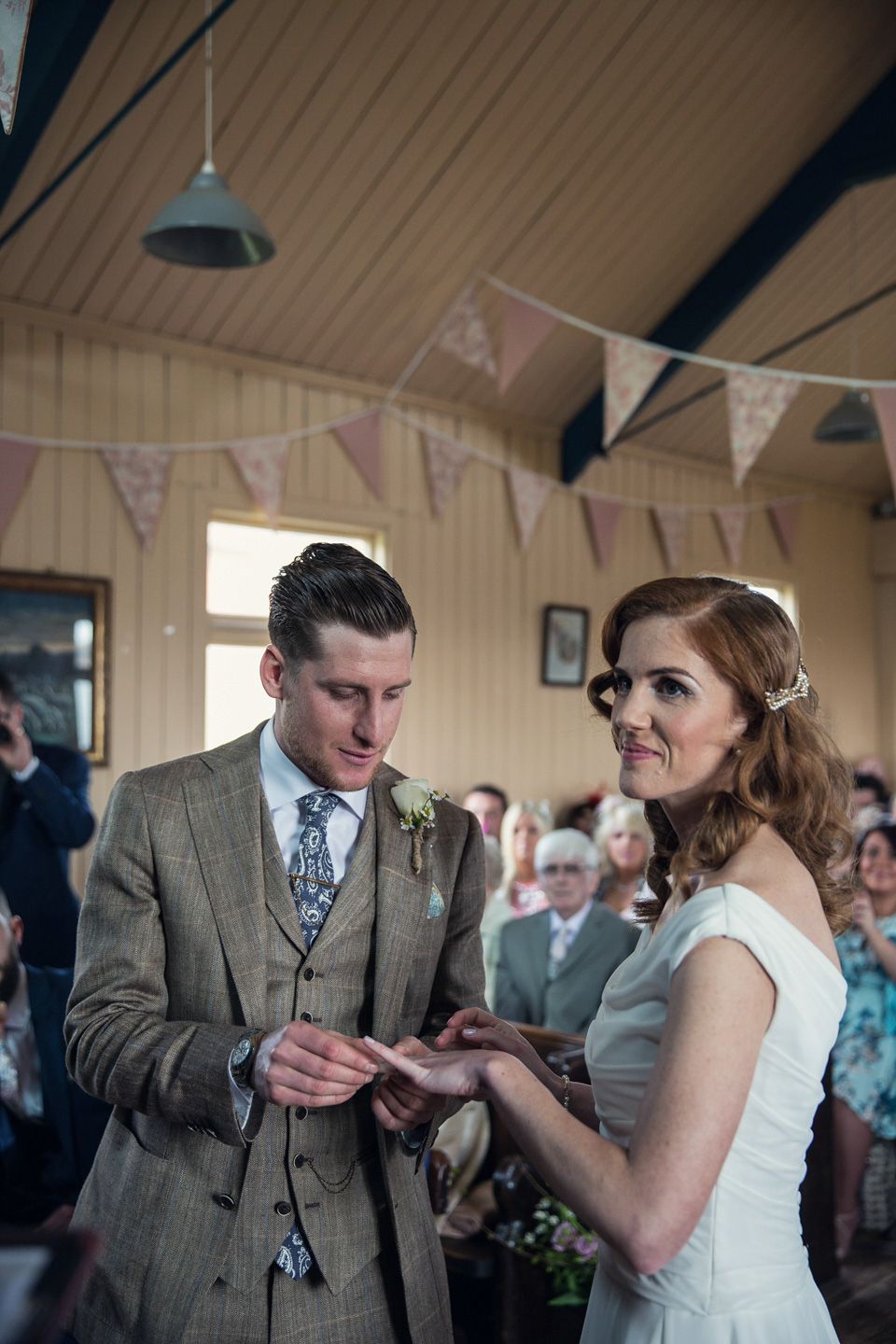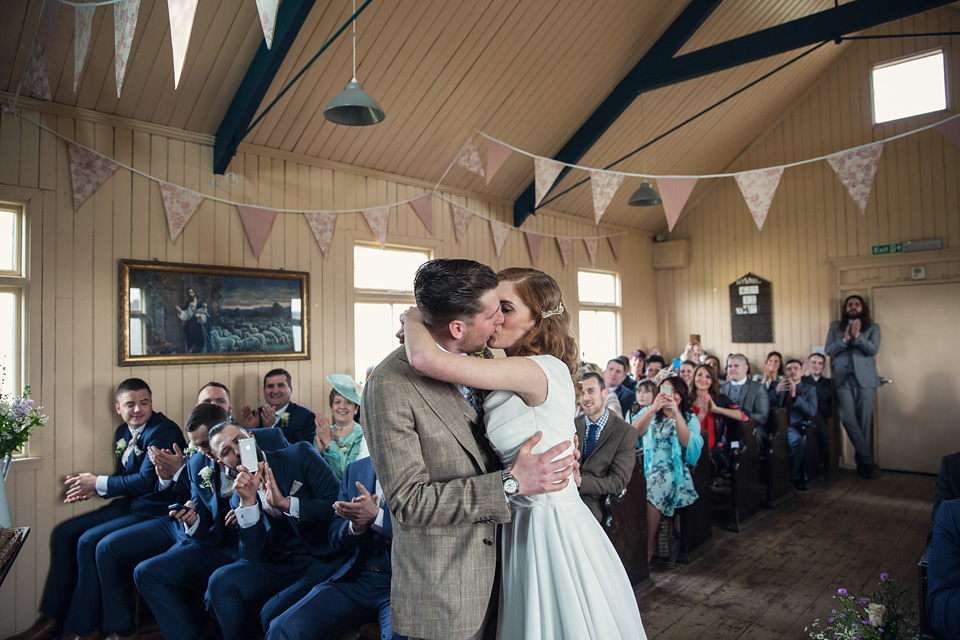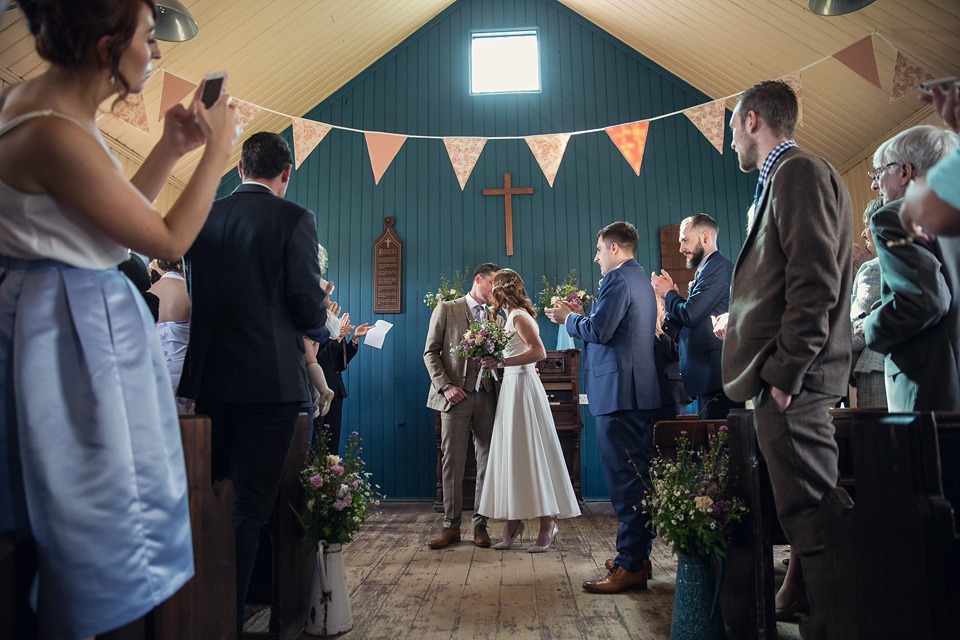 "Ben and Ben's Brother and myself and my bridesmaids went to the venue the day before to decorate. We used everything from our home – gramophone and old records, sewing machine, crates, typewriter, vanity cases, old books and vintage china and milk jugs etc.  We also decorated the venue with loads of wedding and old family photos – I made copies of all the photos and put them into old gold frames that we found from car boots and charity shops etc."
"We hired vintage bunting and china from Blue Sky Vintage – Hilary is so lovely and very helpful. The bunting and china went great with the feel of the wedding and venue too. They looked wonderful.
We also hired our giant light up letters (A&B) from the amazing – Vowed and Amazed."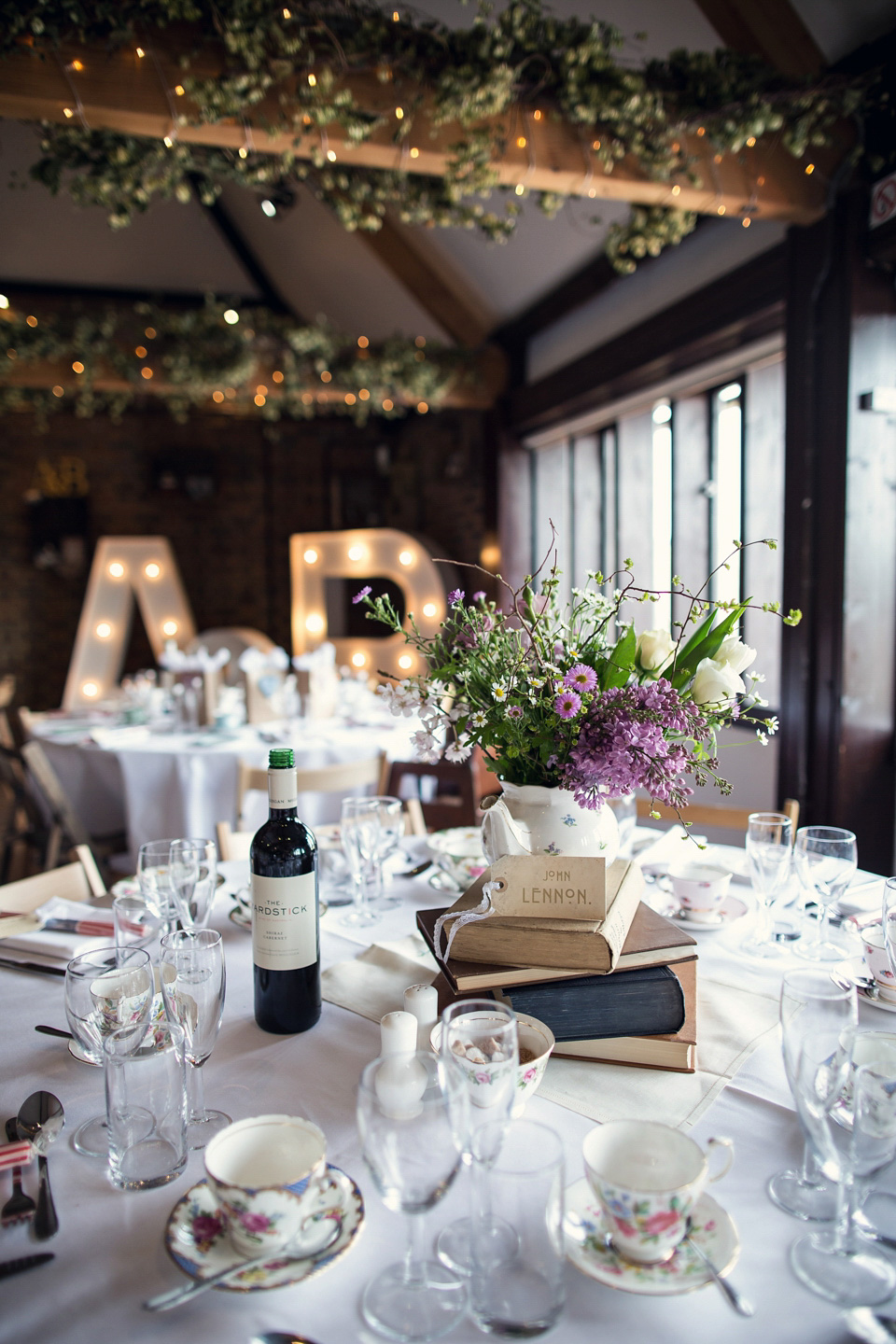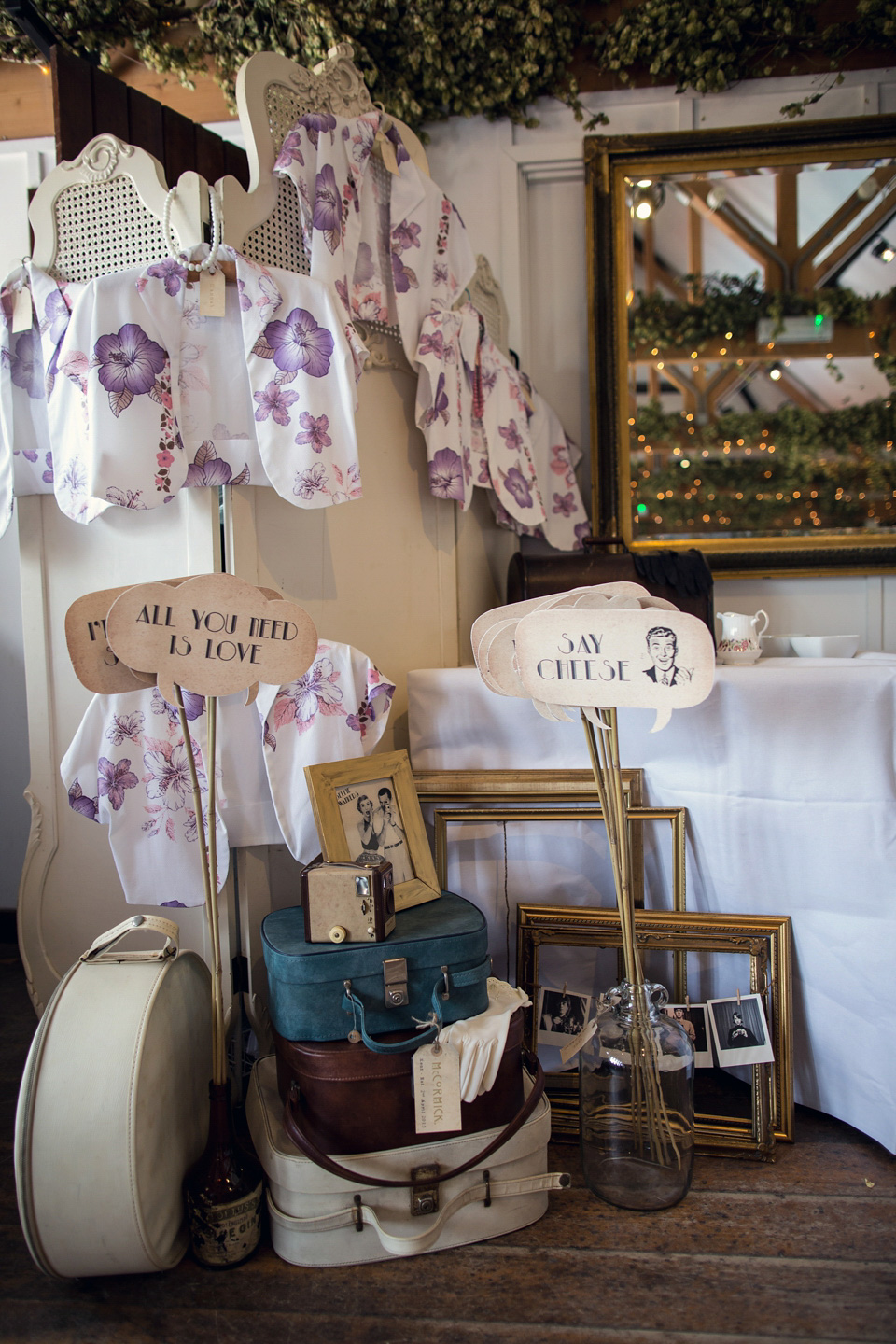 "We provided sticks of rock from Brighton for wedding favours. The favours were also used as place cards as I made name tags\labels for all our guests and tied them onto the sticks of rock with vintage lace. I also gave the bridesmaids vintage compact cases and brooches for their wedding\thank you gifts and white gowns to wear whilst getting ready.
Ben got the ushers some nice cigars for a thank you gift and we had a great photo with all the boys enjoying them. To keep the kids entertained during dinner we left a gift bag at their seat with lots of 'retro' toys inside."
"Our photographer Sassy of Assassynation was just so wonderful and put me at ease the second she saw me – the photos are just simply stunning and she is so talented. Sassy made our day feel so special. She is very professional and truly lovely too.
I loved having some time alone with just Ben whilst having our couple shots done! It was great just to have some time together to take everything in."
 – works with Sassy! Frank's video was amazing we couldn't stop watching it! Frank was brilliant!"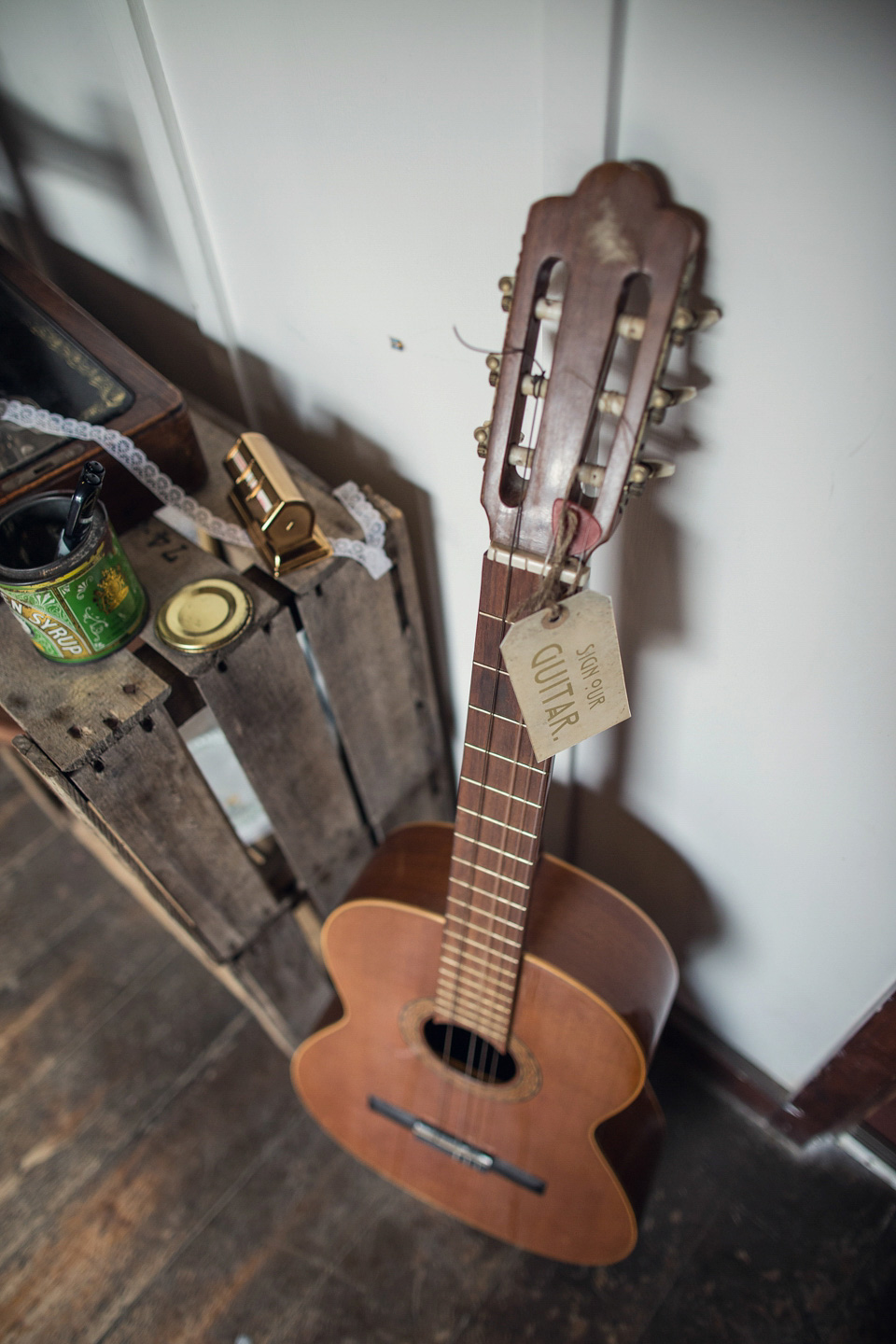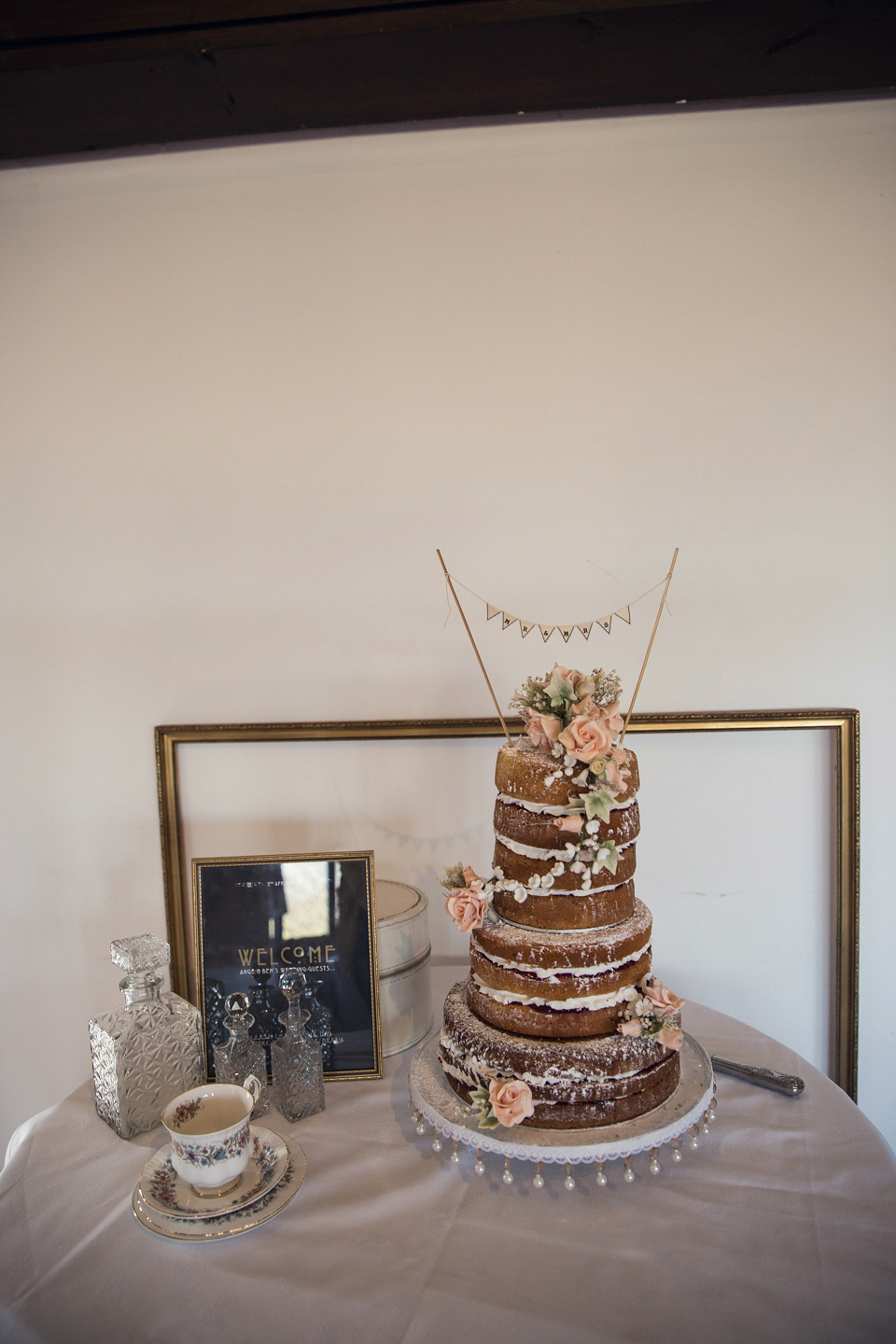 "Ben's mum made our cake. I love naked cakes and just the simple details and flowers made it look so elegant and pretty. It looked stunning and tasted delicious too."
"We chose the song 'First Love' by one of our favourite bands 'The Maccabees' for our first dance. We love this song and the words were so appropriate too! Plus the band were one of the first gigs we went too together (think it was our second date?) and we actually managed to get back stage and meet the band – so the song really means something to us as well.  Our first dance was like being at a gig!"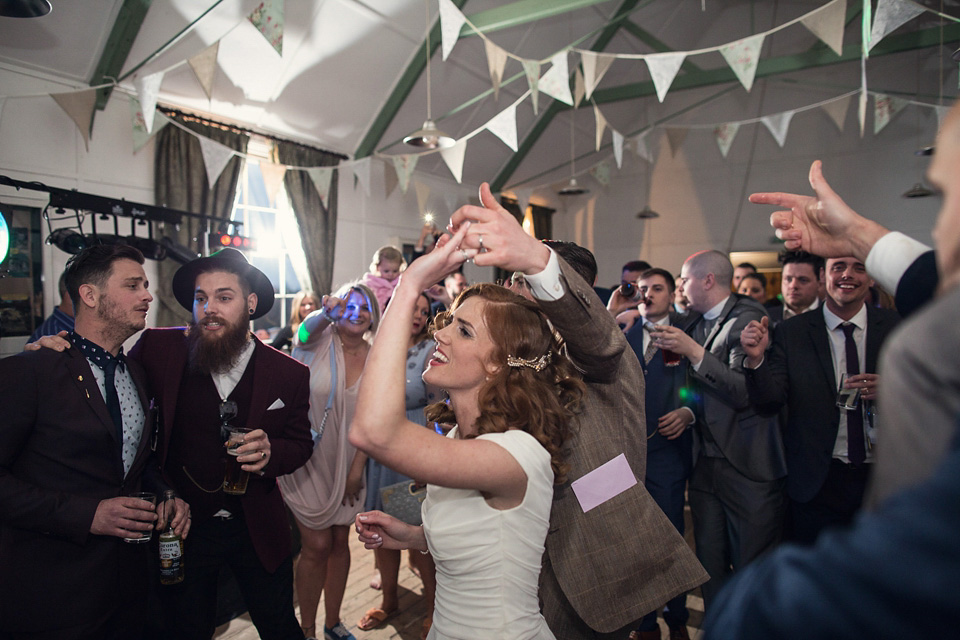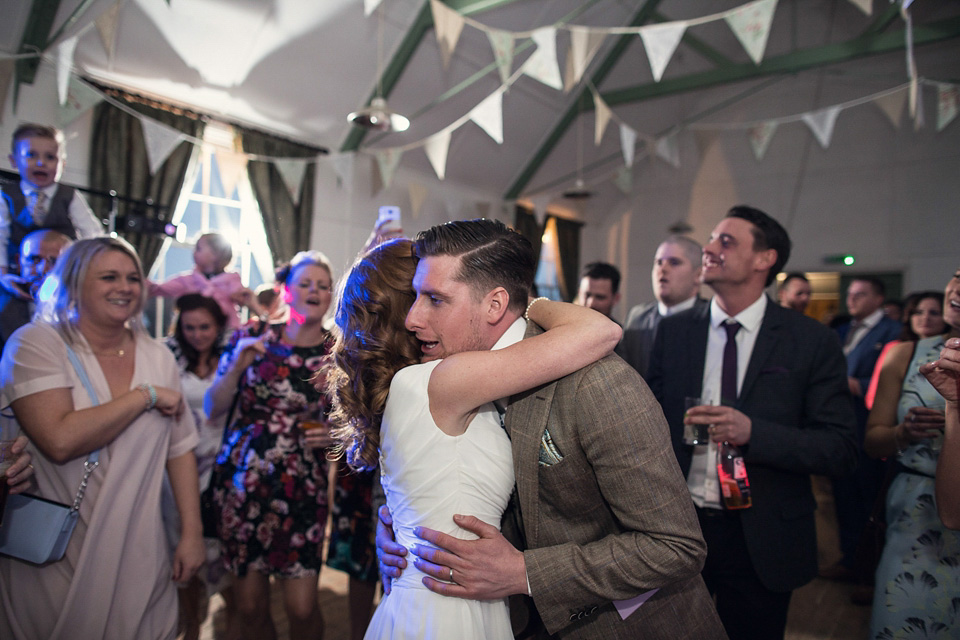 Words of Wedded Wisdom
"I know people say it a lot but it is so true – do whatever you and your husband want to do! And do whatever makes you happy.
Make it personal and about you as a couple.
We wanted our wedding to represent us as a couple and show our personalities and loves through all the details and personal touches.
Try to have fun and enjoy it all and not get stressed and worry! (Everything will be fine on the day so try not to let anything spoil it for you or your husband).
Look after yourself! Eat well, sleep and exercise.
Keep a book or folder/file with all your ideas and things you like – this will also help to show visually your ideas to your suppliers too.
Research and trust and know your suppliers well.
Always follow your gut!
Try to make decisions and move on.
Do lists!! I love a good list – this helps you to stay on top of things and not panic and 'stick to your budget' too.
Let your bridesmaids know the schedule for the wedding day too! Like when the flowers or photographer etc are suppose to arrive – this will help to take the strain off you! Everyone is there to help and support you so let them.
Don't worry about what other people might think, and be confident in yourself.
Sometimes your wedding day isn't 'perfect' but the love and support from all our family and friends made it such a special day and one to remember forever. All I wanted to do was marry Ben so that's all that really matters in the end!
Finally, I love Love My Dress and visited the site regularly for inspiration! I think I probably visited Love My Dress about three times a day for a year and a half! I love the advice (my favourite bit is 'Words of Wedded Wisdom') this helped me loads and gave me reassurance about certain things that I was worrying about."
How absolutely charming, thank you from the bottom of my heart Ange and Ben for sharing your beautiful wedding day with us.
Love Annabel xx
Photographer – Assassynation
Film – Frank Miller (no longer creating wedding films, sadly)
Venue – The museum of Kent Life
Wedding Dress – Johanna Hehir via Grace of Westcott (alterations by A Perfect Fit)
Shoes – Jimmy Choo
Bride's Hair Accessories – Cherished Vintage
Perfume – Chanel's Coco Mademoiselle
Grooms Suit – Suitsupply
Bridesmaids – Vivien of Holloway + New look shoes
Flowergirl dresses – Monsoon
Page boy – M&S
Florist – Jackie Brooks
Cake – The groom's mum
Cars/Transport – Quirky Wedding Cars
Entertainment – Imagine the Beatles
Rings – Midas Touch in Brighton
Catering Company – Zest catering
Stationery – DIY
Hair and Makeup – Lipstick & Curls
Giant light up letters – Vowed and Amazed
Bunting & vintage china hire – Blue Sky Vintage