Hello to you all on this crispy autumn morning. We have a gorgeous wedding this morning which took place at Harvest Moon Holidays, by the sea, east of Edinburgh on 23 May this year. Project Manager Claire and Accountant Christian tied the knot in a humanist ceremony on the beach, photographed beautifully by Icon Photography Studios.
"We fell in love with the beautiful scenery at Harvest Moon Holidays and the fact that we could get married on the beach and stay for the weekend. We wanted a very relaxed, informal wedding and were inspired by the colours of the beach. Admittedly, an outdoor wedding in Scotland was a bit risky, but we were assured that Harvest Moon is one of the sunniest places in Scotland. Thankfully that was true on our wedding day!"
Photography by Icon Photography Studios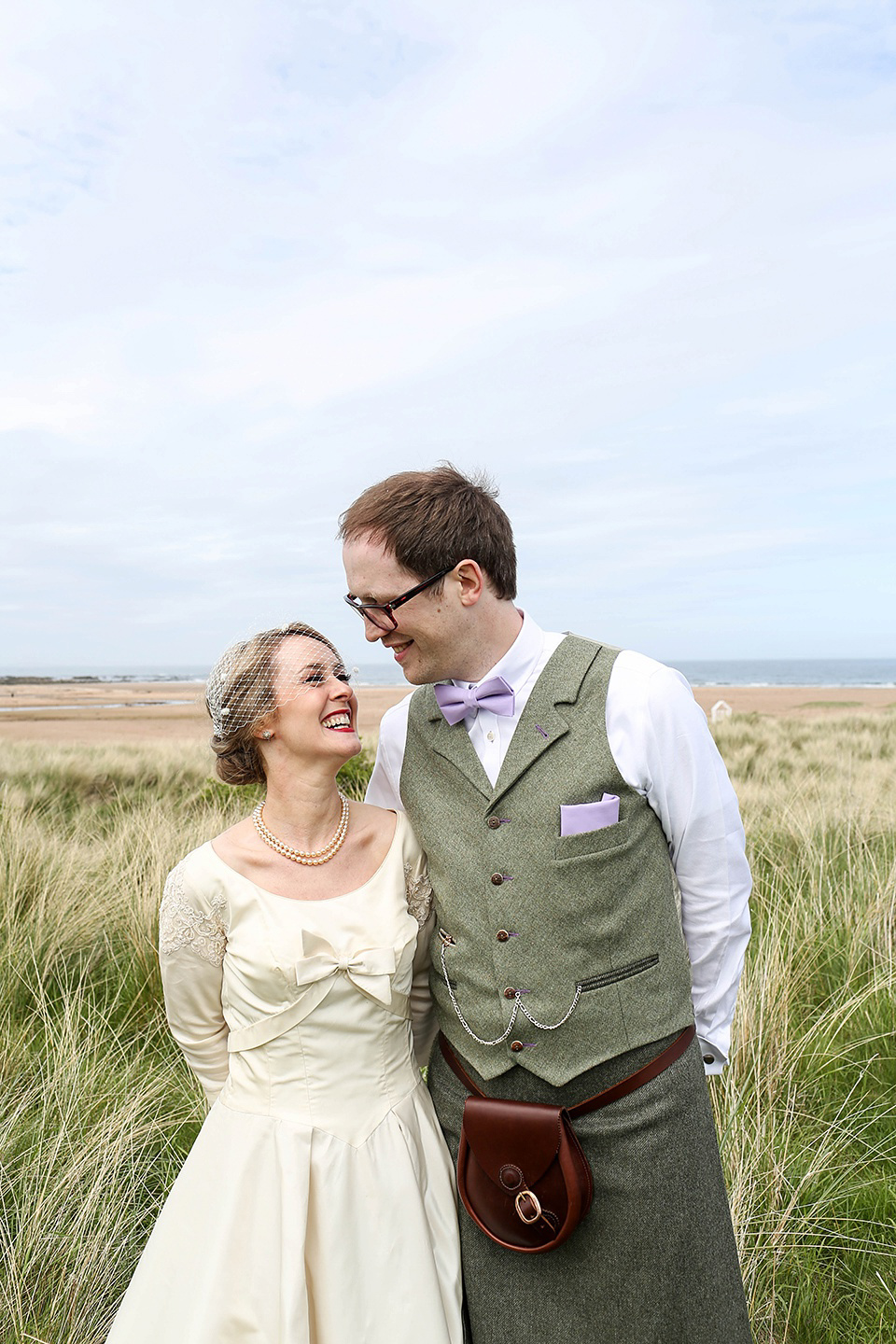 Claire's two sisters Gina and Liza served as bridesmaids in beautiful long length lilac dresses based on a design by friend Claire L Hamilton. Both wore gold shoes, brown fur capes and flowers in their hair.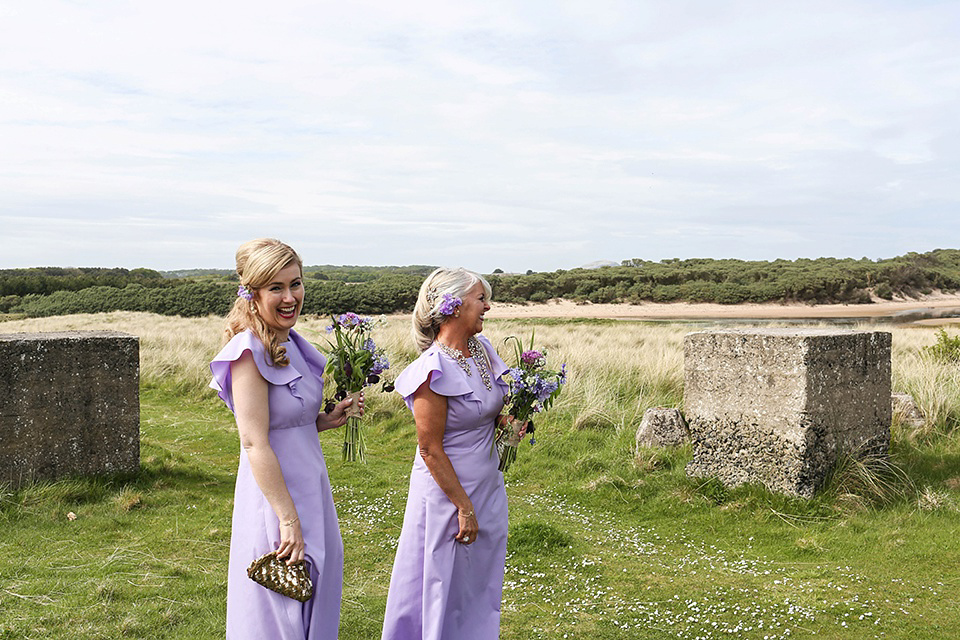 "Our three flower girls, Erin, Robyn and Bethany wore gold skirts and cream lace tops with gold shoes from Monsoon.  They all carried heart shaped wicker baskets with lavender to throw as they went onto the beach."
Monsoon are a member of Little Book For Brides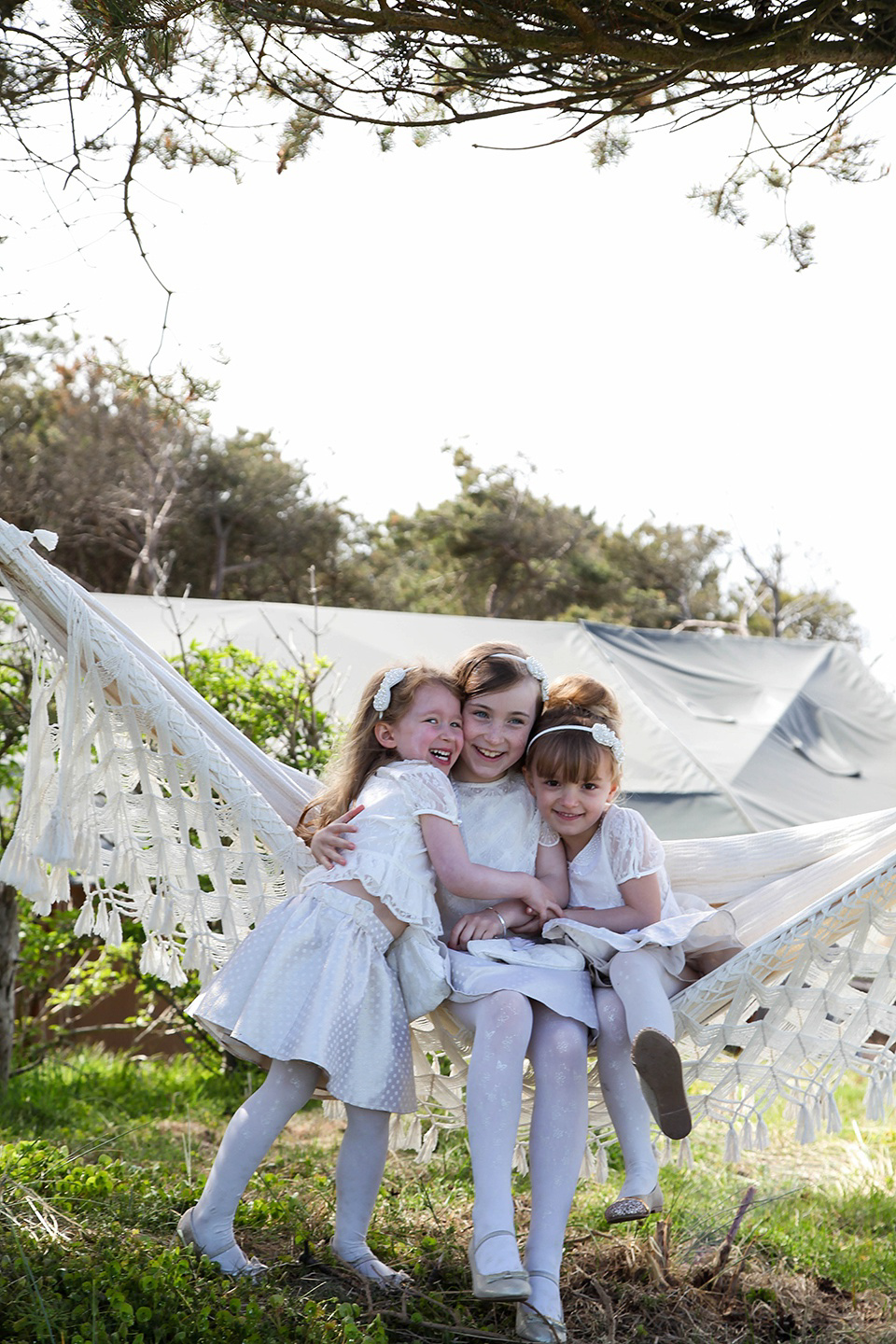 "My friend Ayumi did my hair in a glamorous up do. I am quite partial to a red lip and my sister Gina bought me lots of makeup from Space NK, then my sisters applied it on the day. Ania Nails in Glasgow, painted little red love hearts on the tips of my nails."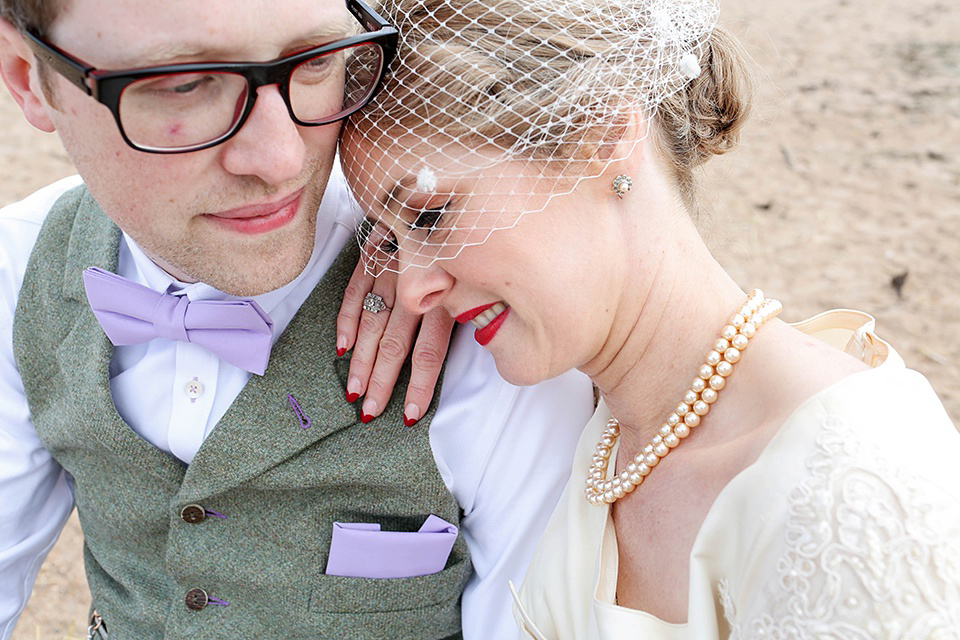 "We met on Halloween 2010. I had contacted Christian through Match.com the previous week but his profile had expired so I didn't actually know what he looked like. I stood outside the pub waiting, only for Christian to be inside, he had to come out and get me! It was quite a funny start to a really enjoyable evening and I immediately felt there was an attraction. I even got a cheeky kiss!
After three wonderful years together, we were in Paris for my birthday and I had convinced myself that Christian was going to propose (at the Eiffel Tower). It transpired that he thought Paris would be far too predictable but seeing my disappointment Christian quickly suggested looking for a ring the next day! Not the most of romantic proposals but we spent the rest of the trip ring shopping in old Parisian antique jewellers."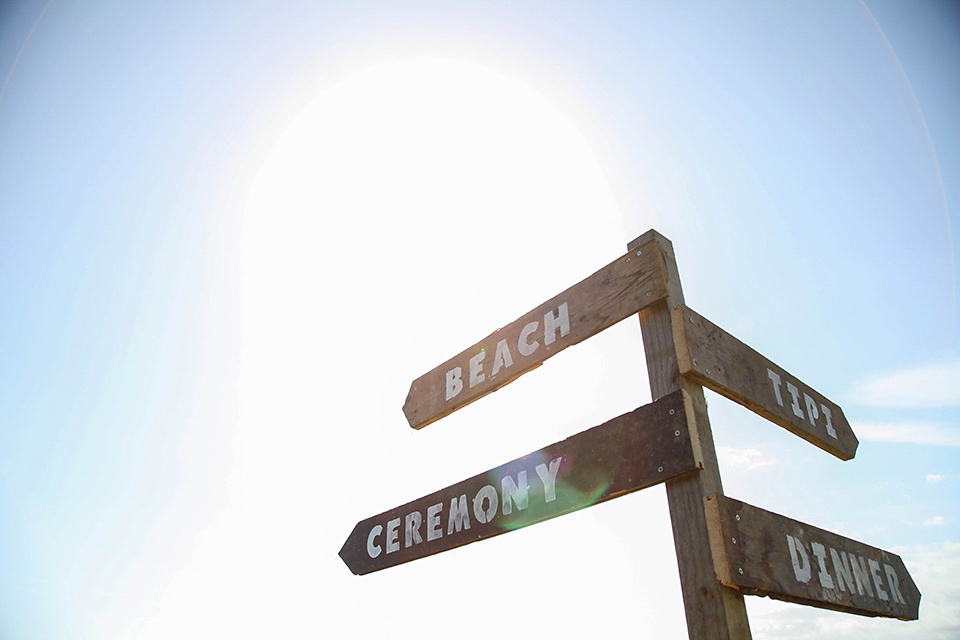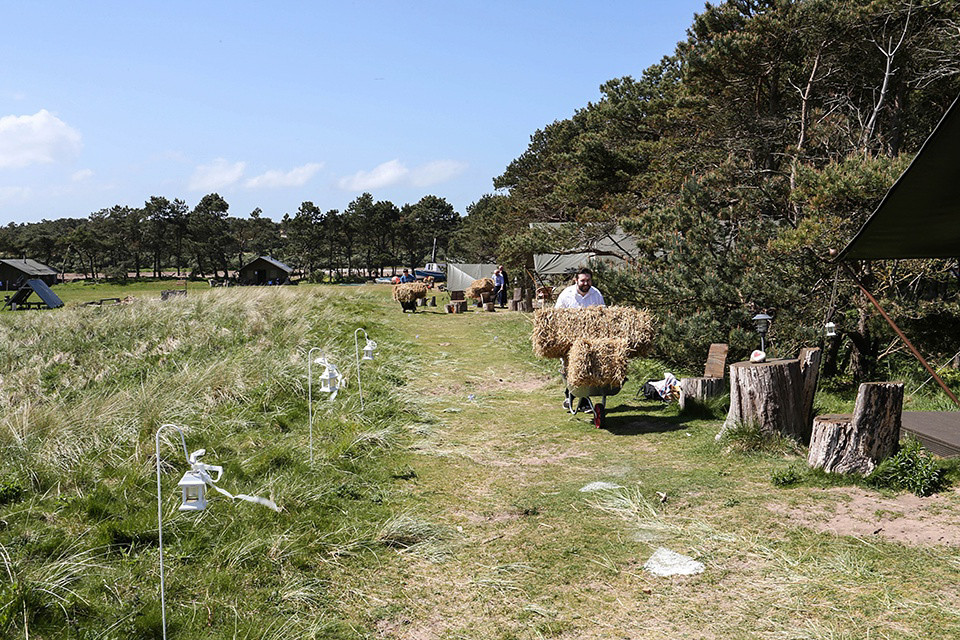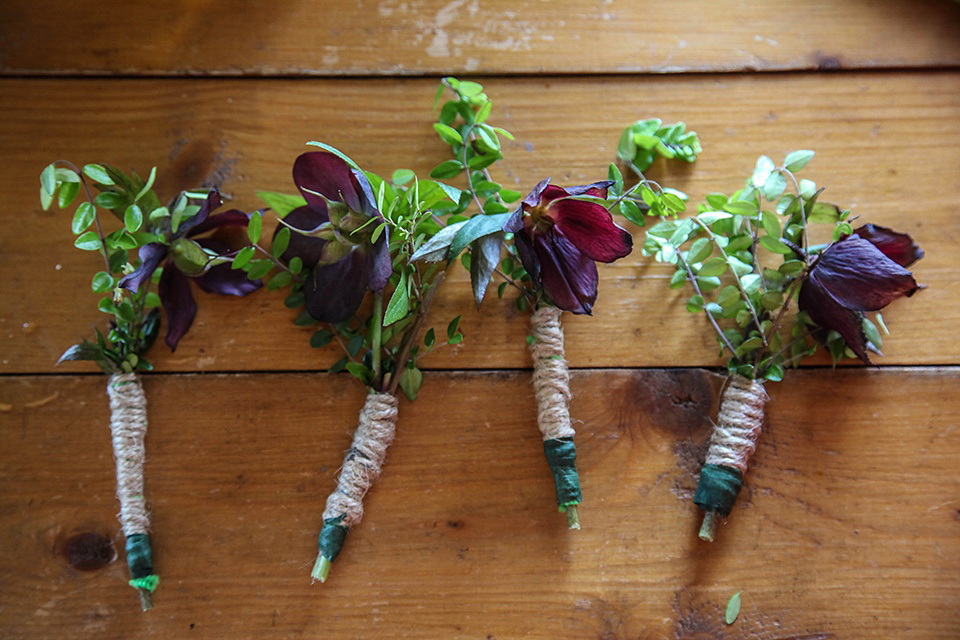 "I spotted my amazing teal shoes online and tracked them down to Seychelles in the US. They were no longer available but eventually I managed to find a pair and my friend Pi in New York was able to get them for me."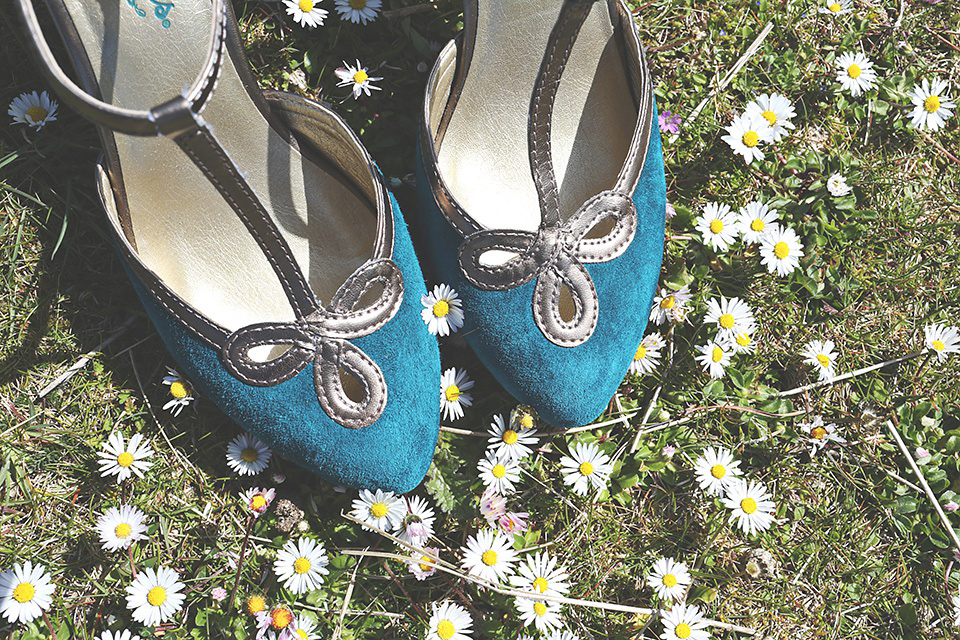 "We decided we wanted to have wild flowers to fit with the natural theme. Paula from Millpond Flower Farm was amazing and brought buckets of beautiful fresh wild flowers which my talented sisters used to make bouquets and arrangements with."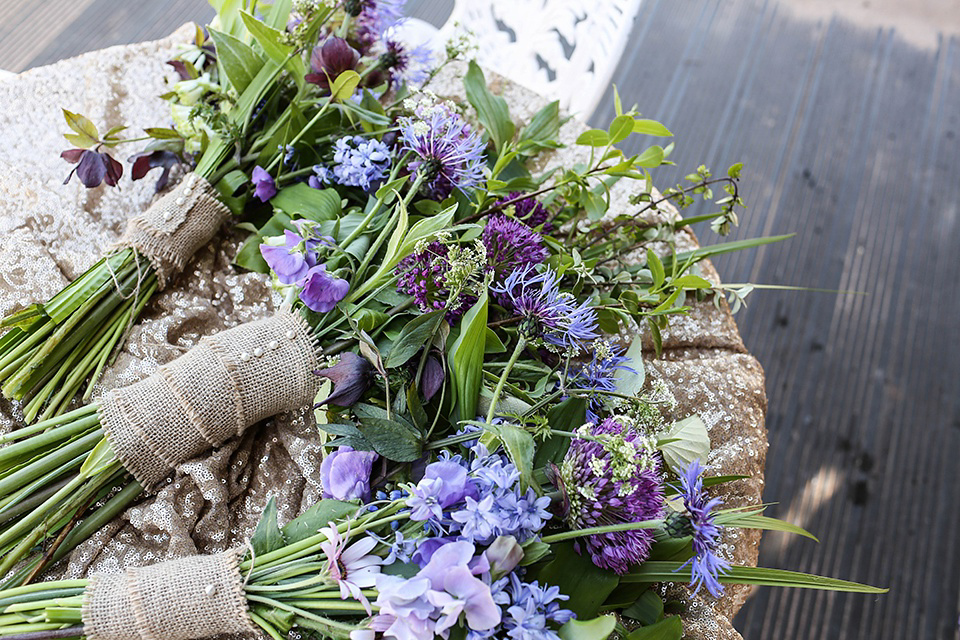 Claire chose to accessorise with items holding sentimental value. She wore her late gran's pearls and her sister's bracelet and kept her sixpence in a Japanese pearl bag.
"On the morning of the wedding I wanted to feel glamorous so I bought a vintage cream 1950's ostrich feather robe from Circa Vintage in Glasgow."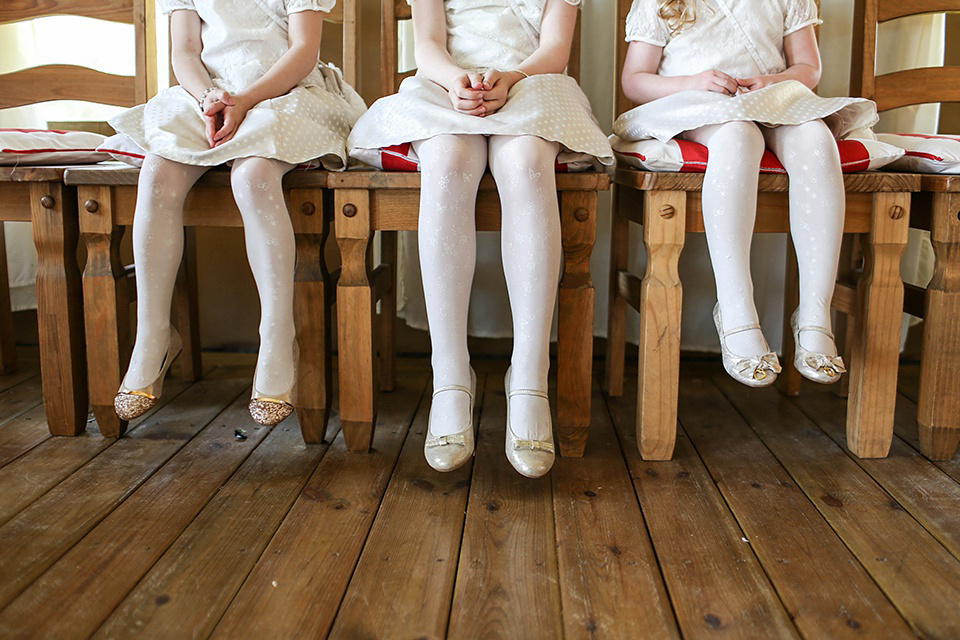 Claire took a gamble and bought her original 1950s dress on Preloved. Luckily she was delighted with it and on a friend's recommendation took it to Made by Madara for some minor alterations. Claire's hairdresser Ayumi added a spotted French net veil on the morning.
"I knew I wanted a ballerina length 1950's dress and this suited an outdoor wedding. I just loved the colour and the simplicity of the dress and the little accents like the buttons down the back, the chevrons in the skirt pleats and of course the little bow on the front satisfies my bow obsession."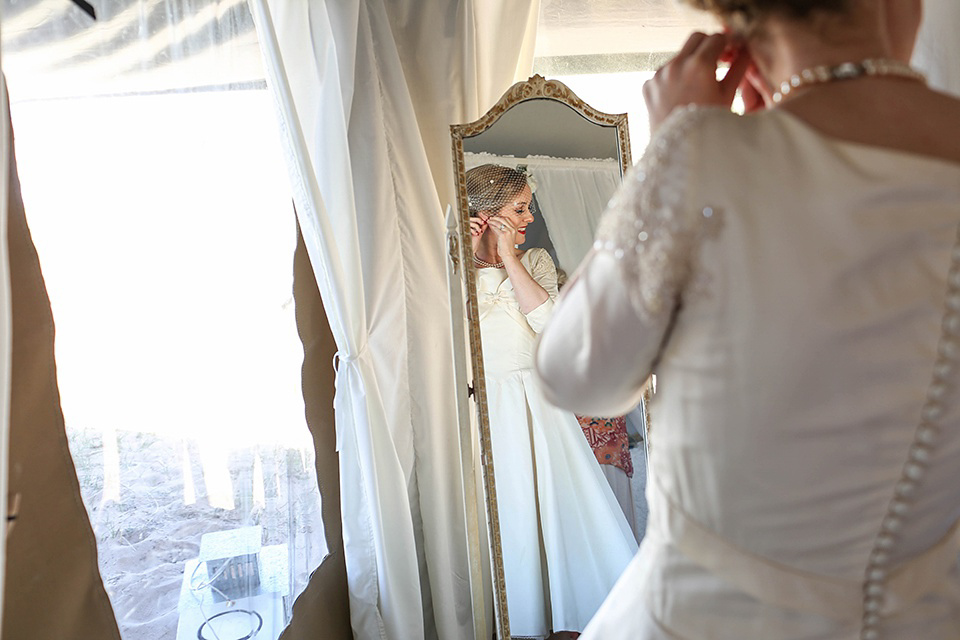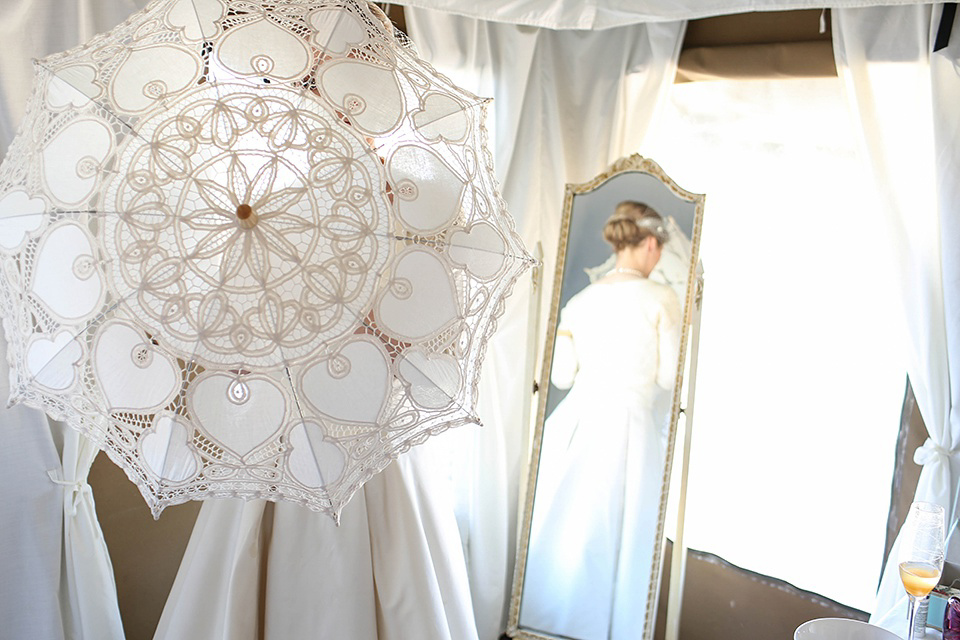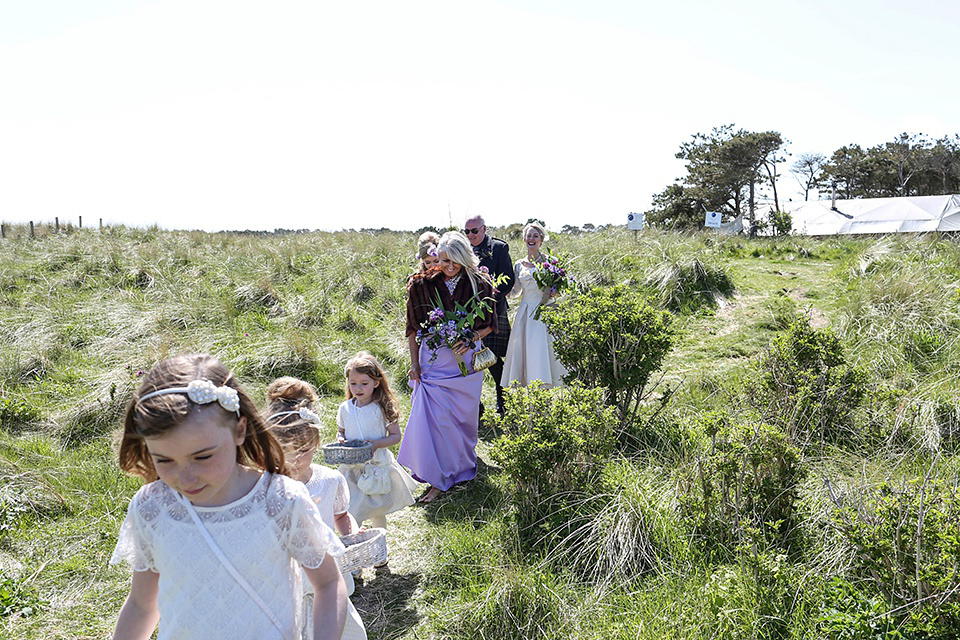 "My brother-in-law David walked me down the aisle to 'La Ritournelle' by Sebastien Tellier. Christian and I love this track as it reminds us of when we first met."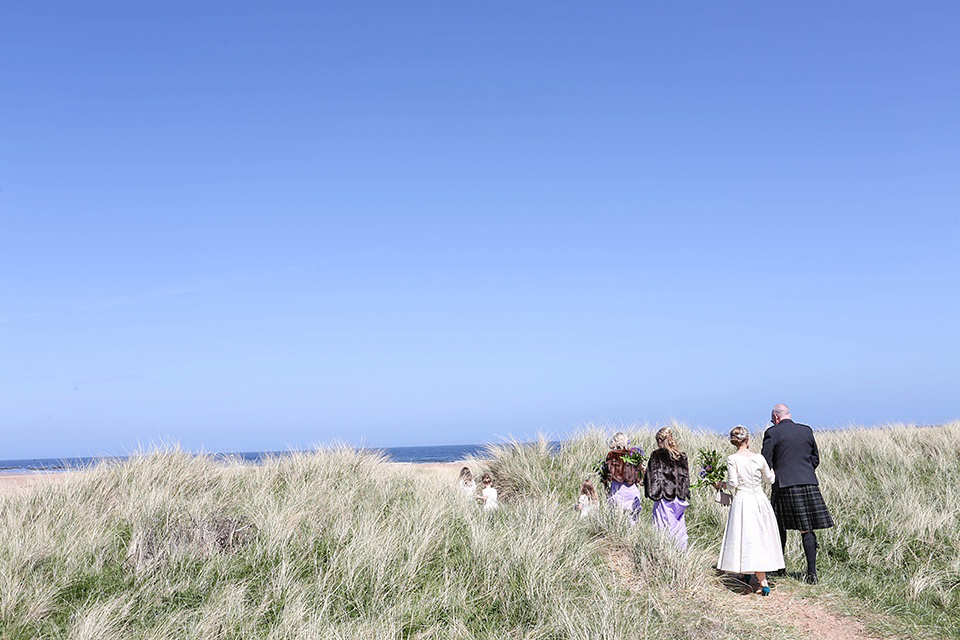 "We had a humanist ceremony with celebrant Ivan Middleton. We drank from the Quaich which is an ancient Scottish symbolic ceremony of trust, love and peace between two people and we had a traditional hand fasting with a Celtic well wishing."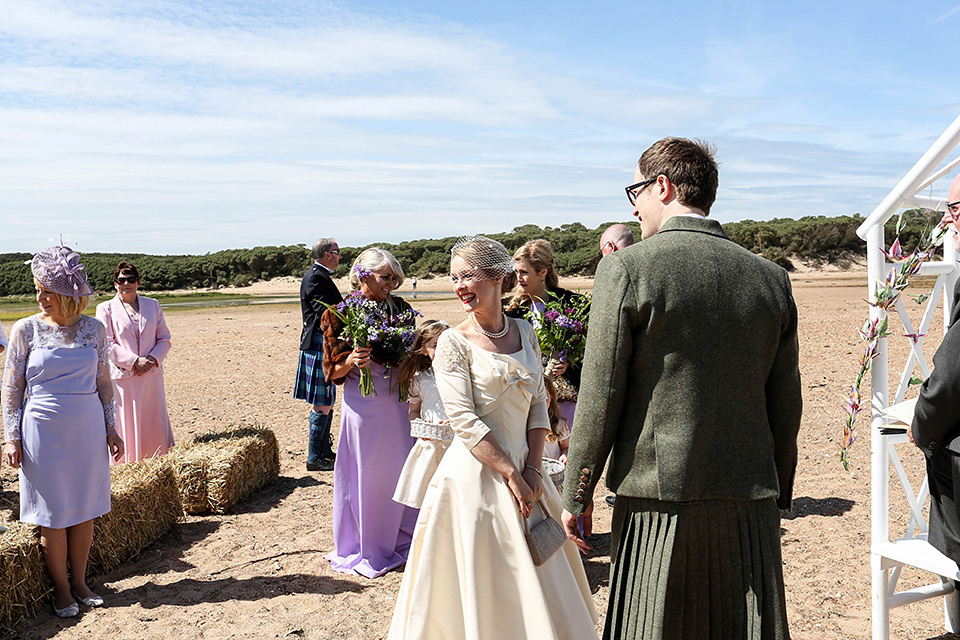 "We had three readings; flower girl Erin read an extract from 'I Like You' by Sandol Stoddard, Christian's mum Toni read 'I'll be there for you' by Louise Cuddon and Christian's sisters read 'Us Two' from Now We Are Six by A. A. Milne. We chose these because of their sentiments and felt they fitted with the relaxed feel of the day."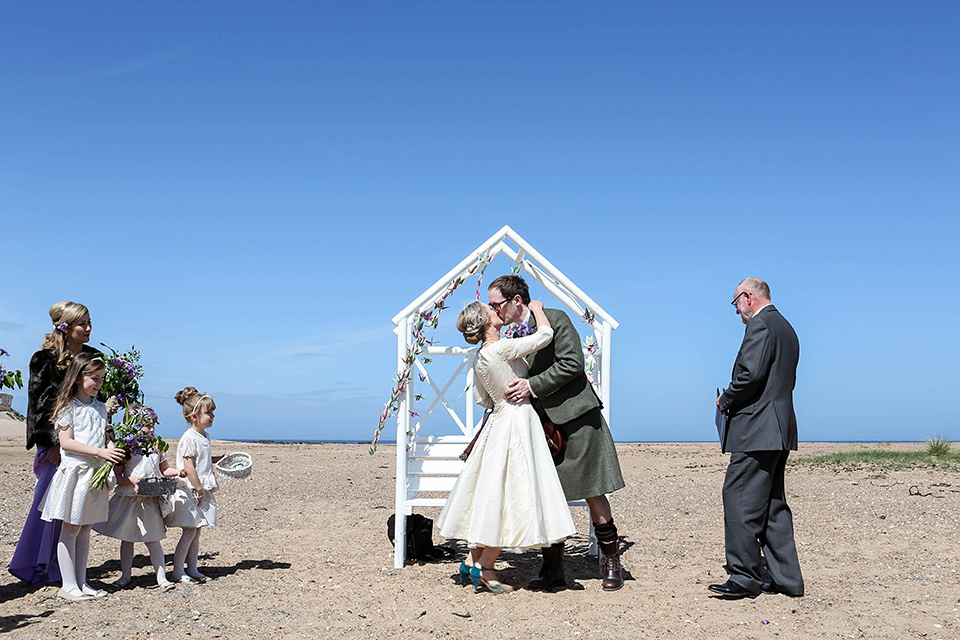 "Our day was perfect in every way and surpassed our expectations. It's really difficult to pick one favourite part but the ceremony was so personal and the setting was just stunning, the sun was shining and all our family and friends were there."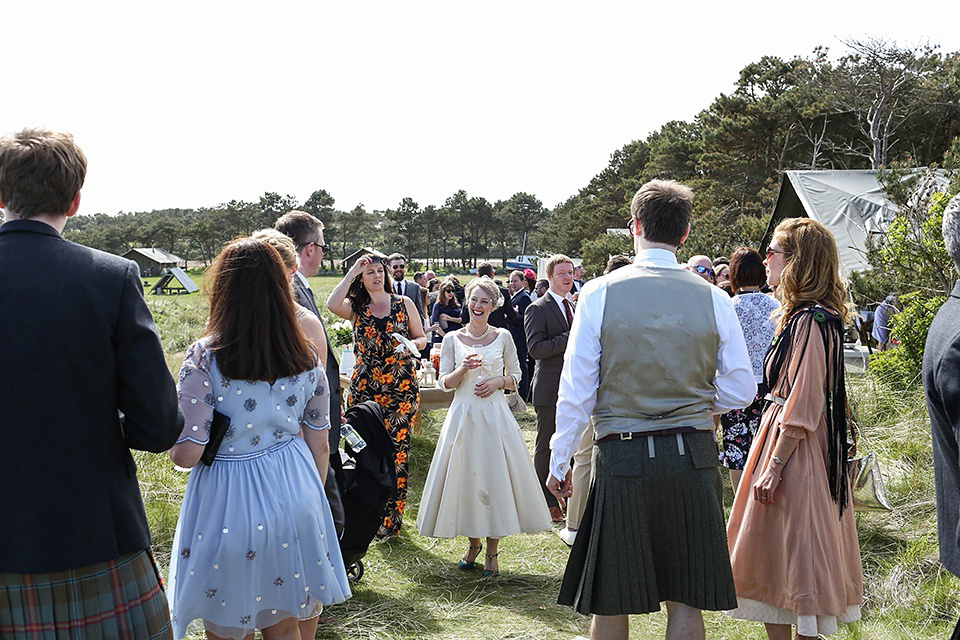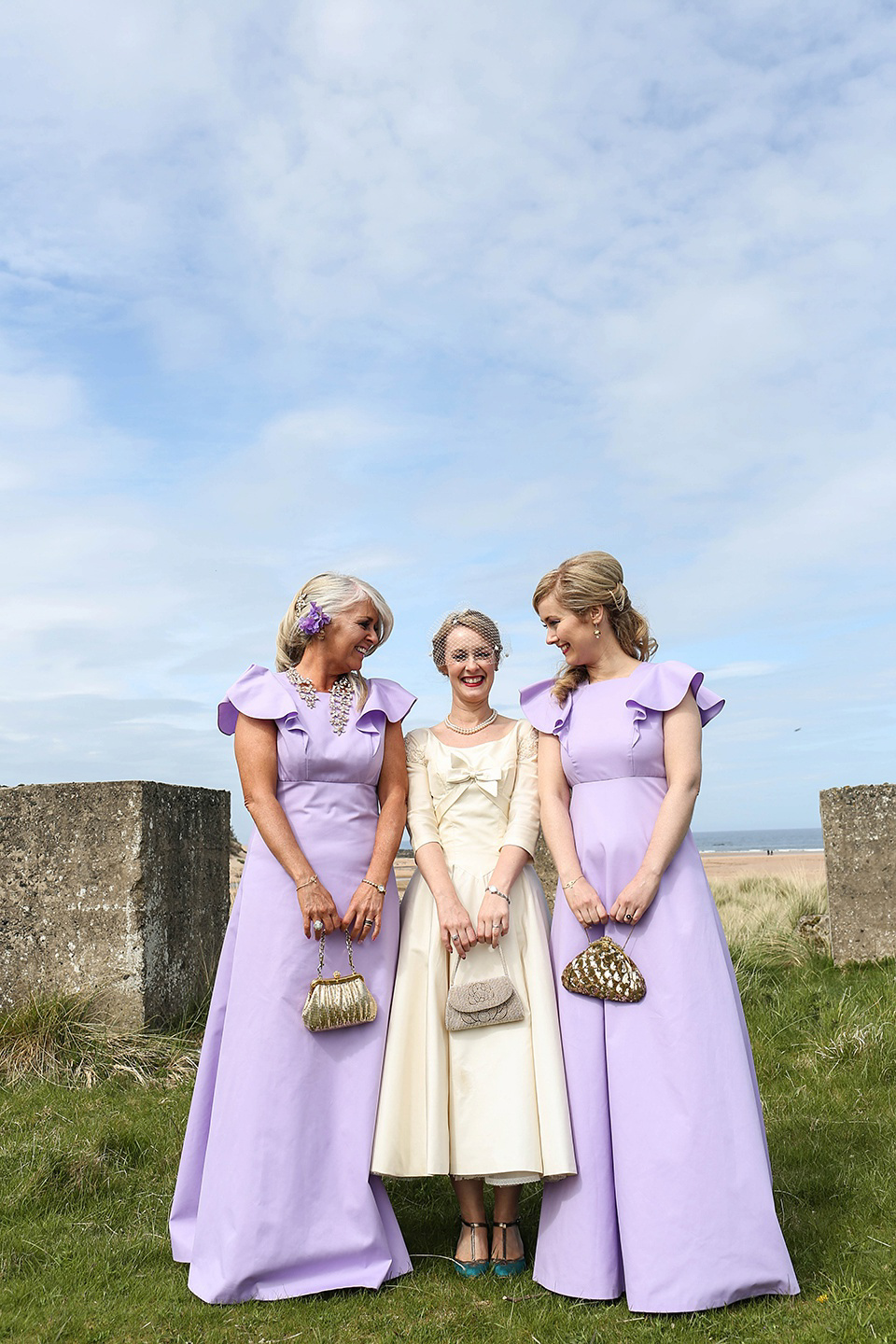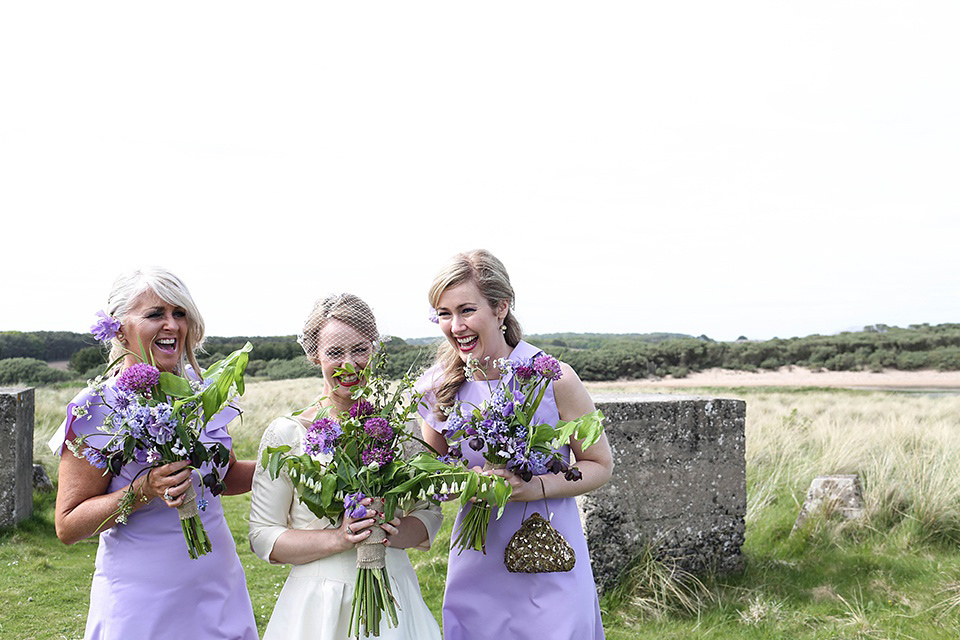 "Christian's bespoke Kilt suit was from 21st Century Kilts in Edinburgh. Howie is into numerology and the button stitching on the cuff represents our wedding day with 5 button holes and two with lilac thread for the 23/5. I made the bow ties from the excess material from the bridesmaid's dresses."
The couple enlisted the services of Lisa and Nicola of Icon Photography Studios to photograph their day and were thrilled with the results. I love the playful nature of the portraits shining through.
"Lisa and Nicola were amazing, they really made us feel at ease, especially since Christian isn't really into getting his photo taken, but they made it so much fun. They really captured the essence of the day, and had loads of really interesting ideas. We are so pleased with the photos."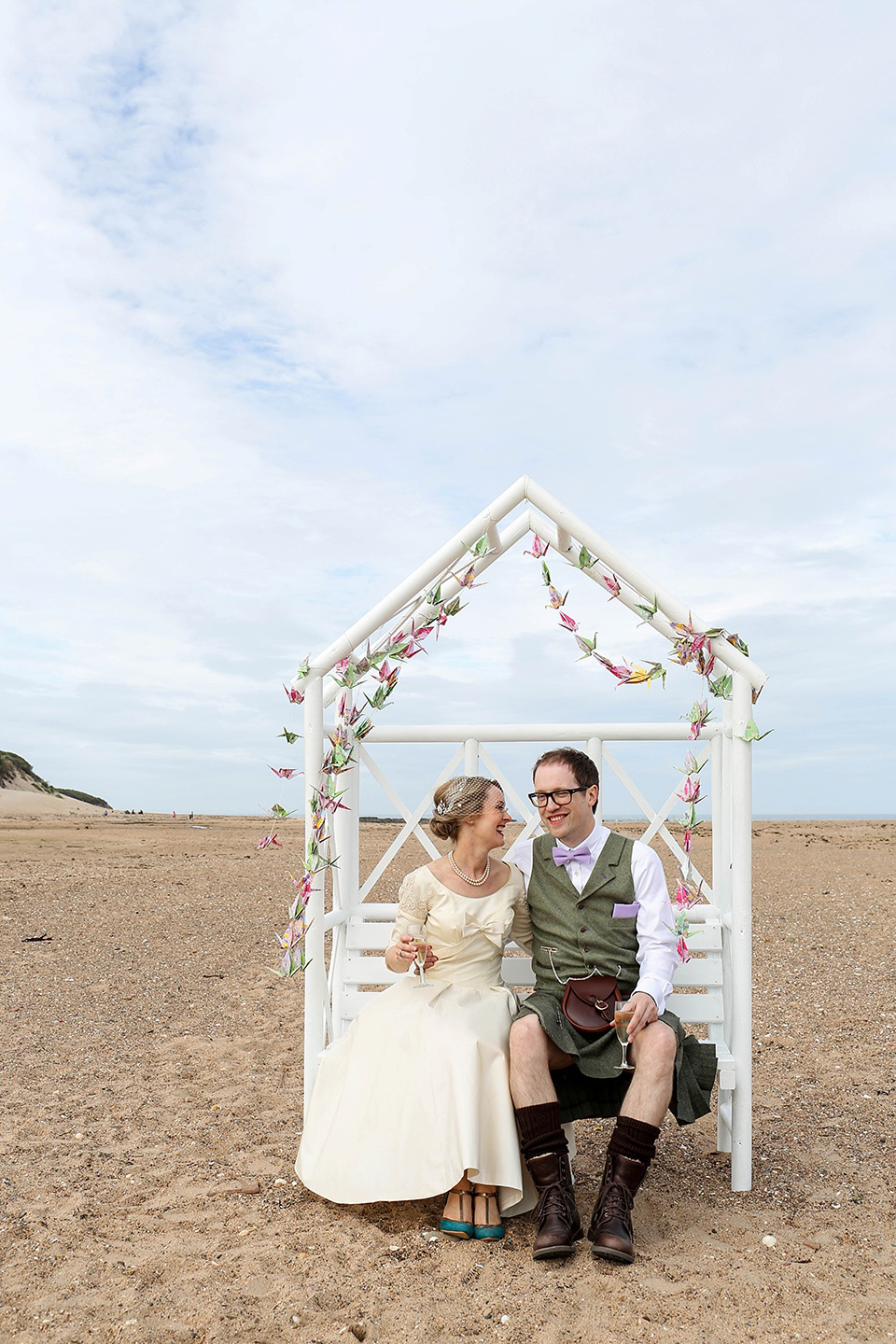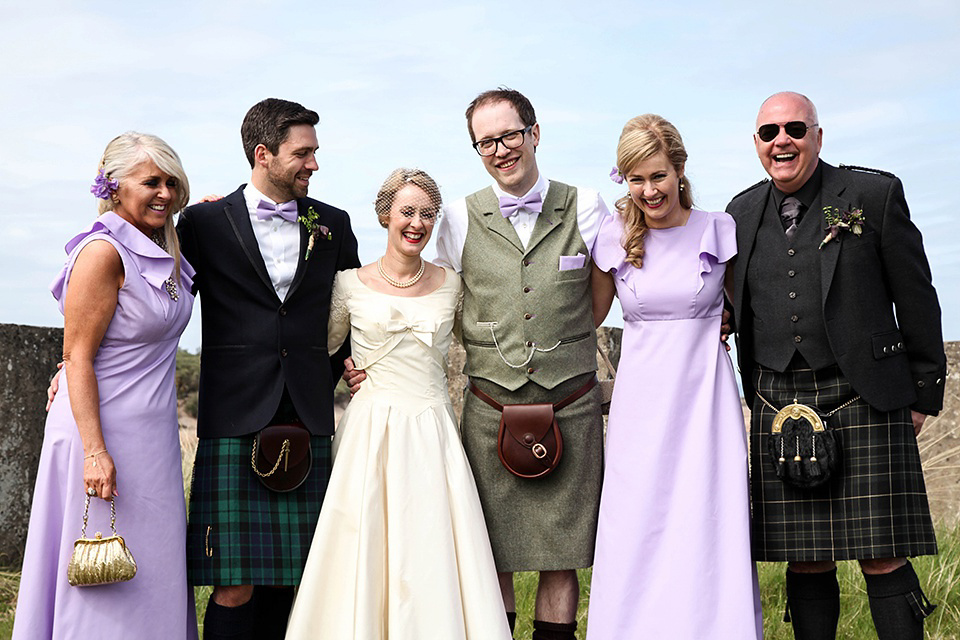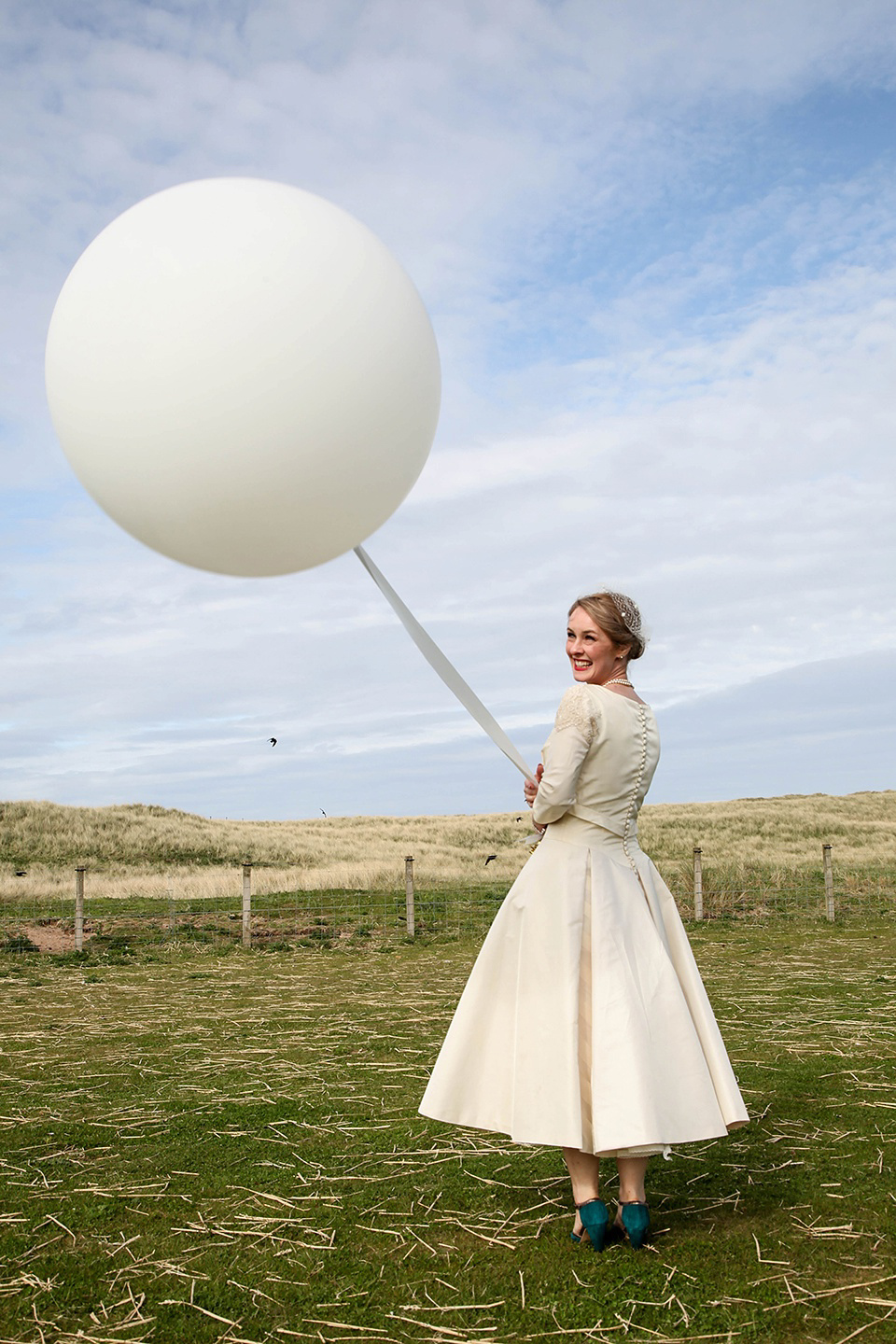 Claire was able to rely on a whole host of creative family and friends to bring her vision to life. Everyone collected cans and glass jars for a year and some very patient friends helped to fold 1,000 paper cranes. Her sisters made bunting, sourced balloons and props, and then the day before the wedding a generous group of family and friends helped to set up the tipi.
"We designed all of the stationary ourselves and created a wedding website with wedding info and RSVPs.  We used brown kraft paper, twine and stripy blue/white bags to fit with the beach theme."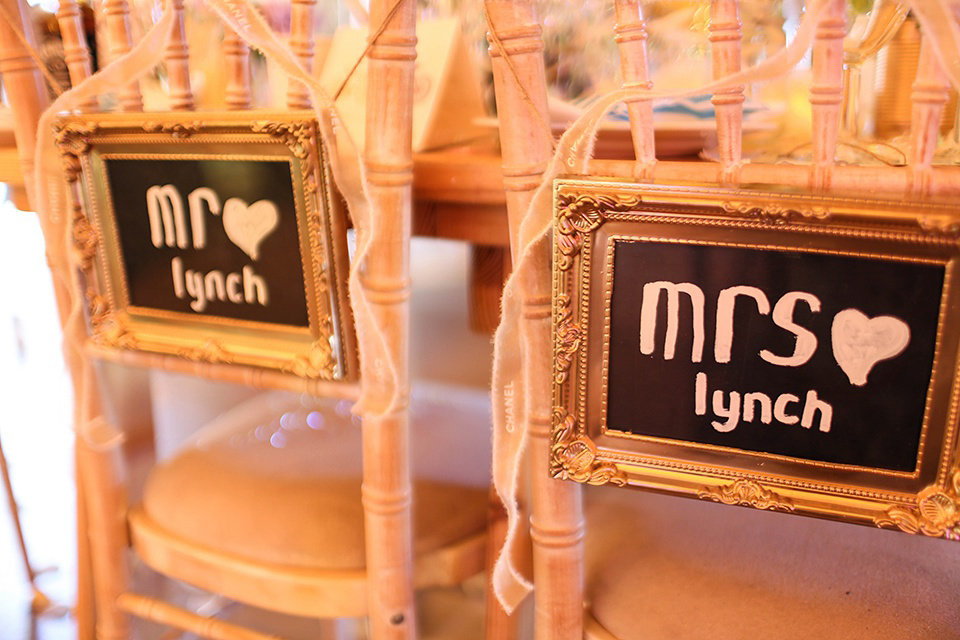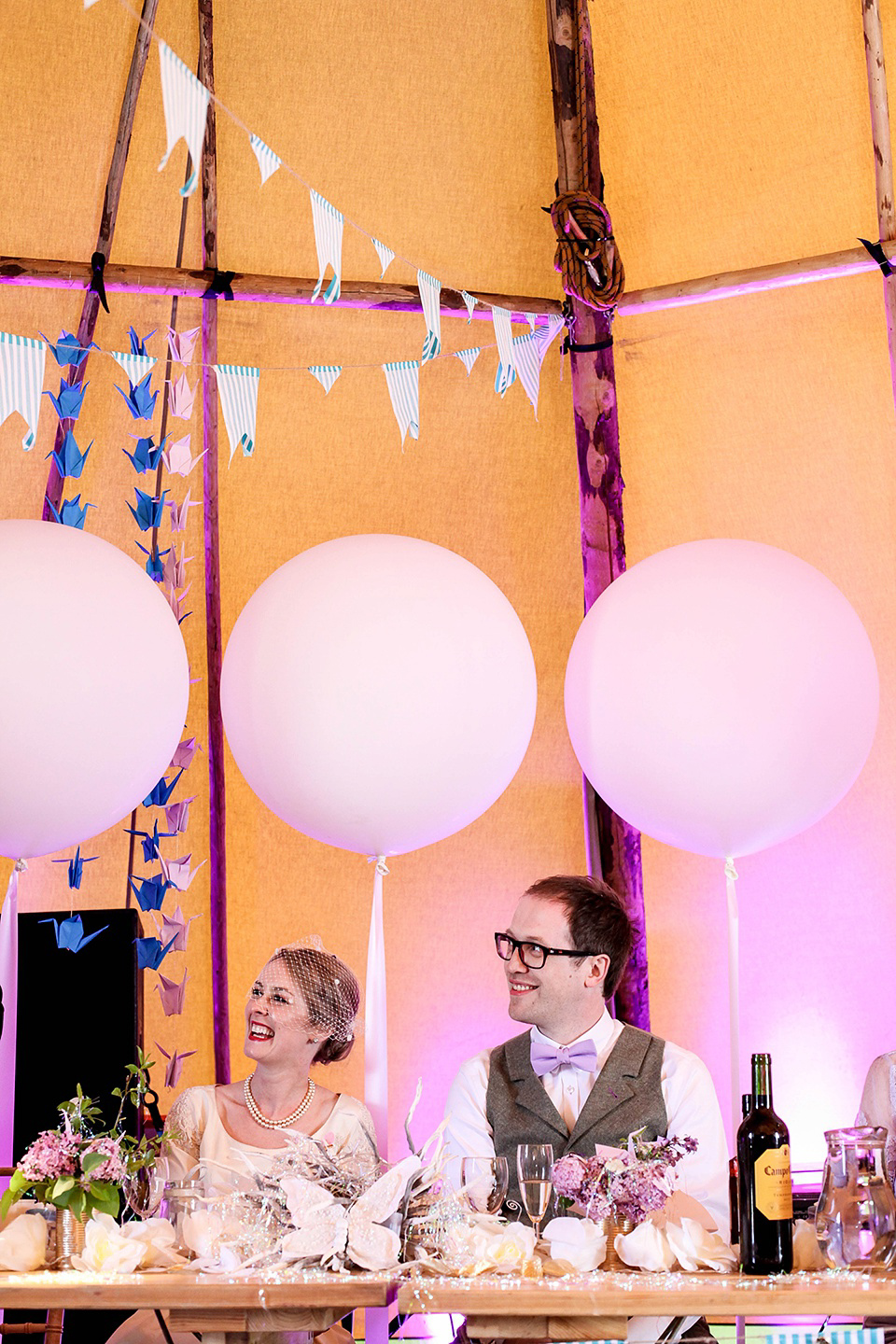 "We met Carol Fitzgerald from Lazy Sunday at a Wedding open day and we immediately felt her sense of warmth and real love for food.  At the wedding, the Lazy Sunday team, led by Kasia, were amazing. The food and styling were outstanding. My brother-in-law, Davie arranged beer kegs and we provided Pimm's and after dinner liqueurs in crystal decanters."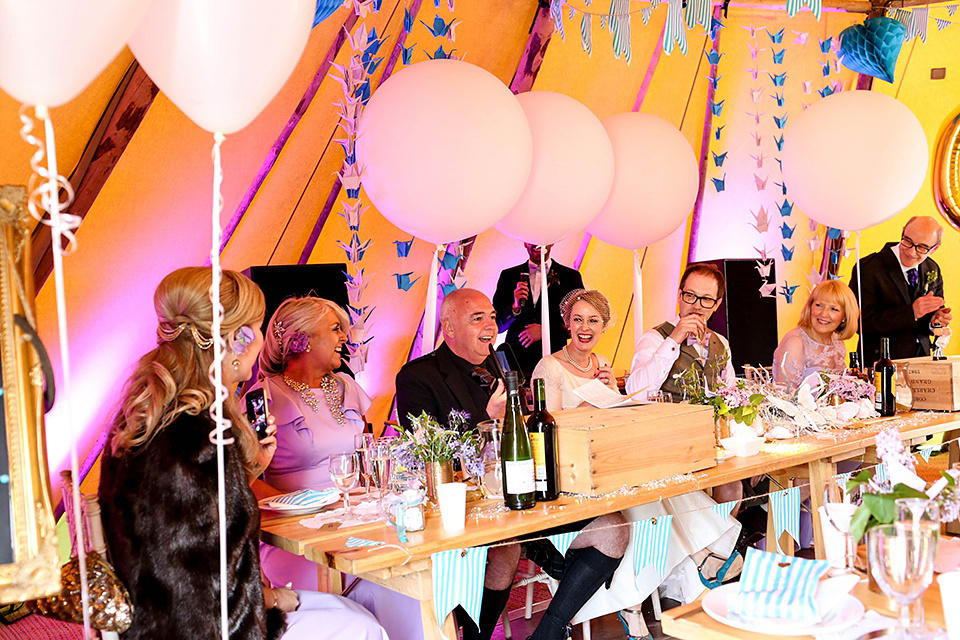 "My wonderfully talented friend Lynne Gillen made our absolutely delicious lemon sponge wedding cake. We matched the cake to my shoes and used some left over lace from my dress to decorate it. I froze the top layer and it was just as delicious when we returned home from honeymoon."
Words of Wedded Wisdom
"Get organised, create a spreadsheet and collate ideas on Pinterest.  I discovered that I have really creative family and friends who were willing to help us out and we really couldn't have achieved half of the things we managed to do if wasn't for their help. Remember to stop for moment on the day and enjoy it and take a moment for yourselves, you get swept along in the busyness of the day.
Also, we didn't spend the night before the wedding apart and it was lovely to wake up really excited with Christian and exchange gifts."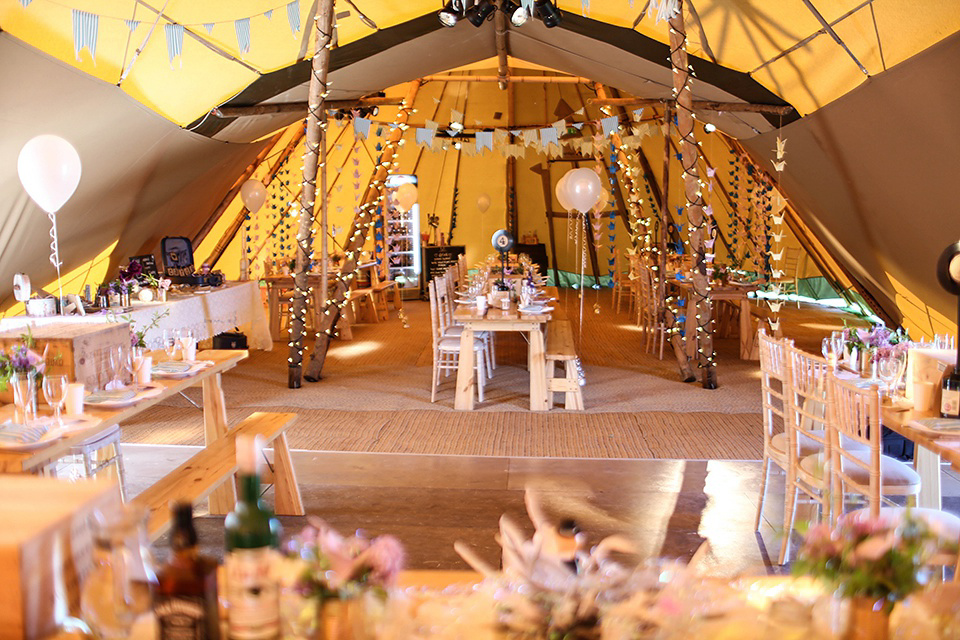 Thank you so much to Claire and Christian for allowing us to share their special day. Thanks also to Lisa and Nicola for the stunning images. More of their work can be seen here.
Love Caoimhe xx
Photographer – Icon Photography Studios
Venue – Harvest Moon Holidays, Lochhouses Farm, East Lothian
Wedding Dress – Original vintage via Preloved with alterations by Made by Madara
Headpiece – Glitzy Secrets
Shoes – Seychelles
Accessories – Herman Brown + Etsy
Bride's Scent/perfume – Bon Bon by Viktor and Rolf
Groom – 21st Century Kilts
Bridesmaids – Made by Madara Dresses + Steve Madden + Topshop Shoes + Vivienne Westwood Bracelet
Flowergirls – Monsoon
Groomsmen – Geoffrey the Tailor
Florist – Millpond Flower Farm
Cake – Lynne Gillen (no website)
Entertainment – Brian Molley, Jazz Musician
Rings – Addy's + Bejouled
Catering – Lazy Sunday
Hair Stylist – Ayumi from Renfield's, Glasgow
Nail Artist – Ania Nails