Good morning beautiful people.  My team and I are working so very hard this morning on the final tweaks to our beautiful new supplier resource, Little Book For Brides, that we're launching this afternoon. As is usual however, I'm sharing an absolutely gorgeous real wedding to kick start our week – and this is one I'm pretty sure you're going to adore as much as I do.
Sarah, who has since her wedding rediscovered a love for paper products, Photoshop and Illustrator and is now looking into her own venture in the wedding industry, married Dan, who runs his own health and wellbeing business on 15th July this year at Deer Park Country House Hotel. Sarah beautifully interweaved her Iranian heritage throughout the day – the details captured in these images is just sublime. The couple commissioned one of my personal favourite British photographers, Jon of S6 Photography to document their Iranian and English country wedding inspired celebration.
"When we got engaged, we talked about having a very small wedding with very close family and friends, in a picnic style. This way we could save money.  However, this didn't go down well with our mothers! So we started to plan a 'proper wedding'. Me being Iranian and Dan being English, we had to decide which tradition to follow. Traditional Iranian weddings are big with many aspects we could have drawn influence from, but to keep it simple, we just picked the best parts, including a 'Unity Spread', the 'Grinding of Sugar', the 'honey' and a few other key cultural elements." 
Photography by S6 Photography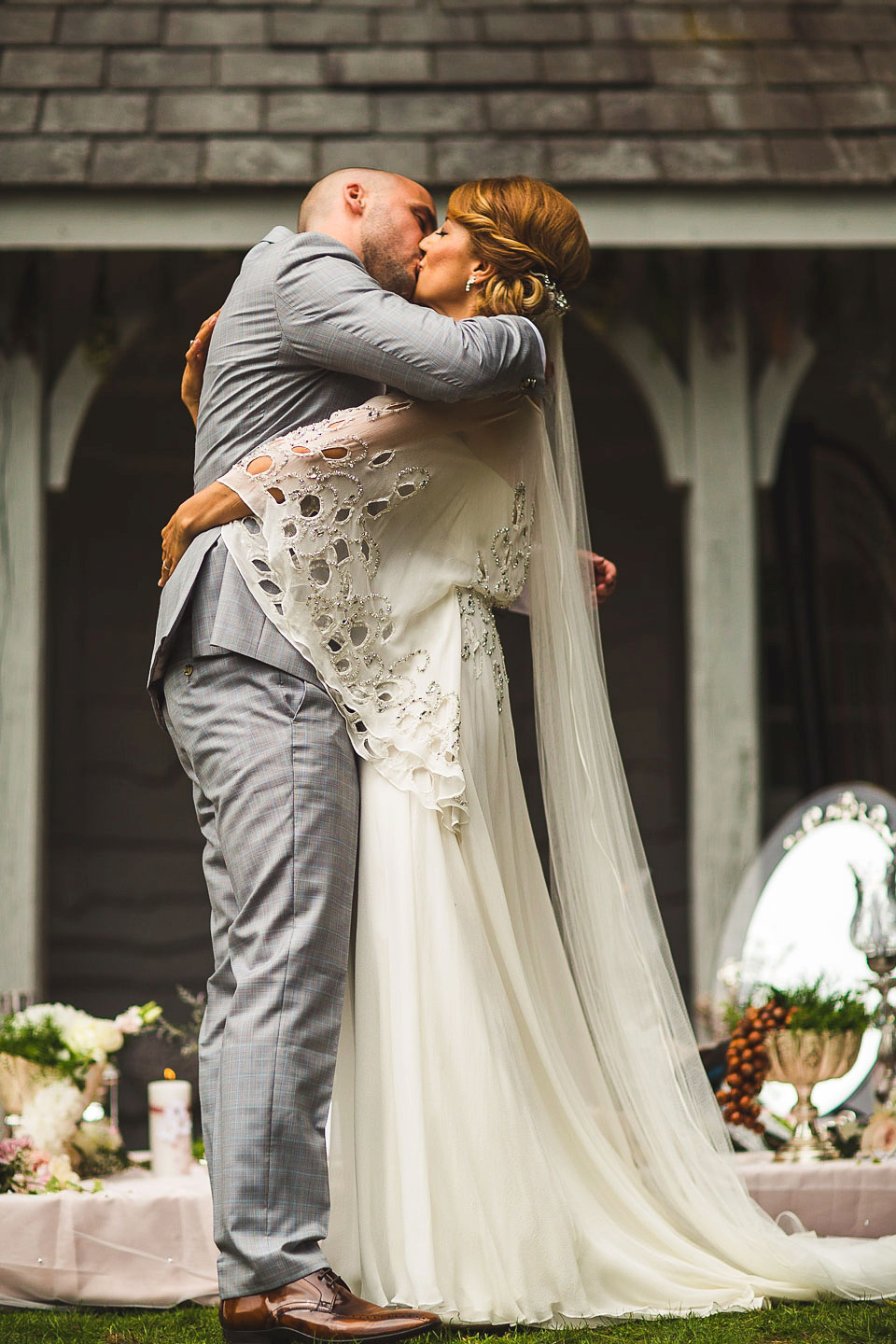 "We were also inspired by the notion of an elegant English country wedding. We went for a 2pm ceremony, wrote and read our own vows, had 5pm sit down wedding breakfast. In Iran, the wedding starts at around 5pm and there's always a huge buffet style dinner at around 9pm). It was a new experience for all of our Iranian guests which they thoroughly enjoyed."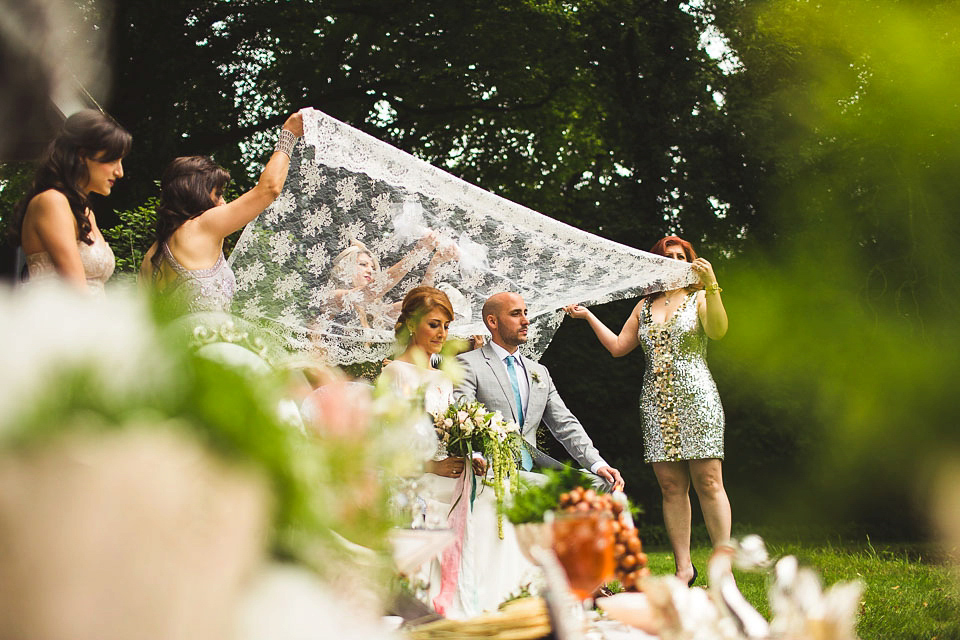 "I wanted to draw on subtle 1920's influences – we chose a jazz band for instance, and I incorporated some feathers and pearls into the decorations. As this was going to be a summer wedding, we also wanted bright colours mixed with the deco inspired shades of gold and black. Most of all, we wanted it all to look natural, so we chose flowers to look as if they were picked from the grounds and Gemma of Poppy's of Exeter  did an amazing job of blending them in."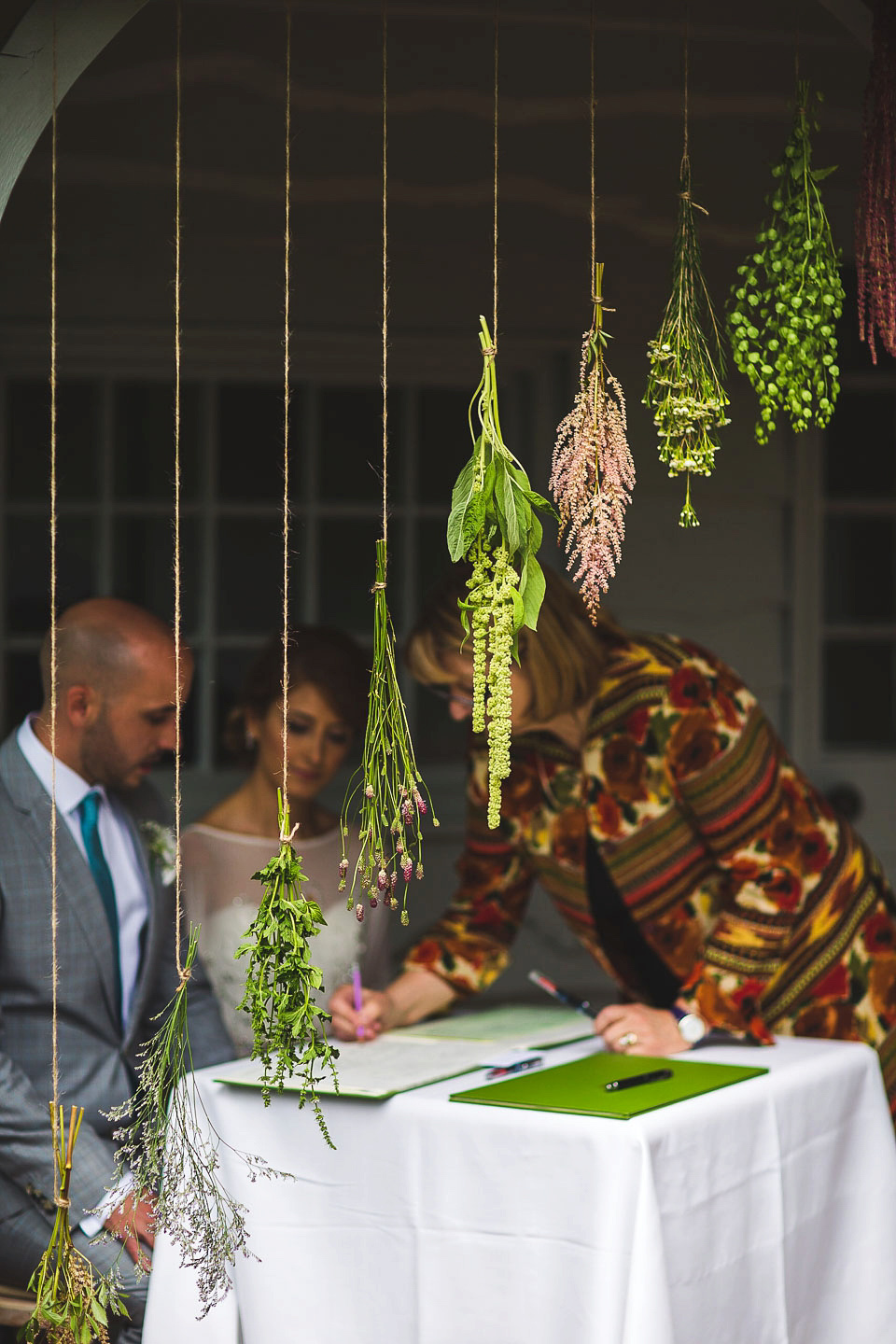 "The best part of the preparation was the cake tasting! Lovely Claire Arscott from Claire Makes Cakes invited us to her charming home near Honiton and we had a selection of delicious cakes which we really struggle to choose between. So we ended up with 4 flavours, Red Velvet sponge with 'vanilla bean buttercream filling', 'double chocolate ganache sponge', 'lemon sponge' and 'carrot and orange sponge'.
My lovely Mum and sister helped me to decorate our cake table's backdrop with hanging glitter dipped feathers."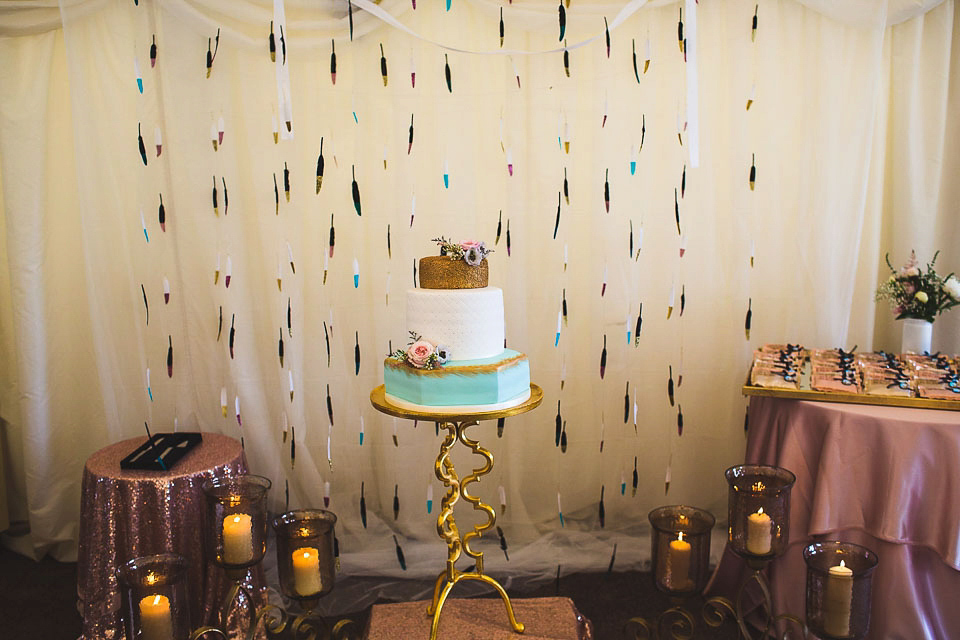 "Dan is from Devon and all of his family live there. I have always loved the country side, so when I met Dan and he told me he was a Devonshire boy, I was like 'Yay! Free holidays to beautiful places!'.  So he started showing me around and my love for Devon grew more and more. We got engaged in Devon, so another excuse to get married there too. So our venue hunt began as soon as we got engaged.
We started to look around and went to visit a few of the venues on our list in Devon. Deer Park Country House Hotel was the second place we visited. As soon as we drove down the little country lane, something clicked!
We had both our mums and my sister with us too. As we were shown all the grounds, the beautiful Italian garden, the little vegetable patch were they produce some of the ingredients for their amazing food, the wood fired pizza oven at the end of the garden and so on, we just fell in love with it. We could just see us with all of our family having an amazing time there!"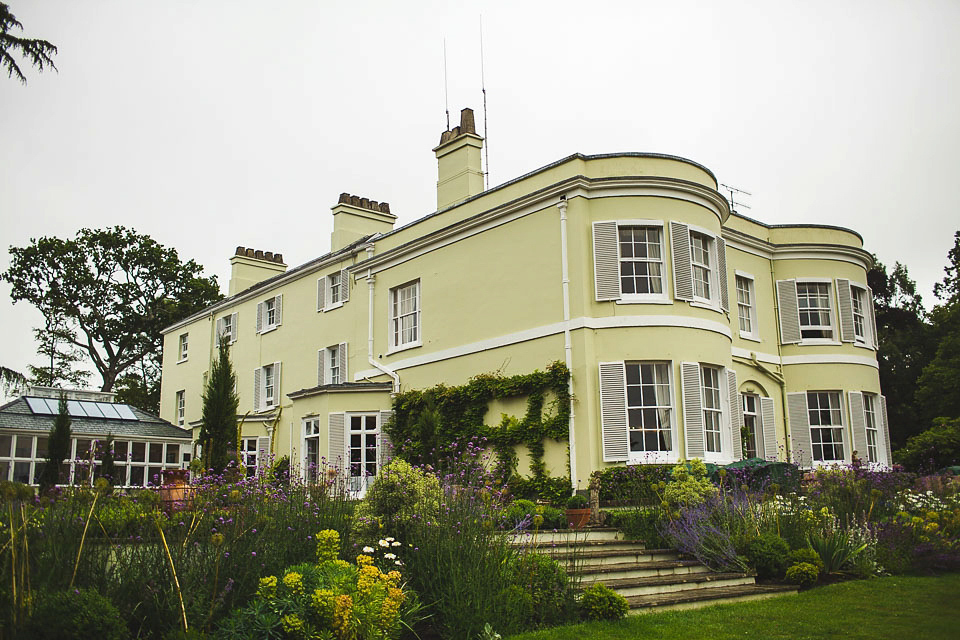 "However, it wasn't as straight forward as one would hope! As most of my family live in Iran and abroad, we had to take into consideration all the traveling, accommodation, etc. for everyone, and that was not an easy decision to make.
On our Whiteboard (an essential tool for the planning!), we went from Devon to Turkey, to Iran and back to Turkey, then London and finally ended up back in Devon. We even went to Turkey (Oludeniz) to check out some venues, but the best thing came from it was the awesome holiday. Finally, we decided to visit Deer Park once more. Sophie who takes care of weddings at Deer Park is totally amazing! I just knew that I could trust her and that we can have what we wanted. They were so accommodating and patient!"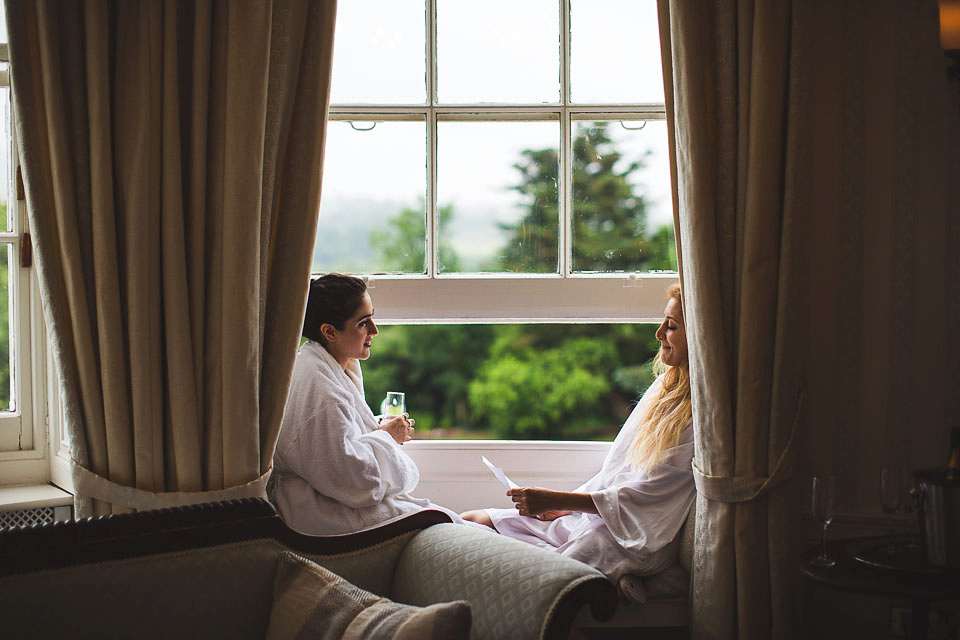 "I think the moment we found out that our honeymoon suite is going to be a tree house which was being built on the grounds, we made the decision there and then! This venue fitted in perfectly with what we had in our mind and how we wanted the day to look and feel like."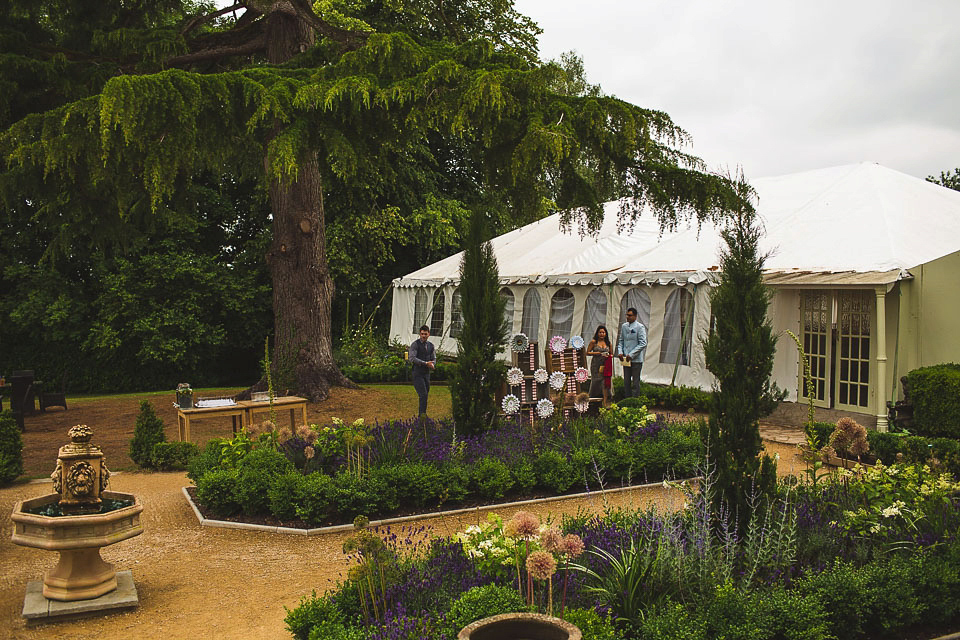 "I had a whole year to plan our wedding, so I did it myself. However, I wish we had hired a wedding coordinator for the day only!" (Readers, check our beautiful new supplier resource Little Book For Brides launching this afternoon to find an on-the-day wedding planner and co-ordinator for your wedding)."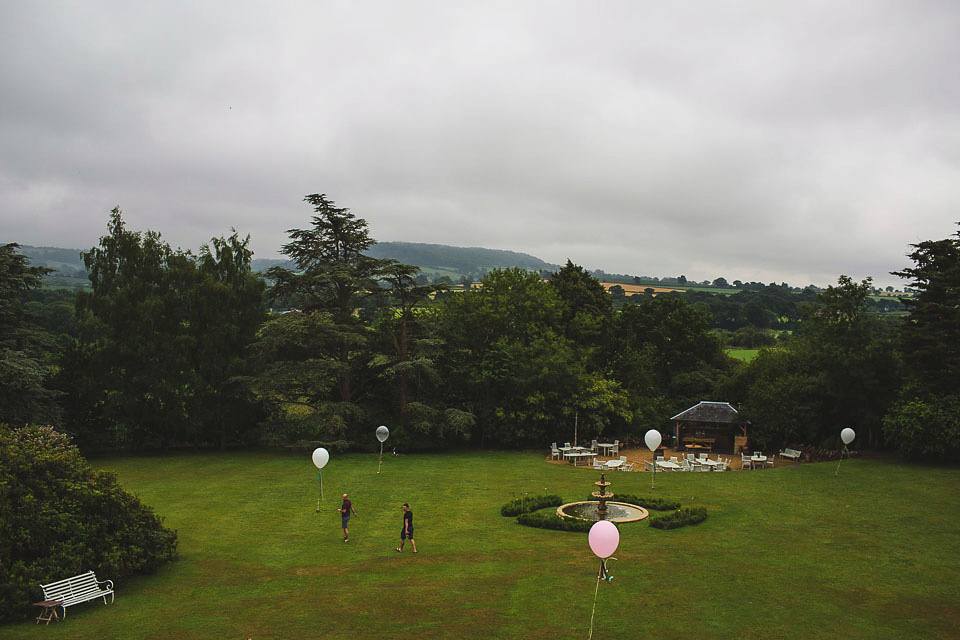 "I have been wearing Chance by Chanel for a few years now. It's my 'going out' perfume and I just Love it. The smell brings back many beautiful memories and I wanted to add the wedding day to that collection too."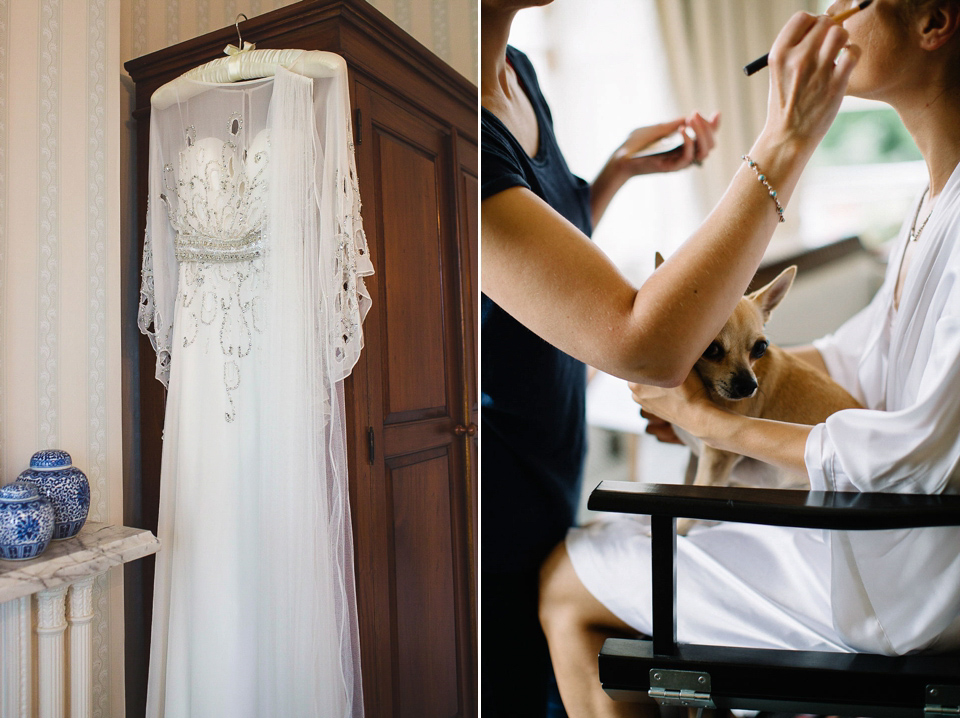 "Louise Alway looked after my hair. We had a trial a few months back and she produced exactly what I had in mind. My Makeup Artist Claire Bowring was another extremely patient part of the team. I was so anxious in the morning of our wedding as the rain would just not stop and she was constantly trying to keep me calm."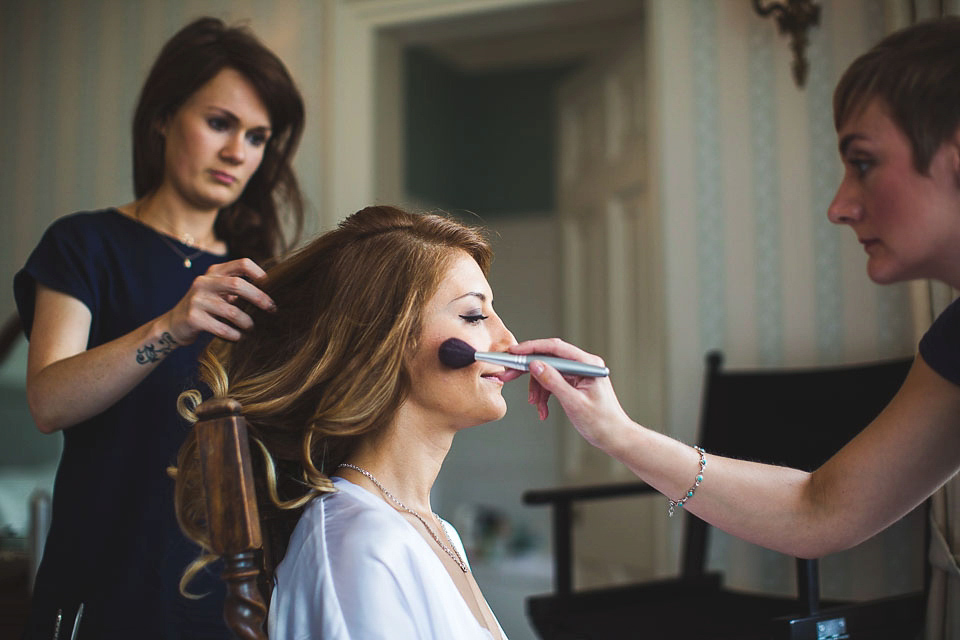 "On my wedding trial, I had ask her for a very different look which she achieved perfectly, however, after some thoughts, I decided to go for something different, so I emailed her and she gave me some suggestions and I totally trusted her with it and I'm so glad I did."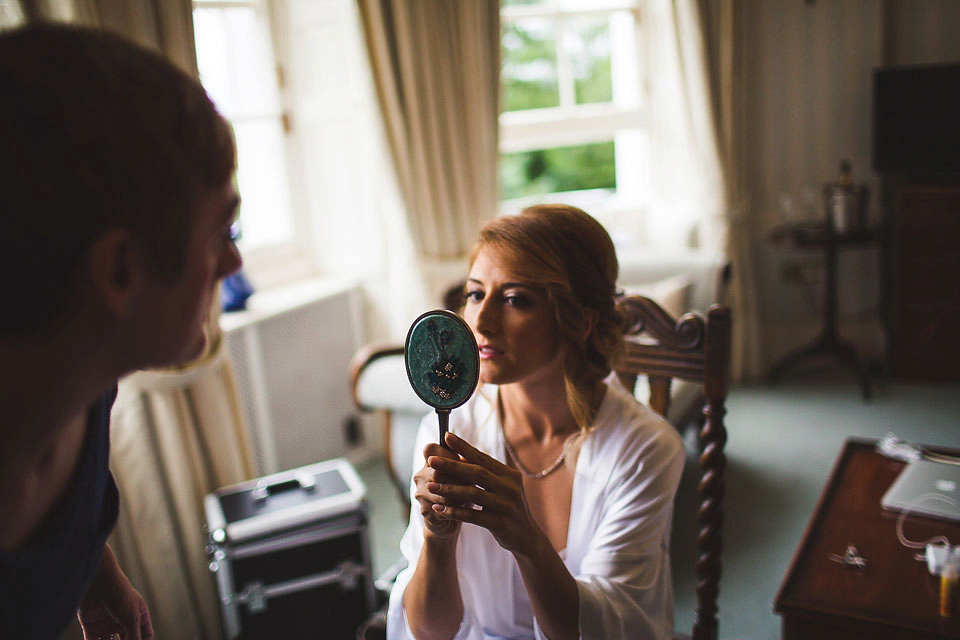 "Dan and I met at our local gym! He was a trainer and I was a member. I took part in one of his spinning classes. I was due to travel to Iran for a few months and was adamant to get into shape. Our eyes caught during that class. I'm still not sure what it was that attracted him to me! I looked very sweaty, my hair was all over my face and I really don't think I look my best when I'm doing 120 RPM on a spinning bike!
After the class, we exchanged numbers to arrange a session where he gave me a program to follow. He drew stickman on the card to explain the exercises.Having a design degree, I found it super cute and my heart exploded a little bit.  After a few coffee dates and a few games of squash, he finally asked me on a proper date and we ended up in London Zoo! It was fun."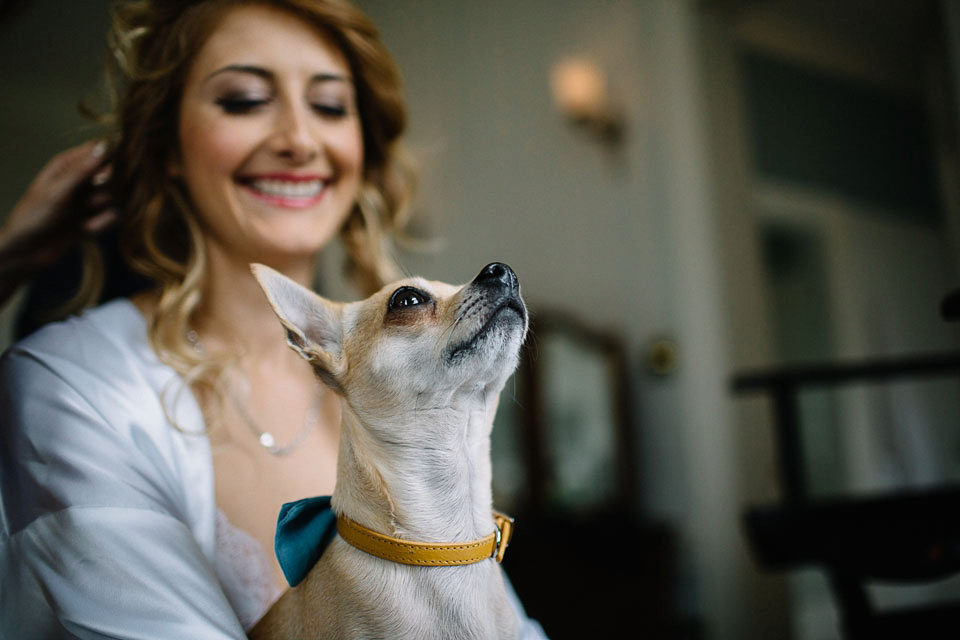 "We got engaged on 28th February 2013 which is his birthday! So it was a total surprise. We had talked about marriage and I knew that he was going to propose towards the end of that year. But definitely not as early as he did.  
The year before, we visited Brentor Church in Devon which is a very old building on top of a hill and all you can see is fields for miles and miles in every direction! I absolutely love this place. So on his birthday, we went to Devon to spend his birthday with his mum, little I knew that they had been planning the proposal."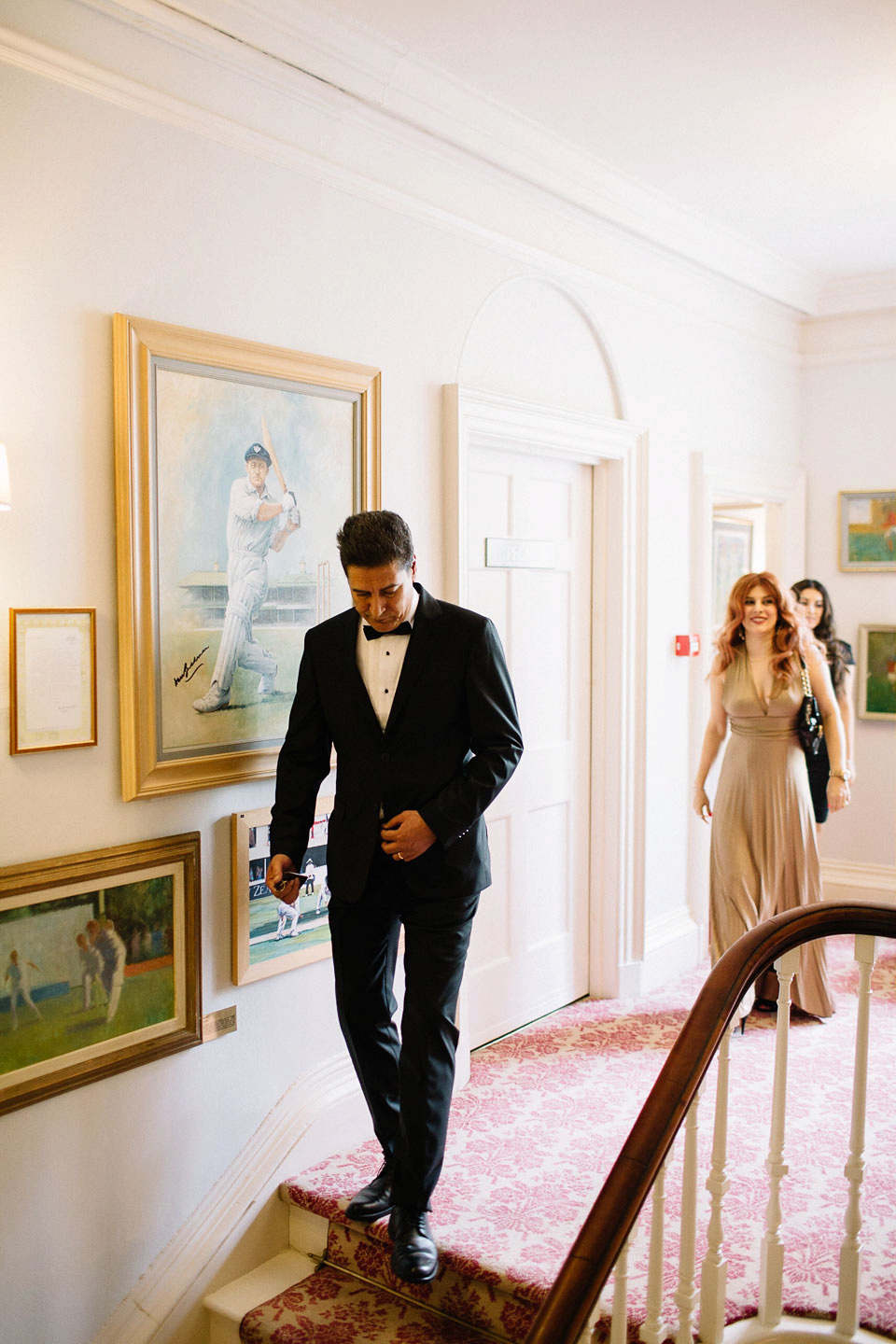 "After a lovely day out on his birthday, he insisted to go to Brentor despite the Satnav letting us down as it's literally in the middle of nowhere! But we made it at the end, and despite the strong wind, he got us on top of the hill (it's very unlike him), went down on one knee, I said yes, he rushed back down the hill and as a result, he landed on his backside which was the funniest thing ever! I was reluctant to get the mud off his jeans for days as it made me laugh so much. We had some champagne waiting for us back at his mum's and she gave me a beautiful picture of the Brentor Church, which she had got printed on a canvas for us! This explains why Dan was adamant to propose at that location!
We were engaged for sixteen months before we got married on 15th July 2015."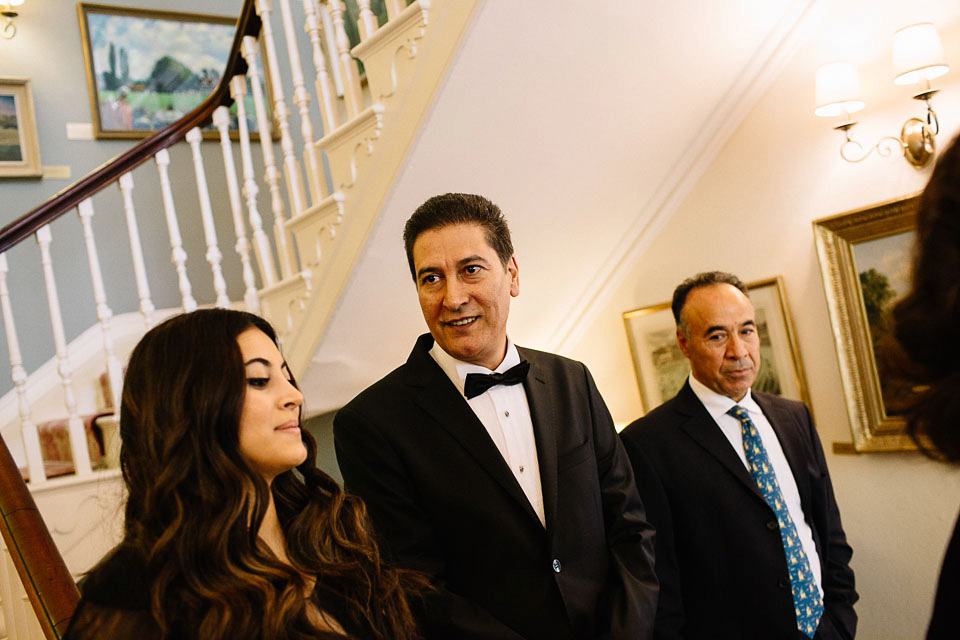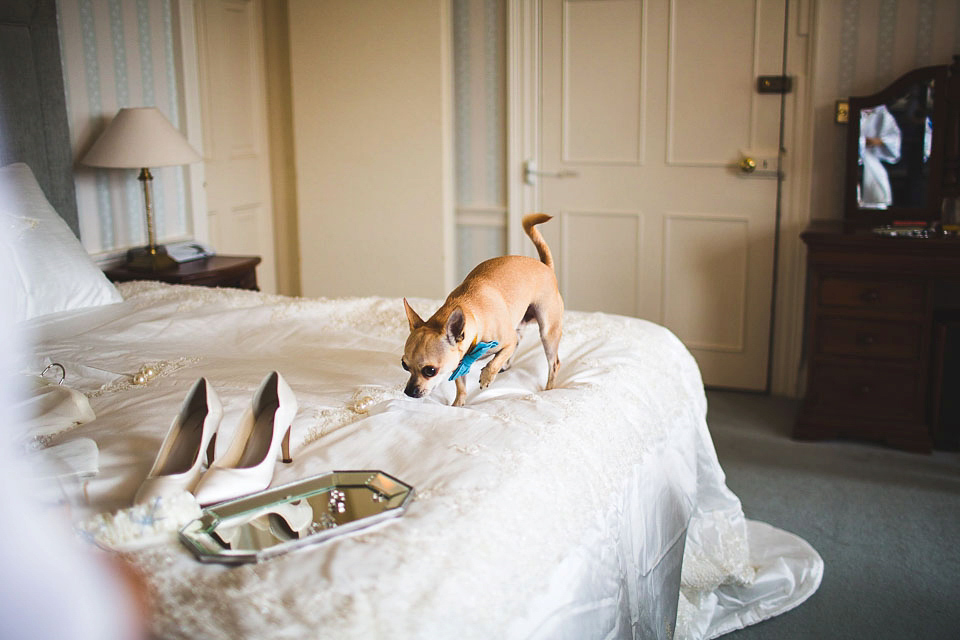 "My dress was 'Marlena' from a collection called 'Around the World' by Anoushka G, bought from BOA Boutique in Richmond, London. I chose it as I wanted to be able to move around, so wanted something romantic, light and flowy! It was so comfortable. I tried so many different style dresses which were each beautiful in their own way, but they also made me feel like a coat hanger as they were either too fitted or too big, and I had to stand up right the whole time. And that wasn't going to happen!
I also wanted to be able to give my guests a tight hug! A big dress would take that away from me.  I think I had the perfect dress for me."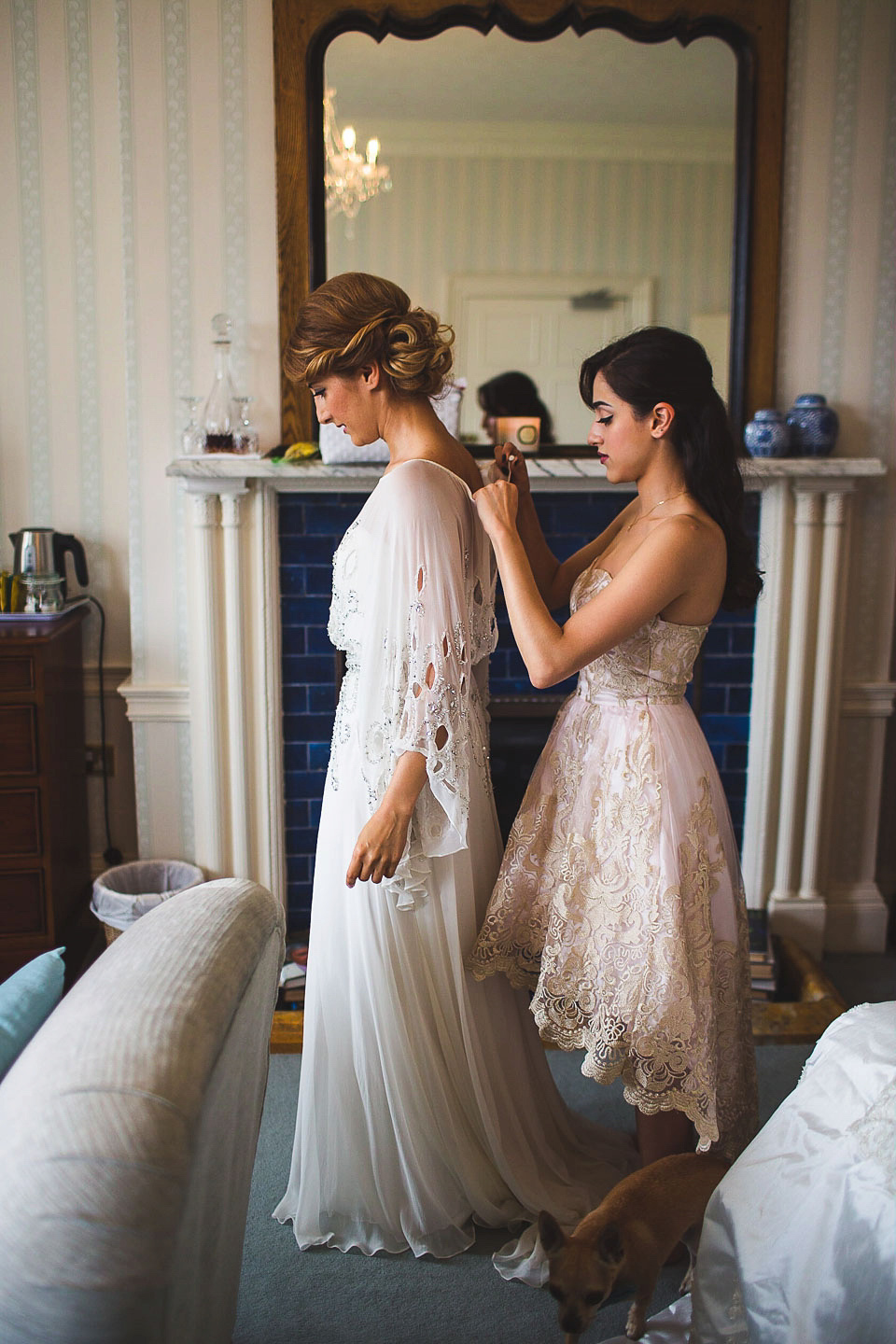 "I didn't need to wear many accessories as my dress had lots of detailed embroidery. So I ditched the necklace and the bracelet and just went for a pair of earrings from Swarovski's."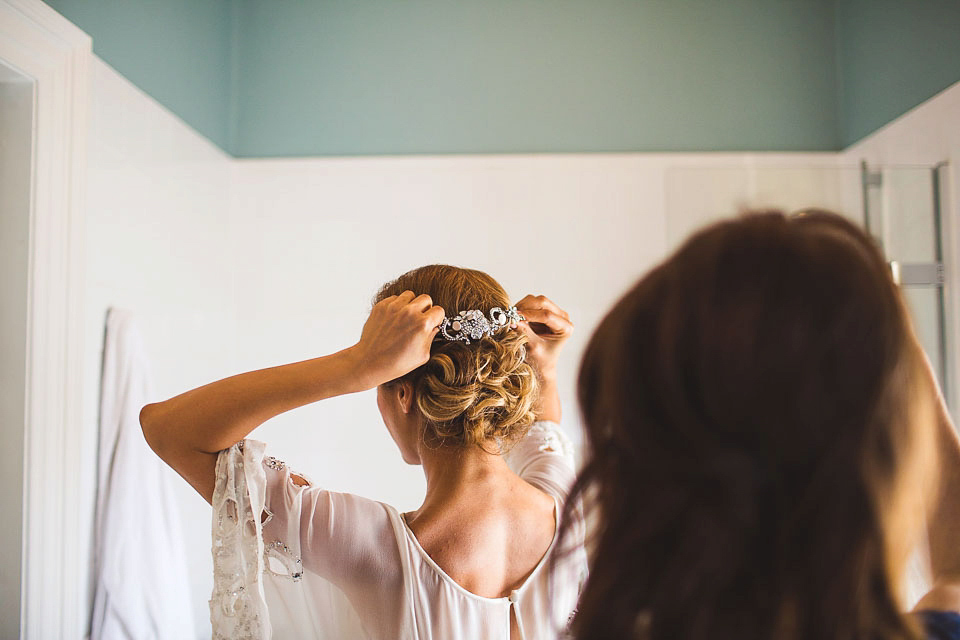 "Dan wore a Hugo Boss Suit bought from Savoy Taylors Guild. It was the quickest wedding purchase ever. I knew he wouldn't feel comfortable in a black tux on a summers day, so we decided to go for lighter colours. We spotted his suit which was made out of an extremely light fabric, just perfect for Dan. His shoes were by Jasper Conran and his shir was from Thomas Pink."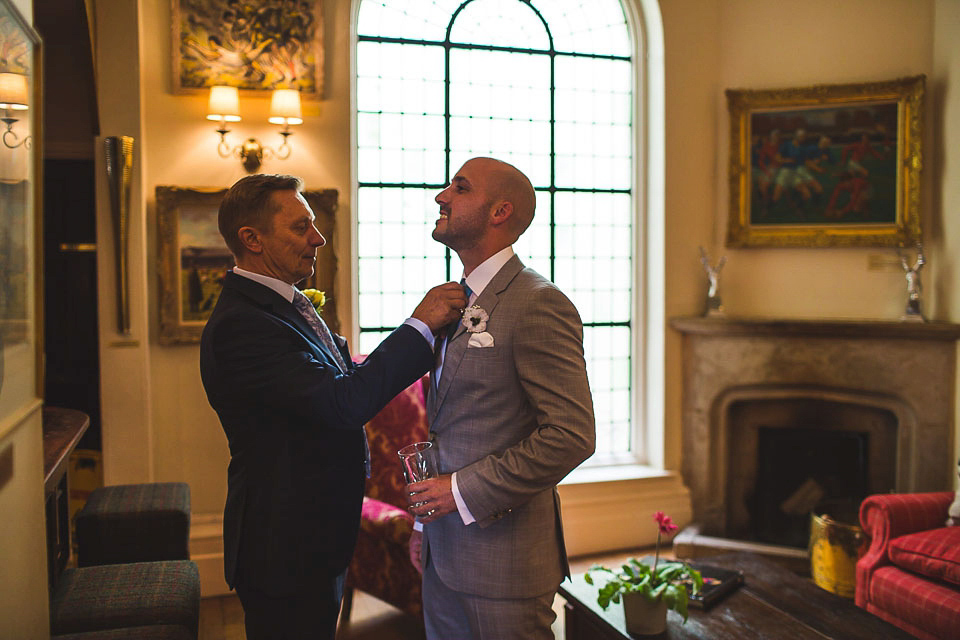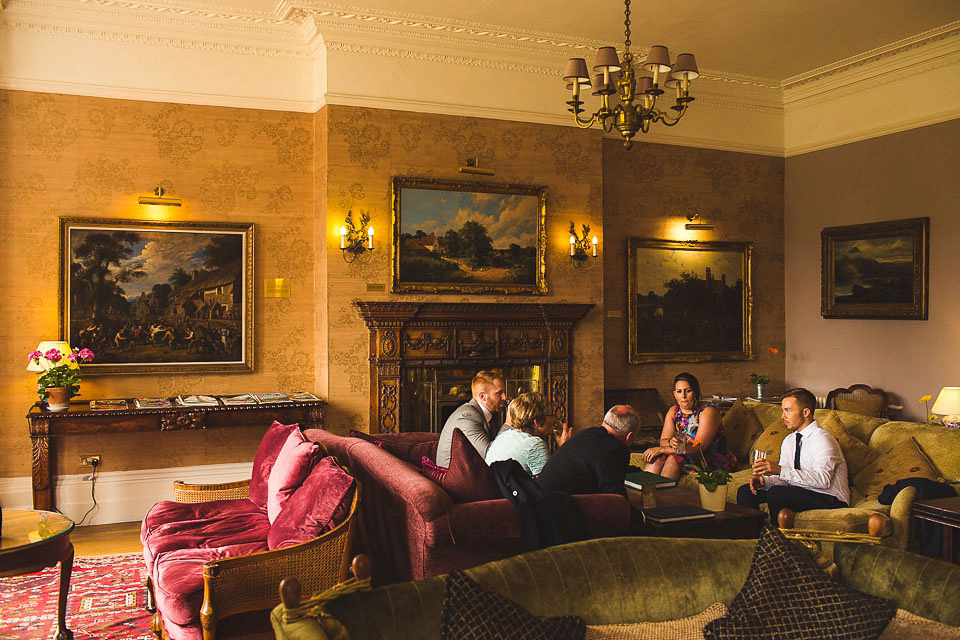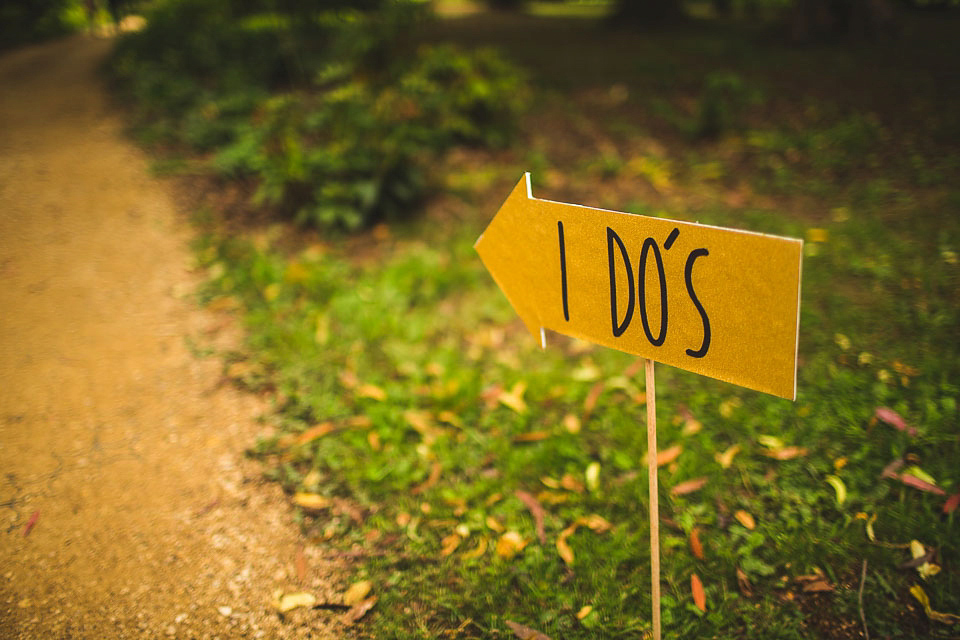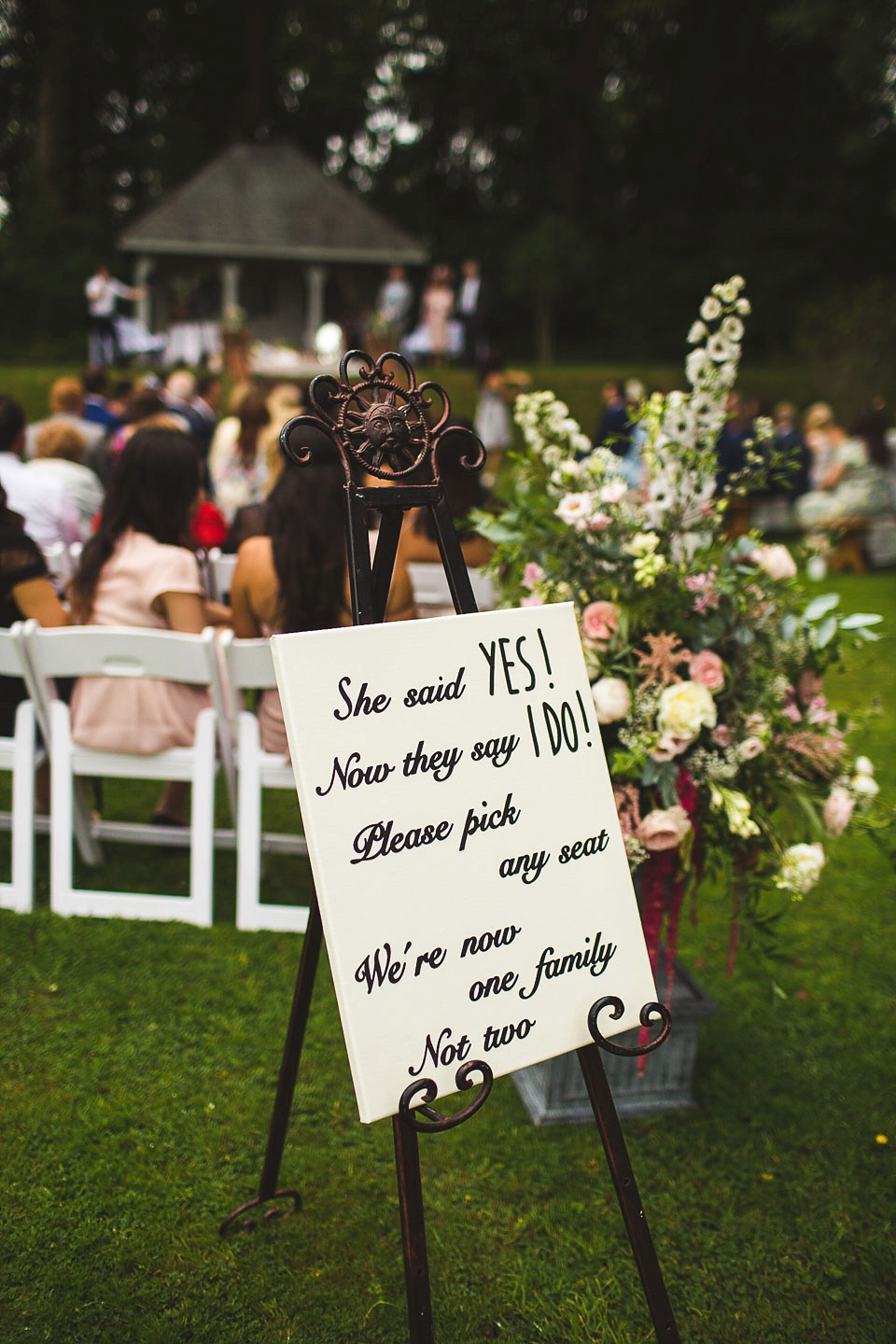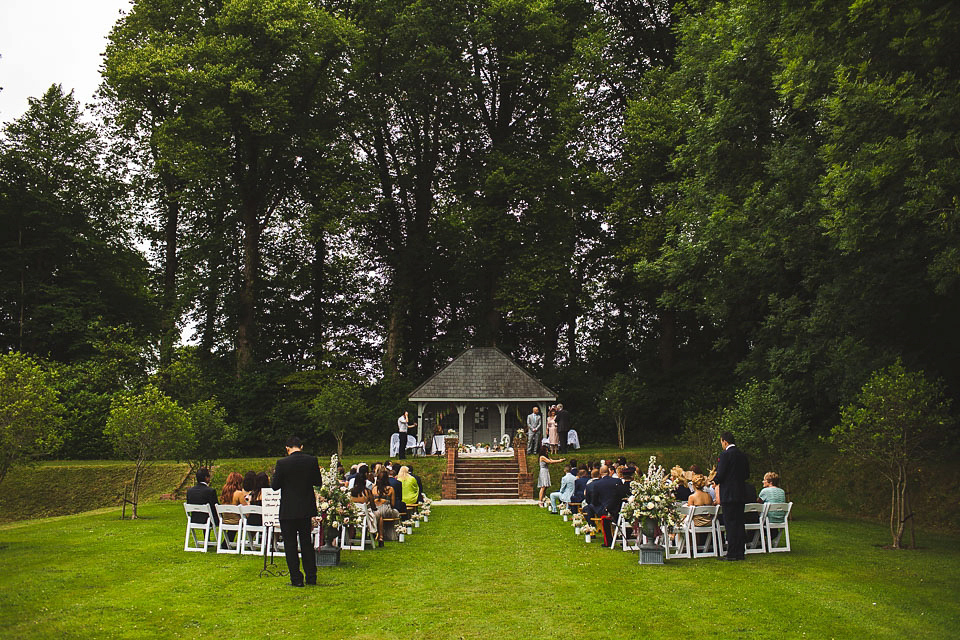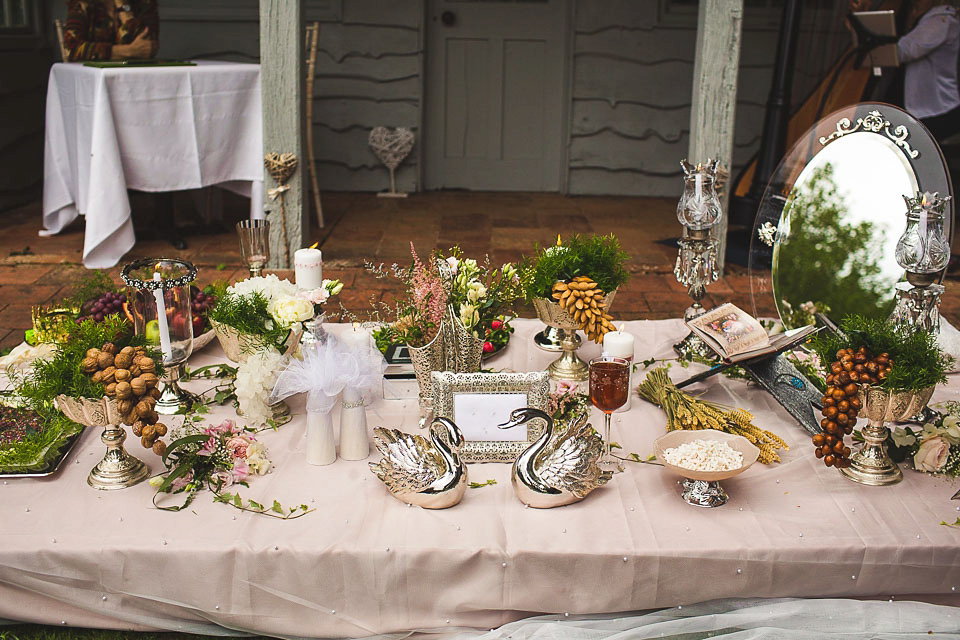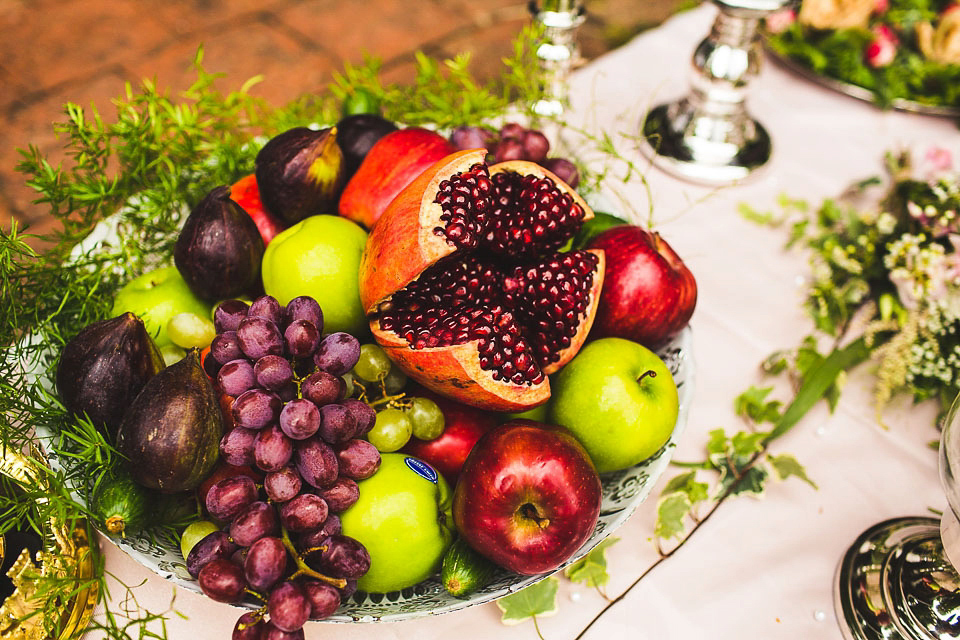 "Beautiful Gemma Fowlers from Poppy's of Exeter did an amazing job of the flower decorations. We wanted to keep things simple yet elegant. I wanted it to look as if the flowers were picked from the grounds of the venue. So we kept everything wild looking (of course they were all picked thoughtfully). We had lots of 'hanging' flowers.
I wanted gypsophila since the translation in Farsi is "Bride flower" and in English is also known as "Baby's Breath", so there was something sentimental about it, also it looked very simple yet pretty.
We originally wanted to incorporate some Anemone as I wanted a bit of black in the mix, and also they were Dan's grandmother's favourite, but unfortunately they went out of season and we decided to have something similar instead, so we went for Delphinium.
I went on the hunt for ribbons with balayage effect but it wasn't so easy to find. So I stumbled across these beautiful silk fabrics and cut them into strips to use as ribbons for my bouquet. I wanted them to be flowy like my dress.
Incase lovely readers might like to share this with their own florists, we incorporated the following flowers into my bouquet; Keira David Austin Roses, Blush Pink Peonies, Polianthus Tuberosa, Lisianthus, White Freesia, Black eye Delphinium, Gypsophila, Dusky Pink Astible, Green Amaranthus, Red Amaranthus, Mint, Rosemary and Ivy."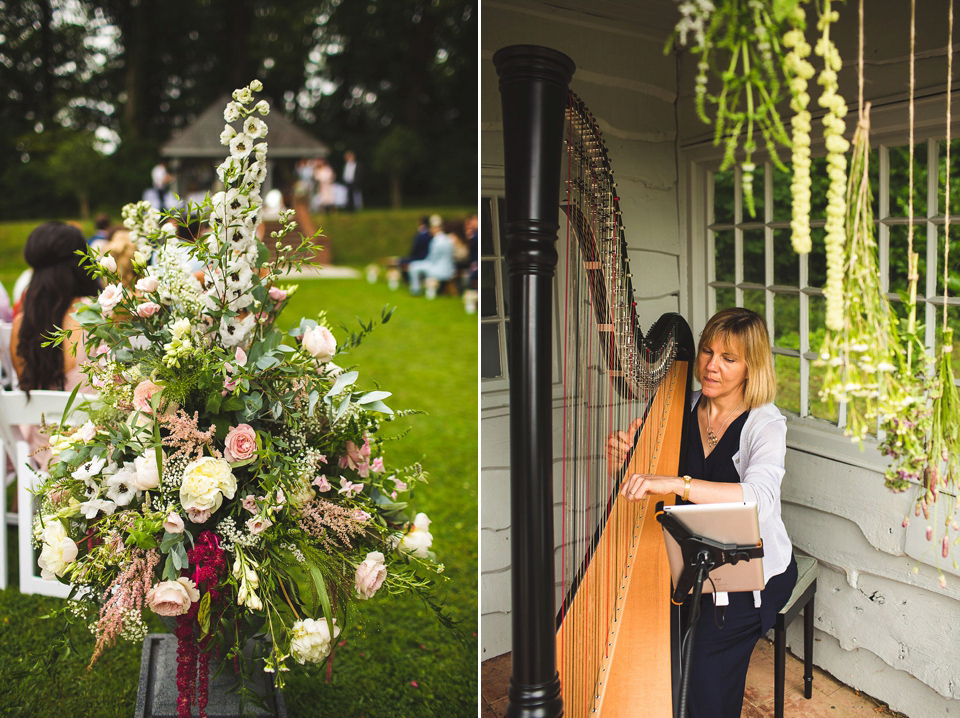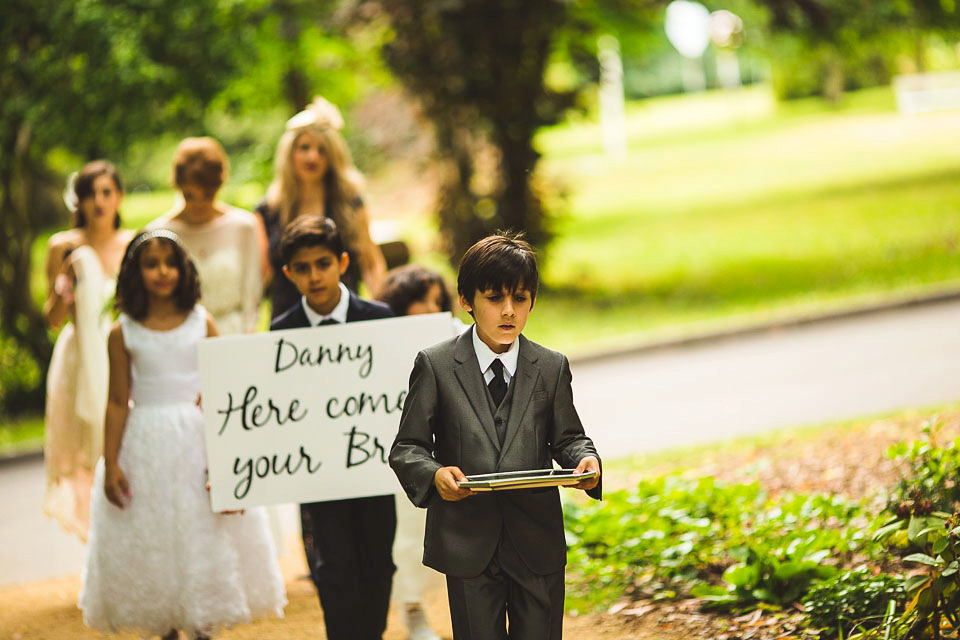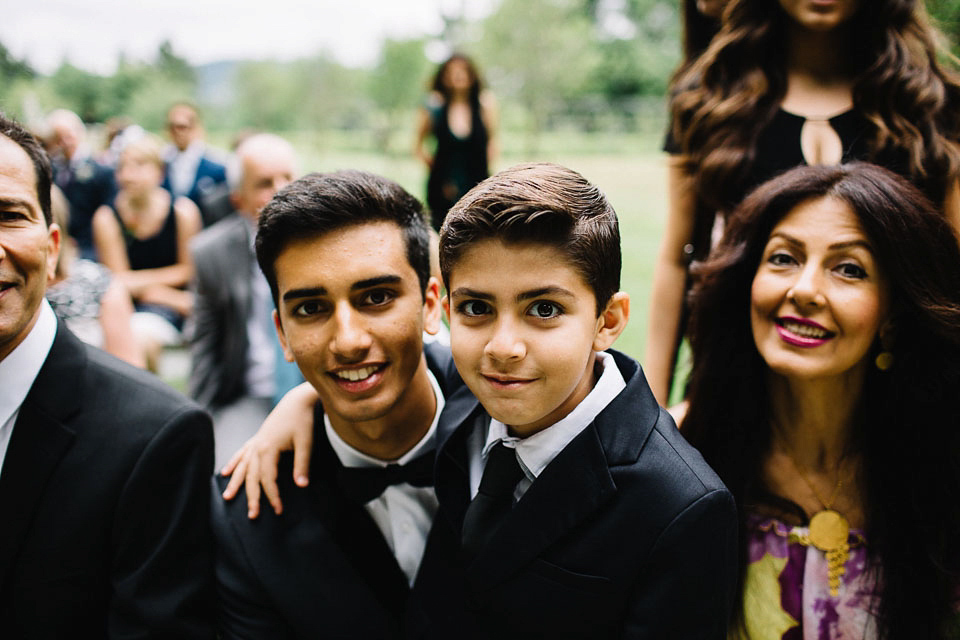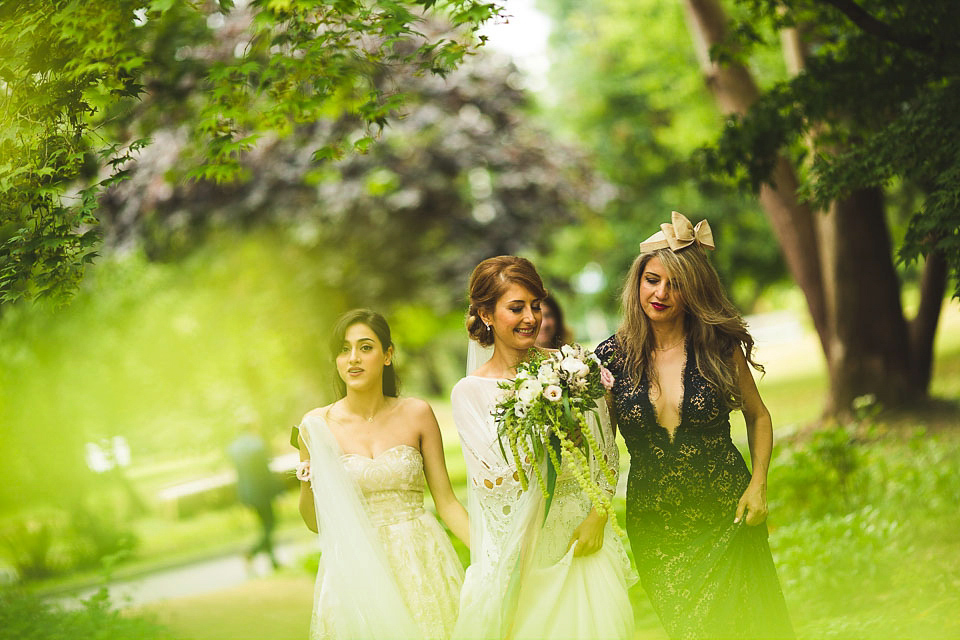 "As my dad is sadly passed, I wanted my granddad to give me away. Although I had a picture of my dad in the locket in my bouquet the whole time. I also wanted to have my mum with me, so she walked me half way down the aisle, handed me over to my granddad and he walked me up to my husband to be and put our hands together."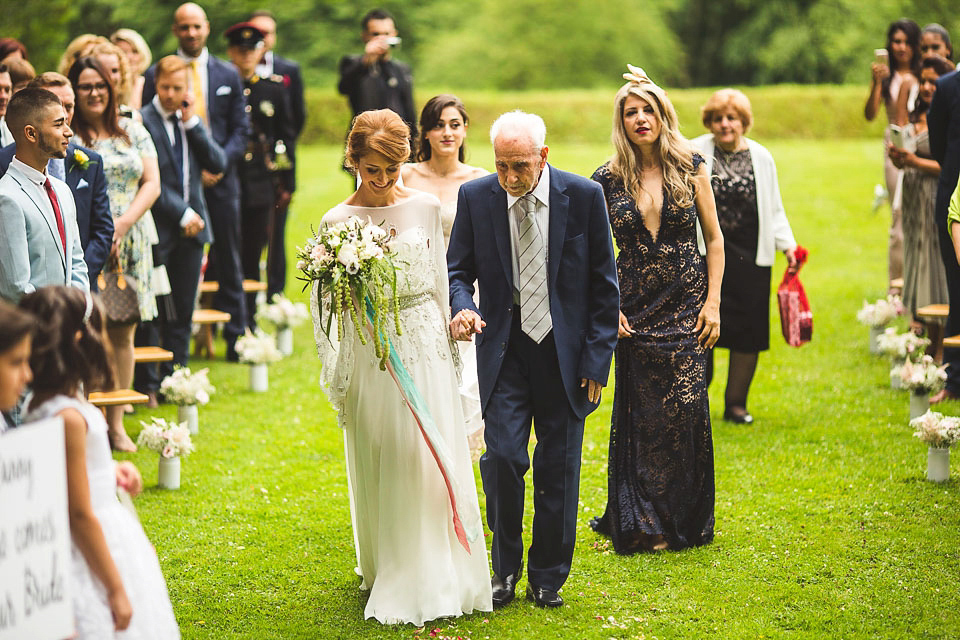 "My lovely husband did me proud with his choice of engagement ring. Before we got engaged, we had talked about the type of ring I would like including a plastic one or one out of a Haribo pack! So Dan did a number of tests to make sure he knows which style I liked. So he bought me a raised, round shaped ring which was absolutely perfect but would not easily sit with any typical wedding ring (I don't do things the normal way!). So we had to get my wedding ring made and there was no place better than Hatton Gardens.
Eric Ross was the 2nd shop we went to and we found them so helpful and they gave us the best quote too. Colin Was very friendly and he made it really easy for us to make a decision on the type of ring/diamond we needed to go for (I never knew there was this much to consider!) They were so quick in preparing our rings and their aftercare service was great too."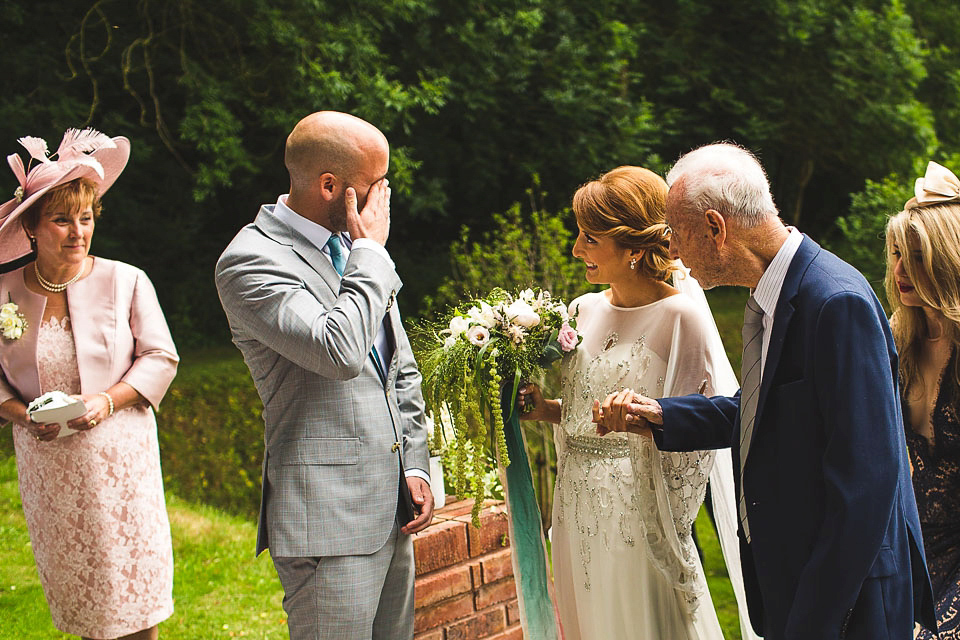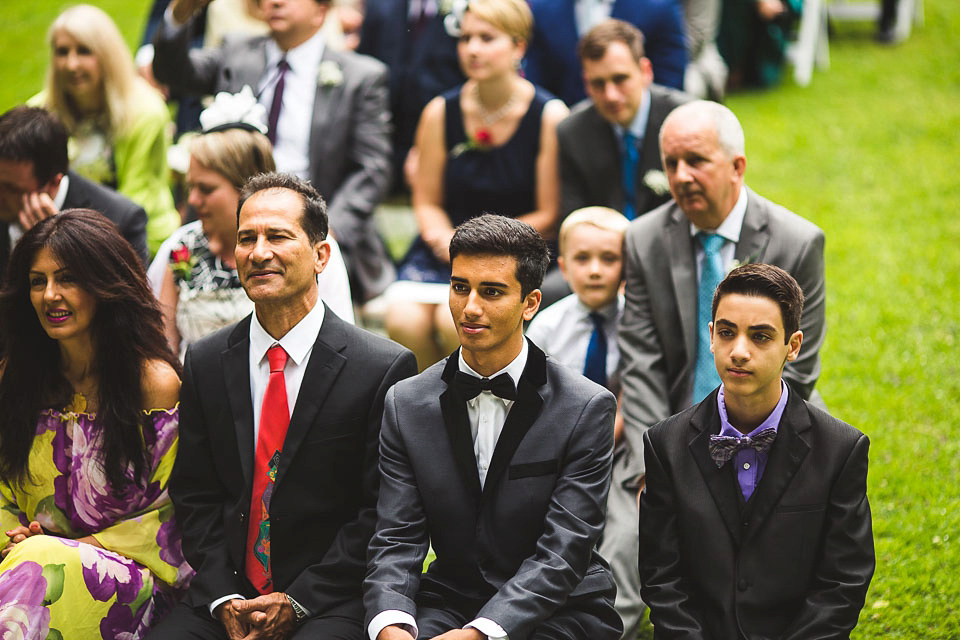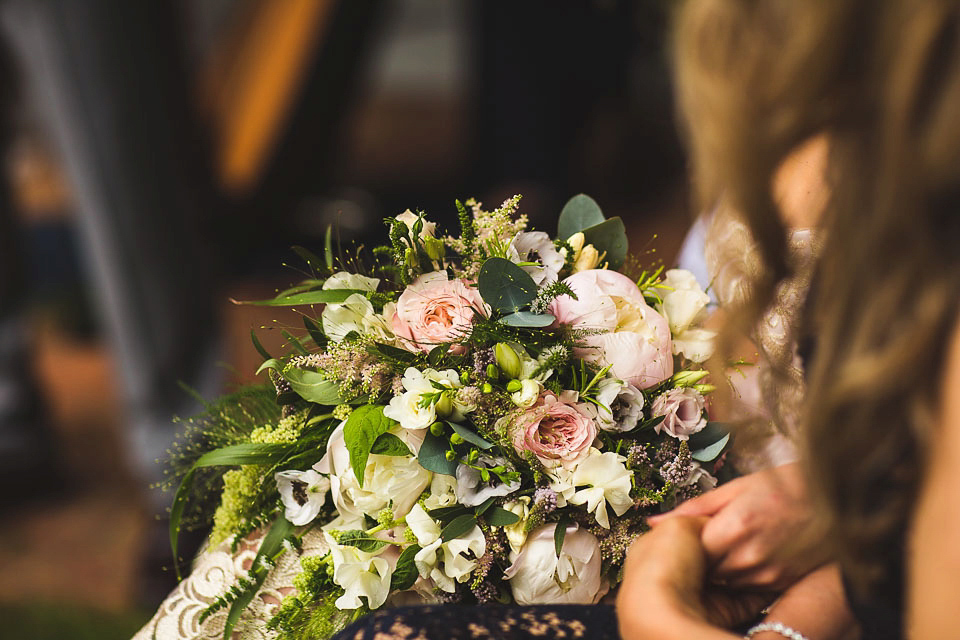 "As I mentioned, we had a 'Unity Spread' as part of the Iranian tradition which added to the décor of our altar. Traditionally, it represents symbols of life with each element.  It's a long list!"
Mirror – Represents bringing light and brightness into the future for the married couple. Traditionally the couple look into the mirror together.
Candelabras – Symbolise energy and clarity in the couple's life together.
Assortment of seven symbolic herbs and spices – To guard against the evil eye. The seven herbs and spices include: poppy seeds, wild rice, angelica, salt, nigella seeds, black tea and frankincense.
Flatbread – A decorative display of flatbread symbolises prosperity for the feasts and couple's life together. It can be accompanied with feta cheese and fresh herbs.
Eggs – Represent fertility for the couple.
Almond, walnut and hazelnut – Also symbolise fertility and abundance.
Seasonal fruits – Usually pomegranates and apples. They represent a joyous future.
Rock candy – Prettified to symbolise a sweetened life for the newlyweds.
Coins – Are placed on the spread to represent wealth and prosperity for the couple.
Honey – Consumed right as the ceremony is going to conclude. The bride and groom exchange hands (usually with the pinky) dipped in the honey and shared off the hand to represent sweetness for the couple's life.
Rose water – Is used to perfume the air.
A book of poetry – Placed on the spread to symbolise blessing for the couple.
Sweets and pastries – Are placed on the spread to be shared with the guests after the ceremony concludes and it symbolises the sweetness of life.
Sugar cloth – A fine fabric which is held over the couple's head throughout the ceremony by various happily married female relatives and friends.
Sugar cones – Is used during the ceremony over the couple's head. Happily married woman rub the sugar cones together over the "Sugar cloth" while held over the couple's head to shower their life and marriage with sweetness.
Wild rue – Is an herb which is burned as part of a ritual (in the coal brazier) and tradition for purification. It doesn't always have to be burned and can be used as decorative display.
Needle and thread – Symbolises the ritual of two people becoming one. Symbolises two families becoming one.
A coal brazier – Is used to burn wild rue to drive away negativity and anything evil.
Traditional Persian embroidered cloth – A traditional Persian silk or embroidered cloth handed down from generation to generation to symbolise family and tradition. It is used as a decorative display amongst the rest of the traditional items.
Ceremonial cloth – It's the spread used under all of the traditional items.
Bride and groom's seating – Usually stools or some sort of cushion seating for the bride and groom to sit on during the ceremony exchange.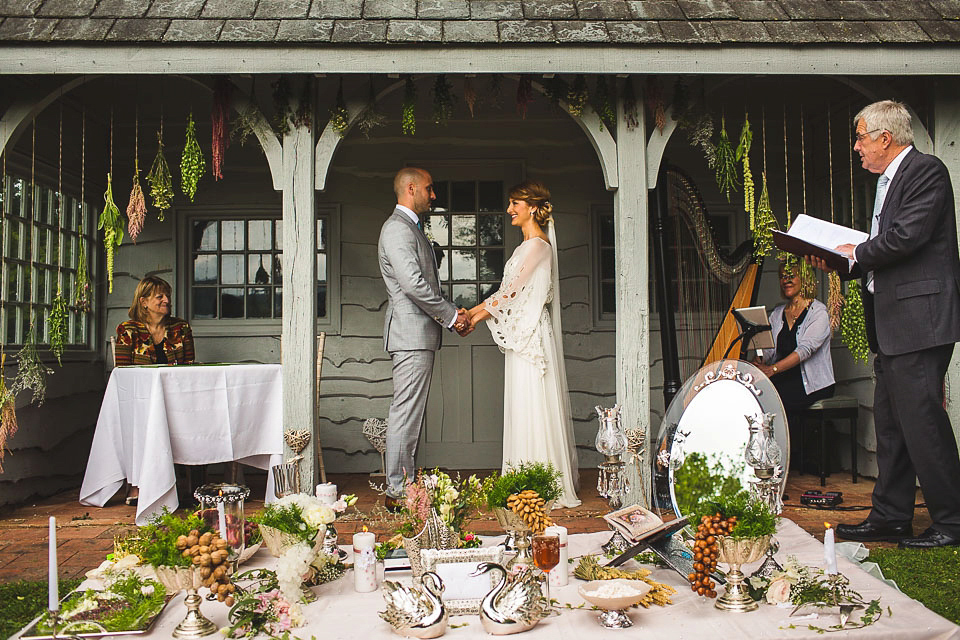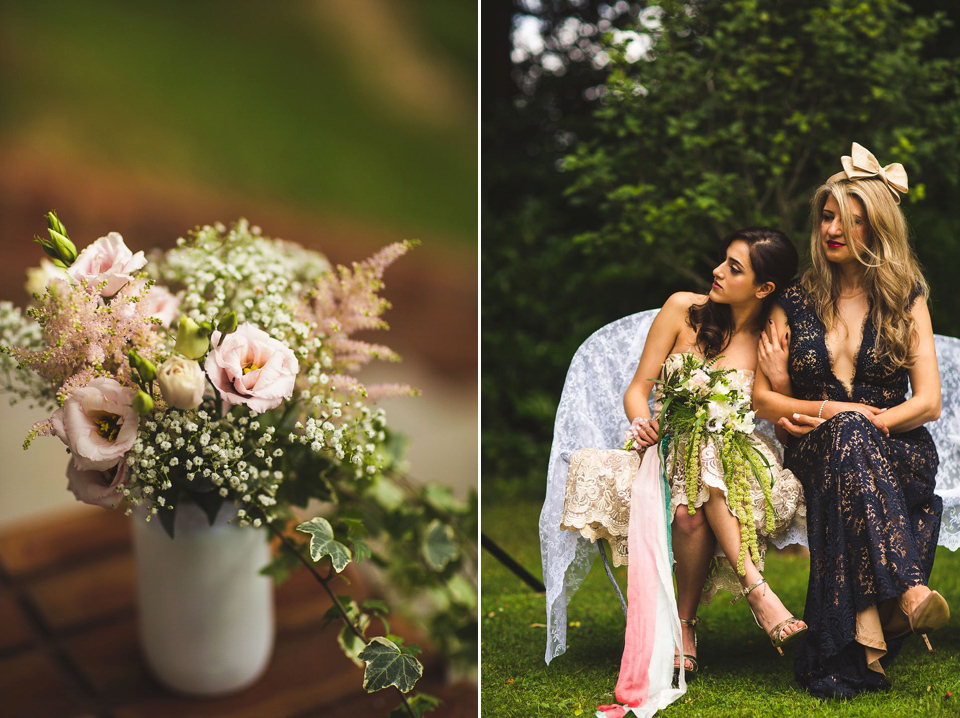 "We wrote our own vows which we thought would bring personality to our ceremony as it wasn't a religious one."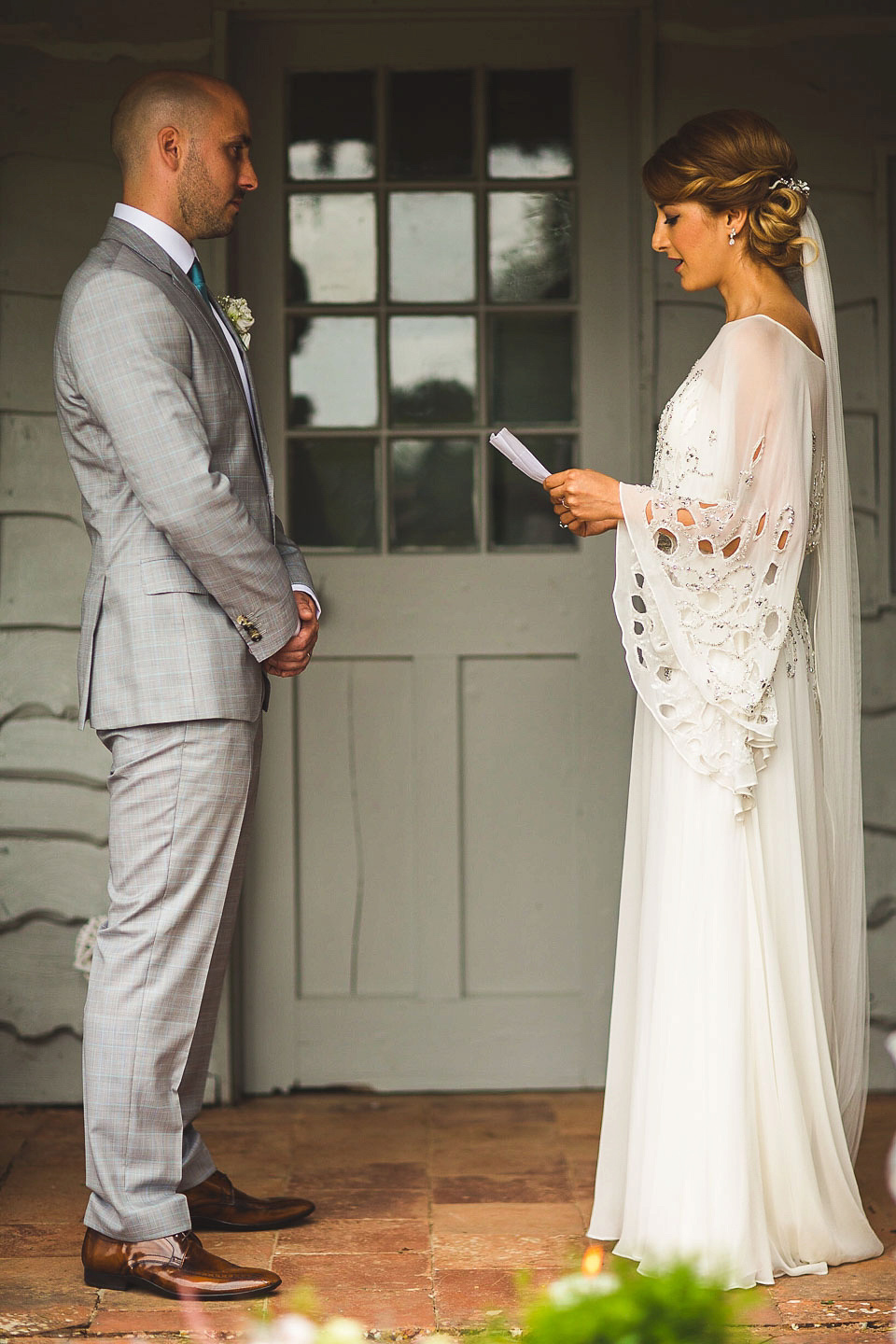 "My mother in law did the first reading which was 'The Promises of Marriage' by Bettie Meeks. It literally what we both believe what marriage is about and it felt just right.
Then we had the translation in Farsi, read by a close family friend for our Iranian speaking guests. And finally we had the 3rd reading as a form of a ceremony which was our favorite part. The reading was called 'Blessing of the hands', by an unknown author."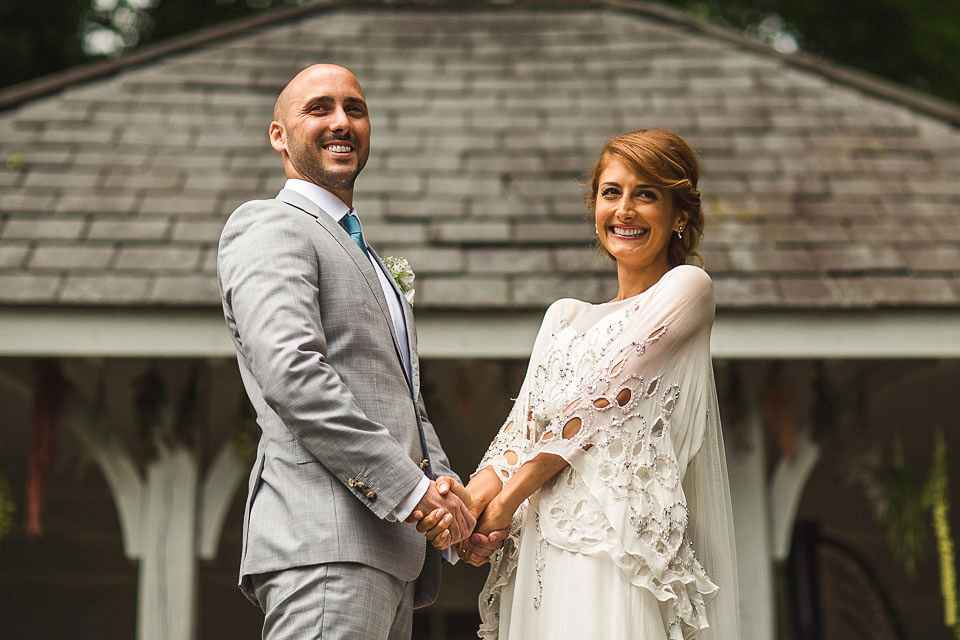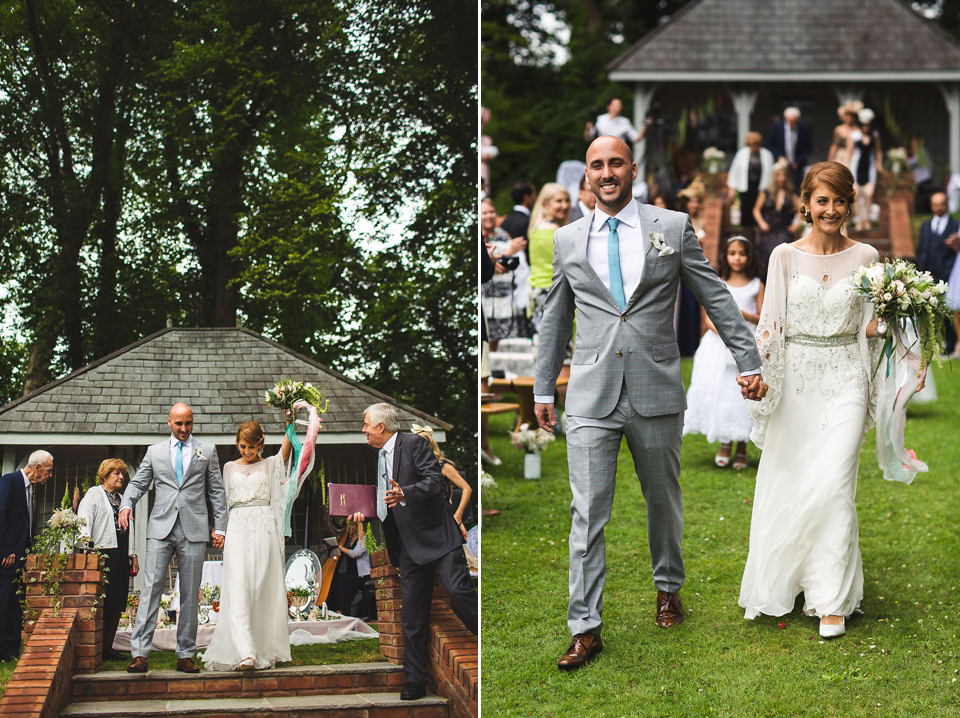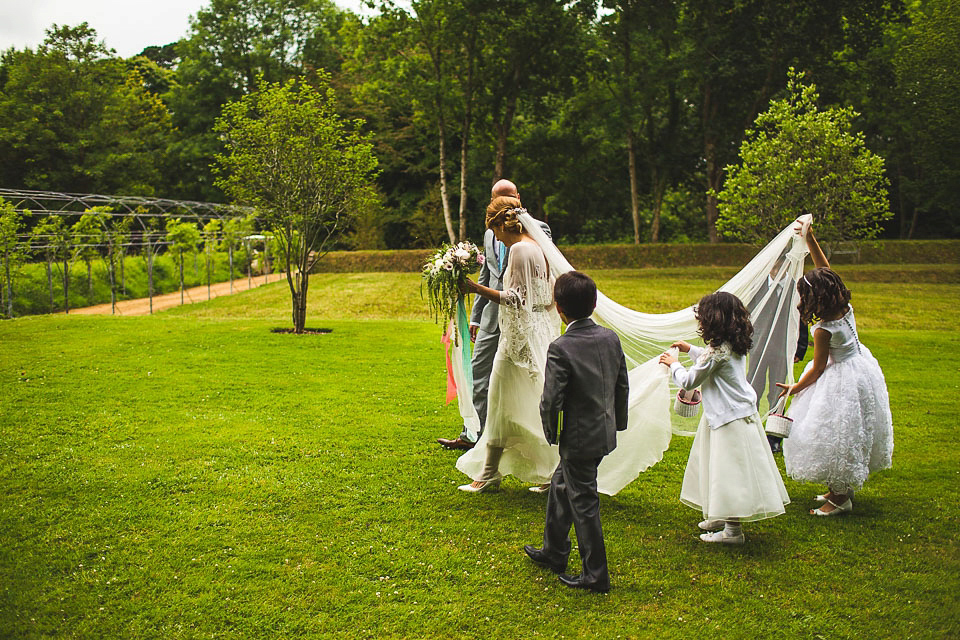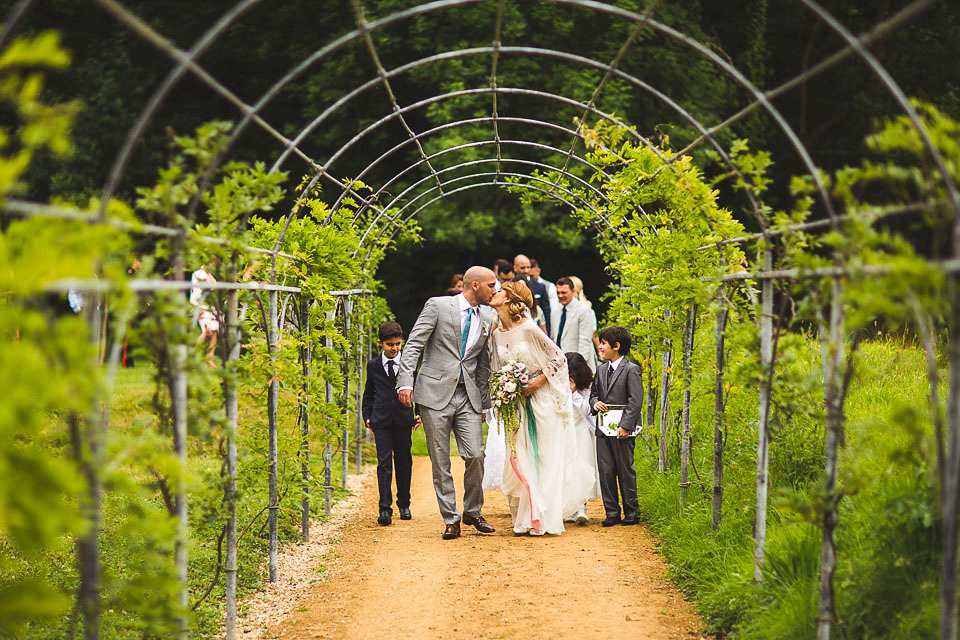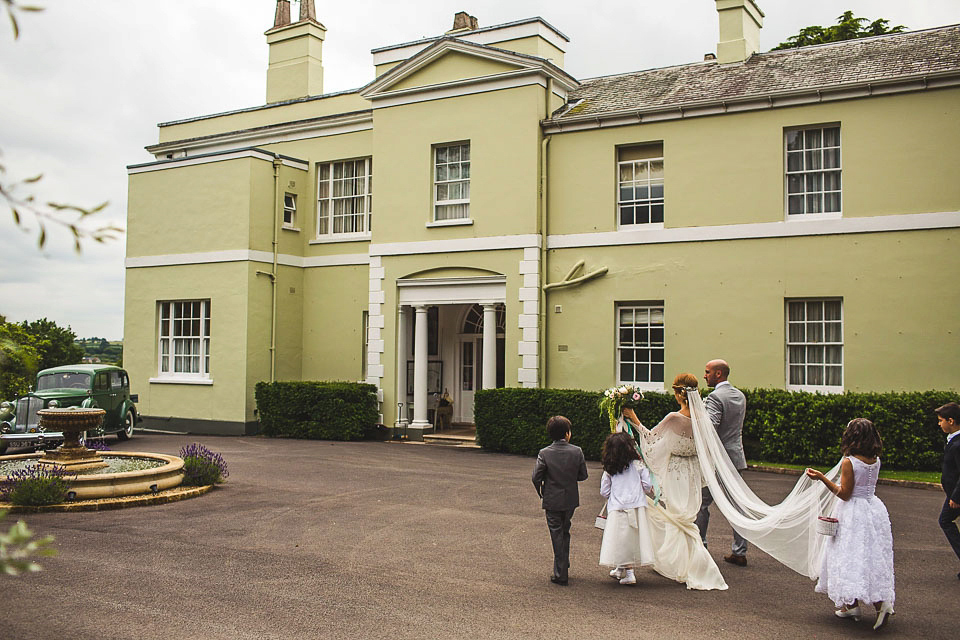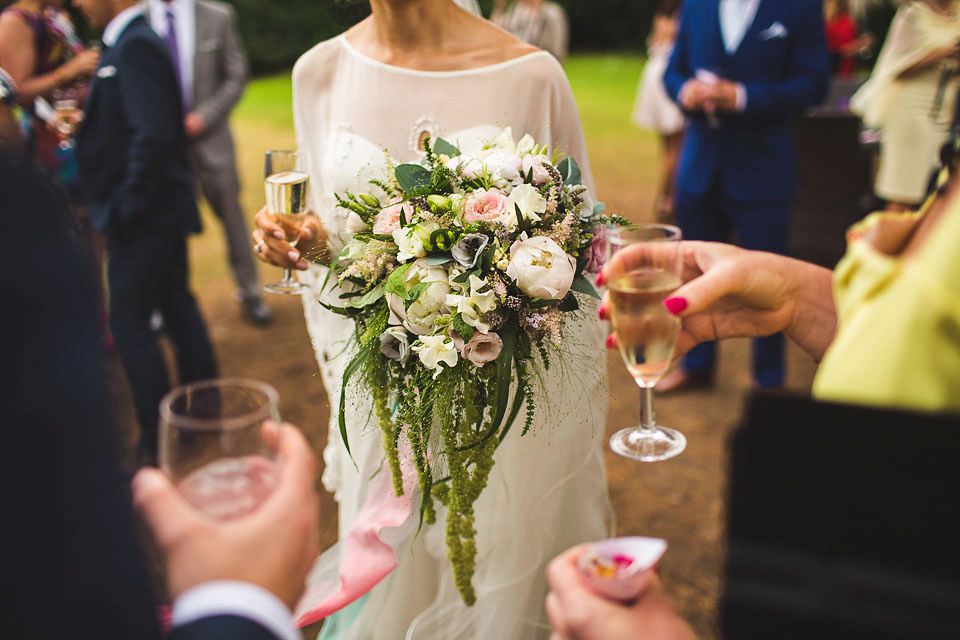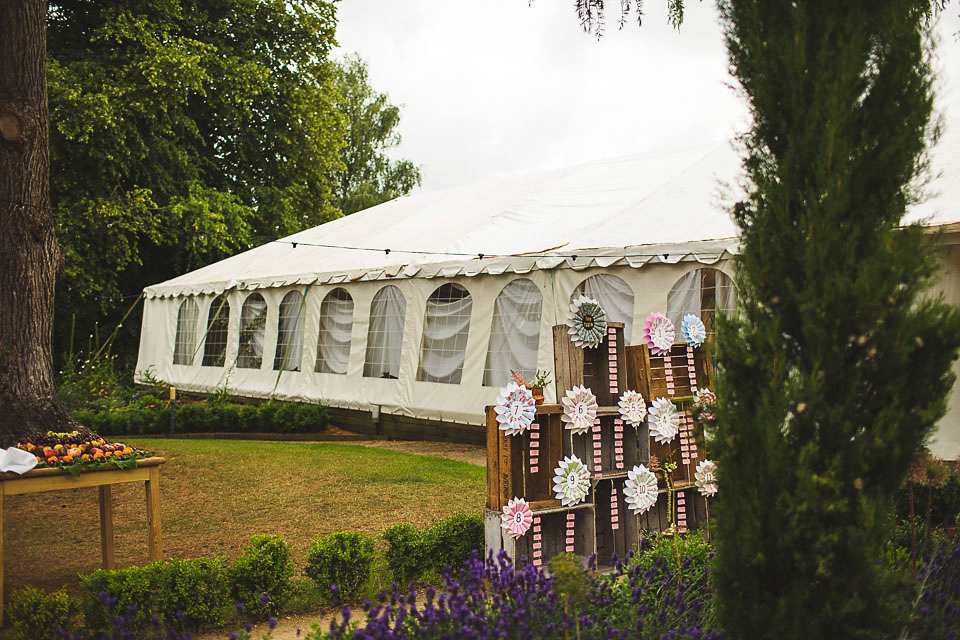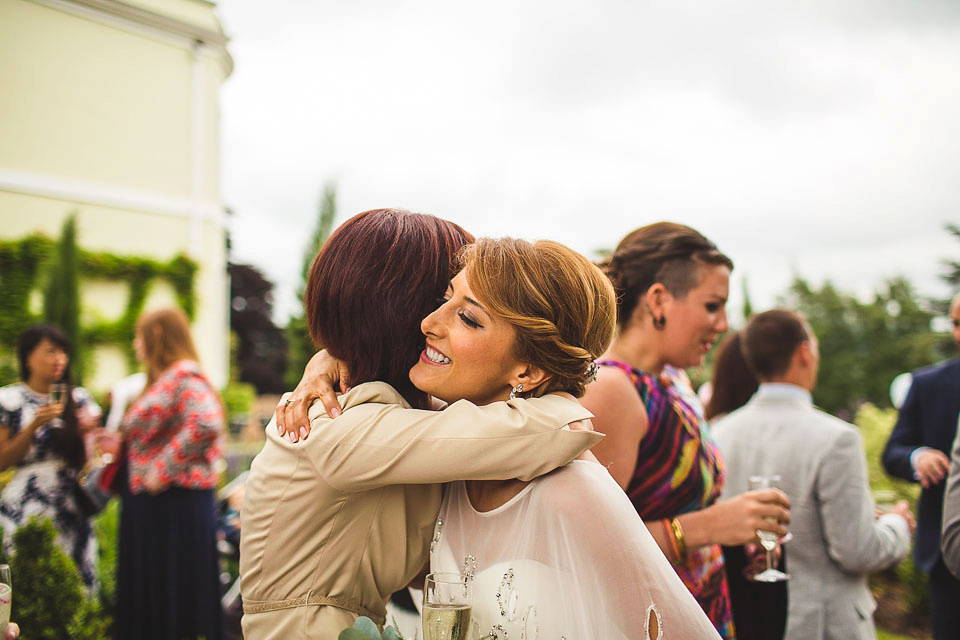 "We had the pleasure of having the very talented Jon Denis from S6 Photography at our wedding. It was a bit of a struggle at first to find the right photographer. I knew exactly what style of photography I wanted and knew of a few photographers in London but none in Devon. I came across Jon's work as I was looking through some venues and got in touch immediately. A few months later, I saw his work "The Hurricane Wedding" everywhere on the wedding blogs and even on the BBC! So I was extremely happy with my choice."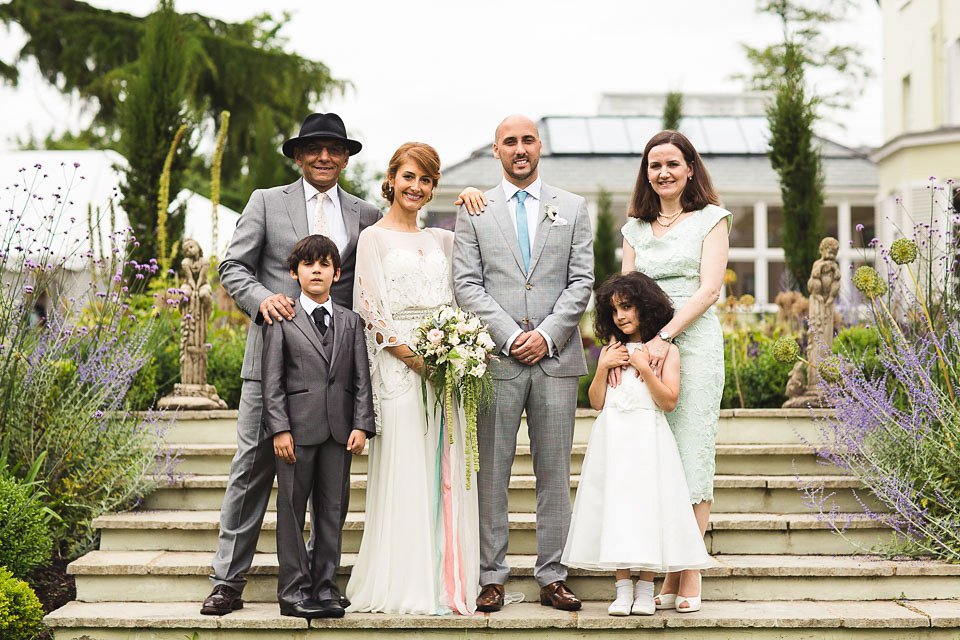 "We had a skype call prior to the wedding and discussed a few details and we finally met him on the wedding day. Despite my Chihuahua guarding me the whole time I was getting ready, Jon patiently made a few attempts and took the most amazing shots of my boy's face (That's Ziggy the Chihuahua)"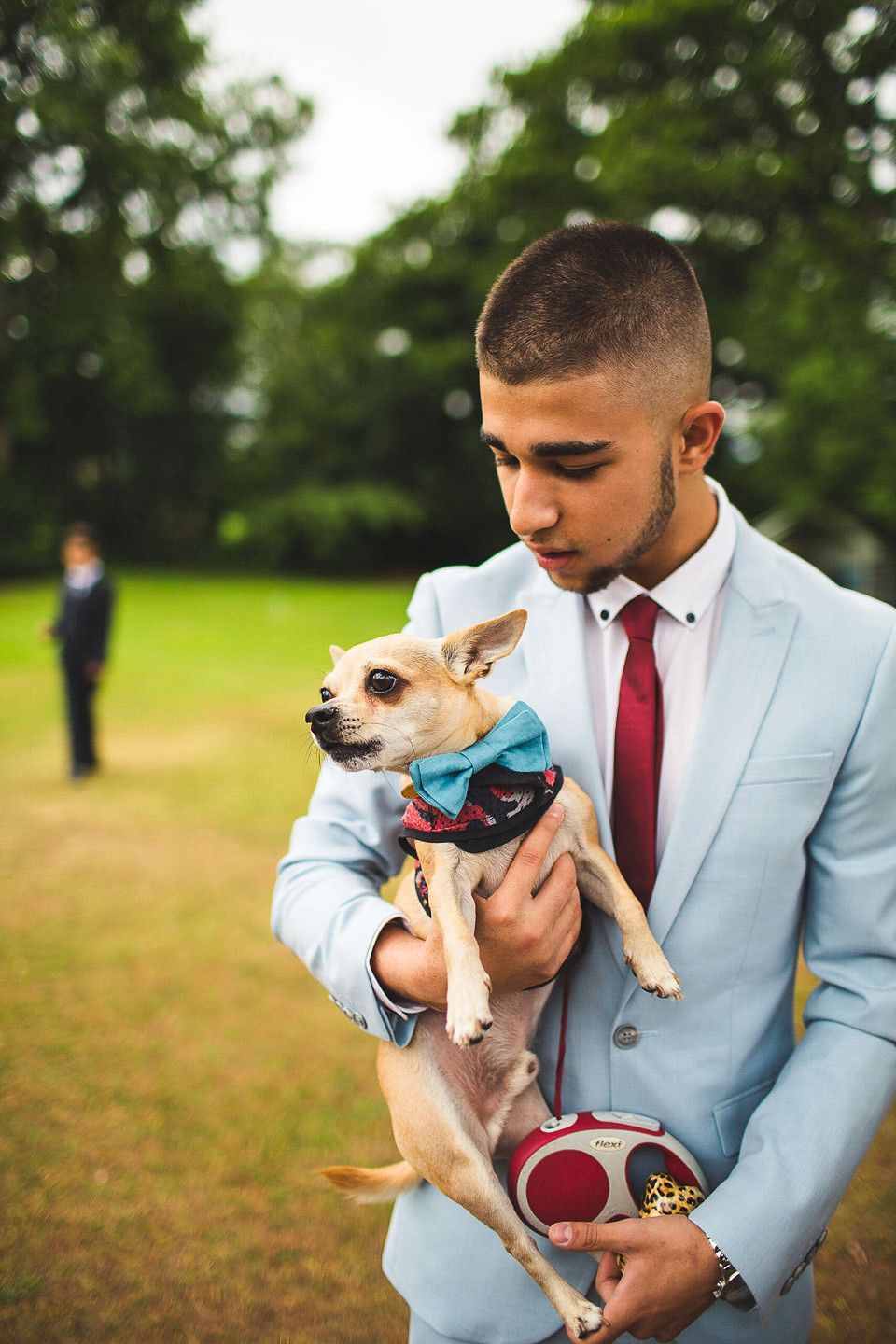 "To be honest, I only noticed Jon for the prearranged shots! He was there of course but he was so discreet and not "in your face" which was absolutely amazing. He was fun and mingled with the guests to put them at ease which resulted in many beautiful and natural photos. In the evening, he actually joined us on the dance floor and shared some dance moves in between the shot which was another "cool" thing about him. 🙂
Jon's care and attention to details didn't end there. I received the cutest package containing my wedding photographs and it just summed up a very special experience."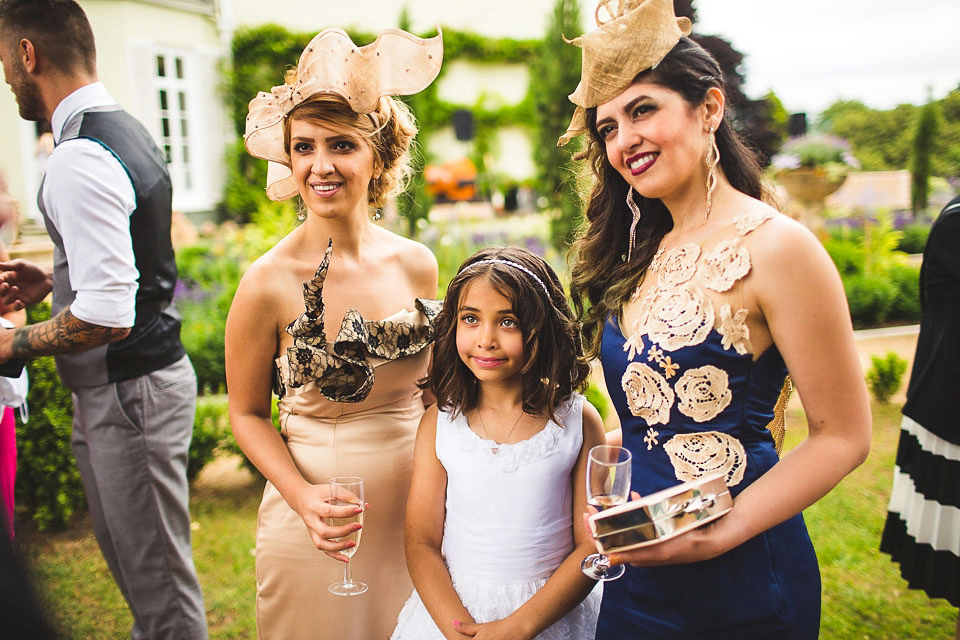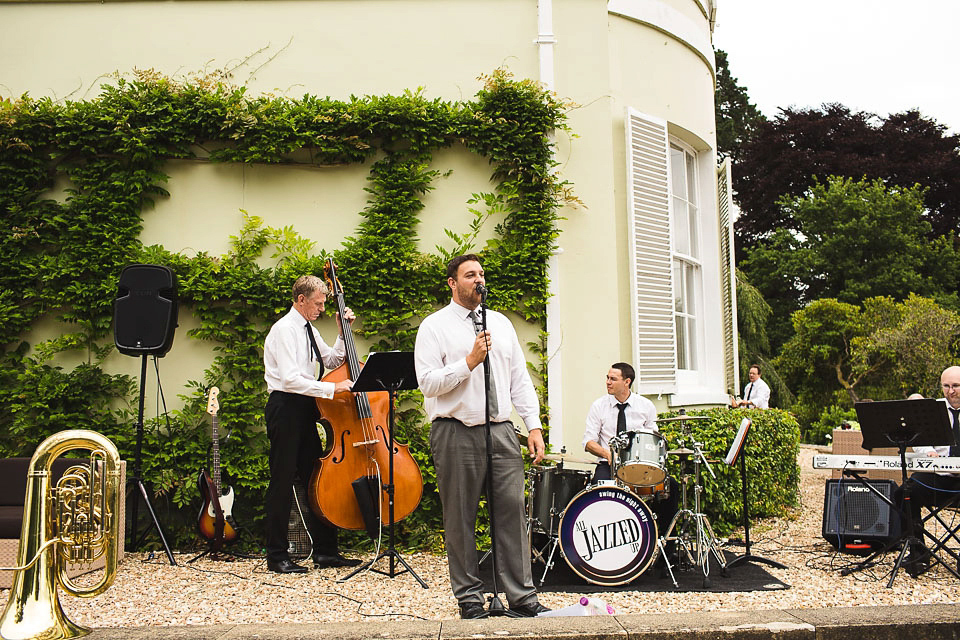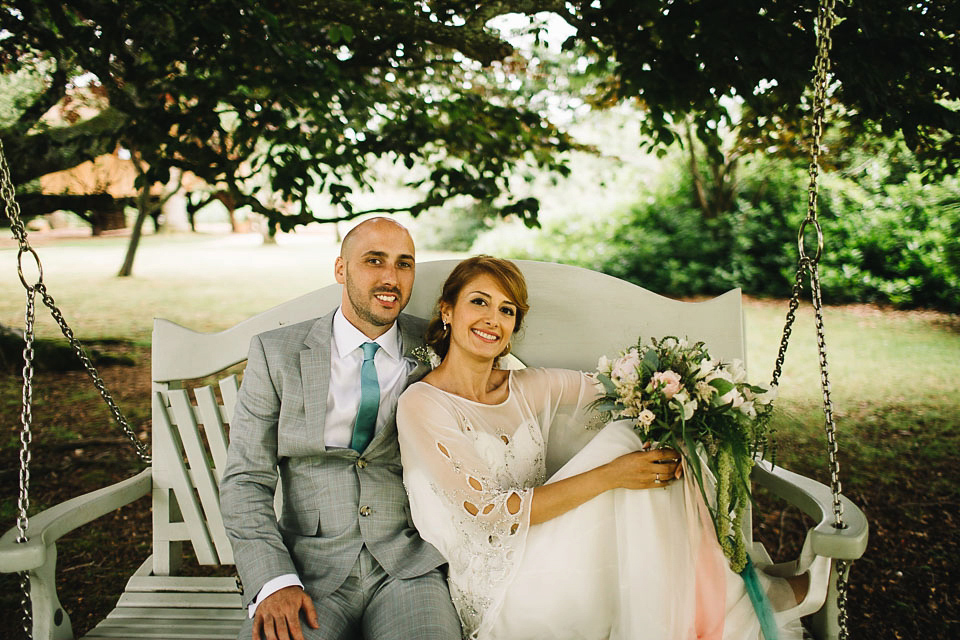 "I used jam and pickle jars which I had collected over the past year and covered them with pretty patterns (decoupage). I made natural bees wax candles which I scented with Geranium, Yasmin and Lavender. I used ramekins from supermarket dessert and sprayed them in gold before I poured the bees wax in.
As for the grounds, I used giant balloons (10 of them) and decorated them with multi strips of ribbons. As we had planned to have our 1st dance on the lawn outside, I wanted to have something playful. The combination of law wind and the long ribbons worked very well, kinda romantic and it was as if they joined the dance too!"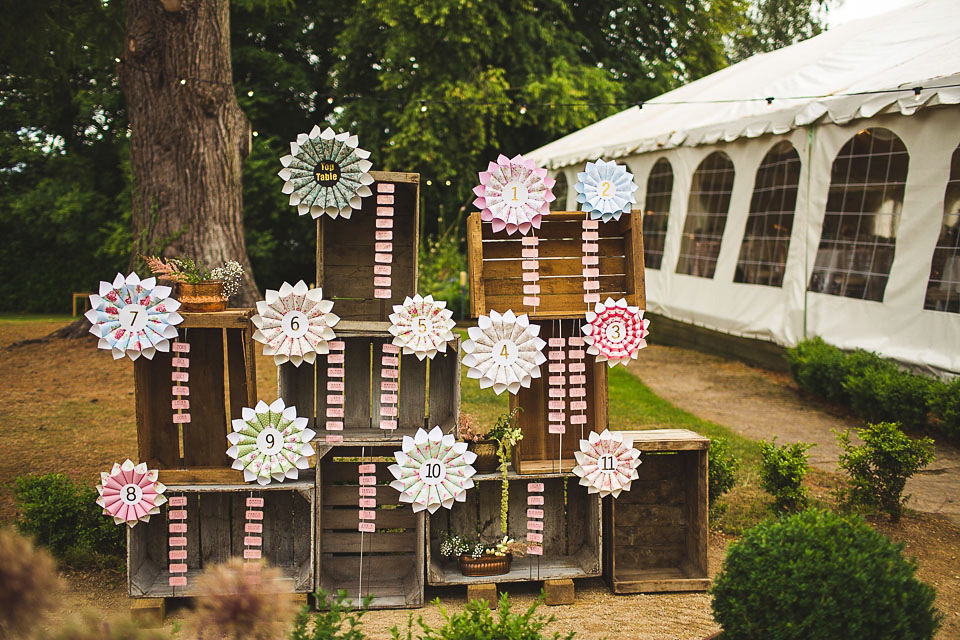 "We went for sequin table runners which I sourced from Iran for a very reasonable price and cut them into size."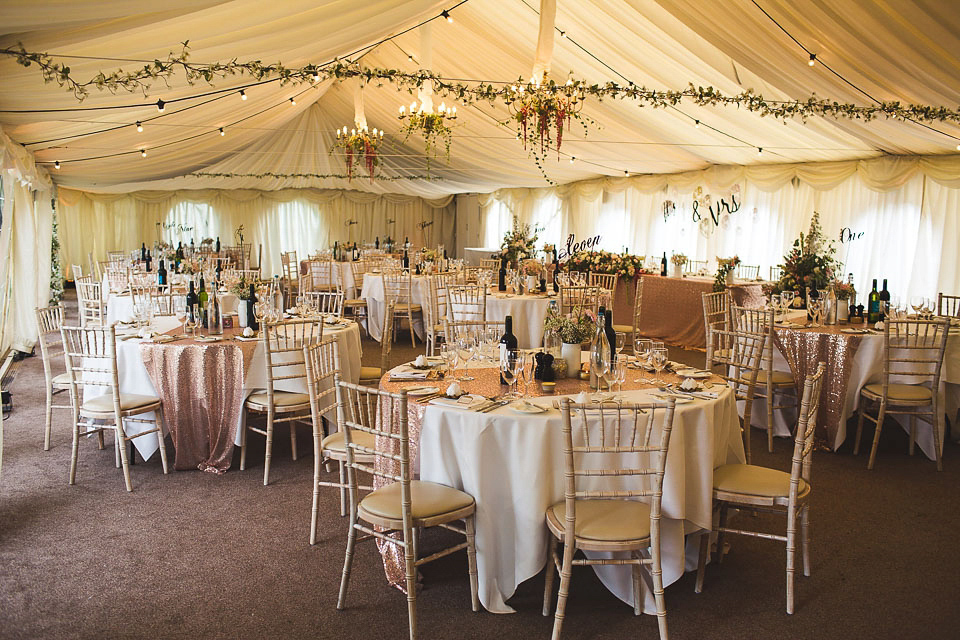 "Huge amounts of paper and cards was used to make the table plans, table numbers and our 'Mr & Mrs' backdrop. I used a glittery silver fabric as a screen for our photo booth background. I also made a few other little bits here and there such as Our initials in sequins, a glass box for cards etc. and my lovely aunt made an impressive canvas for our guest book. She used quilling to make an outline of Deer Park's main building and asked everyone to print their fingertips and write a little message on. It looks so beautiful and it will be hung on the wall for years to come."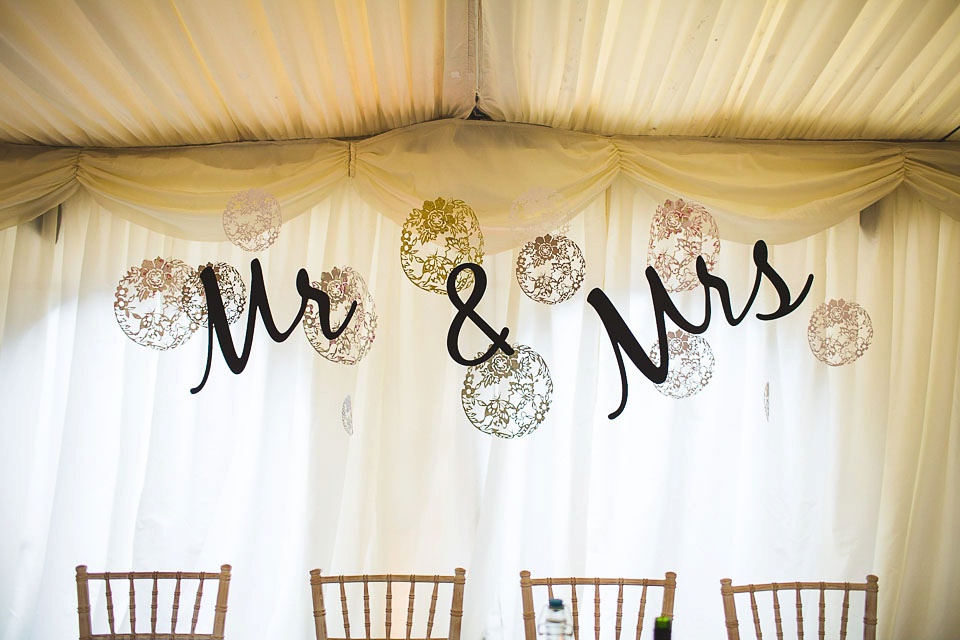 "I designed and made all our wedding stationery myself. From our 'save the date' cards to invites, place cards, table plans, menus, table numbers, signs and all the rest of the decorations. They were my babies for the past year. 
There was actually a little origami theme going on with the cards. Our save the date was an origami swan placed in handmade envelopes. The invites had an origami heart on the top, again with handmade envelopes.
For the place cards, I made paper lotus flowers (I love the concept of the lotus flower), they sat on a lily pad which had a personal message typed on for each person together with their names. It was the perfect icebreaker and everyone took theirs home as memorabilia! I never thought that it would work as well as it did!"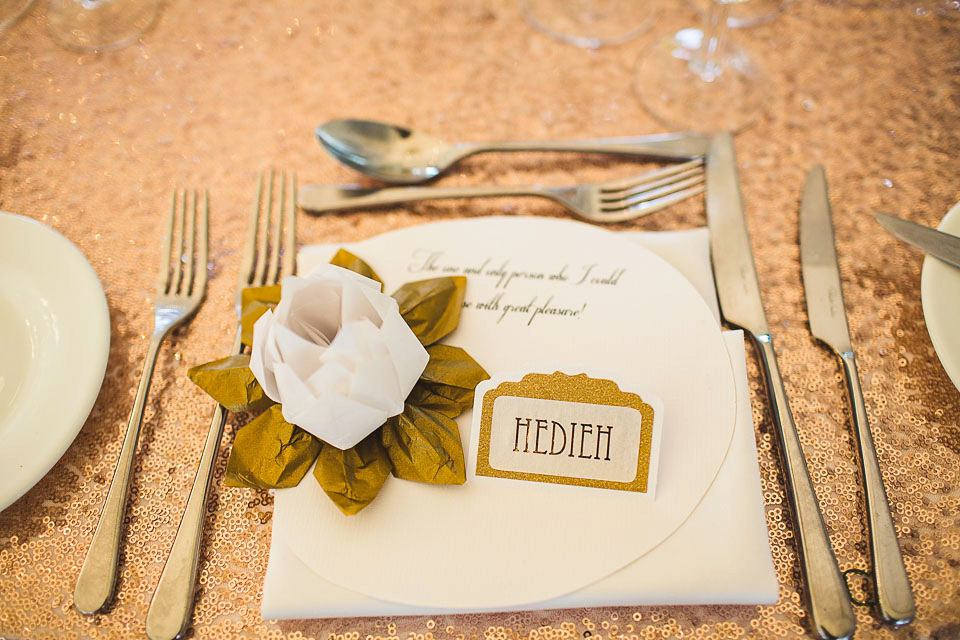 " I also made the favours. I went for scented mini cushions and used the same scent I used to make the table candles. The idea was so the scent from the cushions would remind the guests of our wedding day. I made little pendants with an image of Deer Park Hotel, attached them to the cushions and printed our name and date on the fabric. They were very popular and I've had to make some more for myself to keep.
As well as the mini cushions, I provided a basket of flip flops for tired feet as well as pretty fans for ladies which went down a treat and were much appreciated after hours of dancing."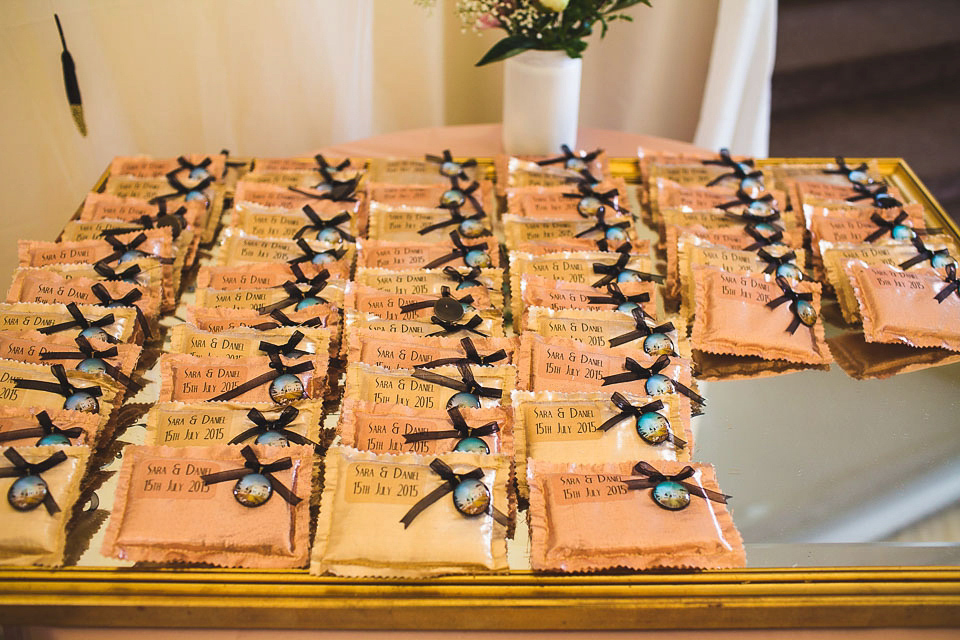 "For our cake design – I ended up with 100s of photos on my Pinterest mood board, but the one that really stood out for me was an unusual hexagon shape.  So we changed the pattern and décor slightly to fit in with my feathery background and Claire did a fantastic job to create exactly what we both wanted. The cake was to die for and it disappeared so quickly.
For the serving of the cake, I made little paper hearts for the toothpick ends so each slice was wrapped in tissue secured with those toothpicks. They looked very pretty. I used an old mirror to lay out the favours on top."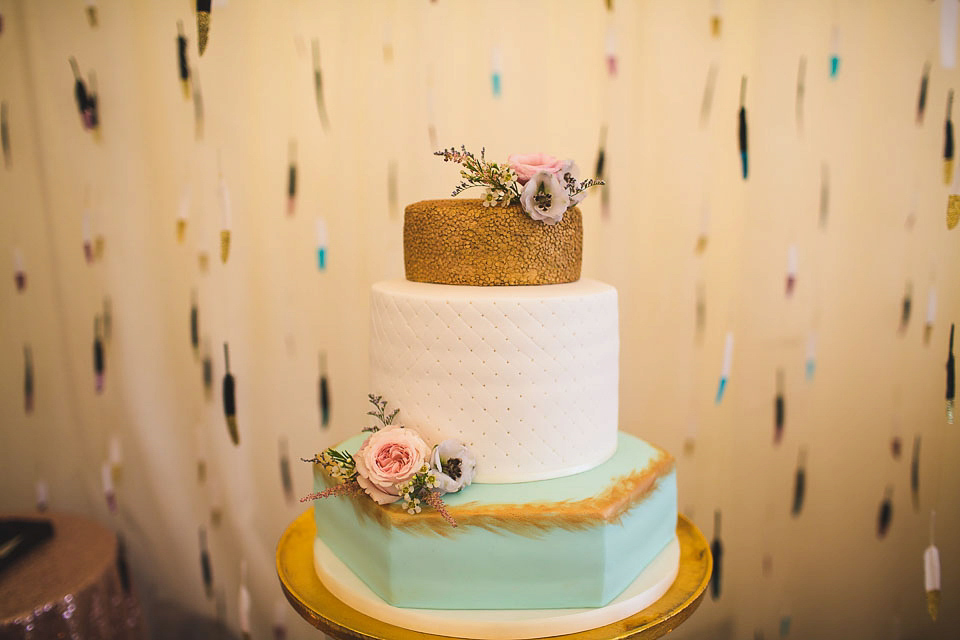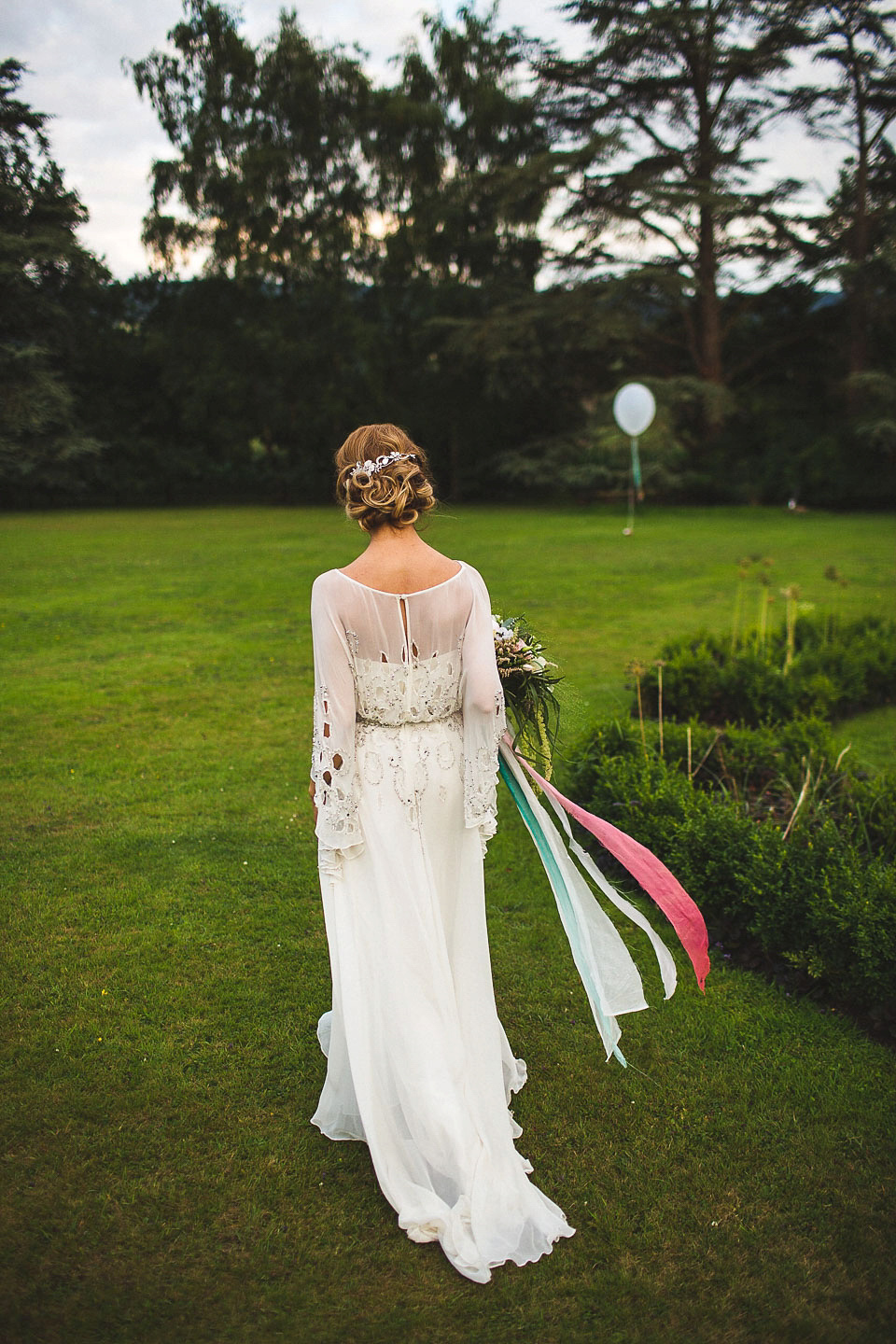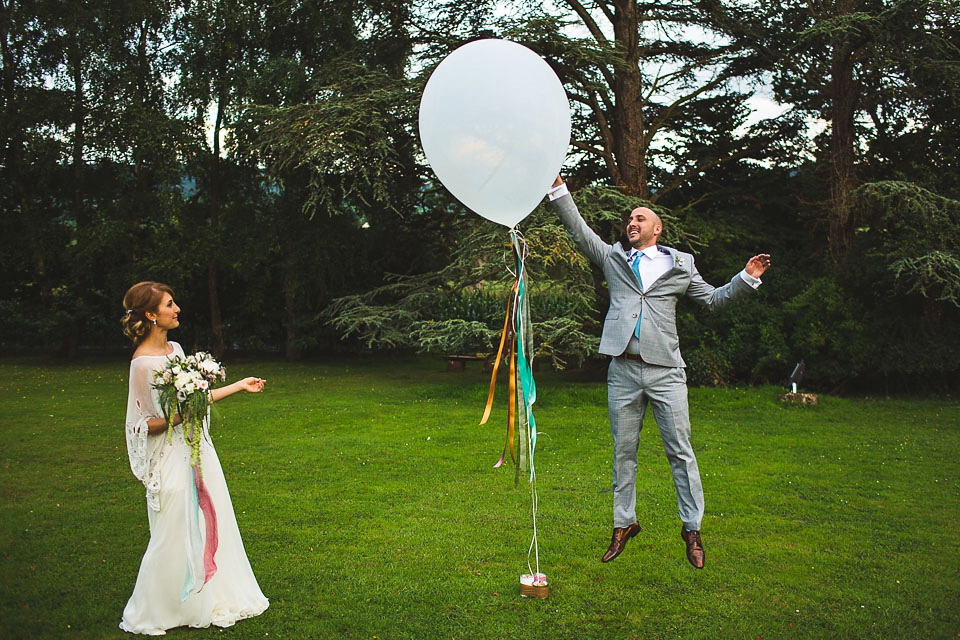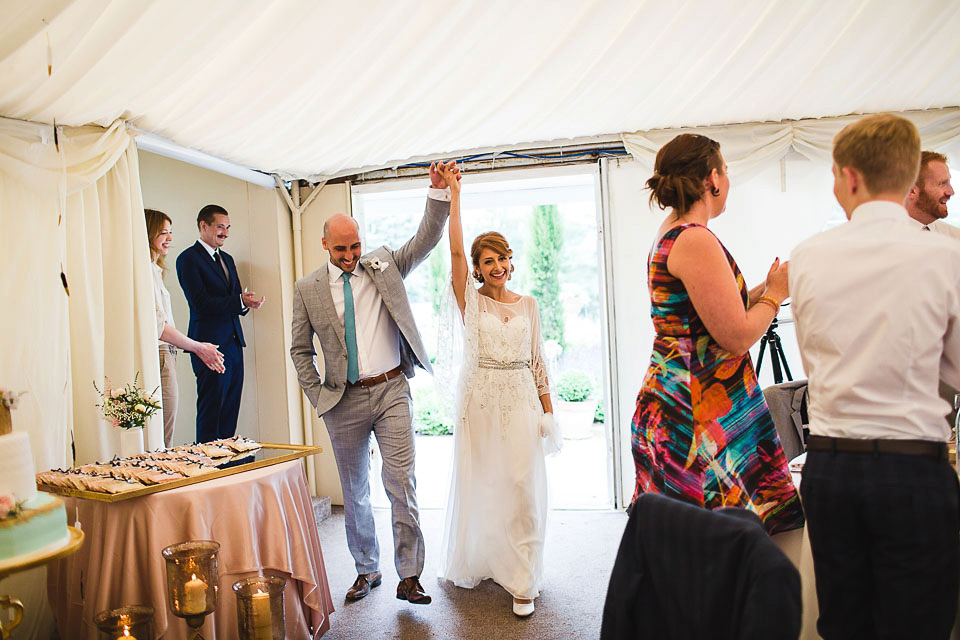 "One of my most favourite memories of the whole day was my amazing husband's wonderful speech. I was not expecting that. He had practiced the first part in Farsi and our Iranian guests were pleasantly surprised and really appreciated it. Then he went on about how we met, the obstacles we had and then made a tribute to my Dad and his Nan who sadly couldn't be with us.
There were a lot of tears in the room but then he picked up the mood and made promises to my mum and sister of how he would look after me etc. It was just wonderful."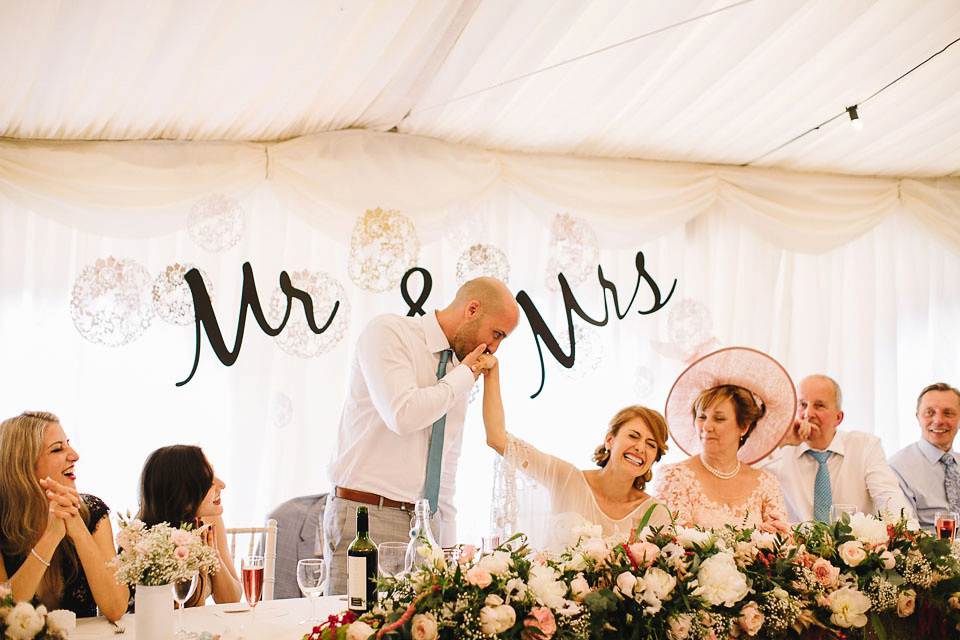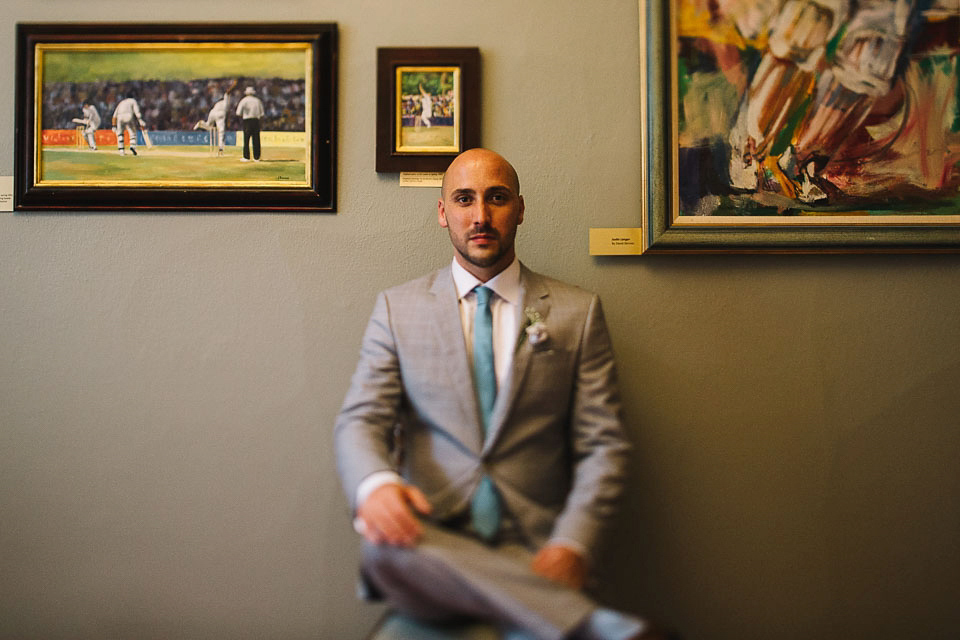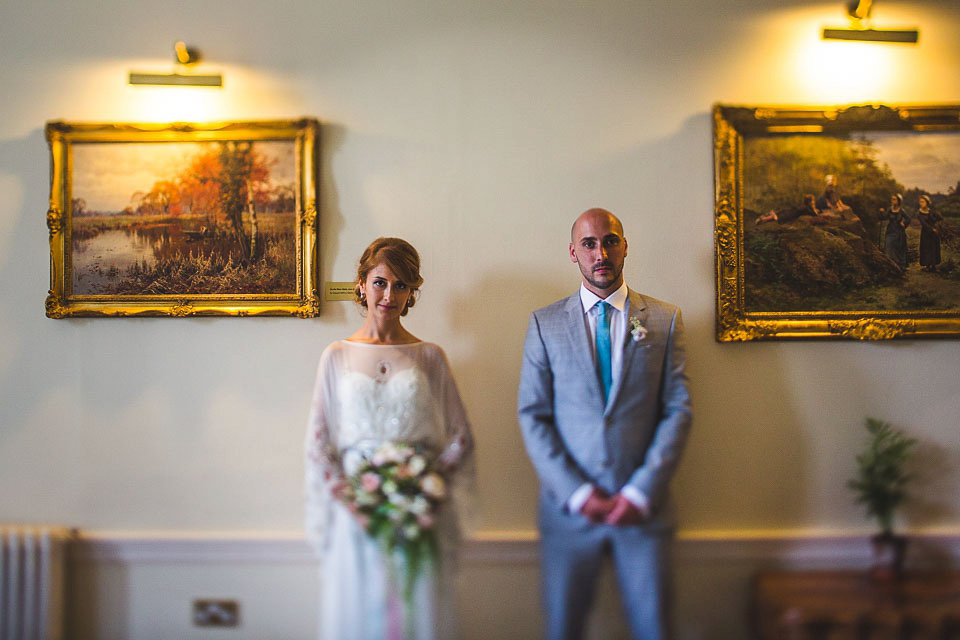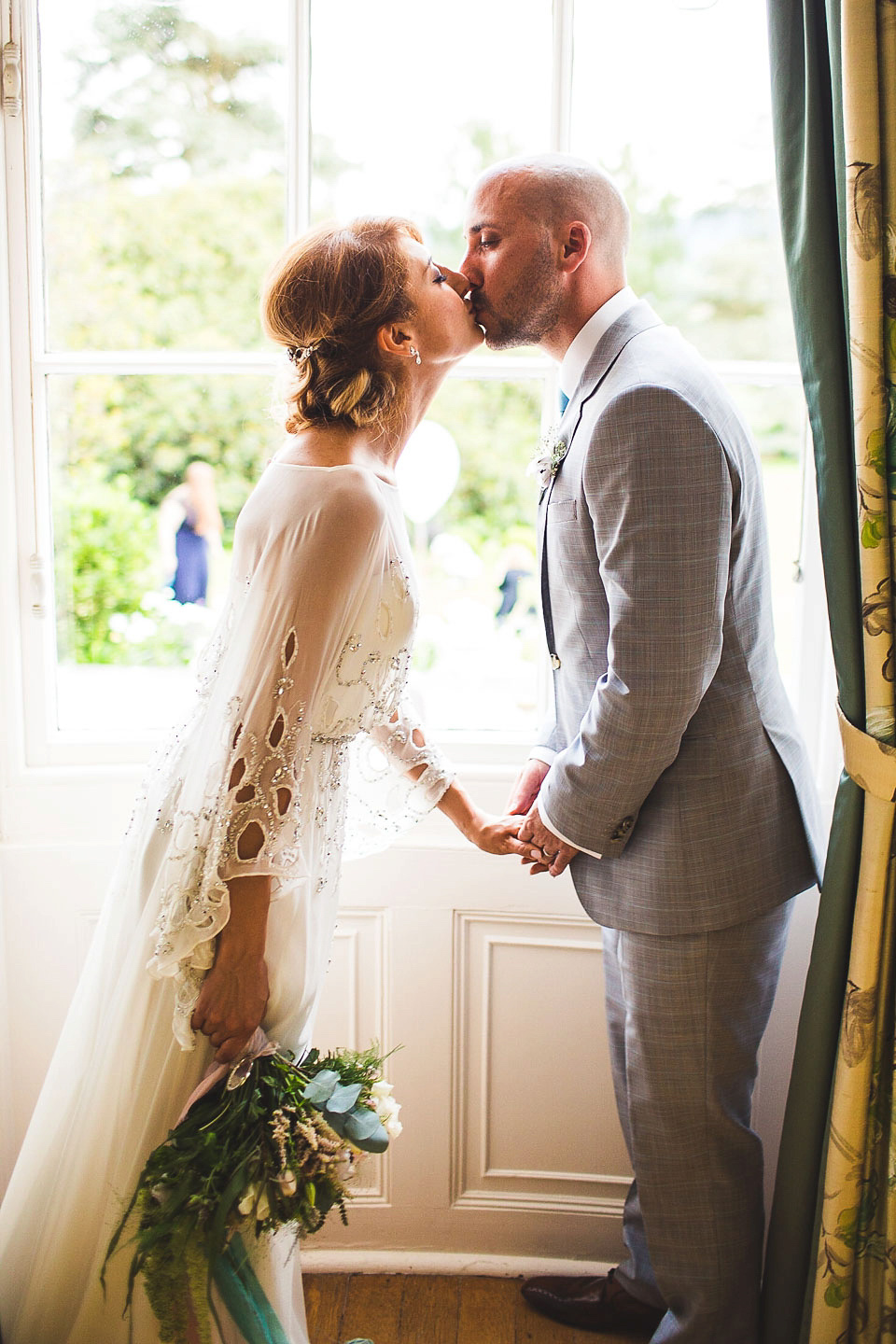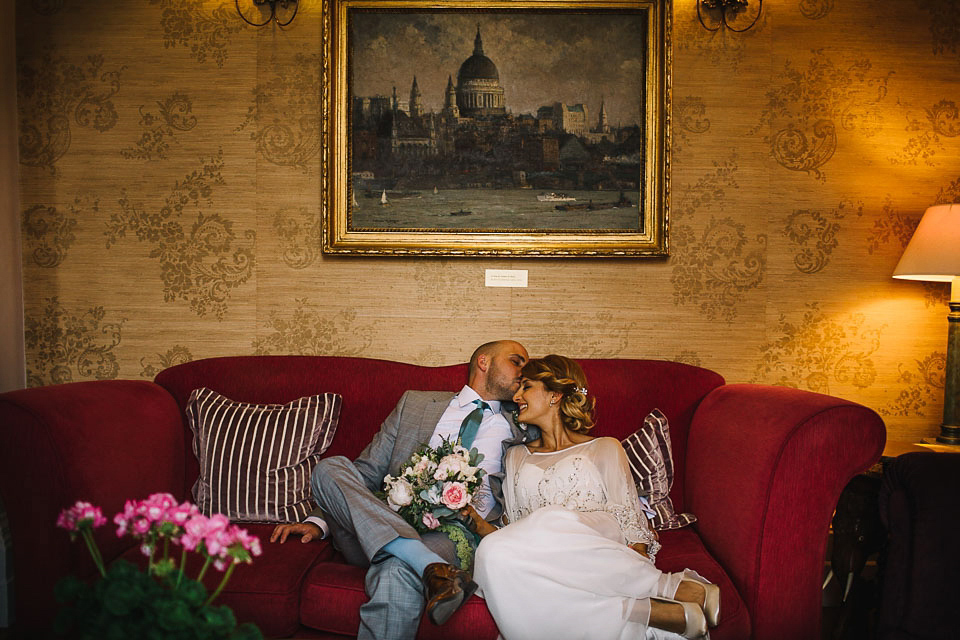 "For our first dance, we were trying to find a song that was romantic. My Dan is not the best dancer in the world! so we knew that practicing a routine was out of the question. We shortlisted a few songs until one evening when we were getting ready to have dinner, we heard the SSE advert for the first time on TV and we both rushed to get our phone to 'Shazam' it! And that was it! 'When I Fall In Love' by Nat King Cole. It was the perfect song in the perfect setting.
When he really run out of the few moves he had known, he picked me up and ran towards the water fountain and almost dropped me in it! (Well, or at least he pretended)."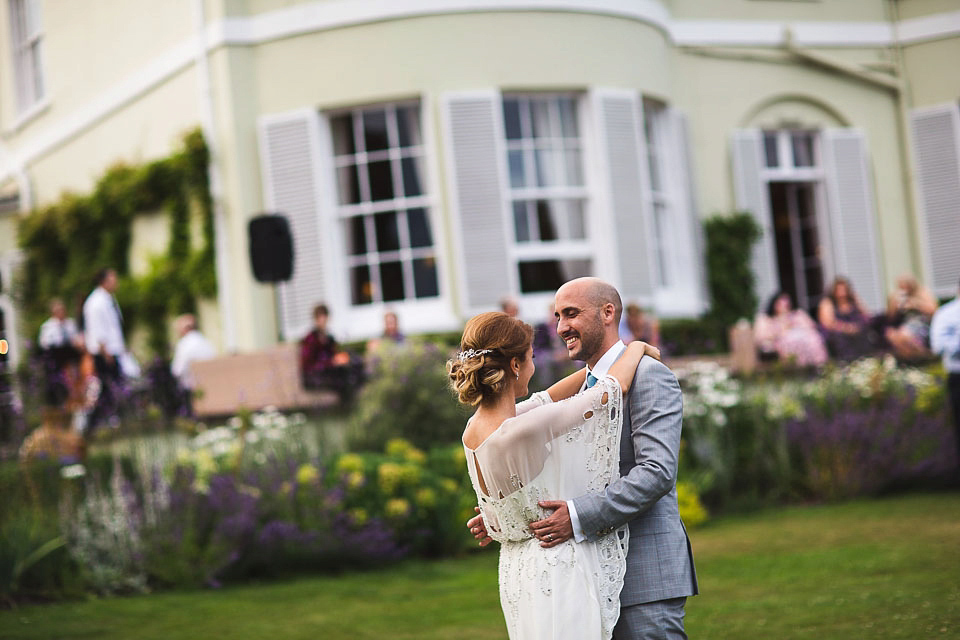 Words of Wedded Wisdom
"It's your day! Plan it how you like. Your wedding day should be a reflection of both of you and your relationship, and that would make it feel more authentic! In my experience, what I had in mind was the perfect thing for my friends and family. We knew what they would enjoy which ultimately made us happy! So we went for that.
Attention to details is very important to me, however, there are certain details which you would only ever know yourself and no one else might notice! So be wise and priorities the fine details and if you couldn't deliver some of the least important ones, it won't be the end of the world!"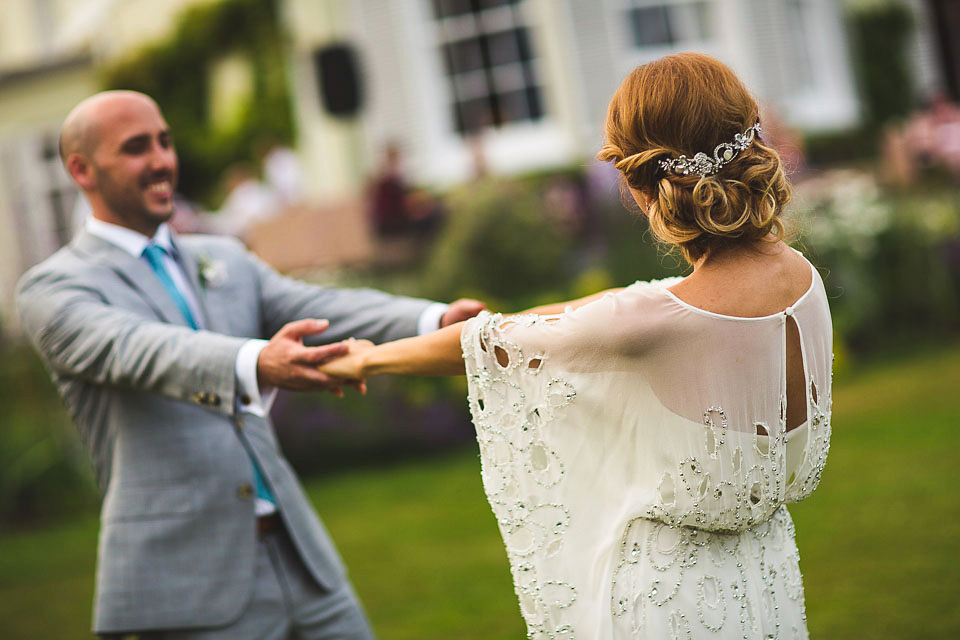 "Take up DIY projects only if you enjoy doing them! Some tasks can get repetitive and might not be enjoyable for everyone to do which would result in a not so sleek finish of the product. So if perfection is important to you, then leave it to the experts – trust me, you will save money and sanity in the long run.  
I would have definitely got someone to dog sit my Chihuahua! As much as I loved having him there, I hated to see how upset he was for not being able to be with us the whole time and I think I probably could have relaxed a bit more."
"I would also have hired a wedding coordinator, just for the day. On reflection, I would have happily spent a bit of money not to have that little bit of on-the-day pressure removed. I had spent so long planning and I didn't want things to go wrong so found myself getting involved on the day when I needn't have done."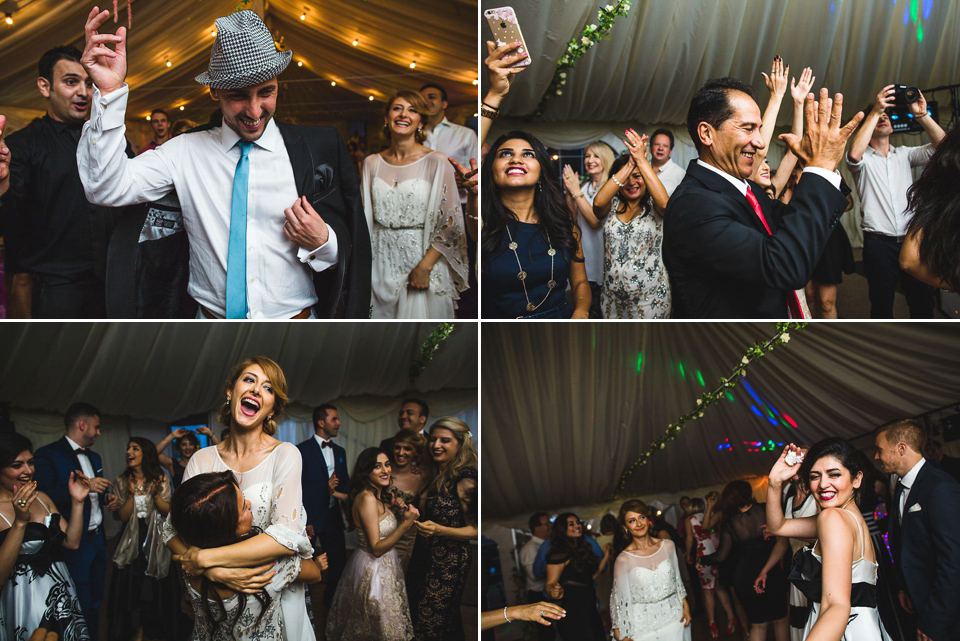 "So if you want to be able to take in every moment of your day, which flies by so fast by the way, then allow a small part of your budget to have someone who can take over on the day and be responsible for everything else!"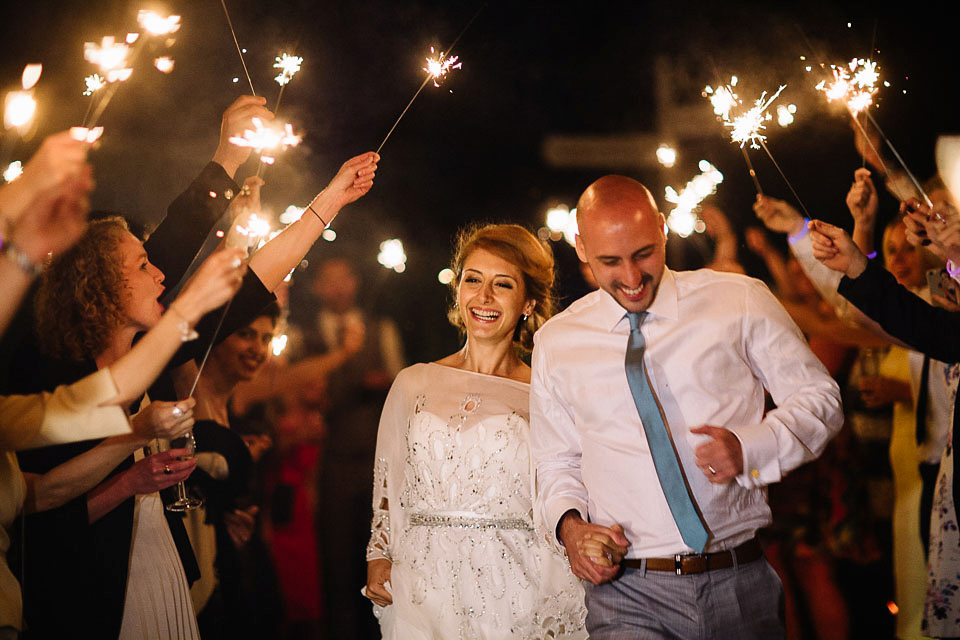 What an exceptionally beautiful day, as always, wonderfully photographed by Jon of S6 Photography.  Thank you so very much Sarah and Dan for sharing your incredibly beautiful wedding with us today, I'm so utterly delighted that we get to share it with our readers.
And readers, you can see more from S6 Photography here on Love My Dress – photographer Jon is based in Sheffield but travels all over the UK and world to shoot weddings.
Are there any of you reading today who plan on wearing a beautiful Anoushka G gown? You can see other brides in their Anoushka G gowns here if you feel like being even further inspired.
See you this afternoon folks, for our Little Book For Brides launch!
Love Annabel x
Photographer – S6 Photography
Film – Cupcake Videos
Venue + catering  – Deer Park Country House Hotel
Wedding Dress – Marlena'  by Anoushka G, via BOA Boutique in Richmond
Veil – BOA Boutique in Richmond
Headpiece –Ivory & Co. Beatrice Headdress from Boa Boutique
Shoes – Rainbow Club Lucy Satin Court Shoes, Ivory from Boa Boutique
Perfume – Chance by Chanel
Groom – Hugo Boss via Savoy Taylors Guild + Jasper Conran shoes + Thomas Pink shirt
Bridesmaids – ASOS, Chi Chi London + Topshop sandals
Flowergirls – own dresses
Florist – Poppy's of Exeter
Cake – Claire Makes Cakes
Entertainment – Liz Grier (harpist) + All Jazzed Up + Sounds Amazing Entertainment (disco)
Rings – The Diamond Store (engagement) + Eric Ross (wedding)
Stationery – The bride
Hair Stylist – Louise Alway
Makeup Artist – Claire Bowring