I don't know about you, but this week's lovely, warm sunny weather is certainly helping to keep a smile on my face! Do you have plans to enjoy the sunshine this weekend? I can't wait to celebrate the wedding of one of my oldest and dearest friends on Saturday! Although I know it will be an incredible day regardless, I really hope the weather holds for the lovely pair.  Now on to today's wedding; Mary, a PA, married Will, a financial advisor, on the 3rd of May of this year at The Ashes, an award winning, exclusive use barn set in the Staffordshire countryside.
"We planned everything around quite a classic theme, with some vintage influences and a neutral colour scheme. During the planning process, I became obsessed with Pinterest and Love My Dress – I just loved seeing all of the amazing and original ideas but particularly all of the beautiful photographs on Love My Dress."
Photography by Jonny Draper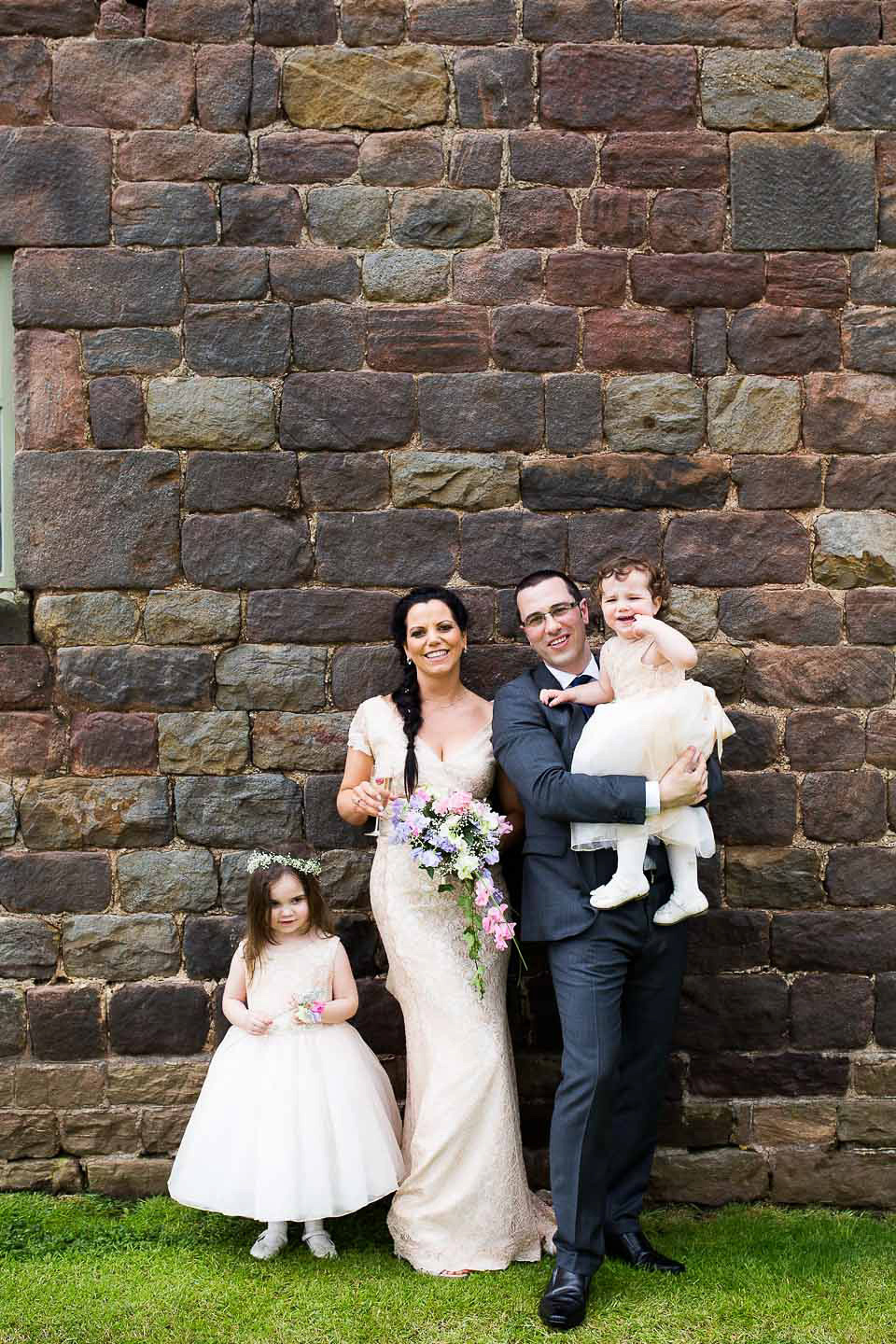 Mary's three bridesmaids wore dresses from René Derhy and Séraphine paired with nude peep toe heels from Carvela.
"My dressmaker Nina made two bespoke 'fairy-tale princess' dresses for our daughters Bella and Elsie, in the same fabric and colour as my own gown. As well as our own two little girls, we have an army of nieces who we wanted to involve on the day. As a result, I ended up with an entourage of six flower girls in total!"
"The Ashes was recommended by a colleague of Will's, and the second we arrived to view it we knew it was for us – it's a stunning venue. We can't compliment the staff at The Ashes enough for the way they looked after us in the run up to the wedding and on our wedding day itself.  We decorated the venue with some vintages touches including zinc jugs filled with gypsophila, antique style photos frames for our table names and bunting made by my friends Emma and George.
Our florist Hayley created a beautiful feature above the spot where we made our vows using jars filled with gypsophila hanging from the Juliet balcony."
"Our flowers were arranged by Hayley's Flower Studio in Wilmslow. We'd seen Hayley's work at a few weddings we'd been to and she came highly recommended. Hayley's really creative and came up with some great ideas for the flowers when we visited the venue together. We used mostly gypsophila with sweet peas in soft pastel shades to add a bit of colour. The scent we got from them was amazing and they just looked so pretty!"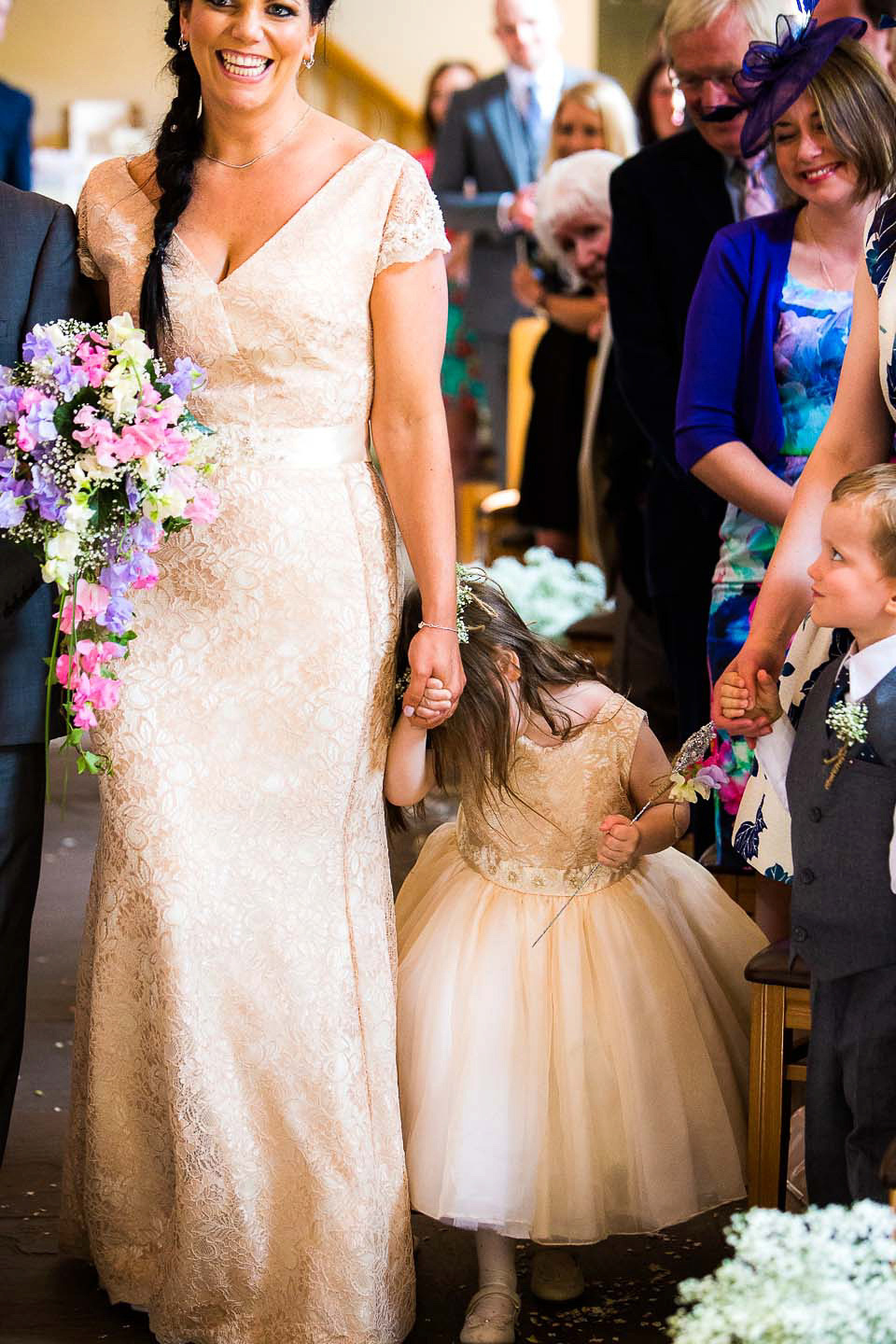 "We chose the awesome Jonny Draper as our photographer and we are so happy that we did! We met Jonny at a friend's wedding last year and his ninja approach really appealed to us – we barely noticed him and the bride and groom weren't whisked away for hours on end. When we saw Jonny's portfolio it was a no brainer and we booked him straight away.
From the initial meeting right through to the wedding day itself, Johnny was loads of fun. He took the time to get to know us, and helped keep us calm on the day. We couldn't be happier with the pictures."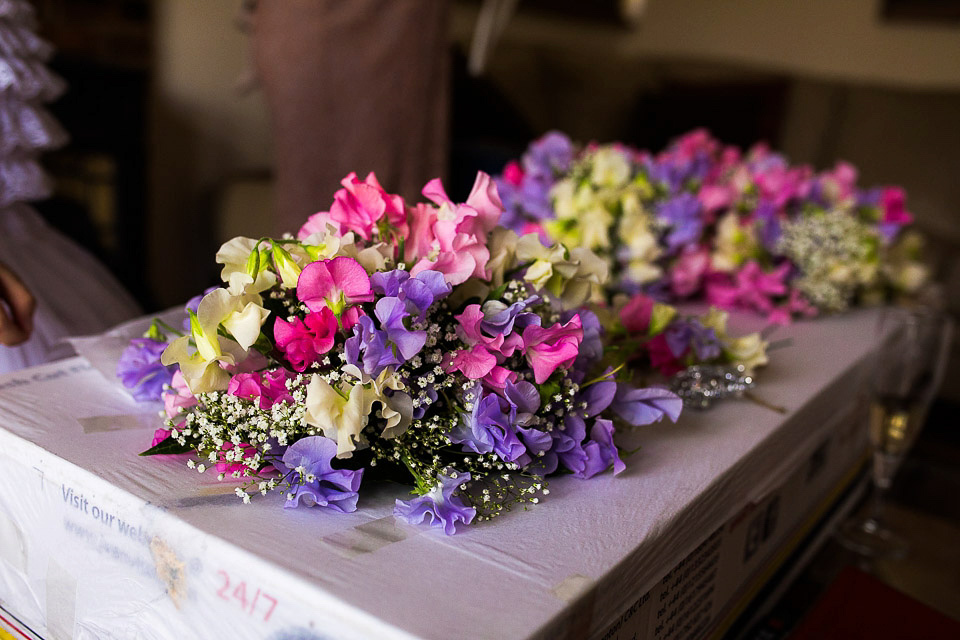 Mary paired her gown with Carvela heels and she wore her usual perfume, Noa by Cacharel, and accessorised with a delicate diamond necklace from Fei Liu, a bracelet by Shaun Leane and a pair of antique diamond earrings borrowed from a friend.
"My earrings were caged diamonds on loan from a friend and my 'something borrowed'. These were antique and I was petrified of losing them!"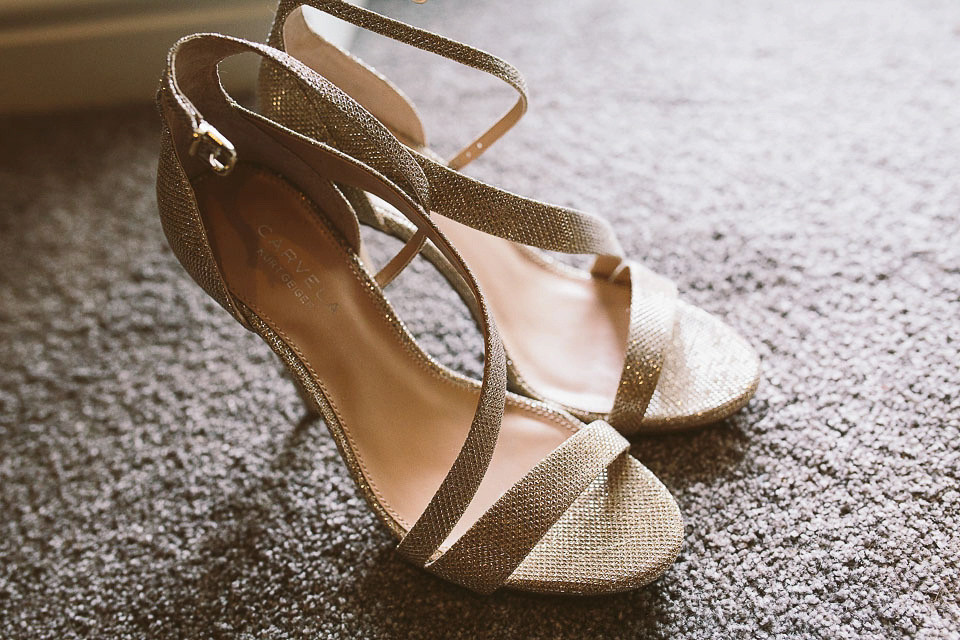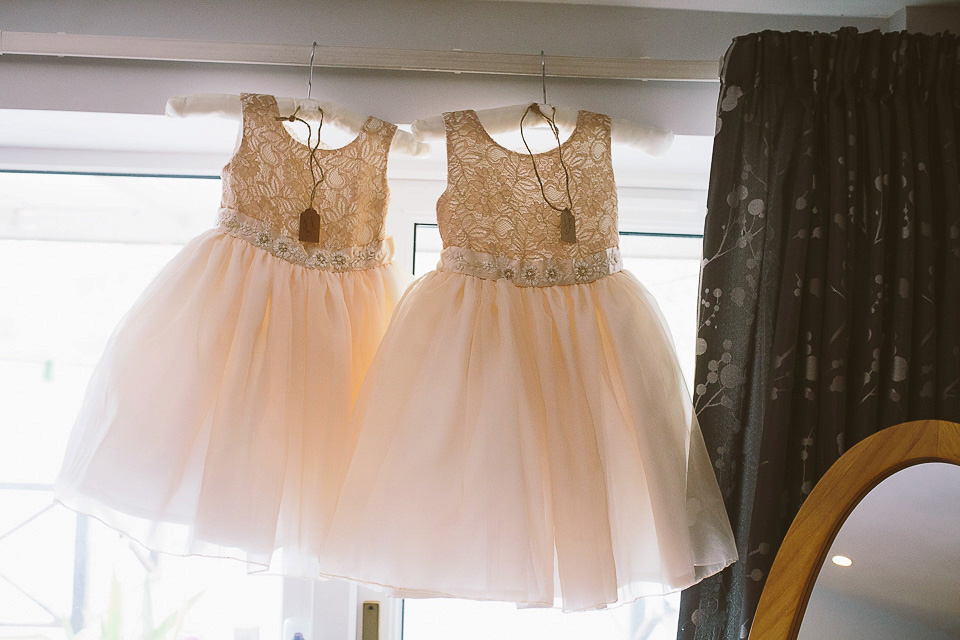 Mary's nieces wore dresses from Monsoon and Etsy, with all six each sporting a beautiful gypsophila flower crown. Our couple kitted their five nephews in three piece suits purchased from children's formalwear brand, Paisley of London.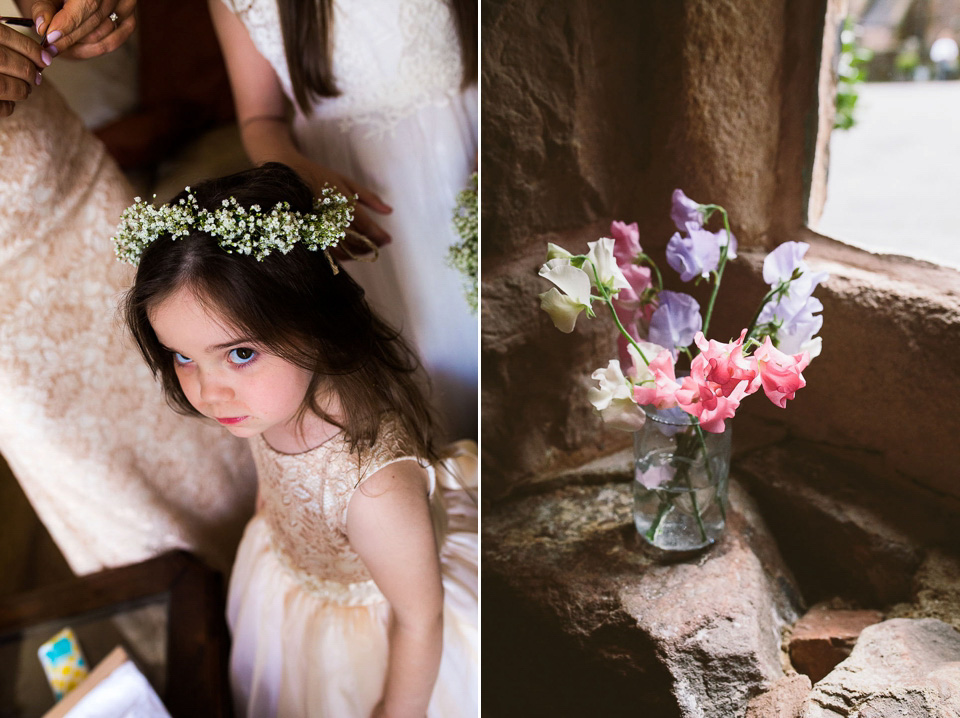 Mary's beautiful blush coloured, lace gown was designed and created by local dressmaker Nina Moutney.
"My dress was a bespoke piece, and designed from scratch by the amazing Nina Mountney. The best thing about having my dress designed is that the end result was exactly as I had imagined. Nina took a brief, and we discussed ideas and looked at a lot of different options together. She advised on styles that would suit my proportions and produced about six initial designs, as well as sourcing fabric samples. From there we narrowed the options down and created a mega-mix of the best bits from each. Seeing the dress come to life during the months leading up to the wedding was definitely the best part of the whole planning experience – I'd recommend doing it this way to anyone."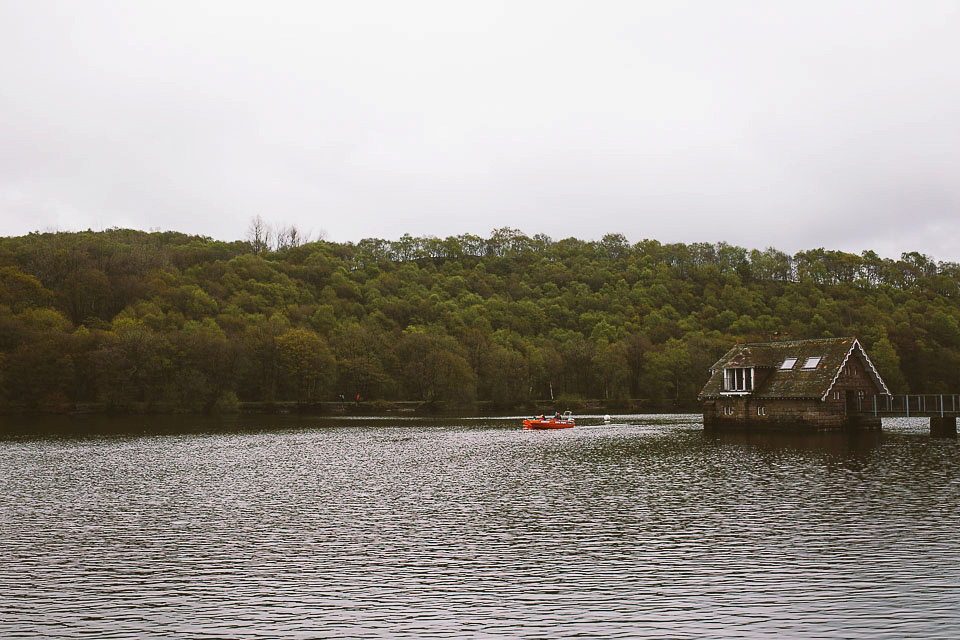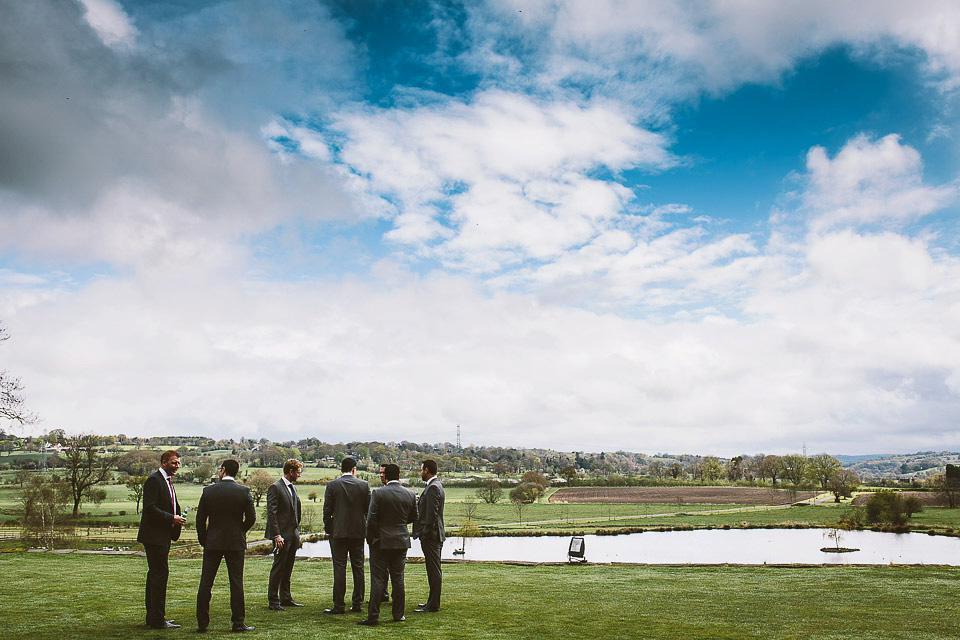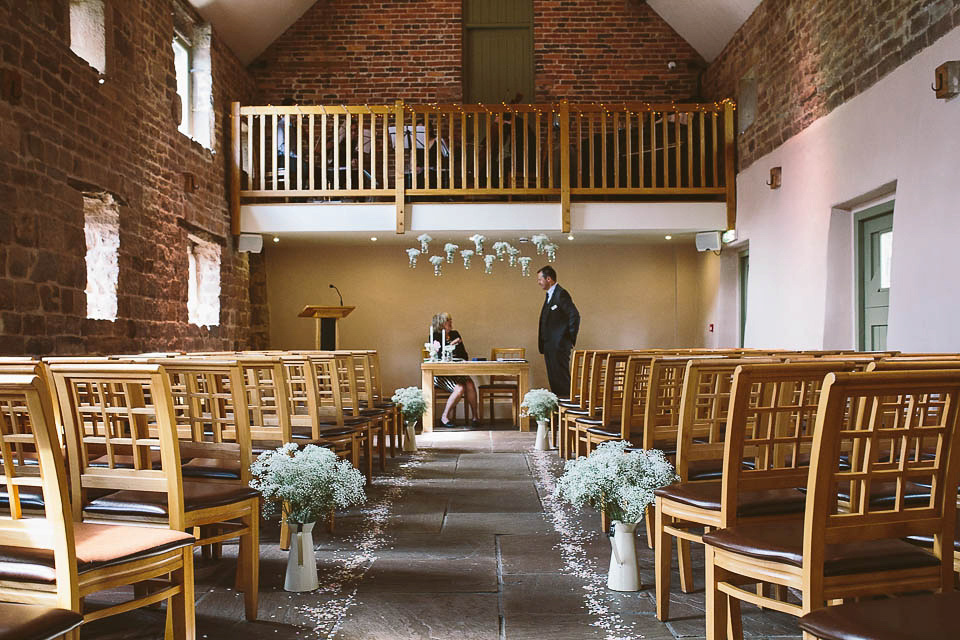 "Will's Mum had the idea of displaying photographs of our parent's and grand-parents weddings as a welcome feature. It was lovely digging out generations of wedding photos from both sides of the family and looked great on the day."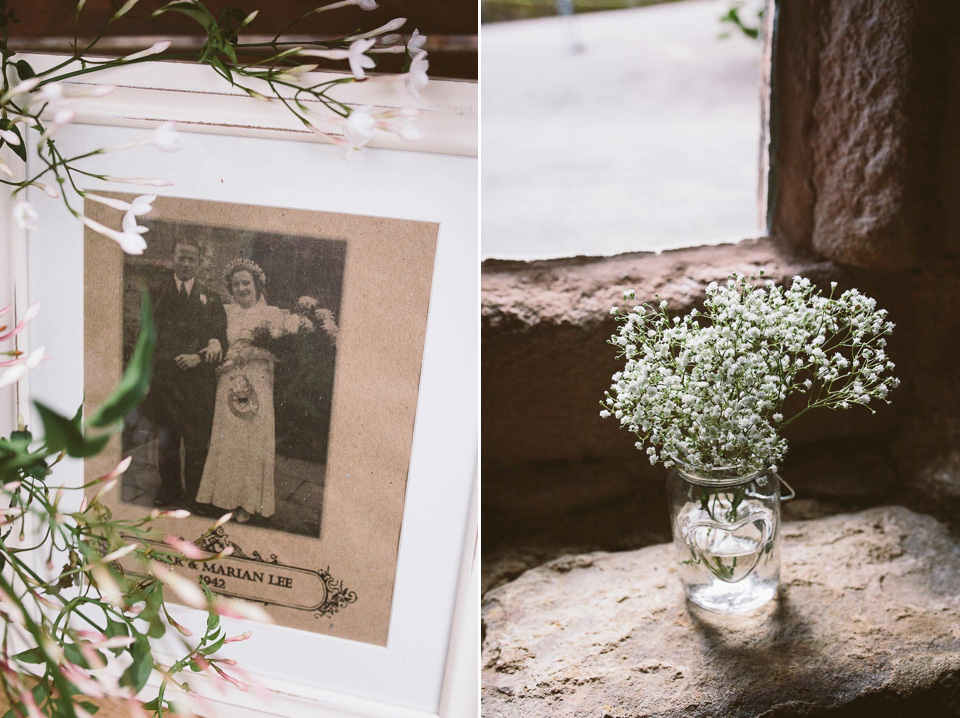 Our groom looked handsome in a classic, smoky grey, three piece suit and blue tie from Hugo Boss.
"I met Will through mutual friends in a bar in Macclesfield in 2008. Will's proposal was pretty understated but romantic. Will got down on one knee at the top of Tegg's Nose Hill in the pouring rain, with our eldest daughter Bella in a rucksack on his back. He then whisked me away for the weekend. We started planning the wedding immediately, but I fell pregnant with our second little girl, Elsie, almost immediately so we ended up waiting and married two and a half years later."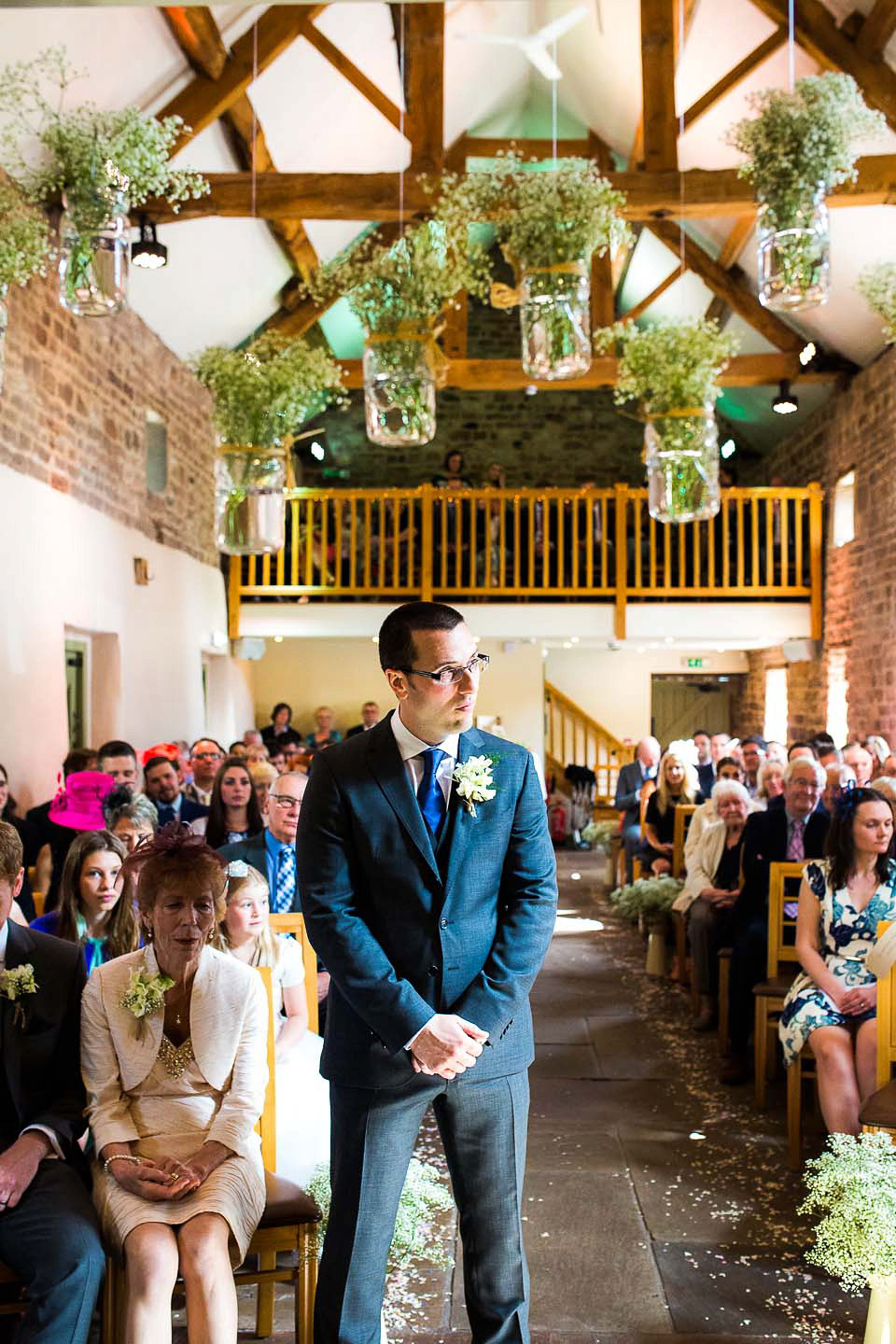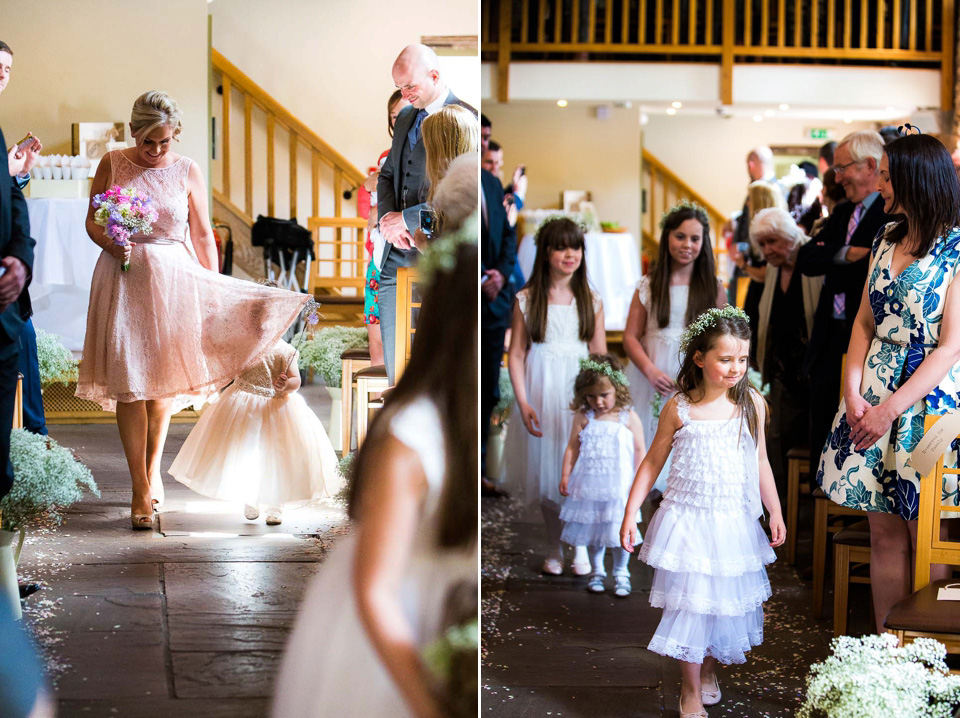 Mary's dad, David, walked her down the aisle to her favourite song, 'Good Riddance (Time of your Life)' by Green Day, performed by The Lancashire String Quartet.
"My Dad walked me down the aisle. I have 2 older brothers who are both married, so I think he'd been waiting a while for his big moment. I was very proud to have him standing next to me.
Walking down the aisle was one of the moments of the wedding I'd visualised the most in the run-up. I remember concentrating on the string quartet's beautiful music – it was one of the most poignant moments of the day for me."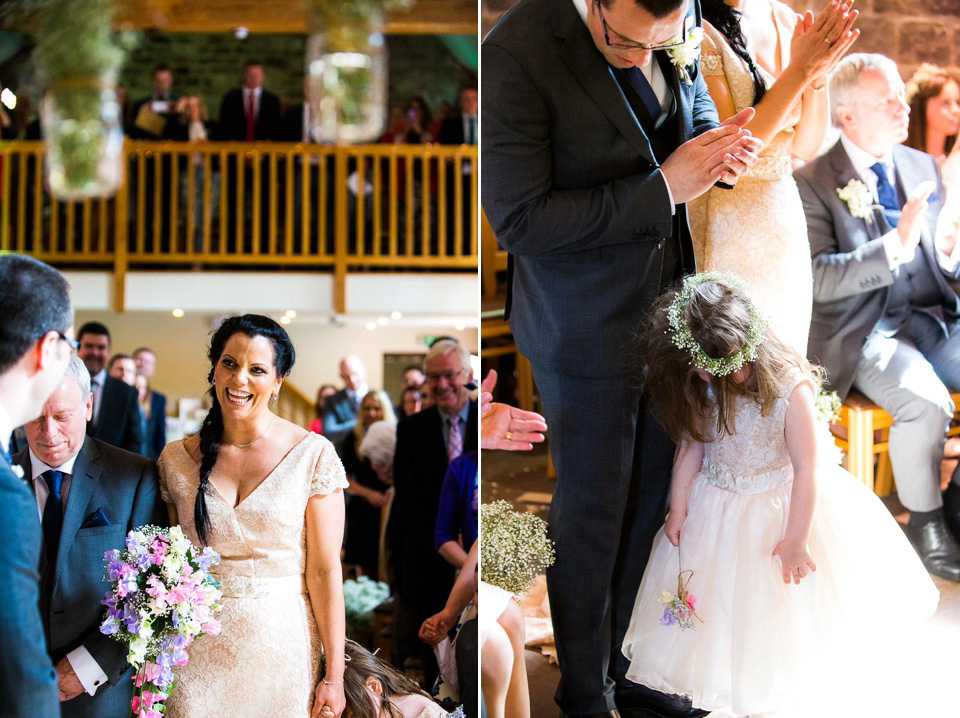 Our couple chose vows supplied by the registrar and two readings, read by Mary and Will's sisters.
"We asked a sister-in-law from each side of the family to do a reading during the service, and they both did a lovely job. Emma read 'Wedding Day' by Robert Palmer, which felt very relevant to us given the references to babies waking you in the early hours of the morning, and having Frosties for breakfast instead of champagne! Julie asked us if she could write something, and kept it secret until the day. She surprised us with a poem, which we loved."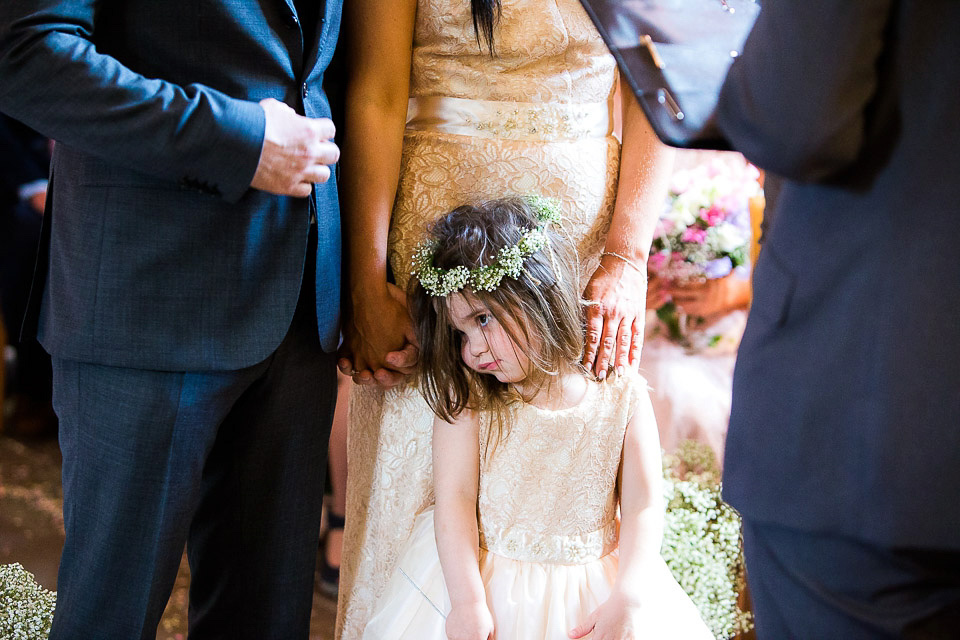 Mary and Will's wedding breakfast was created by Jenkinsons Caterers, with our couple choosing to serve their main course in a novel way:
"We chose to go with a 'host a roast' for the main, which involved nominating one guest from each table to carve the full joint of meat and serve it to the rest of table. Jenkinsons present the 'host' with serving implements as well as a chef's hat and aprons – it was great to see the reaction of guests around the room as each table realised what was going on."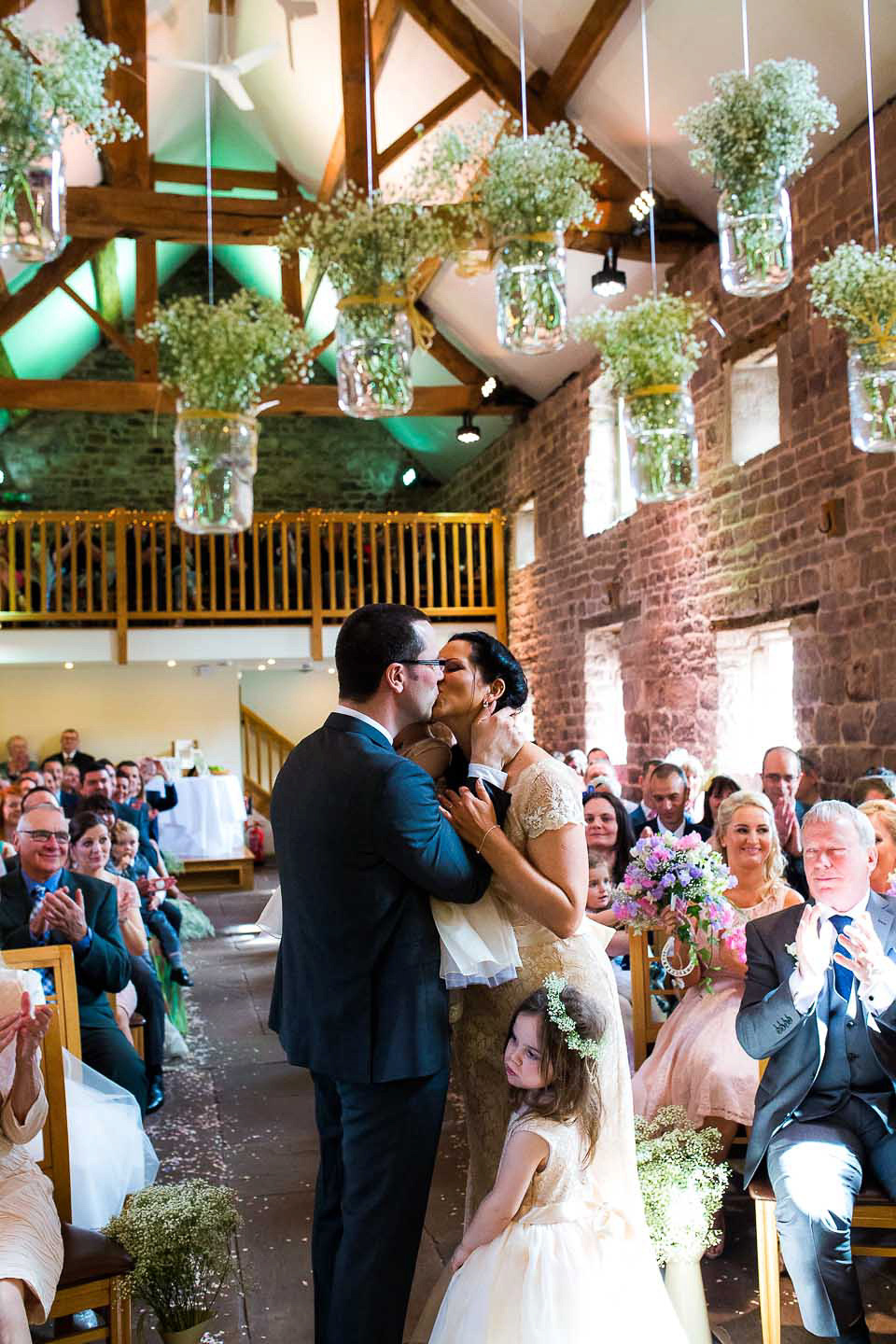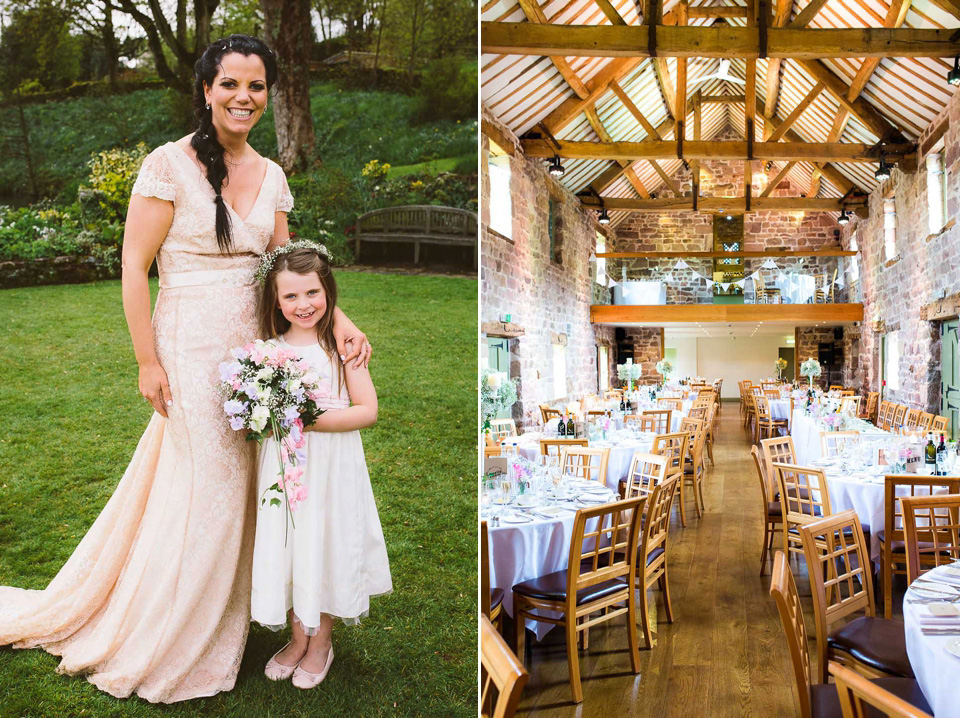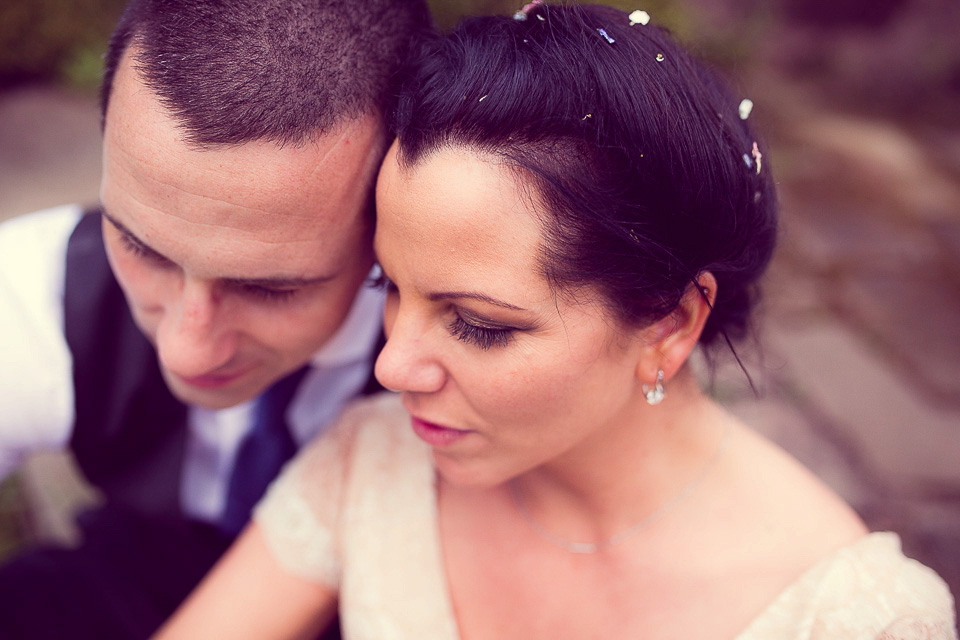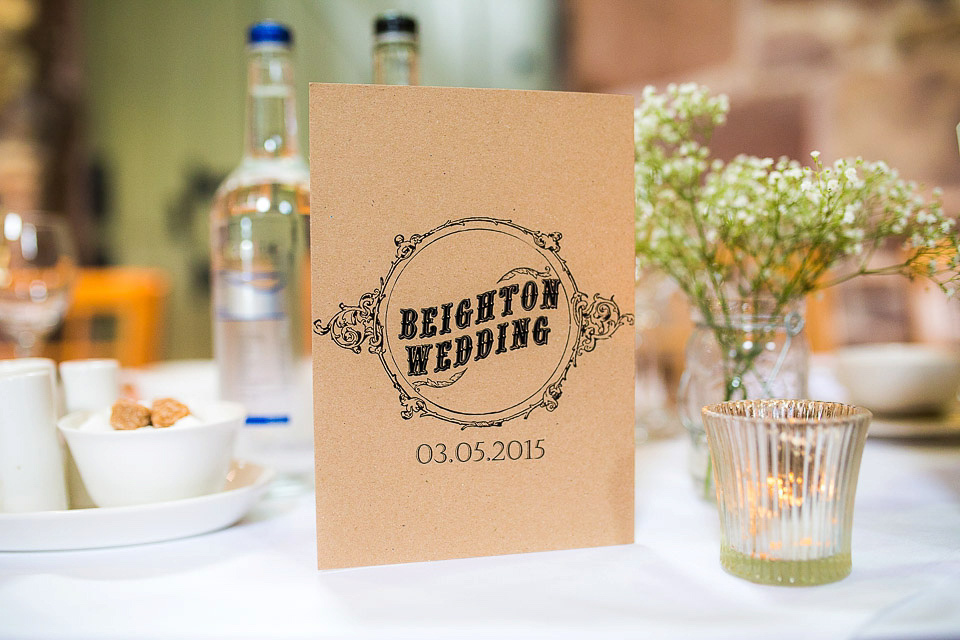 "We wanted favours that were memorable, so we decided to have some fun with ours and give a nod to our family's love of horse racing. We placed a £2 bet for each guest in the 1000 Guineas at Newmarket, which was running at the same time as our service. A betting slip for each guest was left in a named envelope that doubled-up as their place setting. Will's brother Jamie acted as our Master of Ceremonies and announced the winner of the race before the speeches; there were a few winners on the day!"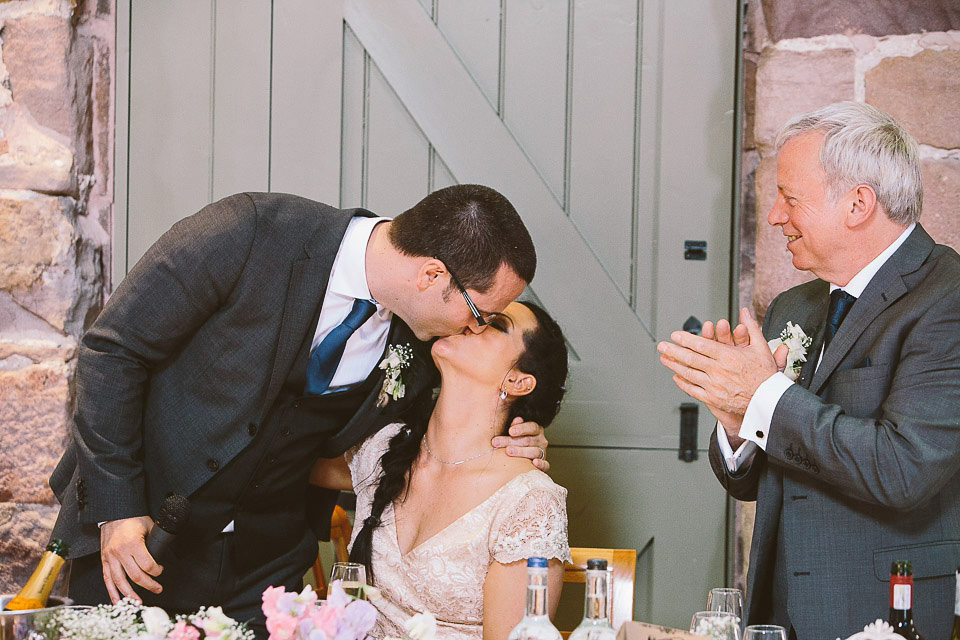 "As a surprise for Will and the rest of our guests, I booked The Best Singing Waiters. The waiters burst into song just after the best man's speech and everyone went crazy! I asked the waiters to learn some songs that Will loves, including the Karate Kid theme tune and Will even ended up performing 'Regulate' by Nate Dogg and Warren G with his best man!"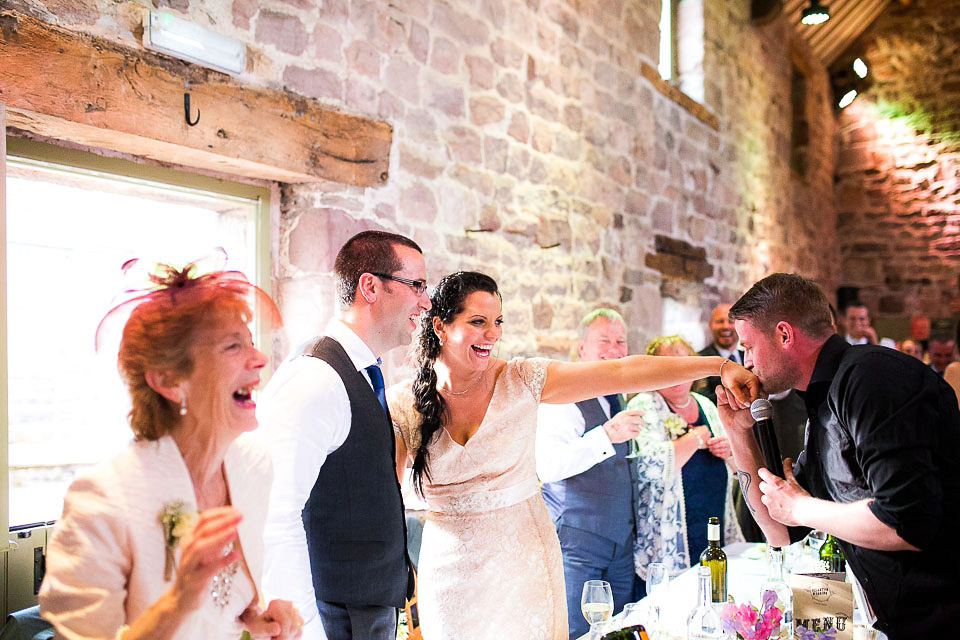 "In the evening we chose the band The Live Wires who we'd seen at a friend's wedding a few years ago. We loved them at the time and they didn't disappoint on the night – the dancefloor was rocking! We were keen to keep our guests entertained throughout the day so put a lot of effort into this element."
Words of Wedded Wisdom
"Before you spend a penny, agree the three most important things that you want to remember about your wedding, and focus your efforts and budget on them. It really helped prevent us from getting carried away with all of the added extras you're tempted by when you get stuck into the planning.
Secondly, if you're offered help, accept it! Planning a wedding takes much, much longer than I'd ever anticipated – particularly around family, work and life in general.
We'd also recommend taking time-out together a few times during the day just to watch your guests. At The Ashes there's a secret window where you can spy on people, and it was so good to see our guests enjoying the day."
A big thank you to our happy couple for sharing their big day and to Jonny Draper for these fantastic images. If you'd like to see more stylish, English country weddings, please follow this link!
Only one more day 'till the weekend – hooray!
Annora x
Photographer – Jonny Draper
Venue – The Ashes in Endon, near Leek in Staffordshire
Wedding Dress – Bespoke gown created by Nina Moutney
Shoes – Carvela
Accessories – Diamond necklace from Fei Liu + bracelet from Shaun Leane + diamante hair pins from eBay
Bride's Perfume – Noa by Cacharel
Groom – Hugo Boss suit +tie
Bridesmaids – René Derhy and Séraphine dresses + Carvela heels + Earrings, necklace and bracelet from Nordahl Jewellery
Flowergirls – Nina Moutney + Monsoon + Etsy
Page Boys – Paisley of London
Florist – Hayley's Flower Studio
Cake – Cheese tower for Churchmouse Cheeses
Transport – Mercedes from Macclesfield Luxury Cars + a borrowed Lamborghini
Entertainment – The Lancashire String Quartet + The Live Wires via The Alive Network Agency + The Best Singing Waiters
Rings – Jenny Jones Jewellery
Catering – Jenkinsons Caterers
Hair Stylist – Val Day of Valair Hairdressing in Wilmslow
Makeup Artist – Nicky Minshull