Those who say that good things come in small sizes have clearly never seen a massive diamond! No, I'm joking—there are emeralds, and sapphires and pink diamonds too. In this tutorial, we try to have them all… as photo props! The end results are undeniably girly, whimsical, and very versatile when you customise the colours to your party theme.  And today I'm going to tell you how to have a little fun making them (you can follow our other crafty wedding and engagement party/bridal shower DIY tutorials here).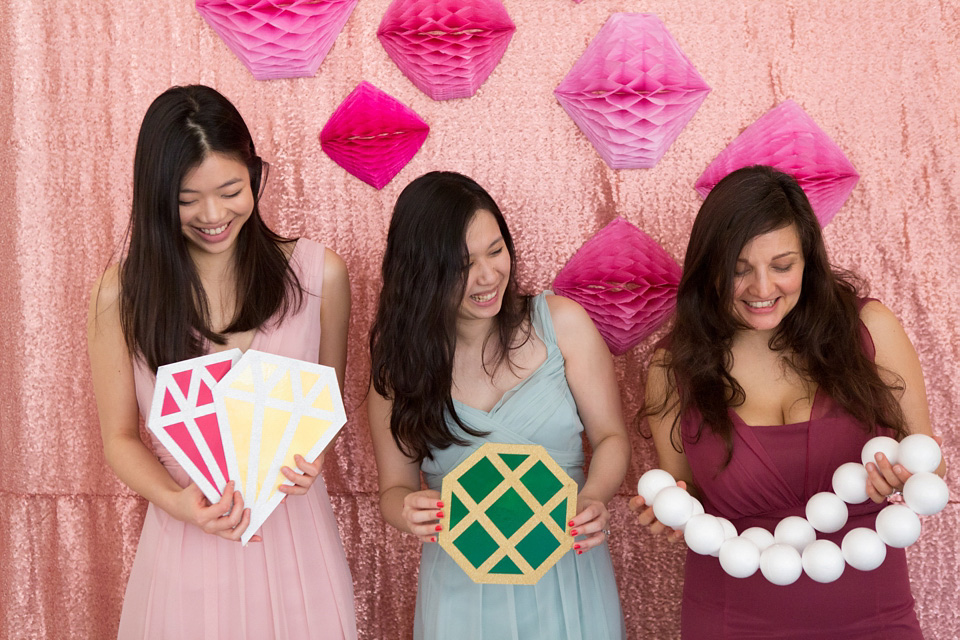 Tutorial One: How to make a giant gem stone
What you'll need
1mm foam board in A4 size (per gem)

spraypaints in different colours

glitter tape in gold or silver

scissors (or scalpel)

cutting board (not shown)

Step 1: 
Mark out the shape of the gem with a straight edge and cut through with a sharp scalpel. 

Step 2:
Spray on one coat of paint in an open area, then let dry. Then spray on a further coat if desired. Let dry overnight.

Step 3:
Outline  the gem stone with glitter tape, cleaning up the edges with scissors. Then tape down the facets of the gem as shown (image Step 4)
Repeat in other shapes, colours and sizes!
Tutorial Two: How to make a giant Pearl Necklace
What You'll Need 
8 cm styrofoam balls x24

Skewer sticker to use as a giant needle

clear wire

Scissors

Instructions:
Puncture the styrofoam balls with a skewer stick and twist to make a large hole. Take the wire and thread the giant 'pearls' through. When the 'necklace' is long enough to wear, secure the two ends with a  double knot.
Have a gorgeous weekend all!
Love Erin xx
Creative Direction/DIY Tutorial Erin Hung of BerinMade
Shoot Co-ordination – Tamryn Lawrence, Love My Dress
Photography – Lucy Davenport
Styling – Andri Benson of Always Andri
Flowers – Sarah Williams of The Flower Bird
With special thanks to Emma of Coco Wedding Venues for her support locating our shoot venue, RSA House
_______________
BerinMade is an award winning UK based wedding stationery and paper goods designer, who ships her beautiful products worldwide.  Please visit berinmade.com for further information.