Hello everyone, it was my birthday this week and officially the first week of Autumn. Now I'm sure many of you love this beautiful season with its rust coloured leaves, new jumpers, dark nights and a nip in the air. Personally, I'm more of a lover of spring so I'm very happy to bury my head under the covers and hide from the chill for a little longer while looking at beautiful images of Tom and Liz's Easter wedding full of tulips and daffodils!
Photographer Kate Scott has done a wonderful job of capturing the relaxed and informal nature of their barn wedding at Pimhill Barn in Shropshire on 4 April 2015.
"We wanted everything as handmade and local as possible – and not with any specific theme or colour scheme. The overall hope was to have a day that felt fun and welcoming."
Photography by Kate Scott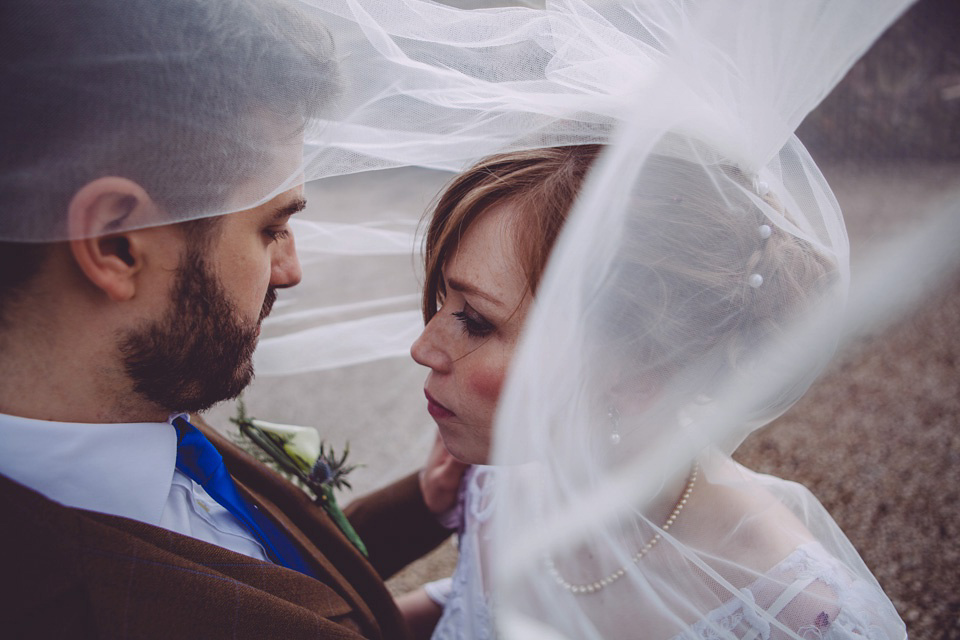 I adore spring flowers, and tulips in particular so this bright and beautiful, hand tied bouquet really caught my eye.
"Our florist, Jane, was local to my parents' house. When we went to visit her, we said all we wanted was loads of flowers we could arrange ourselves in loads of spring colours and it had to include daffodils as it was Easter weekend.  Jane knew exactly what to order and put together an amazing array of flowers for us. We had loads left over – they stayed in my parents' house for weeks afterwards!"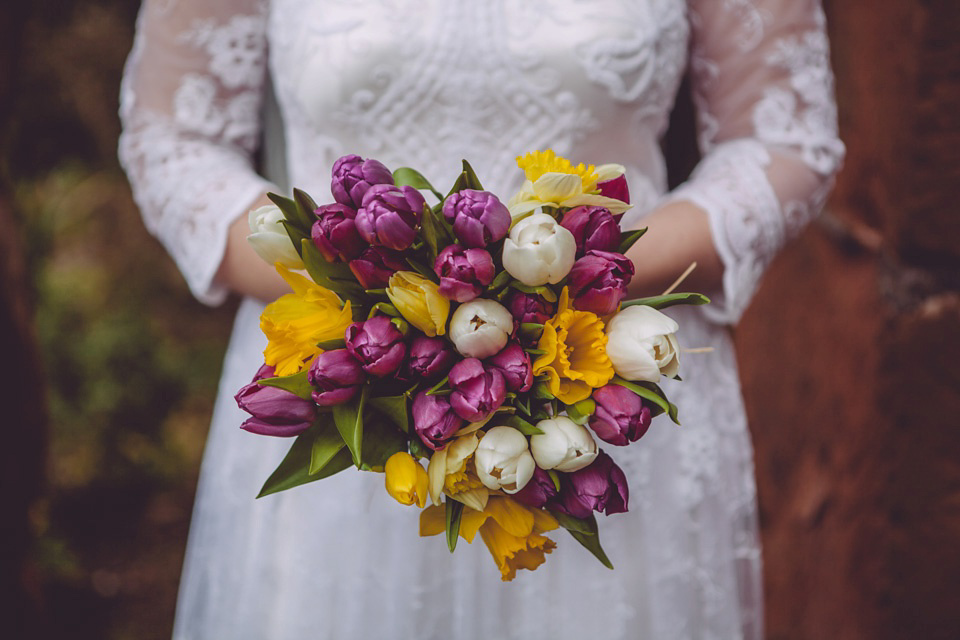 "I really wanted something vintage or vintage style; a big poofy white dress is definitely not my style. Elizabeth Avey was a complete star. She let me try on almost every dress in her amazing shop and my mum still talks about the day we had; I think it was everything she had dreamed about as the mum of the bride."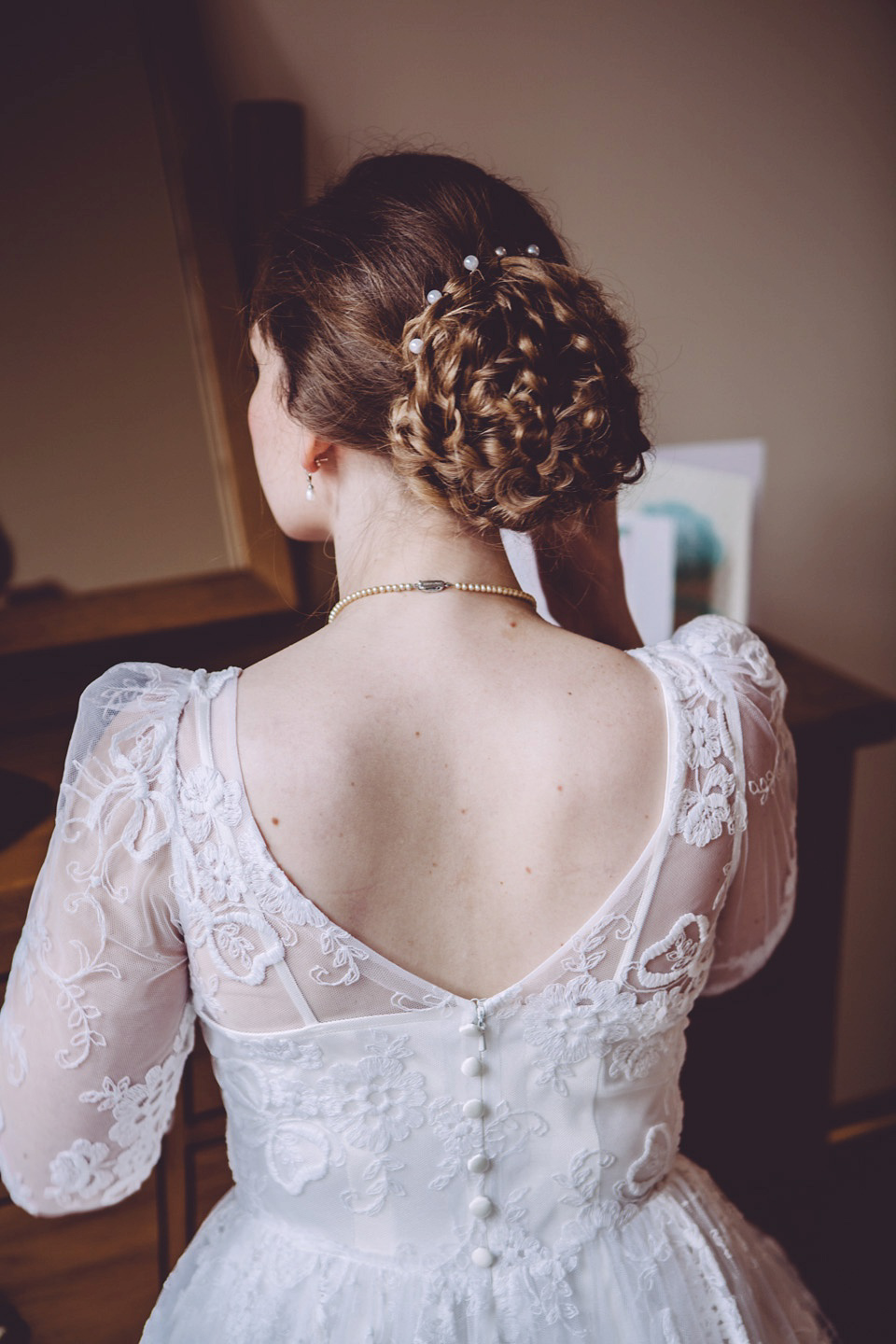 "Tom and I met at a house party above a takeaway in Archway, north London, in 2008. Both of us still insist the other one was the one to first approach the other, and that is something we'll never agree on… Tom had made plans to propose when we'd bought our first flat together. The process took a while so he ended up having to wait, but eventually it all went through and Tom proposed on the first night we moved in in February 2014."
"We chose Pimhill Barn because we wanted a space for us to completely personalise and that would be perfect for a fun, laid back wedding. Also, the barn was built in 1584 and its history really appealed to us. I am a history graduate and loved the idea of getting married somewhere so old."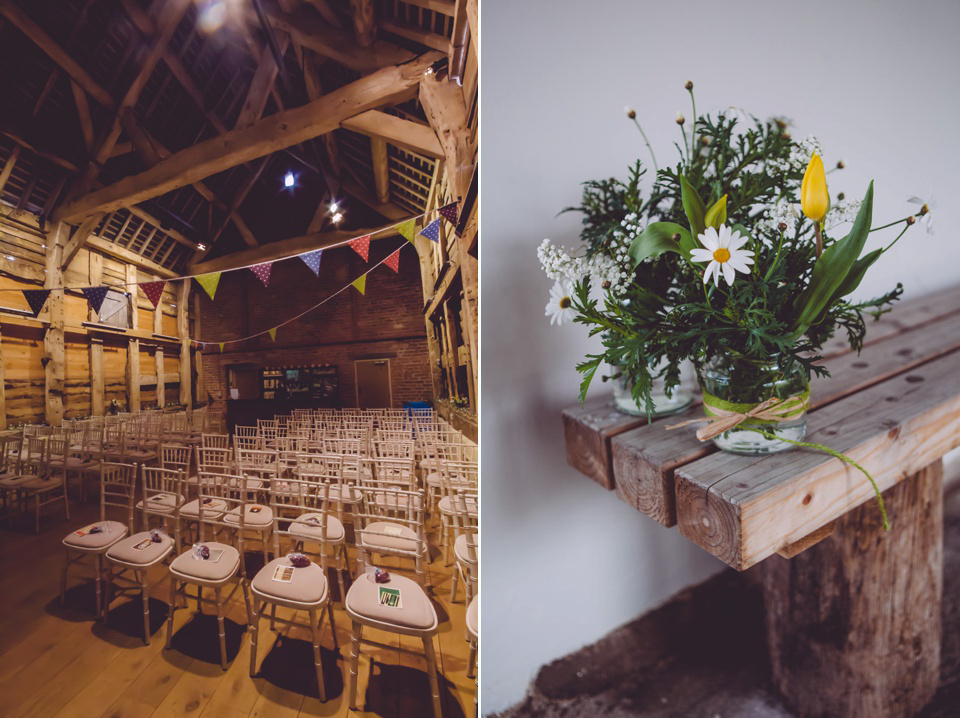 "We stole the idea for the order of ceremony cards from another friends' wedding – thanks Becca and Tom! We printed off the ceremony details and stuck them to the back of Penguin book cover postcards." (I say all the best ideas are 'borrowed.' That's why we all adore Love My Dress so much!)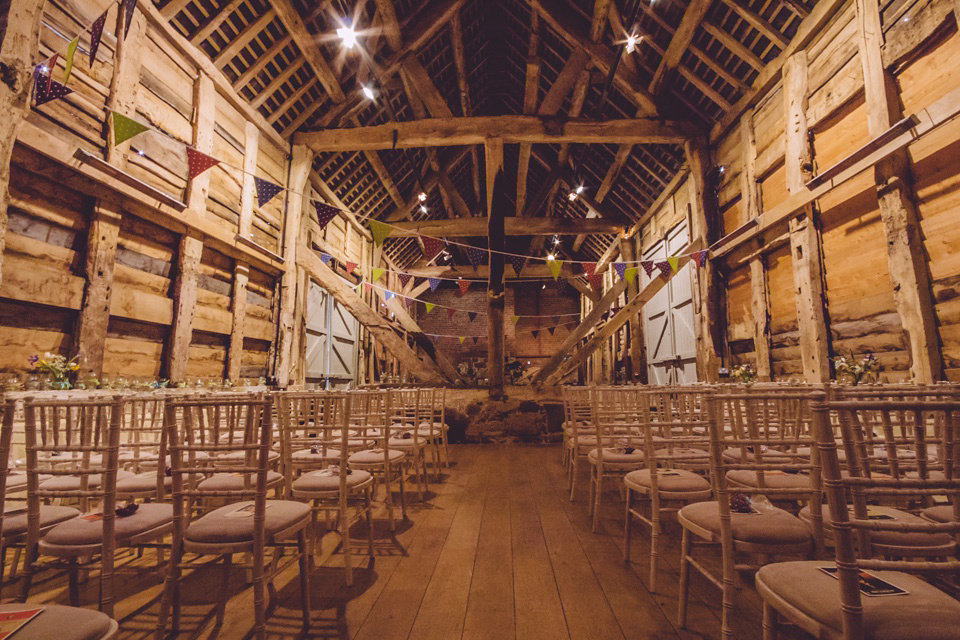 "I didn't have any official bridesmaids because of the relaxed nature of the day. My sisters helped out on the day however I wanted them to be able to wear what they fancied and not feel under pressure to wear matching outfits."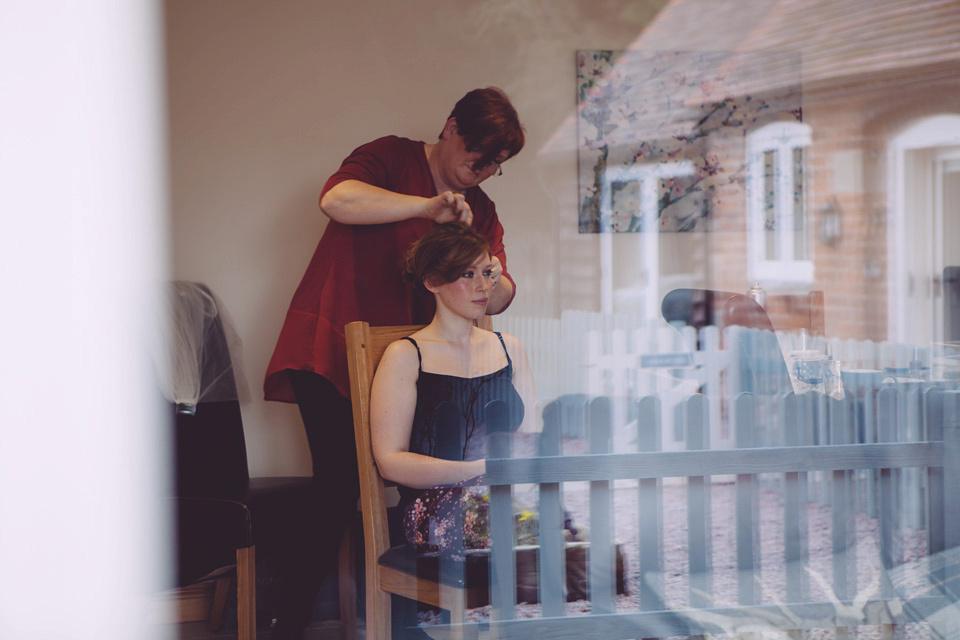 "I absolutely couldn't see the potential of this dress when I tried it on as it looked completely different; it had a high neck and back, full length sleeves and a horrible bright white lining. However both Elizabeth and my mum could see that it had the potential to be reworked into the dress I had in mind. A special shout out goes to Olga and Katie at Gold Needle in north London who were completely amazing and transformed the dress into exactly what I wanted"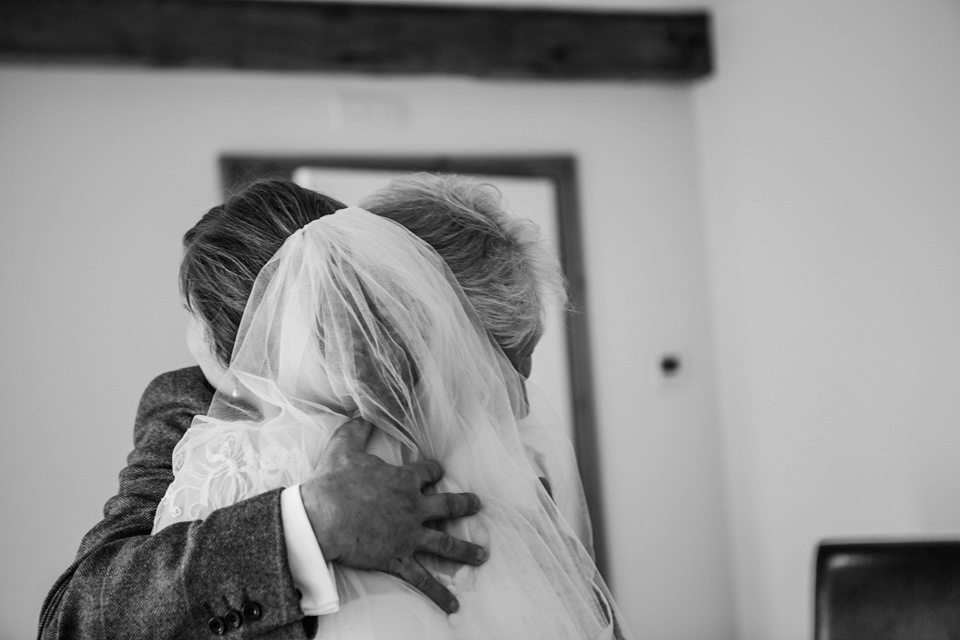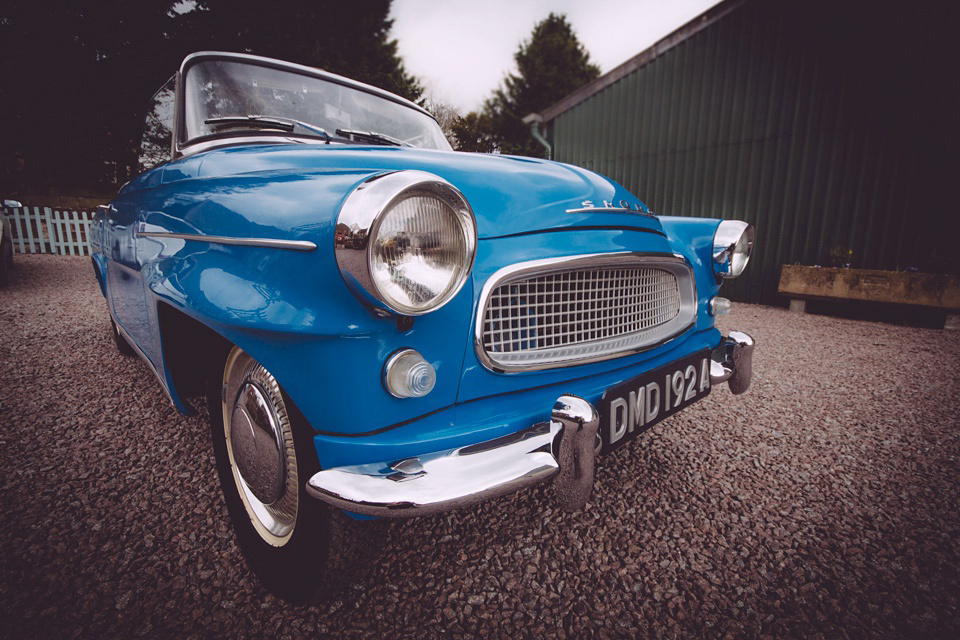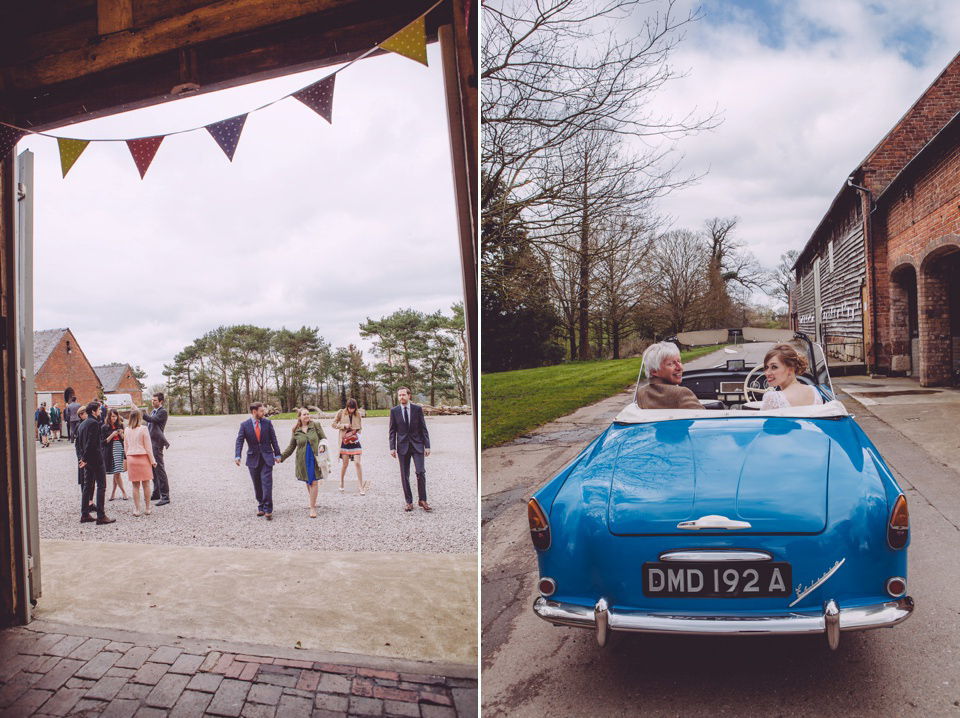 Liz walked down the aisle with her dad to a piece of music he had originally composed for his wedding, 34 years ago. He updated and recorded it himself for the day. This is the first time I've heard of this happening and I have to say that it's really rather magical.
Tom says that his favourite part of the day was seeing his bride walking down the aisle towards him. "The lead up was a bit hectic as we did all the decorating and organising and it didn't feel like we were planning a wedding. When the doors had finally closed and I saw Liz walking down the aisle, it all felt like it was worth it."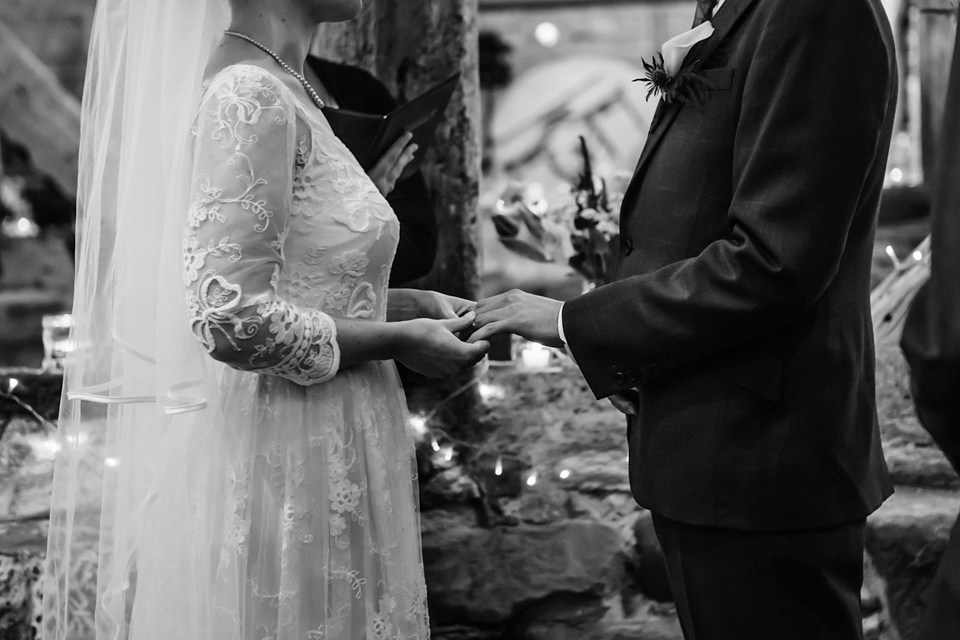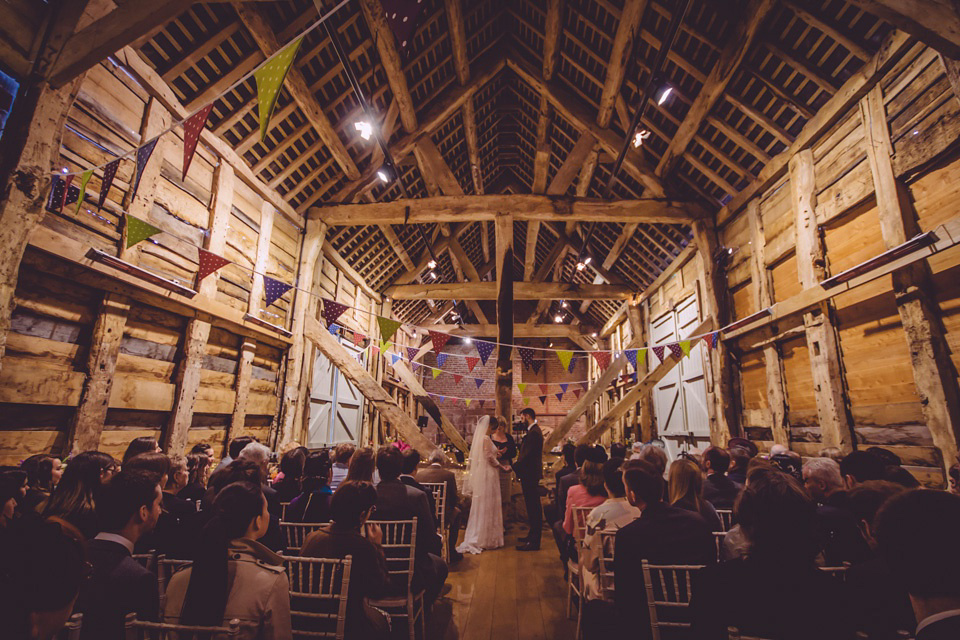 Tom managed to borrow this classic, vivid blue Skoda Felicia convertible from the Skoda UK heritage fleet to shuttle the bridal party to the venue.
"We were both a bit sceptical about having a first dance but in the end decided it would be fun. Our band played a cover of a cover – the Arctic Monkeys' cover of Barbara Lewis' 1965 song 'Baby I'm Yours'. It's a really fun, upbeat song, with lovely lyrics."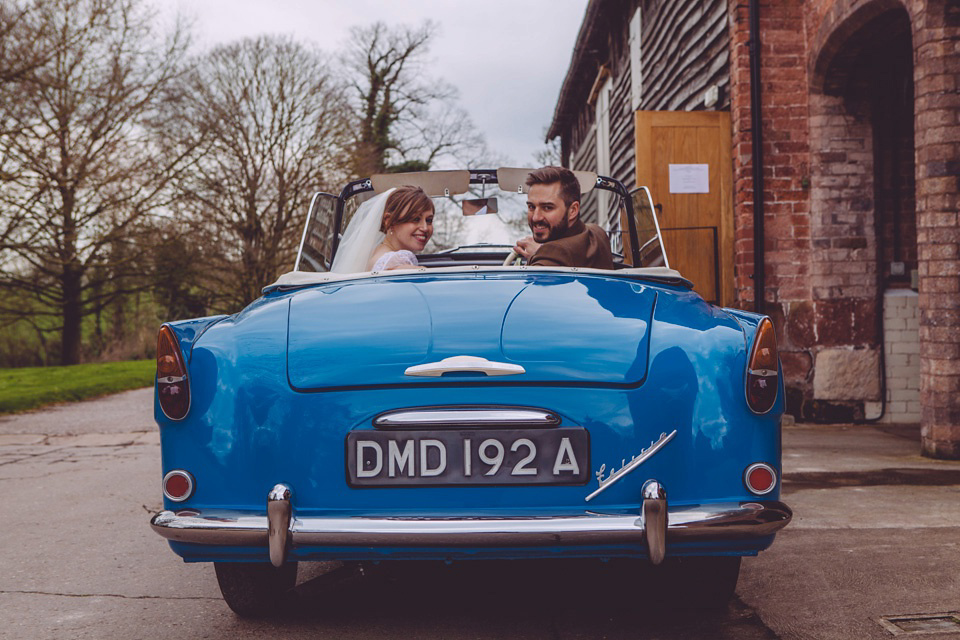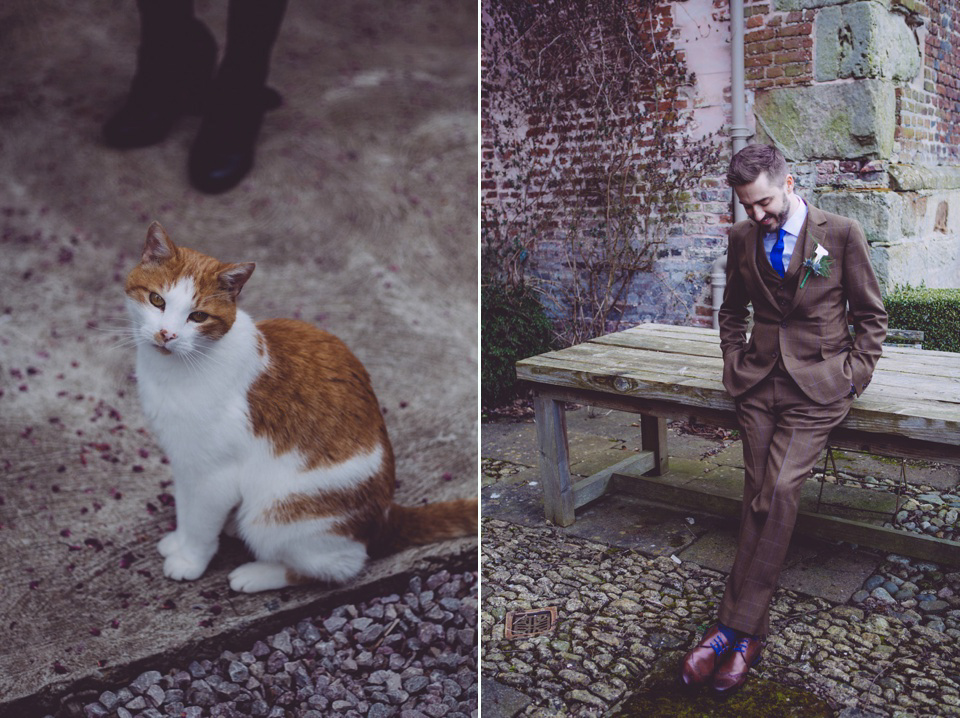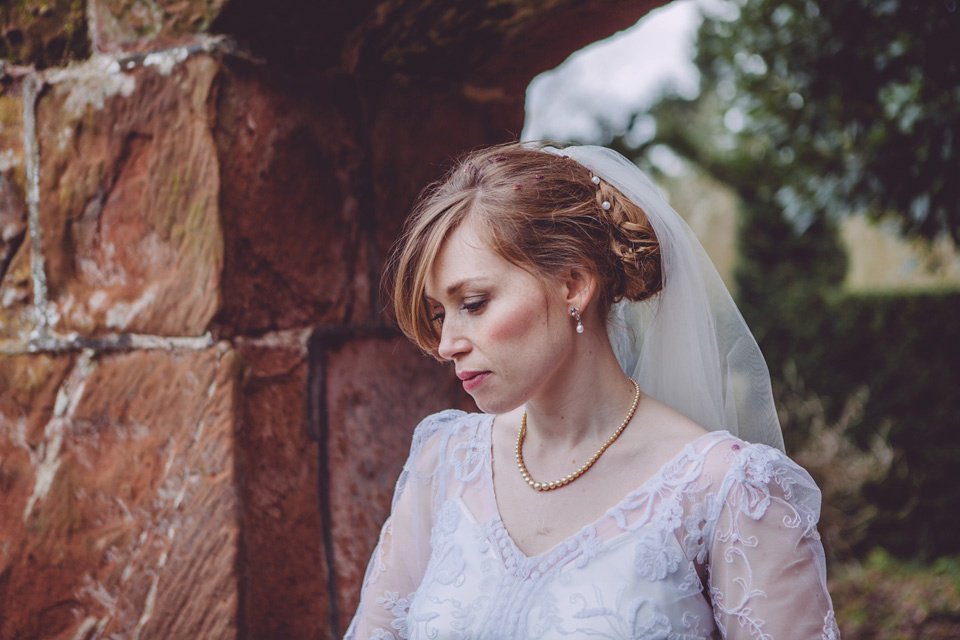 Tom discovered Tweed Addict on Love My Dress and bought his brown suit from their shop in North London.
"He really wanted a suit that he could wear again but was also one that was a bit different."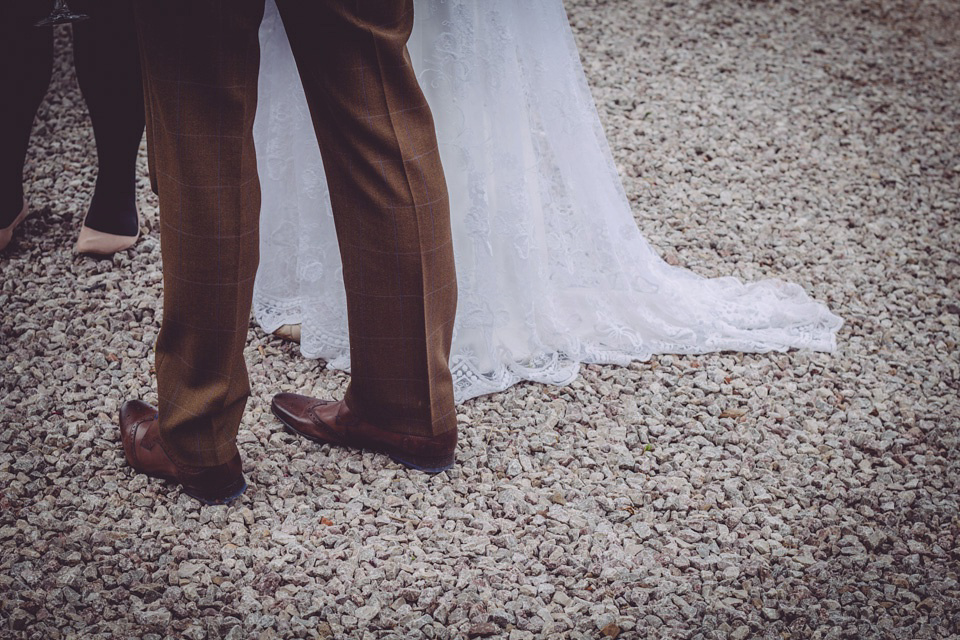 Liz's veil was her 'something borrowed' from her cousin Louise and she finished her look with a pair of antique earrings that she had received from her friends for her recent 30th birthday along with a gorgeous pair of Rachel Simpson shoes. Her pearl necklace used to belong to her grandma and her mum loaned this to her for the day.
I always love to hear of family heirlooms being used in marriages and Liz's wedding ring was her late grandmother's that she had resized at Hatton Garden.
"Our photographer was Kate Scott and we can't say enough how lucky we were to get her and how brilliant she was. Having Kate felt like a friend was doing our photographs – she was so friendly and helped us both to relax!"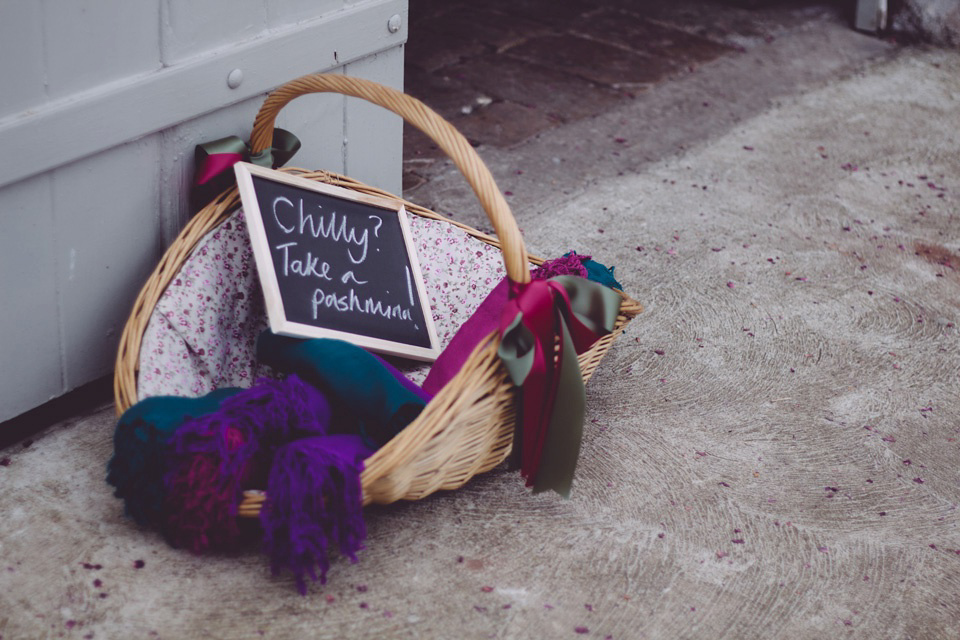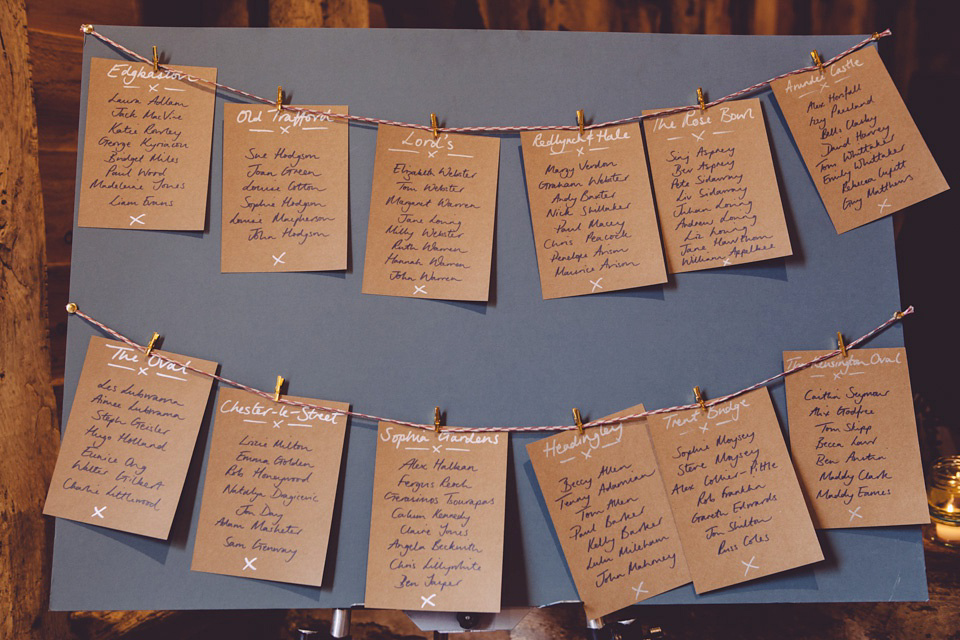 "Our caterers, Oak Apple Catering, were recommended by Ginny at Pimhill Barn and they were absolutely amazing. They came up with a brilliant sharing menu of different kinds of pies with spring vegetables, salads and breads (having gently steered me away from my initial idea of having picnic baskets on every table) and basically made the day go off without a hitch. All the work they did behind the scenes was amazing and we can't thank Ed and his team enough. Also, people still talk about their miniature dessert stands!
My mum, as well as making the wedding cake with a broken wrist, and basically organising the whole thing, also made jams and chutneys for the favours. 100 jars were sitting in their spare room for almost a year!"
"Everyone in our family and friends pitched in to help decorate the barn. Tom's sister and my mum and sister made loads of bunting and we also had some giant polka dot bunting handmade by a friend. For a year, family and friends were collecting empty jars to put tea lights in and my mum and sister decorated over 300 of them these with twine and raffia – I don't think we'll ever be able to repay them"
Liz says of their day, "I genuinely don't have a favourite bit. It was just lovely to have our friends and family celebrate with us and that everyone had a good time. Although not everything was perfect, in a way that was sort of the point. We wanted it to be a big party with all of our friends and family, and that is how it turned out."
Words of Wedded Wisdom
"Don't stress about the little details. No one will notice them anyway and the important thing is that you're getting married – everything else is just window dressing!"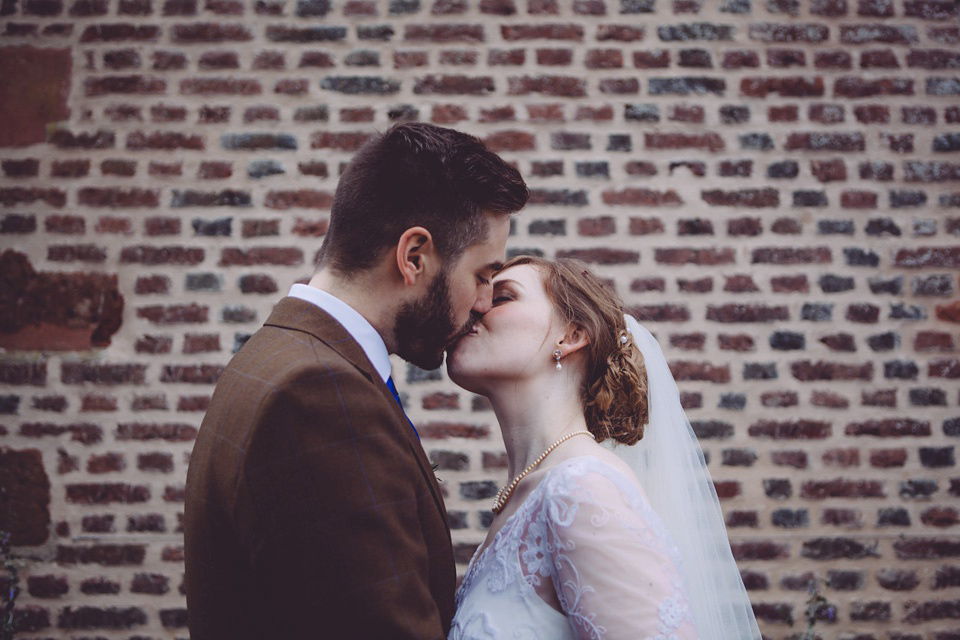 Congratulations to Liz and Tom on your marriage and on creating your desired laid-back day and also to your mum for all her hard handiwork even when her wrist was against her!
Our sincere thanks to Kate Scott for allowing us to share the lovely images and I have to say, great name by the way. I was a Kate Scott too for the first 25 years of my life so on first seeing your name, I thought they were talking about me! 😉
Much love
Katie xx
Photographer – Kate Scott
Venue – Pimhill Barn
Dress – Elizabeth Avey, Greenwich
Veil – something borrowed
Shoes – Rachel Simpson
Groom – suit – Tweed Addict
Florist – Jane's Petals and Gifts
Cake & favours – Liz's mum
Tom's ring – Wedding Rings Direct
Catering – Oak Apple Catering
Bar – Tipples Bar
Dress alterations – Gold Needle