Hello lovelies – our latest wedding blog addition today is a beautiful feast of colour, cultures and style, featuring a Canadian bride and a Welsh groom and the beautiful Spanish mountains playing backdrop. Philip, an architect and Nada, a marketing manager/landscape designer married at the beautiful Palacete de Cazulas in Otivar, Spain, on the 4th of October 2014.
"The setting did most of the styling for us. As long as we were somewhere outdoors and in the mountains, we were happy.  We wanted the day to feel sophisticated, classy, clean, fuss-free and timeless."
Photography by This Modern Love
"We didn't have wedding favours, as such, but we did have self-designed, temporary tattoos, a sunglasses bar where guests could pick a pair to match their outfit."
"Our photographer was Tim from This Modern Love who is an absolute genius. He was the first 'bit' we booked, because we stumbled across a blog of his photos that completely blew us away. He stood out from all of the wedding imagery we were coming across. He's an artist and it absolutely shows with his composition and documentary-styled take on the day, but just so beautifully done. But not only that, him and Claire are just the loveliest people."
"Tim suggested an impromptu shoot just before the Friday Henna Night and then snapped away for the evening. We have the most beautiful visual story from start to finish and we couldn't recommend him highly enough."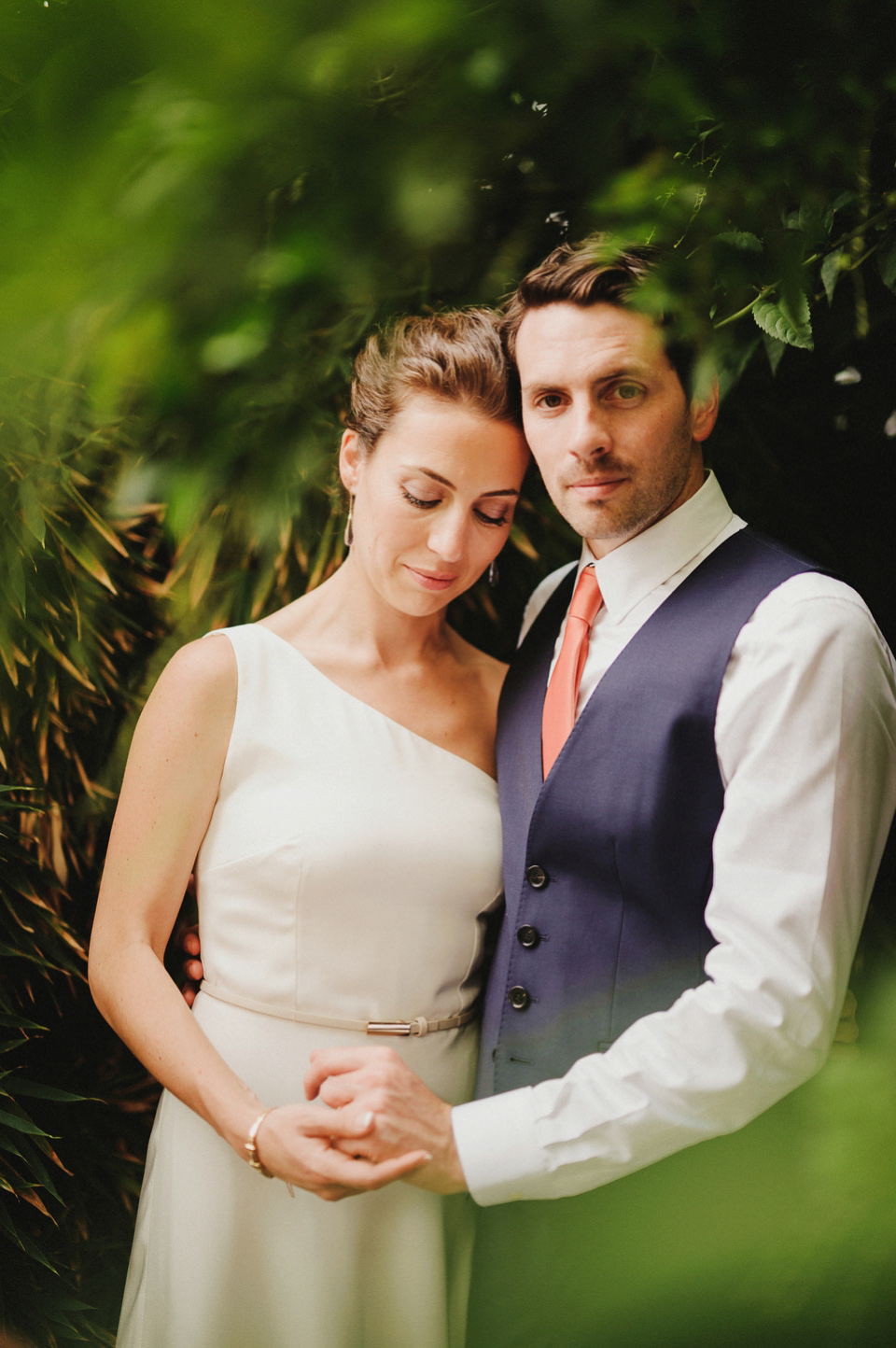 "Although born in Sheffield, Nada grew up in Canada and Philip is from North Pembrokeshire so our friends that had met across the pond had done so quite sporadically. Even more importantly, many of our family members hadn't met, and our Fathers had only met for a total of six hours. We always thought a chance for everyone to get to know each other properly, outside of just our wedding day, would be wonderful."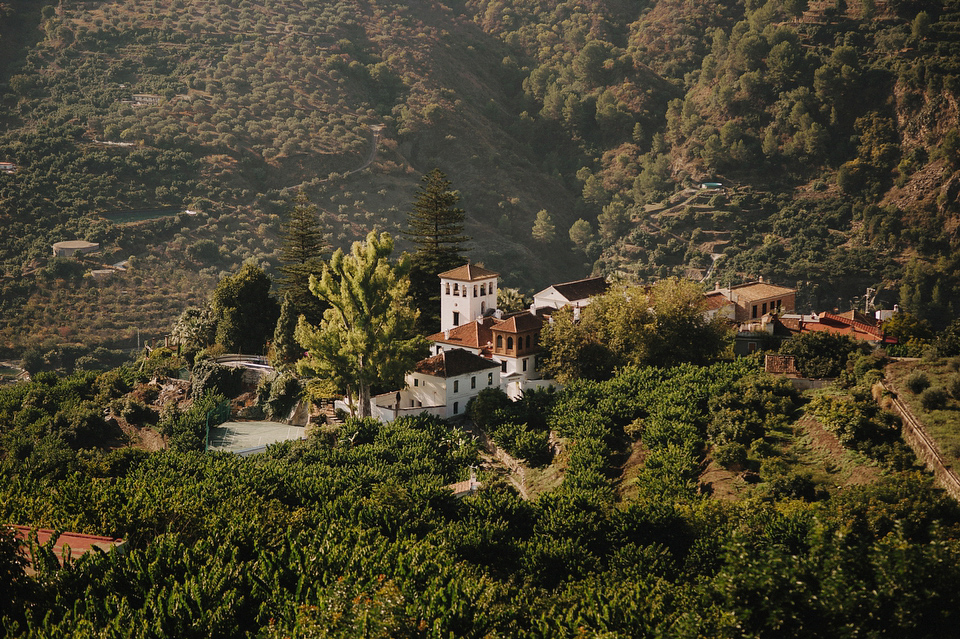 "We travel loads and one of our favourite all-time trips was 10 days we spent in Andalucia and southern Portugal. Unfortunately the Canadian Rockies weren't really an option given the distance for the majority of guests, so after exploring a more informal setting in Wales, we turned to the internet, researching Italy, Portugal, Spain and France.
When Philip found Palacete de Cazulas online, it was absolutely ideal: southern Spain, in the mountains, near major airports and a location where most of our guests could stay on site and the remaining just a few km away, in gorgeous villas scattered throughout Otivar's mountains. But even better, it was an authentic palace with an original Arabic deed, great food, great wine, reliable weather and a self-catering venue where we could do anything we wanted to do without limitations (no corkage, no curfew and a pool!)"
How the couple met is a story which spans many weeks and countries! In short, the couple met in Queenstown, New Zealand, in 2007 and spent a memorable few days together, keeping in touch while Philip continued his travels and Nada finished her second degree. Nada then went backpacking in Europe the following summer and spend two weeks in Wales with Philip, a trip which really solidified their feelings toward one another.
The couple then took the big step of moving in together in Canada in 2008. Philip stayed until Sept 2009, before moving back to the UK to complete his degree and they spent 9 months apart before Nada moved over in June 2010. They have lived happily ever after in Bristol ever since.
"Philip proposed on 20 December 2013, after an 'Engagement Quest' that had Nada solving clues, riddles and challenges with all of our friends over the course of two weeks. Even with that, Nada didn't expect a genuine proposal at the end of it. After all of the hype, it was a simple, on one knee proposal in our one-bedroom flat, with 50 candles, flowers and when least expected. We were engaged for approx. 10 months before our wedding day."
"We bought and made all our own decor, including tiny DIY glittered clothes pegs, for hanging our DIY Polaroids. We also bought some paper lanterns, candle holders, and made our own table numbers. The venue did most of the work for us!"
Flowers were the work of Stephanie Watkins, manager of Palacete de Cazulas weddings and the daughter of the owners. Stephanie was also in charge of the catering, having run restaurants in London previously- a very talented lady! I love the freshness of the green and white flowers, with pops of bright colour- so Spanish and very beautiful.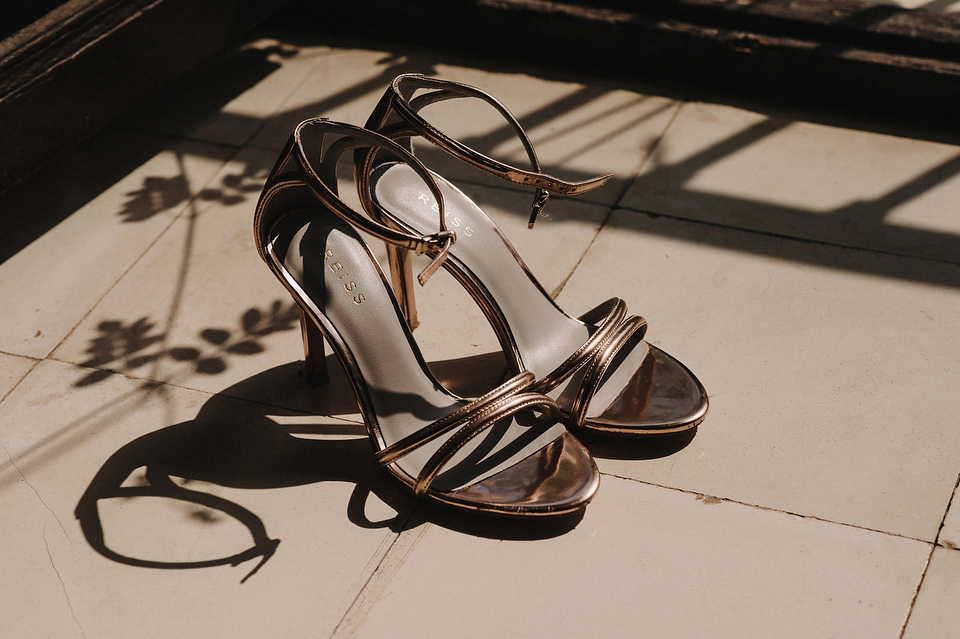 "My dress was actually made by my good friend Nora Beroual. She spent years working in the fashion industry in Paris and has since left to start her own antique and upholstery shop in Bristol. She offered as a one-off favour. It was stressful, as we had every option under the sun, but we both had the same vision and loved working on it together. And having something made exactly for me was incredible!"
I just love the simplicity of this gown, and the flowing skirt is beautiful. The belt is an unusual but lovely addition as well, don't you think? Worn with rose-gold sandals from Reiss, a Victorian gold bracelet and art deco amethyst earrings (both of which were family heirlooms, belonging to Philip's closest family friends), Nada is a picture of elegance.
"I found the dress bit quite difficult. I enjoyed the whole 'trying-on-the-dress' process, but it wasn't ideal for me – an hour to try on a dress and decide 'that's the one!' wasn't going to happen. Everything wasn't to my taste and way over what I wanted to spend and I wasn't having much luck from the vintage end of things either. The dress that we made in the end was actually inspired by many, but mostly from the incredible Elie Saab and Delphine Manivet: simple, clean, elegant, timeless and always with beautiful material. I love everything about my dress: its simplicity, the silk, the way it moved, the way it was fit to fit exactly me, the one shoulder that showed my collarbone and back, but in a sophisticated way, and the leather belt that offered something different. Above all, it was me."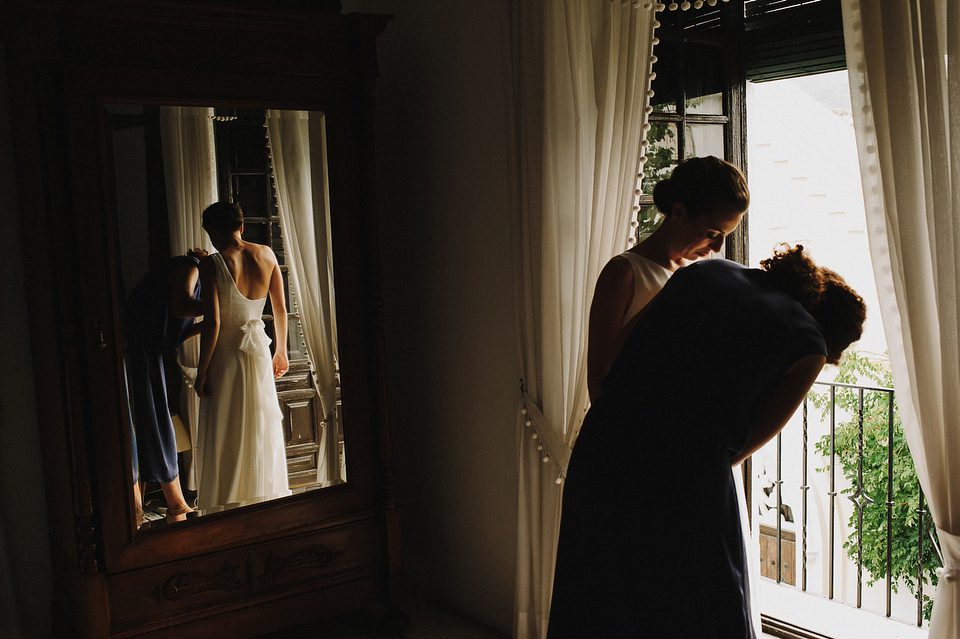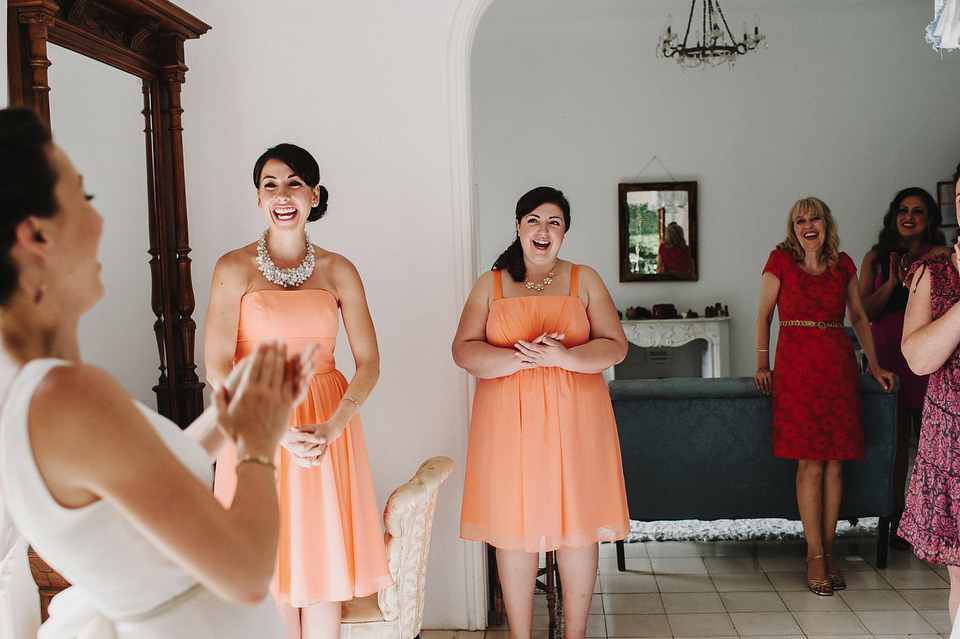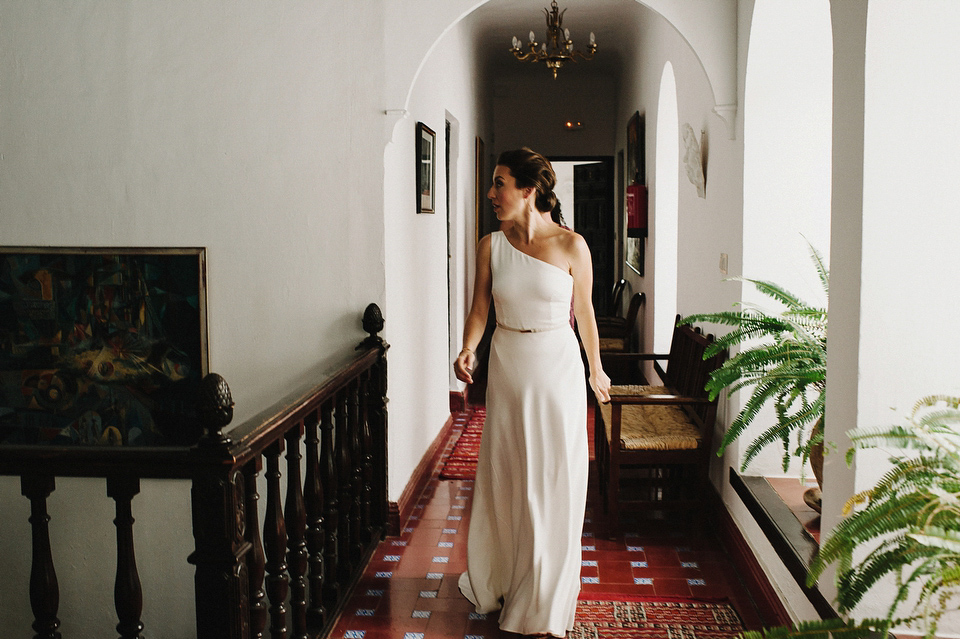 "One of our two most favourite moments of the whole day was our 'first look' moment, which our photographer Tim had suggested to us both. We hadn't decided whether we would do it until the night before, but we're so glad we did!"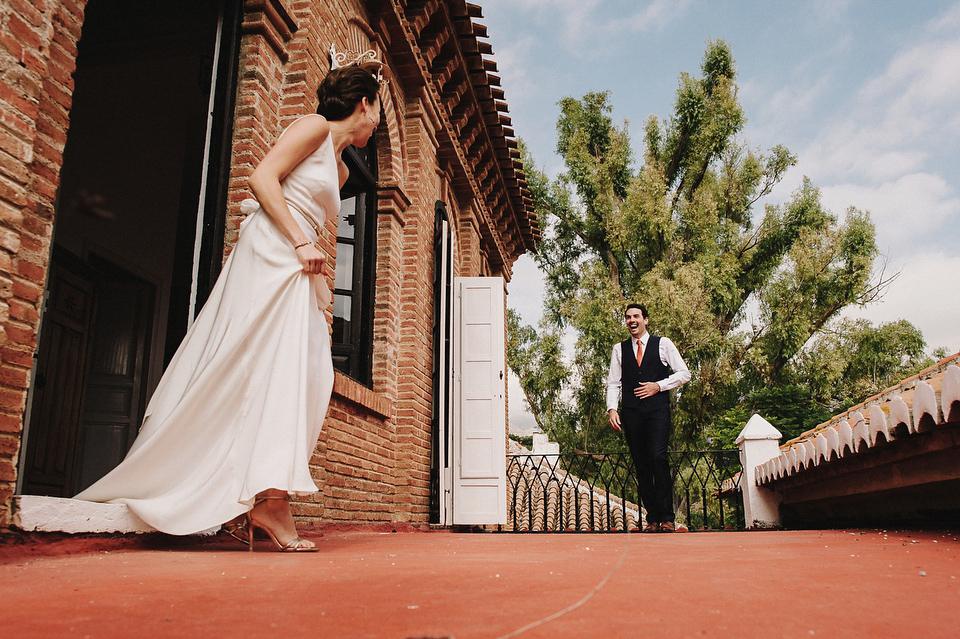 "We were so nervous before hand, and although we completely understand the excitement of seeing each other for the first time during the ceremony, seeing each other with just each other made the whole experience even more unforgettable."
"It was also like a mini pep moment for us where the nerves were lost and replaced with sheer and utter excitement and joy."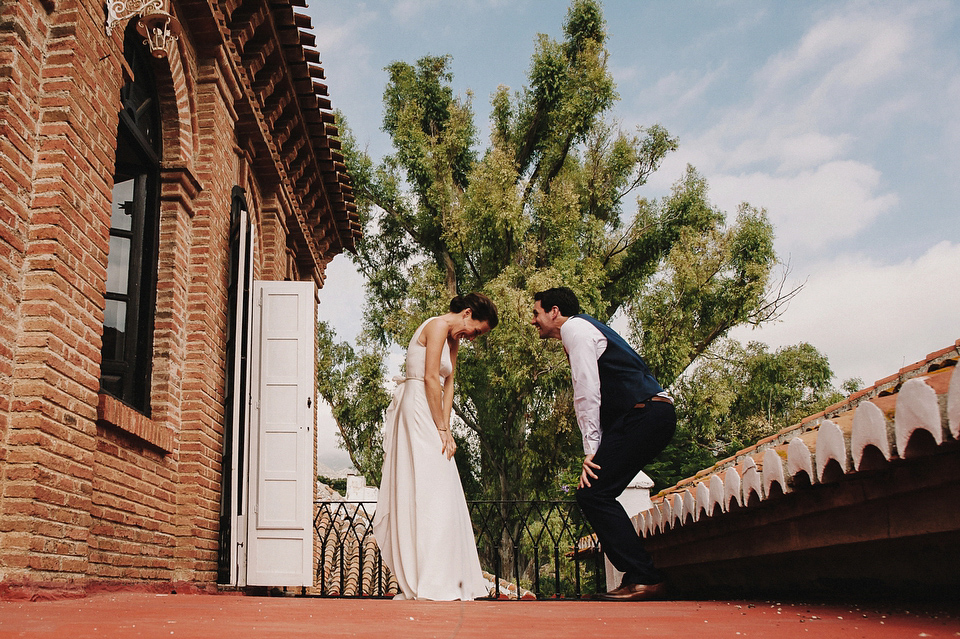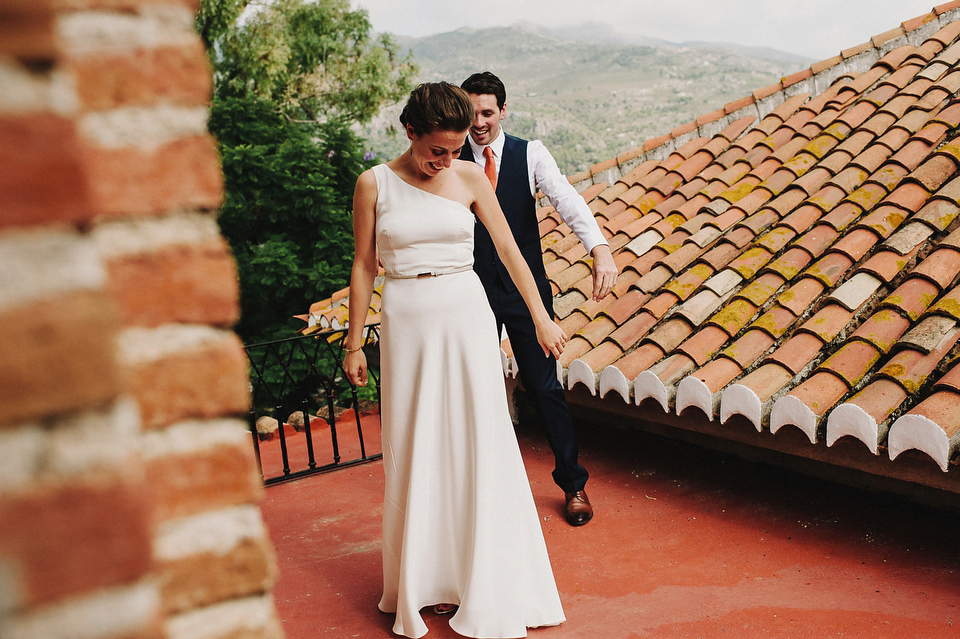 The couple were legally married at the Bristol registry office, so had the flexibility to do whatever they wanted with their 'actual' ceremony in Spain.
"We're more spiritual than religious, so having an official marry us wasn't a limitation. We decided instead that having someone who actually knew us, from before we were together to now, would be the ones best to give us advice. We ended up writing the entire thing ourselves, and asked Nada's Uncle, who was the first to see her after she was born, and the father of Philip's closest family friends, who has known Philip for over 30 years. The words of advice they offered were incredibly moving and it made the ceremony a lot more fun."
Nada walked down the aisle with her father, to her friend Tom singing an acoustic version of 'All You Need is Love, by The Beatles.
"We wrote our own vows, which was a no brainer for us. It was a really lovely, personal moment and a chance for us to say what we really wanted to say and promise to each other. We didn't make a huge deal about this, and actually both wrote them the morning of the wedding, when emotions were running high, (in a good way) and we both found it very easy to write what we felt."
"Readings aren't really a thing in Canadian ceremonies, so we waivered on this a bit. In the end, we asked Nada's brother, Philip's sister and two of Nada's best friends to choose their own. The brief we gave was no more than 3-5 minutes on their thoughts of 'love'.
In the end we decided to have the 'readings' before the dinner speeches. It was a brilliant move! Our friends and family have a great sense of humour, so it just seemed to fit better, when everyone was relaxed and the sun starting to set, and our festoon lights lighting up. It was magical."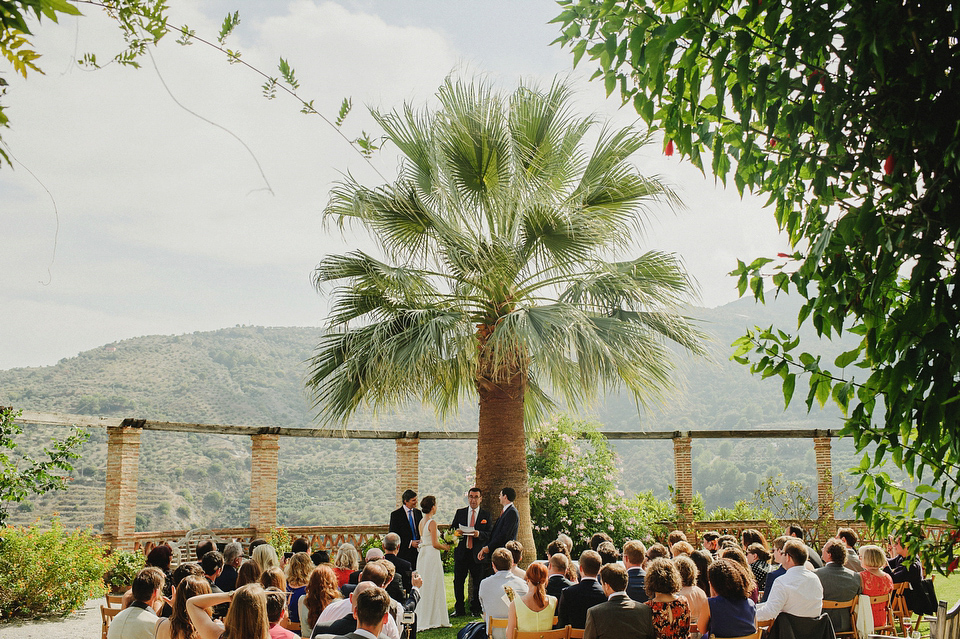 "We stumbled across this family-run antique jewellery shop in Hatton Garden, Arullmann, for the engagement ring. Again, we weren't sure what we were looking for and actually weren't really officially in the market just yet, but pointed to the same one at the same time from the outside window and popped in to have a look.
We also ended up purchasing our wedding rings from the same store. Both are inscribed with our Welsh 'loveisms': Cariad Mawr = Big Love for Philip and Cariad Fach = Little Love for Nada."
"The second was our other most favourite part of the whole day – it was emotional but full of laughter at the same time and so bespoke to who we were. It just felt like time had frozen and we were exactly where we should have been at that moment in life, surrounded by our most cherished."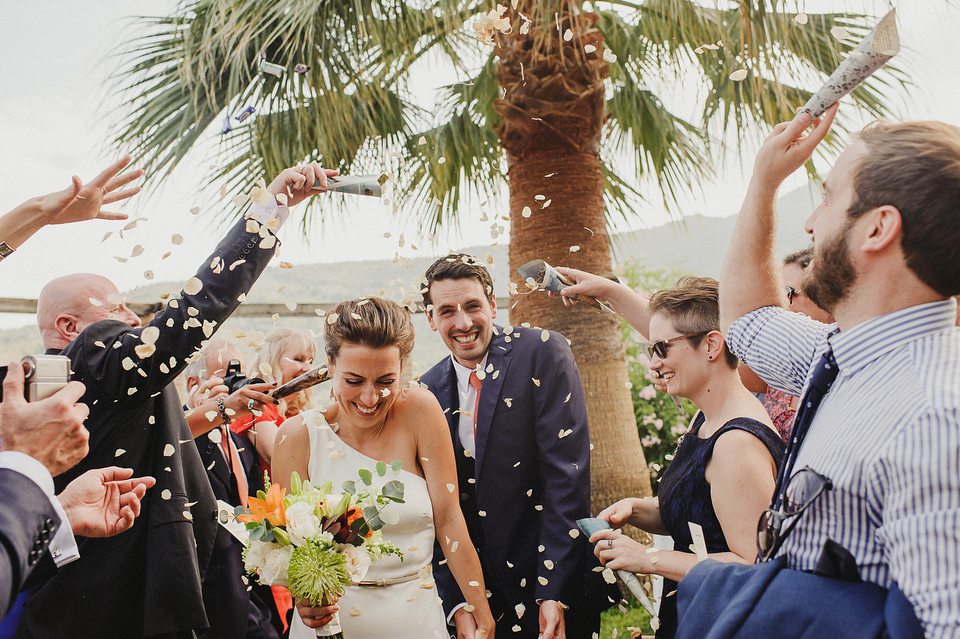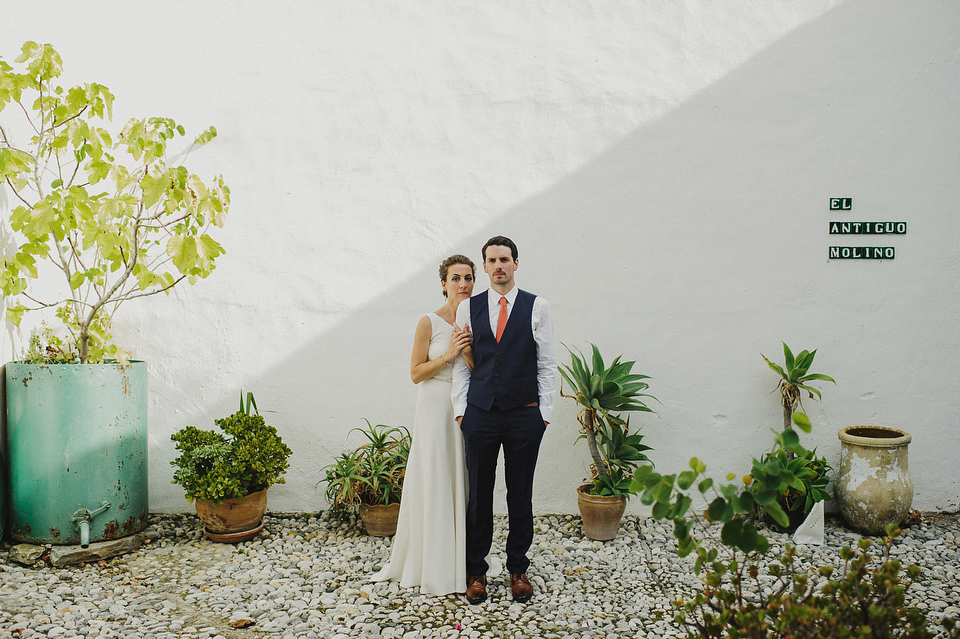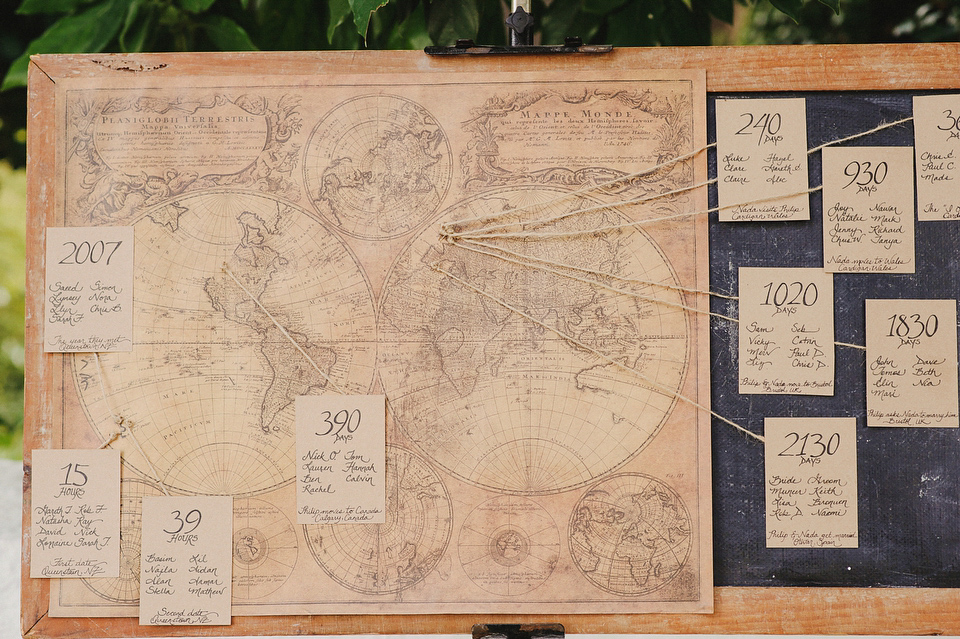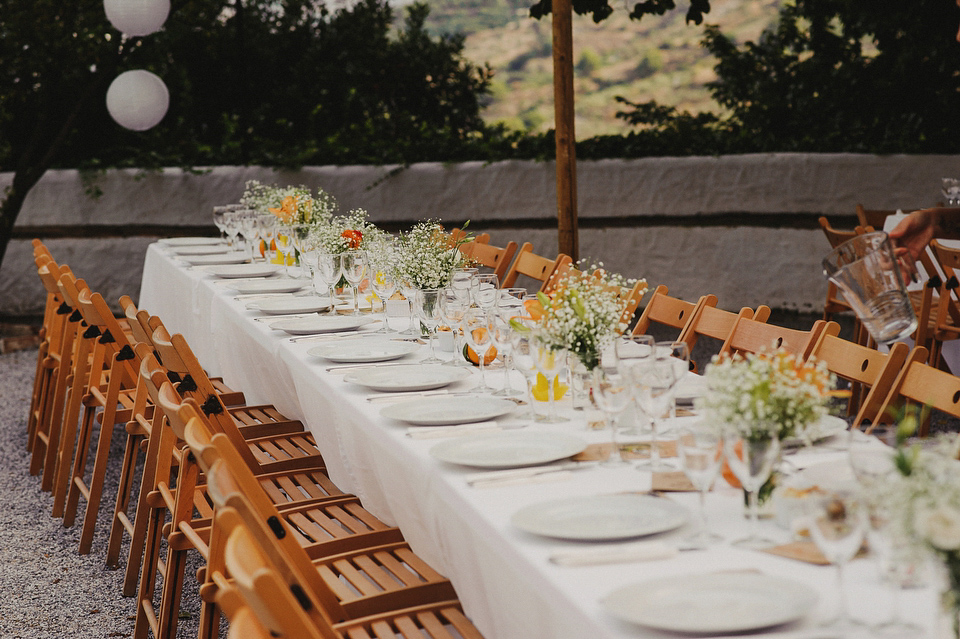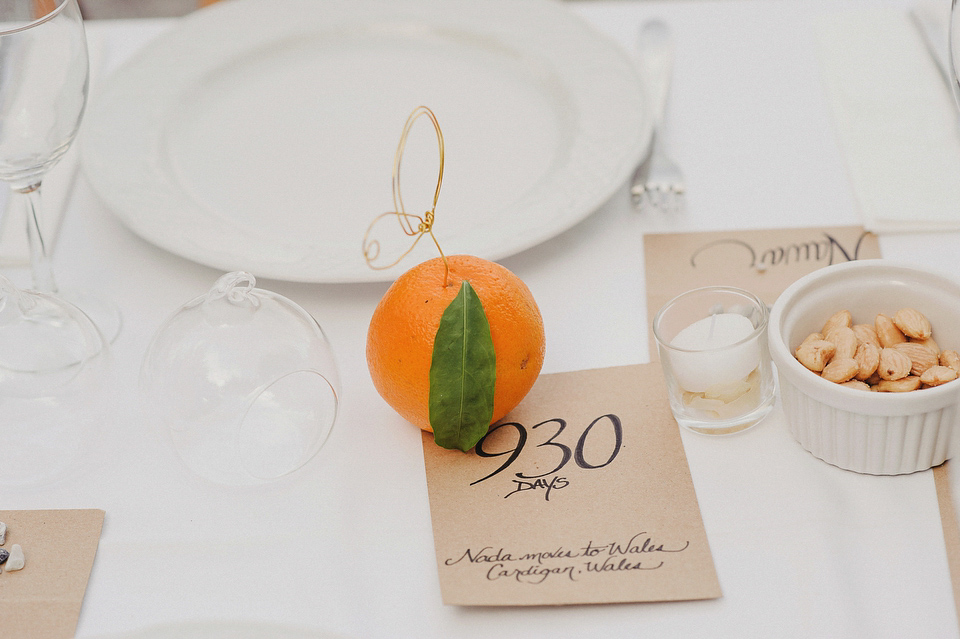 "We organised some ice-breakers for our guests, where we wrote a funny story about each of our guests and placed them underneath another guest's name card. Everyone at the table had to guess which story related to which guest. Our friends and family really enjoyed this.
It really got the laughter and stories going at each table, but was also a way for us to share a personal touch/memory for each person there. That was really important to us, given the effort they all made to attend."
"We had Juan Manuel Alaminos Fajardo play some beautiful Spanish guitar during the cocktail hour, he also provided the PA system for the evening music, where we had our own wedding playlist."
Words of Wedded Wisdom
"Invite only who you want to invite, maybe with a few exclusions. We knew we wanted a smaller guest list, and had aimed for 60. After a few polite requests from our parents, we ended up with 75 and it was ideal. Keeping numbers low not only helped with budget and our friends and family actually being excited to join us in Spain (rather than viewing it as an inconvenience), but allowed us to be more personal with favours, and in person during the wedding!"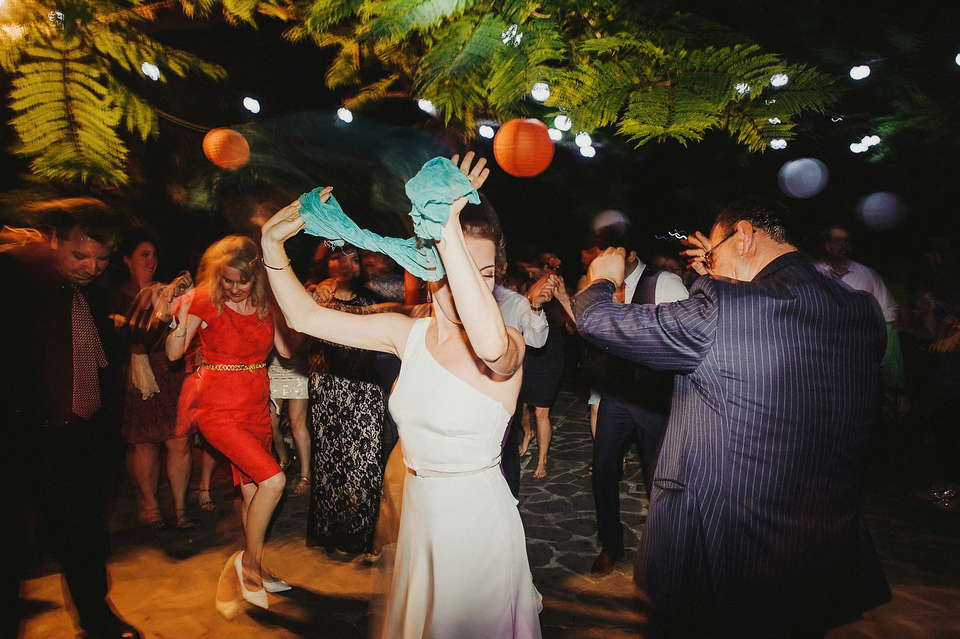 The only thing Philip and Nada would change about their whole day would be to have slightly weaker espresso martinis, as they were up dancing to 4am… If that's the only possible change then I think the day can be deemed an undoubted success! Huge congratulations to the lovely bride and groom, and many thanks to This Modern Love for the wonderful images.
Do we have any more destination weddings coming up? Let us know!
Much love,
Shona x
Photographer – This Modern Love
Venue – Palacete de Cazulas, Otivar, Spain
Wedding dress – Made by a friend, Nora Beroual
Shoes – Reiss
Accessories – Bracelet and earrings borrowed from family friends
Perfume – Valentino, Assoluto
Bridesmaids' dresses – Ethos, Canada
Hair Stylist – Rebecca Braunton, The Business Hair Design
Groom – Suit, Hugo Boss, Shoes, Aldo, Tie, Next
Florist – Stephanie Watkins, of Palacete de Cazulas
Catering – Stephanie Watkins, of Palacete de Cazulas
Rings – Arullmann, Hatton Garden
Stationery – Made by the couple
Entertainment – Juan Manuel Alaminos Fajardo, no website, can be reached on [email protected]