For me, part of the joy and immense job satisfaction about being a wedding blogger is making connections. I don't just refer to incredible opportunities I've had to meet and make new friends and business colleagues myself, but the connections I make for others through my blog too – connecting our readers with brilliant suppliers they might otherwise never have known existed makes me feel really happy. And it gives me so much genuine pleasure to help connect businesses like the one I'm about to introduce you to, because I feel so very passionately about promoting talented designers, artisans and creatives.
I am so delighted to share the latest collection of Hermione Harbutt Accessories with you today.  Hermione Harbutt is one of the UK's most talented bridal headpiece and accessory designers. Her name is synonymous with high quality craftsmanship and customer service. She also just happens to be one of the most charming, sweetest and effortlessly glamorous ladies I have ever met through the wedding industry.
Photography by Amy Fanton for Hermione Harbutt
Collectively, the pieces draw together on the beauty and delicacy of nature. Taking inspiration from delicate wax crowns of bygone eras, the pieces evoke a feminine, vintage feel that I couldn't be more in love with. I knew the moment I saw these images that you would all adore them as much as I do.
The intricacy of Hermione's designs is quite something else. Every piece is painstakingly handcrafted – it takes hours and hours to finish any single one piece.  In this beautiful new collection, delicate wirework features soft hints of blush pink, pale blue and gold, alongside ivory pearls and crystal to give a variety of subtle pastel tones and incorporates gemstones and Swarovski crystals that provide the most delicate of textures and an heirloom quality to every creation.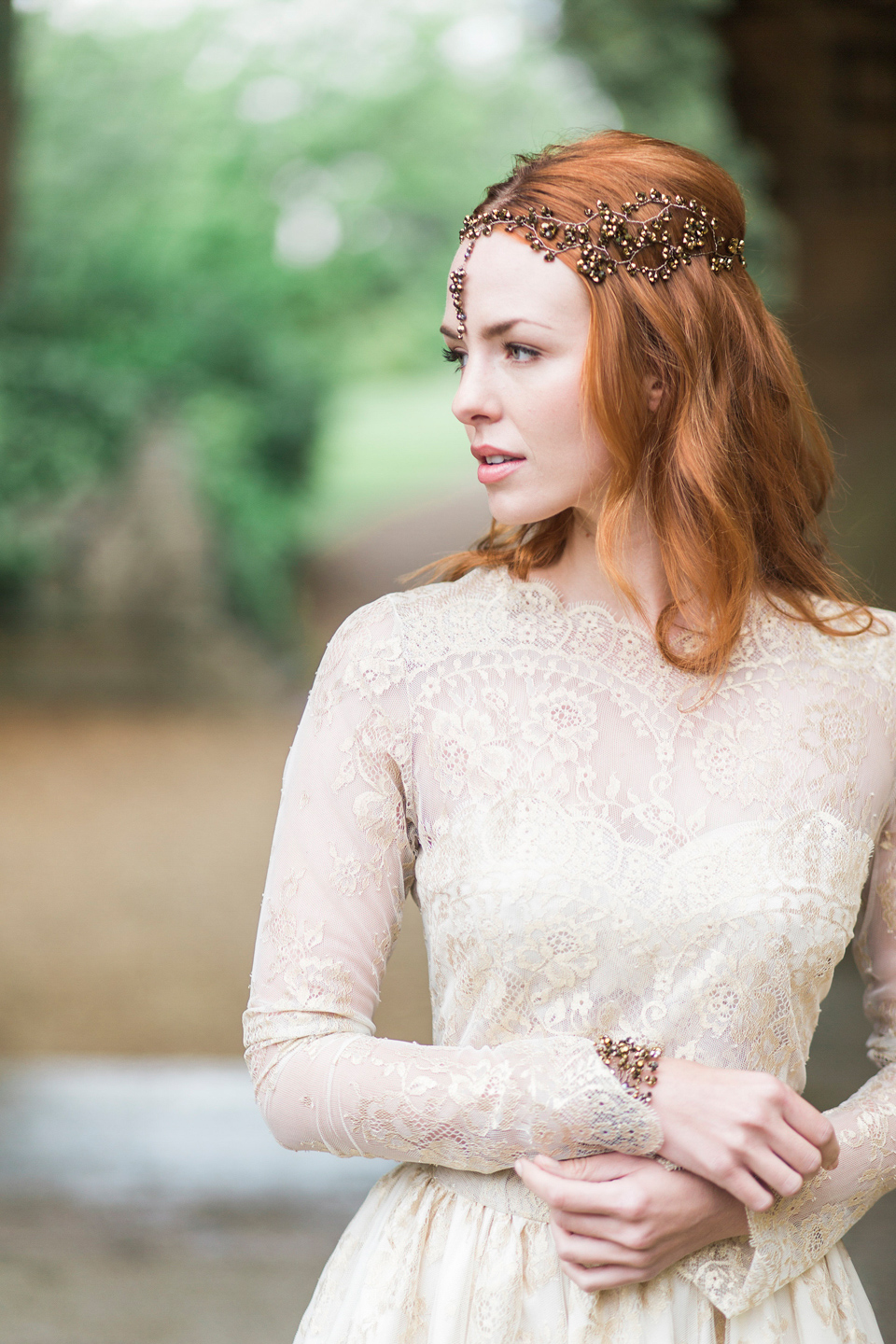 The collection also features a wide variety of jewelled hair vines and garland styles, ideal for wearing both across the forehead and over the hair, as well as woven into soft up dos and elegant braids.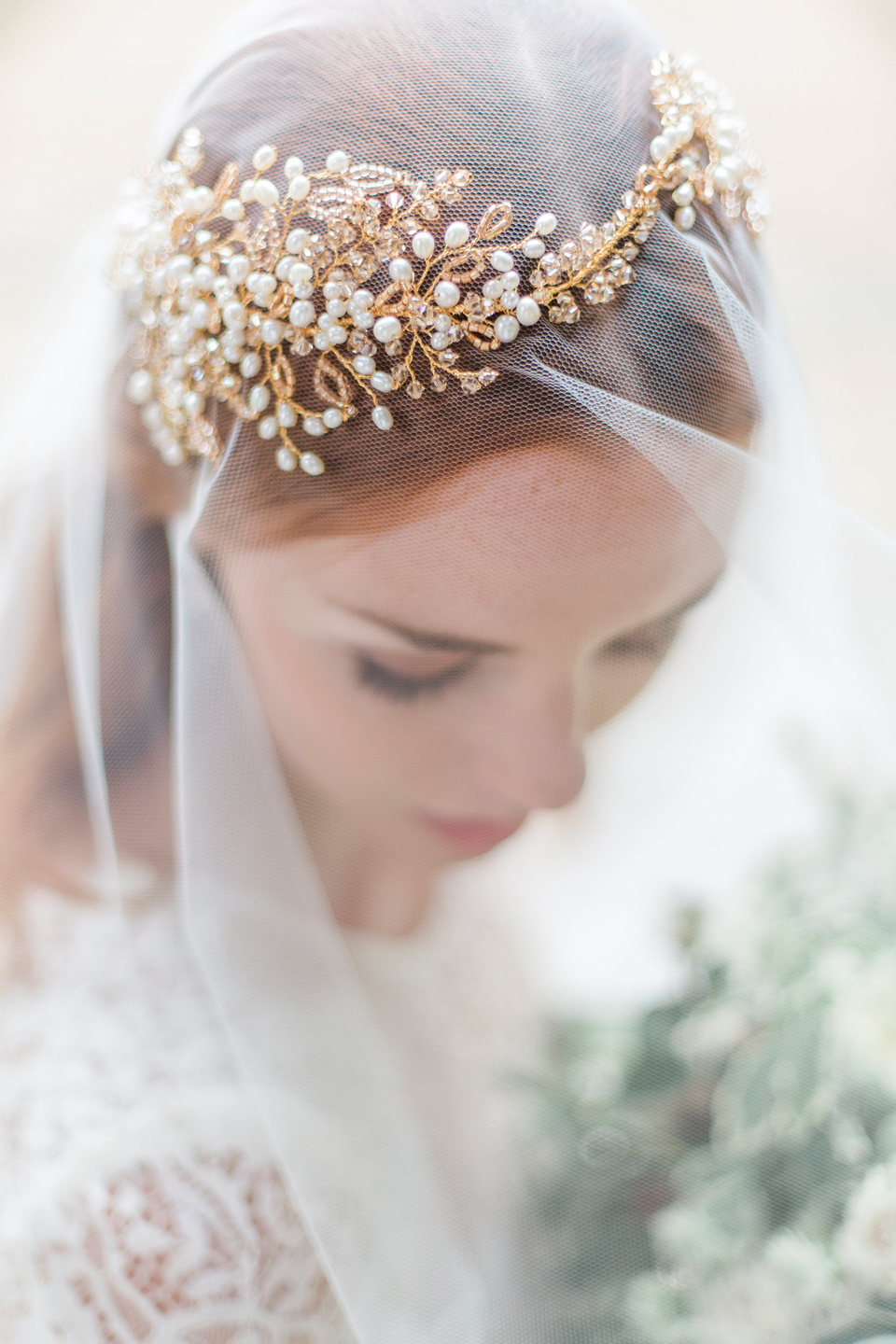 Don't you agree that Photographer Amy Fanton has beautifully captured the collection with her luminous, light-filled images. The graceful quality of her fine art photography perfectly encompasses the delicate nature of Hermione's most beautiful designs.
The shoot was held within the grounds of Westonbirt School, a truly stunning wedding venue in the Cotswolds. The Italian Walled Gardens feature beautiful arches and stonework amongst the manicured gardens. With their own chapel within the grounds, Westonbirt would provide a beautiful wedding venue for a Cotswold celebration.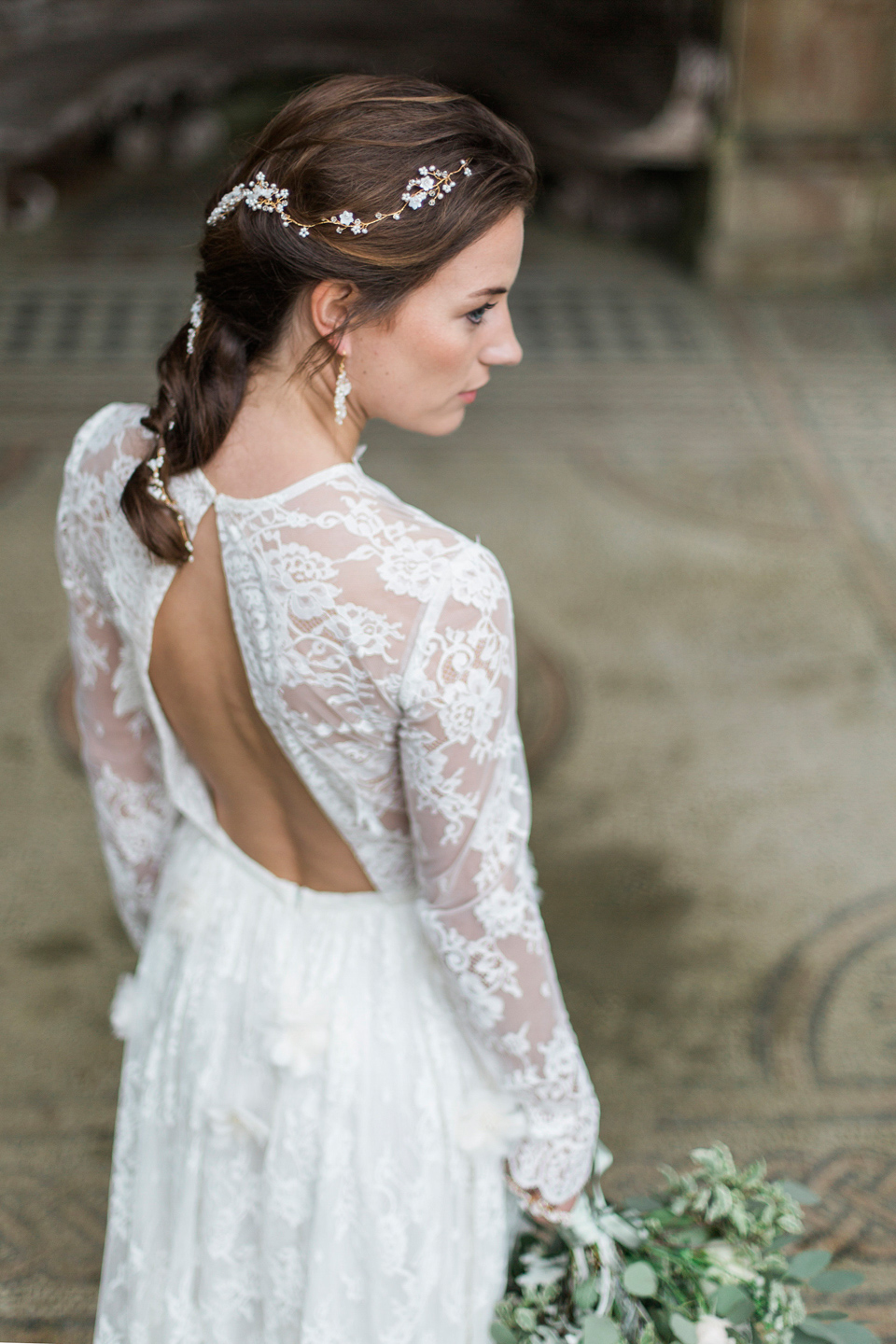 I also love that Hermione chose to partner with bridalwear designersKatya Katya Shehurina in creating this photoshoot.  I've been smitten with Katya's gowns since first discovering them back in 2011.  With their delicate lace overlays and ingenious pastel coloured slips were the ideal accompaniment to the latest pieces, complementing the soft colours and the dreamy, ethereal feel of the shoot. Harriet Wilde Shoes completed the look with their stunning laser cut leather floral shoe designs and Lily Violet May provided the stunning bouquets and blooms.
Bridal makeup artist Amy-Elizabeth created the beautiful bridal make-up looks, with soft dewy skin and natural colour tones, whilst Becks Simpson of Thairapy created the elegant hair styles with soft up dos and relaxed loose waves.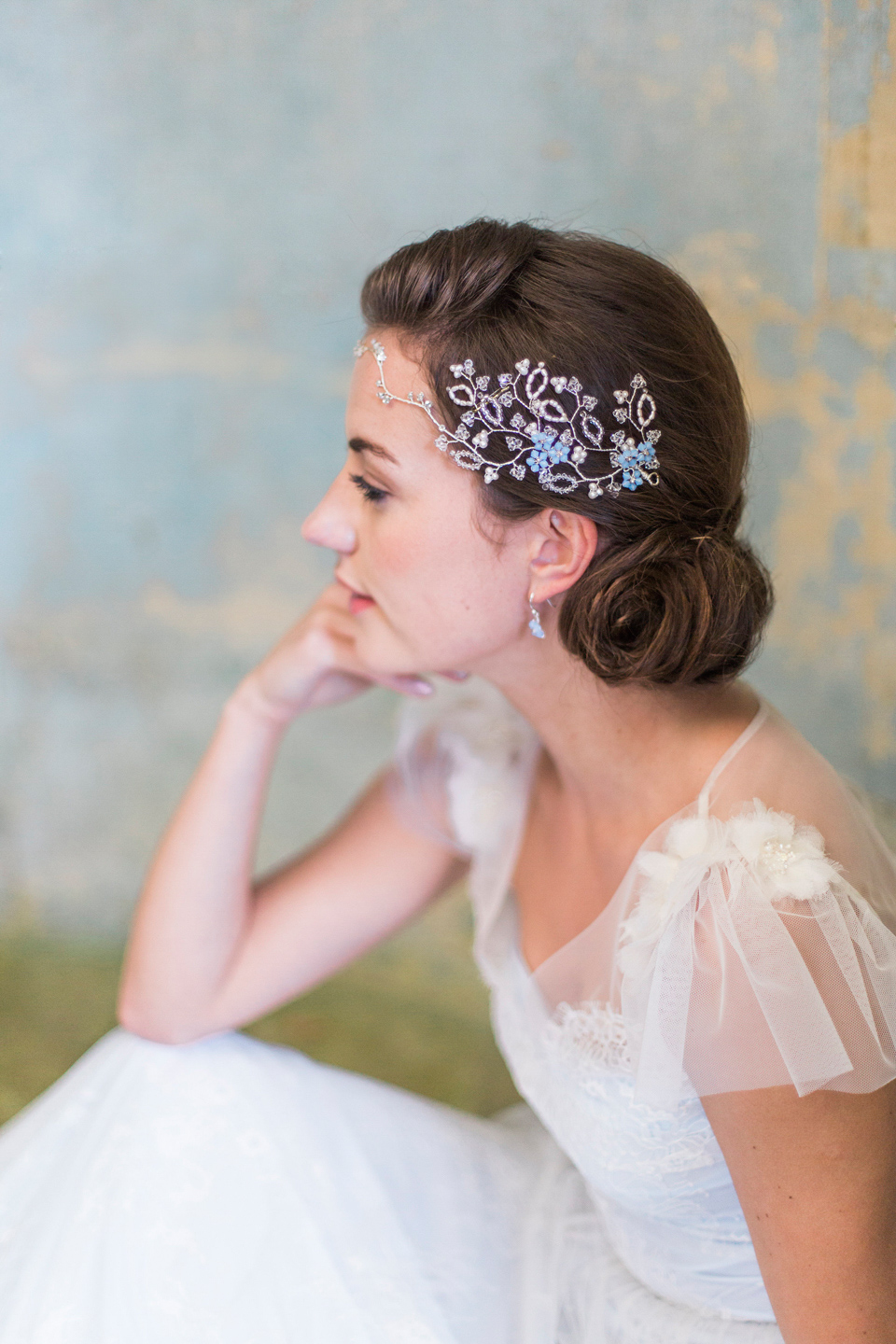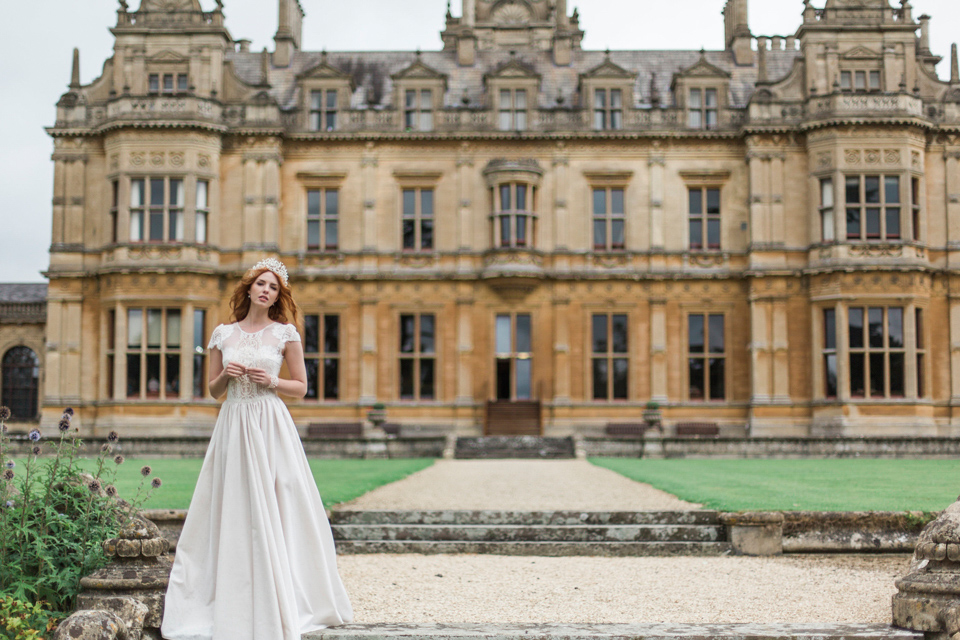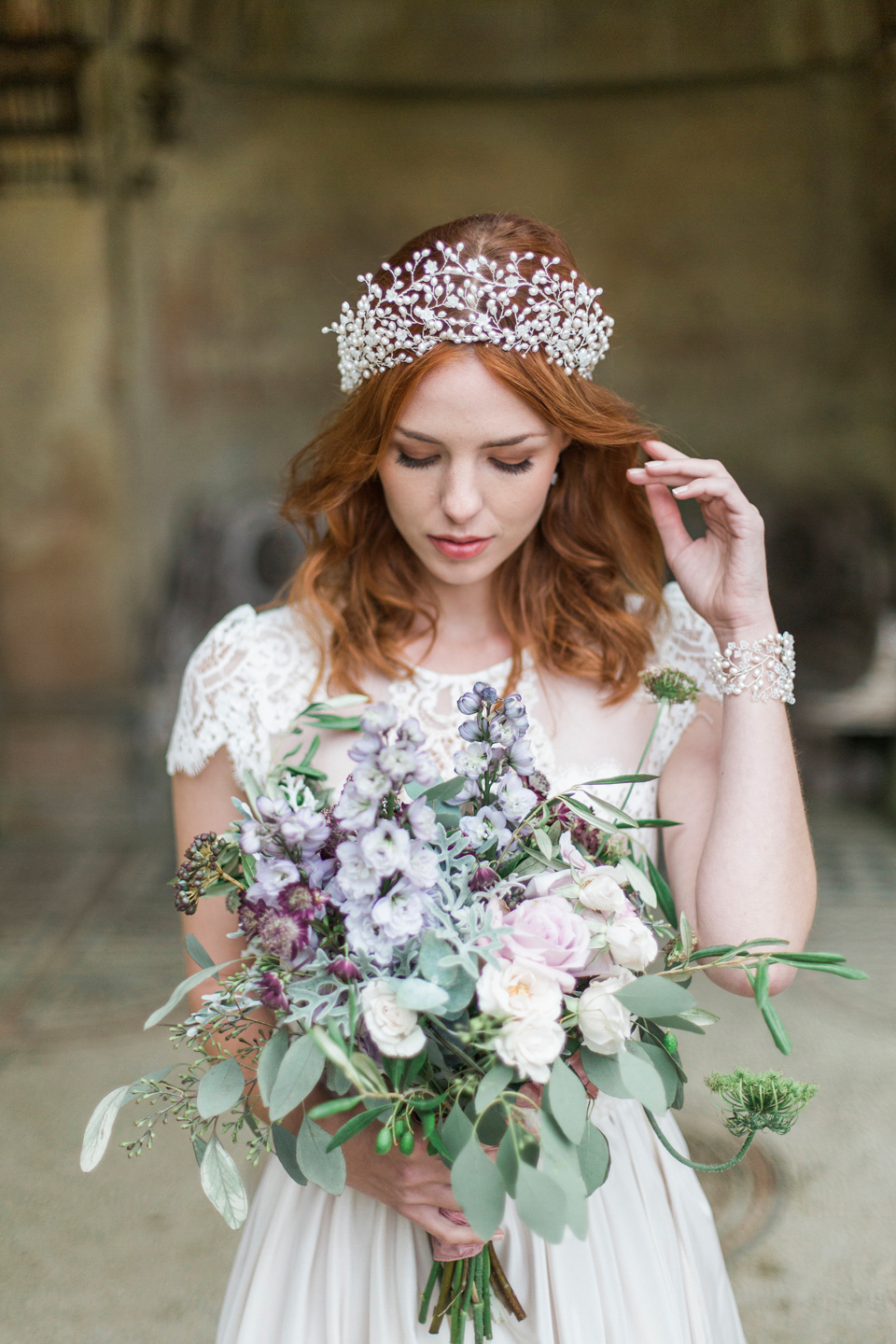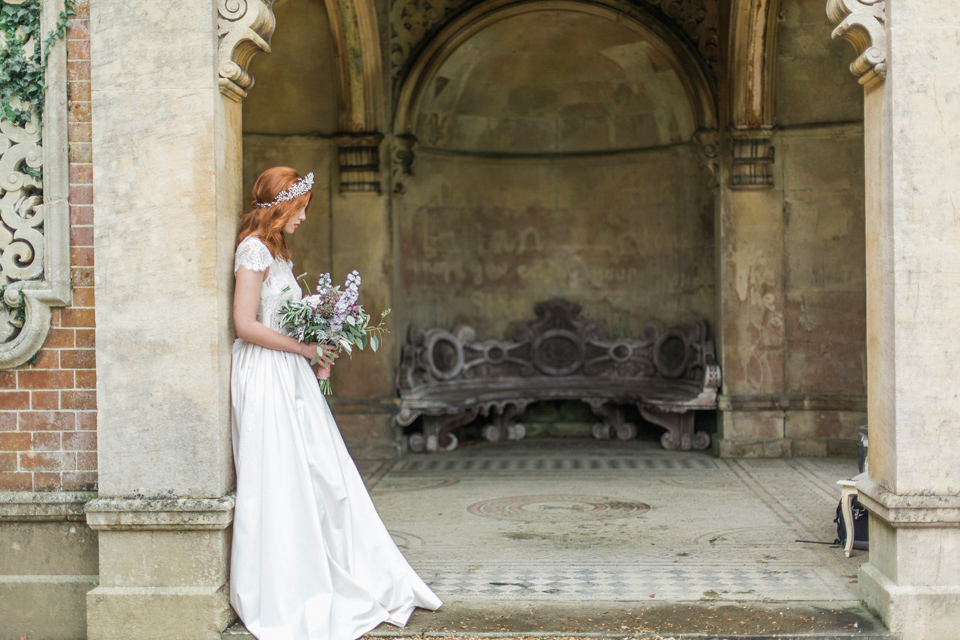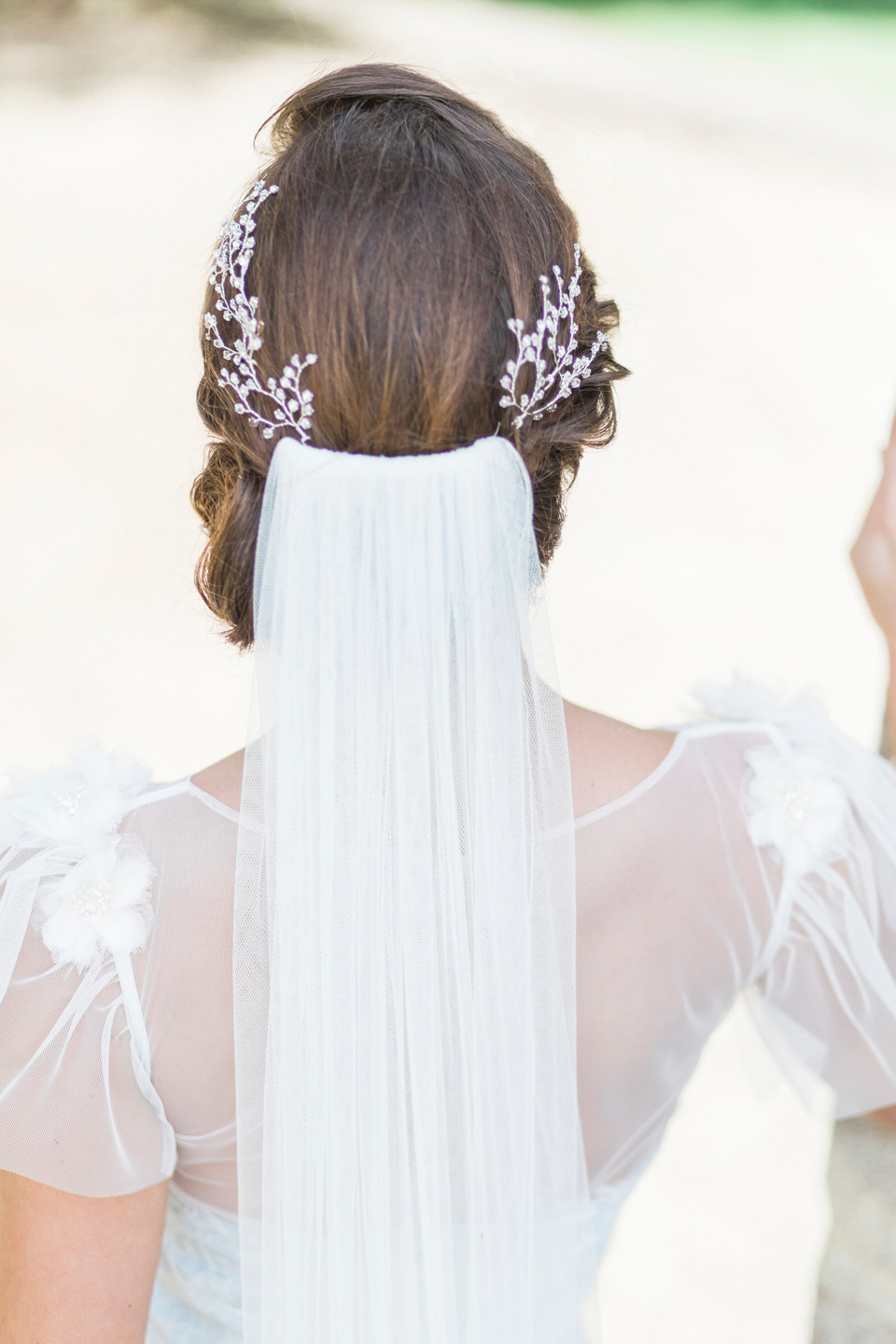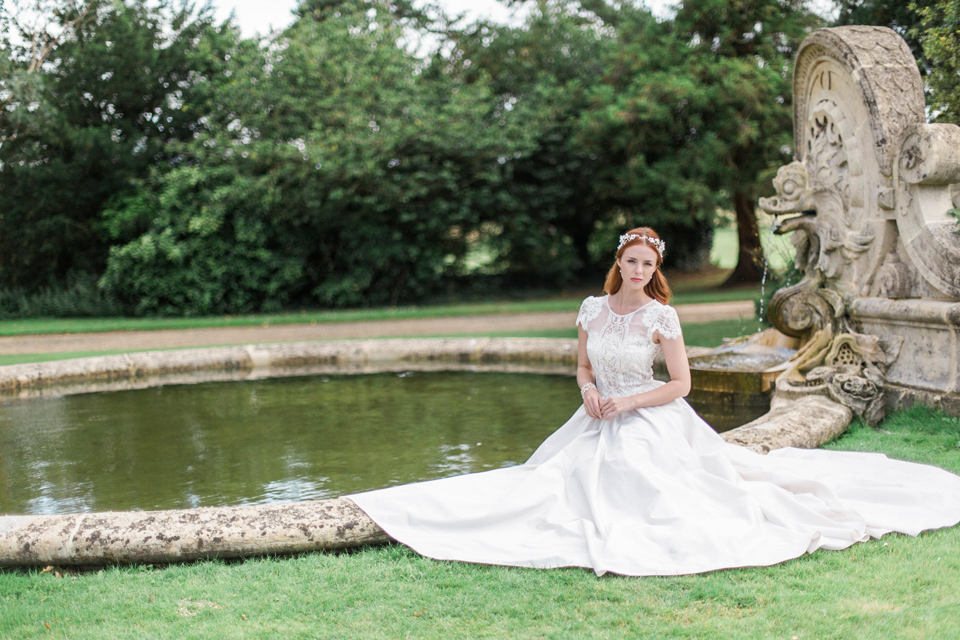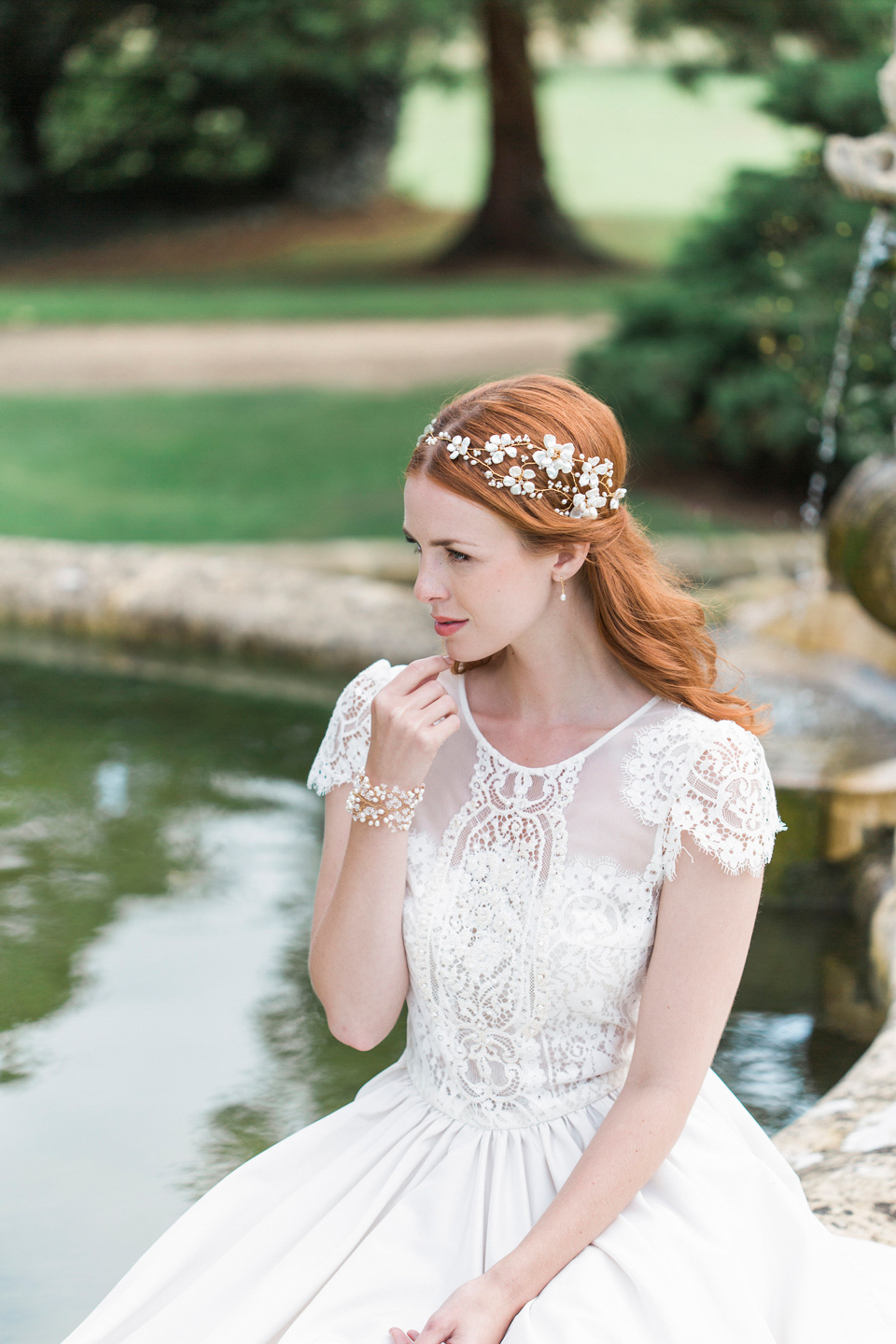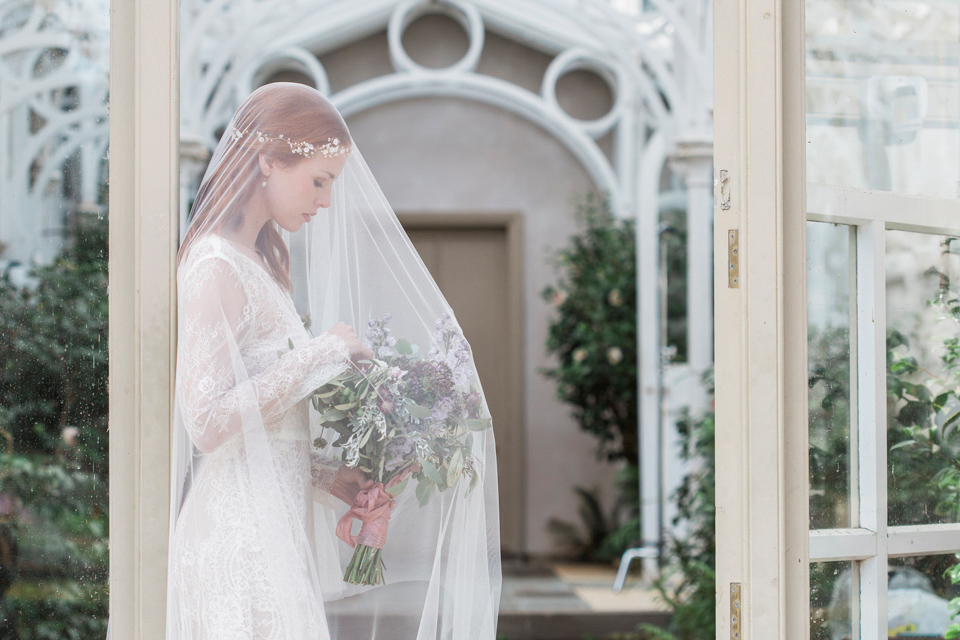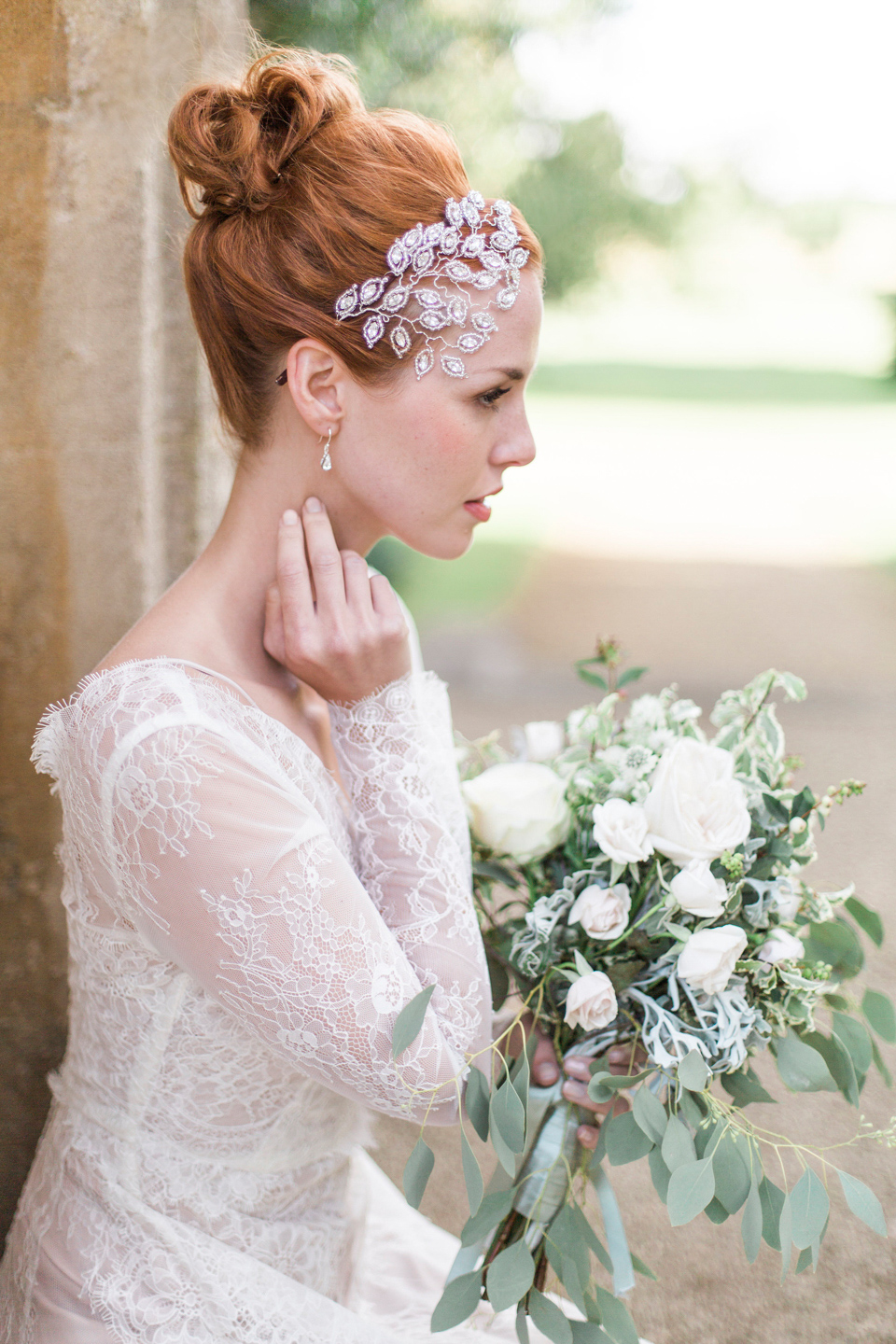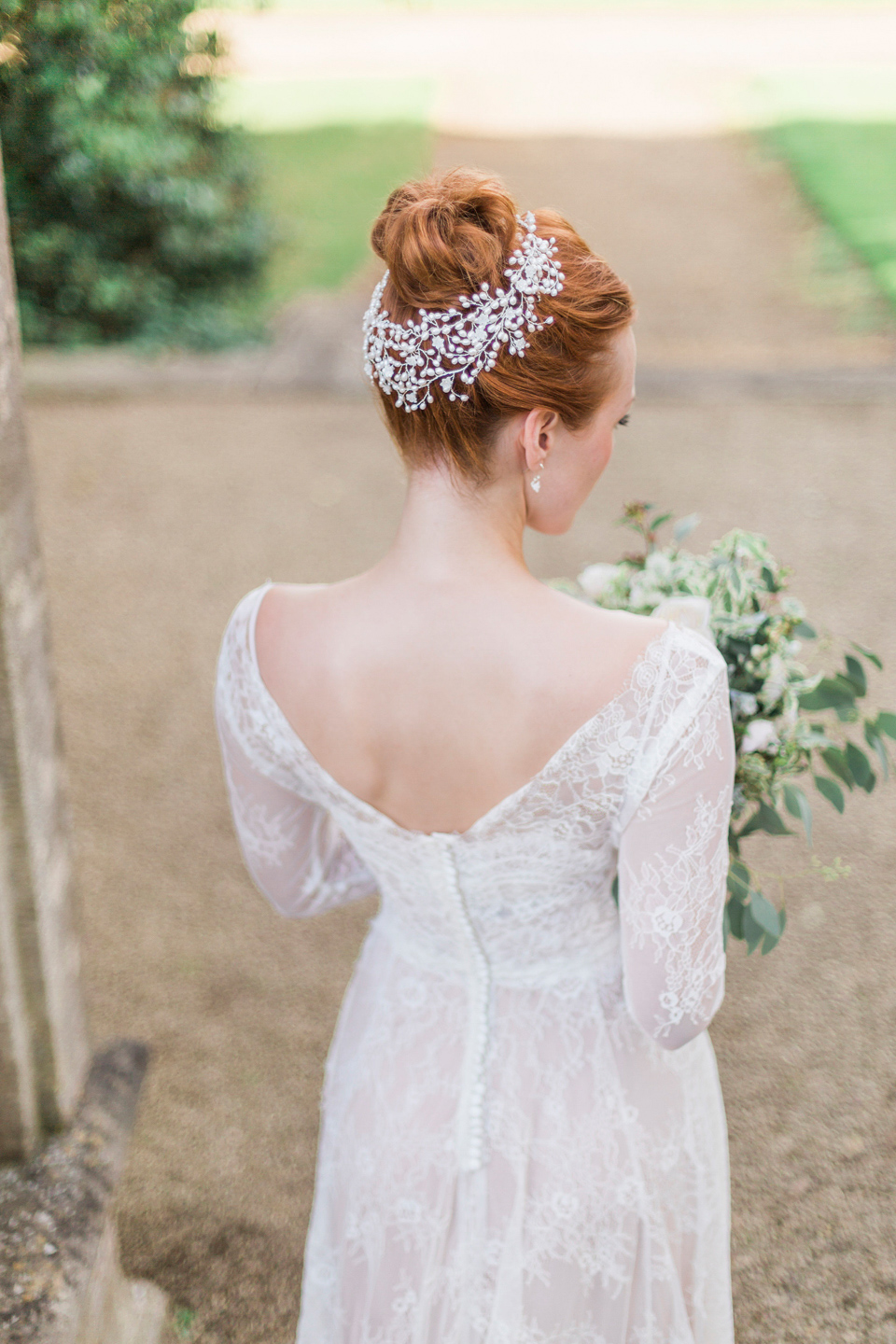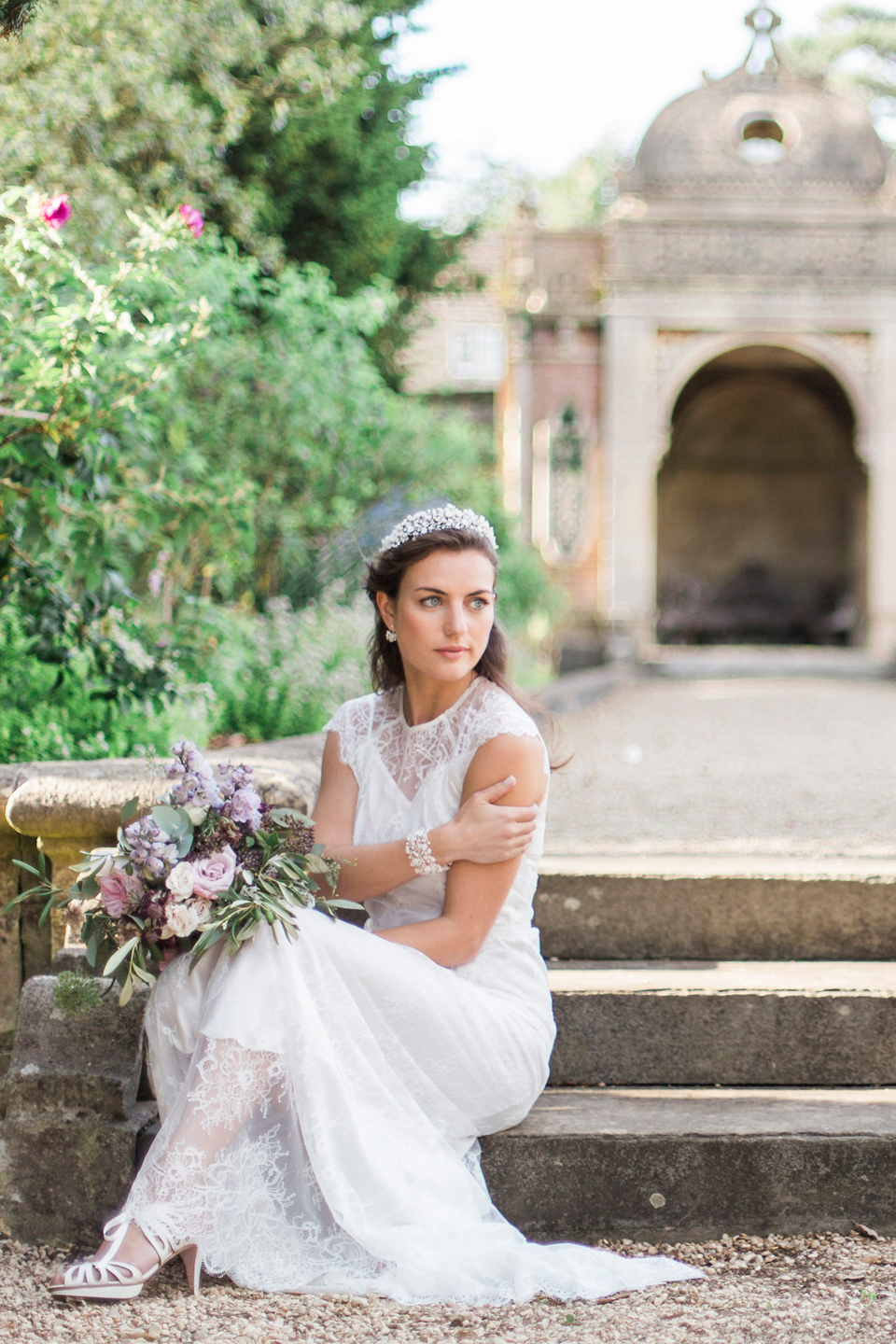 I thought I'd leave you with this beautiful little film to help you get a clearer idea of how any one of these simply divine headpieces could look on your own wedding day.
Film by Sarah Edwards + Richard Cambridge
Hermione Harbutt has showrooms based in Kensington in London and Clifton in Bristol and sells her exquisite designs online too. You can visit Hermione's boutiques at showrooms at 5 Kensington Church Walk, London, W8 4NB and at 13 The Clifton Arcade, Boyces Avenue, Clifton, Bristol, BS8 4AA.  You may also wish to browse the full collection online at hermioneharbutt.com. A full bespoke service is available to allow the perfect to piece to be created for every bride.
Be sure to follow Hermione Harbutt on Facebook, Instagram, Twitter and Pinterest for accessory inspiration and lots of lovely images of real brides.
Love Annabel x
Accessories – Hermione Harbutt
Photographer – Amy Fanton
Dresses – Katya Katya Shehurina
Shoes – Harriet Wilde
Make Up – Amy-Elizabeth Make Up
Hair – Becks Simpson Thairapy
Flowers – Lily Violet May
Location – Westonbirt School
Film DOP – Sarah Edwards
Film Director Richard Cambridge