Hi everyone! This wedding is a ridiculously amazing 1940s military affair. I am absolutely blown away by the creativity and meticulous attention given to each and every detail. I am positive that the guests must have felt transported back to the celebrations of 1945. What's more, with the groom, and some of his friends, still serving in the British Army there is a really authentic feel to the day. The timing couldn't have been more perfect either with 2015 marking the 70th anniversary of VE Day. Inspiration from that time, along with the couple's own grandparents' weddings and the bride's love of the era, all combined to create this romantic, spectacle of a day.
Please let me introduce Lea, a Lecturer in Design Theory and Interior Design and her husband Richie, a Lance Corporal in the Royal Engineers. They married earlier this summer on 3 July following a two-year romance. Lea, who was a daily Love My Dress reader during her wedding preparations, has done such an amazing job telling their story that I'll hand you over to her.
"The style of our wedding was largely due to my personal love and passion for the 1940's. Of great importance however, was executing this without being kitsch or relying on reproduction or retro items. We wanted authenticity and everything we used to decorate the venues was true vintage."
Photography by Gemma Williams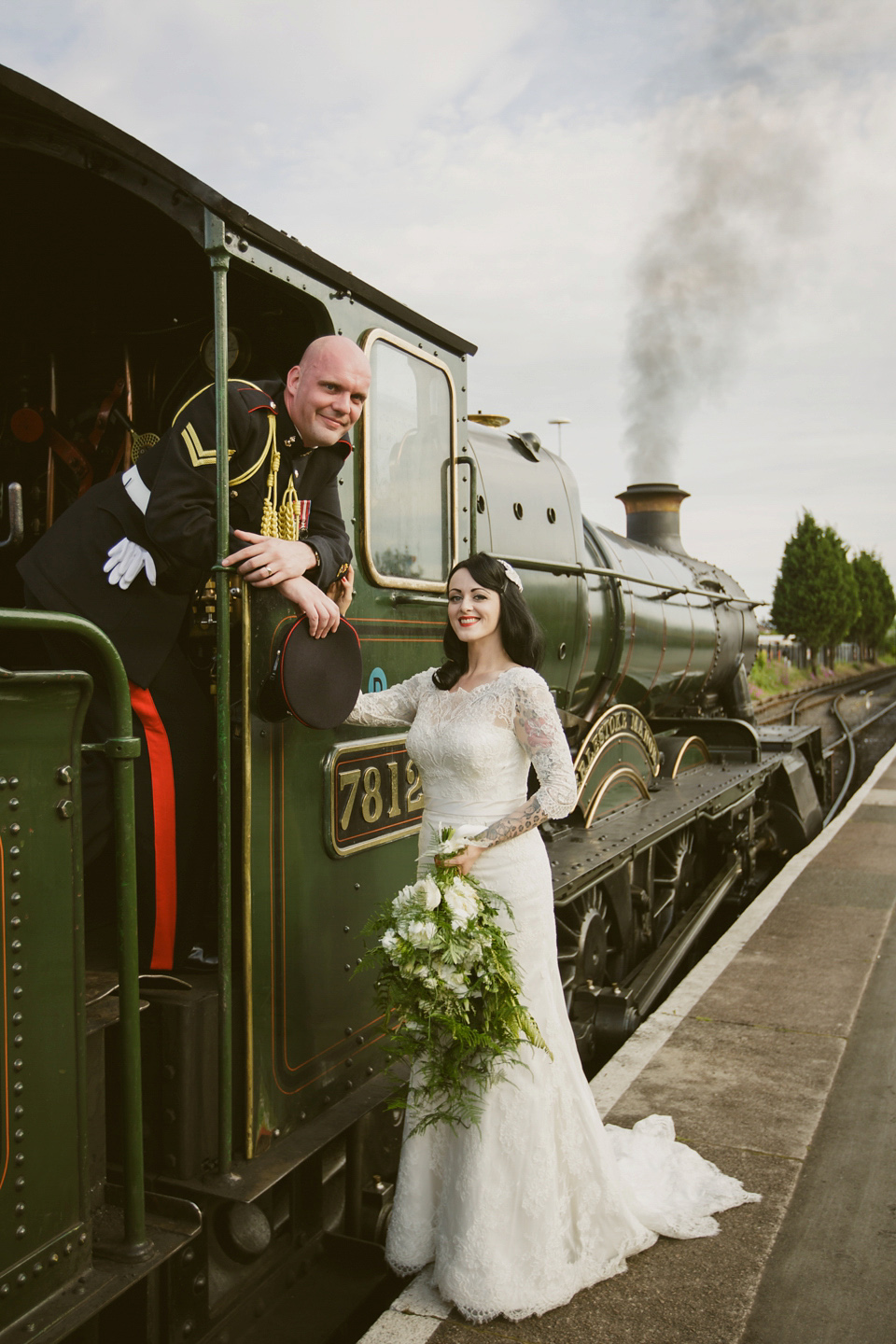 Lea's nana wore a Juliet Cap on her wedding day and loves her wedding photographs so much. She wanted to try to emulate her image on the day, particularly her cap and veil. This was really important to her. The same designer created her cathedral length veil and her Angela Nuran shoes were bought online from the US.
"The piece made by Rae at Agnes Hart is exquisite and looked fantastic. It mirrored my nana's and I felt amazing wearing it. I didn't want to take it off."
"We wanted a military wedding, with Richie in the army we planned from the start for him to wear his No 1 dress uniform and to have an honour guard made up of his friends from the Royal Engineers. We also felt this was a great opportunity to commemorate the 70th anniversary of VE Day, linking both our military and vintage (1940s) styles. We are both passionate about remembering those of the Second World War."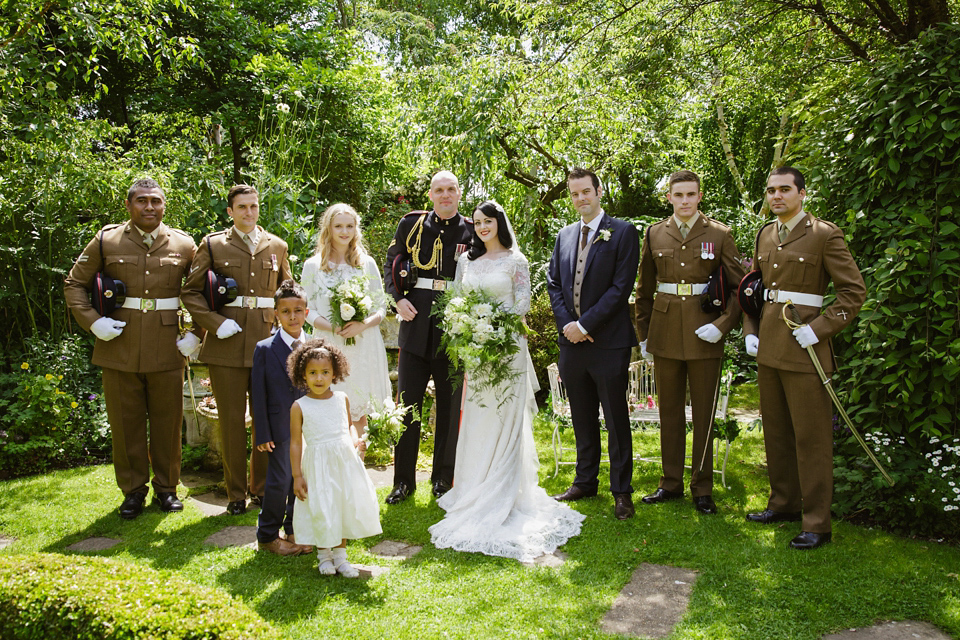 "Photography is a passion of mine and photographs are extremely important to me. I try to capture every moment and memories of our lives and so our wedding pictures were of paramount importance. Once we began to talk to Gemma Williams we knew that she would be the best person to capture our day. As part of the package we arranged a pre wedding shoot and this was the best decision.
It allowed us to meet Gemma and to gain confidence in front of her camera and it was also an opportunity to see how the settings and venues we had booked looked on film. The final photographs were fantastic! Gemma is a pleasure to work with, her passion and excitement towards her job is obvious and is her enthusiasm is contagious!! I challenge anyone to work with Gemma and not enjoy themselves… We loved every minute!!"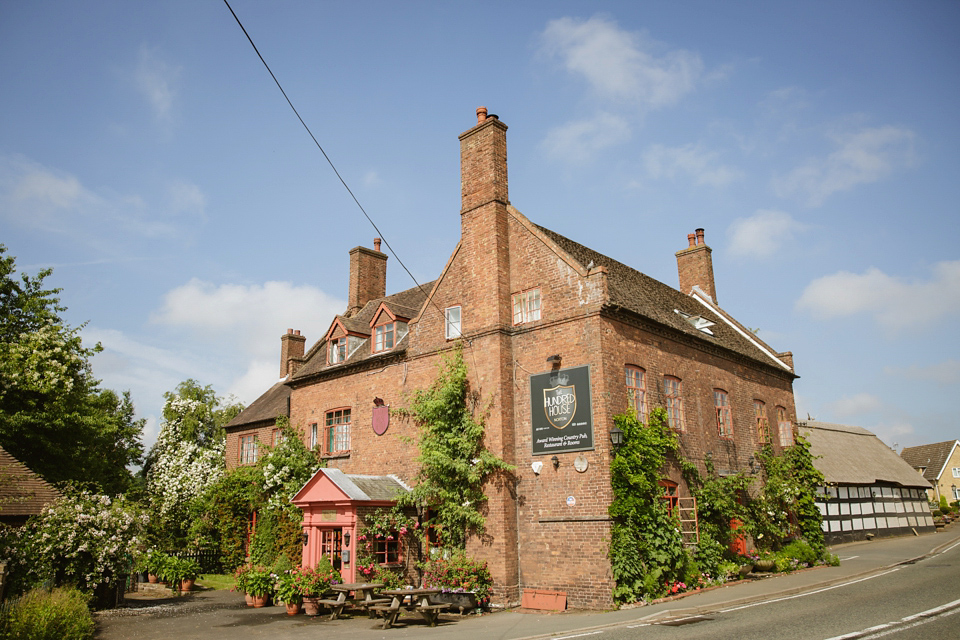 "The barn at the Hundred House Hotel was essentially a blank canvas allowing us the opportunity to create a truly wonderful VE Day style interior without any problems. Our venue supplied tables and chairs, however, the banquette seating and chair covers really didn't suit our intended design scheme. So we opted to hire 60 mis-matched wooden chairs that were reminiscent of the VE street party scenes whereby all the residents brought out their chairs!"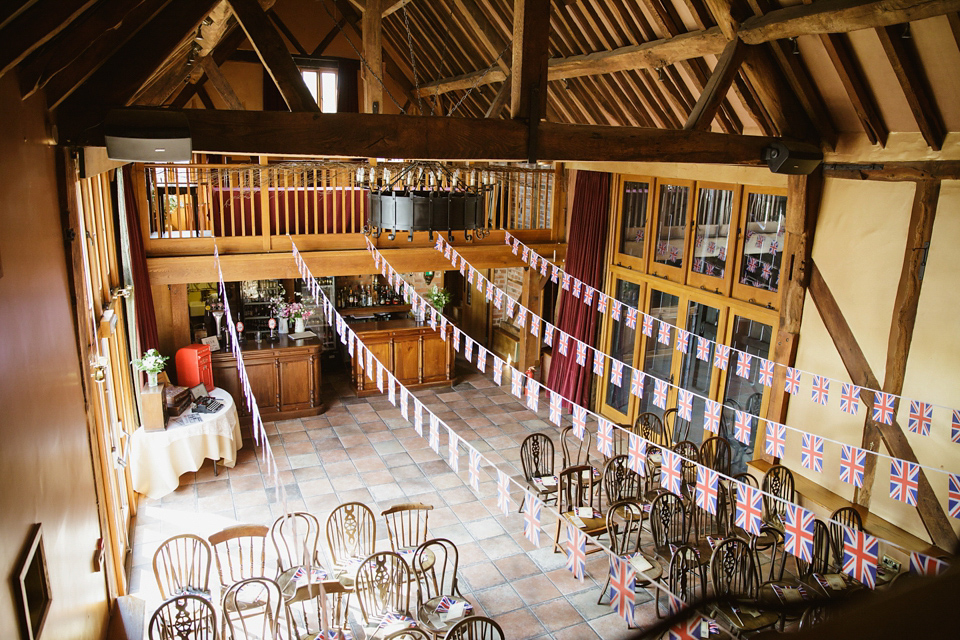 "Designing the space was truly exciting and a task that I relished. As a qualified interior designer and passionate collector of 1930s and 1940s furniture and collectables, designing the interior for our ceremony and reception was a task I couldn't let someone else take on.
Props, table decorations, vintage china, cake stands and tablecloths were all either from our collection at home or sourced specifically from charity shops, car boots and online (Ebay and Etsy)."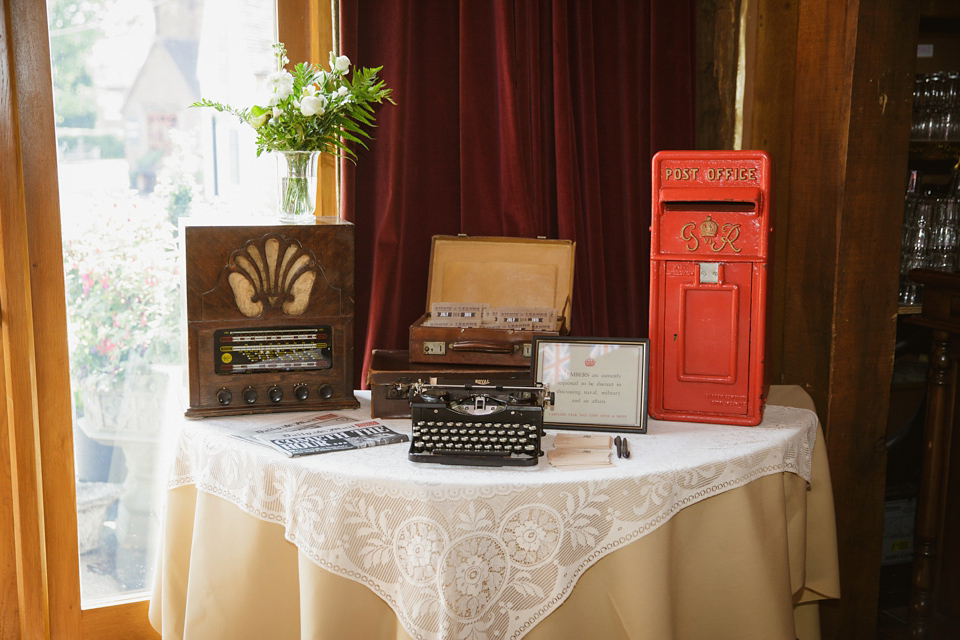 "We came across some fantastic finds along the way, picking up some rare and significant Picture Post magazines in pristine condition, military uniforms and hats from the second world war, a German typewriter and vintage games. We sourced original posters and adverts to display on the tables, which we put in 1940s picture frames."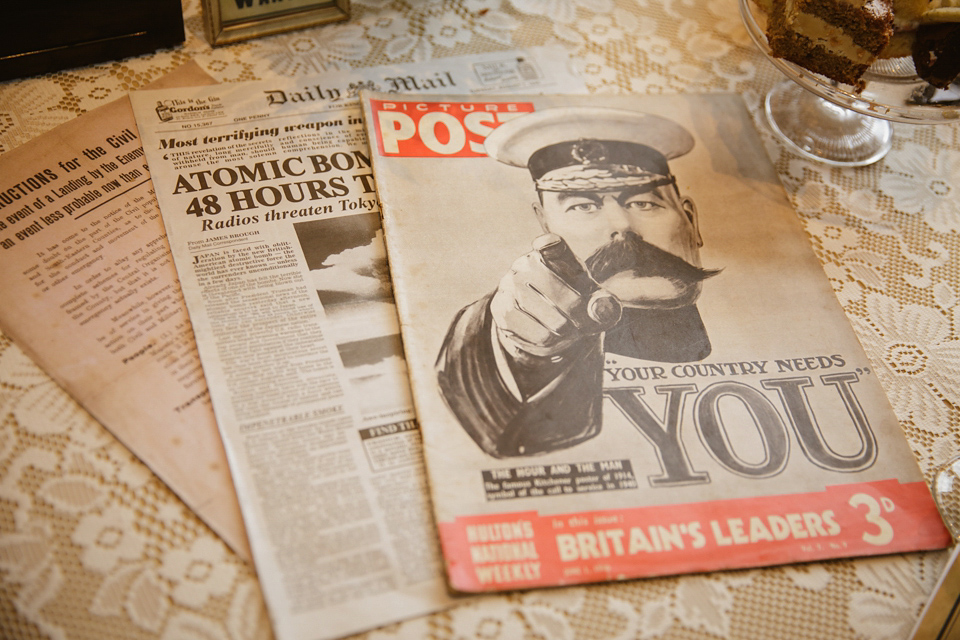 I love the story of how these two met; initially as pen pals while Richie was on a tour of Afghanistan.
"We spent some time writing to each other and then hours talking when we could. The connection was obvious from the start. We got on so well, like we had known each other for years and years. We finally met up for coffee in early April 2013. Truly, the best day of our lives. The time we had spent talking and sharing our stories had formed such a strong connection and we were both completely head over heels.
Unfortunately Richie had to return to Afghanistan, which was hard for both of us, but we continued speaking as we had before. This time however, it was different. We were completely in love and the desire to talk was overwhelming. Those 5 weeks were the slowest ever."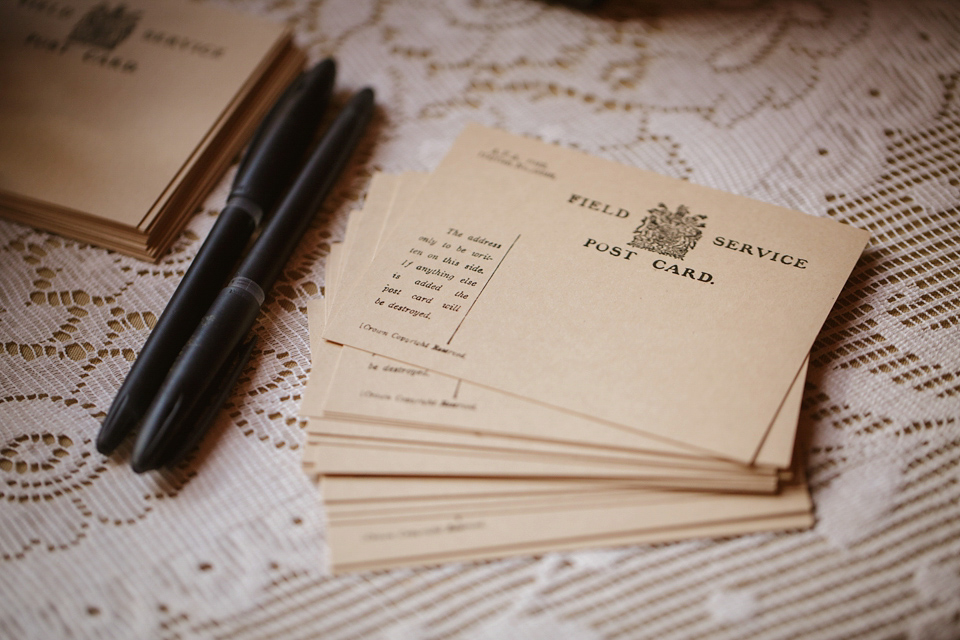 "Then in July 2014 we were in Paris for my birthday. Richie said that he had a padlock to attach to a bridge near Notre Dame. While he was crouching down looking for a place to put it, he handed me a box. Opening the box I found a heart shaped padlock with an inscription. Due to the fading light I spent some time trying to read it. Unbeknown to me, Richie was on one knee waiting for my reaction to the inscription. I tilted the padlock towards the light and it read 'Leanne, will you do me the honour of being my wife?'"
"I looked at Richie and he was holding the most beautiful ring, smiling and looking so nervous. I immediately said "YES" completely overwhelmed. Poor Richie said it felt like an eternity waiting for me to say something – he had not realised I couldn't see the question due to the light."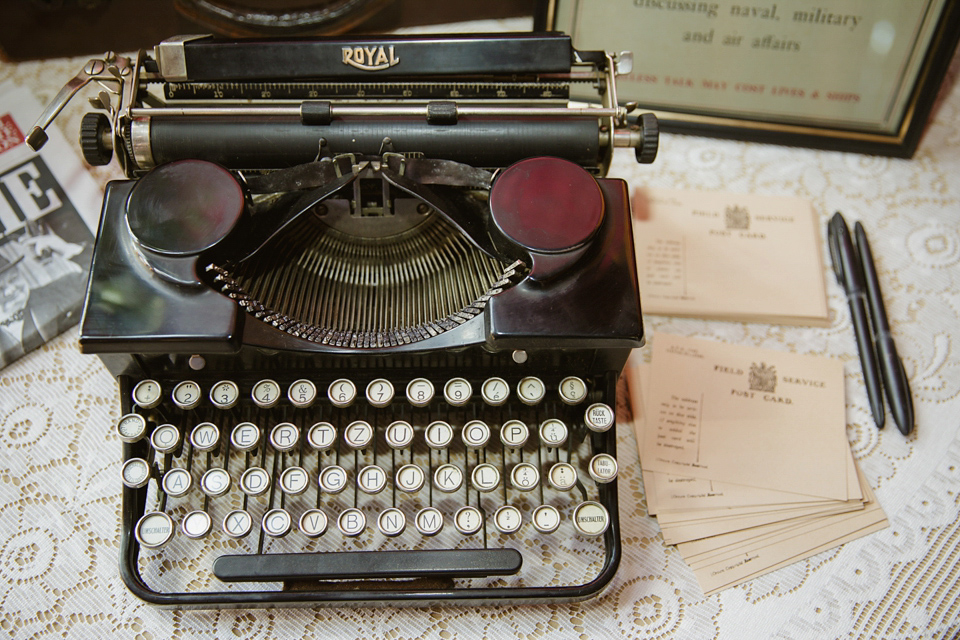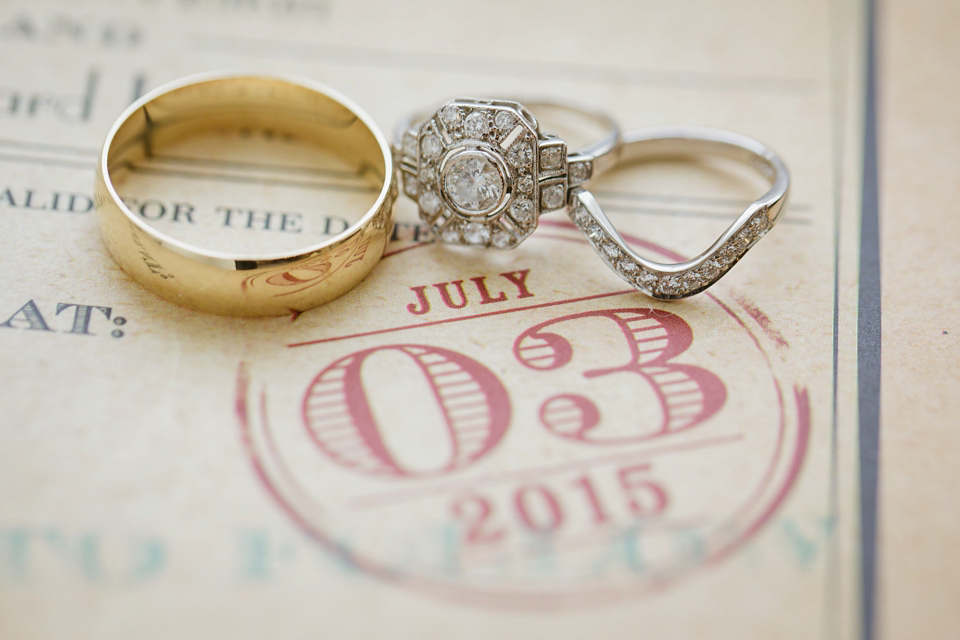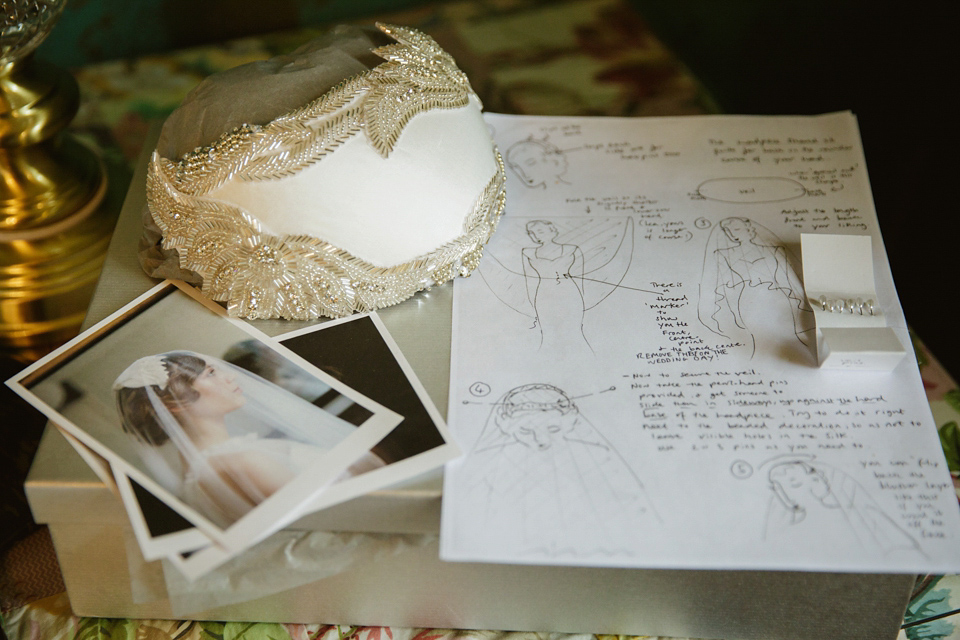 Lea wanted to look herself on their big day, so while she did have a trial with a hair and make-up artist, she felt more comfortable going with the style she wears on a daily basis including her Christian Dior Dolce Vita Red – she does not go anywhere without this lipstick on!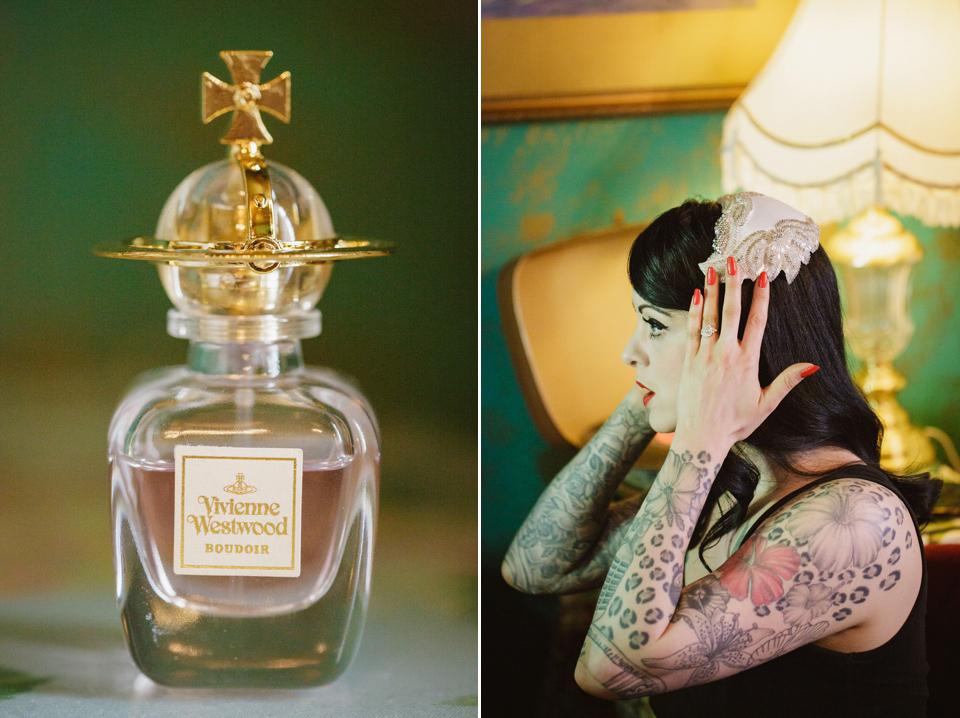 Lea knew exactly what she was, and wasn't looking for in her dress, which was supplied by Pearl Bridal Boutique.
"My dress was selected early on in the wedding planning process and was a relatively easy decision to make. The vision stemmed from copious hours of research in to vintage wedding dresses and old wedding photographs (both family and online).
I tried on a few vintage dresses in a variety of shapes and styles; however, none really gave the silhouette or conveyed the aesthetic I desired. So, despite really wanting to purchase vintage I decided I would purchase a new dress that embodied the vintage aesthetic I was trying to find. Whilst researching other aspects of the wedding, I came across a military wedding and the bride wore a dress that I felt looked like a true 1940s dress, her dress looked perfect in every way; the shape, colour, lace and fan train were synonymous with the period – I needed to find the dress and set about to find it."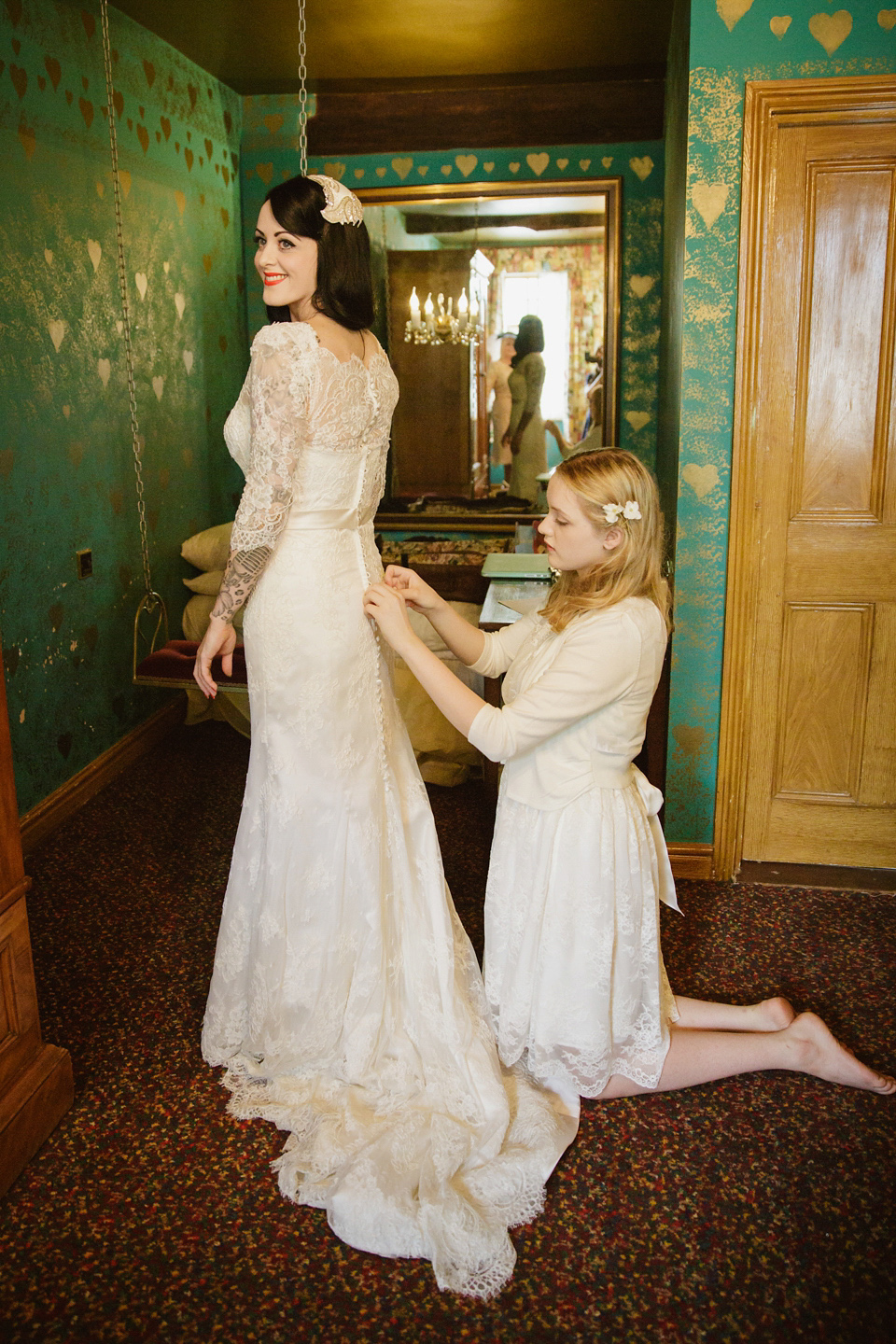 "To my surprise a local dress shop owner was able to source the dress and she made every attempt for me to try it. Once I did, I fell in love with it. I didn't try on another dress. I knew then it was everything I wanted.
The dress wasn't expensive and at no point did I think about the cost or designer label of my prospective dress! This was not the point and I really didn't want to choose a dress based on this. The dress needed to fit my style and shape, to reflect my passion for the 1940s and fit the overall theme – so I would look authentic and the photographs would be perfect, like they had been taken in the 1940s."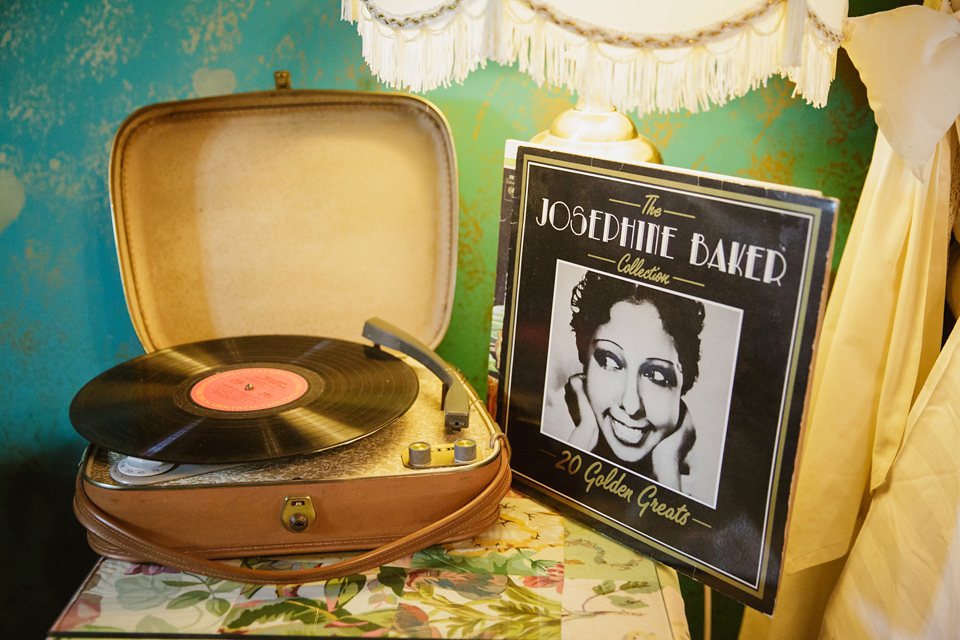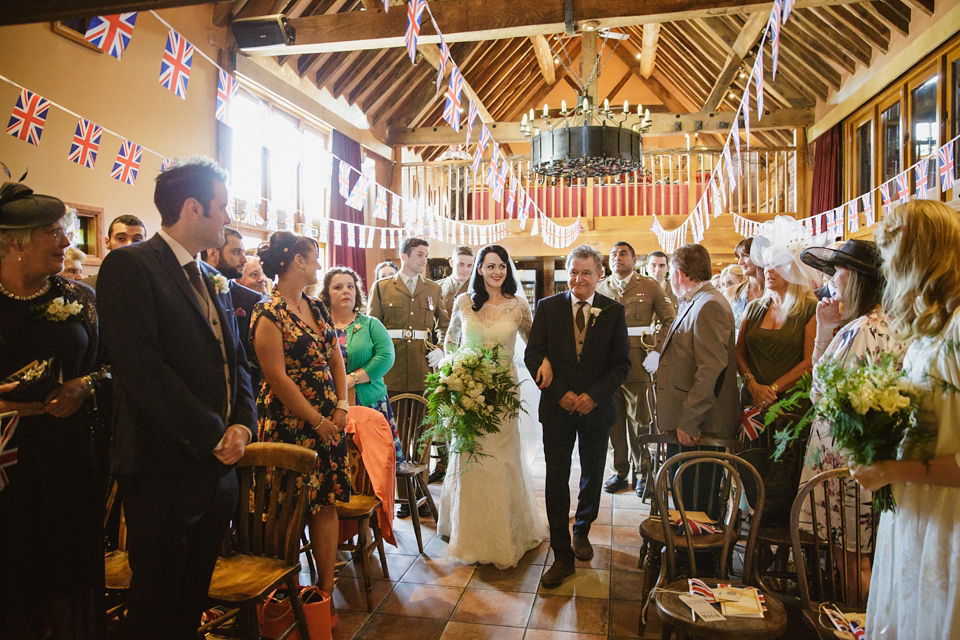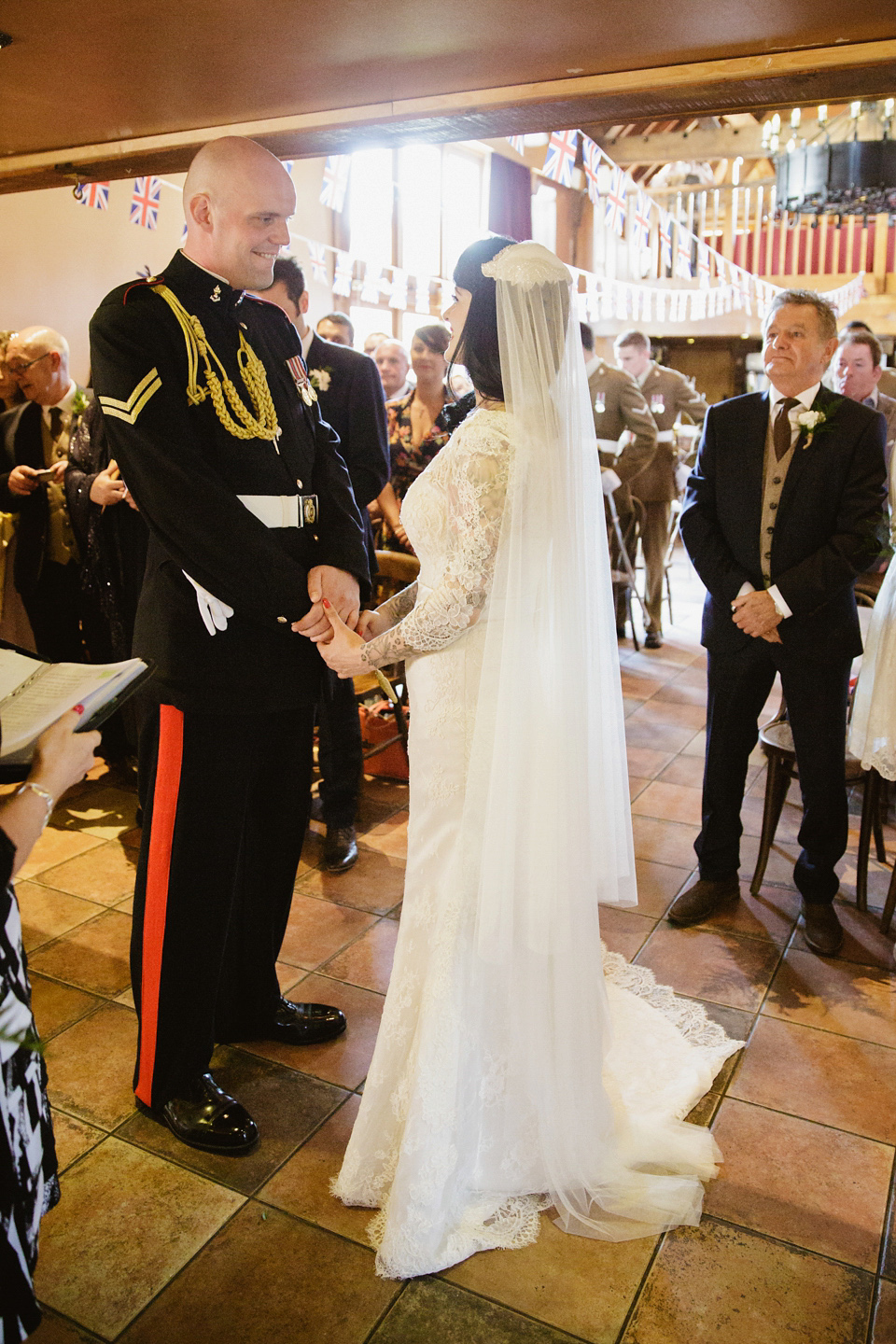 "The entire day was the best day of our lives, every aspect was special and we have so many unbelievable memories that we will cherish forever. However, saying our vows during the ceremony was the best part of the day for me. Albeit I was so emotional, and could barely stop shaking and hold back the tears throughout the whole thing.
The ceremony itself was beautiful and I didn't let go of Richie's hand throughout the whole time."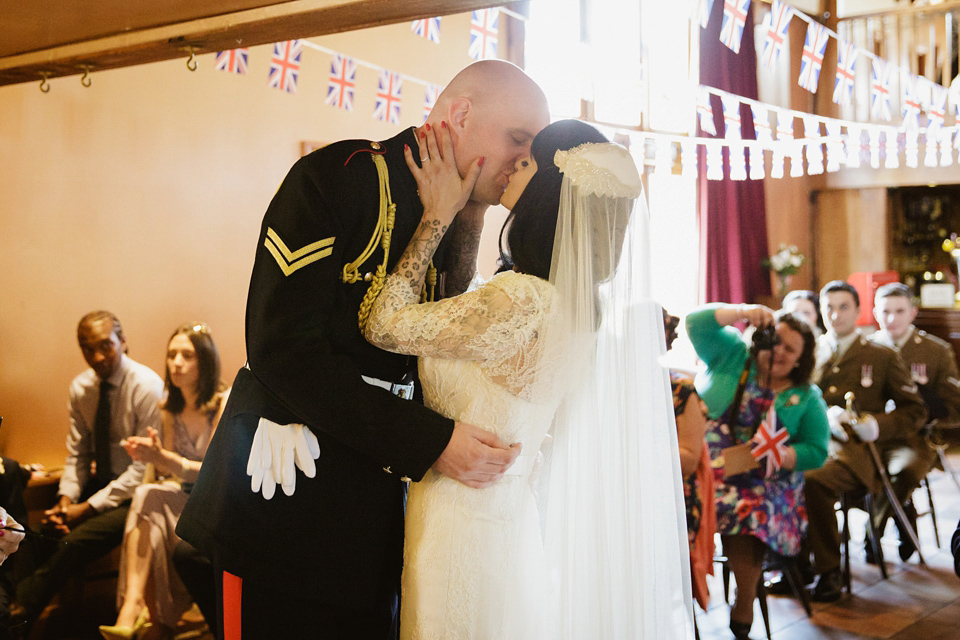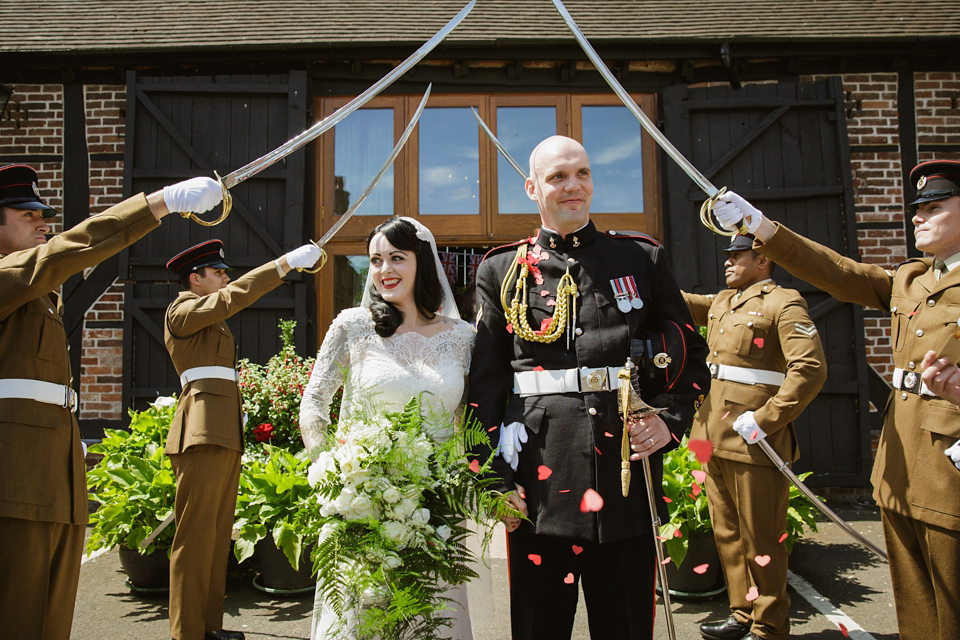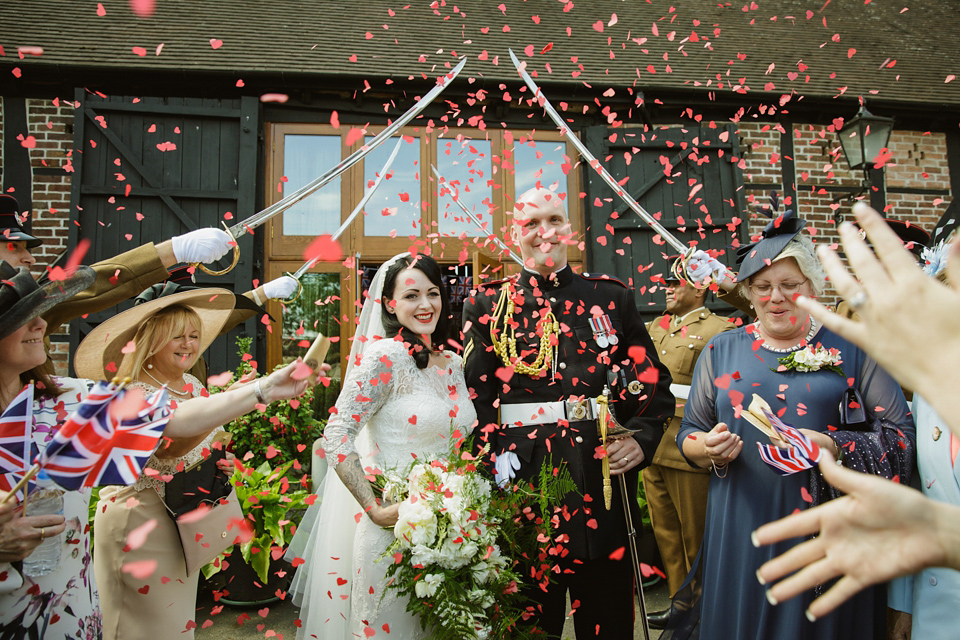 "As only Richie's nana would be with us out of our grandparents it was really important to incorporate them into the day. I collect all of my old family photographs and really love framing them in vintage frames and hanging them around our home. I was looking at them one day and thought how wonderful it would be to have pictures with us holding our grandparents photographs. I told Gemma and she loved the idea!
These photographs are some of my favourites from the day and my nana and granddad, who couldn't travel to Shropshire, absolutely loved seeing that they were part of the day too."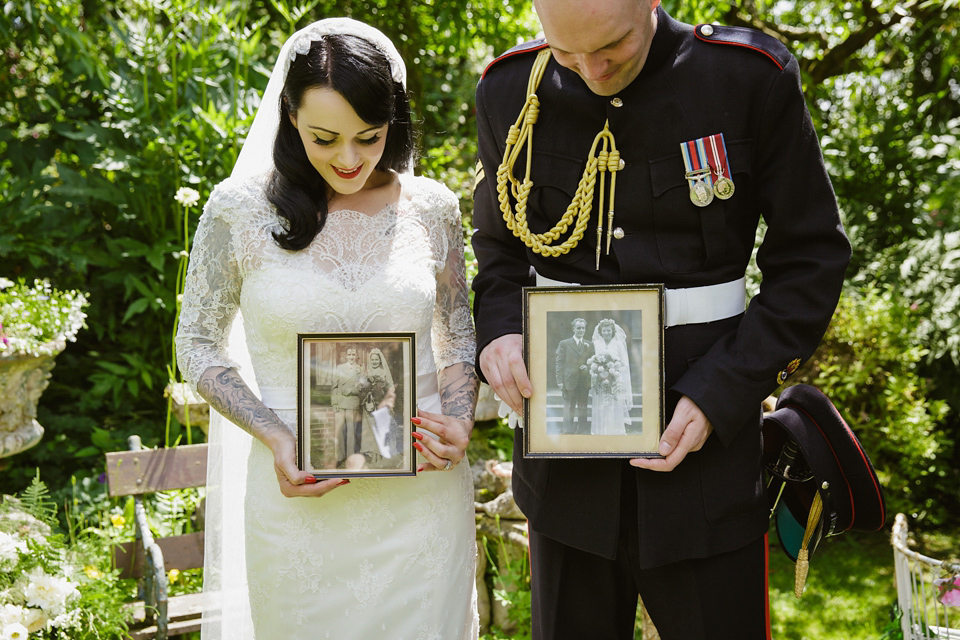 "Our close friend and exceptional floral designer Bec Rotchell of Diddibox created all of the flowers for the day. Her brief was to create something true to the 1940s and to reflect the idea of collecting and gathering flowers from the garden, as so many people did back then. Over the months I changed my mind a few times and the colour palette too.
I decided eventually that if we were following the 1940s then I need to be true to the period and the floral arrangement would be key to this overall aesthetic. Having rummaged through the wedding photographs of both my nanas and then being sent a photo of Richie's nana and granddad on their wedding day I knew that I wanted a loose trailing hand tied bouquet – and I wanted it to be big, asymmetrical and full of garden fern. A real statement piece and a nod to our grandparents."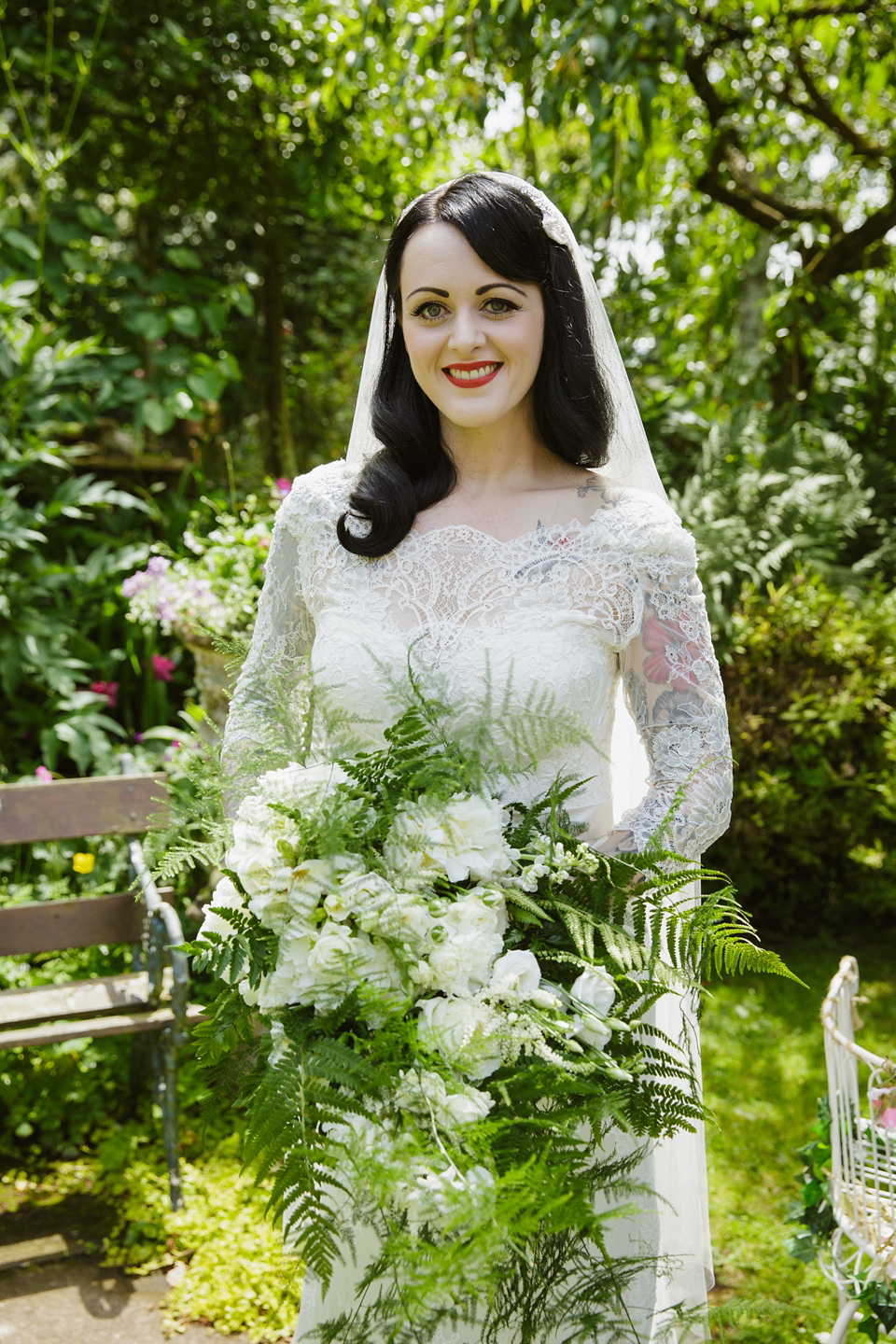 "Bec's passion and talent is overwhelming – all of the flowers were perfect and looking back at photographs I only wish that they lived forever! They really added to the overall aesthetic I was trying to create."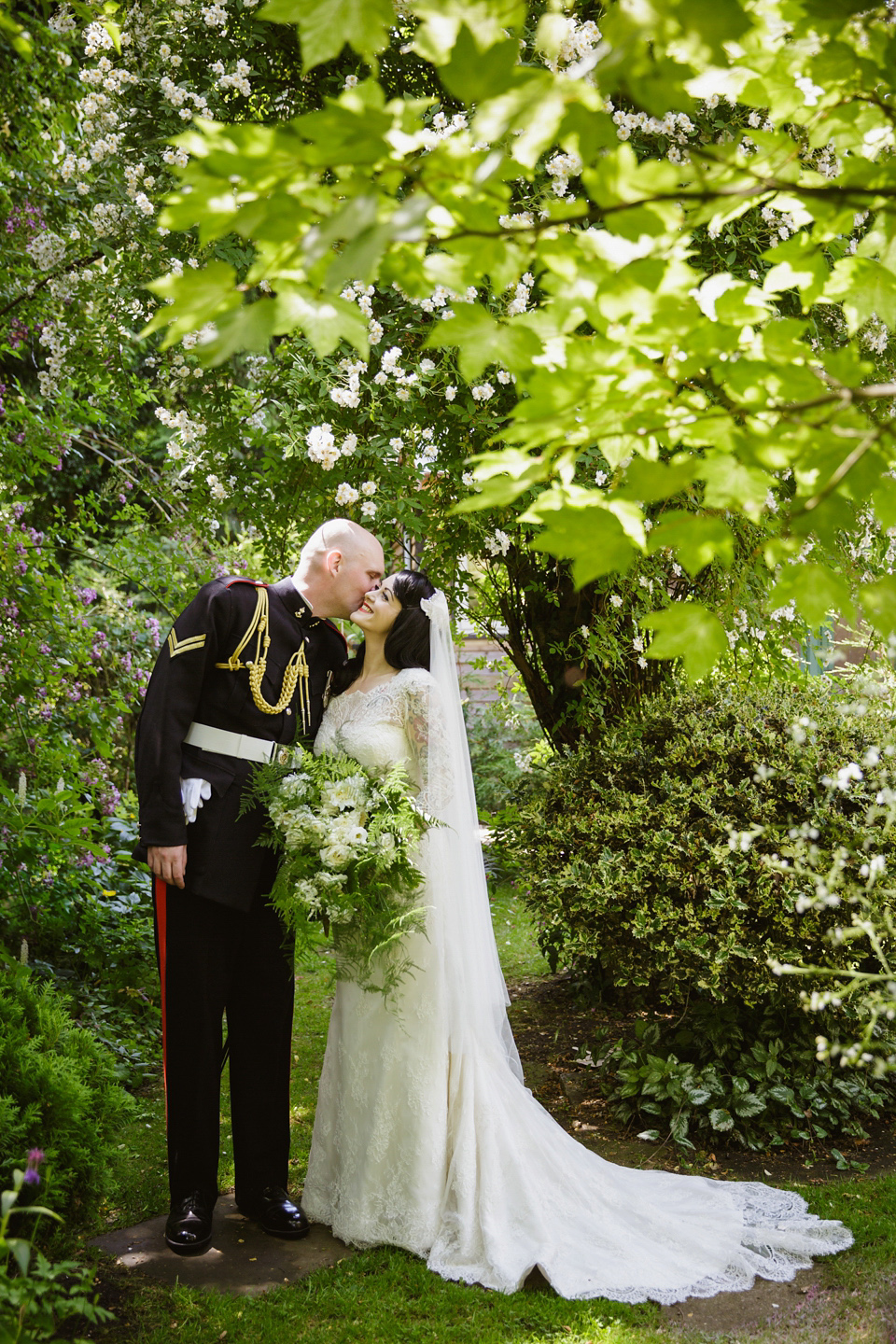 Bridesmaid Morgan, who is Lea's daughter, wore a beautiful white dress from Coast.
"It was really important to us both that she played a key role on our day. She loved helping us with all of the planning and coming with me to dress fittings, seeing me getting excited about how I would look on the day. Morgan is so special to us both, she and Richie have such a good relationship – like best friends."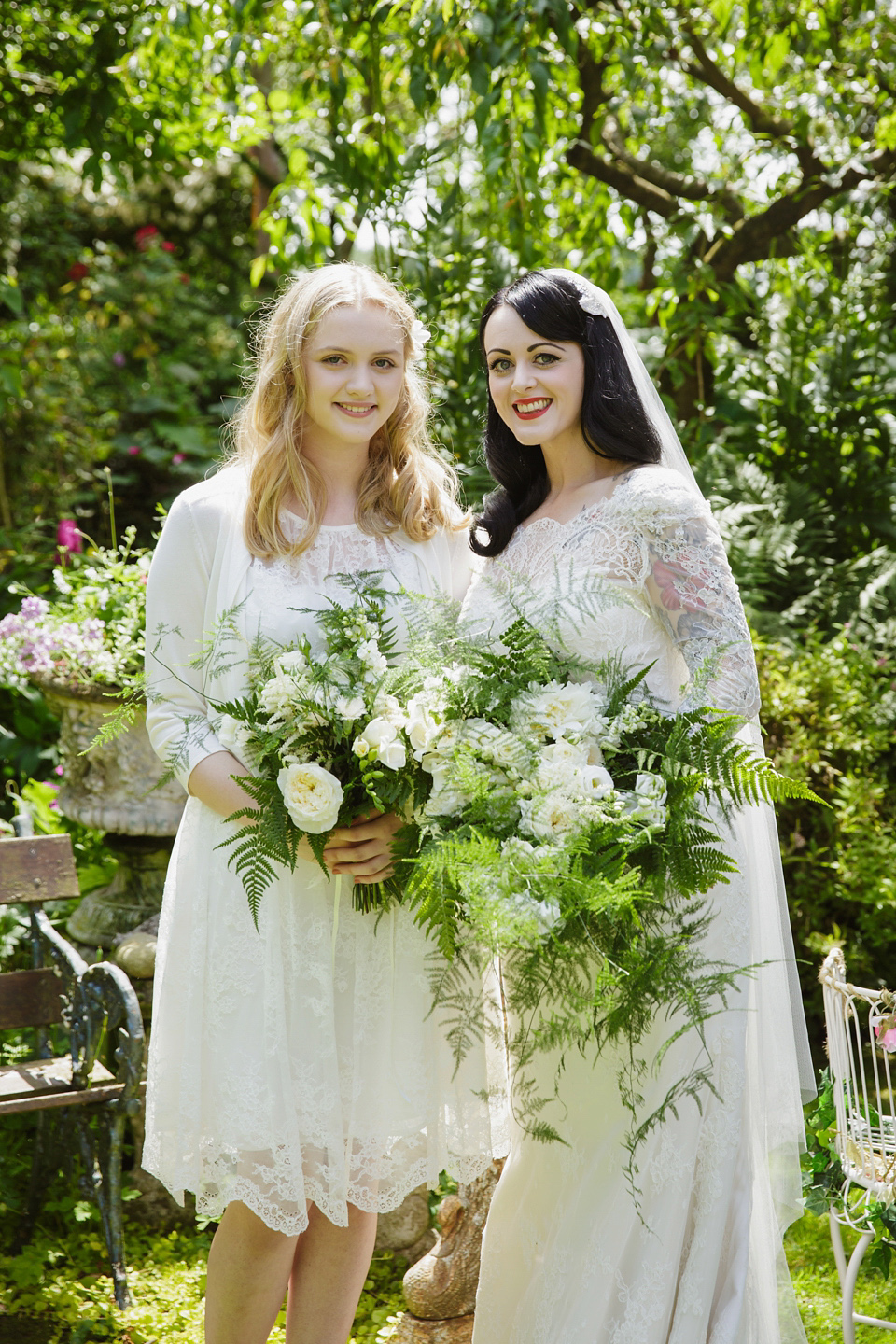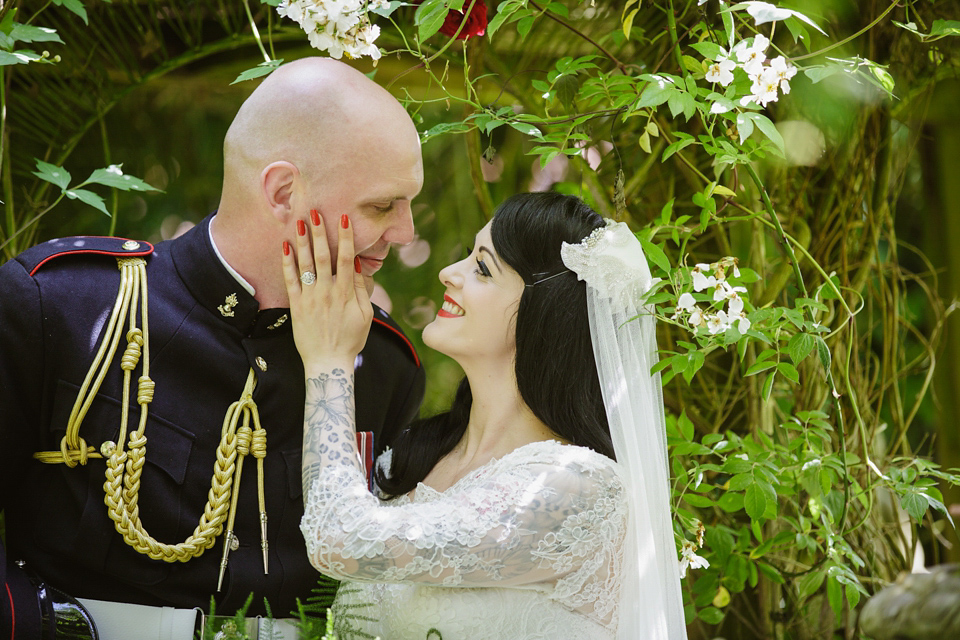 "As our wedding breakfast was on the Severn Valley Railway we needed to transport all of our guests from Norton to Kidderminster, which is approximately 40 minutes drive. We wanted to hire vintage transport and fortunately Boulton's of Shropshire had exactly what we were looking for – two fully restored vintage buses."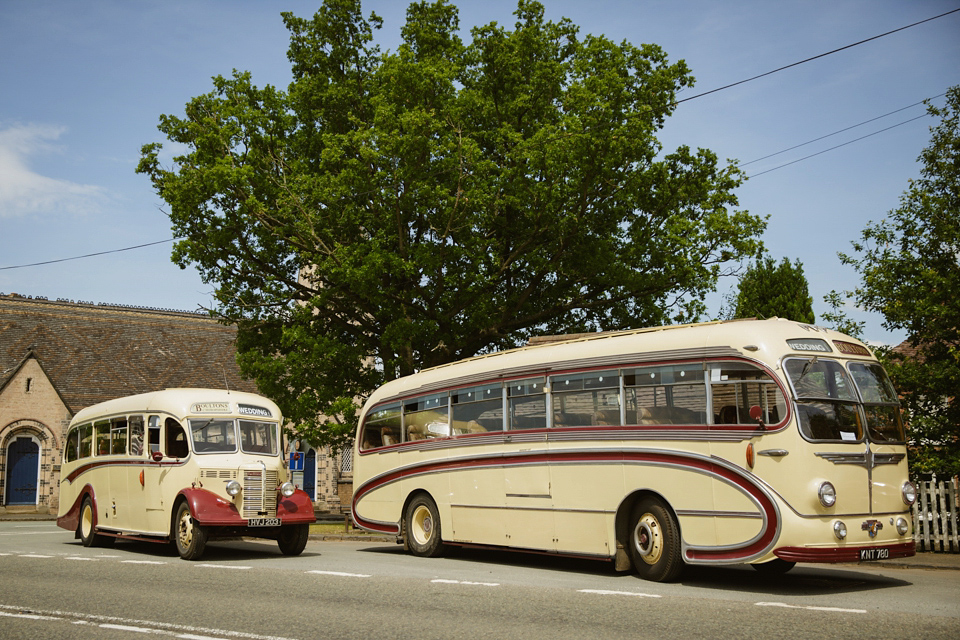 "This was such a fun part of the day and all of our guests had a fantastic time! Some guests reminisced about being on buses just like them as children and others had never experienced anything like it before. It feels amazing to be able to share not just our special day with our guests, but to know they had fun whilst making some unique memories in the process."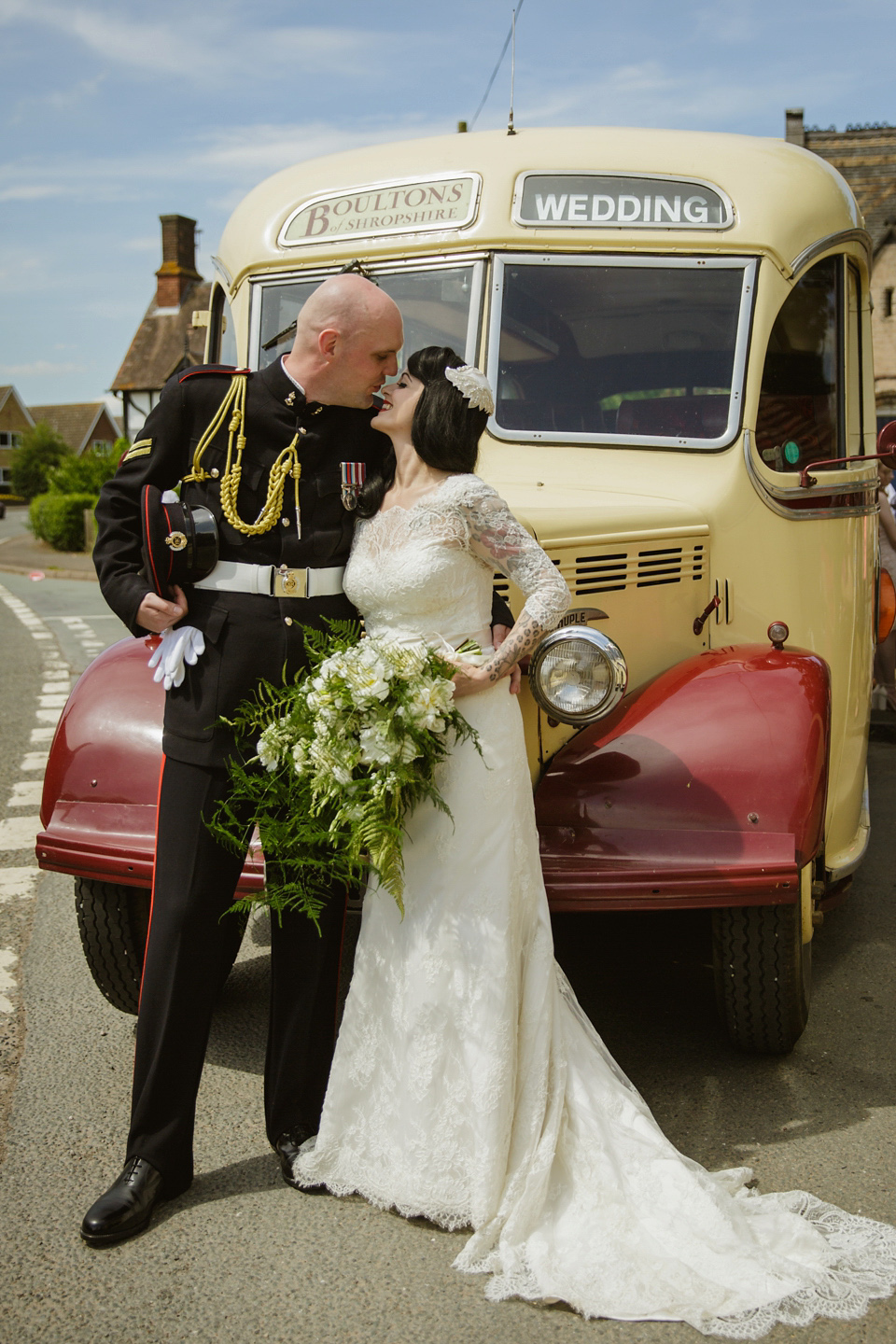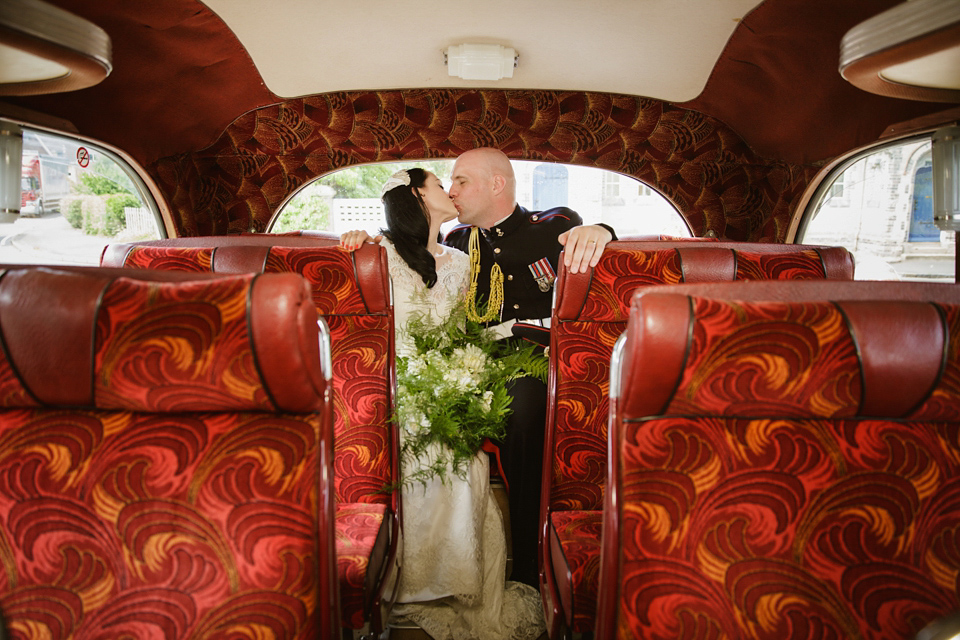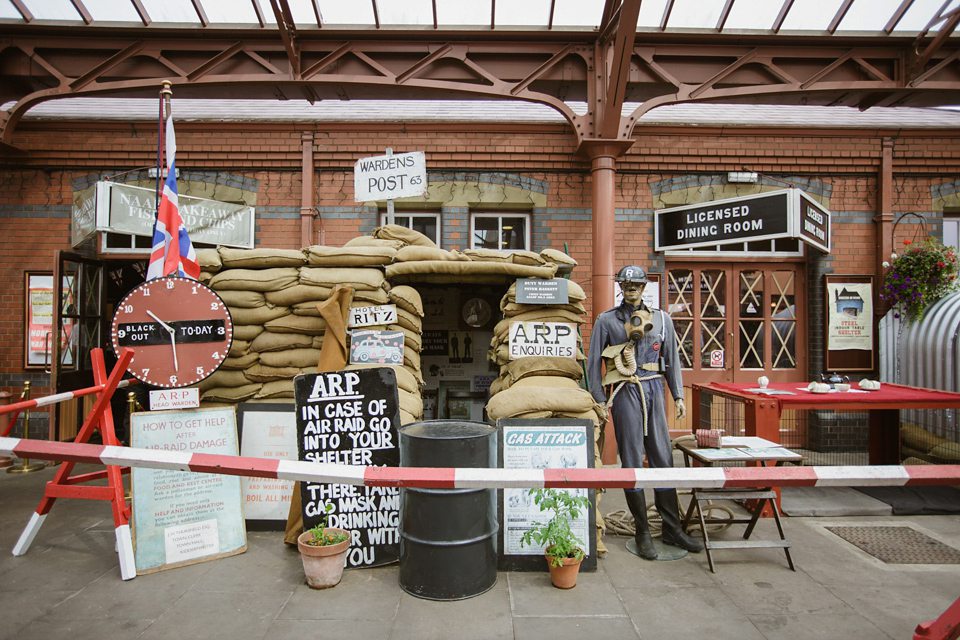 I'm local to the Severn Valley Railway but never knew that it can host weddings onboard. I think this must have been a brilliant experience!
"Our first 'official' date was on the SVR when we attended their 1940s weekend. We had the most fantastic time and fell in love with the place. It was like stepping back in time surrounded by beautiful landscape aboard the fully restored locomotives and carriages."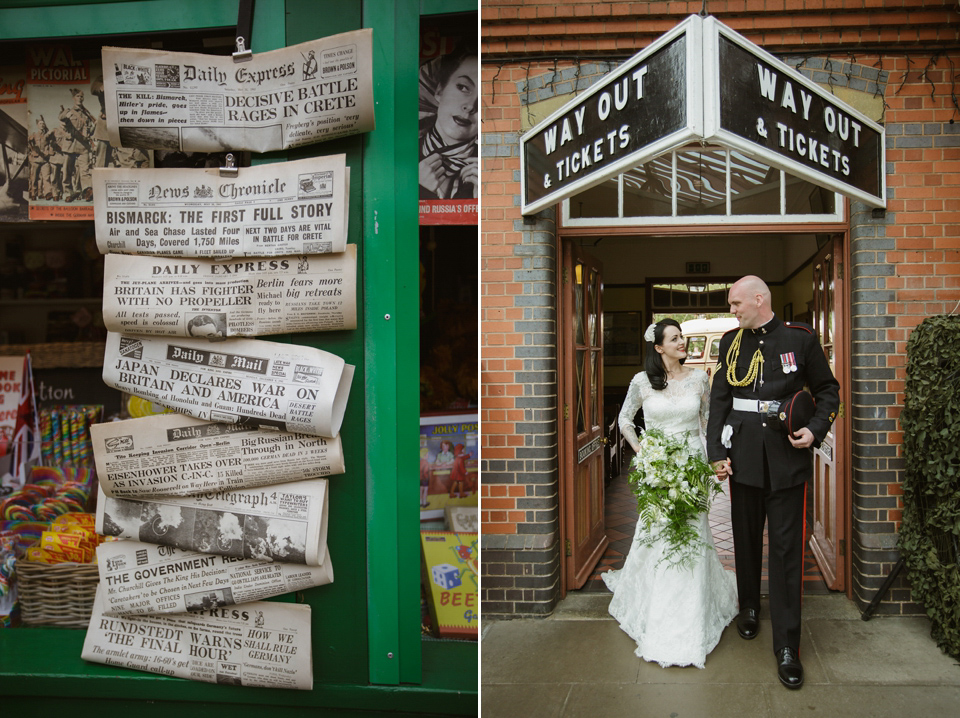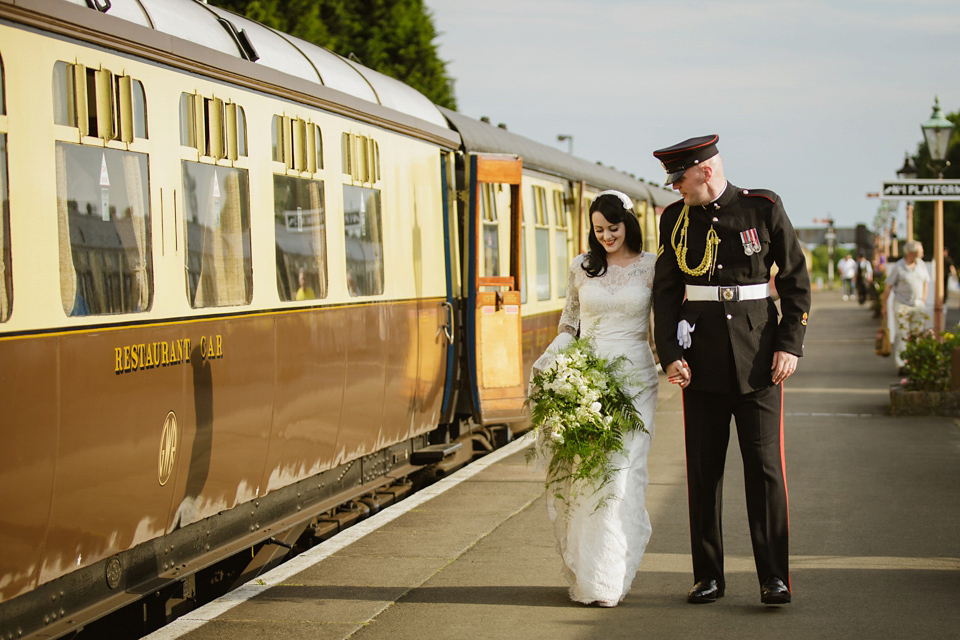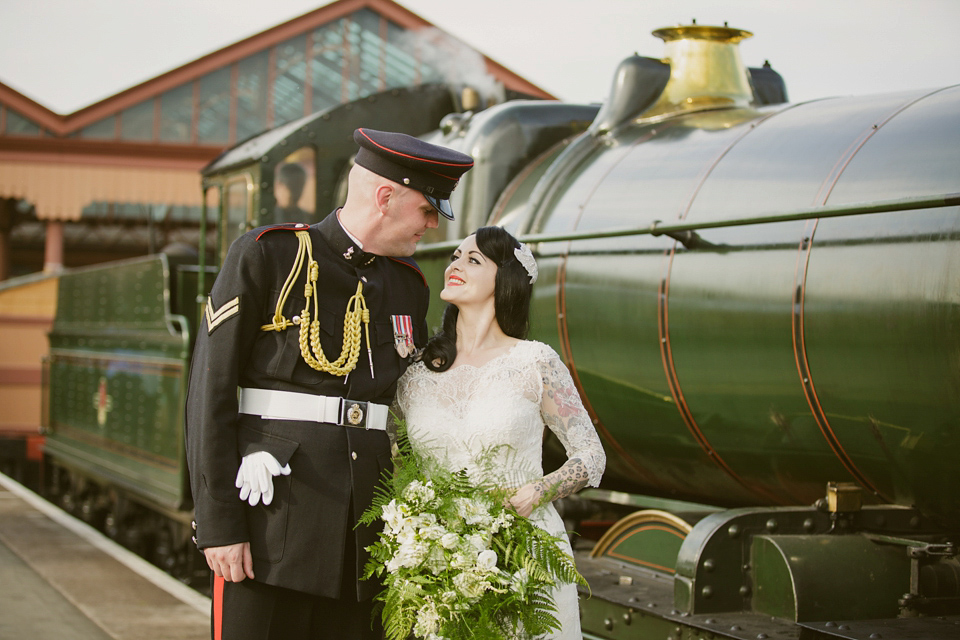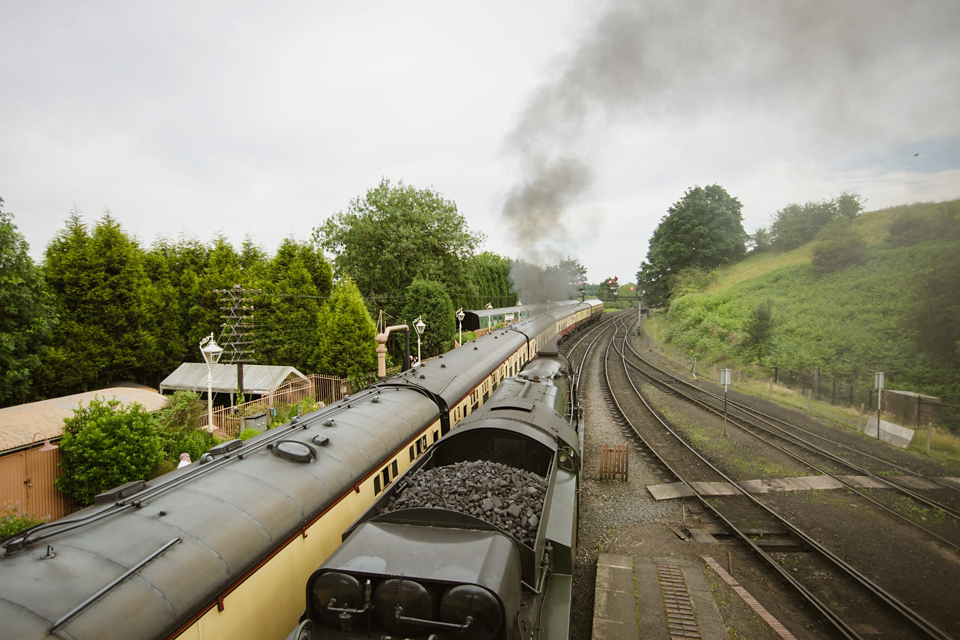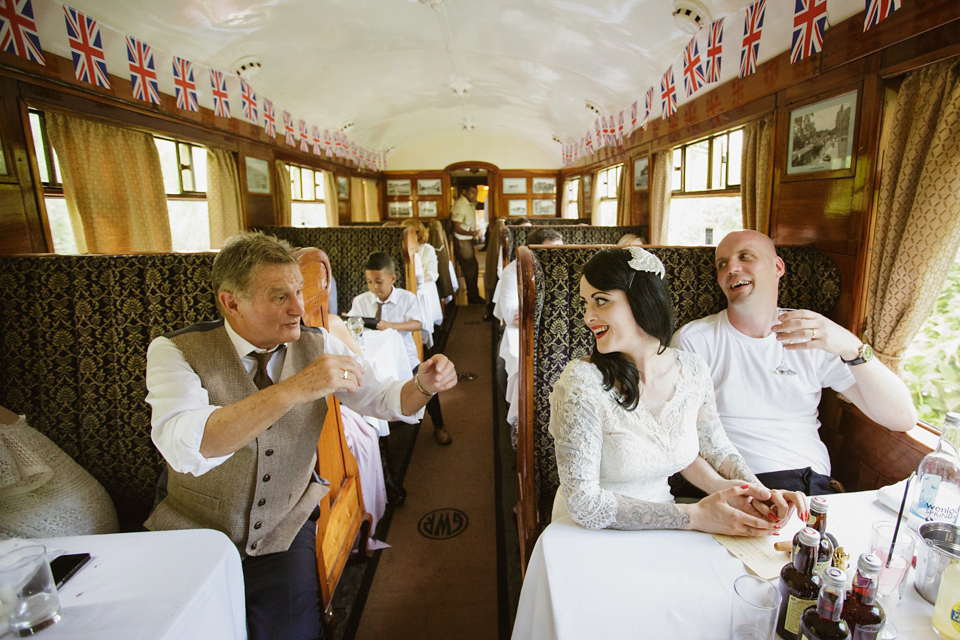 "We felt that a VE Day party would not be complete without a wealth of union jack flags. So we ended up had two colour palettes – red, white and blue and more sepia, vintage tones of browns representing the military uniforms."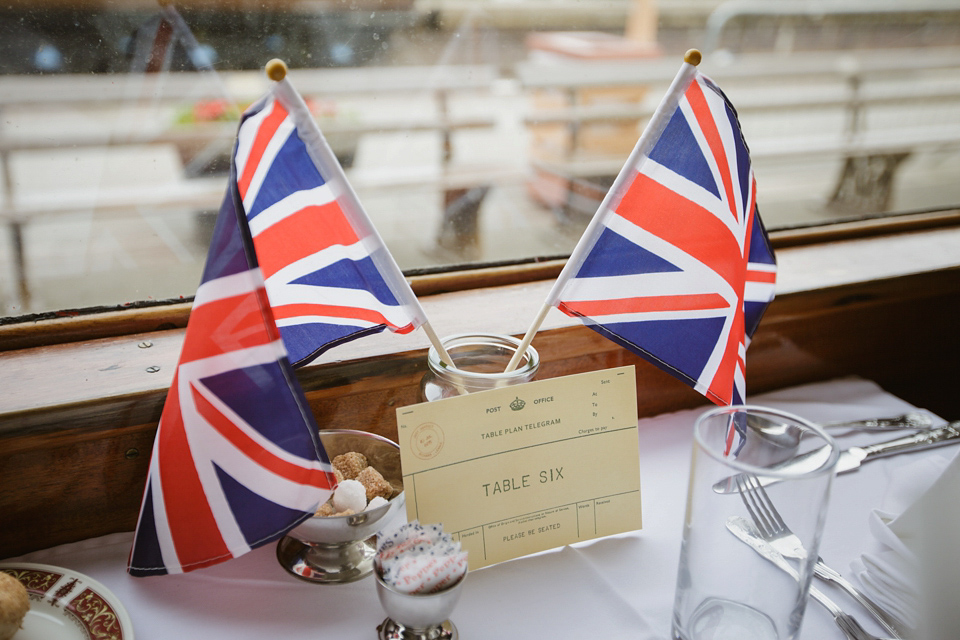 "We wanted a venue that would allow us to have a lot of creative control and that could be styled in the way we desired, effectively reliving a 1940s VE day celebration for both the ceremony and the reception. A venue that provided a space that could adapt to our vision and feel authentic to the overall theme.
The Hundred House offered the perfect opportunity for this. The ceremony and reception took place in the same 17th Century barn, their existing décor was very sympathetic to the building, no garish colours or finishes and the overall ambiance just felt right."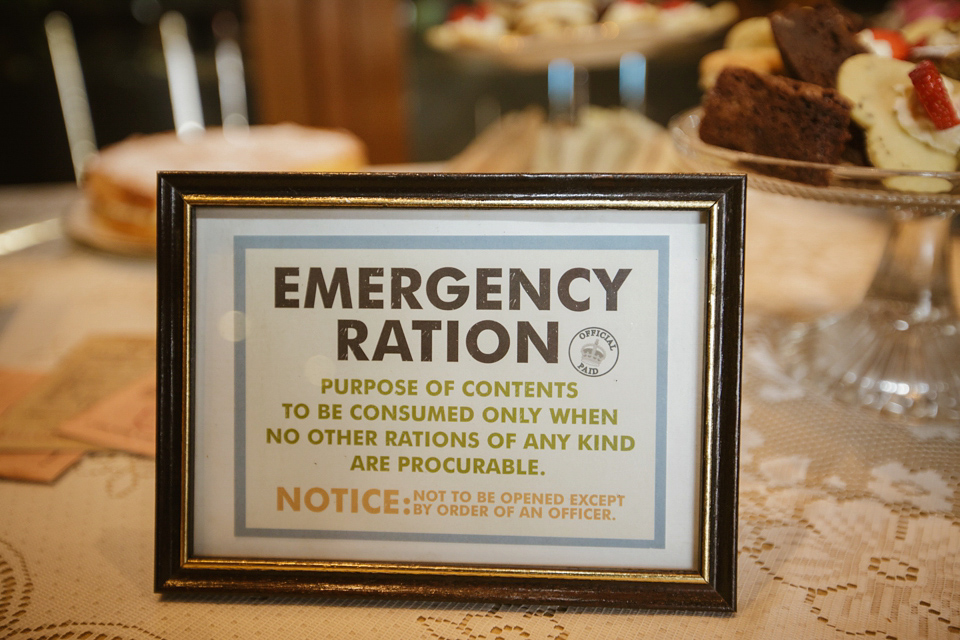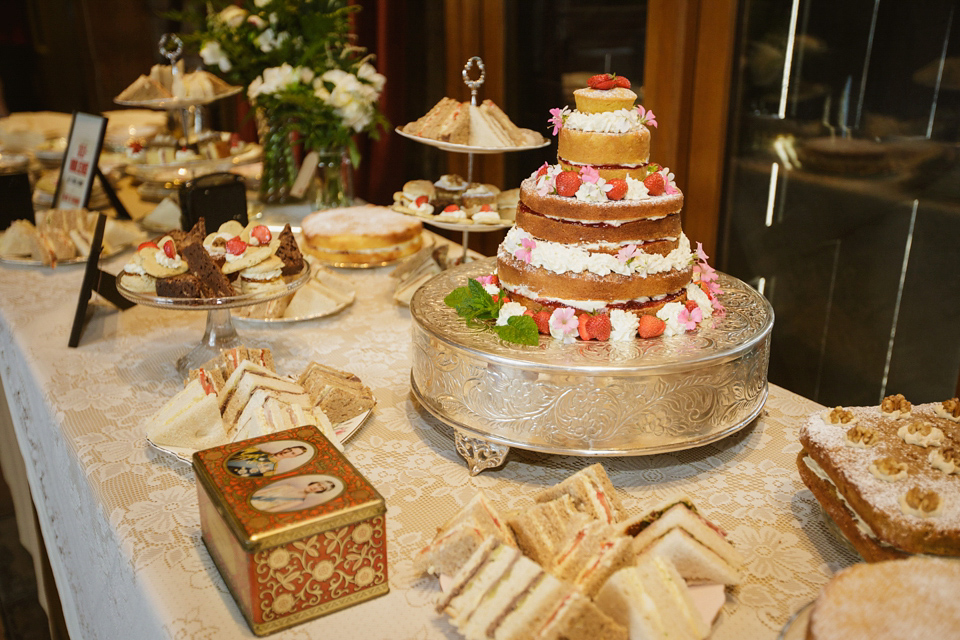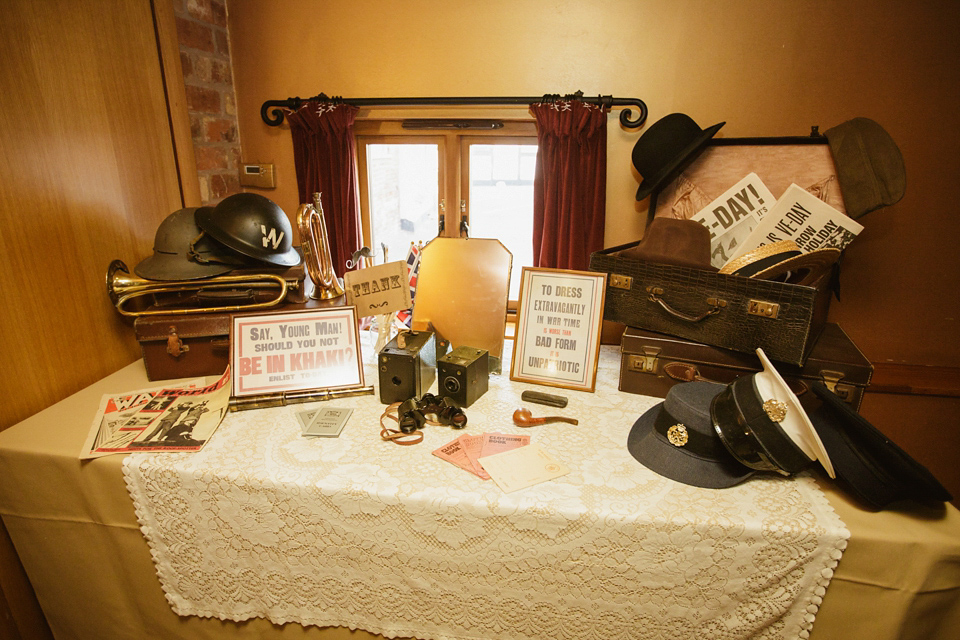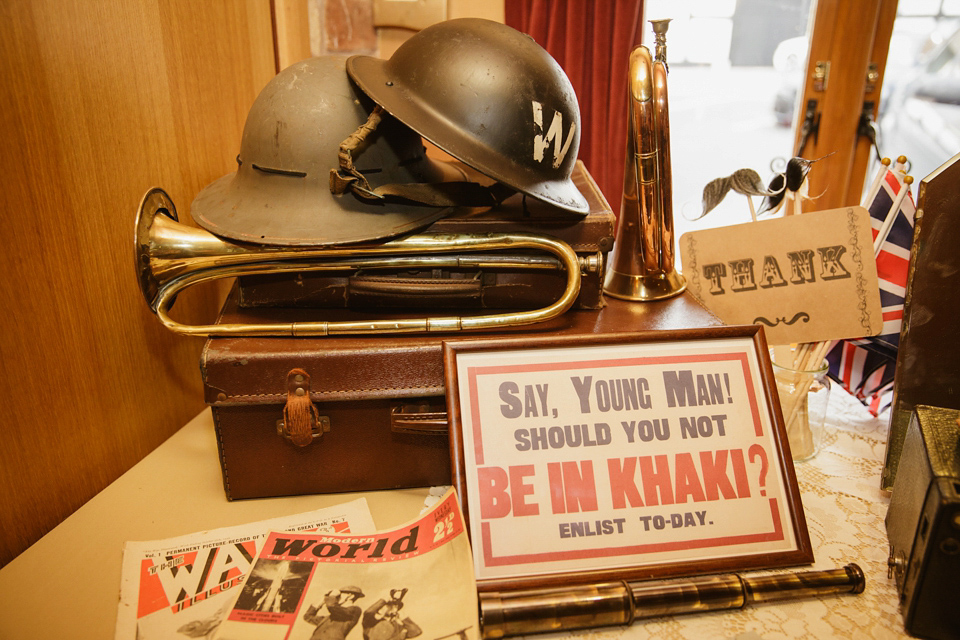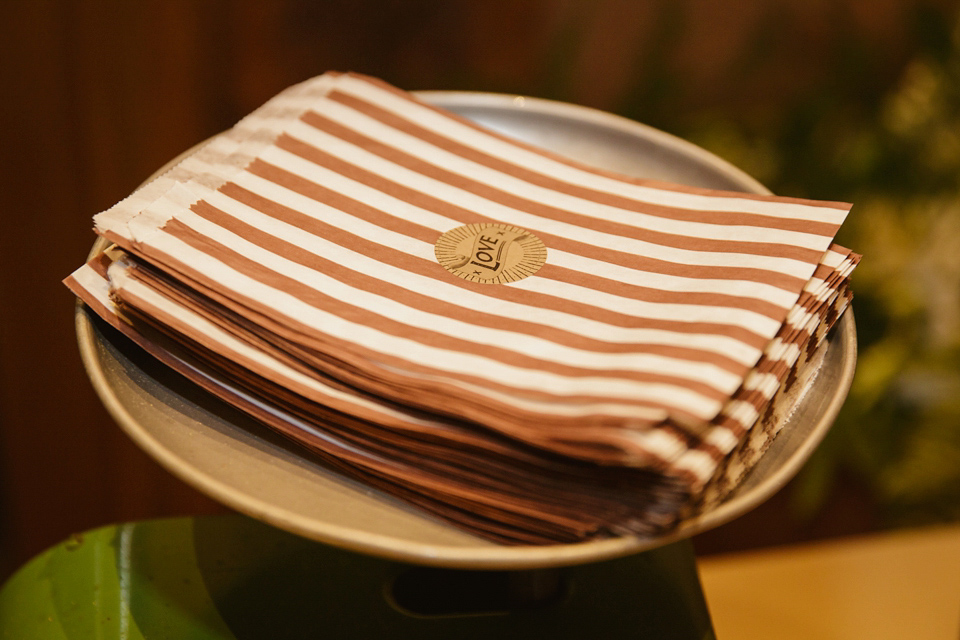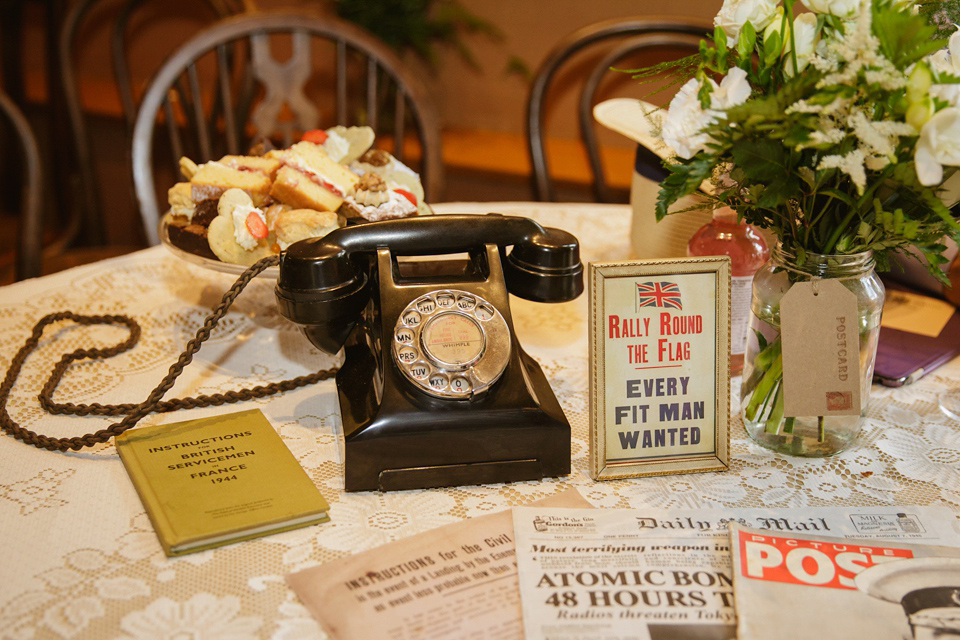 "Our evening entertainment was provided by Miss Kitty Collins and Mr Tunes Vintage DJ. Our set list was very specific, with no contemporary music allowed. We were particular about creating an atmosphere reminiscent of a VE party with a fantastic wartime songbook; the music played was a real journey through the 1930s and 1940s."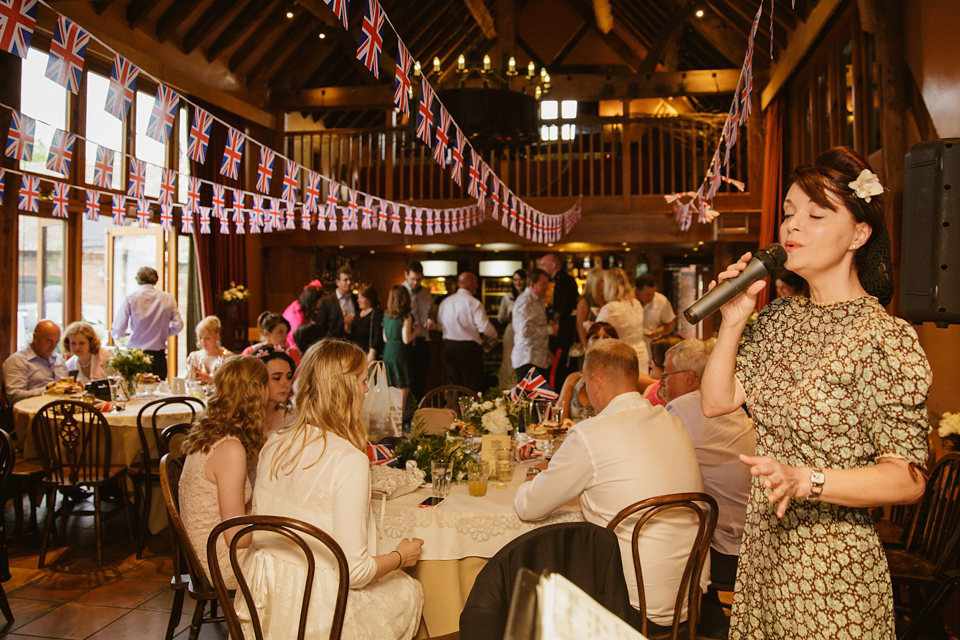 "We chose the same first dance song that I walked down the aisle to, Louis Armstrong singing La Vie en Rose. This is my favourite song and also one that I sent to Richie whilst he was on tour in Kenya. I had made him a 'vintage' style mix tape with a collection of songs that reminded me of him – a collection of love songs that I wanted to share with him in a unique way."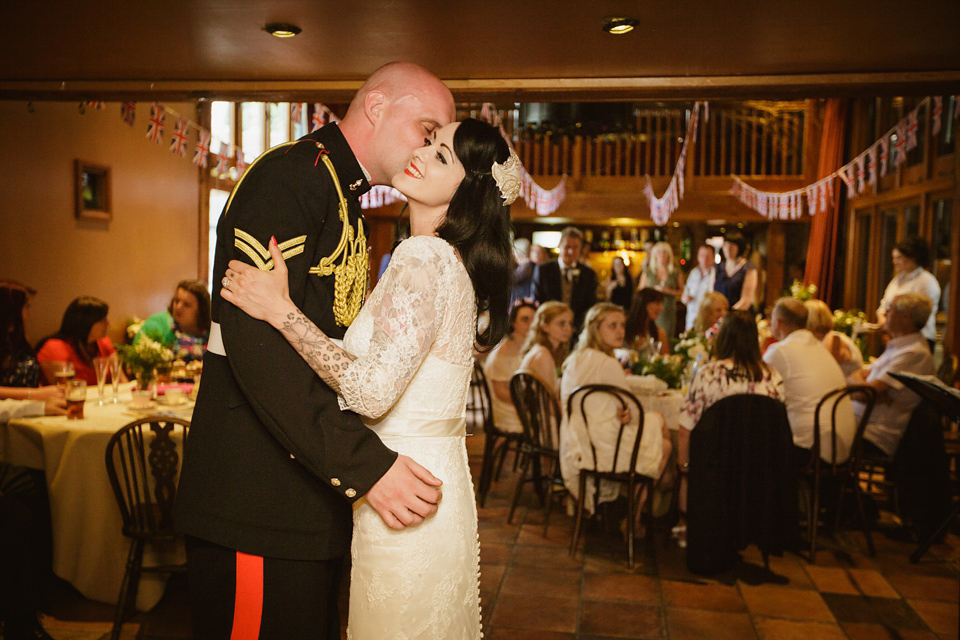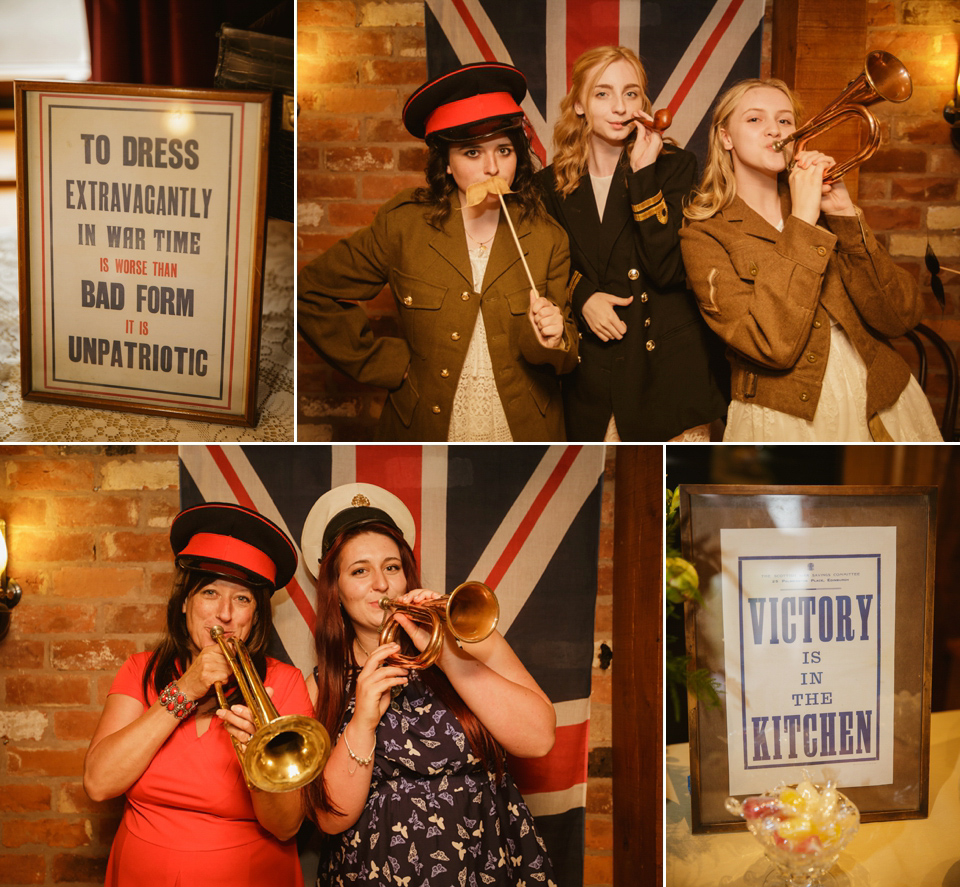 Words of Wedded Wisdom
"Hold each others hand and not let go… see your wedding through the same eyes.
One thing that on reflection we are so happy about is our decision to spend the day together, sharing every moment through the same eyes. Some months ago I heard an interview with a gentleman that had been married for over 70 years and when asked "what do you think contributed to such a long and happy marriage?" the man replied "we saw our wedding through the same eyes, I held her hand the whole time. I never let it go. So when we talk about that day, we remember the same day, the same moments and that memory has lived with us all of this time.
The impact that had on me was profound and I told Richie instantly. We made a pact that we would do the same; we would see our wedding through the same eyes. Richie promised to hold my hand for the entire day and he did. We loved every second of it and those memories will be with us for eternity. This was by far the best decision we made."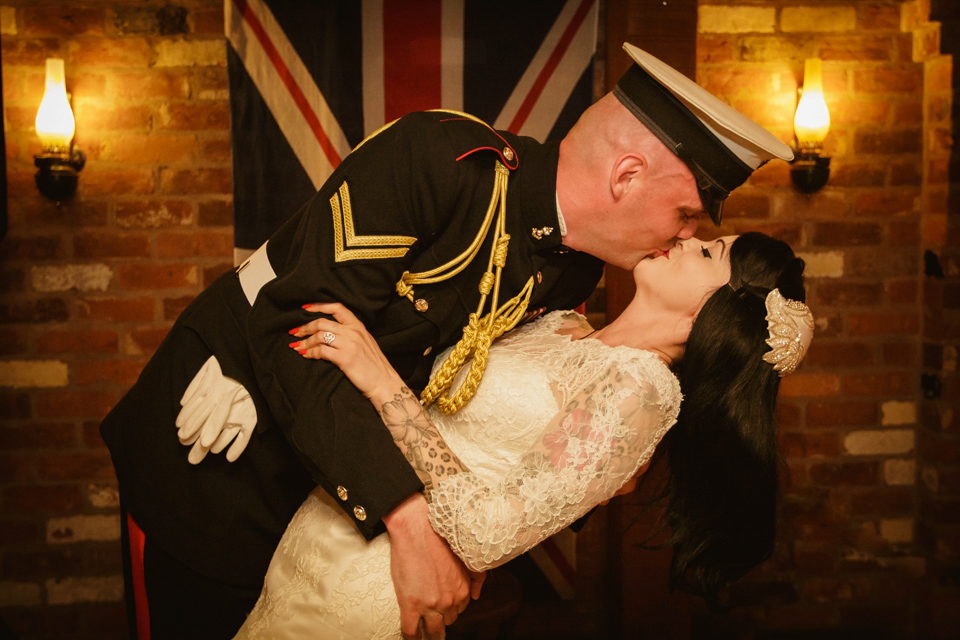 I love those words Lea. So many of us spend our wedding day apart, perhaps we should all try harder to see the day 'through the same eyes.'
Firstly I want to offer my congratulations to you both on your recent marriage. I hope that the romance and your obvious love for each other continue grow unbounded. Secondly, I have to apologise that I can't share every, single detail of your story with everyone. However, I have enjoyed reading every word of it!
Thanks goes to Gemma for sharing the oh-so-important photographs. Anyone planning a 1940s inspired day cannot fail to be inspired!
Much love,
Katie xx
Photographer – Gemma Williams
Venue + Cake – The Hundred House, Norton, Shropshire
Wedding breakfast – Severn Valley Railway
Dress – Pearl Bridal Boutique
Shoes – Angela Nuran
Veil & Juliet cap – Agnes Hart
Perfume – Vivienne Westwood, Boudoir
Bridesmaids' dresses – Coast, shoes – Debenhams
Flower girl – Next
Page boy – BHS & Next
Best man & the couple's fathers – suit, shoes & shirt – Next, herringbone waistcoats – Lloyd Attree & Smith
Florist – Diddibox
Rings – Connard's & Son
Stationery – Wedding Paper Divas
Table plan & numbers – Tout chic
Reservation tags – Wood and Grain
CD favours – Band cds
Chair & prop hire – Linda's Vintage Hire
Vintage coaches – Boulton's of Shropshire
Entertainment – Miss Kitty Collins & Mr Tunes Vintage DJ