It's Saturday (hurrah), and whatever your plans are this weekend, I hope you'll have a smidgen of time to browse through Love My Dress's newest and most beautiful wedding planning resource, the Little Book For Brides. My most heartfelt congratulations to Annabel and the team on producing such gorgeous and super-helpful pages, full of wonderful suppliers – it's making me wish I could plan my wedding all over again!
I'm so delighted to be sharing today's wedding with you. Today's photography is truly magnificent – it's by the unmistakably amazing Kitcheners, who have shot some of my favourite images ever on Love My Dress. Bride and groom Lyndsey and Keith were wed in the majestic landscape of Iceland, a country which is not only breathtakingly beautiful, but is extra-special for me, as it's where I got engaged. I hope you'll fall in love with this romantic, atmospheric wedding as much as I have.
"Iceland is such a special place to both of us and it felt natural that we would travel there for the ceremony.  I stumbled on photographs of an elopement at Búðir church one day and just couldn't stop crying; from that point I couldn't picture us anywhere else."
Photography by The Kitcheners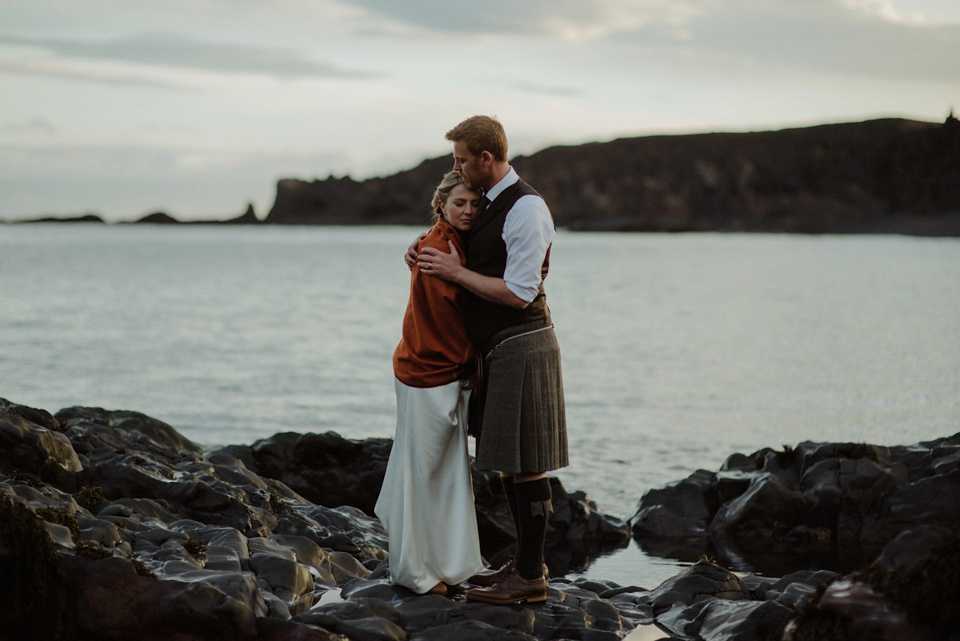 "We travelled out to Iceland 5 days before the Wedding day.  I'm so glad we decided to do this as it allowed us to completely switch off from all the planning.  By the time our guests joined us, we were completely relaxed.  It also allowed us to spend some time just the two of us which was very special.  Right down to me giving Keith a haircut in our hotel room the night before the wedding 🙂  Little things I'll never forget."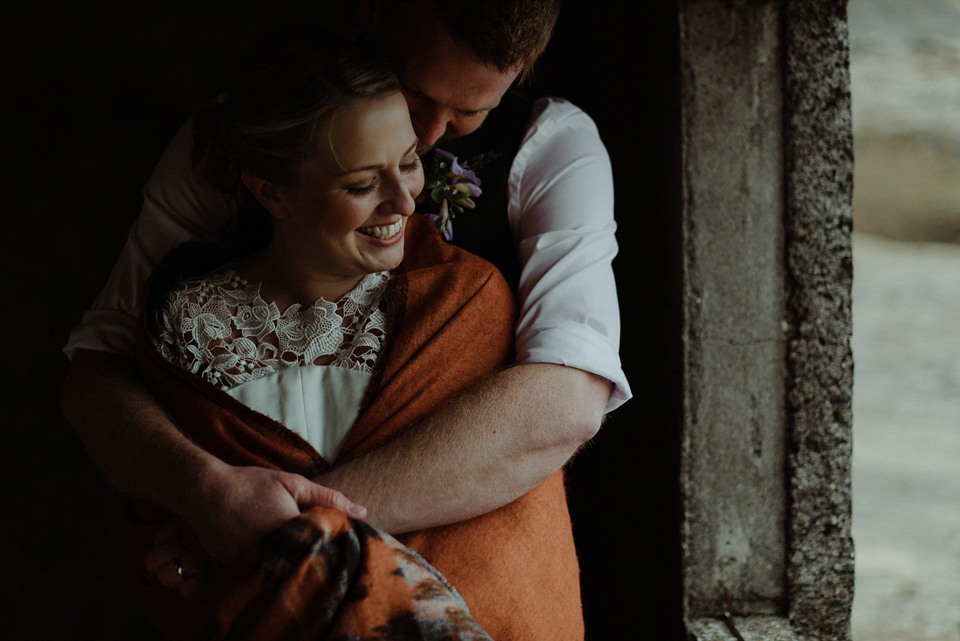 "The Kitcheners were our amazing photographers.  Joanna and Dylan take the most incredible atmospheric photos.  We were set on booking them really early on and luckily a last minute change in their schedule meant that they could travel with us."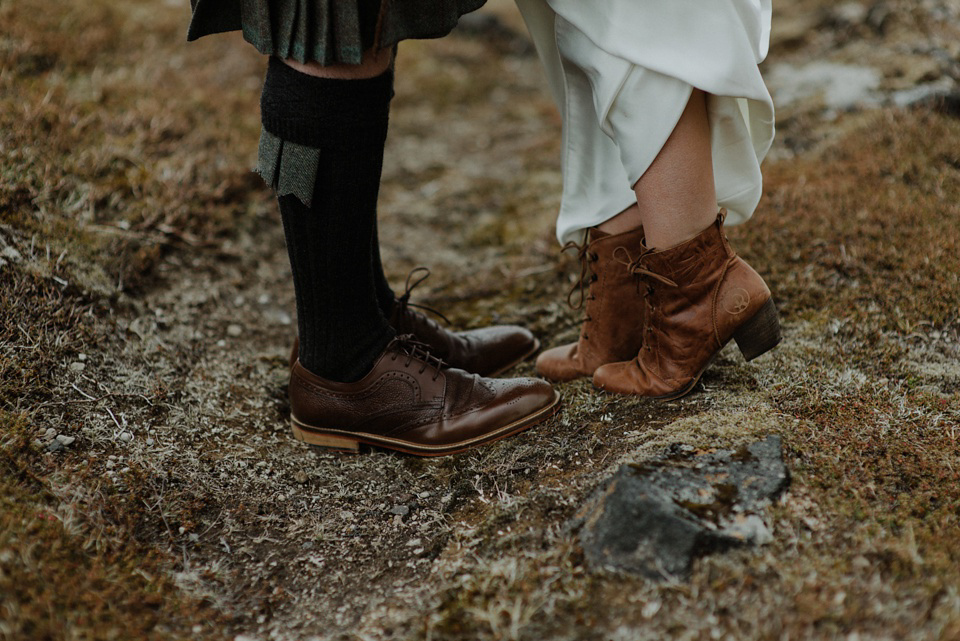 "Every single photo brings a smile to my face.  Picking a select few for an album has been near impossible as each and every one is beautiful."
"My hair was by Ólöf Eyjólfsdóttir.  Ólöf was wonderful and knew exactly how to style my hair for the harsh Icelandic winds.  It didn't move an inch and was exactly what I'd had in mind."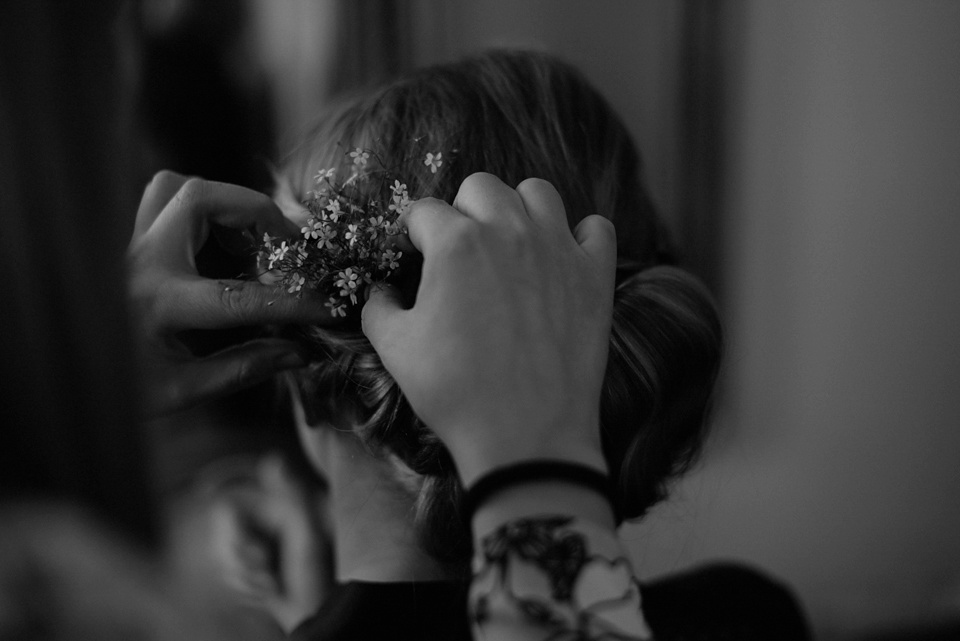 Lyndsey's dress is by Edinburgh-based designer, Catriona Garforth-Dev. I hadn't heard of her brand, By Catriona, before but her dresses are divine – all beautiful silks, satins and embellished fabrics. Do check her out if you're around Edinburgh.
"I looked around a few places before visiting Cat at her Edinburgh studio but I struggled to find what I was after- although I didn't have a clue what that was!  When I saw the Maia dress, I was drawn to the simplicity of the Satin but it was the open lace back that I really fell head over heels for.  Cat was just a joy to work with and really helped to make the dress unique for me."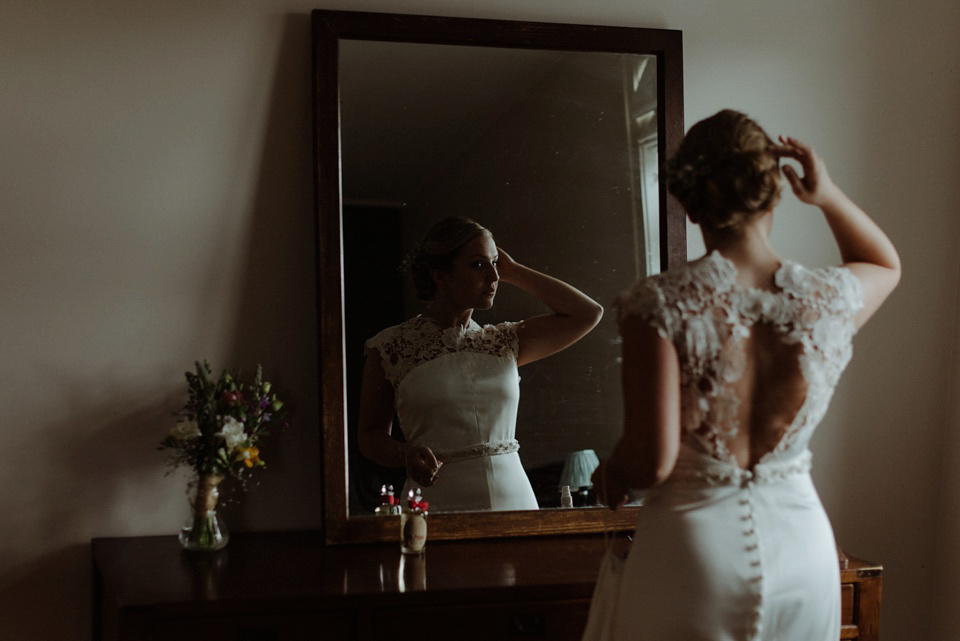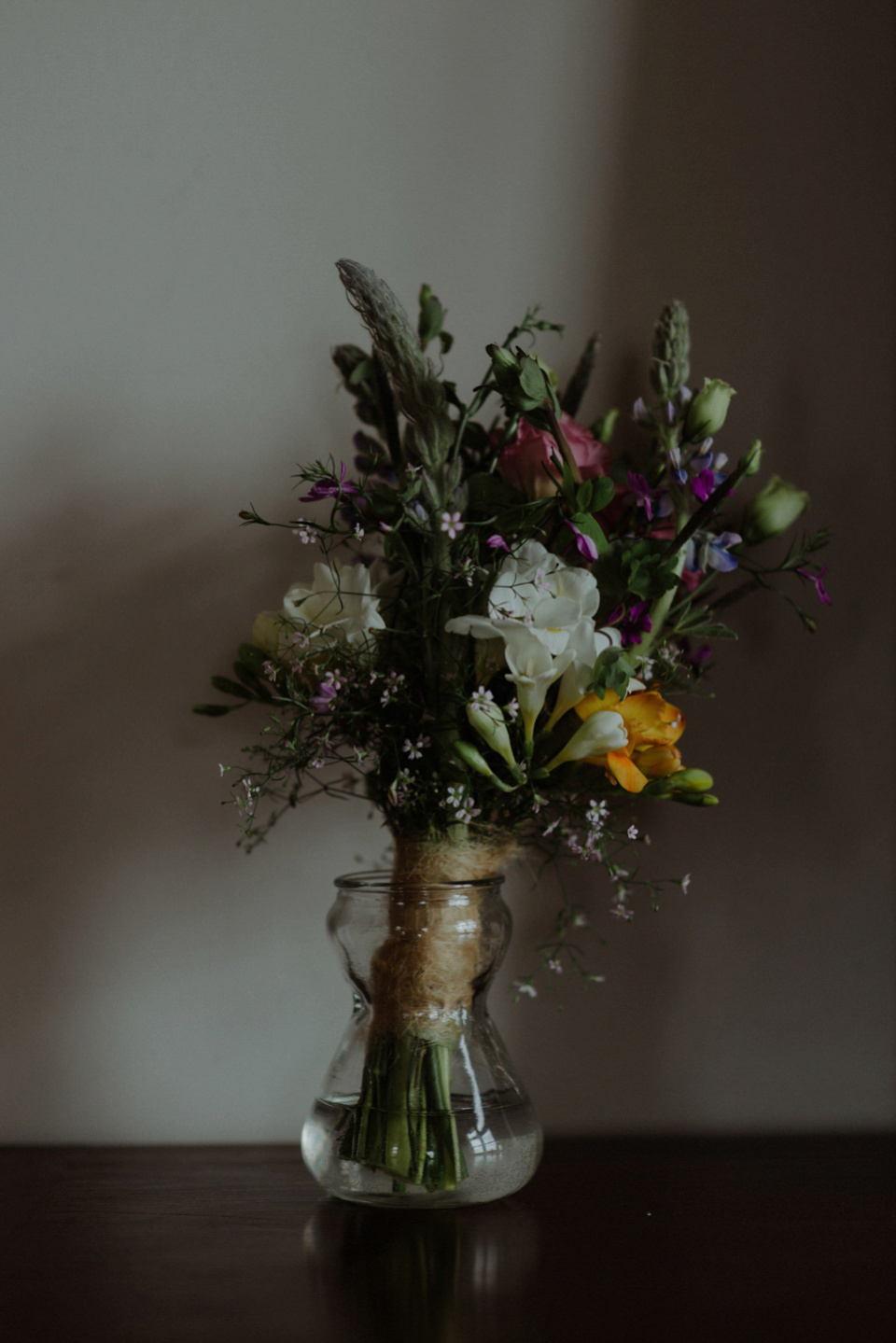 "Keith and I visited Penhaligons Edinburgh store together and spent an afternoon choosing our wedding scents.  I remember reading somewhere about choosing a new scent for your day, so whenever you smell it, it transports you back to that moment. I loved this idea."
Lyndsey wore Blossom Ivory shoes by Rachel Simpson for the ceremony before changing into brown boots to clamber around lava fields and stony beaches for these exquisite portraits. Her shawl was by Zara.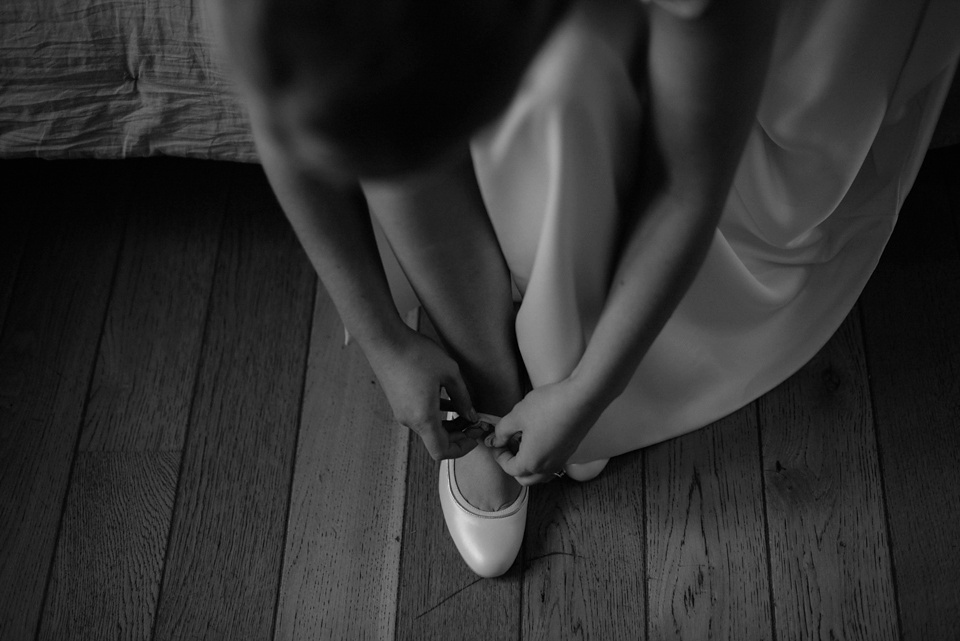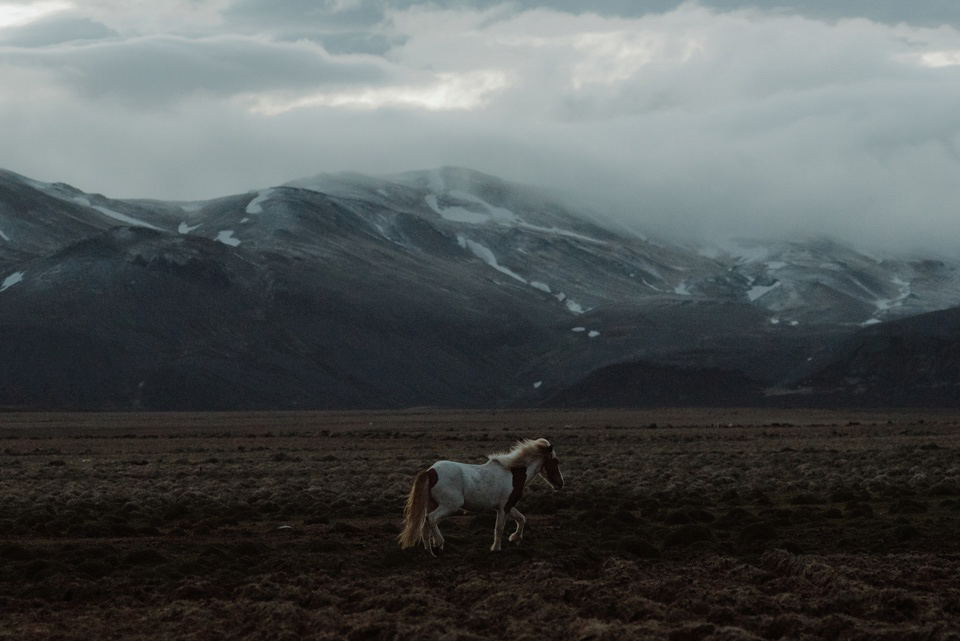 "The church at Búðir is the most beautiful little painted wooden church sitting in the middle of an incredible setting of mountains, glaciers and ocean views.  As soon as we made the decision to book Búðir, everything else was simple."
Keith opted for a tweed kilt and waistcoat and wore a sporran that belonged to Lyndsey's late Grandad.
 "Keith proposed on our second trip to Iceland in December of 2013.  The snow was so heavy that Keith's thoughts of a northern lights proposal were scuppered.  We managed to get out exploring one day and came across a lava tunnel which was just beautiful, Keith got down on one knee in a pile of snow and popped the question."
Lyndsey is a stationer, and part of the Glasgow Wedding Collective with The Hunter Press. She designed and printed the couple's wedding invitations herself.
"The invites were based around travel mapbooks, and designed to be a keepsake for our families.  The main pages were foil printed copper on navy stock and the fold out map letterpress printed onto lovely cotton stock. We used the following poem for the back of our invitations.  It felt like it summed us up perfectly…"
Understand, I'll slip quietly away from the noisy crowd when I see the pale stars rising, blooming over the oaks. I'll pursue solitary pathways
through the pale twilit meadows, with only this one dream: You come too. (Rainer Maria Rilke)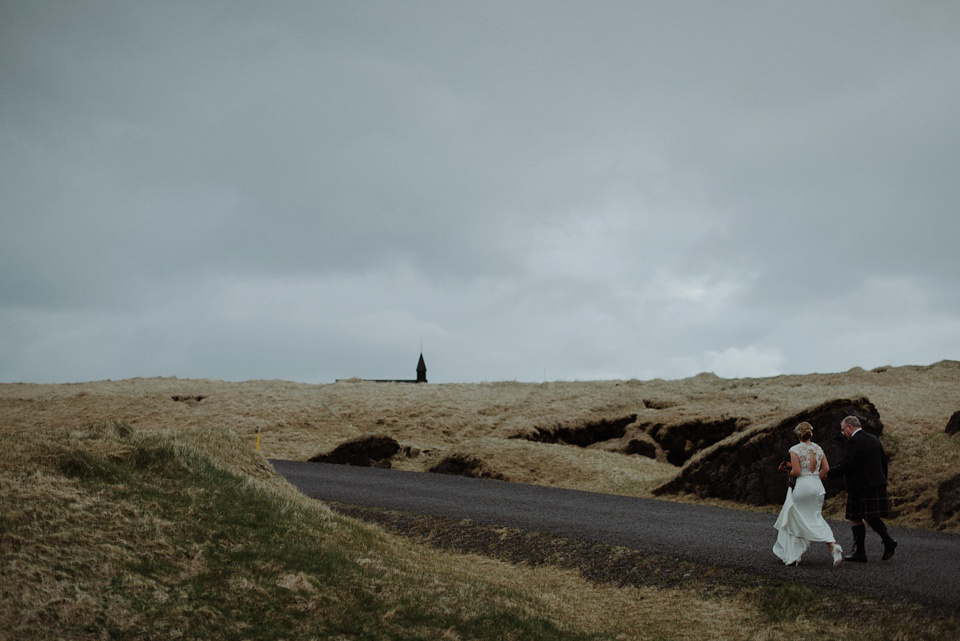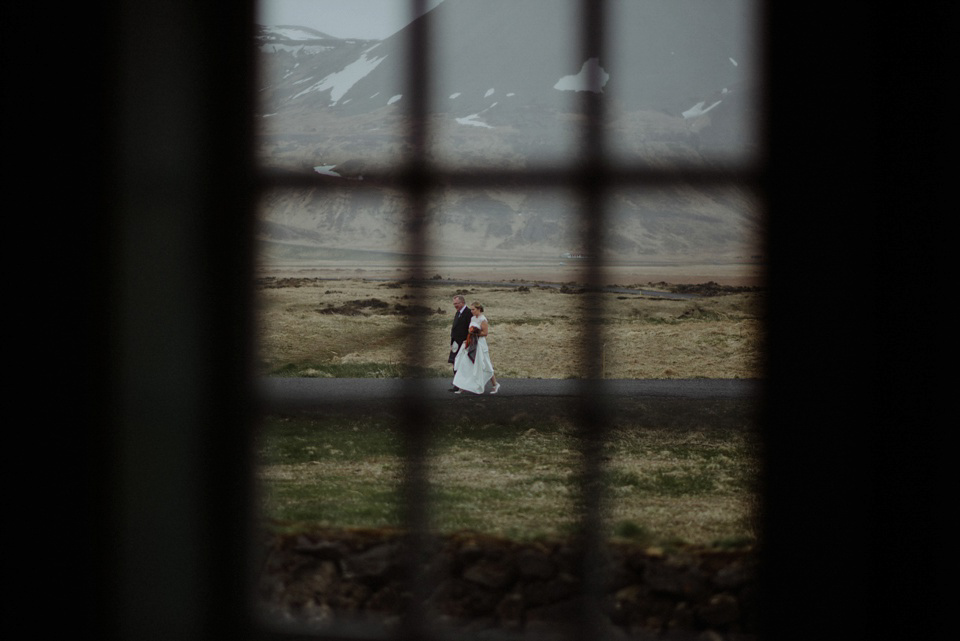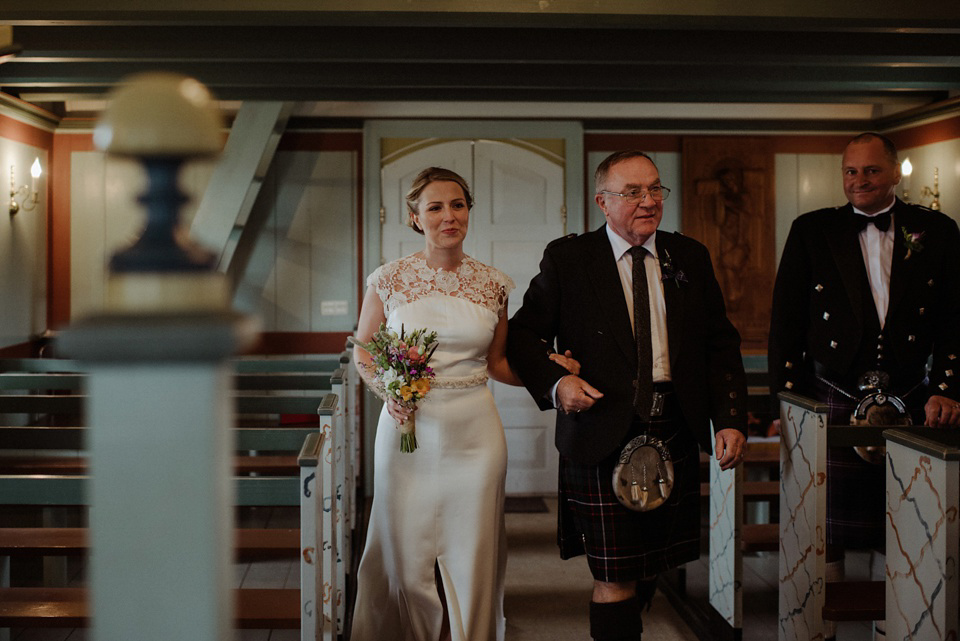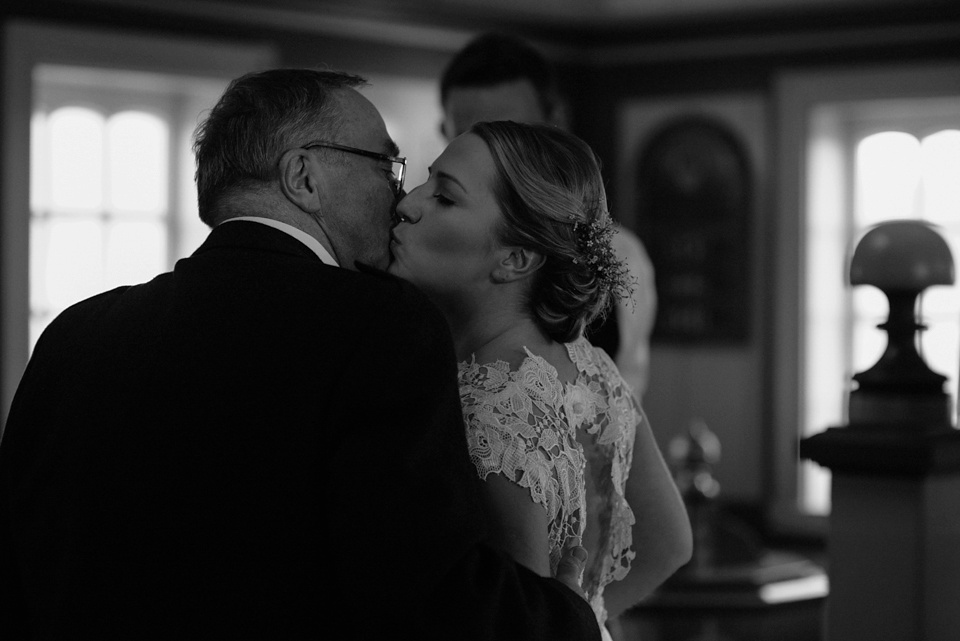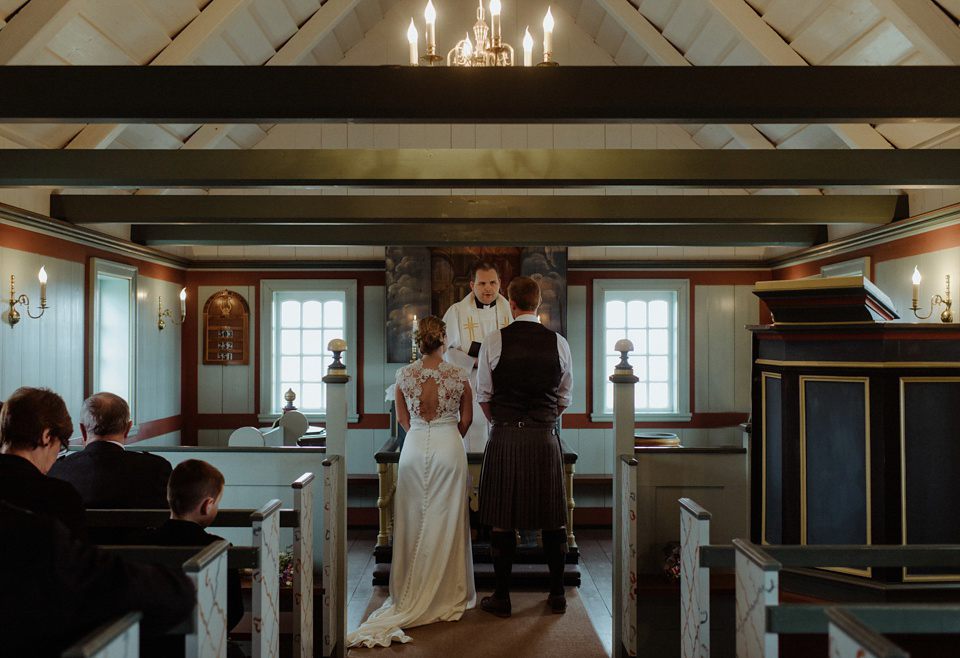 "The ceremony was very special and felt so personal to us.  On the morning of the wedding we drove to our ministers' (Páll Ágúst Ólafsson) house for coffee and he talked us through the running of the day.  It just set the relaxed tone for the rest of the day and he put us at ease straight away.  In a strange way it felt like a friend was performing the ceremony."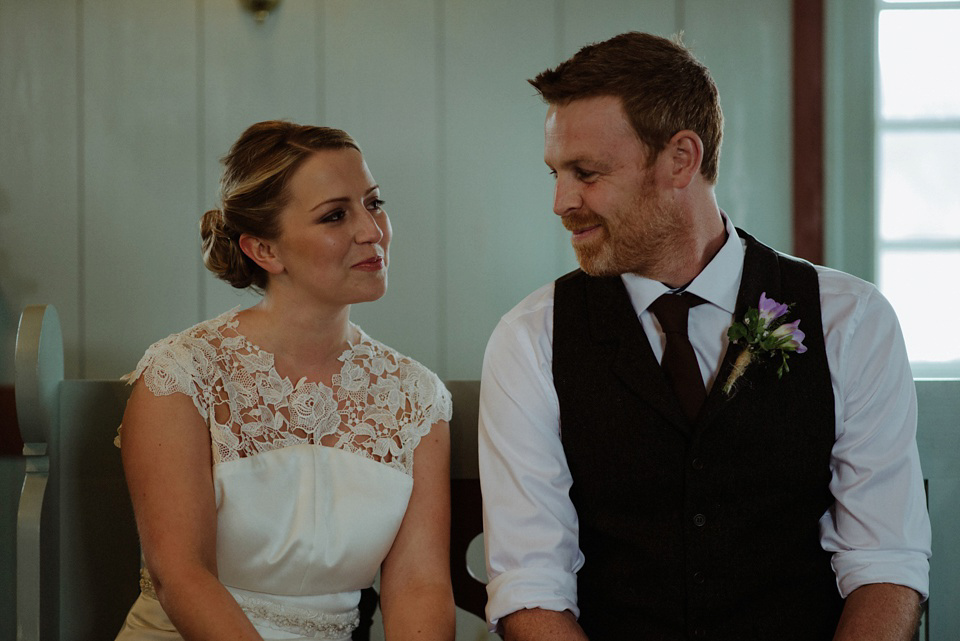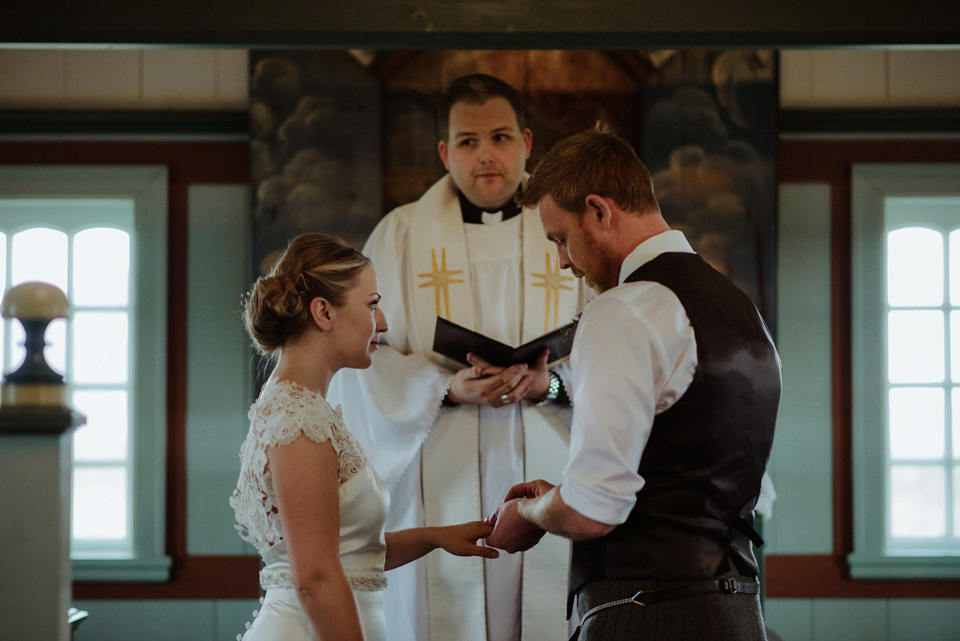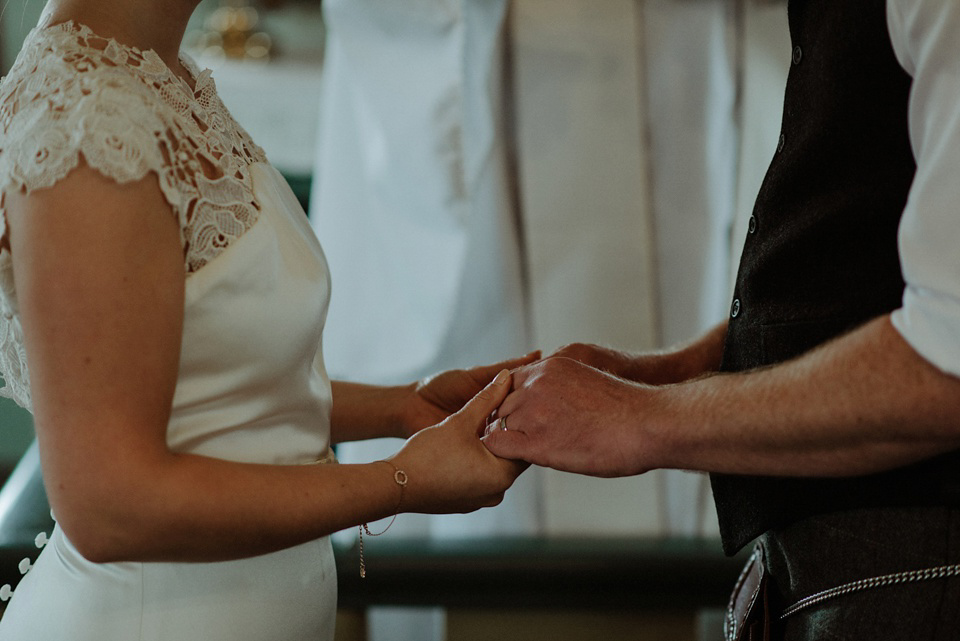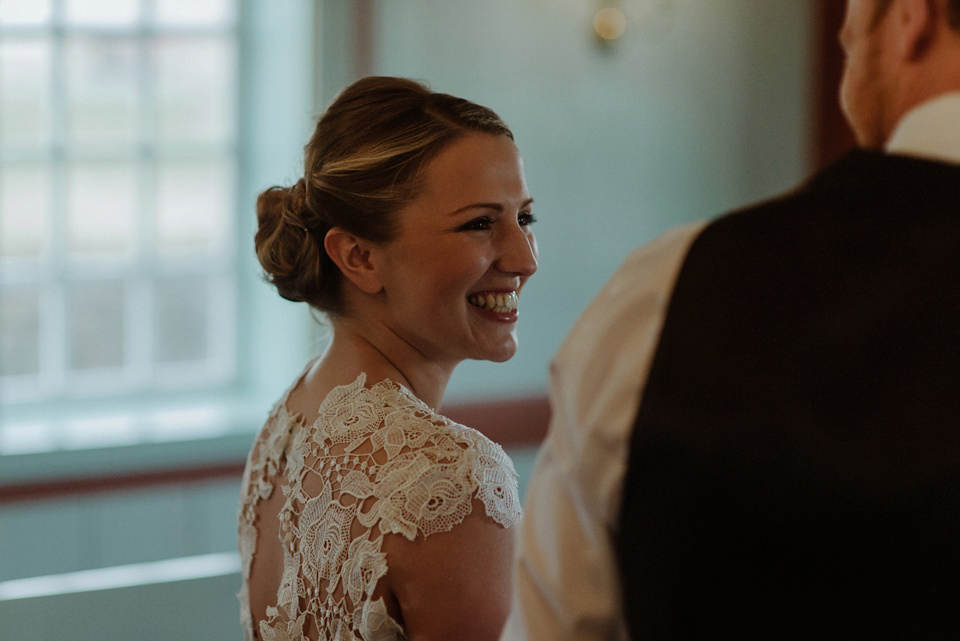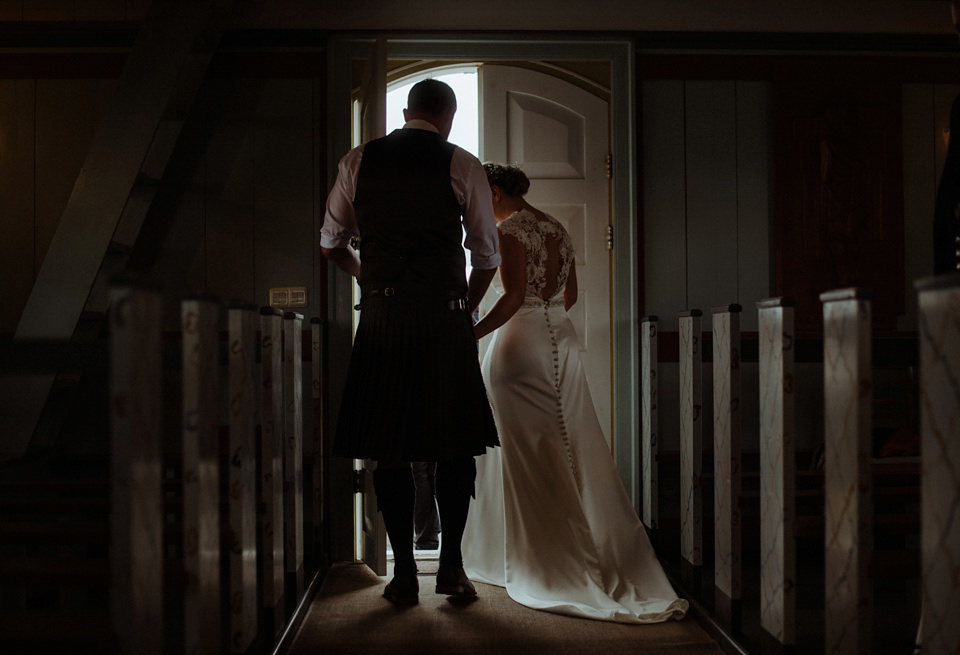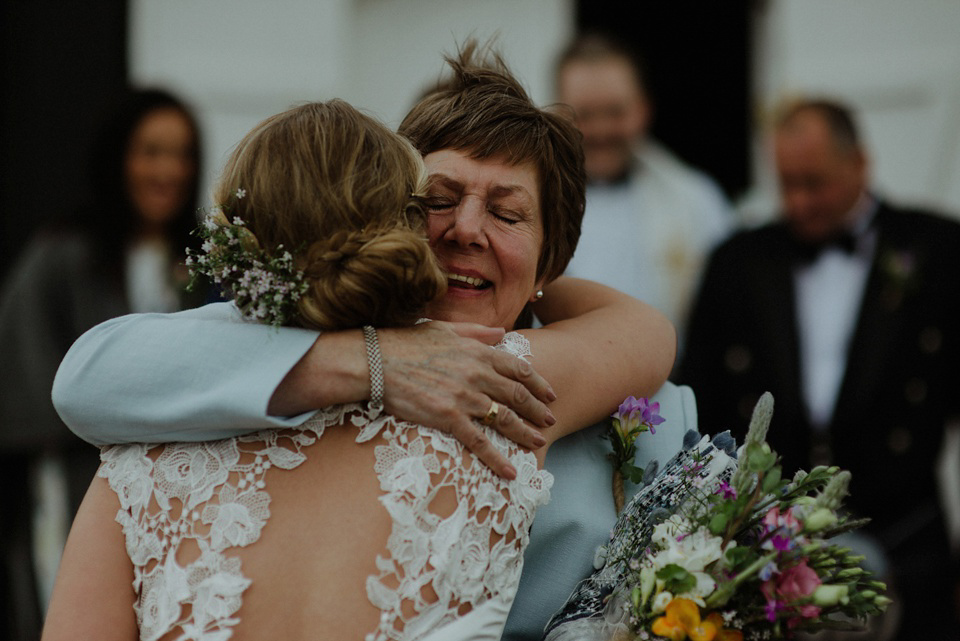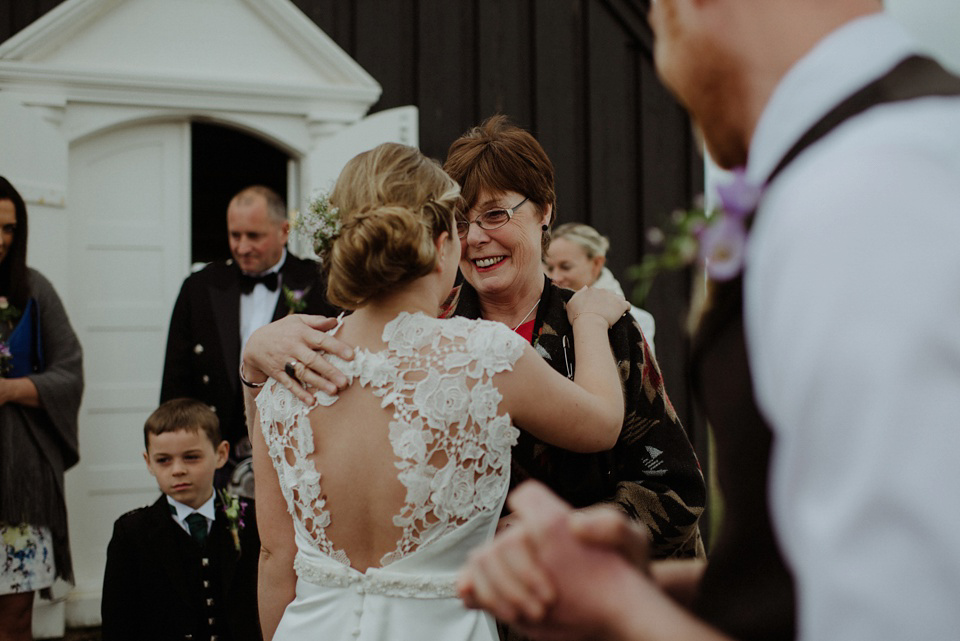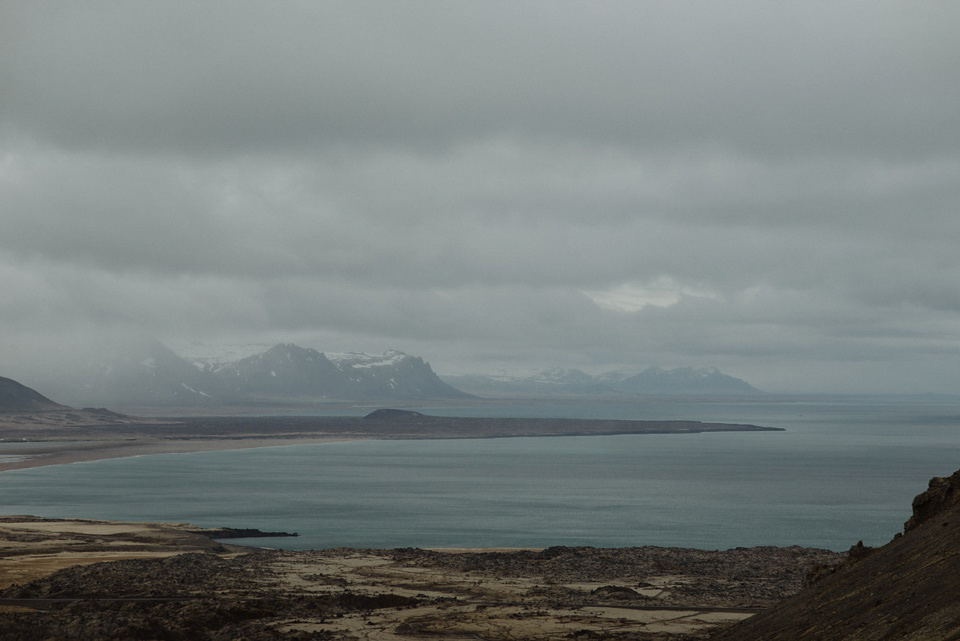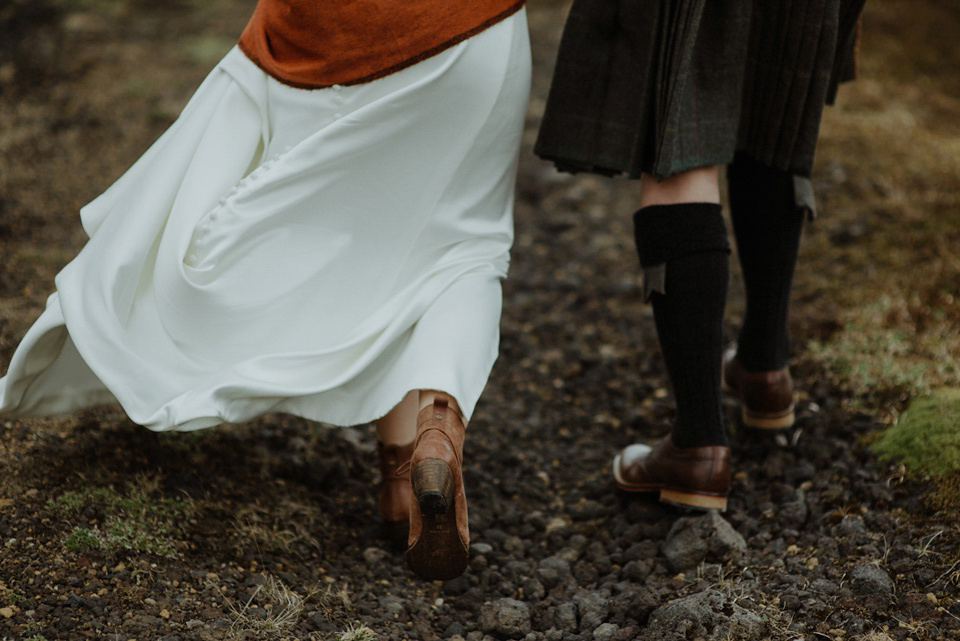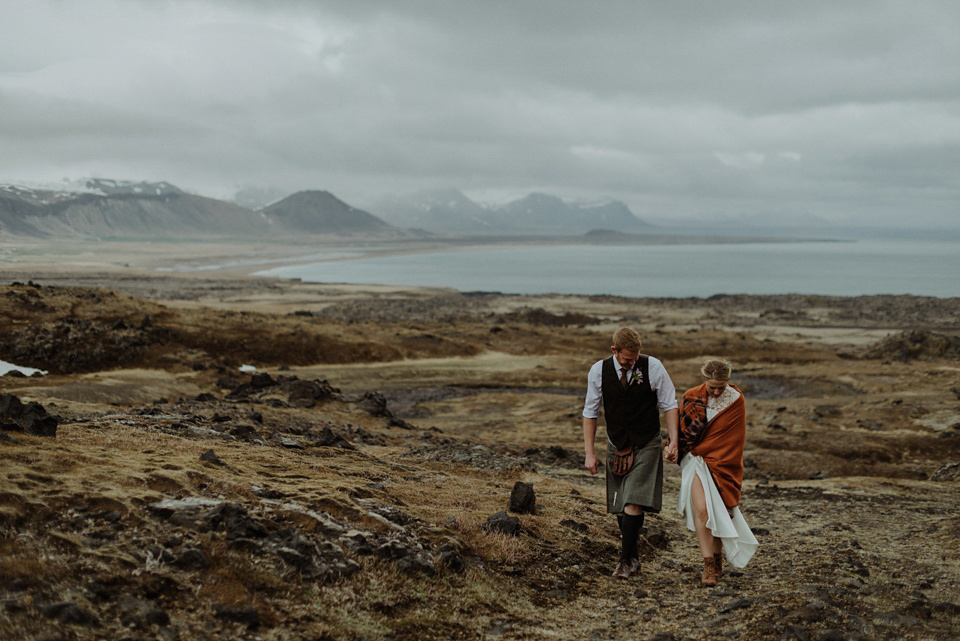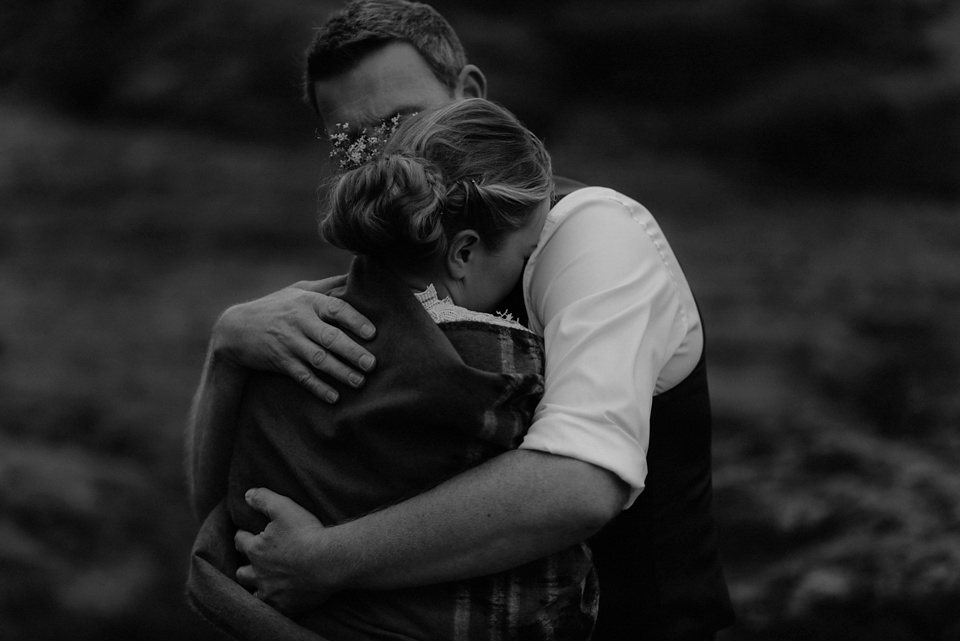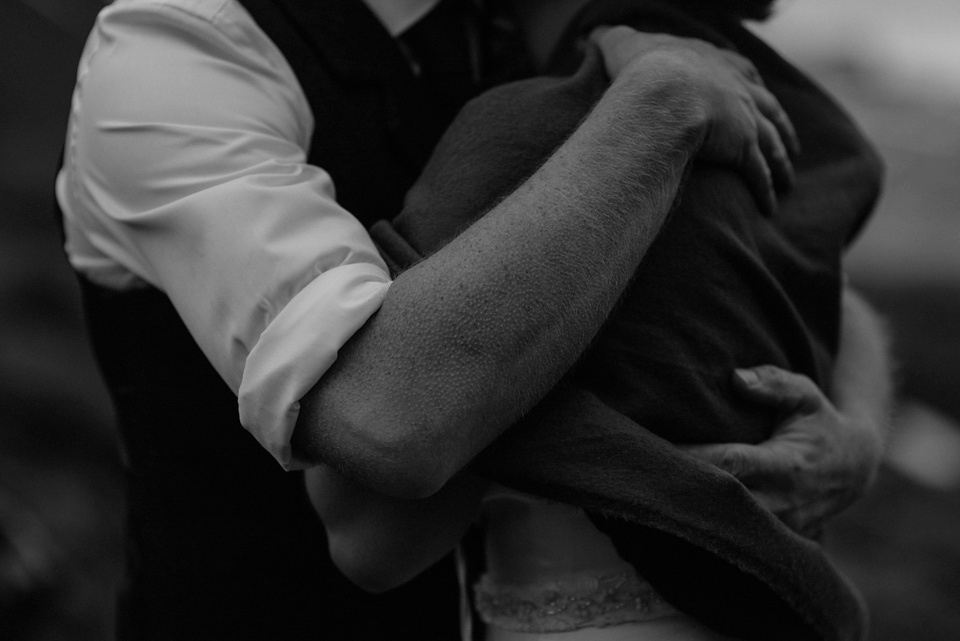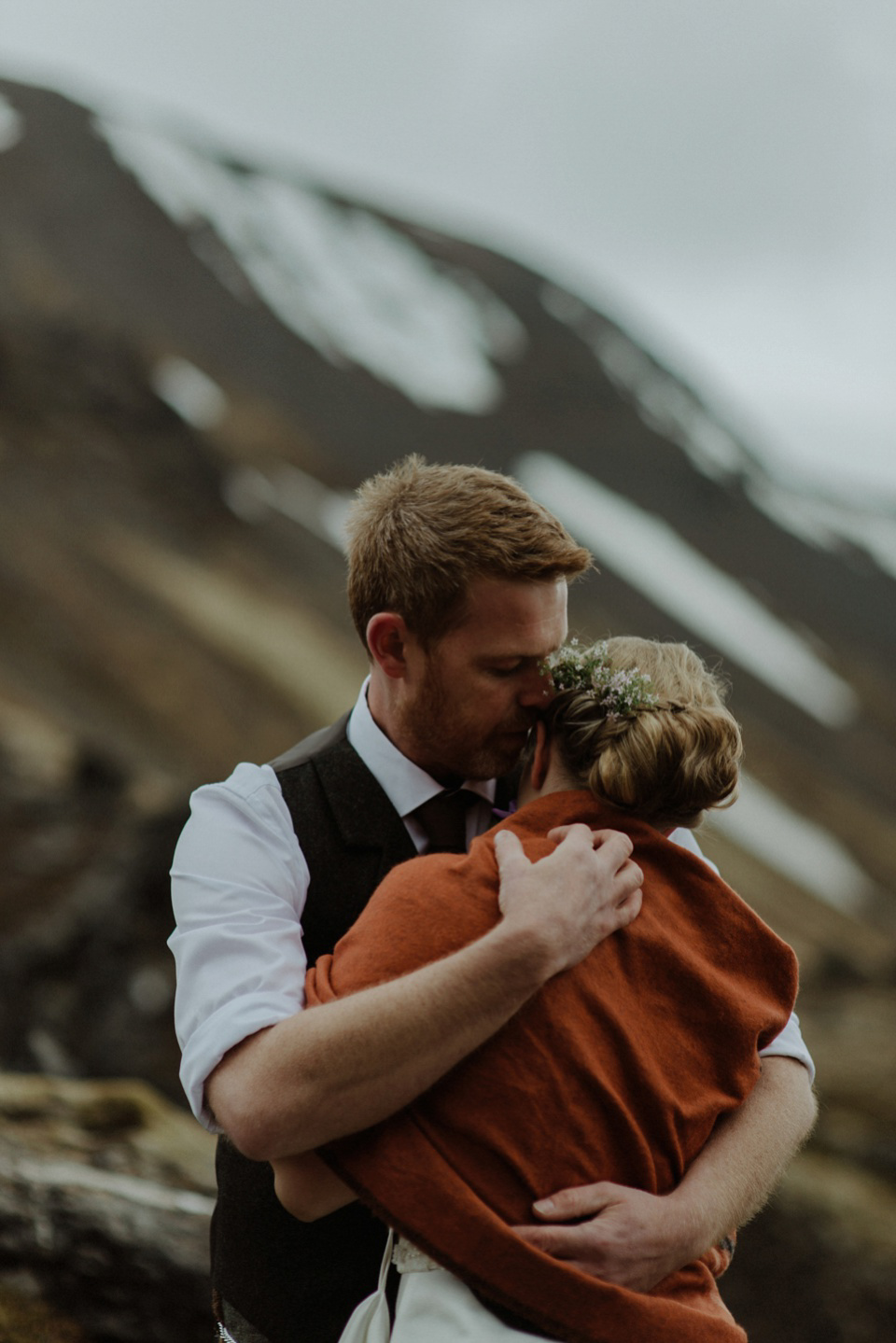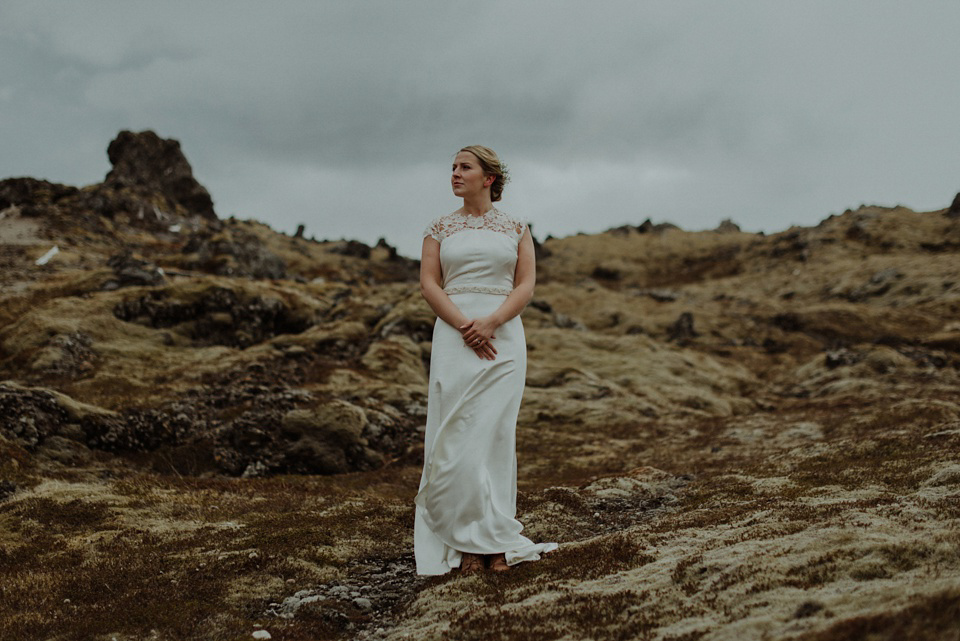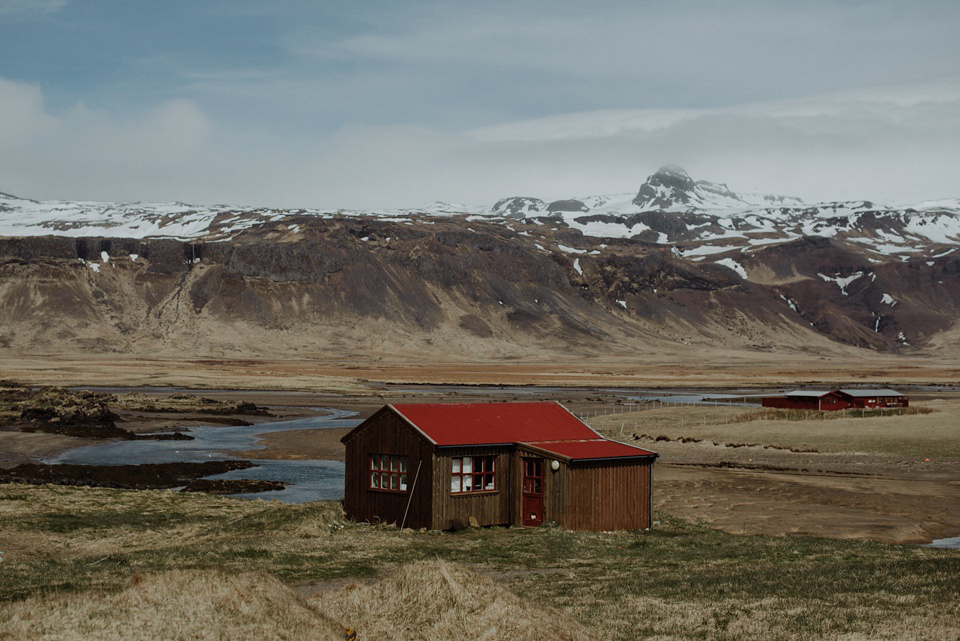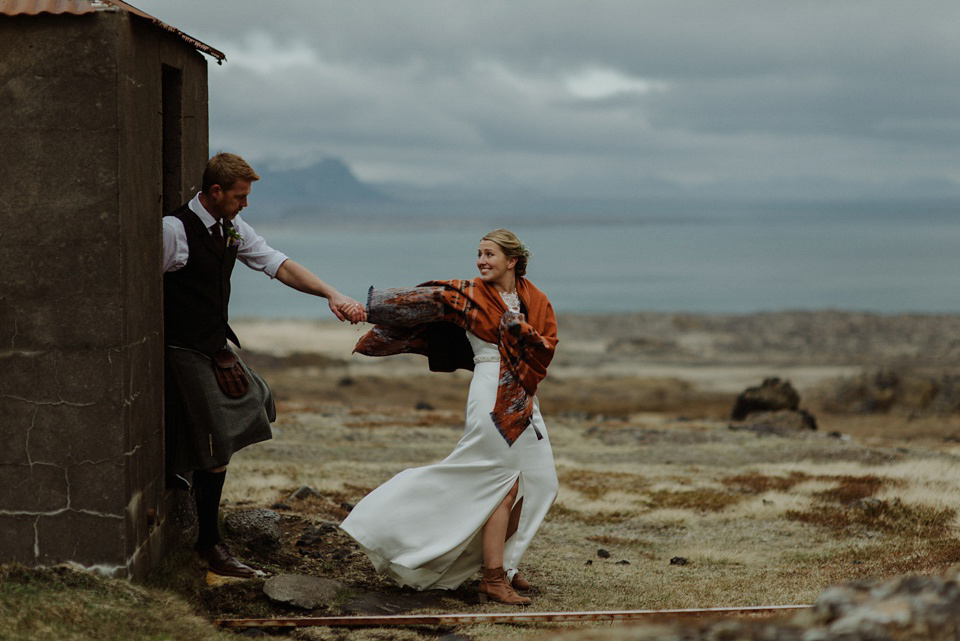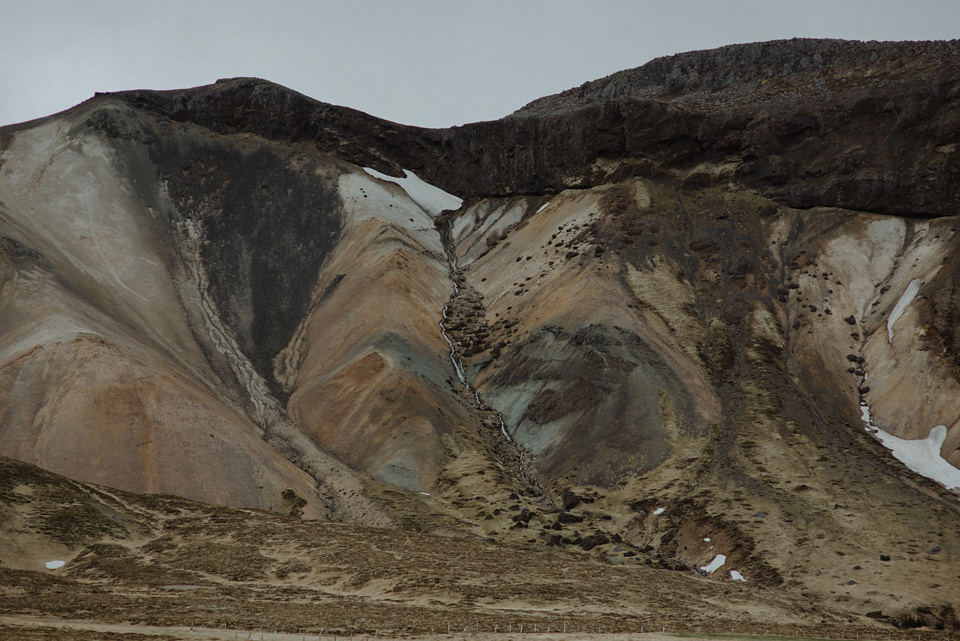 Lyndsey and Keith used lots of local suppliers. Florist Agnes Lind Heidarsdottir arranged the natural wildflower bouquets, buttonholes and table flowers.
"The only decor we had was in the dining room at Hotel Búðir.  The table was decorated with wild flowers similar to those used in the bouquets and lots of tealights.  Keith and I added Stag and Fox figurines which we had spray painted copper to each place setting.  The star of the show was a scenic backdrop of snowy mountains and the Icelandic ocean."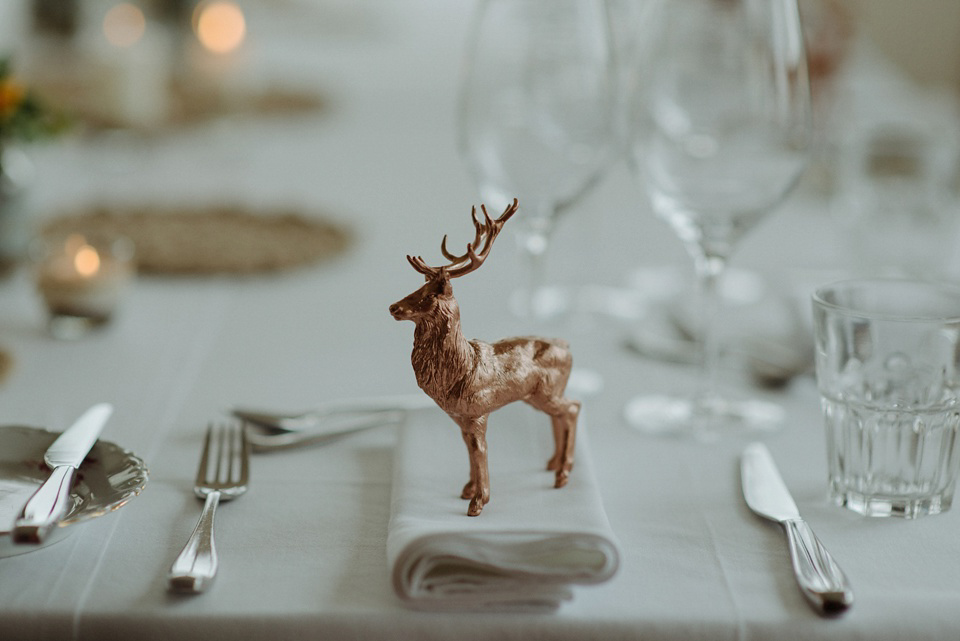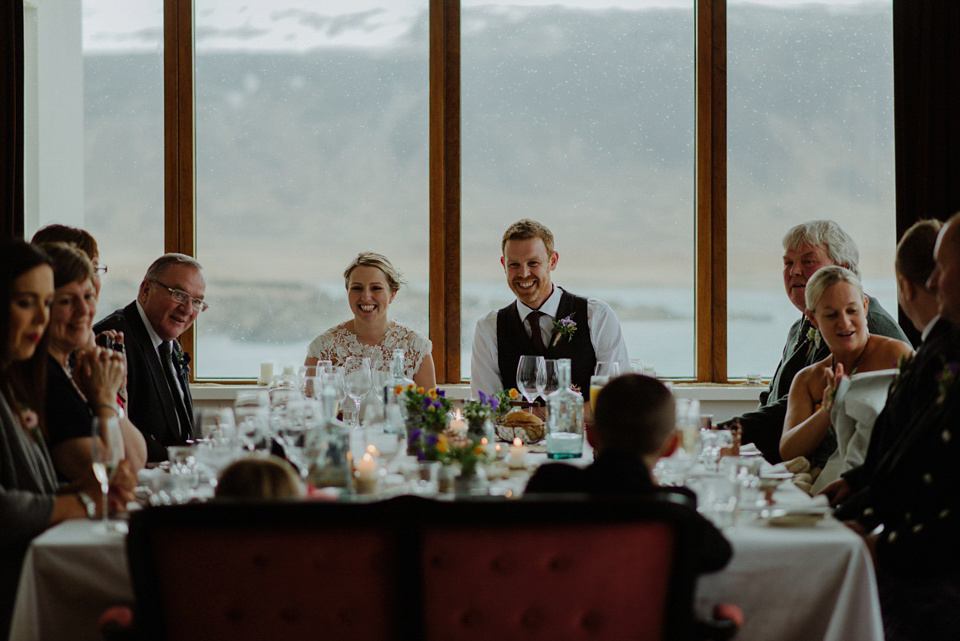 "Whenever we visit Iceland, our first port of call is always the Sandholt bakery in Reykjavik.  It seemed only right that our wedding cake should come from them.  We decided on a traditional Kransekaka celebration cake which was decorated with some of Agnes' beautiful flowers and fresh fruit."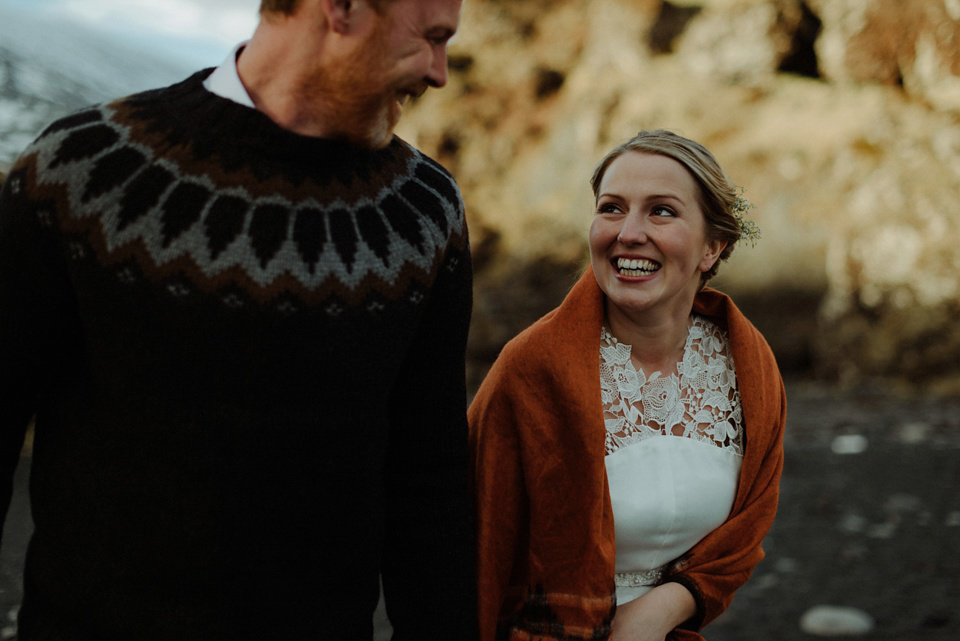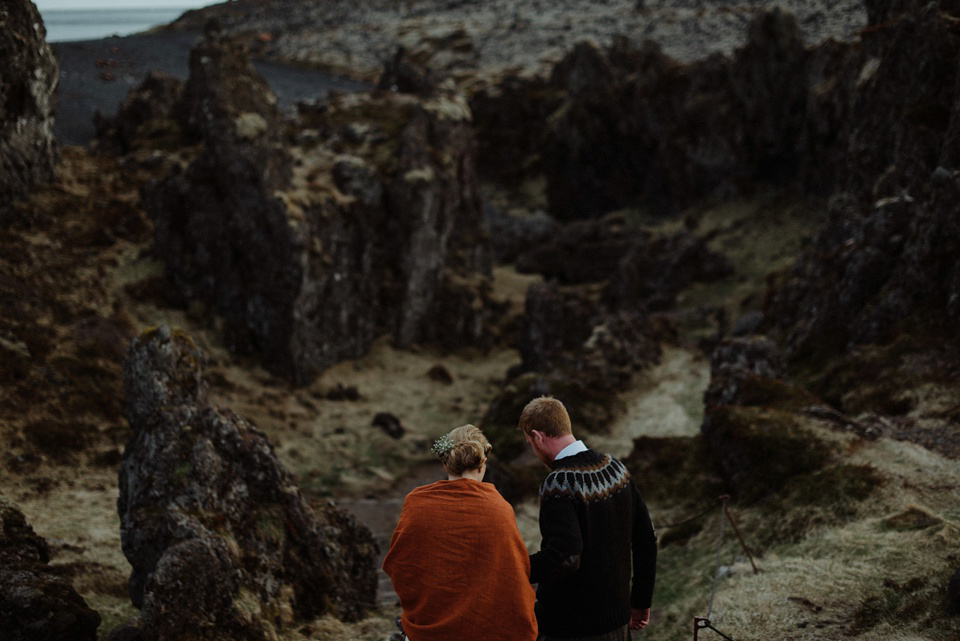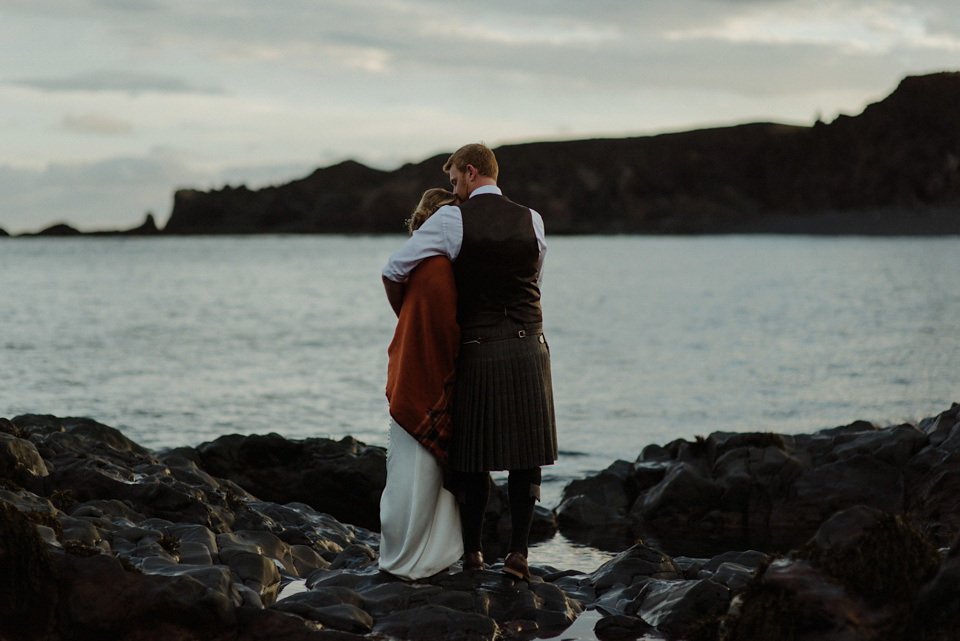 Words of Wedded Wisdom
"Stay true to who you are as individuals and as a couple.  Do it the way that you want to. If possible, use local suppliers.  I loved that we got to know each and every person involved in our day, many of whom we'll be in touch with for a long time to come."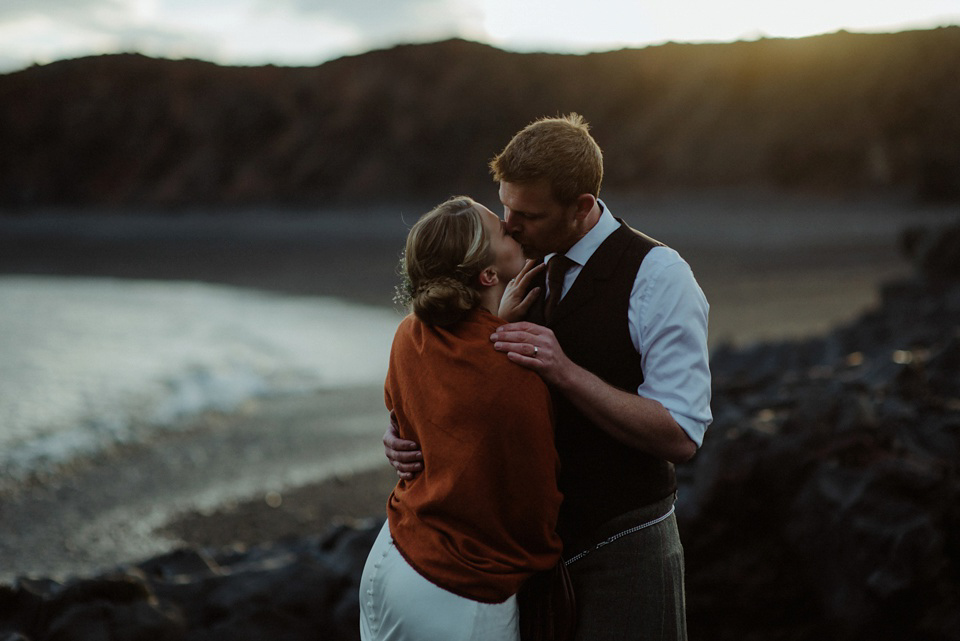 Lyndsey and Keith, congratulations and thank you – I've been transfixed and transported by your breathtaking Icelandic celebrations and am now desperate to book flights to Reykjavik! The Kitcheners – wow, thank you – it's truly been a pleasure to absorb myself in all the beautiful details from your photography today. I would love to hear from anyone else planning a destination wedding in the comments below.
Hope you're having a fabulous weekend all.
Love Louisa xx
Photographer – The Kitcheners
Wedding dress – Catriona Garforth-Dev, By Catriona
Bride's shoes – Rachel Simpson
Bride's accessories – shawl by Zara
Bride and groom's scent – Penhaligons
Groom's outfit – groom's own kilt and waistcoat by Walker Slater
Florist – Agnes Lind Heidarsdottir
Stationery – by the bride, The Hunter Press
Cake – Sandholt Bakery in Reykjavik
Catering – Hotel Búðir
Hair stylist – Ólöf Eyjólfsdóttir