Wow! What a week it has been! The launch of our gorgeous new resource, Little Book For Brides®, was altogether wonderful and has surpassed all our expectations.  Thank you so much for all the kind and supportive comments and feedback we've received. It has been completely overwhelming, but we're slowly all catching up, and your support means the world to our founder Annabel and the whole team here at Love My Dress.
All of the suppliers who feature in our Little Book for Brides are special. They're all brilliant, talented and they work really hard for their clients.  They also have that extra spark that makes them stand out from the crowd. In homage to our Little Book For Brides members, we are launching a new Sunday series today that will focus on honest advice, tips, insider information and words of wisdom from all the brilliant suppliers you'll find over at Little Book for Brides.
Our first feature is, rather appropriately, all about choosing suppliers you'll love. And so naturally, we  have spoken to our team of expert wedding planners and stylists.
Selecting your suppliers might seem like a daunting, almost overwhelming task (which is precisely why we worked so hard on Little Book for Brides!) but, as Aron Schlagman from Bso rightly says "there's no such thing as what's right for everyone's event, only what's right for yours." So, take heart and enjoy building your wedding team.
By the way, you can click on any of the images below to be taken to the corresponding supplier listing on Little Book For Brides.
All our experts agree that you should look at your budget before you start researching suppliers and working out what are the most important elements of your day before you begin looking around will make the whole process much easier:
"Start by asking yourself what are the most important things to you on your wedding day. Is it food, flowers, photography or something else entirely? This will help you decide how to allocate your budget to the different suppliers," explains Anna from Snowdrops Weddings & Events. "You can spend less on the things that are less important and then you can concentrate on finding the right suppliers for what you want."
"Take your time," says Love My Dress contributor and wedding planner Katrina Otter. "Whilst it's important to book your key suppliers as early on as possible, it's also important not to rush. So, take your time and do your research. If you panic and book the first suppliers you see, you may end up second guessing your decisions later on."
Fellow Love My Dress contributor, planner and stylist, Michelle Kelly from Pocketful of Dreams agrees and offers this great tip.
"During the research stage, don't just be blinded by the pretty – look out for what people are saying about those suppliers. Check out their social media feeds and testimonials pages. Many businesses in this industry are small, independent and creative businesses which means you get access to a whole host of talent, just be careful to select those that have the experience as well to back up their claims."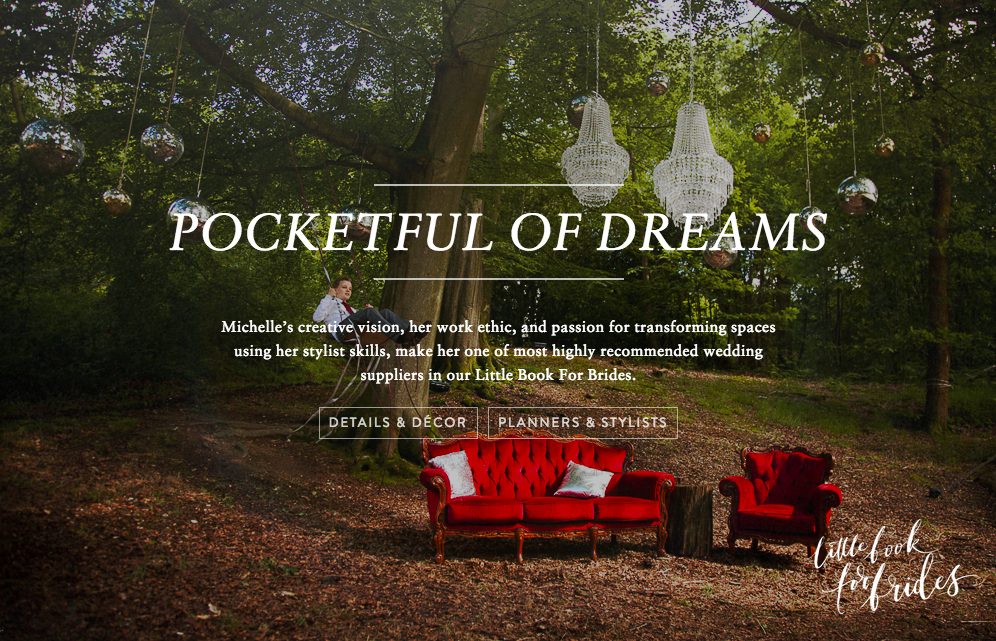 There are so many places to look for the perfect supplier – our Little Book for Brides obviously as well as blogs, magazines and the ever-present Pinterest but don't forget that friends and family might have some great ideas too:
"Ask your friends," says . "Everyone loves to talk about their wedding so ask other people who they hired and why."
It's also worth remembering that one supplier might well be able to help you find others and, if you love one person's style, you're likely to be equally as thrilled with those they recommend.
"People working in the wedding and events industry are best placed to tell you who's fabulous based on their own direct experience of working with them," says Pocketful of Dreams' Michelle.
Once you've done your research and put together your shortlist of potential suppliers, it's time to get to know the people you're considering and here, there's unanimous agreement on what's needed to get this right – time.
"Invest as much time as you can really getting to know your key suppliers, in particular your photographer, planner, florist and caterer," explains Jeni Amey from Vanilla Rose. "It's important that you feel comfortable around them. The more you get to know them, the more enjoyable the planning will become and the more your suppliers will understand your visions clearly."
"Choose suppliers with whom you have a good rapport from the outset," says Hannah Ricci, founder of Bloom Fleuriste. "They should be excited about your wedding and have lots of ideas that compliment and enhance what you already have in mind. Good suppliers may also challenge you, suggesting fresh ideas you might not have considered but it should always be your final decision. Avoid any suppliers that are pushy."
And that relationship is super important because you're going to be working with your suppliers for quite some time, relying on them throughout the planning of your wedding and also on the day itself as Emma McDonald from Something Blue Wedding Planning explains:
"Suppliers who are passionate about creating your vision for you are worth more than money and you'll certainly appreciate this. Many couples plan their weddings more than a year in advance so getting along with your suppliers and having trust in them will make the experience so much more enjoyable"
Whether you meet in person or use Skype calls (these are great if you're marrying far from where you live or if you're super busy), be prepared – know what you want to ask and have your questions to hand:
"Think about what's important to you from each service provider and begin jotting down the questions you want to ask them," suggests Michelle. "The most important question to ask though is 'why should we hire you?' If the answer resonates with you then this is the supplier for you. If it leaves grey areas, ask more questions."
"When you ask questions, observe the reaction of the supplier," advises Anna from Snowdrops Weddings & Events. "Are they listening? Are they asking you a lot of questions to make sure they understand what you're after? Do they seem eager to go the extra mile to give you the wedding day you want? Are they excited about it?"
Once you've found a supplier you think might be 'the one', there are still a few more things to do until they make it onto your wedding dream team.
"Sample their work," says Rosemary Davies. "Try the cake or go along to another event to see how the band or dj engages with the guests. Can the photographer get people where they want quickly so you get the pictures you want?"
"Ask for references," says Michelle. "The best way to find out the nitty gritty detail is to speak to previous clients. Ask if you can contact up to three previous clients and speak to them to see what they thought of the service."
If you're happy and altogether satisfied, it's the time to book. All our experts agree that carefully reading the small print, questioning any clauses or points that don't make sense or don't represent the conversations you've had is absolutely critical before you pay any deposits. Once you've signed on the dotted line, you can look forward to working with your suppliers to create a truly fantastic, unique wedding day.
However, if everything still seems a little too much, there are two final things that might help you.
Firstly, consider a wedding planner. No longer reserved solely for celebrities and superstars, a wedding planner can take on many of the tricky tasks for you leaving you with the very best bits.
"If you're time-starved of simply prefer the guiding hand of someone in the know then consider using a planner," says Michelle of Pocketful of Dreams. "They have a bursting contacts book, can help you to refine your vision according to budgets and know how to get the very best out of suppliers."
Tracy Edwards from Blue Fizz Events adds: "A wedding planner will be your support and your ally. He or she will be someone who remains impartial at all times and is unflappable and unassuming. They'll be your absolute angel when you need them!"
Should you be an organizational whiz but feel you need some help with the look of your wedding day, a stylist could be just what you need:
"Early on in the process, a wedding stylist will help you narrow down all your inspirations to one main theme and then they connect you with the right suppliers to bring your vision to life," explains Nina from Nina Marika. "We produce style boards and design concept and ensure that the look of your wedding fits you like a glove and has personality that reflects YOU as a couple. A stylist can save you time and money and we certainly save you any design related stress – I've been told I make Pinterest boards a reality!"
Whether you're working with a planner or stylist or not, there are two final things to keep in mind that should guide you safely through any minefields:
The first comes from Julie at Teatime Vintage: "Be true to yourself and trust your instincts. The right supplier for you will share your vision and help you to create a wonderful wedding day that really reflects who you are rather than trying to push you into something they prefer. It should all be about what you want."
Finally, Krissy from Sweetpea and Blossom advises the following:
"Select suppliers you really feel understand you as a couple rather than who you feel you 'should' use. Dream big – it is your wedding day after all."
And that seems to be the perfect point at which to end this feature – with thoughts of your wedding day.
To learn more about the splendid wedding planners and stylists in this feature and more besides, do take a look at the wedding planners and stylists section of Little Book for Brides.
Next week we'll be focusing on photography – tune back this time next Sunday for some honest and no nonsense style advice from these talented wedding photographers.
Love Tamryn x