Get set to join me in a little sing-along lovely readers, for there's a very special event happening today – it's our founder Annabel's birthday! Let's all send communal vibes for a very jolly day that's filled with cake and loads of spoiling. Along with birthday celebrations and last week's launch of the incredible new and inspirational resource Little Book for Brides (if you haven't yet checked this out you really must, it's brilliant!), I'm continuing the party mood with this delightful and relaxed Spring wedding.
Sarah and Matt, both solicitors who met at work, married on 28th March earlier this year at Islington Town Hall, with their reception at the quirky venue MC Motors in Dalston – a great choice venue if you want to go with a London location that's a little bit quirky, with its mix of eclectic vintage decor, and a blank canvas to build upon.
"Our main aim was to have a fun and relaxed wedding. We didn't have a theme or style in mind, but were keen to have spring flowers and a light, pared-back look. Our photographer Matt Parry was just fantastic. On the day he was a wonderful combination of being invisible and a relaxing presence, as disinterested in formal shots as we were and the resulting photos are just wonderful. He captured the day in an unusual, but genuine way. We are delighted – and all of our friends and family love them too!"
Photography by Matt Parry Photography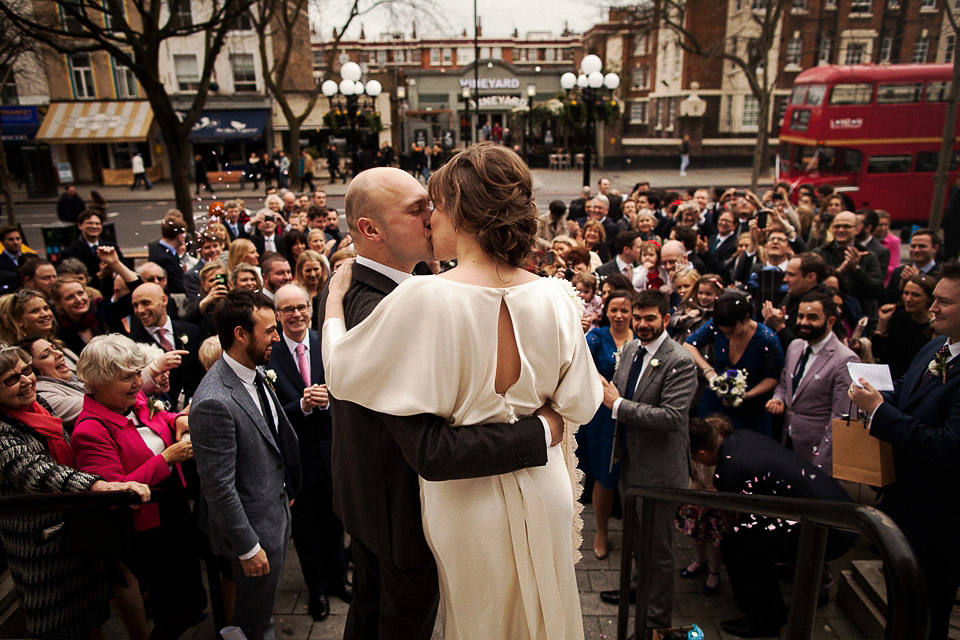 "We chose MC Motors as it was exactly what we wanted; somewhere in London that was a little different, and a dry hire, so we could arrange food, wine, music, flowers and tables as we wished. The venue also had the bonus and convenience of being near our home."
Sarah wore a beautiful gown from London designer Ritva Westenius which was chosen for its simplicity and I just love the open back, long sleeves and pretty sash which tied at the back.
"I chose the dress as I was keen for something very simple. I wasn't sure I would wear a traditional white dress, but when I tried this one on it felt incredibly comfortable and relaxed and I thought it hit the right note. Chenca was fabulous and we tweaked the dress design to make it just how I wanted."
"Harrington and Squires in London did our letterpress invitations and menus and they were so wonderful to work with. For the menus, my Dad drew a fun cartoon of us in the Morgan that they printed for us."
A pair of fabulous Jimmy Choo heels, an Etsy hair accessory and Monica Vinader earrings completed Mrs Warren's stylish look, plus a spritz of a new perfume.
"I wore Bergamot by Le Labo after being inspired by a friend of mine who had a new scent for her wedding day. I thought it would be lovely to have something I could wear in the future and which reminded me of the day. They also package it up beautifully and my bottle says 'Mrs Warren, 28.03.15'."
Sarah's two bridesmaids wore pretty lacy dark blue Joseph gowns they paired with Jimmy Choo shoes, with hair and makeup by Gorka Arras and Jo.
"Matt wore a bespoke suit and accessories from Suit Supply. We highly recommend them and be sure to ask for Adam; he did a personal and thoroughly professional job."
The couple's rings were from Berganza in Hatton Gardens; the same jeweller where Sarah's 1935 vintage engagement ring was found. Sarah's dad drove her to the ceremony is his vintage Morgan (and later also very kindly gave his permission for Matt to drive them off to the venue in his fabulous car!) and walked Sarah down the aisle to 'The Arrival of the Queen of Sheba'.
"We had a reading from 'His Dark Materials' by Philip Pullman and a sonnet by Pablo Neruda. The readings both related to two people being meant for each other, now and in the future and they felt just right, without being too soppy."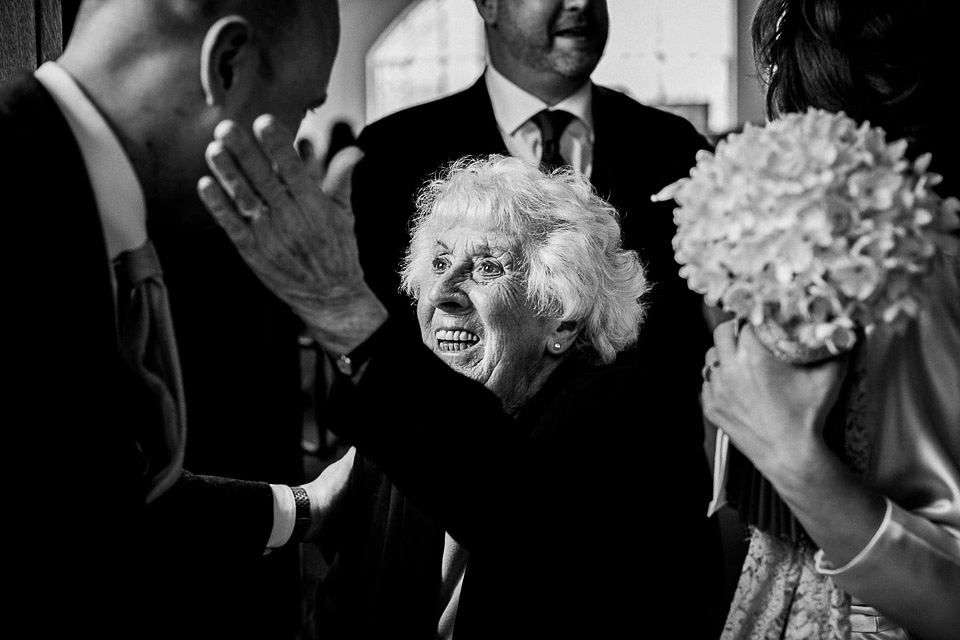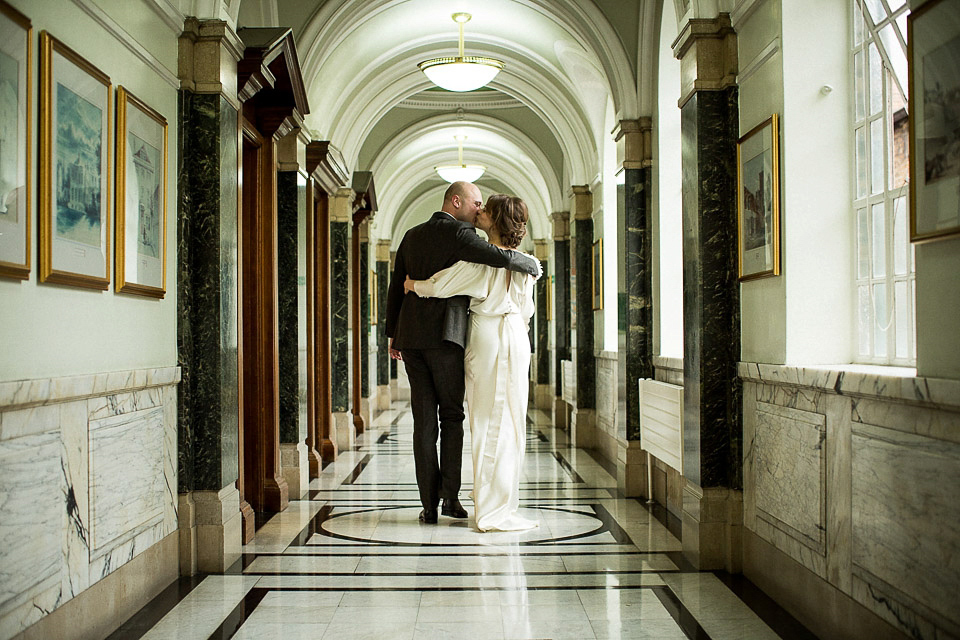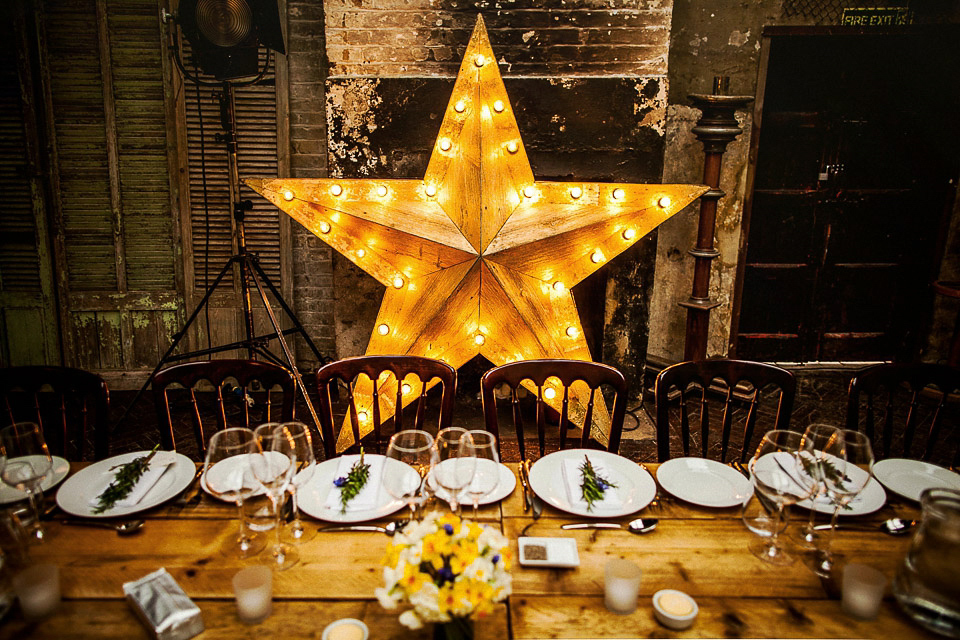 "Jones and Sons did an amazing job on the food and bar and Andy and his team really pulled out the stops, making sure that everything went to plan on the day, but also keeping us fully involved in planning and tastings. The food was one of the highlights of the day!"
"There were so many fabulous parts of the day. The one that stands out the most was when we were waiting in the alley behind the venue with glasses of champagne for the last of the guests to arrive, so we could make our grand entrance. Through the closed shutter we could hear the jazz band playing brilliantly and our friends and family laughing and having fun, and quite often in the background the pop of champagne corks.
To have ten minutes to ourselves, knowing that everyone was having such an amazing time – a prelude to the party and evening to come – was simply wonderful. Then the shutter came up and we drove the car, roof down, into the middle of the party. Just perfect."
Lily Vanilli of Broadway Market created a delicious lemon cake with fresh flowers. And the couple and their guests were very impressed with the caterers.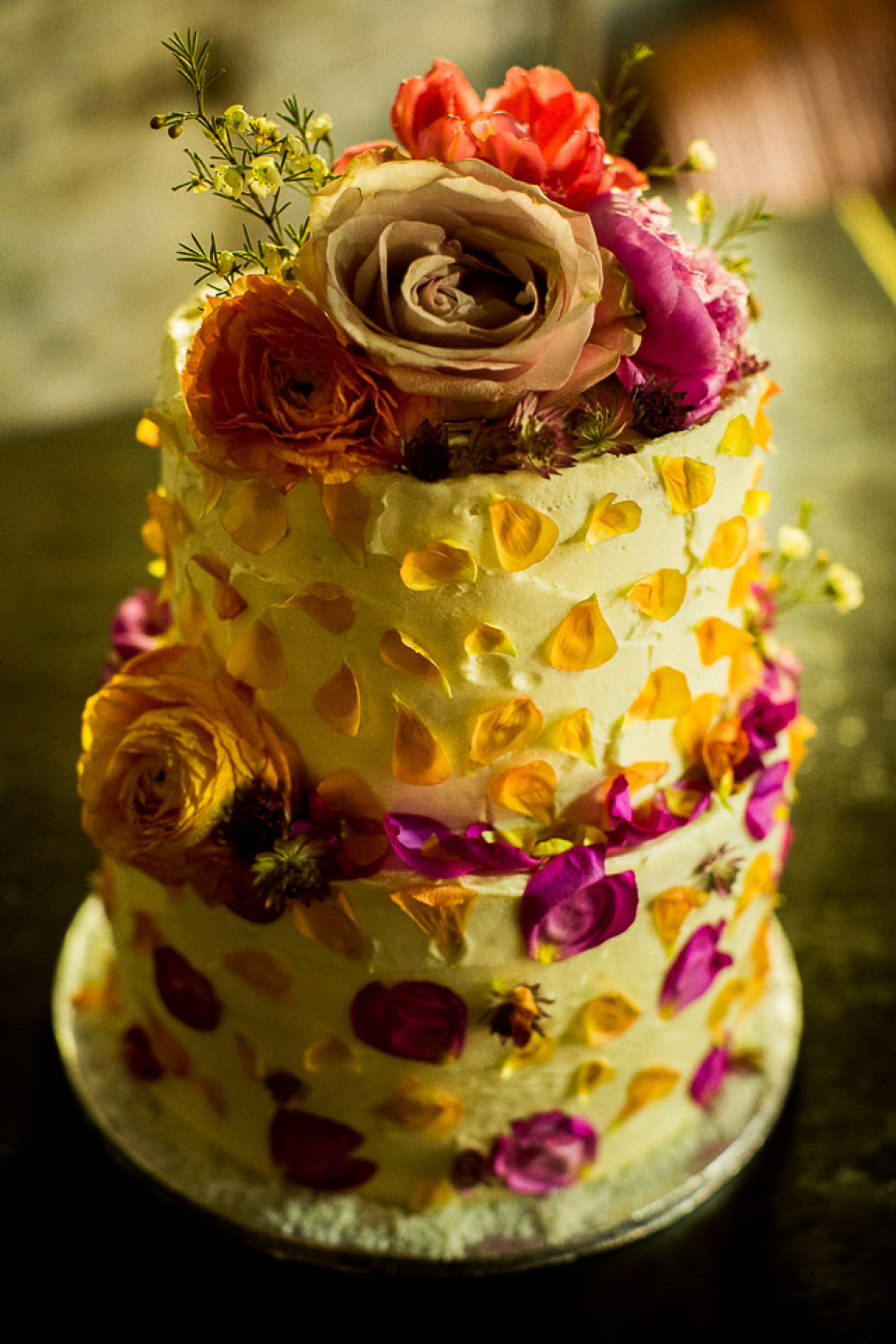 "We had help from two sets of friends for our entertainment; firstly a jazz quartet who played during the drinks, then after the wedding breakfast Dave and Mariano were our DJ's. They did a great job and had everyone up dancing."
"Our first dance was 'Cheek to Cheek' by Ella Fitzgerald and Louis Armstrong. I introduced Matt to it and it fitted with what we wanted for the day overall – something simple, relaxed and classic."
I've loved sharing your fun wedding and I wish you both so much happiness. And a huge thank you to Matt Parry for these wonderful images; it's such a quirky venue and you've captured the vibe perfectly.
I can't stop looking at the fabulous florist's website, so I'm off to follow Jam Jar Flowers on Instagram now for more floral inspo. I'm in complete and utter love, so be sure to take a look.
Have a wonderful week everyone!
Love Jo -x-
Photographer – Matt Parry Photography
Venue – Islington Town Hall + MC Motors in Dalston
Dress – Ritva Westenius
Hair accessory – Etsy
Shoes – Jimmy Choo
Jewellery – Monica Vinader earrings
Perfume – Bergamot by Le Labo
Groom – Bespoke suit and accessories via Suit Supply
Bridesmaid's Dresses – Joseph
Bridesmaid's Shoes – Jimmy Choo
Florist – Jam Jar Flowers
Transport – The father of the bride's own Morgan
Entertainment – A Jazz quartet and DJ's (friends of the bride and groom)
Rings – Berganza
Catering – Jones and Sons
Cake – Lily Vanilli
Stationery – Harrington and Squires
Makeup + Hair – Gorka Arras and Joe