Just like our founder and Editor in Chief, Annabel, I live in Yorkshire these days and love it here, but at heart I'm a North East girl, so it's lovely to be featuring a wedding on our beloved blog from that area today, specifically, Tynemouth beach.  The couple got engaged in Bali however, so wanted to bring some of the glamour and colour of that exotic country to their big day, and with the beautiful weather they were blessed with for the day, you could easily be forgiven for thinking these images by photographer Sarah-Jane Ethan were taken somewhere far more far flung than the North East Coast of England!
Rachel and Paul married on the 23rd of May at The Grand Hotel, Tynemouth – a traditional old beauty of a building which looks out across the beach and coastline and wanted their wedding to have a very personal feel, inspired by their travelling experiences to the beautiful Bali.
"We both loved Bali when we travelled there and were heavily influenced by the things that we saw.  Plus, it seemed quite adequate to base our wedding on somewhere where we got engaged."
Photography by Sarah-Jane Ethan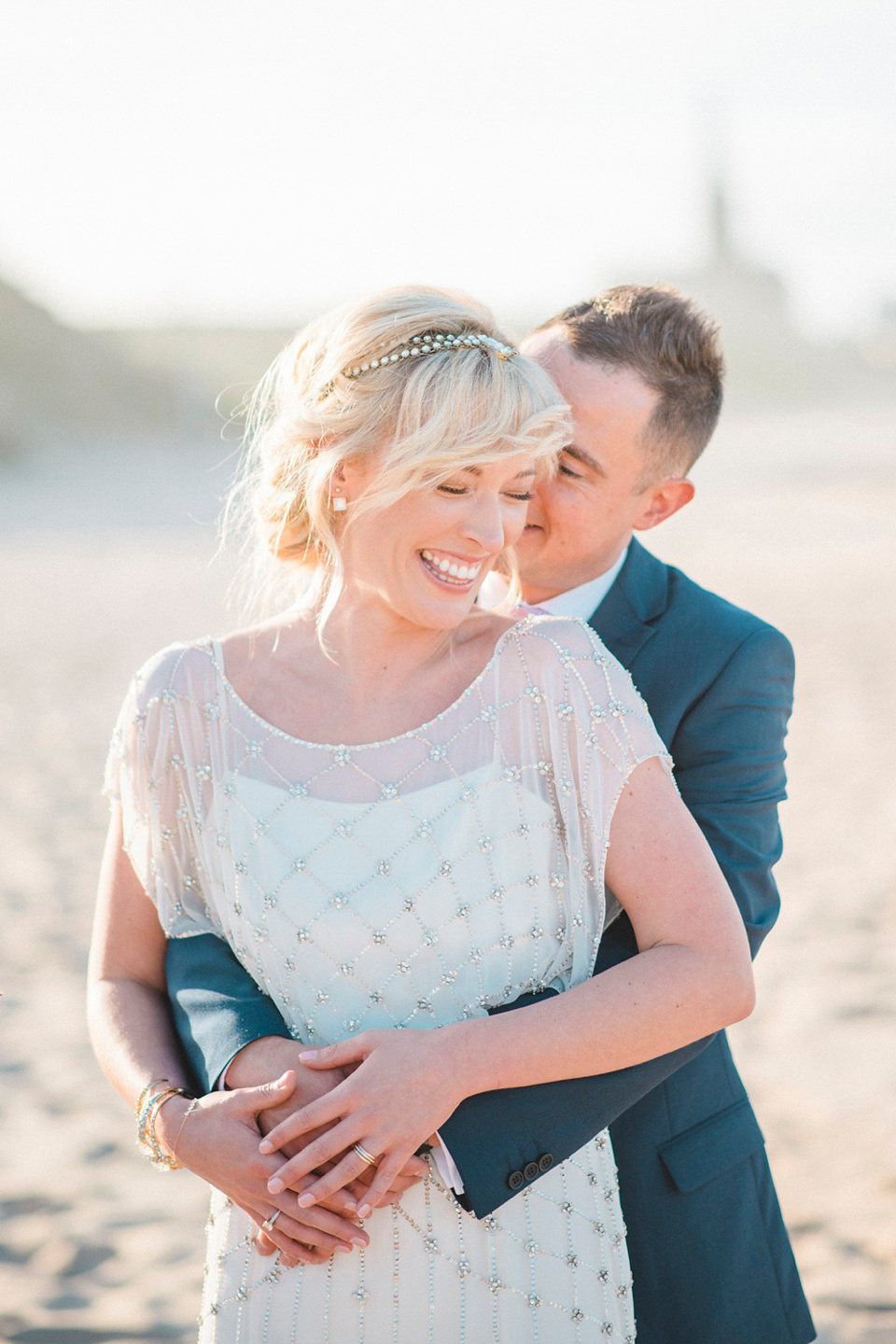 Rachel wore the most beautiful dress by Jenny Packham, purchased from local stockiest Bridal Wish and a beautiful choice for a Bali themed wedding.  The diaphanous fabric is perfect for evoking the warmth of the Bali sun and the shimmer of the sea, don't you think?  She looks both ethereal and beach ready- all in one!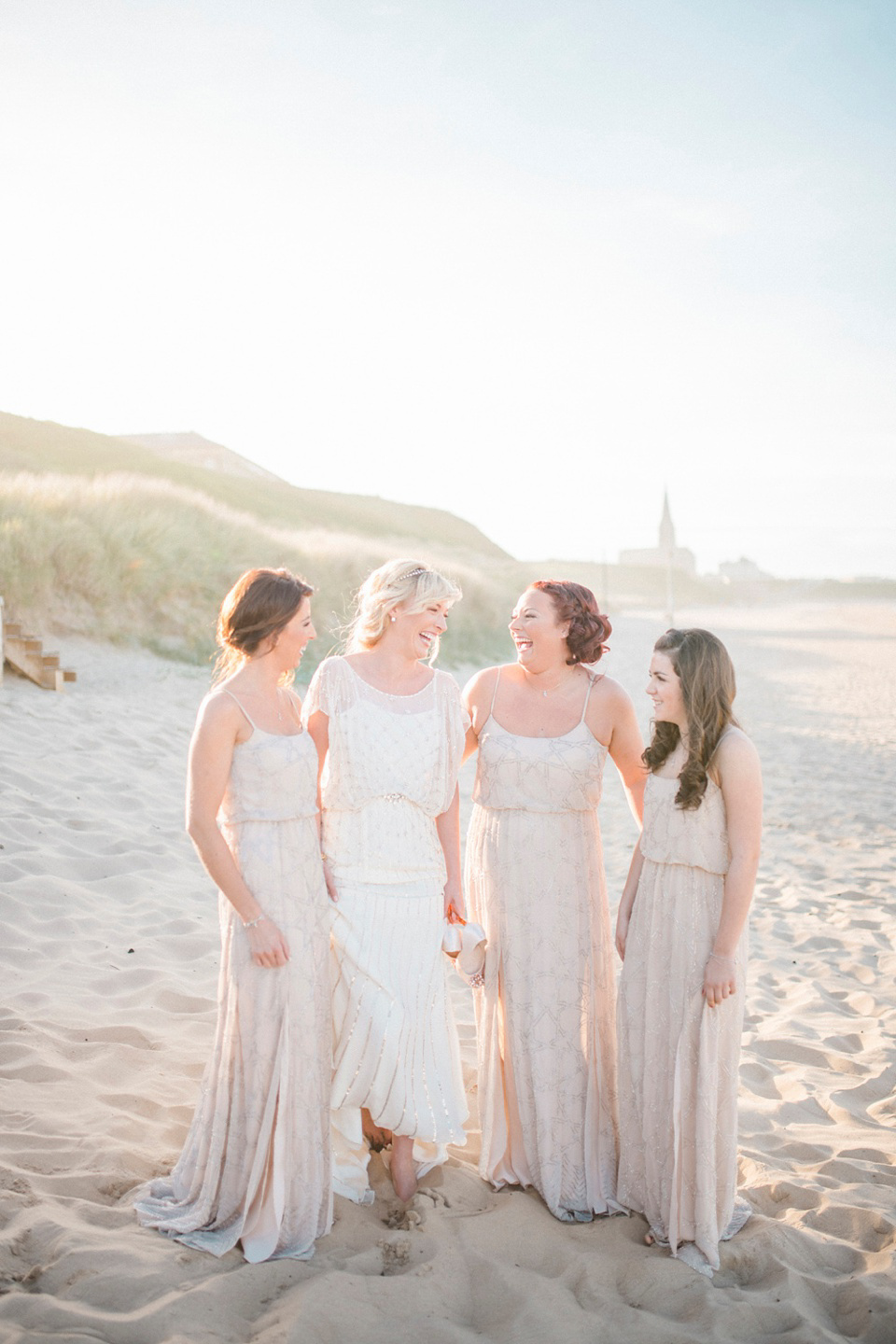 Rachel combined her lovely frock with heels from Ted Baker and some glamorous hair accessories from Bo and Luca, three bracelets (one of which was a gift that morning from Paul) and a pretty pair of earrings.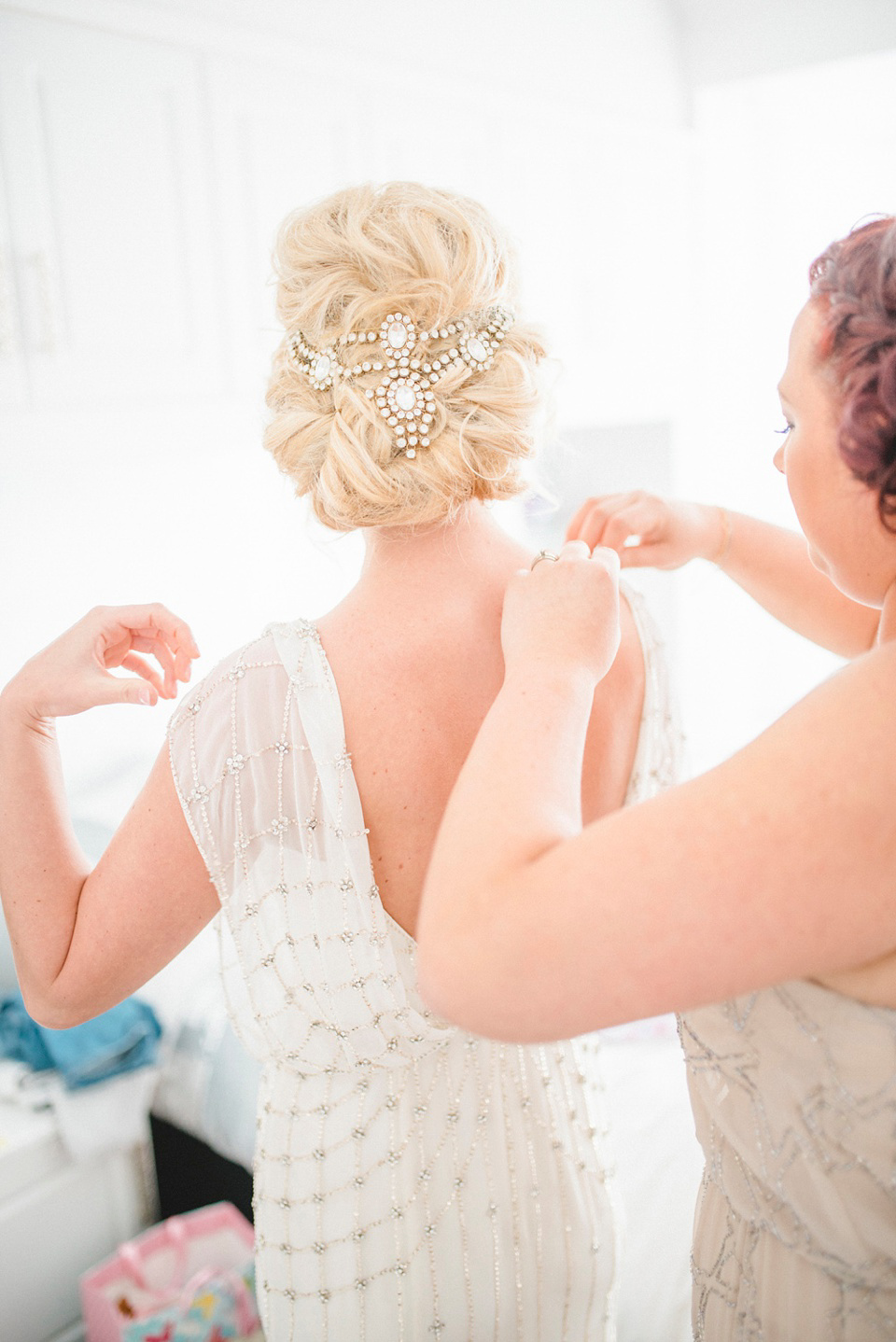 Rachel and Paul chose the very talented Sarah-Jane Ethan to capture their big day, a photographer who is no stranger to the pages of Love My Dress.
"The photographer was someone we really looked in to before booking.  Both Paul and I hate getting our photo taken so we wanted someone who could take photos of us without much posing.  A good friend of ours pointed us in Sarah-Jane's direction and we absolutely loved her style straightaway."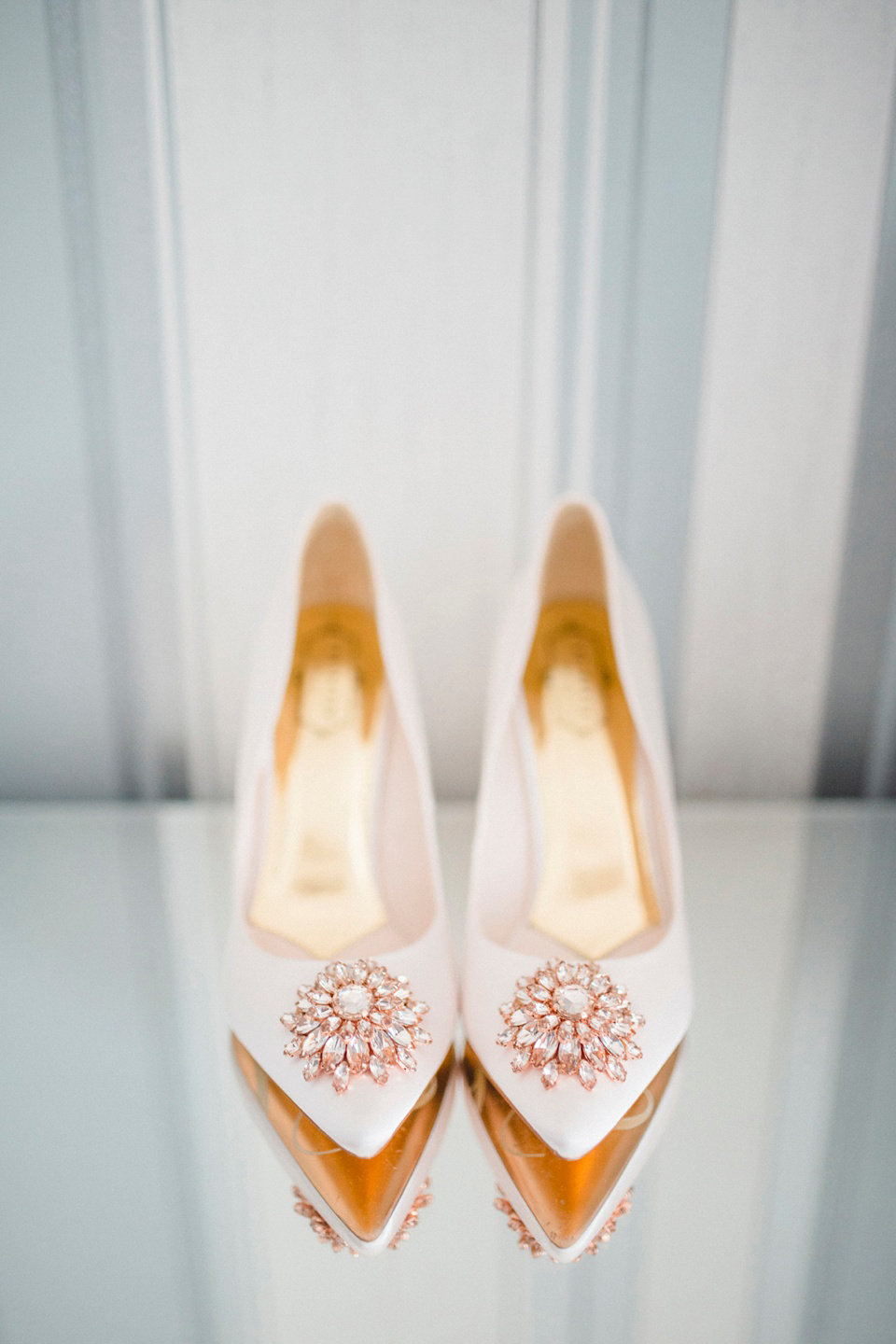 "On the day, it was like she wasn't even there – in a good way!  I did panic at one point as it had got to about 6.30pm and we still hadn't had the photos of us and the groom/bride party which were one of the few we asked for as 'posed' shots.  Sarah-Jane wanted to wait until the sun went down as it was such a sunny day so we went down to the beach about 7pm.  The photographs she took of us on the beach are absolutely amazing – I can't even believe it's us in them they're that good.  I'm so glad I trusted her – she is the professional after all and she completely nailed it."
The happy couple also chose to have a wedding film made, created by Paul's best man's colleagues at DS Media. Always a lovely addition if your budget will stretch.
"I had already picked a dress that I liked and it was very traditional.  I must admit, I was going for it mostly because my mother and mother in law loved it and I thought Paul would prefer me in it than something that was more 'me.' (Everyone thinks I have a different/weird style although I have toned it down a lot as I've got older!)  I went to Bridal Wish at the last minute, saw it hanging up and knew straightaway that I would love it."
"It was much more me in every way – the style, the beading, the colour.  I just loved everything about it.  My mother and mother in law still preferred the more traditional one but I think on the day, they knew I had made the right choice.  I knew it must have been nice as I've never received so many compliments about an item of clothing I have worn before!
I'm really glad I went with my instinct. As much as I valued people's advice, I knew I had to go with what I liked the most."
Very wise words from Rachel there – take heed, if you are on the hunt for your own dress at the moment!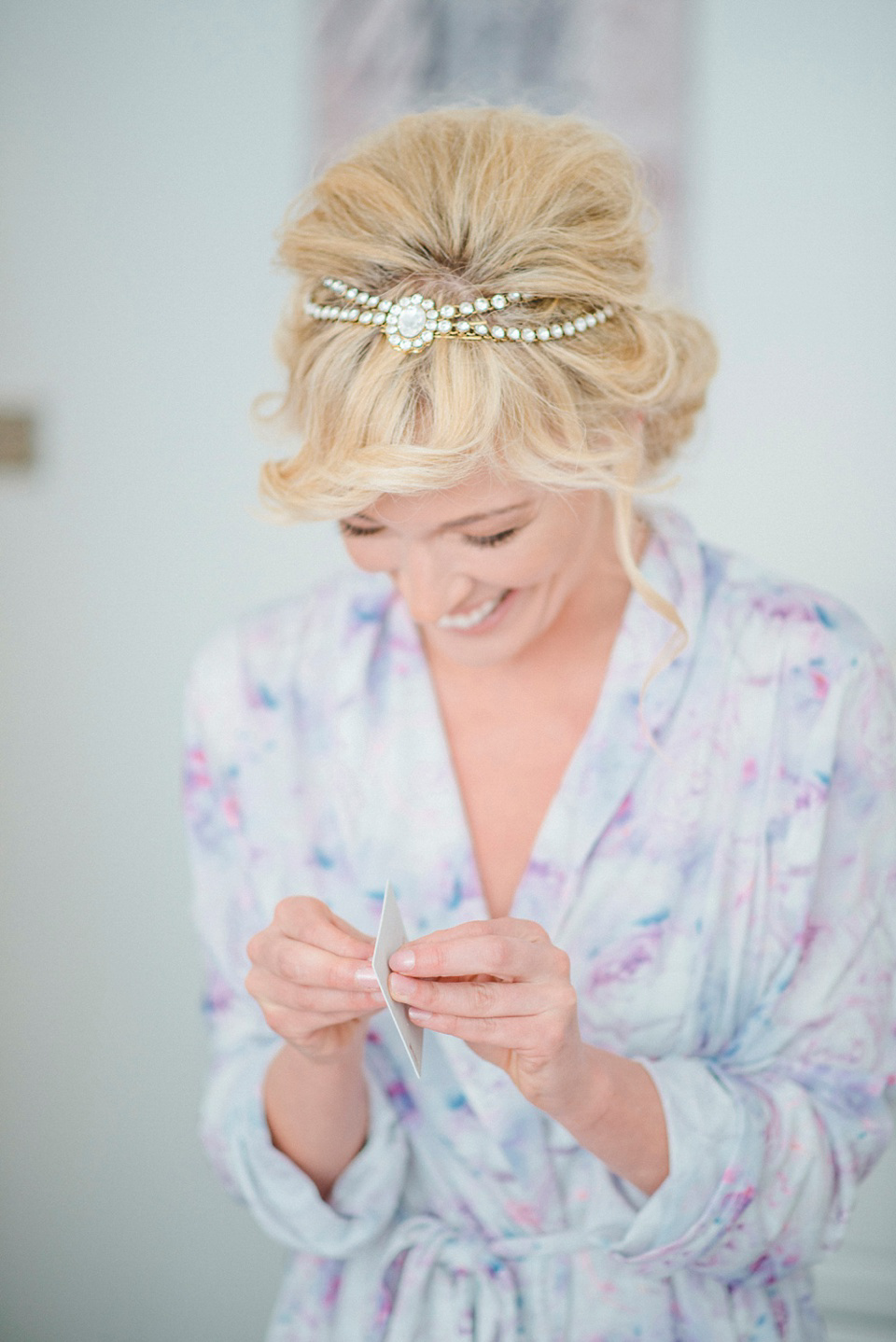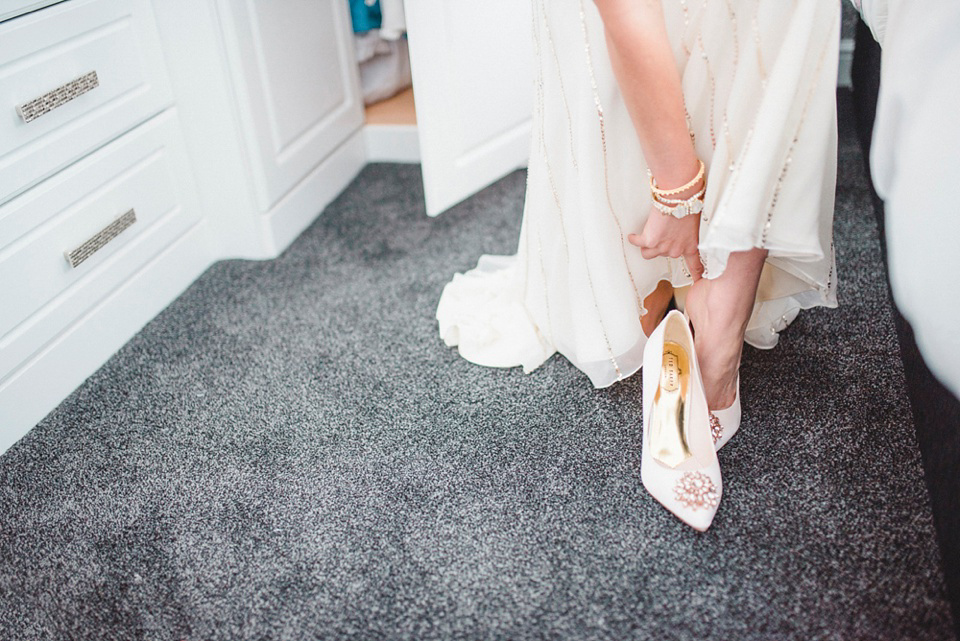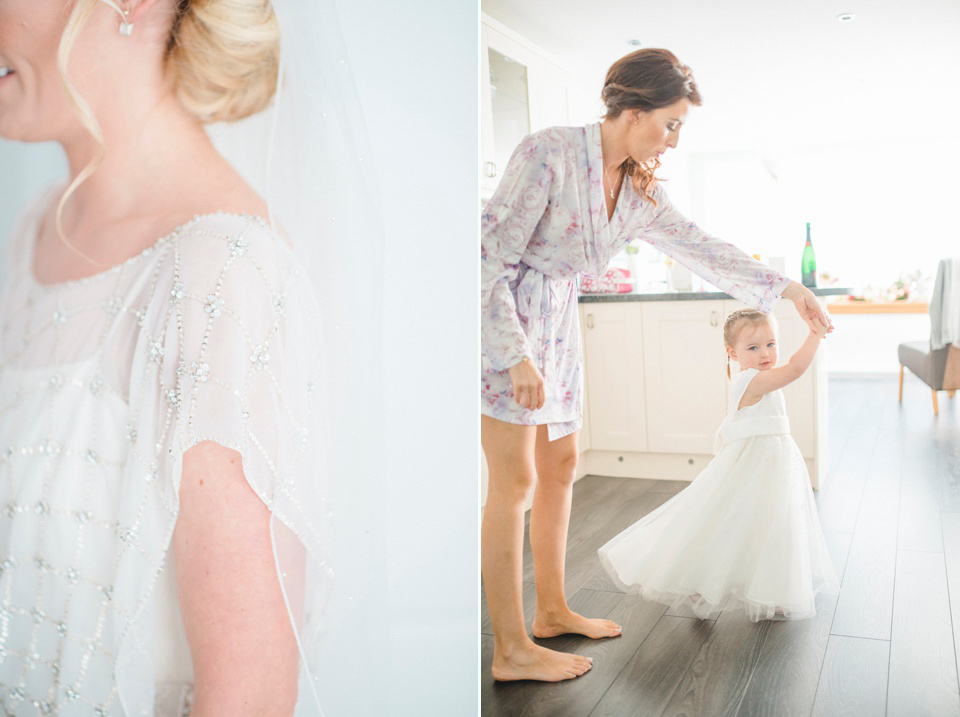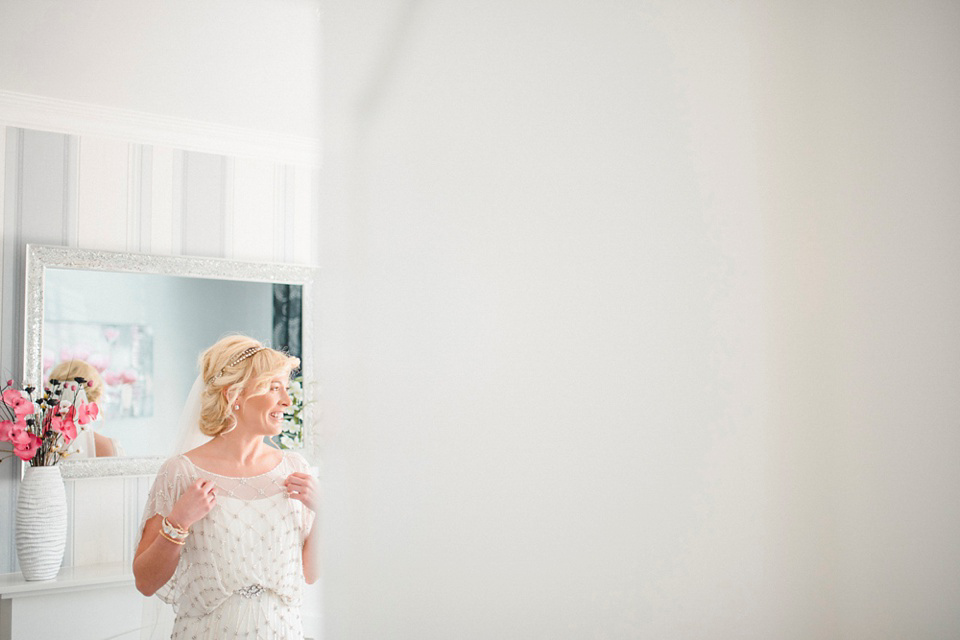 "Paul and I met at college many years ago but were both seeing someone. Years later, I became good friends with one of his good friends and we organized a trip to Benicassim festival over in Spain. Paul decided to come to the festival with us and some others, and asked me out for a few drinks so we could catch up before we went away. We hit it off and became an item straightaway.
Within three years we bought and renovated a house, got engaged in the Gili Islands just off Bali, moved in to our house and then got married."
Rachel was walked down the aisle by her proud Dad, to a track by Ben Howard.
"Paul and I share a love of Ben Howard so it had to be a track by him.   Like the evening entertainment, it was really important we picked the right track and we ended up with 'Conrad' which has a beautiful opening."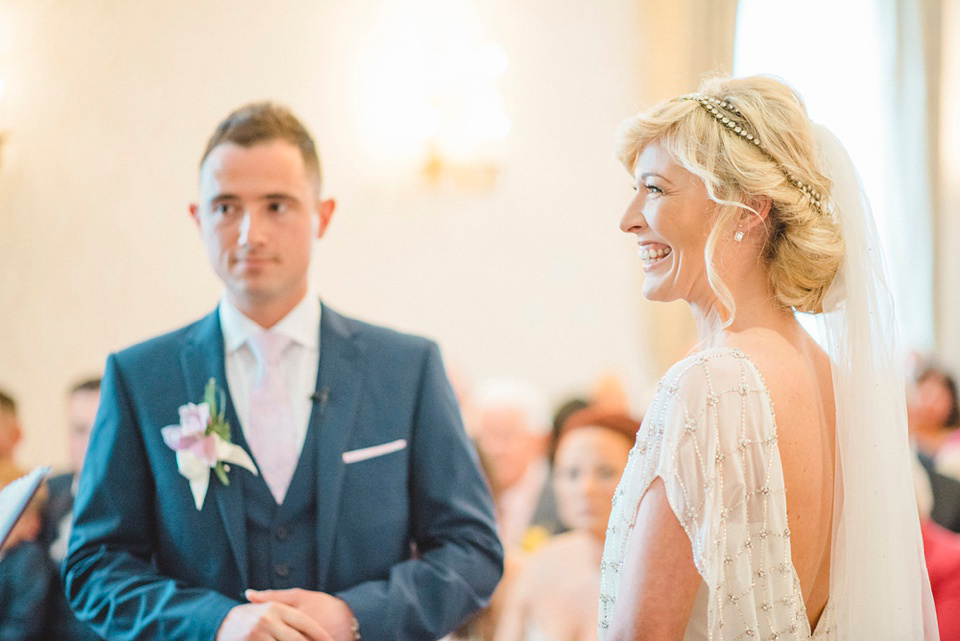 "Paul wasn't fussy at all about his wedding ring having not worn jewellery in his life, so he opted for a simple palladium band.  I wanted something a bit different and opted for a unique piece from Marco Bicego, an Italian designer.  I wanted to wear the ring on its own (I wear my engagement ring on my other hand now) and I wanted something gold.  This one was perfect."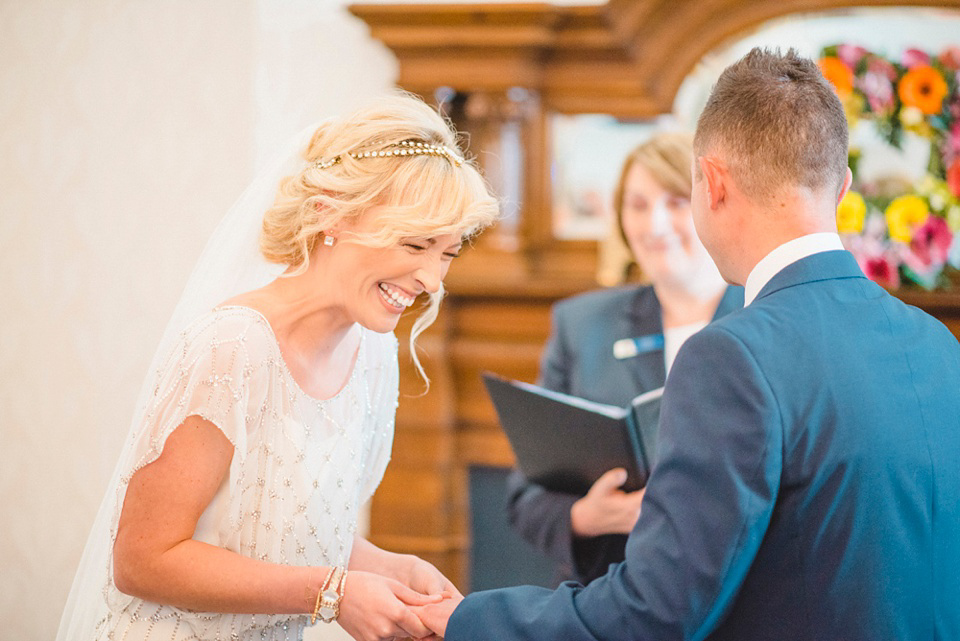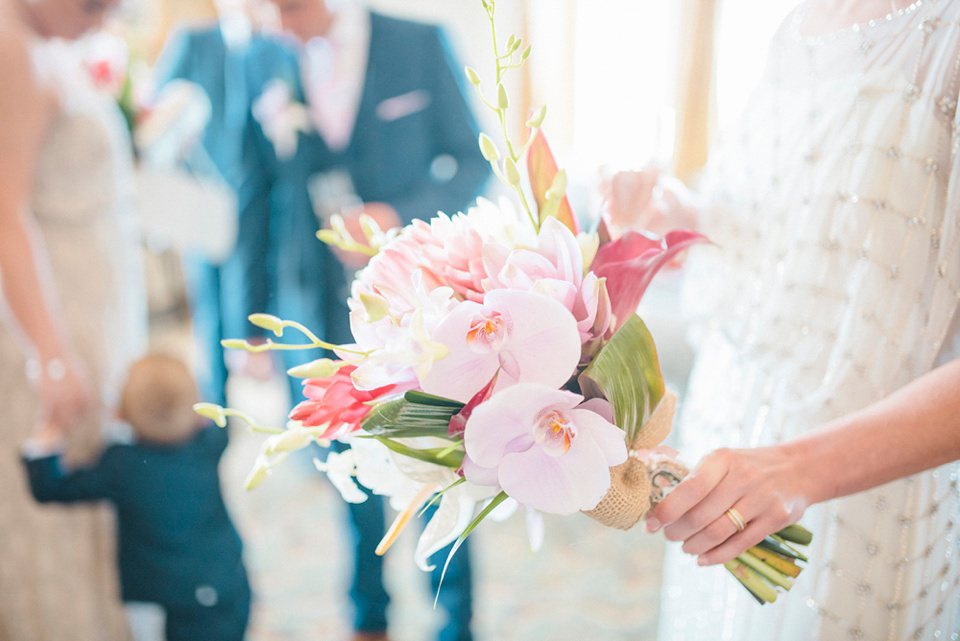 "I had fun doing the decor!  When travelling to Bali there were a few things that came to mind which would help me decorate the venue and really bring the theme out-  colourful flowers, flags, buddhas, elephants, shish pipes and lovely beaches.  I ordered Indian table runners from a shop in India which were beautiful and have ended up in a lot of family and friends houses. I collected dozens of coloured glasses, vases, jam jars and bottles from all over and filled them with flowers.
We had different sashes in the reception so the whole room was bright and colorful and we bought buddhas, elephant placecard holders and bought fortune cookies to go with our favours. For our table names, we used the places we visited in Bali and photos from our holiday."
Our outside area was filled with lanterns, flags, a big Buddha and a shisha pipe and our ceremony room was filled with small lanterns, elephant statues and colourful flowers so you got a sense of our theme wherever you went."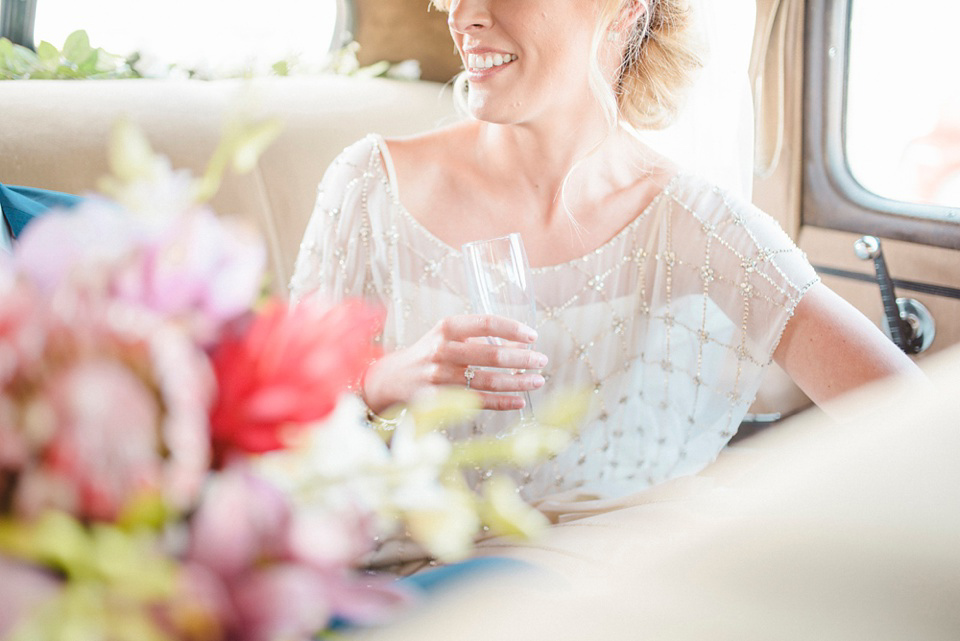 "Paul's surfboard was used as the table planner, we had elephant name place cardholders, incense sticks and lanterns, which have all over our house. We also put selfie sticks on every table which we did as a joke as everyone knows we absolutely hate selfies! They actually went down a treat with everyone and it was a great way to capture the fun people had on their tables."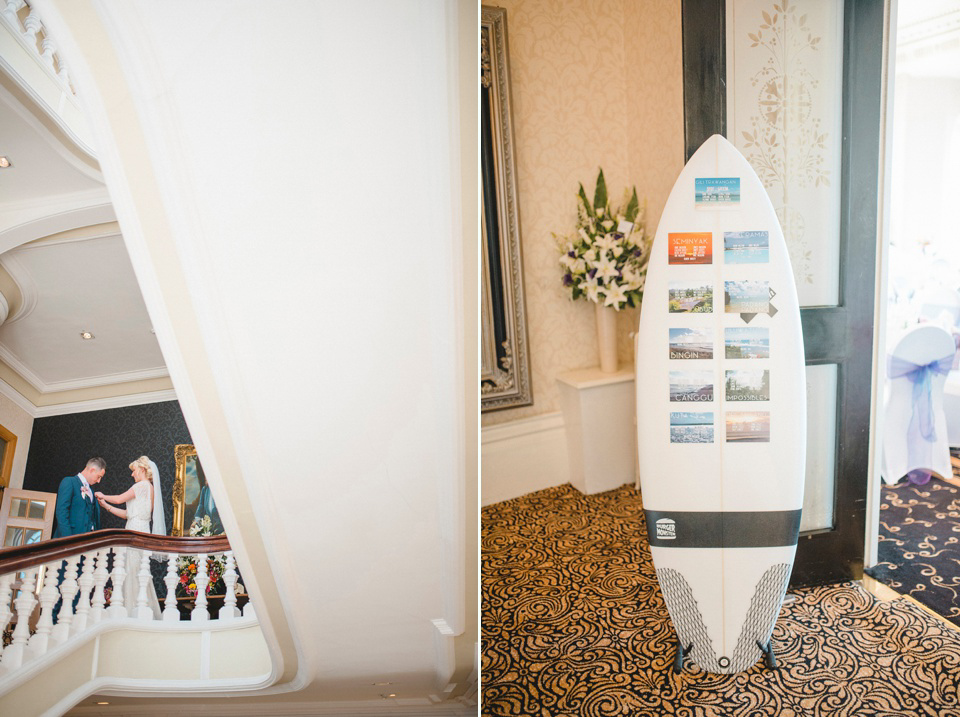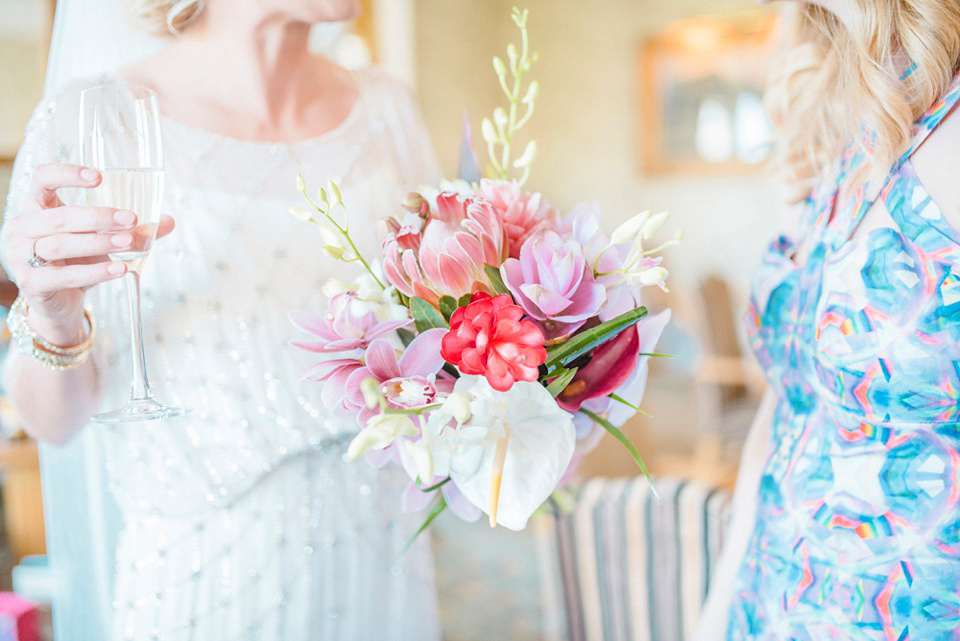 I just love all the details- the beautiful Indian table runners in their gorgeous jewel hues, the buddah statues and the elephants everywhere- it really conjours up the heat and colour of Bali and is both unusual and individual to the happy couple.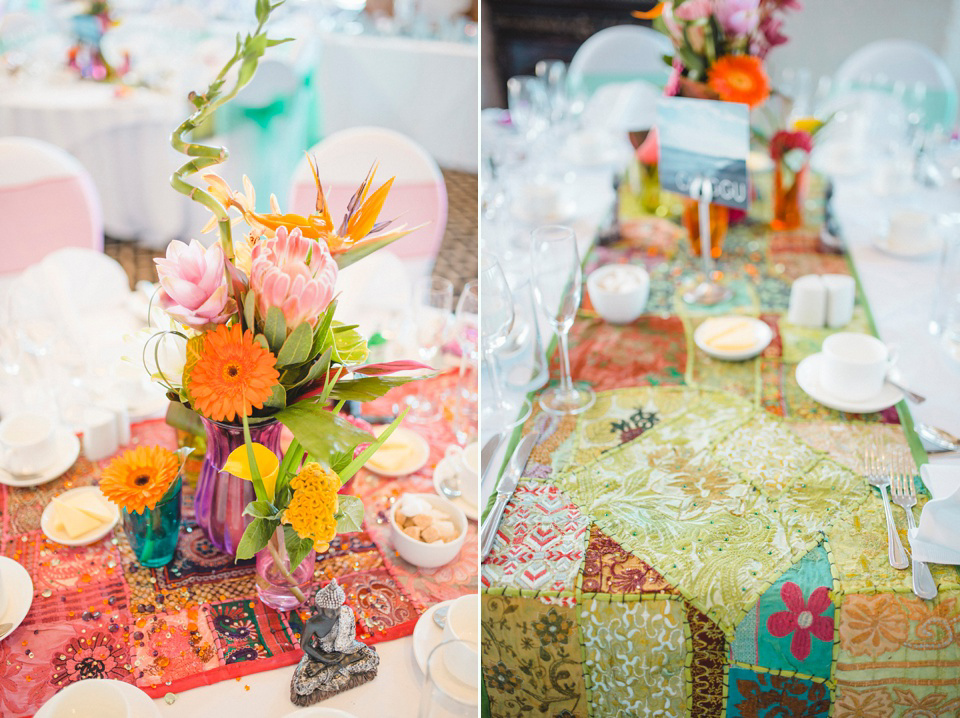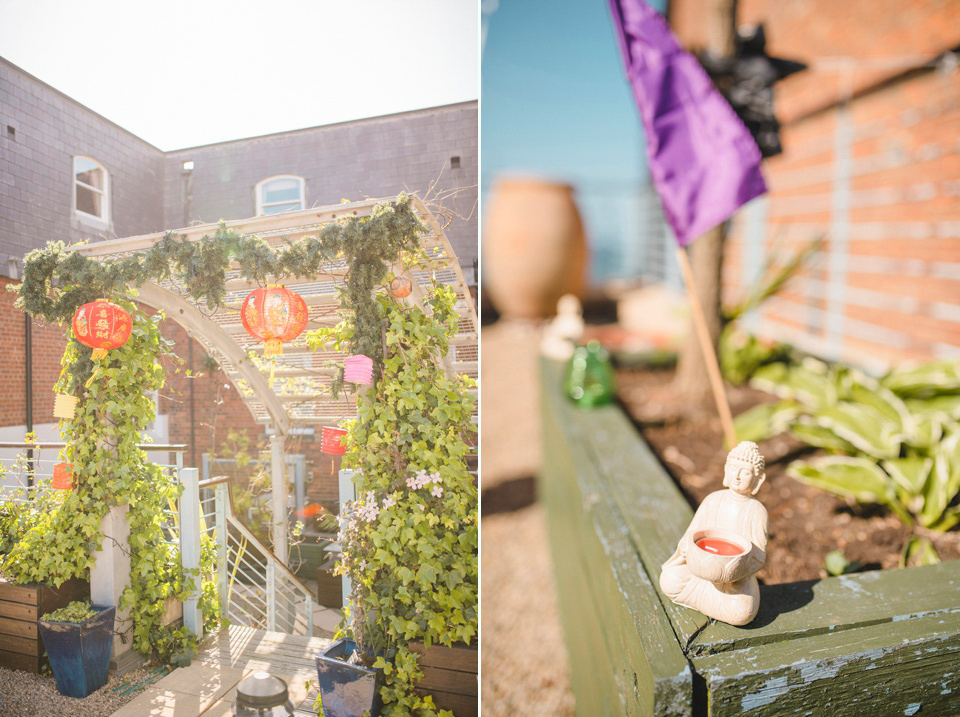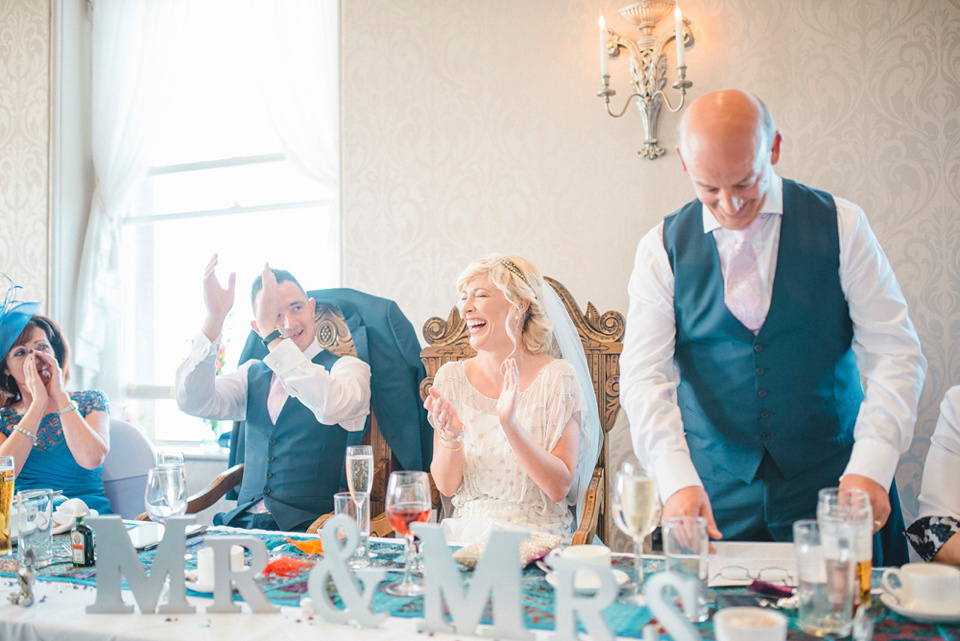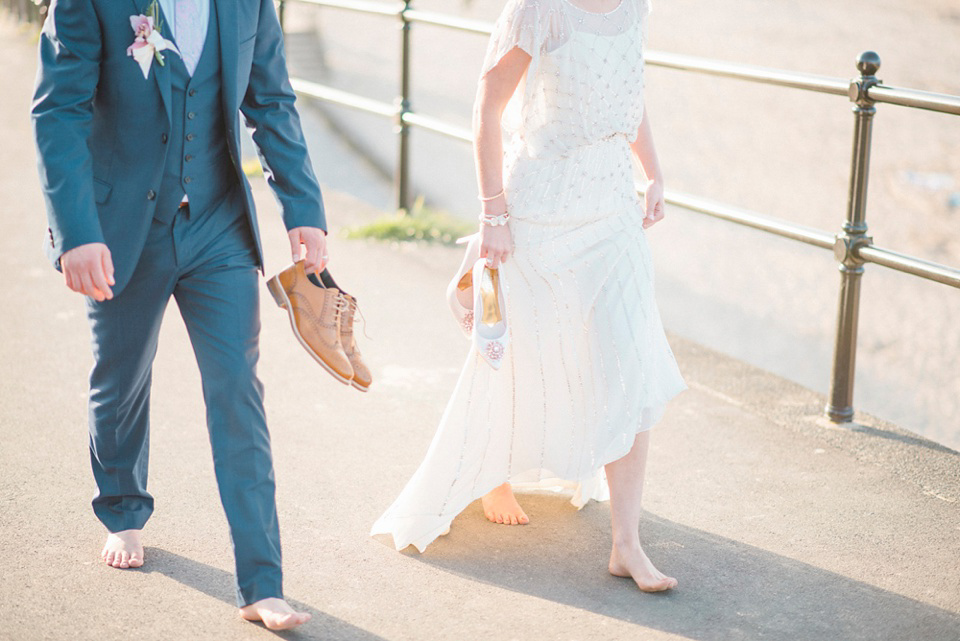 The wonderful and exotic floral creations were the work of local florist, Naomi the Flower Girl. I just adore the range of flowers used here; they must have added such colour and scent to the room.
 "To tie in with our Bali/Asian theme, we wanted tropical flowers that you would find there and more importantly, really colorful and different ones.  I didn't want any to be the same.  Naomi was absolutely brilliant and accommodating as she had the task of putting them into the hundreds of assorted glasses/vases/jam jars I had bought.  I stuck with the same tropical type for mine and the girls bouquet which was so different to what I had seen before and on the day, the flowers were one of the main things I absolutely loved.  It was even nicer that lots of my guests commented on how beautiful and different they were too."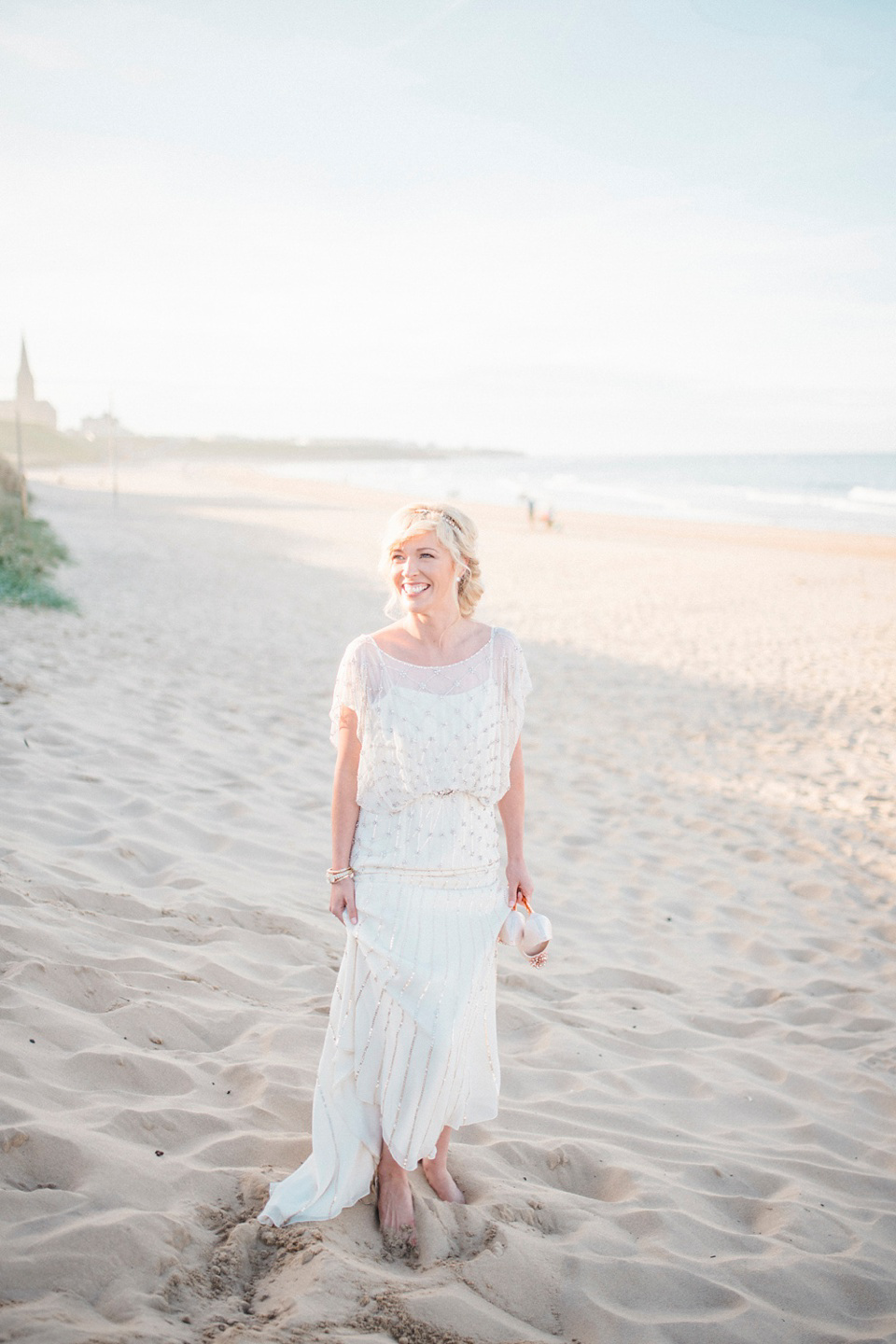 Rachel's three bridesmaids wore dresses from Needle and Thread (ASOS) in a pretty blush shade, in a shape which subtly echoed the bride's own dress.
Paul looked super-smart in a blue three-piece suit with tan shoes.  The couple made the most of their beachside location however and made sure to have some photographs taken barefoot in the sand as the sun set over the sea…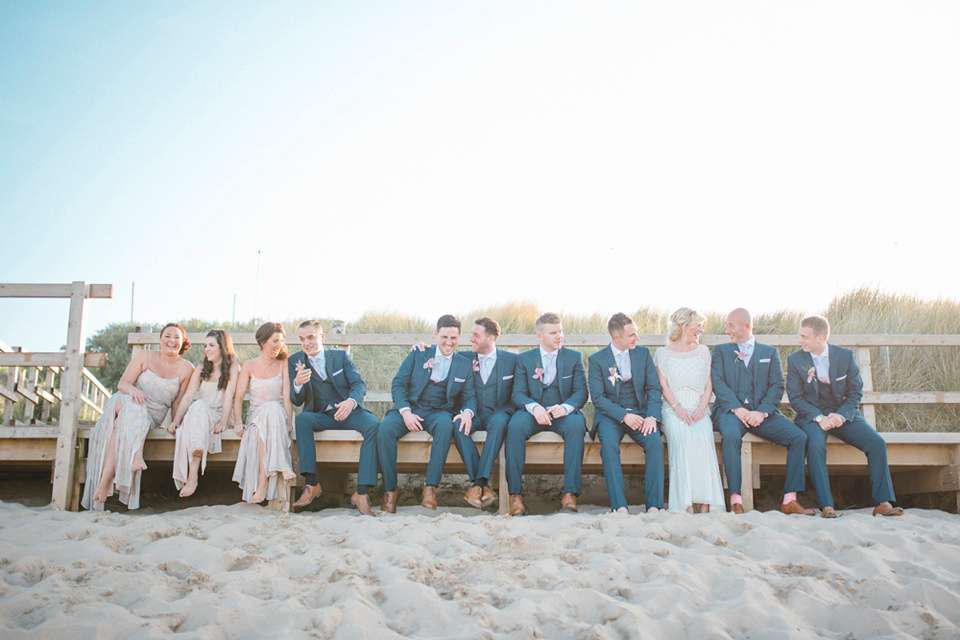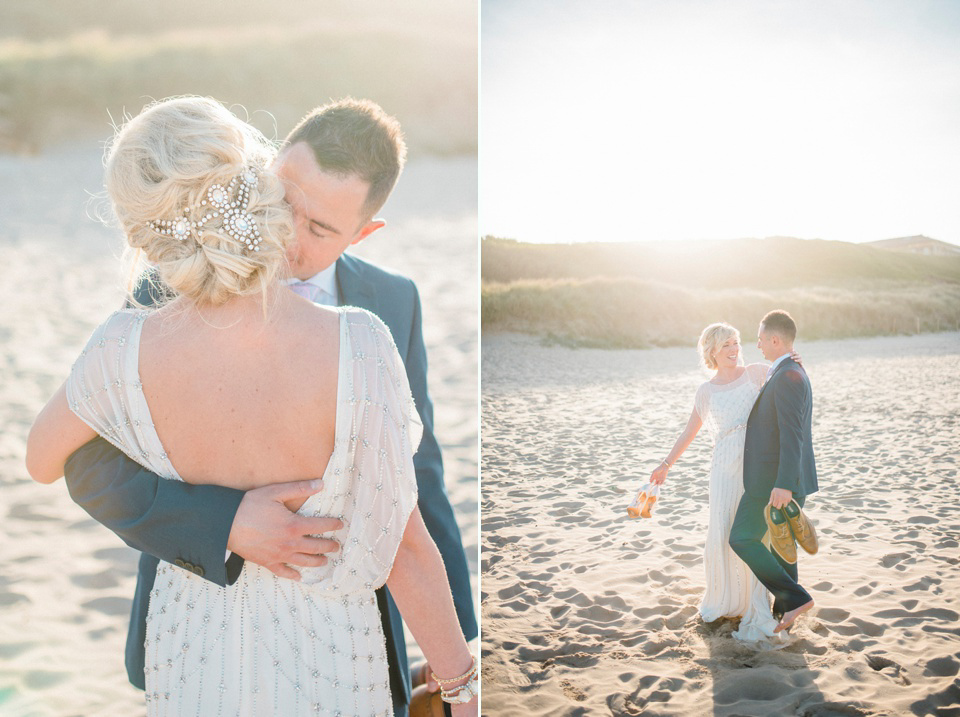 Words of wedded Wisdom
"A lot of people wanted to help me with my wedding planning but I actually found it more stressful having lots of input from different people. I involved them in others way by packing up the boxes, picking up my dress, delivering invites etc which was so helpful.
Throughout the whole planning, I constantly thought about me and Paul as a couple and what our interests/experiences/hobbies/tastes etc were and tried to incorporate that in to the wedding.  A lot of people would claim 'you can't have a chocolate cake' 'you can't have your first dance to that' 'you're having shisha pipes?!' and so on but they all reflected us as a couple so we stuck to our guns.  I would definitely recommend to people to do what they want instead of conforming to the norm or tradition.  It may be completely different but it's you and that's what counts on the day.
 The week before the wedding I made myself so ill with nerves with the idea of all of those people looking at me on the day… On the actual day I was cool as a cucumber and didn't flinch.  I promise on the day you will be fine!"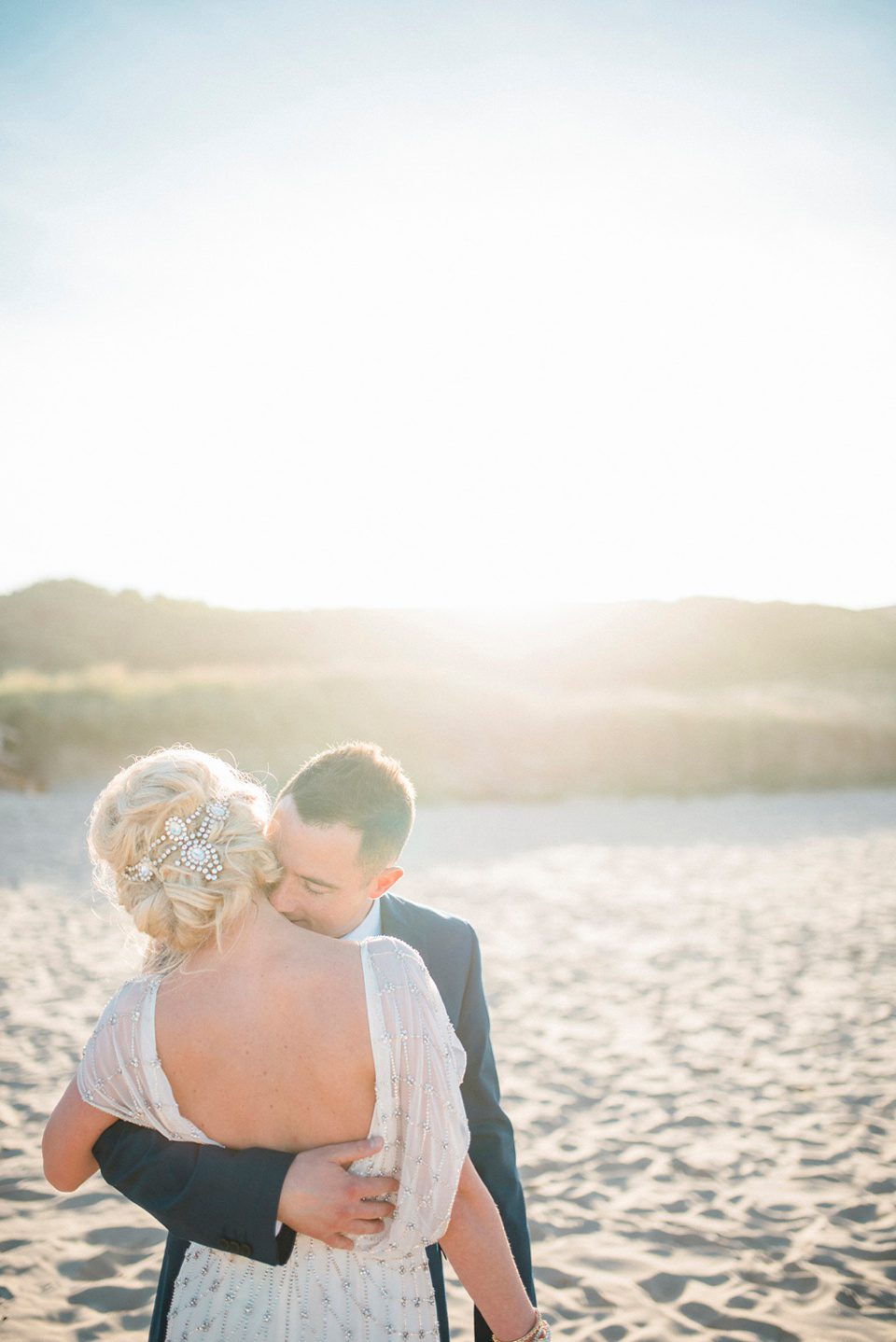 A huge congratulations to Rachel and Paul, and thank you for sharing all the details of your lovely day- I'm inspired to add Bali to my list of 'must visit' places now!  Many thanks too to the lovely Sarah-Jane Ethan for her beautiful photographs.
Are any other brides using their travels or engagement destination as wedding day inspiration?  Let us know!
Love as always,
Shona x
Photographer – Sarah-Jane Ethan
Videographer – DS Media
Venue –The Grand Hotel, Tynemouth
Wedding dress –Jenny Packham, purchased from Bridal Wish
Shoes – Ted Baker
Hair Accessories – Bo and Luca
Hair Stylist – Melissa Bell from Evolution Hair and Beauty, Jesmond
Makeup artist – Make up done by the maid of honour
Bridesmaid dresses – Needle and Thread (ASOS)
Bridesmaid shoes – Kurt Geiger
Groom – Suit– Ted Baker, hired from Moss Bros
Florist – Naomi the Flower Girl, North Shields
Catering – In house at The Grand Hotel
Cake – Marks and Spencer
Entertainment – In-house DJ
Rings – Marco Bicego
Stationery – Designed by a colleague of Rachel's
Transport – Merlin Cars