Hello lovely readers – I really hope you're all having a really good week so far, and that our much loved wedding blog is keeping you inspired. The wedding I'm sharing today resonated with me so much – I'm rather partial to a barn wedding venue, a wedding dress with long sleeves and lots of handmade decor. Vicki and Andy's elegant and completely laid back barn wedding took place at Micklefield Hall in Hertfordshire on 27 July 2015. The Great Barn of the venue inspired the rustic tones of the day.
"The venue inspired the styling of the day. We went with a rustic, olde worlde theme, to match the historical setting and warm wood of the barn. We set up the tables for the meal in the medieval banqueting style, used old musical scores as table runners, and decorated with trailing ivy, candles, and differing size vases of fresh flowers."
Photography by Benjamin Stuart Photography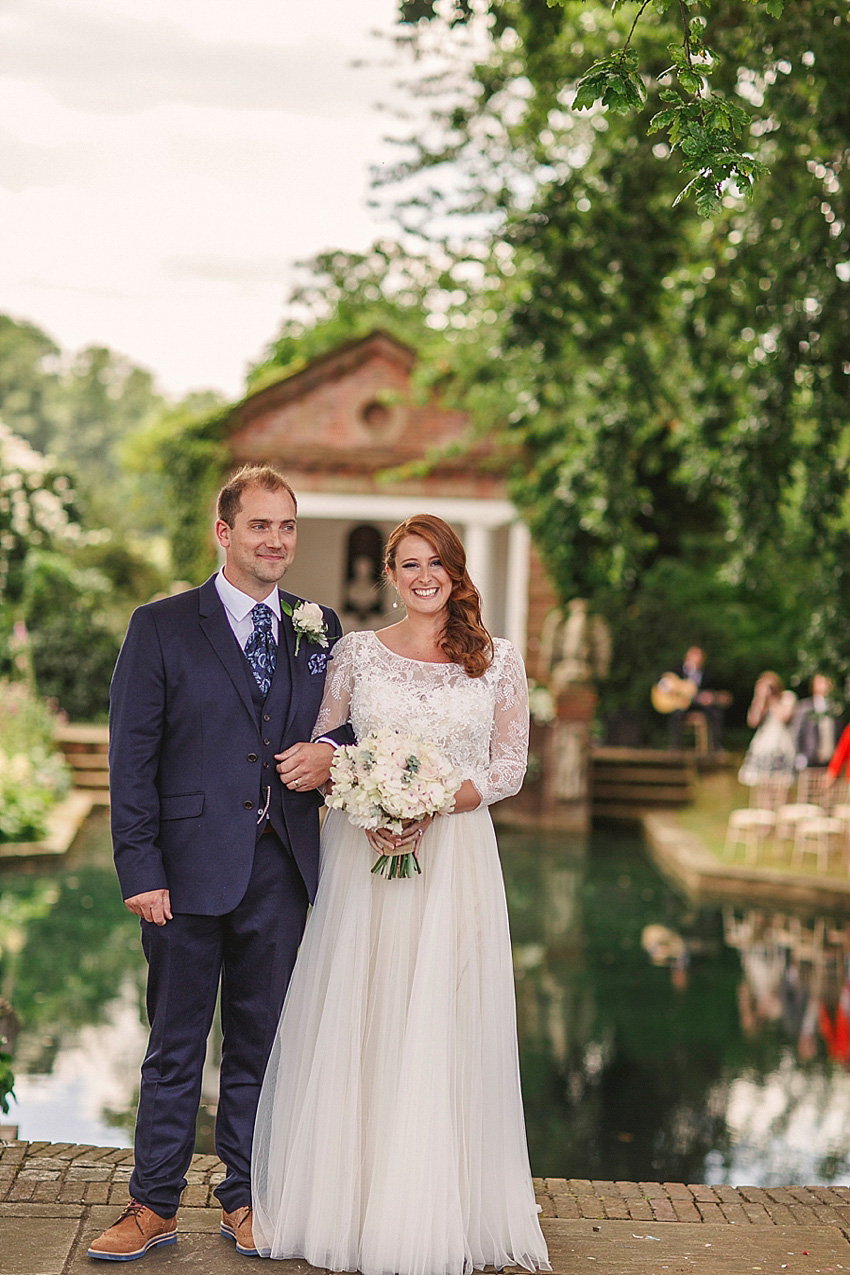 "I'm a huge history geek, so a venue with a sixteenth century barn was perfect. We wanted something different from a typical hotel wedding and the stunning Great Barn and beautiful grounds exceeded all our expectations. The fact that we could have our ceremony, drinks and canapés, photos, meal and evening reception all in different, distinct areas helped break up the day. The ceremony itself took place around a huge pond, which is something we'd not seen before."
"Amie Bone Flowers supplied the pretty flowers. I wanted nude or blush flowers that were in season. In the end we chose hydrangea posies for the bridesmaids, while I had hydrangea, garden rose, and sweet pea – among others. For the button-holes, we chose a budded roses in soft pink, with a sweet pea spray."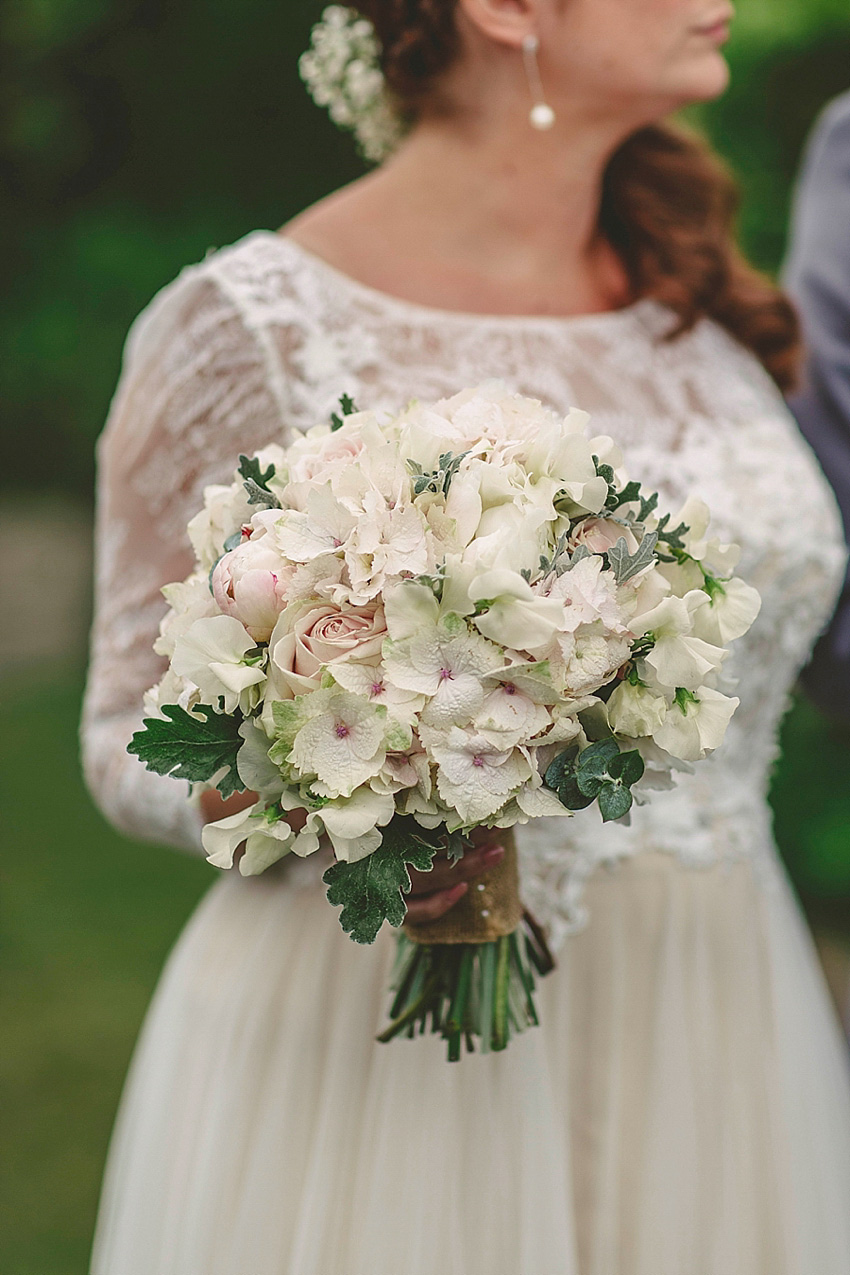 Vicki and Andy's photographers, Ben and Zoe from Benjamin Stuart Photography, worked with them on their engagement shoot and proved to be a huge help in relaxing the couple before their wedding day.
"Ben and Zoe of Benjamin Stuart Photography weekwere amazing. We'd met Ben for our engagement shoot back in May and clicked with him immediately. It's awkward posing for photos at the best of times, but he just made us feel so relaxed. By the day of the wedding we didn't find the camera so intimidating anymore."
"I would definitely recommend that you do an engagement shoot, as it really does help get all the awkward out of the way early. Ben's great at catching special moments without you even realising – all my favourite photos of the wedding are the ones of people interacting naturally rather than posing. They provided a photo booth with all kinds of props, and stayed well into the evening, so we've got some great shots of the night too."
"We met on New Year's Eve, 2009, at a Masked Ball party in a pub. Exactly five years later, Andy proposed on the London Eye. We were married within six months of getting engaged – when your fiancé puts on live events for a living, there's no excuse for hanging around. It was quite a tight time frame, especially since we chose to do all the organising without a wedding planner, but with help from friends and family, and a huge effort from Andy's production team, we got there in the end."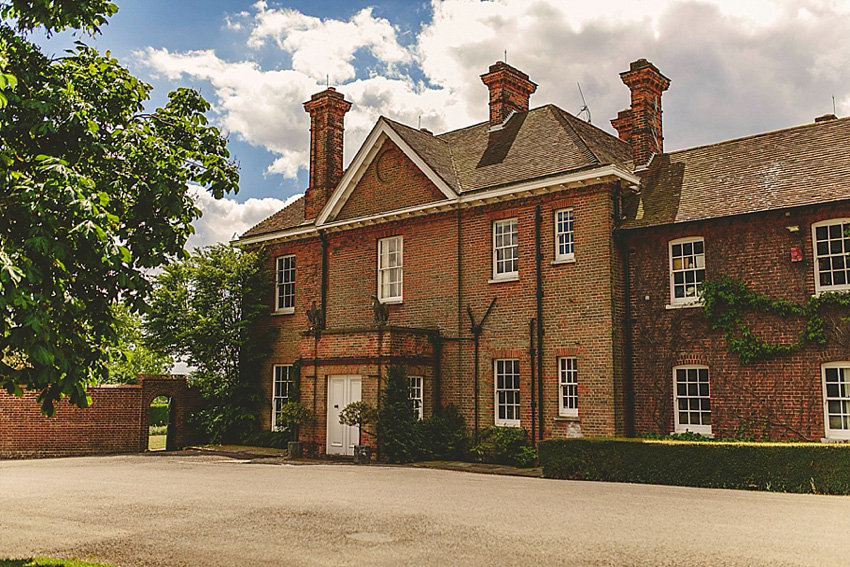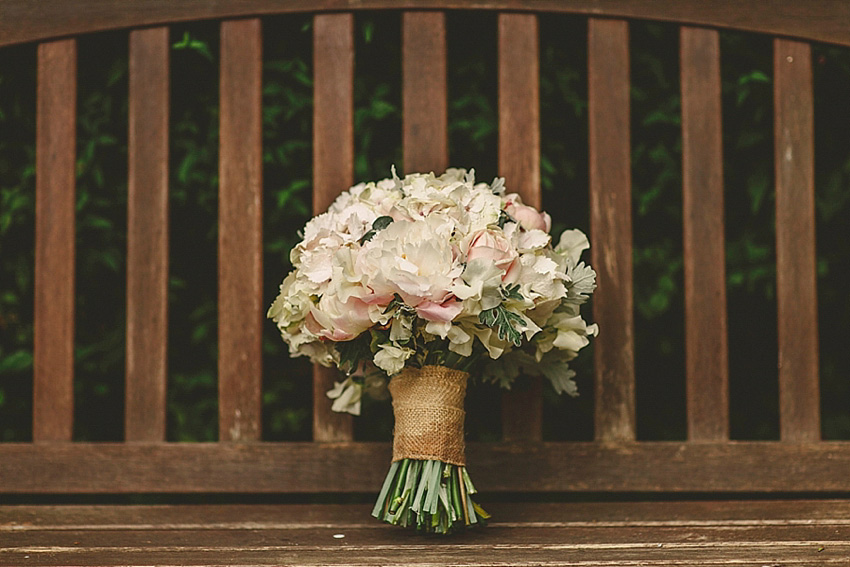 Vicki chose a divine Watters gown, via The Dressing Rooms, with the most delicate lace on the bodice and sleeves.
"I'd tried on a few other dresses before finding The One, but hadn't felt comfortable in any of them. I had three criteria for my dress; it needed to cover my bust and upper arms, it had to be comfortable enough to dance in, and I had to be able to go to the toilet by myself! When I put on the dress, even before seeing a mirror, it just felt right. It was soft and flowing as opposed to stiff and structured, and the lace and applique was just enough to be romantic, but not overwhelming. I knew it was the right dress when I made five grown women cry just by stepping out of the changing room!"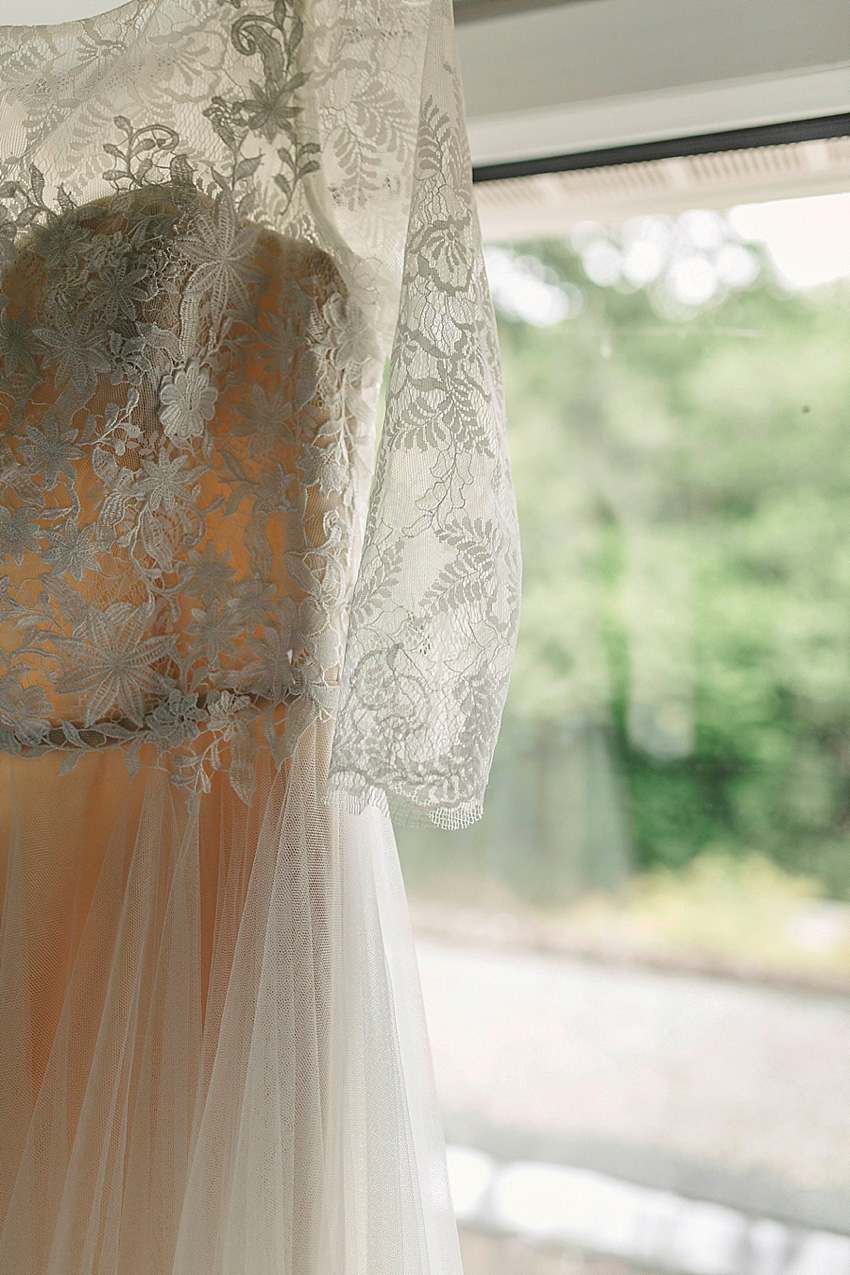 The six bridesmaids wore pretty Valero Pearls necklaces, found via Amazon, and all other jewellery was their own. Hair and make-up for the bride and her maids was expertly done by Shari Rendle and her team. And with the help of a clever dress designer friend, their floor-length gowns were re-designed slightly.
"We couldn't find exactly what we wanted, so we had to improvise a little. The original dress was the 'Daisy' dress in navy blue from BHS, but we had it slightly re-designed by Clare Copland, our good friend, seamstress, dress designer and miracle-worker."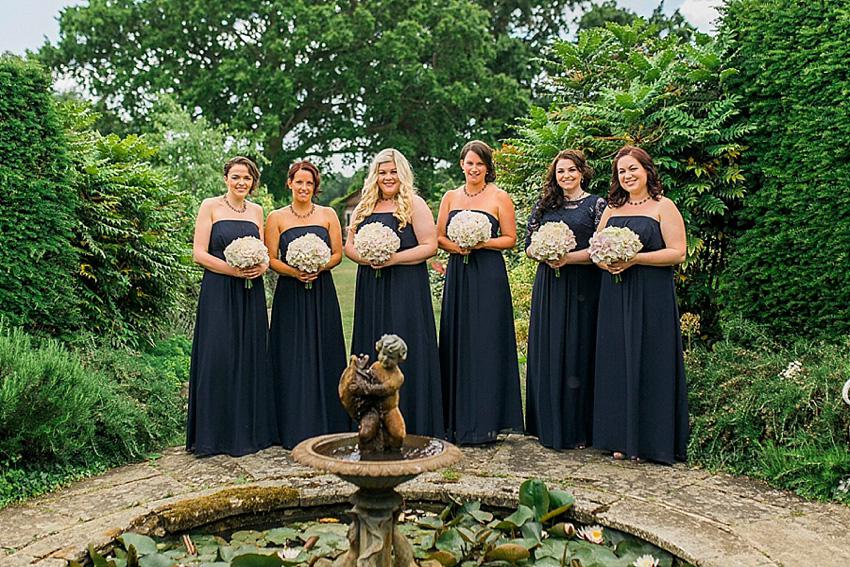 Vicki found her Mythique Tango heels via Amazon and paired pretty pearl earrings from John Lewis with her grandmother's ring. She wore pretty gypsophila in her hair, and her perfume matched her bouquet.
"I wore Jour d'Hermes, as I wanted something floral, yet light enough for a summer wedding. I matched the notes of sweetpea and gardenia to the flowers in my bouquet."
The bride's engagement and wedding rings were custom-made by Fraser Hart, with the groom's ring also via this fine jeweller. Vicki's father gave her away and they walked down the aisle to the title track 'O' from the Cirque Du Soleil shows at the Bellagio in Las Vegas. The pond setting for the ceremony added a very mystical feel. The couple included three readings and both bride and groom agreed that the beginning of the ceremony was their favourite part of the day.
"For our readings we chose 'This Is For You' by Neil Gaiman, 'The Wonders Of Today by Anonymous, and 'Yes I'll Marry You, My Dear' by Pam Ayres. I'm a huge Neil Gaiman fan, so this was a no-brainer! We chose the Pam Ayres reading to add a bit of humour, as we didn't want things to get too serious."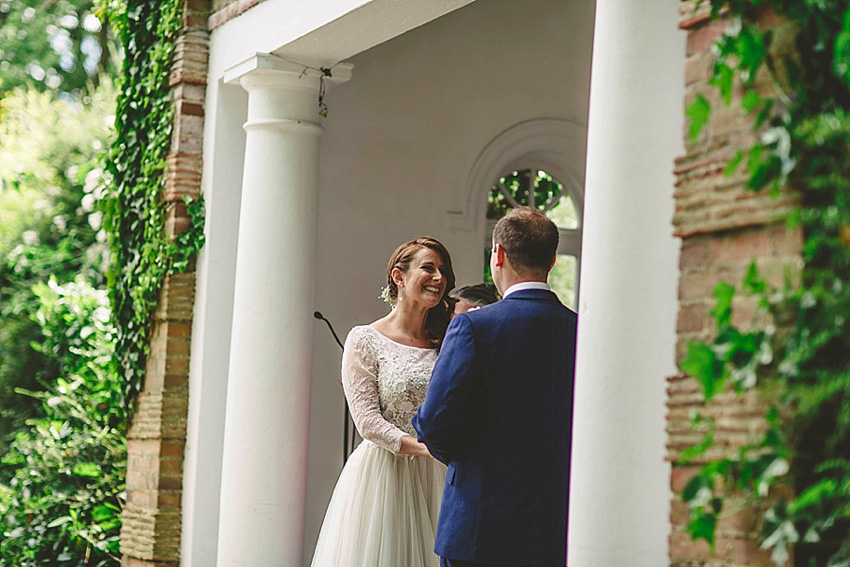 'Andy says his favourite part of the day was the start of the ceremony, when the bridesmaids, my father, and I appeared at the top of the steps. I think I agree – standing there looking down on nearly all our friends and family gathered together in one place was pretty special."
I am a big fan of pocket watches for grooms and Andy didn't disappoint with his full-hunter version from Fraser Hart, which he paired with a dapper three-piece Ted Baker suit from Selfridges, whilst the groomsmen sported stylish suits from Young's Formal Hire at Debenhams.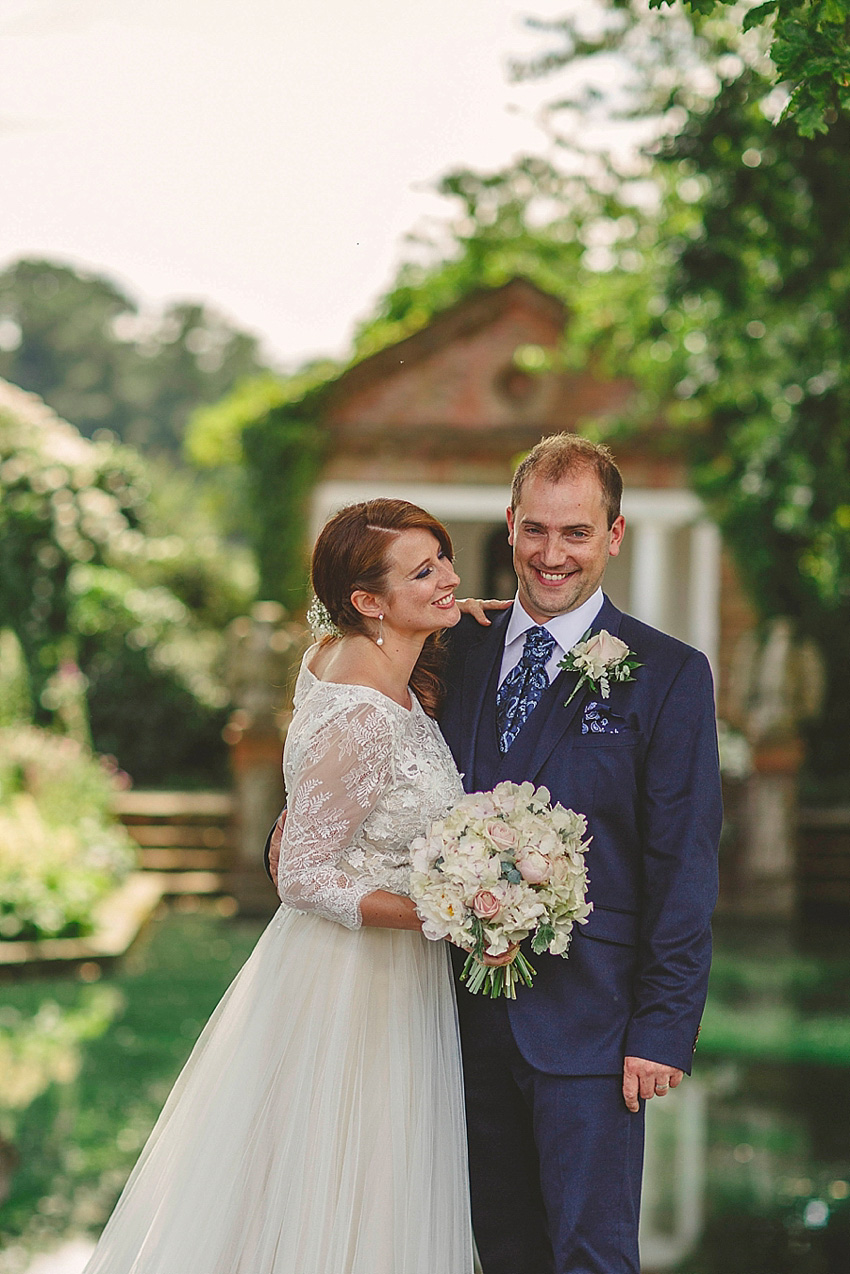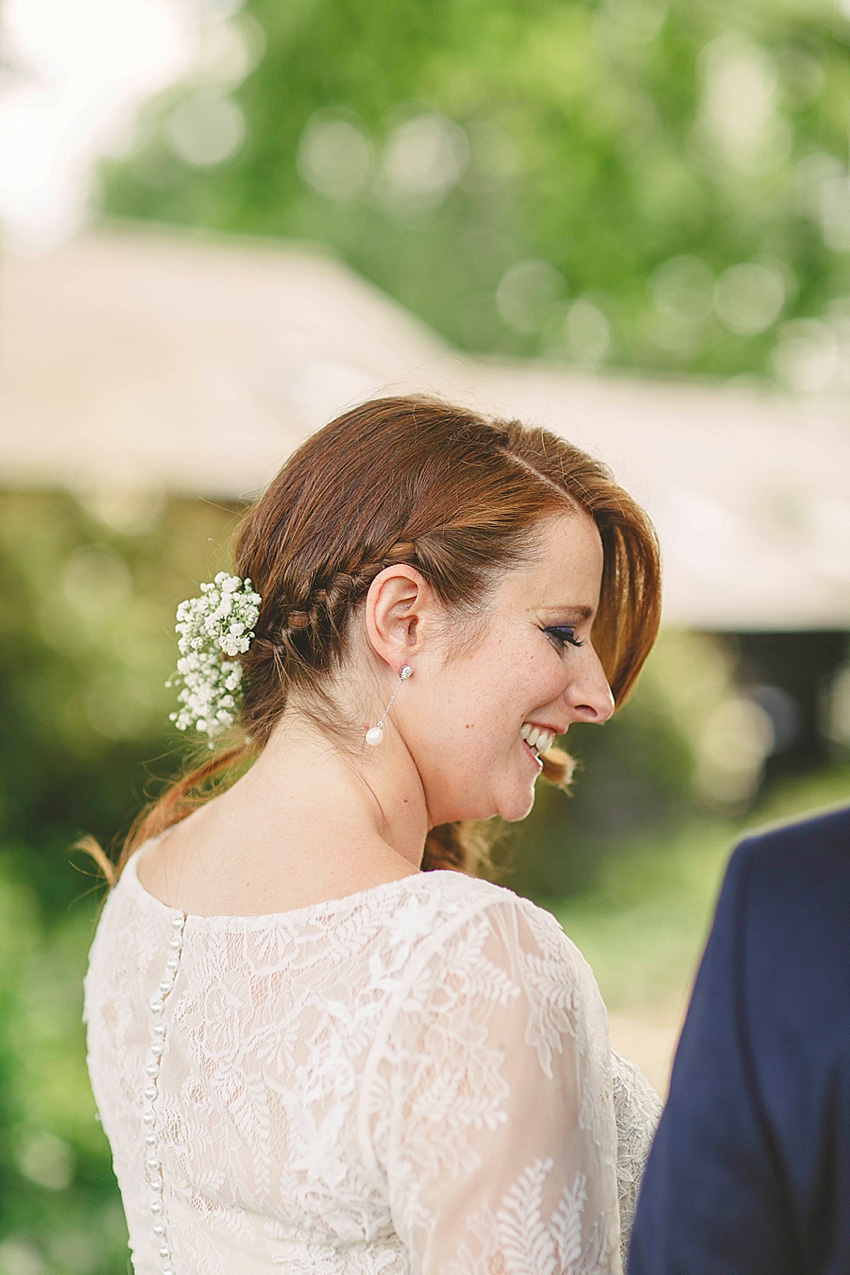 Favours were from Faust's Potions – and the couple chose to make the majority of the decorations themselves, with styling by Fran from Production Element, the groom's events company.
"We DIY'ed most of the decorations ourselves, buying a variety of candle and tea light holders from IKEA, and sprucing them up with hessian and jute ribbon that we bought from Hobbycraft and Amazon. The table name-holders were made by sawing down logs from our fireplace at home – we're lucky it's summer!"
"The guest name cards were threaded onto individual bunches of dried lavender and barley from Shropshire Petals, and decorated with their own antique key from Amazon. The florist provided us with over a hundred posies of fresh flowers, which we dotted around the tables in little vases, and lengths of ivy. Everything was styled on the day by Fran from Production Element – it was just stunning to walk into the barn and see what she'd created."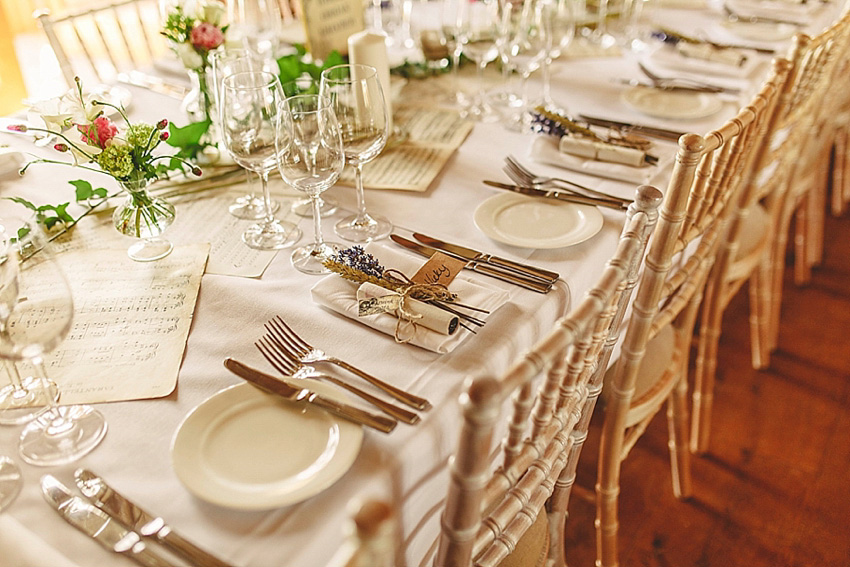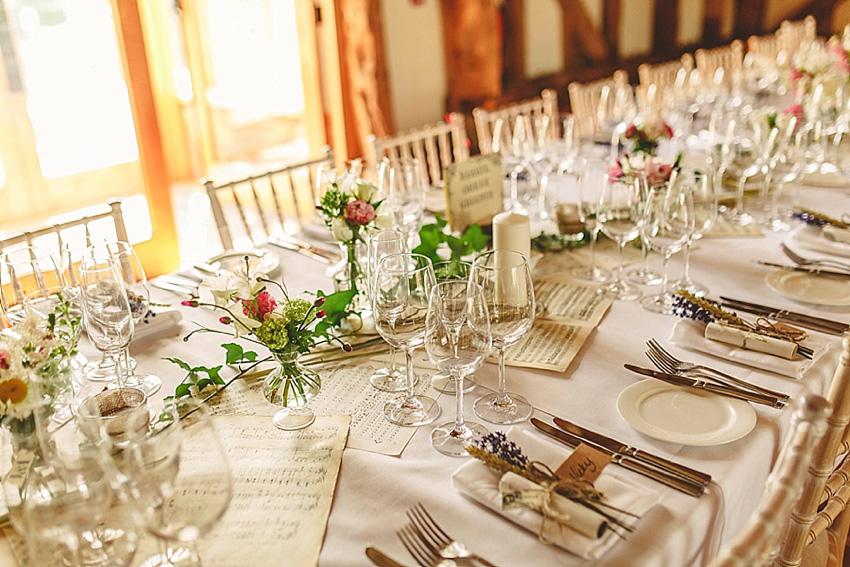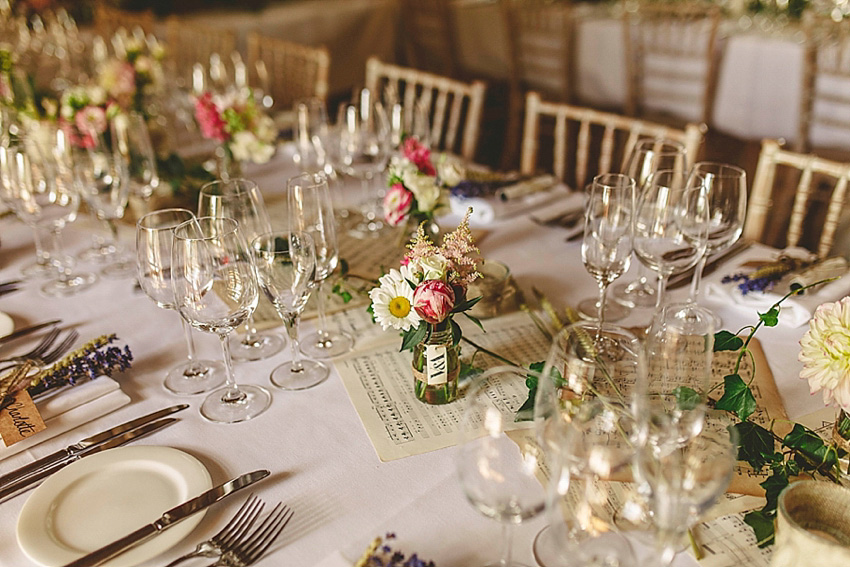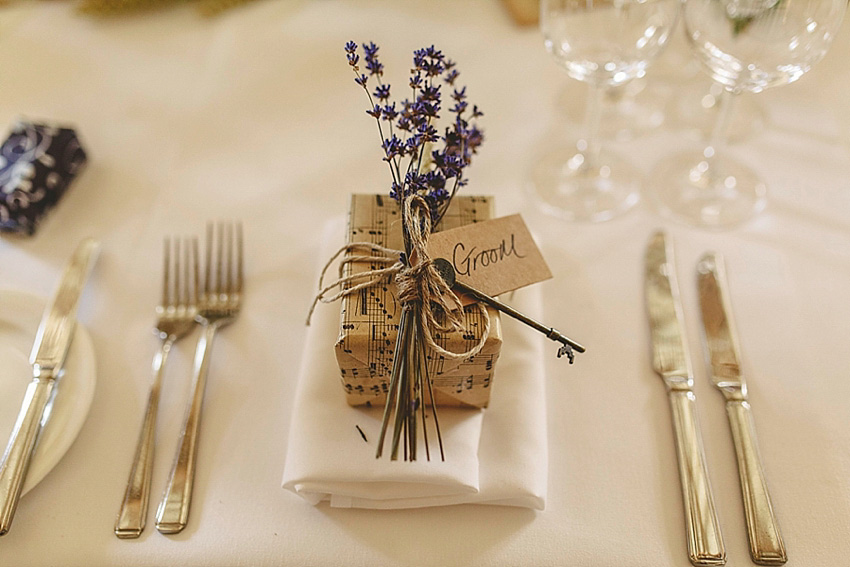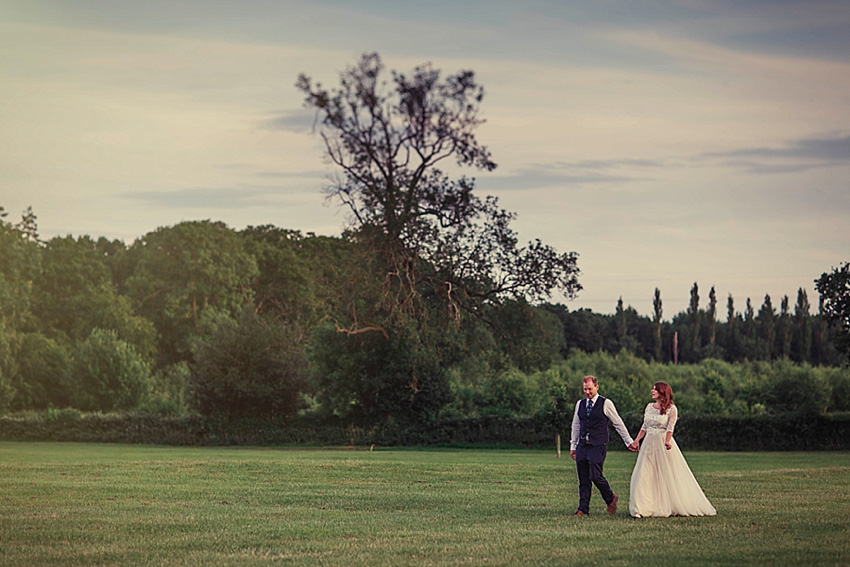 Metropolis provided the entertainment for the guests to dance into the night – and I like the story behind the reason for choosing their first dance song, 'Til The Day' by Easyworld.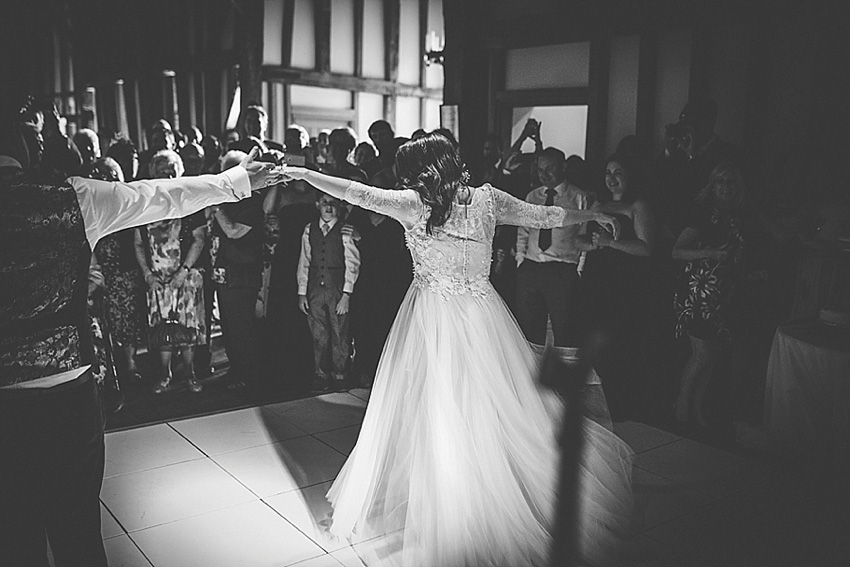 "Andy and I are both fans of lead singer, David Ford. In fact, I'm pretty sure this is the reason we had a second date! So we chose this song as a nod to him."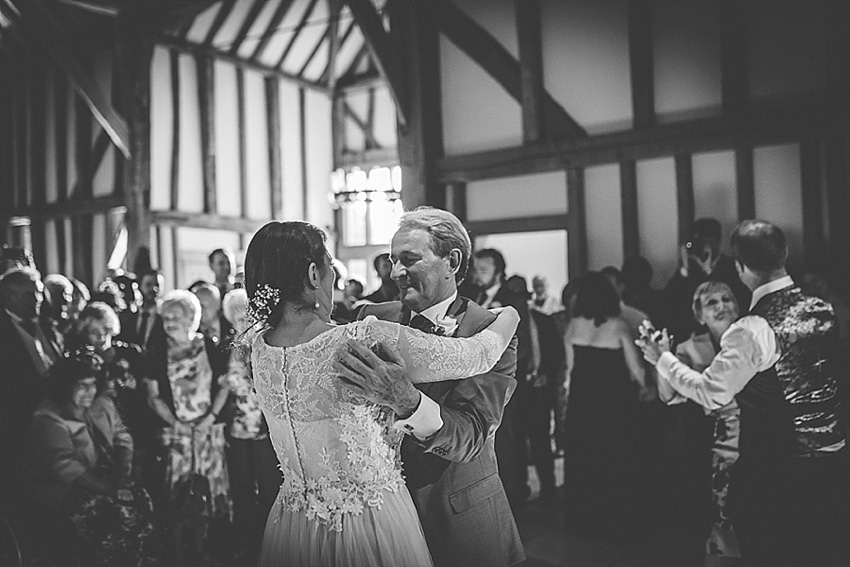 Words of Wedded Wisdom
"Try not to panic. I wish I could go back in time and tell the other me not to worry so much. Everything will be fine – and if something doesn't go to plan, it isn't the end of the world. No one is there in the hope that you'll trip going down the aisle, they're all there to support you and share in your happiness. Take time to stop, take a breath, and have a proper look around you throughout the day – it really does go by so fast and it's over before you know it."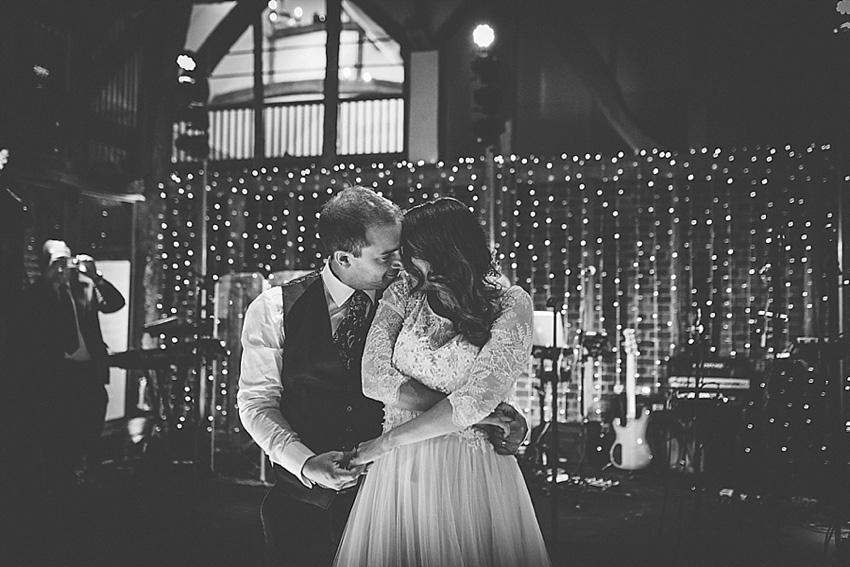 Such excellent advice – I remember taking time out with my husband on the day too, to soak up the vibe and be mindful of those special moments which are now wonderful memories. Thank you so much to Ben and Zoe for sharing these gorgeous pictures of Vicki and Andy's day and I wish the lovely couple a lifetime of fun adventures ahead.
If you've been inspired by the bride's pretty lace dress, be sure to see here to discover more Watters designs we've highlighted on this very beautiful blog.
Here's to a great Wednesday folks – I hope the day treats you well.
Love Jo x
Photographer – Benjamin Stuart Photography
Venue – Micklefield Hall, Hertfordshire
Dress – Watters via The Dressing Rooms
Shoes – Mythique Tango heels via Amazon
Hair accessory – Gypsophila sprays by Amie Bone Flowers
Jewellery – Pearl earrings from John Lewis and grandmother's ring
Scent/Perfume – Jour d'Hermes
Bridesmaid Dresses – BHS and re-designed by Clare Copland
Bridesmaid Shoes – Own shoes
Bridesmaid's Accessories – Valero Pearls necklaces via Amazon and all other jewellery their own
Groom – Three-piece Ted Baker suit from Selfridges and full-hunter pocket watch from Fraser Hart
Groomsmen – Suits from Young's Formal Hire at Debenhams
Florist – Amie Bone Flowers
Rings – Fraser Hart
Catering – Edible Food Design
Cake –  Bugols of Narberth
Décor – Production Element, candles and tea-light holders from IKEA, hessian and ribbon from Hobbycraft and Amazon, sawn logs from own fireplace as table name-holders, bunches of dried lavender and barley from Shropshire Petals and antique key from Amazon
Favours – Faust's Potions
Hair & Makeup Artist – Shari Rendle
Entertainment – Metropolis