Happy weekend folks, I hope you're feeling good today. I'm completely delighted to be sharing this particular set of images with you this morning. I've been eager to receive them and share them with you since the shoot took place in London earlier this year.  These images were, in fact, created with you, our readers, specifically in mind – and especially those of you who are looking to create a modern, city-chic style wedding. I absolutely adore the clean palette and use of all-green foliage by Wildabout Flowers, coupled with the beautiful modern wedding day styling by our long-term creative partner and regular contributor Michelle of Pocketful of Dreams, I thought you might like to take a slow stroll through these photographs this morning and really want to leave you feeling inspired.  Below, Michelle talks us through the photographs shot by Anneli Marinovich, and her creative vision that led to the creation of these beautiful images.
"This shoot was primarily developed to showcase the River Rooms as a new-to-the-market wedding venue and to demonstrate to couples looking for a blank-canvas space in Central London, just what they could do with such a space."
Design and Planning – Pocketful of Dreams
Pocketful of Dreams is a member of Little Book For Brides®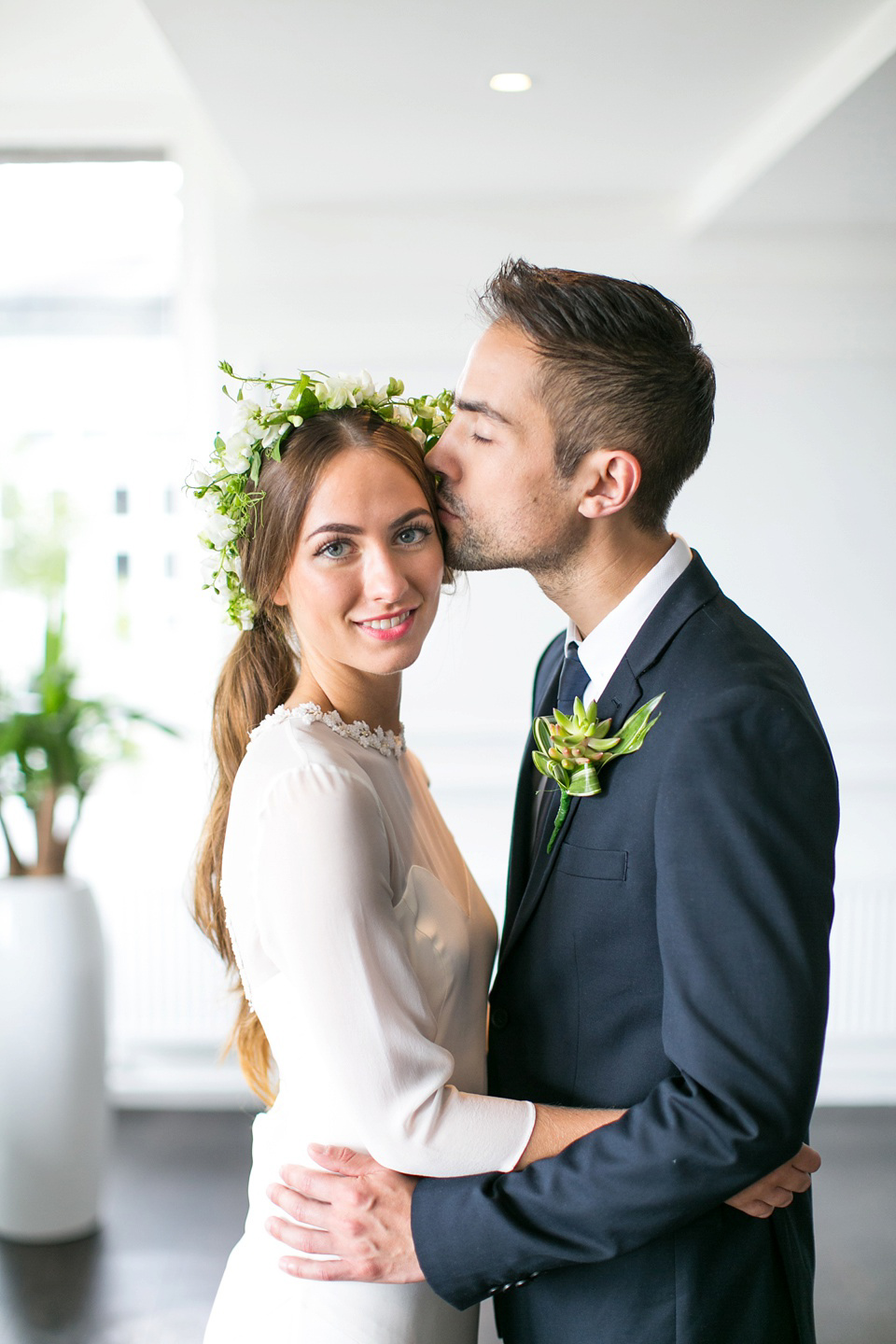 "We had an amazing creative team on-board including fashion styling by Belle and Bunty, cake design by Olofson Design, paper decor by Things by Laura, flowers by Wildabout Flowers, photography by Anneli Marinovich, hair and make-up by Jo Lorrimer, light-up letters by Doris Loves and of course design and styling by yours truly Pocketful of Dreams."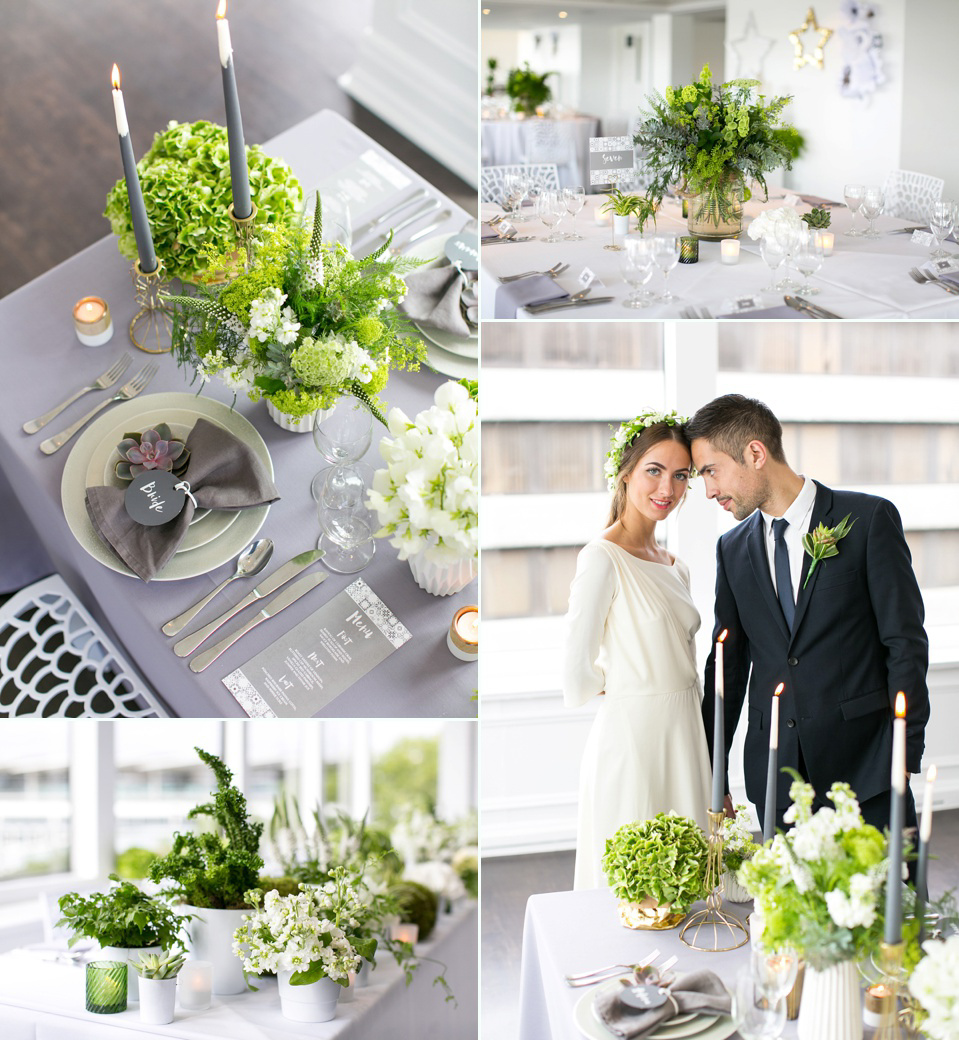 The Inspiration
For this shoot we took a modernistic yet elegant approach to reflect the venue's City location and to appeal to the design sensibilities of contemporary couples. To make the most of that radiant light within the venue we featured a neutral and fresh colour palette of whites, greys, soft lemon, leafy greens and gold brass.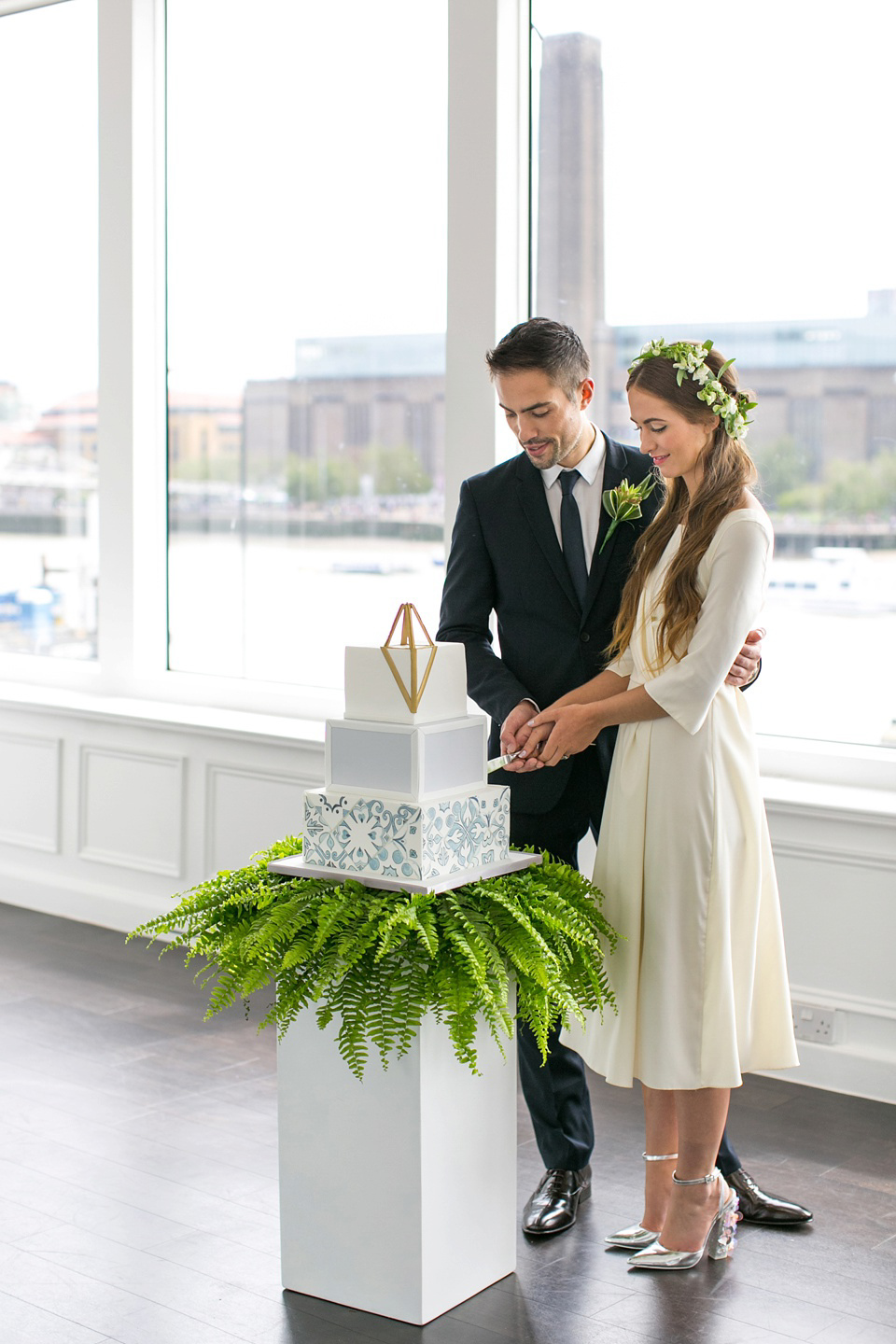 We wanted the styling to feel bold, fresh and innovative whilst ensuring the vast spaces still felt intimate and welcoming at the same time. So we combined modernistic elements with botanical and almost tropical greenery to bring the outdoors inside and offer a softness to the design.
The Venue
The River Rooms, located on the bank of the Thames with views over to the Tate Modern and a stone's throw from St Paul's, is ideally located for a City celebration. Although the space has only recently obtained a wedding licence they are no strangers to holding parties and events, having hosted some of the UK's top brands over the years for everything from awards shows to gala dinners.
A true blank-canvas offering clean lines, an open-plan layout, white walls and plenty of natural light – this is the ideal space to create a day that is truly your own. Panoramic views of London across the Thames include the sights of the Tate Modern, Shakespeare's Globe and London's iconic building, The Shard, to provide the most atmospheric backdrop to your celebrations.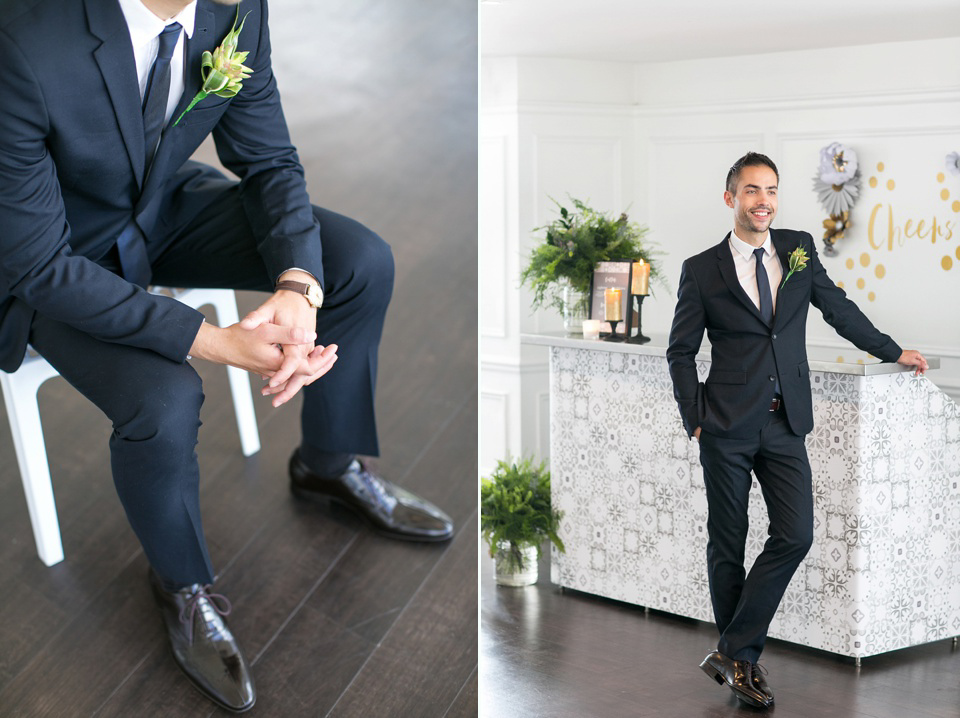 The 2-storey space offers various zones for parties, including the lower River Rooms, upper River Rooms and the Queentithe suite. They can accommodate up to 300 for dining and up to 500 for an evening reception and are entirely flexible allowing you to use the spaces as you wish.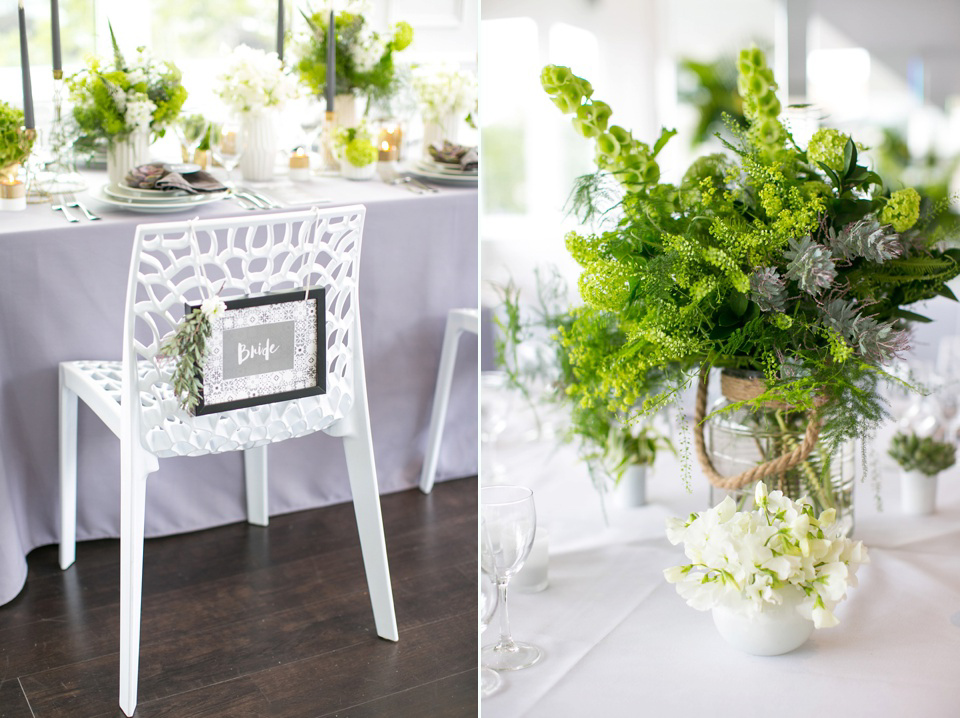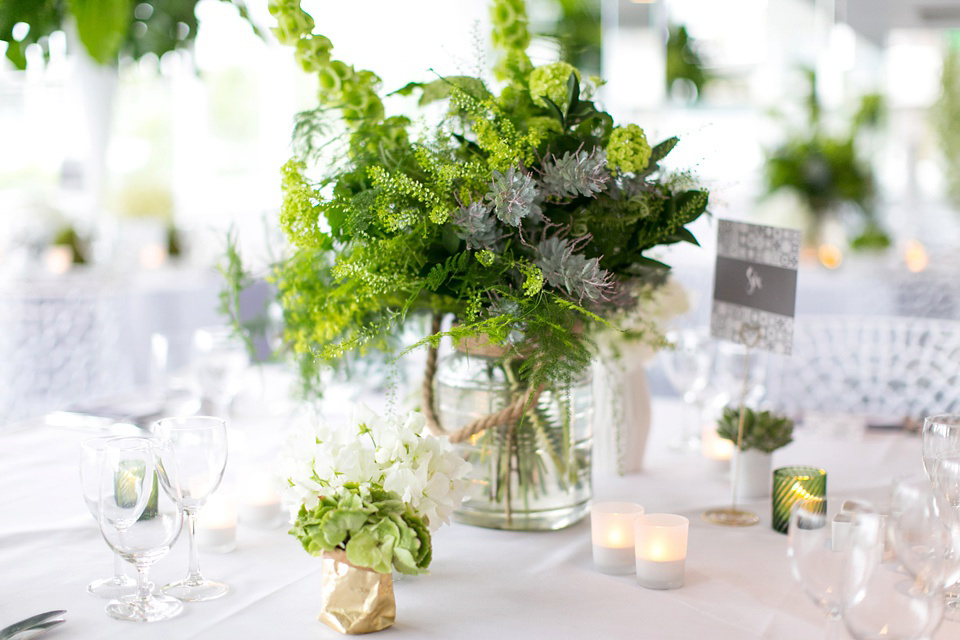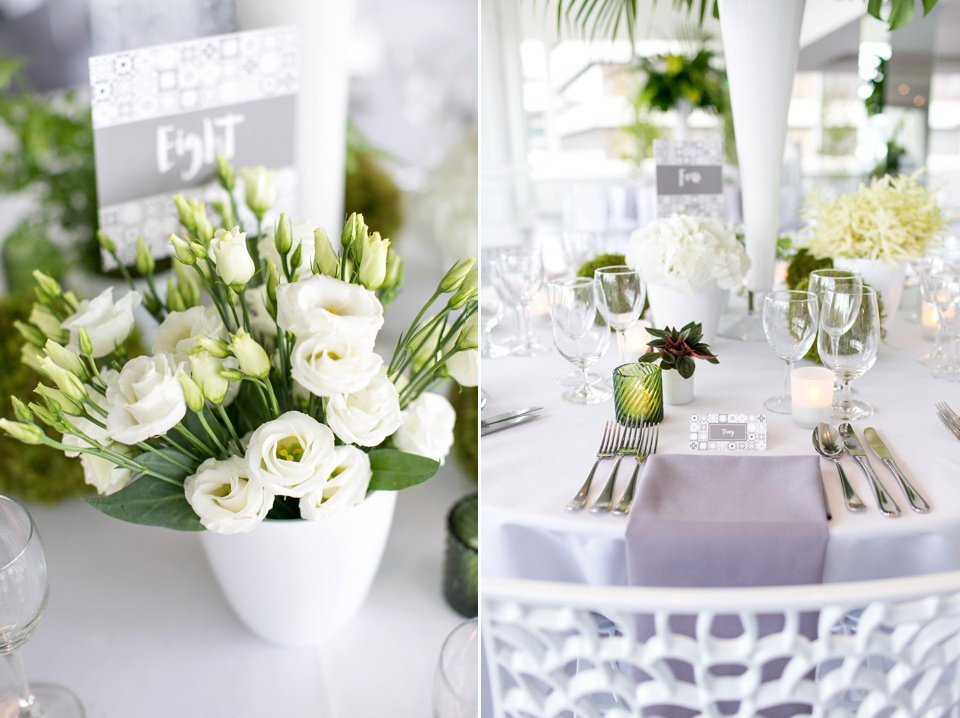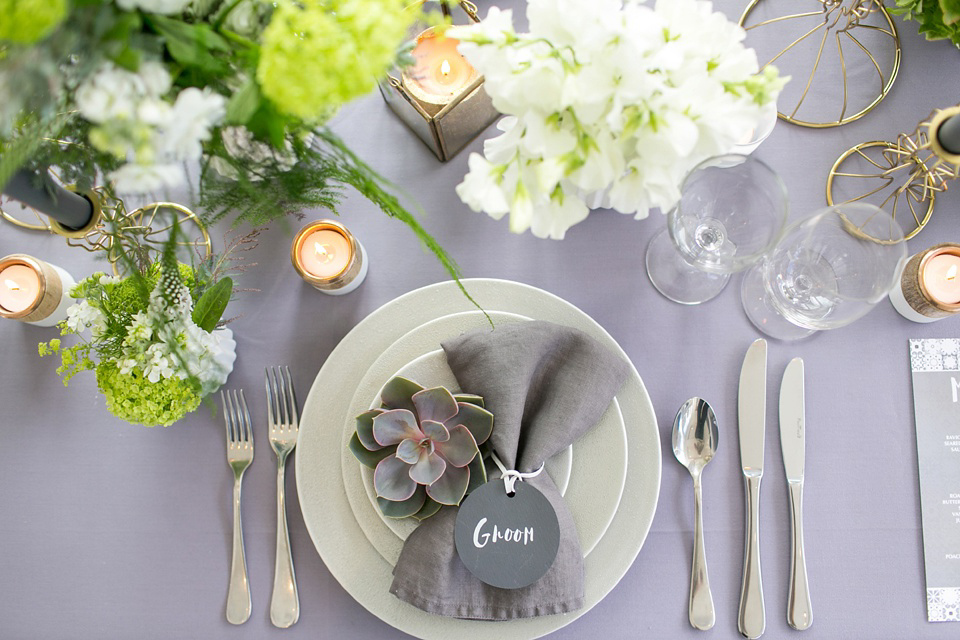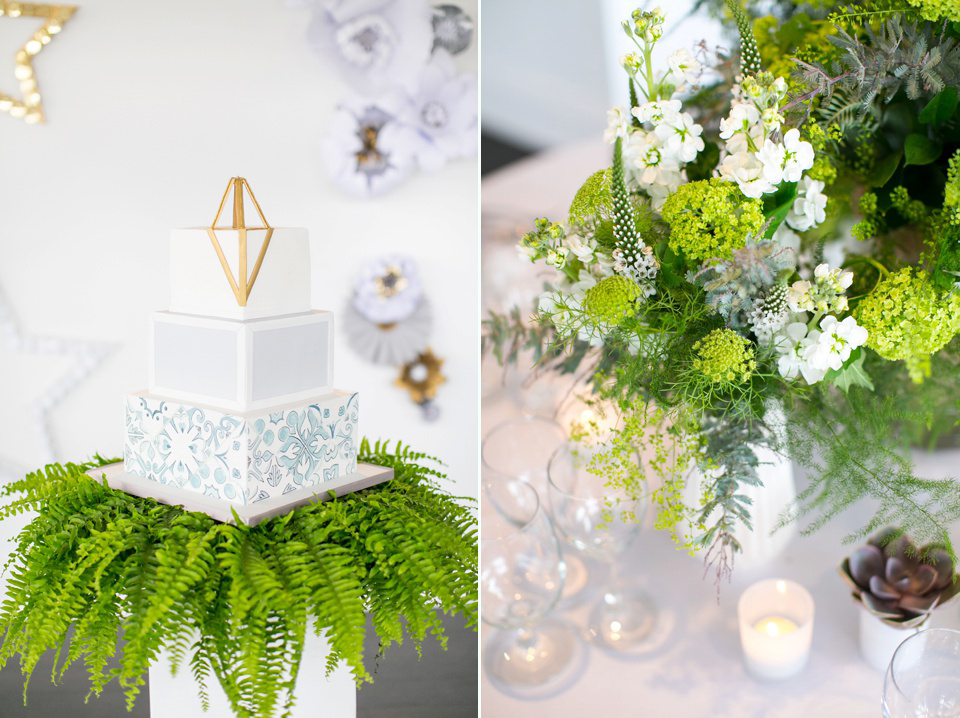 The Details
Bespoke signage made by Pocketful of Dreams, in just the right shade of stylish grey, led the way across the various zones, embellished perfectly with stunning paper flowers by Things by Laura.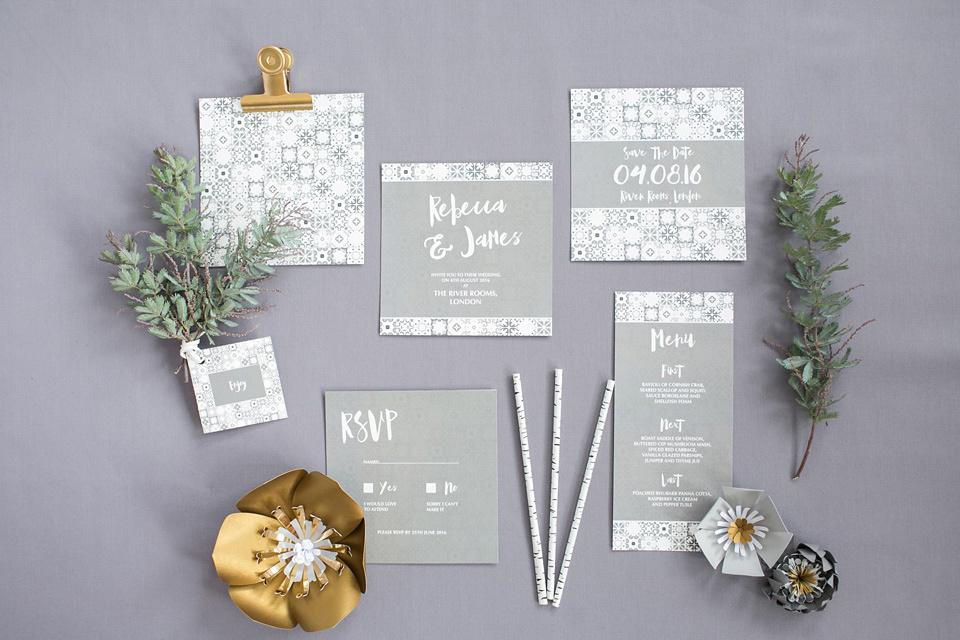 For the ceremony space Wildabout Flowers set the scene with a showpiece, living-wall backdrop made up of hundreds of different types of plants from ferns to succulents, wild trees ran the length of the aisle lit gently by candle lanterns, creating an almost enchanted feel. White web-like chairs added a modern touch to this space and were a lovely contrast to the warmth of the original wooden parquet flooring within the Queentithe suite.
To set the party scene in the lower River Room we created a welcoming cocktail lounge with a bar, several seating zones and fun decor elements.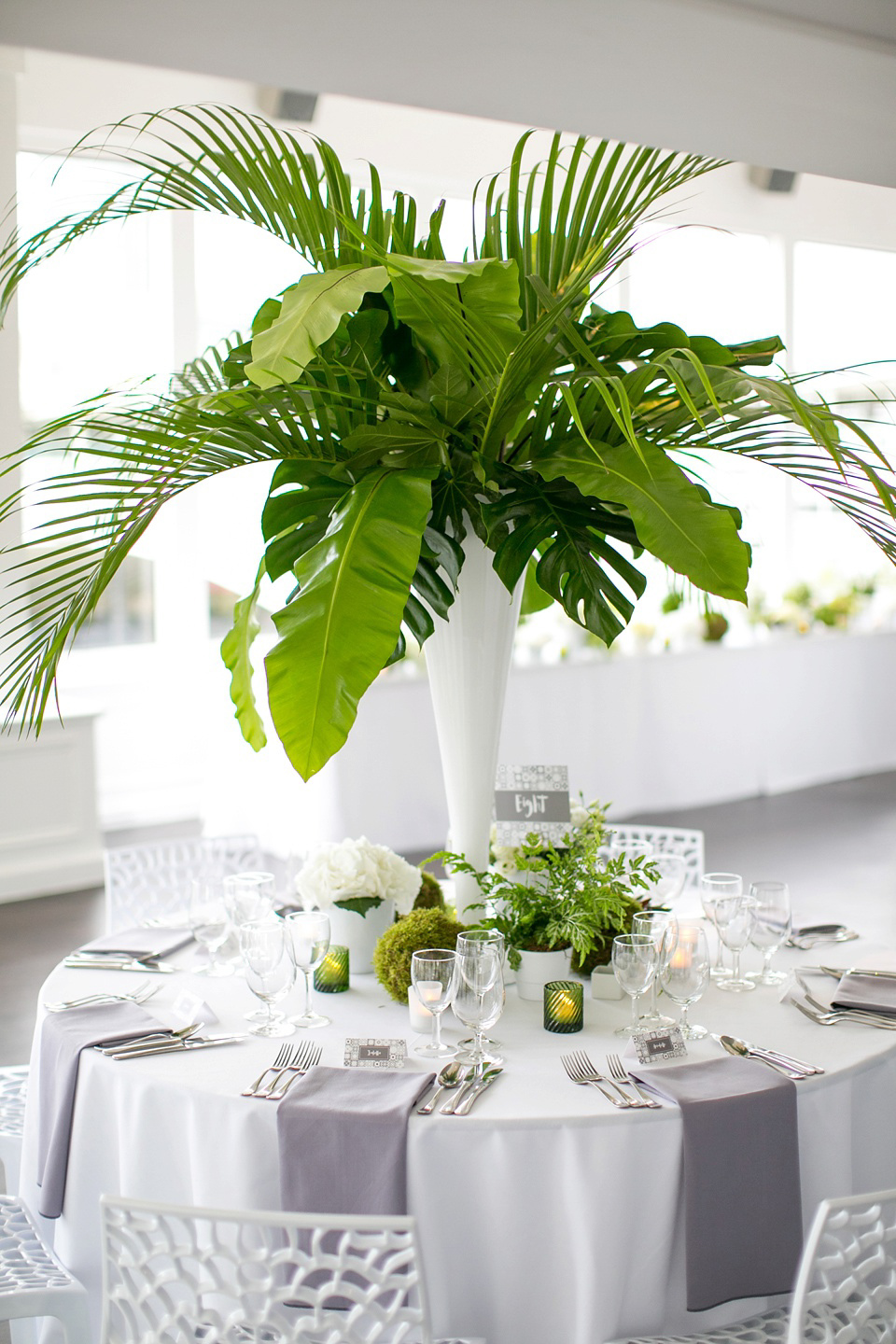 A custom, tile-print wrap was designed for the venue's function bar, the same print that appeared across the rest of the stationery suite for continuity of design. Behind the bar a cheers sign, framed by more spectacular paper flowers added the fun factor, whilst wild and organic florals were dotted around and even hung from above in macrame planters.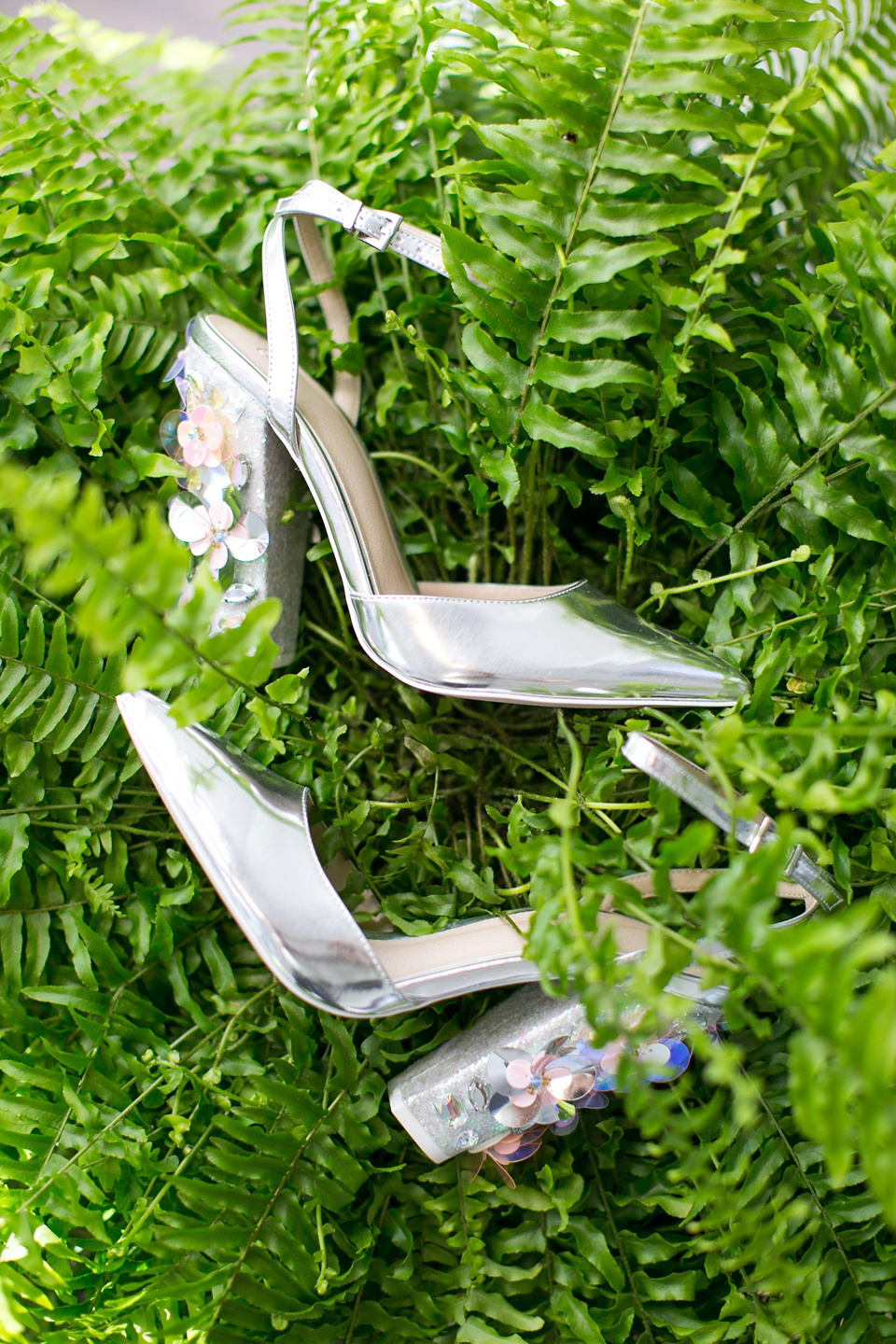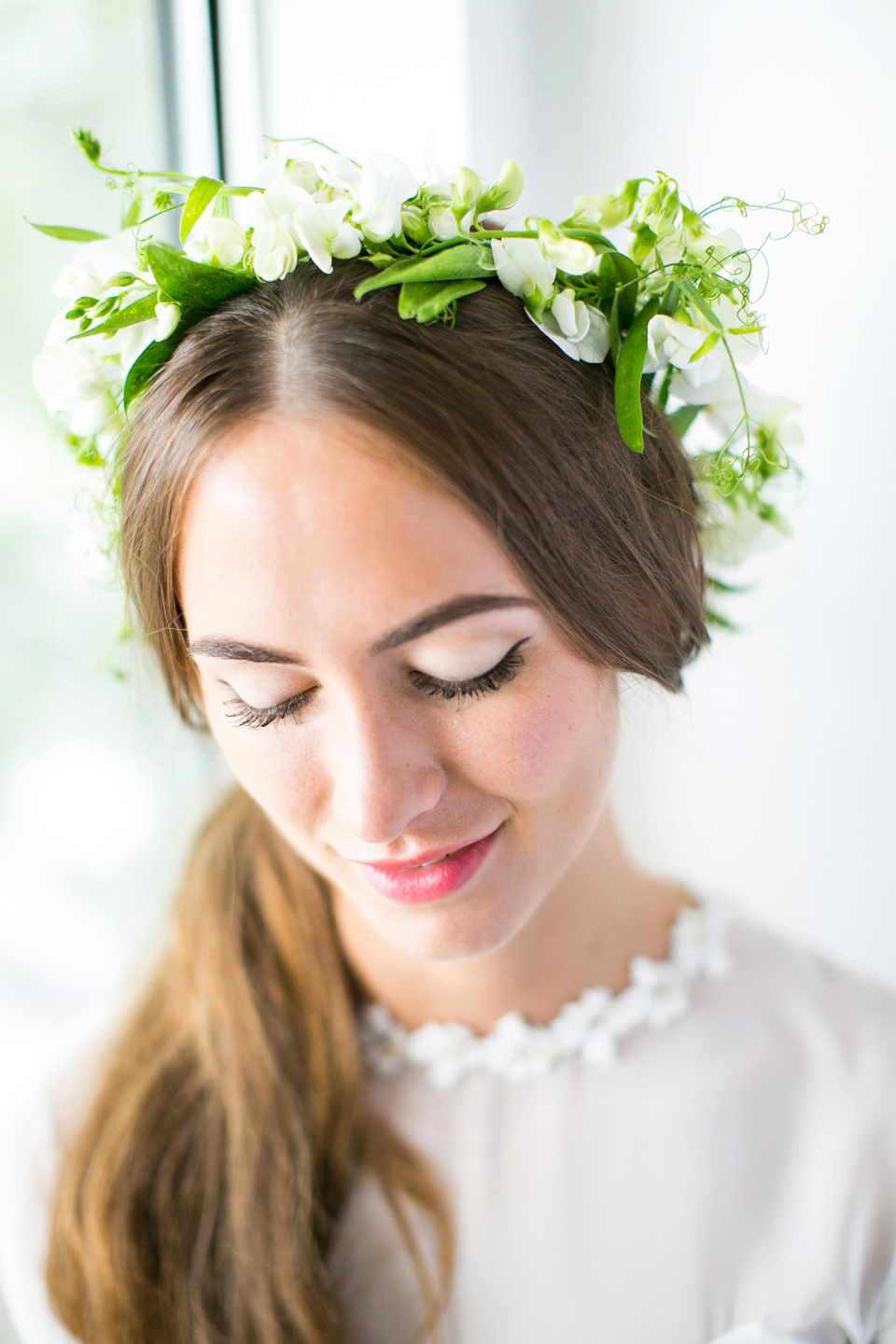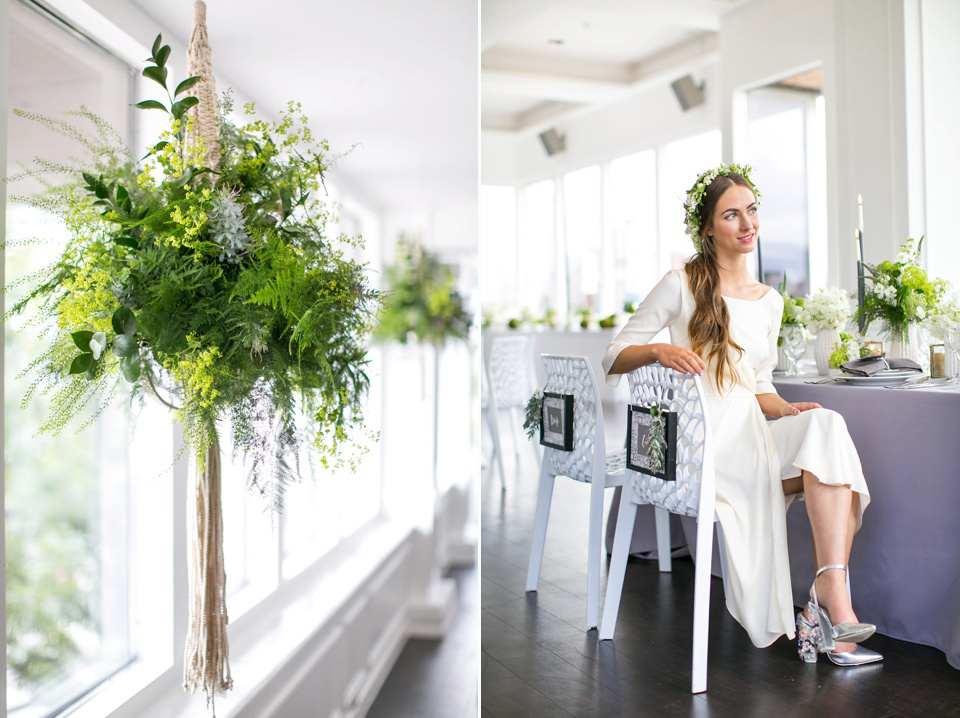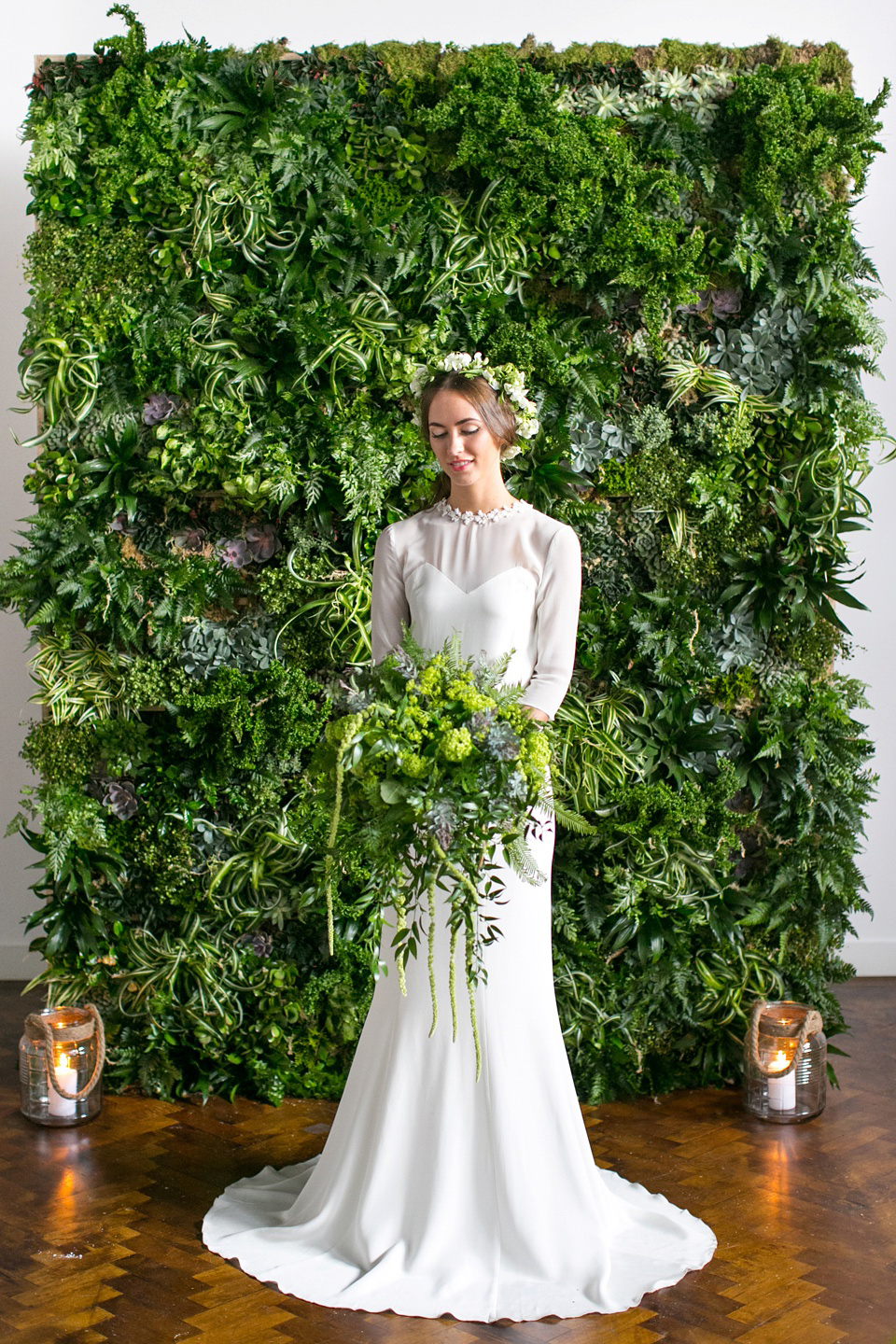 'Me and You' light-up letters from Doris Loves provided a lively focal point  – these are perfect for adding that party vibe and a great photo opportunity for your guests – we decorated ours with plants and flowers to keep the botanical feel flowing.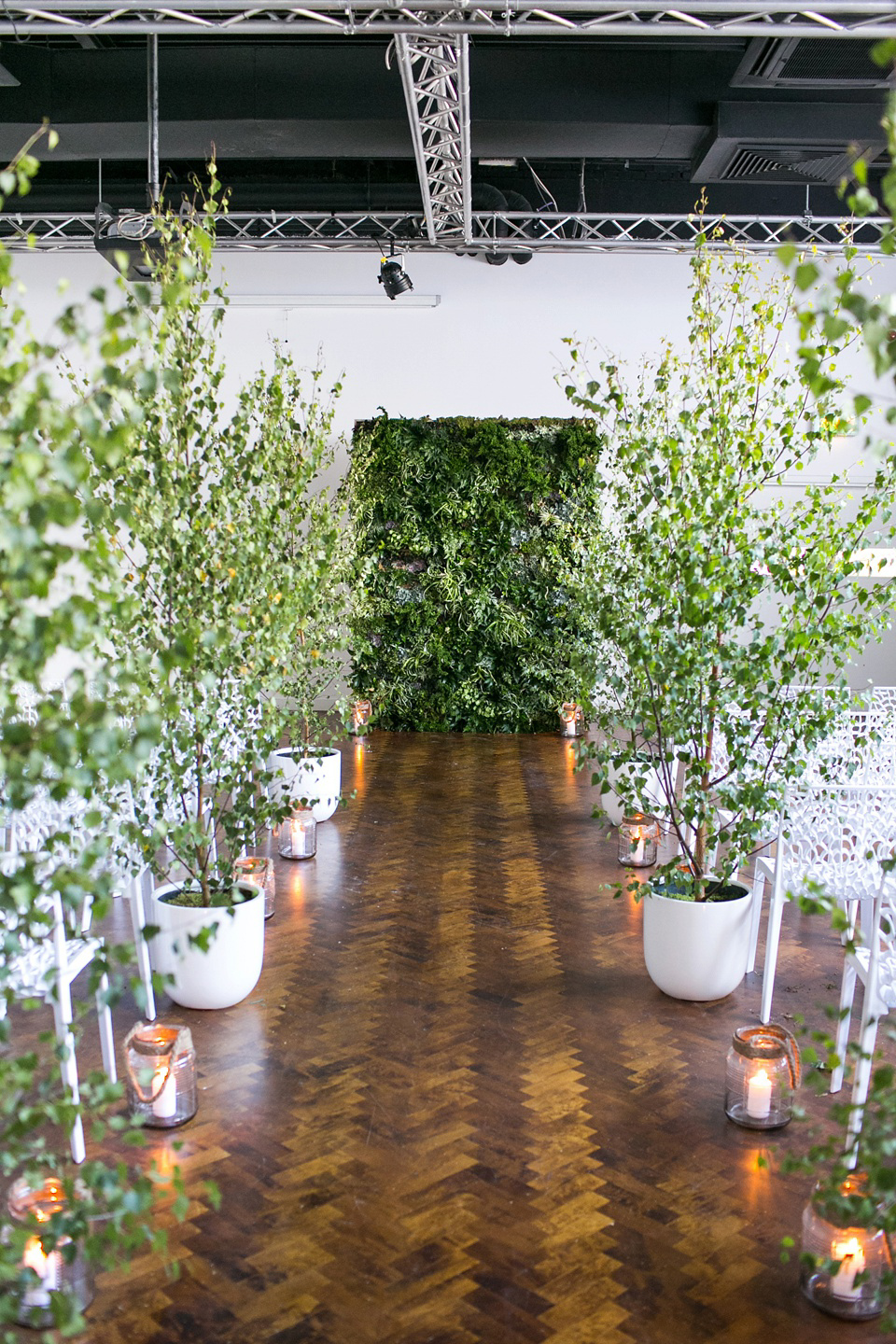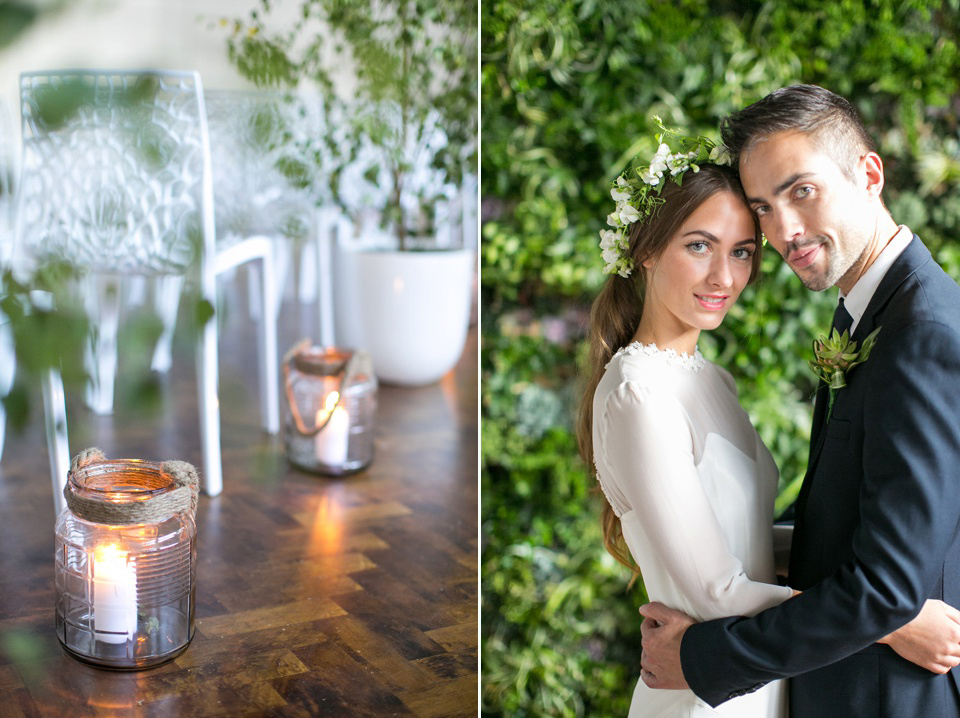 A clean and contemporary aesthetic was executed within the upper River Rooms dining space, so that we could make the most of those panoramic views over the Thames. Starting with a white canvas on the tables we added in soft grey napkins to co-ordinate with the tile-print menu's and place cards.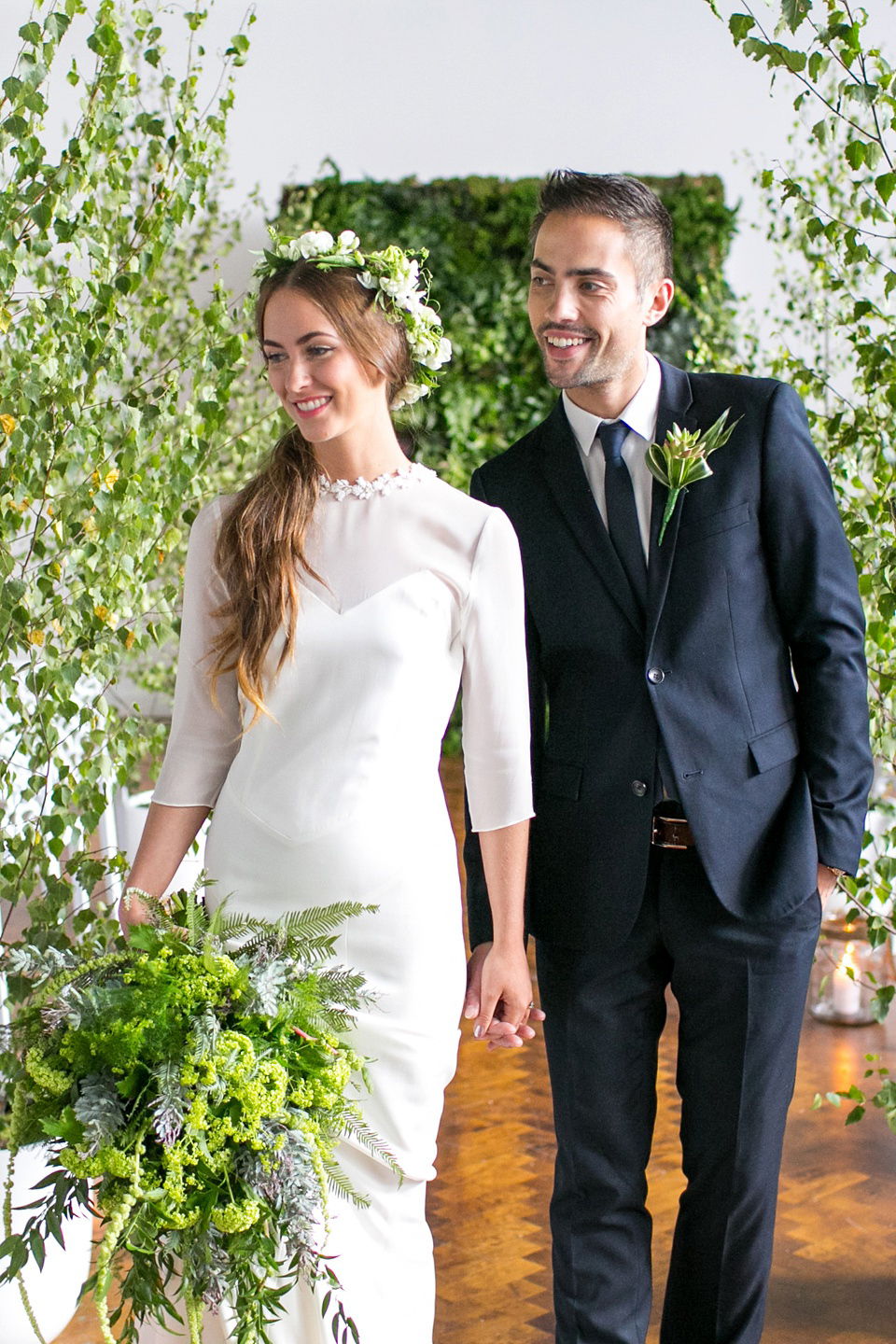 A variety of fresh and wild floral arrangements sat within white vases all bursting with organic beauty and offering up a plethora of tactile textures, whilst a mix of green and white candle votives completed the look. A contrasting sweetheart table was set for the bride and groom with a grey linen base, pleated ceramic vases and hand-dipped taper candles in brass holders. Names were hand-lettered onto grey-hued wooden tags, napkins tied together with white leather string and places set with a succulent head and individual menu.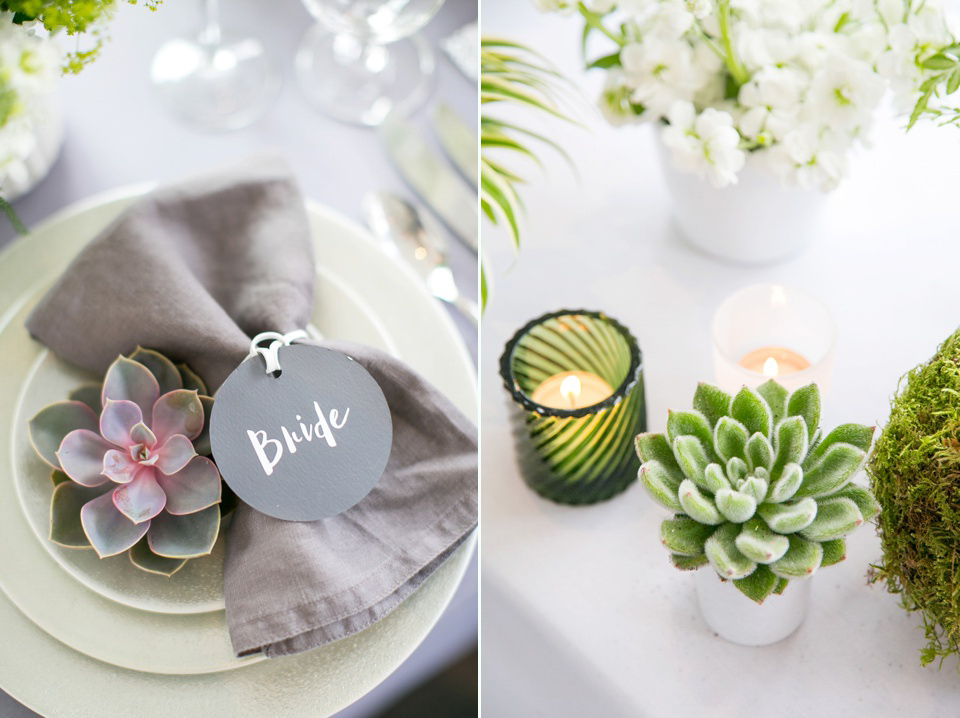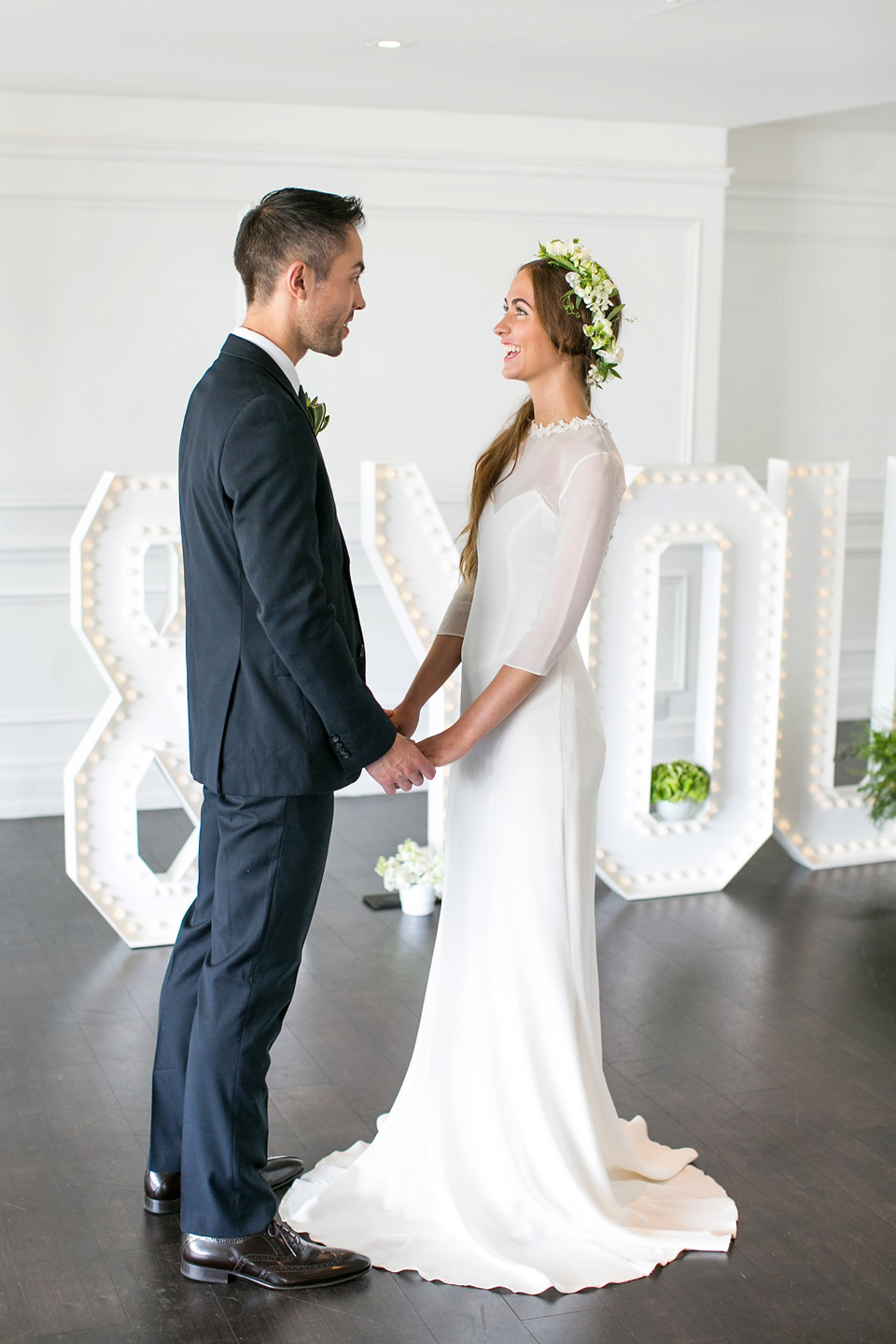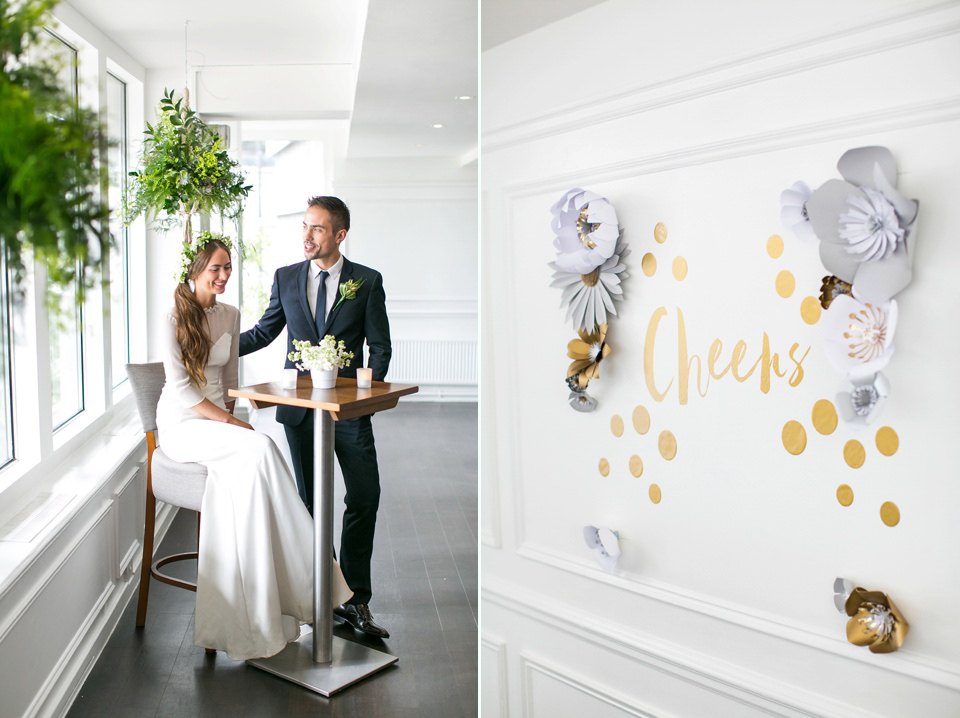 The cake by Ceri of Olofson Design was like a sculptural work of art, to mirror the surrounding City architecture. Ceri hand-painted the same tile-print from the stationery onto the cake and topped it off with a delicate geometric sugar-shape in gold. The cake was placed on a bed of ferns for an eye-catching and unique display.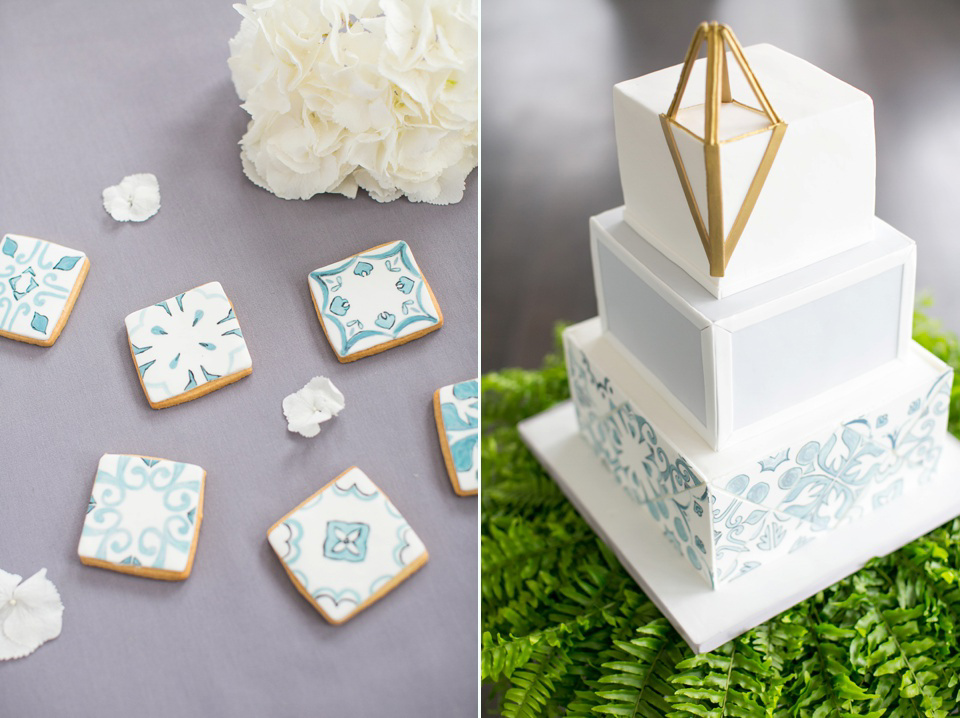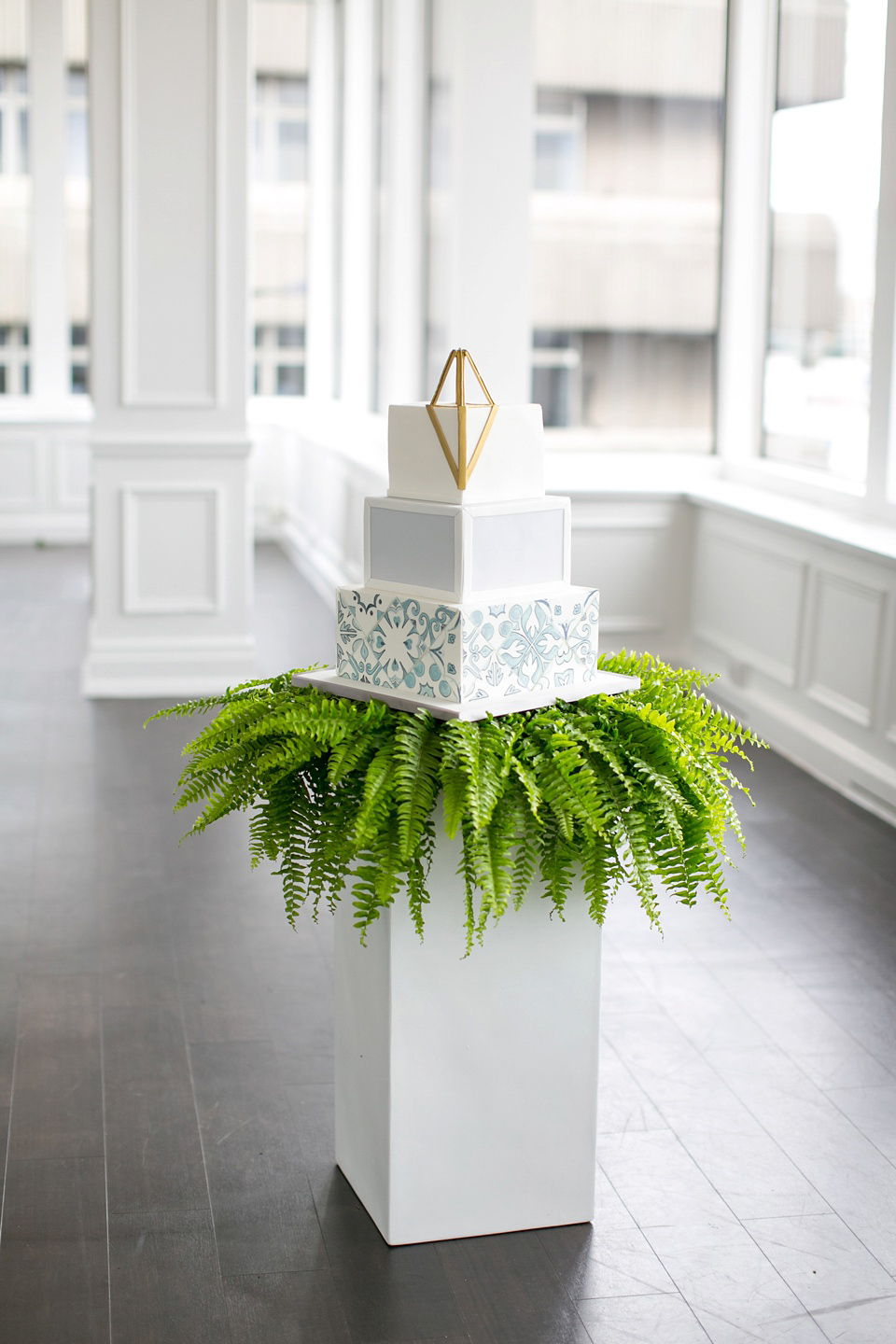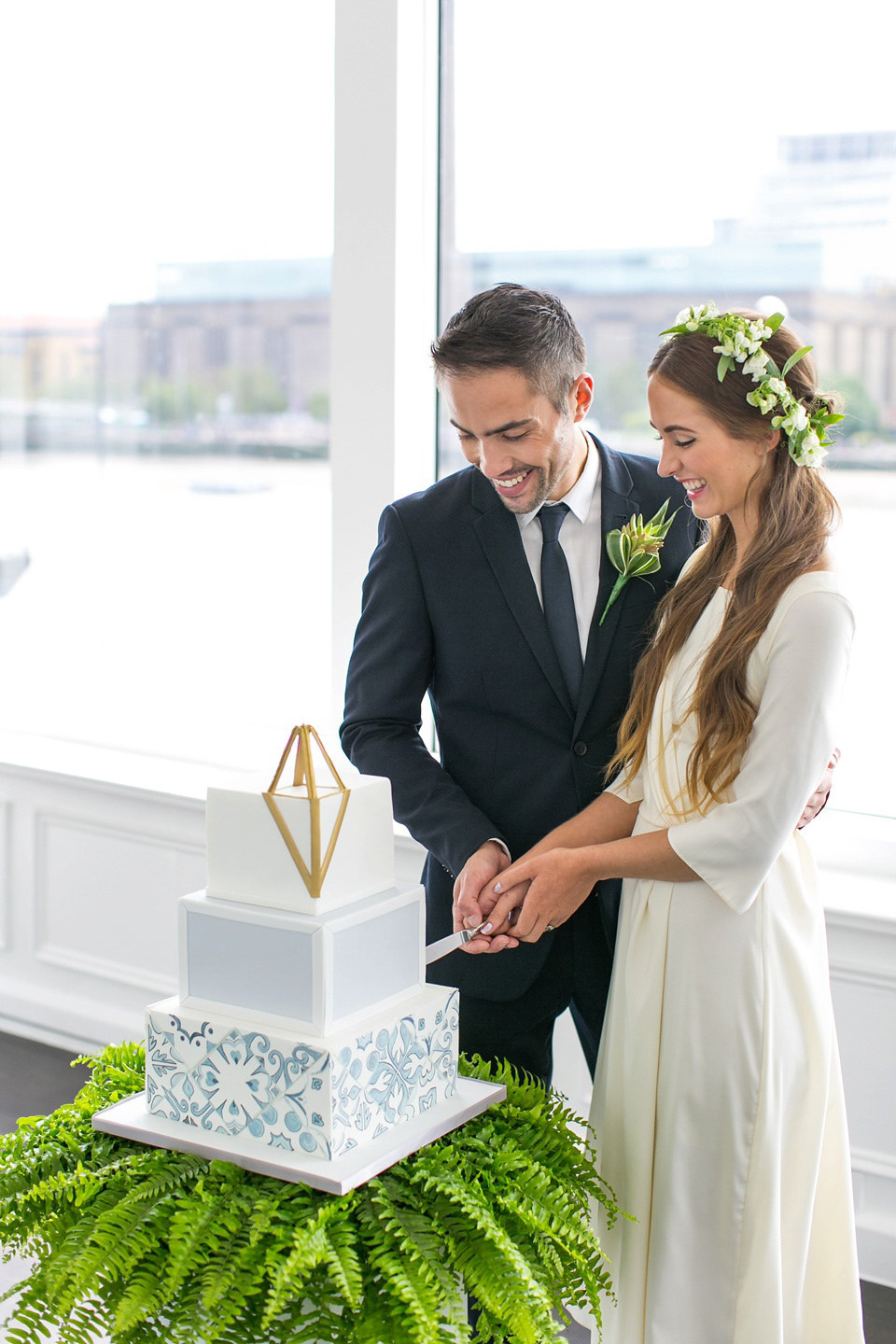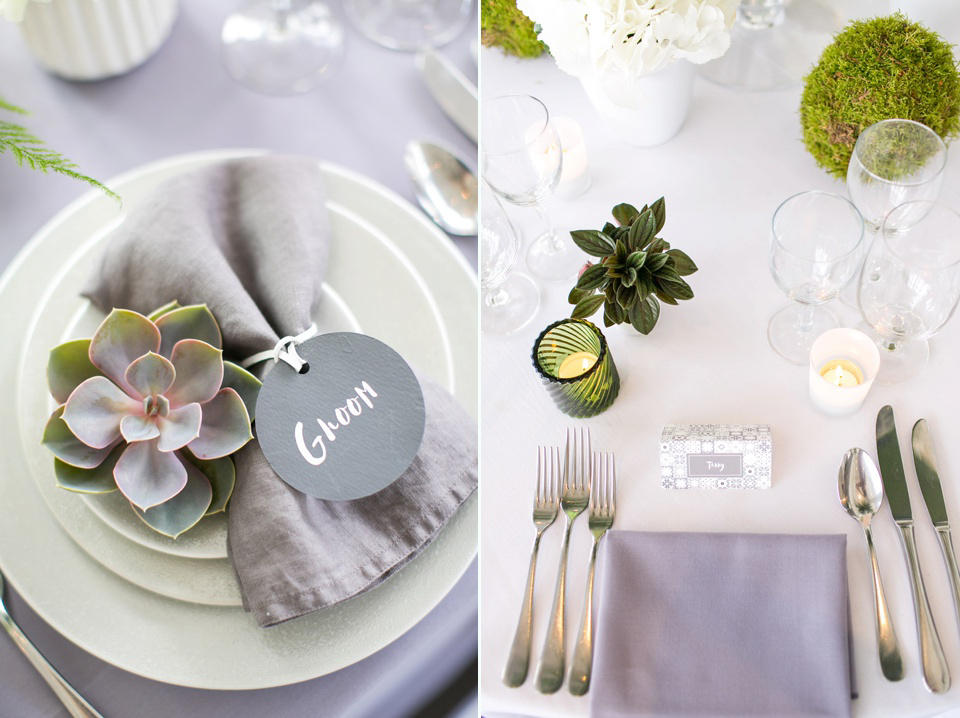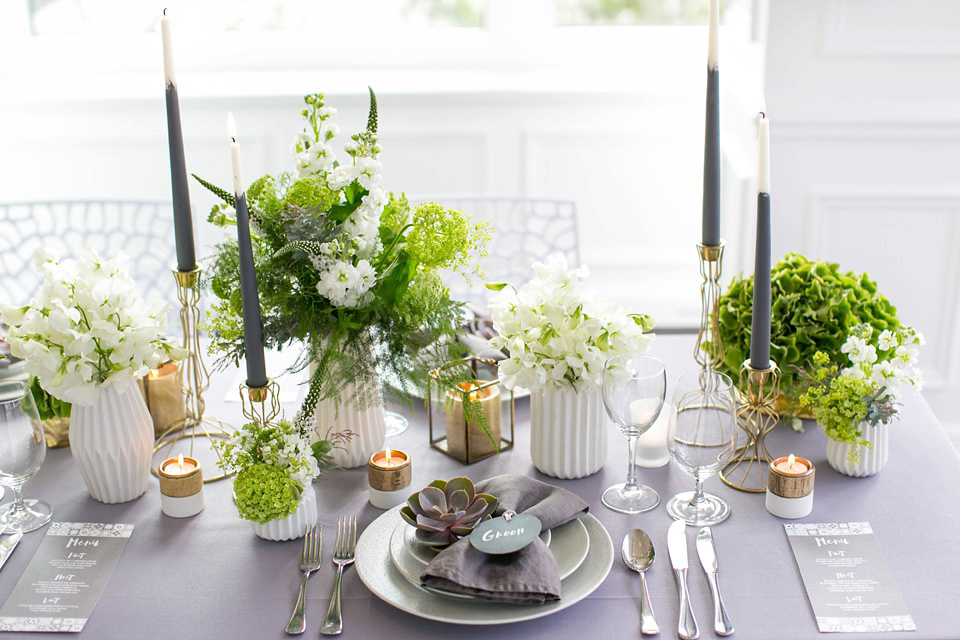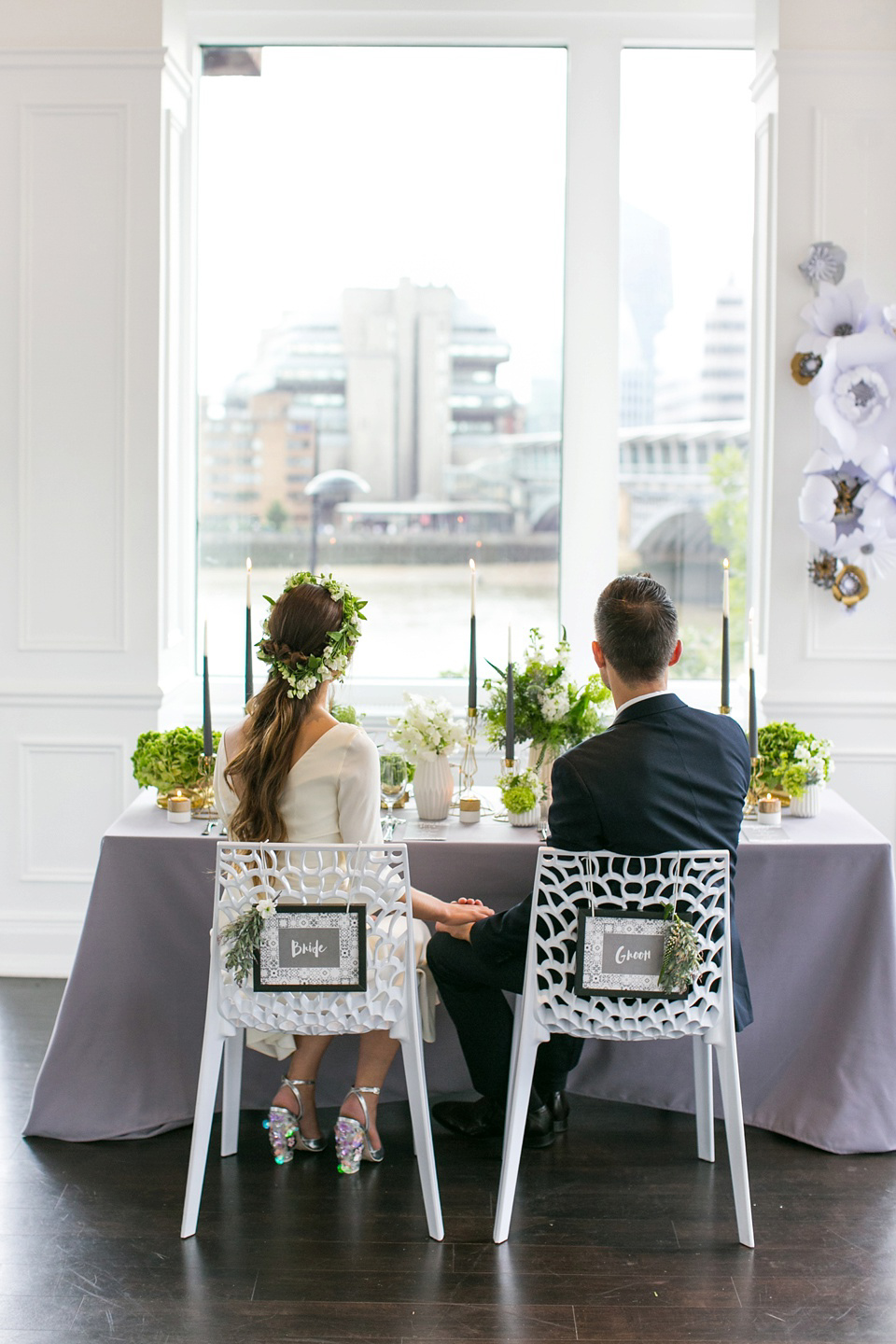 The Looks
Our bride wore several looks from the very latest collection of leading bridalwear designers Belle and Bunty. Their designs are made for the cool, modern, independent bride, one who wants make a fashion statement with her gown, so they were the perfect match for this space.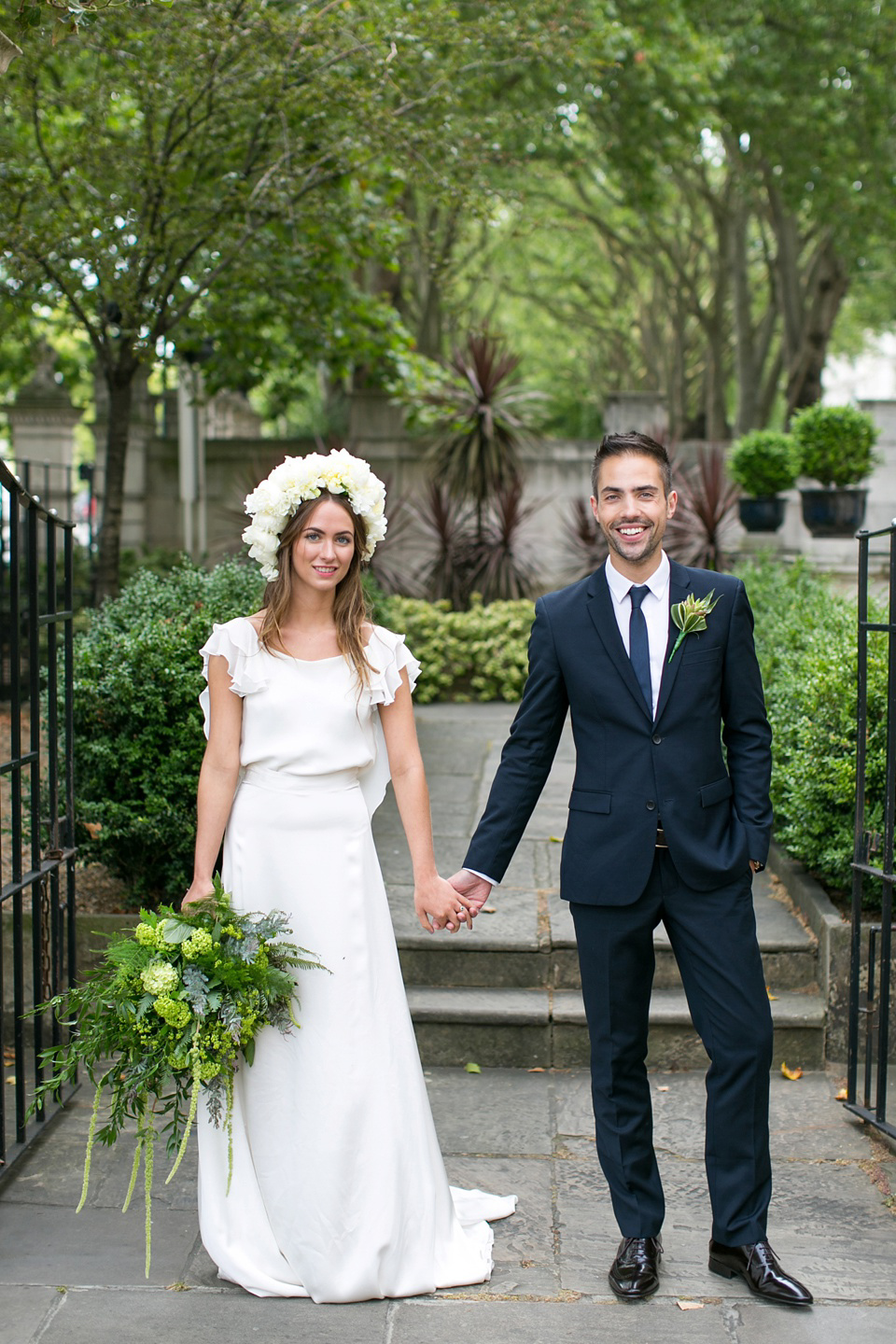 Starting with the clean lines of 'The Dusty', with its straight sleeves and high beaded neckline, a fusion of modern meets retro and the perfect level of simplicity for the wild and unstructured bouquet by Wildabout, the delicate sweet-pea floral crown added the final touch of beauty.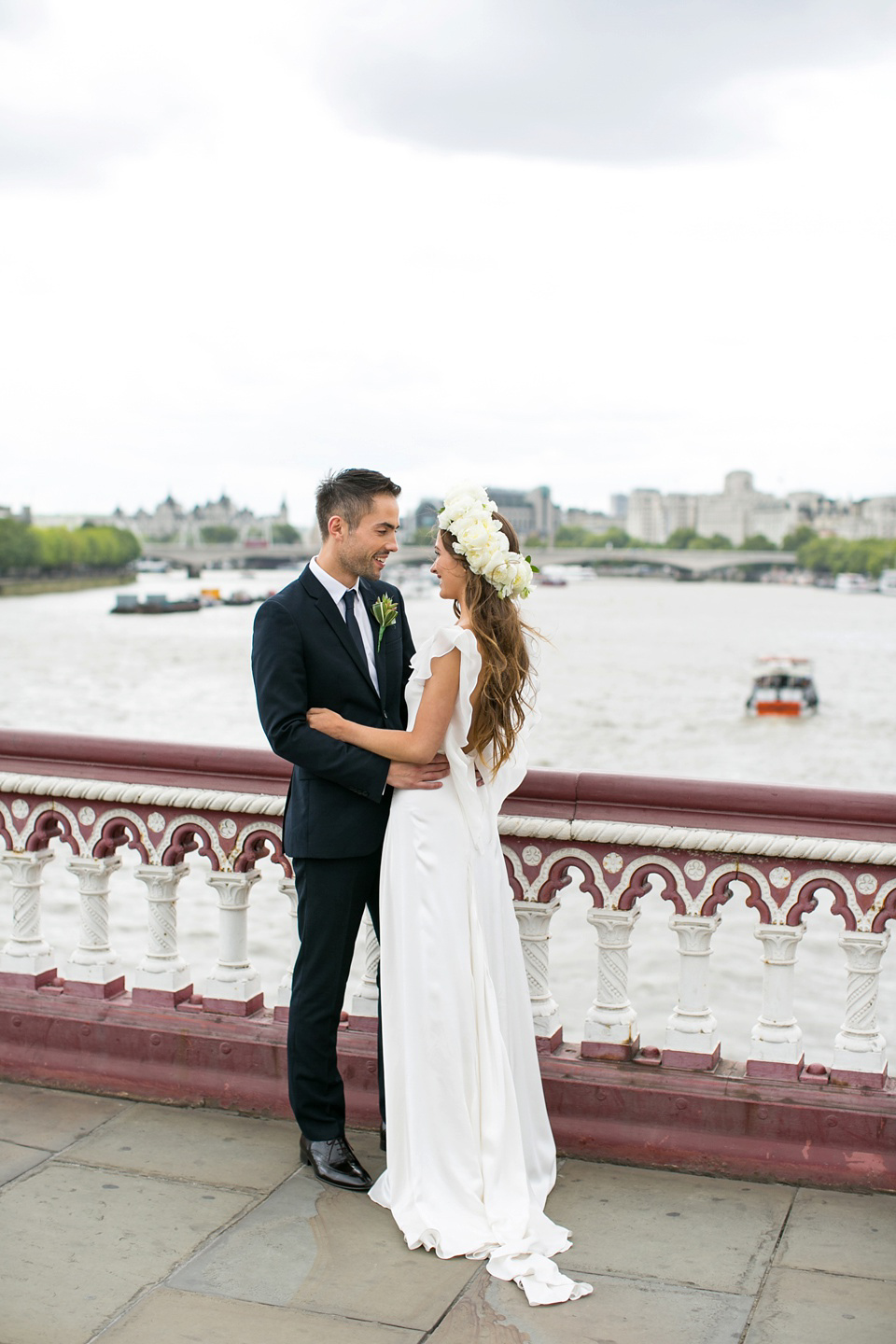 Next came a flirty shorter number 'The Theia Midi' oozing modern glamour, a great option as a second dress for partying the night away, we paired this with a more contemporary and structured bouquet.  Finally our bride wowed in fashionable separates, the delicate 'Brooke' cami top and billowing silk 'Scarlett' skirt. This look is more of a leading-edge take on the traditional wedding gown, and when topped off with a show-stopping floral crown it certainly turned a few heads as our couple took a stroll on the banks of the Thames.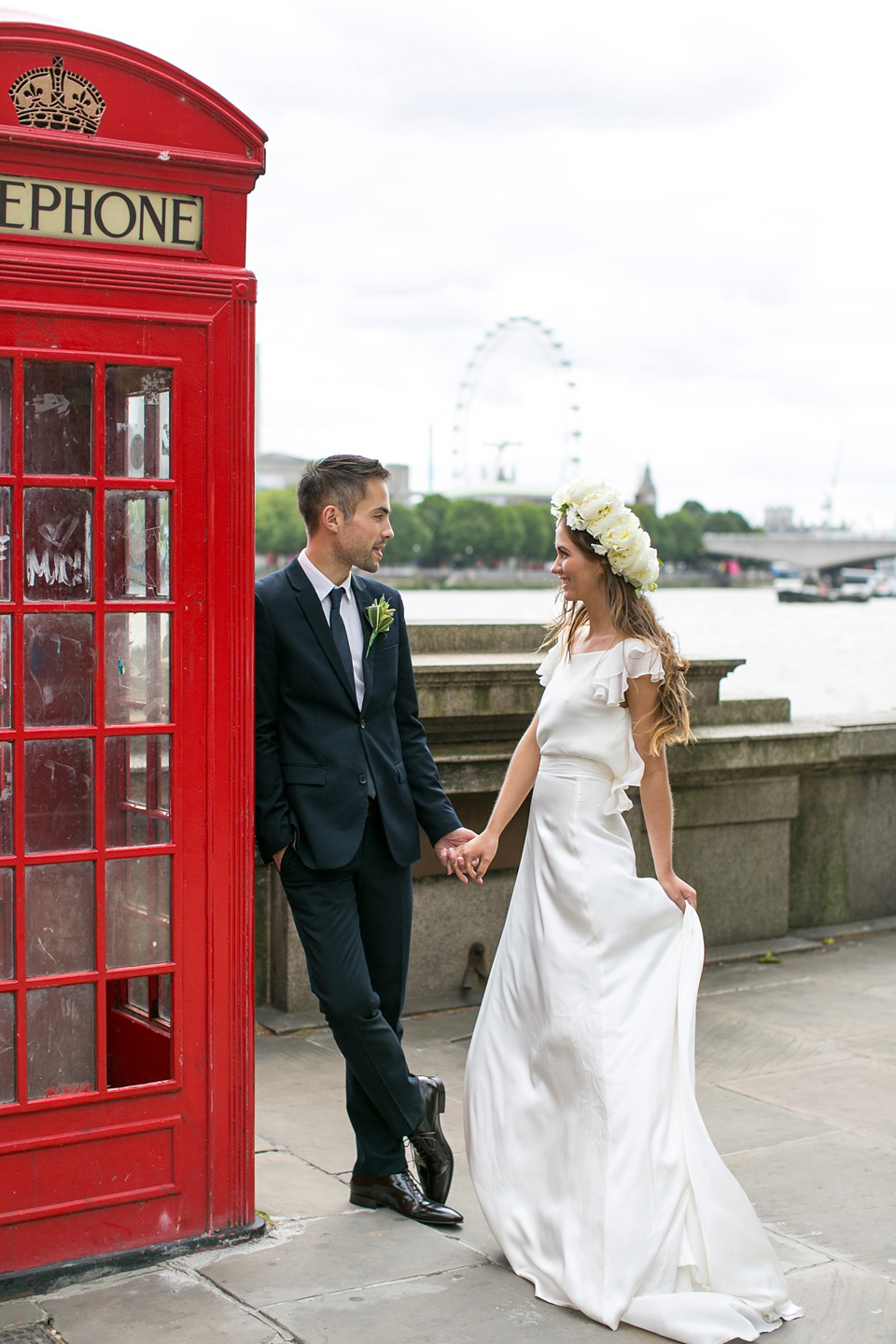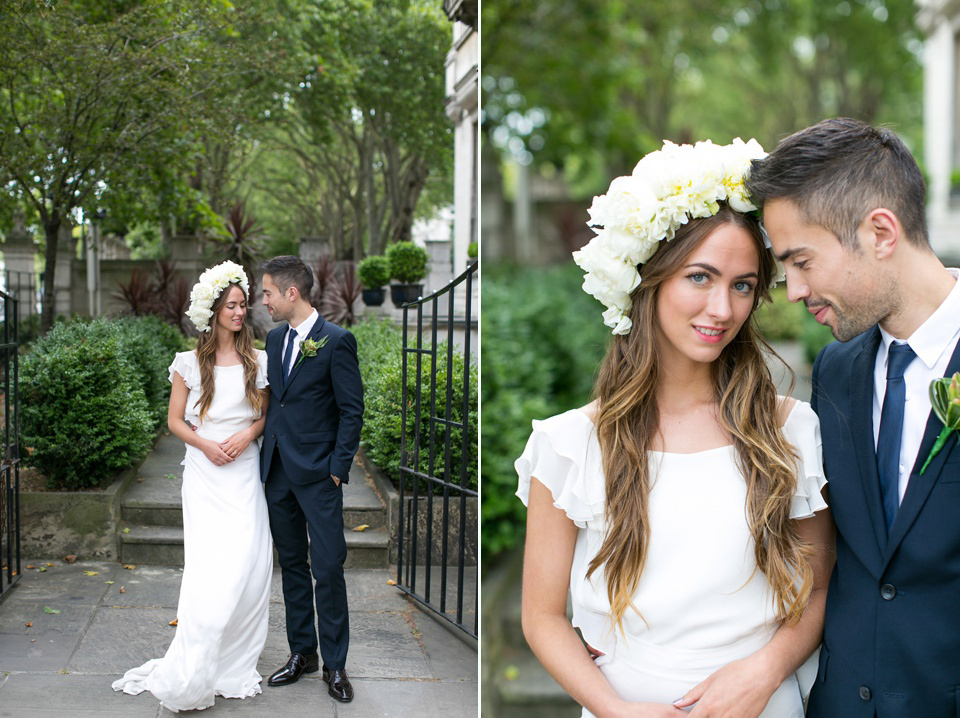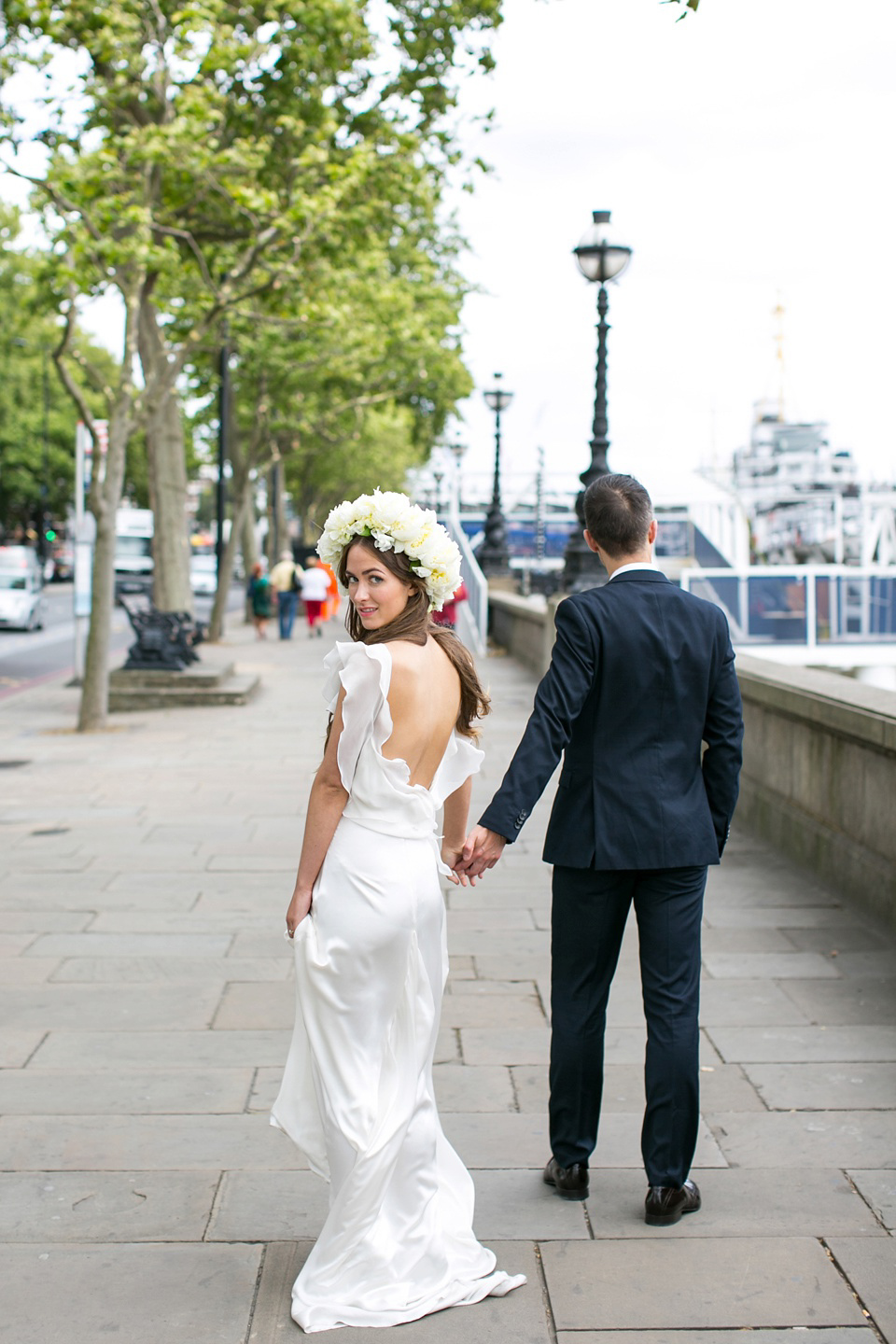 The area around the River Rooms offers so many opportunities for unique couple portraits, from contemporary architecture to views of key London landmarks you really are spoilt for choice.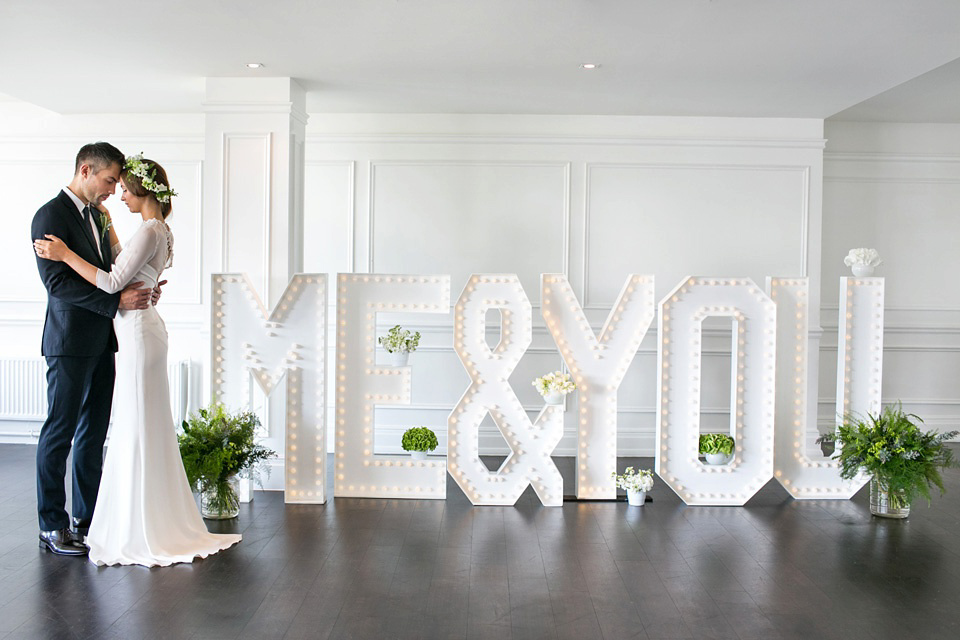 I hope you have enjoyed looking through these images this morning and would like to thank Michelle and the rest of the creative team listed below. Please take a moment to visit their websites.
Love Annabel x
Venue – River Rooms
Design and Planning – Pocketful of Dreams
Photographer – Anneli Marinovich
Bridalwear – Belle and Bunty
Cake design – Olofson Design
Paper decor – Things by Laura
Flowers – Wildabout Flowers
Hair and make-up – Jo Lorrimer
Light-up letters – Doris Loves
Furniture & linens – Well Dressed Tables
Stationery & Signage – Pocketful of Dreams