Hello all, can you believe its October already?  Today I turn 30, and I'm very excited about entering a new decade.  I don't know about you but more and more I feel that life is an adventure and we should grasp it with both hands and experience as much as we can.
On that note, my husband and I have just returned from holiday and, as is our usual trick, we've already started to think of our next one.  We both quite fancy exploring more of Italy, and after this beautiful Italian wedding landed in my inbox this morning, the decision is made!  These photos are so lovely- full of smiles and sunlight, and I'm sure they'll make you, like me, just want to hop on a plane immediately to soak up some of that wonderful atmosphere. Bride Katie and her groom Christie, married under the Italian sun on the 30th of May earlier this year, and were inspired by all things green white and red.
"We wanted to embrace everything Italian for the wedding; after all we were asking people to go abroad so it had to be different.  We wanted to have everything outside so our guests could enjoy the views and weather and the scenery provided the most beautiful backdrop to our reception.  We wanted the flowers to give a summery light feel to the table and I absolutely loved the lavender place settings."
Photography by Charli Photography
Charli Photography is a member of Little Book For Brides®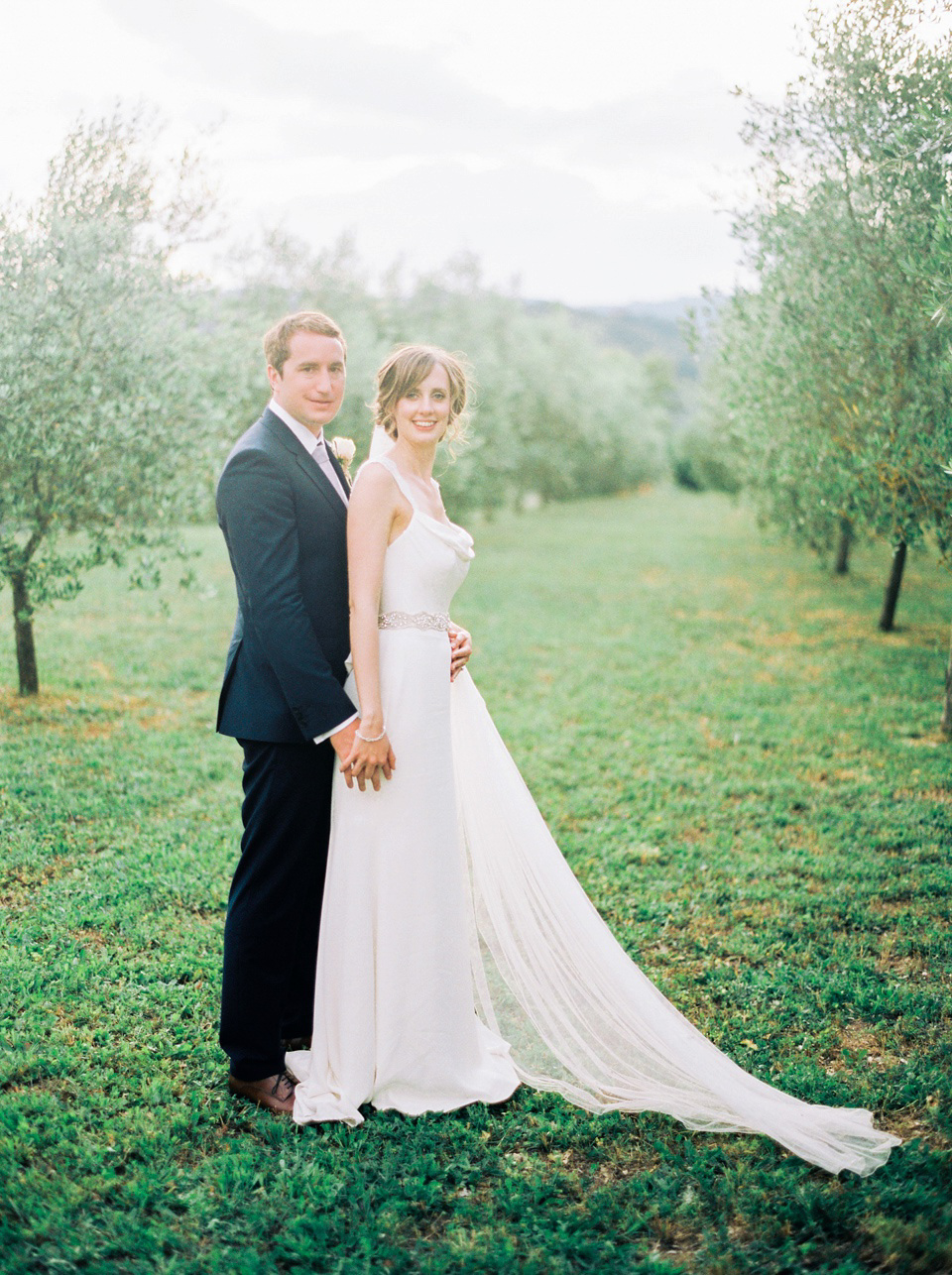 Katie was transported to the ceremony in the cutest little white Fiat 500, rented from local vintage car and scooter hire company, Slowhills, which fits the charm of this wedding so beautifully.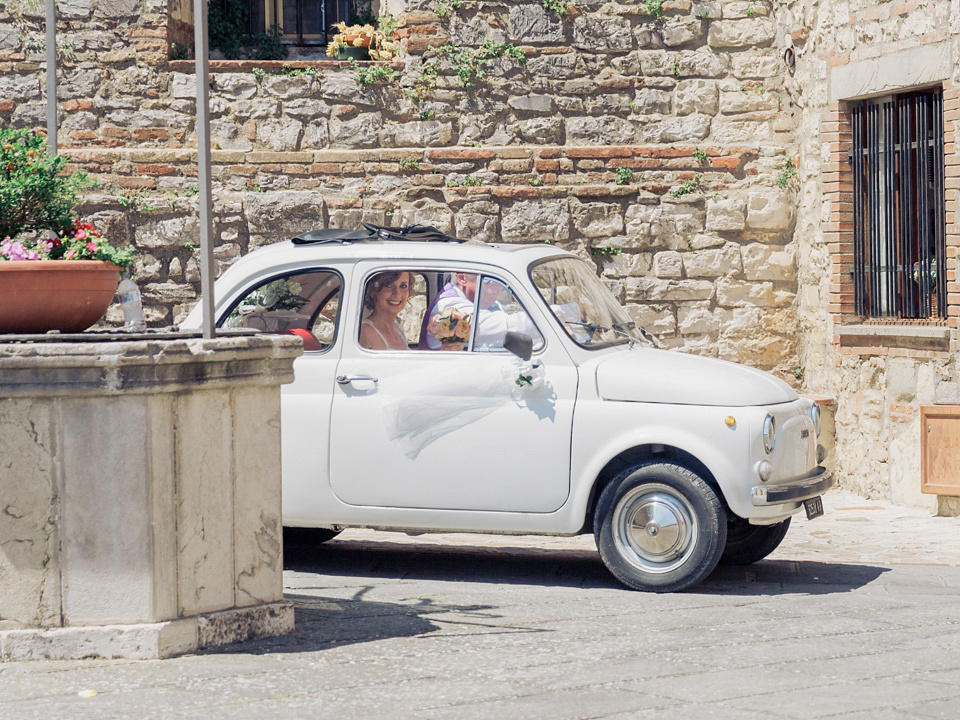 The couple chose Charli Photography to capture their special day.  Charli was the photographer at a wedding at which Katie was bridesmaid and she very much liked the way Charli worked and the photos she produced.  Her images are so full of light.
Katie's gorgeous cathedral length veil was also the work of Stephanie Allin, while her brooch came via Not on the High Street, by a designer called Highland Angel.  Her earrings were from Olivier Laudus and her bracelet from Debenhams.
"We love the natural style of Charli's photos – the thing that drew us to her for our wedding is the fact that she manages to capture the complete story of a wedding. Her use of lighting and the set-up of the shots is amazing. Charli was really pro-active and I felt like she was in complete control of everything so I didn't need to worry about the photos, which was fantastic given the amount of other things that needed my attention.
Charli was always really friendly and genuinely excited which made us feel more excited about the wedding."
"On the day Charli was so professional, easy to work with and kept everything going in the right direction even though the timings of the day had slipped considerably! She had planned meticulously and knew all the best places for photographs and even managed to grab us at exactly the right moment for the sun to come out from behind the cloud for 10 minutes at sunset!
She went above and beyond, from calming me down when the wrong flowers turned up to hanging out of a car to get photos of us driving our Fiat 500 back from the church!"
"We couldn't have asked for a better photographer and couldn't be happier with the photos we've received. They are beautiful and bring back so many happy memories when we look at them. I don't think there is one photo I don't like!  Booking Charli was the best decision we made for the wedding. She's given us something that we can cherish for the rest of our lives.
We would recommend her to anyone – she's a fantastic photographer."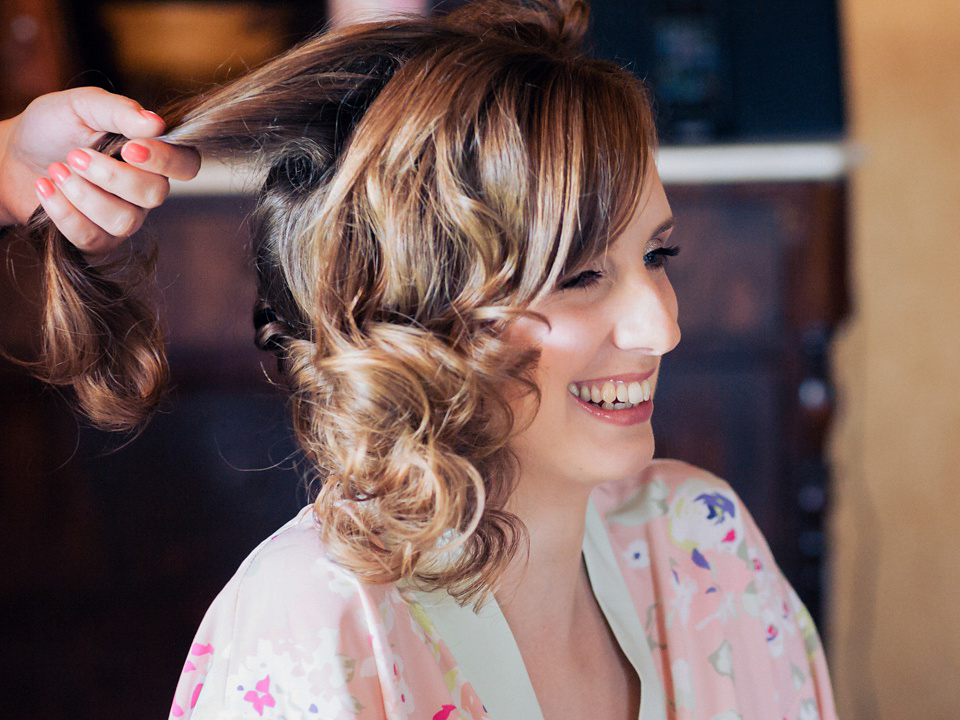 Katie's beautiful dress had an unusual cowl neckline and the most gorgeous detailed back and was purchased from Stephanie Allin.  The shape suits her slim frame perfectly, don't you agree?
"This was the dress that made me stop and say 'Oh'.  Up until I tried this dress on I had been in and out of dresses very quickly – just knowing that they weren't right.  With this dress I stopped and thought 'this feels different'.
"The dress was not at all what I expected but I loved it and didn't want to take it off.  I did make alterations to the dress as it originally came with spaghetti straps and I really wanted lace with a keyhole back to add detail.  The team at Stephanie Allin were so helpful and made sure that the dress was everything I wanted."
"I loved my dress because it was light and felt soft to the skin so it was unbelievably comfortable whilst being beautiful.  The lace back and jewelled belt were my favourite parts."
Katie's two bridesmaids looked gorgeous in dark blue knee length dresses from Dessy, purchased at Les Trois Soeurs in Canary Wharf, worn with their own shoes, and hair accessories from Accessorize.
The flowers were sourced locally by the venue, and aren't they stunning?  I love the pink and peach shades of the blooming roses contrasted with the white of baby's breath and the lavender everywhere. They're very beautiful, and must have smelt incredible.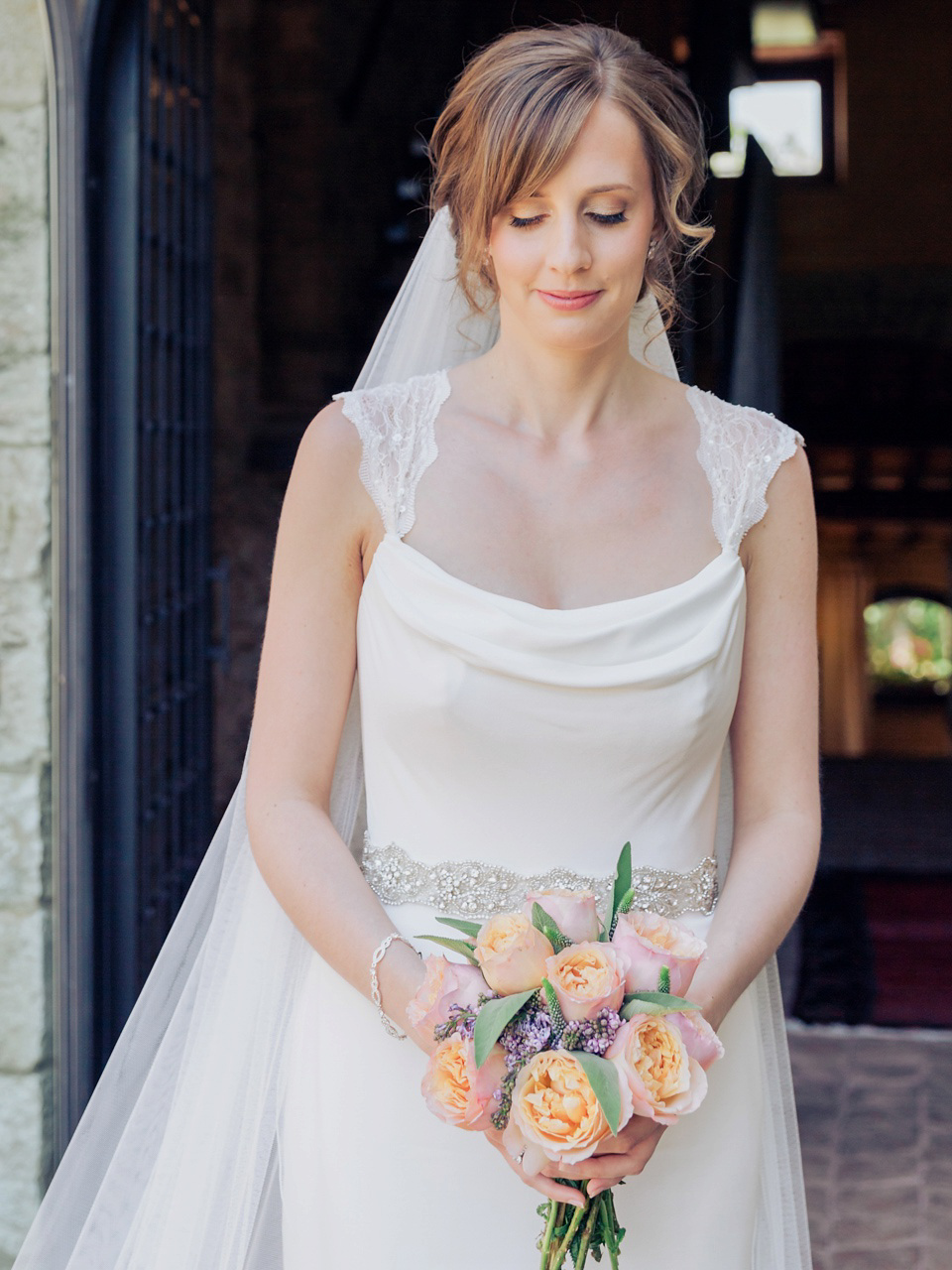 "The ceremony was held in SS. Filippo e Giacomo church in Monte Castello di Vibio (a really tiny town that just oozes old world Italian charm from the tiny streets to old men sitting in the church square drinking coffee and chatting). Our reception was held at Tenuta di Canonica, an old monastery in the countryside surrounding Todi."
"It took two trips to Italy to find our dream venue but when we stepped out of the car at Tenuta di Canonica and walked across the lawns to the entrance I just had a feeling that this was it (corny as that sounds!) The views were breath taking, the building was beautiful and it felt quiet and tranquil.  When I turned to Christie and saw a huge smile on his face, I knew that our search was over."
Aren't the views just something else? And those wonderful tiled floors and all the shutters and the window boxes and all that old fashioned charm…  I could admire it forever.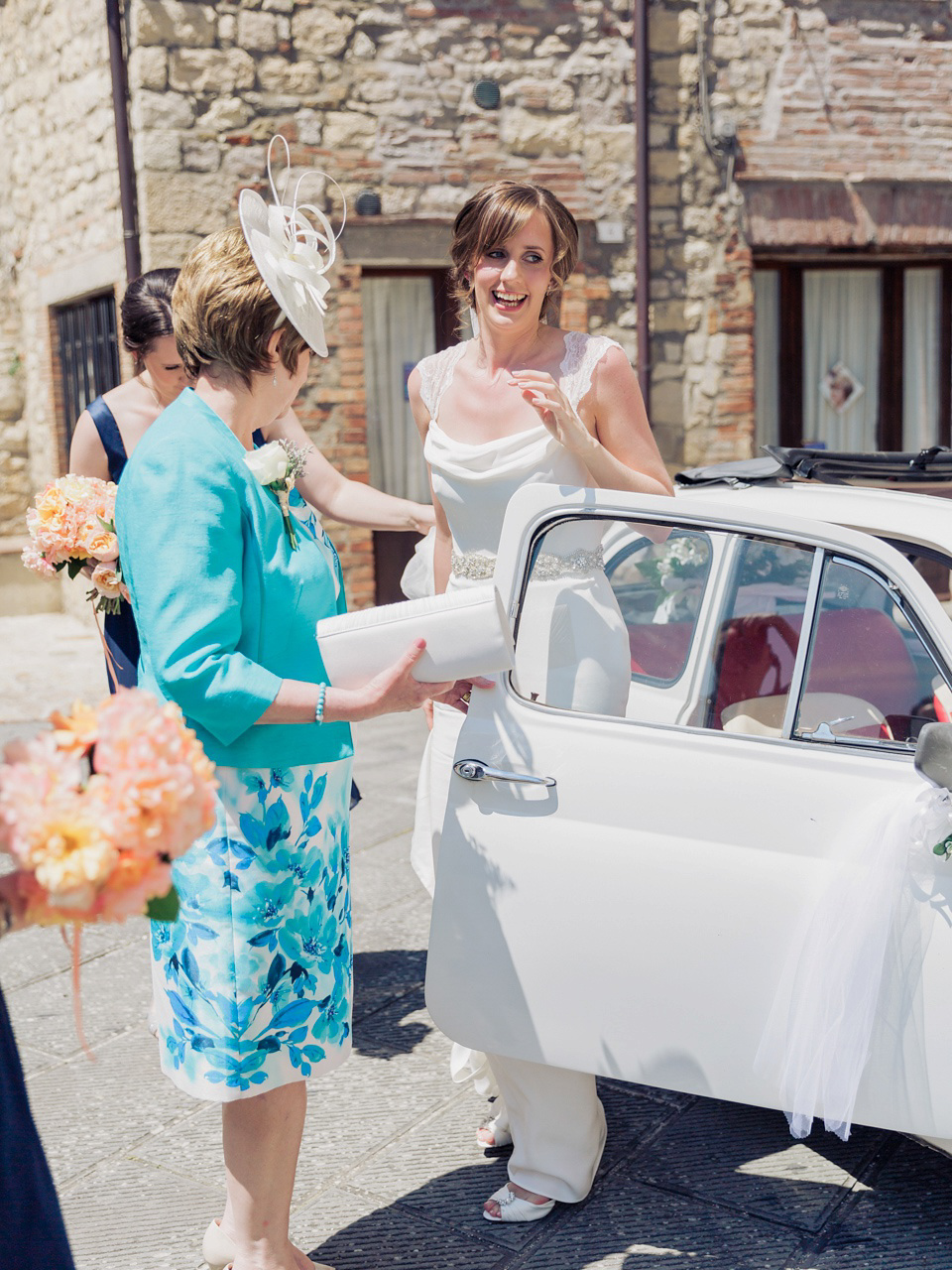 Katie was walked down the aisle by her Dad to Canon and Gigue in D Major.  The church really is stunning isn't it?  How incredible it must have felt to walk along that aisle…
The ceremony was the traditional Catholic wording, with the time-honoured vows.
"We didn't have much flexibility with the readings so didn't have any modern readings.  We had: A reading from the book of Ecclesiasticus, First letter of St. Paul to the Corinthians, (Gospel) Matthew 5: 1-12
We chose these pieces because they had a lot of meaning in the context of getting married and were happy readings."
"Christie and I met on a blind date nearly 7 years ago.  My friend was going out with his identical twin brother at the time and she decided that we would be perfect for each other and insisted on setting us up!  I was very sceptical at the time but look where it got us! 
Christie surprised me with a trip to New York for New Year and proposed at a restaurant overlooking Central Park a few minutes into 1 January 2014.  We'd had a really tough 2013 so it was poignant to start the New Year with good news."
The happy couple sourced their rings from L&S Designs, who are based in London's Hatton Garden.
"Lester & Spencer made my engagement ring and it was such good craftsmanship that we wanted to get our wedding rings from them too.  They were a pleasure to work with."
Christie sported a classic and dashing Hugo Boss suit, with shoes and belt from the same designer, and completed his outfit with a silver tie from TM Lewin.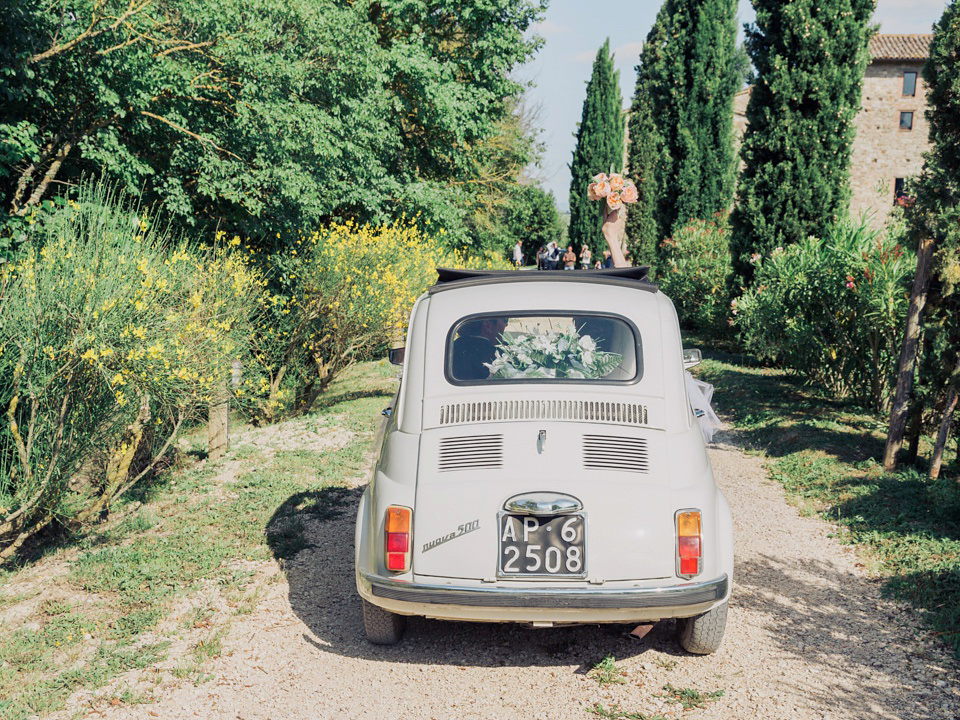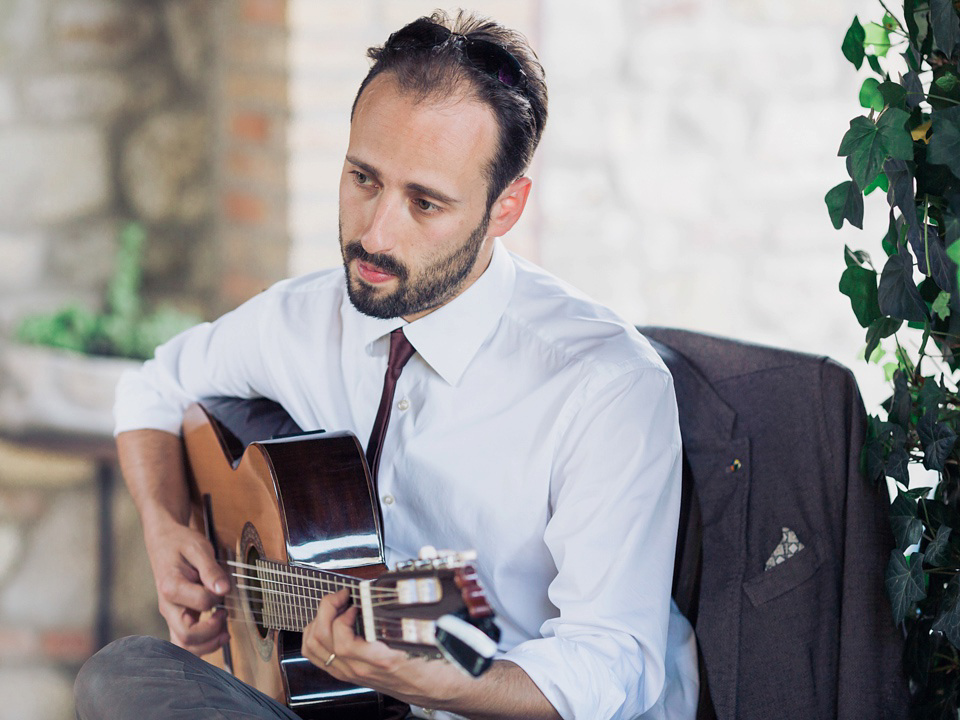 Catering was provided by the venue and the couple made the most of the beautiful Italian sunshine by choosing to serve their wedding breakfast outdoors under a wonderful white awning.  I adore the clean freshness of the white table settings and the sun sparkling off the crystal glassware.
The wedding cake was the work of Katie's own mum.
"She's a fantastic baker and put so much hard work into the cake.  I loved the edible lace around each tier – simple but elegant."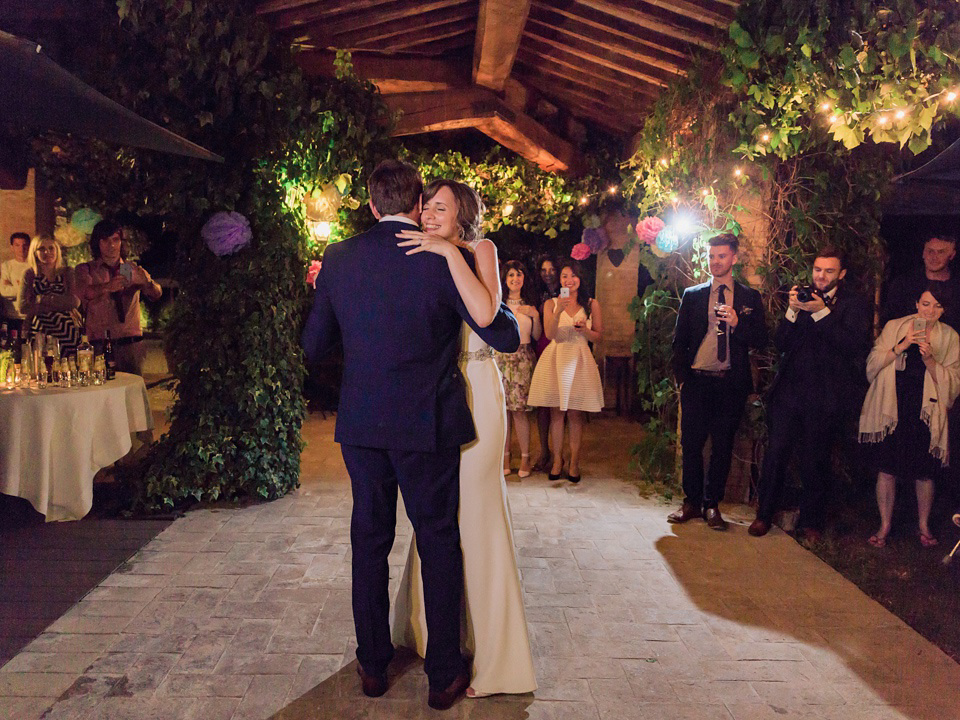 Words of Wedded Wisdom
"My advice is to really let go on the wedding day.  Don't let the stress of small things going wrong ruin your day – no one but you and your closest friends and family know what the day was meant to be like and chances are, they think it's all wonderful.  You only have one day and it goes by so quickly (I know everyone says that but it is scary how a year to a year and a half of planning goes in the click of a finger!) so enjoy every minute. 
My other piece of advice is to make sure you have a photographer that you love because looking back at those photos is the best cure for post-wedding back-to-work blues!  You will cherish them forever so it's worth spending that little bit extra on them."
A huge thank you to Charli for sharing her work with us today, and a big congratulazioni to Katie and Christie on their very beautiful wedding.  Is anyone else going to Italy for their big day?  Its such a beautiful country- I'm off to begin planning now.
Much love,
Shona x
Photographer – Charli Photography
Venue – Tenuta di Canonica, Italy
Wedding dress + veil – Stephanie Allin
Shoes – Davids Bridal
Accessories – Brooch from Highland Angel (Not on the High Street), earrings from Olivier Laudus, bracelet from Debenhams
Bridesmaids' dresses – Dessy
Hair accessories – Accessorize
Groom – Suit from Hugo Boss, tie from TM Lewin
Best man –Suit from Marks and Spencer
Florist – Flowers sourced locally by the venue
Catering – By the venue
Cake – Made by Katie's Mum
Rings – L&S Designs, Hatton Garden
Stationery – Rose Owens [email protected]
Transport – Slowhills
Hair and makeup – Boe Wright