Hi everyone, I'm back again with a fabulous wedding for you this fine Wednesday afternoon. Our couple Jess and Chris, a district nurse and a resource planner and analyst respectively, were married on the 25th of July this year at Lichfield Registry office in Staffordshire. They followed up their ceremony with a reception at The Bureau in Birmingham, a gorgeous former bank complete with grand staircase and roof terrace. It's a real gem of a venue and by adding lots quirky little touches, they created a fun-filled but personal day.
Photography by Daffodil Waves
"We chose The Bureau as our wedding venue because the food is so yummy. The building is stunning as it used to be an old bank and the staircase is to die for."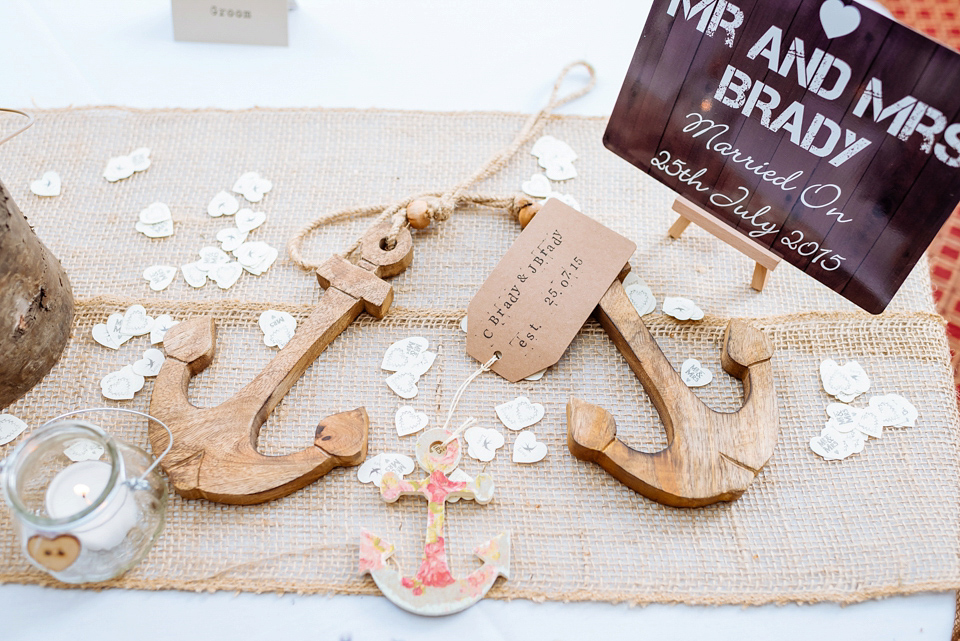 "The roof terrace was the star of the show, that's what made us fall in love with it, that and the bar downstairs!"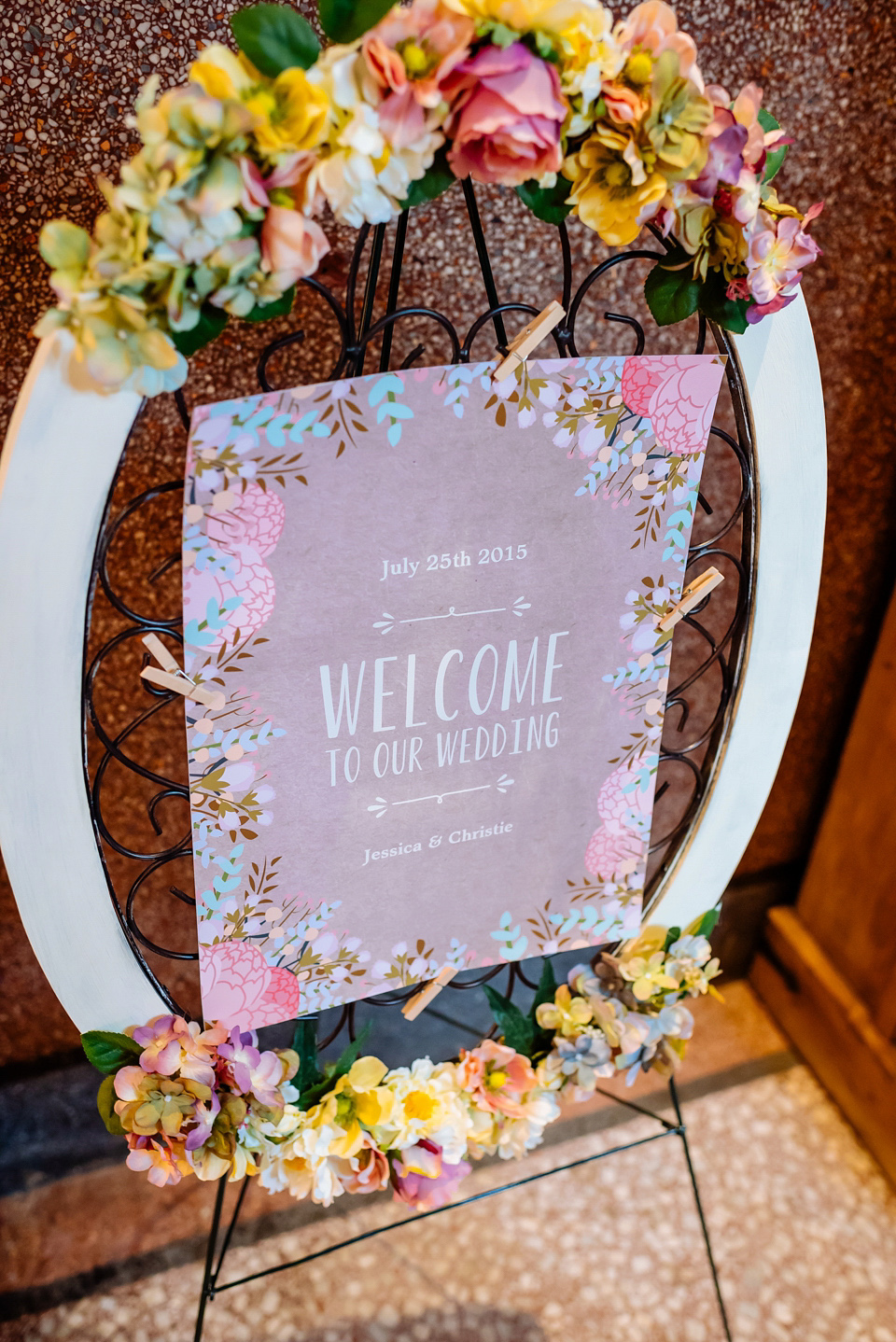 Jess got her amazing dress at Red Rose Bridal. Wearing an elegant lace edged cathedral length veil for the ceremony, she changed up her look with a bespoke Crown and Glory flower crown for the evening.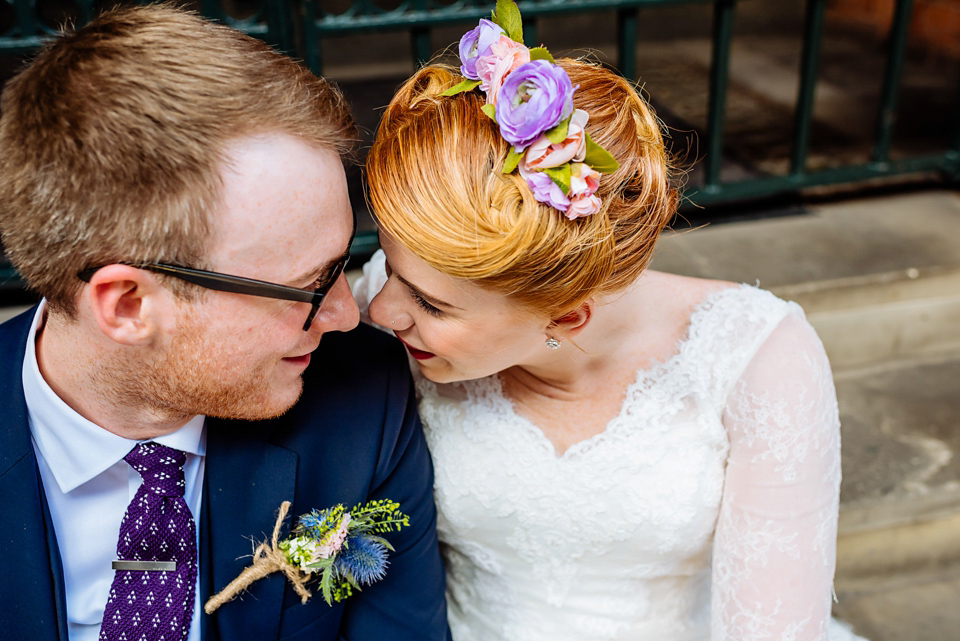 "We met on MySpace in 2008 at the grand old age of 16, it actually turned out that we had mutual friends in a band and arranged to meet at one of their gigs (completely ignored any stranger danger) and were pretty much inseparable from thereon.
We got engaged in October 2013 after seeing a West End show in London. Chris proposed later than evening after serenading me with Beyoncé single ladies alongside an amazingly executed dance routine… Good job I said yes as he'd arranged for lots of family and friends to come and celebrate with us in a pub in London as a surprise!"
Jess styled her best girls in shades of blue. Maid of Honour Beckie rocked a gorgeous dropped shoulder maxi complementing the light blue lace midi dresses of the other girls.
"I wore Britney Spears' 'Fantasy' perfume. Chris used to borrow his sister Beckie's perfume all the time when we first met and this was his perfume of choice normally ha!"
"After some extensive Pinterest-ing and Facebook-ing it seemed as though Jessica at The Garden Rose could achieve what I had envisioned. The flowers were so beautiful, completely transformed our venue and my bouquet has been sent off to be dried I loved it that much!"
"I'd had a disaster of a morning at an outlet where I'd asked to try on 50s style tea length dresses, only to be given sparkly corseted princess dresses. They were not my style at all so practically ran out the shop screaming when the sales assistant forced a tiara on my head! After a quick lunch and numerous phone calls later we managed to get an appointment at Red Rose Bridal where we were met by the lovely Sandra.
I explained what I wanted (well at least what I thought I wanted) and Sandra suggested I try a fitted lace Ellis Bridals dress 'just to see'. And that was it! I fell in love! I am by no means body confident but in this I felt like a beautiful 'bride'."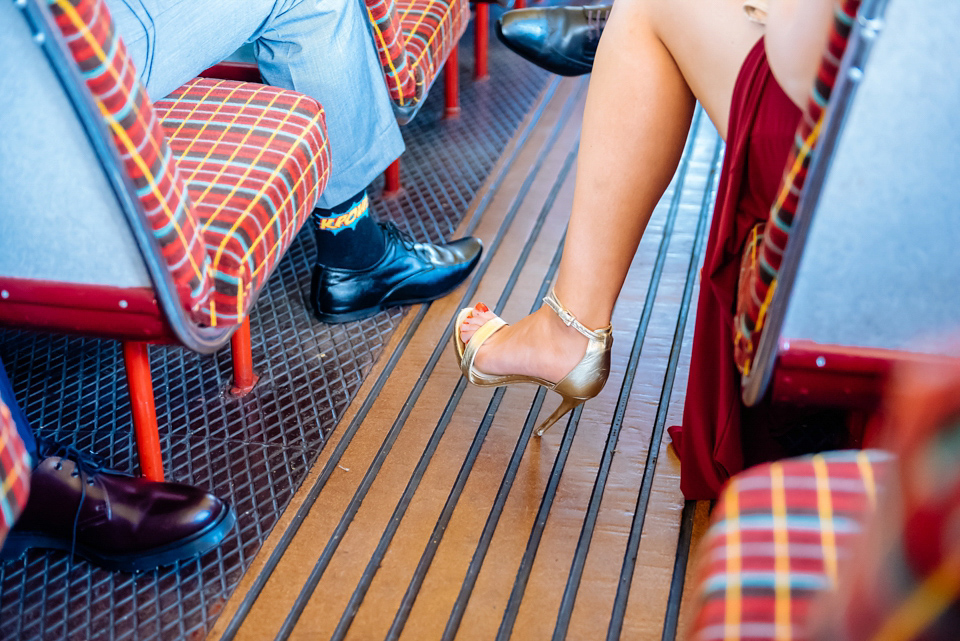 Chris kitted himself out with a navy three-piece suit and accessories at the Hugo Boss outlet in Bicester village. His best man also picked up his faded check suit there too.
"My dad (pops) John walked me down the aisle to 'Like a Star' by Corrine Bailey Rae. We kept our vows simple. We were both worried about over complicating things because of the emotion of the day. I wasn't sure I'd even make it through my vows without being a blubbering mess!"
"We chose two extracts to be read by Chris' younger sisters. The first was 'He's Not Perfect' by Bob Marley and the second was from Les Misérables by Victor Hugo."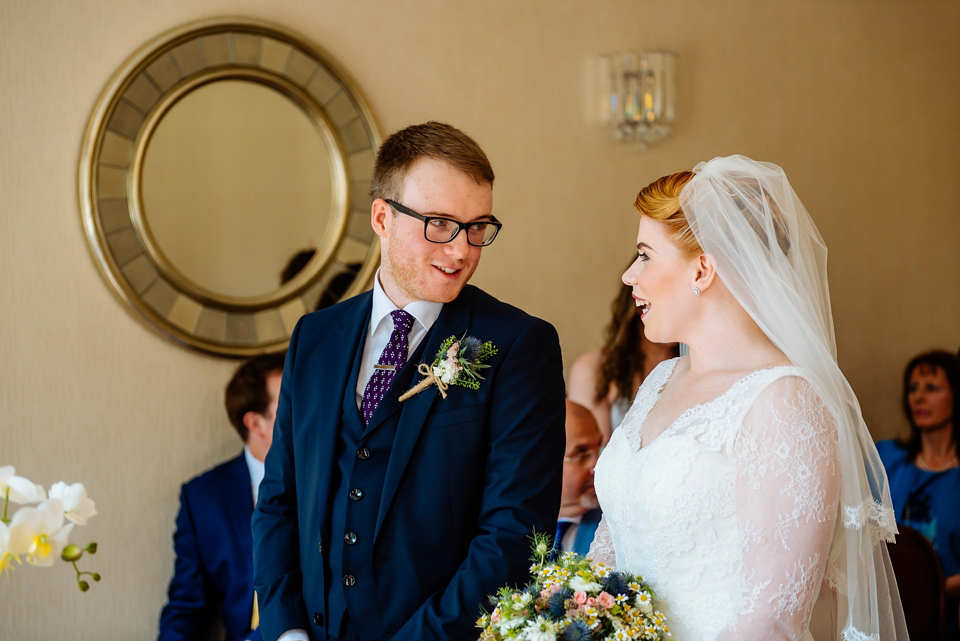 "We loved the half hour we spent in the car together after the ceremony to the reception. We shared a bottle of Prosecco and enjoyed some time alone. Closely followed by the food! Oh my goodness the food…it was so good especially the hog roast."
The couple were delighted with their images from Nicola at Daffodil Waves.
"I am so fortunate to say that Nicola was not only our amazing photographer but has become a wonderful friend. After stumbling across Nicola's website I completely fell in love with her images and after a quick chat on the phone couldn't believe my luck when she said she'd had a cancellation for our date."
"With her relaxed attitude Chris and I felt completely at ease throughout our day. Nicola captured the magic and rollercoaster of emotions felt by all our wedding guests leaving us with a beautiful set of images to remember the day by. We really can't recommend her enough!"
How amazing are the burger cupcakes?! I have never seen anything like it and certainly add a wow factor. The couple enlisted Missy-Bake-a-Lot to create them and not only did they look incredible, they were delicious too!
"Doris Loves provided the temporary tattoo station and the rest of the décor was a combined effort between the couples friends and family. Jess and her friend even learnt crochet to make their own doilies!"
"Chris and I both have anchor tattoos and it means 'Made in Birmingham' so for favours, myself, my mum and friend Hayley bought anchors and used floral patterned napkins to decoupage them."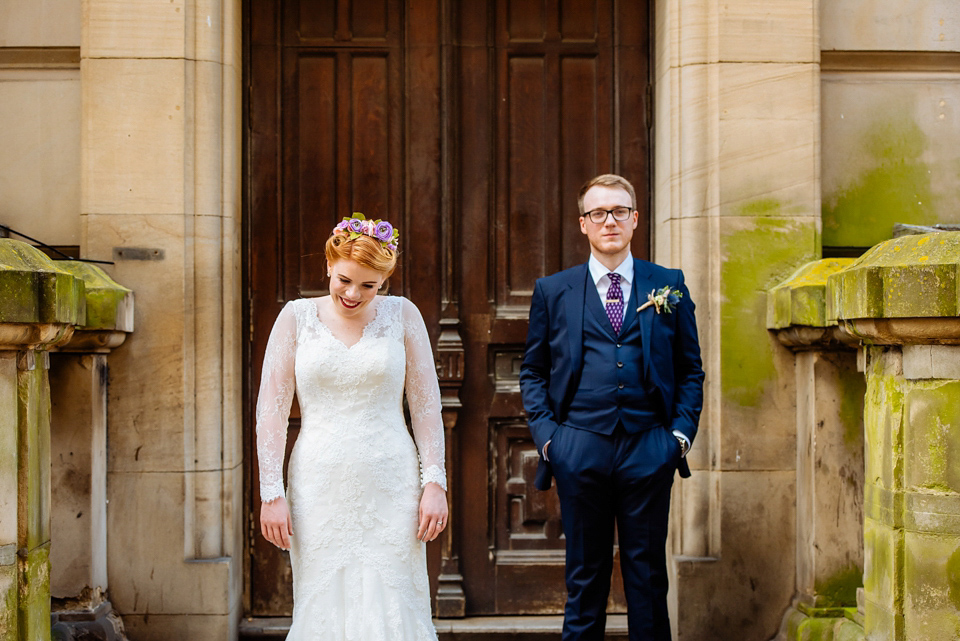 Words of Wedded Wisdom
"Do it yourself. Weddings are wonderful! My friends and family (especially my mum) were so helpful with decorating the venue. Involve them as much as you can, it makes the whole experience much more fun. An amazing photographer is worth every single penny and make sure you love the food I think that's so important."
Don't you just love this wedding! The tattoo station is such a fun idea, are any of you planning anything similar for your guests? As always thank you very much to our fabulous couple Jess and Chris and to our amazing photographer Nicola AKA Daffodil Waves. As you can see, her work is stunning and there's loads more to see on her blog.
Love Caoimhe xx
Photographer – Daffodil Waves
Venue – Lichfield Registry office, Lichfield + The Bureau, Birmingham
Wedding Dress and Veil – Red Rose Bridal, Boldmere
Headpiece – Crown and Glory
Shoes – Kurt Geiger
Bride's Scent/perfume – Fantasy by Britney Spears
Groom – Hugo Boss Suit + Clarkes Shoes
Bridesmaids – Jarlo Dress + Dune Shoes
Florist – The Garden Rose
Cake – Missy-Bake-a-Lot
Transport – Central Bus Hire + Citroen DS
Entertainment – Doris Loves Temporary Tattoo Station + DJ – Cordz (no website)
Rings – British Jewellery Workshops
Hair Stylist – Lily at Le Keux Salon
Makeup Artist – Sheelagh Powell