This time last week, I was en-route to New York to attend bridal market. Bridal market is a huge trade event that takes place twice annually (April and October) right across the city. Designers from all over the world flock to The Big Apple to launch and promote their new collections to buyers and press – either showcasing at one of the main trade venues like Pier 94 on the Hudson River, or by hiring a hotel suite.
This is the third bridal market I have attended and I loved every minute of it.  It's an exciting few days flitting between shows and appointments and getting to meet some of my very favourite designers. It's also a wonderful opportunity to network with industry colleagues, as many of them are in town at the same time – bloggers, boutique owners, stylists, magazine editors and wedding planners too.
After late flights, lost luggage, and one anxiety inducing taxi ride to our hotel because we were so late, we (that's my husband and partner in business, life and love) finally made it to The Prince George Ballroom to take our front row seats for the Claire Pettibone show.
Claire Pettibone is a member of Little Book For Brides®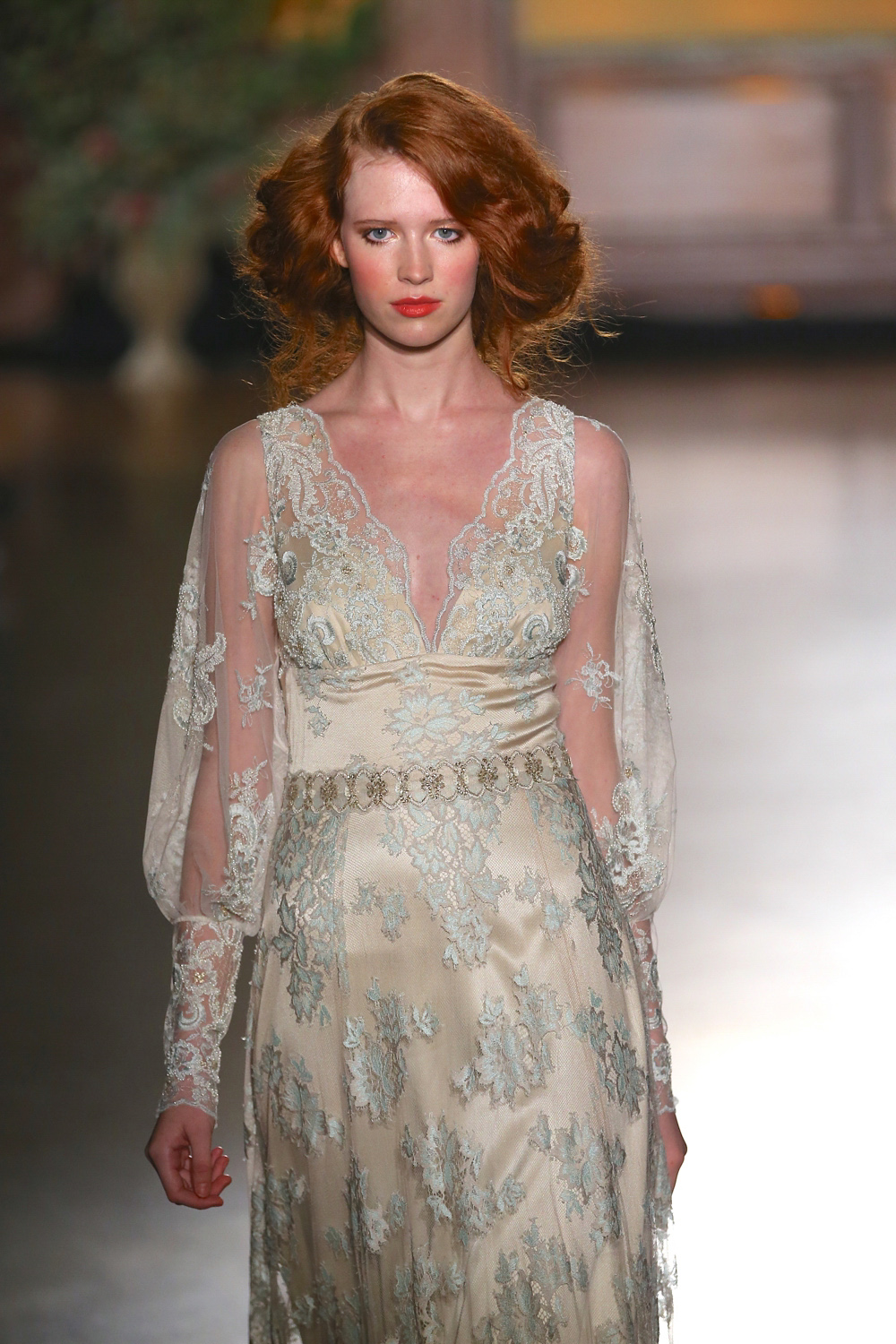 Claire was launching her 'The Gilded Age' collection for 2016 – the dresses that will be making their way into all Claire Pettibone stockists over the next few weeks, ready for 2016/17 brides.  To be honest, after last years exceptional 'Gothic Angels' show, it was hard to imagine how Claire might top such a visual spectacle – not least come up with a collection of new dress designs that would wow her loyal fans and followers more than ever before. She in fact, surpassed herself on both counts.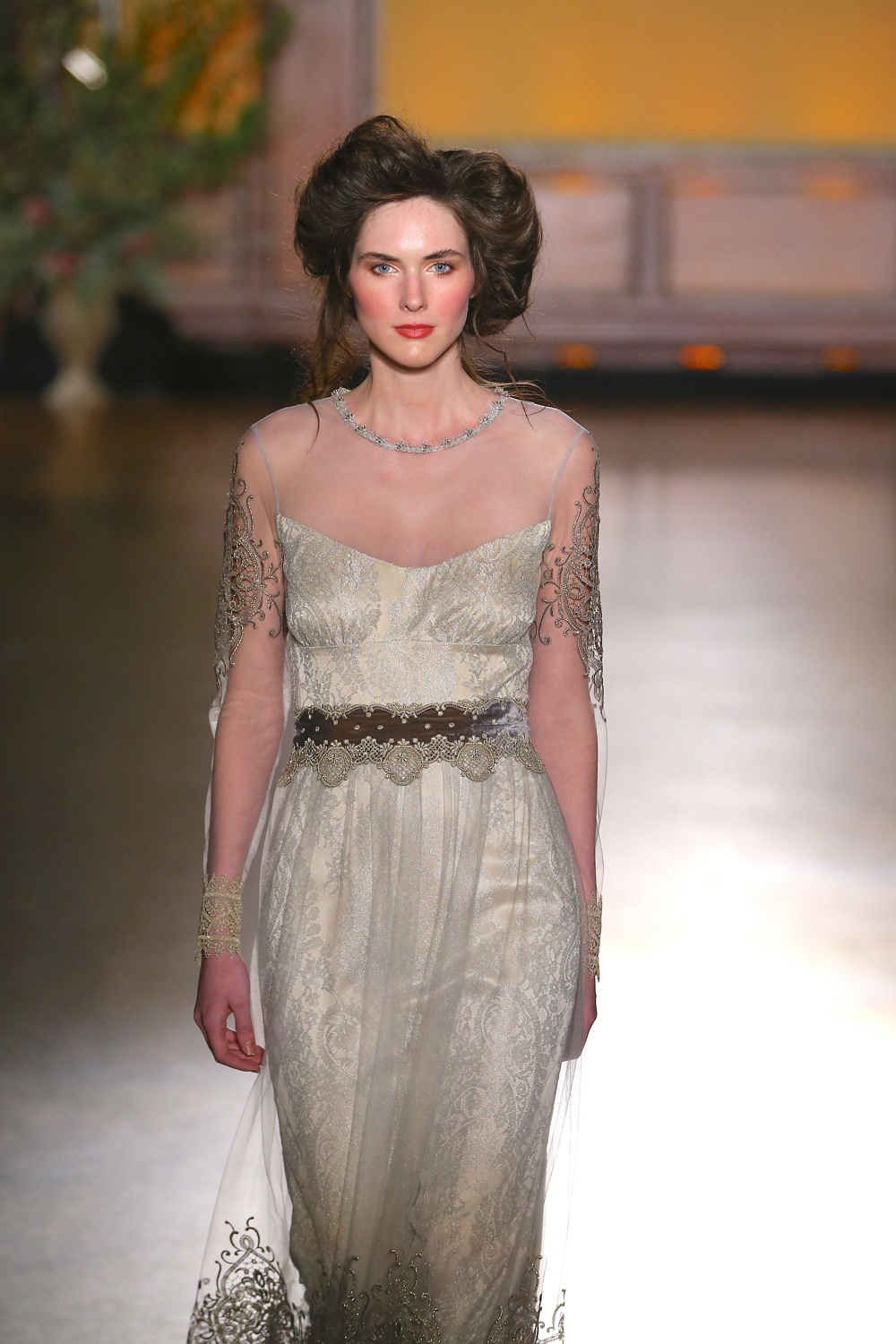 Where to even start with these gowns? Each of them of course bears the classic Pettibone ethereal and whimsical hallmark; trailing ribbons, delicately patterned lace, jaw droppingly beautiful backless detail. But the newness in the collection came by way of a truly stunning lace-edged cape train, a shaped tulle layer that sat playfully over a floor length skirt and  delicate 'barely there' sheer sleeves that led down to the most intricate of gold lace cuffs.  Skirts fell in perfect folds down to the most beautifully shaped hems and an embroidered velvet motif made a soft, peachy coloured statement across the bodice of one particular gown.
Only Claire could visualise such prettiness. Her show set the scene like something from a fairytale Elven princess party.
Having been lucky enough to get a private viewing of the collection a few days after the catwalk show, I was able to view, touch and feel the dresses up close and personal.  There really are no words to describe the intricacy, embellishment and high quality level of craftsmanship in these gowns.
A time of opulence, exuberance, decadence and extravagance. Diamonds, pearls and gold in all its lovely hues. Precious silks, laces and embroideries are sure to feel right at home in the grandest salon. Encompassing the imagination and artistry of a bygone era, alluding to a dream world where beauty reigns. The aesthetic is always feminine and decidedly romantic. (Claire Pettibone)
One of the first things to strike me during the show was the models hair, which I adored.  Their soft, voluminous up-do's had drawn on inspiration from the Edwardian period. Gently tousled locks and red lips made for such an incredibly elegant beauty aspect of the show.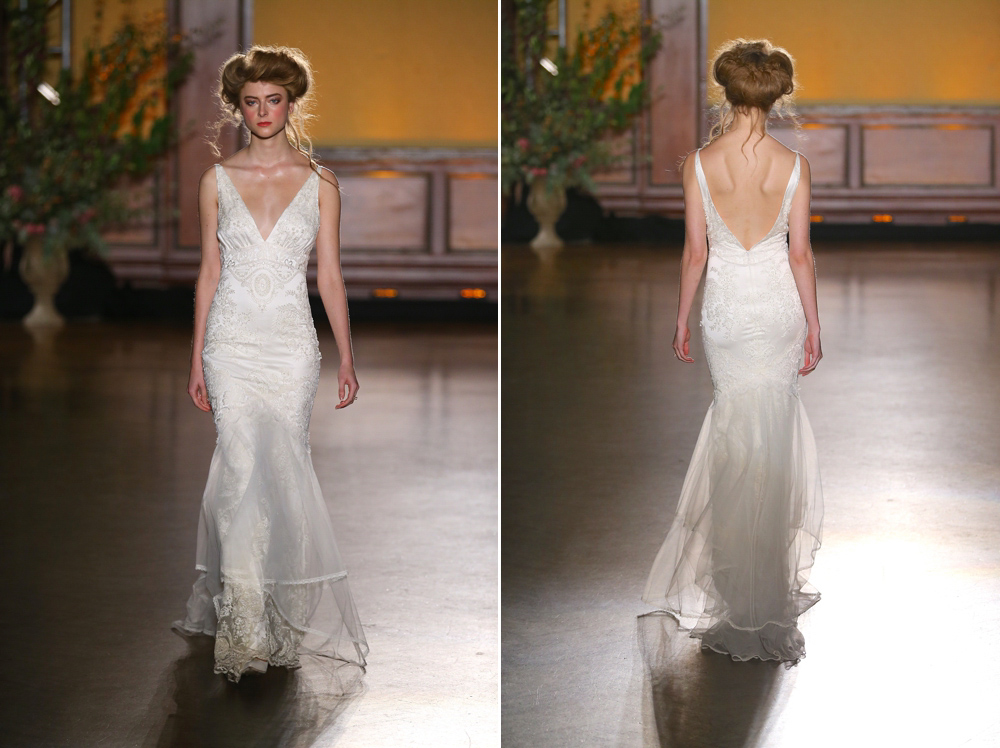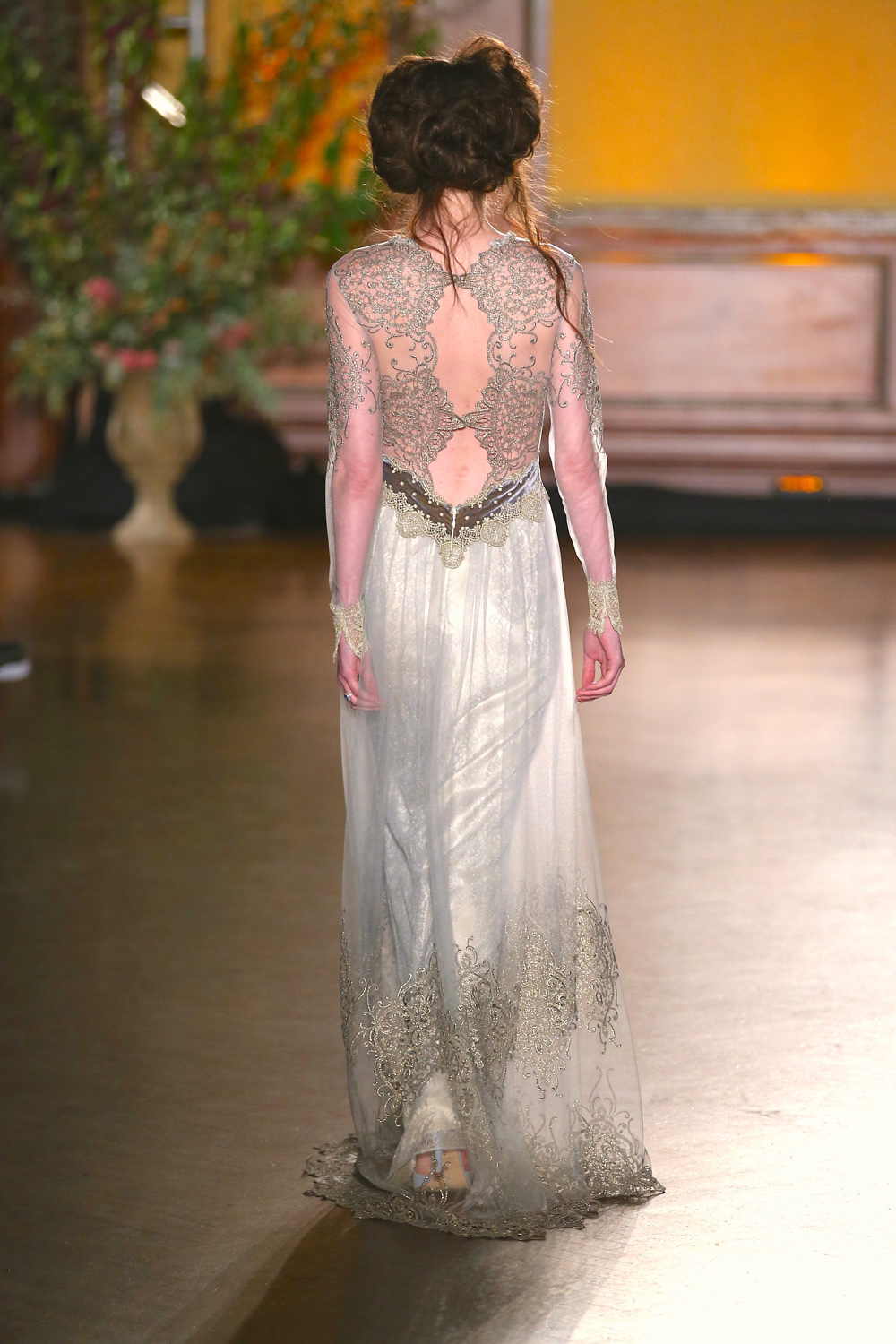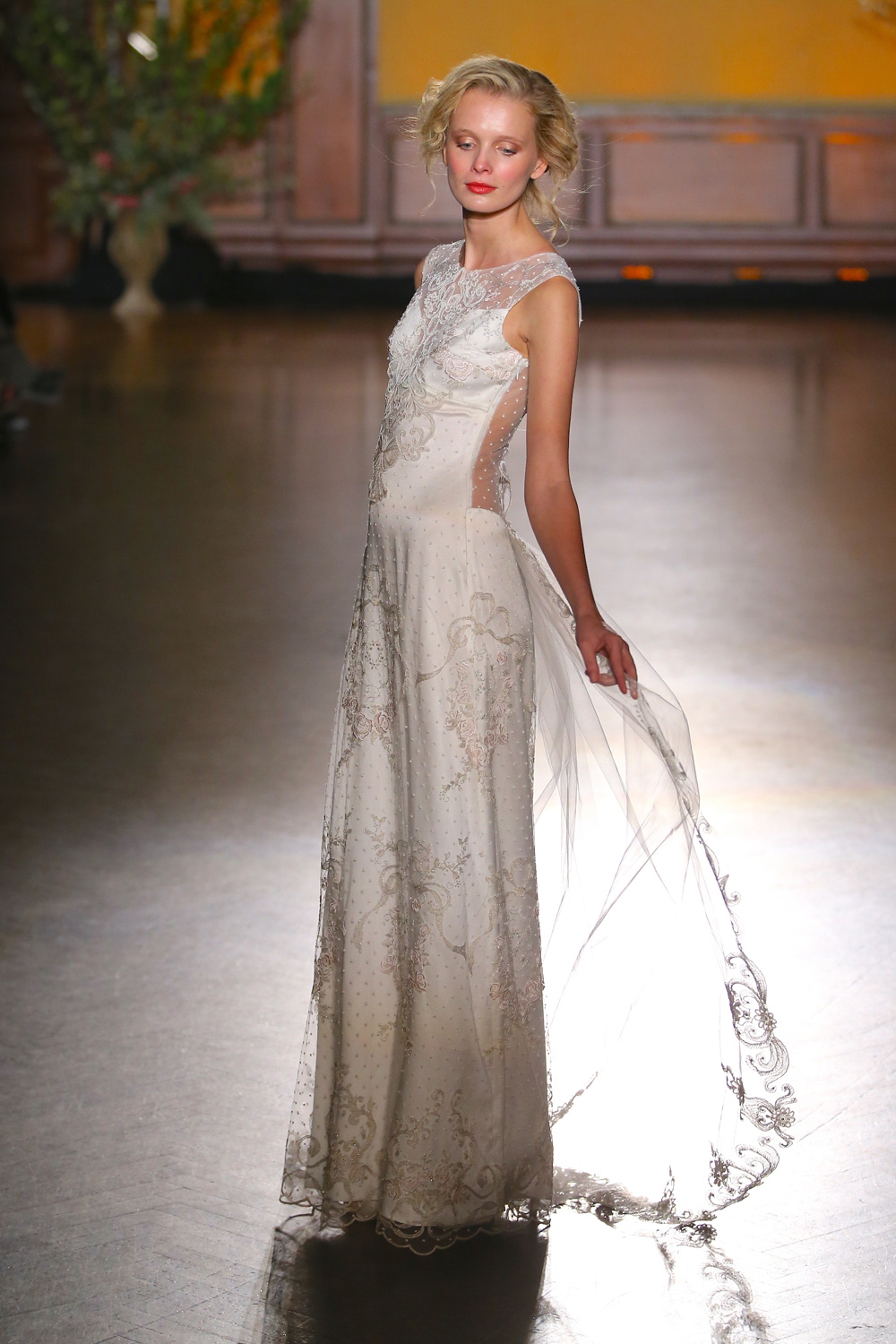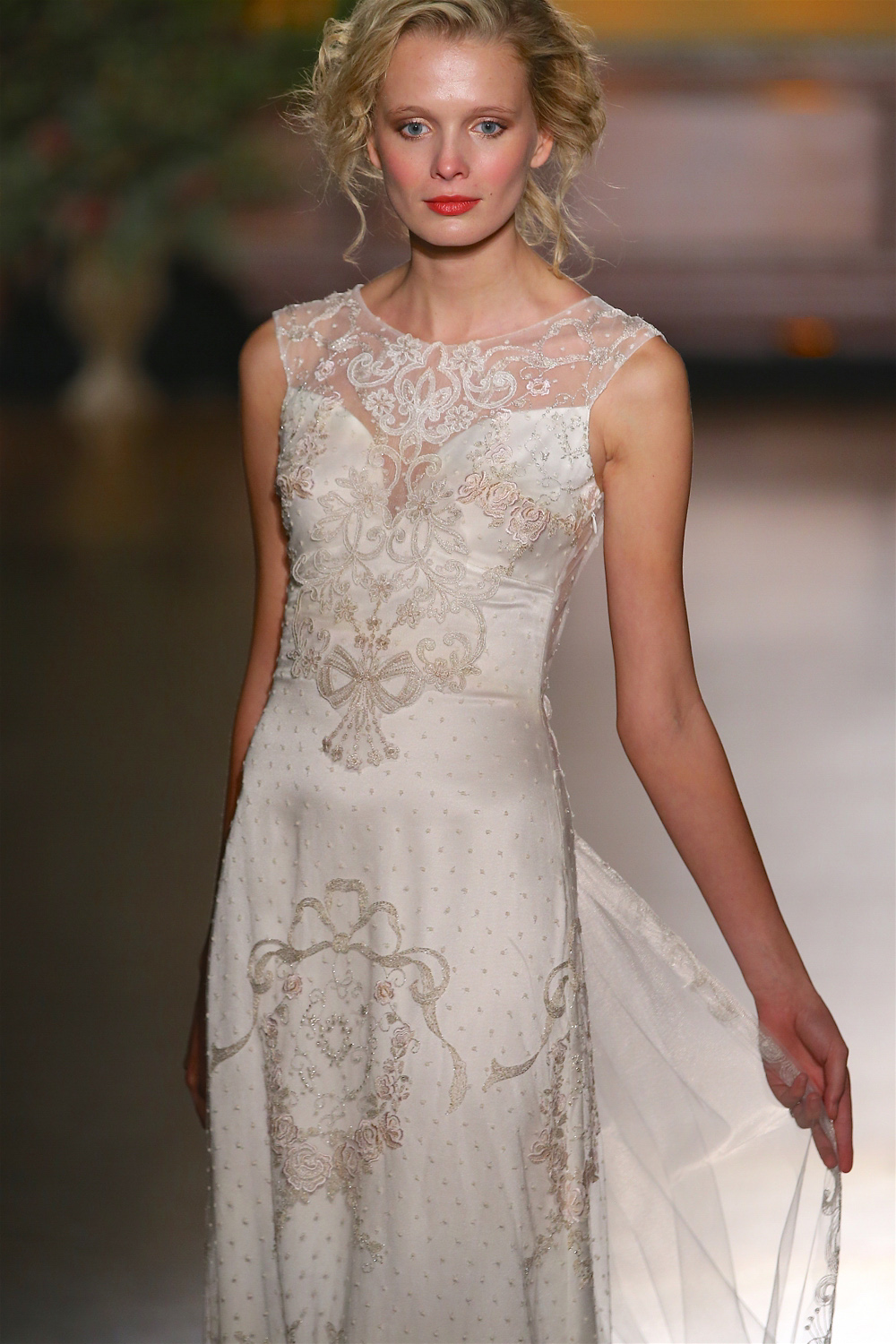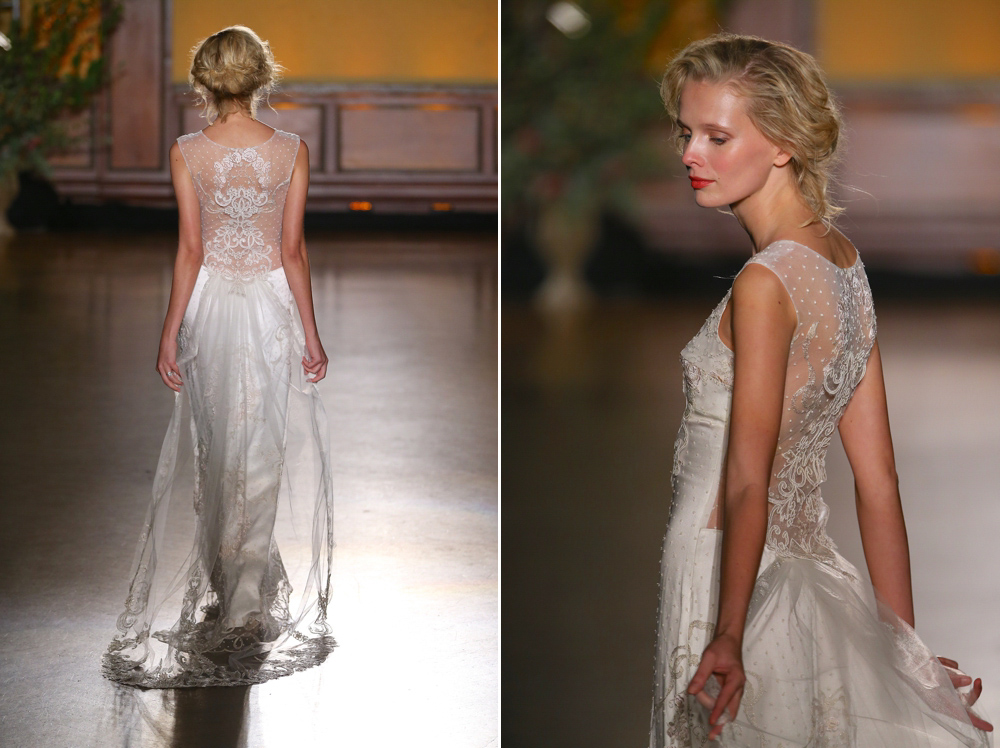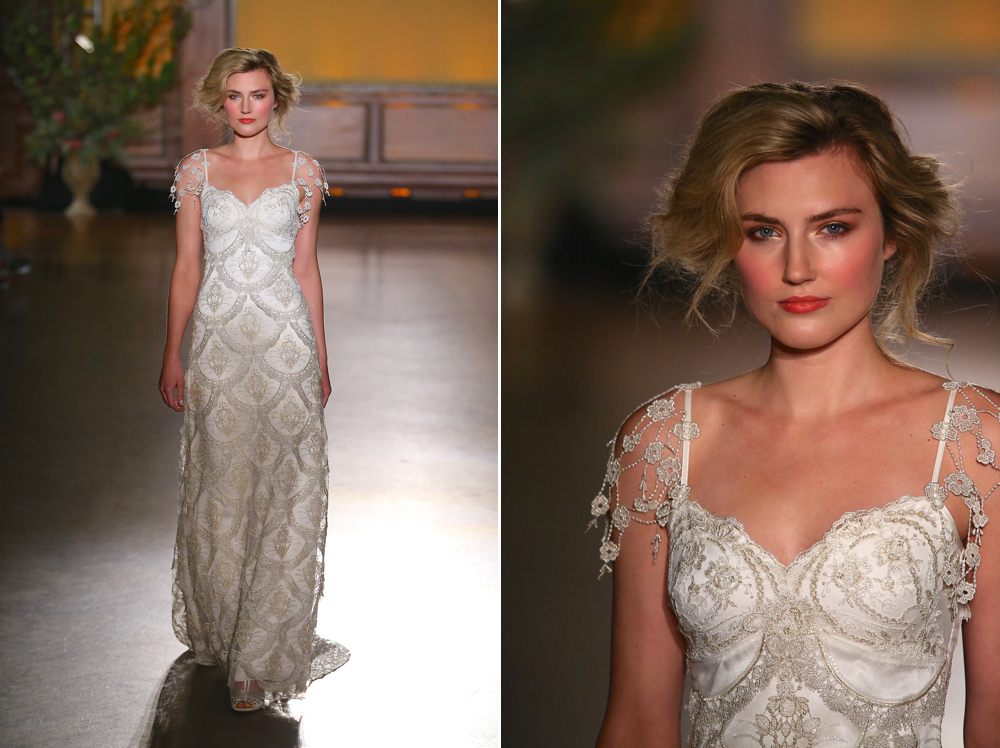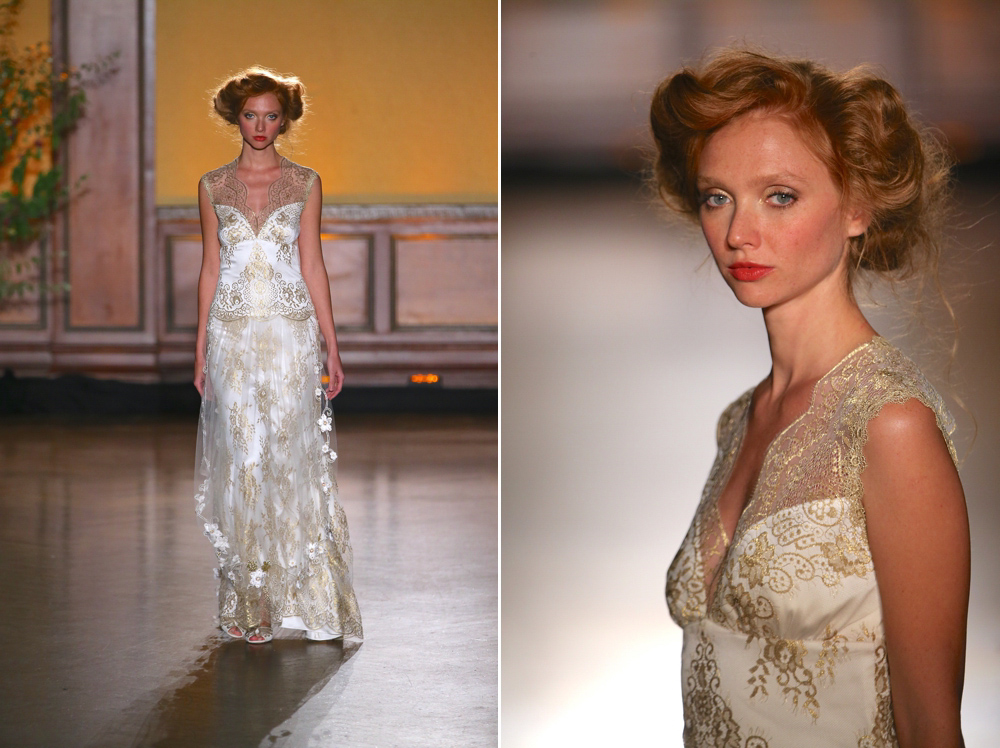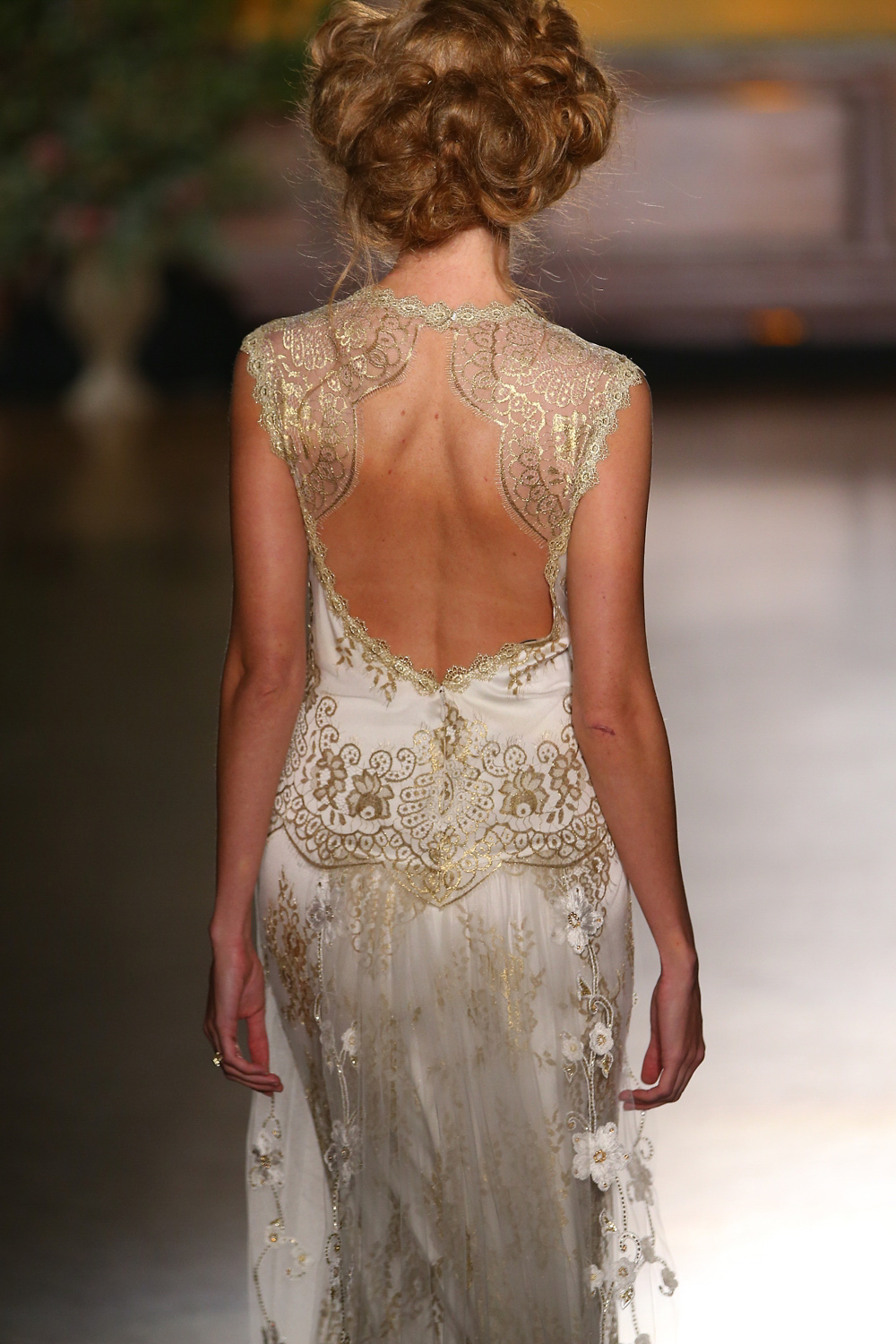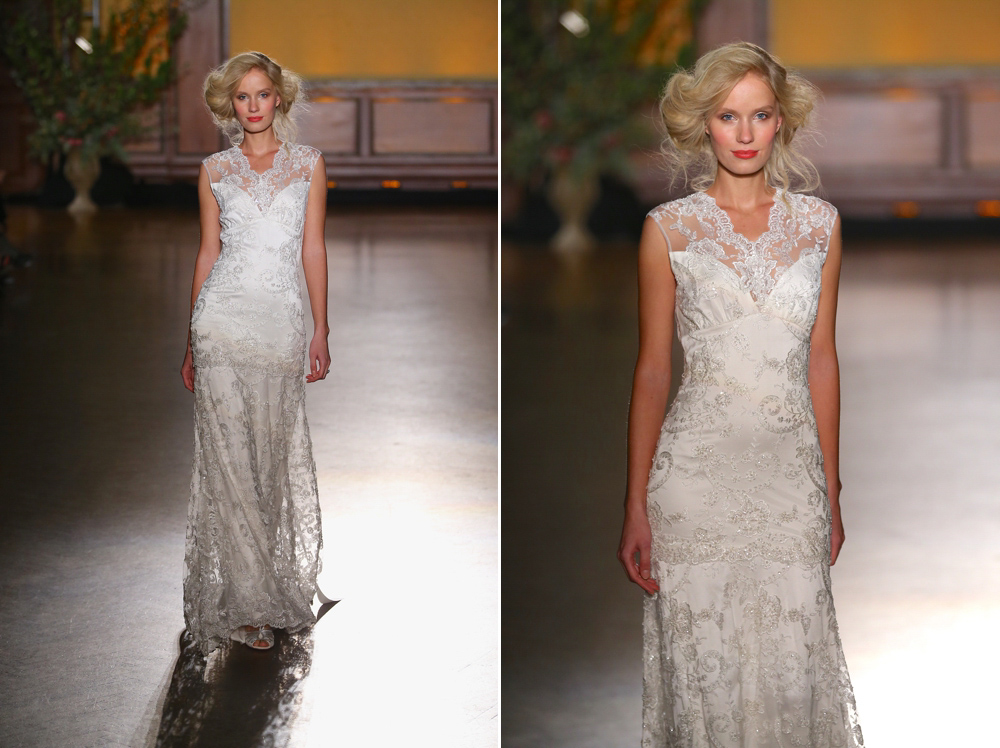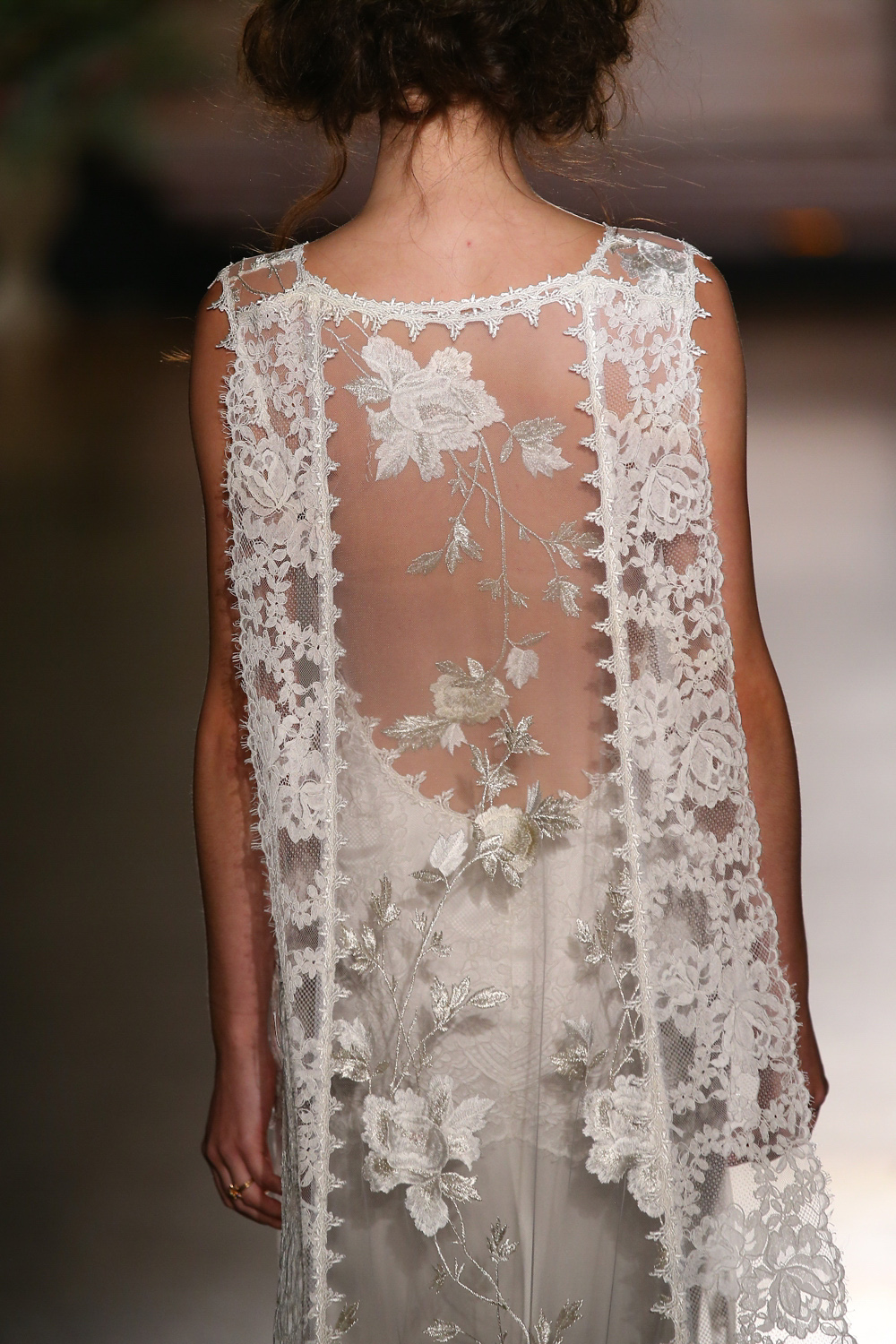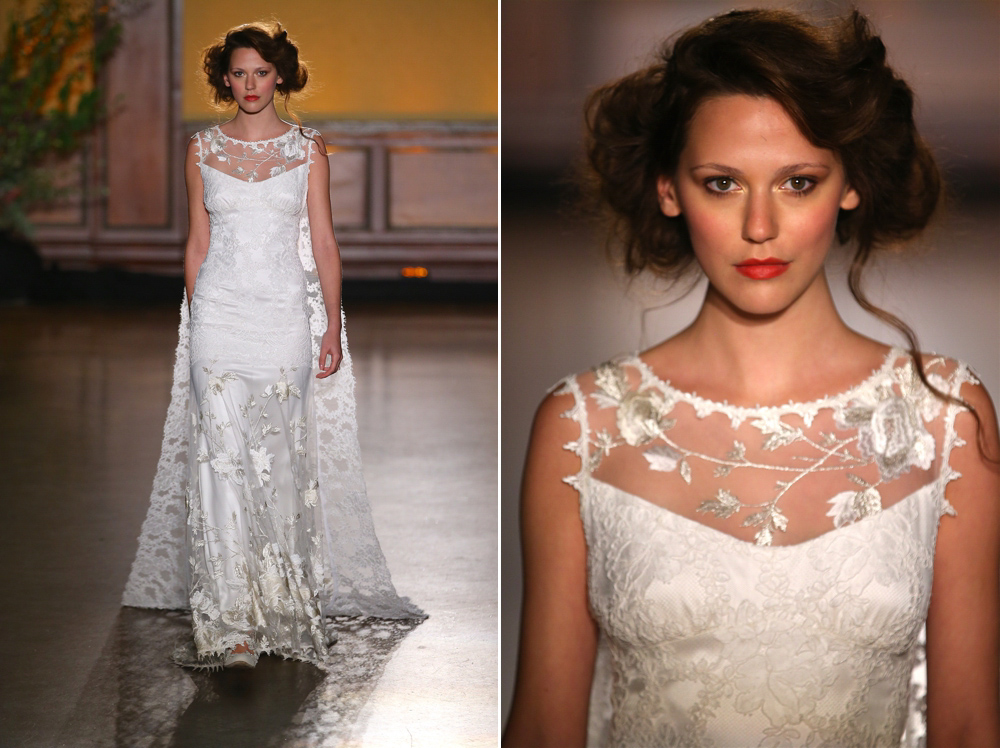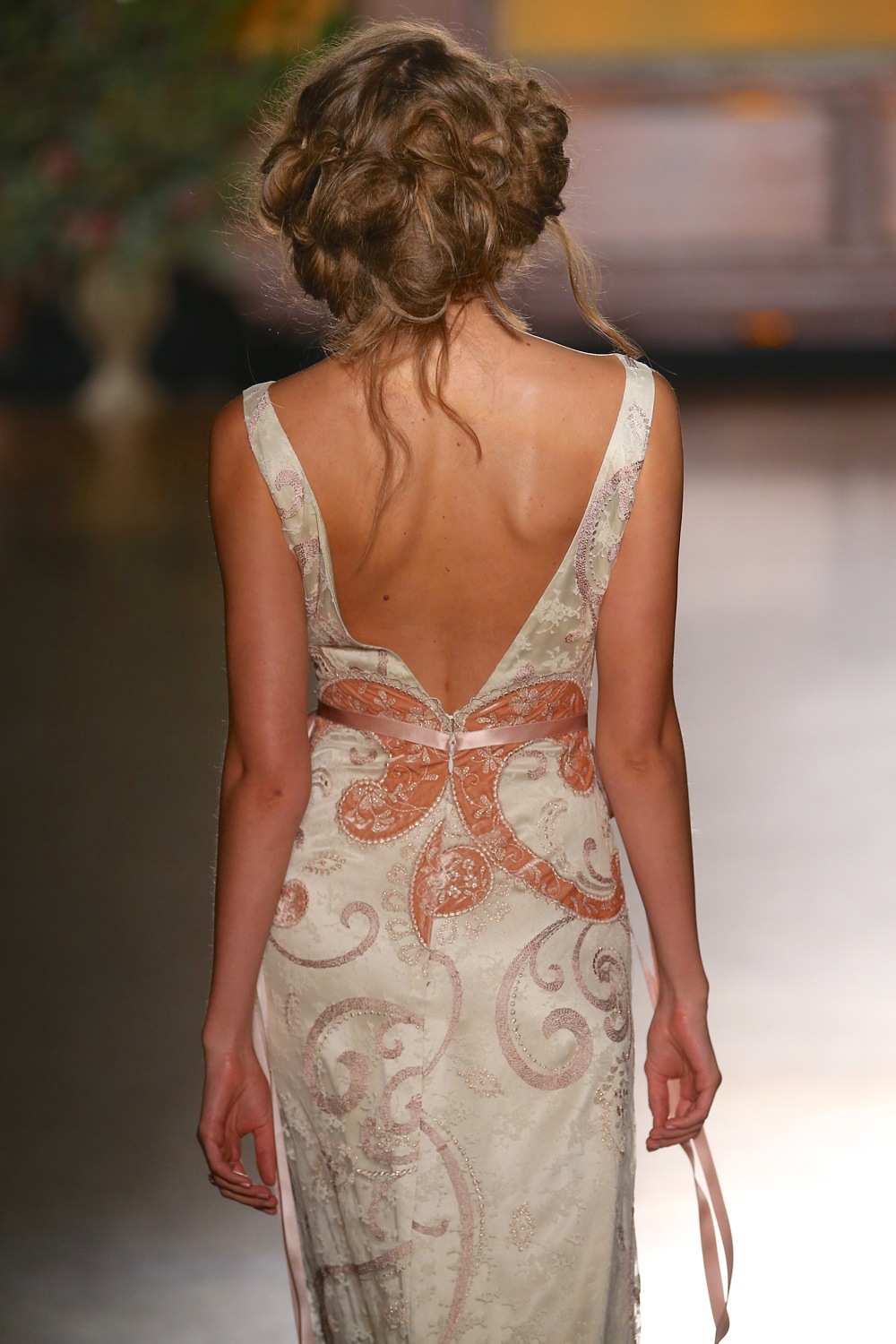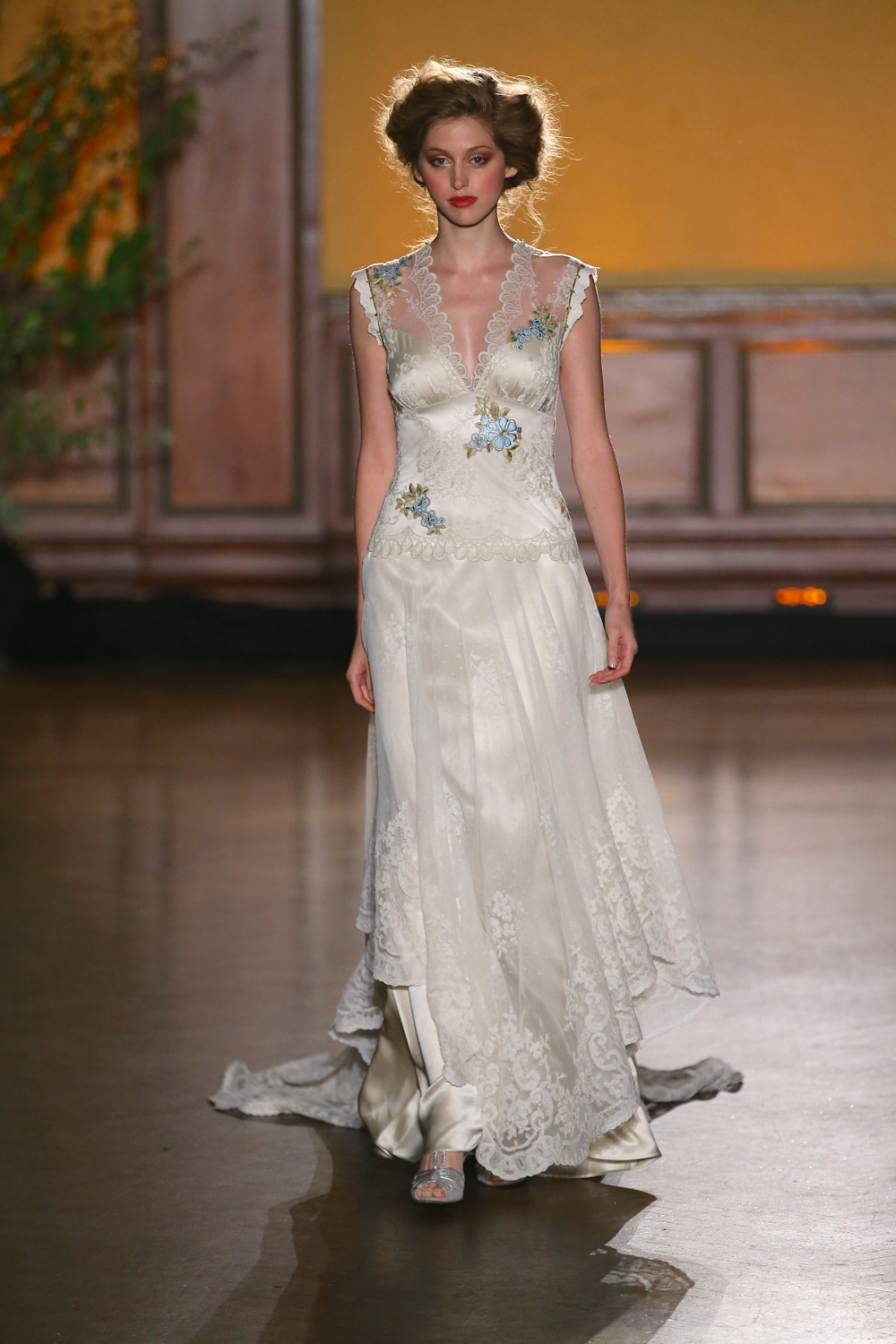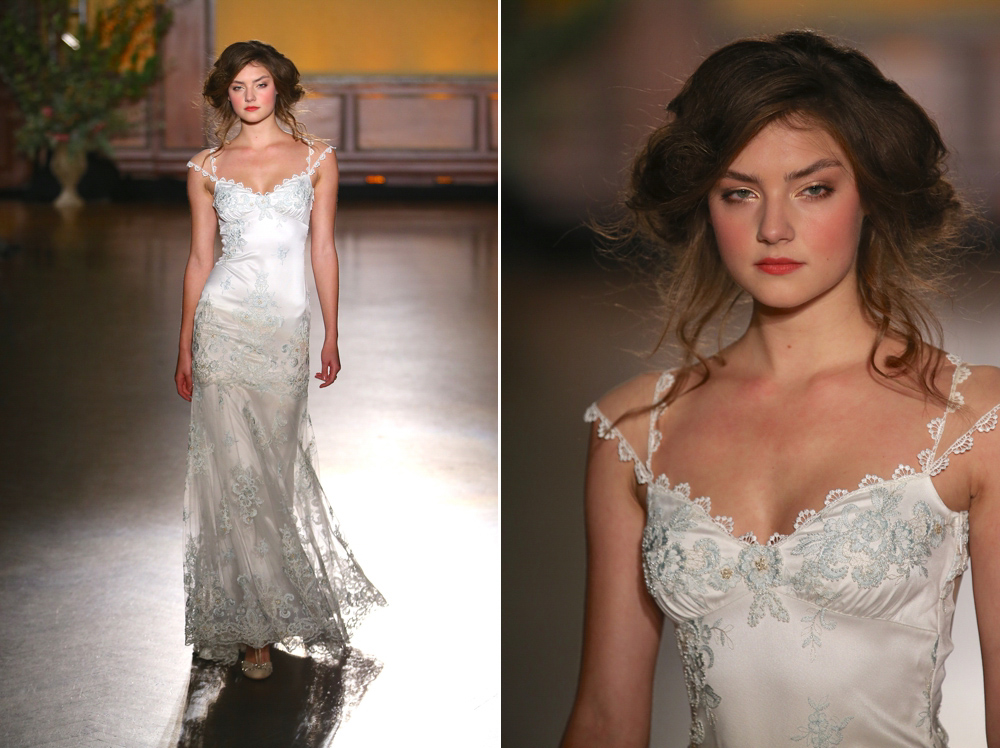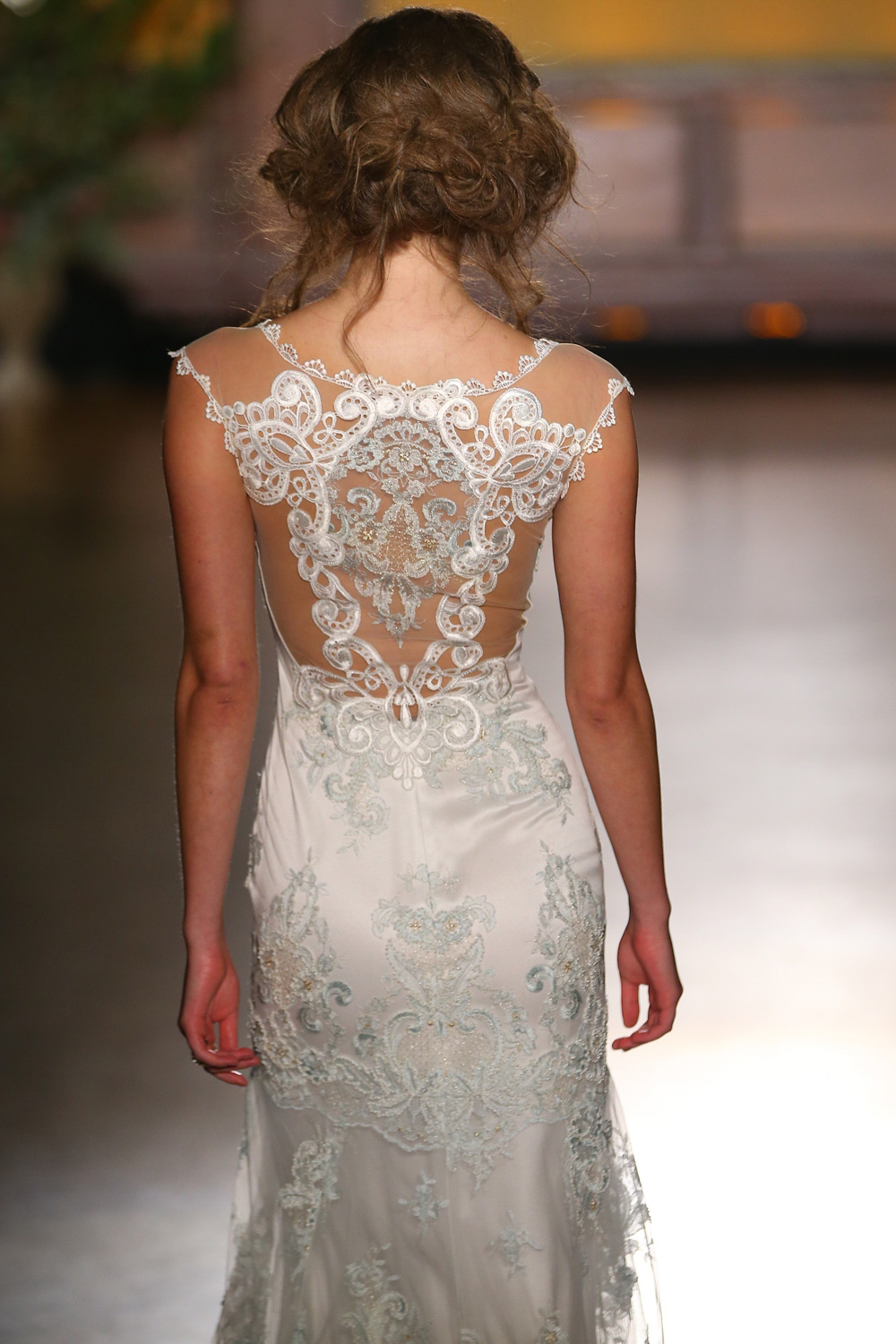 Shoes were provided by the utterly fabulous Emmy London and came from her new 'Cancello' collection which I previewed on the blog yesterday lunch time (we'll be sharing the full collection in November with you)
Philip and I had the pleasure of spending yesterday afternoon in Central Park with Emmy's founder and Creative Director, Emmy Scarterfield, talking about her beautiful new shoes and how much they compliment Claire's gowns. I'm proud to have been the person who connected these two design talents together and love being able to see them collaborate creatively now.
Ladies, if you love what you see, you can contact your nearest Claire Pettibone store to find out when/which of these new gowns they will be stocking. You'll find all the stockist and contact/social media details you need for Claire in our Little Book For Brides.
I'd like to congratulate Claire on another hugely successful collection. I'm so proud of our partnership with Claire Pettibone and continue to be in awe of her creativity, passion and commitment to creating the most breathtaking of bridal gowns.
Love Annabel xx