Hi lovely readers, now that the weather is taking a turn for Autumn we thought we could brighten up your day with a stunning West Australian summer wedding. Jacinta and Aleksander got married on the 1st of February 2014 in beautiful Perth. They honoured both of their families with services at both St Joseph's Catholic Church, Subiaco, and St Nikola Macedonian church, with a beautiful French inspired reception at Lamont's, Bishop's House. Jacinta's Grace Kelly inspired gown will have you swooning, as will the romantic colour palette of blooms in light and dark pinks.
"From a young age, my mother and grandmother have thrown the most beautiful and elaborate parties for us children! This was a beautiful moment for us to come together and plan every detail. We were inspired by the many beautiful French style weddings on Pinterest and our stylist on the day from Perdu Décor brought the setting to life!"
Photography by Claire Morgan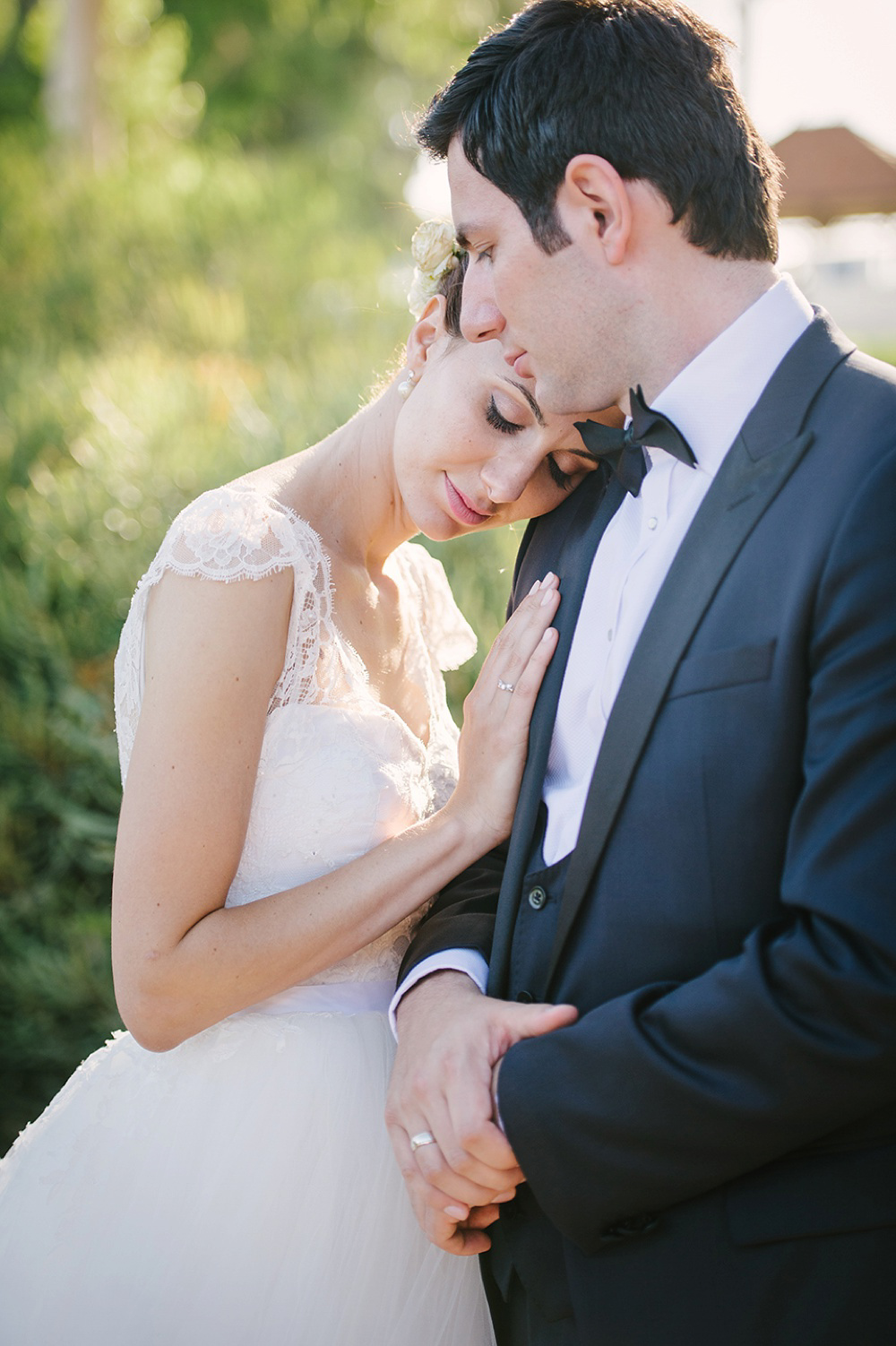 Jacinta's beautiful dress and veil from Loui Col Designs were complimented with fresh white roses in her hair.
"My wedding dress inspiration has always been Grace Kelly's demure and elegant princess bride gown. It was a match made in heaven when I discovered the lovely Katie from Loui Col Designs who showed me a selection of her stunning French lace samples in her studio treasure chest."
"Katie designed my gown with a sweetheart and delicate lace bodice, pearls and a touch of sparkle. On the morning of our wedding, I truly felt like a princess bride wearing my wedding gown."
Jacinta chose a soft and whimsical pink tulle dress also by Loui Col Designs for her beautiful bridesmaids with hot pink Alannah Hill heels.
"My bridesmaids looked like floating princesses in their soft pink tulle bridesmaid dresses and pretty flower hairpieces on the day. The girls had lots of funny Marilyn Monroe moments on the day trying to keep their tulle dresses down in the windy Perth weather!"
"The elegant, natural and flawless make-up and hair finish was exactly what I wanted. Both Kathryn Colgan and Chanel Di Domenico have the most beautiful energy, warmth and professionalism and were so delightful which makes such a difference in calming the little butterflies."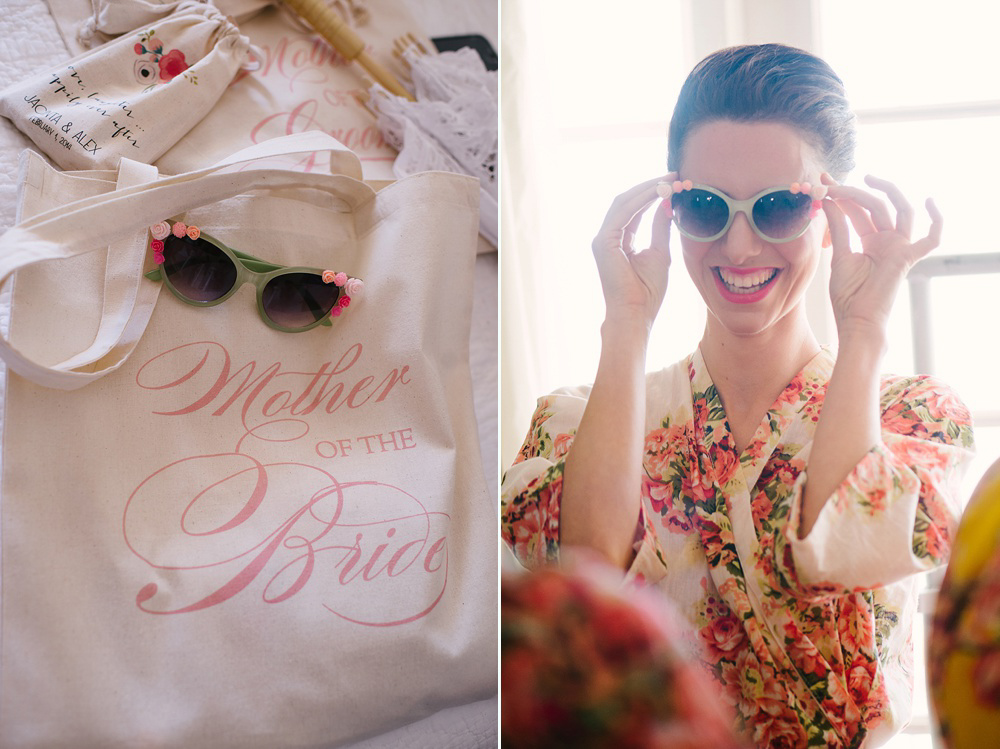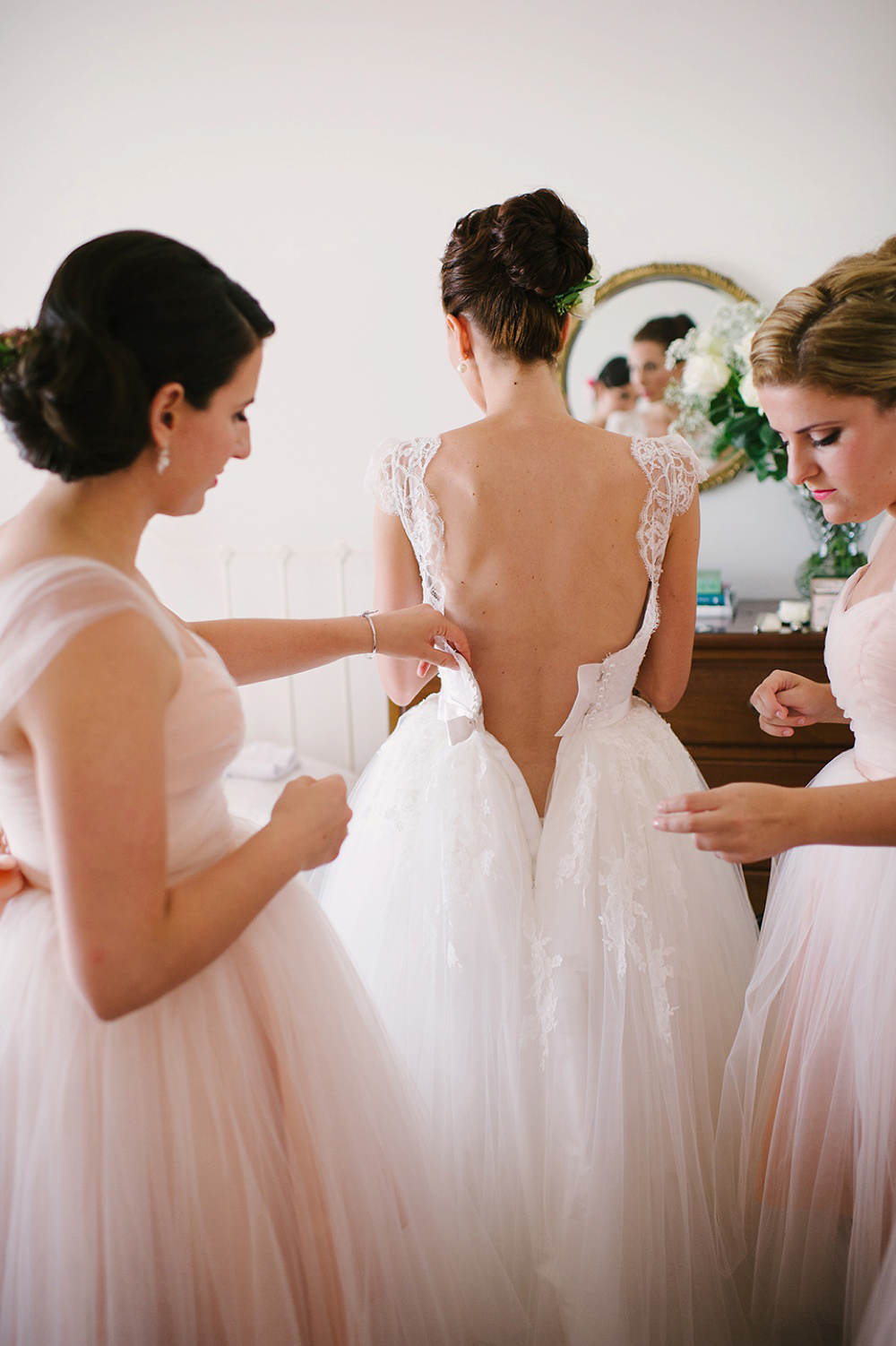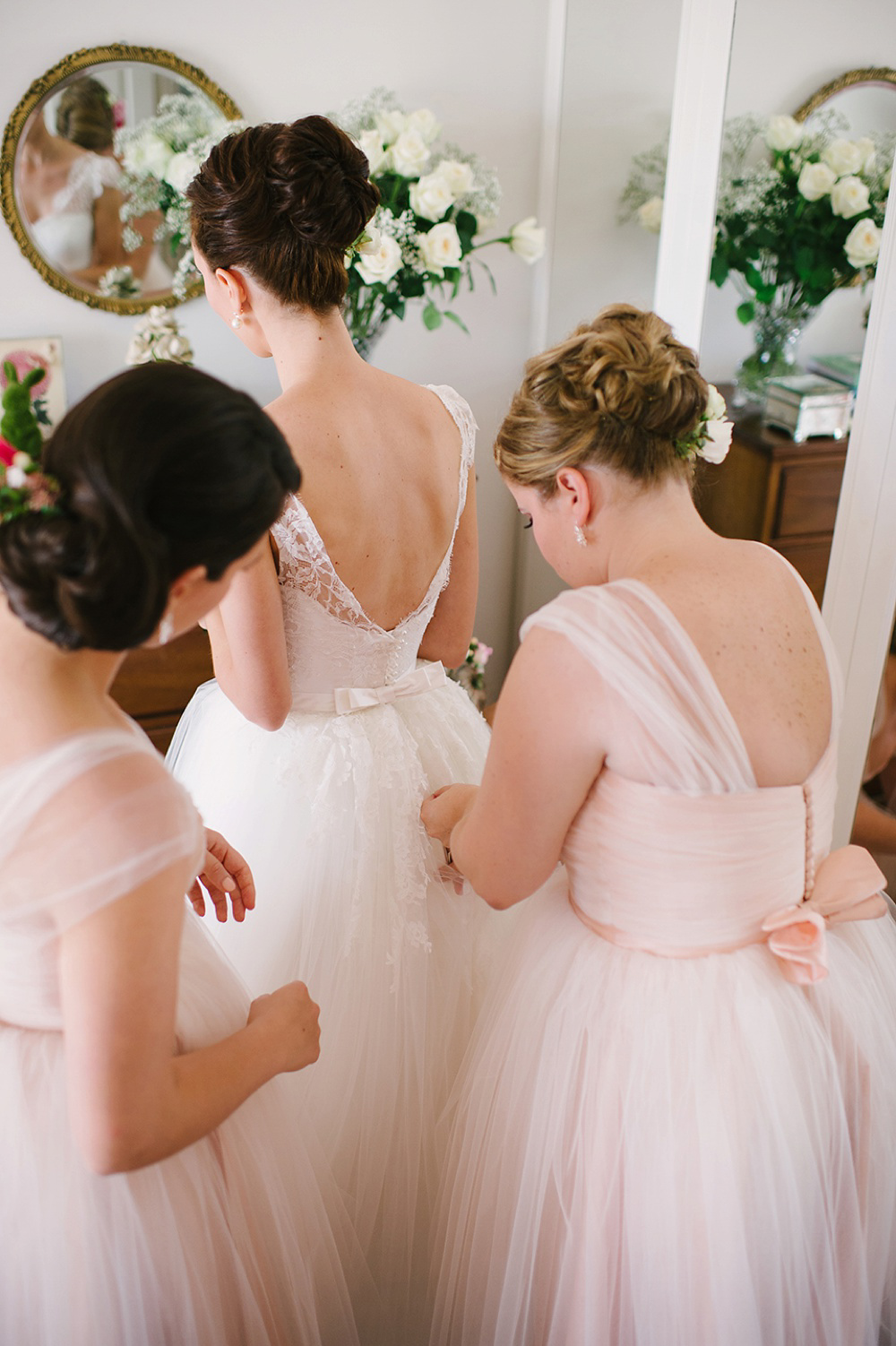 "I have always loved the classic and fun Kate Spade sparkly bow wedding shoes and knew these were my Cinderella slippers for my wedding day."
"Flowers are one of my absolute loves in life. The essence of our wedding style was a soft blush and cream palette. The beautiful and breathtaking French style floral arrangements on the tables incorporated lush green foliage and pops of bright pink roses. The sweet and talented Tali from Twigged worked her magic on my beautiful bouquet of soft roses with berries and floral hair garlands for myself and the bridesmaids. The seating chart was a floral masterpiece with beautiful green foliage and flowers cascading down the side."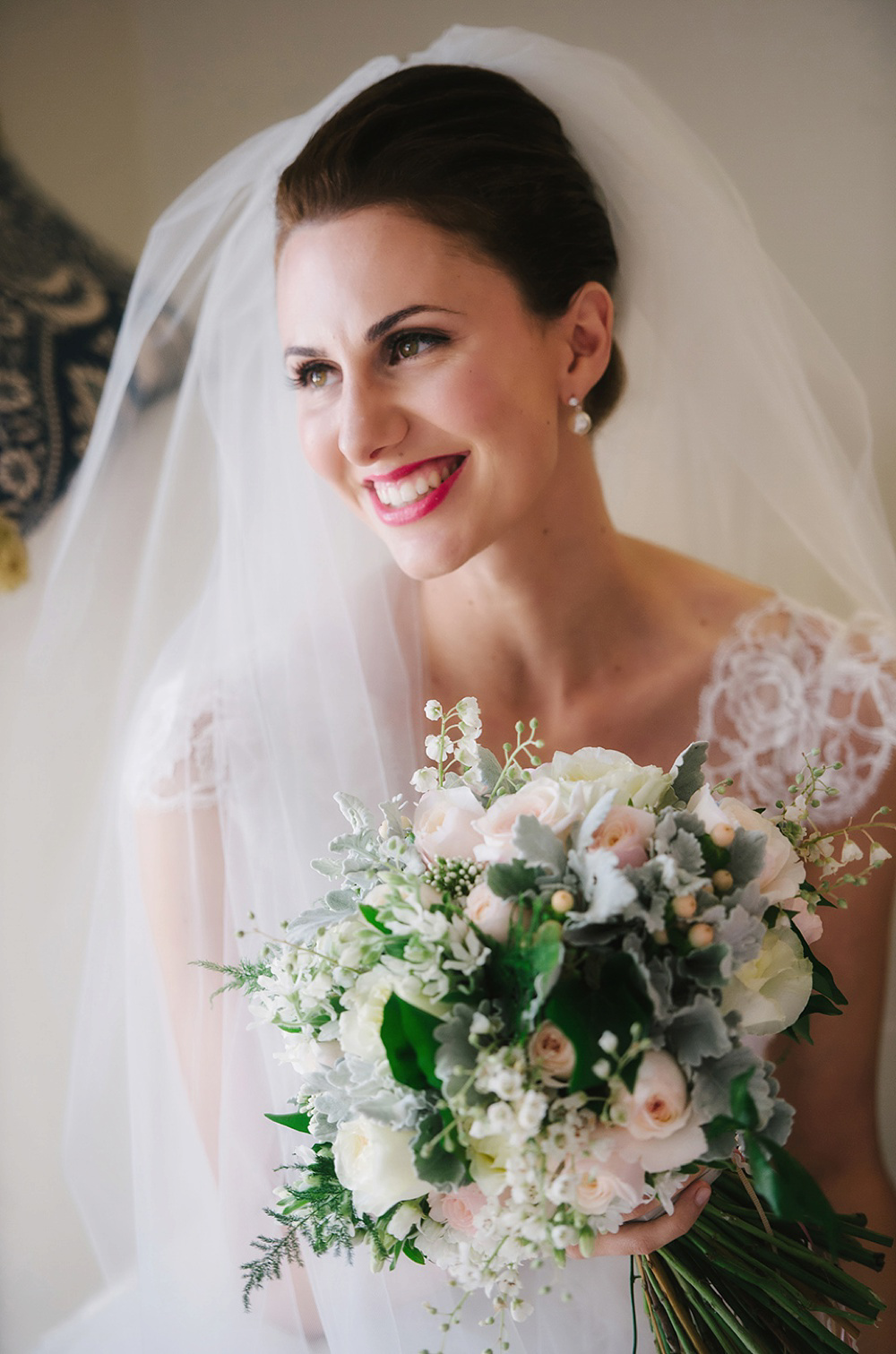 Aleksander kept to the classic romantic theme with a navy 3-piece tuxedo from Hugo Boss.
"We first met at my cousins wedding, I had to wink at him on the dance floor to get his attention as he was clueless that I was interested! We dated for three years. Alex proposed under the tree we had our first kiss and arranged for this beautiful moment to be discretely captured by a hidden photographer which is truly special."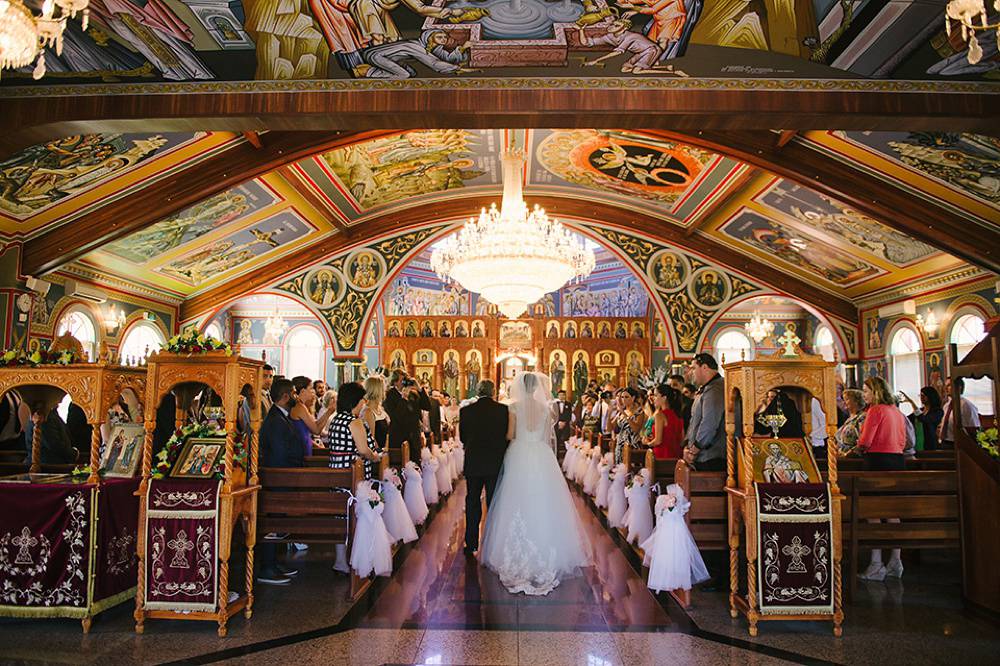 "My love of flowers led my husband to design a beautiful antique style floral shaped engagement ring and wedding band. He spent hours studying diamonds and designed the ring HIMSELF in PowerPoint, then gave it to the Jeweller to make! I reversed into a light pole after visiting the jeweller; too much bling gave me starry eyes!"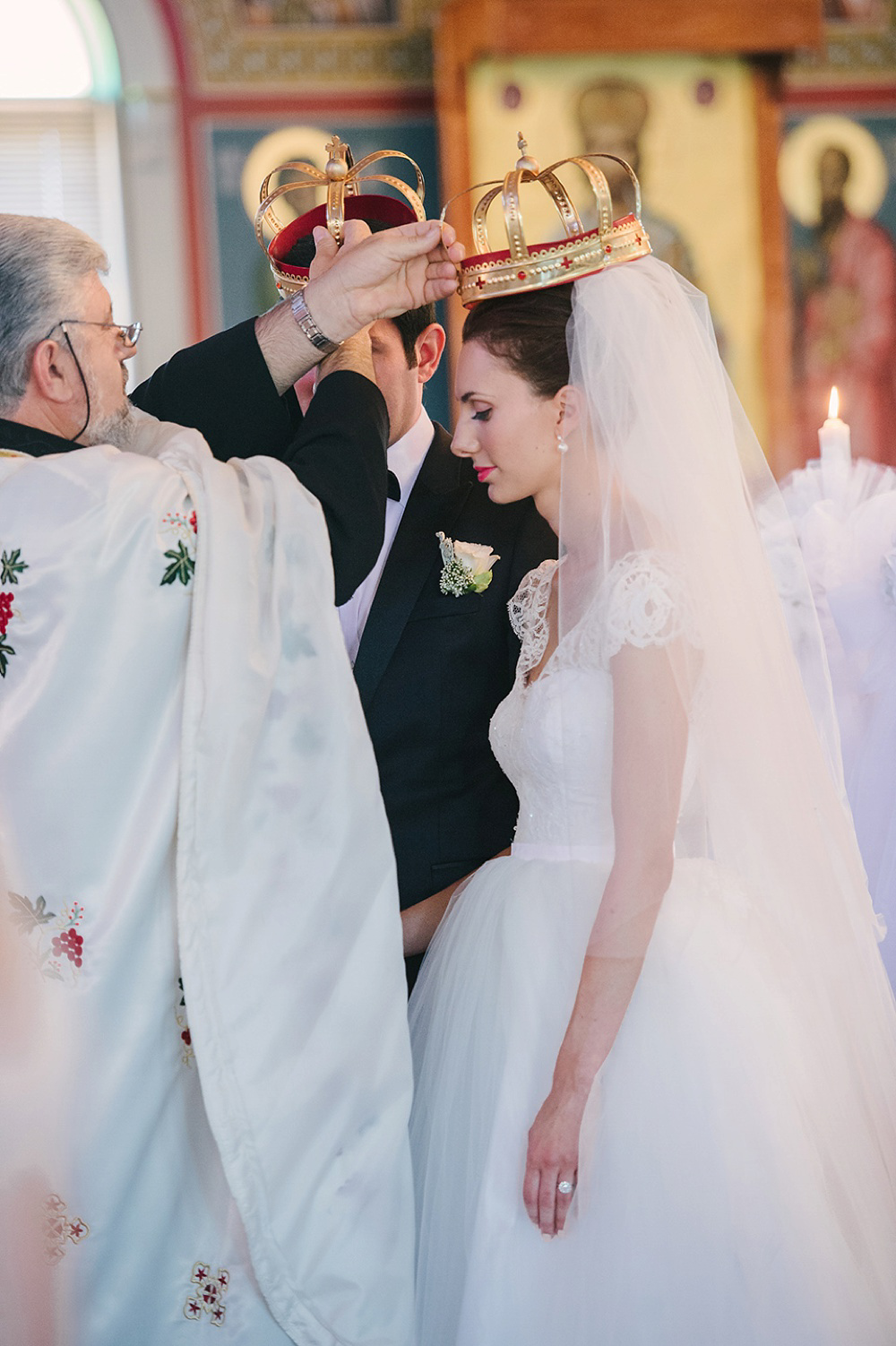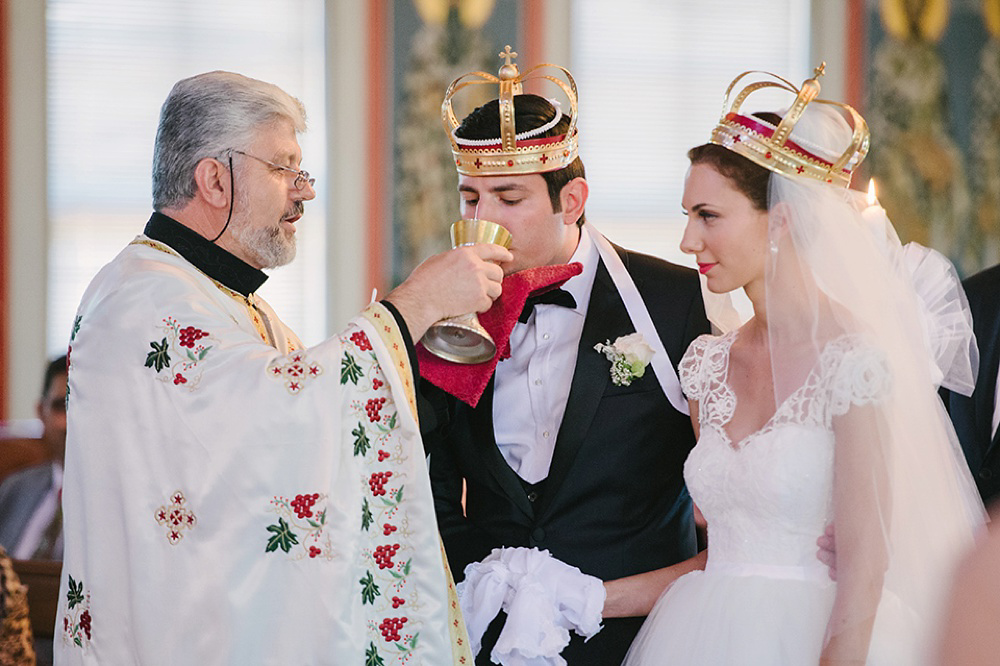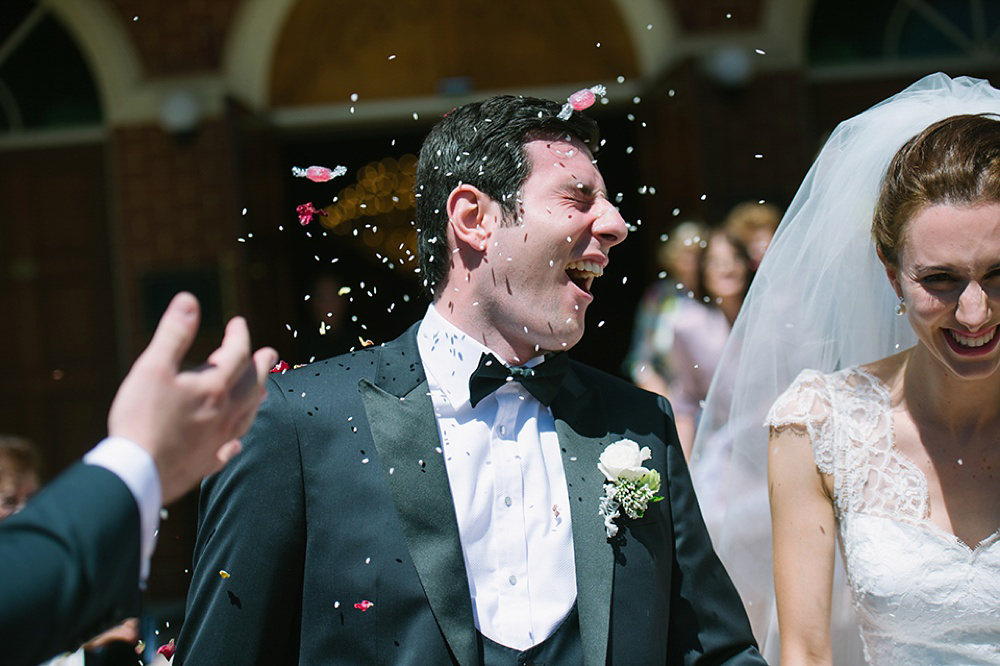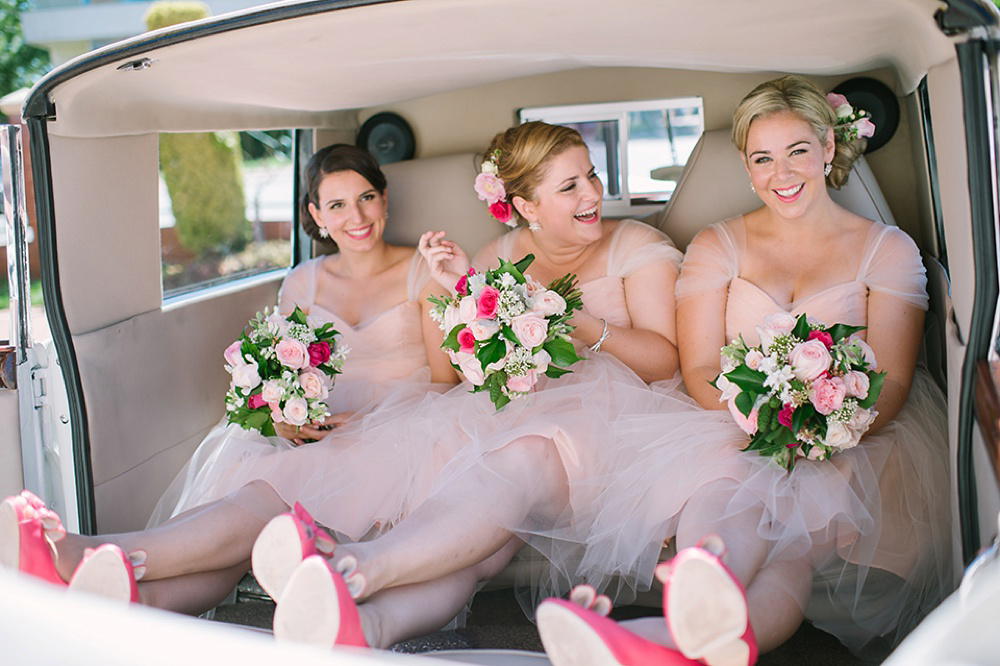 "We hired two classic vintage white Jaguars from Belle Limousines and a dear family friend stepped in last minute and allowed the boys to drive his new Aston Martin Rapide to the wedding! The rev-head boys loved the thrill of this exciting ride to the church. We also used my husband's Porsche for our sparkler exit at the end of the night."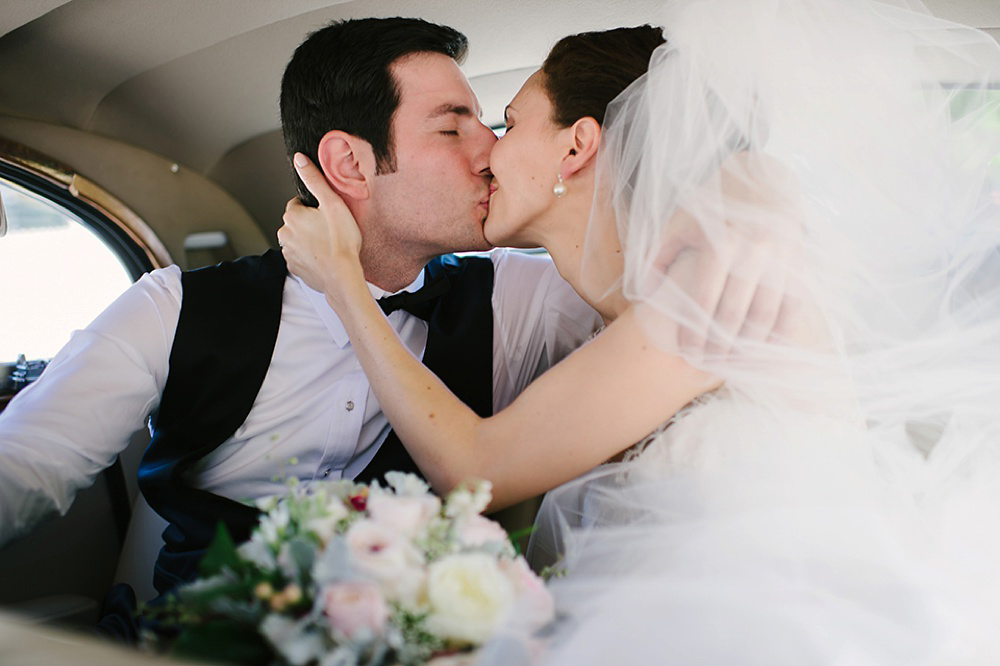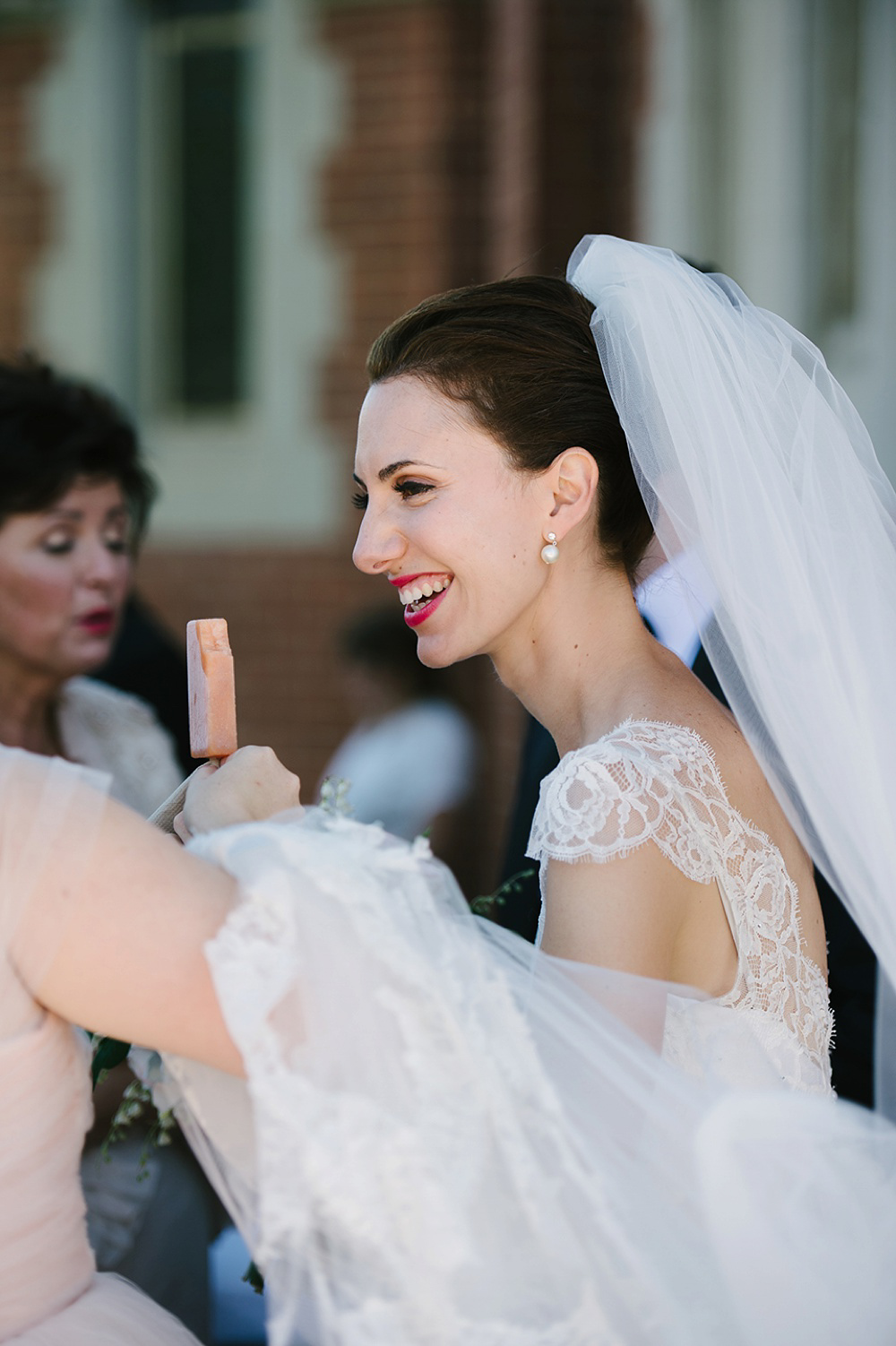 The couple were lucky enough to be introduced to Claire Morgan through Aimee Jones who also worked as a second shooter for the wedding and they were utterly delighted with the results.
"Aimee told us that her mentor Claire Morgan was flying to Australia for a fashion shoot and would love to photograph our wedding, with Aimee as second shooter! We were absolutely delighted to have the most beautiful and talented photographer to capture our precious wedding moments. Claire Morgan's style is both elegant and effortless and she captured the very essence of our wedding day.
Claire was so graceful in the background on the day, which was both relaxing and allowed us to be ourselves and have fun. Her photos paint a beautiful story and are a stunning mix of tender emotions, fun and laughter. Claire was truly talented in capturing the details and natural shots on our wedding day."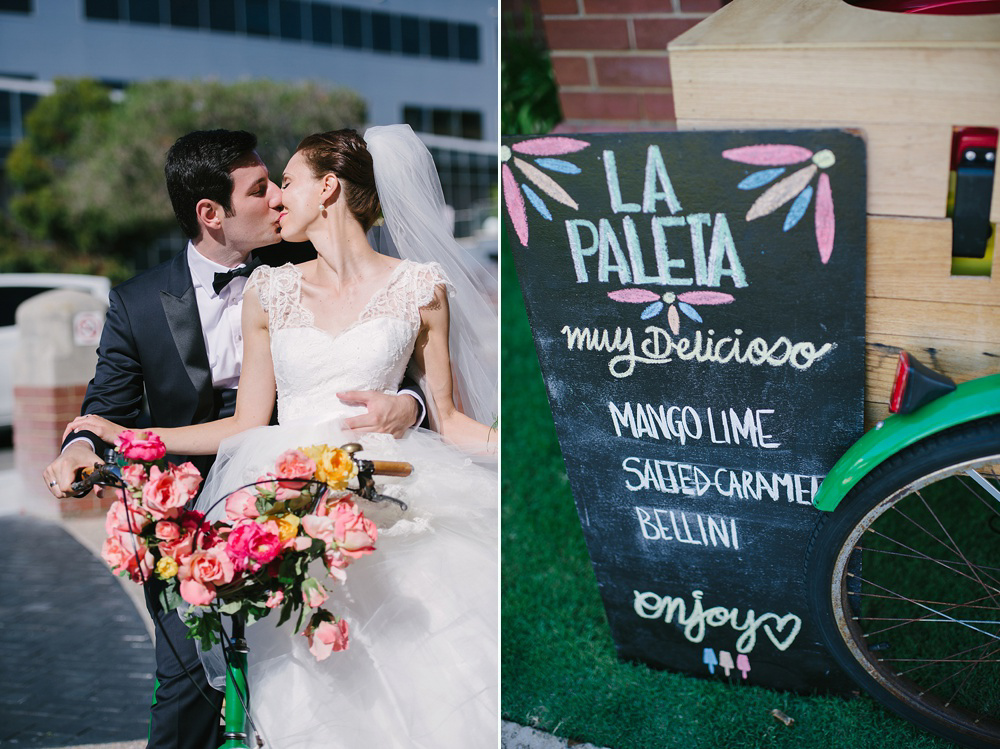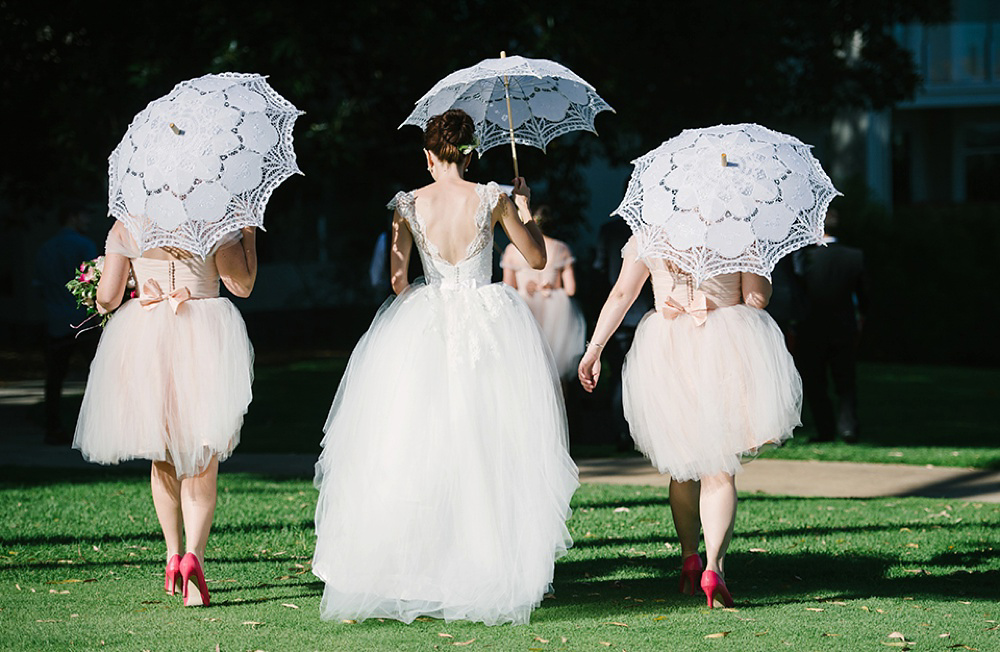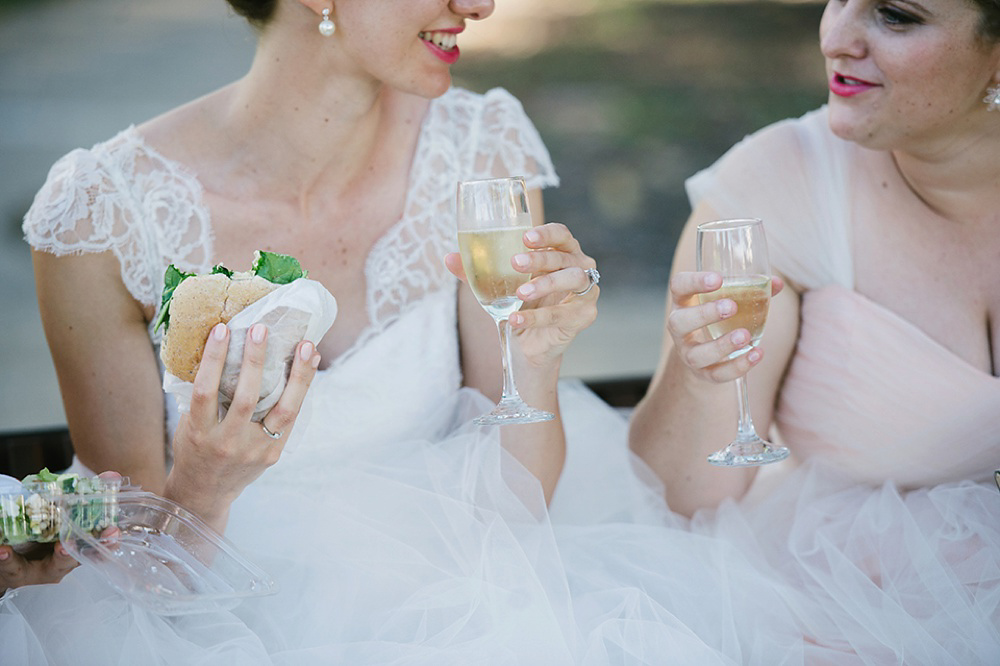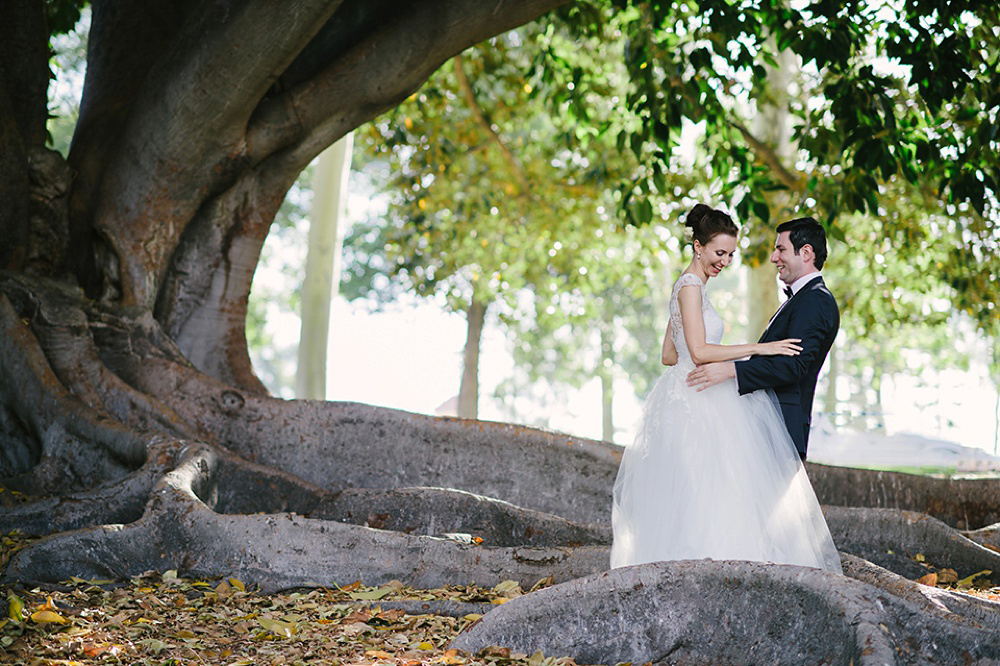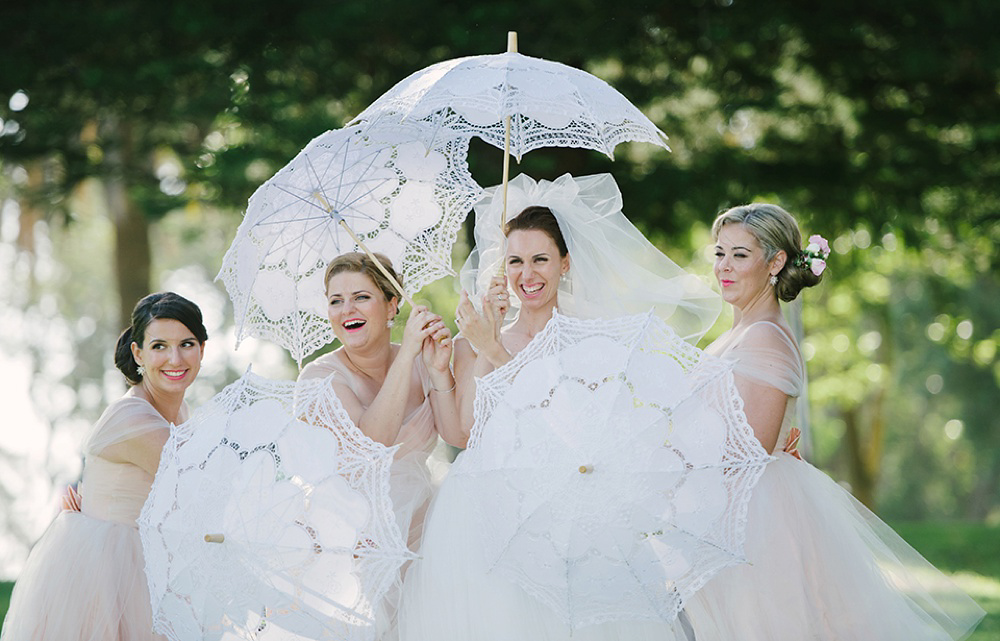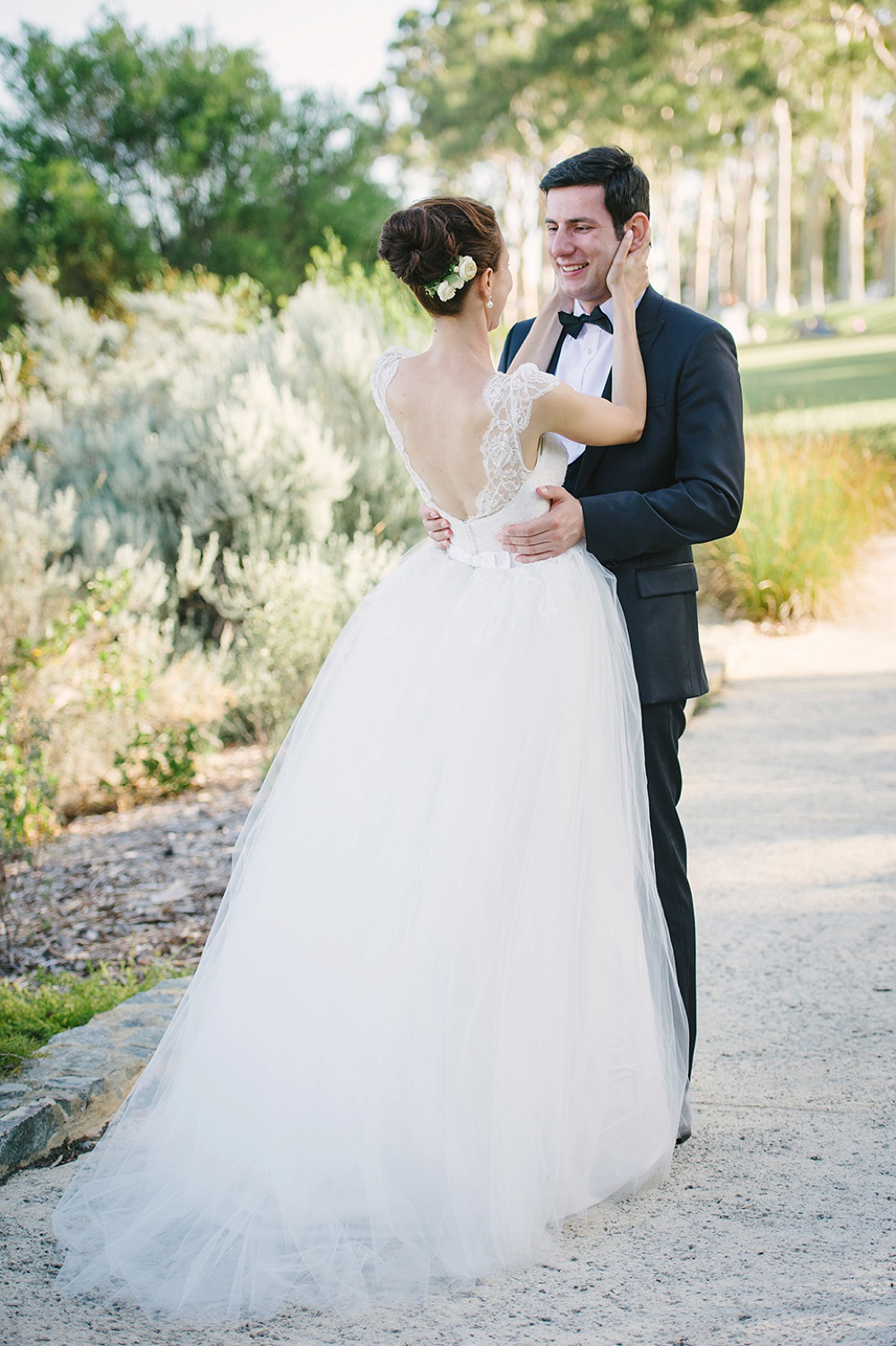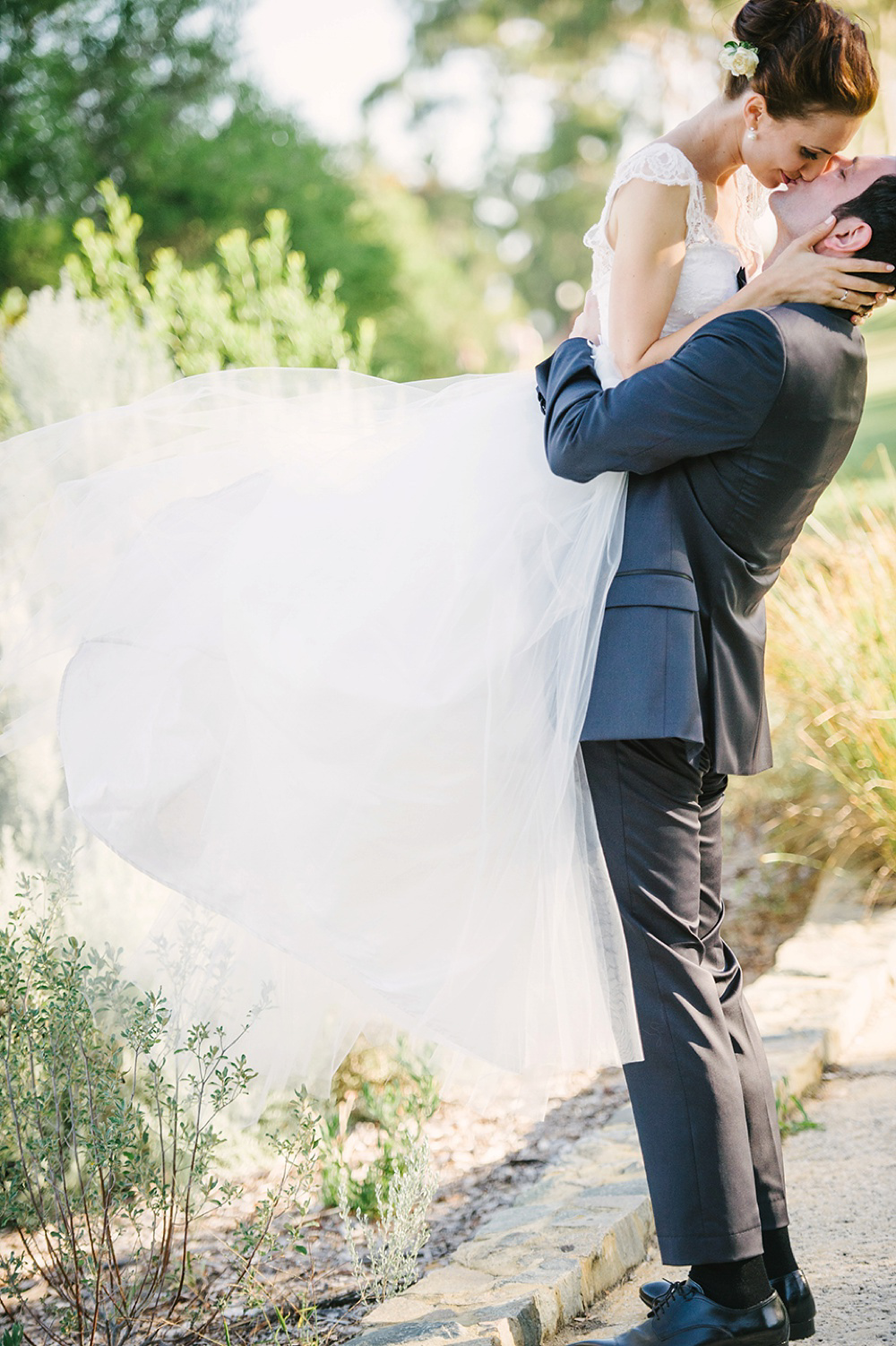 "After a night at the ballet, we stumbled across Lamont's Bishop's House and we knew that it was our dream wedding venue. As big romantics at heart, we wanted our guests to feel like they were in a French chateau, surrounded by beautiful gardens and dining under the stars. Our wedding was a true reflection of our classic and elegant style but also loads of FUN and very relaxed!
It was breathtaking to see our wedding venue transform from a blank canvas to a sea of pretty pink blooms and foliage that made it feel like we were transported to the gardens of a French chateau. The soft festoon lighting gave a soft light twinkle and the abundance of flowers took my breath away."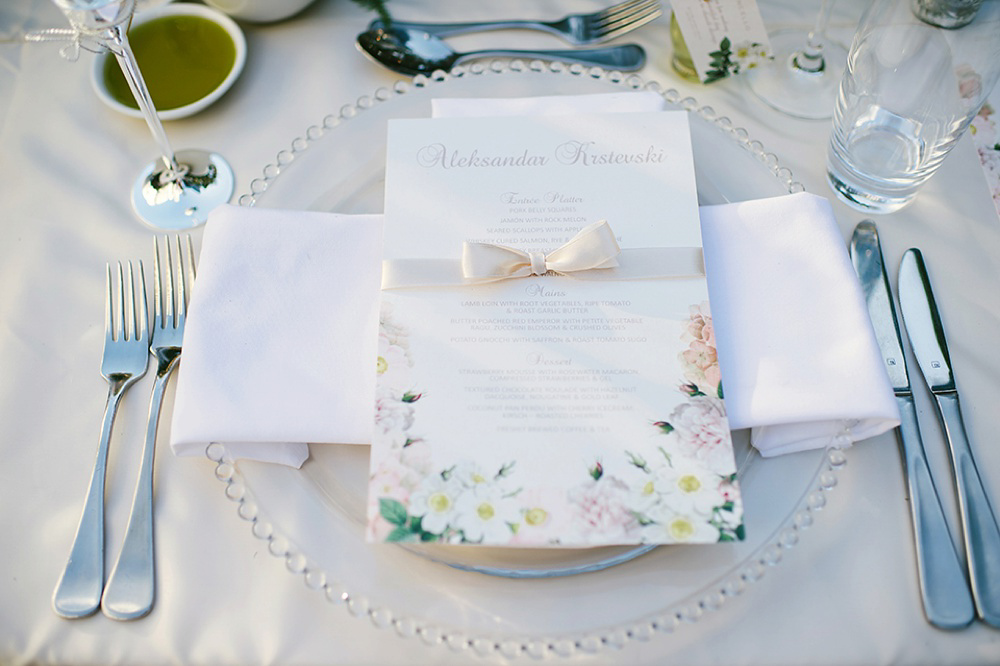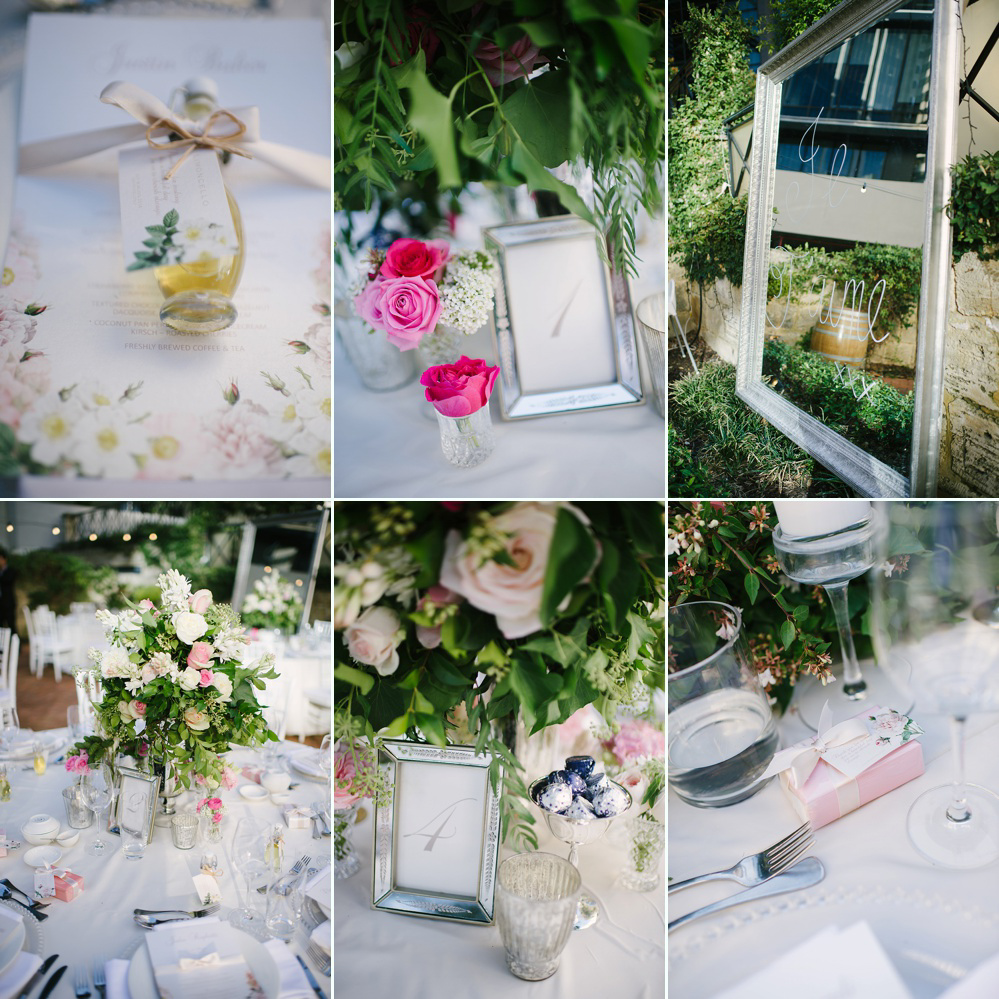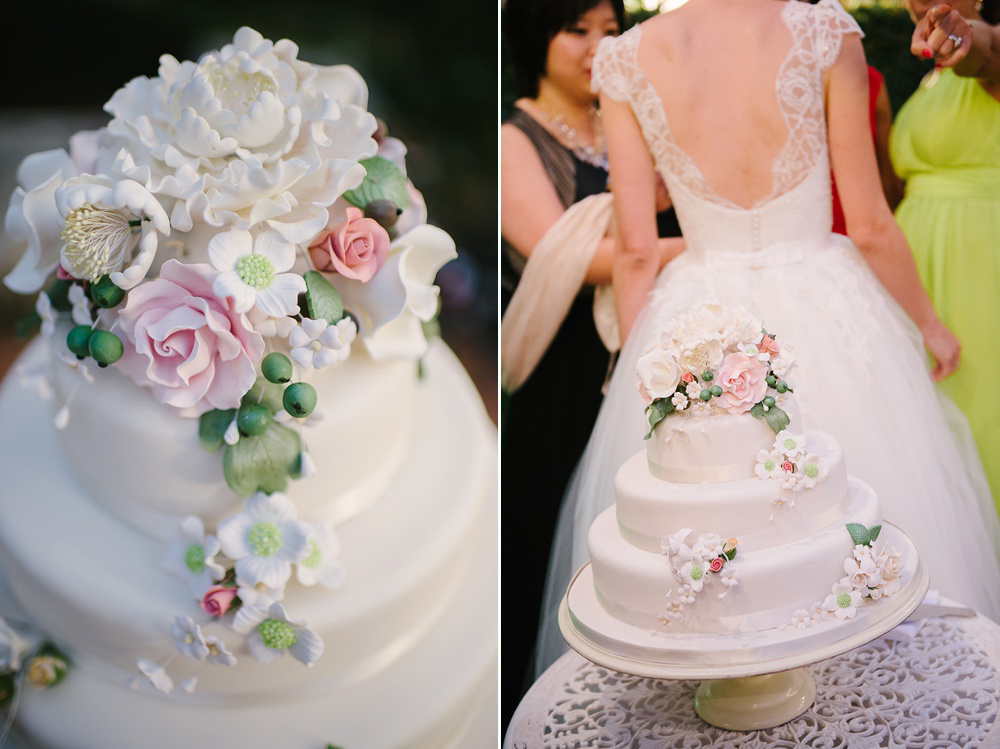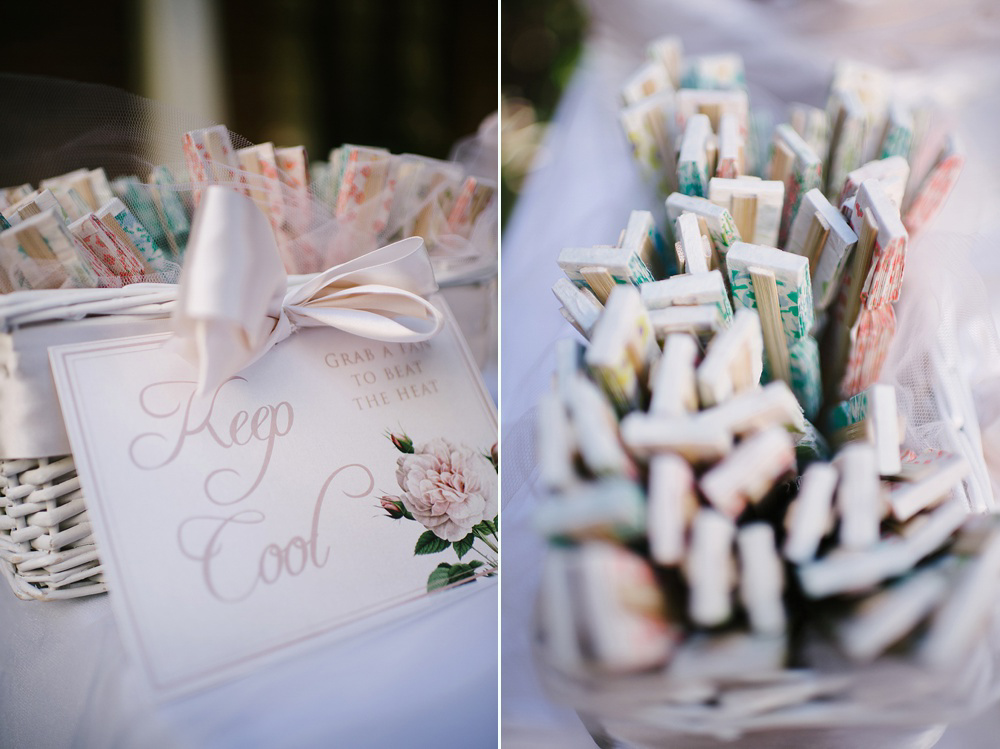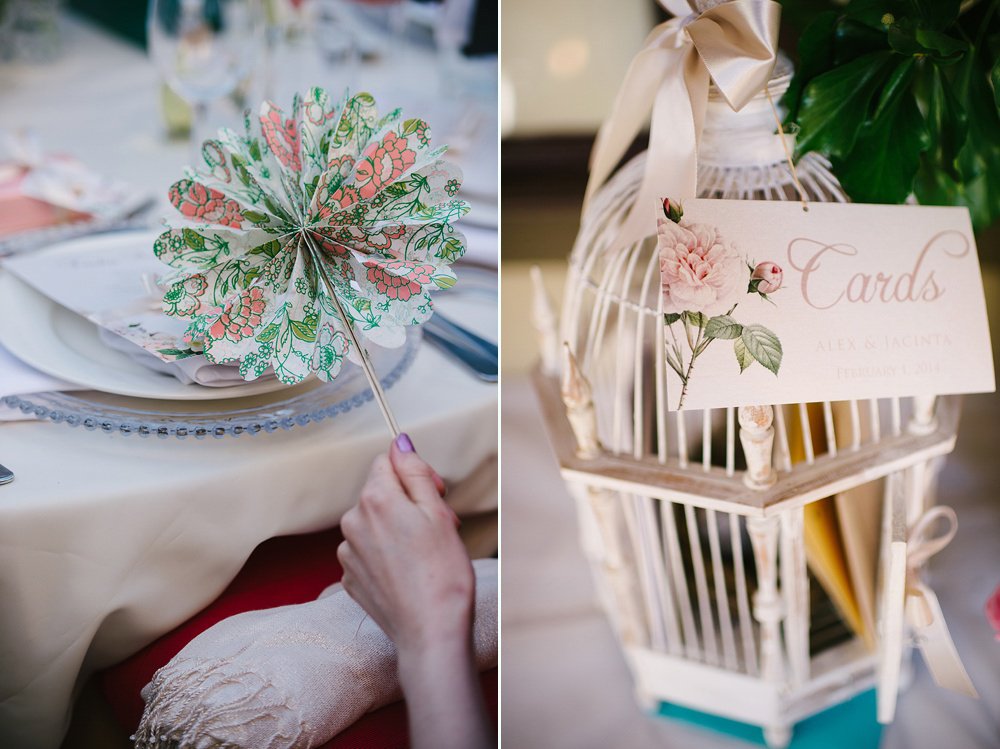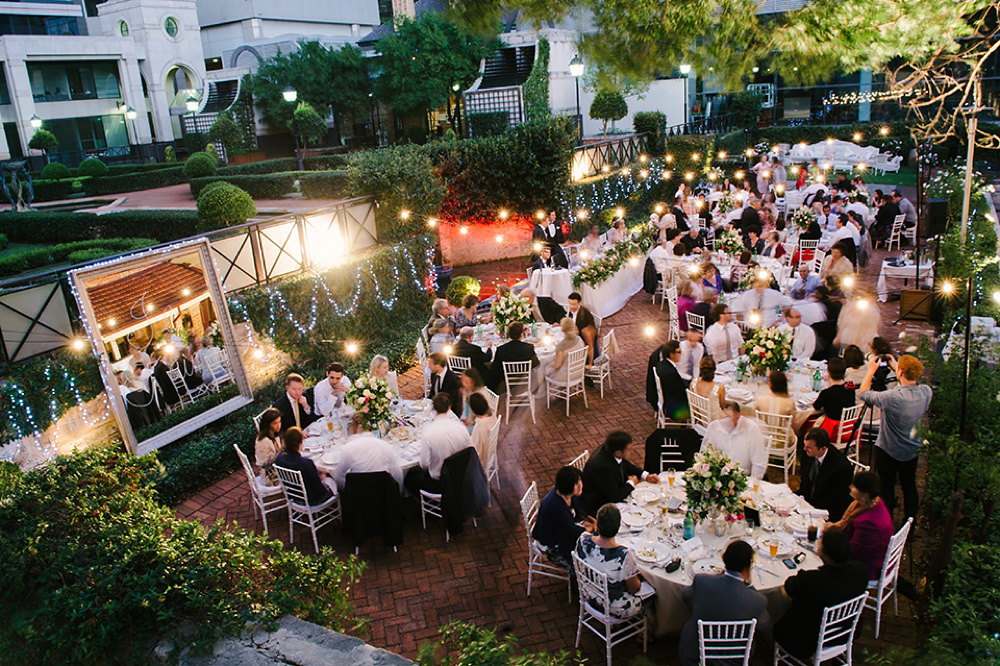 "Our wedding favours honoured my Italian grandfather's homemade limoncello recipe made using the lemons from my husband's grandfathers' old lemon tree. It was very special and sentimental to honour our grandparents in this way, as well as with photos dotted around the venue of their weddings."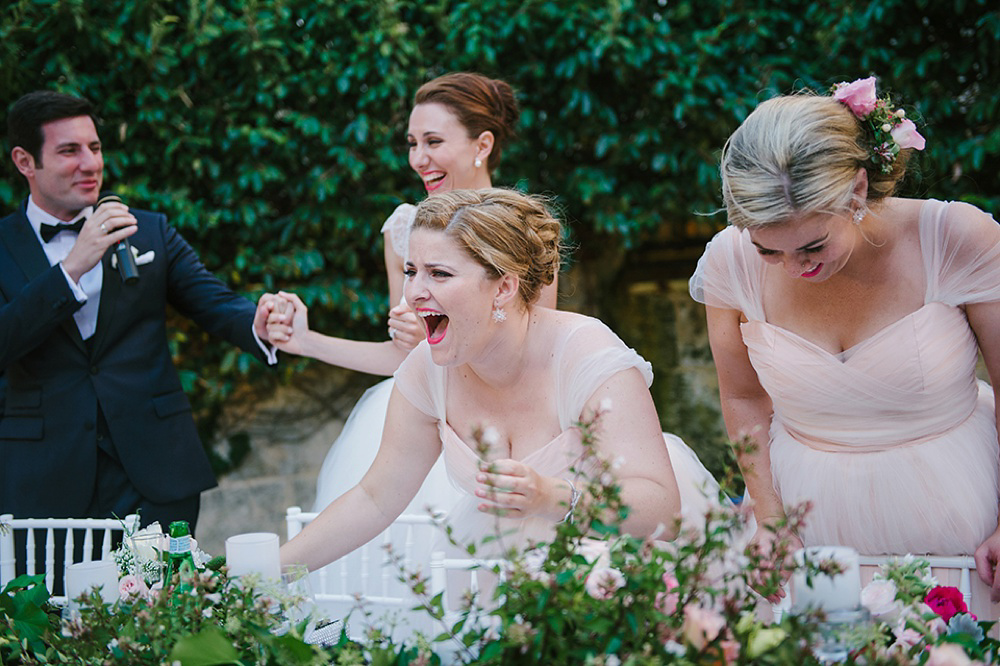 "Our bridal dance song was a combination of 'The Way You Look Tonight' by Tony Bennett and 'Time of my Life' from the movie 'Dirty Dancing'. My favourite wedding movie of all time is 'My Best Friend's Wedding' and I always wanted 'The Way You Look Tonight' to be my first dance song. However, we wanted to have some fun too so incorporated 'Time of my Life'. On the night, with the adrenalin pumping, we actually did the signature lift. I don't know how my wedding dress didn't rip apart!"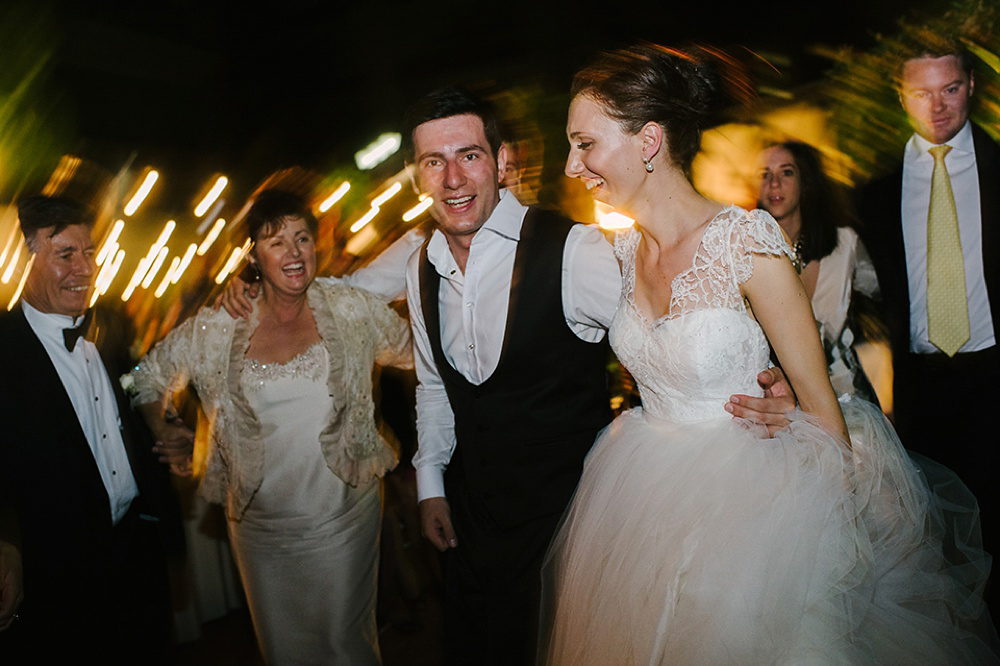 Words of Wedded Wisdom
"My greatest advice would be to read the book the 5 Love Languages. I try to live by these words every day;
Most people get married believing a myth that marriage is beautiful box full of all the things they have longed for; Companionship, intimacy, friendship etc … The truth is, that marriage at the start is an empty box, you must put something in before you can take anything out. There is no love in marriage, love is in people, and people put love in marriage. There is no romance in marriage; you have to infuse it into your marriage. A couple must learn the art, and form the habit of giving, loving, serving, praising, of keeping the box full. If you take out more than you put in, the box will be empty."
A big thank you to our lovely couple Jacinta and Aleksander for sharing your beautiful wedding day with our readers. Also huge thanks and appreciation to Claire Morgan for the stunning images. Claire specialises in destination weddings, more of her gorgeous work in far-flung places can be seen here.
Love Caoimhe xx
Photographer – Claire Morgan with second shooter Aimee Jones
Film – The Little Day Project
Planner/Stylist – Perdu Décor
Venue – St Joseph's Catholic Church + St Nikola Macedonian Church + Lamont's Bishop's House, Perth, Western Australia
Wedding Dress + Veil – Loui Col Designs
Shoes – Kate Spade
Accessories – Kezani Jewellery
Bride's Scent/perfume – Signorina by Salvatore Ferragamo
Groom – Hugo Boss
Bridesmaids – LouiCol Designs + Alannah Hill Shoes
Florist – Twigged
Transport – Belle Limousines
Entertainment – Saffron Sharp
Stationery – Paper Fusion
Hair Stylist – Chanel Di Domenico, @chanelparisehair (Instagram)
Makeup Artist – Kathryn Colgan