Just. So. Much. Joy! As I write this blog I am days away from becoming Mrs Williams-Williams! Yup, I'm marrying a man with the same second name as me. Just one of the MILLION things I'm feeling incredibly lucky about right now! I have just got back from my Hen Weekend and can honestly say it was the most beautiful time. My Maid of Honour and Brides-man really did organise the weekend of my dreams – with the Wonder Woman that is Katie Donoghue of 'What Happens In Barcelona'.
Me centre, with my maid of honour and brides-man
We ate sushi off a male model, played drinking games with cocktails served by a butler in the buff, had a chef cook us the most incredible meals, partied till dawn, ate the best Tapas, had an afternoon on a yacht and so much more. But what was it that made the weekend SO special?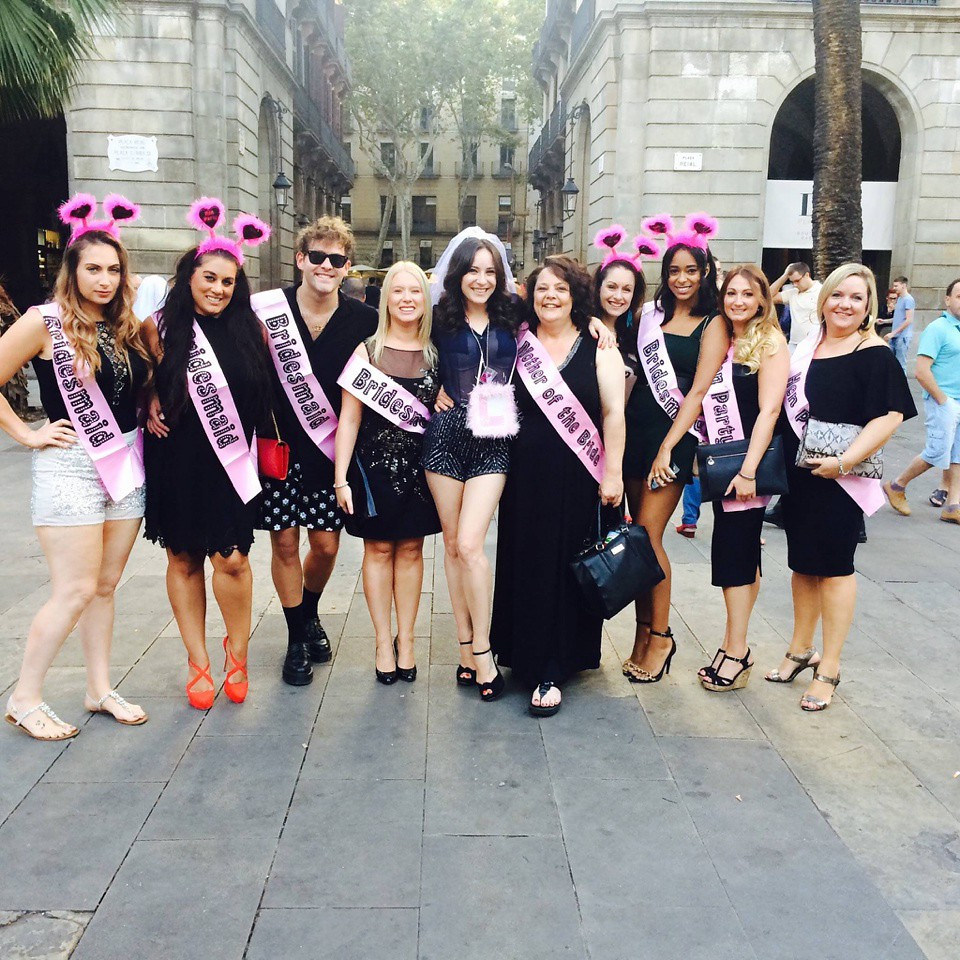 The girls and I on my hen night!
As I looked round the table, it struck me: a wedding isn't just about two people making the ultimate commitment to spend the rest of their lives together, it is so much more. It is about bringing two worlds together. Two families that would never otherwise have met and two sets of friends that become one giant melting pot of love and support for the happy couple as they embark on the rest of their lives. My hen party was made up of family and friends that have made me who I am today. We have an entire life time of memories together with each one of them loving me as much as I love them. I felt overwhelmed. How am I going to feel on the actual day?!
Me and Mum
Weddings are such special times, but they're about so much more than just the day itself. It's the whole run up to the event – it's the bottomless bubbles brunches with the bridesmaids, it's the DIY stationery printing with your Mum and the menu tasting with your fiancé. I have spent entire nights sat around after dinner with Dave, Mum and Gramps discussing the smallest details of our day, playing music until 2am just deciding the perfect piece for each moment.
I have dragged my Mum and Gramps to every car boot sale in Essex trying to find a massive frame for the table plan with 'just the right amount of shabby chic.  Dave and I have spent hours laughing at pictures of our younger selves, recounting to each other over countless bottles of wine the myriad stories behind every photo. It really has been a journey!
Sadly, however, amongst the chaos and the frippery, there has been a huge part of the jigsaw that has been missing – my darling Nan. My God, she would have been loving every single moment of this. It's made me realise, weddings aren't just for those who can be there in body, but they are also for those who are there in spirit. And so she is very much part of it, for all of us. We laugh because we know exactly what her opinion would be about everything, then we cry because she isn't here.
I always knew planning my wedding would be bittersweet without her, but I think it's the price you pay for having loved someone so much, I wouldn't change all those years of joy with her for anything.
In my last feature, I wrote about 'the fear'. That was the fear brought on by the doubt and self recrimination that washed over me over every decision that had been made previously and while we still had the gift of time. Although I hoped otherwise, I truly expected that that fear would ultimately melt away, only to be replaced by stress and panic in equal measure as the clock ticked down – as so many people have told me to expect.
Indeed, there were a few transitional days that looked very much like they would indeed morph into that inevitable stress. But, in fact I think it was more a case of a concentrated obsession – I woke up in the middle of the night overwhelmed with the NEED to have as many tangible memories of our day. I decided we MUST have a videographer and a photobooth. The idea of not having the speeches on film or having something show our children in years to come made me feel sick! I'd been to a wedding last year with a photobooth and we had the most fun- I still have the photos of us in dodgy wigs laughing!
After days of searching I found Martin at I Do Productions. With him I just know all the special moments from our day will be captured forever more. I then stumbled across the most beautiful website Victoria Lily Events. Vicky and her beautiful booth will be there adding a personalised touch to the eve and our guestbook. No memories missed! Instead, I have found that where I once felt that, as Bride, the weight of responsibility lay on my shoulders, I now know that I am surrounded by a network of people who actually want to do whatever they can to ease the process of organising the biggest event of my life and help me to (dare I say it) actually enjoy myself! It's times like these that you truly find out who your friends really are, and I have to say that ours have 'stepped up' above and beyond our expectations.
The one thing that Dave and I were in absolute agreement on was that we wanted an occasion that was completely uniquely personal to us and would almost form a narrative to our story so far. Thanks to our friends, this box has well and truly been ticked.
At the church our guests will sing the hymns to the organ being played by the Musical Director of the show on which Dave and I were to eventually meet. I will be walking down the aisle, and exiting the church, to music written and played by a double string quartet of some of Dave's best and oldest friends. Four of these friends have their own incredible electric string quartet, 'String Fever', and are breaking off and flying back from their tour of the USA for a mere 24hrs just to be at our wedding! My own band, 'The Tootsie Rollers', have arranged an acapella piece, 'The Sound Track to the last seven years' (made up of all our favourite songs) which they will perform as part of the ceremony.
How can you not feel overwhelmed by all this love!? To be honest, it's made me a blubbering mess! I've been bursting into tears at anything and everything – my grandad hand making the easels we need for the table plan, hugging Dave, hearing the 'song of the Hen' on the radio (Let's Marvin Gaye & Get it on!), seeing my band mate's own honeymoon pix (she got married last month), and even every time I speak to my mum or two best friends.
Yes, it's indulgent, but I think that's what this time is all about. Wallowing in all this love that's being splashed your way!
I'm so excited to marry very own caveman Mr David Williams. I can't wait to hold his hand and look around at all our important people in one place. Like I said in my very first blog, on the 9th of October 2015 we start the 3 legged race that is our life together . What better way to start a race than to have all those special people cheering you on as you take the first step?!
Love Khiley xx
_____________________
Our blogging bride and Lovettes member Khiley is due to marry her fiance David on 9th October at Hengrave Hall, Suffolk.  Their wedding will be photographed by Richard Payne. You can find Khiley on Instagram and you can also read Khiley's previous Lovettes features here.  Khiley is also a member of all-girl singing band, The Tootsie Rollers.