Good morning lovely readers. If I may, I would like to begin this feature by wishing my Mum a very Happy Birthday. She is a big Love My Dress fan and it is in fact because of her that I began reading the blog while planning my own wedding back in 2012/13- so thanks Mum!
Now, back to today's wedding! Without further ado, please let me introduce today's bride and groom, who married on the 30th of April this year in the glorious spring sunshine, with their ceremony at Holy Trinity Church Waringstown and their reception at The Millhouse in Slane, East Ireland. Cheryl is a retail manager and Gary works in marketing.
"Once we started to plan the wedding, we knew straight away we wanted a spring wedding. This definitely influenced the colour scheme and feel of the day. I wanted light spring colours, with a boho pretty vintage feel."
Photography by Francis Meaney
"We decided right off the bat we didn't want a hotel wedding, so we went on the search for something a little different. I stumbled across The Millhouse on a wedding blog and fell in love instantly. When we went to see it, we knew it was perfect, it was private and totally relaxed, exactly what we wanted"
"Decorating the venue was one of our favourite parts! We did it all the day before the wedding, with help from friends and family. We made 90 paper pompoms – though we didn't end up using all them! We happened to win some large helium balloons with tassels and tassel garlands and used these to style the cake table. The room in the Millhouse is pretty much a blank canvas so it was easy to add colour to, so I kept with the wedding colours and used peach and blue."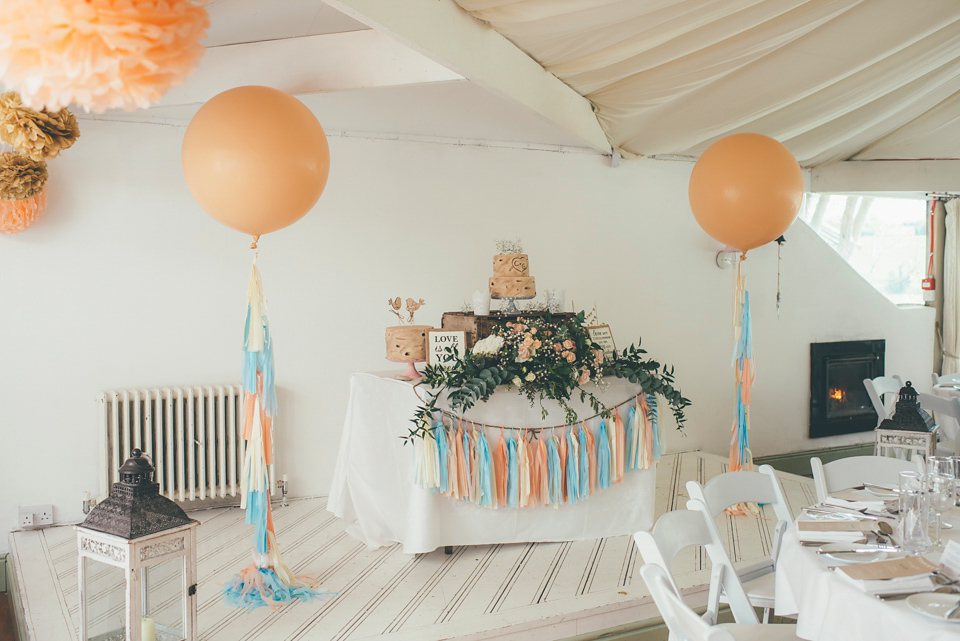 "We met in 2007 on a night out introduced by my best friend Hannah (and one of my bridesmaids!) and the rest as they say is history. Fast forward six and a half years later, it was my 30th birthday in November and I have always wanted to go to Paris, so we decided to go for a few days then.
On the first night we were taking a walk to dinner near the Eiffel tower, next thing Gary was down on one knee! It was perfect, as soon as he proposed the light display started on the Eiffel tower, he couldn't have timed it more perfectly. We were engaged for nearly one and a half years before we got married."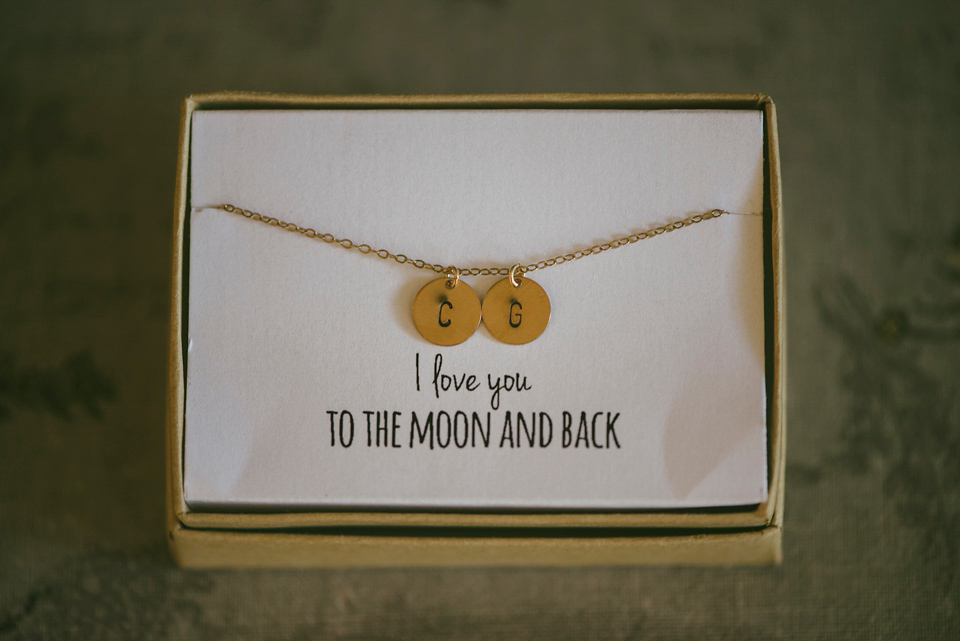 Cheryl wore a very elegant Clinton Lotter gown, purchased from The White Gallery Boutique. I love how she personalised her dress to make it absolutely her own. The easy-wear style works so well for their laid back wedding yet the lace makes it very delicate and romantic.
"I am a big lover of fashion, so the dress was very important to me. My dress was the very last dress I tried on, and I struggled with the decision. I originally had wanted a very boho dress but when I tried these on they either did nothing for me or I just didn't get the 'I love this' feeling."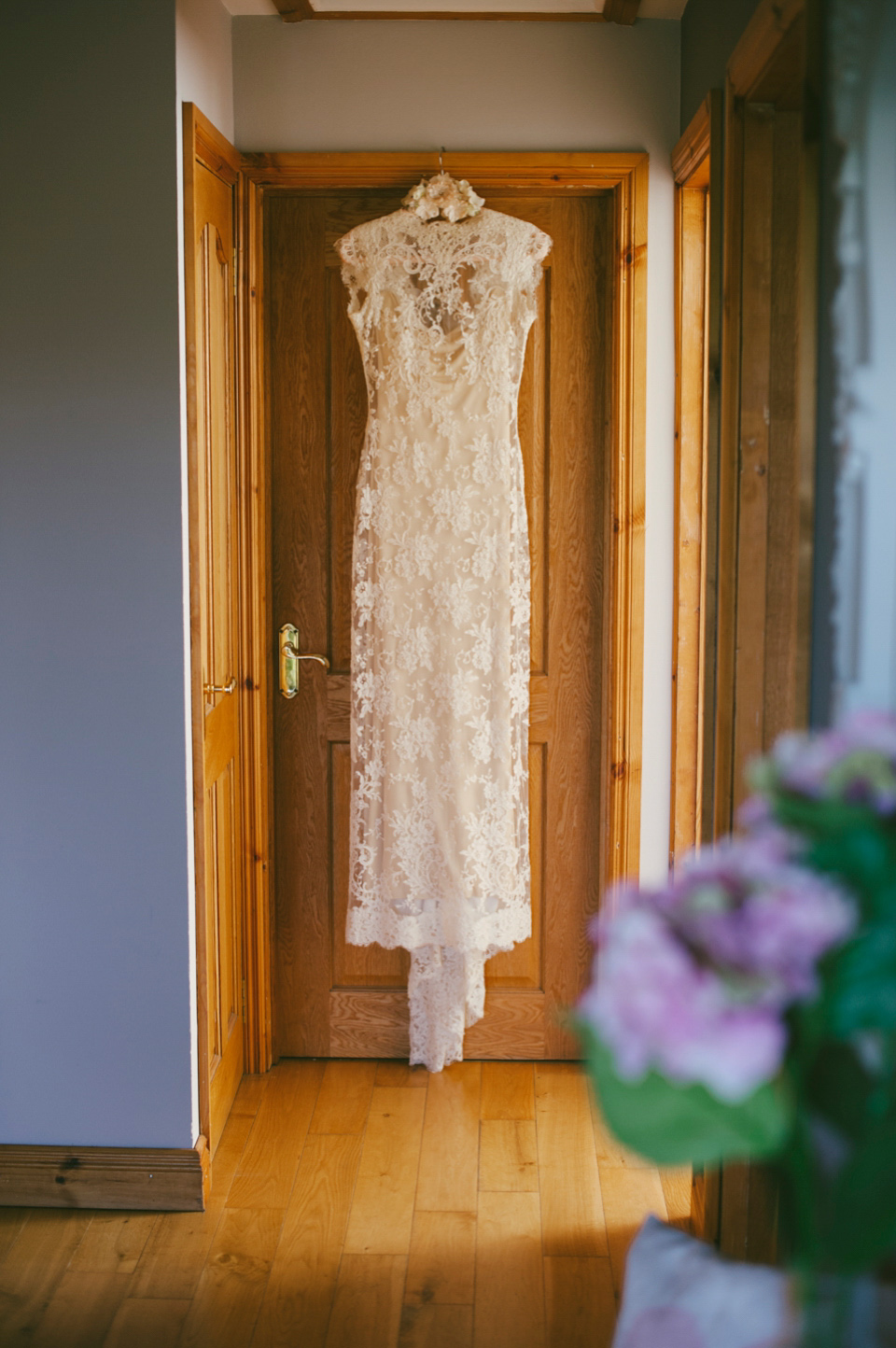 "As soon as I tried my dress on I knew it was the one, I just had to get my head round changing my look but I knew I could style it to the way I wanted. The neckline was originally a lot higher, so we altered that, and I had a bespoke headpiece made to make the look more bohemian in style."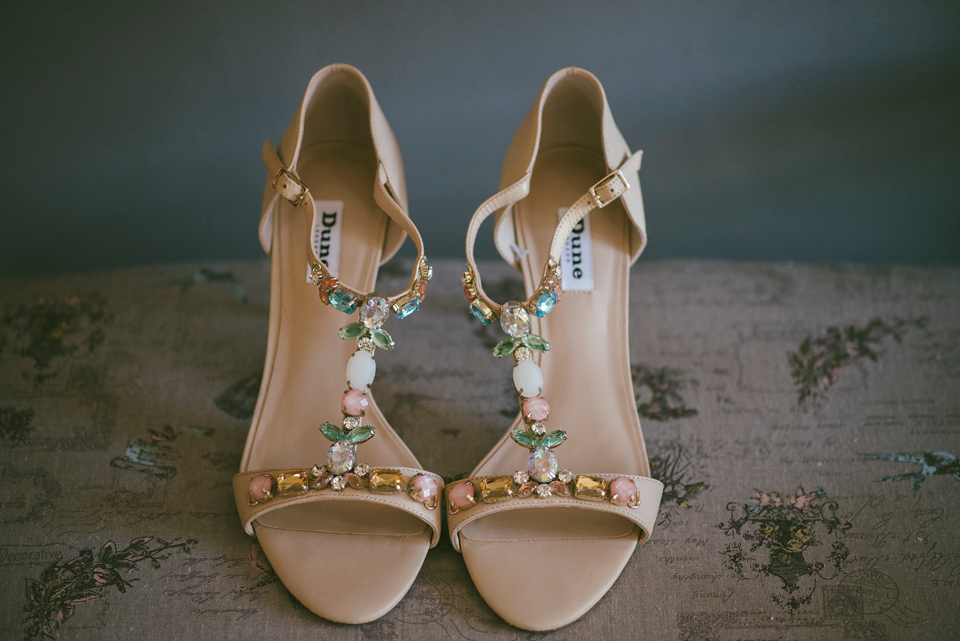 Cheryl's relaxed wavy hairstyle was the work of her own hairdresser, Ciara, from local stylist Hairlayerious and her hair accessories were purchased from The Shepherd's Purse Boutique who we are proud to say are members of our beautiful new supplier and vendor directory, Little Book For Brides®.
 Kathryn from The Posy Barn was Cheryl and Gary's florist of choice, and she did a fabulous job. The bouquets are wonderful, and I just adore that flower arch at the church door- it's so romantic!
"Kathryn did the flowers for Gary's brothers wedding and they were gorgeous, so as soon as we started planning I booked her straight away! She is an amazingly talented florist and the flowers were more amazing than I could have imagined."
"I wore Chanel Chance Eau Tendre. I don't think you can beat wearing Chanel on your wedding day and this scent is so light and spring-like."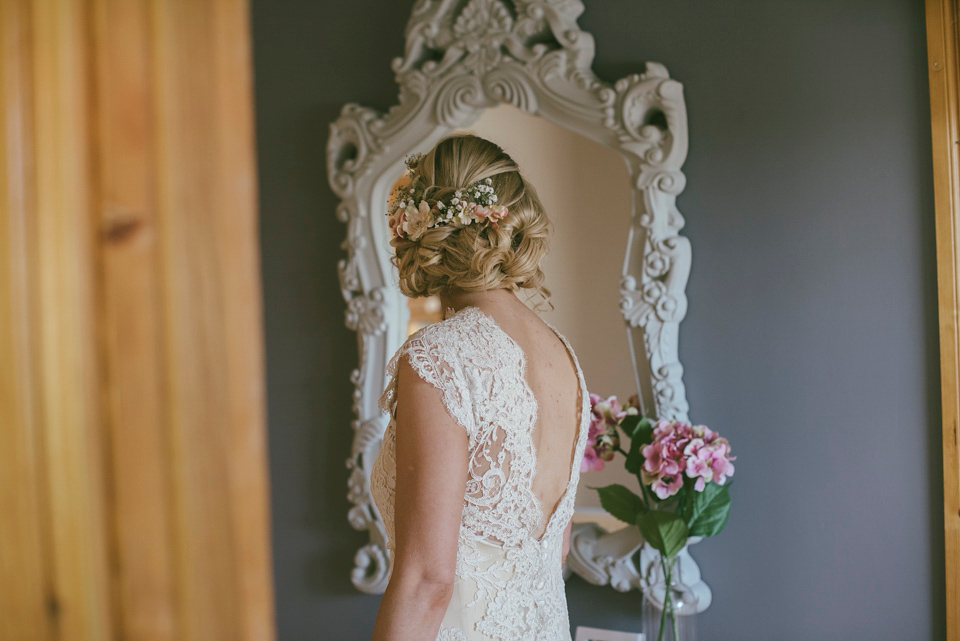 Gary chose a three piece suit in a summer blue, from Statement Menswear and wore it with style. I really enjoy seeing how our grooms are able to express their own personalities in their wedding attire, as well as the bride.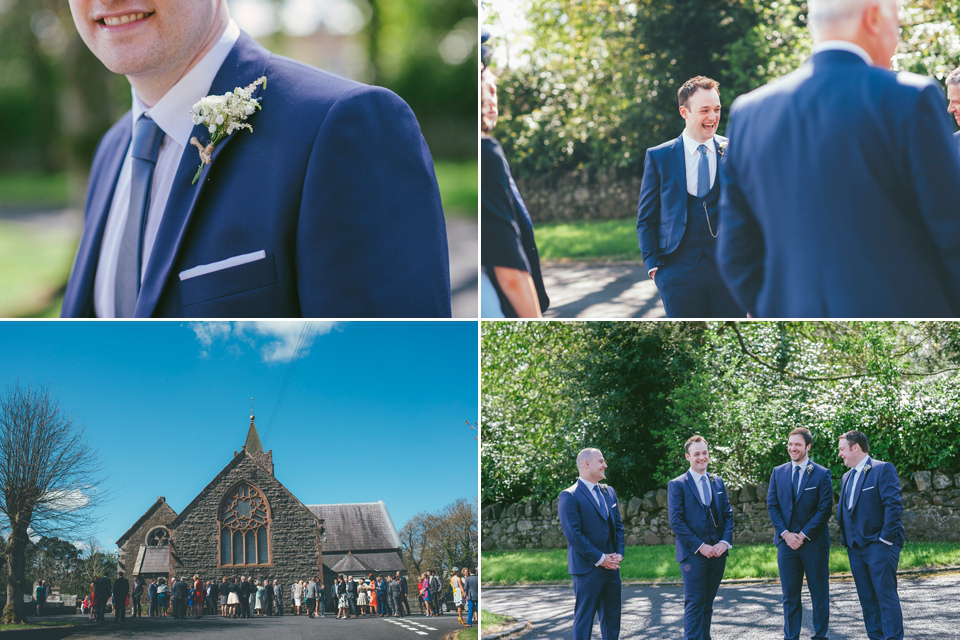 The bridesmaids looked gorgeously spring like in mint green dresses with a cap sleeve, purchased from Kaliko and worn with shoes from Dune, like Cheryl herself. The little flower girls and page boys looked super cute in outfits from River Island.
"There was a peach under layer in my dress so I wanted peach in my bouquet to bring this out and I opted for a more relaxed bouquet and it matched my headpiece perfectly. I just went simple with the bridesmaids but my big indulgence was my flower arch and cherry blossom trees in the church.
They looked amazing and really helped pull the whole look together"
Cheryl walked down the aisle on the arm of her Dad Alan, who looks so incredibly proud to be doing the honours.
"We walked down the aisle to a Tom Odell song 'Grow old with me' covered by the :13Moonloungers, which I  found on YouTube. It's a beautiful cover, and the words are just gorgeous."
"We had two biblical readings read by my brother and sister: Ecclesiastes 4 7:12 and Song of Solomon 2 10:13. Our little niece also did a reading, 'I like you' by Sandal Stoddard Warburg -its a great reading for little ones."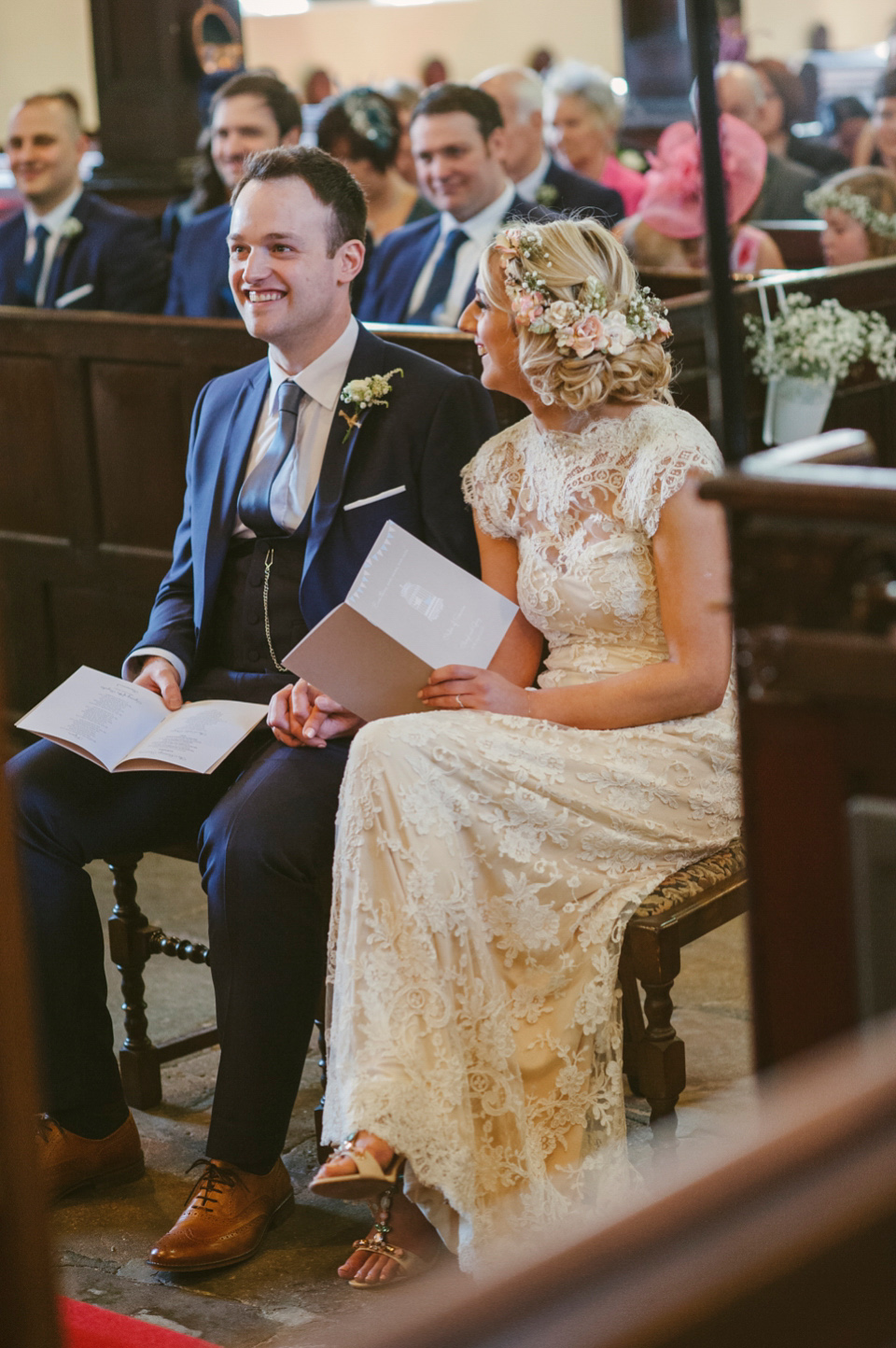 "My engagement ring was Gary's late mother's and I was so honoured to be given it- it is such a stunning ring and it holds a lot of sentimental value.
We got our wedding rings from Fred J Malcom. Mine was moulded around my engagement ring so it fits it perfectly."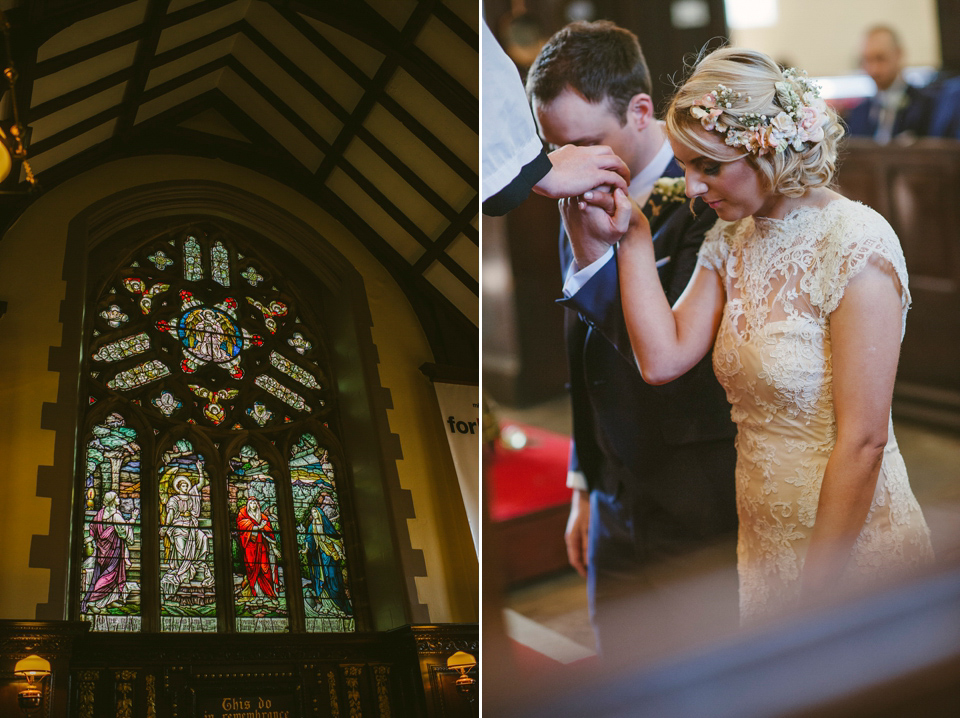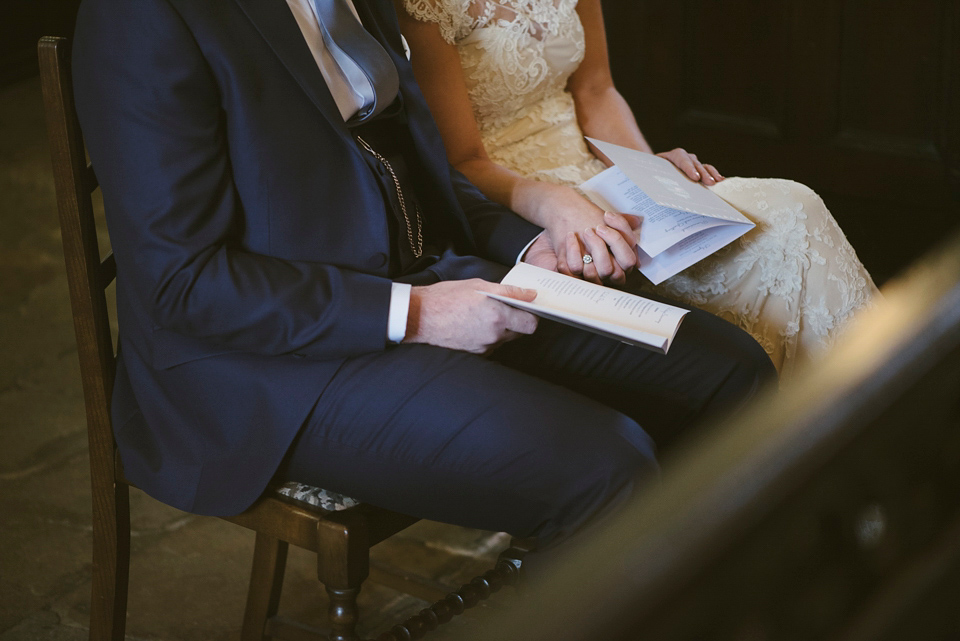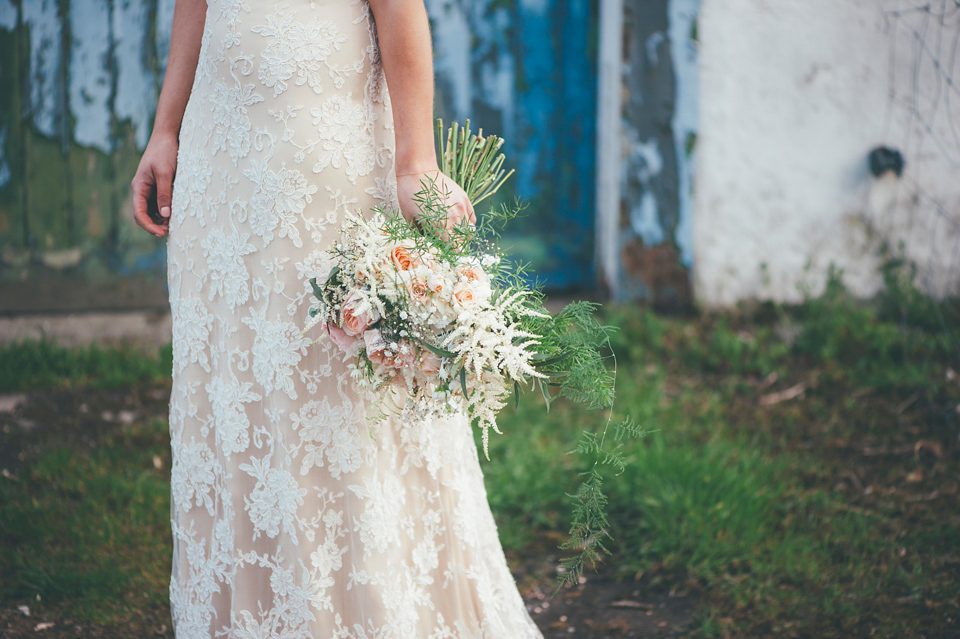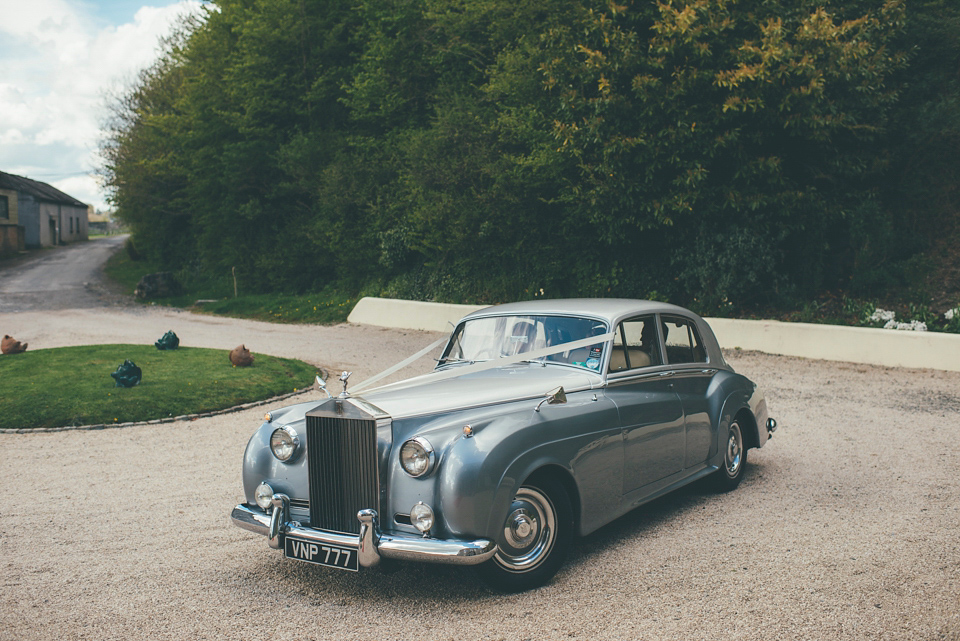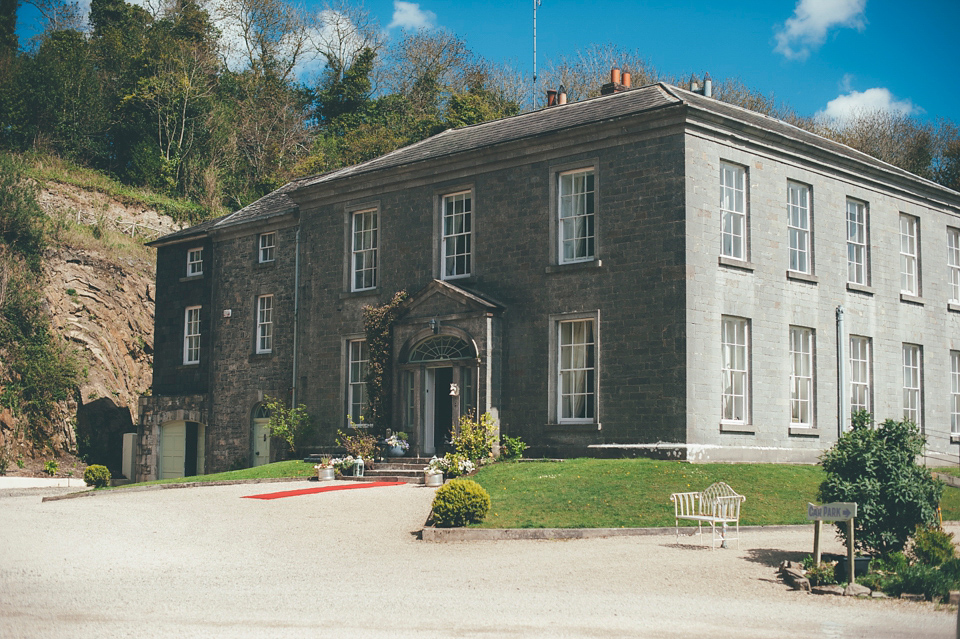 "We won our wedding cake on a blog, which was great, one less expense! I found the idea for our cake on Pinterest and it turned out perfectly. I wanted it to fit in with our theme and to make a feature cake table with three different cakes."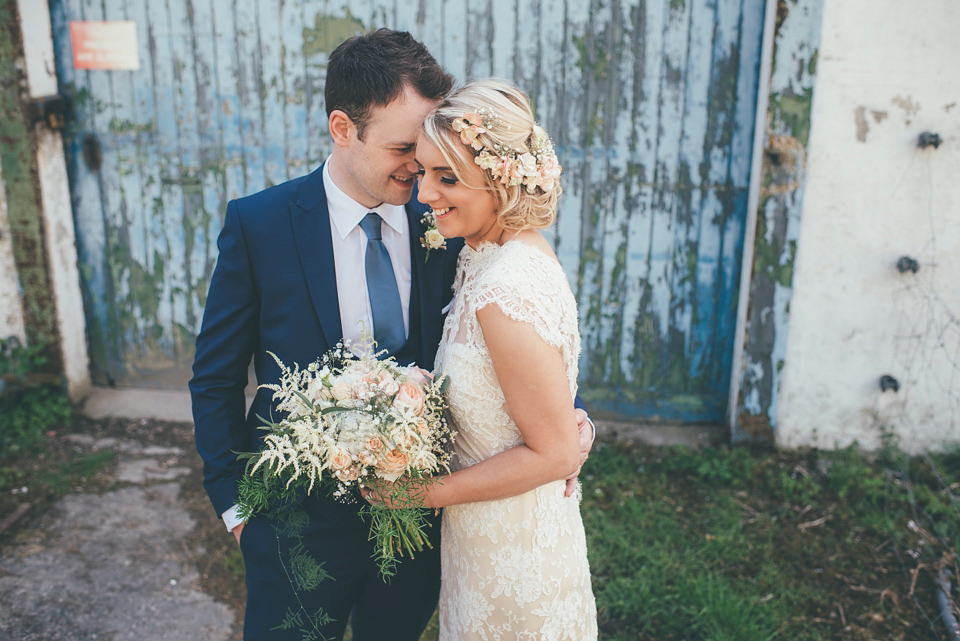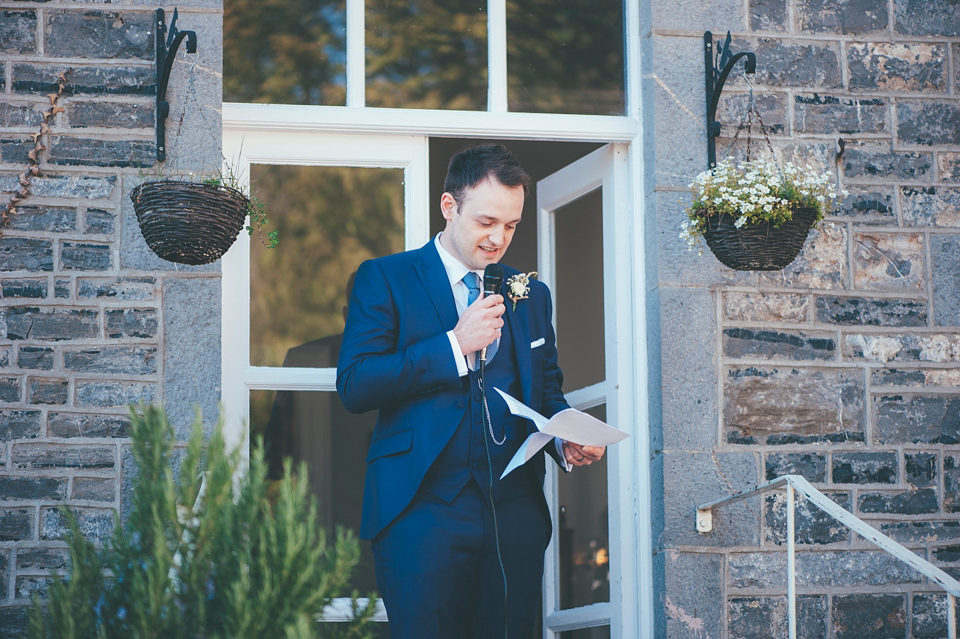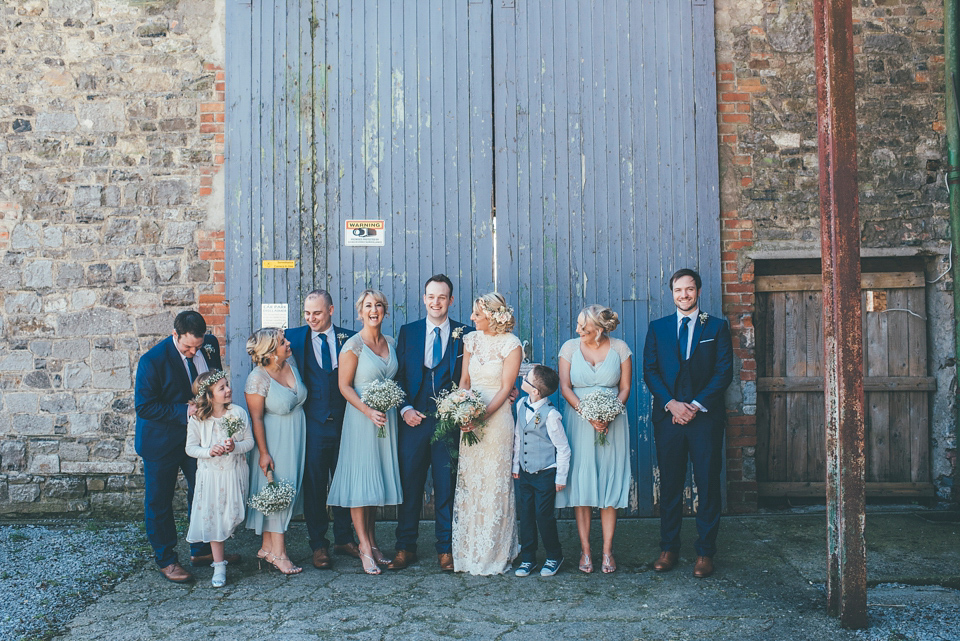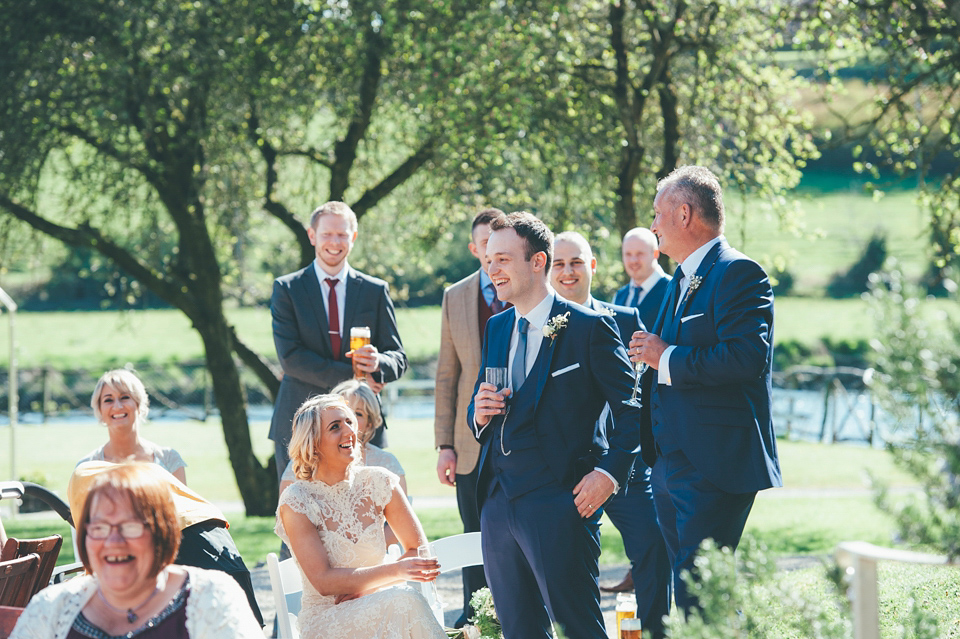 The couple chose photographer Francis Meaney to capture their day, after meeting him prior to their engagement. I just love the use of light in his images and the mix of colour and black and white photography.
"The photographer was very important to us. We didn't have the budget for a videographer, so we wanted to have amazing pictures to look back on. We had met Francis before we got engaged as he had photographed some family photos, so when we were thinking of our wedding photography, we immediately thought of him. We looked at some of his previous work, and we knew he would be perfect. His style suited our wedding- super relaxed and very natural.
I can't recommend him enough. We were blown away when we saw our wedding pictures, as were our friends and family."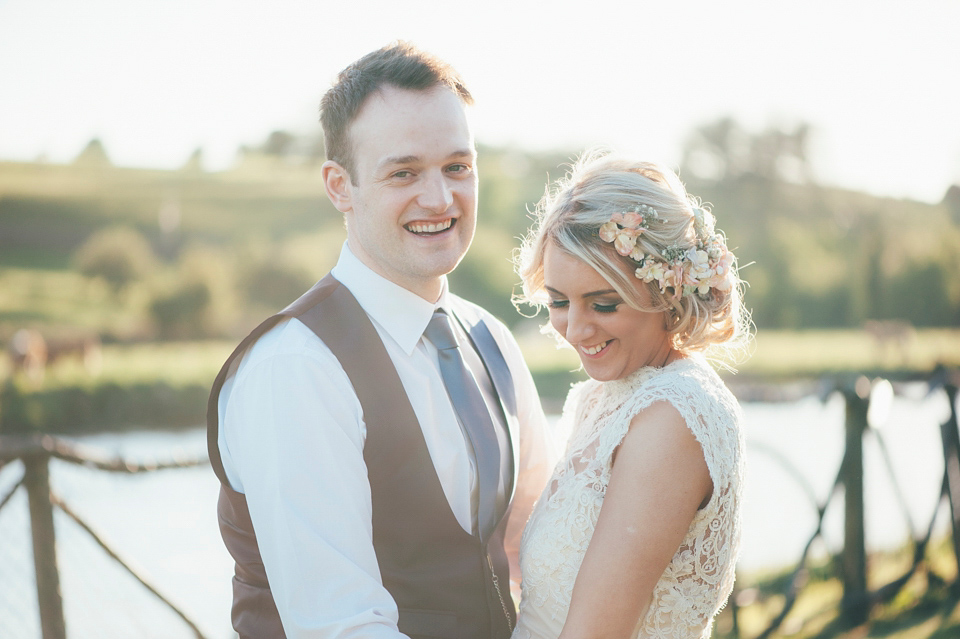 Instead of traditional favours, the couple donated to a local cancer charity- Action Cancer, a lovely gesture.
"We know so many people who have been affected by cancer and thought this was a meaningful way to honour those who could not be with us on our day."
"The whole day was just perfect. My favourite part was the wedding speeches. We got such an amazing sunny day and were able to have our wedding speeches outside in the courtyard. It was super relaxed, and a little different to the norm.
It's easy to say with hindsight but if I were to change anything I probably would have stressed less in the run up. The time goes so quickly, I wish I could have stressed less and enjoyed it a little bit more!"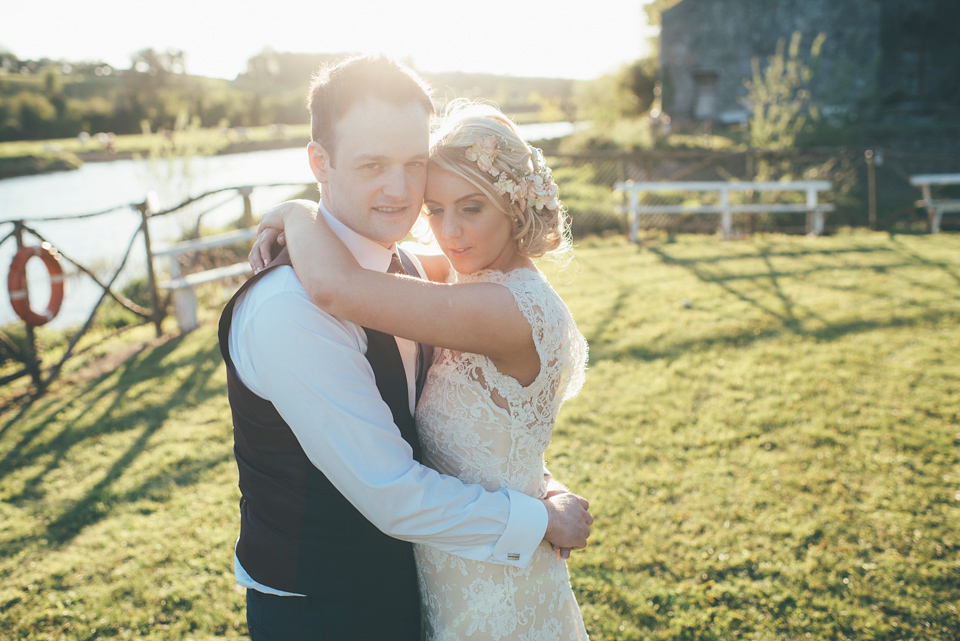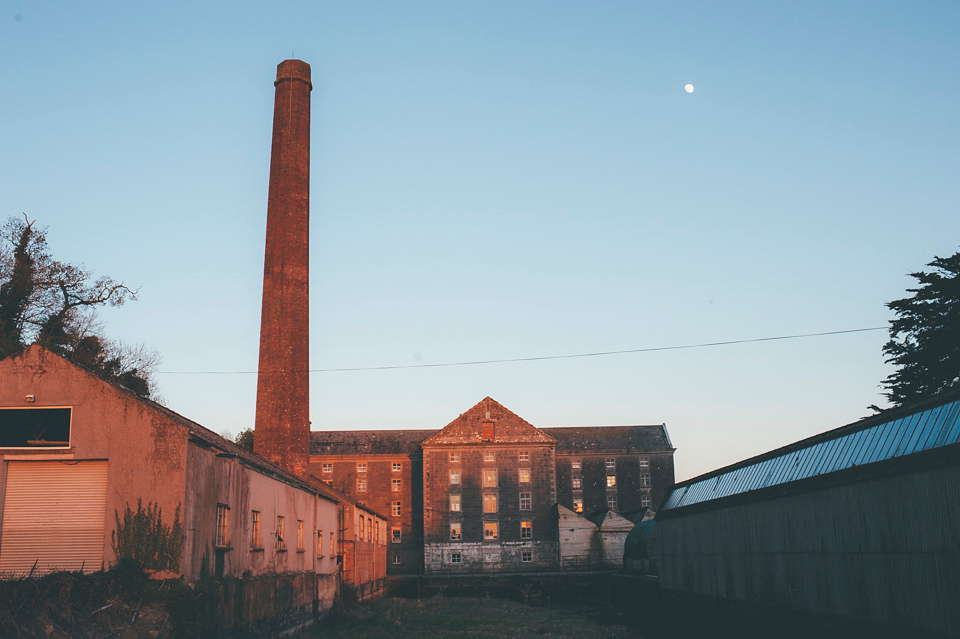 Words of Wedded Wisdom
"I would say that there are no real rules when it comes to your big day, just do what suits you both as a couple and you will have the best day ever!"
Very many thanks indeed to Cheryl and Gary for sharing their beautiful day with us- it was a pleasure to feature another lovely Irish wedding. Thank you also to Francis for allowing us to feature his beautiful images. Do we have any more Irish brides tying the knot in the next few months? Do get in touch to tell us about your plans!
Love as ever,
Shona x
Photographer – Francis Meaney
Venue – The Millhouse, Slane, Ireland
Wedding dress – Clinton Lotter, purchased from The White Gallery Boutique
Hair accessories – The Shepherds Purse Boutique
Shoes – Dune
Accessories – Bracelet from Etsy
Perfume – Chanel Chance Eau Tendre
Bridesmaids' dresses – Kaliko
Bridesmaids' shoes – Dune
Flower girls' dresses – River Island
Groom – Suit from Statement Menswear
Pageboys – River Island
Florist – The Posy Barn
Cake – Bake My Cake, now sadly closed
Rings – Fred J Malcom
Stationery – Made by Gary and Cheryl
Hair stylist – Ciara at Hairlayerious
Makeup artist – Sak Designs
Cake stand – H&M
Transport – I do Wedding Cars