Hello Saturday! I hope you're all enjoying the weekend being immersed in all these wonderful and delightful Autumnal colours? And cheers to the extra hour in bed in the morning – woohoo! (don't forget to adjust your clocks guys!). I have the most glamorous Scottish wedding to share with you today – Mr and Mrs Watson married on 30th May 2015 at the very cool 29 Private Members Club in Glasgow. The bride's vintage-glamour inspired gown, found via Eleganza, set the tone of their wedding.
"I am a huge fan of vintage glam and Eliza Jane Howell gowns are the perfect fit. I came across one of her dresses in a wedding magazine and instantly loved her style. The sequin and beading detail is incredible and the dress was very comfortable and light to wear and perfect for the dancing too!"
Photography by Maureen Du Preez
"To fit in with the glam theme (well, that was my justification to the hubby!) I just had to go with Carrie Bradshaw from Sex and the City's blue Manolo Blahnik heels."
Maureen Du Preez Photography captured their still shots of the day beautifully.
"It was such a pleasure to work with Maureen and she put Kris and I completely at ease in front of the camera. Maureen is very passionate about her photography and this definitely shines through in her photographs."
"Jennifer from Asteria Bridal did my makeup, as I had been to her a few times previously when I was a bridesmaid and I just love her style. She really does wonders and the make-up lasts the whole day. Not one top-up was required.
Anderson's Hair Salon is fabulous and eco-friendly with a relaxed vibe. They made a huge effort in the morning to have bubbly, muffins, and strawberries all presented for us upon arrival. I wanted a relaxed and comfortable hairstyle to wear all day and Francesca got it spot on."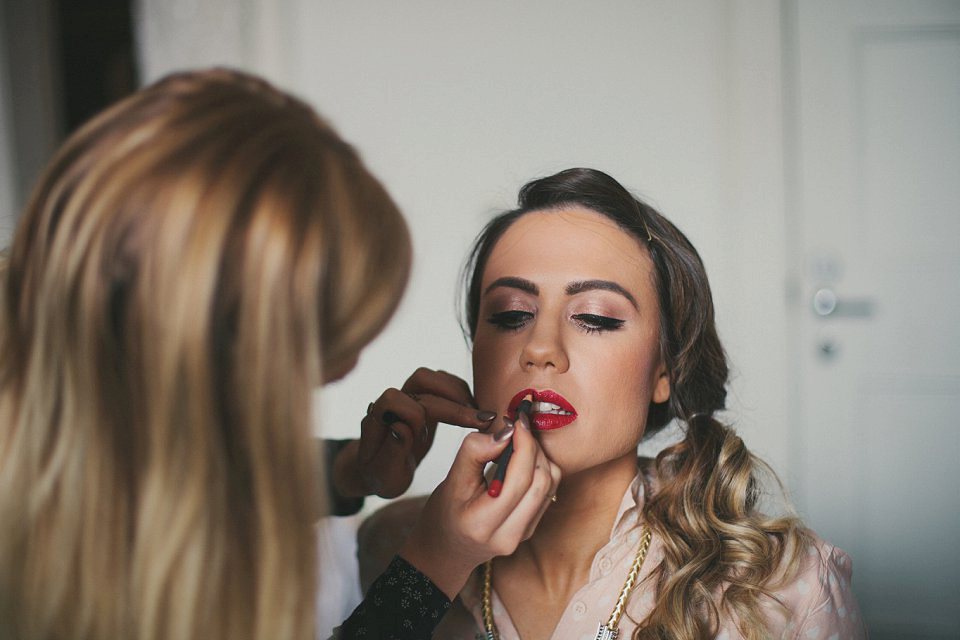 The beautiful bride opted against wearing a veil, due to the detail and style of her dress. To accessorise, she added a pretty hair slide from Debenhams, a matching vintage-style necklace and bracelet set from John Lewis and earrings from No 1 Jenny Packham for Debenhams. She finished off her glamorous look with a spritz of Bottega Veneta perfume and the most fabulous pair of heels.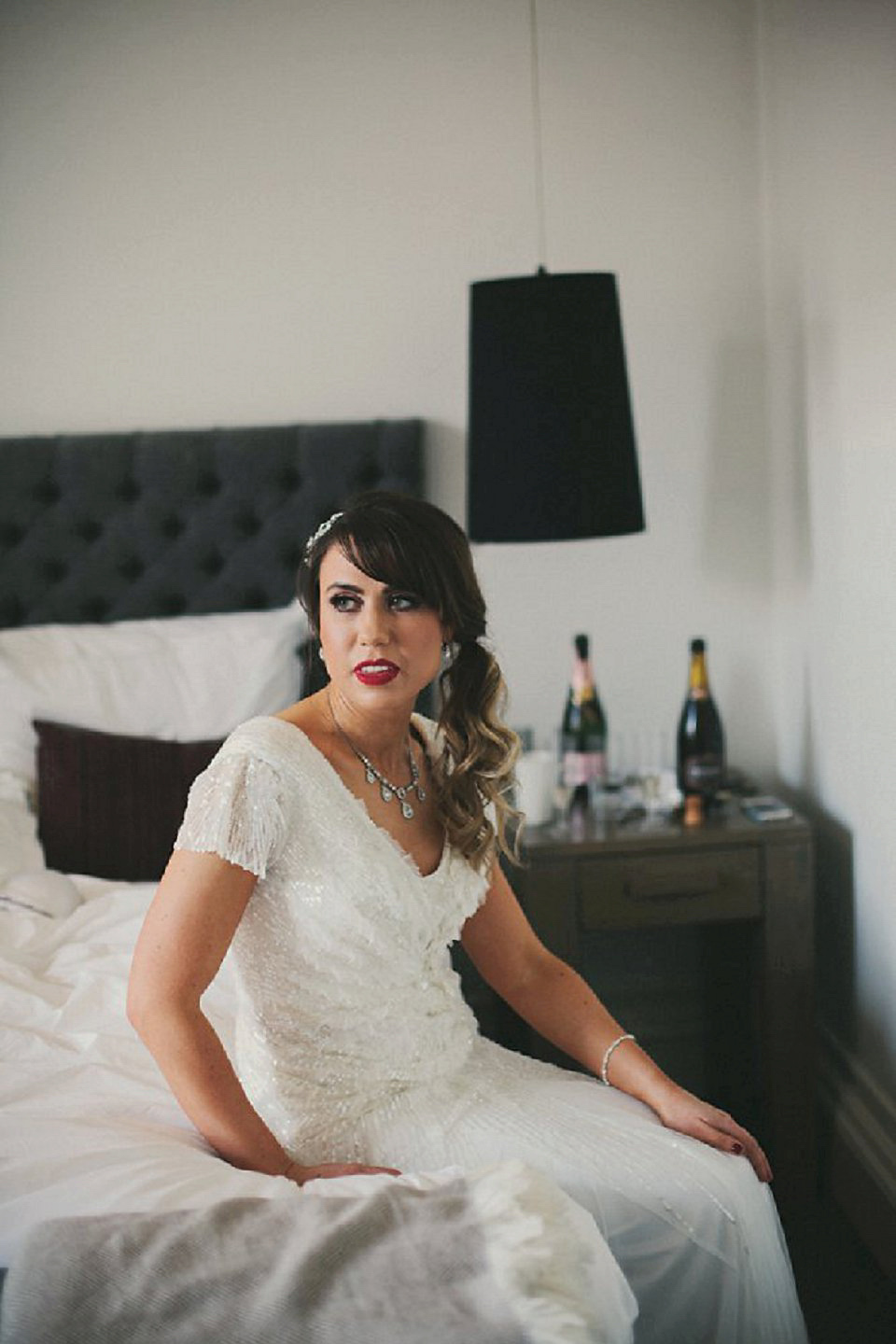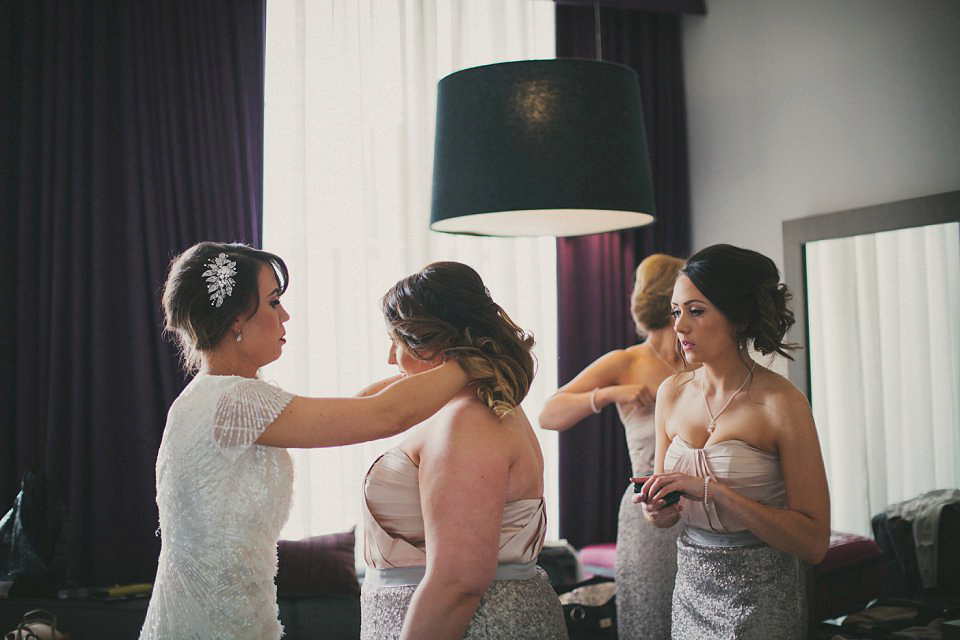 The three lovely maids wore pink satin pointed sling-back No 1 Jenny Packham for Debenhams heels with their stunning Coast – Debenhams exclusive dresses, complete with sequin detail and a side split. To complete their look, they added hair slides from Debenhams and accessories found via Ebay. Just divine! The bride was incredibly happy with the make-up and the hair artists, who helped everyone to relax.
"Our journey began when we first met at a friend's birthday night out and we clicked immediately. We got engaged on 28th May 2013 and married nearly two years later. The engagement took place whilst on a weekend away to Paris. Kris proposed in front of the Eiffel Tower at night and took me completely by surprise!"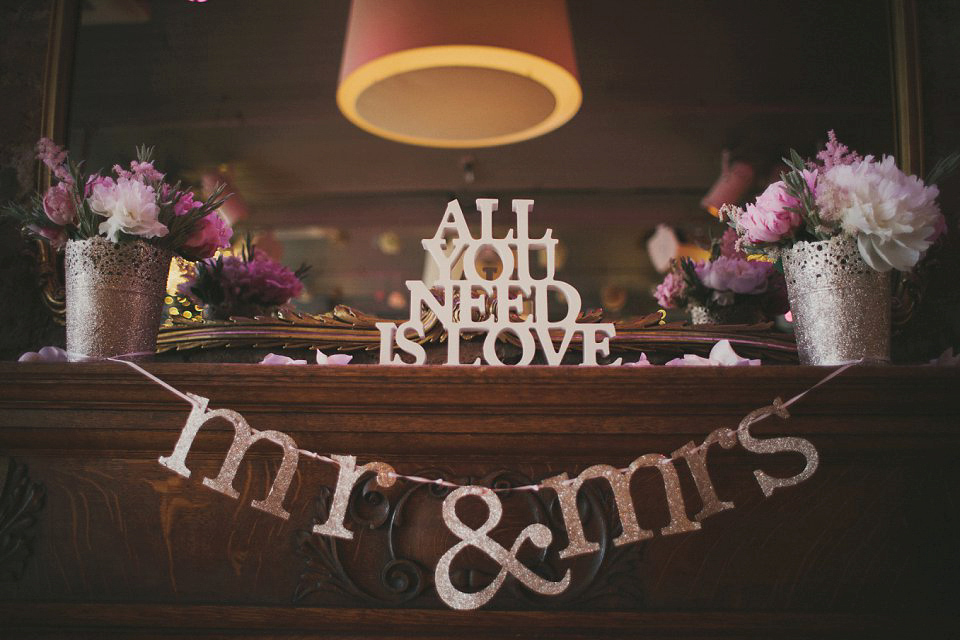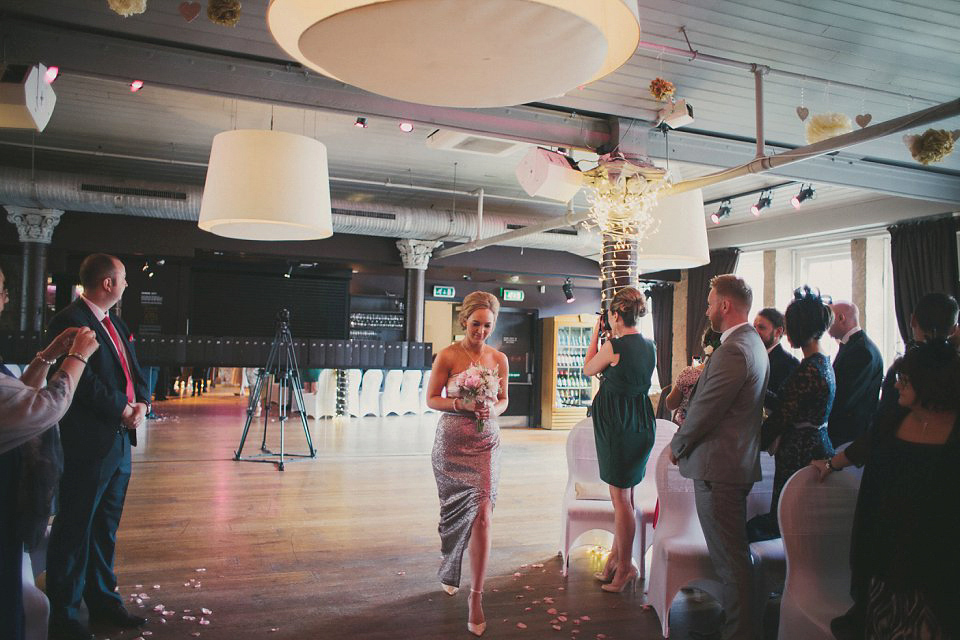 "We chose to have a humanist ceremony and picked Paul Harkin who did a tremendous job. Paul was great as he gave us a sample ceremony, which gave us a starting point, and thereafter we were able to tailor the ceremony to our story. We kept it very light-hearted with some humorous elements. Where possible, we also mentioned guests at the wedding who were part of our story (e.g. the friend who introduced us) – it made it more personal and engaged our guests. The ceremony comprised our story, how we met, our engagement, key memories and achievements as a couple, followed by a more reflective approach of our thoughts on relationships, and each other.
On the 'each other' part, at Paul's suggestion, we both wrote three things separately about one another and emailed these to Paul prior to the wedding. It was not until the day we discovered what each of us had said about the other."
I simply adore the flowers – the pretty pink peonies look very striking against the dresses and décor, don't you think?
"For the flowers, I was very keen to have a relaxed, natural bouquet with pastel colours and chose seasonal flowers. I love peony roses and silver foliage and referred to Pinterest for inspiration. Our florist, Allison from Blooms, was very helpful and even traced the colour of ribbon to go with the bridesmaid dresses."
"The first reading was Carrie's poem from 'Sex and the City', as I am a huge fan of the show, and was read by my sister…
'His hello was the end of her endings
Her laugh was the first step down the aisle
His hand would be hers to hold forever
His forever was simple as her smile.
He said she was what was missing
She said instantly she knew
She was a question to be answered
And his answer was, I Do.'"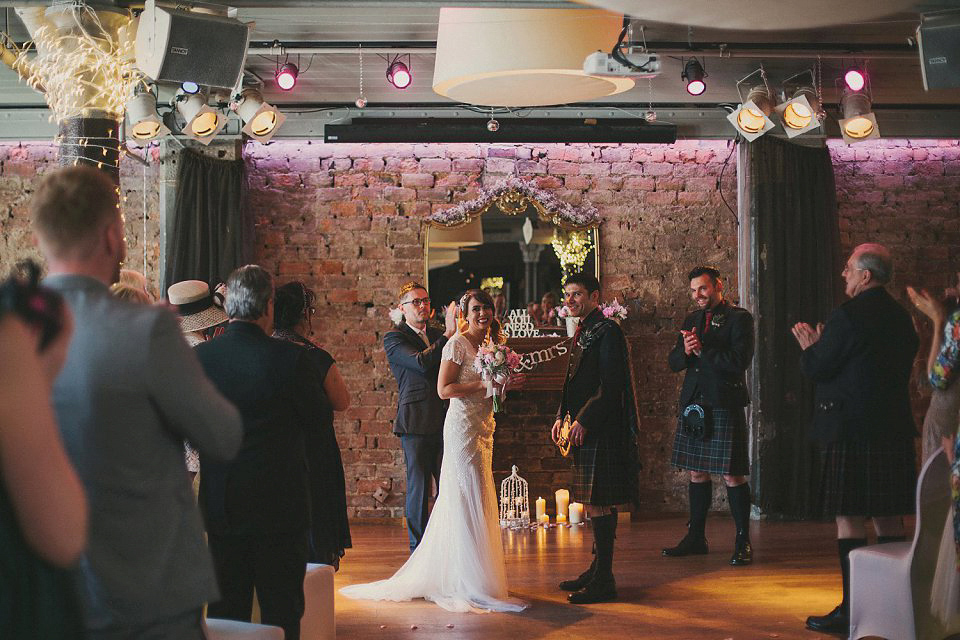 "We are also fans of Coldplay and chose the lyrics from 'Till Kingdom Come' which was read by Kris's Aunt…
'Hold my head inside your hands
I need someone who understands
I need someone, someone who hears
For you, I've waited all these years.
For you, I'd wait till kingdom come
Until my day, my day is done.
And say you'll come, and set me free
Just you'll wait, you'll wait for me.'"
"Both of our rings were purchased from Hilson Jewellers; a small, family-owned business. As my engagement ring is a marquise cut I decided to go with a wishbone-style band with diamonds. The ring was handmade by my close friend Paula Fatkin, which makes it all the more special. Kris went for a platinum band with an emery finish and spun bevelled edges."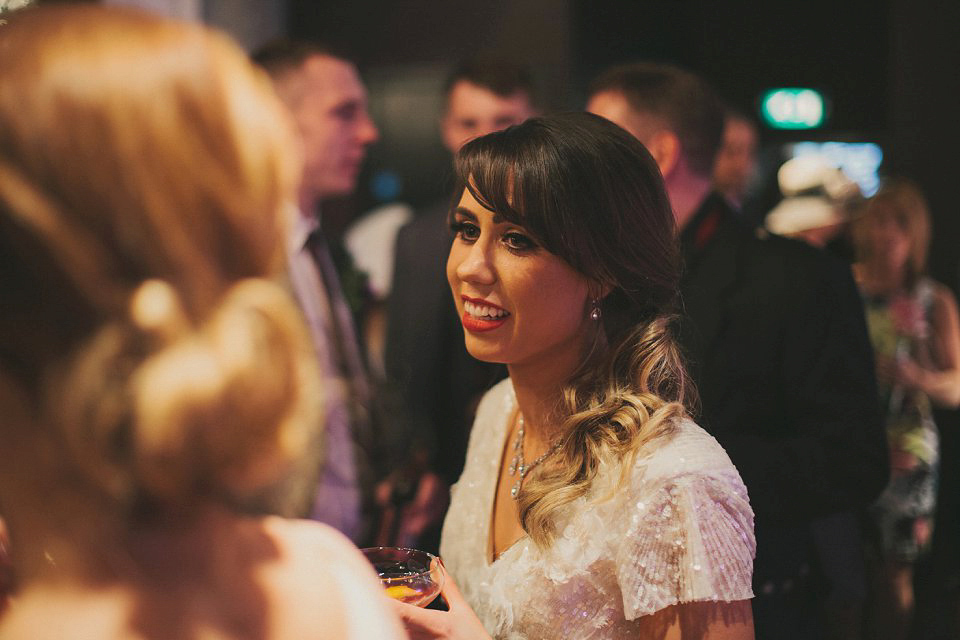 The couple arranged a vast array of entertainment and peppered this throughout their day. A string trio from Capella String Quartet played a mixture of modern and classic songs during the ceremony and drinks reception. They bought quiz games to be played during the wedding breakfast from The Lagoon Group, booked a magician from Reid Magic, a photo booth from Blush Photo Booth and a DJ from Disco Therapy for the evening reception.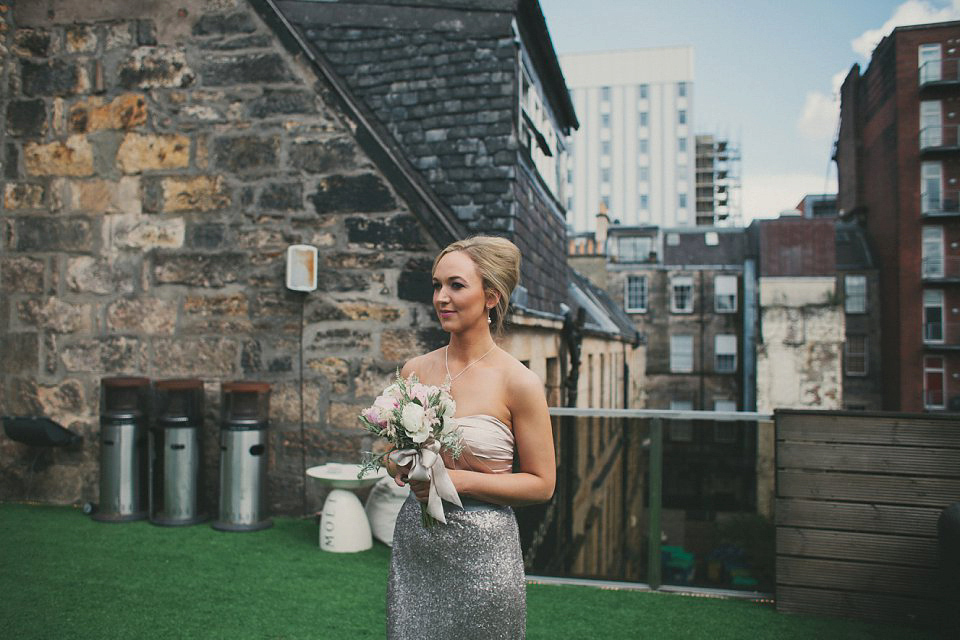 "My niece Sophie wore a Monsoon frock and she thought the dress was just like Rapunzel's."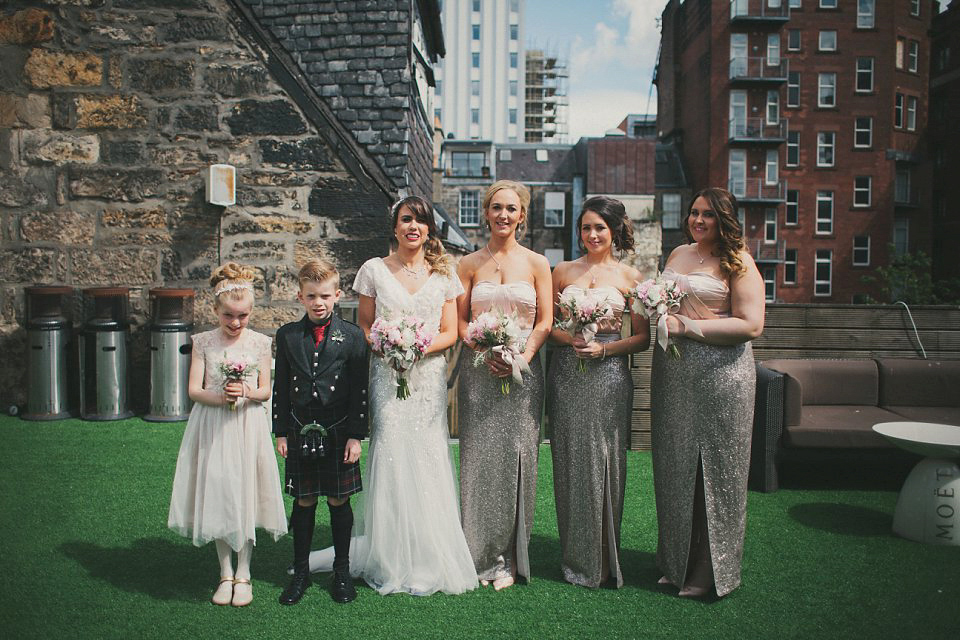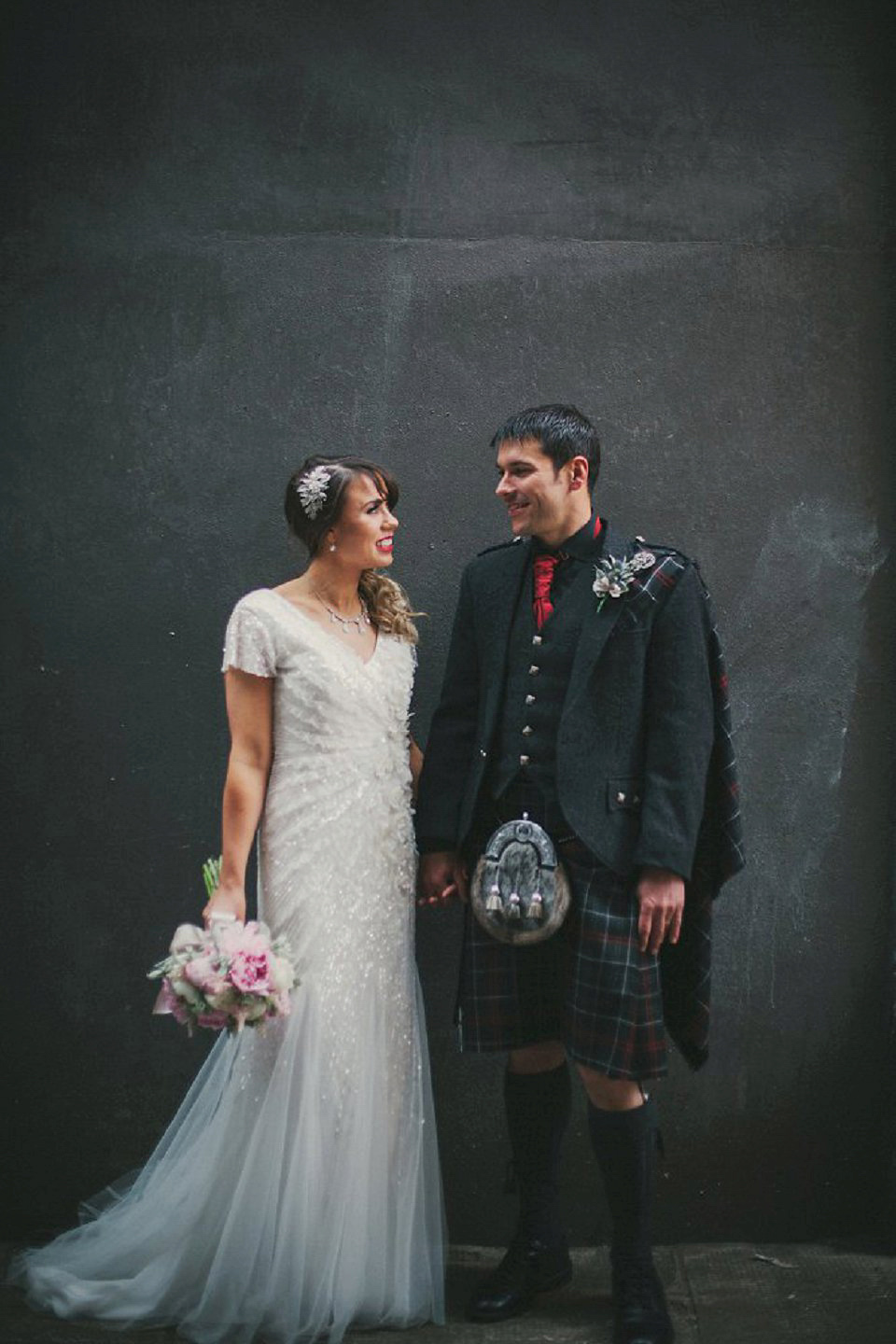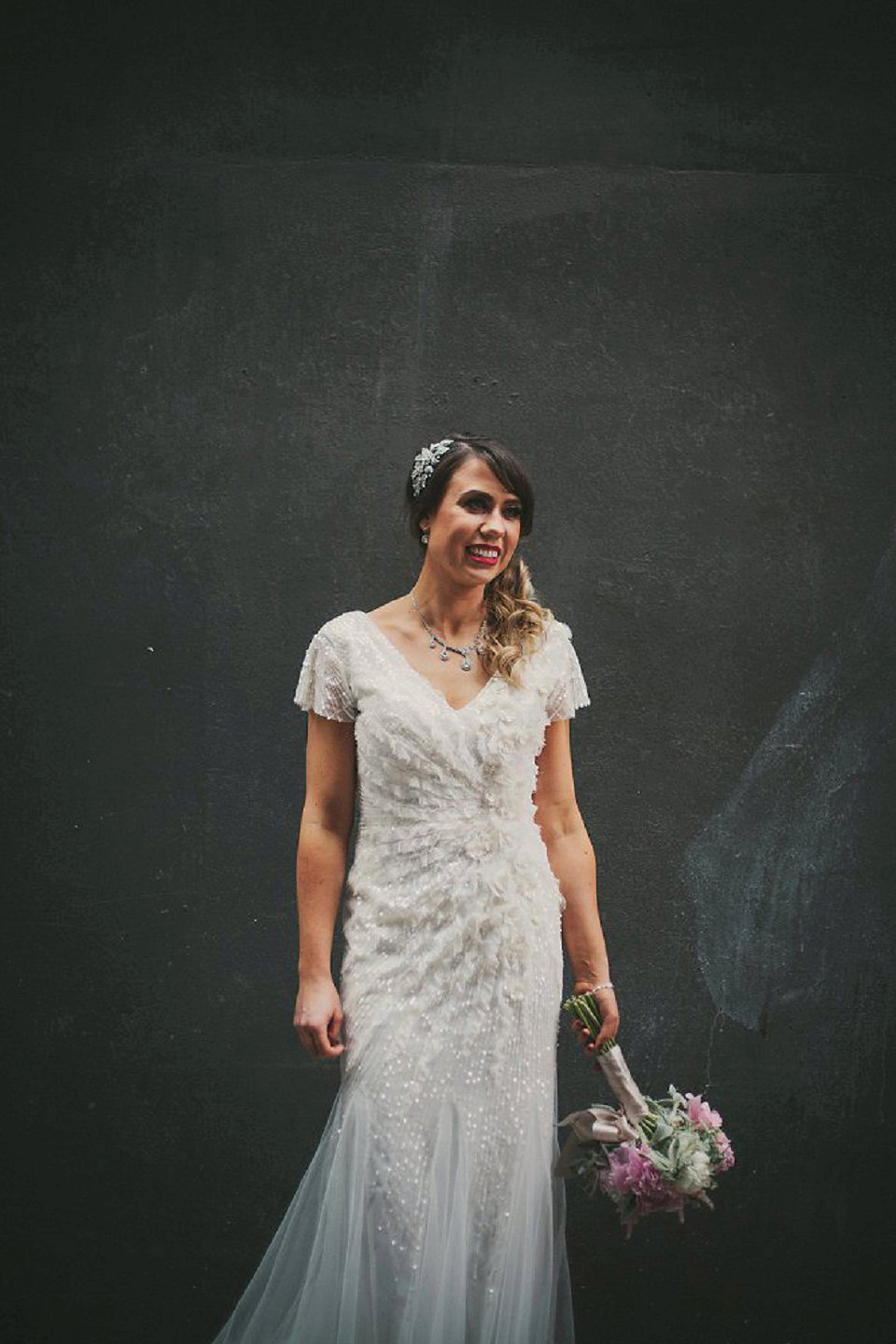 "We loved the 29 Private Members Club venue the moment we saw it. As well as being modern, there is still a lot of character maintained with the brick walls and fireplace. The wedding planning team were so organised and everything went according to plan. We had nothing to deal with on the day as it was all taken care of by the team."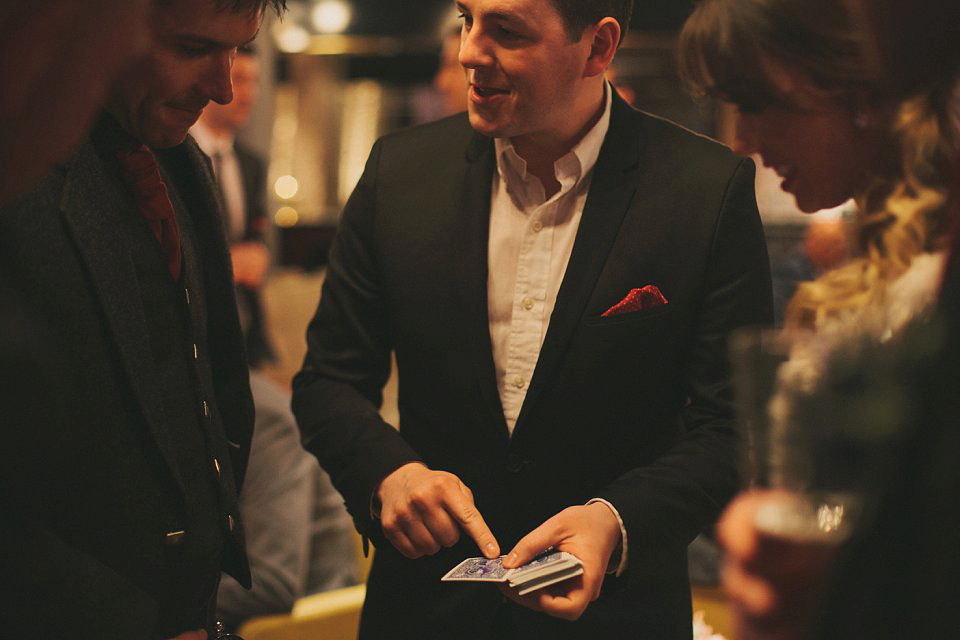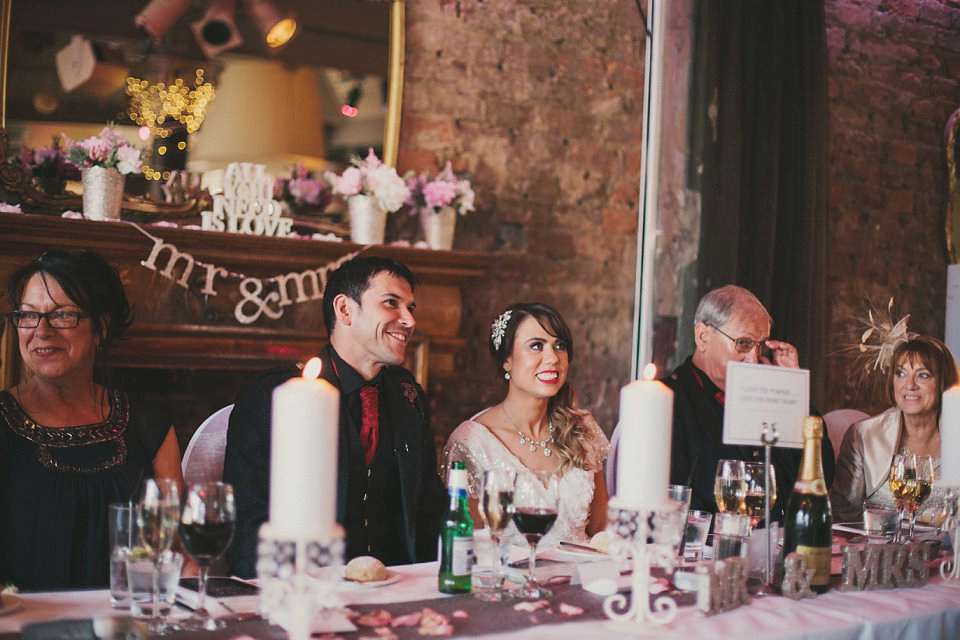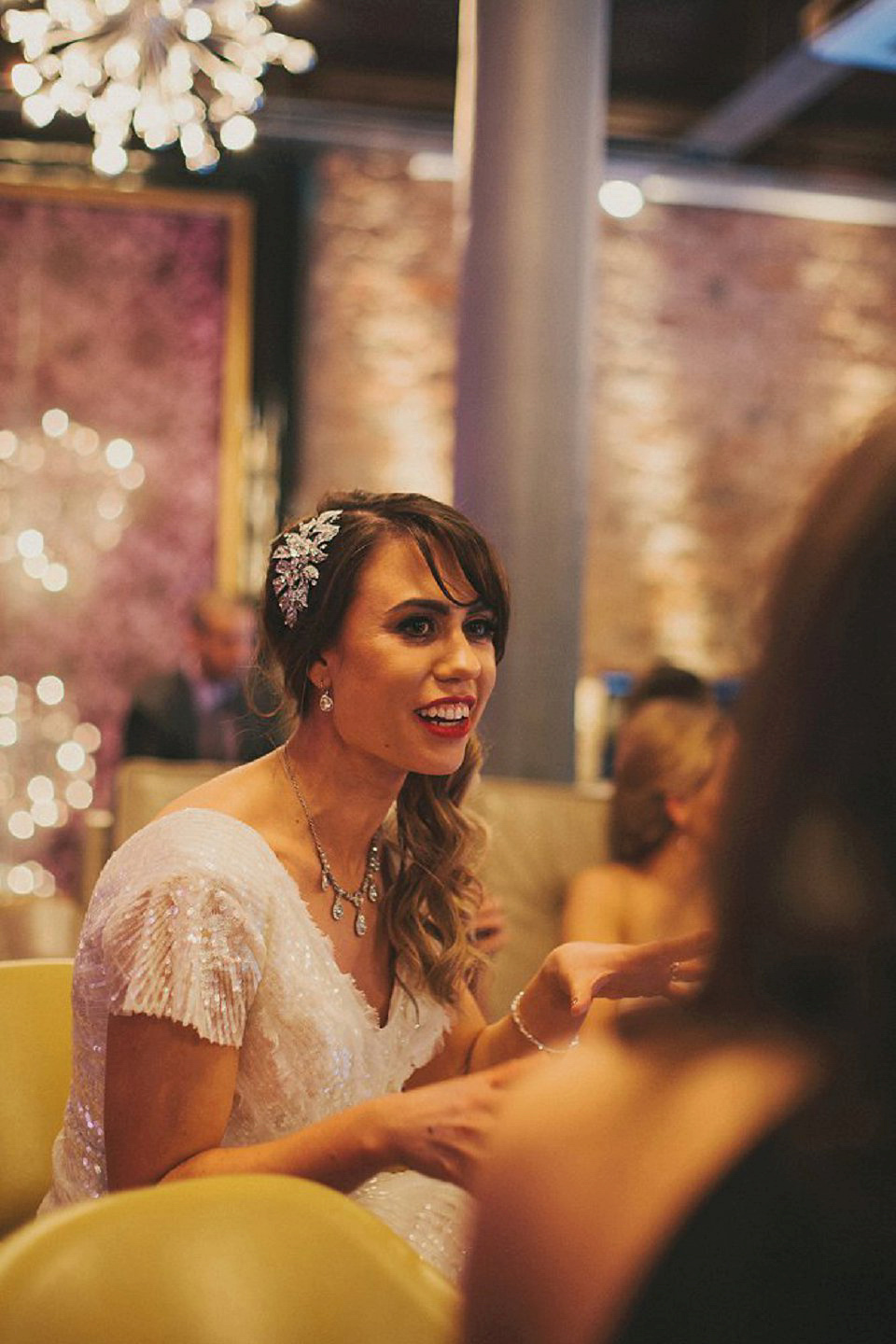 "Our three-tier cake was handmade by my wonderful work colleague Morven McMillian. We went for non-traditional cake and the sponge layers comprised strawberry daiquiri, lemon and chocolate Oreo flavours. We also had an extra gluten-free chocolate sponge. Morven is so talented at baking and the cake tasted amazing. I also bought takeaway cake boxes for the leftover cake, which meant the guests could take some away.
I hate to see the cake go to waste! And the fabulous cake-topper was found via Etsy."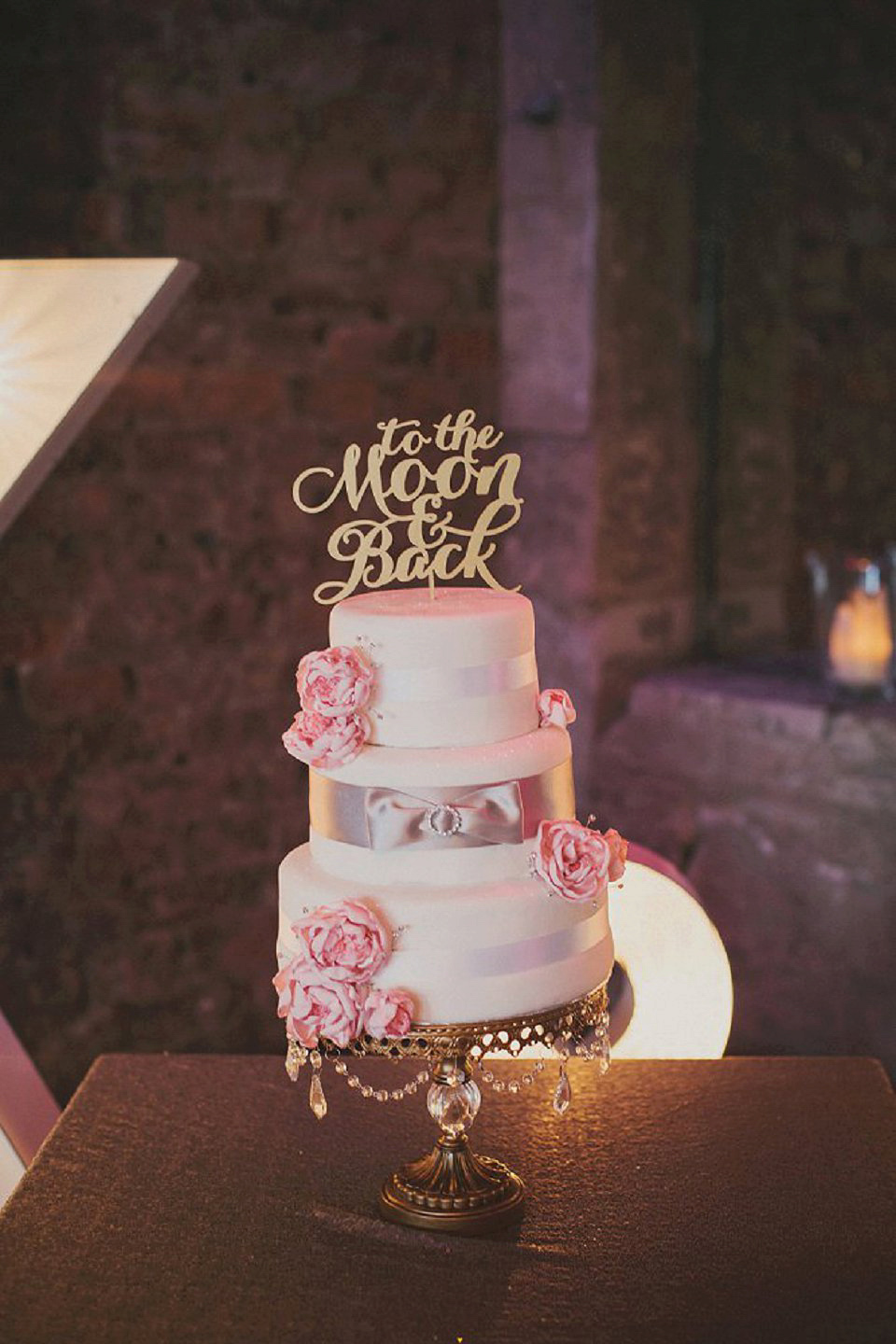 Mr and Mrs Watson gave their day a very handmade feel and the décor truly reflects this. I love how they asked the guests to share their ideas for dates for the newlyweds with the 'Date Jar' – ingenious!
"A lot of the décor was found via Ebay, including the sequin table runners and table cloths (these were sourced for a great price and the samples they provided meant I was able to match them with the bridesmaids' sequin skirts), the birdcage centrepiece and candelabras on the top table (these were also via Melody Maison), the personalised signage, the wooden 'Mr and Mrs' letters and 'Mr and Mrs' bunting hung from the fireplace, and all of the hanging ceiling decorations – paper pom poms, glass bauble and wooden hearts. The flowerpots on the fireplace were bought from IKEA and I then spray-painted much of the above décor in gold and covered in glitter."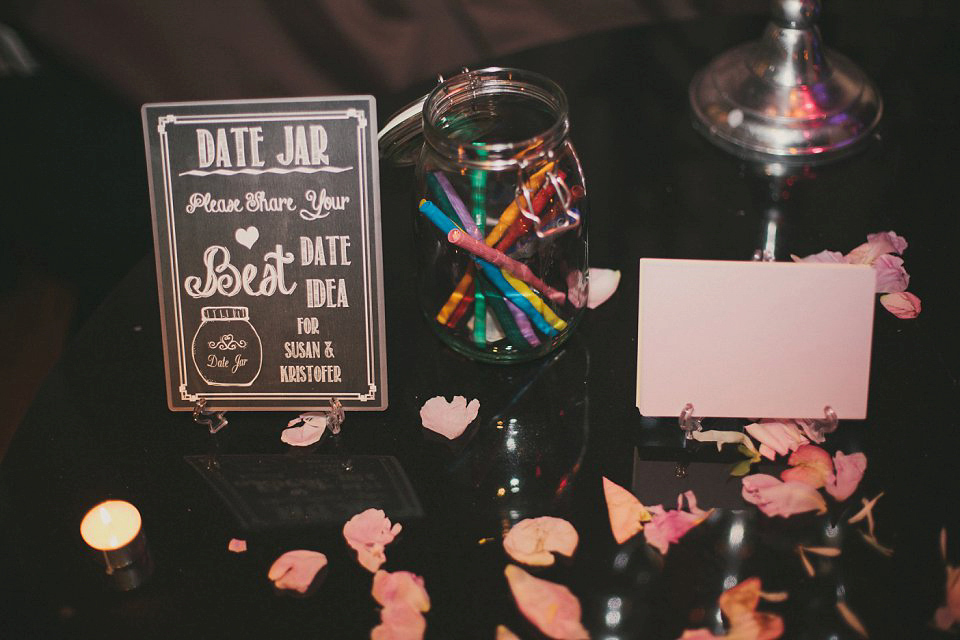 "Our first dance song was 'Junk in the Heart (Happy)' by The Kooks. The band was just releasing their first album when we first met and it reminds us of that first summer we got together. The song itself is a new release but one that we both love and particularly enjoyed when we saw them perform live."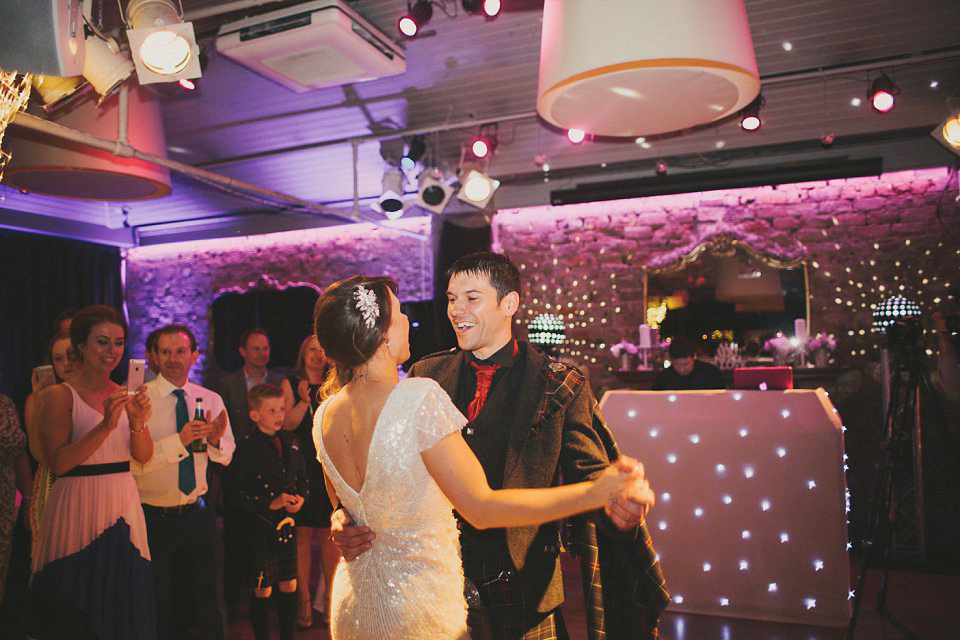 "We hired light-up marquee letters from I Love Letters and the chair covers and sashes were via Forget Me Not Balloons. And I made the wedding favours using personalised 'Mint to Be' stickers and pillow boxes from Ebay, ribbon from Paperchase and mints from Marks and Spencer."
Words of Wedded Wisdom
"Try not to get caught up in the little details. Enjoy your day and make sure you take time out to savour the moment, as this is the day you have spent months (or years) working towards. And make sure you hit the evening buffet, I'm so gutted I missed it! Where you have an opportunity, share something about you as a couple. We did so in our vows, via the table names (they were quotes from our favourite movie) and welcome reception drinks (rather than fizz we had our favourite cocktails: a whisky cocktail for the men and a Cosmopolitan for the women). And brides – remember to delegate. I know it is difficult to let go of the control but friends and family and also the husband-to-be are there to help!
I followed your blog (and still do on Facebook) during the planning stages as it helped so much with the organising and for inspiration. I found blogs that gave tips and DIY that you can actually, and realistically, do very helpful. The real weddings on your blog were very useful as it gives you an insight on where to start, particularly at the beginning of the planning stage.
The best bit about the day was having all of our family and friends under the one roof and seeing everyone enjoy themselves."
What lovely words! Here at Love My Dress headquarters we aim to help all of you wonderful brides and grooms who are in the throes of planning their big day. If you haven't already taken a peek, be sure to check out the brilliant Little Book for Brides, our gorgeous new resource that's packed full of information on wedding suppliers and a brilliant starting point. Mr and Mrs Watson, I've loved sharing your vintage glam day and sending a huge thankyou to Maureen Du Preez Photography for capturing such wonderful images of the happy couple's wedding.
If you've been inspired by the bride's pretty dress, see here for more gorgeous Eliza gowns that have been previously highlighted on this very beautiful blog.
I hope you enjoy the rest of the weekend, and remember to check in tomorrow to read the latest addition in our new Little Book For Brides® Sunday feature.
Love Jo -x-
Photographer – Maureen Du Preez Photography
Videographer – Boda Productions
Venue + Catering – 29 Private Members Club
Dress – Eliza Jane Howell via Eleganza, Glasgow
Hair accessory – Debenhams
Shoes – Manolo Blahnik
Jewellery – Necklace and bracelet set from John Lewis and earrings from No 1 Jenny Packham for Debenhams
Perfume – Bottega Veneta
Bridesmaid's Dresses – Coast – Debenhams exclusive
Bridesmaid's Shoes – No 1 Jenny Packham for Debenhams
Bridesmaid's Accessories – Hair slides from Debenhams and all other accessories via Ebay
Groom, Groomsmen + Pageboy kilts – Mackenzie Menswear
Flower girl – Monsoon
Florist – Blooms
Rings – Hilson Jewellers
Cake – Handmade by work colleague + cake-topper via Etsy
Stationery – Vistaprint
Entertainment – Capella String Quartet, quiz games from The Lagoon Group, magician via Reid Magic and Blush Photo Booth
Makeup – Asteria Bridal
Hair – Anderson's Hair Salon