Good morning beautiful people – I have the most charming of weddings to share with you today.  Lovely bride Hannah married her beau Karl on 7th August this year at Childerley in Cambridge. With an effortlessly elegant Stephanie Allin gown and veil, a beautiful rustic barn backdrop and breathtaking flowers, this occasion makes the most perfect of Love My Dress weddings to share, and I hope you love the beautiful photographs by image-maker Howell Jones as much as I do.
"My mind seemed to change weekly about the colour scheme, bridesmaid dresses, flowers etc. The more time I had the worse I got! I'm a self confessed 'last minute Larry', who doesn't like making a decision until I absolutely have to (just in case something better comes along) This is not helped by my addiction to Pinterest. All I new from the start was I wanted everyone to be relaxed, happy and feel the love, and if I could do this in a rustic classy way then I would be over the moon."
Photography by Howell Jones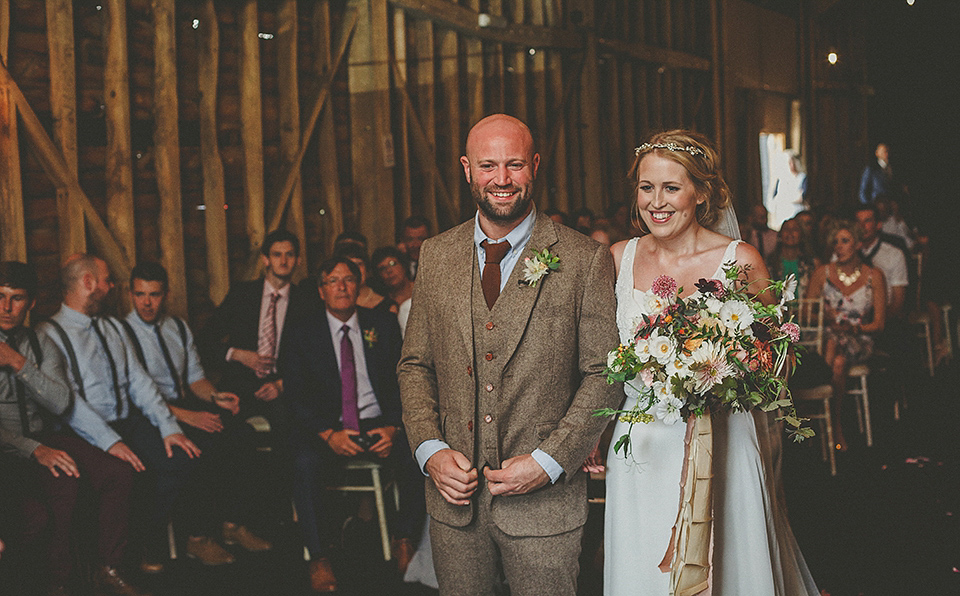 "Finding my dress was by far the most stressful thing about the whole wedding. I spent weeks trawling the internet for dresses I liked, and shops I wanted to visit. I had this constant nagging thought that I had to find 'the one'. But the truth is, I actually didn't know – the more I tried on the more confused I got."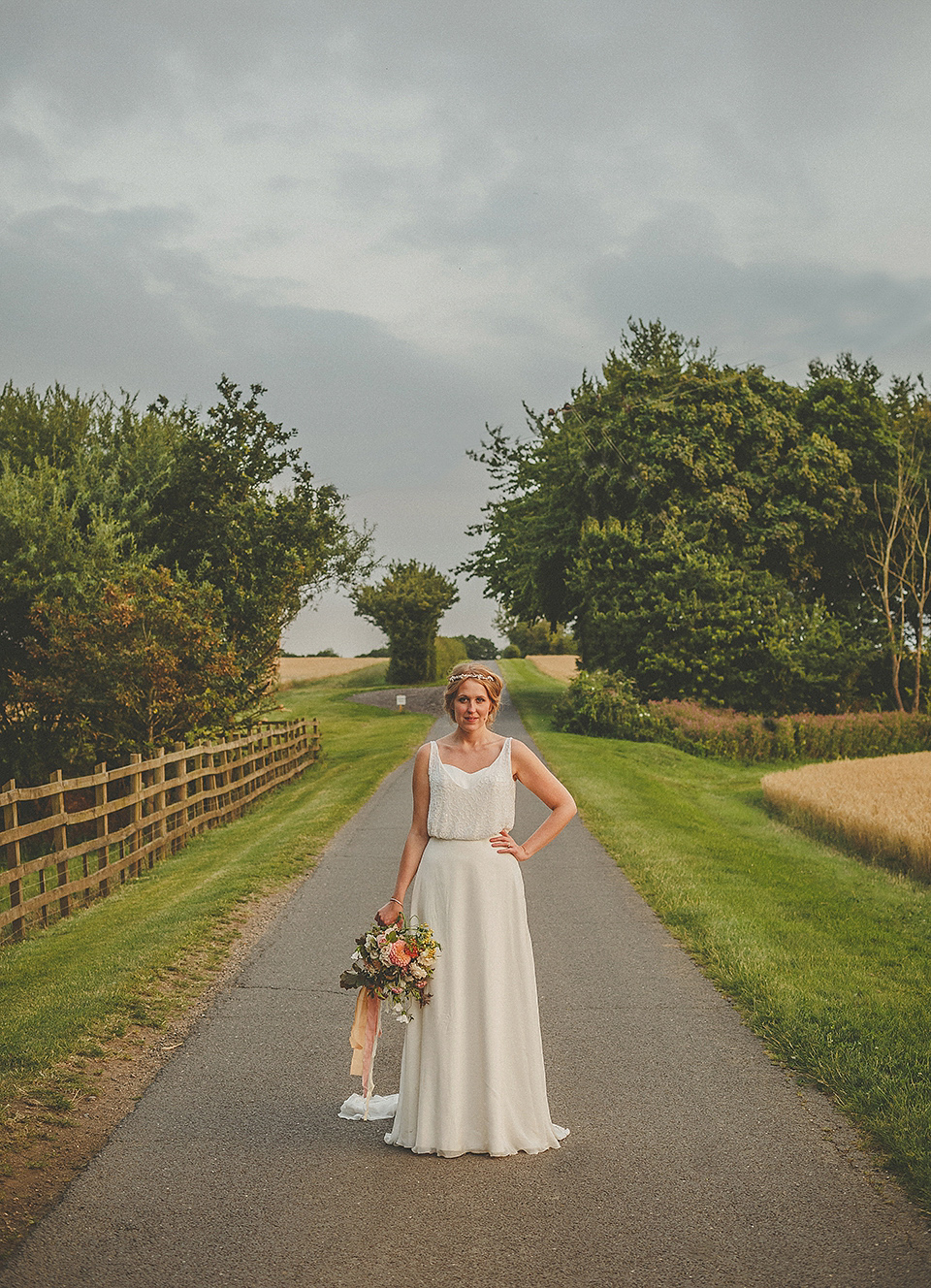 "Once I had decided my dress was 'the one', the team at Stephanie Allin were phenomenal. They made sure that when I walked out of the shop two days before my wedding with a dress that fitted to perfection. They had made every little change, stitch and unstitch I had asked for, and I couldn't have been happier."
"I was recommended our florist Jo Flowers by a friend and after we met I knew she knew exactly what I wanted and would re create it perfectly. We met first at her house, in her workshop/studio and spent 3 hours discussing roses, dahlia's, succulents and heathers, drinking earl grey tea out of hand made pottery cups. I couldn't have been happier. Jo is a true artist. Her creations are romantic, natural and truly wonderful."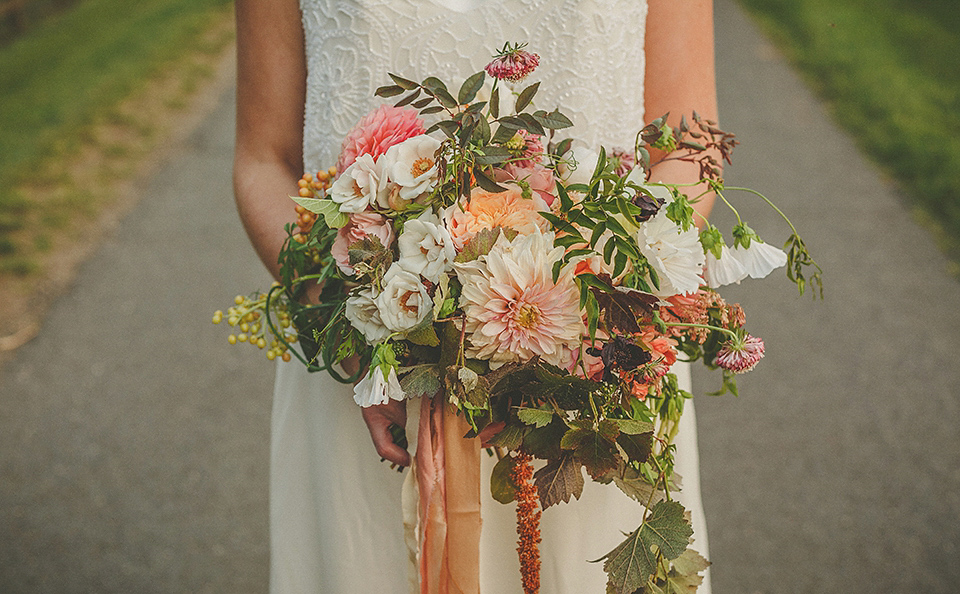 "Karl and I met in November 2010 when I moved in next door with one of my best friends. I had moved back to my hometown from London where I had been living for 5 years. I met up with one of my oldest and closest friends who had too recently moved home and we decided to rent a house together, at number 2. Karl lived at number 1! It took quite a few weeks for us to finally speak and then to start dating.
Karl painstakingly re-lived the somewhat embarrassing story in his speech, to everyone's delight!"
"Karl proposed on my birthday two years later, he arranged a family meal in my favourite local restaurant, all day I was looking forward to a good old Gilbert knees up only to my disappointment when we arrived to find out that he had cancelled the rest of the family as thought would be nice for us to have a romantic meal instead! (little did I know they were all at home with the champagne on ice.
And karl had hired out the whole restaurant!) I remember thinking the restaurant was very quiet for a Thursday night, but thought nothing more of it."
"After our starters, a silver platter full of roses and a small box was delivered to our table, that's when my heart started racing!! Karl got down on one knee, and said you were my neighbour, your now my roomie, how do you fancy becoming my wife! Obviously I said yes, and that completely ruined my appetite, I couldn't eat another thing for butterflies in my tummy!
This was music to Karl's ears as not only did her have the Steak he also had the lamb – we were all winners!! After the meal he asked me what I wanted to do, my obvious response was to see my mum and dad! Knowing me he had already arranged for my brother and sister in law to be at my parents too so when we got round there to tell them, they had the champagne at the ready!! After a glass there he said you might want to walk down the road, I think a couple of people might want to see you. Karl had arranged for my best friends and their partners to be at the pub on the corner for "birthday drinks" well what I surprise I had for them!"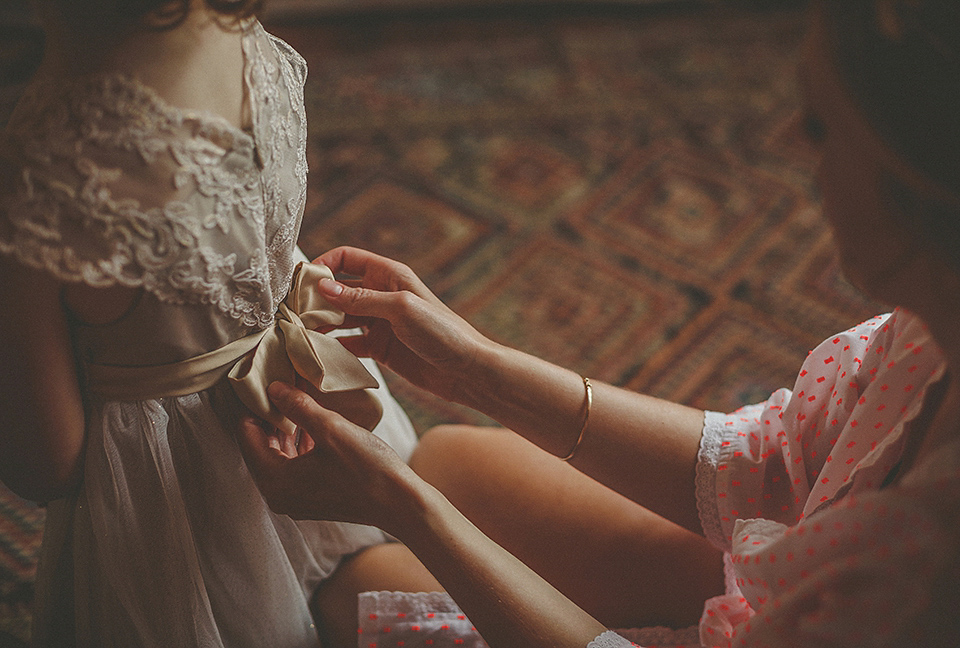 "Stephanie Allin was the third shop I visited.  When I tried on the dress for the first time, I loved it.  Having been a little unsure at first, I realised it was 'the one' after I started comparing it everything else to it – when it became the dress I was wearing in my mind when I was planning the rest of the day, the dress I was wearing when I was daydreaming about walking down the aisle."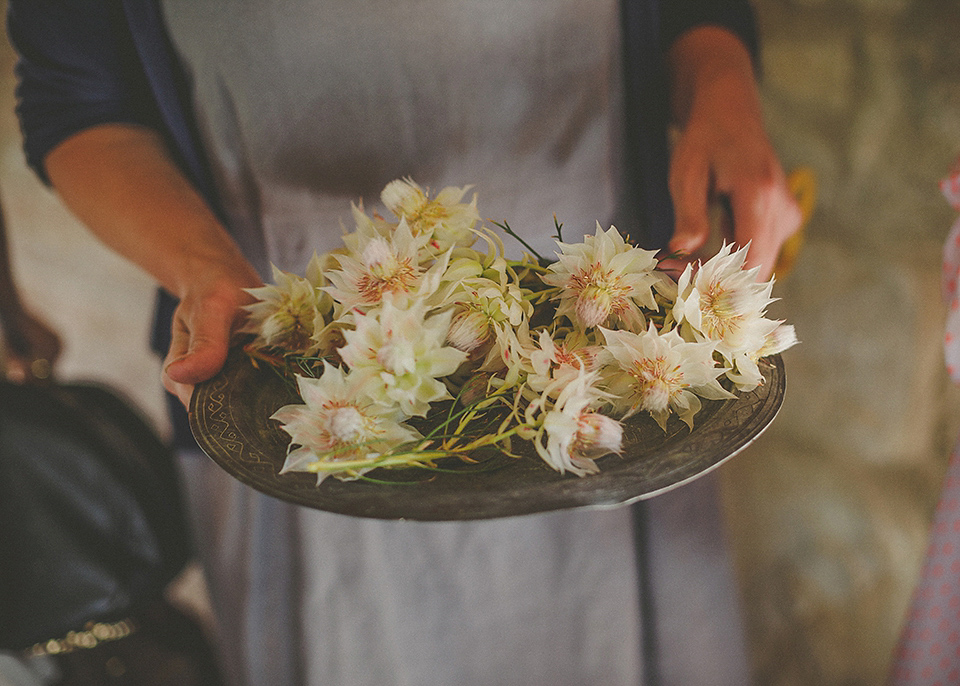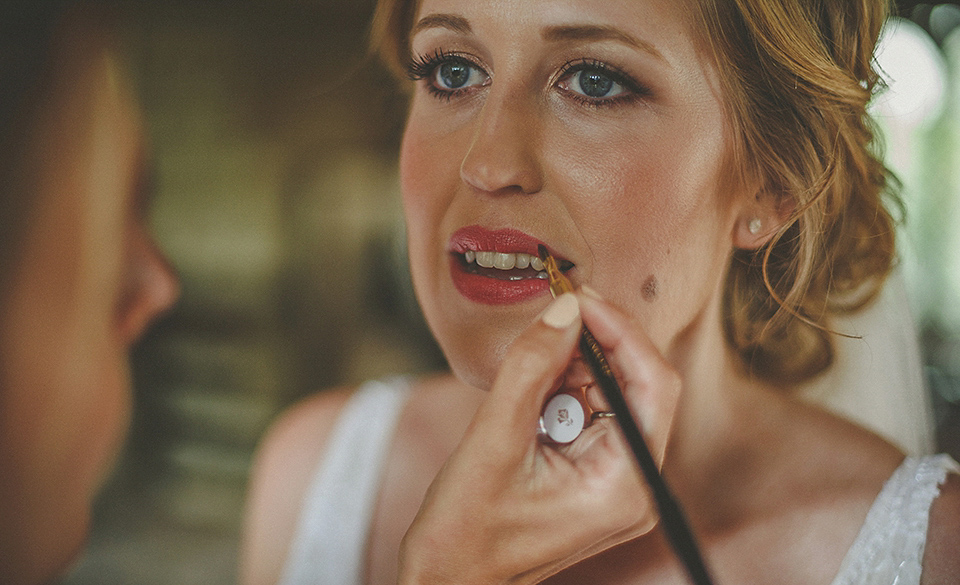 "One of the standout moments for me was walking down the aisle after my beautiful step daughter, my gorgeous best friends and holding the hand of the most important man of in my life (now joint first with Karl), and seeing the faces of your friends and family, the beaming smiles and teary eyes, to then look up and see the man you about to marry looking right back at you. In that moment, life is good. It's really good."
"My darling dad walked me down the aisle, the only person in the world that I could have made that walk with. His calming influence and subtle confidence made that a very special moment, something I will remember forever.  We were accompanied by the Piano Man version of 'Thousand Years'. As soon as I heard it, I knew I couldn't walk down to anything else."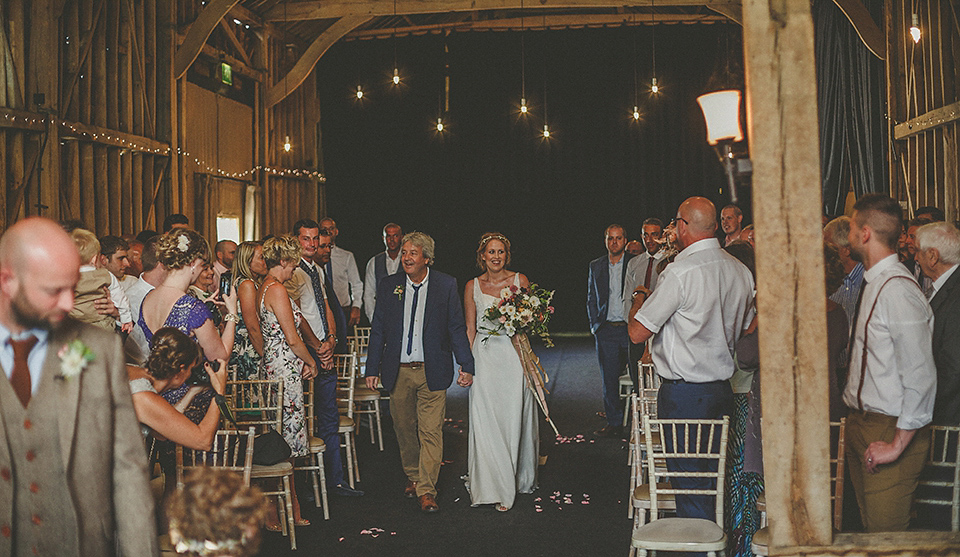 "We wrote our own vows, only because the ones to choose from weren't very us. We still wanted them to be traditional and serious but in a manner that was a little more us and a bit more relaxed."
"My mum read Union by Robert Fulghum.  When I first read this I loved it, it was exactly how we spoke and discussed the future. I chose my mum to read it as I wanted it to be read by someone who truly knew the understanding of marriage, the ups and the downs, the good and the bad. It was like she was sharing the secrets of a wedding, and what we had to look forward to in a light hearted way."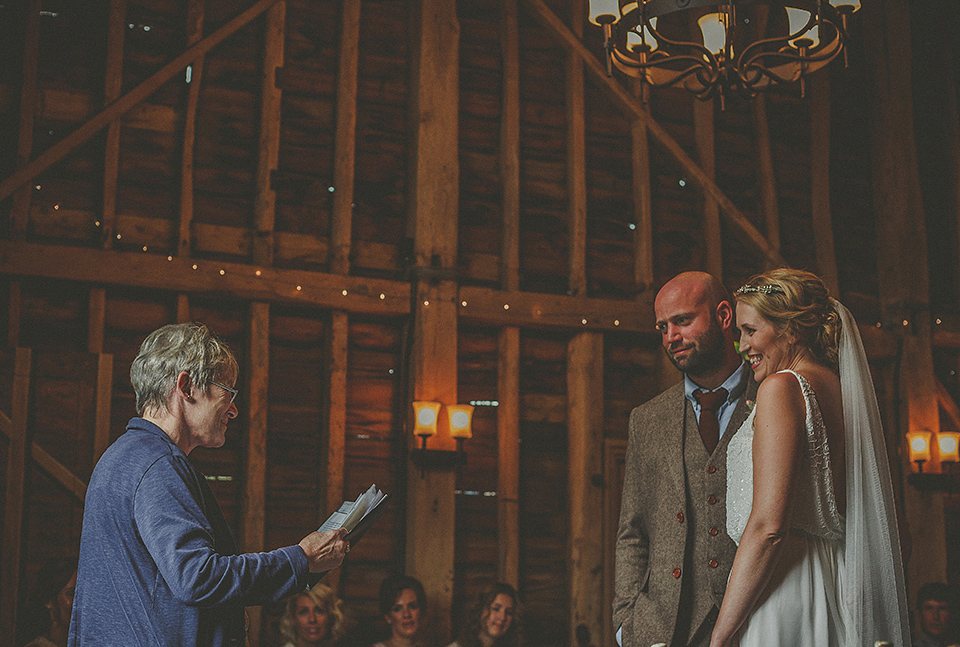 "As soon as we first mentioned getting married, we always knew we wanted to design and create our own engagement and wedding rings. As beautiful as the ones I had seen, there was something very personal and very special about designing your own and choosing the diamonds and designing the setting. I searched for a while before I came across Leneke at Wilde.
Having had a couple of very exciting consultations with Leneke choosing diamonds I was very confident she knew exactly what look I wanted for both my engagement and wedding ring and too Karls, and went on to make all three to perfection."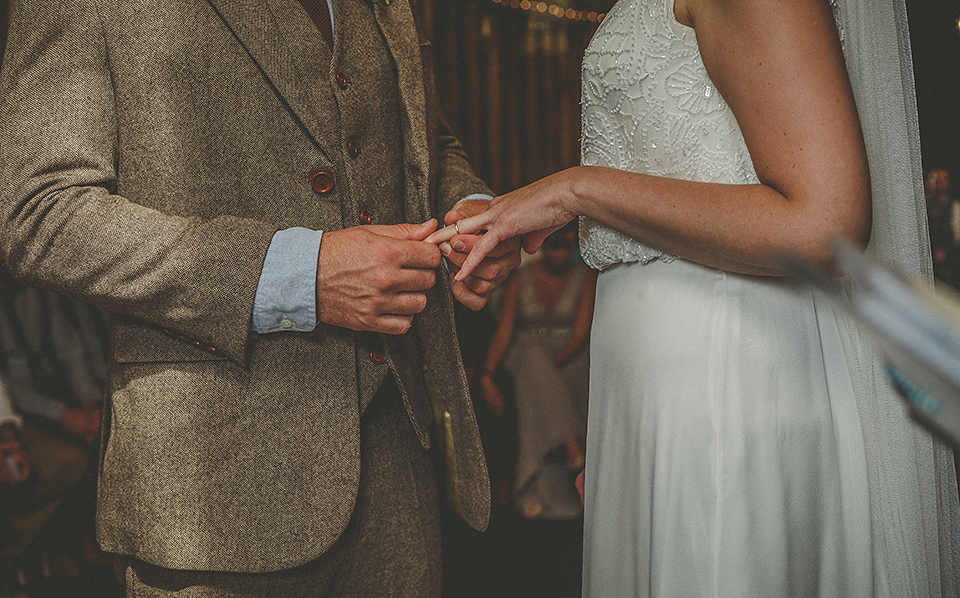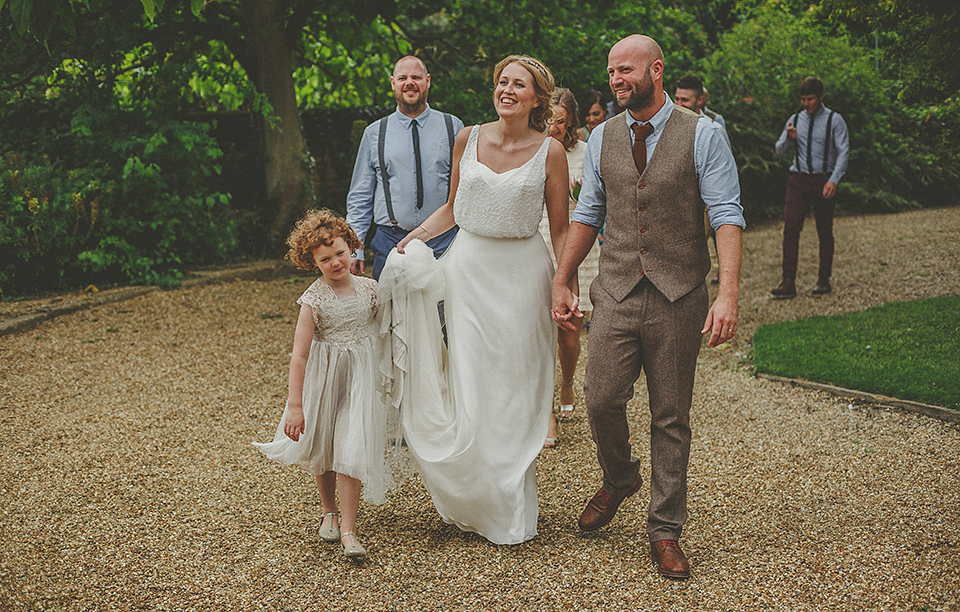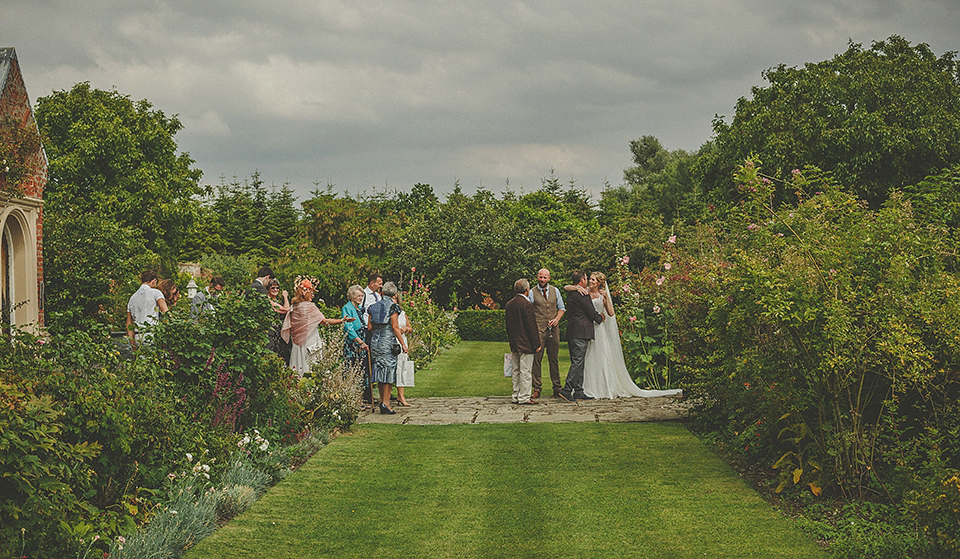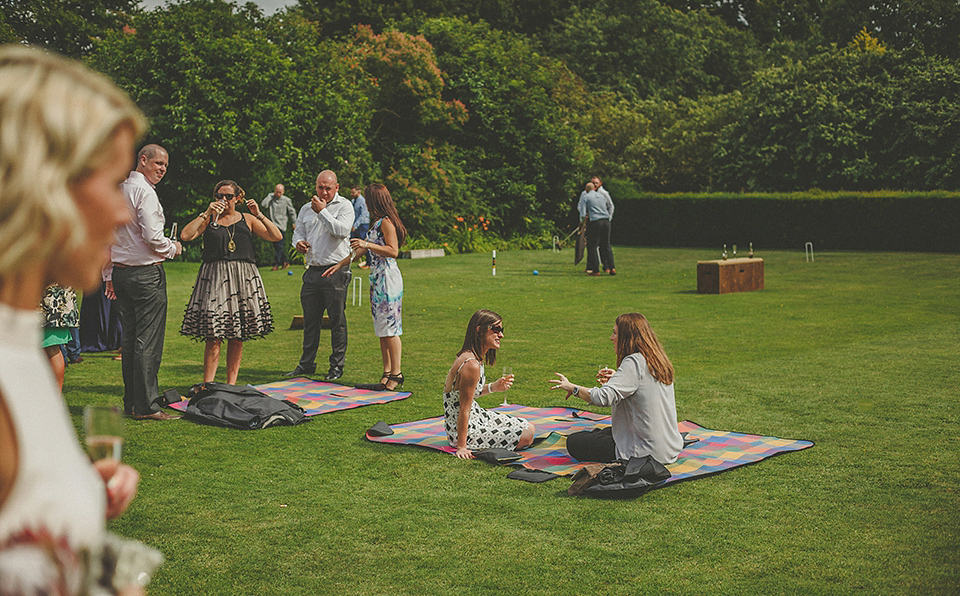 "Penny of The Little Lending Company is a friend and also a wedding prop extraordinaire. She has a fantastic range of wedding props to hire, and is also a brilliant wedding stylist. Her props helped me to add the finishing touches to the lawn and reception barn."
"It took me a year to find Childerley, I knew I wanted a rustic venue that was raw and unique in its charm. I had visited so many venues but none of them made me feel the way I did when I walked into Childerley. There is something very special about it, it's a venue I had to find, with very little advertising once I had found it I knew it was the one!
Childerley has everything, the gorgeous cosy chapel where me and the girls got ready, the long barn that's split into two, with the ceremony in the West and the evening reception in the east, the stunning house, lawns and gardens, with a lake, orchard, wood, Mill, and endless rolling fields. It had everything and was perfect for our big day!"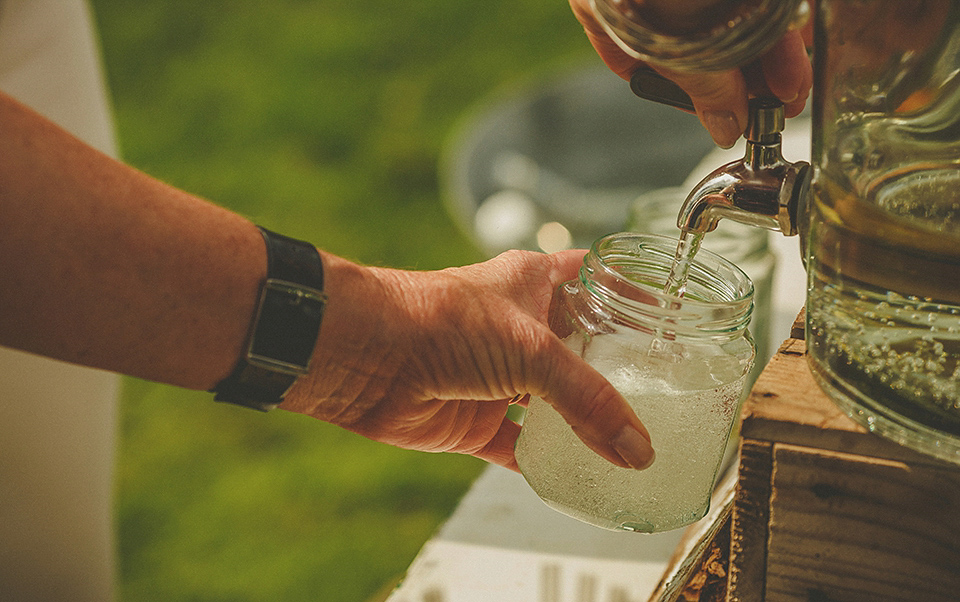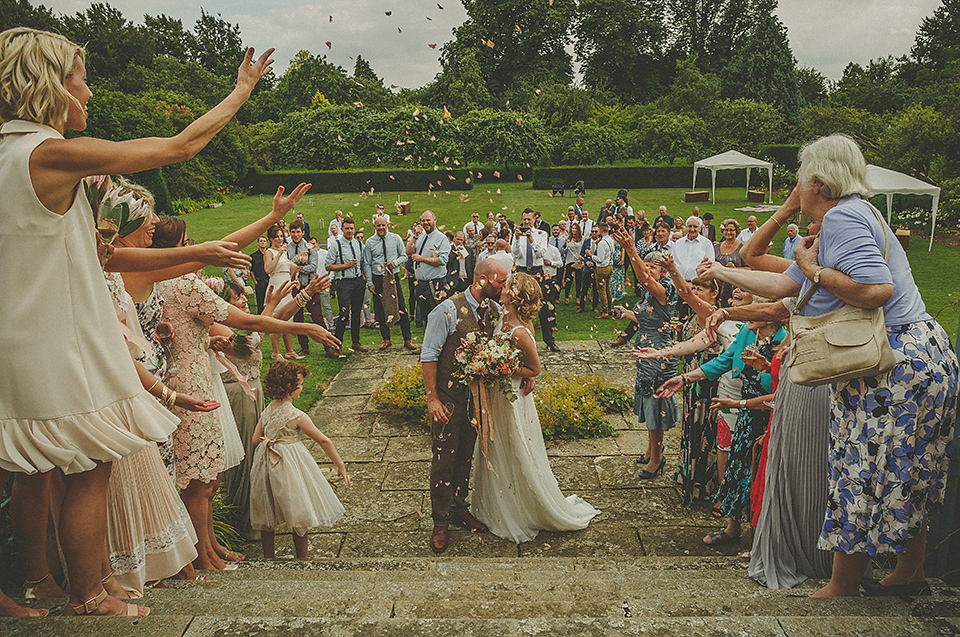 "Commissioning Howell Jones to photograph our wedding was one of my easiest decisions. As soon as I clicked onto the website and first saw the hues of colour and the warmness of the photographs, the way the smallest of details are captured, and the pictures of things that no one else saw, I knew I wasn't going to find anyone more perfect for our day.
Warren is brilliant, so lovely and incredibly talented. So many people have commented saying how discreet Warren was and how comfortable they had felt, most hadn't even realised the photo had been taken! Couldn't have asked for anything more."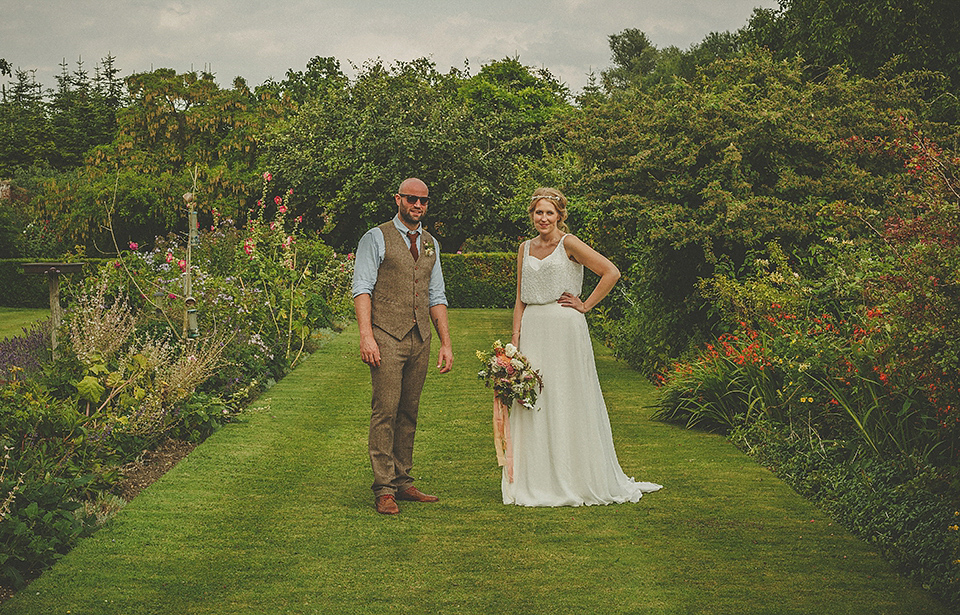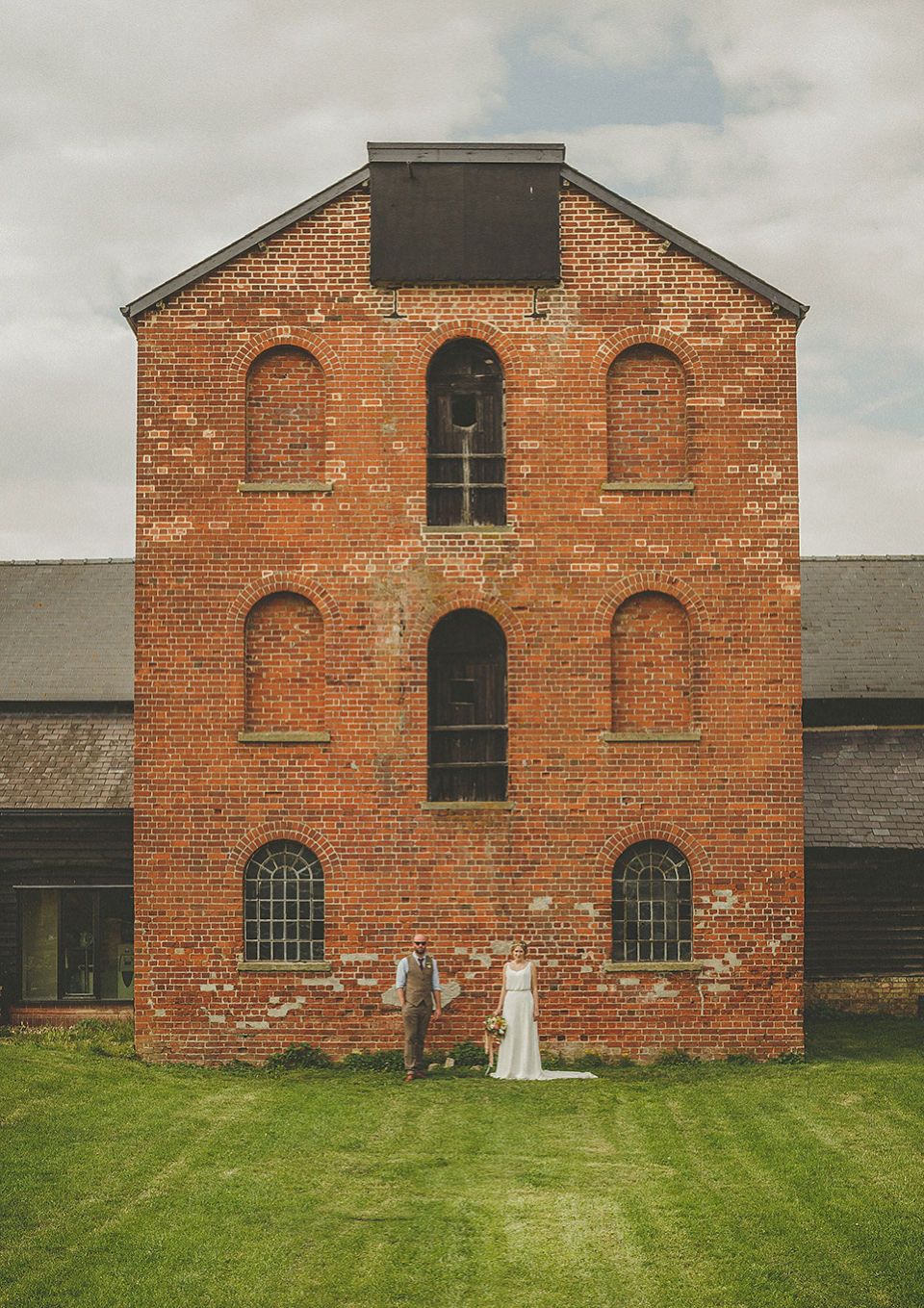 "At first I had wanted to go down a very classic white and green colour scheme, with cactus's and succulents scattered down the centre of the tables, but as the weeks went on I was being drawn towards much brighter colours especially for the reception barn. So with that in mind I changed everything and went bright with earthy coppers and blushes."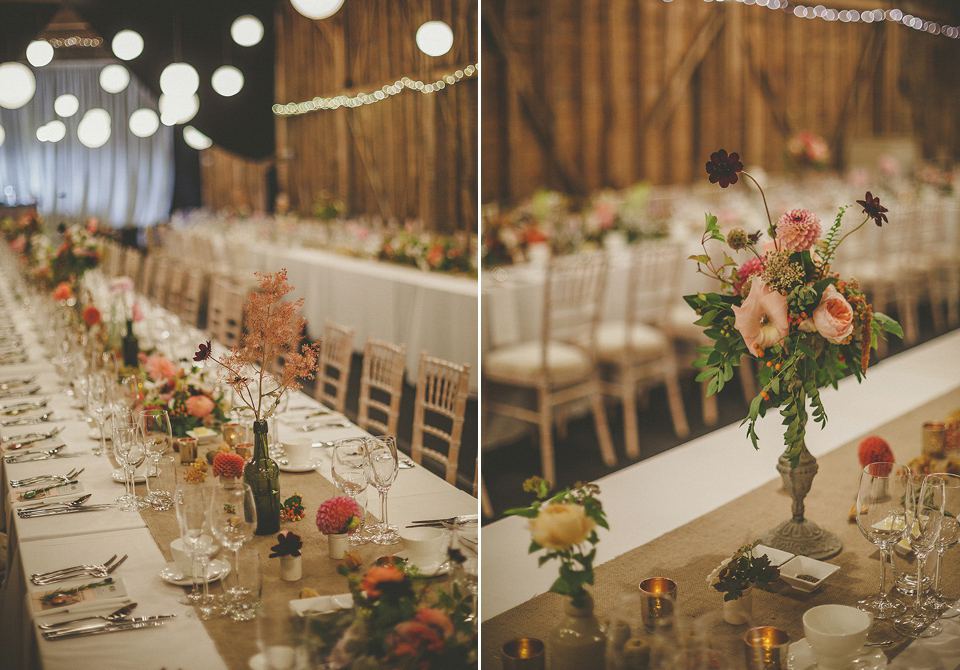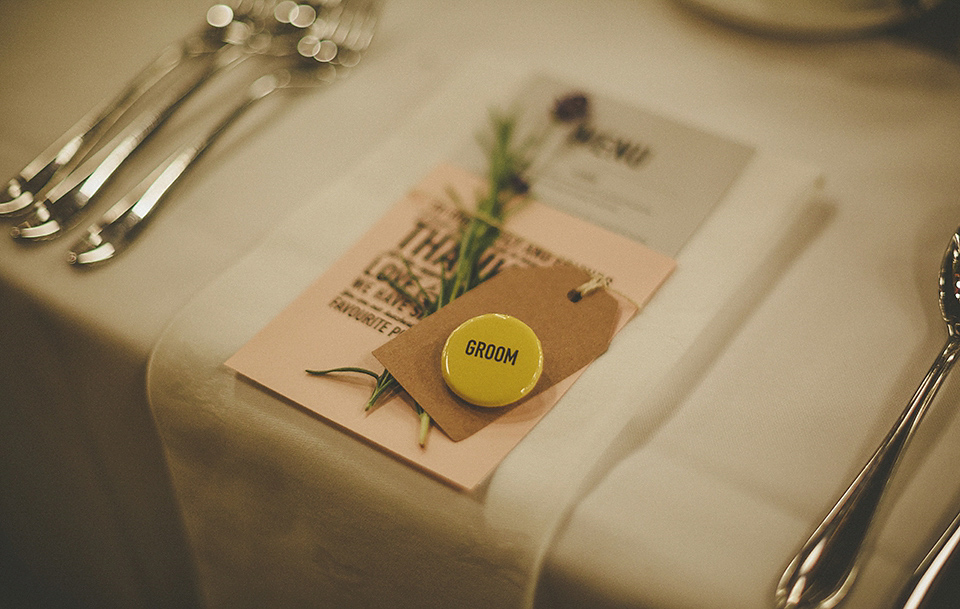 "For favours,  my mum and I took to cooking up extra chutney from last years home grown tomato's and jam from this years home grown strawberries! We've started getting orders, so it couldn't have been too bad."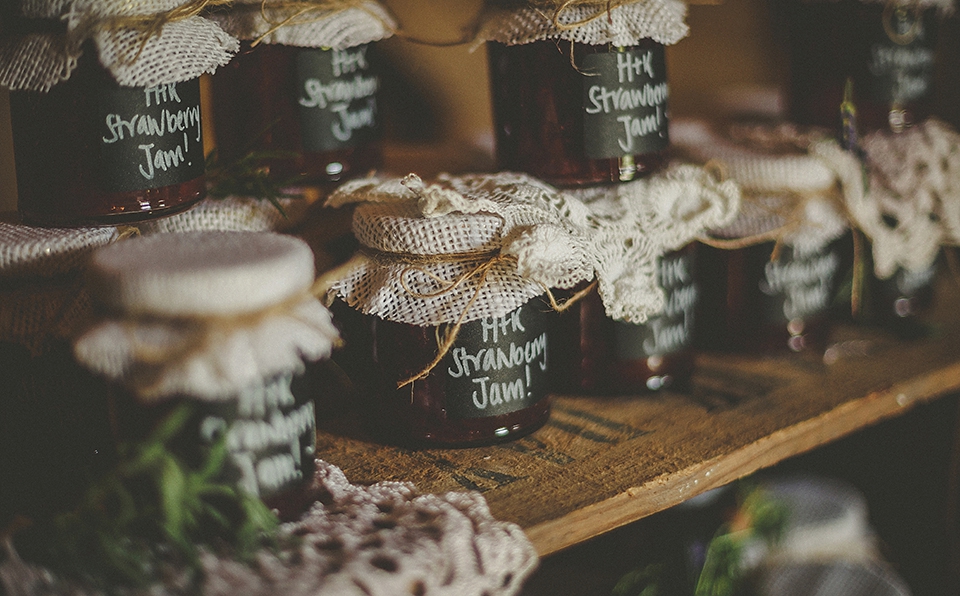 "Another memorable moment for me were the speeches. The men in my life are all quite shy and the thought of them getting up in front of 100 people and speaking there emotions was one I had worried about for along time. But I couldn't have been more proud.  My dad set the bar high standing up and doing us Gilberts proud. He spoke fondly of memories and of the family that Karl Belle and I had become. He was inspirational and truly hard to follow."
"Up next was Karl, his witting humour and way of writing had everyone laughing from the get go, he was fantastic. I re-read his speech the next day, and can honestly say I could read it 100 times a day forever and never get bored of reading it. Next up was the best man, after months of ribbing from the boys and girls about how both of our characters were going to be assassinated in the speech, he did us all proud. We were pulled apart but in a way of admiration, of love, showing the support he has offered Karl over the years and now both of us as husband and wife.
They were the words that the men in my life don't say every day, the words you might hear after a few beers, but take with a pinch of salt! To have them stand up and say it in front of everyone meant the world to me and made me so proud."
"Our caterers were 'The Moveable Feast'.  The food was out of this world! The staff were brilliant, and put me at ease throughout the day, cannot fault them, true professionals.
Anna at Stunning Cakes is a family friend and a truly brilliant cake baker! I knew I wanted a very simple cake, not a big overbearing one, but a small elegant classy cake that tasted amazing! And this is exactly what I got. The earthy copper and the clean ivory complimented the flowers and mirrored the copper spray painted pineapples sat on the bar. Inside the bottom tier was rich moist chocolate cake filled with Galaxy butter-cream, covered with dark chocolate ganache, and the top tier was lemon cake infused with lemon syrup, lemon butter-cream and lemon curd, covered with white chocolate ganache – delicious."
"Our first dance was to Oasis's 'Let There Be Love' – the reason is simple; we both love music and going to gigs is something we have loved doing together and with friends throughout our relationship. As huge fans of Noel Gallagher and Oasis our first dance couldn't have been written by anyone else."
"We hired Mister Kanish, who were an unbelievable band that had our barn rocking all night long! Didn't want them to end with their extensive repertoire and fantastic talent. Bloody brilliant."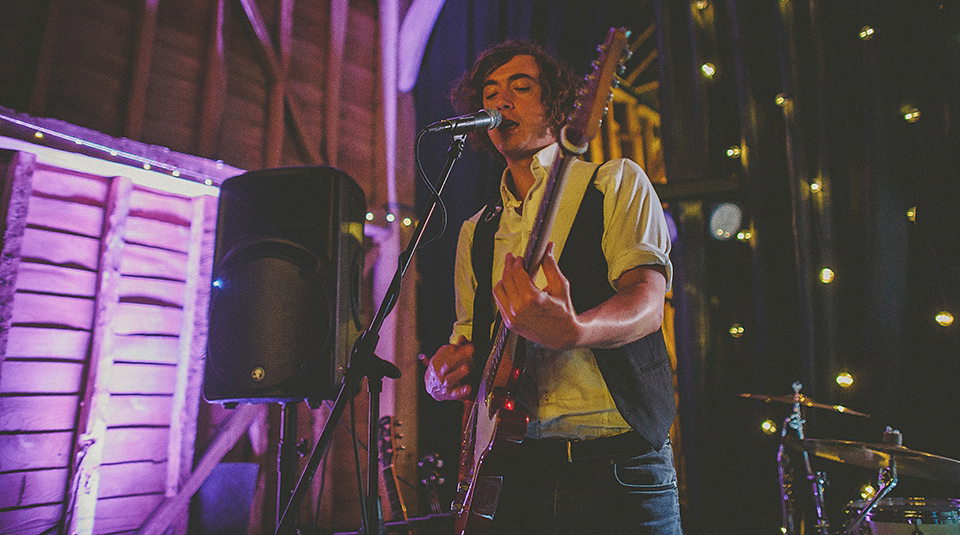 Words of Wedded Wisdom
"Have no regrets do what YOU want to do, regardless if people think you're crazy! For me the run up and planning of the wedding was as much part of it as the day itself. I can sit and say the little details didn't really matter in the end, and the freak out I had about running out of copper spray paint the morning of the wedding was a little OTT, because I had spent hours making things, planning, creating, because that's who I am, that's what I wanted to do.
"On reflection, there is really only one thing I would have like to have done. And that's to have a moment before all the craziness begins to walk around the venue and truly take in all the details, the flowers, the props, the lighting, the cake all the things I spent two years planning, making, envisioning. I would have loved to have seen it how everyone else saw it – for the first and last time."
"I was totally blinded in the run up by the thought 'everything has to be perfect' all the little details and the truth is, it was perfect because I married the man of my dreams surrounded by the people I love the most.
Come rain or shine, small hiccups or major catastrophes, as long as you make it down the aisle and say those important words, the rest doesn't matter as the way I saw the venue the rest of the day is through the people who filled it, the smiling faces, tears of joy, laughter, that's what made my wedding perfect and that's what I will always remember.
I can honestly say did everything I could and wanted (within reason!) Yes I turned into a bit of a monster in the week running up to it, but I have no regrets!"
A day full of charm, love and adorable moments. Huge thanks as always to photographer Howell Jones (see more work from Howell on Love My Dress here) and my love and congratulations to you both too Hannah and Karl. I'm so happy you have allowed us the pleasure of sharing your beautiful wedding day on Love My Dress.
Love Annabel xx
Photographer – Howell Jones Photography
Venue – Childerley in Cambridge
Wedding Dress + Veil – Stephanie Allin
Bride's Shoes – The Clover Shoe by Harriet Wilde
Perfume – Lancome's La vie est Belle
Grooms Suit – Victor Valentine
Bridesmaids – own choice
Flower girl Dresses – Monsoon Estella Dress
Florist – Jo Flowers
Cake – Stunning Cakes
Entertainment – Mister Kanish
Rings – Wilde
Catering Company – The Moveable Feast
Stationery – DIY/the bride
Hair and make-up Artist – Jerry Chaplin (a friend)
Styling and props – The Little Lending Company
Lighting by Steve Went of Lighting Technologies