I have a darling end-of-week treat for all of you beautiful readers. There's bright homegrown blooms, sweet flower girls with pretty crowns, a gorgeous dress with a flirty sheer hem, the most fabulous pair of pink and gold heels, and to top it off, a quirky location complete with mini steam-train rides and a windmill!
Bride Victoria is a silversmith/goldsmith and designer and runs 'make your own wedding rings' workshops in the jewellery quarter in Birmingham at The Quarterworkshop (she is also soon to be a member of our wedding directory, Little Book For Brides) and groom David is a data manager at a local school. The couple tied the knot on a summer's day on 11th July 2015 and chose a relaxed style, with lots of handmade elements and pops of bright colour for the flowers and decor.
"We wanted our wedding to be very relaxed and informal and to not look too 'done'. In the end it all came together really well with a mix of colours and simply using an awful lot of beautiful wildflowers, all grown by David's mother and father on their allotment, loads of jars of candles and multi-coloured paper lanterns."
Photography by Ella Ruth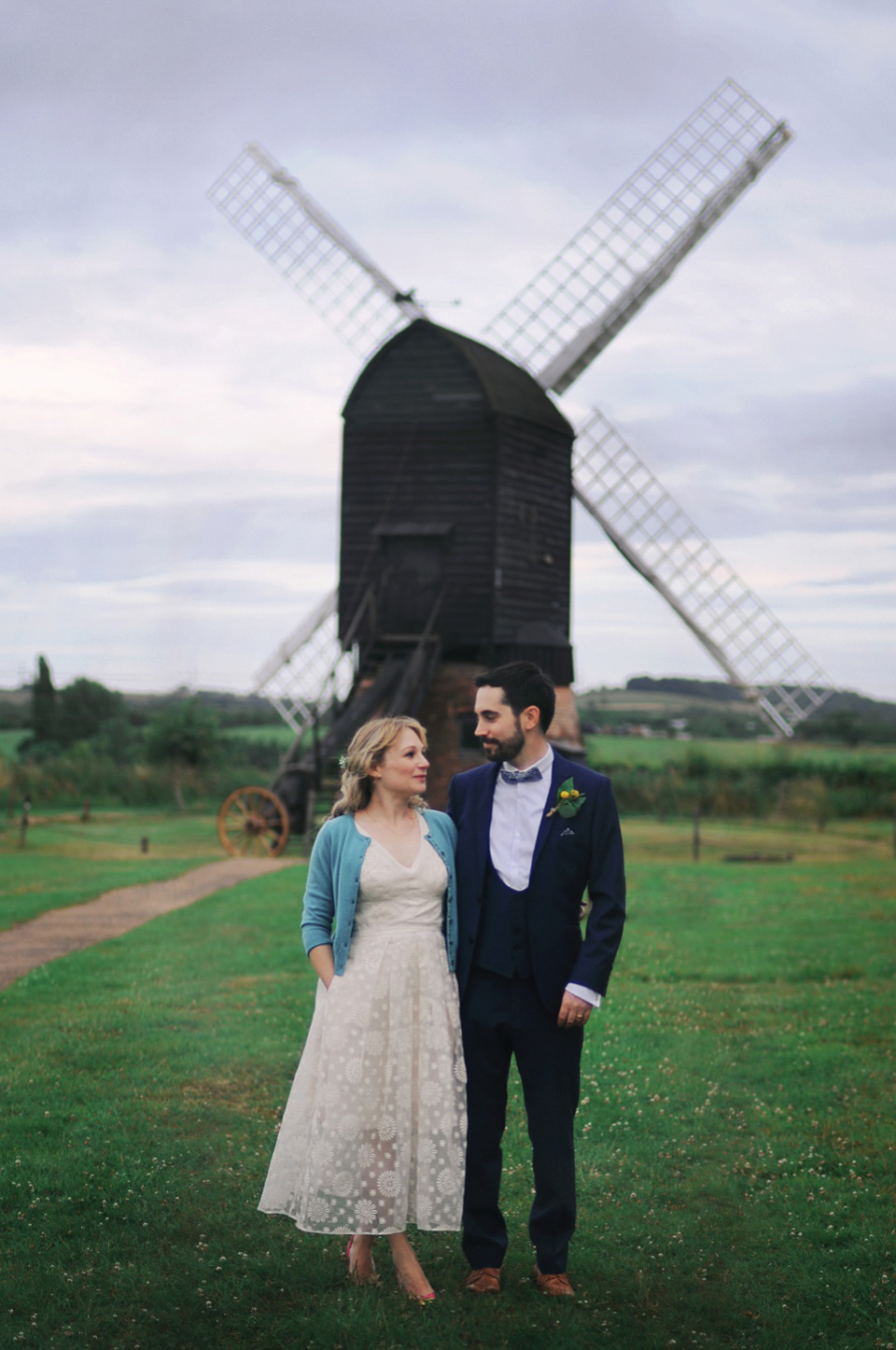 "David's parents grew all the flowers for the venue and we had an amazing abundance of beautiful wild blooms of all different varieties. We had so many comments about them and it really made the venue very special."
"Being trained as a silversmith and goldsmith, I have always had of love of spoons, so we spent months collecting vintage spoons. We stamped the date of our wedding on each one and I then silver-plated them. The spoons were put out randomly on the tables before we had the pizza and were a great talking point."
Victoria's beautiful dress was designed by Yoana Baraschi and purchased online via BHLDN on an impulse (yes, we've all made one or two of these!), but her instinct was right.
"My dress was a random purchase in the middle of the night! As much as I loved many of the dresses online, I knew being only small in height they would not suit me and I also didn't want something too 'wedding dress-like'. I saw the dress and really liked the double-layer hemline, so decided to give it a go. I waited six weeks for it to arrive from New York but when it did it was better than I could have ever imagined."
The creativity continued with Victoria involved in the wedding stationery design, and putting her 'stamp' on the favours.
"I commissioned little portrait pictures of David and myself and then I did the rest of the stationery design myself; creating fold out maps of the grounds, so our guests could go exploring."
"For my bouquet, flowers for my hair and the bridesmaids we used In Bloom, a lovely florist in the Jewellery Quarter in Birmingham who created a beautiful bouquet for myself. It was full of seasonal flowers and texture from foliage and featured coral pink peonies, soft two toned garden style roses, peach hypericum berry, herb and eucalyptus foliage, with white gypsophilia, chamomile flowers and blue corn flowers dotted through.
I didn't want to put it down! They also made pretty flower crowns for the flower girls and buttonholes for the groom, best men and my father."
Ella Ruth Photography captured such lovely shots of the bride, groom and their guests and the fun vibe of the day completely comes across in these images.
"Ella is a wonderful photographer who has a way of making people look beautiful and she managed to capture many magical moments for us, without us even being aware of it at the time."
The bride and groom married at Avoncroft Museum in Worcestershire, a fantastic venue that caters for all ages.
"We chose it because we really wanted to have a relaxed and fun wedding, which would be suitable for our families and friends with small children. Growing up in the countryside, I also wanted somewhere with outside space and lots of things to do and see. It has lovely grounds for wondering around as well as a mini steam-train for our guests to ride – plus a windmill!"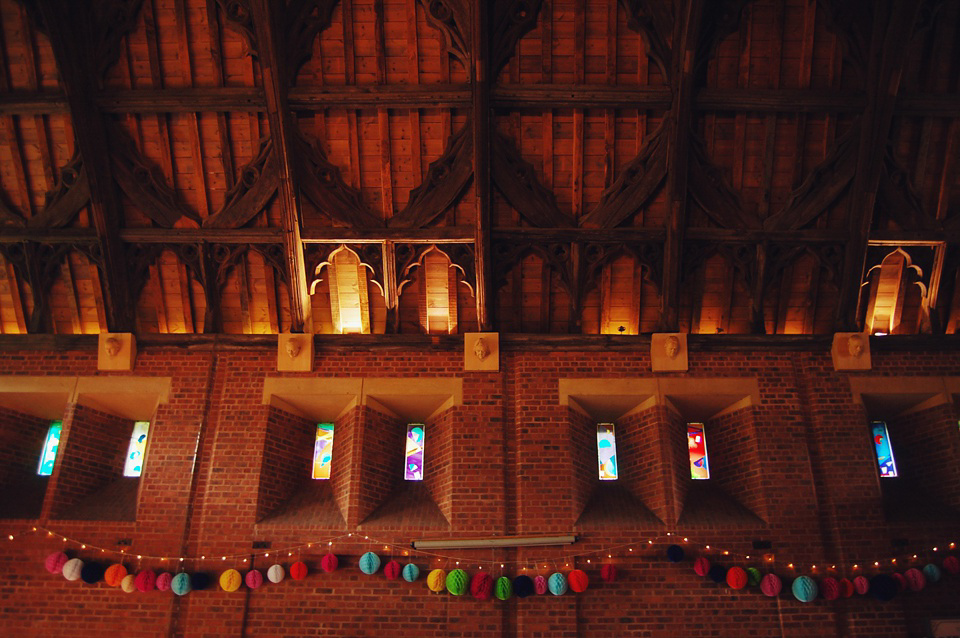 David sported a stylish Alexandre of England at House of Fraser suit and a delightful bow-tie, made by their wonderfully talented sewing friend Hannah Jane Fellows. And his crafty bride made him a pair of cufflinks with a very heartfelt message in her design.
"I made David a pair of sterling silver cufflinks with a hand engraved picture of a little sailing boat (drawn by me) on the front. He has a dream to have a little boat one day and for both of us to live by the sea, so together with his wedding band, it was a little reminder of that."
"We met over a gin and tonic at a Halloween party at the 'Jekyll and Hyde' pub in Birmingham in 2013. We got engaged on holiday in Croatia in August-September 2014. David proposed, while we were sat on the harbour wall feeding bread to the fish and drinking champagne, with a rose cut diamond so I could design and make my own ring."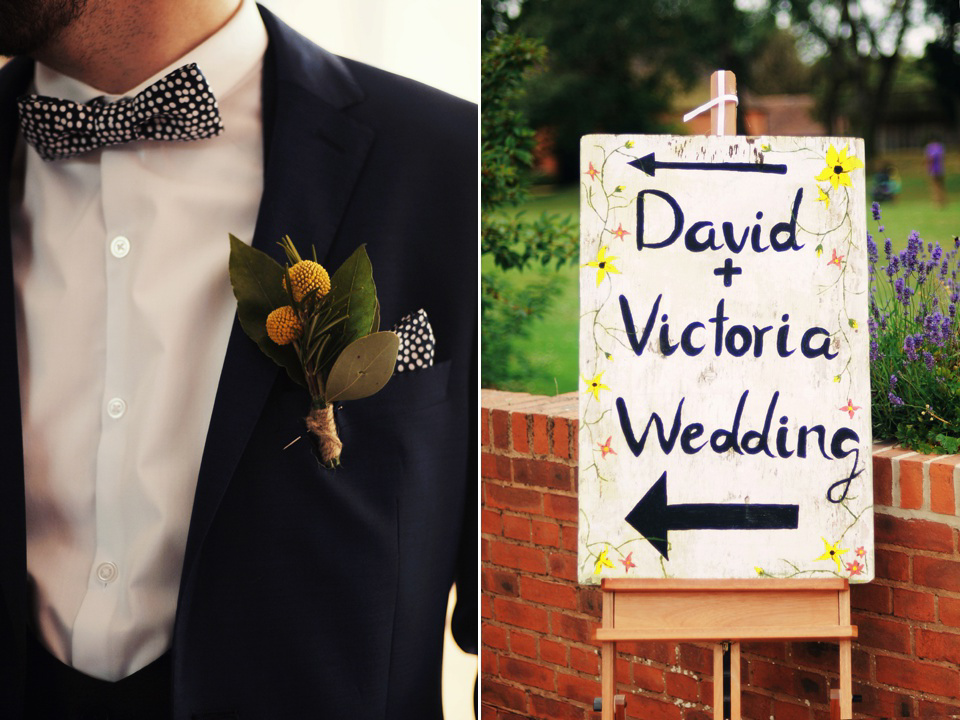 Creative Victoria made her own veil and added a fabulous pair of gold-capped bright pink Olivia Morris shoes. She also wore a spray of Vivienne Westwood's 'Boudoir', a few sprigs of gypsophila wound gently into her hair, and two special items of jewellery. Her hair and makeup was by Becky Hunting.
"David gave me an Alex Monroe necklace as a present to wear on the day and my earrings were a pair that my mum gave to me when I was younger."
The two flower girls wore pretty Marks and Spencer frocks, plus sweet little floral crowns fashioned by the florist.
"My flower girls Holly and Sophie had real flower crowns featuring daisies and cornflowers made by In Bloom."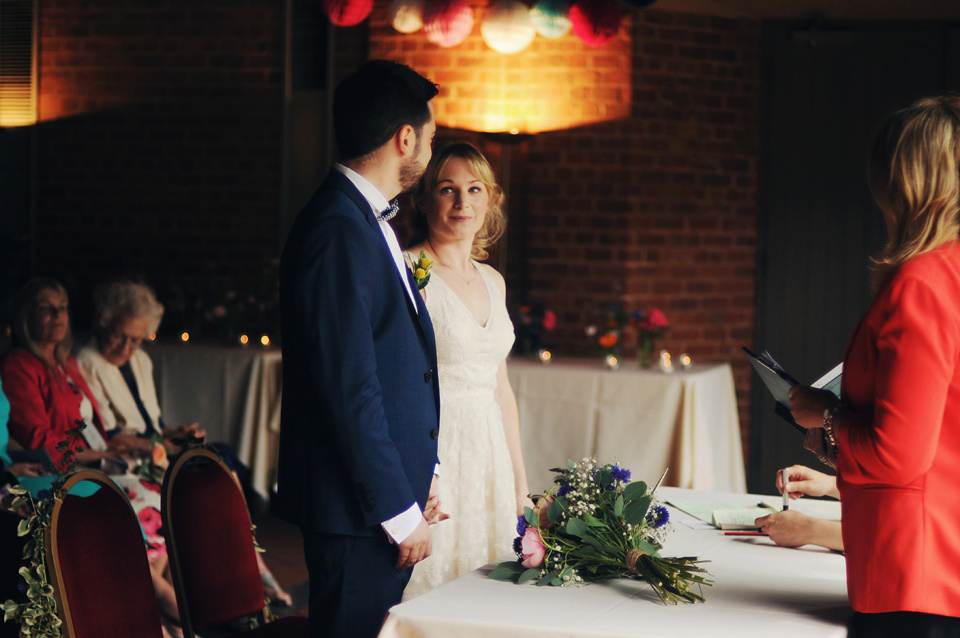 "We made the rings ourselves, David making mine (with a little help from me) and me making his. After three years of helping other couples make their wedding bands, it was the obvious thing for us to do really! We spent the night in the workshop with some nibbles and prosecco making two gold bands completely personal to us – David's is in nine carat yellow and mine's in eighteen carat white gold with a scattering of diamonds.
Afterwards, as a surprise, I added hand engraving to David's wedding band featuring little waves (we both have a wish to live by the sea one day and to have a little boat, so it's a little reminder of our dream to have with him all the time)."
"I asked one of my very best friends Lynne to read the following for us after the exchange of rings. We wanted to have a small reading to make it personal to us and this one struck a cord maybe because it mentions rings and also because its simple and short and sweet and we felt it said all that was needed."
Now We Are One, by Kate Fisher
When thoughts take wing a wedding ring encircles all our dreams
And love abounds above, around,
enriching all our schemes
We plan together all our life
to make our dreams come true
When love is there a smile, a hug, a kiss will do
And then together hand in hand
we go with love we've won
And you will see
the you and me
that once were two — are one.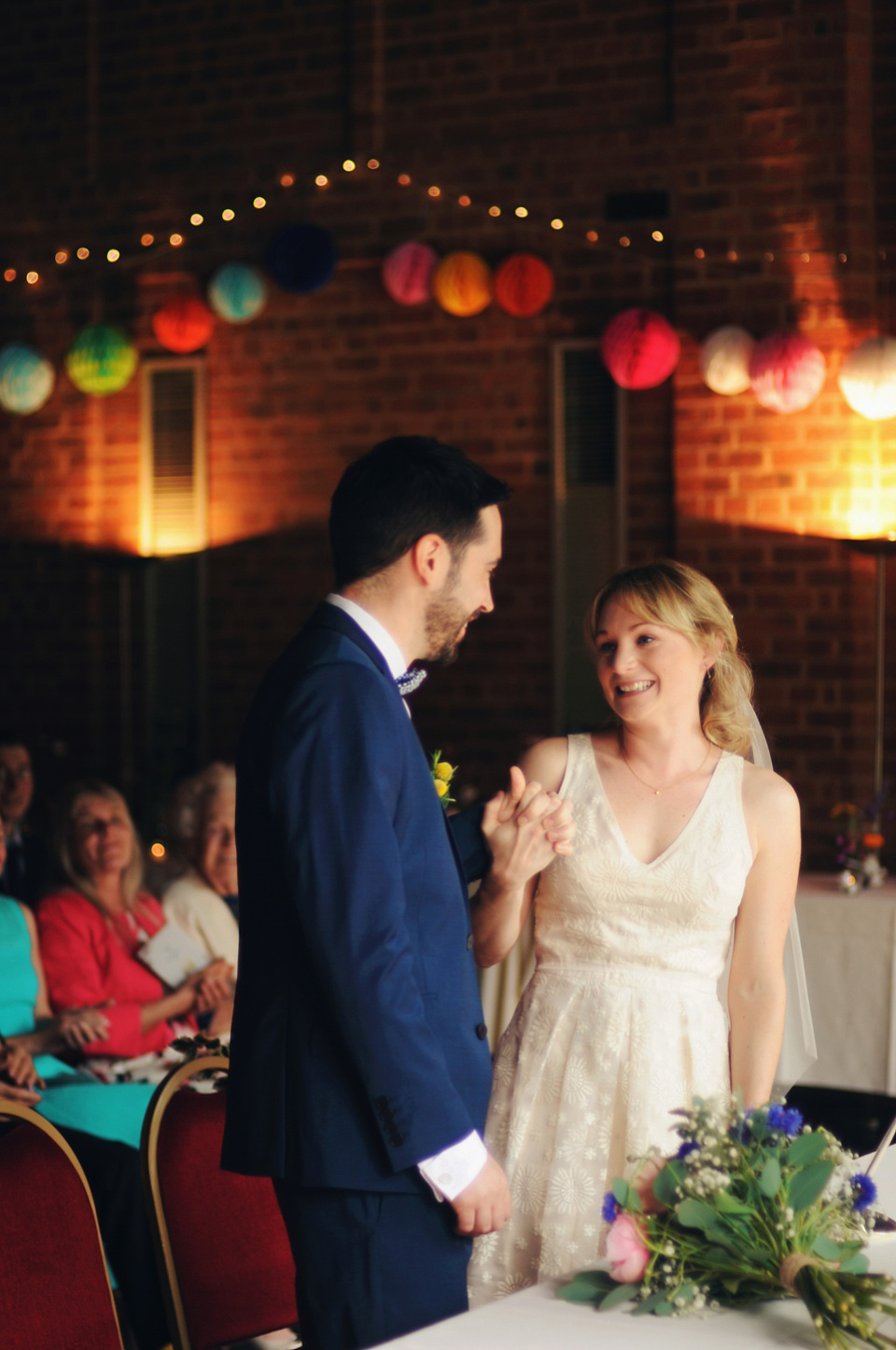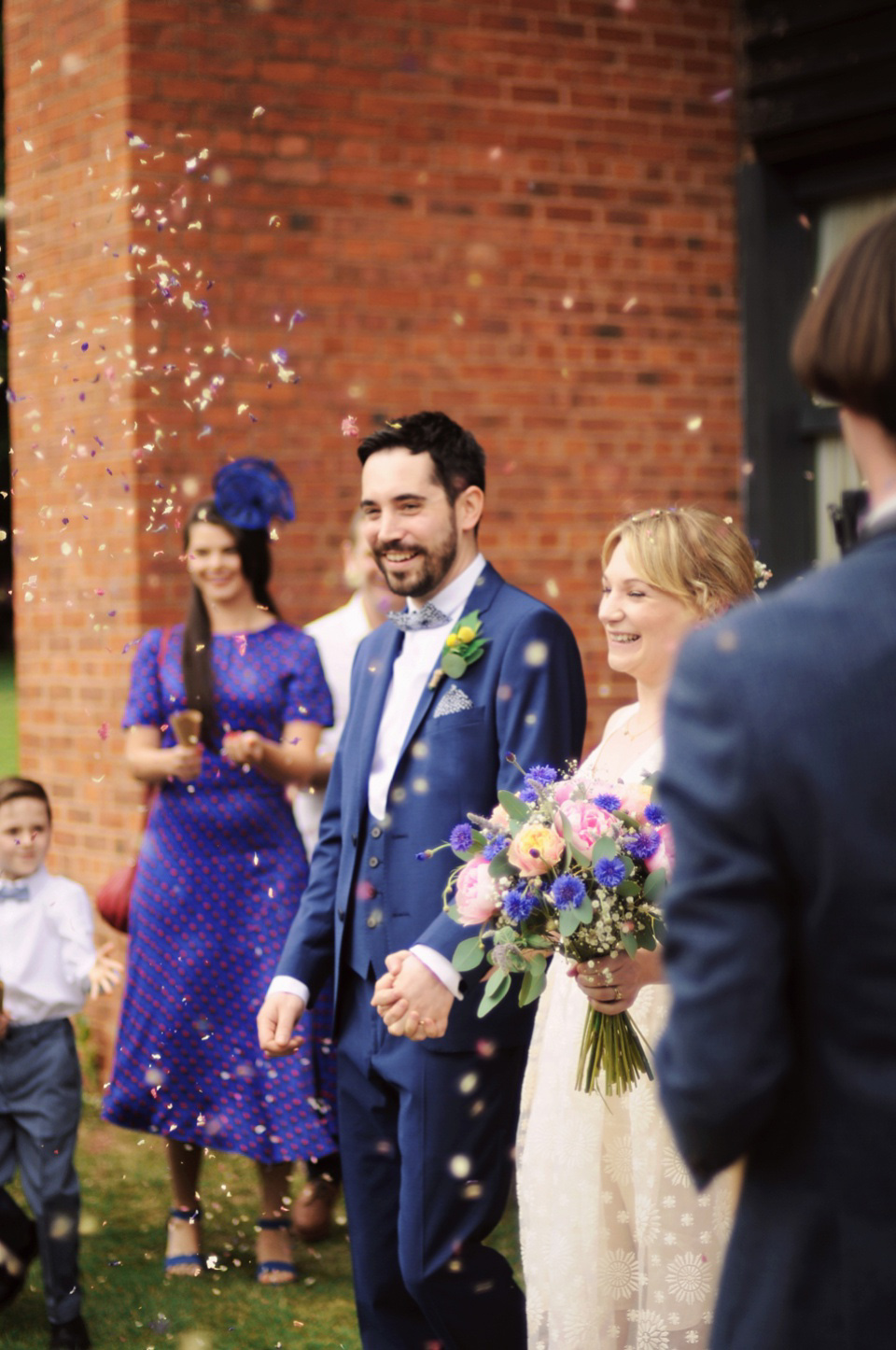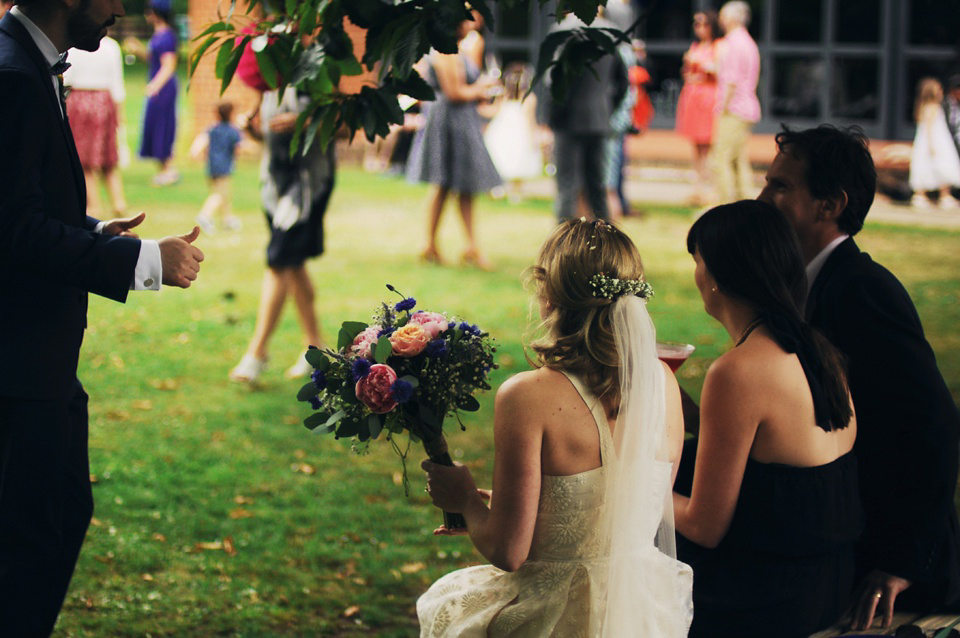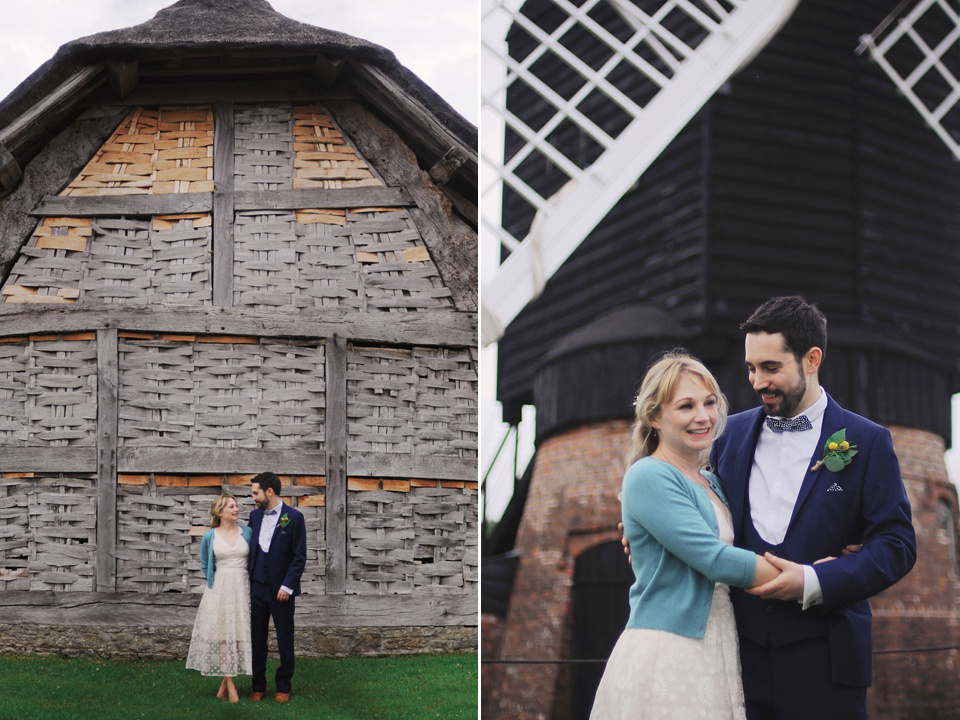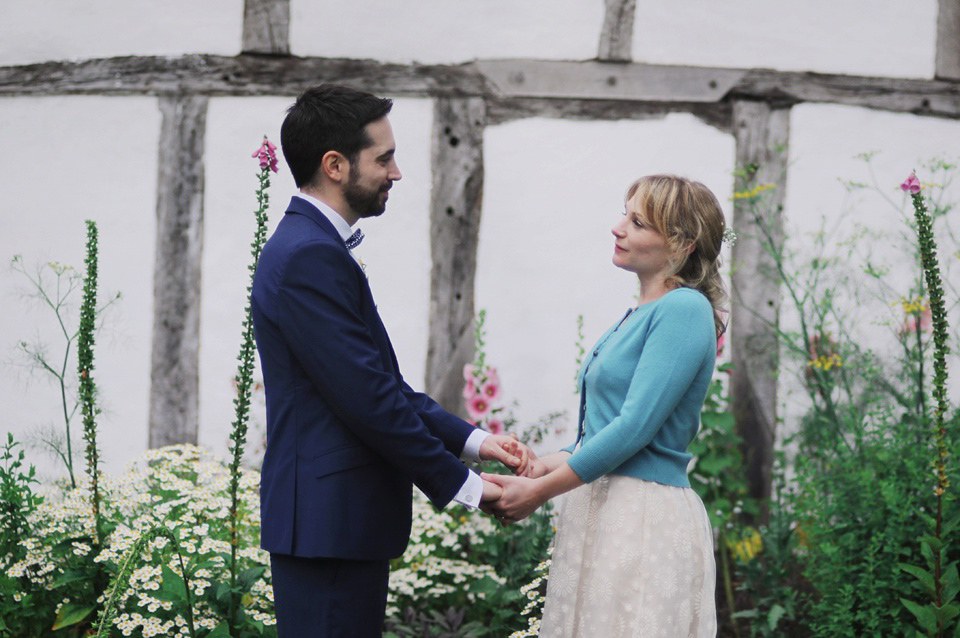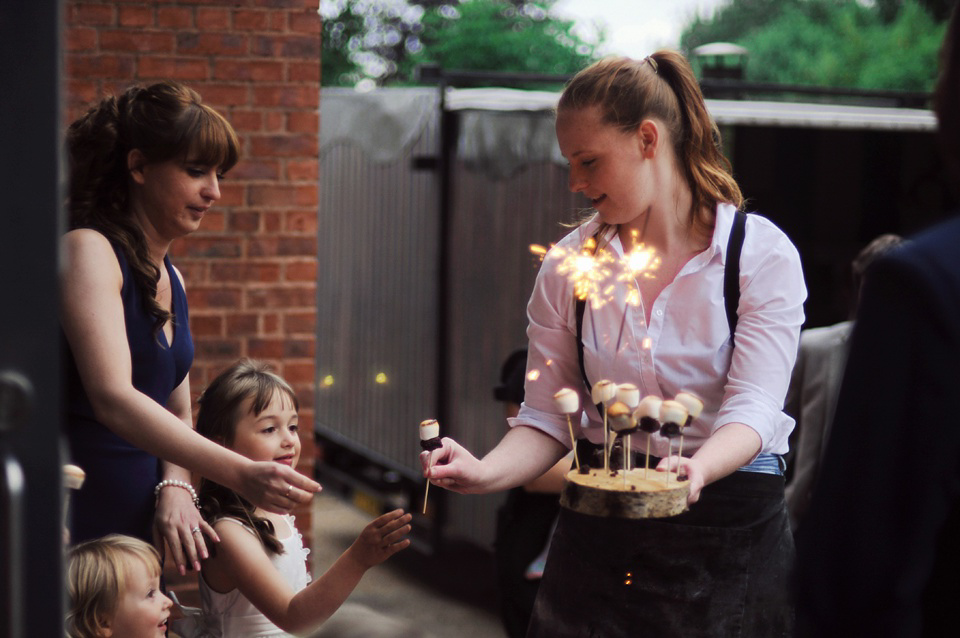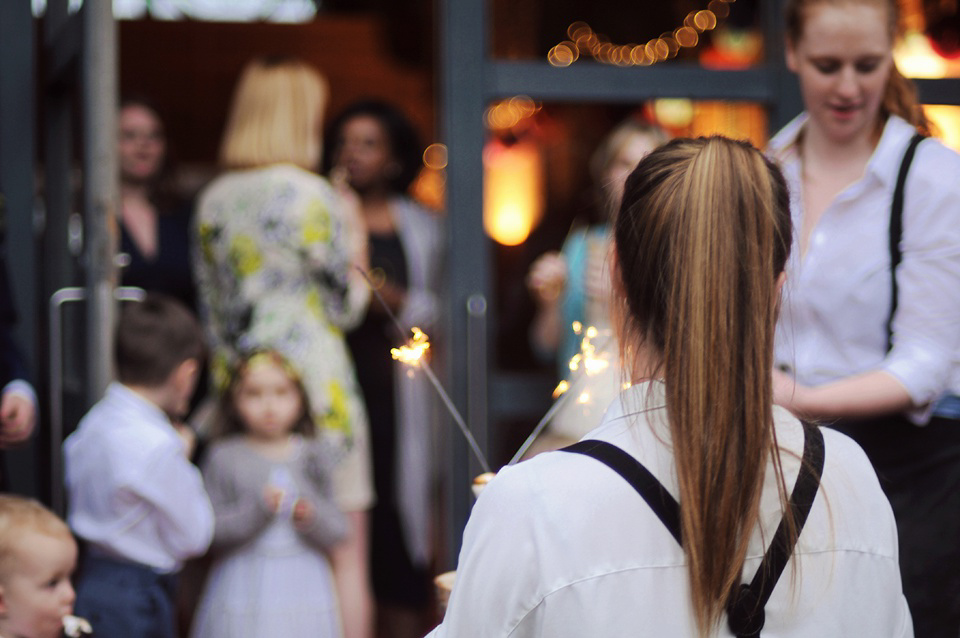 Are you already getting a sense that this wedding is extra special? Well, just you wait! The couple had help from family and friends with making many of the elements of their day, particularly with their stunning range of flowers, grown by David's parents in their garden for decorating the venue. I'm speechless! And then there was the cake…
"David's mum made the cake, which was simple and beautiful in form and featured a sugar peony. It was just what we wanted."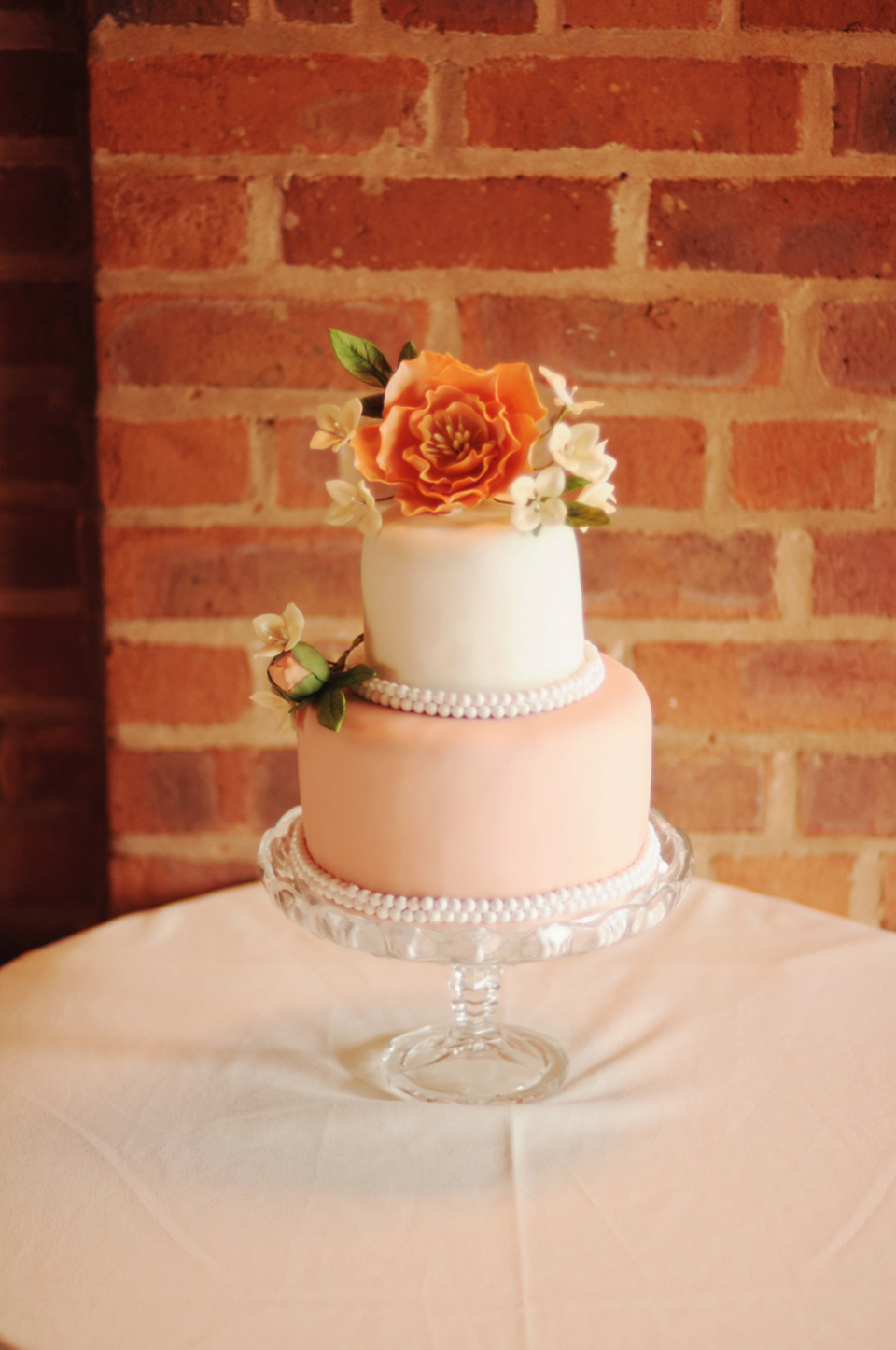 The tables were decorated with loads of the homegrown wildflowers in jars and the result is simply stunning and oh so colourful. And strings of multi-coloured paper lanterns were hung up, which complimented the blooms perfectly.
"I cannot praise The Wild Oven enough, not just for the food which was amazing but I felt like I could completely trust them and rely on their help to make everything go perfectly and it did. They did so much on the day, including moving hundreds of jars of flowers and laying our tables and it was perfect!
Everyone loved the pizza and toasted marshmallows as well. They were one of the best decisions we made in choosing suppliers for our wedding and I think they would always put a lot of care and attention into everything they do."
"Gosh, its difficult to chose one moment and it really does all go by so fast! Some of my favourite moments include the throwing of confetti as we came out of the venue – we used real petal confetti from Shropshire Petals which is grown in the fields around the house where I grew up – so that was really nice and it was a great moment of relief after the nerves of the ceremony and seeing all our friends and family close up.
I also really enjoyed the night before the wedding. My sister and her partner came over from New Zealand for the wedding, so it was the first time we had spent any time together for while. My brother, my sister and her partner and I all stayed in a cottage close to the venue and went on countryside walks and stayed up drinking wine (but not too much!)."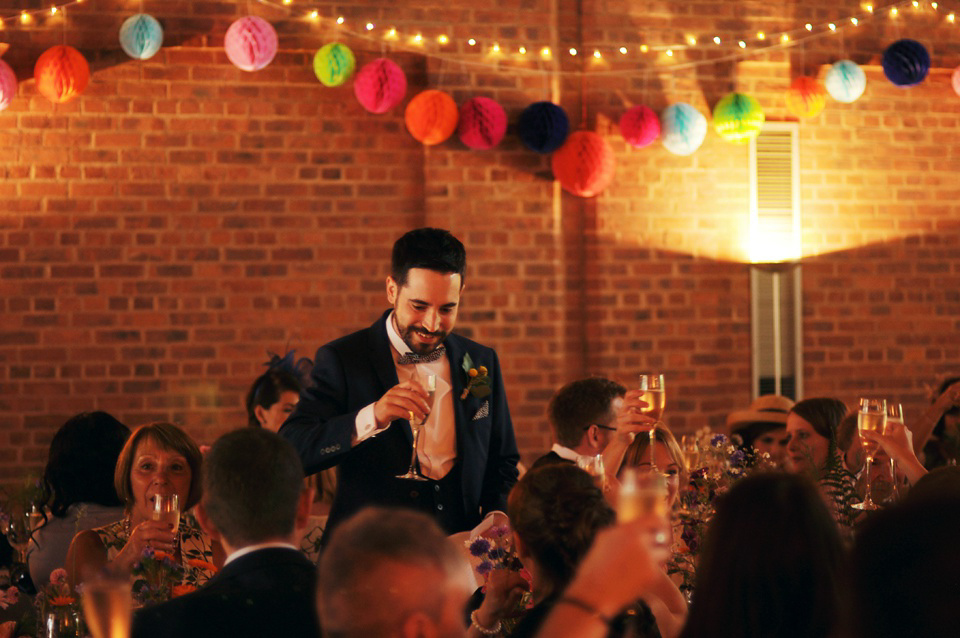 Words of Wedded Wisdom
"Take some time out together on the day to just stand back and look and take in everything that is happening. I worried too much about if everyone was having a good time and if things were being done when everyone was absolutely fine. Don't worry too much and enjoy it.
Don't feel like you have to or can control everything – it's not possible! Some small things didn't work out on the day, like our ceremony music and a few other minor details, but in the whole scheme of things it didn't really matter at all."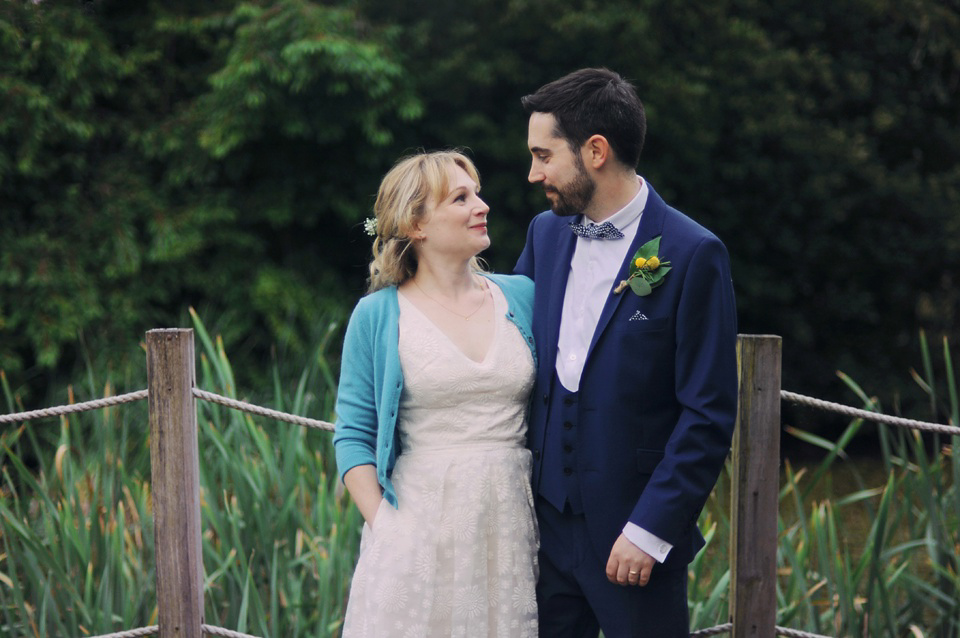 What an absolutely beautiful day Victoria and David – I'm sure you've inspired our lovely readers with the colours and creativity and your very heartfelt touches. I'm certain you'll get that little boat and place by the sea in the not too distant future. And a huge thank you to Ella Ruth Photography for sharing these wonderful shots of the happy couple.
Have a lovely rest of week everyone!
Love Jo -x-
Photographer – Ella Ruth Photography
Venue – Avoncroft Museum
Dress – Yoana Baraschi via BHLDN
Shoes – Olivia Morris
Jewellery – Alex Monroe necklace, a present from the groom + own earrings
Perfume – Vivienne Westwood's 'Boudoir'
Flower girls – Marks and Spencer dresses
Flower girl's Hair Accessories – Floral Crowns via In Bloom
Groom – Alexandre of England at House of Fraser suit + bow-tie handmade by Hannah Jane Fellows + sterling silver cufflinks handmade by the bride
Florist – In Bloom + wildflowers homegrown by parents of the groom
Transport – VW camper van (supplier unknown)
Entertainment – Deckheds DJ
Rings – Handmade by the bride and groom via The Quarterworkshop
Catering – The Wild Oven
Cake – Handmade by the groom's mum
Stationery – Portraits of the bride and groom via commission then handmade by the bride
Confetti – Shropshire Petals
Makeup + Hair – Becky Hunting