Hello all, and happy Friday the thirteenth!  Is anyone out there the superstitious type?  I'm not at all, so am very happy to flood this so-called unlucky day with images of the loveliest woodsy wedding, with a gorgeous Maggie Sottero gown and rings the couple made themselves.   I love it and I'm certain you will too.
Jake, a store manager for All Saints, and Sam, a senior accounts manager, married in a personalised woodland ceremony on a bright sunny day early in June 2015.  The whole day took place at Tournerbury  Woods Estate, Hayling Island, and was centred around fun, community and a home-made feel.
"We wanted the day to be fun for our guests and we love nature and so being out in the woods was perfect for us.  We also wanted a home-made/community feel and achieved this through lots of help from our family and friends."
Photography by Kathryn Edwards Photography
"There were craft nights at our house in the lead up to create the decoration, dessert on the day was a cake table made up of bakes from all our family/friends, crowned by a beautiful tiered cake made by one of my bridesmaids and her grandmother and we made all the stationary, favours and some sloe gin for each table."
"Jake and the groomsmen also spent a very comical night making cocktails for the day (until about 3am on the day, after squeezing in excess of 100 lemons and limes!)."
Bridesmaids gowns by Monsoon
Monsoon are a member of our Little Book For Brides
Photographer Kathryn Edwards was the couple's choice to capture every special moment of the big day.
"Kathryn was so lovely to work with. She was recommended to me by her brother Adam, who I work with. She is based in Nottingham and we live in Fareham so logistically it was not going to be easy to travel up to meet her for our engagement shoot. However, she let us interrupt her holiday and we drove down to meet her at a lovely lodge in Dorset, where she was spending time with her family.
The weather was atrocious and it didn't stop raining from the time we set off to the time we got home. Despite this, Kathryn made the entire experience really fun and put us at ease in front of the camera straight away. We were really pleased with the results! The wedding day was much the same, apart from the weather was glorious, thank goodness! All our guests said how amazing she was and she managed to get into some serious commando positions for some brilliant shots. We could not recommend her services enough."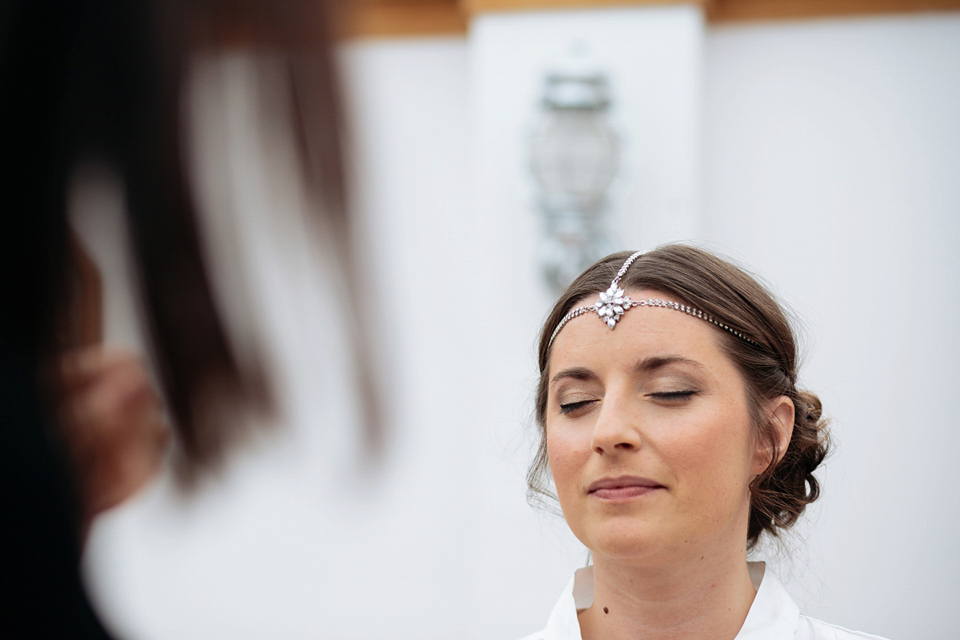 Sam chose to only wear a hint of fragrance, and I love her reason why:
"I didn't want to wear a strong scented perfume because I wanted to be able to smell the Elnett hair spray we had used on my hair. It has always reminded me of my Nana and I wanted to feel her with me on the day."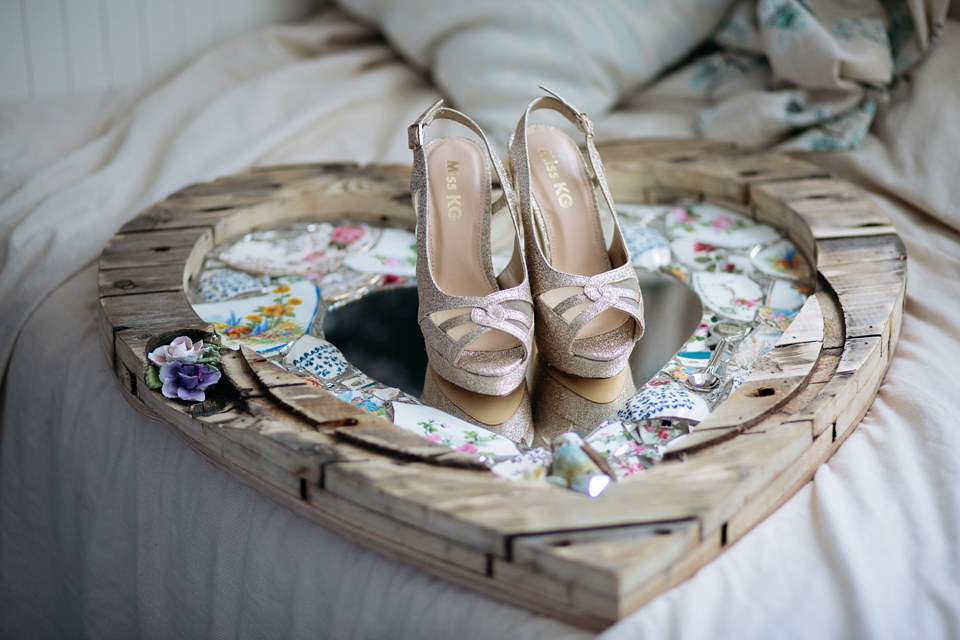 Sam wore the fabulously elegant 'Alicia' gown by Maggie Sottero, purchased from Creatiques in Southsea.  I just adore the beading on the shoulders and the back of the straps and it suits Sam's small frame perfectly.
"Being a short lady of 5ft I struggled to find a design that didn't drown me out. The style of this dress was very simple but it had lots of detail on the straps and a low back, which made it very elegant. The material gathered and dropped in a centre panel at the front of the dress, which helped elongate me."
To accessorise, Sam chose a cathedral length veil, Kurt Geiger shoes, her Nan's pearl earrings and a jewelled headpiece to add that final bit of sparkle.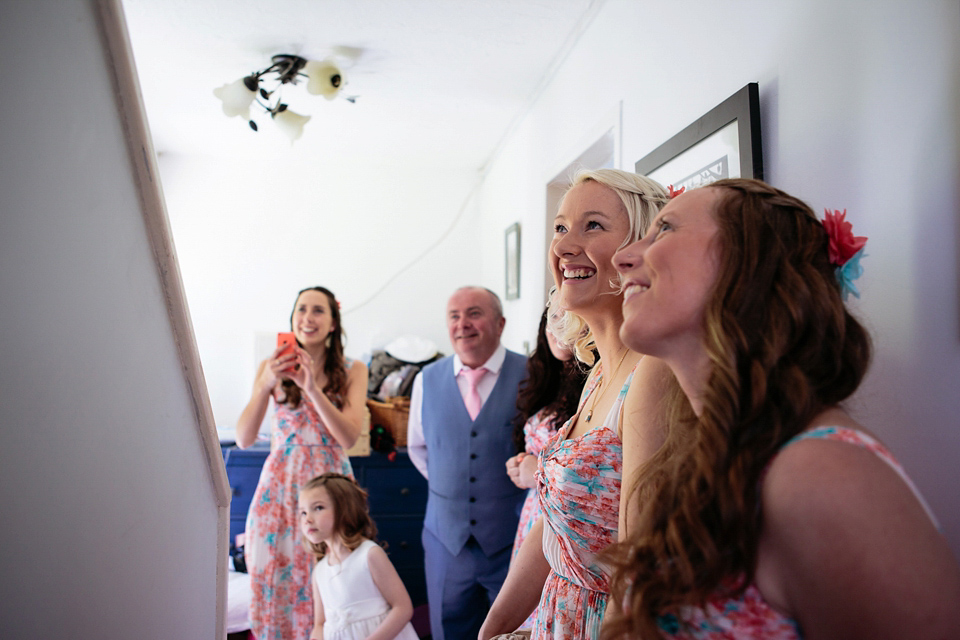 The bridesmaids looked beautiful in pink and blue floral dresses from Monsoon, worn with personalised necklaces from Etsy (a gift from Sam) and flower clips in their hair.  The little flower girl was regal in a Cinderella Princess dress from TK Maxx and the proud page boy super smart in a Next jacket worn with shorts.
"We wanted a wild forest feel and Wild and Green did a brilliant job. Because we were located in the woods we wanted to keep the extra flowers quite minimal and complimentary to their surroundings.
They supplied and dressed a lovely wooden arch for the ceremony and the centrepieces were inspired by cocktails!"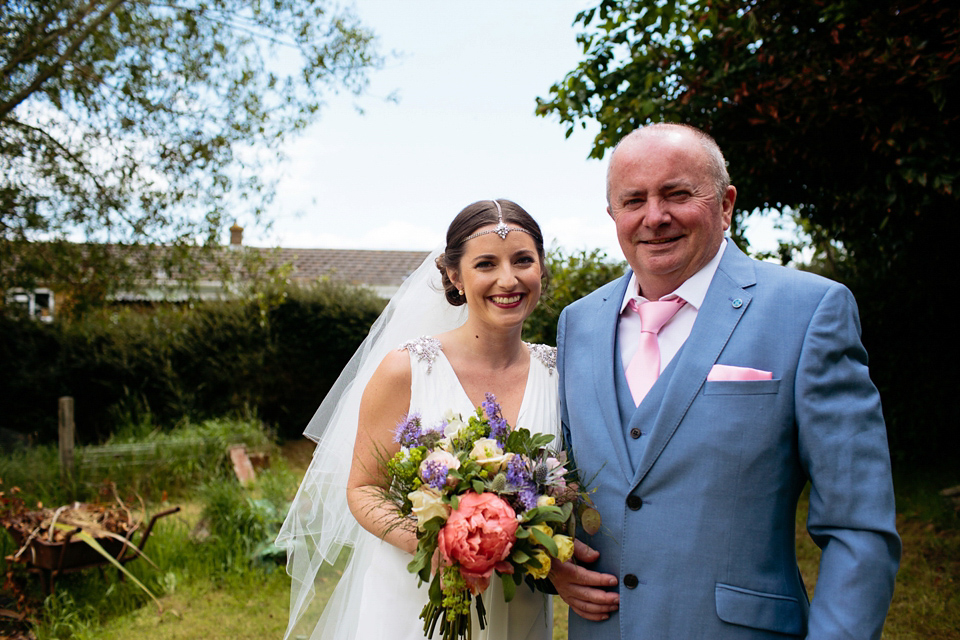 "We first met when we were twelve years old, during sports week, at Crofton School.  Jake was wearing one of his over sized basketball shirts and sporting an undercut, and I was way too nervous to speak to him.  Nine years later, I forgot my purse when on a night out in Southampton for our friend Sally's 21st birthday.  Always the gentleman, Jake went with me in the taxi to collect it.
The taxi man for this journey was obviously Mystic Meg and said that we should become a couple.  Not wanting to disappoint a total stranger, we have spent the last seven years as a couple and look forward to spending the rest of our years together."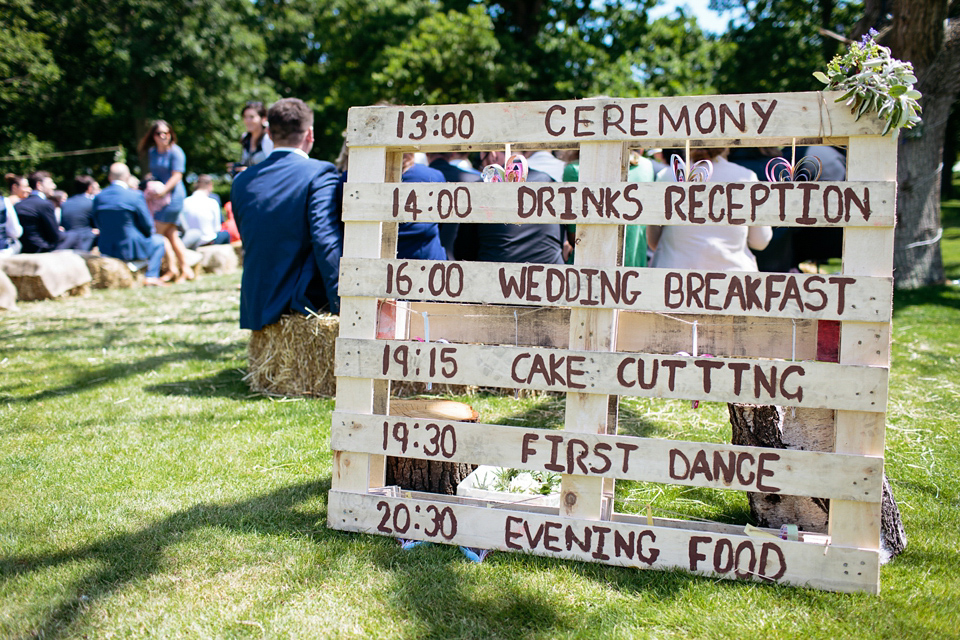 The ceremony took place outside under the sky, and Sam was walked down the aisle by her proud Dad to Christina Perri's  'A Thousand Years', played live on the harp by harpist Rebekah Webb.
"We hired a celebrant called Jenny Knight, who wrote and led our ceremony.  She was also brilliant and extremely helpful!  We sat down with her and she asked us a few questions to help tailor the ceremony to us and we wrote our own vows which consisted of three reasons why we loved each other and three promises to keep. We wanted to make our vows real and steer away from rhythm and rhyme to keep the emphasis on the content."
Sam and Jake made their own wedding rings in a privately led workshop.  I cannot tell you how much I love this idea!
"We went to Edinburgh to make our own wedding rings. Donna Barry held the workshop for the 2 of us and we spent five hours hammering, melting and filing to create our own rings.  The whole weekend in Edinburgh, inc. travel, accommodation and the making of our rings actually cost less than the quotes we had been given to buy them in local jewellers and this was a lot more fun and a lot more personal! Jake made my ring and I made his.  We also contacted Donna again after returning home and she was able to make 2 necklace pendants out of our excess gold, which we gave to our mums as gifts."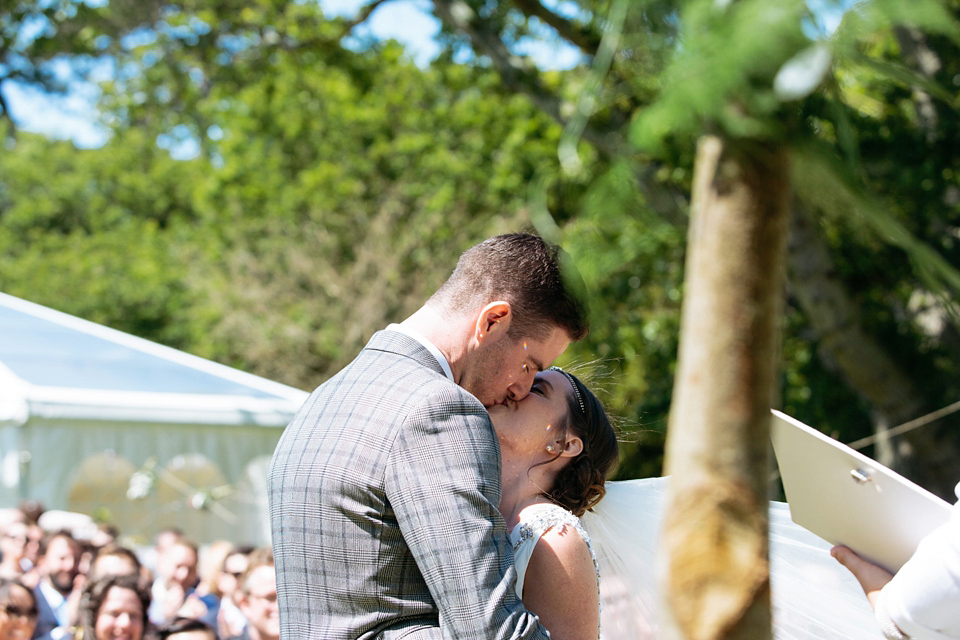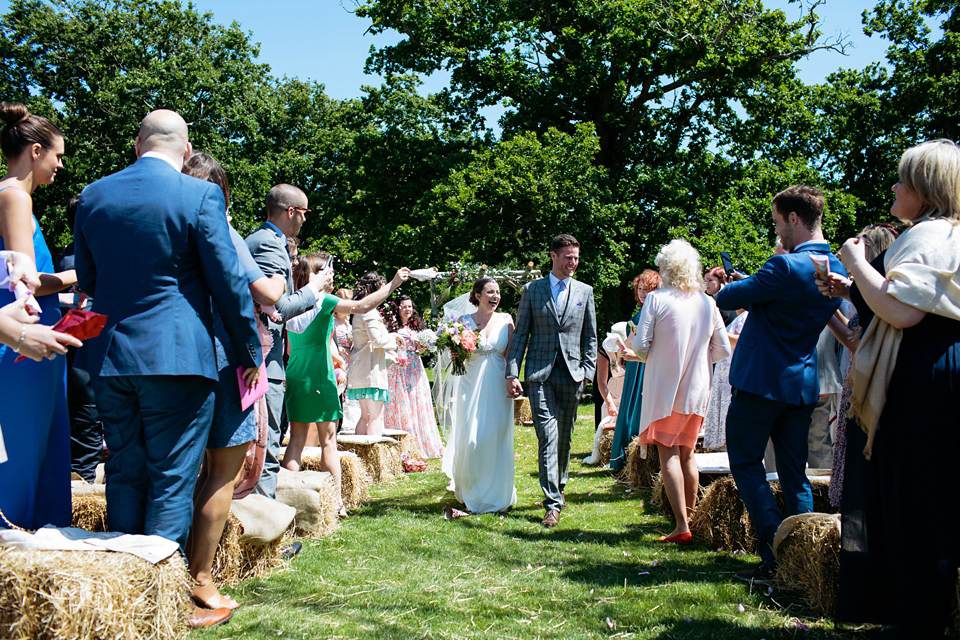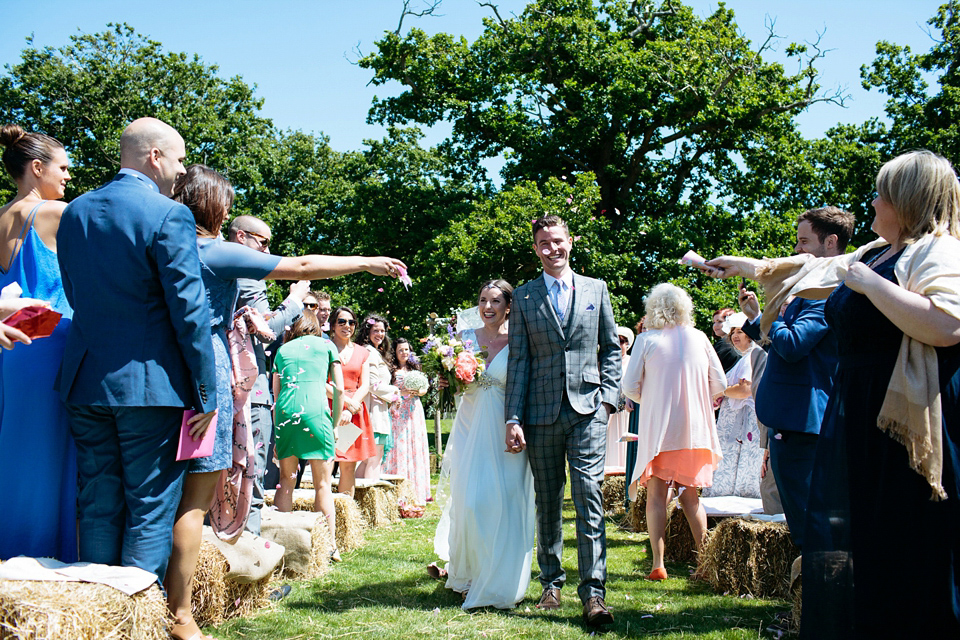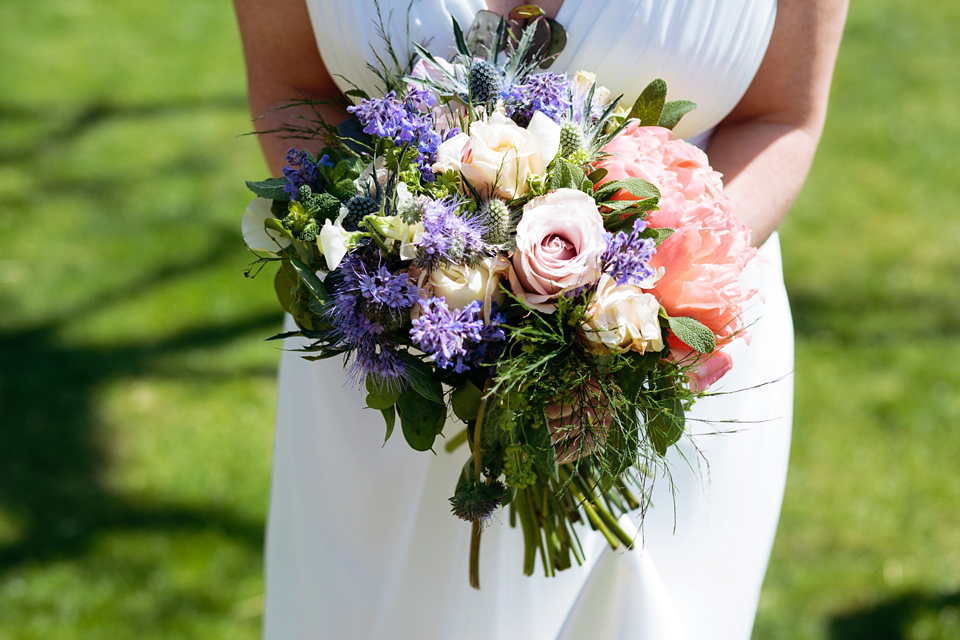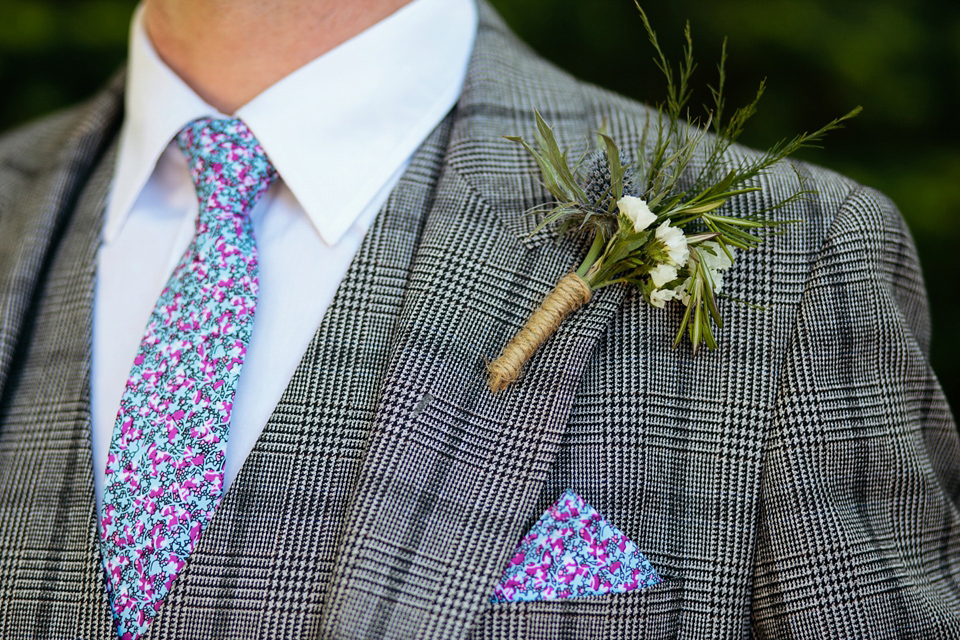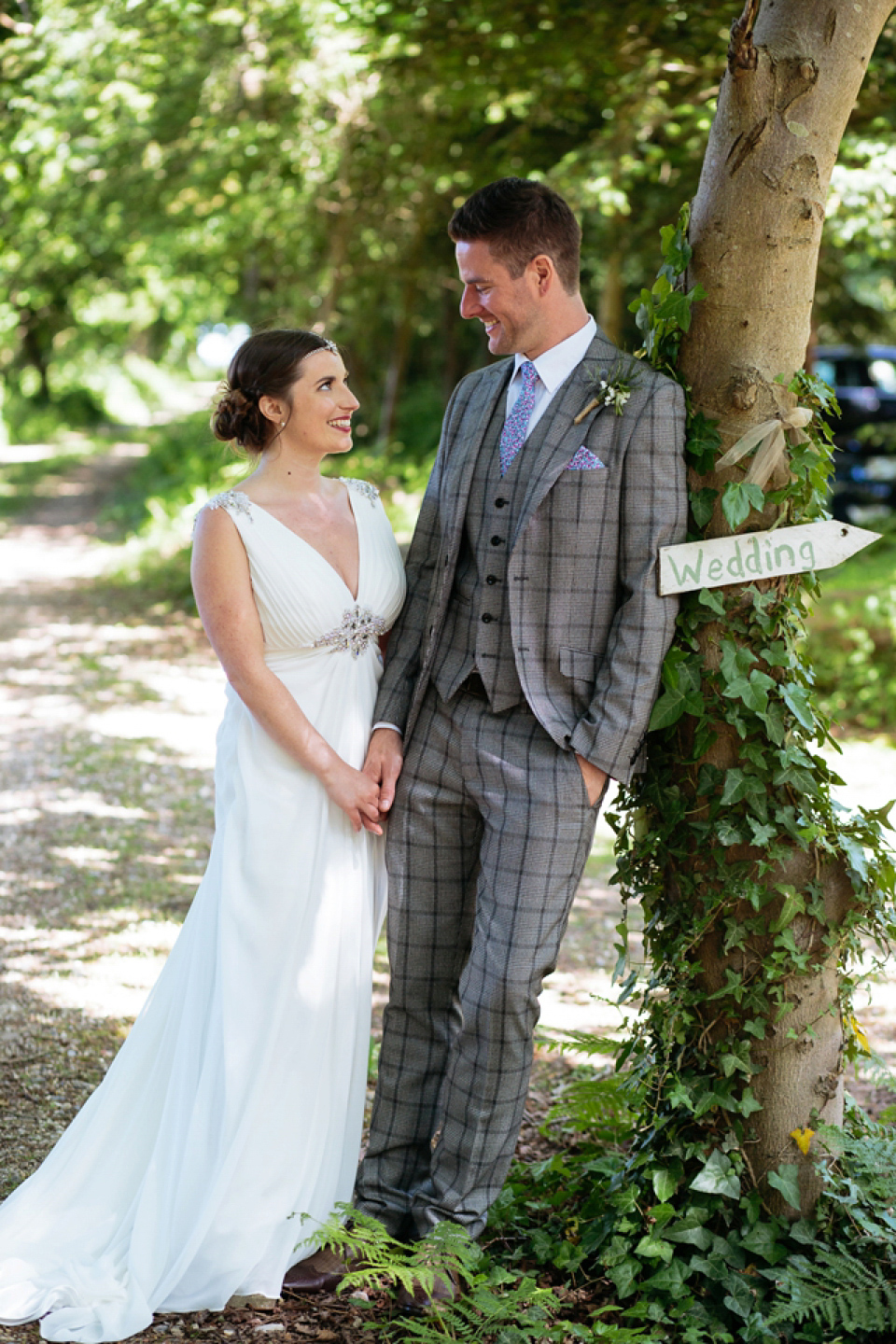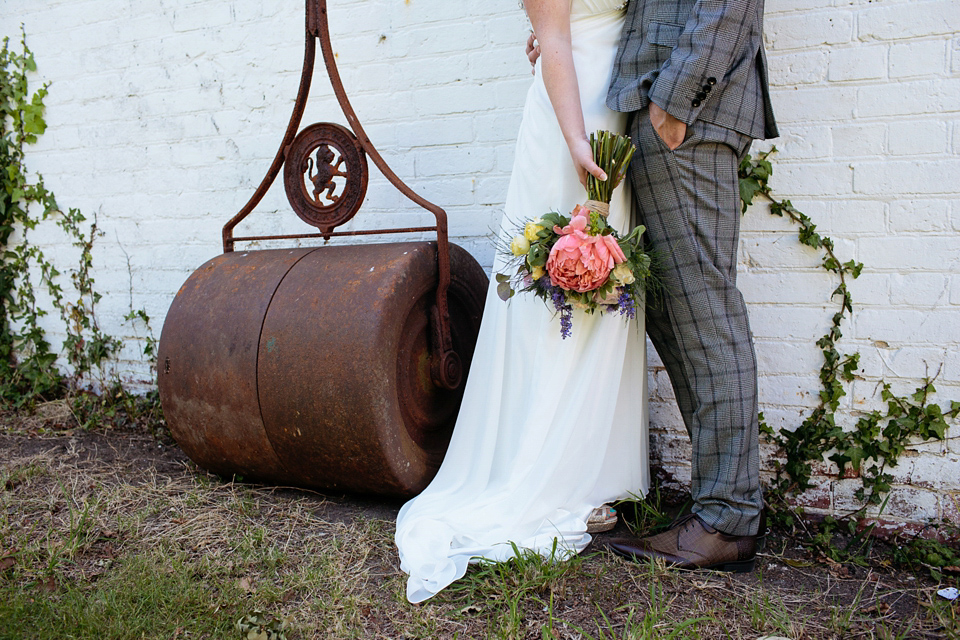 "We hired BayLily Bell Tents to supply accommodation for our guests at the venue and Company Director Emily as our Wedding Co-ordinator for the day.  We had a bell tent for the night of the wedding with a four poster bed and it was lush!"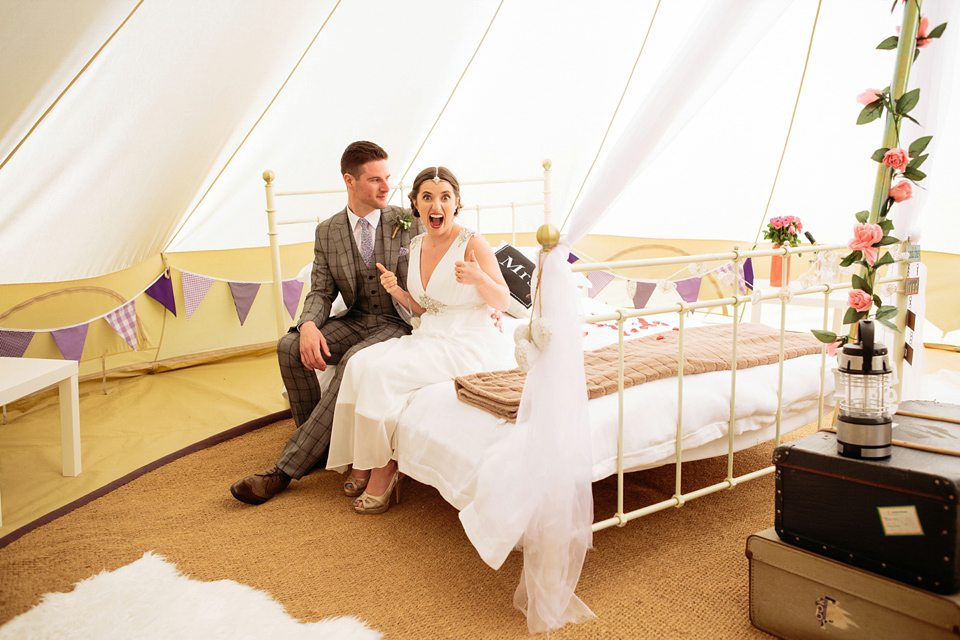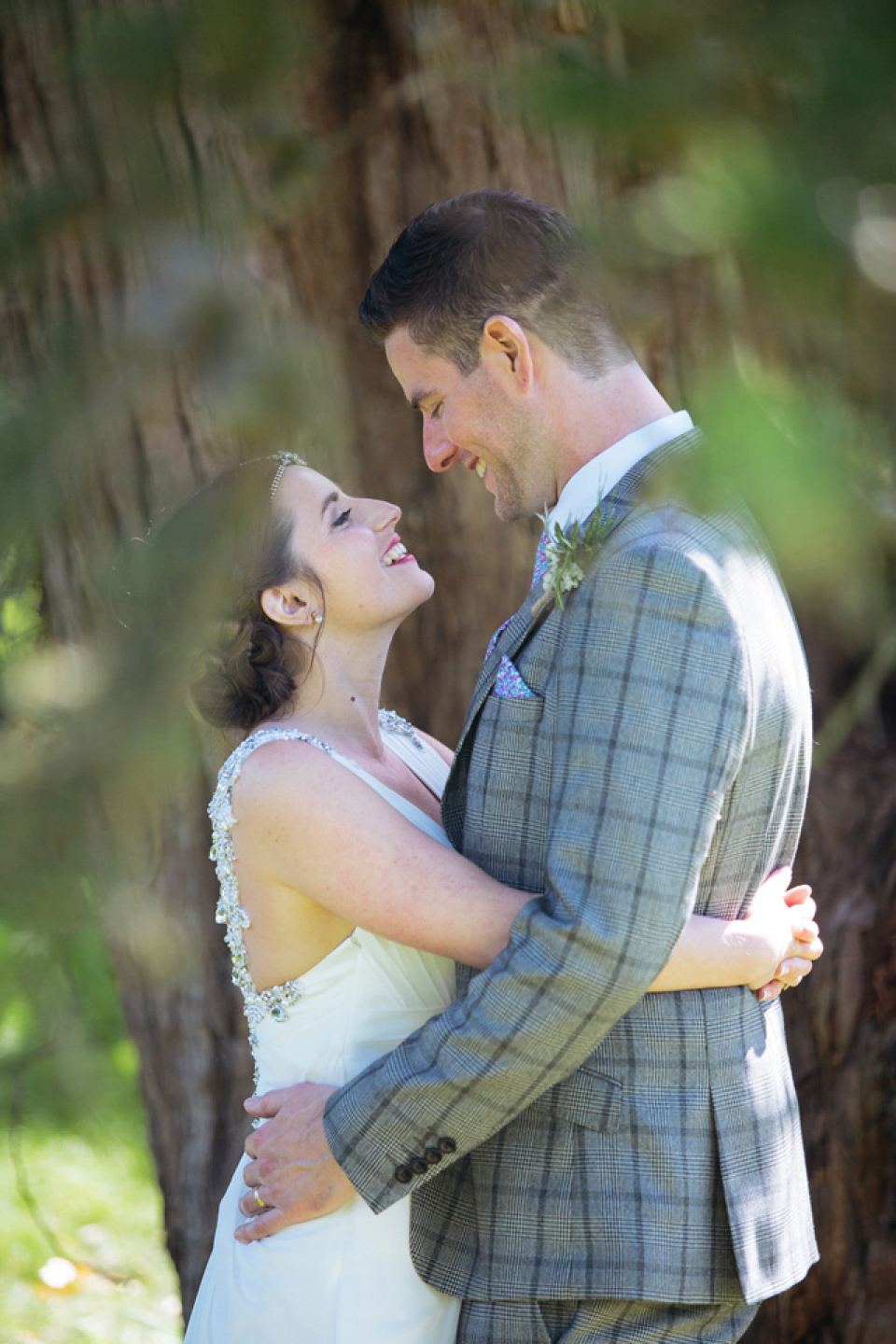 The couple supplied their own bar with homemade drinks (including homemade sloe gin), mixers and homemade cocktails and also brought in a local company to supply real ale (The Havant Brewery) and another to supply cider and a pop up wooden bar (Keg Inn).  It all sounds so much fun! The wedding food was courtesy of Fat Hog and Big Pan Catering and sounds completely delicious.
"We had so many compliments on the food.  They provided a fantastic variety, with original presentation and an excellent service. The price was also very reasonable and there was enough for many people to go up for seconds. The informal nature of the big pan options for the day meal and the hog roast in the evening complimented the rest of our day perfectly- we would recommend them to anyone."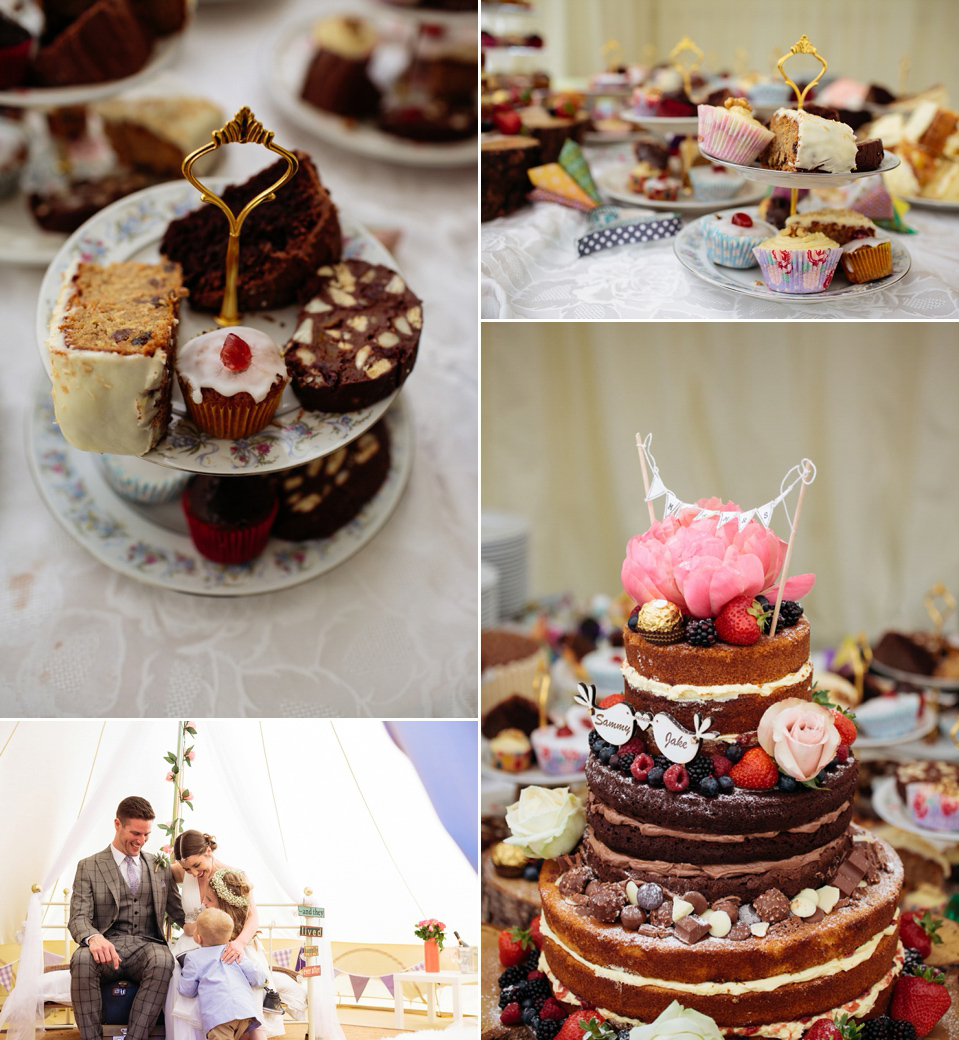 "For favours, we had a wood turner called Graham Turner make plain wooden coasters from a tree in his garden and we inscribed personal messages for each guest. These doubled up as place names as well. It took us four hours every night for two weeks to hand write these and a few days to find individual messages for each guest. This was the hardest part but our most proud contribution."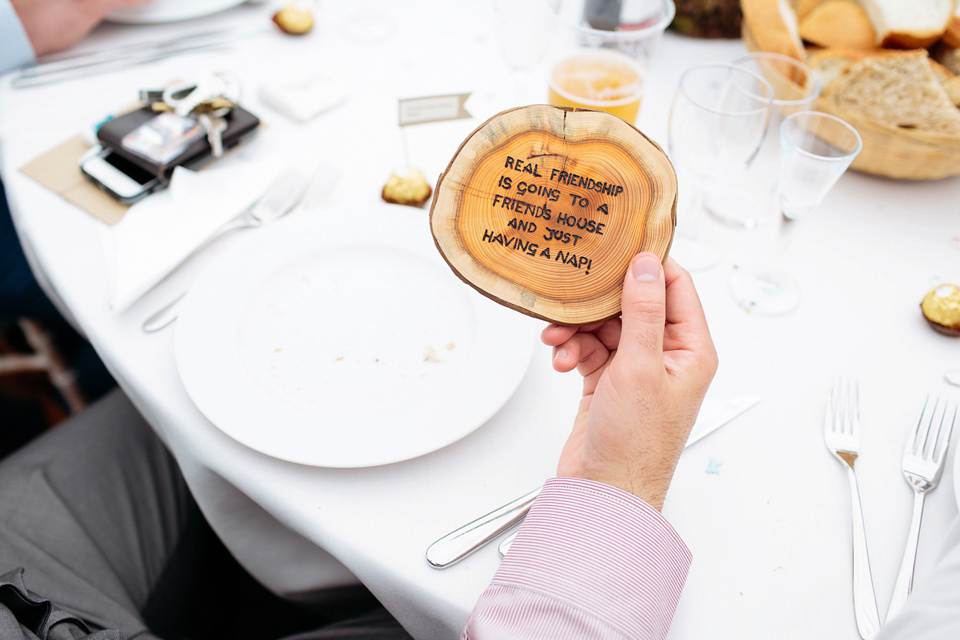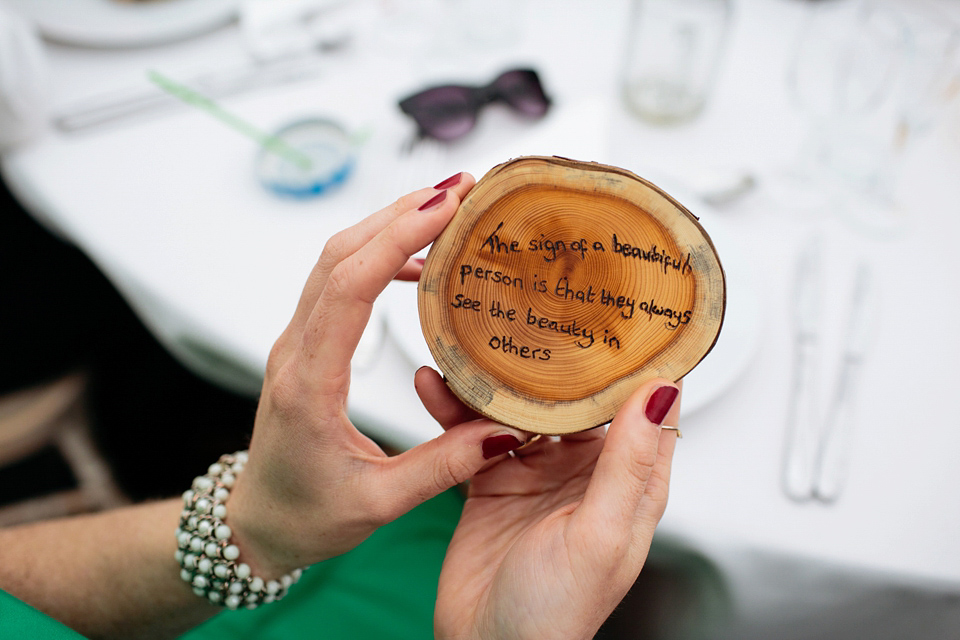 Words of Wedded Wisdom
"Don't focus too much on guest accommodation. If you have supplied them with options on their invite, it's not your responsibility to get them to book it. If they want to come to the wedding, then they will sort it out. It's unnecessary pressure for you.
Don't try and make your day perfect; just make it fun and enjoy the whole process."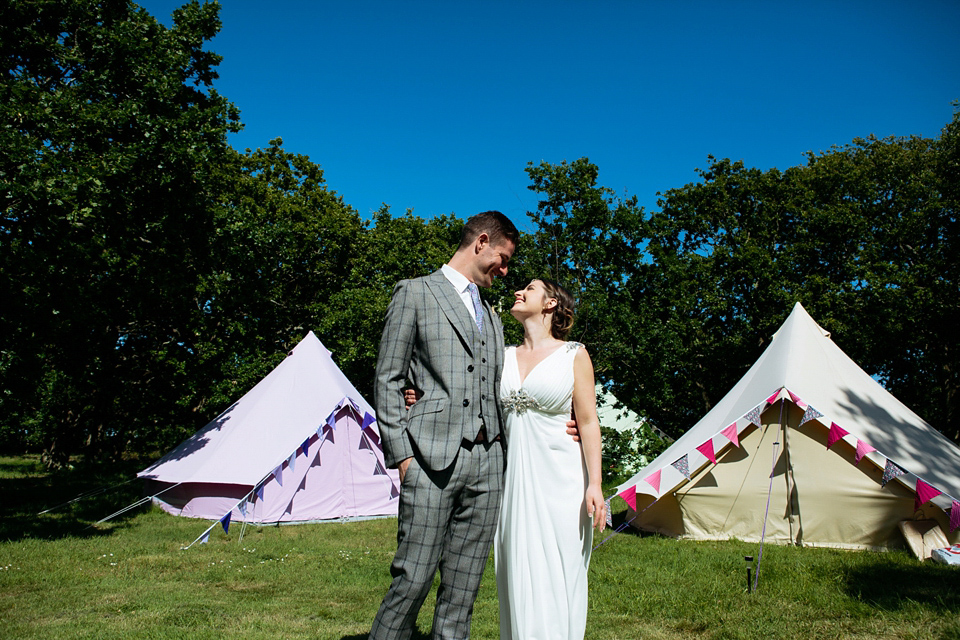 Many many thanks to Sam and Jake for sharing their completely gorgeous day with us, and reminding me what sunshine looks like!  Thanks also of course to Kathryn Edwards Photography for her beautiful work.  For more outdoor weddings, have a look through the Love My Dress archives– there are so many wonderful weddings, you can't help but be inspired!
All love,
Shona x
Photographer – Kathryn Edwards Photography
Venue – Tournerbury Woods Estate
Celebrant – Jenny Knight of Knight Ceremonies
On the Day Coordinator – Emily from BayLily Bell Tents
Wedding dress – Alicia by Maggie Sottero, purchased from Creatiques, Southsea
Shoes – Kurt Geiger
Accessories – Pearl earrings, which belonged to Sam's Nan
Bridesmaid Dresses – Monsoon
Accessories – Necklaces from Etsy, flower clips from Claire's Accessories
Flowergirls dresses – TK Maxx
Pageboys – Jackets from Next, shirts and shorts from George at Asda
Groom – Suit, Moss Bros; Accessories, Burton Menswear
Make up – Made–up
Hair – Kelly Brookes (Friend)
Florist – Wild and Green
Cake- Made by friend Emma Smith
Caterers – Fat Hog and Big Pan Catering
Rings – Make Wedding Rings
Harpist – Rebekah Webb
Entertainment – Panama, booked through Function Central
Marryoke – Spoolfrog
Transport- Sam was driven by a friend in his classic Citroen DS
Stationery – Home-made by the couple
Tents – BayLily Bell Tents
Real ale – The Havant Brewery
Pop up Bar – Keg Inn
Favours – Graham Turner
Dance Lessons –The Swing Dance Company