Hi lovely ones, we have a beautiful barn wedding for you today, with an abundance of pretty details and dazzling flowers. Ruth, a Marketing Manager and Neil, an Operations Manager, were married on the 29th of August 2015 at Ruth's local village church, followed by the totally gorgeous Great Barn in Wanborough, Surrey. Only a handful of events take place there every year so they were very lucky to be able to hold their wedding there. The brilliant Faye Cornhill Photography took the stunning images below and here's a snippet from their wedding film by the wonderful Irene Piera Films – both artists, we are delighted to say, are a member of our Little Book For Brides.
Irene Piera is a member of Little Book For Brides®
https://vimeo.com/138642157
"The barn is a historic, untouched barn and lent itself to a very rustic theme. It was a complete blank canvas so fairy lights and endless bunting made by my mum transformed it into something b-e-a-utiful! Neil and I were very keen to have a relaxed and informal day, the venue was perfect as we had the freedom to do whatever we wanted – outdoor games, suppliers of our choosing and as much booze as we could fit in!"
Faye Cornhill Photography is a member of Little Book For Brides®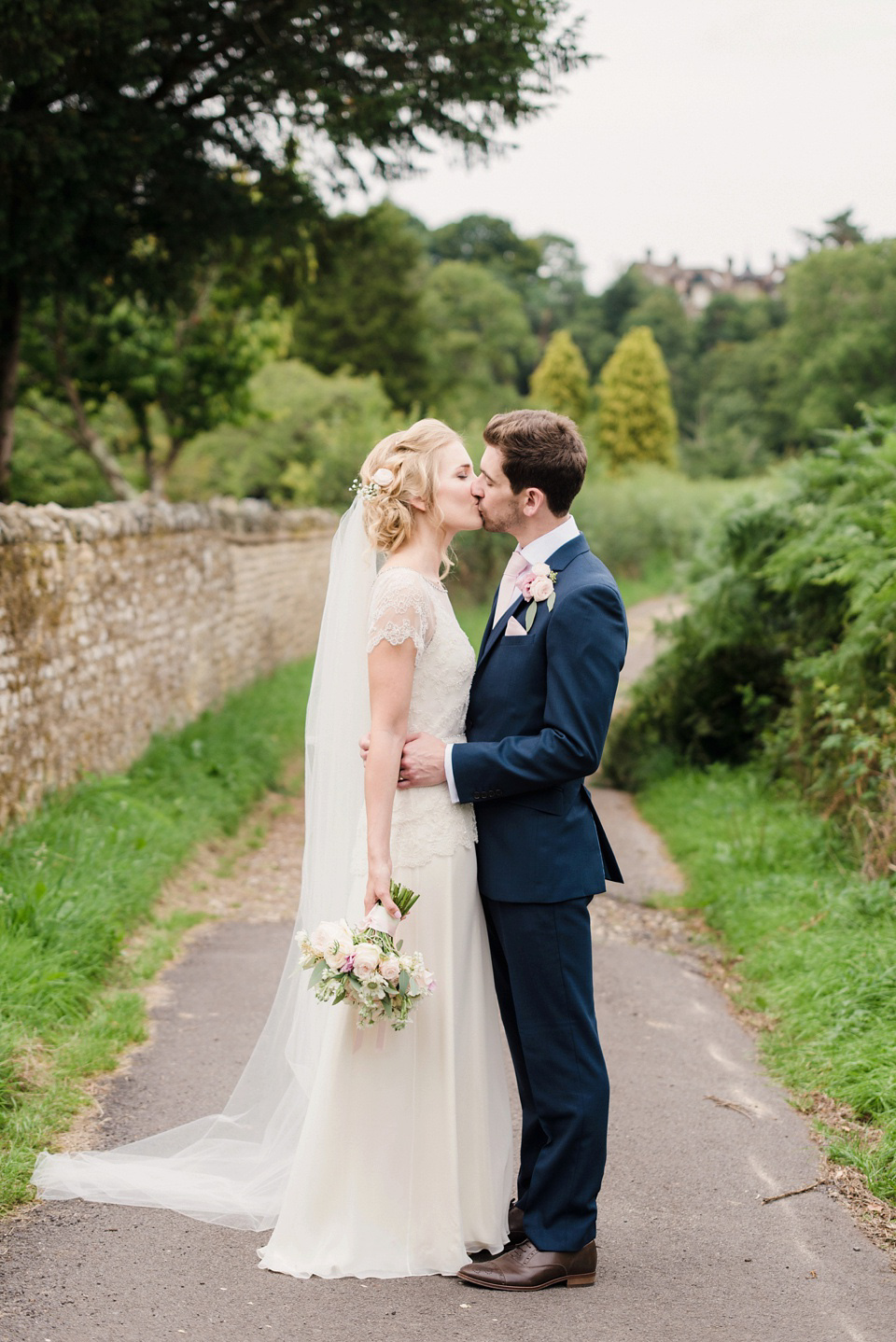 Ruth explains that Love My Dress was a big inspiration to her when planning the wedding.
"I came to Love My Dress at least a hundred (thousand) times and followed Instagram for little snippets and updates of new weddings I could go to. It featured so many weddings that were similar to what I wanted to create."
Ruth's exquisite Jenny Packham dress came along after too many bridal shops and too many dresses. The calming atmosphere with Emma at Miss Bush allowed her to relax and enjoy the experience. Once again, we're so proud that the brilliant Miss Bush is a member of our Little Book For Brides.
"After trying many, many dresses, I liked a lot but didn't love any. I thought I would never get that feeling, until I tried the 'Georgia' dress. I felt relaxed in and I absolutely loved it, even though it blew my budget completely I am SO pleased I went for it! It had a lovely vintage style with just the right amount of sparkle and I loved the way the fabric of the skirt flowed. I am so sad I will never wear it again (not in public, anyway!)."
Miss Bush Bridal is a member of Little Book For Brides
"Neil and I first met at work in 2007 and became good friends. I returned home after living in London and we started dating in 2009. After about 5 years Neil popped the question the day before my 30th. I wasn't expecting it at all and to say I was over the moon was an understatement!"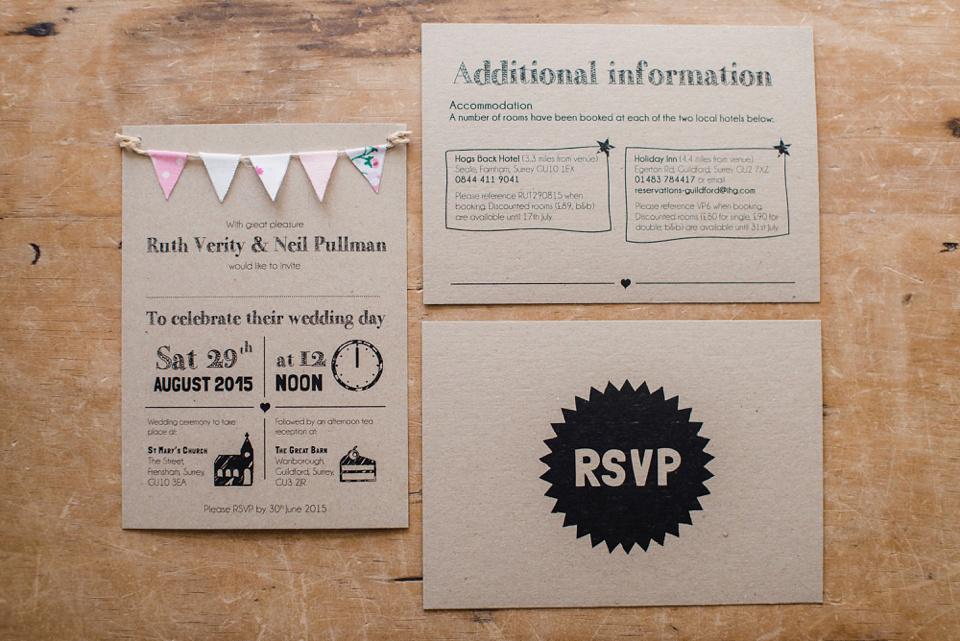 "I got Rachel Simpson 'Mimosa' shoes. They fit perfectly with the dress and weren't too high! The dress had enough detail so along with my floor length veil I wore roses and gypsophila in my hair. Neil bought me some beautiful sparkly earrings as a present on the day."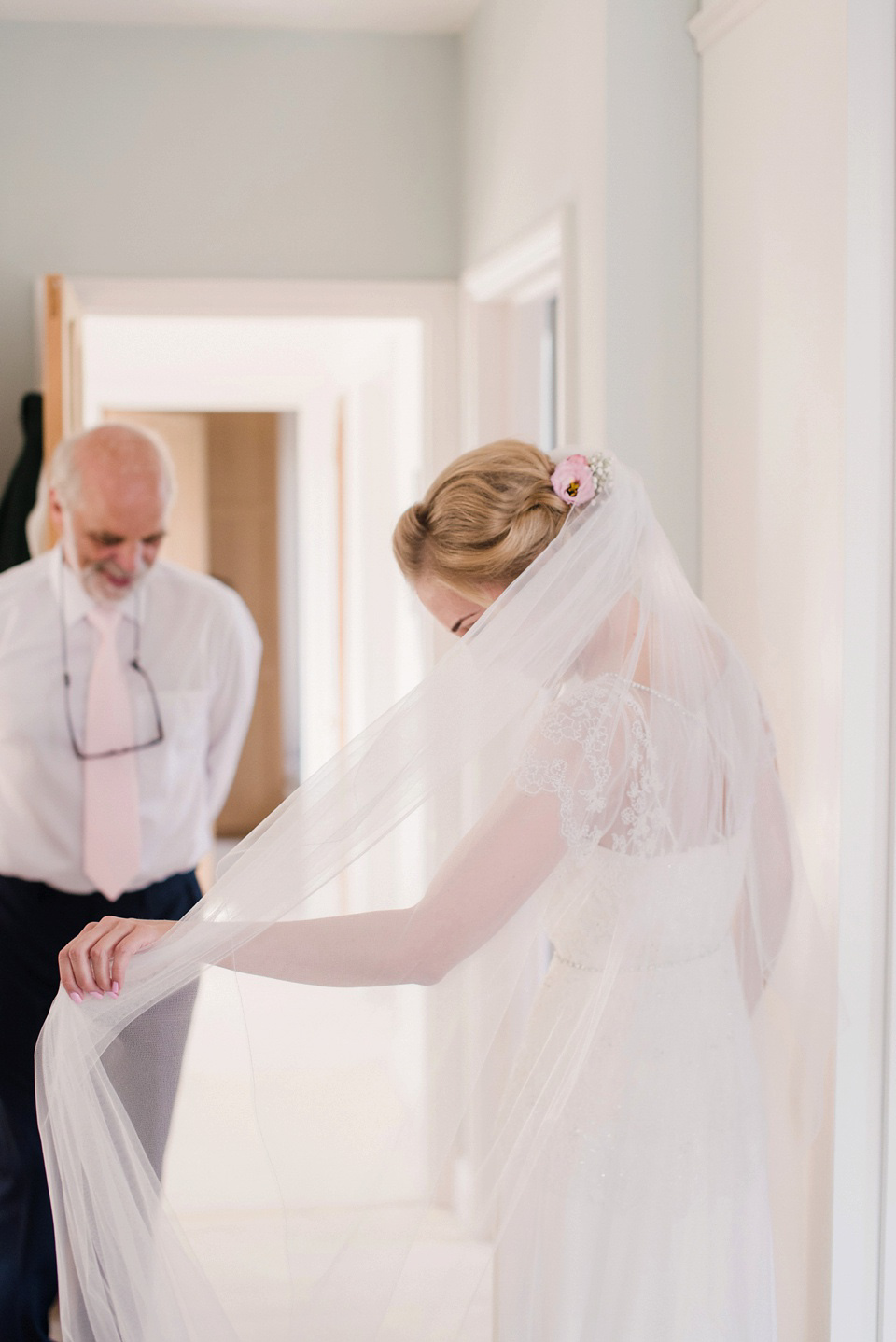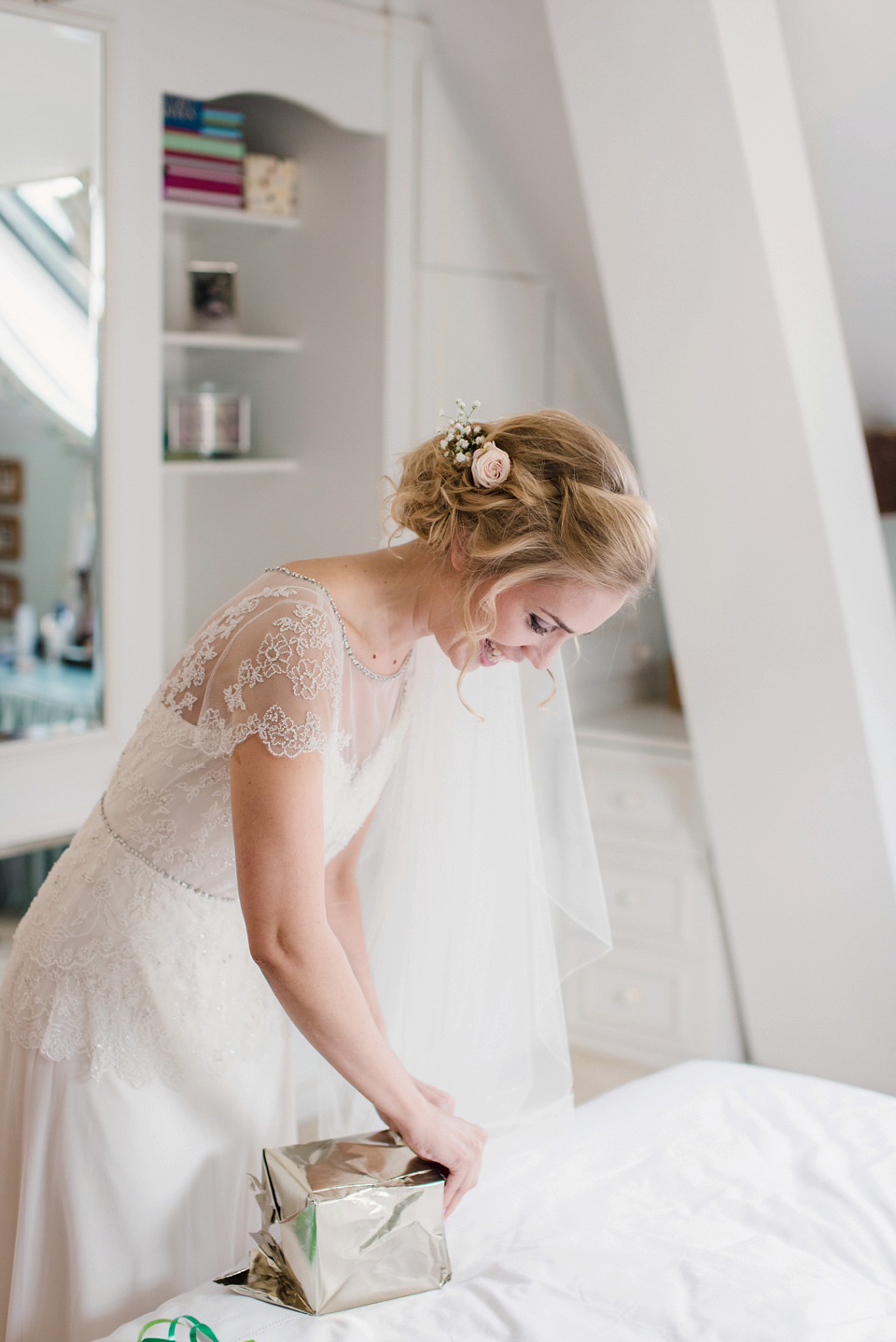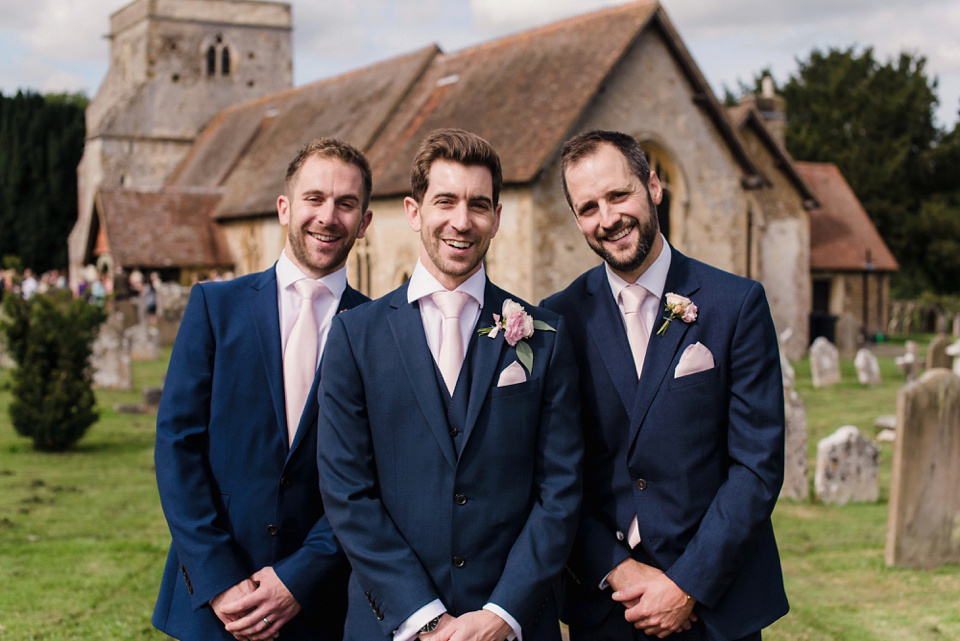 The lovely bridesmaids wore gorgeous wrap dresses from The Dainty Yard. The girls all wore them a slightly different way with sparkly gold shoes.
"Bex at Blush Floral Design created the most breathtakingly pretty bouquets. I opted for a relaxed brief of seasonal blooms in pastel pinks and whites and they were just gorgeous. Along with the bouquets we had jam jars on the tables which made the venue look so special."
"I melted a little when I saw our Nephew Hugo in his little bow tie! Ruby and Emily wore the sweetest little flower girl dresses from Monsoon. 4 year old girls are difficult to please but they both loved them!"
"My dad walked me down the aisle to Pachelbel's Canon in d. By this point I was an emotional wreck! I managed to hold it together for the first part but by the time I made it to the front the emotion got the best of me. My dad was bursting with pride and it was one of my happiest moments."
"My brother Edward read Desiderata (minus a few paragraphs). It was a poem we had up in our house growing up so when Edward suggested reading it, I loved the idea. Neil's cousin Katie read 'Why Marriage?' and my other brother Hugo read Corinthians."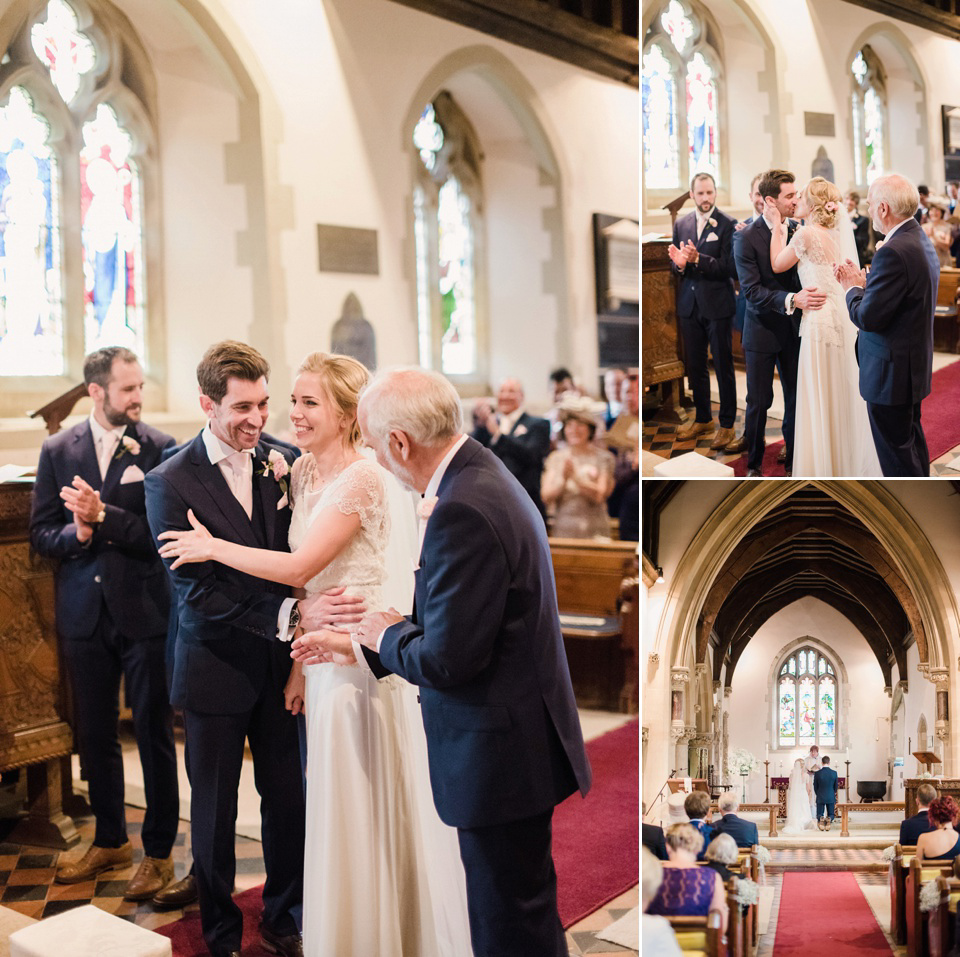 "Neil wore a 3 piece Navy suit from M&S. He was after a slim fit, tailored suit and this was by far the best he tried!"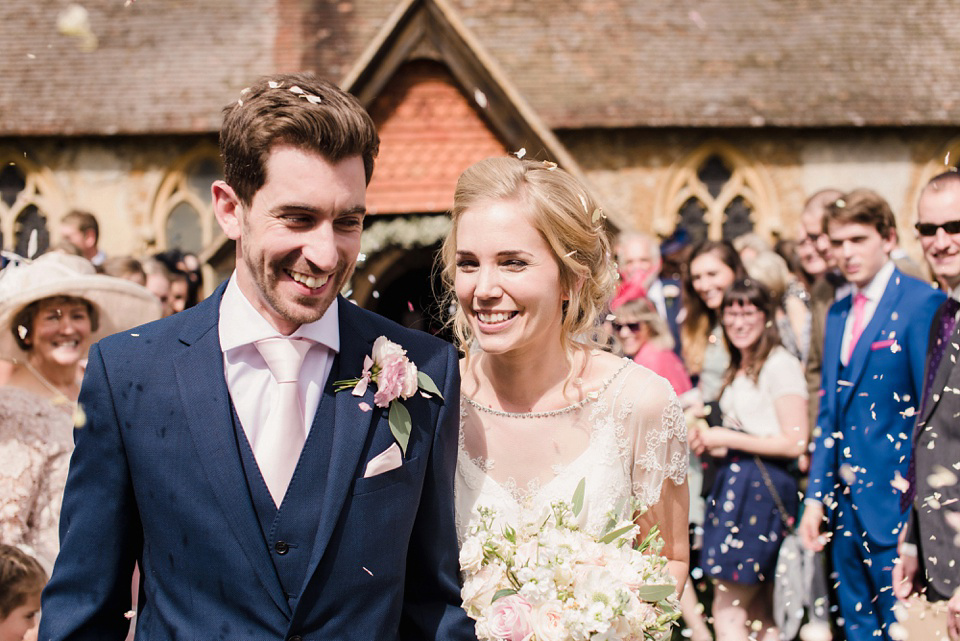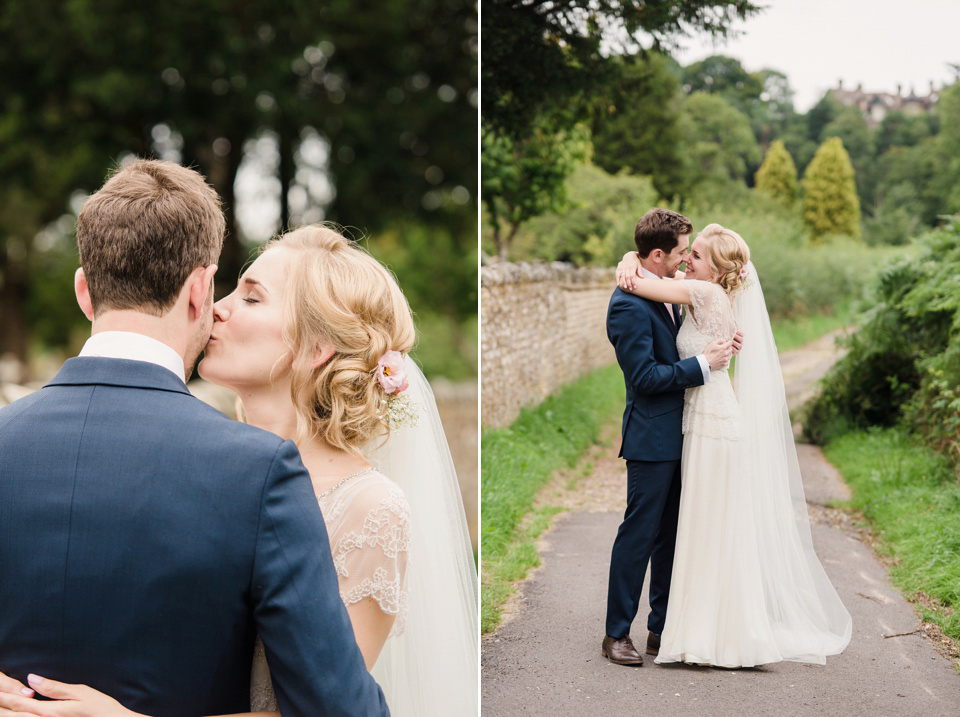 Ruth met Faye Cornhill at a wedding fair before she was engaged but loved her photos and filed the brochure away until they had got engaged.
"Faye's style of photography suited our day perfectly. She captured moments so precious and I think I could look at them every single day for the rest of my life – her photos are simply gorgeous. I had comments about how lovely she was and she was a brilliant help in the planning and organisation on the day!"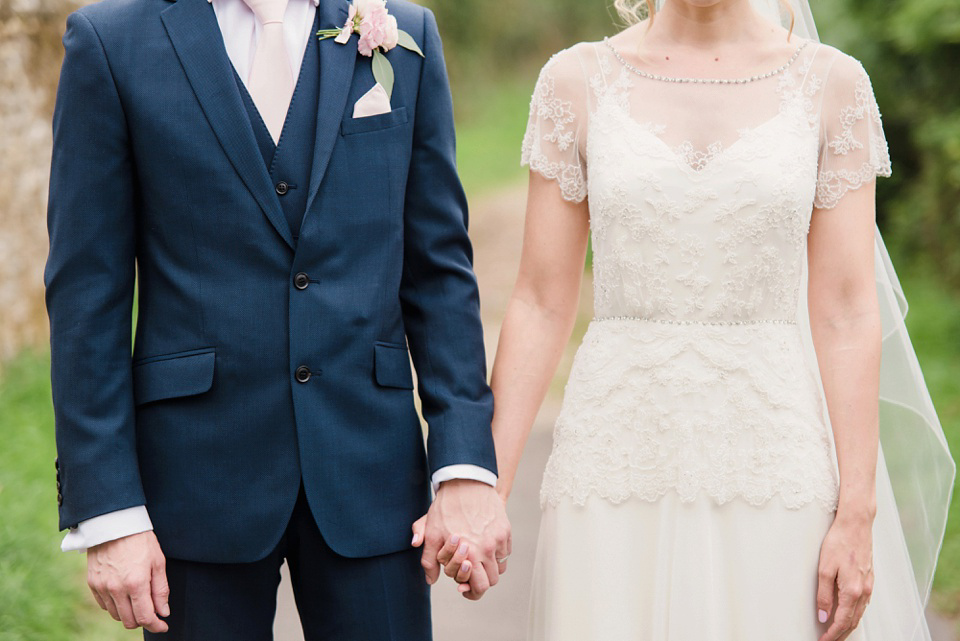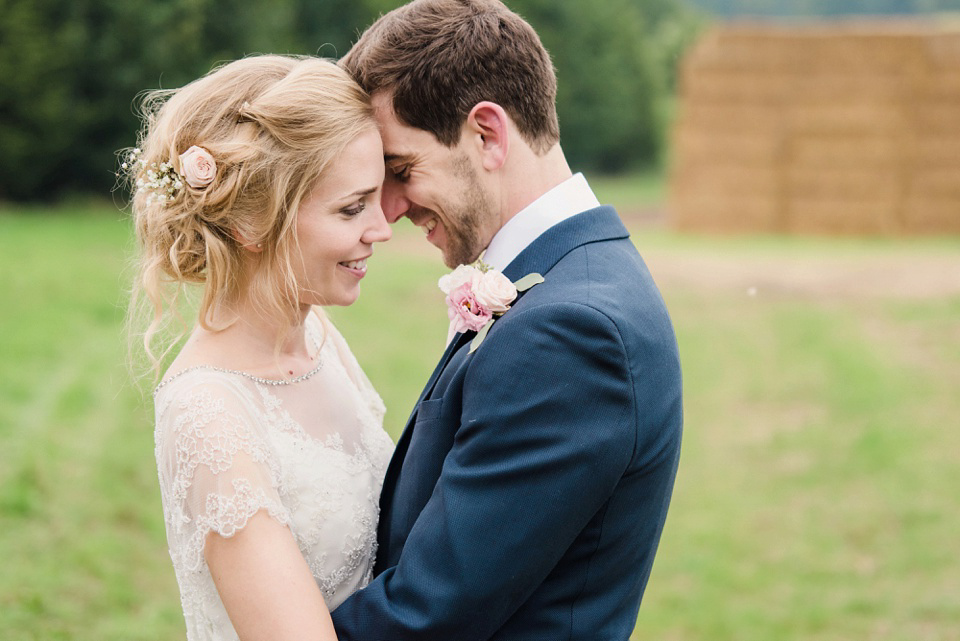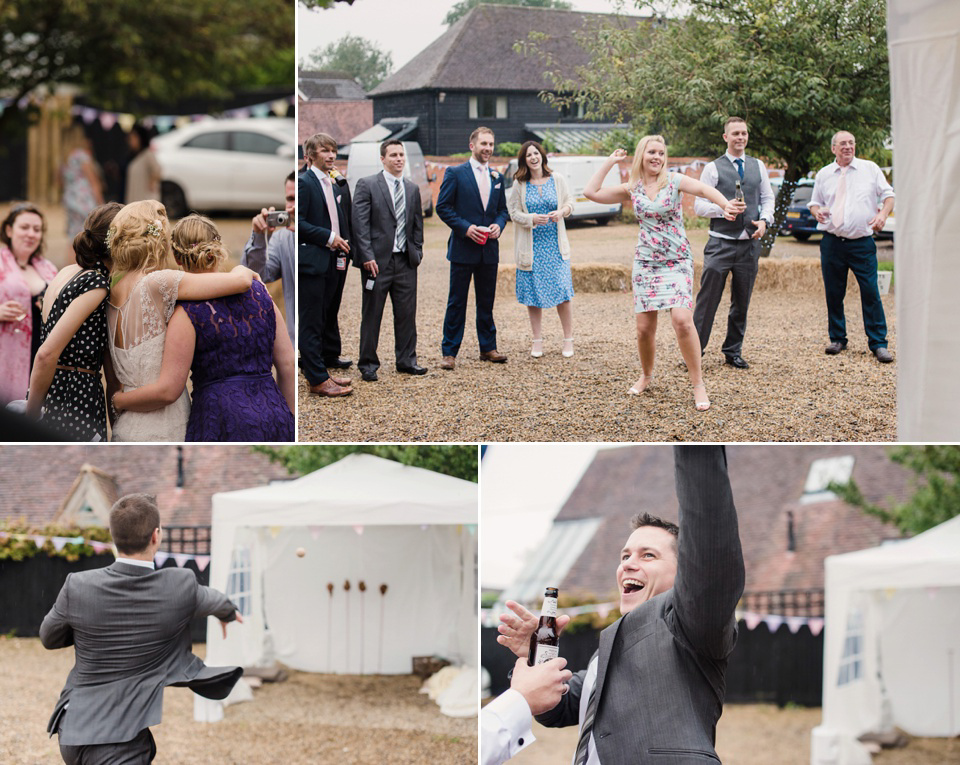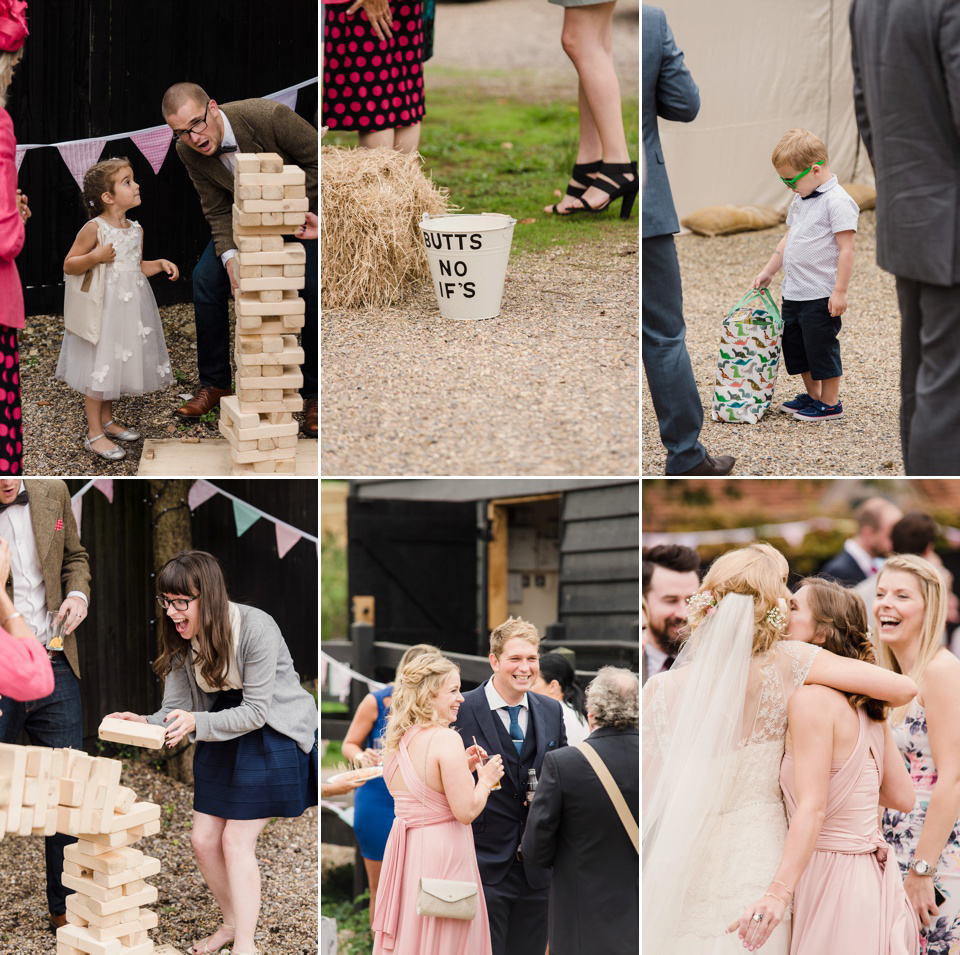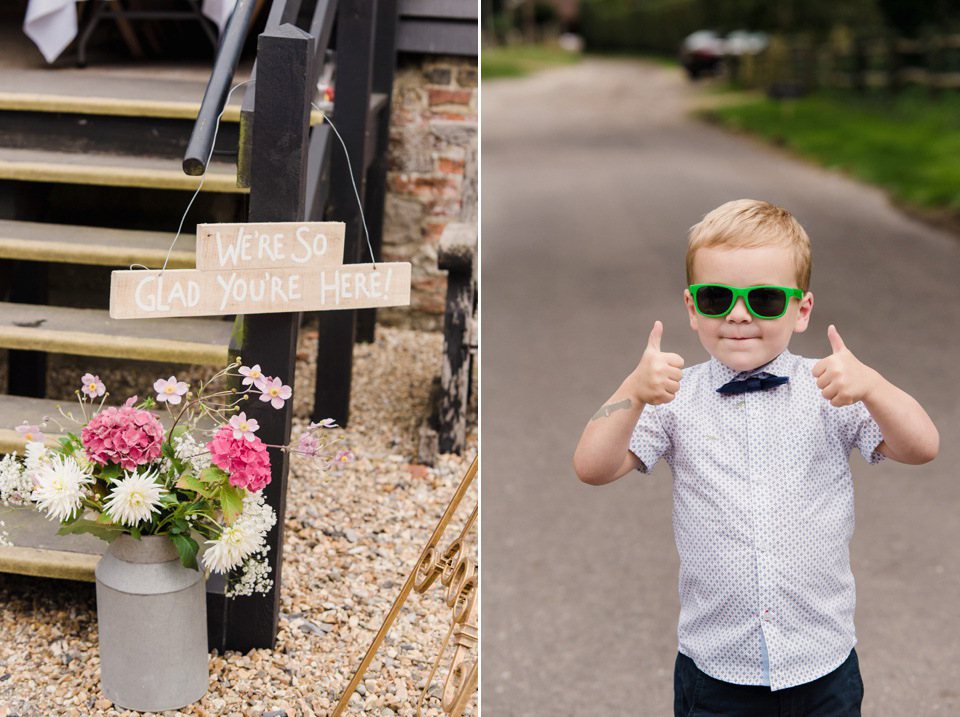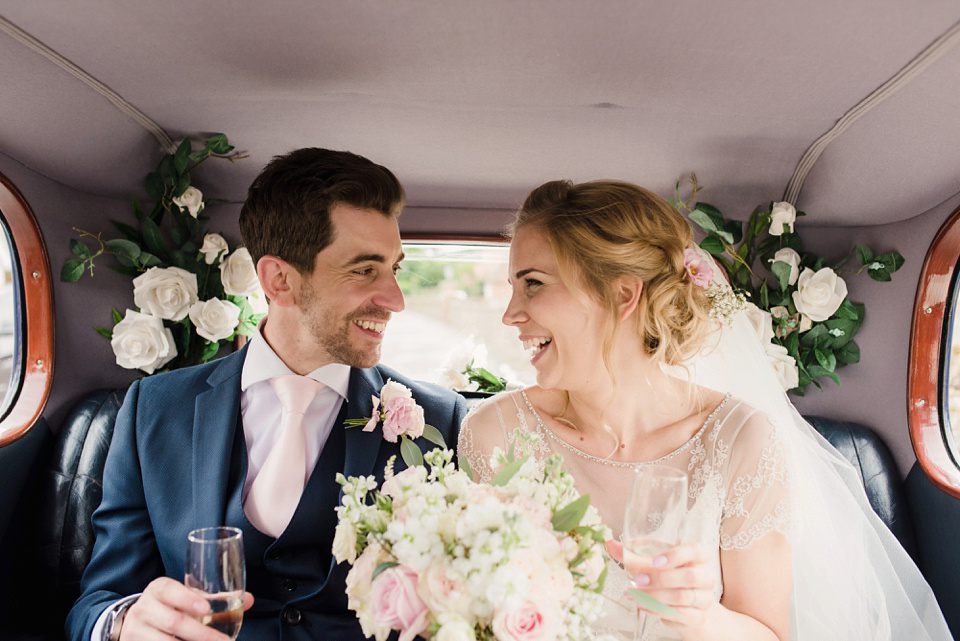 "My talented friend Claire Murphy designed the most beautiful invites and my bridesmaids and I attached the mini bunting (500 flags!). They really set the style for the day and I was so pleased with the end result, it was totally worth it."
"Along with the bunting, jam jars and stationery we had lots of little bits of décor including some palette furniture made by Neil – he even made the bar from old palettes he collected!"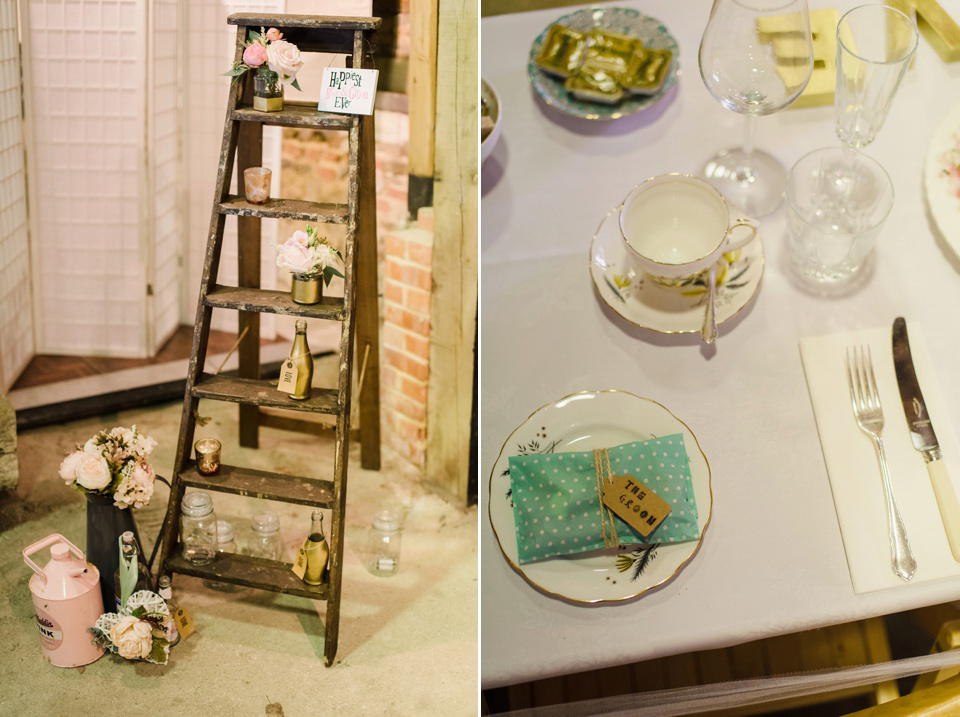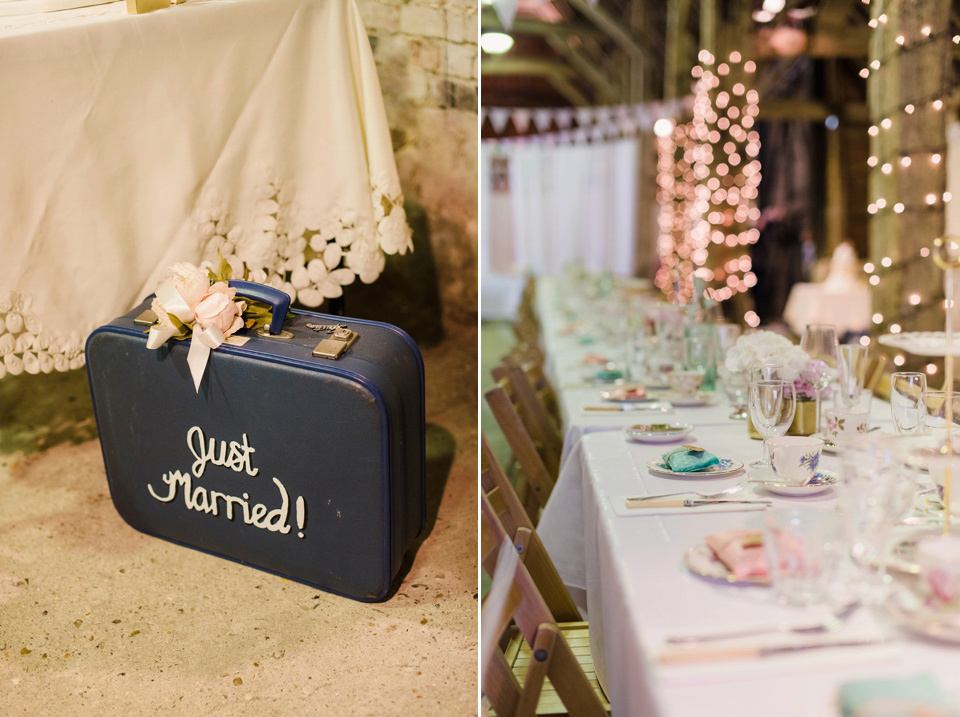 "Picking a favourite part is near impossible! It was simply the best day of our lives from start to finish. We felt so blessed to have all our friends and family in one place together and I will remember it forever. I hadn't really considered previously how overwhelming it would be to enter the church a Miss and exit a Mrs! The weather hadn't been great that week so leaving the church to glorious sunshine was the icing on the cake."
Ruth loves nothing better than tea and cake, she even collects tea cups so she knew that they would have afternoon tea for their wedding breakfast. She was delighted with the mismatched crockery and cakes galore from Vintage Style Teas.
"I have long been a fan of Josefine's Cakery and her epic cakes and so I knew where to go when it came to the most important cake of my life! We decided on 3 tiers with gold chevrons on the middle tier. Just delicious – I wish I had time to eat more before I went on honeymoon!"
"I love a good band at a wedding and Anthem absolutely made the evening. I have had endless comments about how fantastic they were and I desperately want another party so I can hire them again!
We are HUGE Muse fans. Their songs aren't your normal first dance song (!) and a little bit rocky but 'Aftermath' has such lovely lyrics. I was a bit concerned that people wouldn't know it or wouldn't like it but I am really pleased that we went for that song – I can't listen to it now without getting emotional!"
Words of Wedded Wisdom
"Don't panic!! The day will be brilliant and you will have the time of your life. I promise!
Start crafting as far in advance as you possibly can. Don't underestimate the time it takes to find inspiration, collect items and make the various bits needed to create your vision. The additional stress of some last minute crafting will not lead to a happy bride! But it's worth it, people really do notice the personal touches.
Ask your caterers to save you a plate of your canapés. It's such a crazy moment when you arrive at your venue – kisses, photos, laughter… make sure you experience everything you have booked!"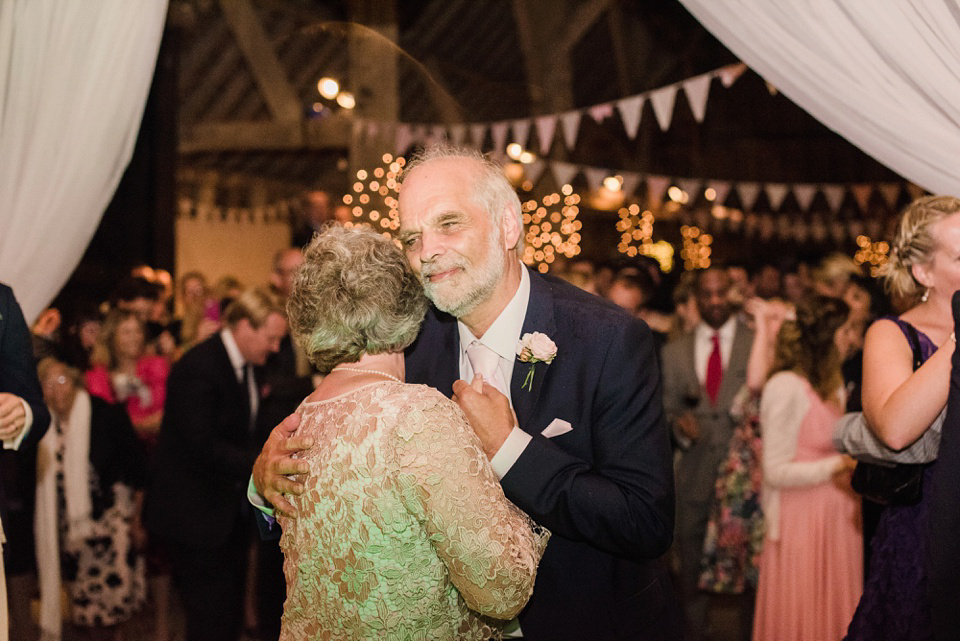 "If the budget allows, I cannot recommend enough getting a videographer. The day whizzes by in a blur and the second you put the DVD on you are transported back to that moment and can relive it time and time again!
Enjoy, enjoy, enjoy… I know everyone says it but it flies by. Take the time to stop and just soak in the atmosphere and have a giggle together! I am jealous of all brides who still have this fantastical day still to come!
Finally, I am SO pleased that we booked Irene Piera Films. We received an epic teaser trailer which I watched about 50 times on honeymoon. I cried from about 5 seconds in and didn't stop. It took us back to the fun, excitement and rollercoaster of emotions in an instant and I am so happy to be able to relive those moments for the rest of our lives."
Congratulations to the newlyweds, it was such a beautiful set of images to pore over, courtesy of Faye Cornhill Photography. Thank you so much for sharing your stunning images with us.
Ladies and gentleman, if you love Irene's little film above, you can see more beautiful wedding movies from her and find out more about her services by exploring her page in our beautiful wedding directory Little Book For Brides®.
Have a lovely and productive Thursday morning all,
Love Caoimhe x
Photographer – Faye Cornhill Photography
Film – Irene Piera Films
Venue – St Mary's church, Frensham + The Great Barn in Wanborough
Wedding Dress – Jenny Packham from Miss Bush Bridal
Shoes – Rachel Simpson
Bride's Scent/perfume – Chanel Chance
Groom – Marks and Spencer
Bridesmaids – The Dainty Yard + Accessorize
Flowergirls – Monsoon
Florist – Blush Floral Design
Cake – Josefine's Cakery
Transport – GP Occasional Cars
Entertainment – Warble Entertainment
Rings – Blue Nile + Richard Herold, Farnham (no website)
Catering – Vintage Style Teas + KK Catering
Stationery – Claire Murphy (no website)
Hair Stylist – Louise Reads All About Hair
Makeup Artist – Becky Brown