Good afternoon dear ones – today's second wedding feature too place on 4th July this year at Fetcham Park – a venue well known to our web pages for hosting incredibly glamorous weddings and events and one that we are most proud indeed to have listed in our Little Book For Brides.  The ceremony that preceded Vanessa and Matt's country house wedding reception was held at St Mary's Church in Stoke D'Abernon – the very same church that Vanessa was christened in. This effortlessly elegant Summer wedding was shot beautifully on film by artist Katherine of Peachey Photography.
"I've never been the sort of girl who had given too much thought to my wedding other than I wanted it to be in the summer. Matt was keen to have a traditional white British wedding, so this was our starting point and we began by looking for venues near to St Mary's.  It was very important for us to have a wedding that not only ourselves but our friends and family would really enjoy. As I'm not British all of my extended family were going to be coming from abroad so we wanted to put on a good show, and make things easy and fun for our guests on the day.  Also, we didn't want one specific colour in particular and I love all pastel, so was happy to use this as my starting theme." 
Photography by Peachey Photography
"As soon as we found Fetcham Park and its gorgeous golden interiors, I thought it would work really well with golds and pastel colours which would be great for the time of year too."
Vanessa wore the Monroe gown by Jenny Packham, which she purchased from one of our Little Look For Brides members and long term partners of Love My Dress, the fabulous Miss Bush Bridal in Ripley.
"I found pictures of my dress online and loved how simple it was. I never really wanted to look too much like a bride and so was looking for something simple that didn't have much fuss, and was more difficult to find then I thought! I also wanted quite a lightweight dress as the wedding was in July and I was hoping it would be a warm day."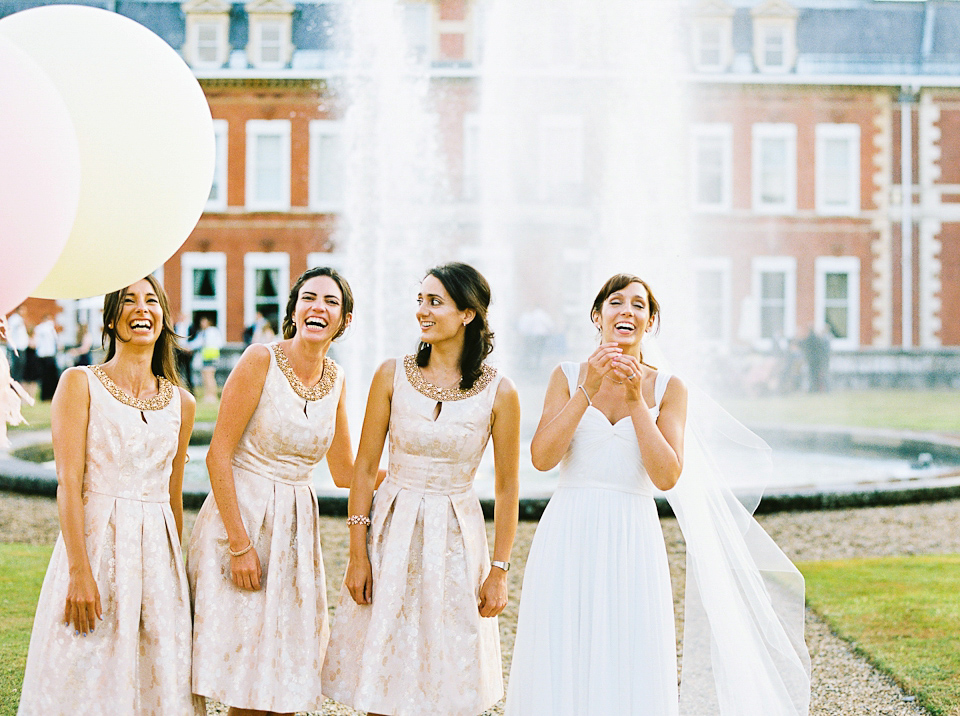 "I decided I would get a new perfume for the day and found Aerin Lauder's 'Amber Musk'.  I loved it – it has a lovely balance of floral with the musk.
My hair and make-up artist Carolanne Armstrong is such a wonderful person to be around and keeps you calm on the morning of the wedding! She can do both hair and make-up to such a high standard, making you look like the best possible version of yourself, and makes you smile whilst she's doing it!"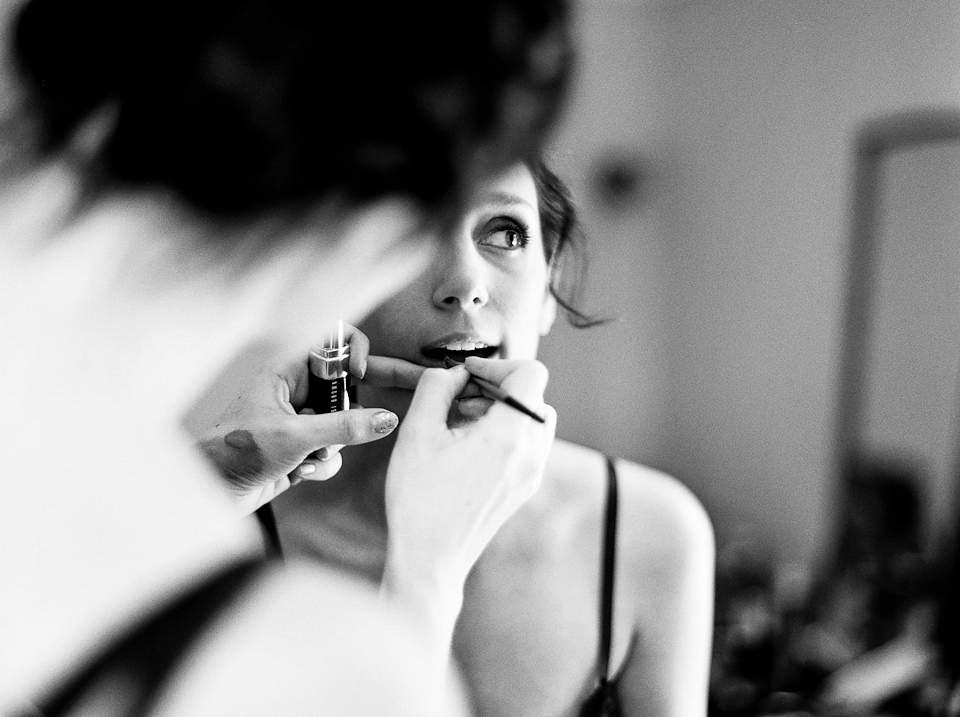 "I wanted to go classic on the make up, and for the hair was inspired by the Jenny Packham 2015 bridal show when had big pony tails and lots of volume. Carolanne nailed both looks in my trial with her and I knew I'd feel really comfortable on the day."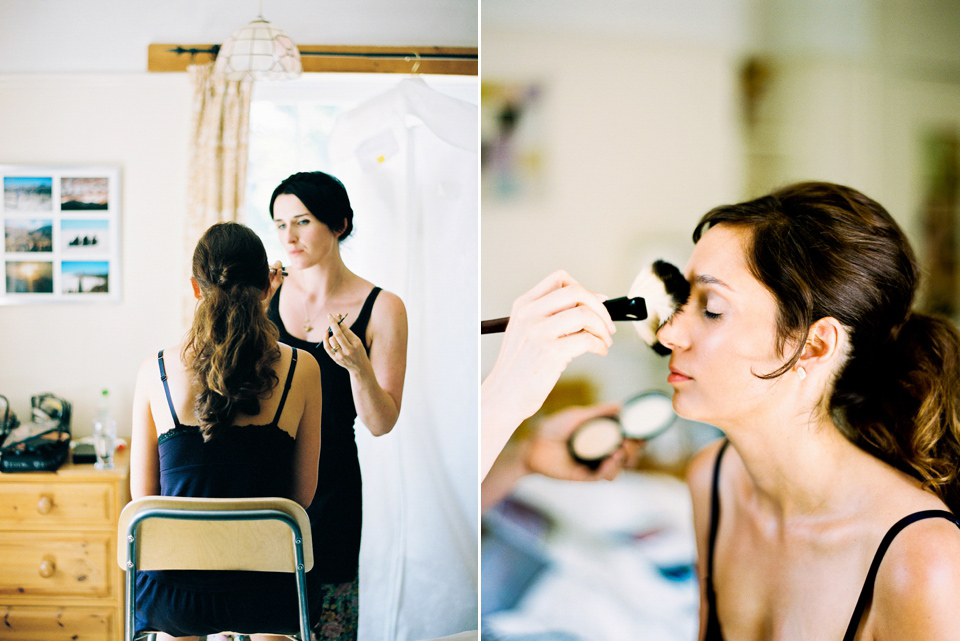 "I contacted the Miss Bush boutique as it's close to my parents house, and they've been working with Jenny Packham for over 20 years. I really loved the whole Miss Bush experience – Emma was great even before we'd met and as she didn't have that particular Jenny Packham dress in her store she spoke with the Jenny Packham team who couriered the sample over for my appointment.
I tried quite a few other dresses on too but both my mother and Emma agreed simple was the way to go for me, and I loved how the Monroe dress felt, it was so lightweight and yet very flattering as the bodice contains a lightweight corset."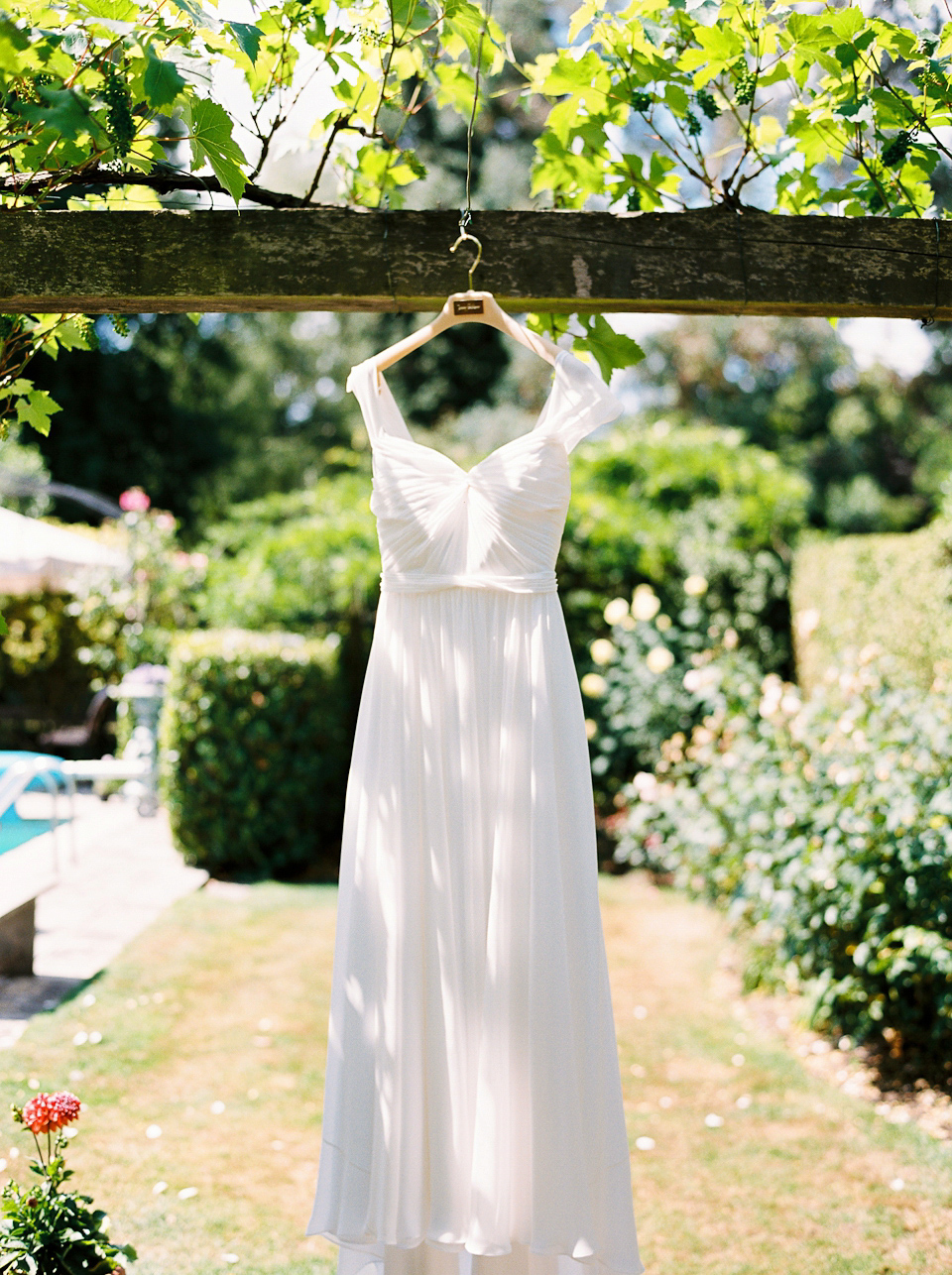 "Matt bought me a Cartier necklace with a small blue Sapphire for my 30th birthday (a month before our wedding). I thought this would be a great 'something blue' for the day.
I wanted my earrings to be my 'something borrowed', and was planning to borrow some from my sister. However, I left them in London accidently, so ended up wearing my Auntie's, which were some sparkly stud earrings and ended up being an excellent alternative."
The couple's Florist was Jay of Jay Archer Floral Design.
"Jay really understands brides and is so accommodating to what they want. We spoke on the phone and she asked about Matt and I – what we were after and what we were interested in. I explained that I love flowers and growing up my father has always taken excellent care of our garden – he's always had a lots of roses and these are my favourite flowers, so I knew I would want these for the wedding. I also wanted sweet peas and Matthiola (stocks) in tribute to Matt! I am also half Indian so we agreed to attach an Indian charm on my bouquet too.
Prior to the wedding Jay organises trips for her couples to visit New Covent Garden Market with her, so a few months before the wedding we went down with her and she introduced us to our flowers, which was so much fun and got me even more excited! Jay also provided the lovely olive trees which were outside the front door to Fetcham Park. We loved this as it was a nod to our love of Italy and the fact we got engaged in Puglia, and were going on honeymoon to Capri."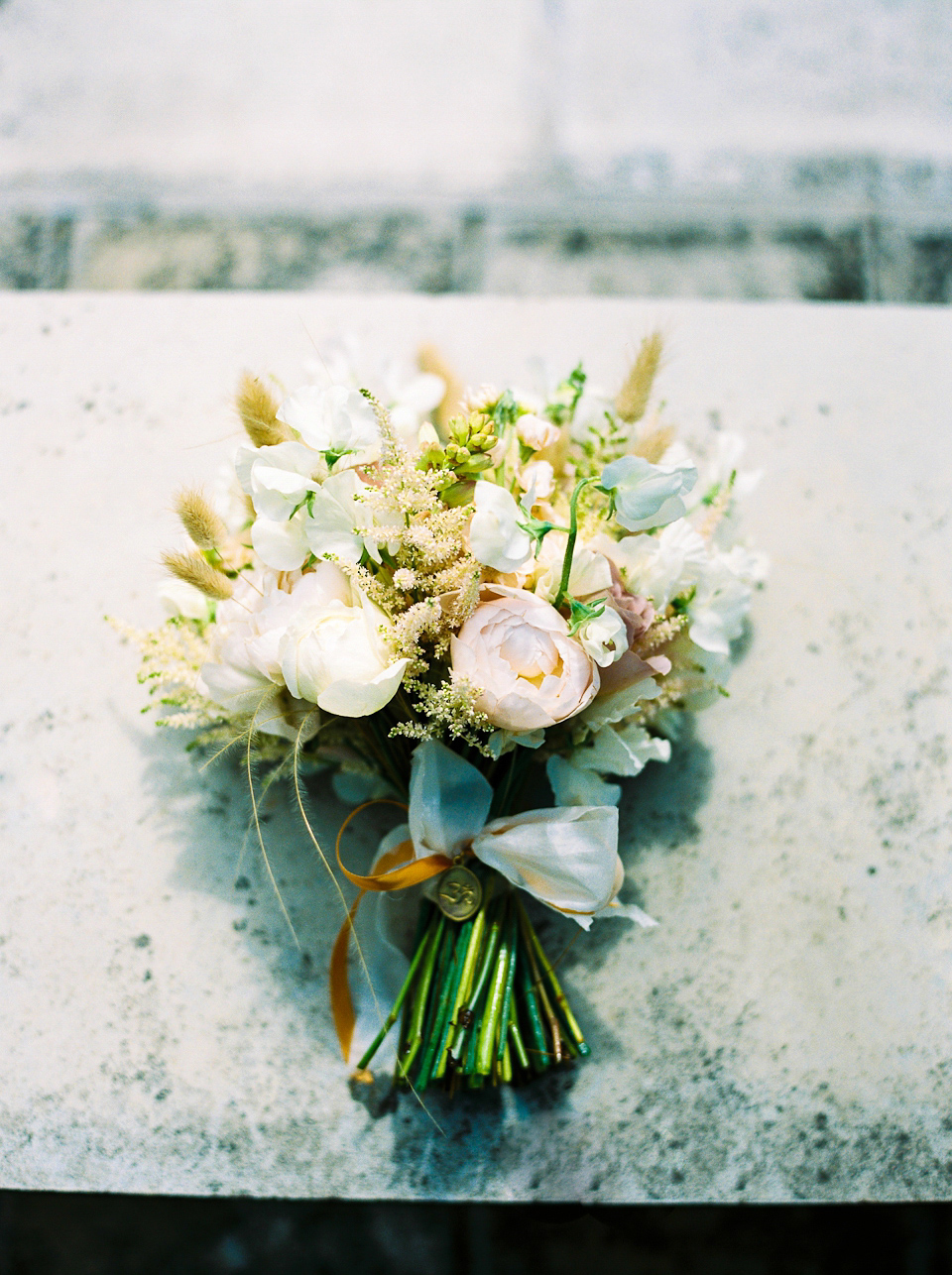 "Matt and I met back in 2008 at a house party of a mutual friend, and we got together soon after. We got engaged in September 2014 when we were on holiday in Puglia, Italy. Matt knew he wanted to propose when we were on holiday and Italy was the perfect setting – we've been several times and we've always had fun and have lots of great memories of being there.
Quite soon after we got back to London we started the wedding planning, I'd always wanted a summer wedding and didn't want to wait until 2016."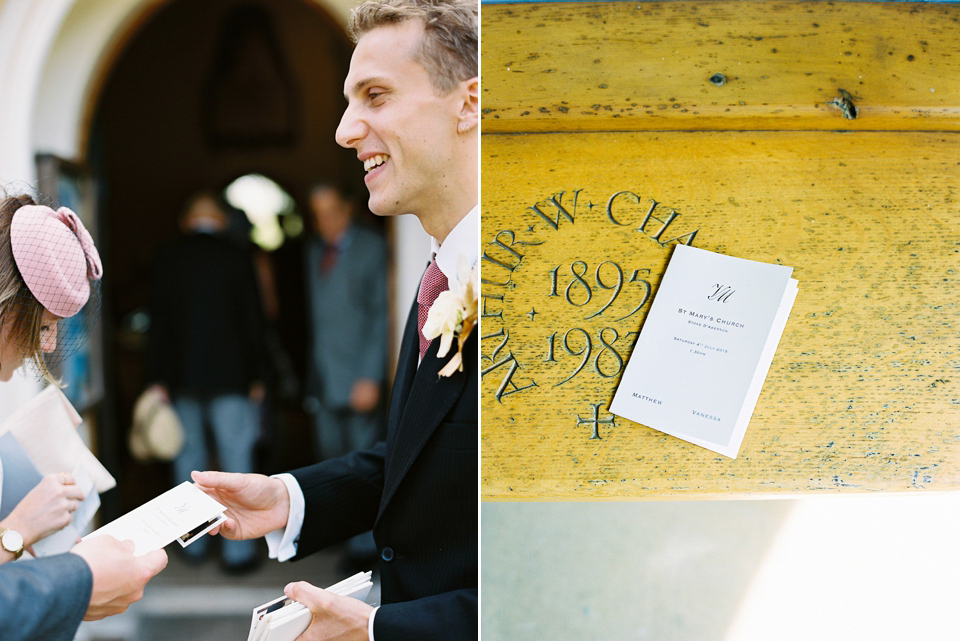 "Matt's uncle owns a vintage Bentley and he very kindly offered to be our driver. He drove me and my father to the church and then drove Matt and I to Fetcham Park. We hired a coach via Epsom Coaches to transport people from the church to Fetcham Park, and also used them to do a midnight coach run from Fetcham to Clapham Junction after the wedding – this would help to save on taxi and hotel costs as we had quite a few friends coming up from London."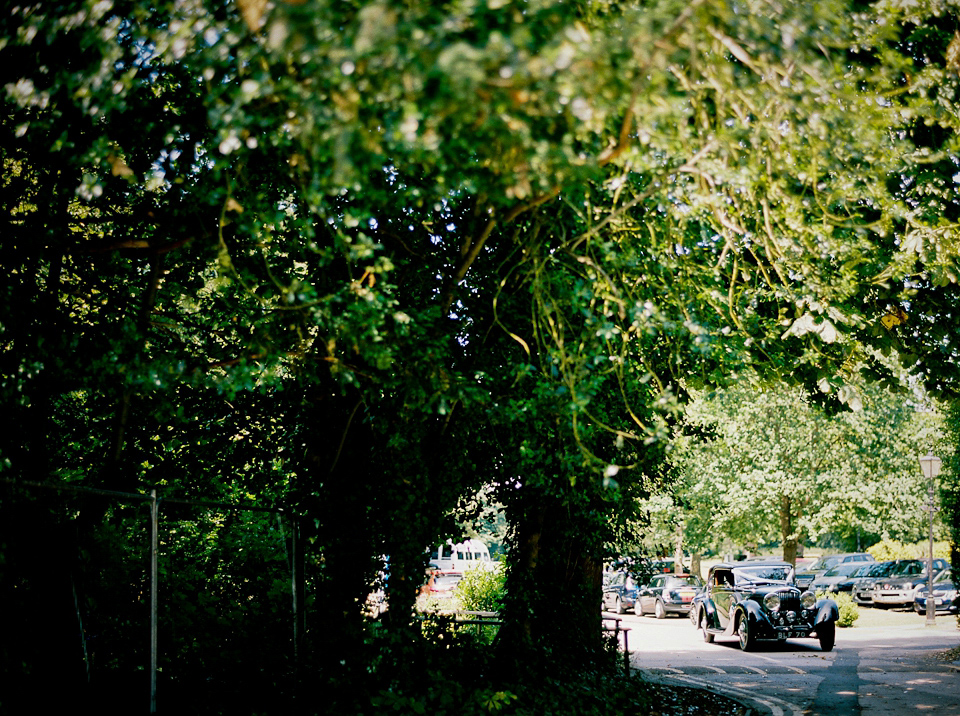 "My parents still live in the same house which I grew up in and St Mary's Church in Stoke D'Abernon is their local church. I was also christened in St Mary's, so it felt like the right choice for us. 
My father accompanied me down the aisle to the sound of 'Overture' from the Royal Fireworks Music by Handel."
"Matt designed the engagement ring himself with a private ring maker and I wanted a wedding ring that would match, so we went back to the same ring maker."
"Saying our vows will always be a stand out moment for both of us and it really was the most important part of the day as it's us saying we want to spend the rest of our lives together in front of our family and friends.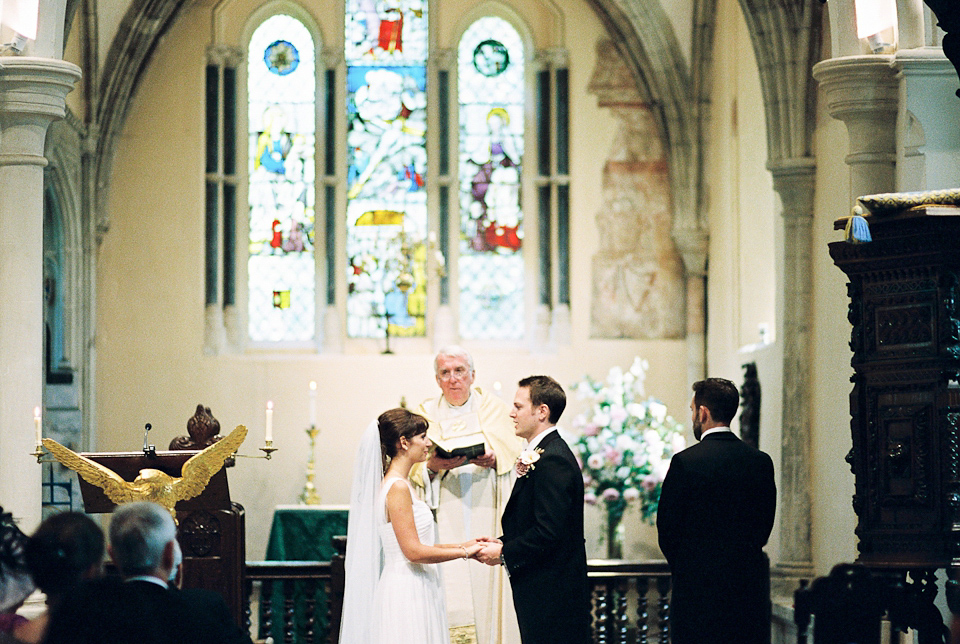 "My veil was also from Miss Bush. It too was plain white and lightweight. It was Chapel length – I definitely wanted a long veil as it's hopefully the only chance I'll get to wear one!"
"I found Peachey Photography on Pinterest while looking at another photographer and immediately fell in love with her style. Her photographs capture the light and the romance of weddings so beautifully, she has such a natural eye and looking through her portfolio made me smile so much as she really captures the moment in her shots. She shoots in film and I think this really helps to make the colours stand out in her photos.
As soon as I spoke with her I felt totally at home, and knew it would be great to have her at our wedding."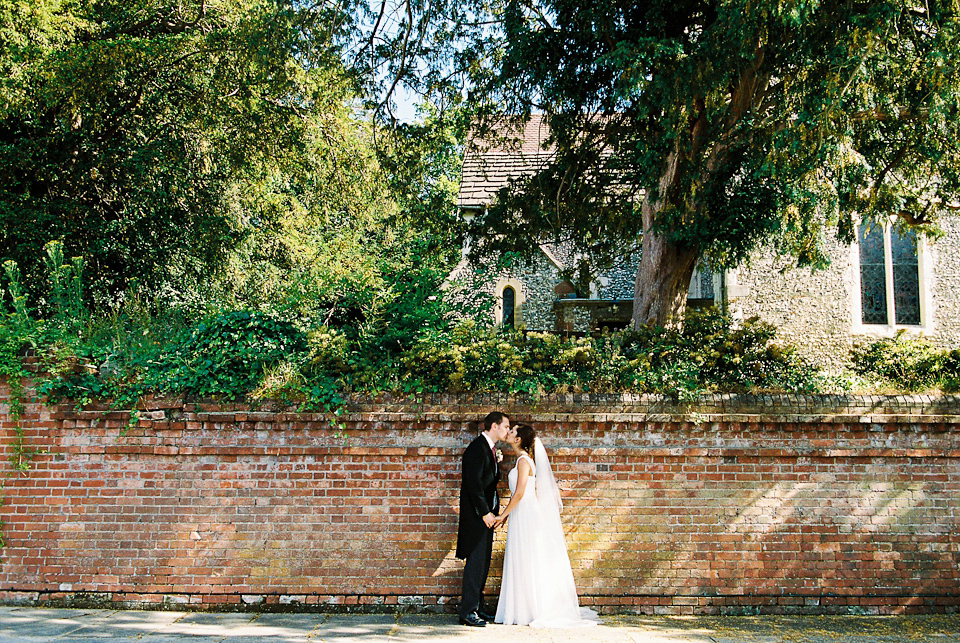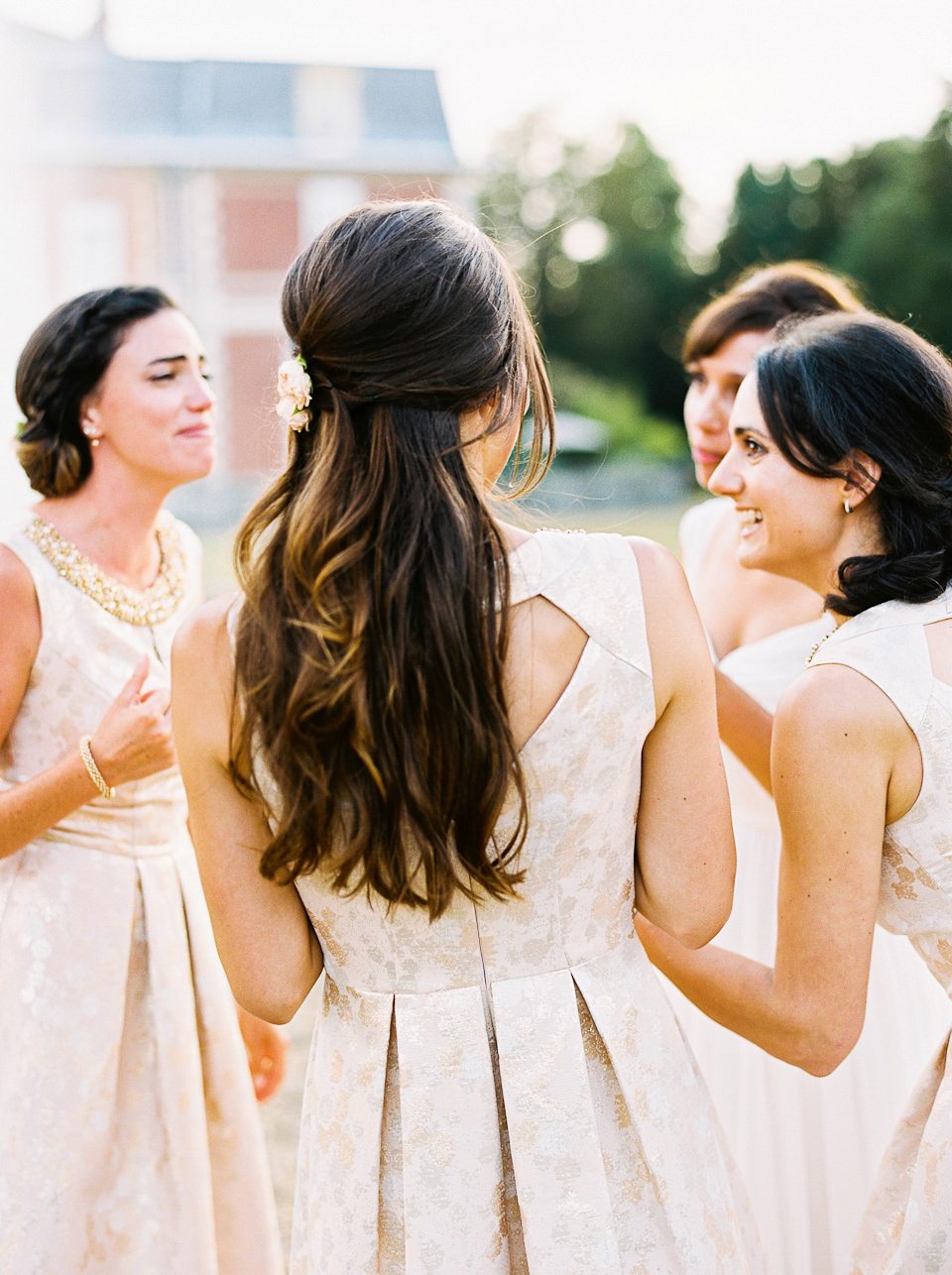 "We chose our venue Fetcham Park because we wanted something close to the Church and knew we wanted somewhere that has no corkage fee (we did a booze cruise in France for the drinks)! FP is a local venue just five minutes from the Church and we immediately fell in love with it when we visited, the team there are so professional and welcoming and the venue is beautiful."
"When we visited it with my parents it seemed like our ideal venue, a brilliant reception setting that still felt quite intimate and we didn't think it could be beaten.
Fetcham Park very kindly provide a wedding coordinator within the package, so we worked with the fabulous Anna of Bride and Glory."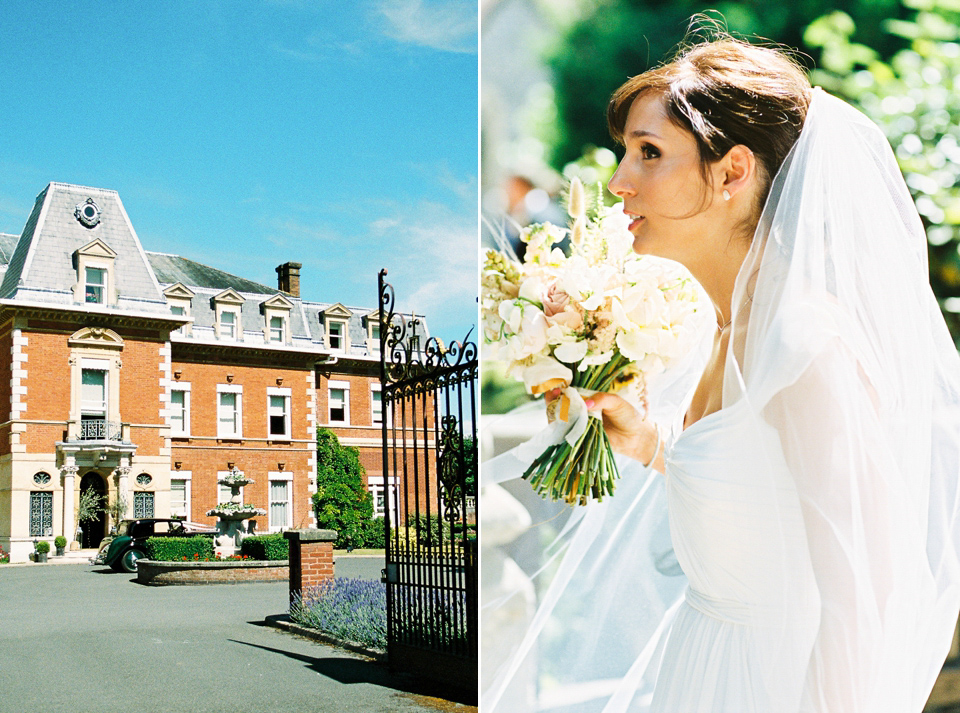 "Our caterers, 'At Home', are true professionals and were recommended by Fetcham Park. They have an excellent reputation in the local area and were very impressive at our tasting. The food at the wedding was the same fantastic quality and we had lots of compliments on the day after the guests had eaten. Amaury is a very charming man and he ran the show on the wedding day. He was completely in charge of everything and made it all run so smoothly, we were very lucky to have him and his team!
For the evening we had a charcuterie and cheese selection which my mother organised. We had guests coming over from Switzerland and Denmark, so she asked them to bring cheese, cold meats and breads over and bought some bits herself too. At Home prepared it all for us, and it went down very well with our guests."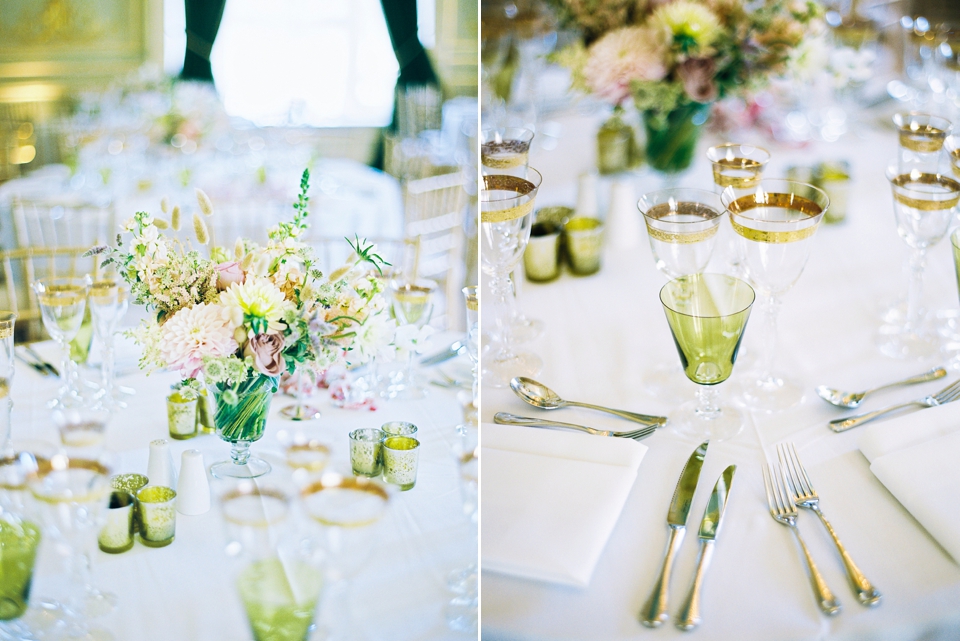 "Fetcham Park doesn't need much decoration as it's already so charming. But to add our own personal touch, we got some giant pastel coloured balloons to go in the garden for the drinks reception and used Bubblegum Balloons as suppliers. They were very professional and the balloons were good fun on the day."
"I'm also a big fan of Liberty and its amazing fabric collection, so bought some fabric to use for the favours, and for our table names. I also bought the letters V and M in Liberty fabric from Not on the High Street to go in front of the wedding cake."
"Our cake was made by a family friend who makes occasion cakes in her spare time. We choose a traditional three- tiered cake with two layers of fruit cake and one layer of vanilla sponge. This was classically iced and had summer berries covering it. I'm a complete chocoholic so decided I also wanted a chocolate cake too.
We went quite modern for this, going for a naked style cake with mascarpone icing and summer berries, which was absolute heaven!"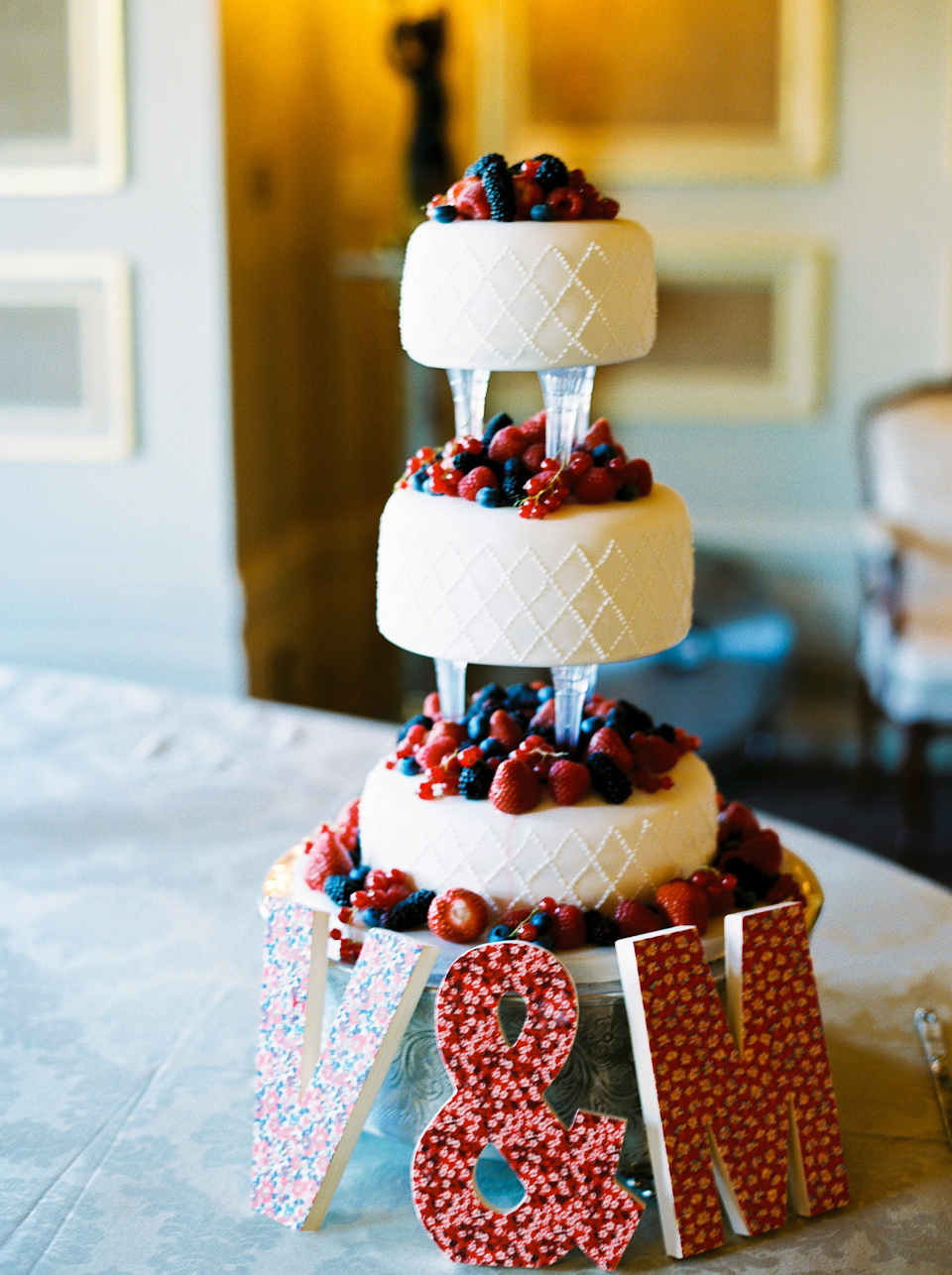 "Entertainment was really important to us as we wanted our guests to have a great day. For the drinks reception we used Melisma Music. We wanted a jazz band and they provided Select Syncopators who provided upbeat jazz in the afternoon sun and helped to create a really jolly atmosphere amongst the guests. 
We also hired Sarah Goddard who is a Silhouette Artist for the drinks reception.  Years ago my father came back from a party with a silhouette cutting of himself, which my mother had framed and we still have it on display at home. I've always thought it was very clever and thought it would be a great take home for our guests.  Before the wedding, we also had Sarah send us over an image of our silhouette, which we used on some of our stationary on the wedding day.
Sarah was great, she fitted in well with the guests and impressed everyone with her unique skills!"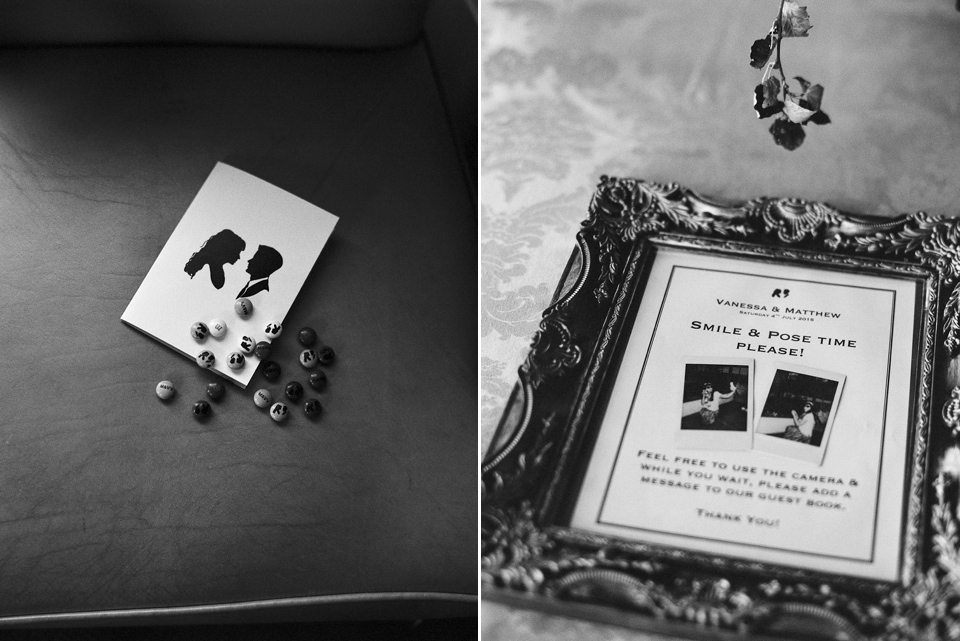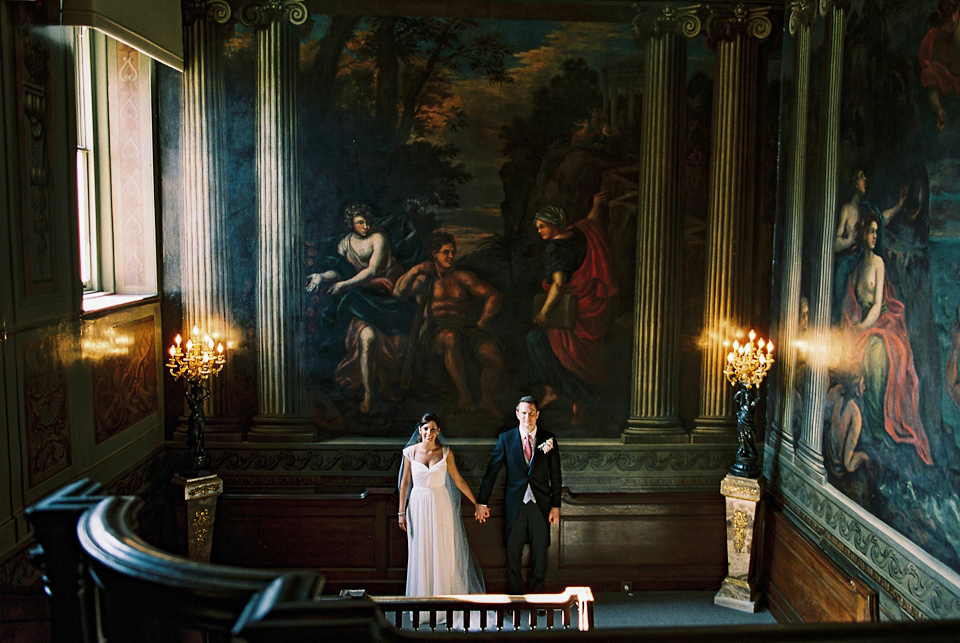 "For the evening disco we used Matt Maurice Event Music. Matt and the team know how to create a good party, and they provided great lighting and something I was very excited about – a sparkly dance floor!
We didn't want too cheesy or awkward a first dance and wanted something we both like which has a special meaning to us. We went for My Beloved Monster by Eels, it's quite a fun song and we've been to see the Eels quite a few times together. It's also short at only two minutes, which was a bonus!"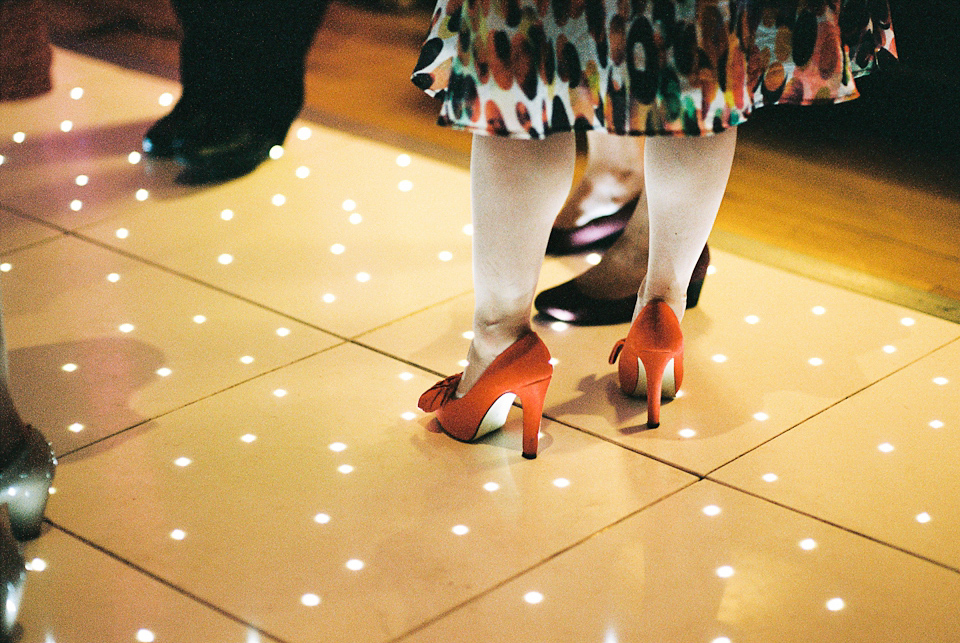 Words of Wedded Wisdom
"It's been said a million times already, but it's to make sure you and your groom do things your way. The day is about you two and if you're having fun, then your guests will have fun. One of my bridesmaids said to me after the wedding how seeing Matt and I smiling all day meant everyone was carried along with our love and happiness, and that's what the whole day should be about.
I'd also recommend making sure you find good suppliers who you can trust and to try and get things sorted as far in advance as possible. It will make everything so much easier in the long run, as you won't have to worry about things on the day of the wedding.
I completely trusted all of my suppliers and it meant that as soon as I got to Fetcham Park on the day I just relaxed. I knew At Home and the FP team had everything in hand and we could just concentrate on having lots of fun.
I would have worried less in the run up to day, and not got panicked about small things which really made absolutely no difference at the wedding.
Neither of us ate anything in the evening, we weren't hungry but it was a shame to miss out on that delicious cheese!
We truly enjoyed every minute of the day though, it all went so smoothly and it was just so much fun celebrating with our nearest and dearest."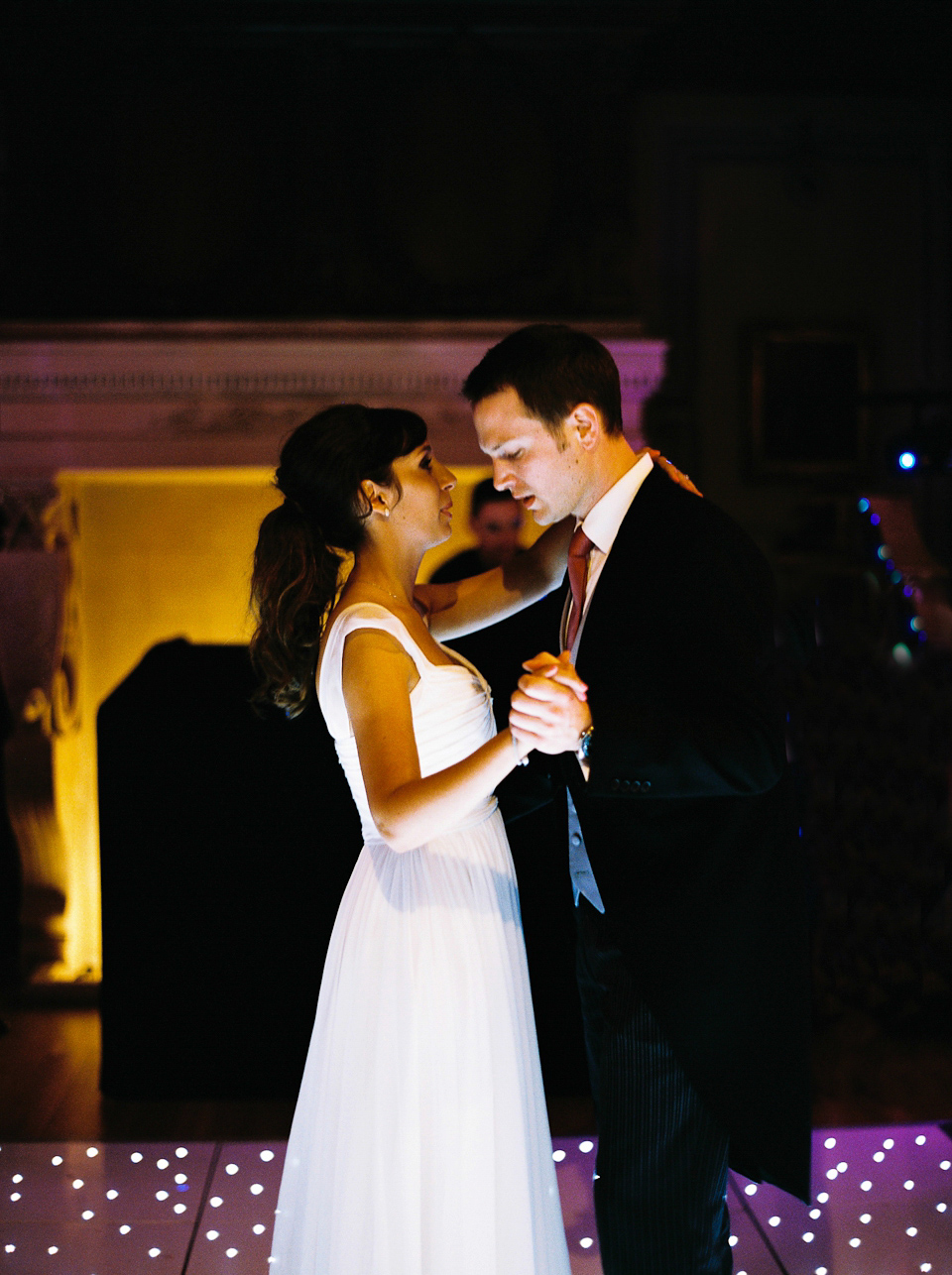 How completely lovely, and beautifully photographed by Peachey Photography. You can see more from photographer Katherine here on Love My Dress, and more film photography here.
Congratulations, love and thanks to Vanessa and Matt too.
Love Annabel x
Photographer – Peachey Photography
Planner/Stylist – Bride and Glory
Venue – St Mary's Church in Stoke D'Abernon + Fetcham Park (see Fetcham Park in our Little Book For Brides)
Wedding Dress – Monroe by Jenny Packham via Miss Bush in Ripley
Veil – Miss Bush
Bride's Shoes – LK Bennett (Zoey)
Accessories – Cartier necklace + borrowed earrings
Perfume – Aerin Lauder Amber Musk
Grooms Suit – hired via Buckleigh of London
Florist – Jay Archer Floral Design
Cake – a friend
Entertainment –Melisma Music + Sarah Goddard who is a Silhouette Artist
DJ – Matt Maurice Event Music
Catering Company – At Home
Stationery – Gee Brothers + calligraphy by Claire Wan, email [email protected]
Hair + make-up Artist – Carolanne Armstrong
Giant Balloons – Bubblegum Balloons
Coach Hire – Epsom Coaches