Hello lovely readers and welcome to a truly fabulous feature. Today, we're so happy to be sharing a simply sublime photo-shoot with you. The undeniable stars of this shoot are the stunning pieces from Cherished's new 2016 bridal accessories collection, Nature's Diadem and it's an honour to showcase these exquisite designs here on Love My Dress.
Photography by Kate Hopewell-Smith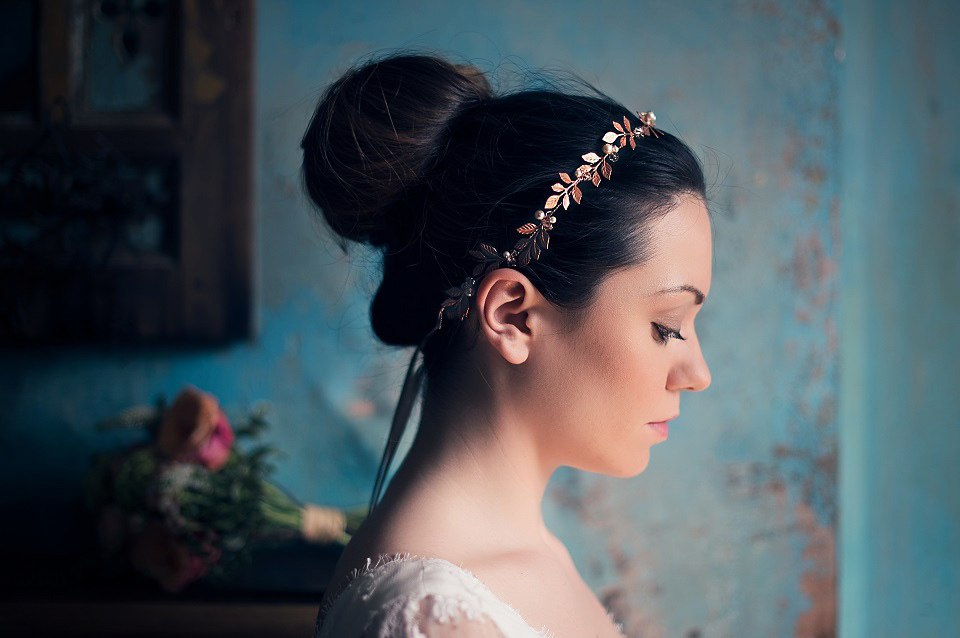 In so many ways, it could not be a more appropriate time to fall in love with these designs as this collection of delicate, botanically inspired bridal accessories certainly makes me think of the elegance and natural style of autumn.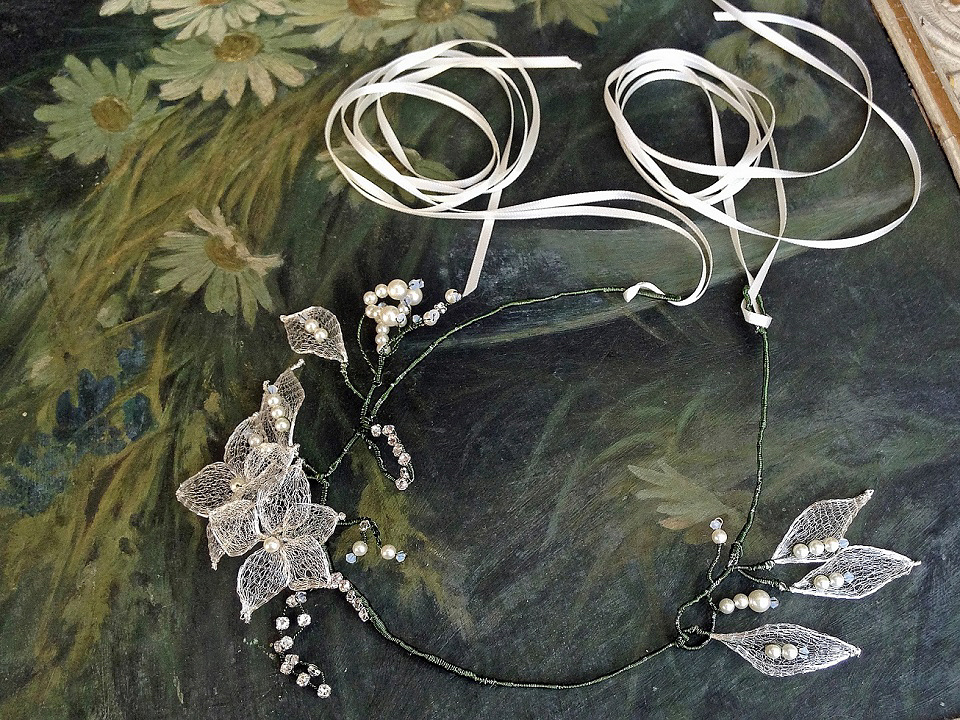 Cherished, a couture accessories atelier, is well known for headpieces and accessories that are made from beautiful and original jewellery and millinery elements. Each and every piece in the 2016 collection is handmade in West Sussex, England, as used Swarovski pearls and crystals and carefully sourced jewellery findings.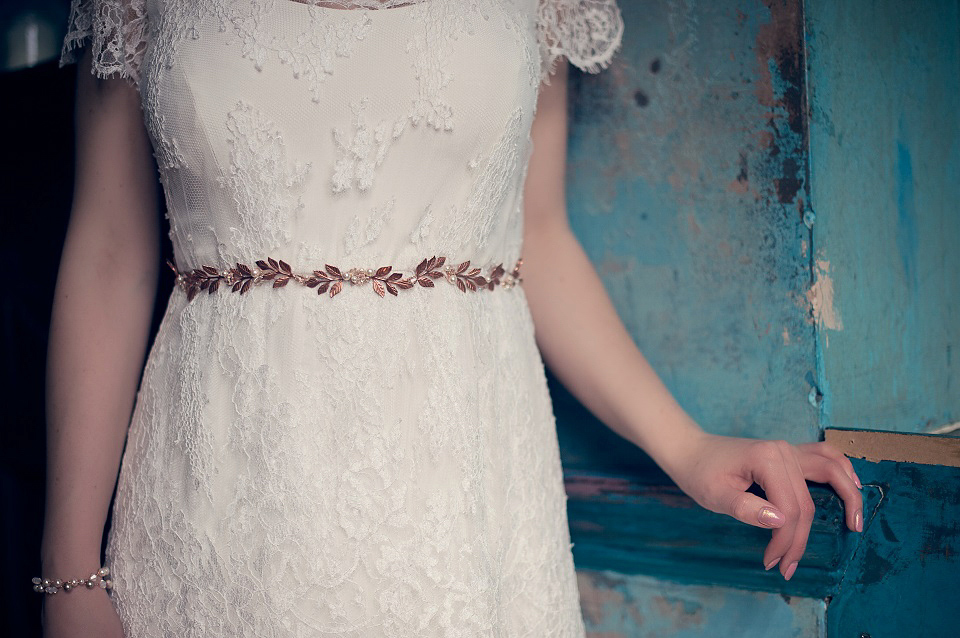 Designer Abby Gadd founded Cherished as an extension of her love of crafting and craftsmanship and, with a background as an historian, Abby's painstaking research is matched by her exacting attention to detail when designing and making each piece.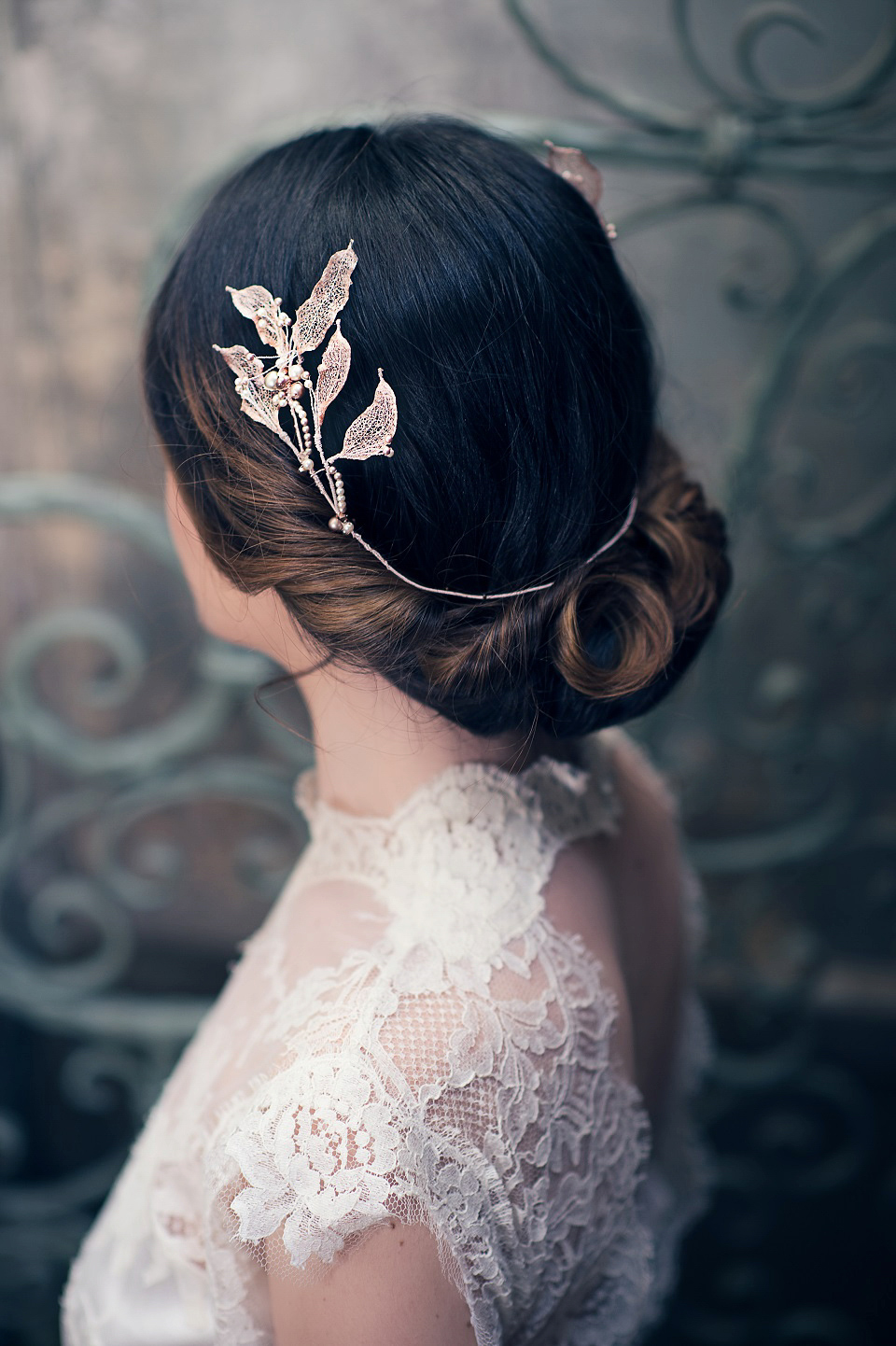 This new collection of made-to-order bridal accessories draws on a range of influences from nature itself to the incredible jewellery of Rene Lalilque. The intricate floral and leafy forms are created by hand and are combined with sparkling Swarovski pearls and crystals in a soft pastel palette of pale pinks, silvery greys, blues and blush.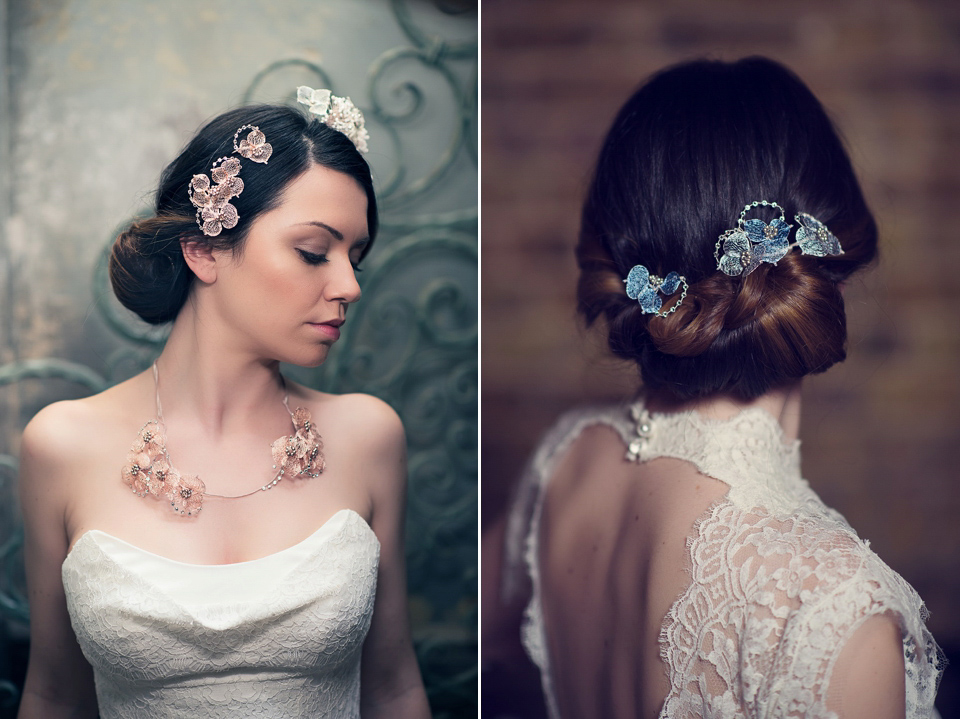 "I am absolutely delighted to bring Nature's Diadem to Love My Dress," says Abby. "I wanted to capture the beauty of nature and offer a luxurious and lasting alternative to natural flowers. These are undoubtedly heirloom pieces that I hope brides will treasure for many years to come."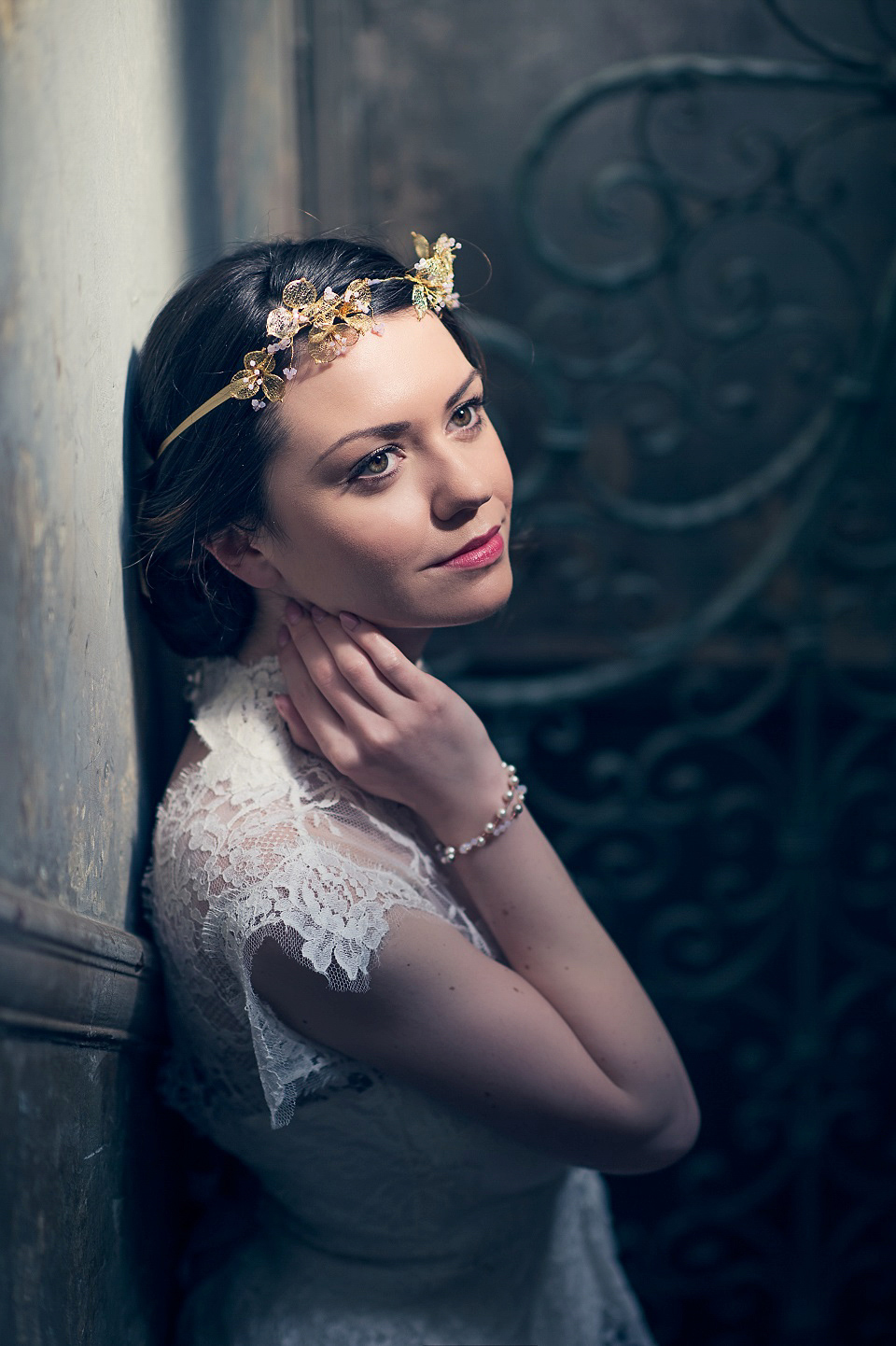 Many of the pieces have a sculptural quality; lush three-dimensional floral forms sweep through the hair and the collection is perfect for the elegant or bohemian bride. The collection is also incredibly flexible – several Hydrangea Bloom combs can be combined and worn as a full flower crown whilst the Pansy vine also looks amazing as a statement neckpiece.
"The collection is as versatile as nature itself and clients can request custom designs based on the main floral shapes that feature in the collection," explains Abby. "As every piece is meticulously handcrafted, I can personalise each piece giving brides the opportunity to wear something truly unique."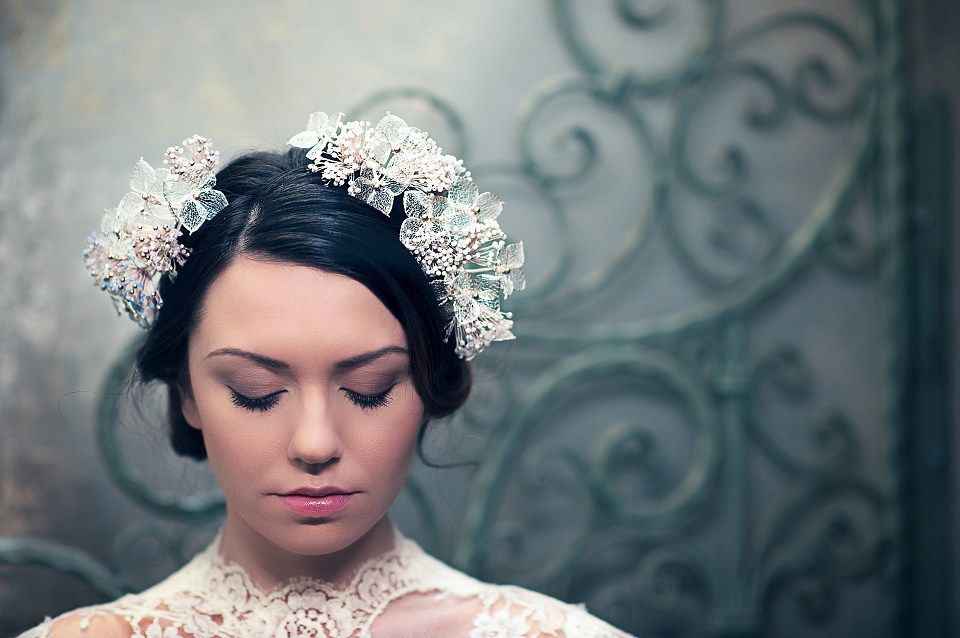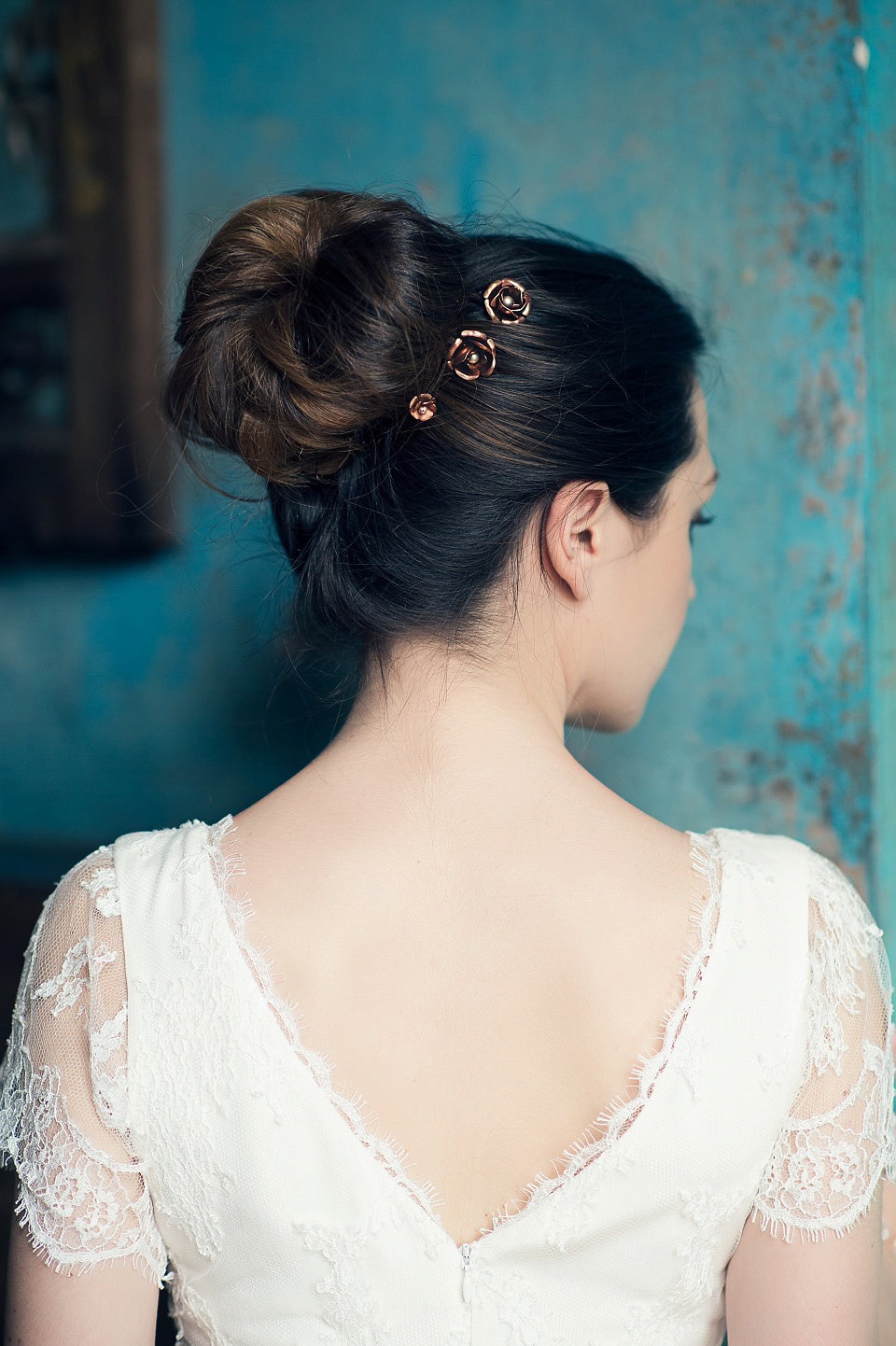 The shoot we're sharing today was the work of a small but wonderfully creative team. Paradise by Way of Kensal Green, an eclectic buy vibrant club and restaurant near Notting Hill, was chosen for its rich and varied wall colours and the intimate feeling that it evokes.  Keen to create a painterly and atmospheric air in all the images as a strong counterpoint to the light and 'barely there' accessories, Abby and photographer Kate Hopewell-Smith created atmosphere and drama in the image with darker ones.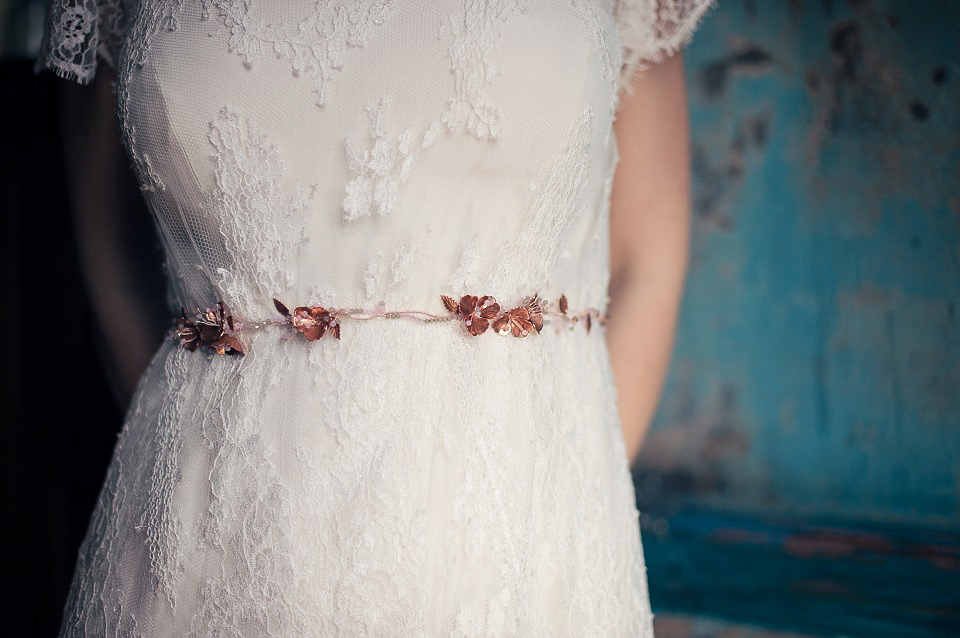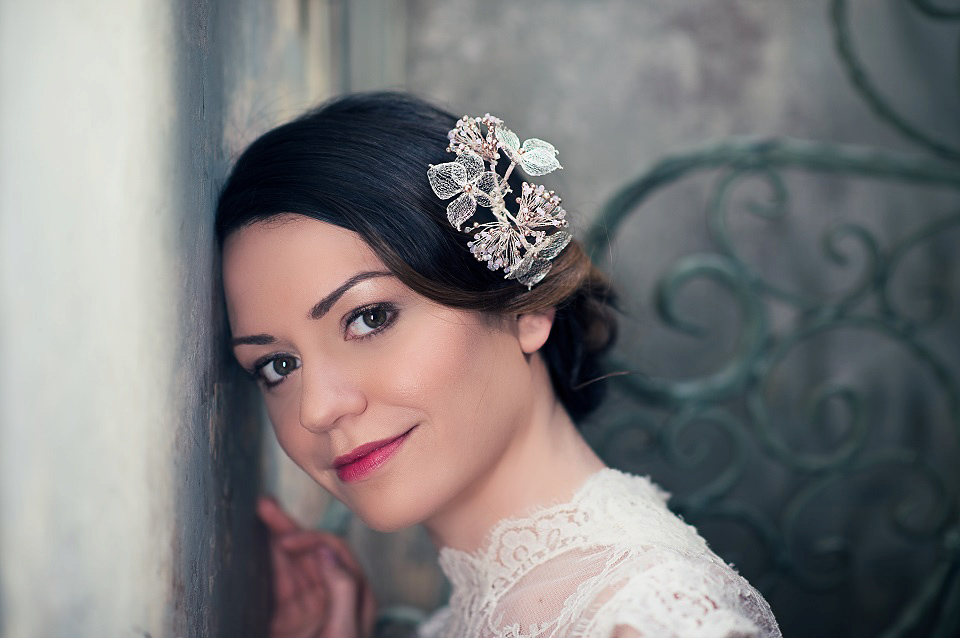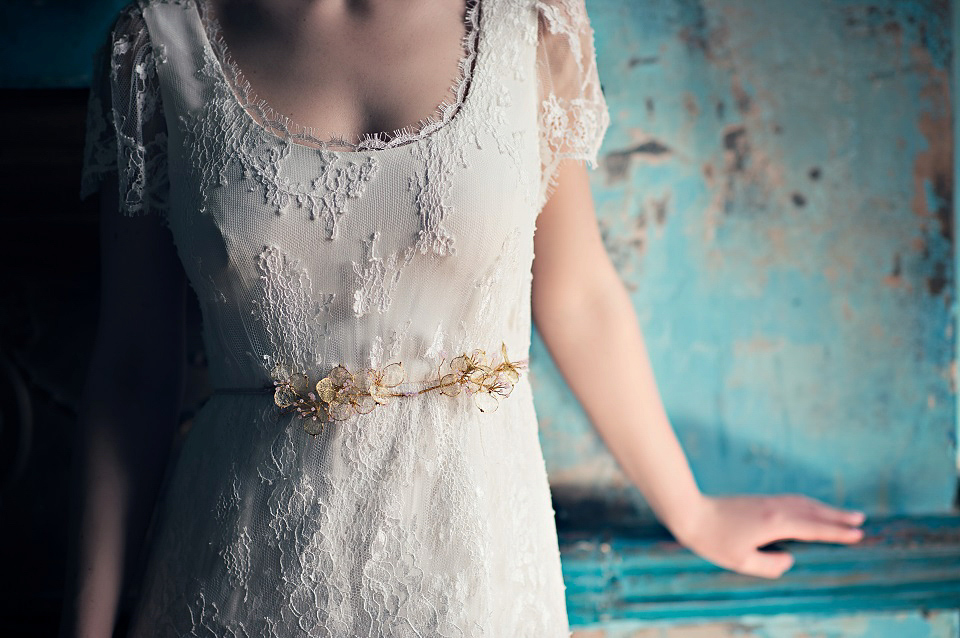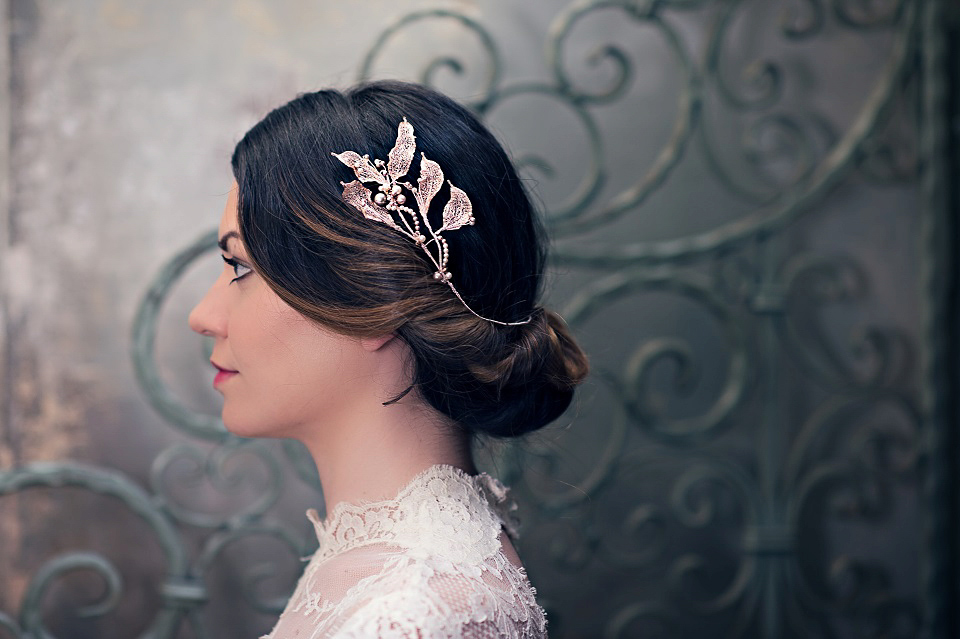 "Kate was wonderfully attuned to my ideas and beautifully captured the mood in her images," says Abby. "I've been lucky enough to work with Kate on a number of occasions. Her technical skill never ceases to impress me – she has an incredible command of lighting, which was exactly what was required to create the striking imagery we were after. She also is great company and brings a wonderful combination of calm control and quick-witted humour which makes shooting with her a joy and pleasure for all involved."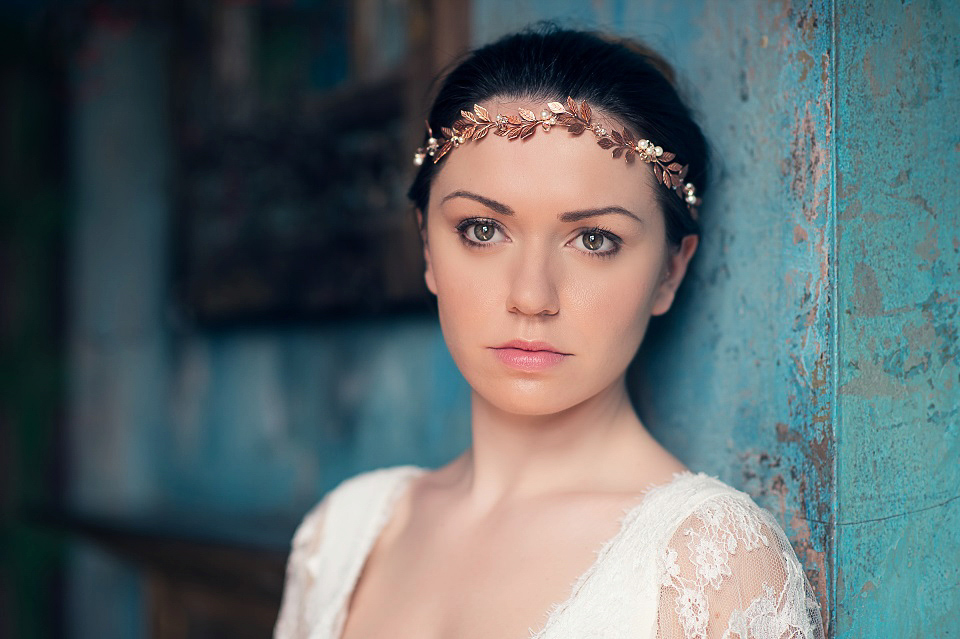 "Kate was accompanied by her cinematographer partner, Brent, who shot a short 'behind the scenes' film for us.  Kate also introduced me to our model for the shoot – Jess, who's natural but striking look is perfect for the collection."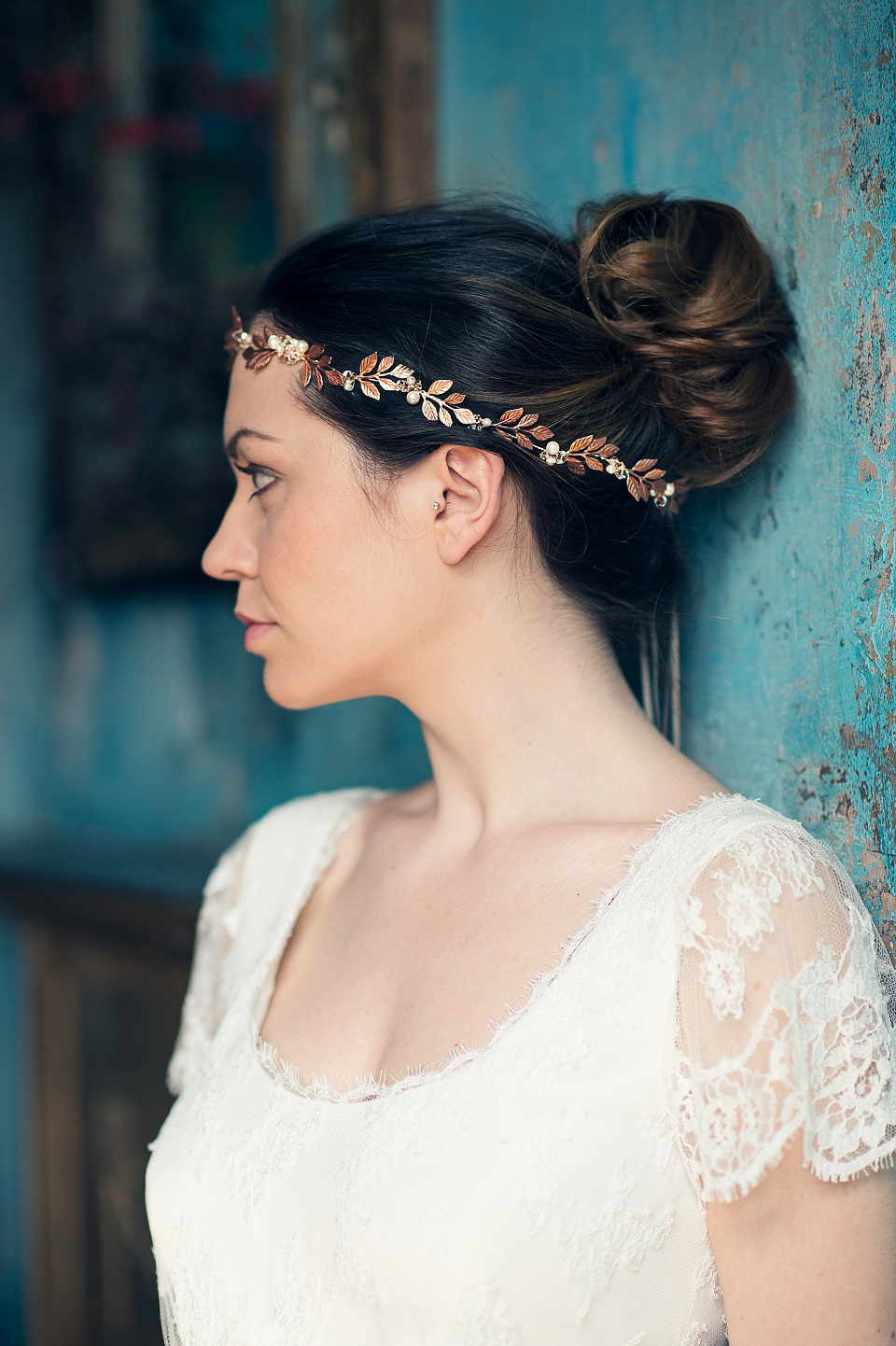 "We chose to collaborate with Sally Lacock for the bridal fashion for this shoot," continues Abby. "Sally's beautiful dresses and separates collection work sublimely well with our new collection. We featured the Sylvie silk tulle and French lace wedding dress, which has an elegant, yet dreamy feel – the perfect twirling skirt, the movement of which looked so incredible in Kate's photographs."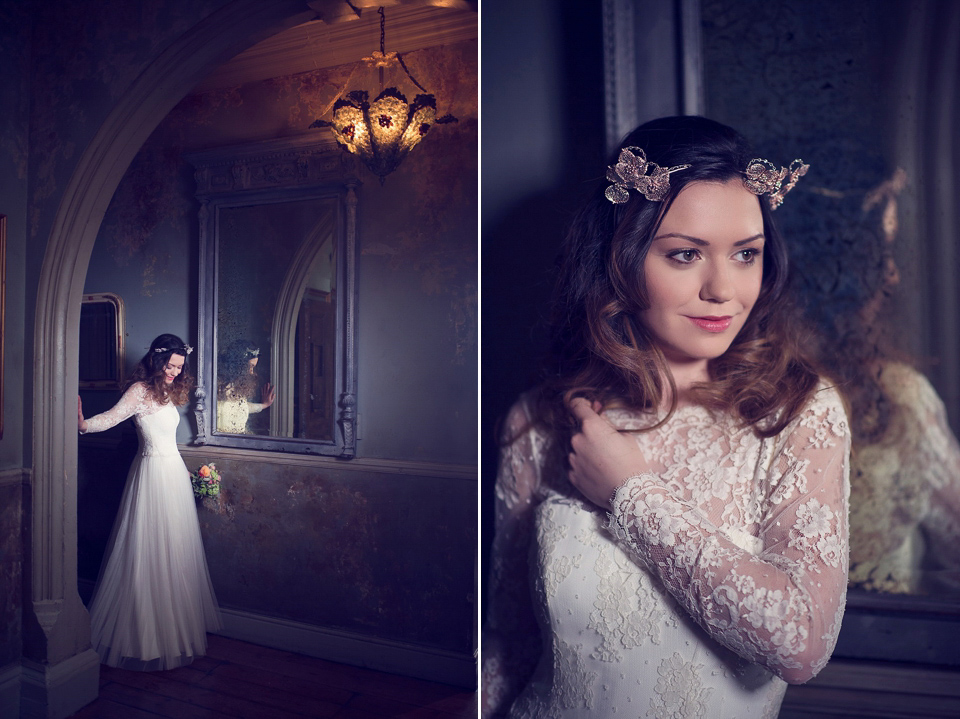 "We also used the glorious Verbena blouse from Sally's separates collection. Its beautiful high neck and exposed back and peplum detail has the perfect 'modern Edwardian' feel we were looking for. The Cherished bride has an eye for delicate beauty and values craftsmanship – both of which are found in Sally's gowns."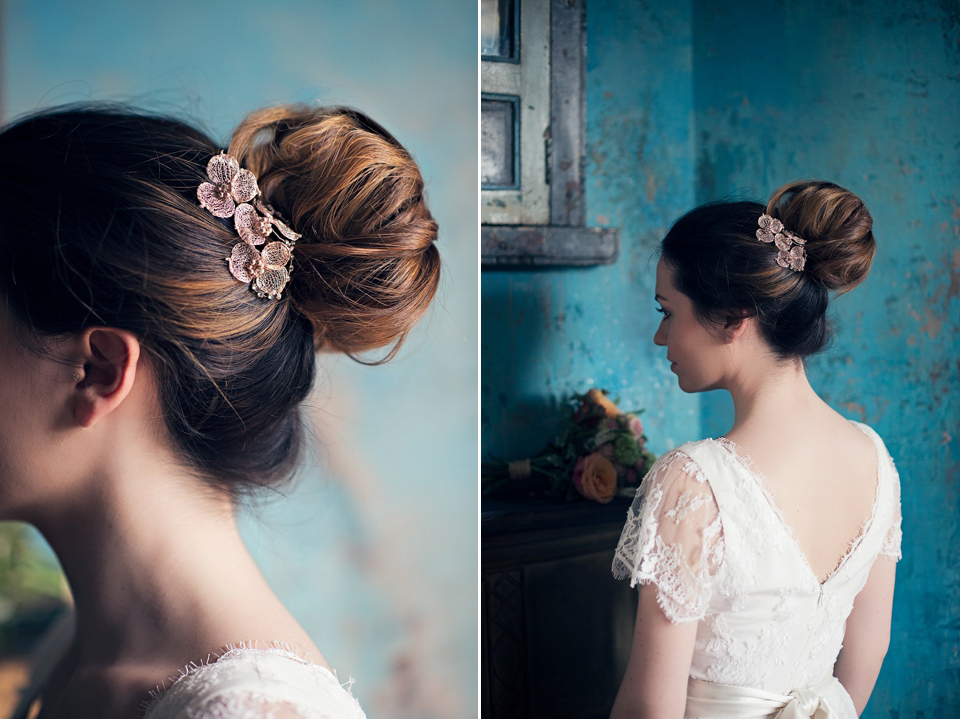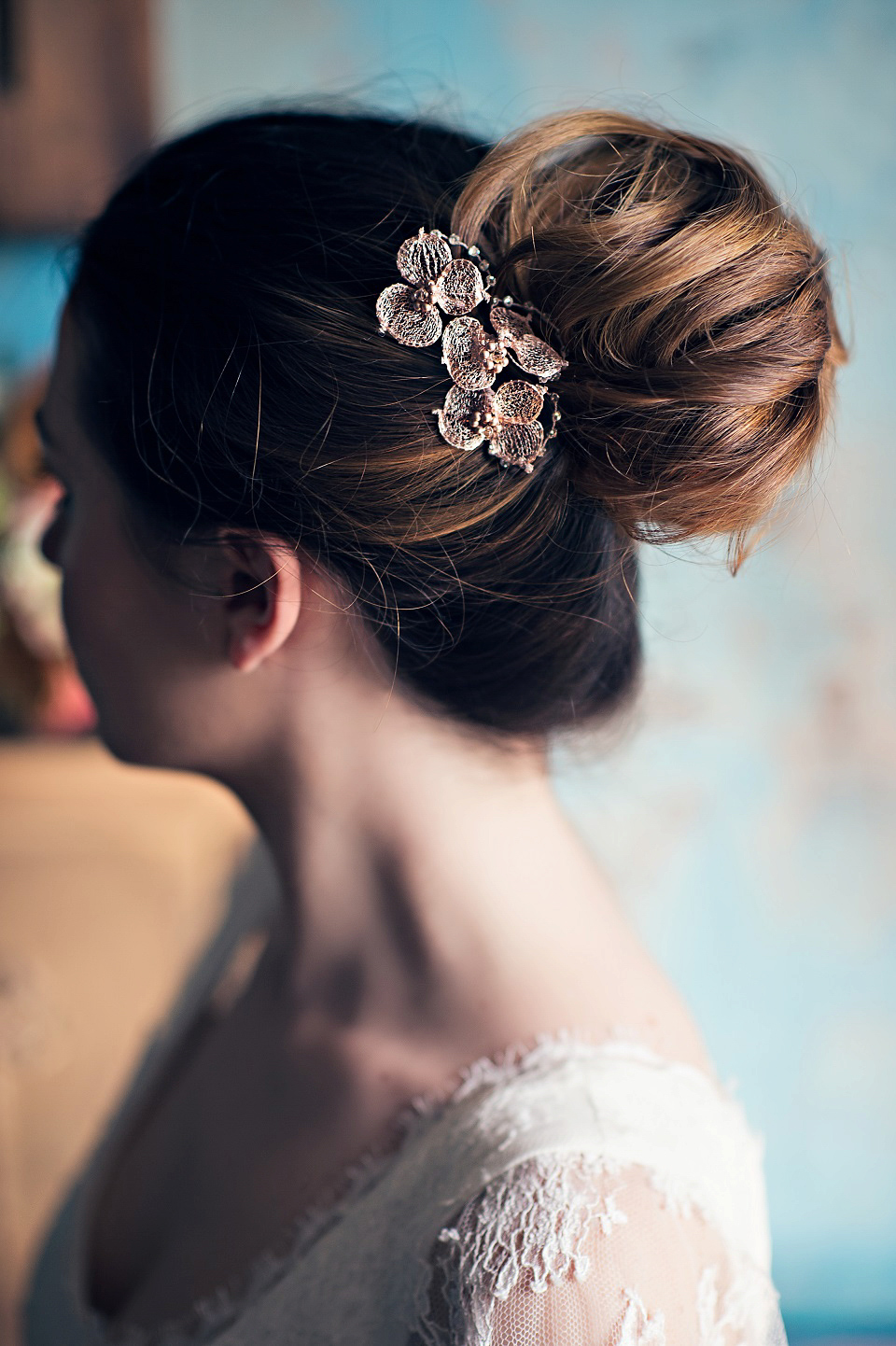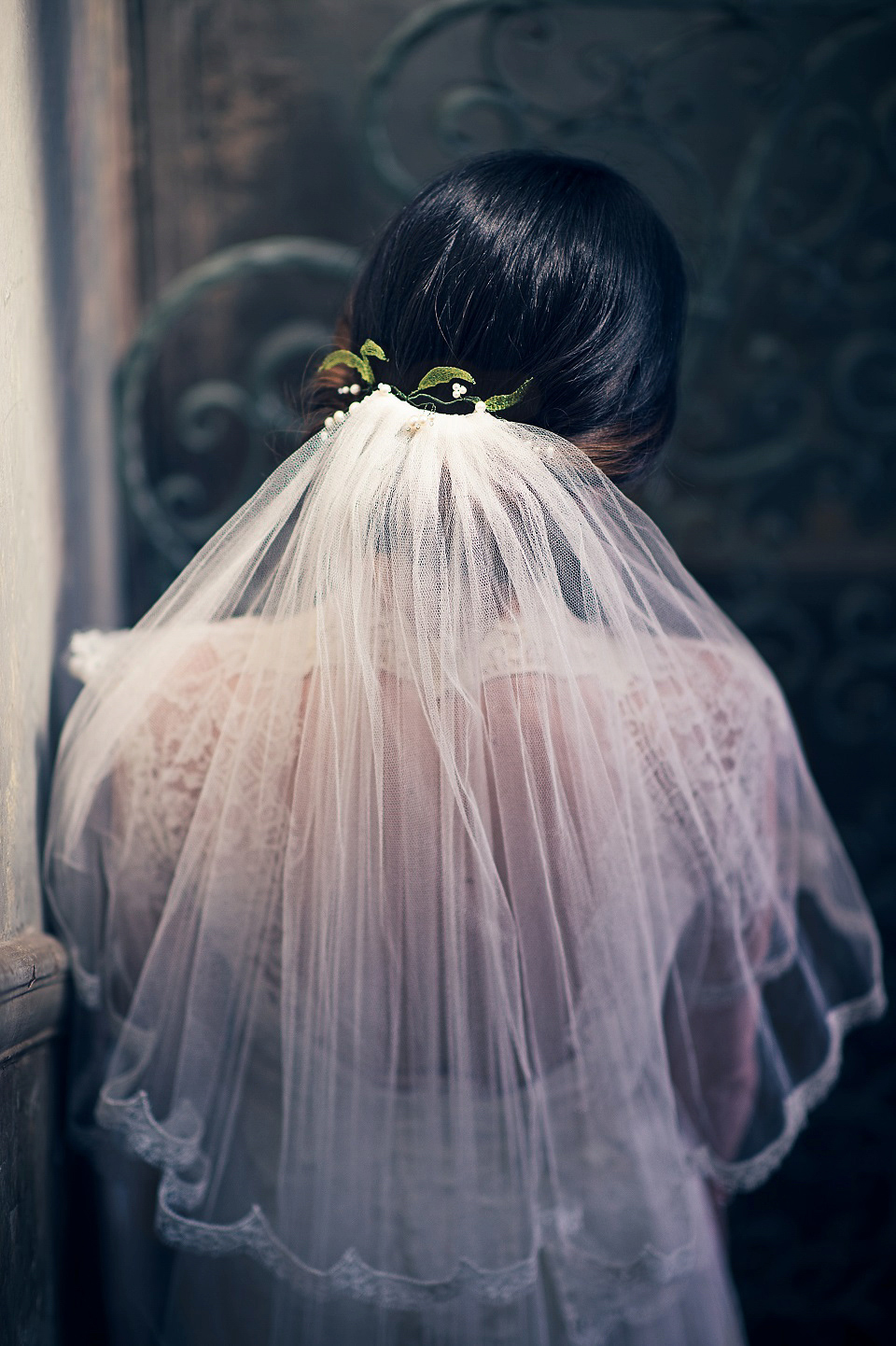 Catherine Fransham of Make-Up For Brides created a beautiful natural look for the model's make-up and styled her hair in three ways: loose waves, a gentle rolled style (perfect for showing the headpieces at the back of the hair) and an exuberant, softly styled high bun. The epitome of elegance I think you'll agree.
We can't thank Abby enough for allowing us the privilege of sharing this shoot and her 2016 Nature's Diadem collection with you today. The natural world is indeed outstandingly beautiful but Cherished has made it all the more delightful.
Nature's Diadem from Cherished is available directly from the designer or via selected retail stockists where prices start from £50 with the majority of headpieces retailing between £250-£450.
For more information on the collection, please visit Cherished's website. Here you can also find out about bespoke commissions from Cherished, the vintage collection and much more. If you have any questions, please do contact Abby and you can also find her on Facebook, Twitter, Pinterest and Instagram.
Love Tamryn x
Bridal Accessories – Cherished
Photography & Cinematography – Kate Hopewell-Smith
Shoot Location – Paradise by Way of Kensal Green
Gowns & Bridal Separates – Sally Lacock
Hair & Make-Up – Catherine Fransham of Make-Up For Brides