Good morning beautiful people – it gives me such great pleasure to share this particular wedding with you today.  The bride is a friend and colleague of mine. She is also one of those savvy business women I have a great deal of respect for and whose company I have enjoyed and been inspired by as I've watched it grow the past 5 years.  Maids to Measure co-founder Sinclair and her beau Andrew tied the knot on 28th March this year with a wonderfully personalised wedding that included 13 bridesmaids and a celebration in the backyard of the family's seaside home.
The couple were assisted by the utterly charming Anna of Bride and Glory in planning their day, who I'm very proud to say is a member of our beautiful new Little Book For Brides wedding directory.
"Our overall aim was for the wedding to be very laid back. I love traditional weddings but, being at home was very special and because I'm in the wedding industry, I wanted a very relaxed feel. The dress code was casual and although I think people might have struggled with the concept at first – we got there in the end! We both just wanted a very laid back, casual wedding, and for it to feel very personal."
Film created by The Camera Chap
https://vimeo.com/127029282
"My dress was from the wonderful Emma Tindley, in East Grinstead.  I chose Emma as not only is she ridiculously talented she is also an extremely warm, kind and fun person, who put my mind at rest from the moment I met her."
Photography by Claire Graham & Lucy Davenport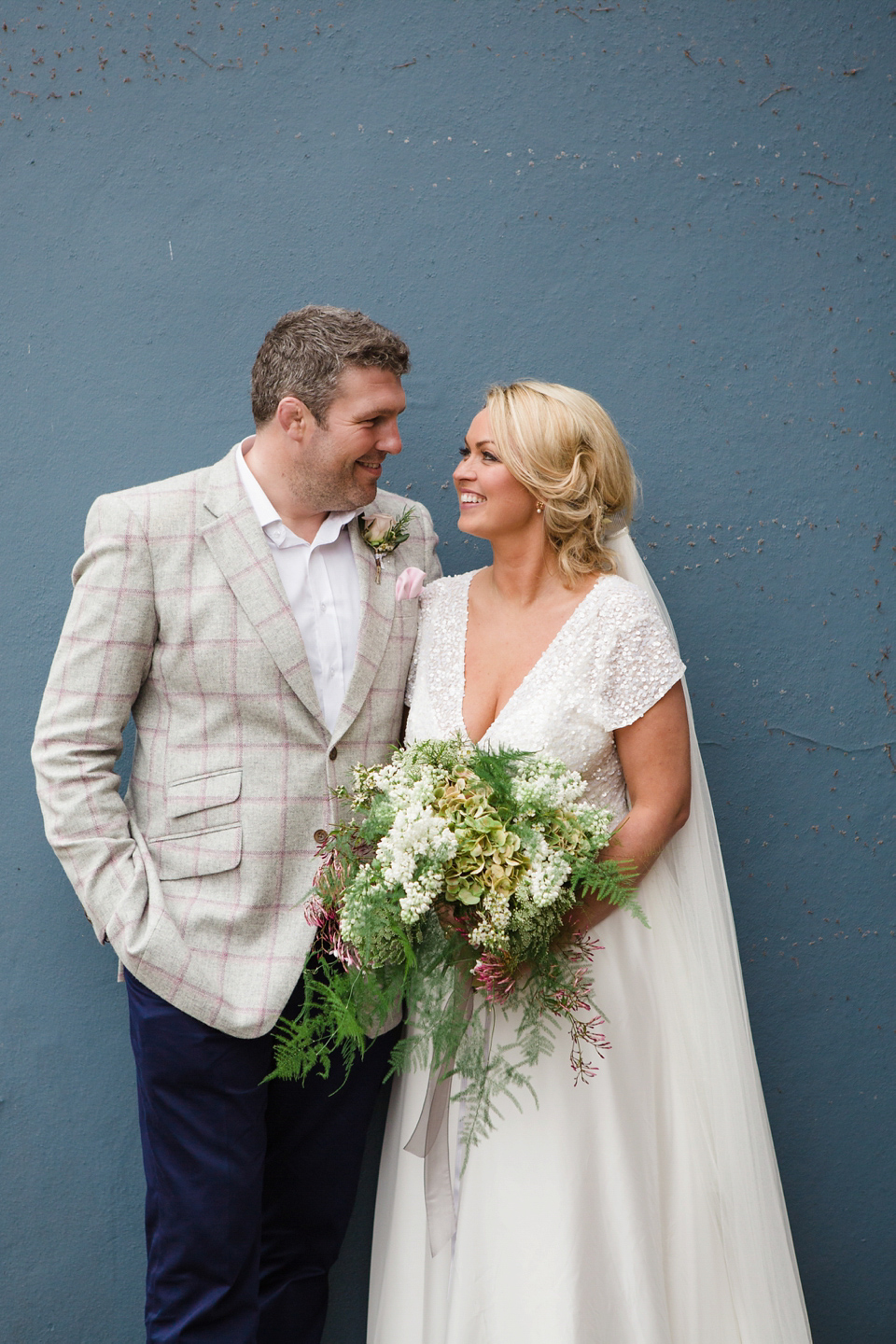 "I had 13 bridesmaids (13 is my lucky number!). All the bridesmaids designed their own dresses through my company Maids to Measure. I chose the colour palette and they then designed the dresses to suit their own style at the Maids to Measure studio."
Planning by Anna of Bride and Glory who is a member of Little Book For Brides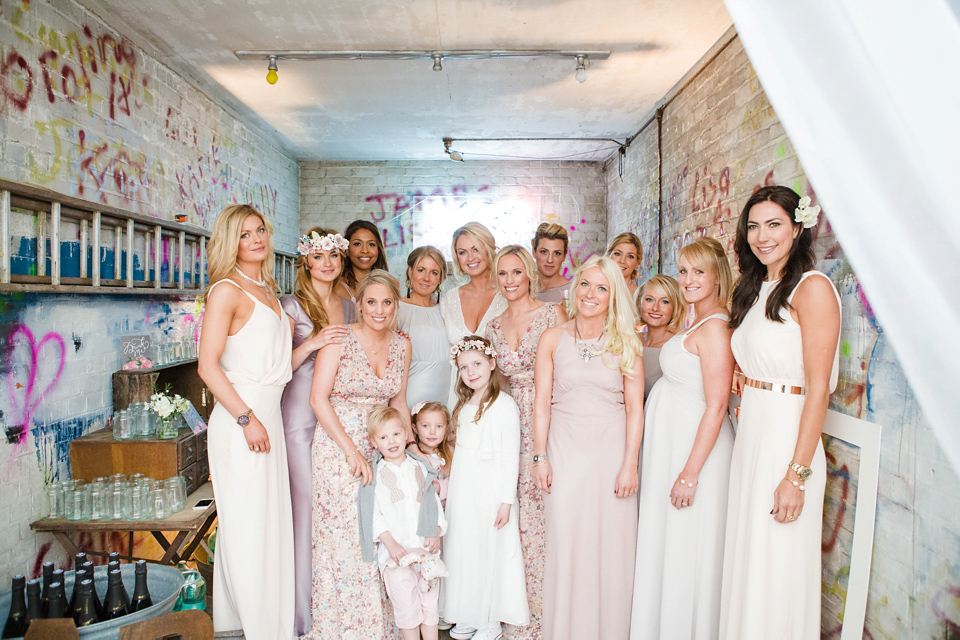 "On the day I also let them accessorise their dresses as they saw fit – we're all a bit older now and with so many bridesmaids I didn't want it to feel too uniform. Also one of the bridesmaids Caroline is heavily pregnant so we did our Bella maternity style for her which looked really pretty. My Matrons of Honour (twins) wore a print and all the other girls dresses picked up the colours that were in the pattern, giving a really pretty neutral palette, with some brighter accents."
"Love My Dress founder Annabel has supported Maids to Measure since the start.  She has also been full of wise words and praise for us so it's particularly special to now be on her wonderful blog but as a bride this time. It feels strange being 'on the other side', but I'm so happy to be able to share my wedding on Love My Dress."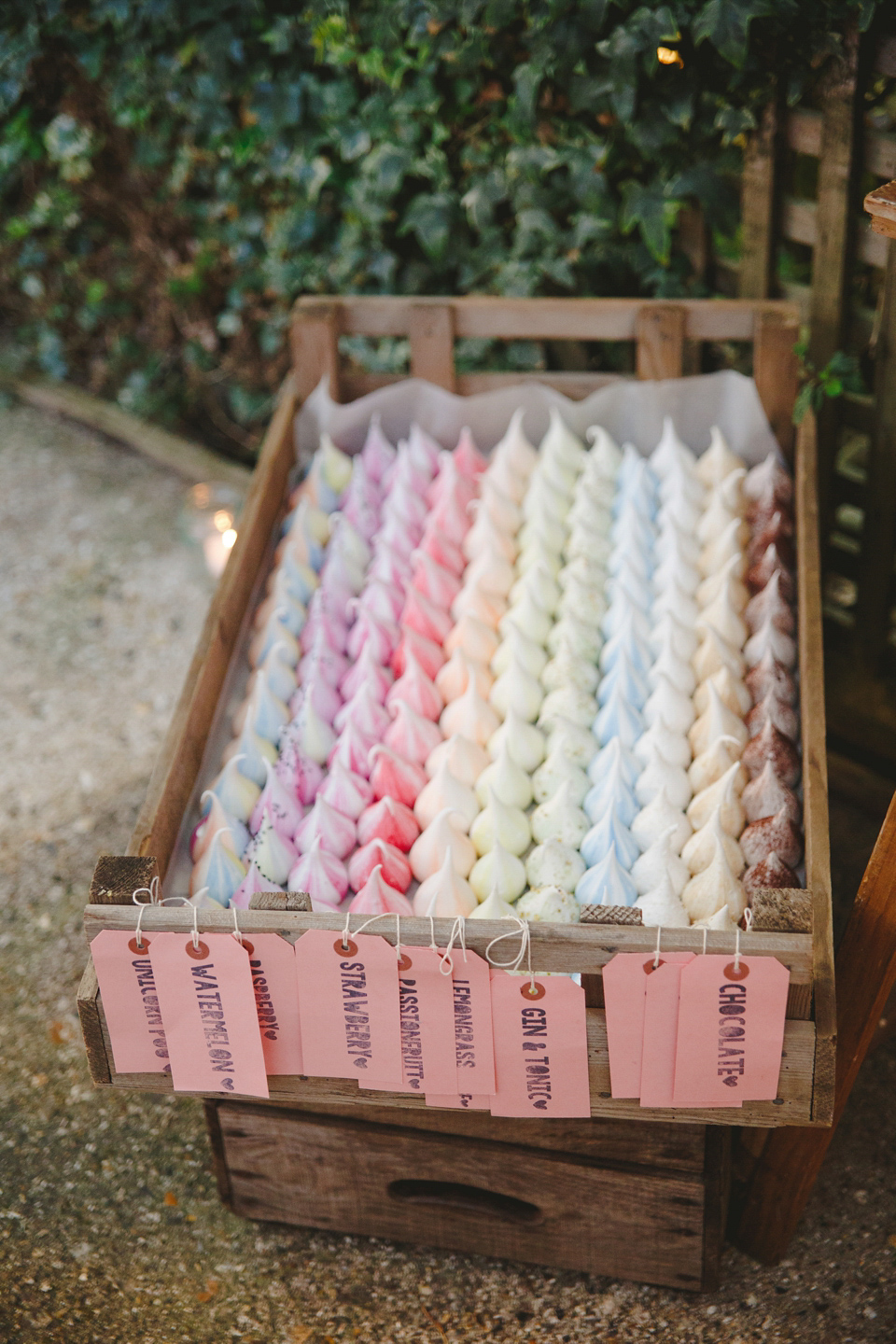 "Our colour-scheme was grey and white, with a hint of pink/neutrals. We had menus created by Erin of Berinmade which we tied with grey and white striped ribbon, and hired beautiful glasses, cutlery, linen and charger plates from Pumpkin events. Our name places were handwritten oyster shells, and garden flowers in pots, glasses and vases of different types and heights down the centre of the table."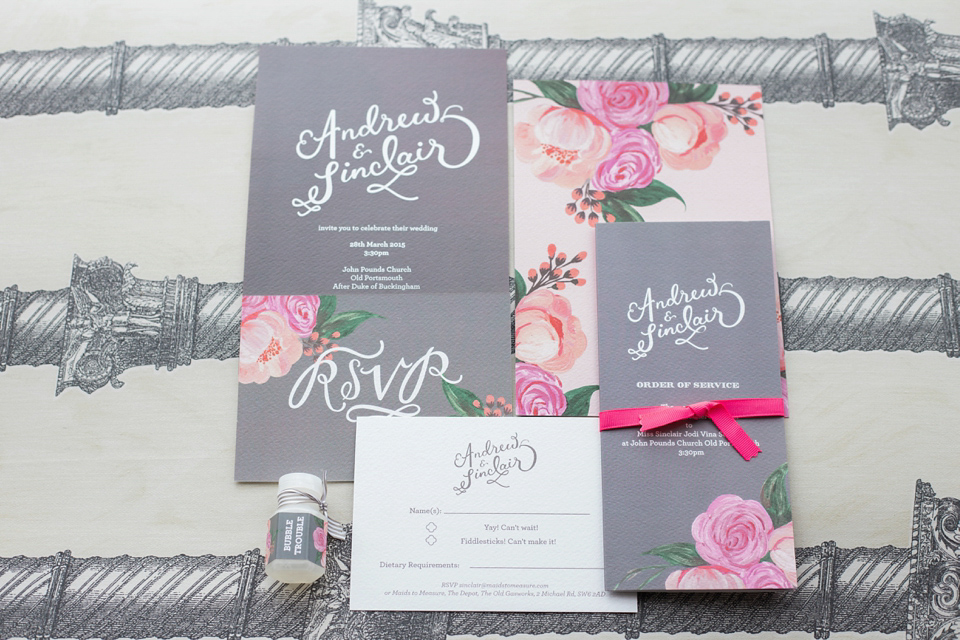 "Andrew and I first met briefly on the Lions Rugby Tour in South Africa 2009 (I have to admit I don't really remember this!).  Two years later, we sat next to each at a mutual friends wedding in Wales, however it wasn't until two years on again that we bumped into each other on the Kings Road London and later went for a quick catch-up drink.  Six months later we were engaged!
It really felt we were destined to be together since our paths kept crossing and it was only a matter of time for us to become a couple."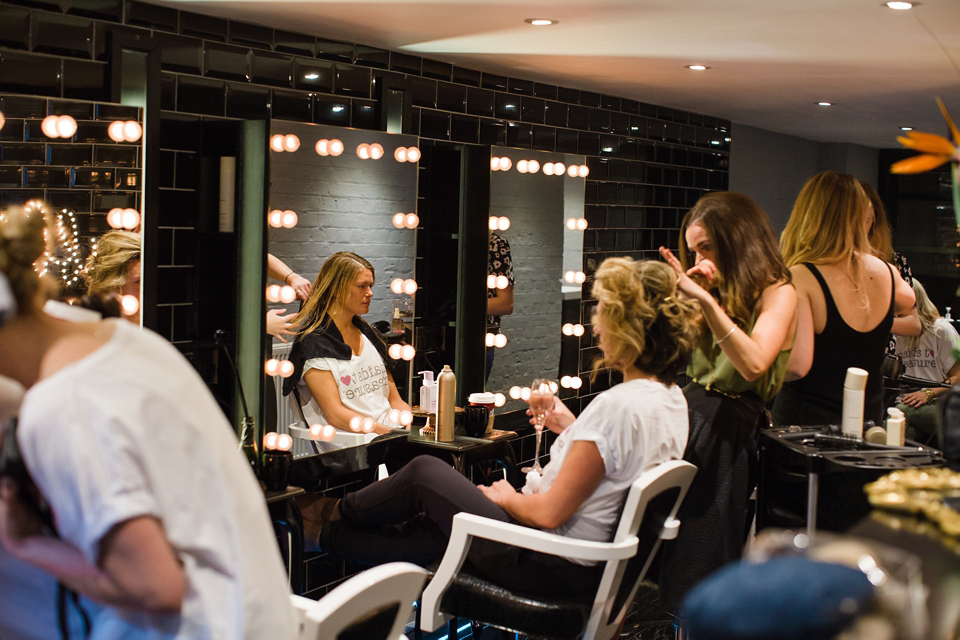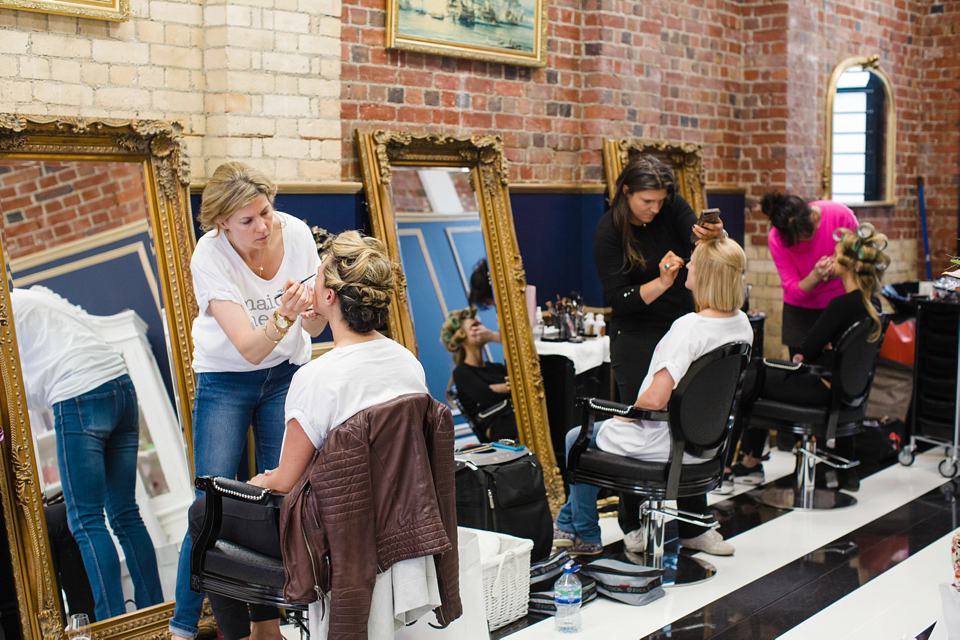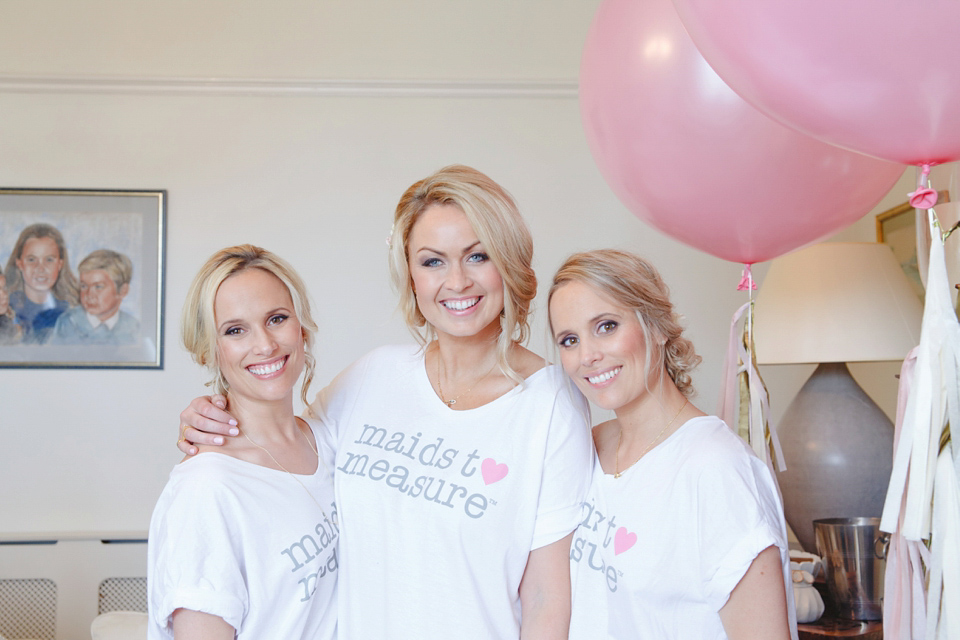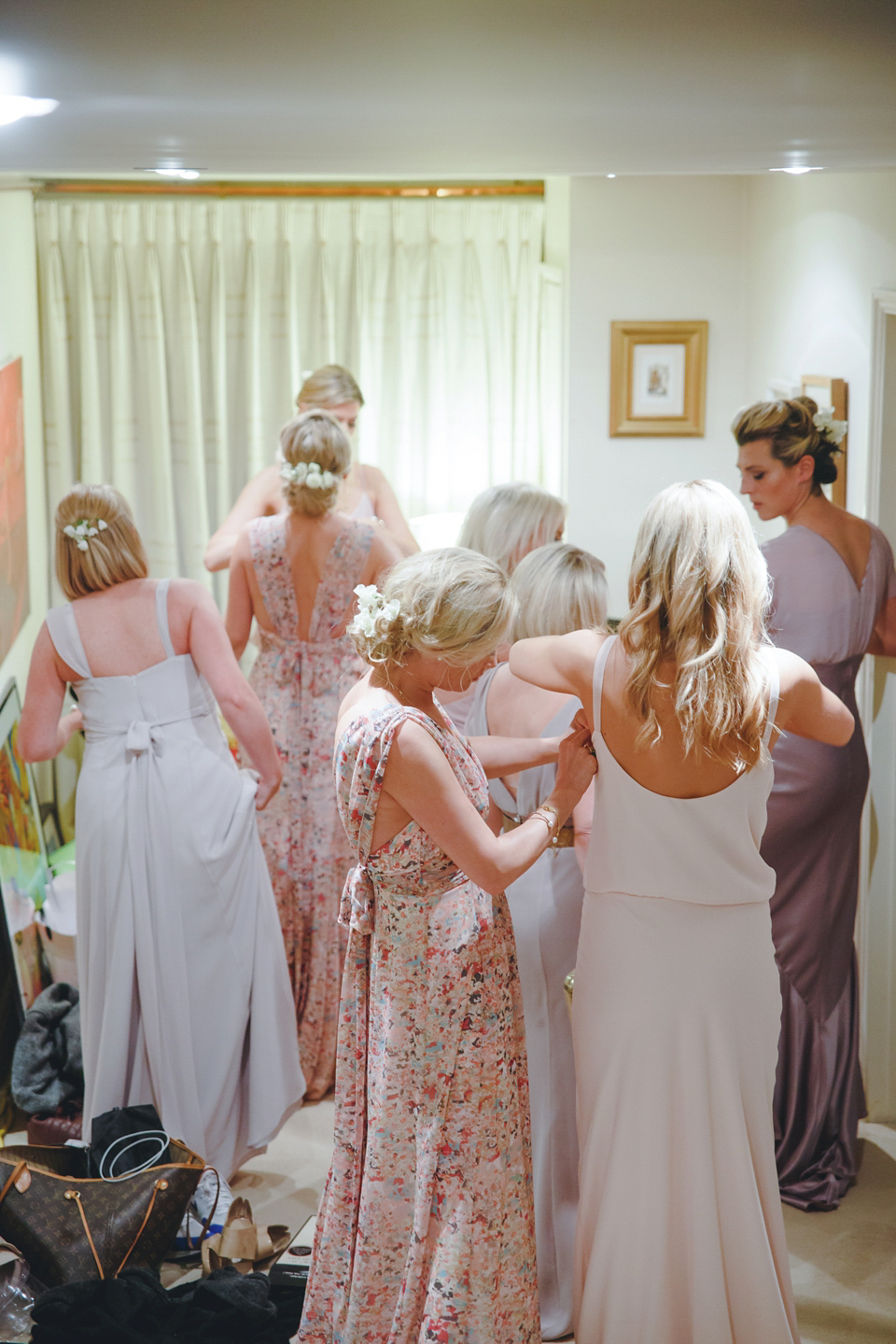 "Sophia of Lila picked out all the colours from my bridesmaids dresses to add to my hair vine which was handmade with soft clay flowers and was stunning.  She also used some antique mirrored pieces to give even more detailing and reflected the sequins of the dress beautifully (Lila also made the clay flower crowns for my maid of honour and flower girl).
In the evening I took my hair down and used Emmy daisy pins and a pearl and crystal hair comb to hold the front up.
Both Sophia and Emmy are simply wonderful – not only ridiculously talented but seriously nice people!"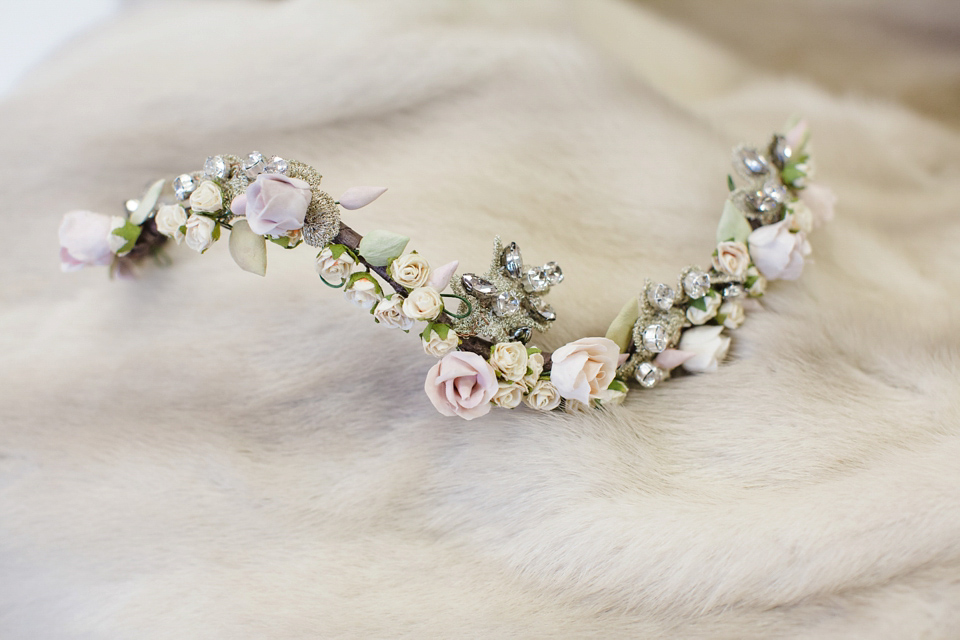 "Trying to keep 13 girls happy was hard work and they fought a little over colours, but I ended up ignoring them and asking my colleague Emily to take charge and choose what she thought best for each of the girls."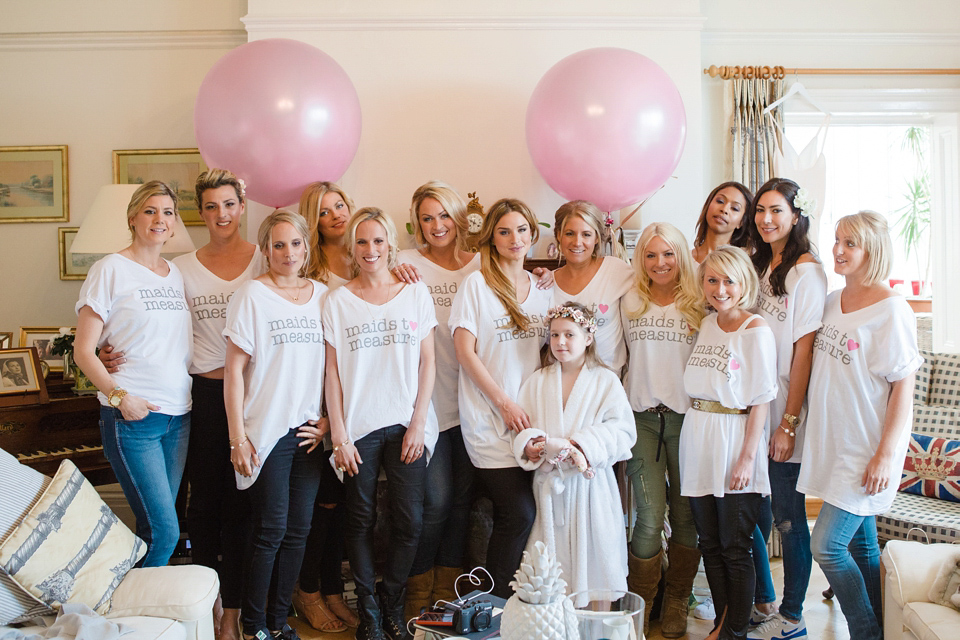 "My bridesmaids were my sister India (pictured below), who I founded Maids to Measure with was my Maid of Honour and then my best friends Lisette and Victoria Cooper (who are twins) were my Matrons of Honour.  I then had a school friend (Caroline), 3 university friends (Tanya, Sara and Dianna), 4 London friends (Carrie, Sophie, Joules and Louise), 1 Welsh friend (Julie) and then my step daughter Evie and my god daughter Mathilda as my flower girls."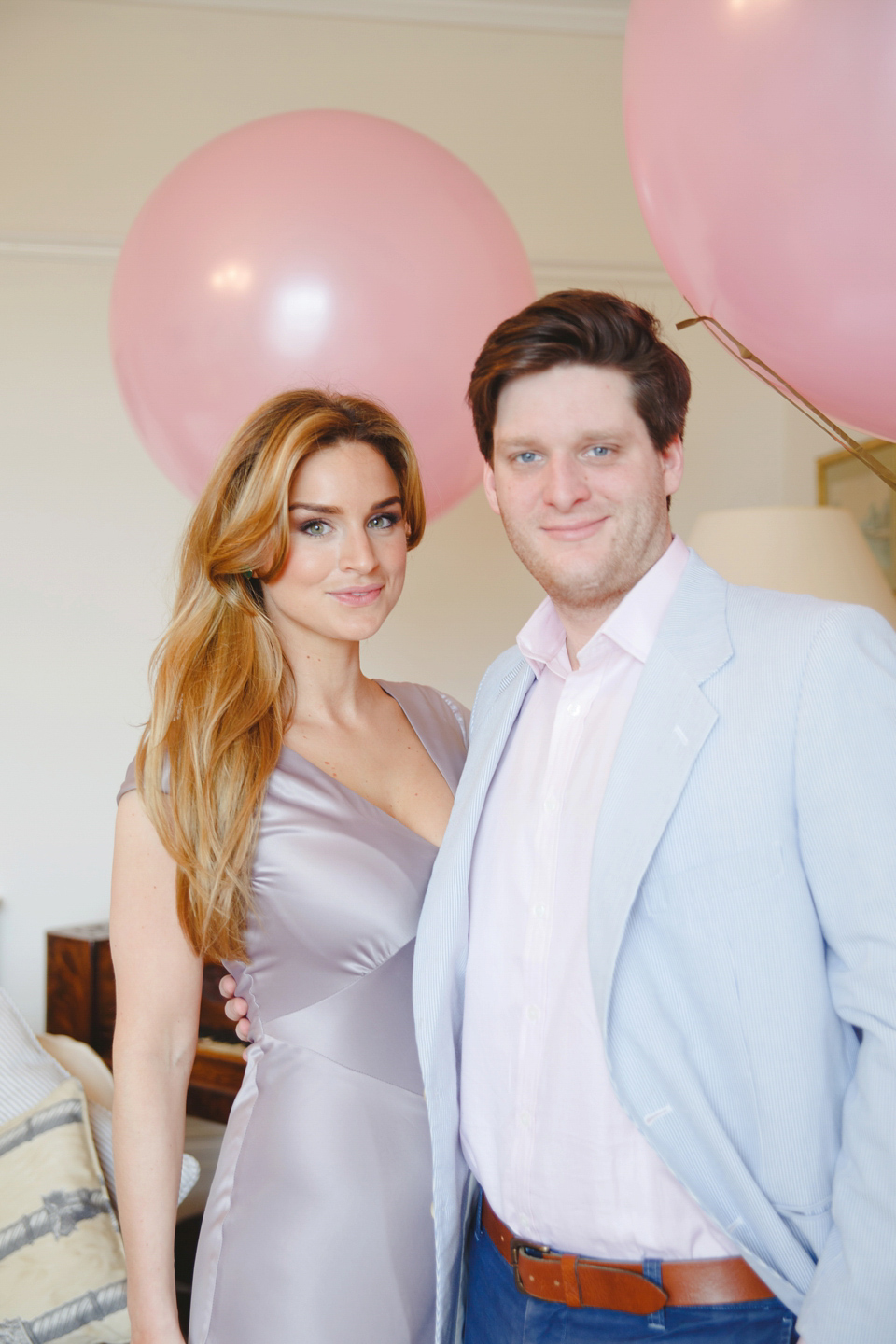 "I originally saw Emma Tindley's dresses at Luellas Boudoir in Wimbledon, who organised for me to meet the designer Emma herself. I gave her a very rough idea of what I pictured the dress to look like – classic, plain but V neck with some sequin detailing, which she sketched and got spot on straight away. I wanted the wedding to feel very laid back and casual, I felt this dress whilst having beautiful detailing fit the bill perfectly. In fact I was a nightmare as I left finding my dress so late and Emma was the only person who didn't scare me – I actually only saw the dress the Monday before the wedding but had complete faith in her. My maids of honour were having a nervous breakdown in case I didn't like it!"
"The top of the dress was sequin and pearl embellished fabric, with a very low V back with lace scolloping along the edge, the skirt was full circular sillk and tulle with a small train."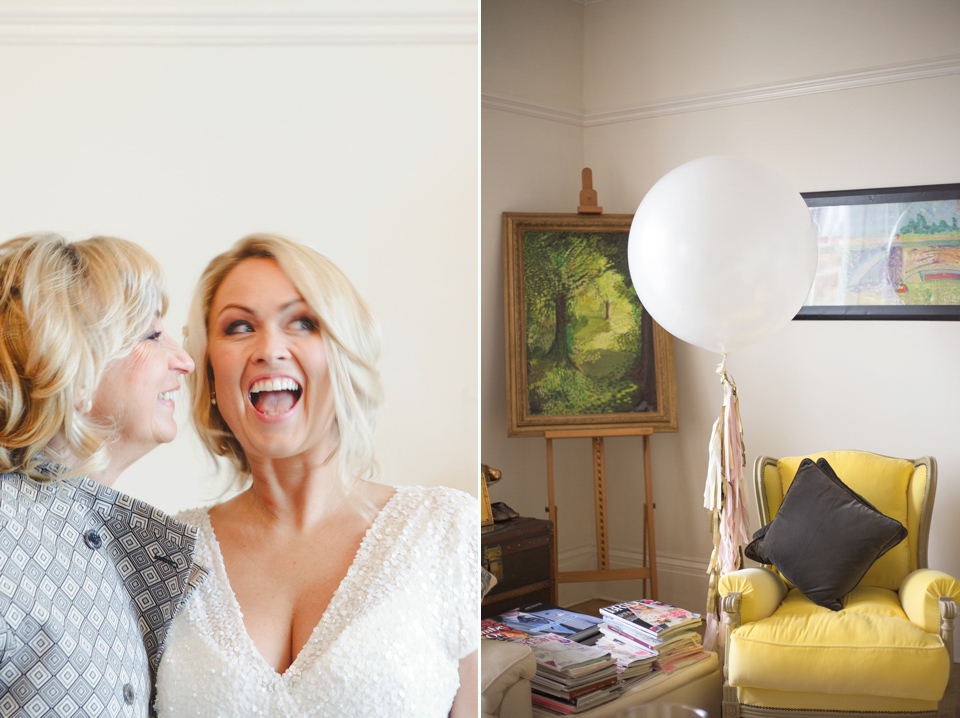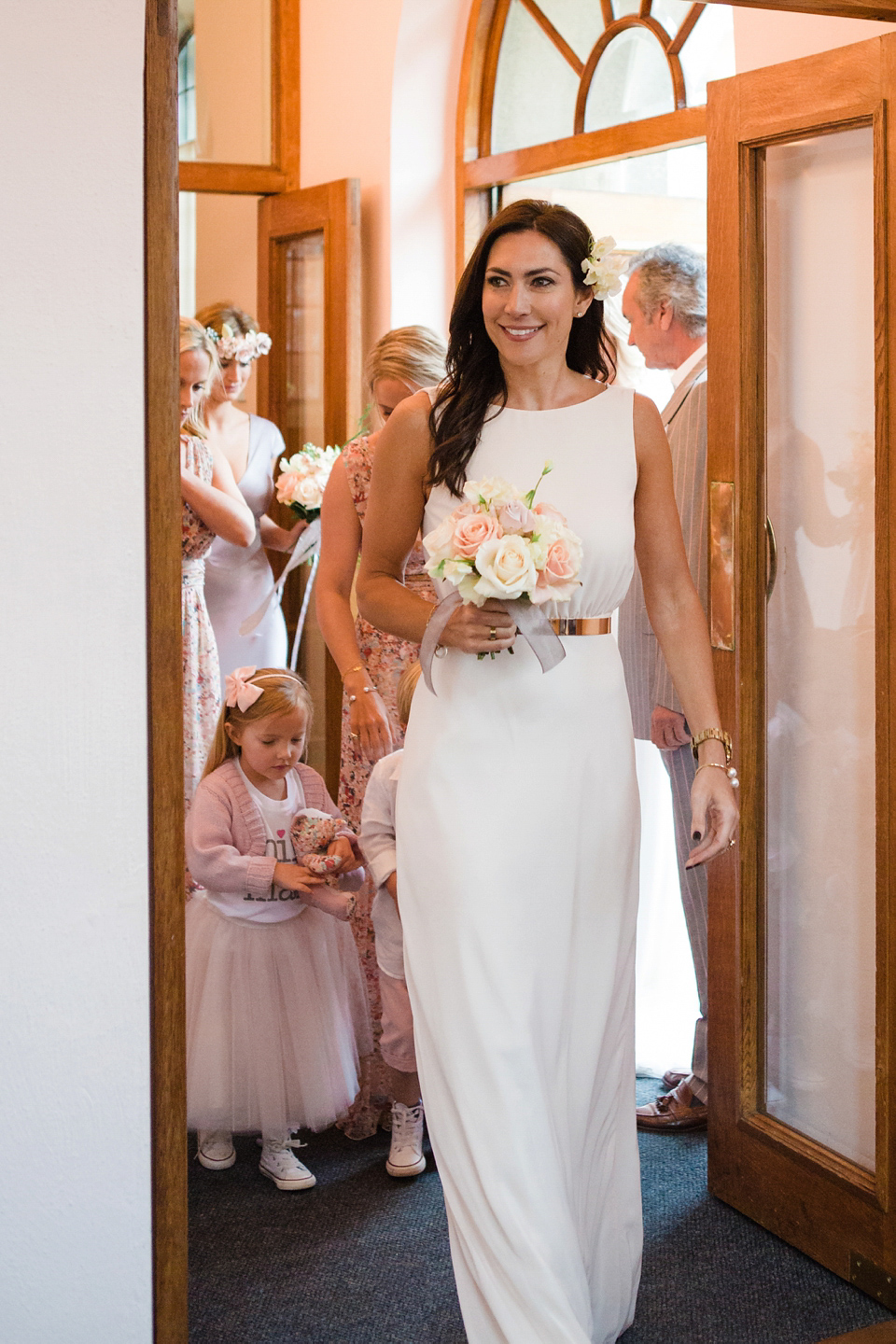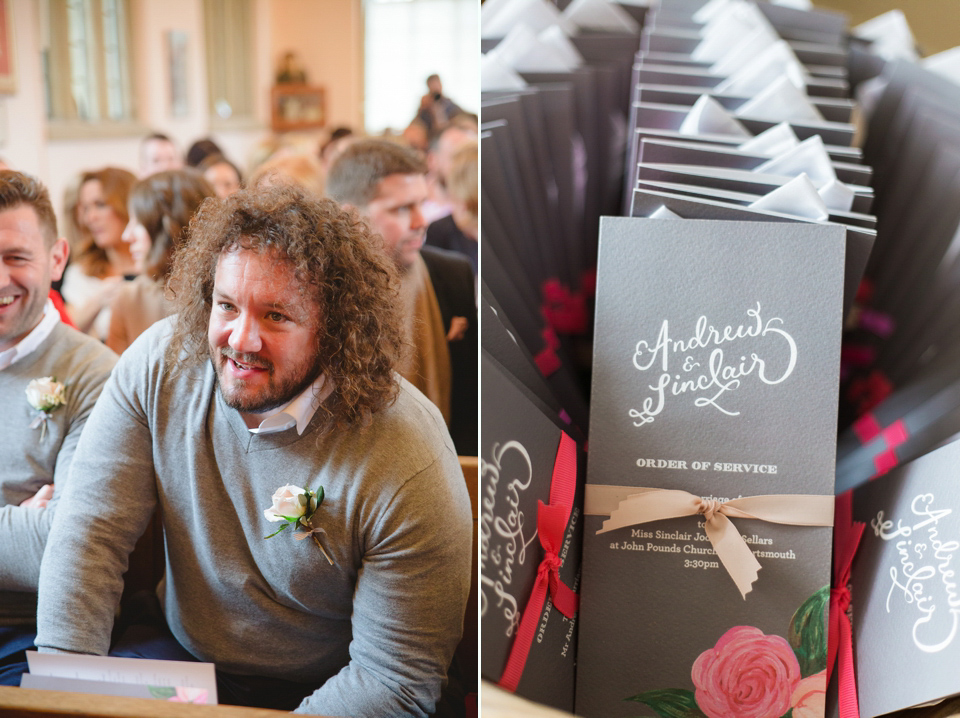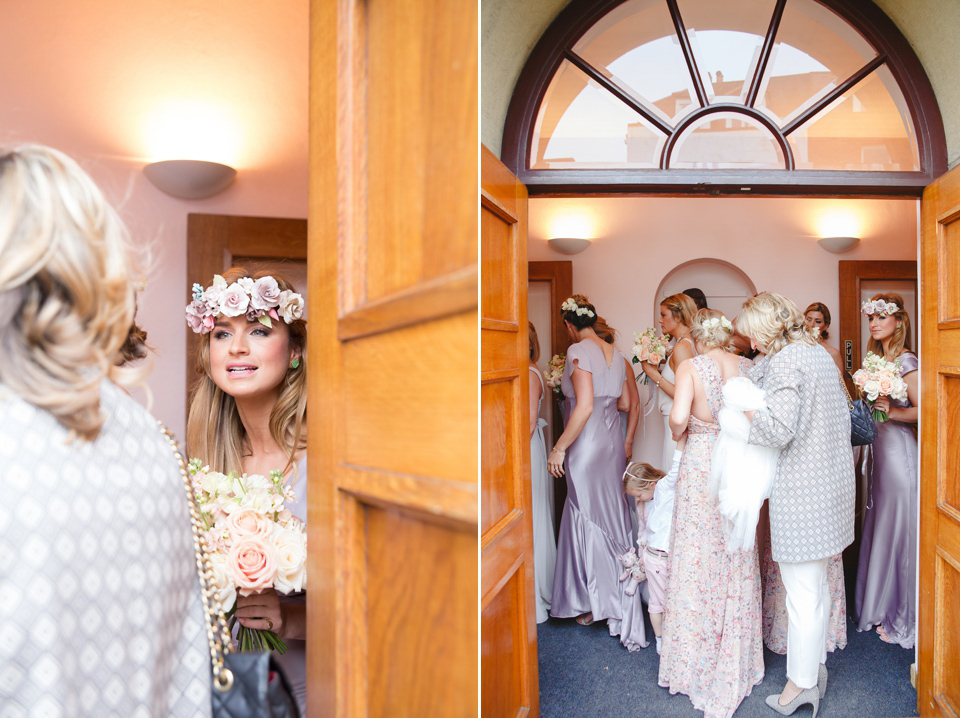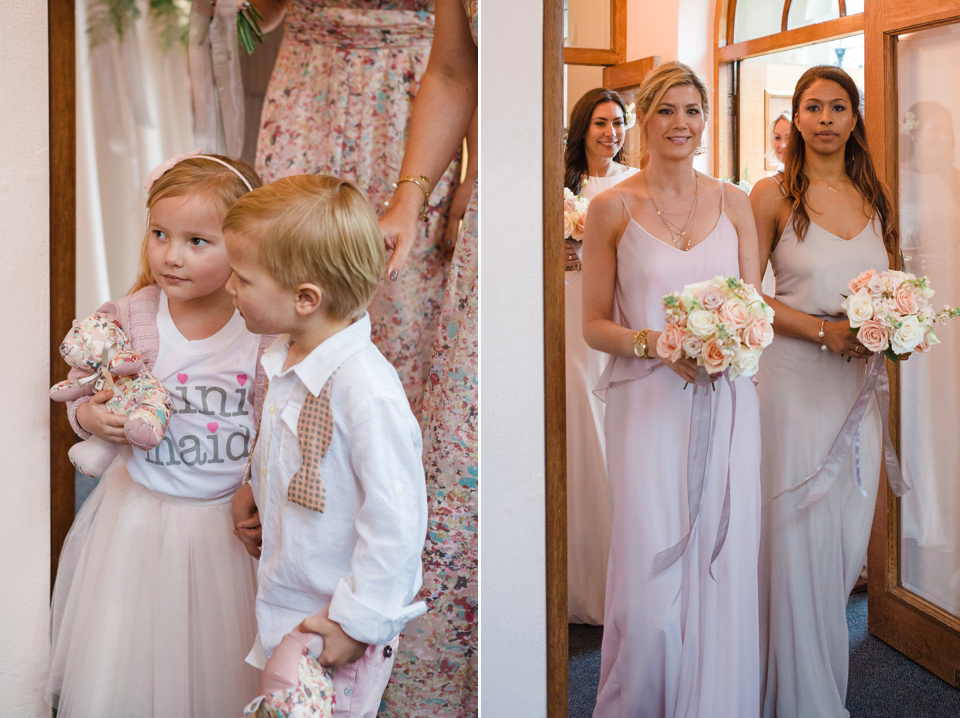 "My wonderful father (who convinced me leaving my career in law to join the wedding industry was a good idea!) walked me 'down the aisle'."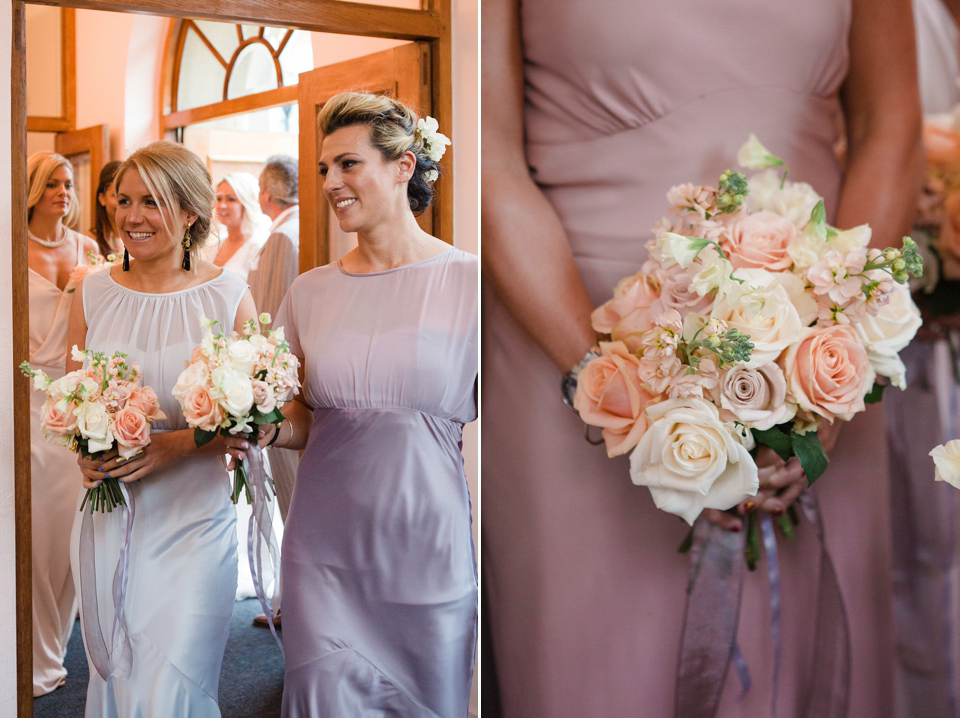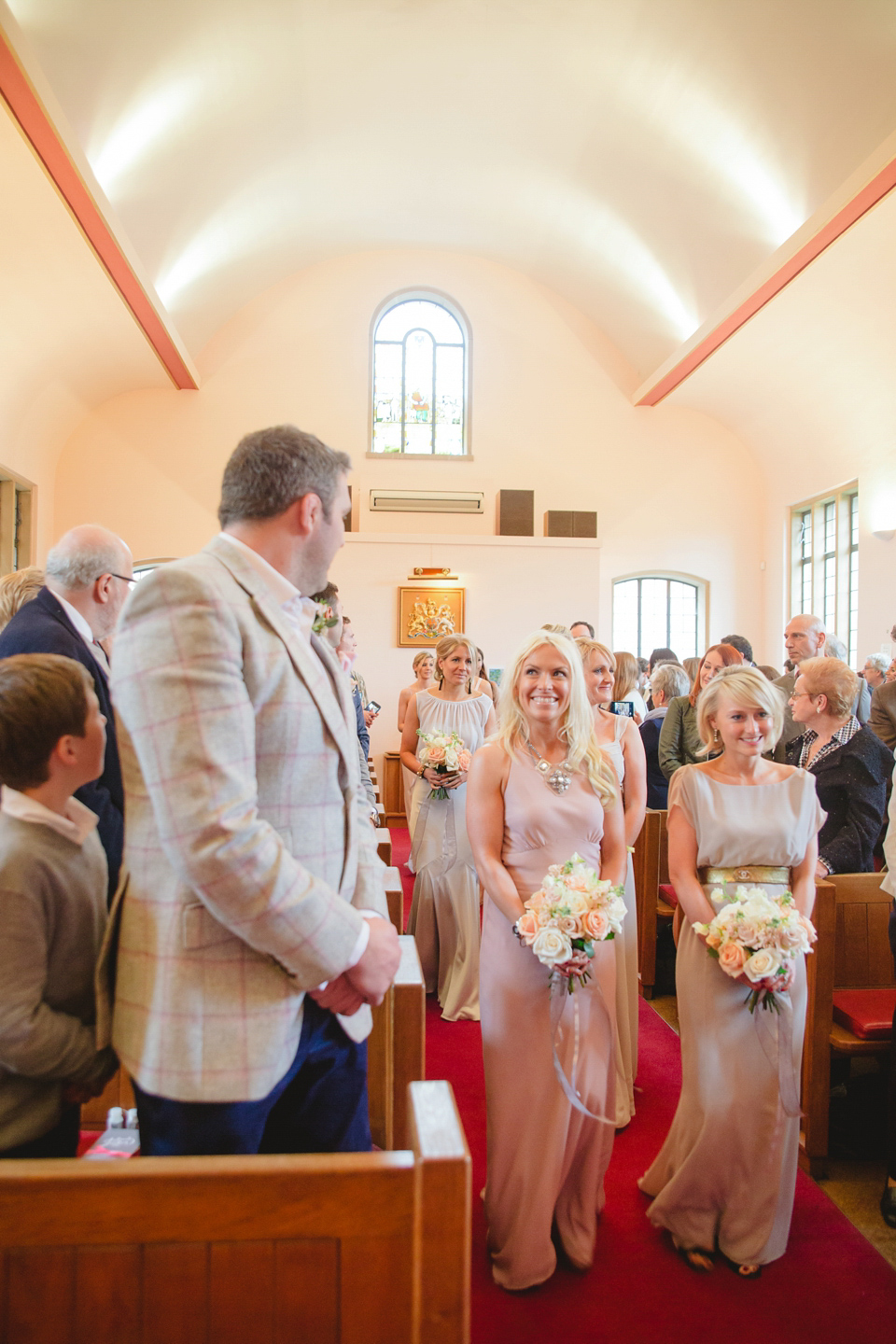 "My favourite part of the day was the service, I was most nervous about this part but actually was so surreal and such a beautiful service. I had my old school choir (St Johns chapel Choir Southsea) sing traditional but well known hymns, that everyone belted out, the church was packed and the atmosphere was so memorable. There was not a dry eye in the house and the readings we chose were modern but moving."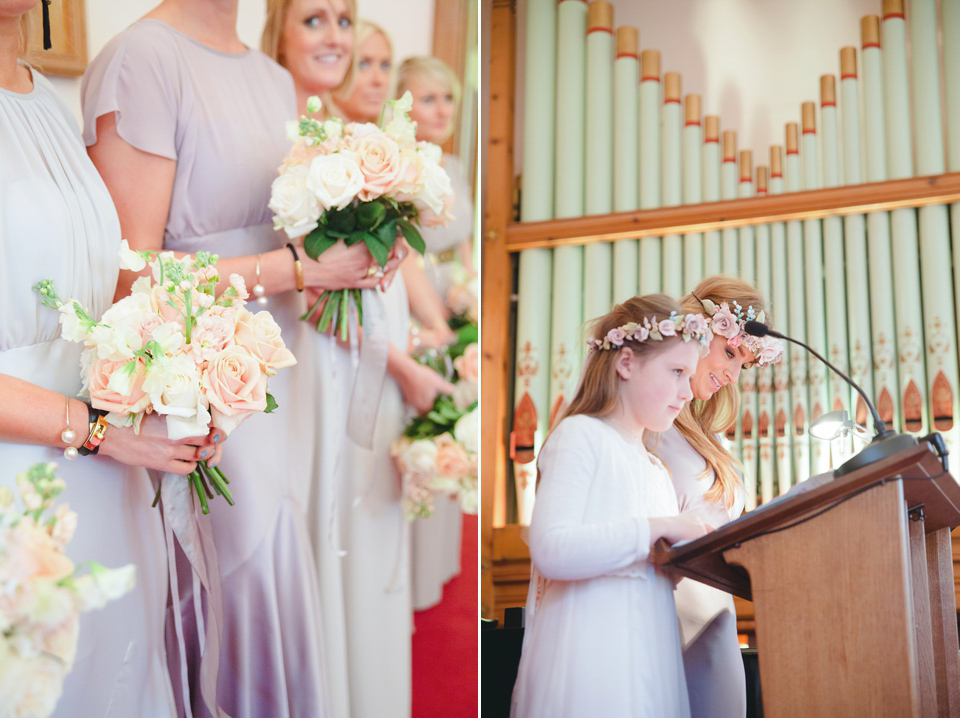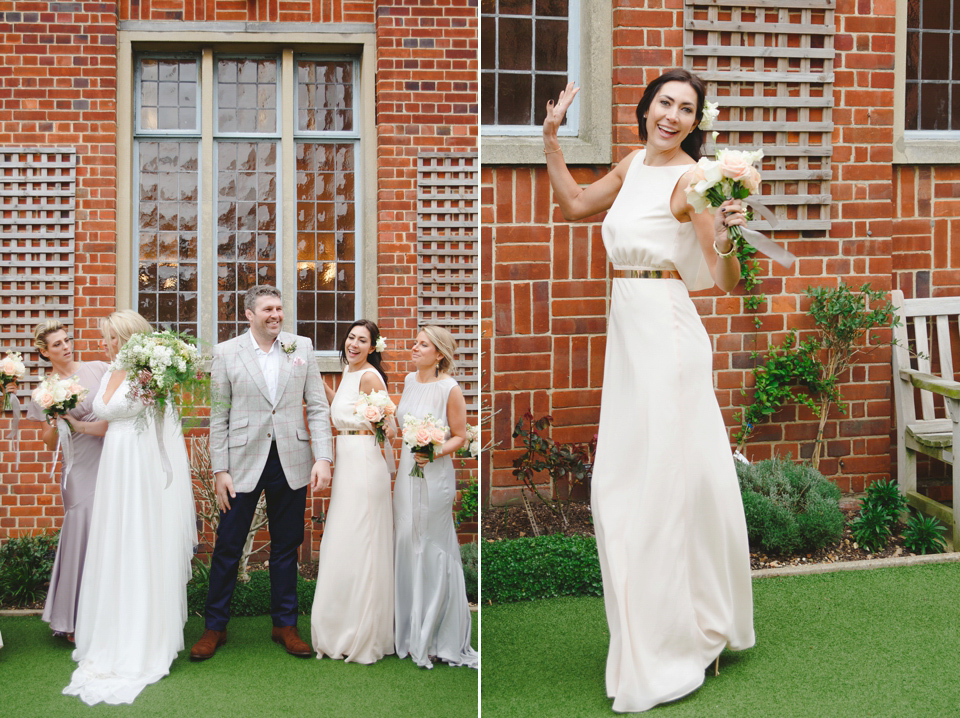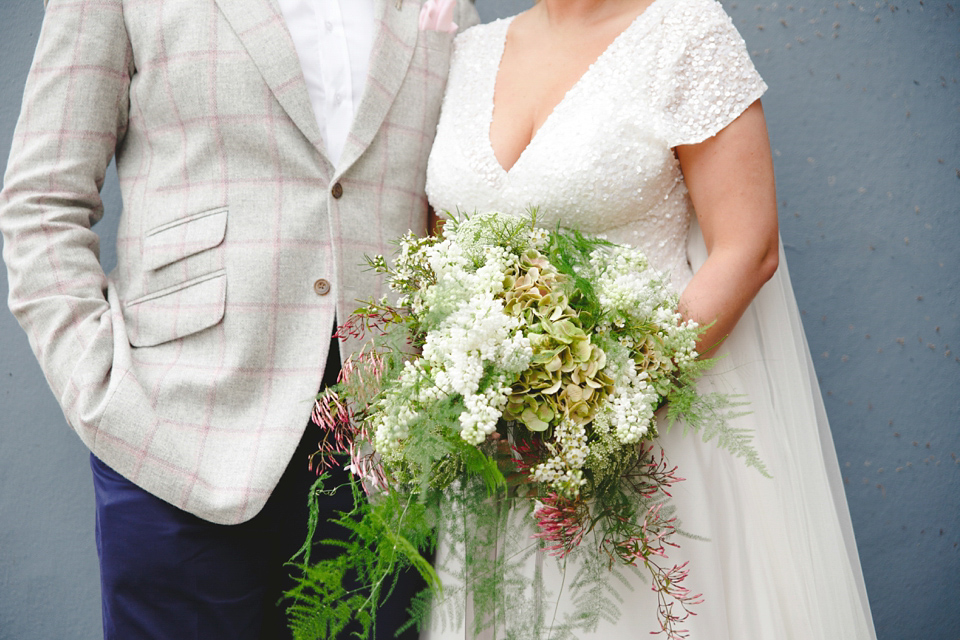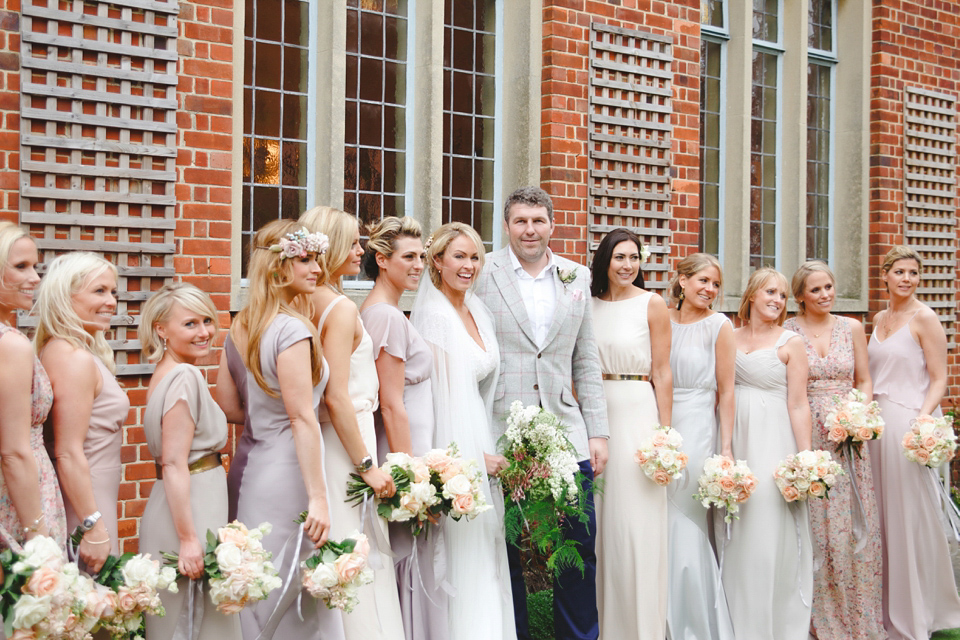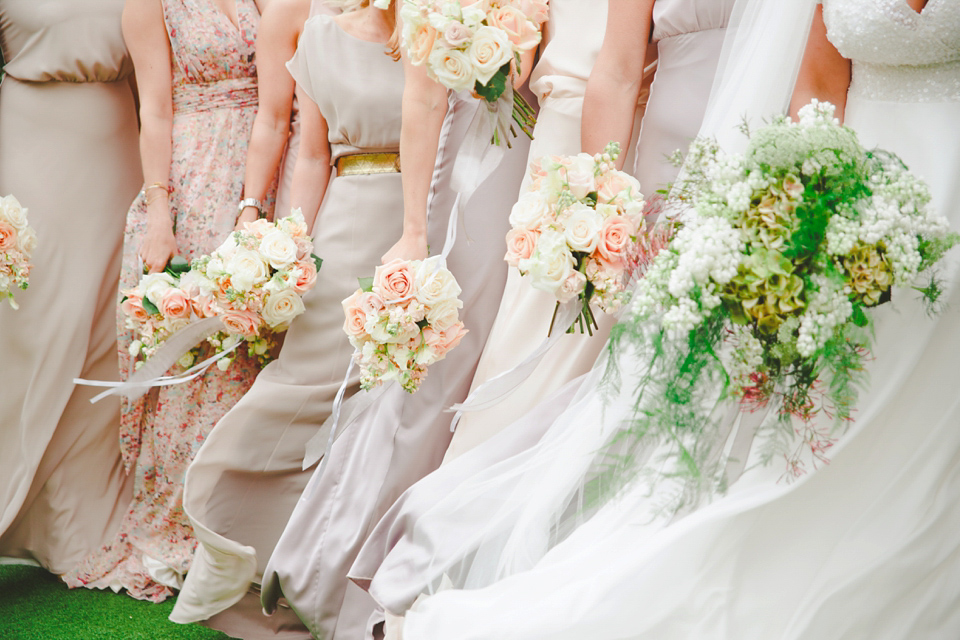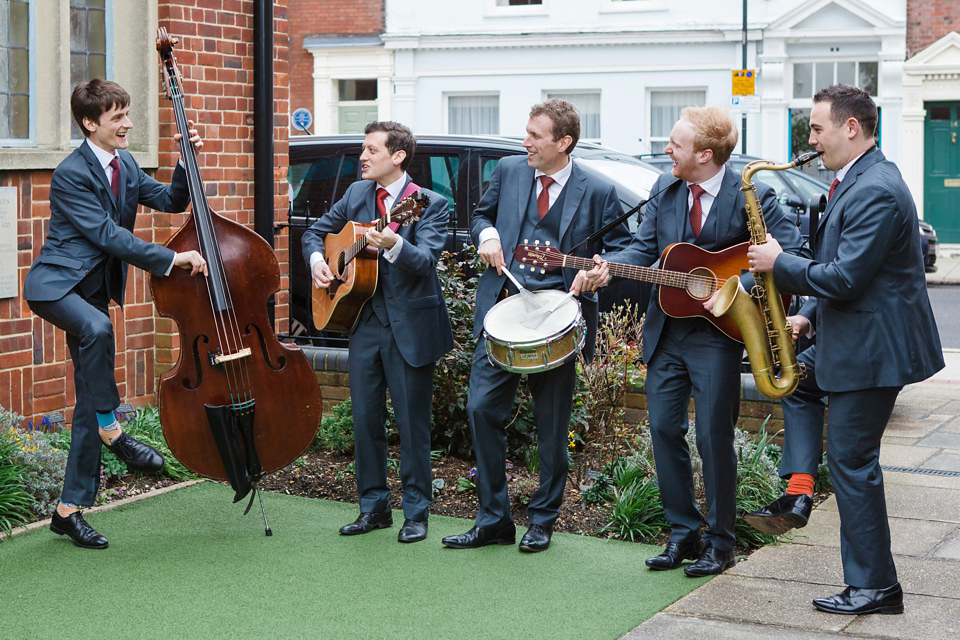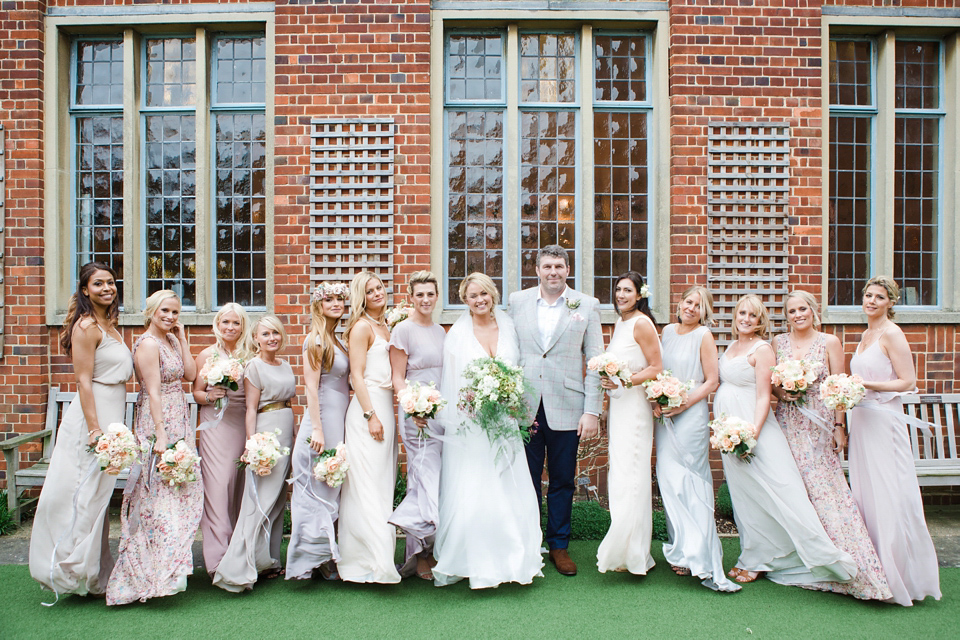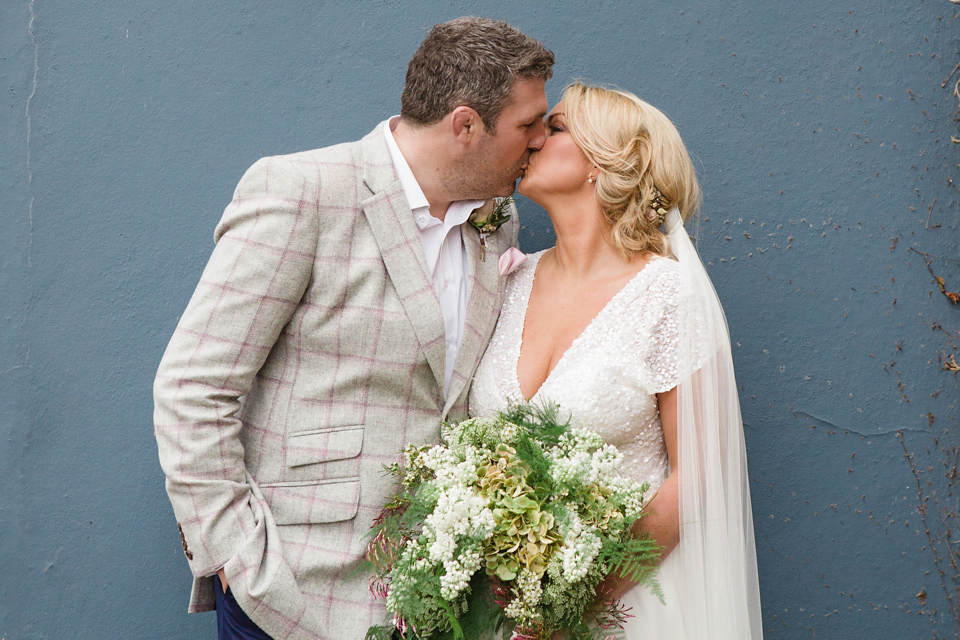 "Following our ceremony, we had a drinks reception at the Duke of Buckingham pub which is conveniently next to the church for champagne and good British food such as home made pork pies, scotch eggs, yorkshire puddings, mini sausages etc along with fresh seafood."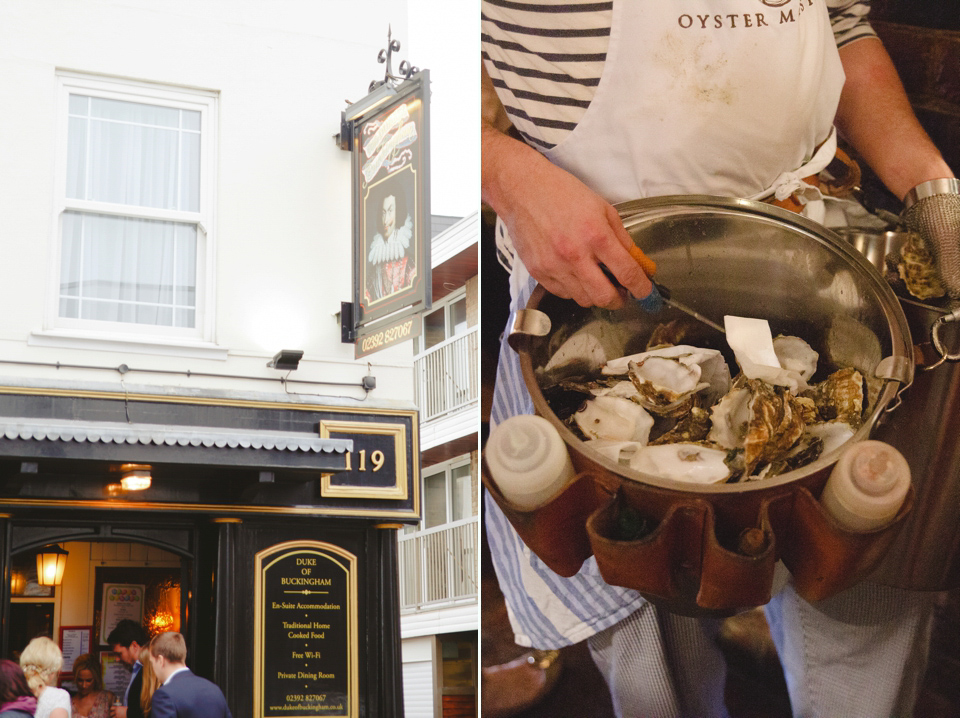 "At 6:30pm we moved to my family home at Windruff House on Clarence Parade in Southsea – an old townhouse on the seafront. My family backyard that I'd spent so much time in as a child was transformed into an urban cool venue. The garages became the bar and the patio was a chill out area, whilst the car parking area became a dining room!"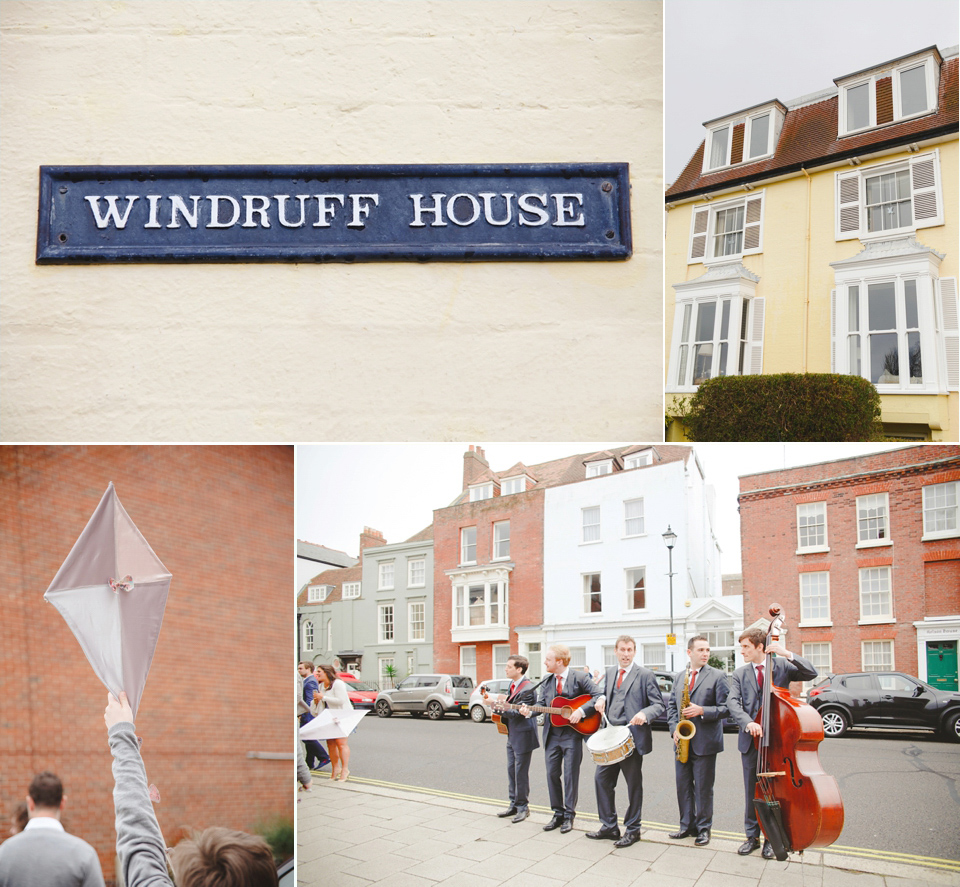 "All the venues were very personal to me, I went to play group at the church and the pub is where I had my first drink! Having the dinner at home in the backyard was special, although it meant very limited numbers, it was worth it."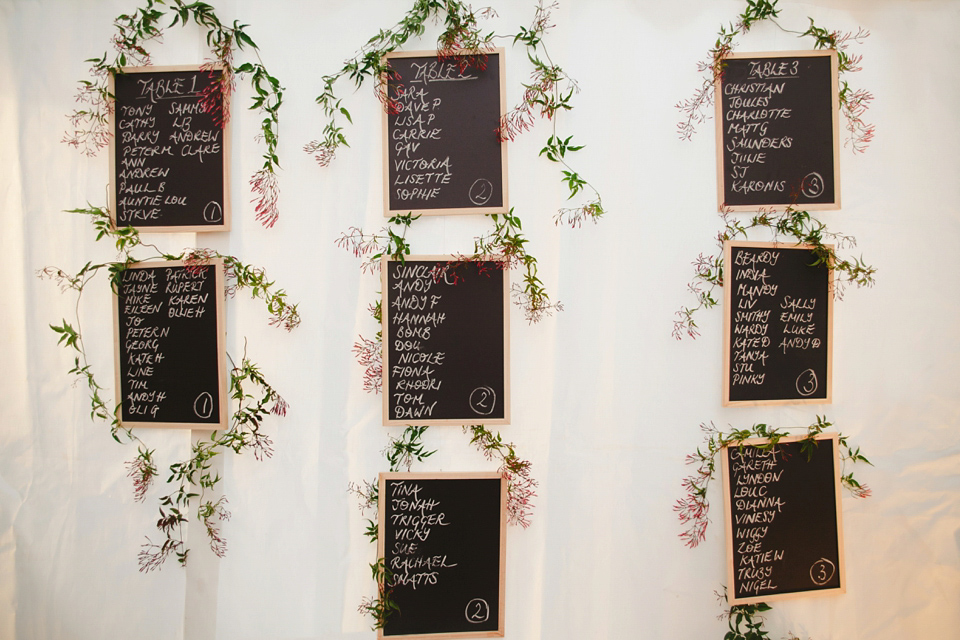 "Above the table we hung buckets for the wine, to give more space and add a feature which looked really effective, these hung from wreaths of greenery to add to the outside inside look, carefully put together by event stylist Louise Beukes who had previously sent me ideas and mood boards, constructed to make sure the back yard look pretty but cool and different."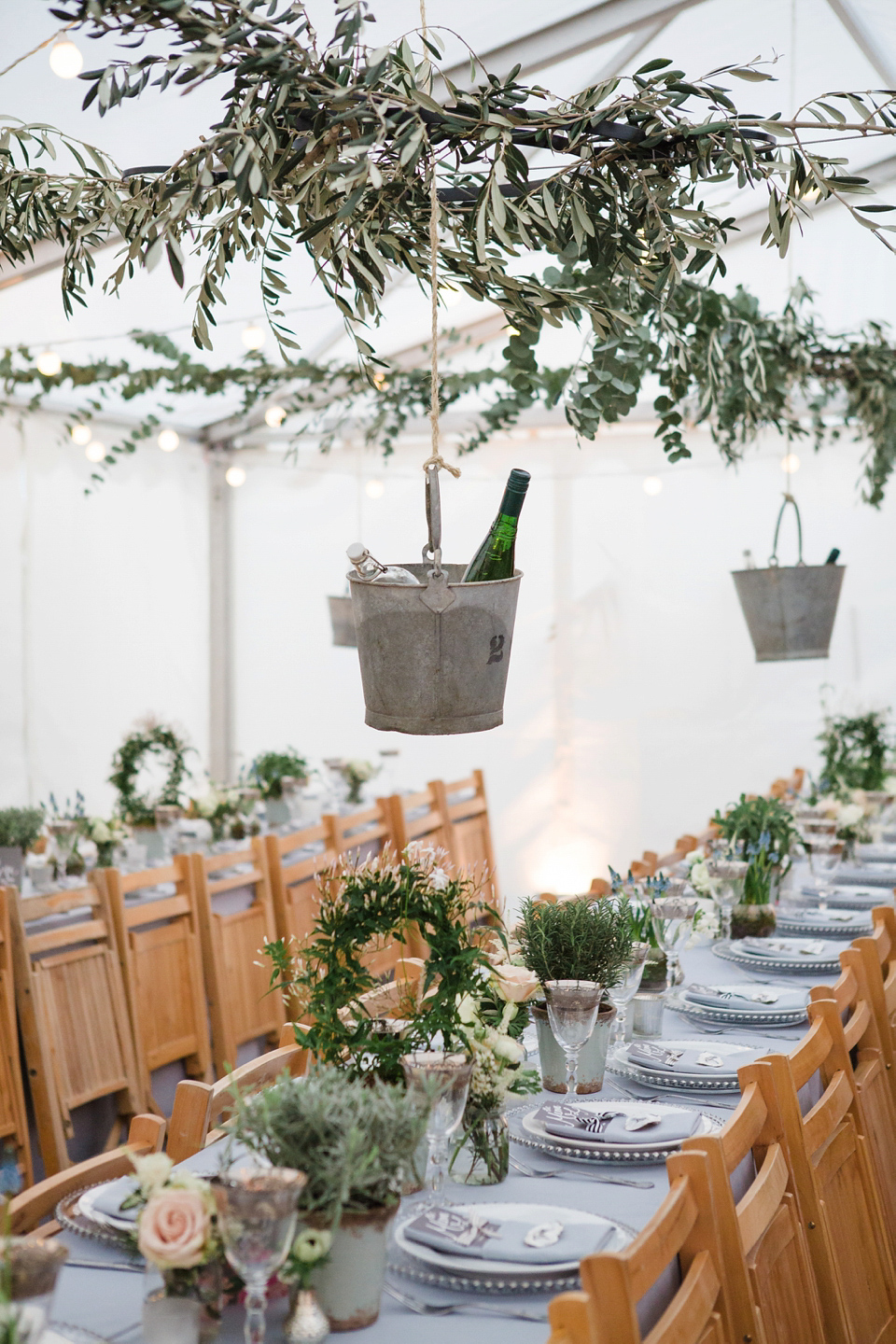 "I wanted it to be a little different, pretty but not too contrived. I wanted it to feel like my backyard but have pretty touches. We used lots of little tea lights, individual vases with lily of the valley and pots of herbs everywhere. We wanted the space to feel like the garden as it is but with a roof over it. We put pretty pots and t-lights up the fire escape and made good use of all the old garage doors."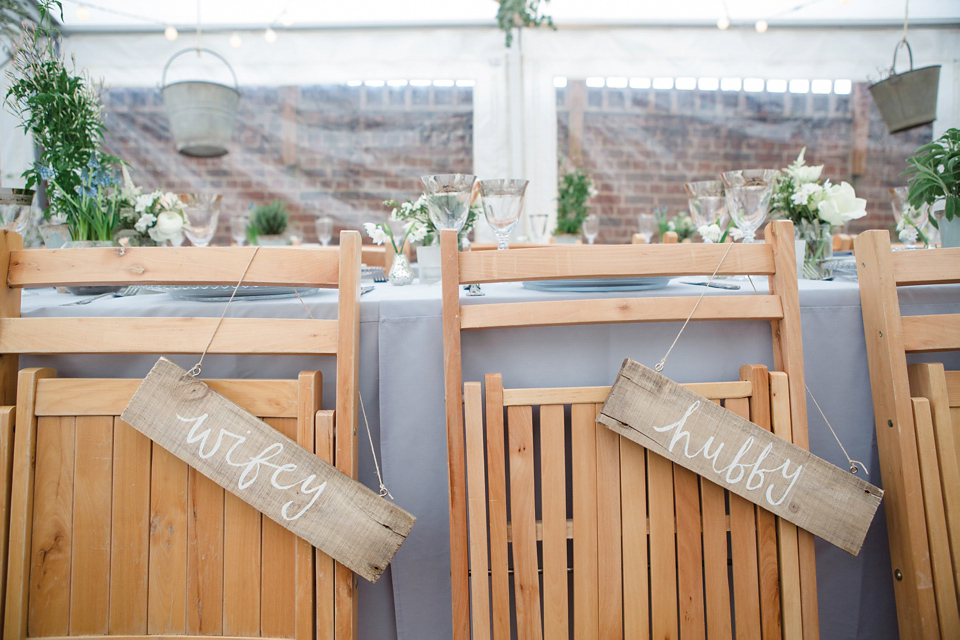 "What I didn't want it to feel like was a marquee, and I didn't want any flooring either, so we kept the concrete floor and just covered it in old antique rugs we'd borrowed from The Little Lending Co. and metres and metres of festoon lighting from Bellaboo and Beau."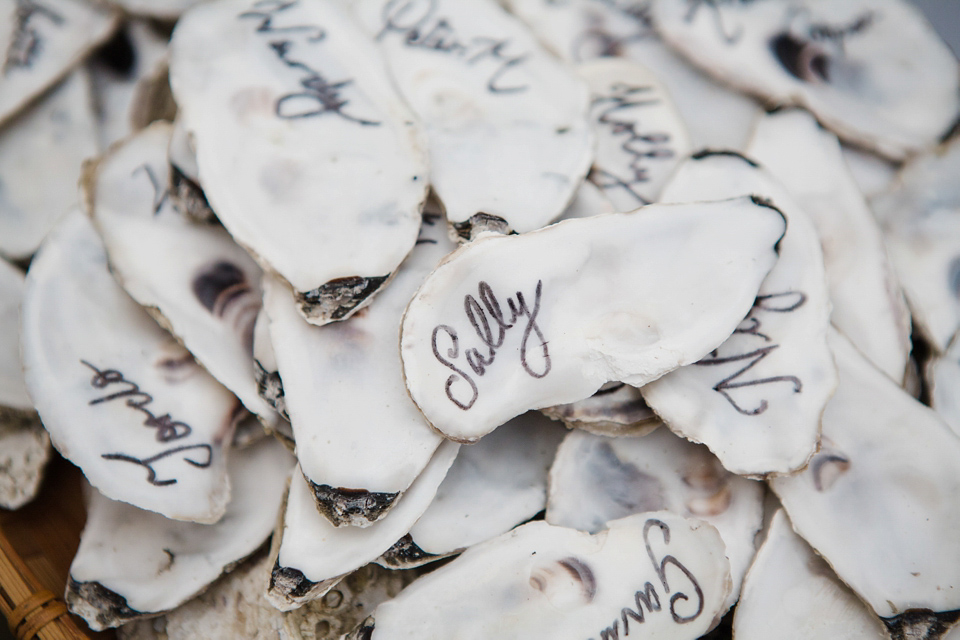 "Blue Sky Flowers did all the girls flower crowns, bouquets, button holes and dressed the entire venue. We gave florist Liz free reign – she'd come to see the backyard before and she knew I wanted a very outside inside feel, I gave her no guidance apart from English Garden, backyard feel nothing to match matchy or neat."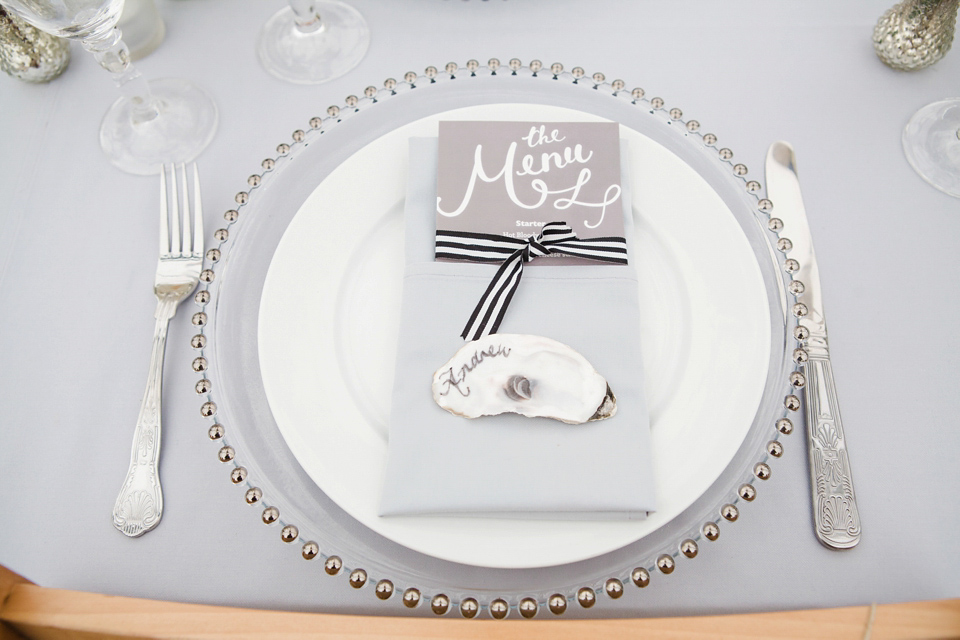 "We had lots of furs and blankets everywhere and the chill-out area ended up having a slightly Scandinavian feel with all the antlers on the coffee table and lots of candles from Wick and Tallow using a scent chosen by us both."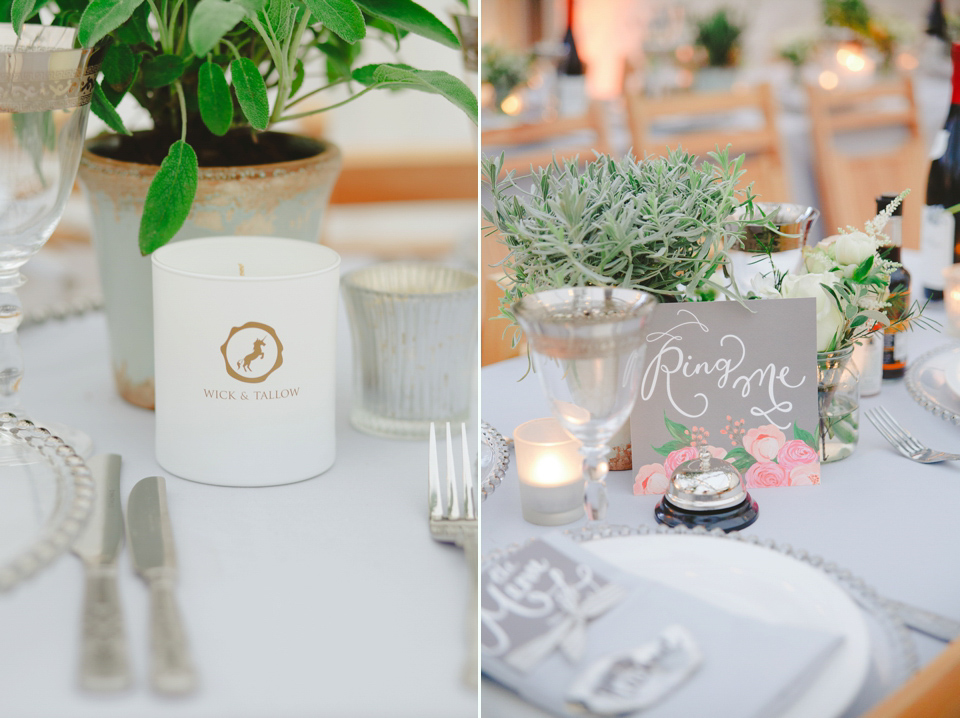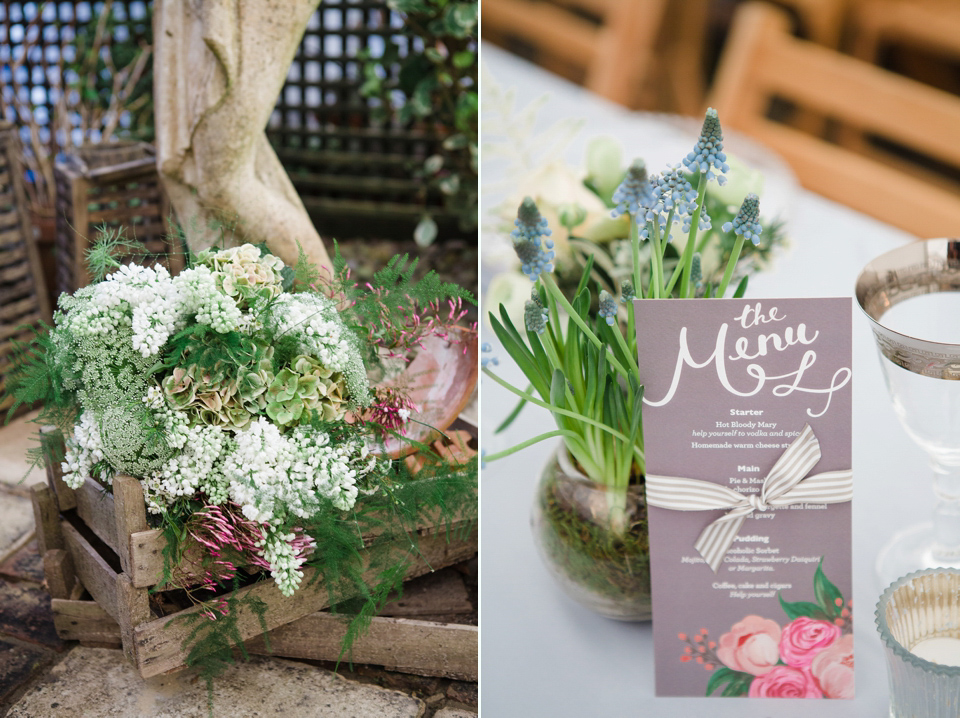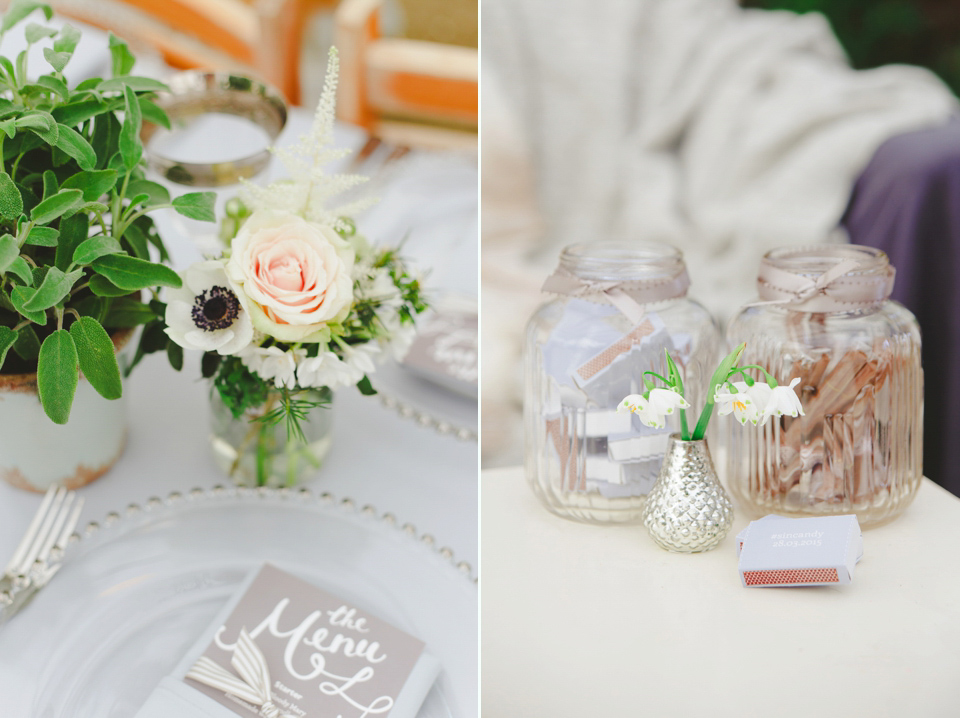 "The graffitti in the garage, which we turned into the bar, was left over from a party I'd had when I was 15, it was amusing to read and alot of the people mentioned were at the wedding, which again gave a quirky twist."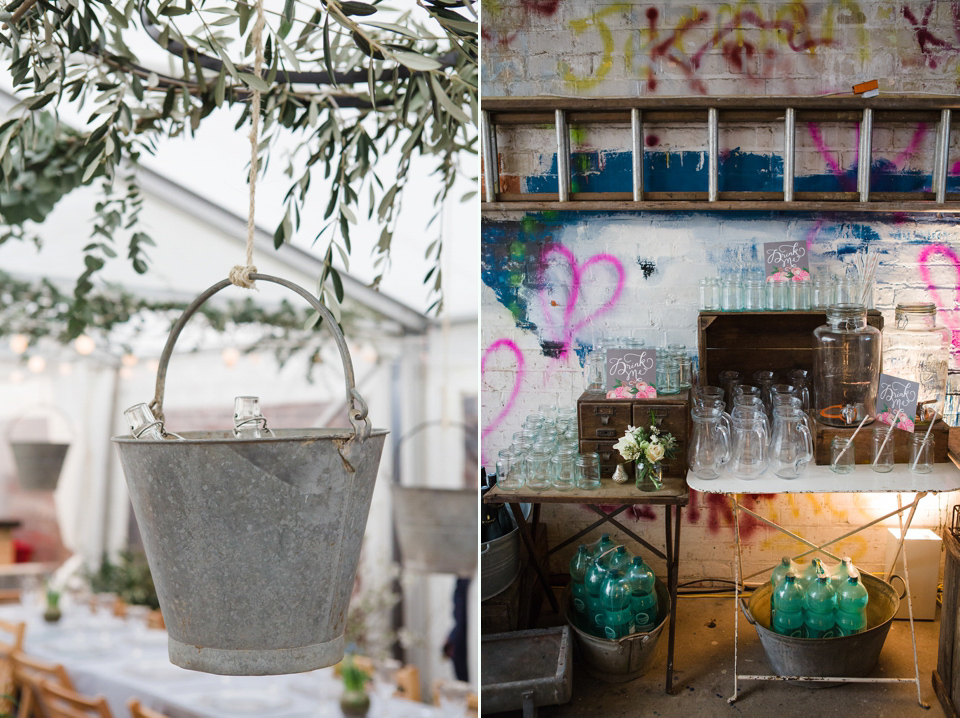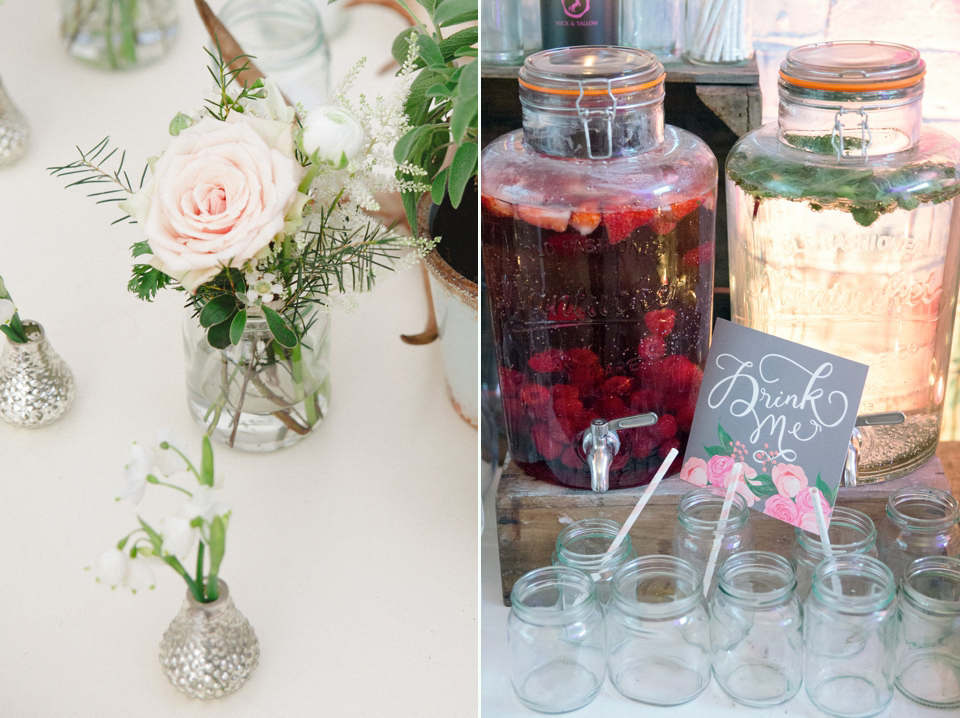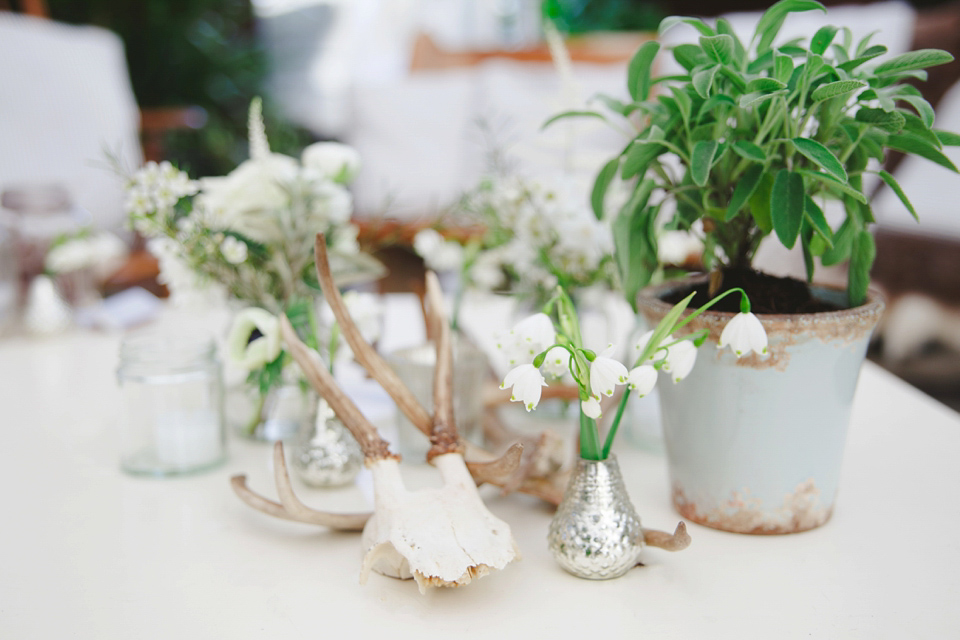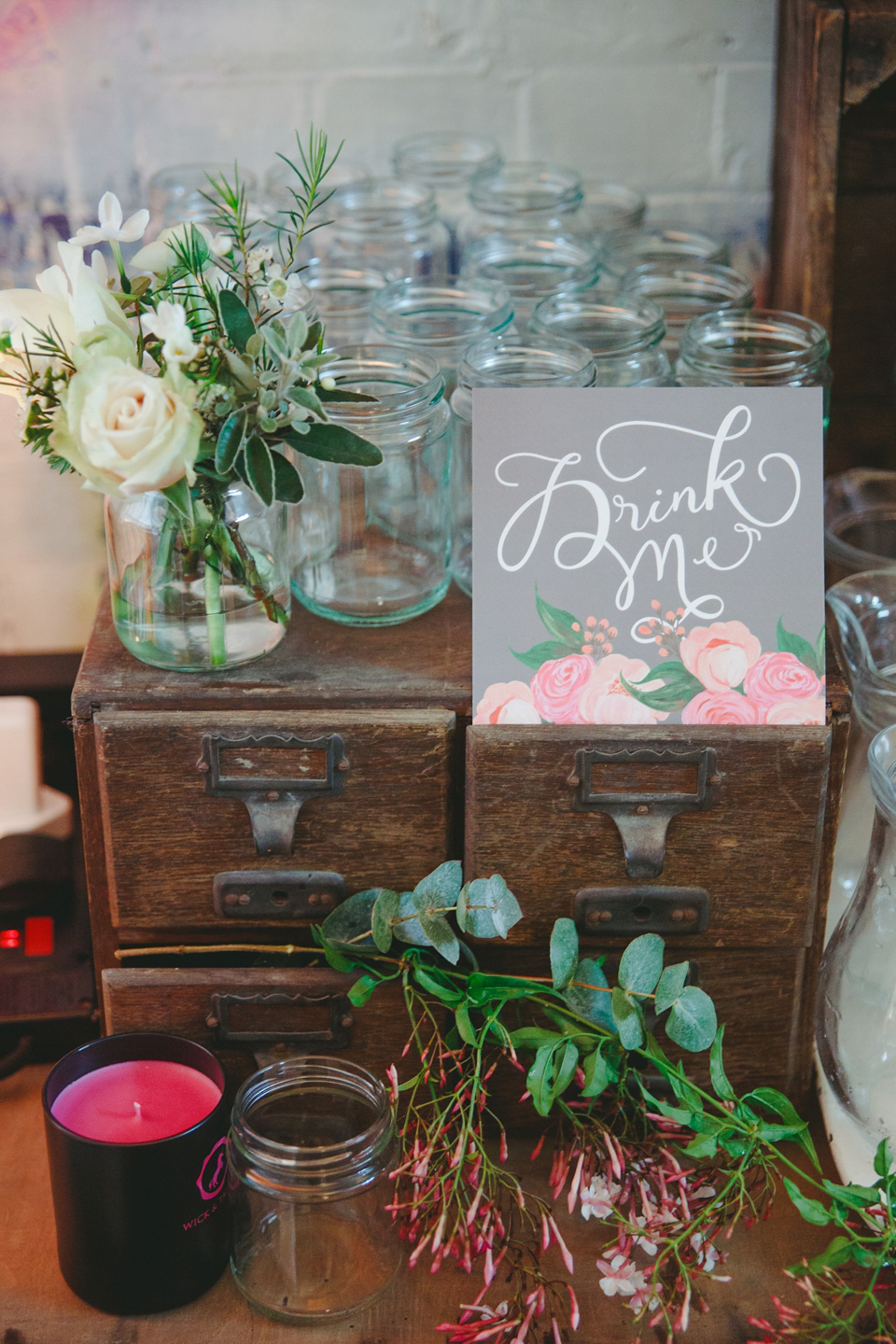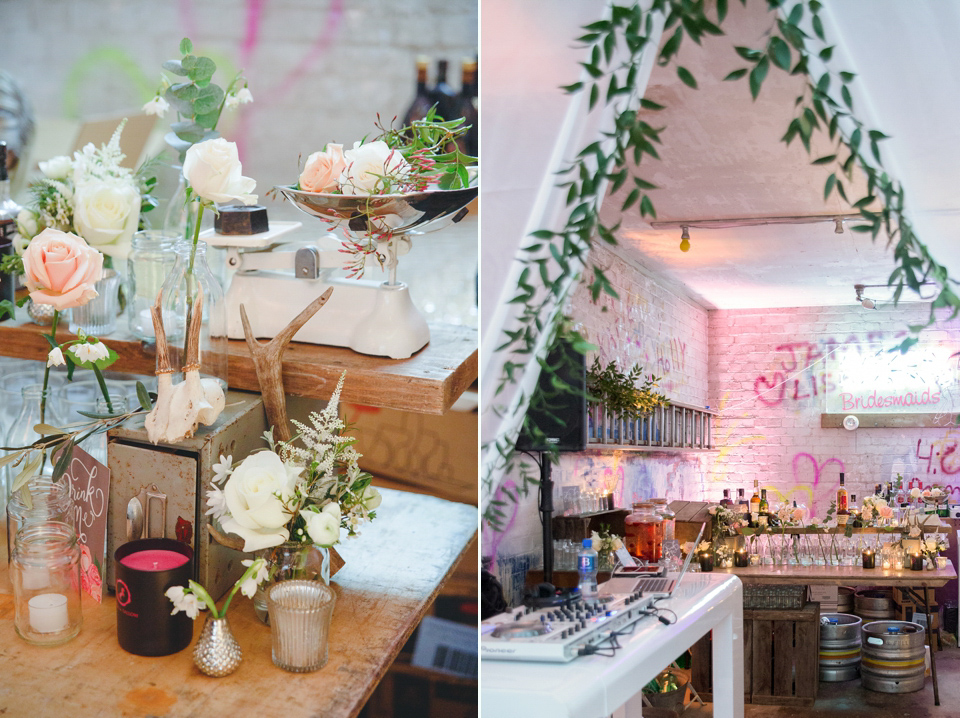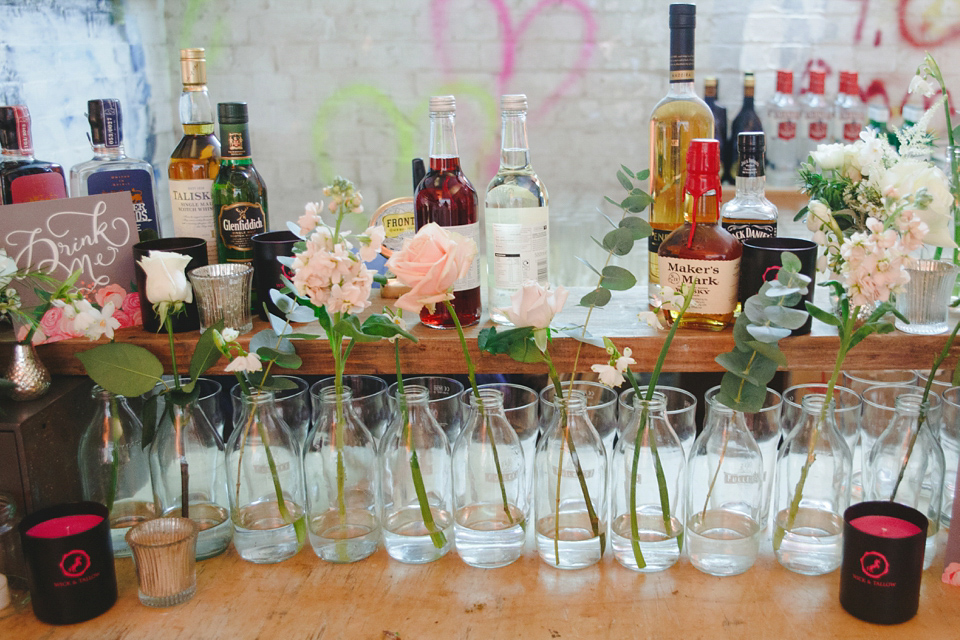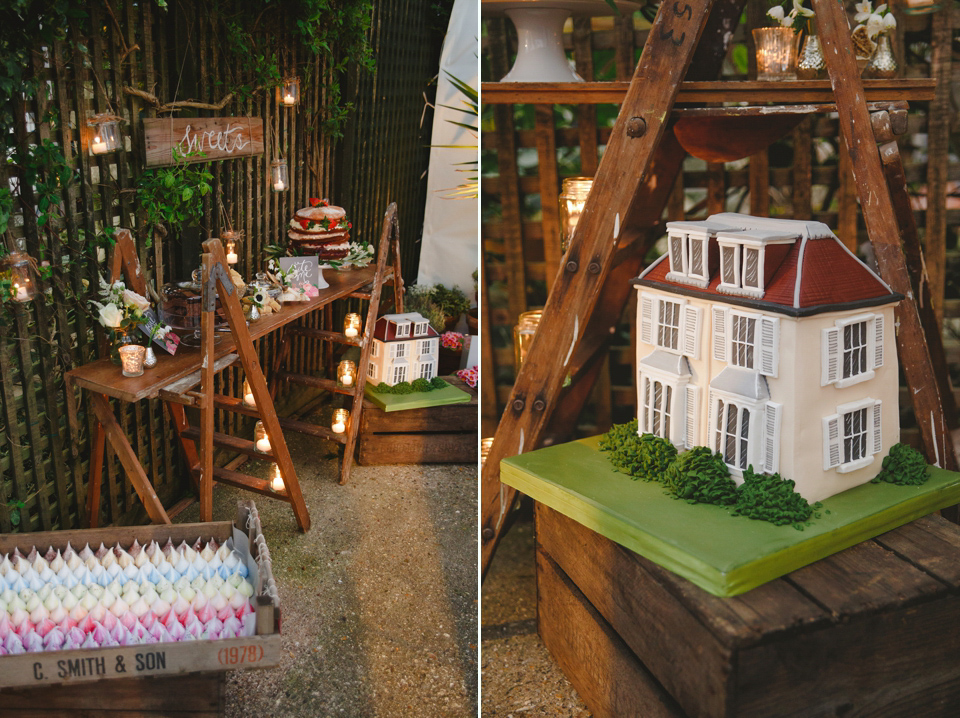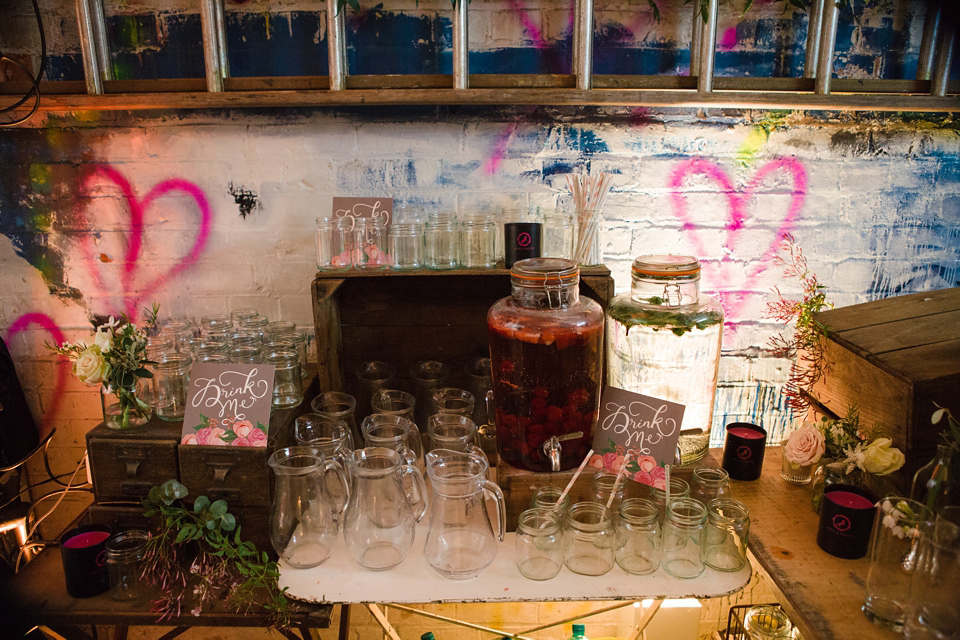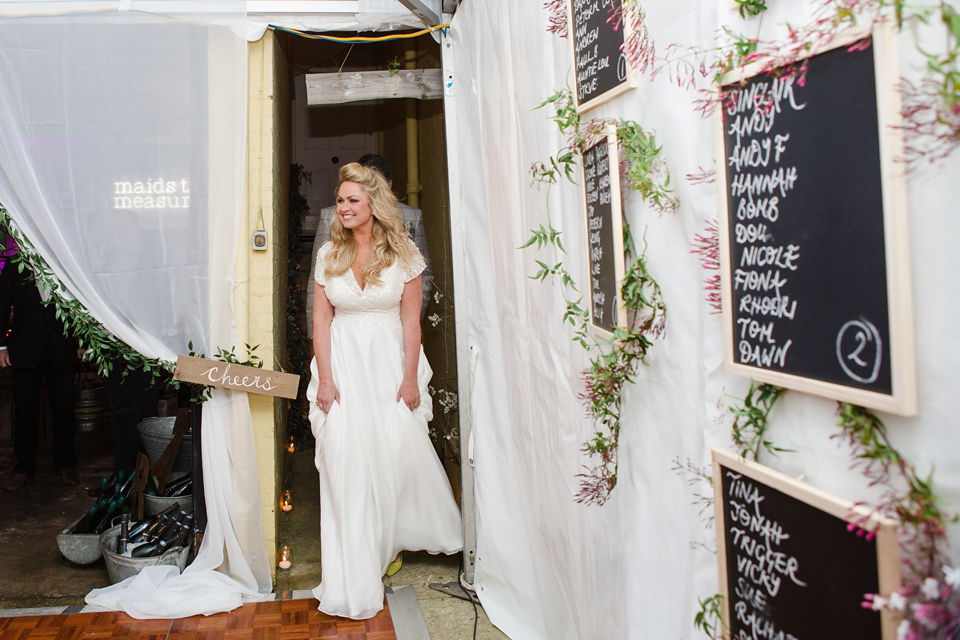 "Our first dance was to the Euro vision song contest winner Conchita Wurst's 'Rise like a Phoenix'…!"
Words of Wedded Wisdom
"A slightly boring one but security is quite important to think about, I didn't until the last minute but is worth thinking about as the night before the marquee is all set up with everything inside so might be worth getting one of the boys to stay over in it – it's an Ushers duty! The only other thing is, we would have maybe started the day earlier so the celebrations could have latest longer."
How absolutely beautiful – huge huge thanks to the gorgeous Sinclair for sharing her most beautiful and inspiring day. And ladies, if you're looking for your own beautiful bridesmaids dresses, you might well want to visit the Maids to Measure this morning.
I'd love to hear from those of you who
Love Annabel xx
Photographer – Claire Graham & Lucy Davenport
Film – The Camera Chap
Planner – Bride and Glory
Stylist – Louise Beukes
Venue  – The family home at Southsea
Dress – Emma Tindley
Bride's Veil – Exquisite Brides in Winchester
Bride's Hair Accessories – Lila
Bride's Shoes – Freya Rose and Emmy
Lingerie – Pompadour lingerie
Grooms Suit – Dress 2 Kill
Bridesmaids – Maids to Measure + shoes via Charlotte Mills + bracelets via pretaportobello
Flowergirls – Maids to Measure
Florist – Blue Sky Flowers
Cake – Cakes by Robin
Entertainment – Matt Maurice (DJ) + The London Essentials (band)
Catering Company – Hospitality Solutions Portsmouth
Stationery – Berinmade
Bridal beauty – Sapphire Pink + Sara Duffy Make-up + Camilla Tew + Marcus Milhell
Antique rugs hire – The Little Lending Co.
Festoon lighting – Bellaboo and Beau