Today's couple got married at the gorgeous Ratsbury Barn in Kent on the 8th of August. Louisa works in Children's theatre and has just started her own business Loulou Moore, inspired by her crafty wedding. Russell is an art teacher so together they made a great deal of things for the wedding themselves. They held their reception in big top marquees in a field beautiful Kent countryside.
"We had a colour palette of dusky pinks, mushrooms, natural greens and gold tones. We both love making so we wanted it to be an amalgamation of crafts with a natural feel but a glamorous finish. We were going for romantic, handmade, soft and beautiful and I think we managed it!"
Photography by Camilla Arnhold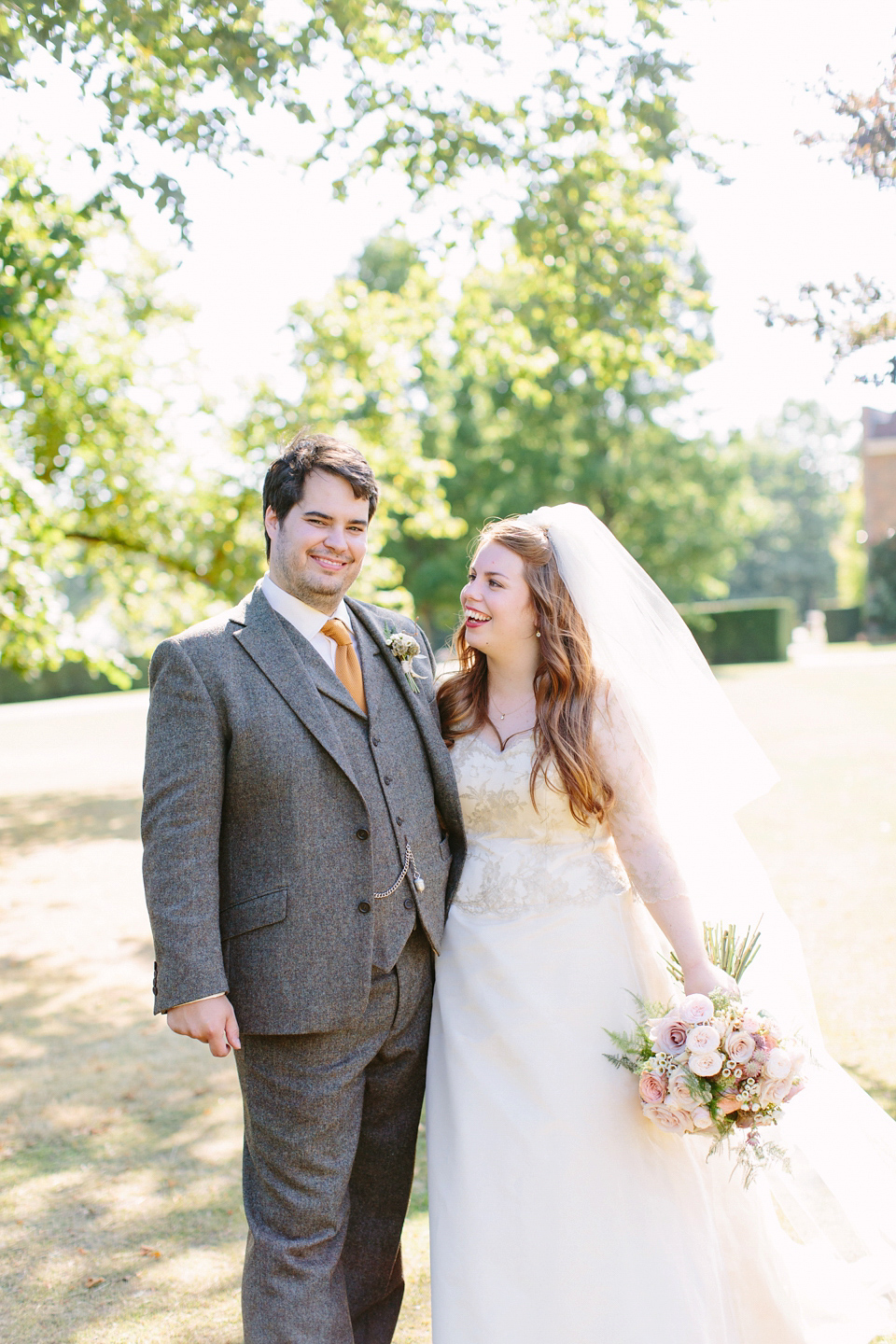 Louisa's gold toned dress and veil were designed and made by Juliet Poyser. She wore the same necklace that her mum wore on her wedding day and a beautiful hairpiece by Crystal Heirlooms.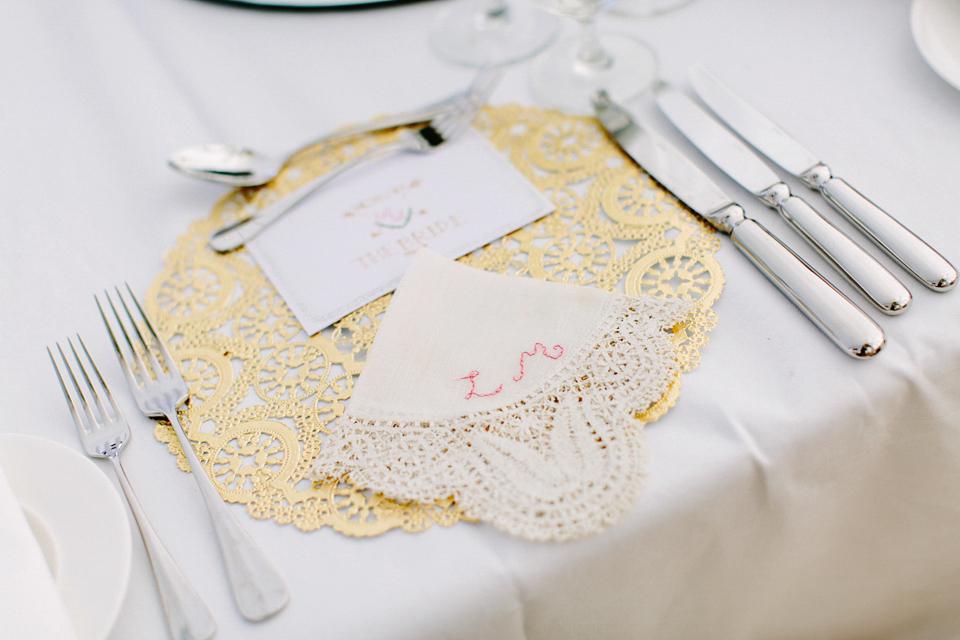 "I gave Juliet all of my different ideas and she put them into one coherent and utterly beautiful design. A gold silk skirt with a champagne organza overlay with gold lace sweetheart top. The bow at the back was a last minute decision but it finished the dress off beautifully. It was so special to create a dress from scratch and for Juliet to make my dream a reality. I decided on a long veil edged with gold lace and it looked stunning."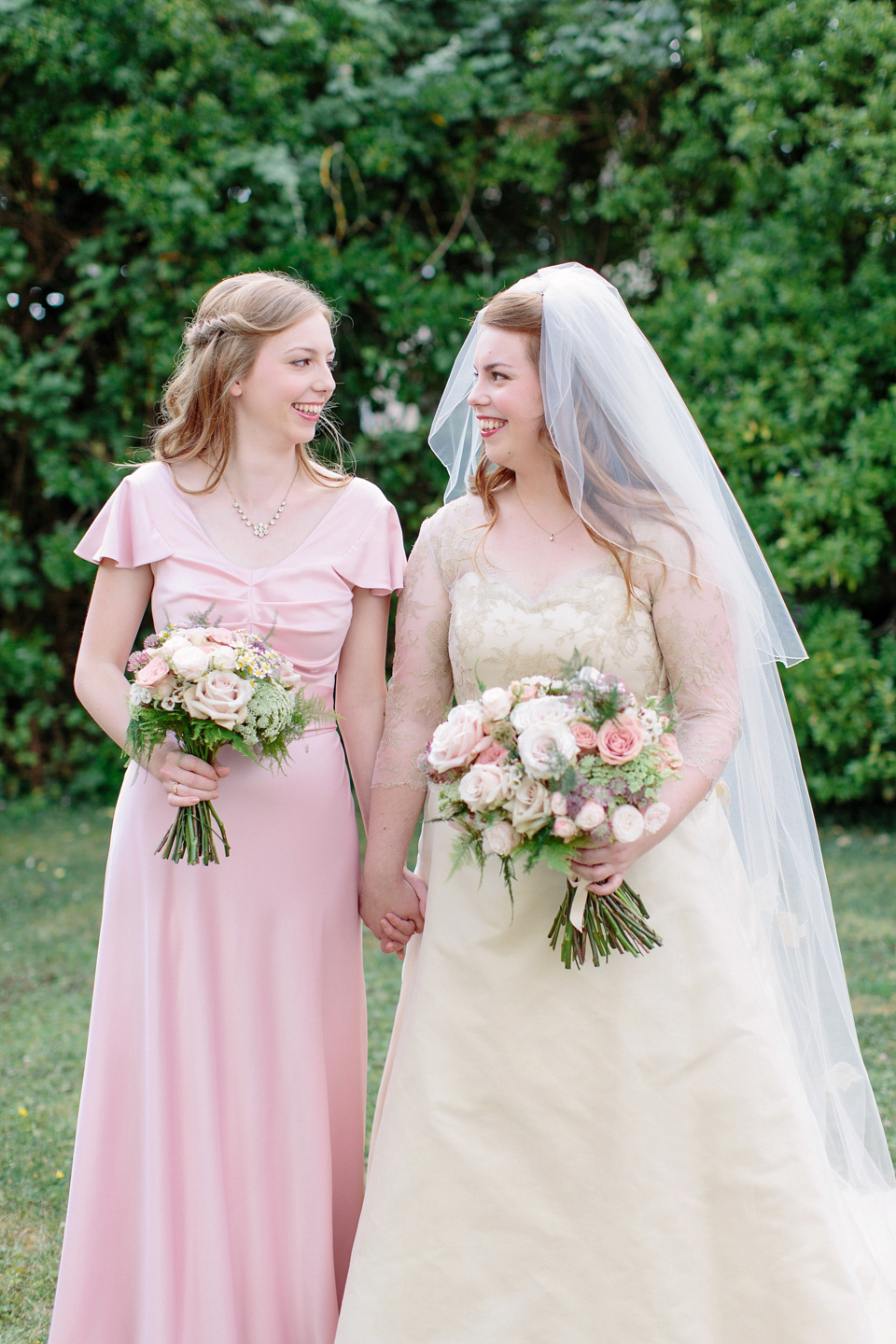 The couple chose event planner Amanda Baer to help them turn their field into a gorgeous wedding venue. Having someone to advise on every important and tiny detail from toilets to candles was invaluable to the smooth running of the day.
"We met at nursery school but we were too young and distracted by toys to get to know each other then! Later we went to the same school but didn't start seeing each other until sixth form, 11 years ago.
Russell proposed to me on holiday in front of a beautiful sunset in Fuerteventura. The days leading up to up to the proposal were dramatic as our car was broken into, luckily the ring wasn't taken! The night before I dreamt about Russell proposing so when I actually saw him down on one knee I couldn't believe it!"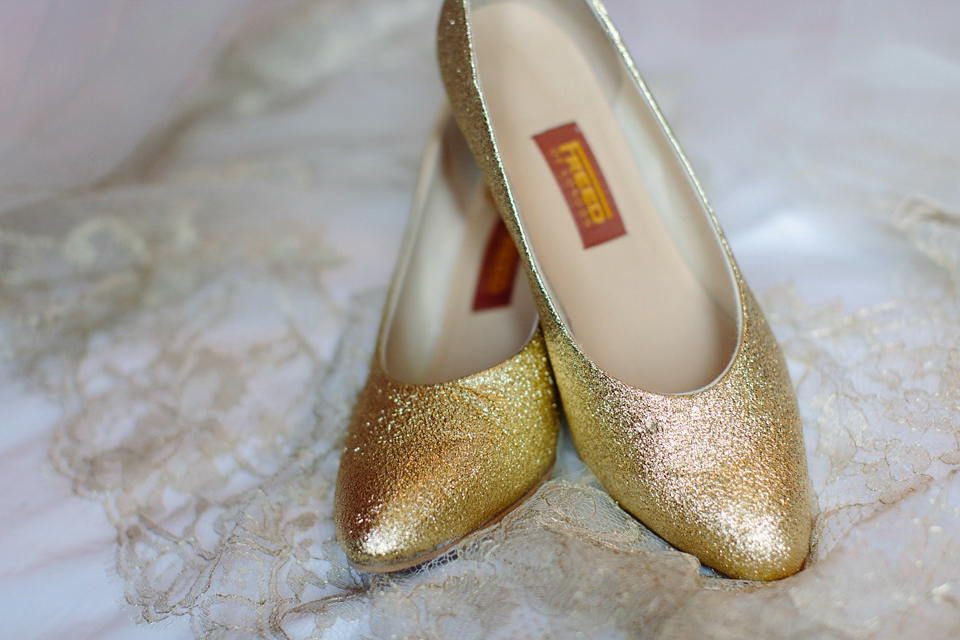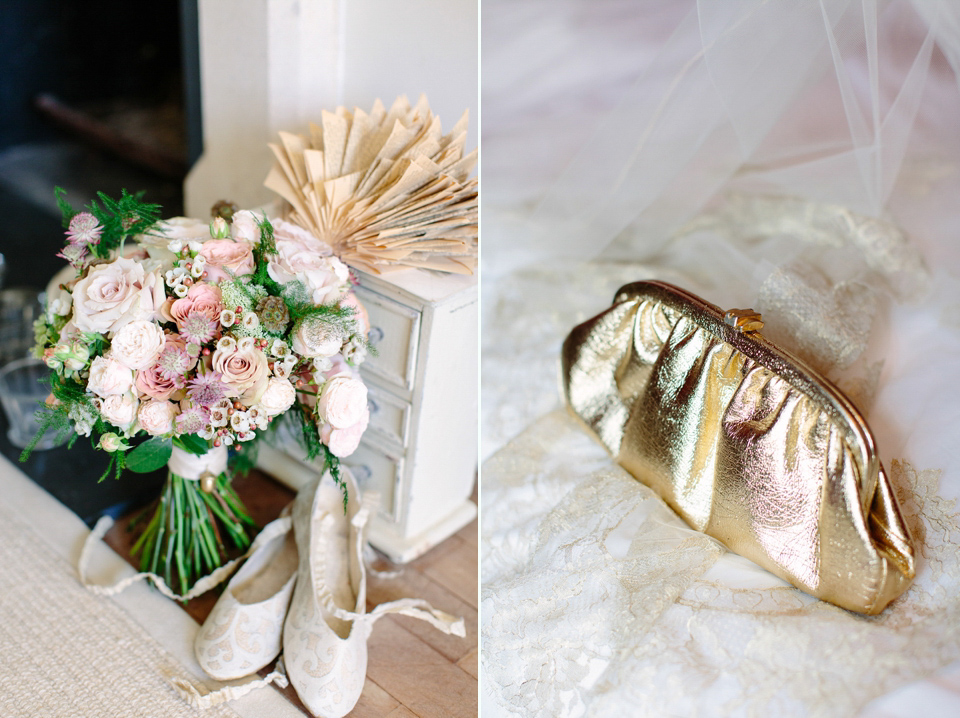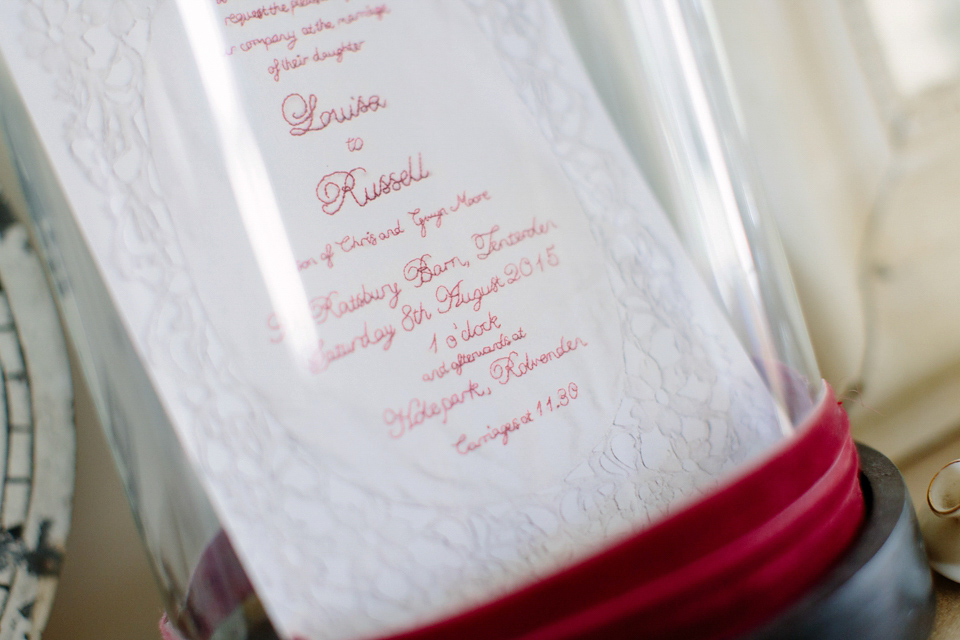 "We wanted natural flowers to go with the dusky colour scheme. Frida and Sophia really understood the look we were going for. They were so lovely, every time we met them it felt like we were seeing friends. The flowers looked utterly stunning."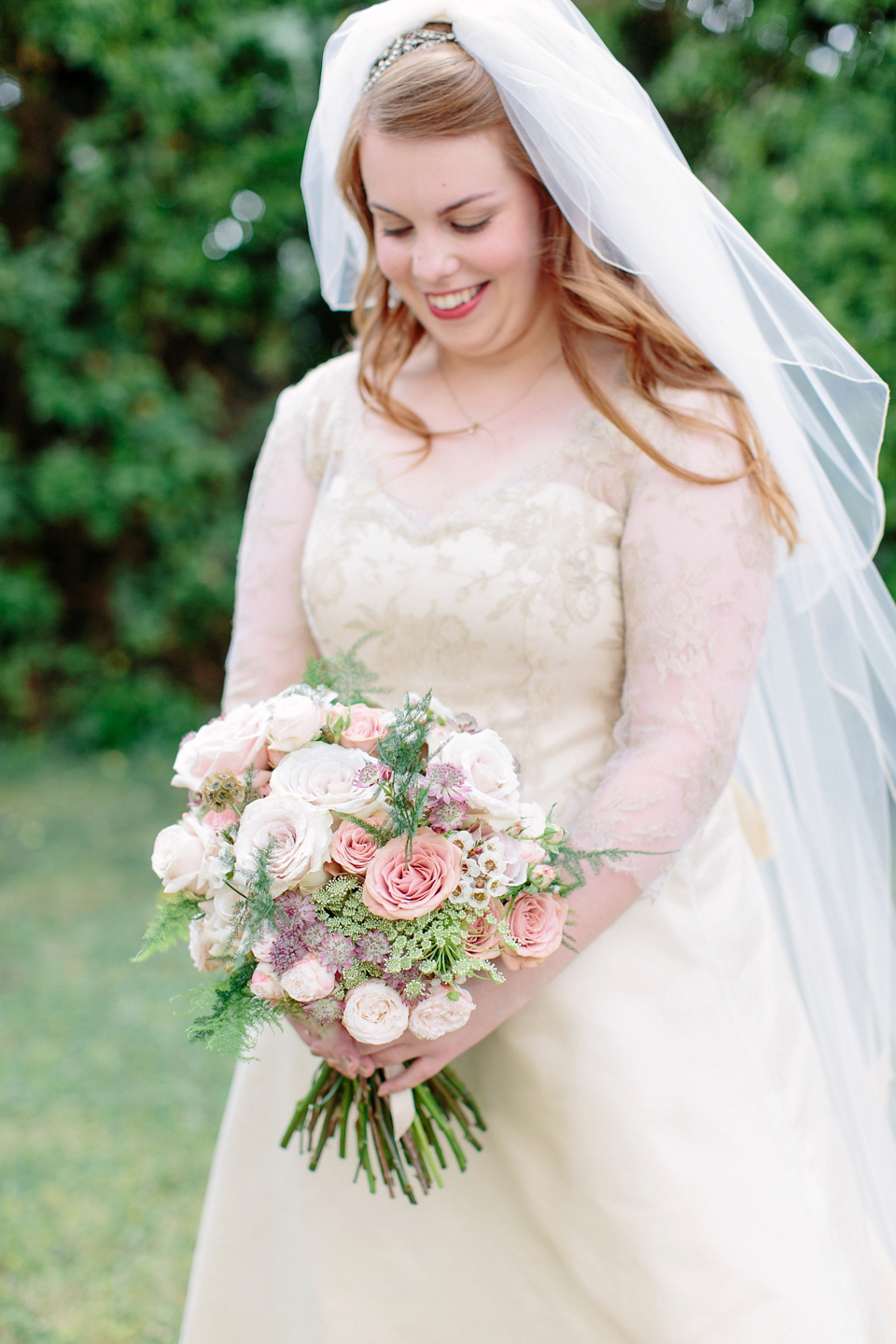 Louisa's sister wore a beautifully sleek, dusky pink Belle and Bunty dress with a Jennifer Behr hair slide and customised Freed shoes.
"My Dad walking me down the aisle was a very special moment that I will treasure forever. We to Comptine d'un Autre Été, l'Apres-Midi from the Amélie film soundtrack. The song came on shuffle in the car while driving through France and as soon as we heard it I was already getting emotional so we knew it was the one! Our very talented friend played it on the piano making it all the more special."
"Walking down the aisle with my dad and seeing all our friends and family was a really amazing moment, and we both loved seeing each other at the end of the aisle."
"We found it really difficult to find readings that suited us, then I came across Robert Fulghum's 'A moment in Time' on one of my late night internet trawls. It was everything we wanted from a reading, sincere, relevant with a lovely sentiment and each word rang true with us and our relationship.
'True Love'- Anon was the perfect choice for our second reading, it has such lovely words."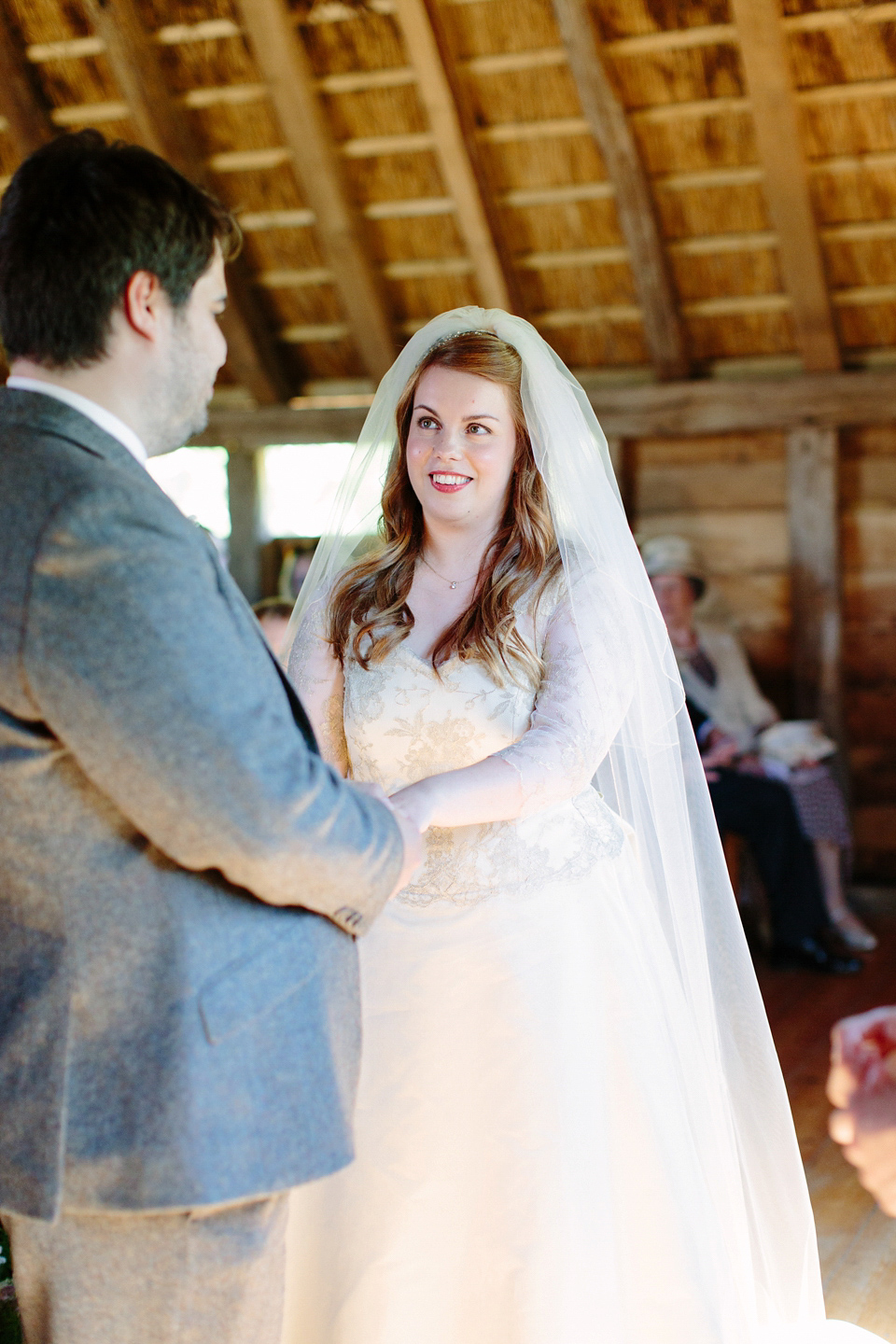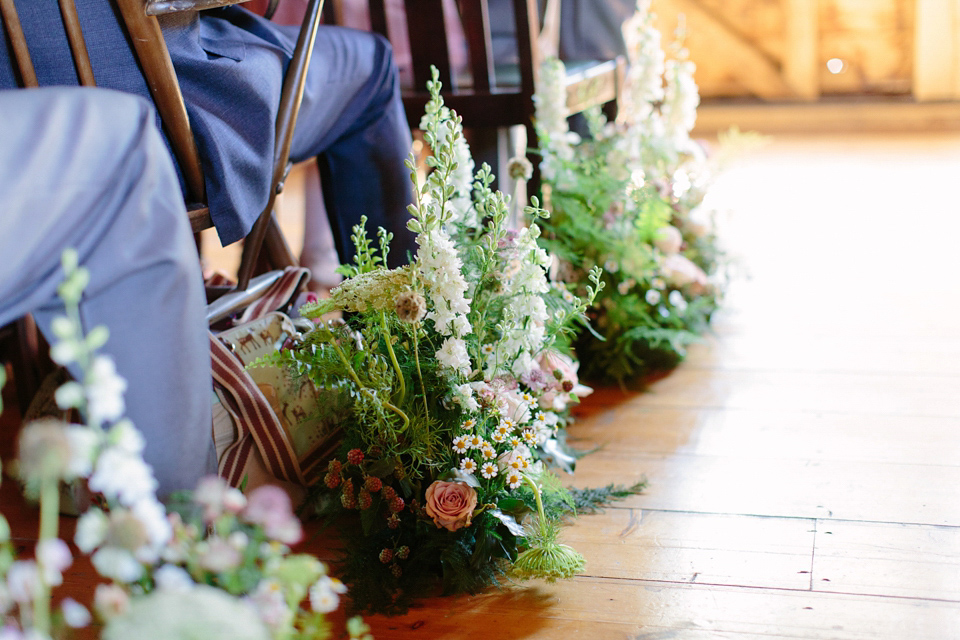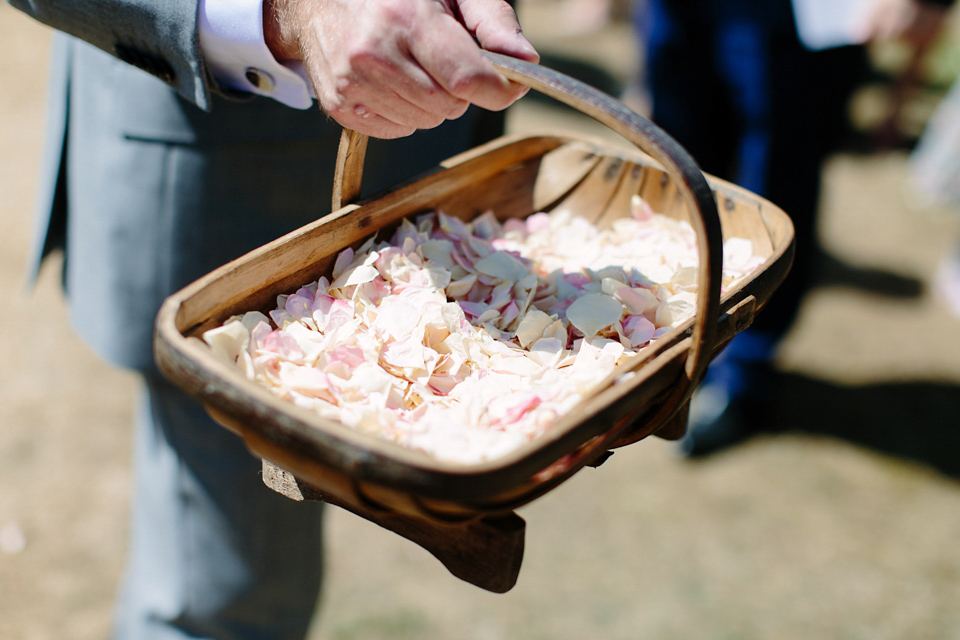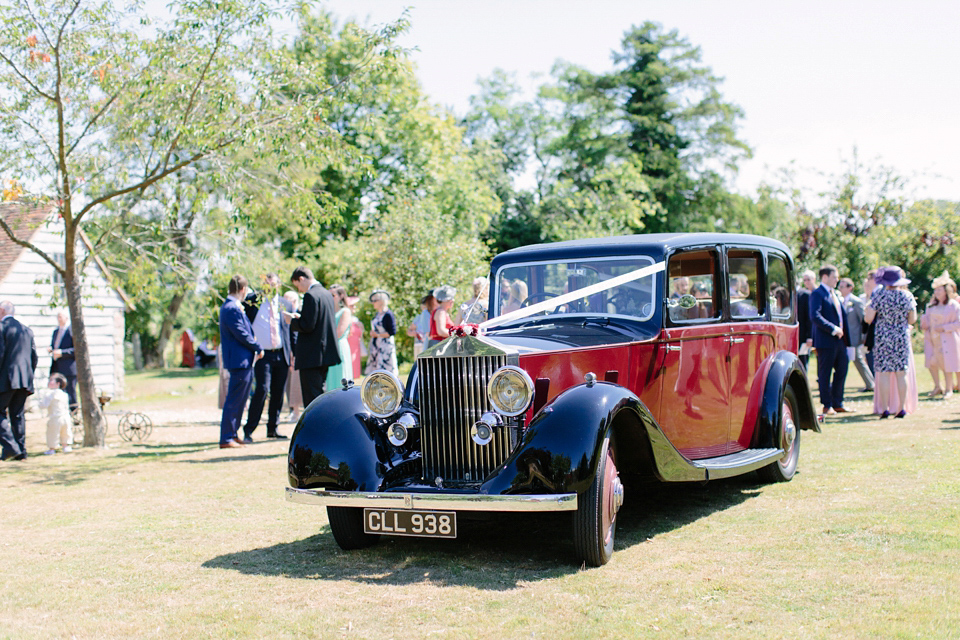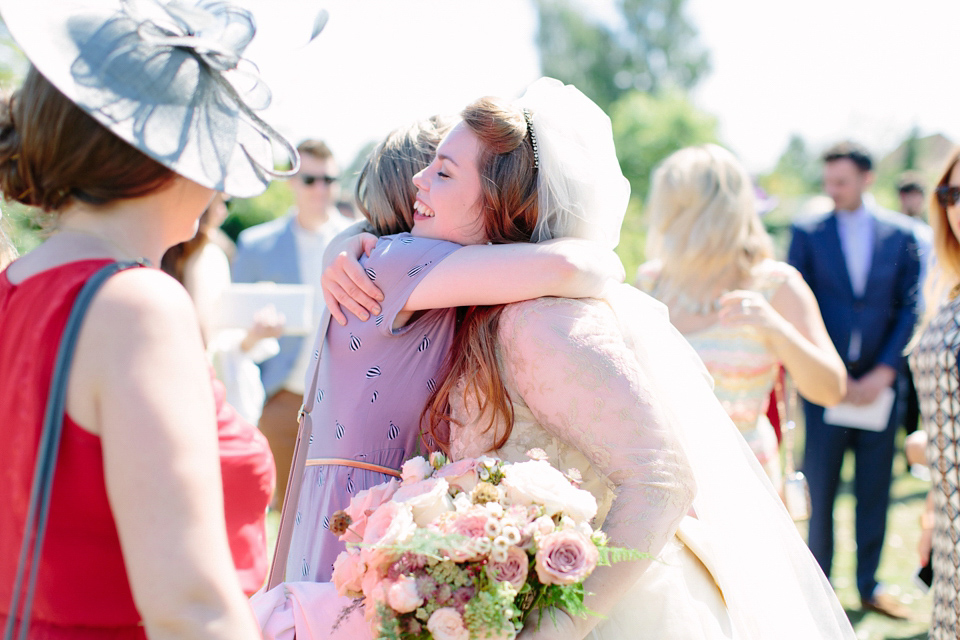 The pageboy wore an utterly princely outfit of gold shorts and waistcoat by Nicki Macfarlane, also a member of our very own Little Book for Brides and who has just opened her first beautiful shop in Chelsea.
The beautiful stitched stationery was produced by Crimson Moonshine.
"I wanted to stitch the stationery but didn't know how to get it to look as it did in my head! I embroidered master copies and Chloe and Amberin made my vision a reality. They were brilliant and were so happy with the end result!"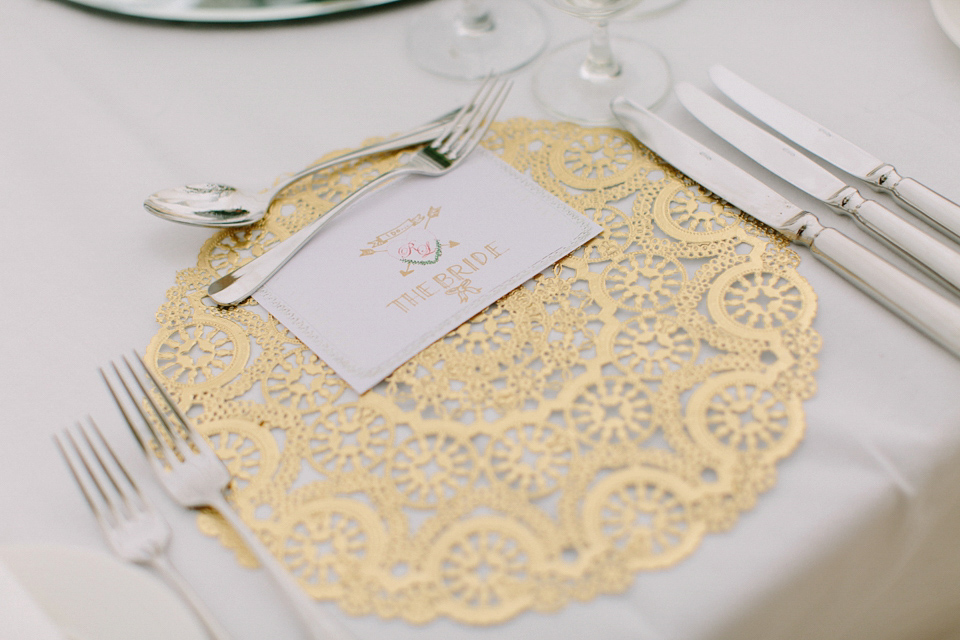 "Our cake was made by Maisie Fantasie, she was absolutely brilliant. She made the icing look like Broderie Anglaise and it was so realistic that many guests thought it was fabric!"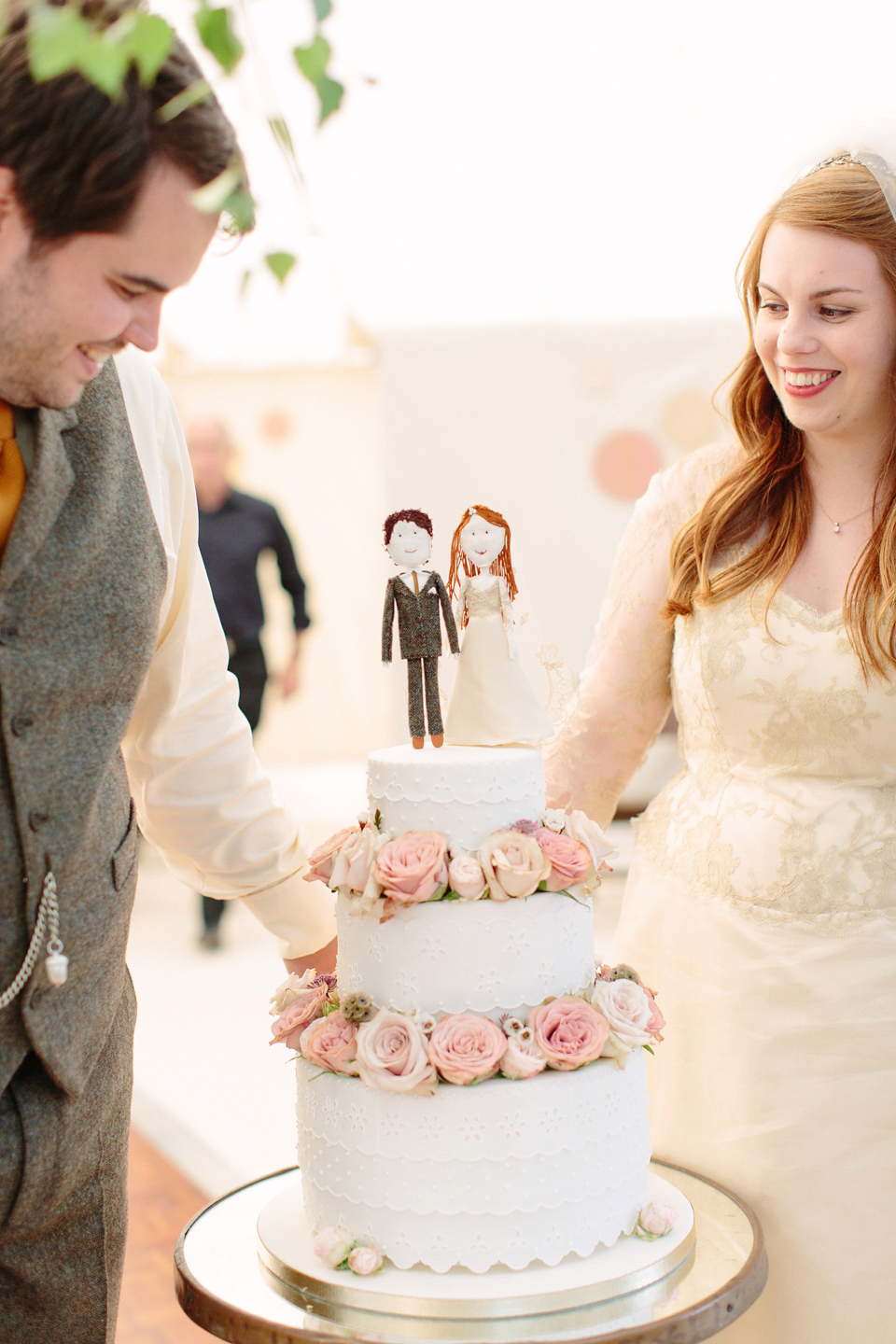 "The female guests received initialled vintage handkerchiefs. The Male guests all received scrabble cufflinks of their initials that Russell made in a cufflink box supplied by T.M.Lewin. They also doubled up as place settings."
"Keeping with the hand stitched theme we decorated the marquee with over 100 embroidery hoops. Stretched with silks and organza we screen printed lace patterns in colours to match our theme and hung them in clusters around the marquee."
"Russell got his suit from Walker and Slater and accessories from T.M.Lewin. He opted for a moss tweed suit and looked a true gentleman. Secretly I was thinking how good it would look with my dress!"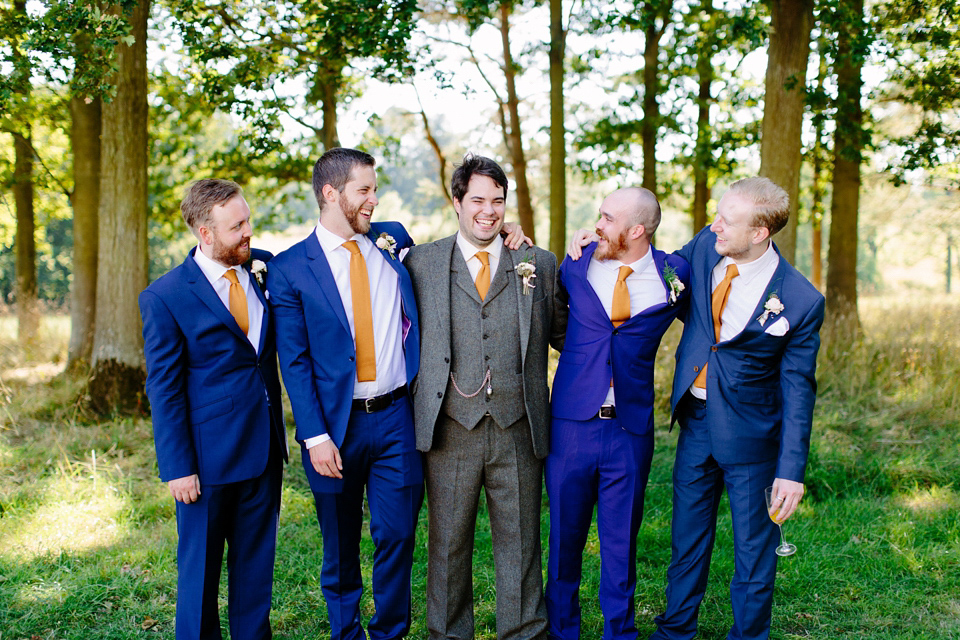 Louisa bought Russell cufflinks engraved with the co-ordinates of their first kiss and embroidered a message into his suit jacket as a surprise.
"The pocket watch chain fob was hand cast from an acorn in pewter by my clever Husband. He even made me a gold one that I was surprised to find attached to my bouquet. Russell also made acorn cufflinks for his groomsmen."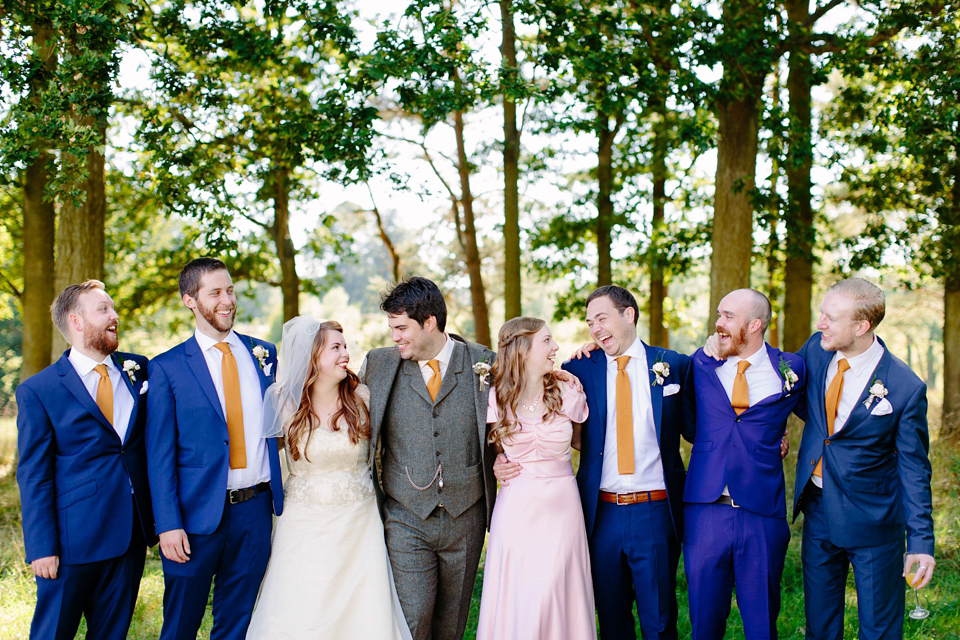 Louisa and Russell were absolutely delighted with the images captured by the lovely Camilla Arnhold.
"I cannot recommend Camilla highly enough. She was so relaxed and calm on the day and we love the photos, we knew they would be great but they absolutely exceeded our expectations. They capture the day perfectly and make everything look so crisp, gorgeous and full of colour. We had lots of guests commenting on how lovely she is and I know that lots of friends and family love the photos too!"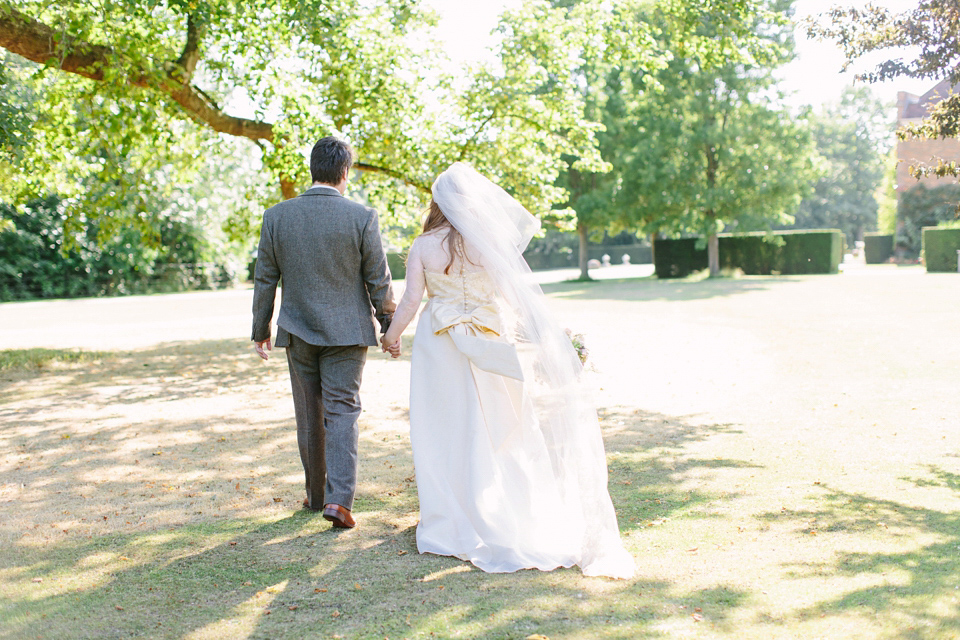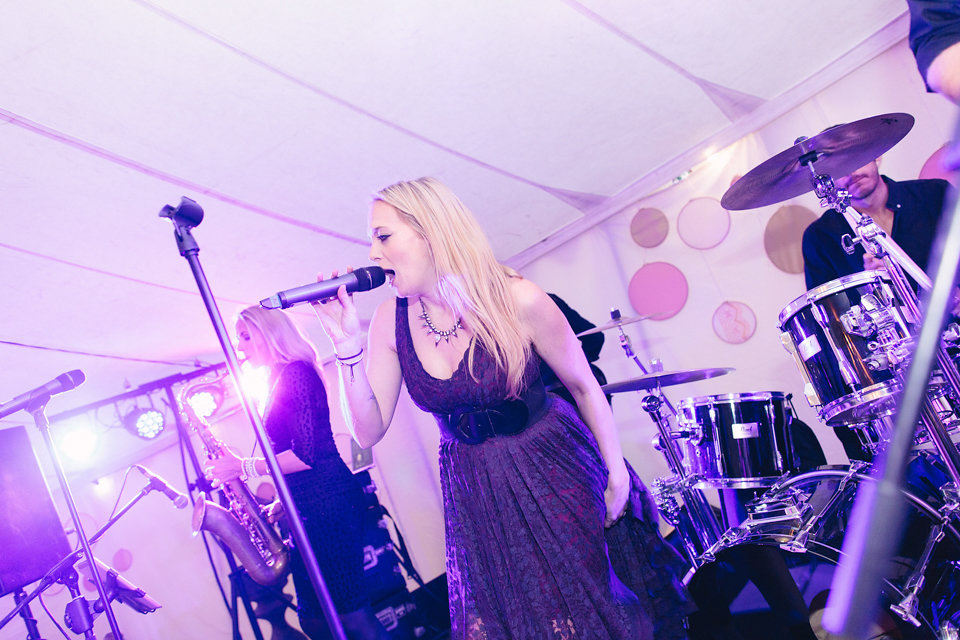 "Groove Factor played a beautiful rendition of 'Our Day will Come' for our first dance. The song became a bit of an anthem during a lovesick year living 8 hours apart. I was dancing so much I missed out on eating the cake!"
"We just couldn't get off the dance floor, we were so drunk on happiness! As we were leaving, the avenue lit up with fireworks as our car drove off, I will never forget the hushed crackle buzzing as we drove, we were full of surprise, shock and joy."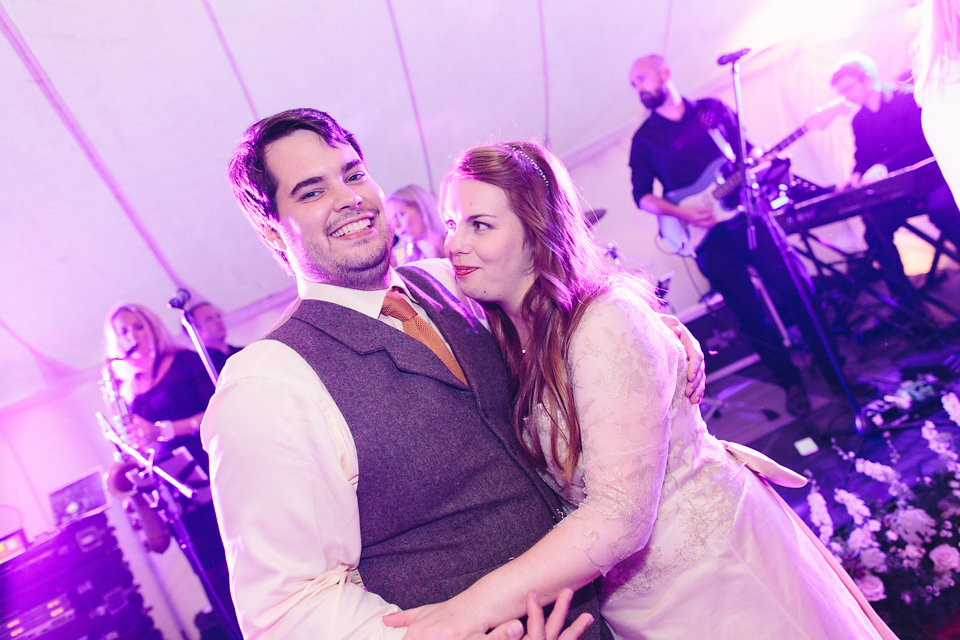 Words of Wedded Wisdom
"Stick to your instincts, even if that means changing your decisions at the last minute. Your ideas can look a little different in real life to your imagination! Lots of people enjoy helping and want to get involved so build a team and delegate the workload.
Remember to look at one another- It sounds silly but it was the best advice our registrar gave us! You are making the promises and vows to one another not the guests, registrar or the floor!
Be brave. I was so proud when everything came together. Relish the opportunity to make your day memorable and special, it has inspired me to take the plunge and start up my own business. The wedding fever lives on in me!"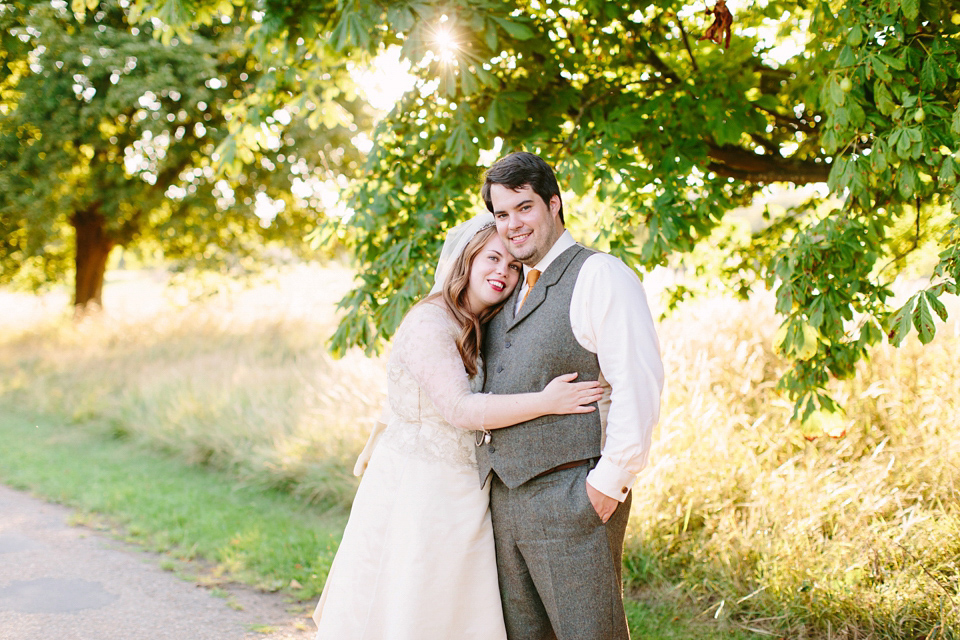 Aren't the big top marquees amazing, I just love the uniqueness of the shape! Thank you so much to the new Mr and Mrs Moore for sharing your special day with us. Also thanks to the wonderful photographer Camilla for the stunning images.
Love Caoimhe xx
Photographer – Camilla Arnhold
Planner/Stylist – Amanda Baer
Venue – Ratsbury Barn + LPM Bohemia Big Top at Hole Park, Kent
Wedding Dress + Veil – Juliet Poyser
Headpiece – Crystal Heirlooms
Acessories – Liberty
Shoes – Freed
Bride's Scent/perfume – Coco Mademoiselle
Groom – Walker and Slater + T.M.Lewin
Bridesmaid – Belle and Bunty + Jennifer Behr Hair Slide
Page Boy – Nicki Macfarlane
Florist – Frida and Sophia
Cake – Maisie Fantasie + Topper, Loulou Moore
Transport – Vintage Car Hire + Old London Bus
Entertainment – Groove Factor
Rings – Annina Vogel + Webley, Hatton Garden (no website)
Catering – Chicks that Chop
Stationery – Crimson Moonshine (Chloe + Amberin)
Hair Stylist – Sophie Tracey, Mastercutters, Tenterden
Makeup Artist – Amy Campbell (no website)
Silhouette Artist – Alison Russell