Good morning lovely ones – first of all, thank you so, so much for your lovely kind wishes on my 6th blogging anniversary Instagram post of yesterday. I can't tell you how much your word and feedback mean to me and the wider Love My Dress team. I truly feel we've created something beautiful and of value here at Love My Dress, and it's reassuring to know that others feel the same. Here's to the next 6 years! Starting with this gorgeous little London wedding that I'm so delighted to be sharing with you this morning.
Cat and Harry tied the knot in August and their wedding was captured beautifully on camera by the super  lovely and very talented Peach & Jo – who come with a great big 'highly recommended' stamp of approval from Love My Dress. The couple wanted a super relaxed day that would provide an opportunity to party and have an amazing time with friends.
"We wanted a low-key, relaxed and easy, good old knees up with our nearest and dearest. We had been engaged for almost two years and having a baby in that time had meant we didn't want to get married any sooner but when we did, we wanted to pull it all together relatively quickly, fuss free without any 'wedding planning' stress."
Photography by Peach & Jo
Peach & Jo are a member of our wedding directory, Little Book For Brides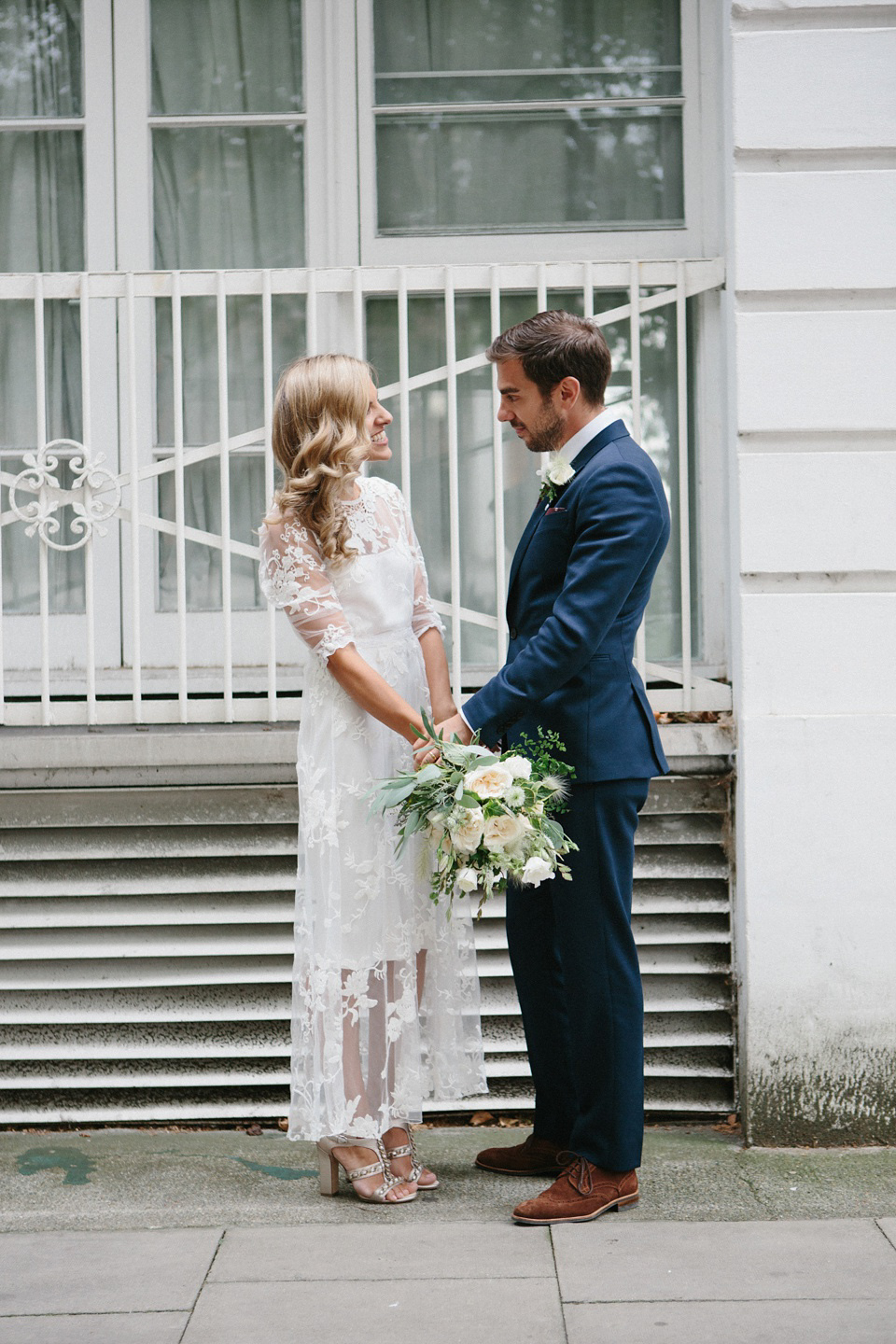 "I saved money on my dress, in an effort to have minimal stress and fuss I didn't go to any bridal shops or have any fittings, instead I went to a couple of vintage wedding fairs, one in Islington where I met the lovely Peach and Jo and the national vintage wedding fair in Chiswick town hall which is where I found my dress from Days of Grace Vintage, a lovely couple who have a vintage shop in Devon."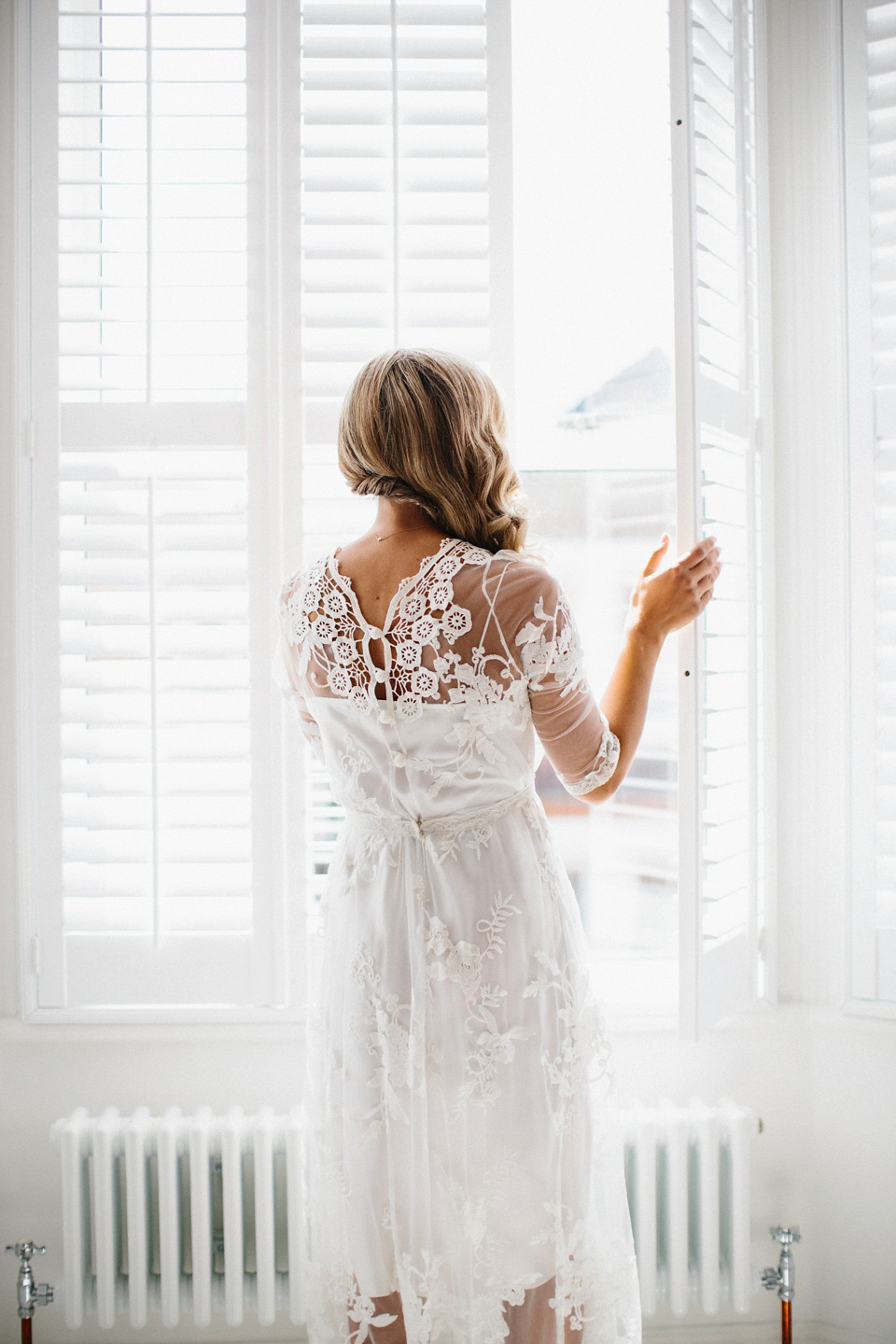 "It was about the third dress I had tried on. I did need to have it altered slightly and after failing to find a slip which worked underneath I had one made by the fabulous Joe Allen in Islington."
Shoes by Chanel
"We had some photos taken with our amazing hired vintage Mercedes outside Fabric nightclub (where we met). Unfortunately when it came to getting back in the car to go onto the reception venue and join all of our guests, the car wouldn't start. I guess this is a risk you take when traveling in a vintage wedding car!
Luckily a black cab came around the corner just at the right time and gave us a ride back to The Peasant, the cabbie didn't charge us for the journey but threw in some wedding advice for nothing. It was one of those moments we just had to laugh at, and on the plus side we got some bonus photos in the back of the cab."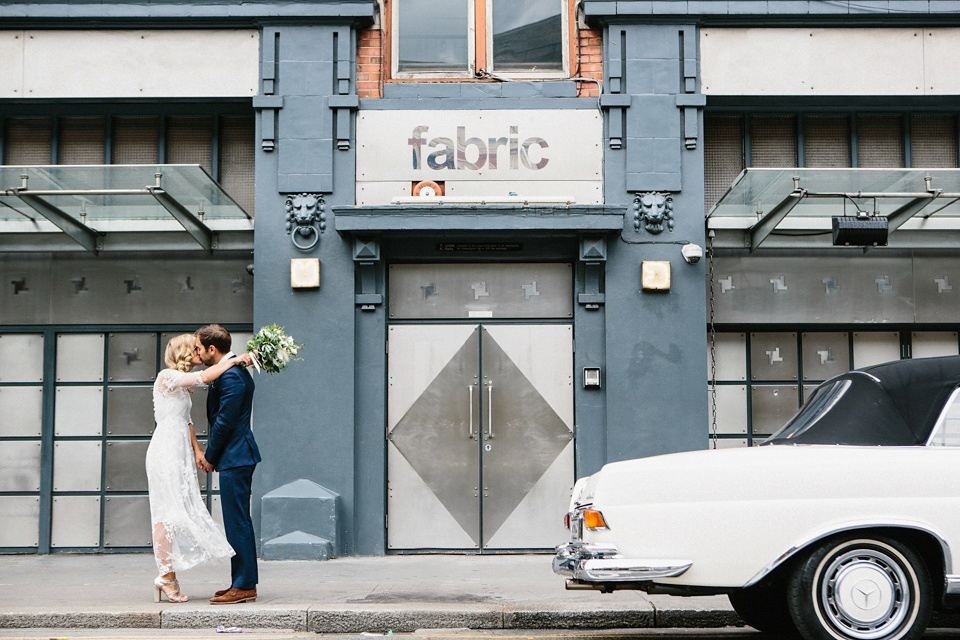 Still not using Instagram? I adore Instagram, it's by far my favourite social media platform. It would seem that bride Cat may agree!
"As well as finding Milk Street Studios via instagram, I also found Dear So & So and the lovely Alex who designed our wedding invitations and Lois Moorcroft, my lovely hair and make up artist. Lois is an ex-MAC artist and came to my house for a trial a few weeks beforehand and completely was on my wavelength understanding exactly what I wanted."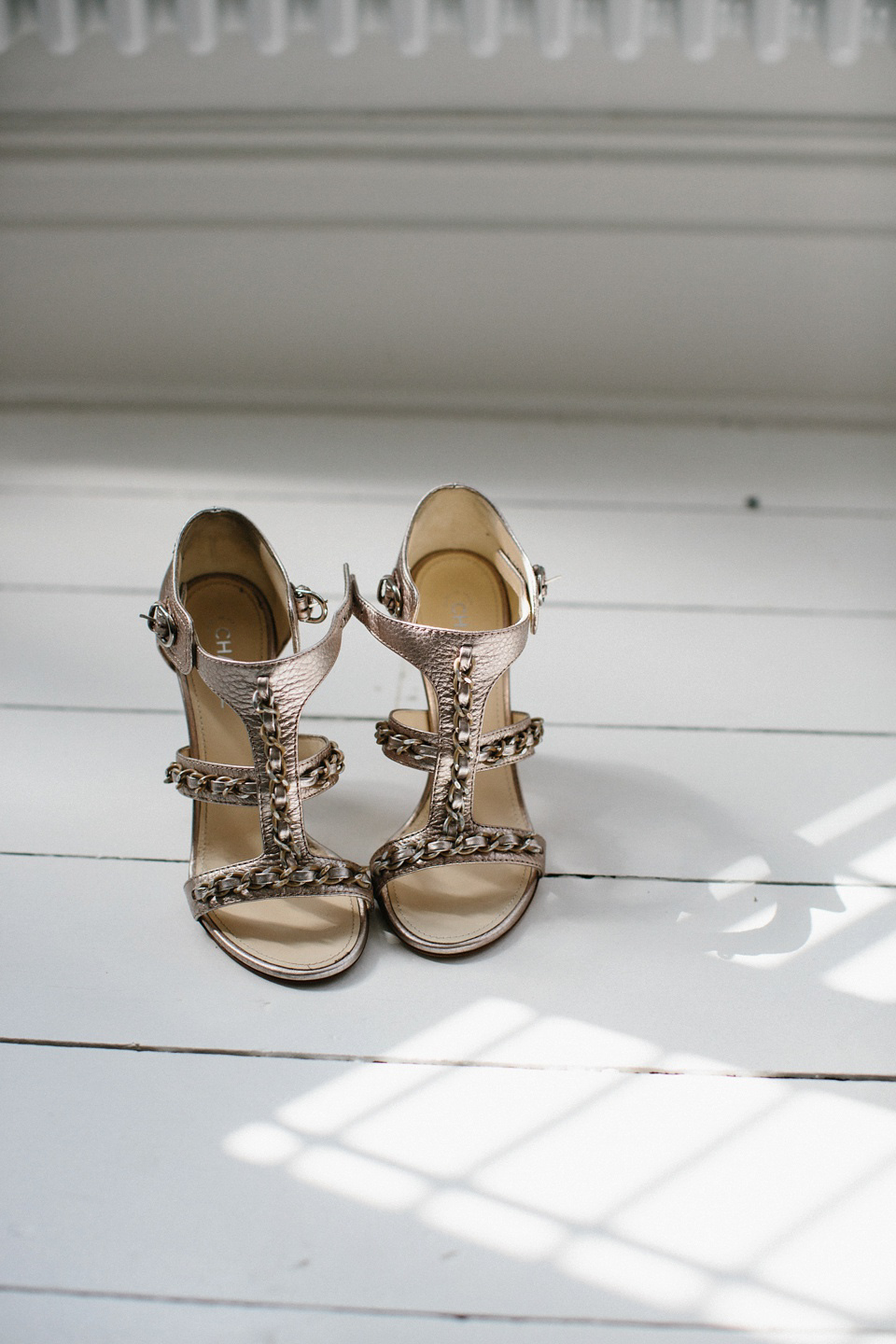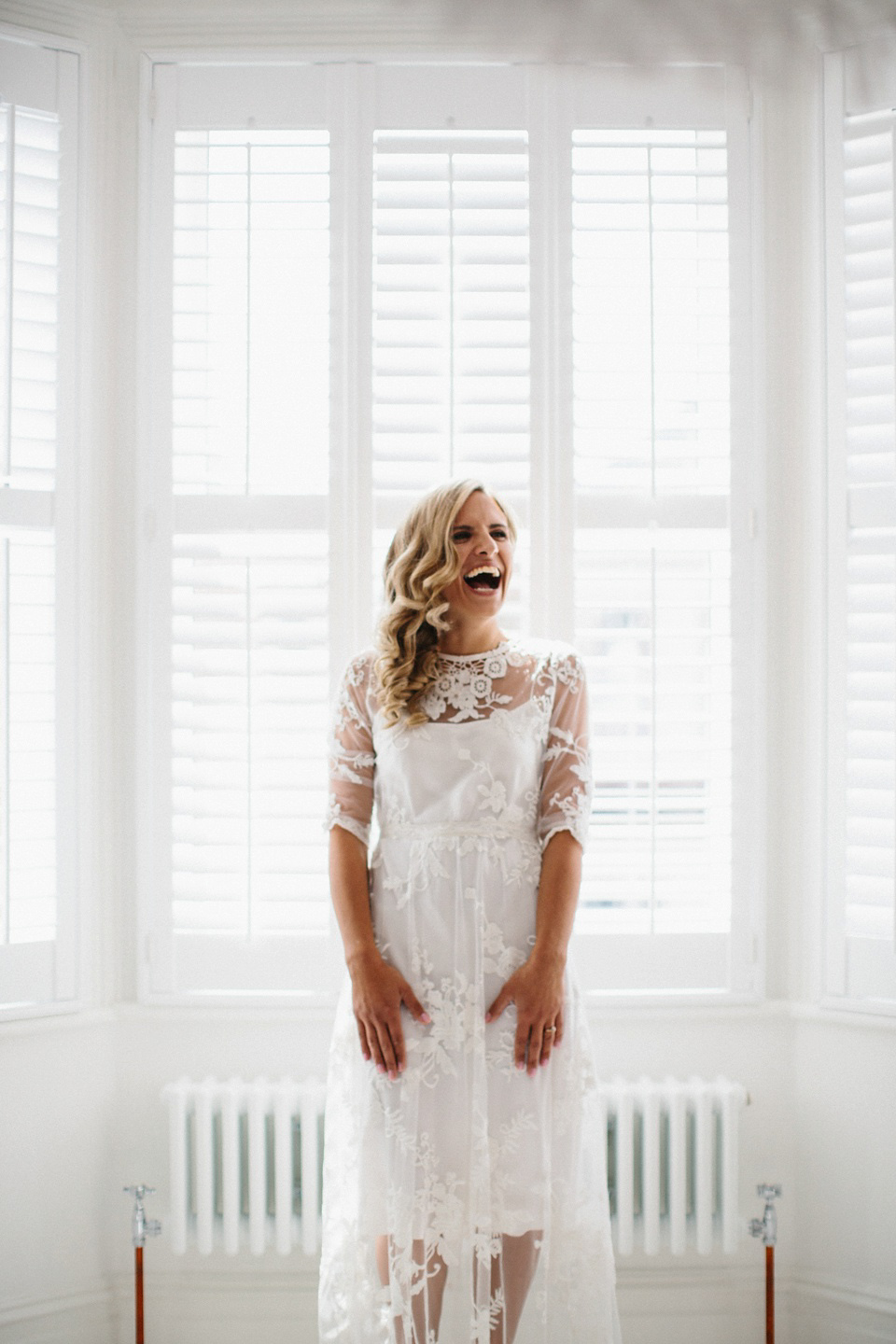 I was delighted to spot that our Little Book For Brides wedding directory members, 'Palais Flowers', supplied the beautiful blooms.
"I had planned to do the flower arrangements myself and had visited new covent garden flower market at the crack of dawn in the lead up to the wedding but decided to keep minimal stress I would find a florist to take care of everything. Palais Flowers were amazing. I'm really pleased I didn't scrimp on flowers as we do love flowers and they really made the pub look pretty special."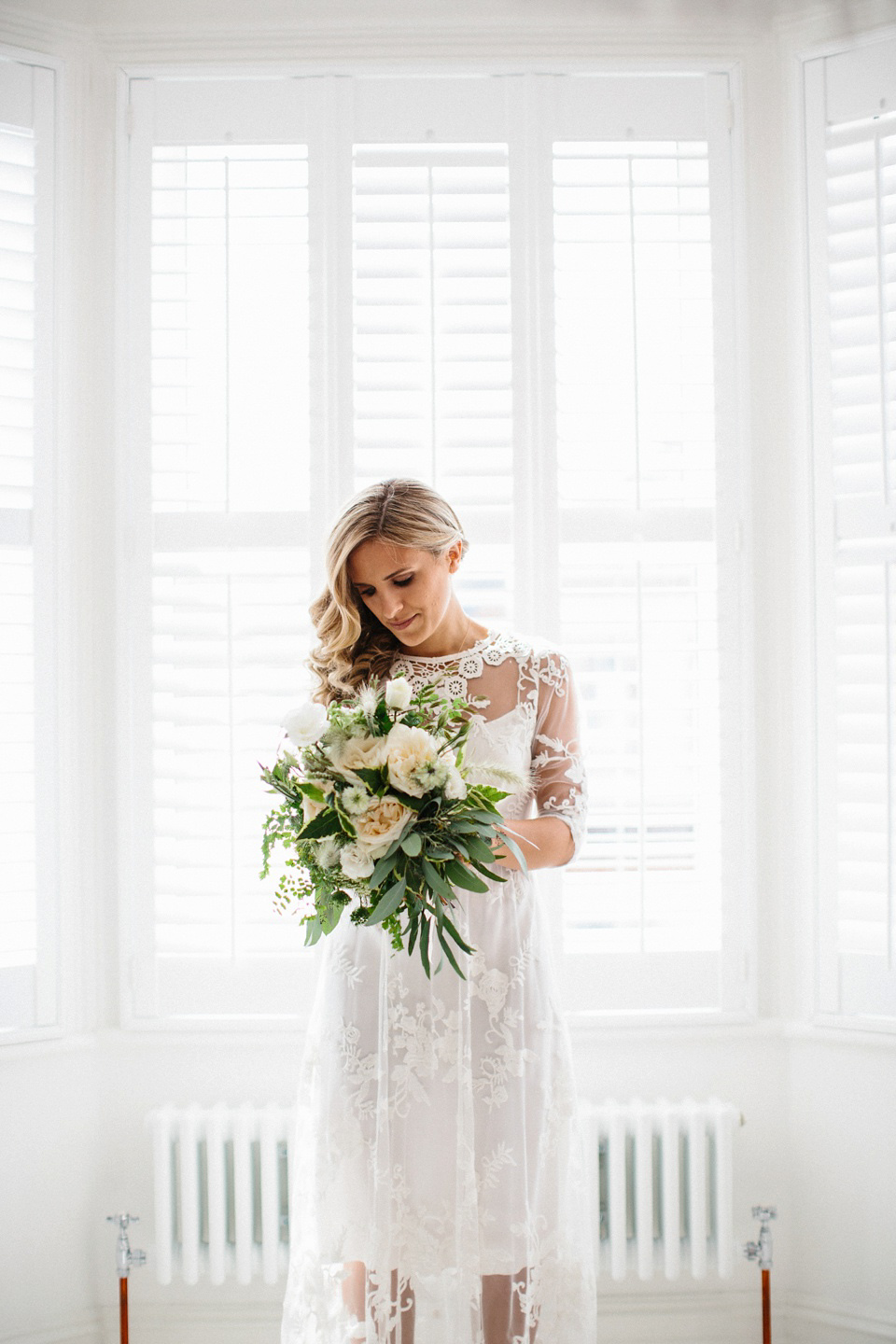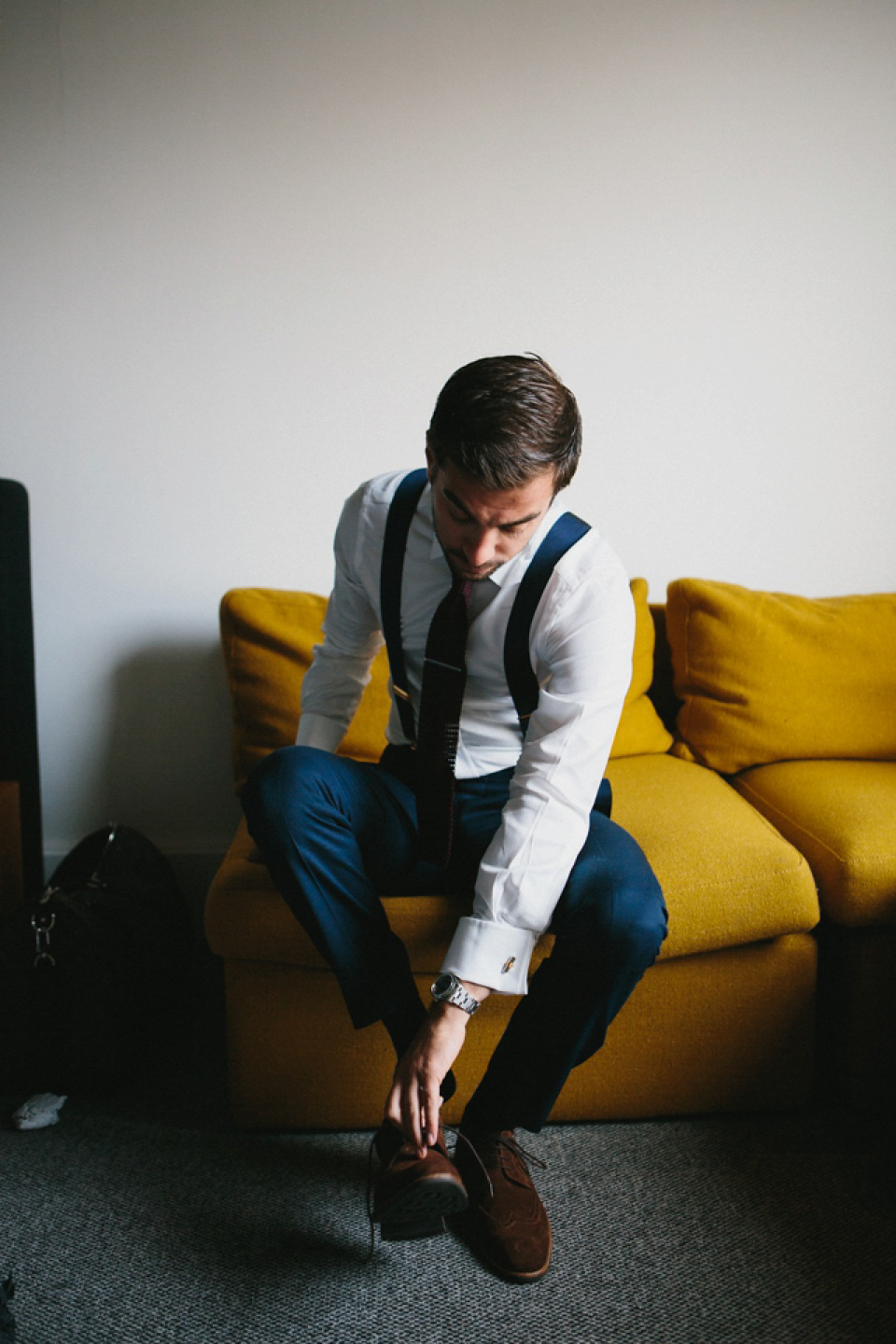 "Islington Town Hall is a beautiful building and seemed fitting to be married at, given we used to live in Islington."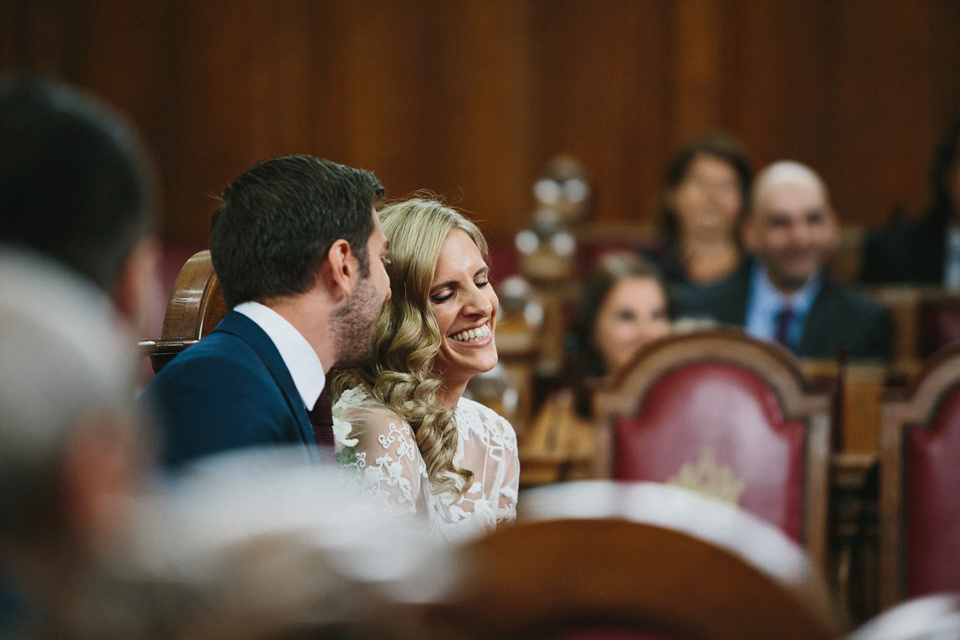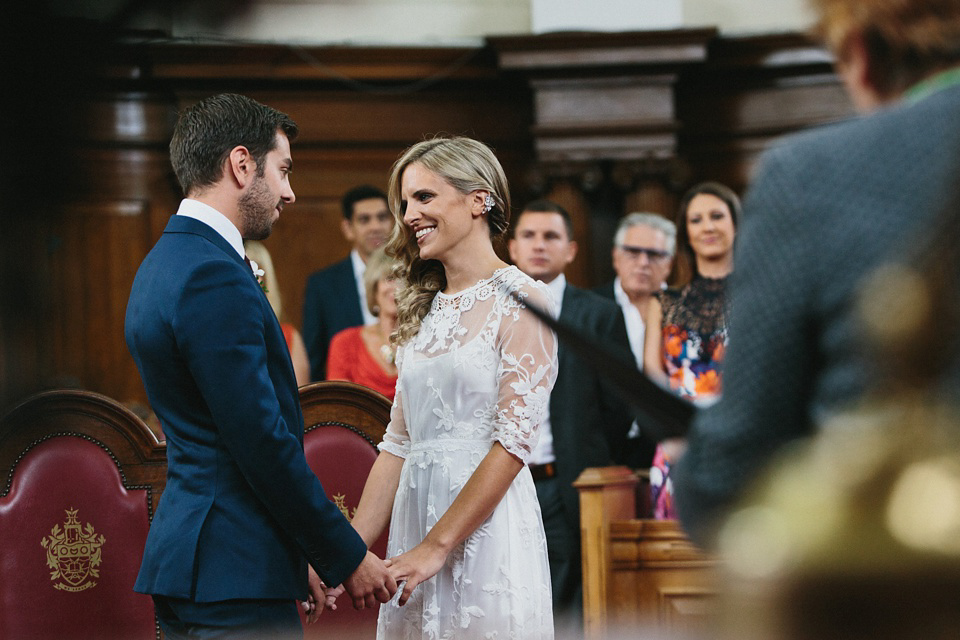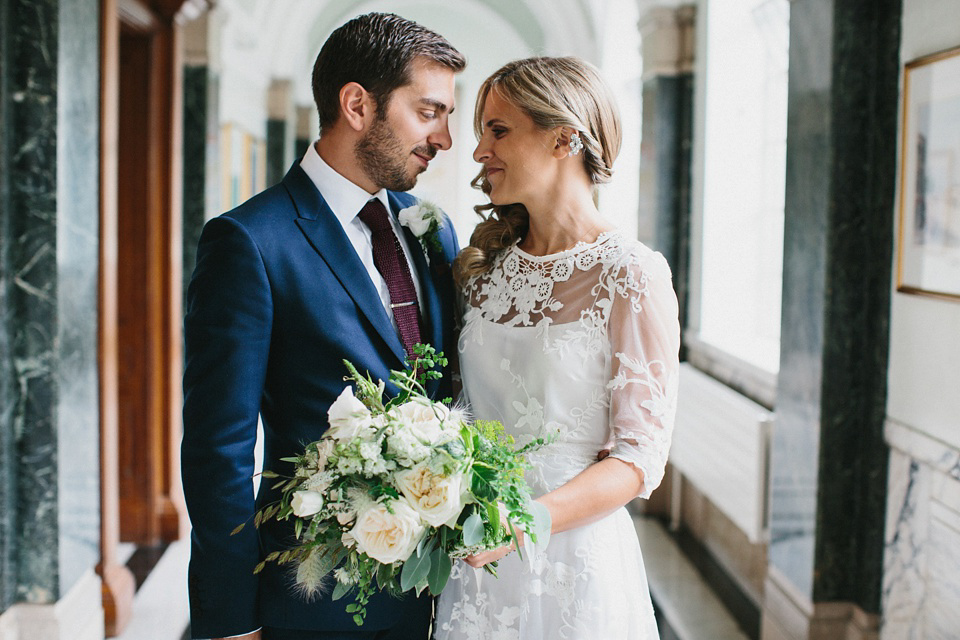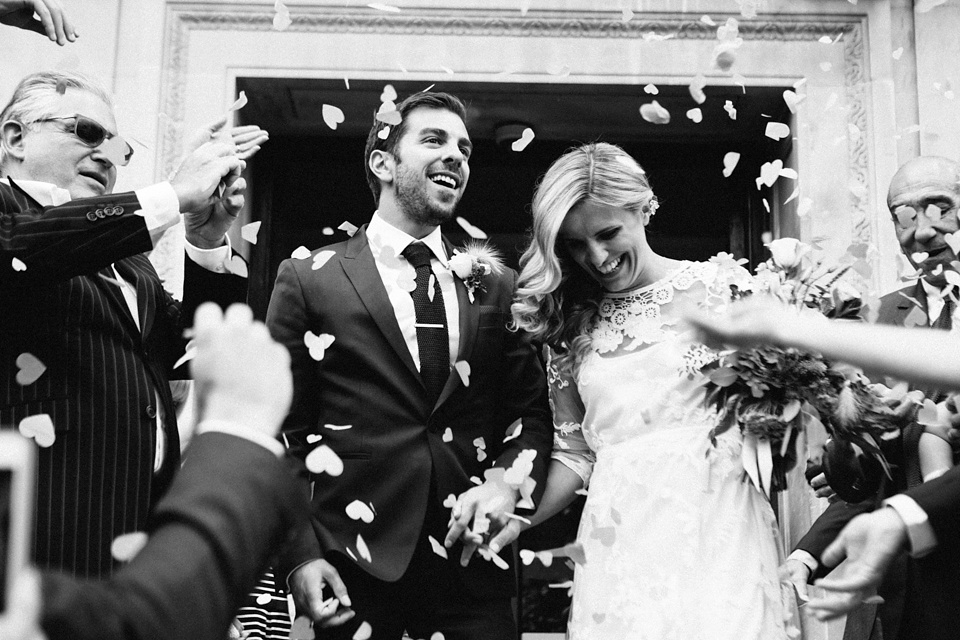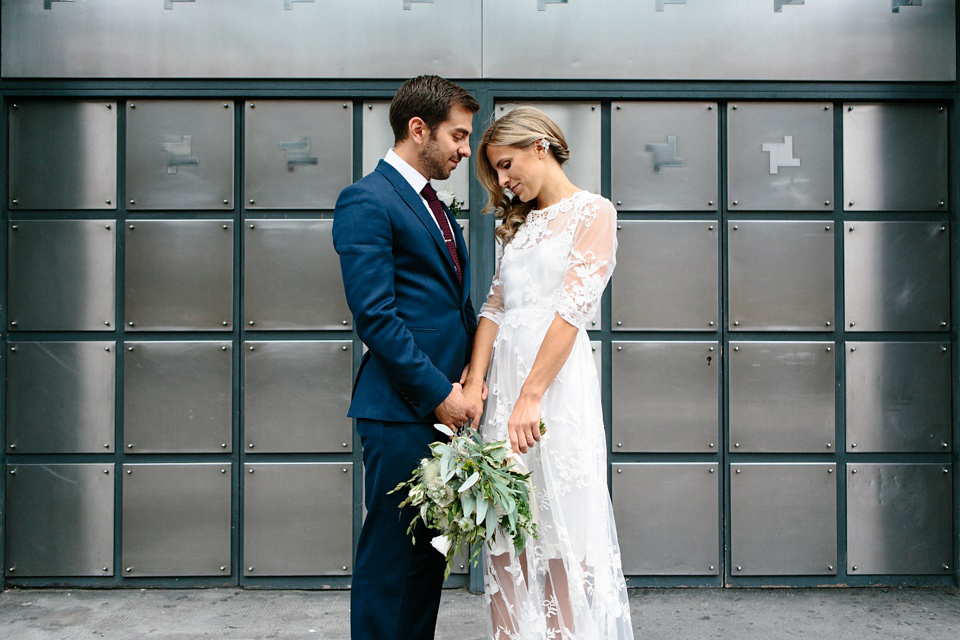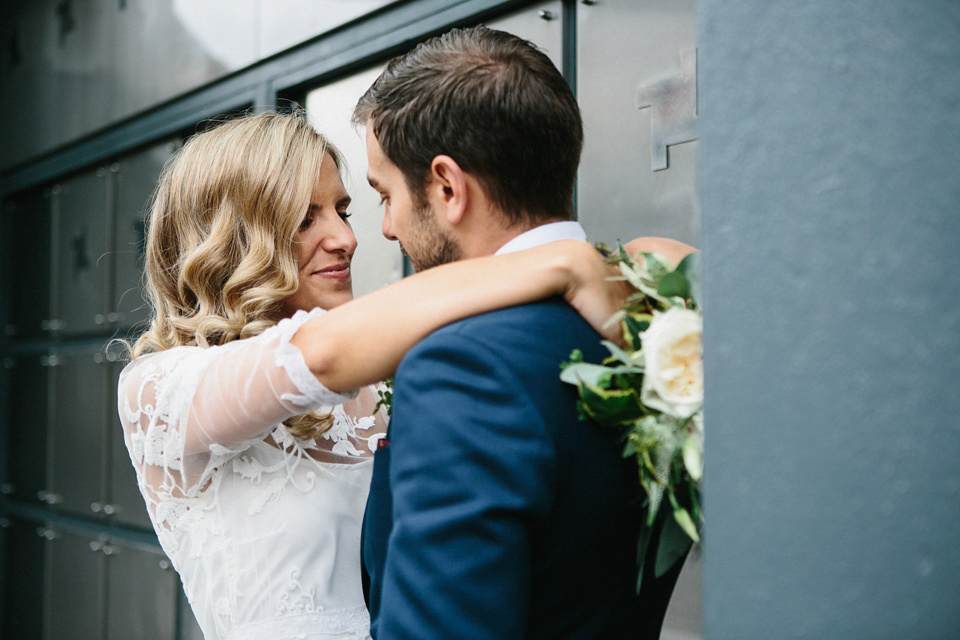 "We met at a drum and bass night at Fabric nightclub, which is where we would both frequent back in the day. Harry lived around the corner from there and we spent many a night there in our early days of dating, which is why it has always held a special place with us.
When having a chat with our photographers Peach & Jo before the wedding we discussed different backdrops we could use for our photos which were local to our reception venue, which it turned out was just around the corner from Fabric – the finished photos really speak for themselves and we absolutely love them."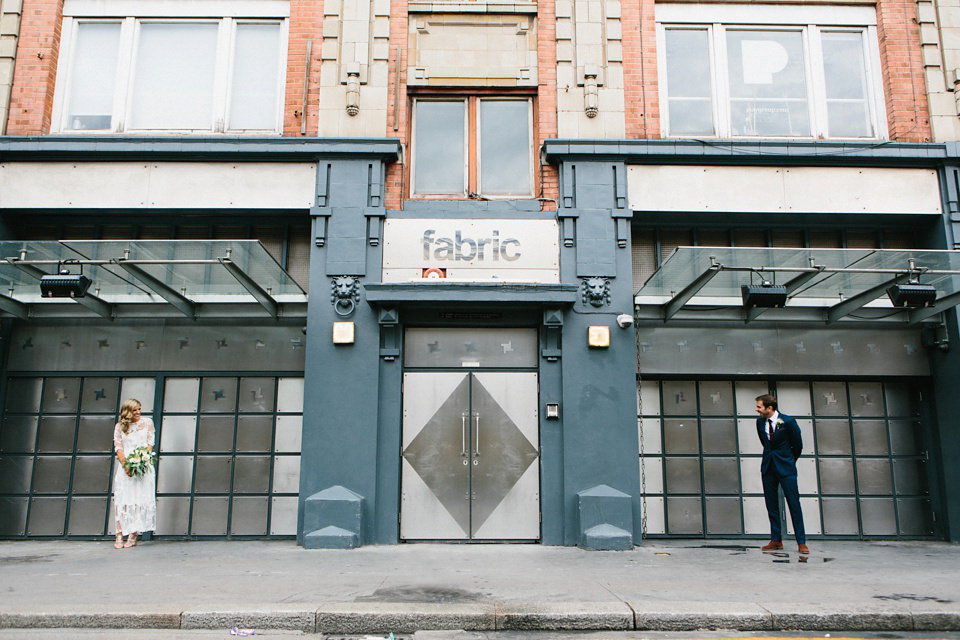 "On researching pubs nearby, we discovered The Peasant just down the road. It seemed perfect from the out set – it's a beautiful old London boozer and the decor means that nothing really needed to be added to it. It had a fantastic restaurant upstairs and the landlord, Nick, was such a lovely guy and incredibly helpful throughout. Finding our venue seemed to fall into place quite effortlessly."
"There were a couple of small DIY touches I did myself – my plan to print guests names on sticky Dymo labels and stick them onto cardboard placecards didn't quite go as effortlessly as I'd hoped though, as when I woke up the next day they had all come unstuck – I ended up having to painstakingly superglue each name to each place card."
"As much as we tried to steer clear of going overboard spending money on typical wedding things that we thought we wouldn't really want or need, we decided to go all out on some things just because frankly it was a great excuse to.
We put quite a large tab behind the bar as we wanted everyone to be taken care of and not have to worry about putting their hands in their own pockets. It was also a great excuse to buy a lovely pair of shoes, which I could easily wear again and again after the wedding. They were the first pair I tried on and again, not typical bridal shoes.
We also didn't hire any transport for the wedding guests from the town hall to the venue, instead we hailed black cabs which worked really well."
"We commissioned a giant light up heart shape just for a bit of fun from a start up I found through Instagram called Milk Street Studios – we always planned to use it in our house afterwards and it now looks great on our wall at home and will always remind us of our day."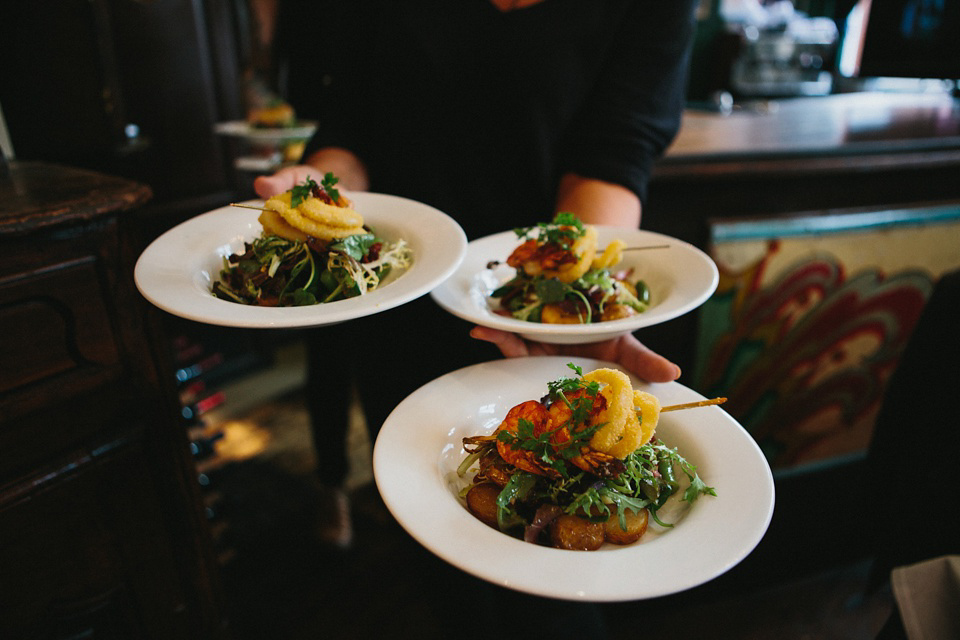 "We didn't have any favors but we did do a few party bags for the few children that were there which contained some little temporary tattoos and toys which worked a treat at keeping them entertained during the meal and speeches. Also our DJ was an old friend which worked out perfectly and he bought his own turntables along."
"It's hard to pick a favourite part of the day as it was all so much fun and I think we were both on cloud nine all day, but walking in to the beautiful council chamber with my mum and daughter was very special, even though I had planned for her to walk in there was always a plan b incase she got a last minute case of stage fright and sure enough my mum ended up carrying her, luckily she was a star during the ceremony and was doted on all day by all of her grandparents. Another highlight was our first dance which wasn't a typical slow song, everyone really went for it and had a good old boogie."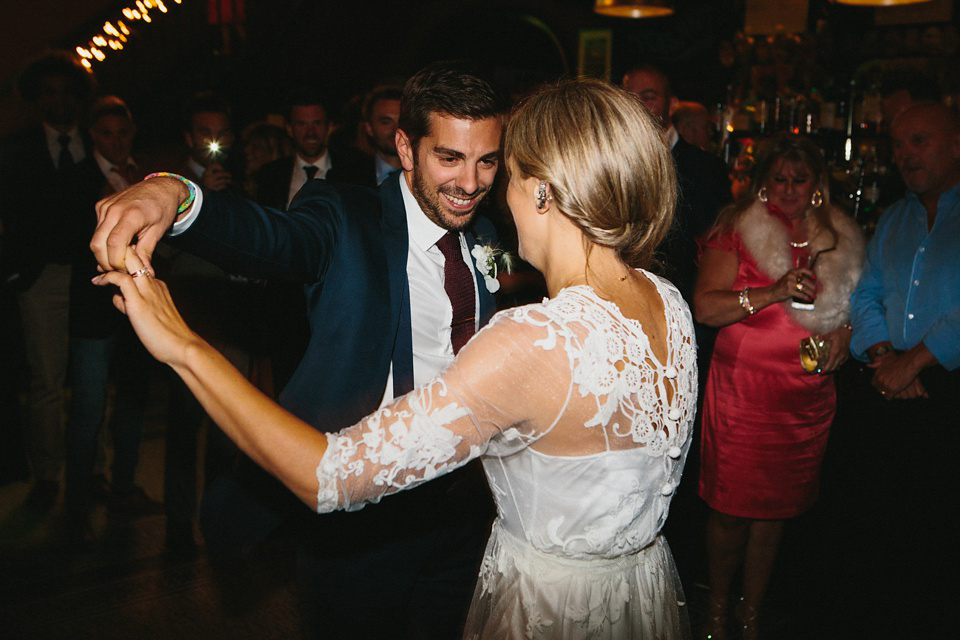 Words of Wedded Wisdom
"My advice would probably be just to not let planning a wedding cause unnecessary stress, keep in mind the whole reason you are getting married in the first place and keep it fun and relaxed and be true to yourselves and your own personal style.
Weddings don't need to follow a formula or a theme and you don't need to spend a year planning one or necessarily stick to traditions and you can't always make everyone happy, we weren't going to have a cake / cut the cake for example but decided to for an added bit of fun/tradition, I didn't have any bridesmaids but instead just wanted my mum and daughter, Edie to walk with me into the ceremony."
"Also we didn't spend too long having photos taken or pose for lots of family photos as we really just wanted Steve and Jo to capture the true essence of the day which they have done beautifully and more than exceeded our expectations with their amazing photography. Listen to your photographer or your venue as they see weddings all the time and can give you some great advice and pointers on timing or things to be mindful of.
In retrospect there was nothing I think either of us would change about the day, we had such a great time and all of our guests had a lot of fun. I perhaps would have left myself more time to get ready in the morning or had more of a schedule, we did end up having to speed to the town hall and being 10 minutes late but it all worked out OK. Even the car breaking down we wouldn't want to change as its a story and something we'll be able to look back on and laugh about."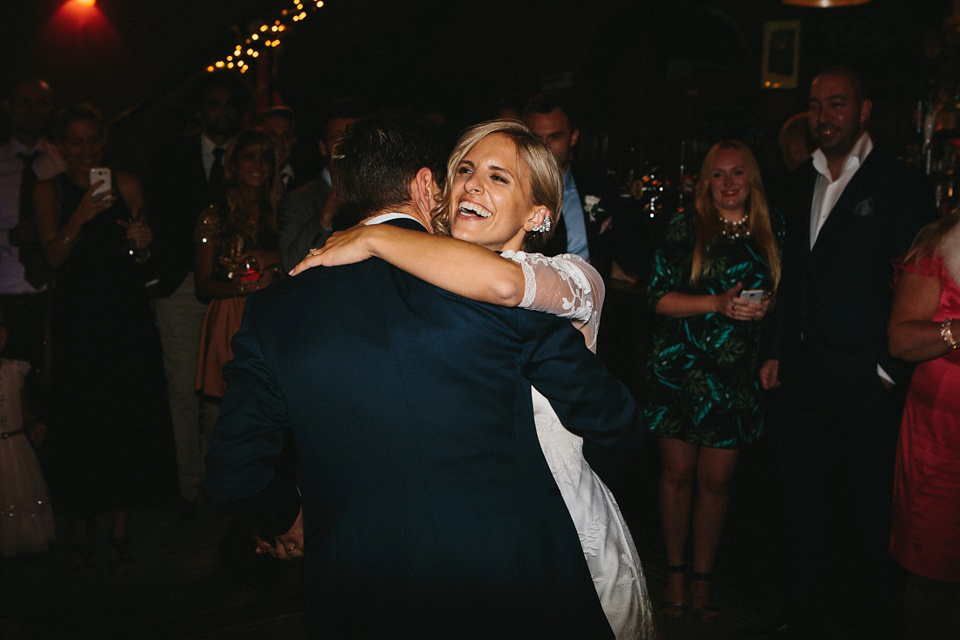 Such a cool wedding – huge congratulations to you both Cat and Harry! And our love and thanks to the wonderful Peach & Jo for sharing this beautiful wedding too. Guys, you can learn more about Peach & Jo via their Little Book For Brides listing, and you can see more of their wedding photography on Love My Dress right here.
Love Annabel xx
Photographer – Peach & Jo
Officiant – Suzannah Stack (no website
Venue –  Islington Town Hall + The Peasant
Wedding Dress – Days of Grace Vintage (alterations by Joe Allen)
Shoes – Chanel
Jewellery – vintage ear cuff from Etsy
Groom – suit, Paul Smith; shoes, Russell & Bromley; pocket square Alexander McQueen
Flowers – Palais Flowers
Vintage hire car – Wedding Car Classics
Giant Heart – Milk Street Studios
Hair & Makeup – Lois Moorcroft