Hello readers, It's Michelle here from wedding planners Pocketful of Dreams. We're back with our annual wedding roundup for you, sharing our thoughts about the top wedding trends, influences and ideas to look out for and be inspired by in 2016.
As wedding planners and designers we work hard to understand who our couples are in order to create a truly personalised wedding that tells 'their story'. Whilst we're aiming for the wow-factor, we want to ensure their day is also punctuated with personality and that each detail is entirely relevant to the couple we are designing for.
So this year for our annual trends forecasting post, we've certainly been looking towards the future, drawing upon the design influences and trends that will impact the wedding world. This time around we are focusing on personalisation and how you can take advantage of current influences to create that emotive and memorable experience that's relevant to you as a couple. We have also invited input from our friends across the industry for their predictions about the future of weddings.
THEMES AND CONCEPTS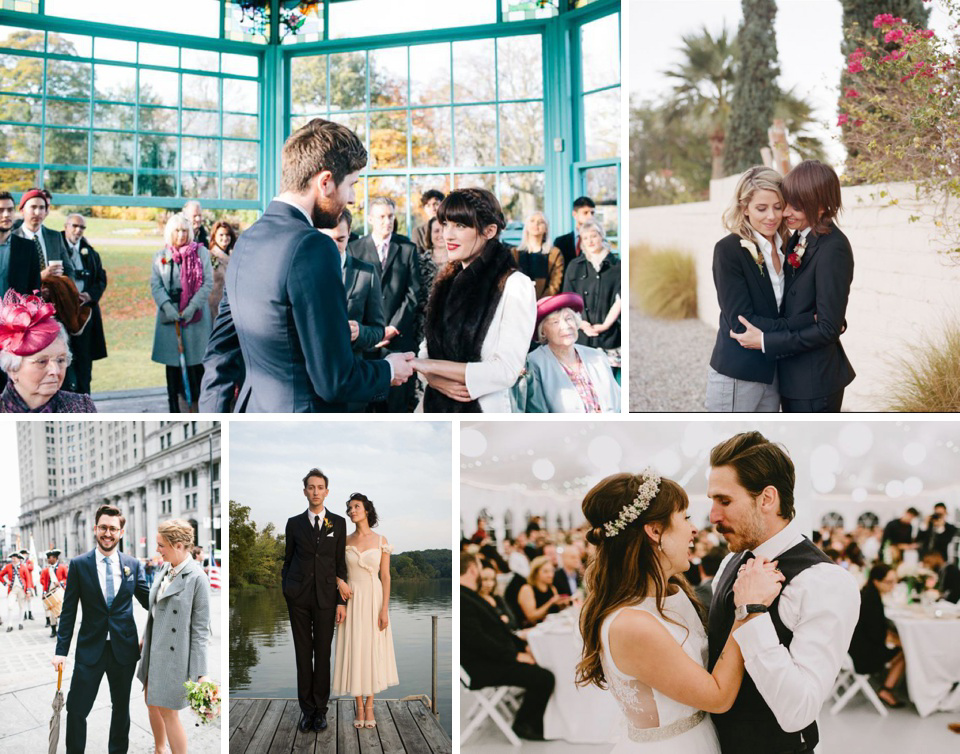 Just be yourself: When it comes to deciding on the overall look and feel, that will give you a totally out-of-the-ordinary and truly memorable wedding day, our biggest piece of advice is this: Just be yourself. There is no-one else out there like you, you are beautifully, wonderfully, exquisitely unique so celebrate your quirks, the things you love about each other and the passions you have in life.
We've never really been fans of the word theme as it conjures up visions of over-the-top styling and cheesy ideas.  We prefer to think of it as a concept or big idea, your concept will provide a narrative to the day and should run through every single detail, giving a direction, focus and flow to your celebration. It's your story, told creatively.
And when it comes to telling your story, authenticity is key. Amanda Monaghan, Founder, PapaKåta shares this view; "Many couples are seeking an authentic experience for their wedding day, with old-fashioned quality, natural surroundings, honest sharing food, textural materials and simple details."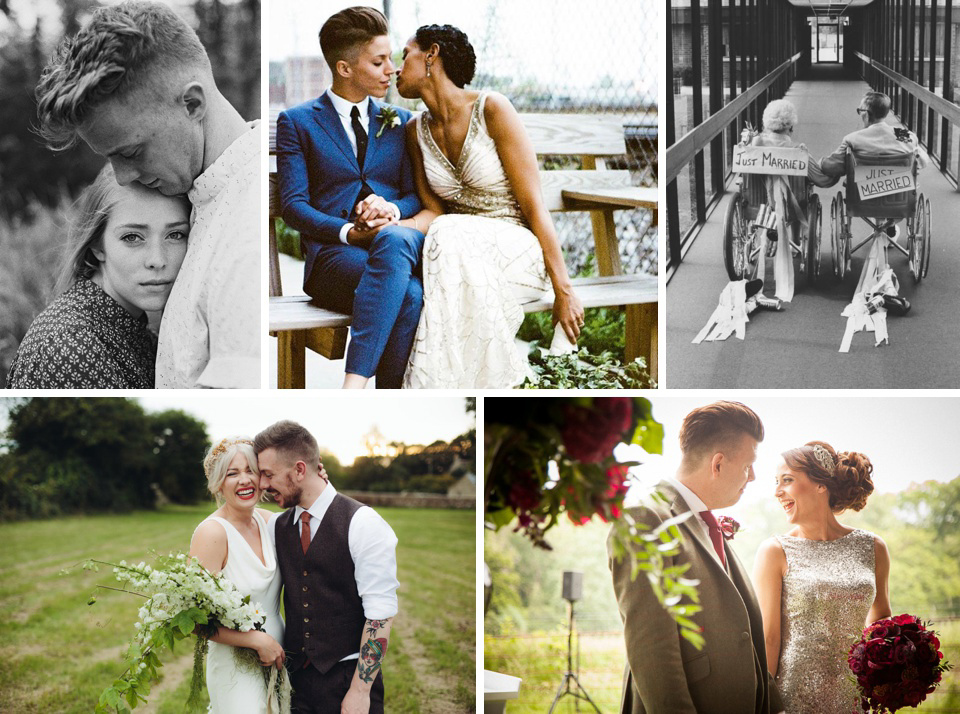 So really think about who you are, what's important to you and what you want your wedding day to say about you.  How do you want it to make you and your guests feel? What emotions do you want the day to evoke?. Before you know it you'll have the most beautiful and authentic concept nailed down for a wedding day that could only ever belong to the two of you.
VENUES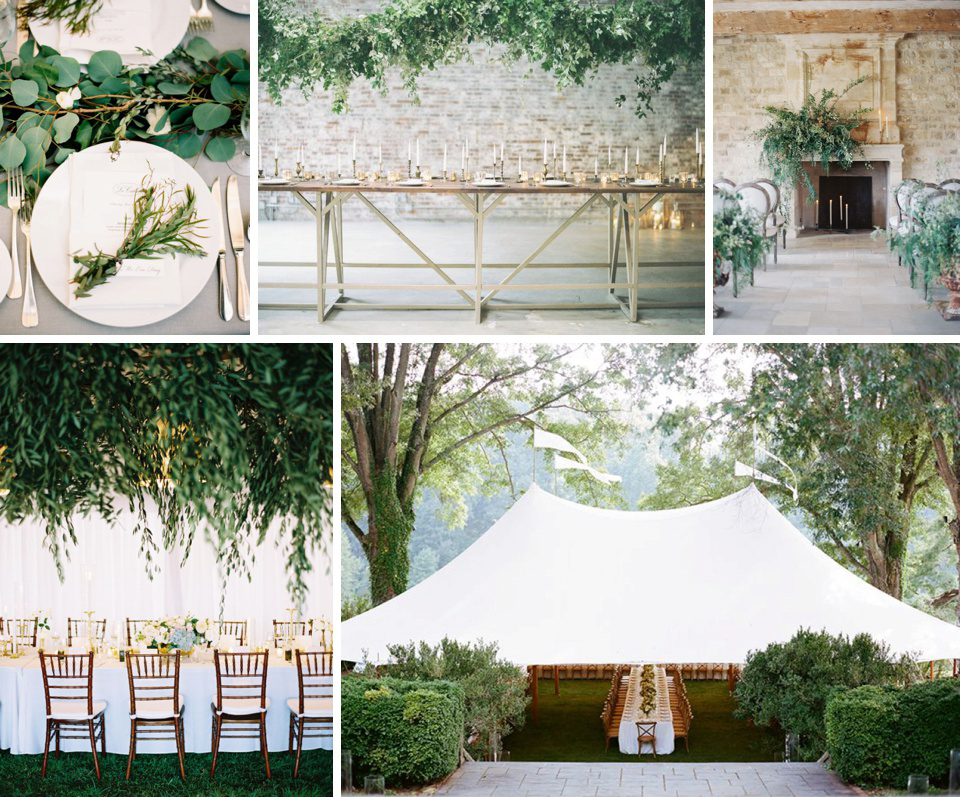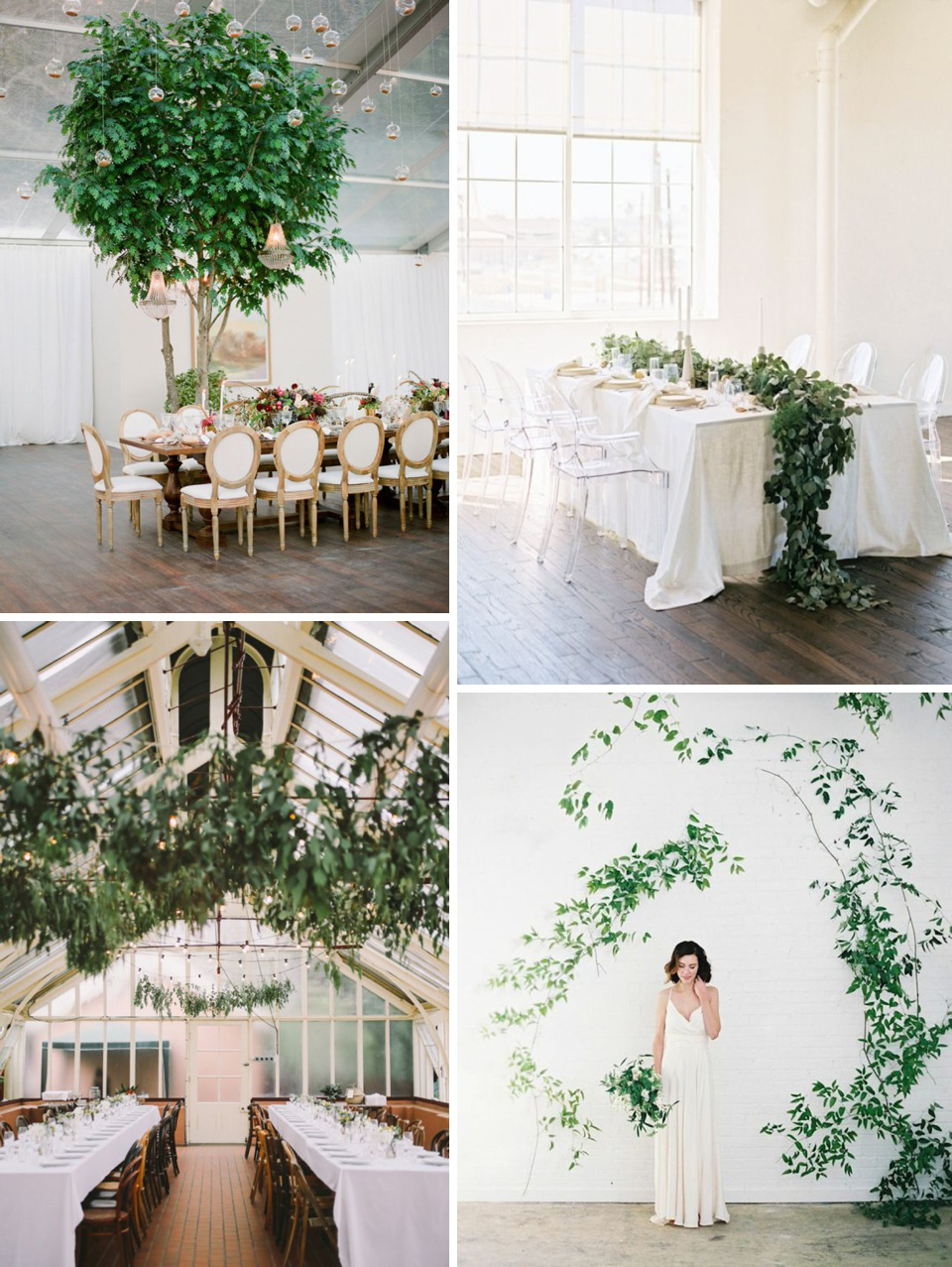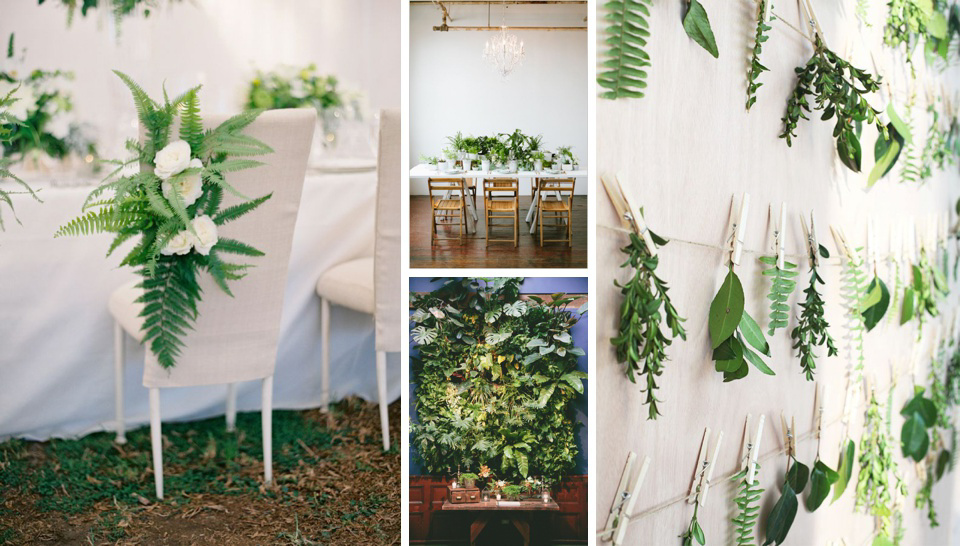 Bringing the outside in: It's one of the most heard requests from our clients who desire their wedding spaces to feel inviting and magical. Rachel Terrett at Elmore Court says "bringing the outside in just gives a sense of warmth and cosiness to any wedding and is a great base for flowers and candles too"
Elliott at Academy Marquees advises using a clear marquee to make the most of natural views "Clear PVC has become more and more popular and is still evolving. You can now use it in 90 degree bend marquees, clear cone marquee and a range of other innovative structures."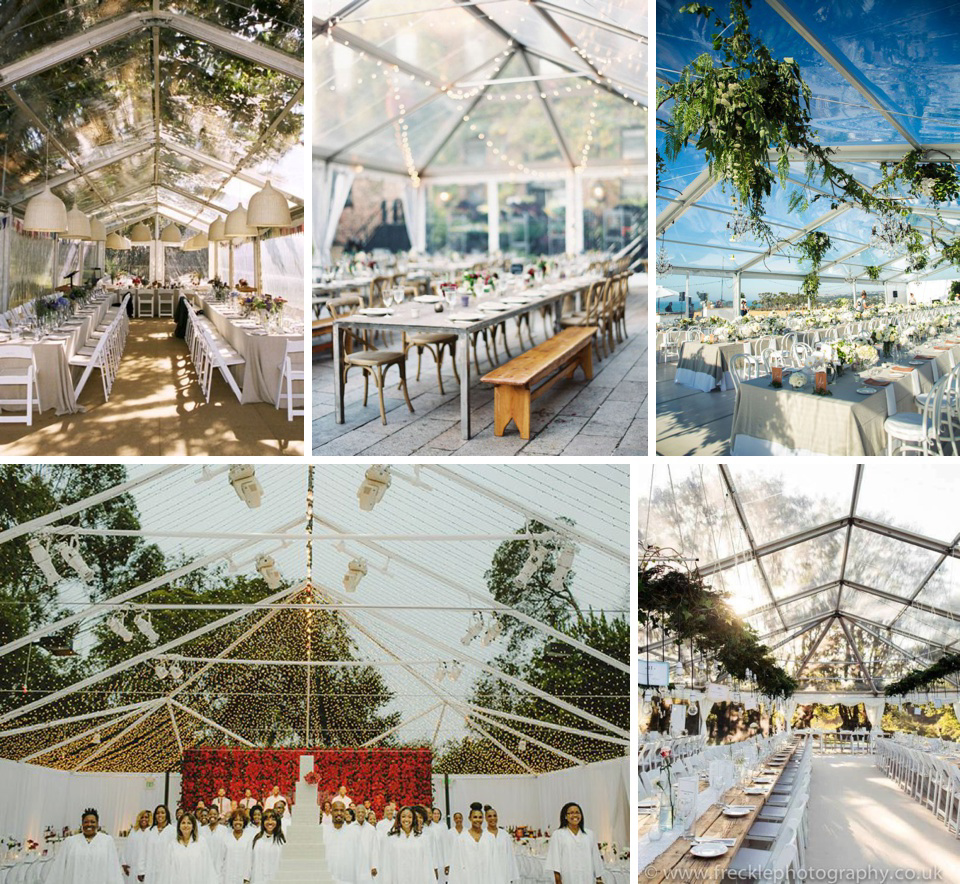 Whilst Amanda Monaghan, Founder, PapaKåta suggests "The back-to-nature trend demands open or clear side walls, with the main aim being to bring the outside in and vice versa – working with the surrounding landscape and often incorporating trees under the tent canopy. We have created a number of bespoke fixtures for our tents that can be decorated to bring the outside in, including hanging frames and floral crowns." 
STATIONERY & SIGNAGE
Say my name: Couples are taking an almost branded approach to personalising their days, creating ever more creative ways of making the day feel like their own. Stationer Helen Sharland at Cutture has been creating personal and conceptual stationery and styling products since 2009, she said "we like to create almost a 'brand' story for our couples, everything is considered and beautifully executed so it is recognisable as 'them'. Our signature was to create storyboard invitations, where we illustrate a couple's life story together, from places they have travelled, to where they first met and even including their pets".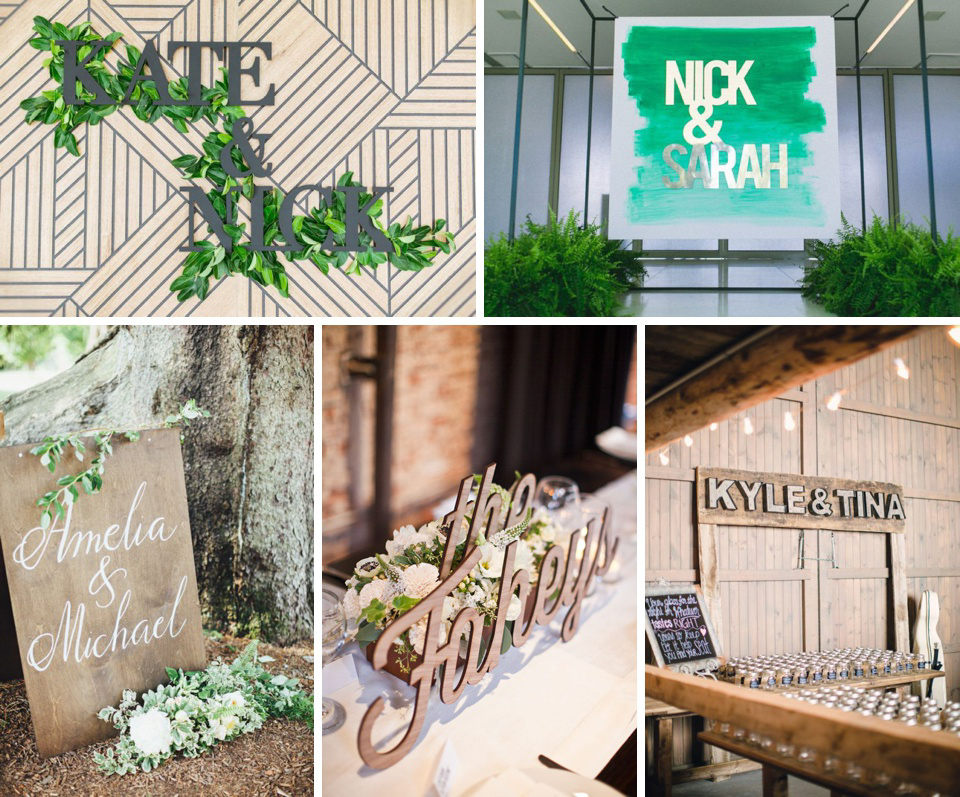 Monograms are a great way of adding that personalised touch and are certainly nothing new, but 2016 will be all about how to use them for a fresh spin on a classic idea. From lasercut vinyls attached to the dancefloor, to projected light streaming across the walls through to lightboxes that let you add your own wording or phrase – the latter we predicted in our 2015 roundup!. Vaishali Shah of Ananya Cards says "a couple's monogram becomes part of their identity and has many uses beyond the wedding, including personal stationery." 
Mindful moments: Mindfulness is a concept many are familiar with as we try to navigate the demands of a busy life and it's something I recommend all of my clients to partake in during their planning journey. In response to growing interest in this field Ananya Cards have created a mindfulness-colouring, stationery series for weddings: "Couples can send their guests an uncoloured invite for them to enjoy colouring at home, or an item to colour that they can bring to the wedding with them to become part of larger display. It could even be a hen party activity to create coloured cards to send out as invites". I absolutely love this idea and could see it extending into unique guest-book concepts too, it's so fresh and unique that we don't yet have any images to share but watch this space as I predict big things.
Font & colour lovers: We definitely fall into the geeky category when it comes to font and colour selection and think both elements can say so much about a person. I guess that's our branding background coming into play, it seems we're not alone in this view either: "Colour ways and fonts and formats really are the thing that determines how design in stationery moves forward throughout the years, there are so many tools to help Bride and Grooms create truly imaginative pieces which is beginning to happen as the 'norm', which is fantastic" says Helen at Cutture.
Lucy of Lucy says I do agrees "Customers are definitely getting braver with colour and their wording, which we love! I think this is linked to couples making their day more representative of themselves."  Whilst Rebecca Hoh-Hale of Most Curious added her thoughts and suggestions "Text, font and typography will be a hit in 2016 – from modern calligraphy cake toppers to bold, capital letters declaring messages of love, laughter and dancing as a decorative element, focal points on walls, tables and tables plans."
It's all about me (and him): For that truly personal touch couples love to draw inspiration from their respective heritages, be it the town where they grew up, where their parents are from or even where they have travelled together as a couple. "Our custom hand drawn maps are becoming increasingly popular, probably because the location of a wedding is often chosen for very personal reasons by a couple and a map is not not only a nod to the venue of their wedding day celebration, but also where they are from, or a significant time of their lives. They aren't necessarily for scale or to find your way there, but they represent how a couple feels about a place which makes a lovely keep sake too."  comments Lucy of Lucy says I do.
Abi of Dearly Beloved also follows a similar approach "We encourage the couple to send us something meaningful to them, eg their favourite poem or a photo of their venue, so that we can represent them as couple on paper. One couple wanted to draw inspiration from their parents so they sent us aa picture of the bride's parents own wedding and asked us to incorporate elements of the groom's Malaysian heritage. As a result we featured vintage silhouettes, lantern ink drawings and photography in our finished design." For something that's for your eyes only then Abi suggested "stitching the date of the wedding into the groom's shirt or the lining of the bride's dress"
FLOWERS AND DECOR
Style the aisle: Couples want the backdrop to their vows to have that real wow-factor, it's an emotionally charged moment full of anticipation and can be over very quickly.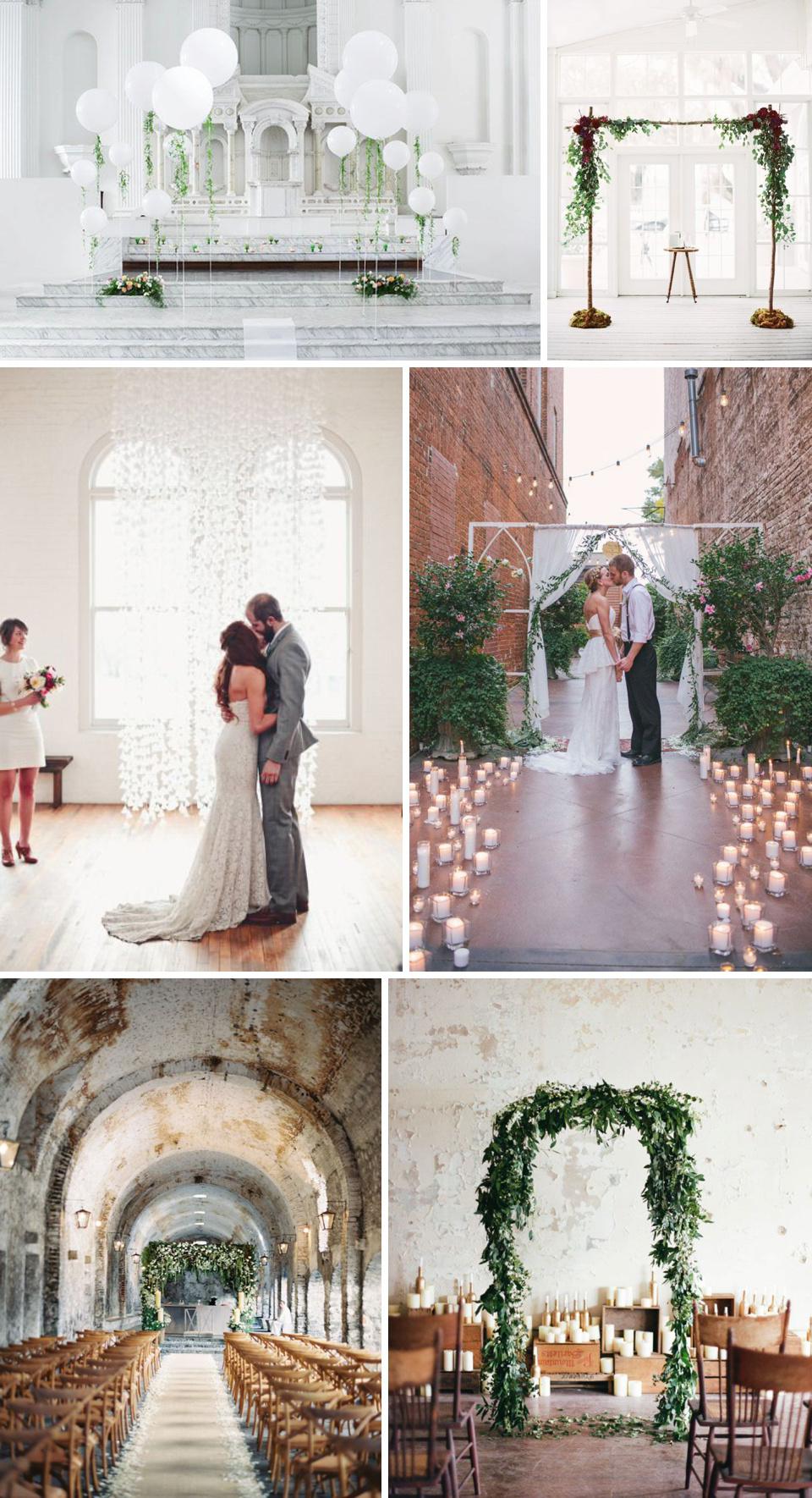 So to make the most of this special moment of the day we're seeing more drama and creativity in the styling of the ceremony space, from wow-factor entrances to unusual pathways, to breathtaking backdrops or those naturally occurring landscapes and untouched environments that need little embellishment.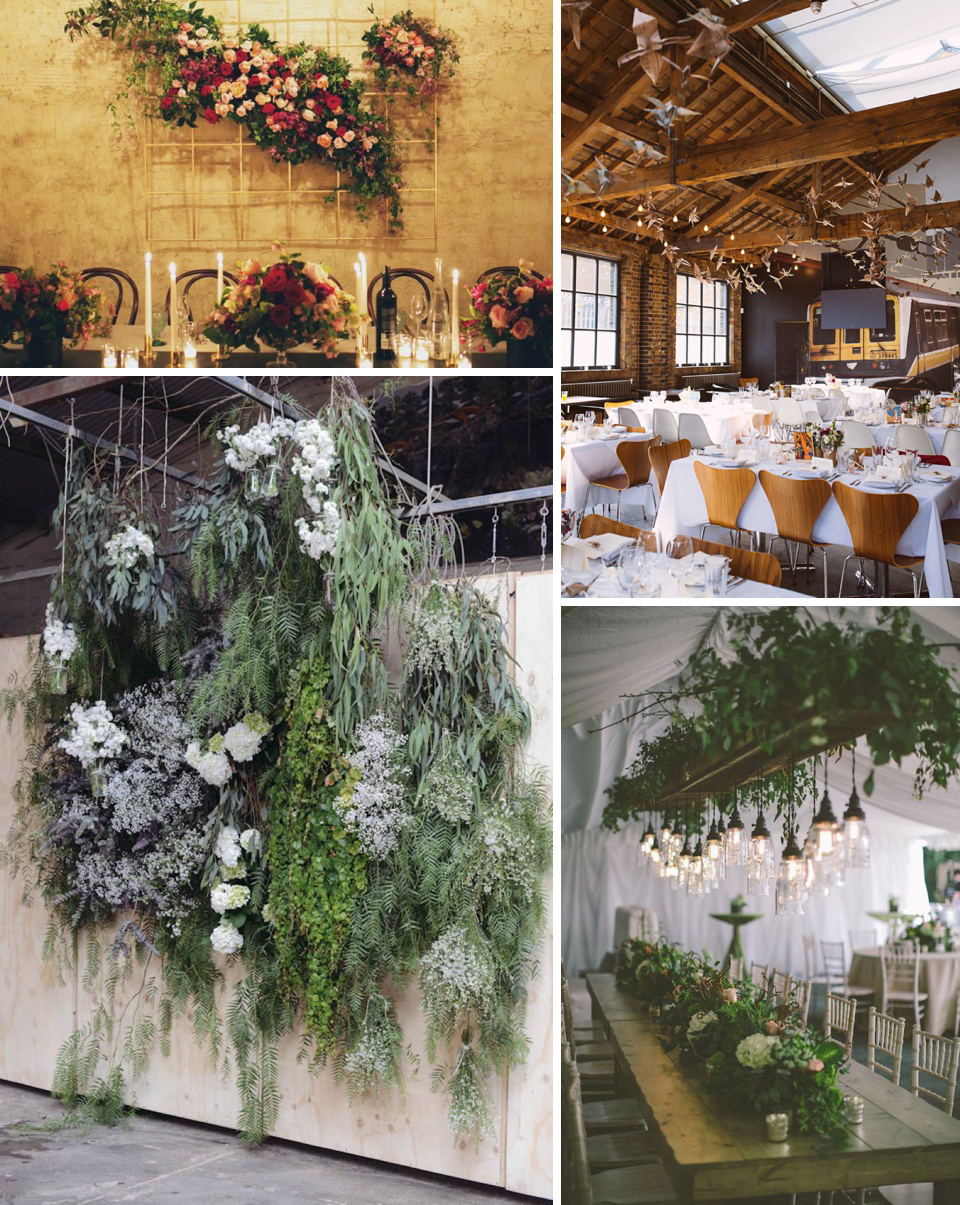 Keep it hanging: Beautiful botanicals displayed in unexpected ways continues to be a key element of creative reception space styling. This can be anything from hanging chandeliers of florals and foliage to whole ceilings draped with cascading floral magic. We're also seeing more inventive and artistic ways of styling florals, from sculptural suspended arrangements to entire walls painted with florals, as we seek out more sensory and immersive design influences.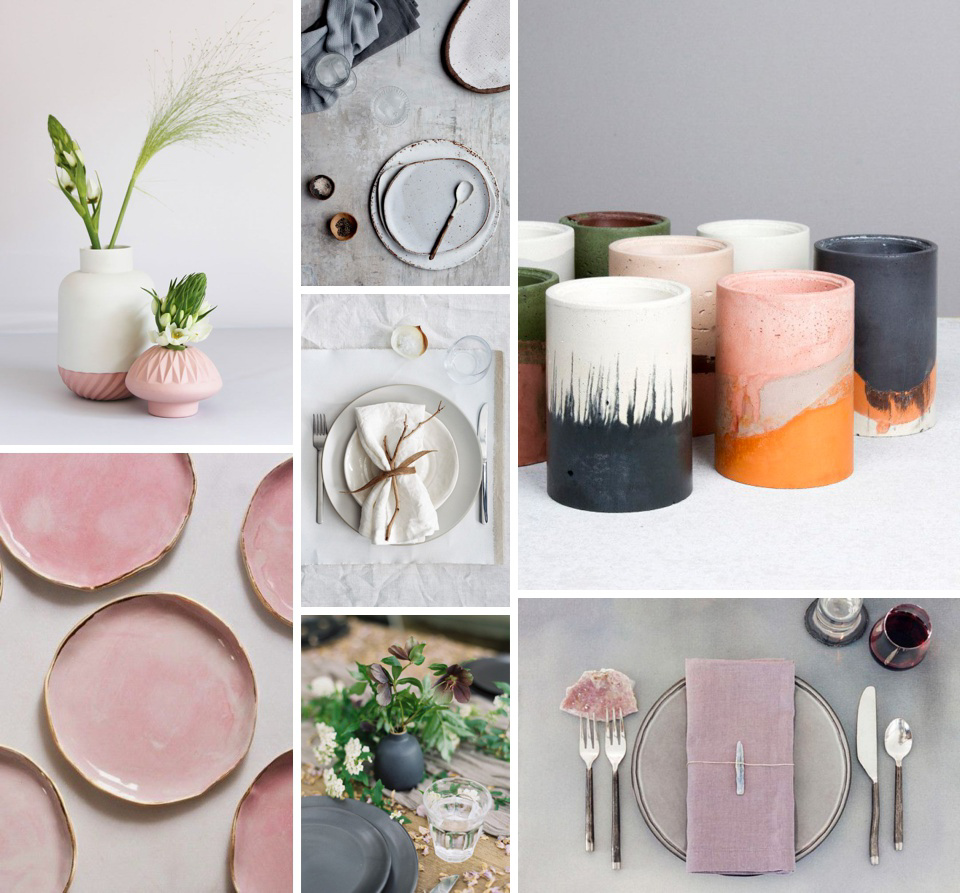 Tables that talk: Couples are using their tablescapes as a way to really express their own style, choosing luxe and modern details over standard options for elements such as linens, crockery, cutlery, glassware and finishing touches like vases and candleholders.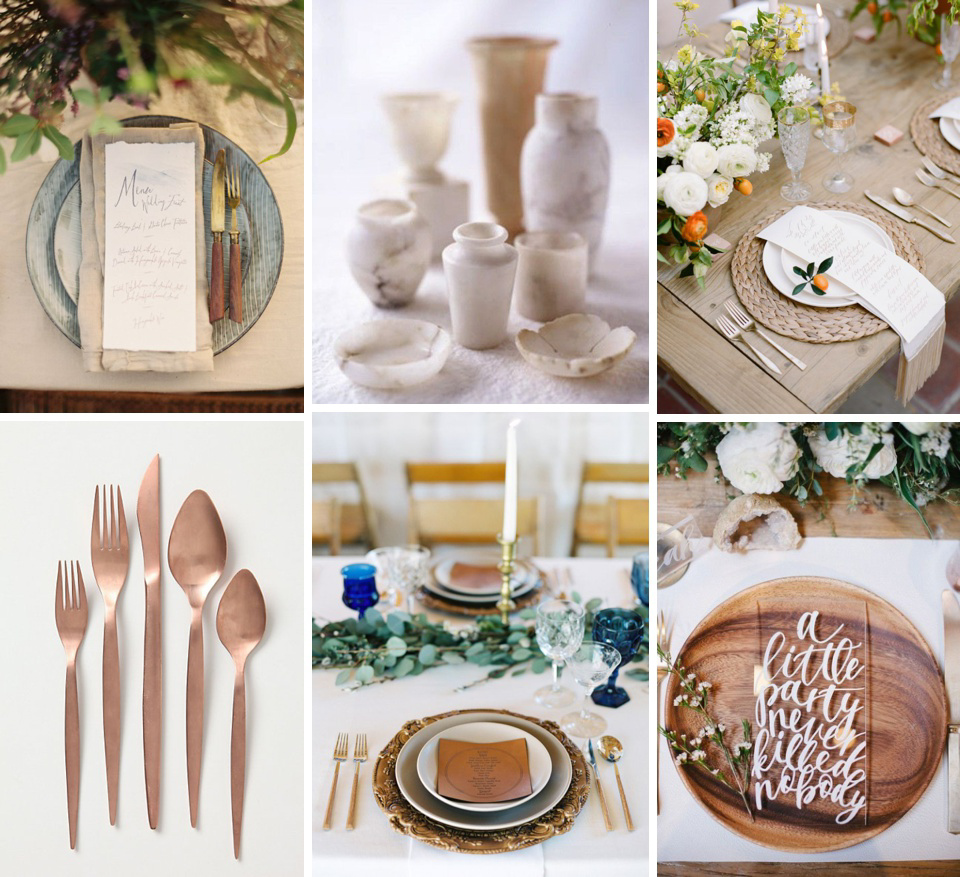 We've seen a real increase in the use of artisan ceramics, with their raw, organic feel and textured surfaces they work well in both modern and more industrial settings. Richly tactile linens in muted tones are being layered with organic crockery and gilded cutlery and glassware. Daniela at Classic Crockery commented "There is definitely a demand for more organic forms and natural props, our natural range and gold cutlery remain as popular as ever, as well as all gold and copper related objects. In 2016 we are introducing black ceramic dinnerware from France due to demand for something different." 
Rose gold, brass, bronze and copper being our favourite metallics to use in 2016.  The artful continues in the choice of candleholders too, with metallic and geometric forms still going strong they are now softened a little with the pairing of powdery-toned, handcrafted ceramic pots also.
Where the wild ones live: Playing to the natural world and the beauty that is created when it is left to grow with abandon, floral styling is becoming increasingly free yet with a certain sculptural elegance. That careful balance of effortlessness and precision, whilst colour palettes are much more organic and harmonious in nature. "At the moment the couples I'm talking to about 2016/7 weddings are less focussed on the whole one colour thing, more on texture and variation.   A few years back fashion dictated one colour of bridesmaid dress with that colour carried though as a theme for the whole wedding.  Now I'm seeing lots of maids in harmonious colours, perhaps shades of green from bright and fresh to olive and lichen. Soft greys and bold blues are still featuring heavily too.  Palettes are being influenced by nature, wood, moss and lots of calm greens with soft pops of colour being added as accents" says Joanne of Fletcher and Foley.
The florals are another element where couples like to reflect their background, Joanne added "Florally it's really lovely to bring in something that each couple feels familiar with, something that reflects their background.  They may have left Britain for a new life abroad and decided to come home to England to get married or the UK may not have been their childhood home."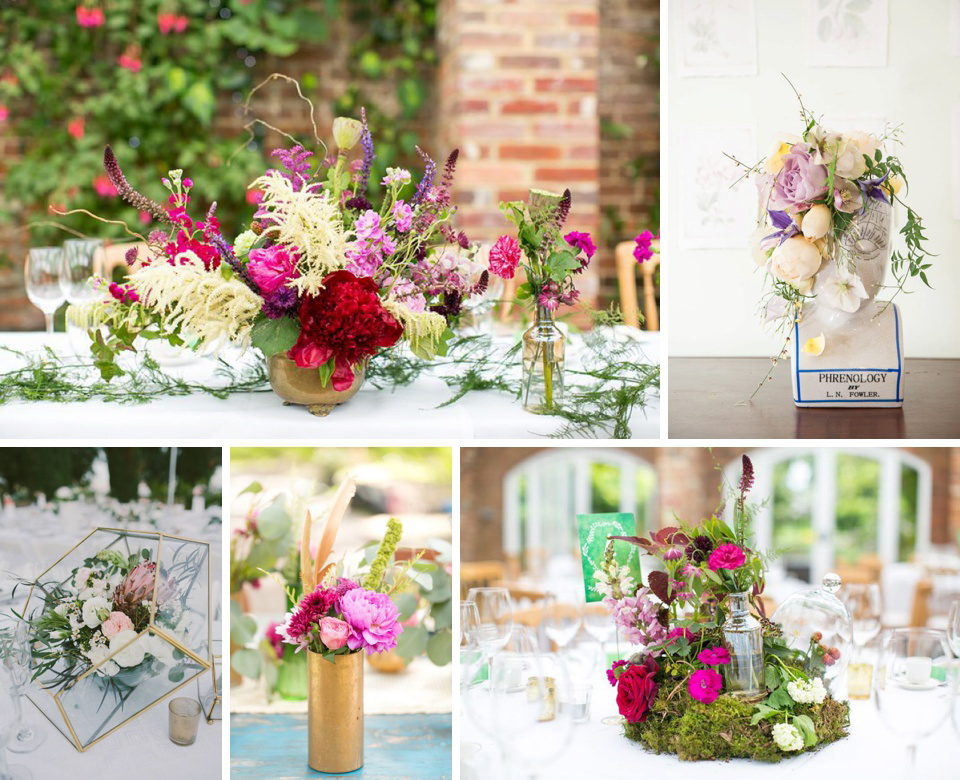 Creative centrepieces: The vessels carrying your florals remain just as much a part of the design as the florals themselves, from beautifully crafted ceramics, to sleek and minimal glassware. "Table centres are taking on a more relaxed, but sophisticated look. Lots of footed vases, urns etc moving away from the smaller rustic charm that has graced tables in the past few years" says of Joanne of Fletcher and Foley.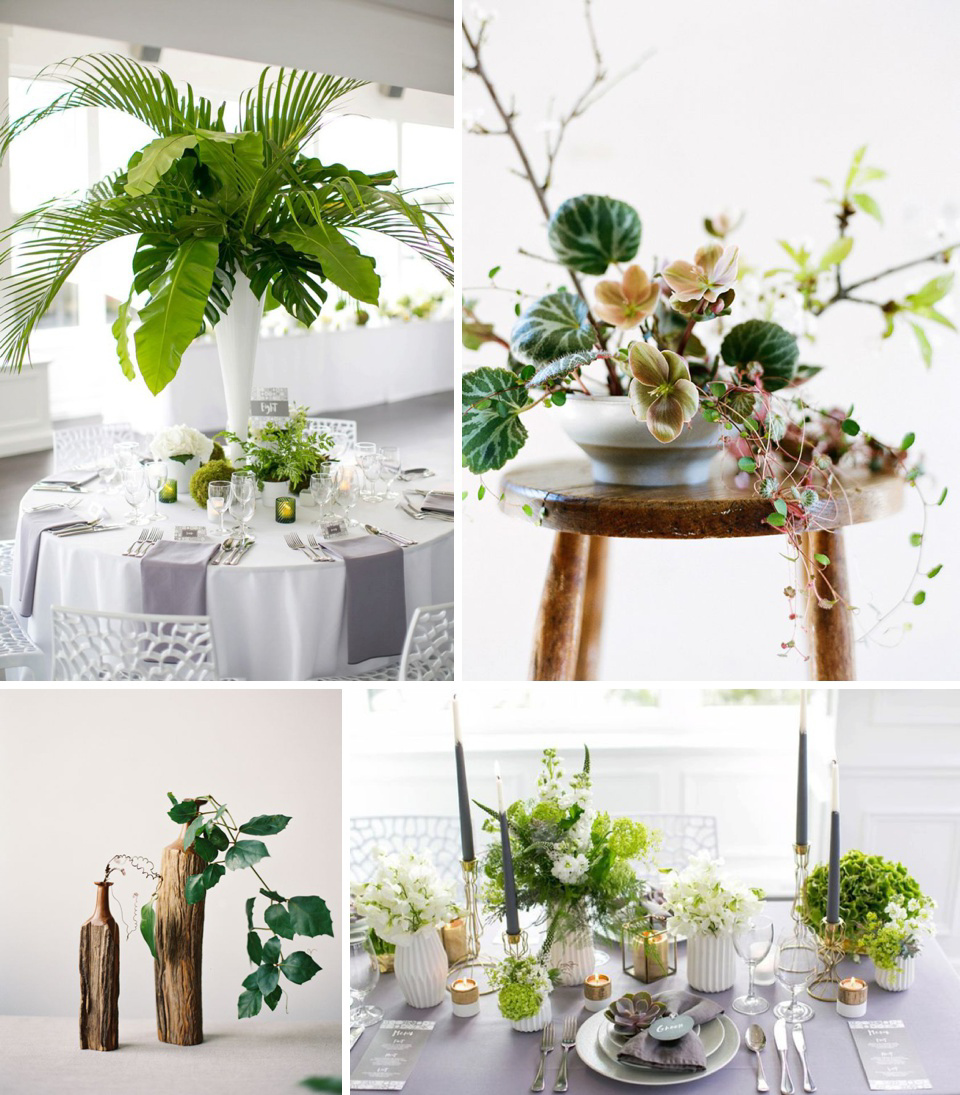 There is also a desire to do something more original with centrepiece arrangements, such as combining plants or floral elements with non-floral details for a lovely juxtaposition.
Rebecca Hoh-Hale of Most Curious added "We are seeing terrariums as centre pieces, and non floral bouquets and arrangements, so lots of greenery and foliage, cacti and succulents for the coming year – with less emphasis on pretty flowers. Geometric elements in styling rule, with twee, fussy and vintage not the go-to style anymore but a cleaner, slicker, minimal feel – with no over styling, just carefully considered moments of greatness at a venue, rather than over-kill shouty decor every where you look."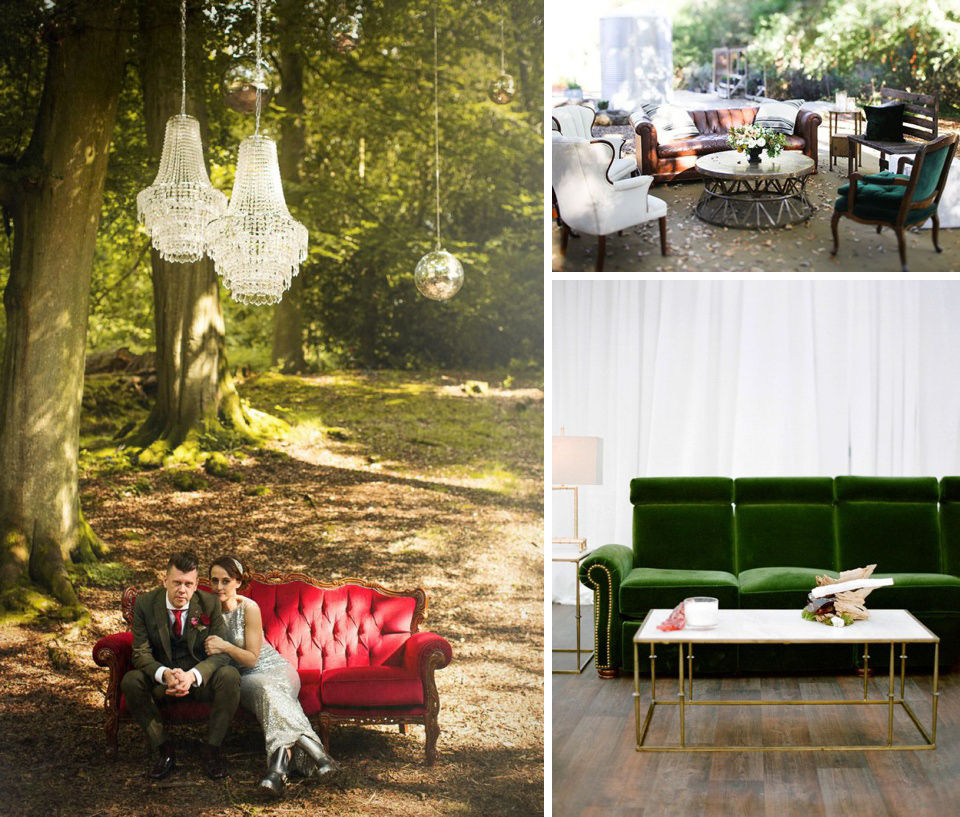 A touch of home: Wedding chill-out lounges remain as popular as ever and I think this definitely stems back to couples wanting to create a more laid-back and homely feel to their celebrations. It's often in consideration of older guests also, their presence is certainly wanted throughout the party and their comfort is therefore paramount.
Let there be light: Lighting is one of the key components for mood setting and typically couples are drawn to creating a romantic and enchanting vibe for their wedding reception.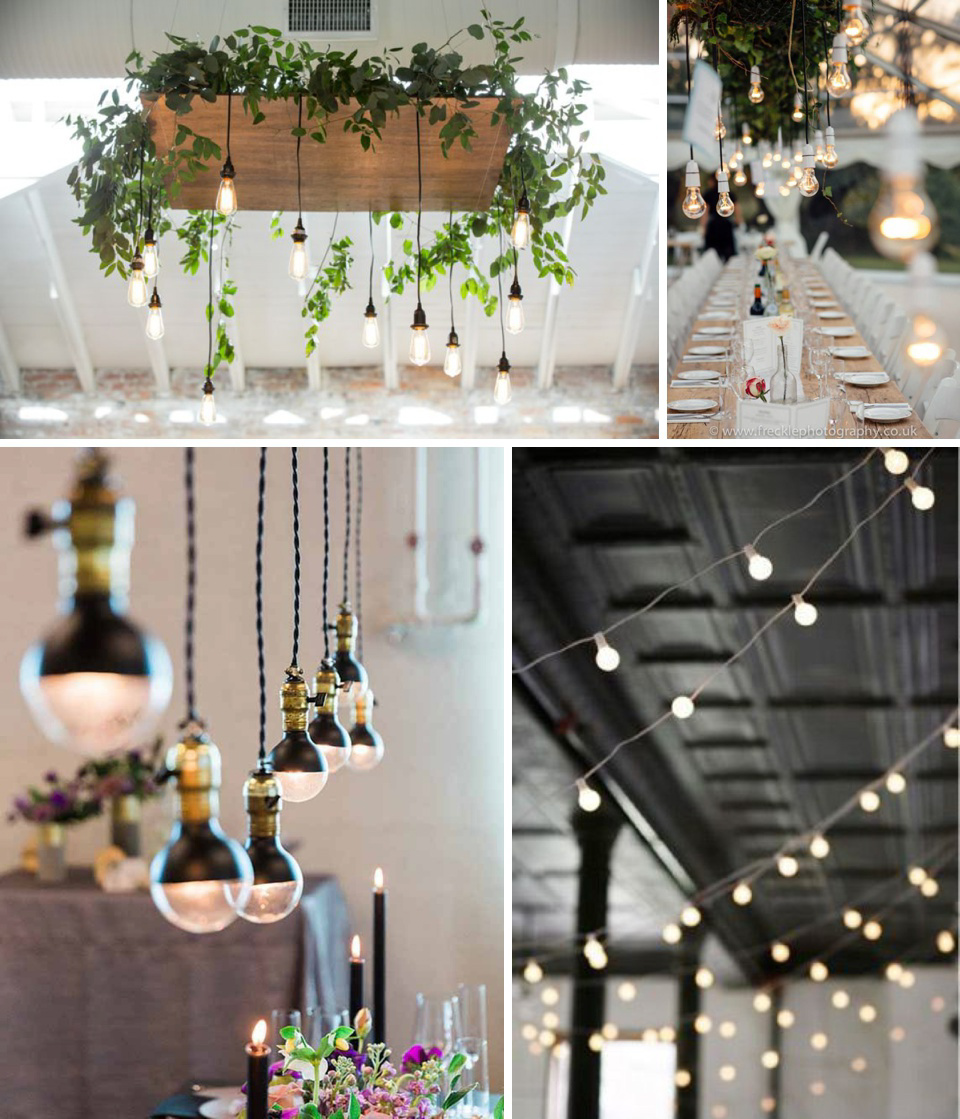 This is where lighting installations really get their chance to shine (get it?) and offer up a striking styling feature. We're seeing ever more creative ways to use lighting from canopies of twinkling lights to industrial edison bulbs or ornate chandeliers, or whole phrases written out with lit-up letters or neon. Think about how to create drama and enchantment with something a little unexpected.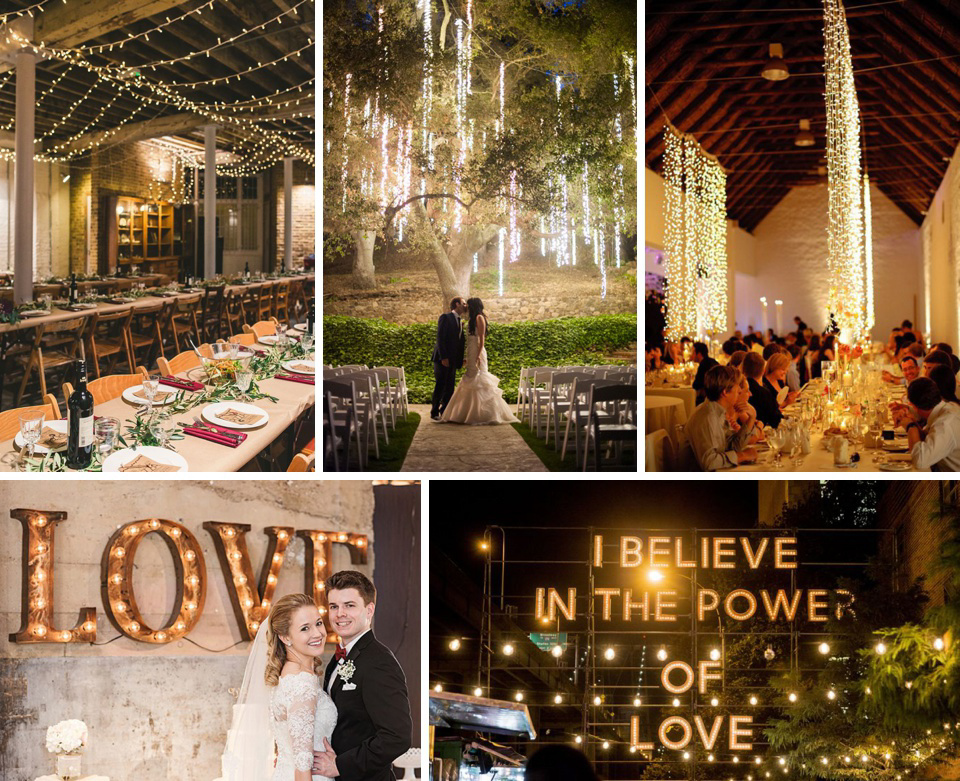 FOOD AND DRINK
All the cake: Over the years there has been a definite shift in wedding cake designs, with a move away from traditional white-iced, tiered creations to ones with much more creative flair and personal expression. Drawing in design details from other elements of the day such as the detailing of the bride's dress or the patterns or typography of the stationery.
Krishanthi of Cakes by Krishanthi says "We're seeing more and more couples request designs which combine dramatic clusters of handmade sugar flowers and delicate hand-painted details. Bold colours with distinctive silhouettes, and fashion influences (think colours, frills and prints) will have a big influence on the style of wedding cakes over the next year or so."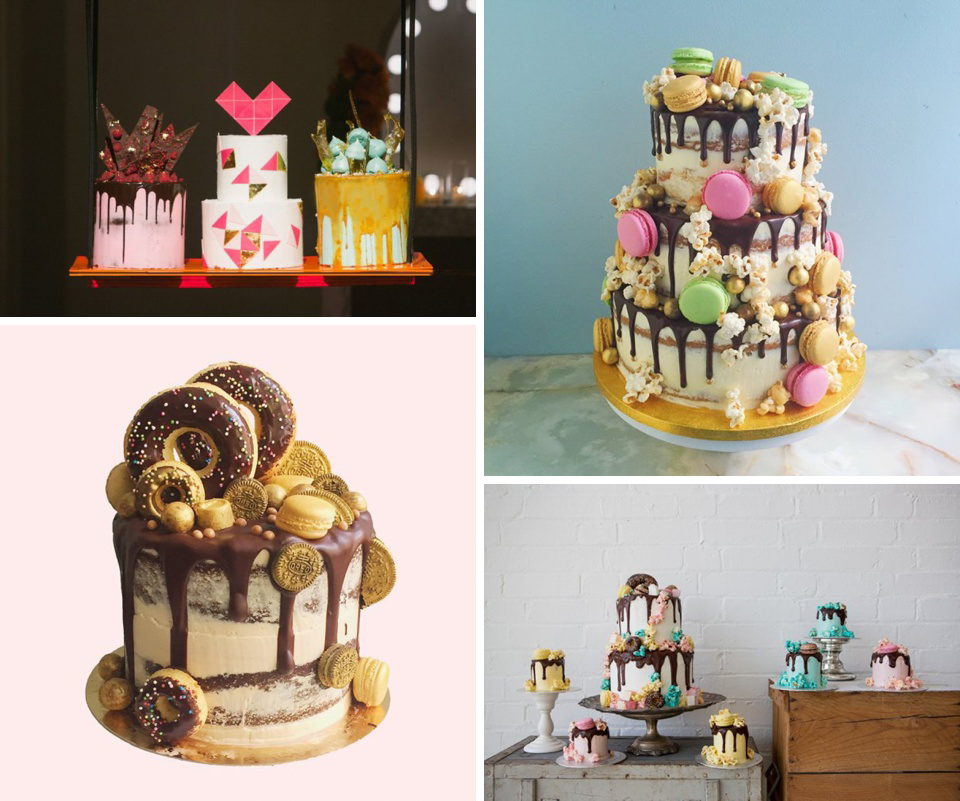 Lately we've developed a real fondness for the novelty style cakes that we've seen popping up on our Pinterest feeds, they provide such a fun celebratory touch with added sass and quirkiness.
Feed me: When it comes to epic dining experiences, nowadays we want all of our senses feeding, not just our hunger.  So wedding catering has had to catch up and quickly. Wedding caterer Emma Riddell of Goose and Berry commented "Interactive catering is the latest trend that is emerging. Think ice cream being made in front of you in a matter of minutes; flavoured air and pizza made to order out of a van. It creates an unusual and creative way of presenting and delivering food and one that is bound to get your guests talking. Creating food that offers surprises and a sensory experience offers something a little different to the norm, think herby desserts and cocktails, savoury macarons or sweet egg and soldiers"  whilst Galloping Gourmet, in-house caterers for Country House Wedding Venues predicts "caterers are increasingly bringing back Gueridon service, where dishes such as Crepes Suzette and Steak Tartare are cooked, finished and presented to the guest at the table, from a moveable trolley."
Keep it Casual: The more informal, relaxed and shared-style dining option is still something that couples strive to re-create on their day "Whether it be a canapé display where guests help themselves, a dessert bar or a food station. Served food won't ever disappear but there will certainly be more informality throughout the day" added Emma.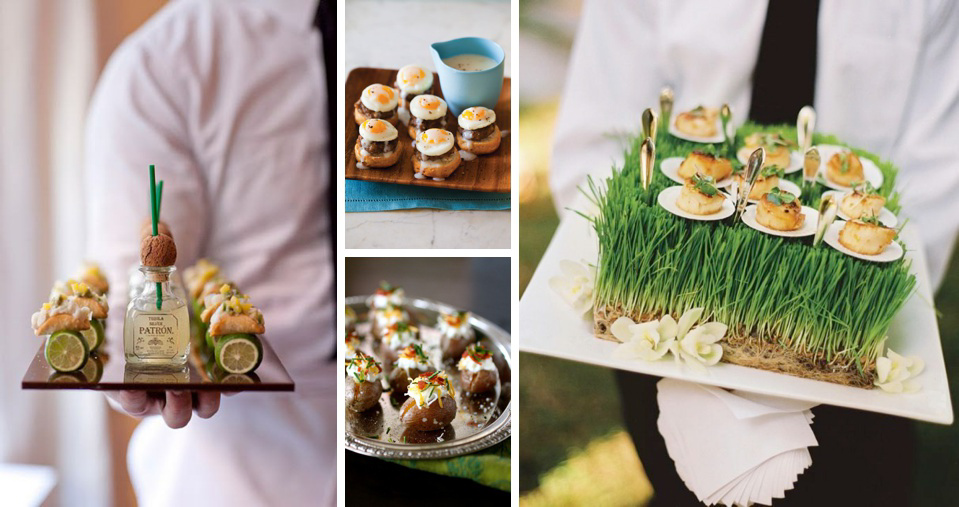 This is us:  Taking a personal approach to the dining experience is something that is increasingly popular as couples draw upon childhood memories of aromas, flavours and those comforting meals they have grown so fond of  "Bespoke menus and cute canapés that are miniature versions of the couples favourite dishes can really liven up the wedding food and show off the couple's tastes and personality." suggests Emma of Goose and Berry. This is when it's important to really choose your catering partner well, so before you plough headfirst into tasting delicious food ask them how they intend to make it personal to you Emma finished off by saying "Just by asking simple questions about what hobbies they have, where they got engaged or where they holiday can give clues as to who the couple are. If the couple have any initial likes or wants for specific food/drink we will then give our suggestions for a creative twist on the concept to make it more unique to them"
Ultimately your wedding day is a chance to celebrate you and your love so go with the elements that get you excited and make your heart sing. I hope you have enjoyed this foray into our world of weddings, wishing all you 2016 and 2017 couples lots of love and luck with your planning. Enjoy it!
If you want support from the experts to create your own wow-factor celebration, where every detail is carefully considered and flawlessly executed, then do get in touch to discuss our design, styling & planning service. Contact us at [email protected] for more information.
All image credits found here. 
I really hope that you have found this feature useful.
With love,
Michelle x