Hello you lovely lot! I have a delightful mid-week treat that's sure to brighten your day. Rach works as a Communications Assistant for a midwifery services company and Aaron is a Manufacturing Engineer for an automotive manufacturer. They married on 1st August 2015 and made their day truly all about them as a couple, with a focus on bright yellow accents. We are really proud to say that this elegant and colourful wedding was photographed by our Little Book For Brides member, Becky Ryan.
"The style of our summer wedding was really just based around 'us'. The only thing we knew we wanted was a yellow theme, as it's such a bright and happy colour. The rest just fell into place. We both like cars and bikes – cue number plates for table names and a Haynes Manual for the order of the day. I love sewing machines – cue numerous vintage machines dotted around the tipis. It was all a bit of a mish-mash of ideas that suited us a couple."
Photography by Becky Ryan Photography
Follow Becky Ryan on Instagram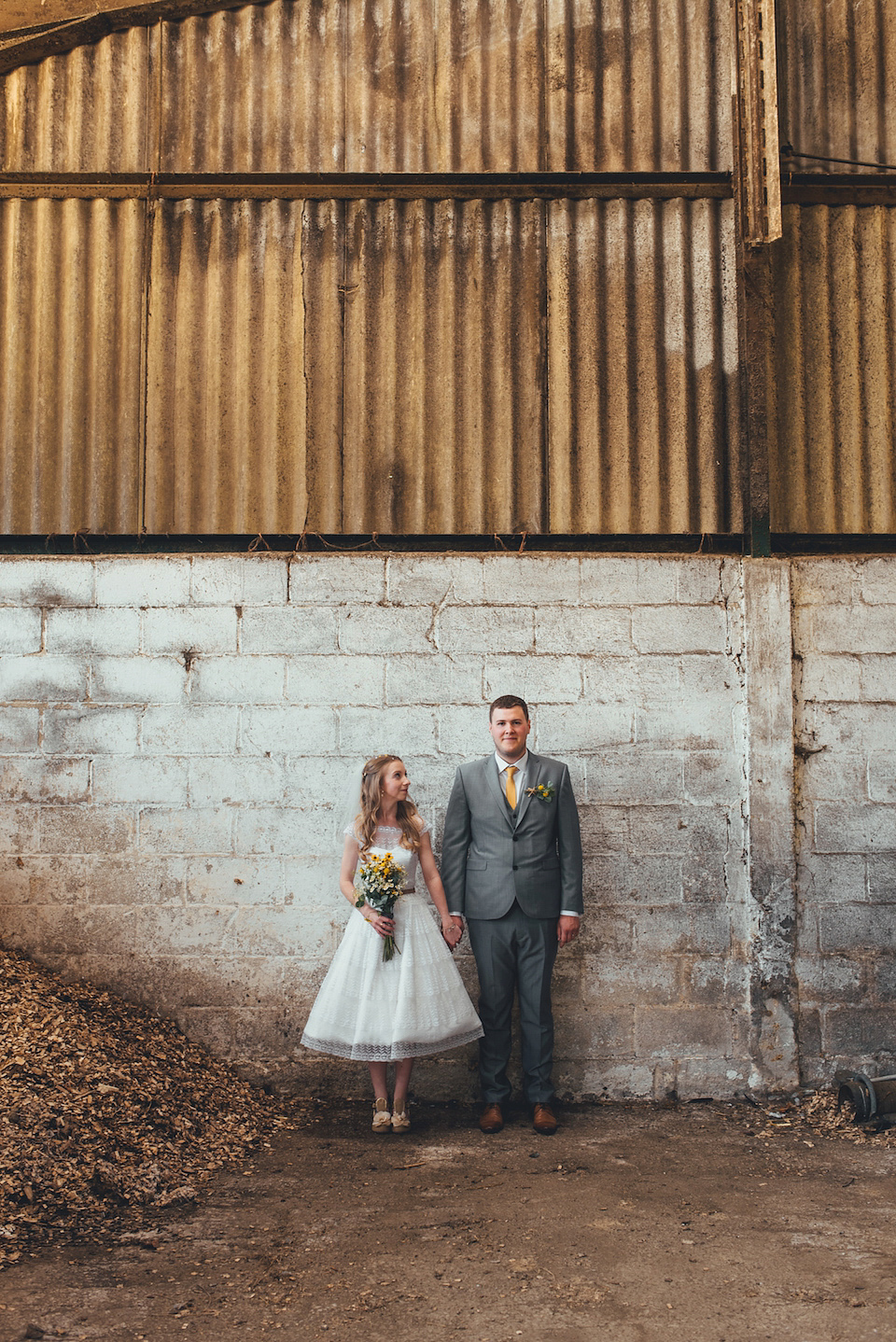 "Being very petite, I really struggled to get any idea of what dresses would look like when I tried them on in boutiques. It was also pretty tricky not having a clue what I wanted. I guess it's good to try lots and know what you don't want, but everything I tried was a no!
All I knew was that I wanted a short dress (apparently the only time I had my 'happy face' on when trying on dresses was when I tried a short one on!) and one that I could be comfortable eating and dancing in. Then I came across Timeless Couture. They were my answer – a completely custom made dress that would fit me perfectly and that would develop over time into my perfect dress."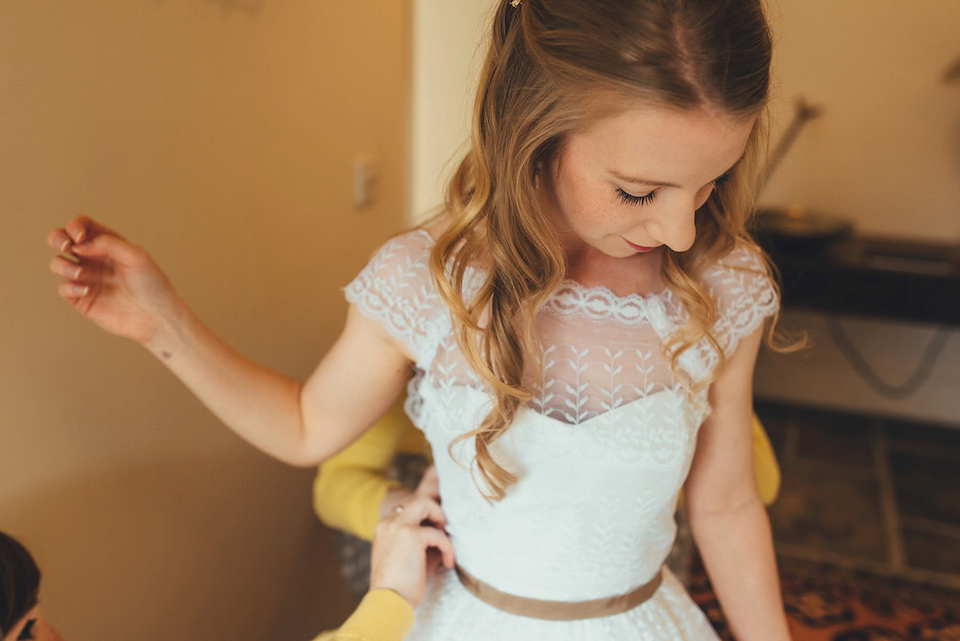 "The ladies at Timeless Couture were lovely from the word go. Appointments at the shop felt really relaxed, and I felt under no pressure to know exactly what I wanted at the beginning – perfect! I had the idea that it would be nice to incorporate some of the fabric from my parents' wedding garments into my dress. The ladies really took to this idea and I cannot thank them enough for making such a beautiful, personal dress. Covered in my mum's lace and lined in my dad's waistcoat, it's completely unique.
The dress was so well made it could even be turned inside out to show off the lining – two dresses in one, result! I had no idea this was what I would spend my wedding day in, but I honestly couldn't have imagined wearing anything else – and everyone loved it too."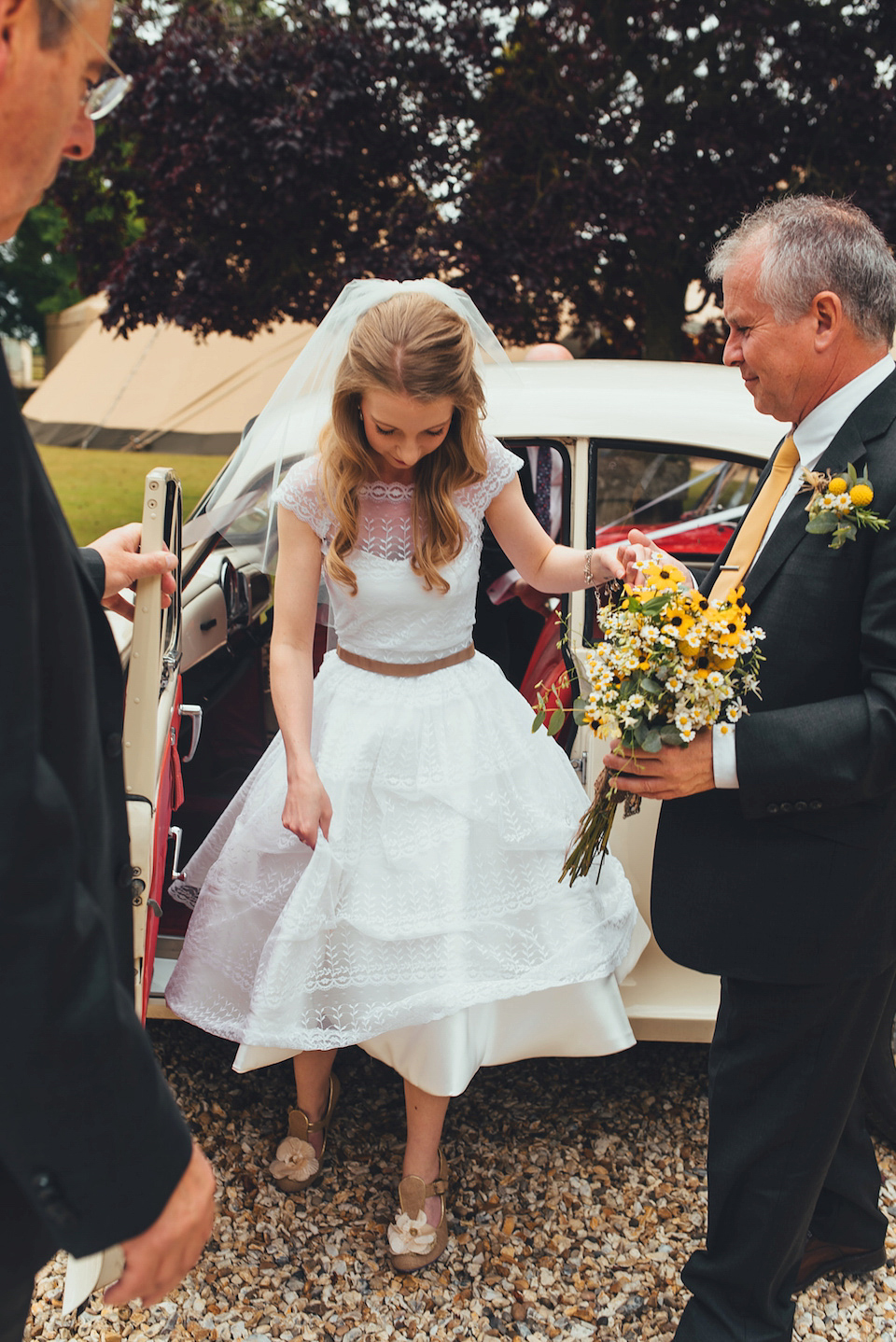 "Becky from Becky Ryan Photography was the perfect photographer for us and we loved her! We had complete faith in her to capture our day as we wanted it, as she really 'got' us as a couple, and our vision for the day. If you Google images of our venue you'll find a completely different set of images to what Becky produced for us, which I think is a real testament to her skill and passion for creating unique and personal photos for her couples.
I'm really glad we had an engagement shoot first – we were so at ease when we had our couple shots done on the day and had fun mucking about by all the tractors!"
The couple chose the incredible Friar's Court in Bampton, Oxfordshire as their venue; keen for a place with an outdoor space for tipis.
"Friar's Court was the first and only venue we visited. We knew we wanted an outdoor wedding and space for tipis – Friar's fitted the bill and more! After one dark and rainy visit we knew we needed to look no further; the setting was just stunning and completely fitted with what we wanted from a venue. It's a working farm with the option of a barn for the ceremony and reception, but we chose the exquisite rose arbour and tipis on the front lawn.
It was great to see guests gathered in different spaces at the venue – drinking Pimm's under trees, relaxing on benches and children running around the old tennis court. It really made for a homely atmosphere. We were free to choose suppliers we wanted, but at the same time we knew we could get recommendations if needed."
Rach and Aaron chose rings by VK Designs, as they were drawn to the ethical nature of the recycled materials used. They travelled to the venue in a red Mini and a Morris Minor, both loans from their friends, and the beautiful bride was walked down the aisle by her uncle and brother; who stood in place of her much-missed dad.
"We didn't have an event planner, but we did have the lovely Jeffery at our venue – he runs the weddings via Silverpear Weddings. Our visits mainly comprised cups of tea, long chats in front of the fireplace and words of wisdom and advice from Jeffery."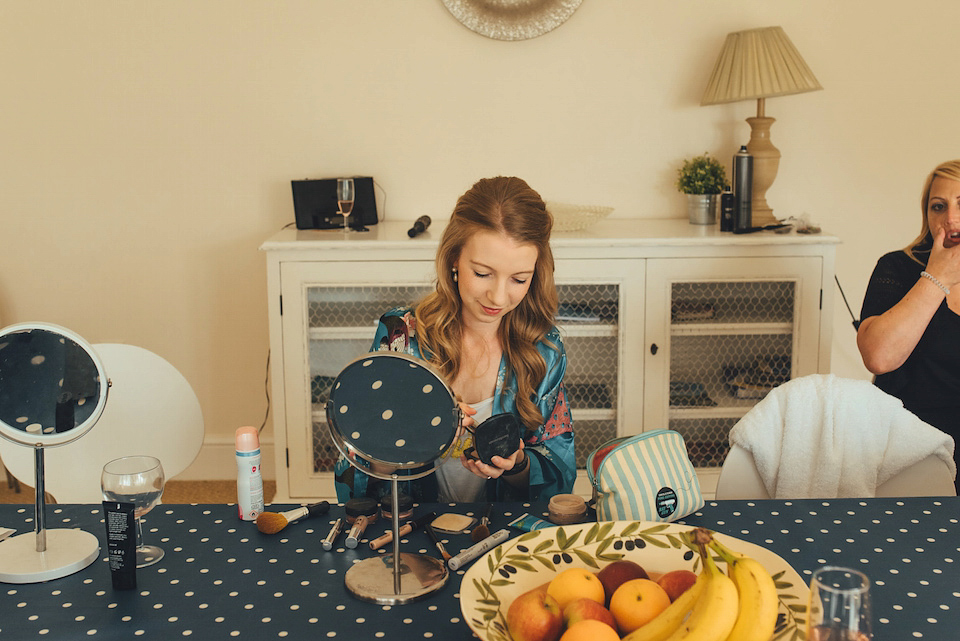 "Neither of us can remember first meeting (how romantic!). We ended up in the same friendship group at sixth form and after many parties, gatherings and pillion rides on the back of Aaron's bike, we became really good friends. I think everyone else knew we were going to get together before we did!
Finally, at a campsite in Newquay on a rather rowdy group holiday, Aaron was pressured into asking me out (again, how romantic). It was official. Neither of us knew what the future held – we'd already applied to separate universities so had a 'let's see what happens' kind of attitude. Five years and countless journeys up and down the M1 later, we were still going strong, and Aaron felt the time was right to propose."
"Unfortunately, being oblivious to this fact, I messed things up a little bit for him. With his mum in on the secret, he'd planned to get down on one knee on a family holiday and take my grandma's engagement ring (which she'd given me on my eighteenth birthday) off one finger and onto the other (very romantic this time!). However, just before we left home, I took my ring off for safekeeping… and didn't tell him. A quick trip to a Spanish market to pick up a two-euro ring and the plan was back on, though I'll never live that one down! We were engaged for two years before the wedding – we took our time and enjoyed the planning."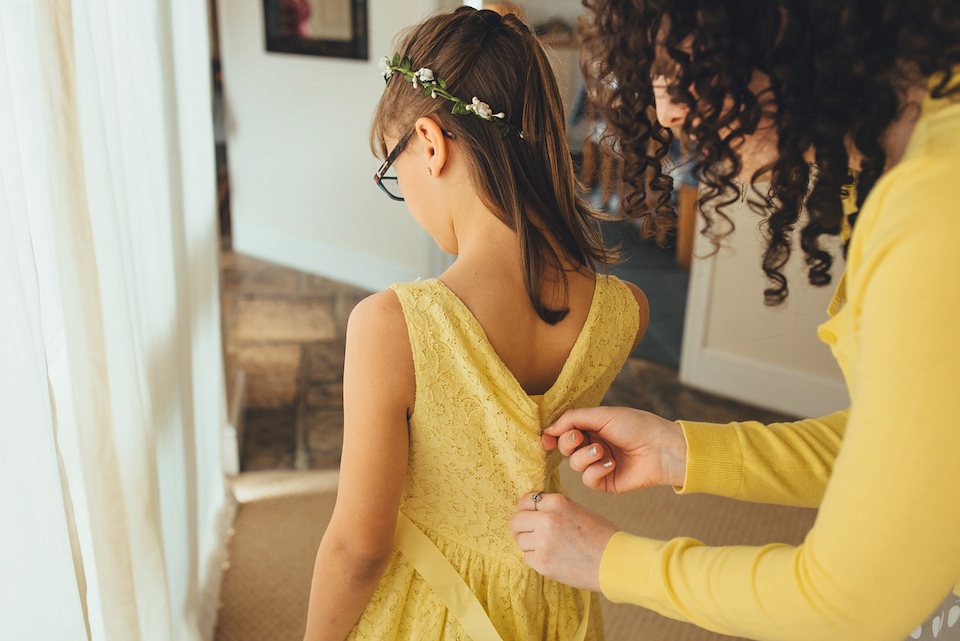 Adding a simple fingertip veil, borrowed from a friend, daisy hair grips from Accessorize, Yves Saint Laurent's 'Babydoll' scent, very special jewellery and a handmade garter, Rach looked every bit the glamorous bride.
"Aaron gifted me my earrings – they were Australian pearl combined with a drop pearl from my late Nanna's earrings. I wore two bracelets – during the day a charm bracelet that my mum gave me on my eighteenth birthday and I had a charm filled with my dad's ashes too from Scattering Ashes. My brother had a bracelet made up from my late Nanna's pearl necklace, which I wore in the evening.
I made my garter from some pretty lace (something new), blue fabric (something blue) and my mum's engagement ring (something borrowed, blue and old!)."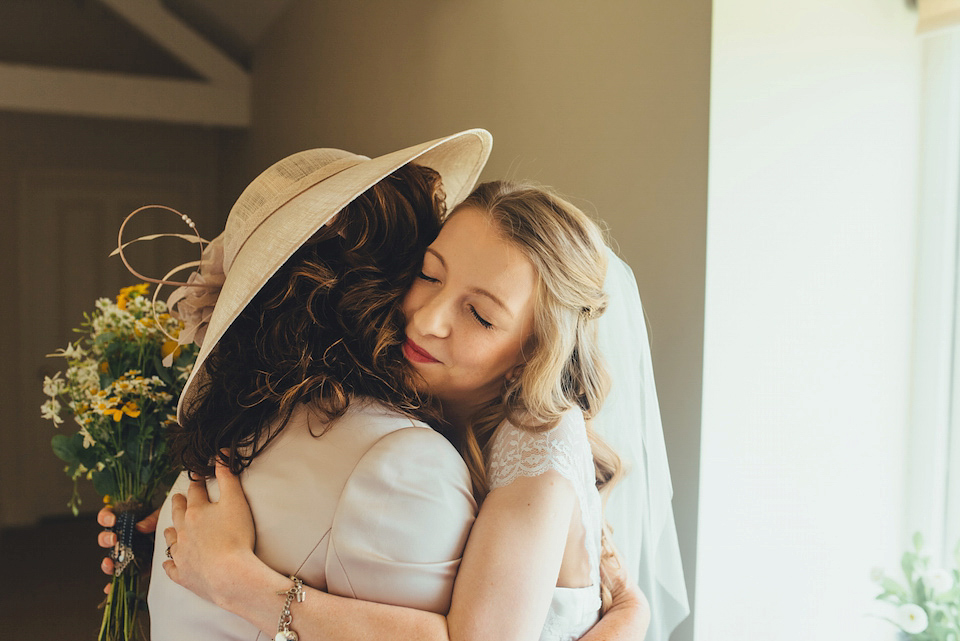 The pretty florals were a mix of homegrown, from a local greengrocer, and those grown on a flower farm. I love the accents of yellow peppered throughout their displays.
"Neither of us really had strong opinions on flowers to be honest, and we tried to cut back on our spending here, though with what we ended up with I don't think anyone would notice. We came across Green and Gorgeous and really liked the idea of a flower farm where you could have a wander and choose which flowers you wanted yourself. They provided the flowers for the bouquets and buttonholes, and for all the jam jars we used a mixture of flowers grown in my Grandma's garden and from Savages Blewbury, a local greengrocers/florist. We made all the bouquets up ourselves the day before, going for a 'just picked' kind of feel."
The bridesmaids chose their own comfortable shoes from New Look, Next and Dorothy Perkins. The two adult bridesmaid dresses were handmade by a very creative Rach, via a pattern by Tilly and the Buttons and their yellow cardigans add such a bright pop of colour. The young bridesmaid sported a sweet frock and headband from Monsoon and all bridesmaids received a gorgeous gift from the bride.
"As well as the two dresses, I also made little embroidered labels with the bridesmaids' name and wedding date on, sewn inside the dresses, as a little keepsake. Aaron and his best man got them too for their suits!
 I gifted my bridesmaids with a locket necklace each from Jinja Jewellery on Etsy."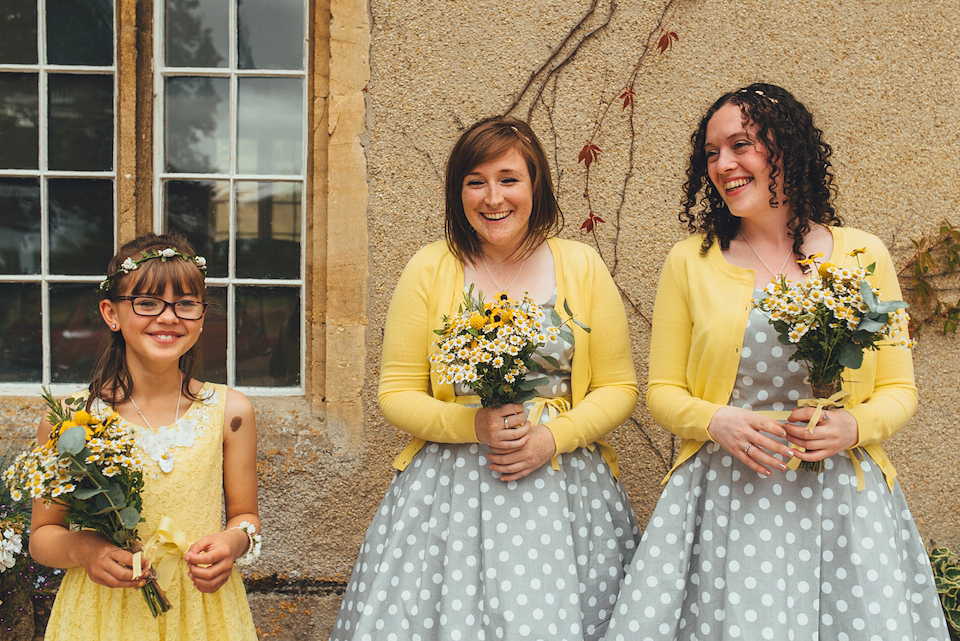 "We chose Sami Tipi for our reception after meeting them at a wedding fair – in fact, this was the first decision that we made for the wedding; after seeing this alternative option we fell in love and had to find a venue which would have grounds for their stunning tipis. Jodie and Craig were fantastic as well – they were great at communicating and were so enthusiastic about our wedding; they made it a really personal experience."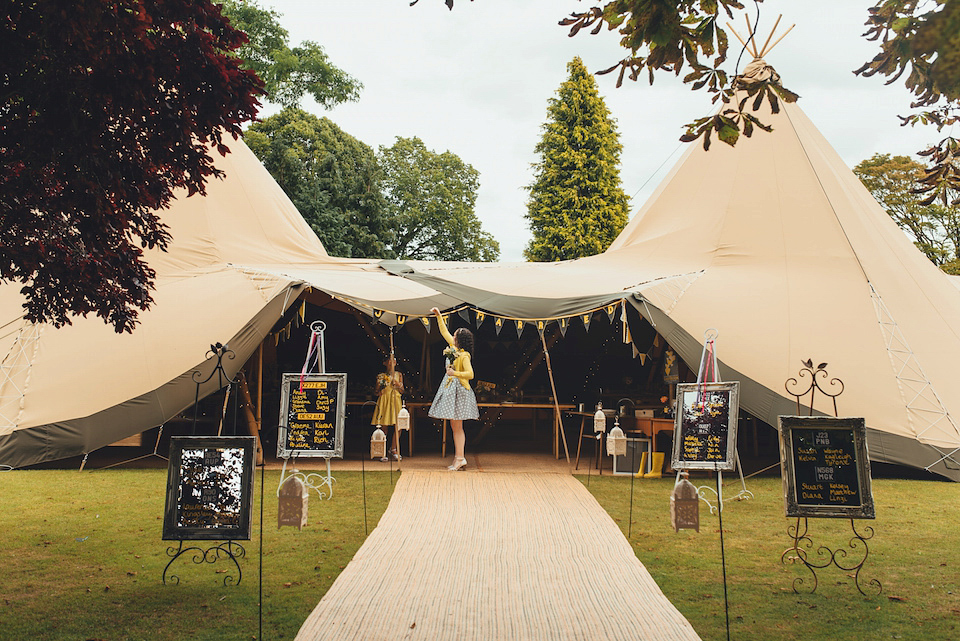 "Walking down the aisle was the only part of the wedding that I was worried about, as my dad passed away suddenly in 2013 (he'd given Aaron his 'permission' before Aaron proposed, something which really meant a lot to me. It wasn't really the permission bit which was important, more just knowing that dad was happy for me and knew that Aaron and I are going to spend the rest of our lives together)."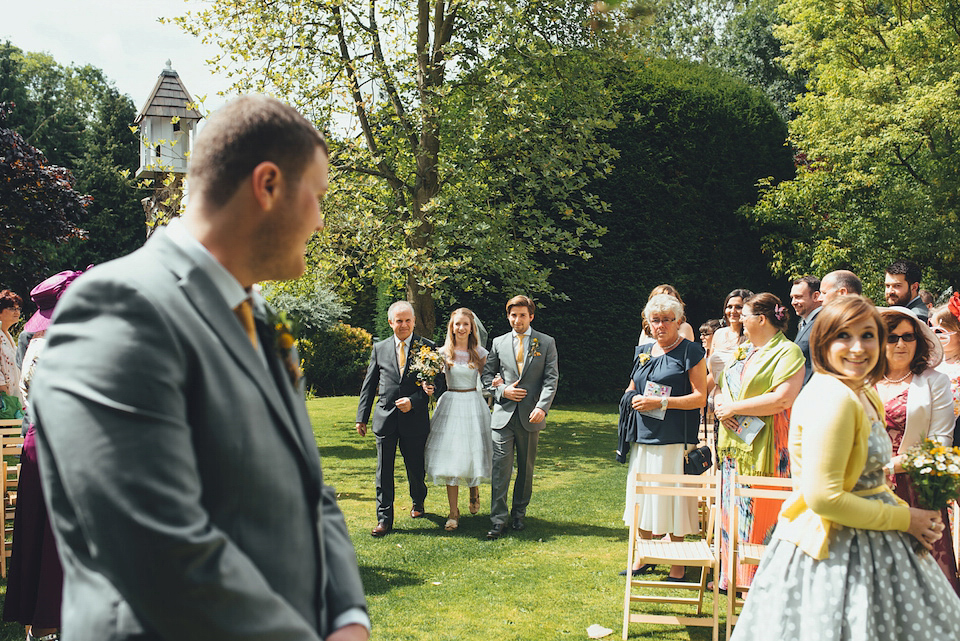 "I didn't want to not look forward to walking down the aisle – it was my wedding day after all – but at the same time I didn't want to look forward to walking down the aisle without my dad either. I asked my brother and uncle to walk me down the aisle, which they did, one either side; it was very emotional and bittersweet. They did a great job, saying 'we do' when asked who was giving me away. It will never take away from the fact that I didn't have my dad there with me – they weren't replacing him, just supporting me at that point.
They also did a great speech, which I found out later they had cobbled together on the morning of the wedding; despite assuring me weeks before that they had done it!"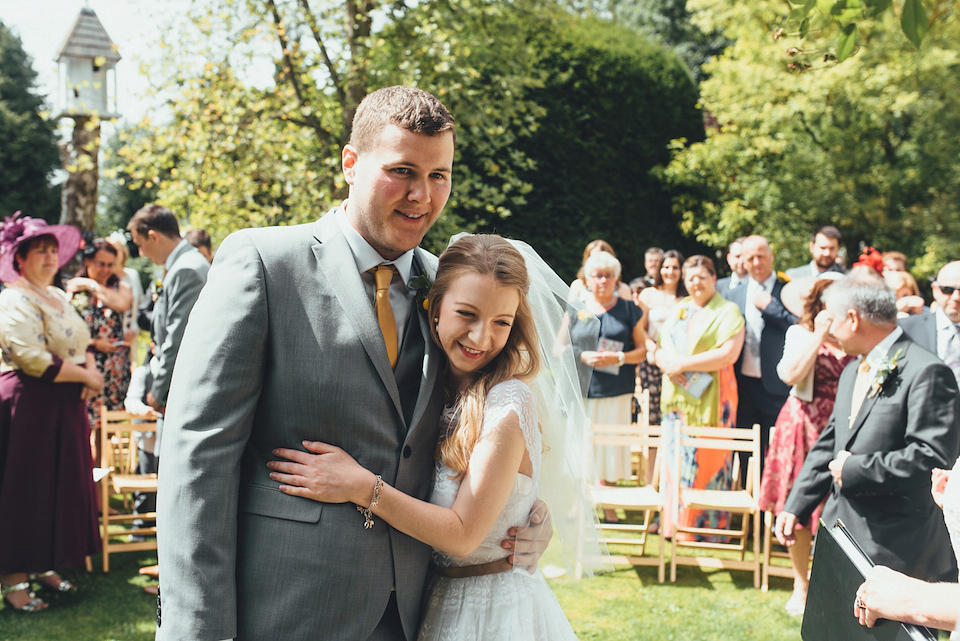 "Aaron's cousin Matt played me down the aisle to Pink Floyd's 'Wish You Were Here'. My dad was a big fan of Pink Floyd, and the title of the track kind of says it all really – Matt didn't sing the words so it wouldn't be too emotional and obvious, just a subtle little way of including dad."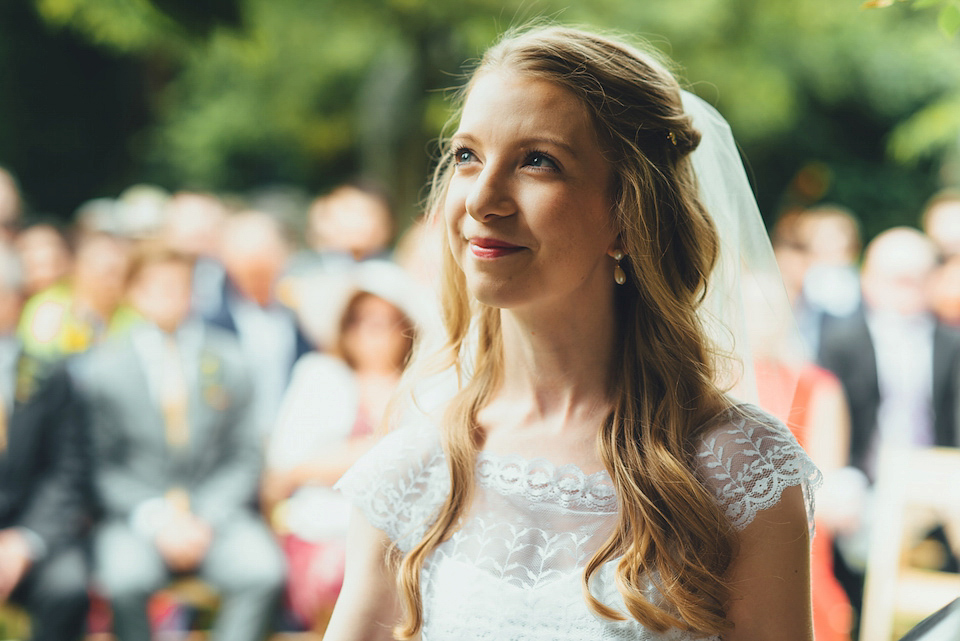 "We were really lucky that my aunt was able to conduct our ceremony for us. She was able to make it really personal and made it into a more intimate, family oriented ceremony. Aaron and I each wrote a little paragraph about what we love about each other that we gave to Lizzie and then could read to each other on the day."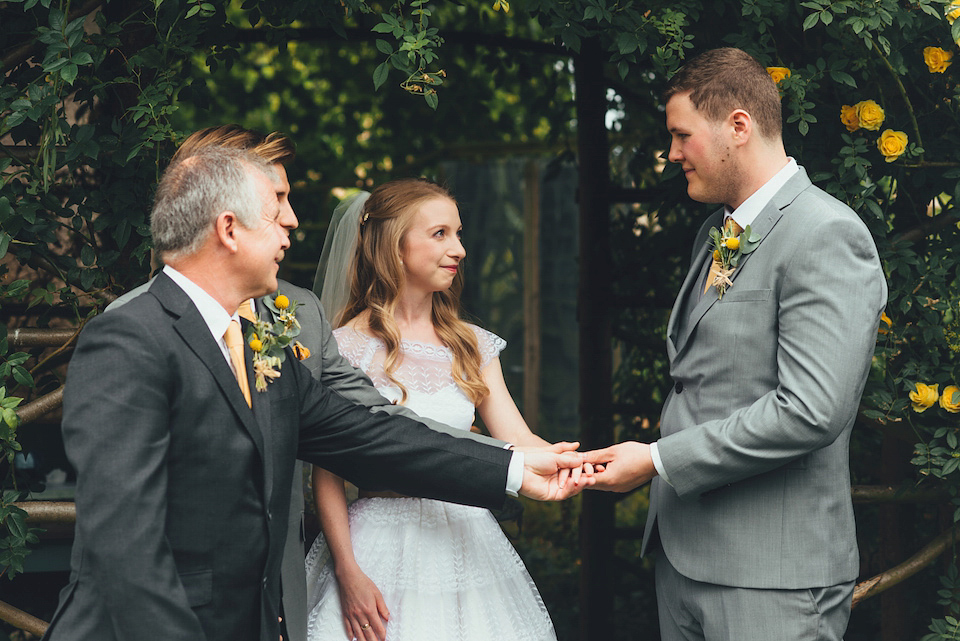 "We asked our mums to do a reading each and be our witnesses. We wanted something quite light hearted and fun, so chose 'A Lovely Love Story' by Edward Monkton and 'Us Two' by A.A. Milne. We even ended up with a dinosaur puppet re-enactment, courtesy of Aaron's aunt!"
"Aaron didn't fancy the whole 'top hat and tails' get up, so opted for a very dapper light grey suit from Next and his cufflinks were from Selfridges – his gift from me. 
We wanted the groomsmen to be able to wear their suits again. Aaron and Mike, our best man, wore matching suits and all the others wore a grey suit of their choice. We bought yellow ties from Next to 'tie' them all together."
My brother designed the incredible Haynes Manual inspired order of the day – these included a seating plan diagram, info on Team Bride and Groom and a wedding day etiquette guide! Also included were pictures and descriptions of all our vehicles we've ever owned – the number plates of which were used as our table names. Family friend Rich was able to print out our table names and other signs for the day."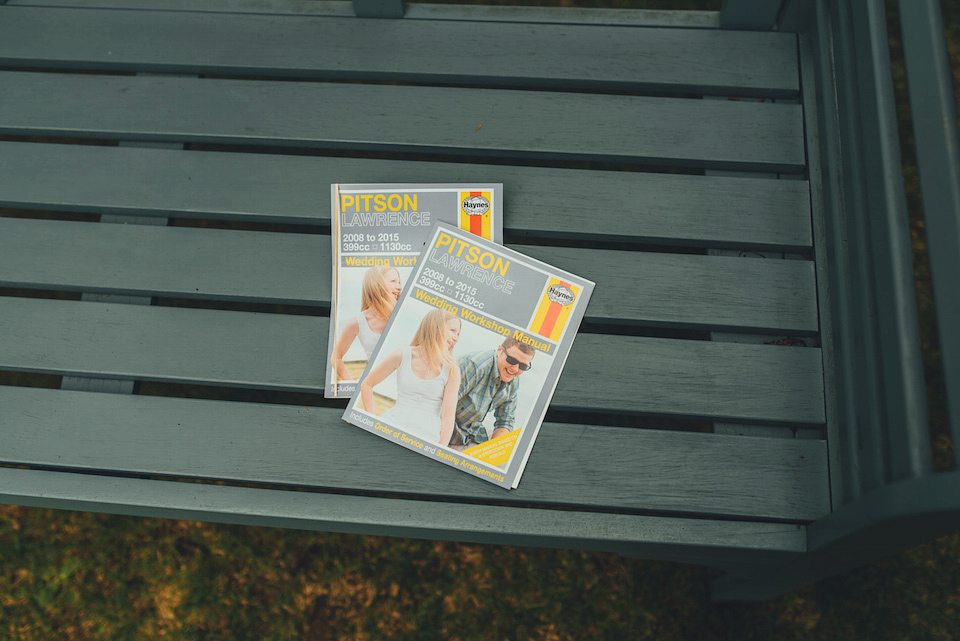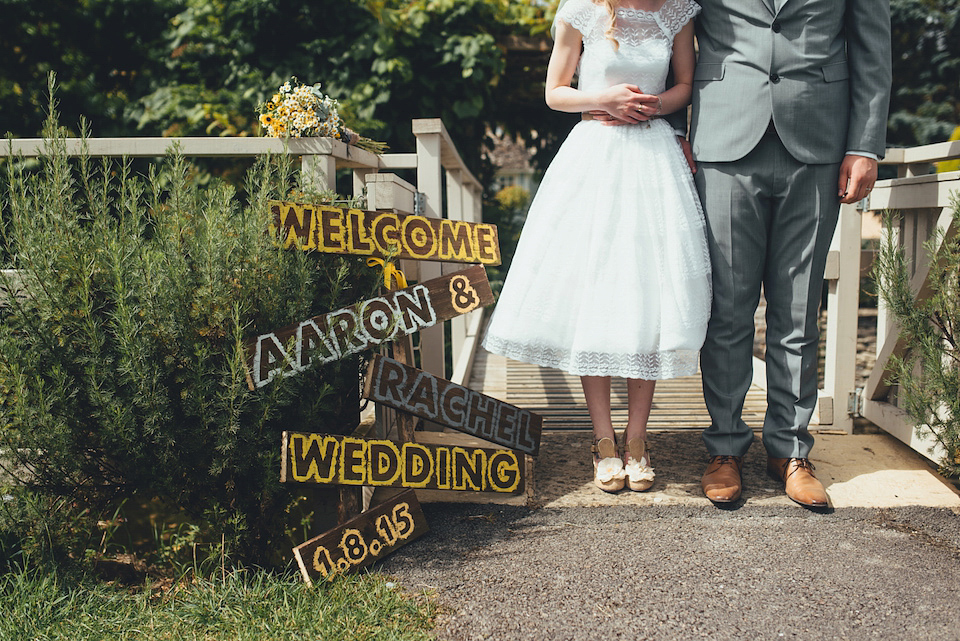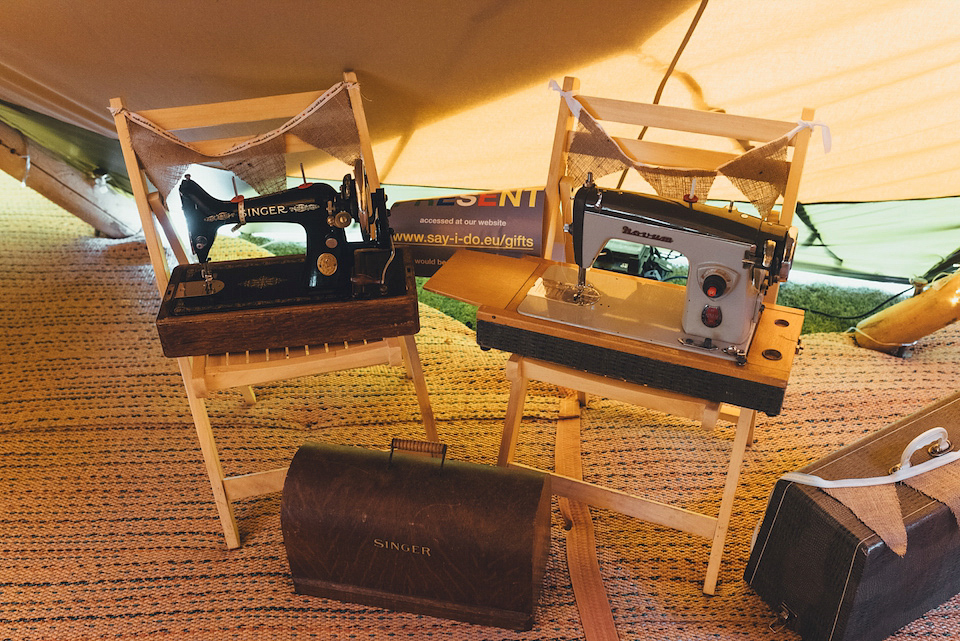 The tipi's were decked out with simple DIY decor touches, including loads of bunting made by family and friends, and I'm in total awe of Rach's collection of vintage sewing machines, how utterly fabulous.
"We styled the tipis ourselves, keeping it quite simple with personal touches – they are beautiful to start with so didn't really need much additional decor. My collection of vintage sewing machines was dotted around the tipis, along with countless metres of homemade bunting and pom poms lovingly made by family and friends.
Simple hessian runners and jam jars of flowers were just enough for the tables, along with the picnic boxes of food and the embroidered place names. The giant balloons from Centre Stage added a little bit of height to finish it off."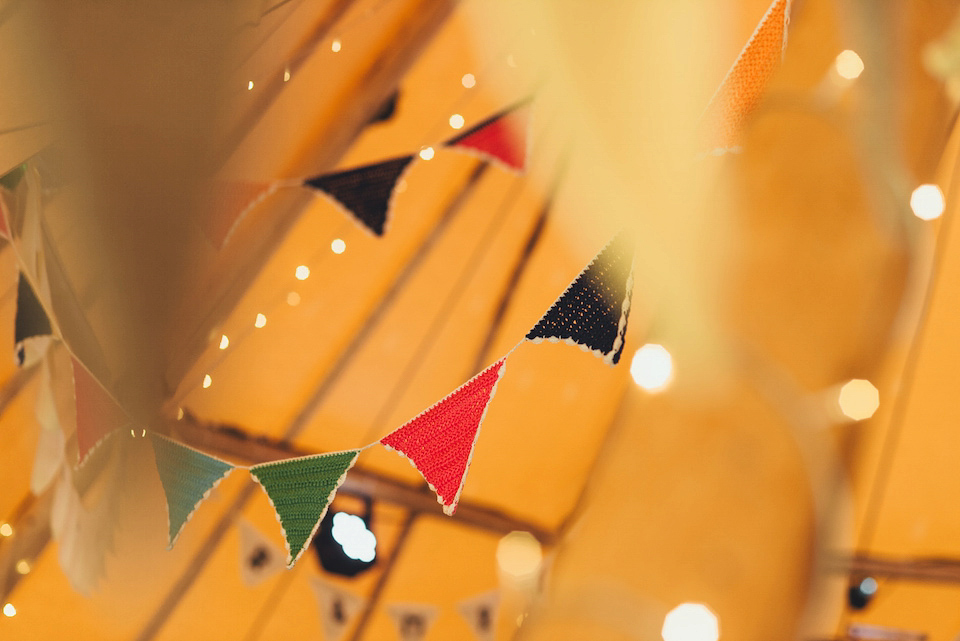 "Paul and Sietske at Sadlers Catering were fab – they knew exactly what they were doing and, as well as providing the food for the whole day, they oversaw the timings, liaising with my uncle who was our Master of Ceremonies. We had tea and scones after the ceremony followed by a posh picnic for the wedding breakfast and mini barbequed goodies in the evening. The picnic was served in boxes on the tables, so everyone could dive in and share, making it a more sociable event. We also had fajitas at their restaurant the night before with the wedding team – just to try and spread the wedding out a bit further! They were so helpful and even had lots of quirky vintage props to hire from their restaurant."
"We umm'd and aah'd about favours for ages, before realising wedding favours weren't really a priority. It was difficult to find something within the budget that everyone would like, whilst knowing it was likely some would end up being forgotten at the end of the day. I ended up machine embroidering place names to wrap round the napkins/cutlery – these kind of doubled up as favours as our guests took them home. They looked so cute on the tables! I became a little bit obsessed with the idea and made my own Etsy shop for place names and dress labels for future brides."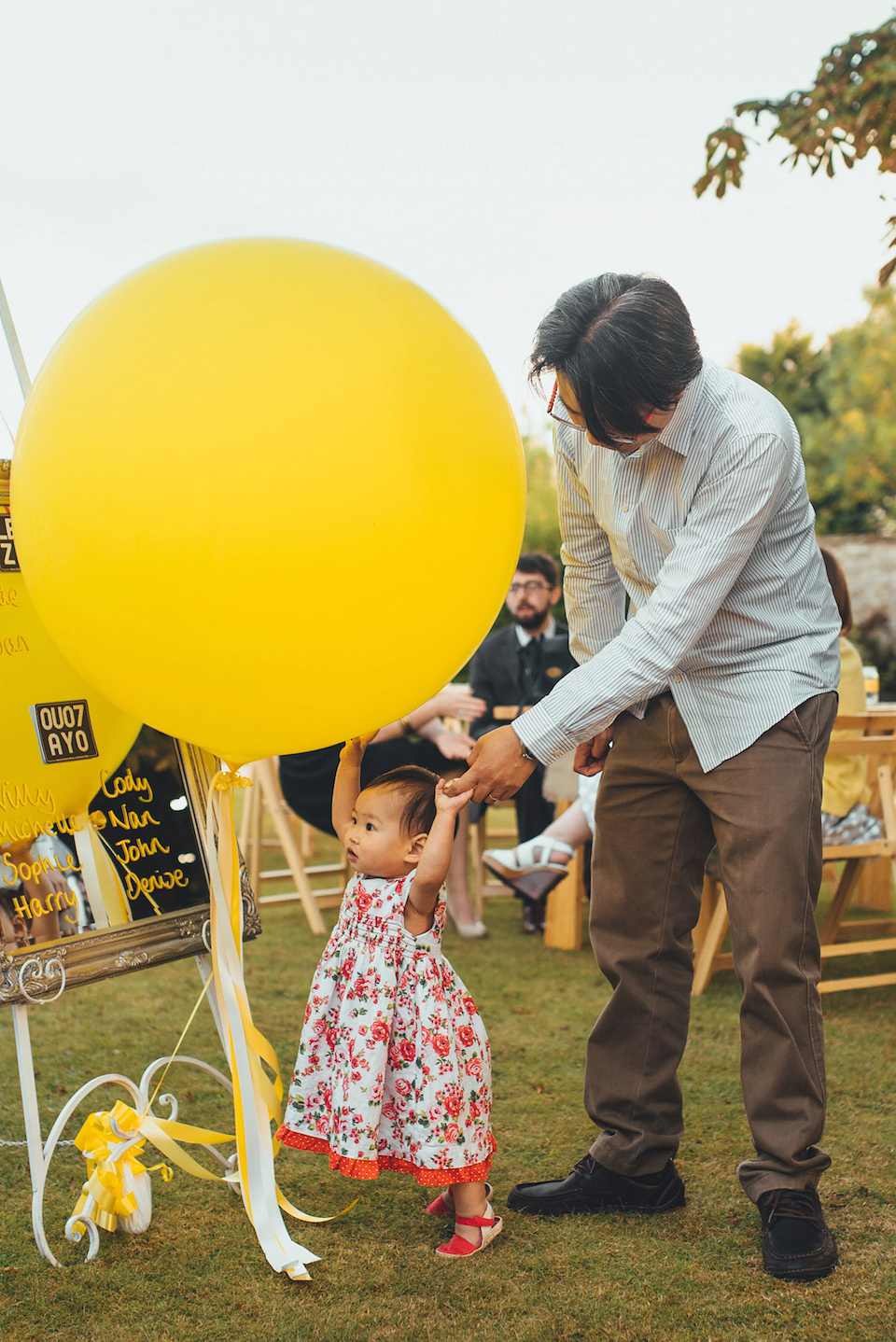 Their lovely family and friends helped out with the entertainment, playing a mix of instruments throughout the day and guests choosing songs to create a Spotify playlist. And the highlight of the night was the first dance performance, starring bride and groom, and their rendition of 'Time of my Life' from the Dirty Dancing movie – incredible!
"The first dance was the only part of the day where Aaron and I felt the nerves! As I've danced all my life, I really wanted to get some sort of choreography into my wedding day… I'm so happy to say that, despite being the most un-dancey person ever, Aaron agreed to do the Dirty Dancing dance with me for our first dance! A friend who studied dance with me at university choreographed a shorter version for us – the girls and I started it off with a little number to 'Do You Love Me' (also from the film) and then left me on the stage to dance with Aaron."
"I'm so proud of Aaron for literally learning to dance for our big day – we really did have the time of our lives (*groans* – sorry, had to!) and THE LIFT went perfectly!
This was my favourite part of the day; knowing Aaron had learnt to dance, having been able to dance with my girls, having all our friends and family there with us, relief that I was actually in the air and it had all worked out! It brings tears to my eyes every time I think of it."
Words of Wedded Wisdom
"Use a spreadsheet!! My wedding spreadsheet was invaluable. I saved it to my Google Docs so I could access it anywhere. I kept everything on it, from a detailed breakdown of the budget (who had paid what, what was left to pay etc) to room allocation at the accommodation for the wedding party. I also linked our RSVP form on the website to the spreadsheet so they automatically appeared when someone RSVP'd – handy!
I sent out lists of everything to do in the run up to our wedding team – once I knew everyone could see what needed to be done I didn't worry about having to remember everything!
There will be dramas with the guest list. Accept this and move on. You can't please everyone and just remember whose day it is.
Get lots of people to help set up if you're DIY'ing. I had lots of little jobs that needed doing the day before. I thought we were going to be manically hanging bunting before the ceremony but we had so much spare time so we just chilled out in the sun the day before!
Make sure you have helpers for the morning who aren't part of your wedding party. We only really realised the night before that bridesmaids and groomsmen would be getting ready/having pictures taken etc., so was really useful to have some family and friends who could pop over to the venue to do all the last minute jobs for us.
Let your suppliers get on with it. We had really great suppliers so once we'd given them some idea of what we wanted were happy to trust their expertise and passion for what they were doing and left them to it."
That's a whole lot of wisdom right there – thank you so much for these words lovely Rach and for sharing your very special day and I believe that yellow really does brighten one's day. Wishing you and Aaron all the very best for loads of fun motorbike and sewing adventures ahead.
And a big thank you to Becky for sharing these marvellous pictures – I bet the first dance sequence was so much fun to snap!
Enjoy the rest of your week everyone.
Love Jo -x-
Photographer – Becky Ryan Photography
Venue – Friar's Court, Oxfordshire
Coordinator – Silverpear Weddings
Dress – Timeless Couture
Shoes – Irregular Choice
Hair Accessory – Accessorize
Perfume – 'Babydoll' by Yves Saint Laurent
Bridesmaid's Dresses – Handmade by bride and pattern by Tilly and the Buttons + Monsoon dress and headband for junior bridesmaid
Bridesmaid's Shoes – New Look + Next + Dorothy Perkins
Hair Accessories – Accessorize
Bridesmaid's Jewellery – Necklace from Jinja Jewellery on Etsy
Groom and Best Man – Suits and ties from Next + groom's cufflinks from Selfridges
Groomsmen – Own suits + ties from Next
Flowers – Green and Gorgeous + Savages Blewbury
Rings – VK Designs
Catering – Sadlers Catering
Cake – Handmade by a friend
Favours – Etsy
Hair – Bride's hair by a friend + bridesmaids and bride's mothers' hair by Junction Hair and Beauty
Tipi Hire – Sami Tipi