Ohhh lovelies! I have such a beauty of a wedding to share with you. This is in my top five favourites for 2015, so I'd strongly recommend making yourself a hot drink, then sit back and relax, as you enjoy this little love story of Eva, Ralph and their adorable daughter Indigo. Eva's a Marketing Executive and Ralph works as a Marketing Content Writer and the beautiful couple tied the knot on 18th September 2015.
We are completely delighted that this wedding was photographed by one of our Little Book For Brides members, Green Antlers Photography.
"Ralph and I met eight years ago while working in Covent Garden, and in true fashion, we didn't follow a traditional path, as four years in, we welcomed our little Indigo into the world! Faced with the choice of bringing her up in London, or rural Herefordshire, where Ralph grew up, it was a no brainer. The three of us began our new chapter in the heart of the country, where we belong."
Photography by Green Antlers Photography
Follow Green Antlers Photography on Instagram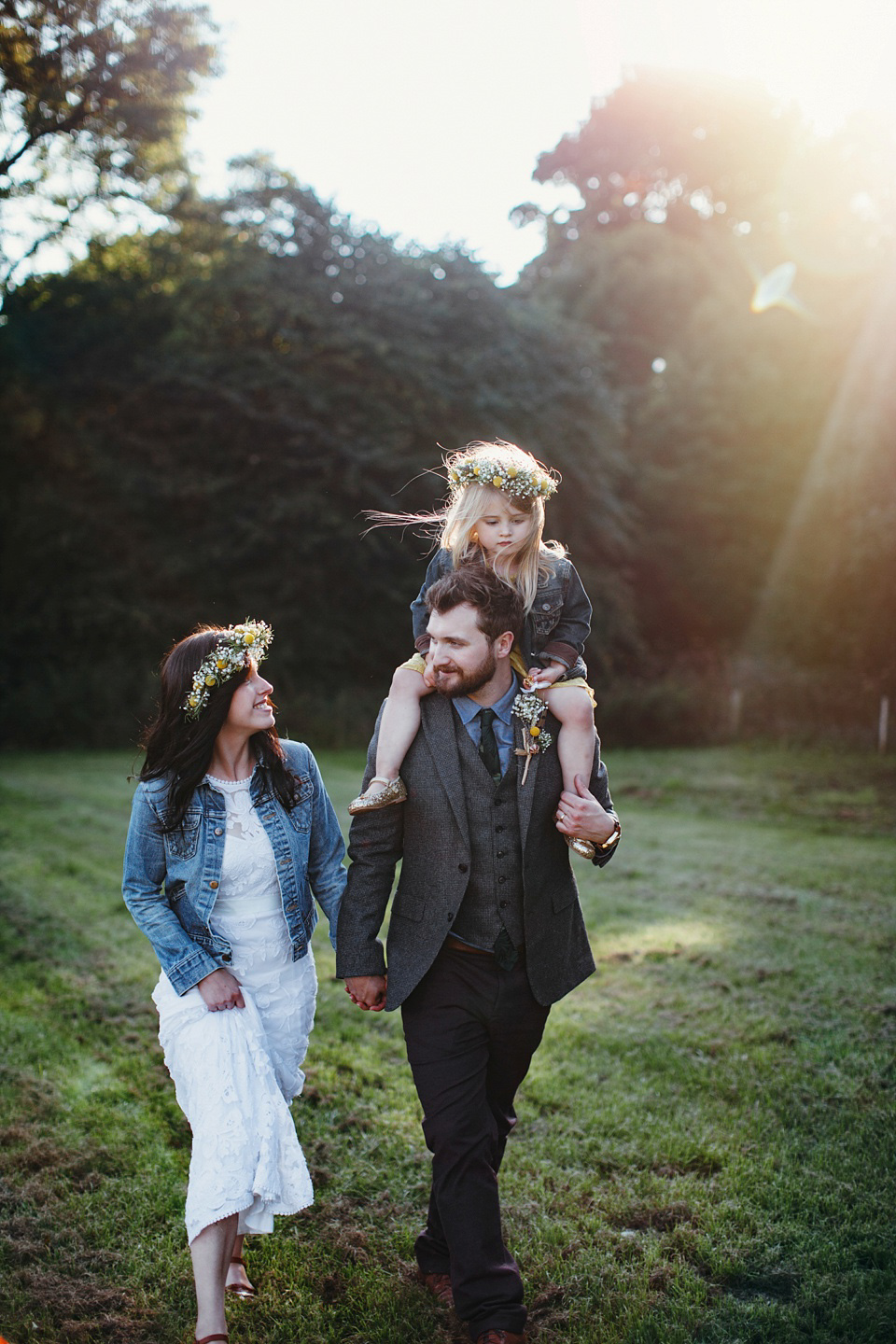 "Like every other bride, I was looking for 'the perfect dress' but I must admit it took a lot of searching, until I stumbled across my wedding dress, which ultimately came from Phase Eight, and I couldn't have been happier with my choice! I wanted it to have a fitted vintage look, but at the same time, be comfortable enough to wear from ceremony, to reception and into the evening, which would potentially involve boots, jackets and campfires."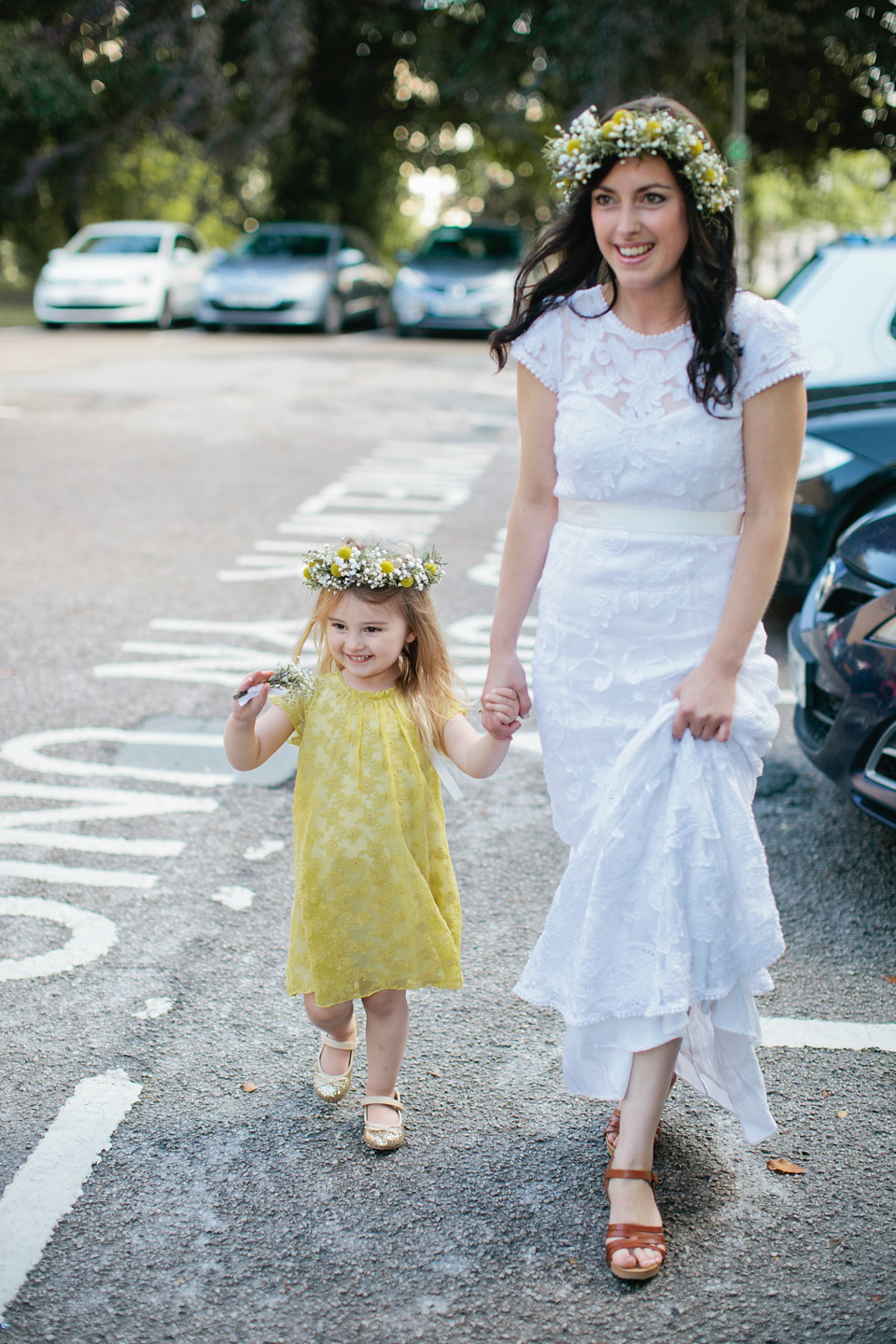 This little lady, the couple's gorgeous daughter Indigo, is definitely the star of the delightful images by Sam and Diana from Green Antlers Photography. Also, instead of a veil, Eva and Indigo wore matching floral crowns from The Great British Florist and look totally stunning, don't you agree?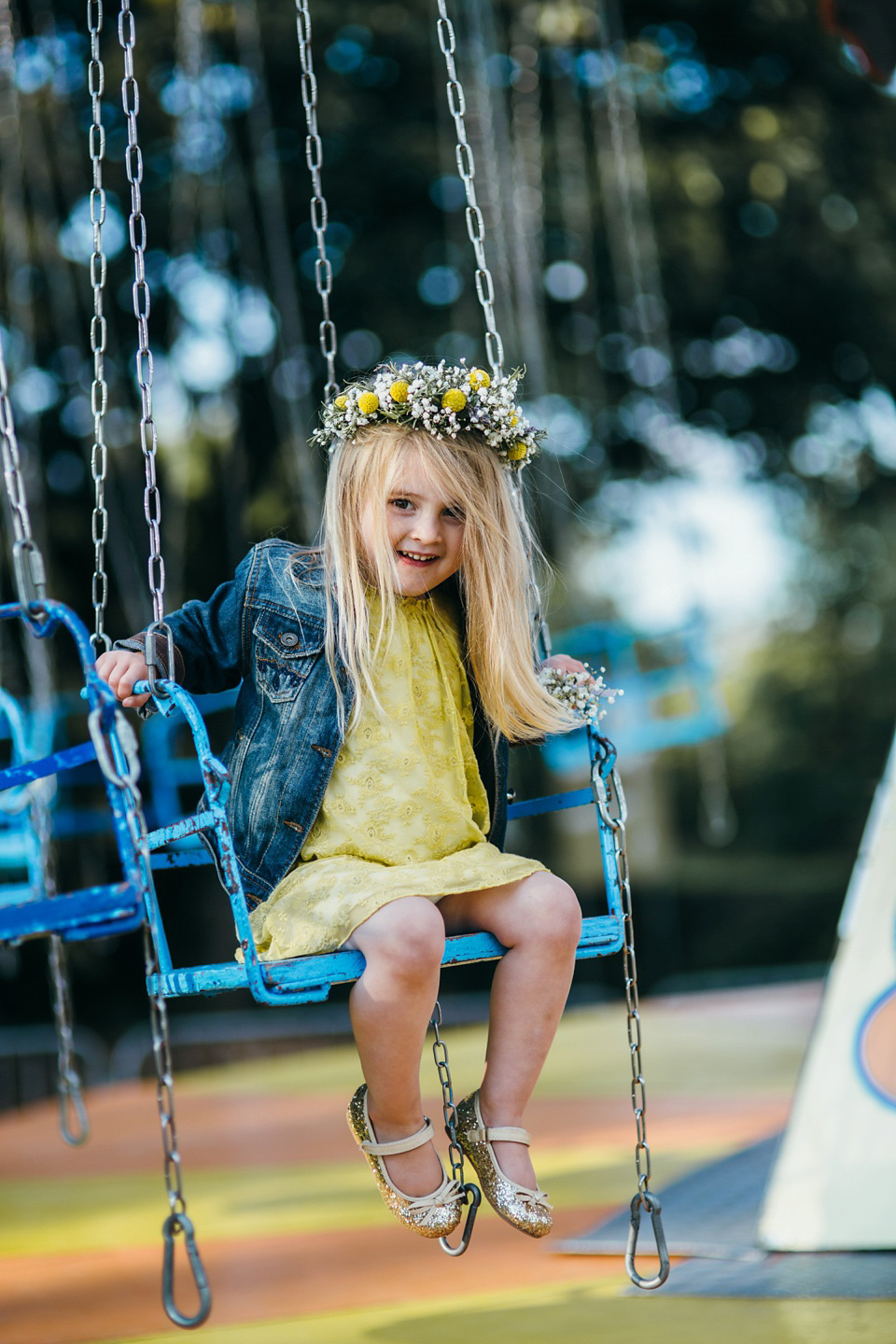 I'll hand over to Ralph to tell you all about his very romantic proposal …
"Our engagement followed eighteen months later while we were on an autumn road trip through Maine. A week into our trip, my grandmother's engagement ring was burning a bit of whole in my pocket. While on Deer Isle, just off the coast of Maine, we came across the most idyllic beach. Flanked by pines as the sun set, I knew there wouldn't be a better opportunity, there or anywhere else. Indy, of course, was at my side when Eva said yes. Our wedding followed just under two years later."  
"We discovered Sam and Diana of Green Antlers Photography through a friend. It turned out to be a serendipitous recommendation, as we honestly couldn't have found a couple more in tune with what we wanted to capture on the day. Not put off by the need to camp in mid-September, their enthusiasm was infectious and we knew instantly that they would be perfect for our unique day.
Between them, they struck the perfect balance of being able to capture posed shots one moment, while in the next, shoot that split-second natural shot. Memories from a wedding day soon begin to haze like a wonderful dream, and the photos that Sam and Diana took take us right back to just how we remember those magical moments; they captured the atmosphere perfectly."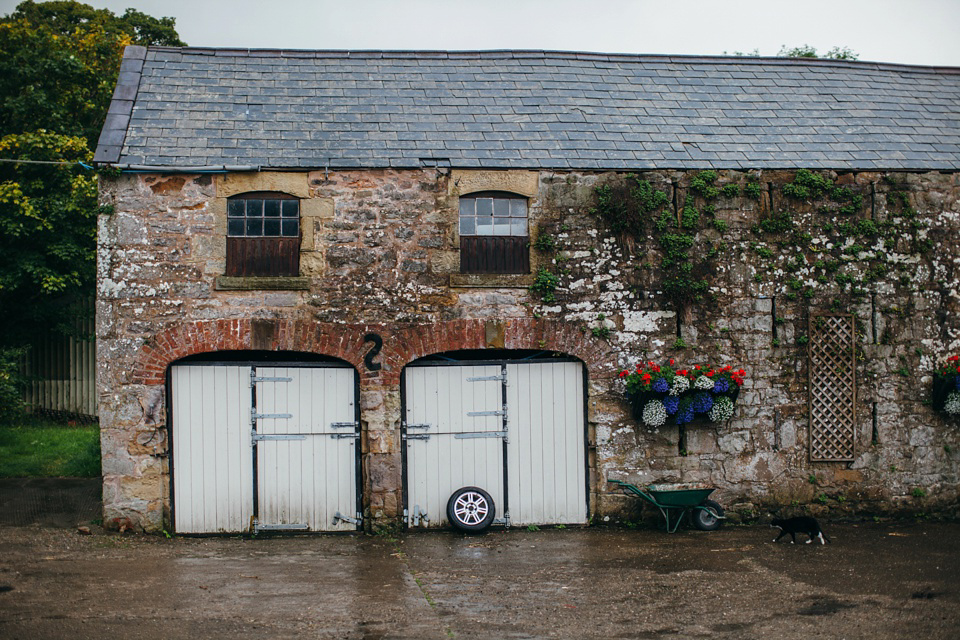 The bride and her daughter undertook their wedding preparations at Broncoed Uchaf guest house. The ceremony was held at Mold Register Office, with the main reception at The Glynne Arms in Hawarden, followed by cutting the cake and party time, as guests joined in the festival fun.
"We didn't hire anyone, as we knew exactly what we wanted to achieve and frankly, our wedding didn't really fit a traditional mould. That said we couldn't have carried our wedding off without the invaluable help and support from Vicky Gladstone at Hawarden Estate. We didn't really plan flowers or colour schemes, as we felt confident that everything would evolve and develop organically, and with a little help from friends and family, that's exactly what happened and more so!
Vicky kindly offered their function room to us, which was a stone's throw from the festival. Their chef, Adam, and his team supplied a wonderful selection of pub grub, including: whitebait; salt and pepper squid; radicchio, pomegranate and beetroot salad, not to mention a delicious selection of sandwiches and desserts."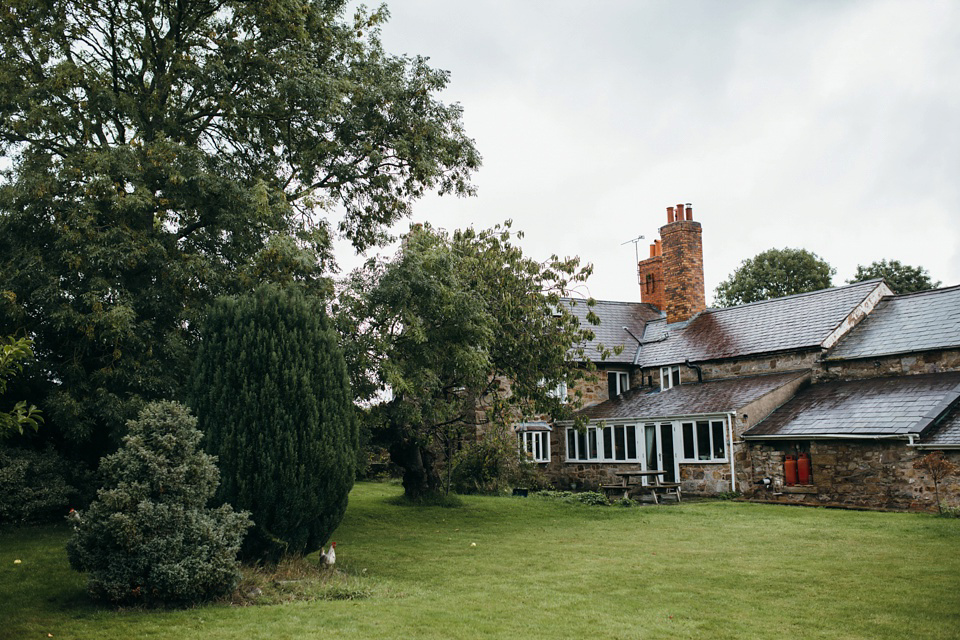 The beautiful bride had purchased a gorgeous pair of Rachel Simpson shoes, however the weather on the day was against her, so she settled for some practical (and equally gorgeous!) leather clog sandals to tackle the terrain.
"Although I had my heart set on wearing my powder blue Mimosa shoes, I had to accept, (due to a wet start to the day) that they wouldn't be particularly soft ground-friendly. Luckily I kept my options open. In the end I wore vintage tan leather clog sandals for most of the day, which were ideal, and ticked my 'something old' box."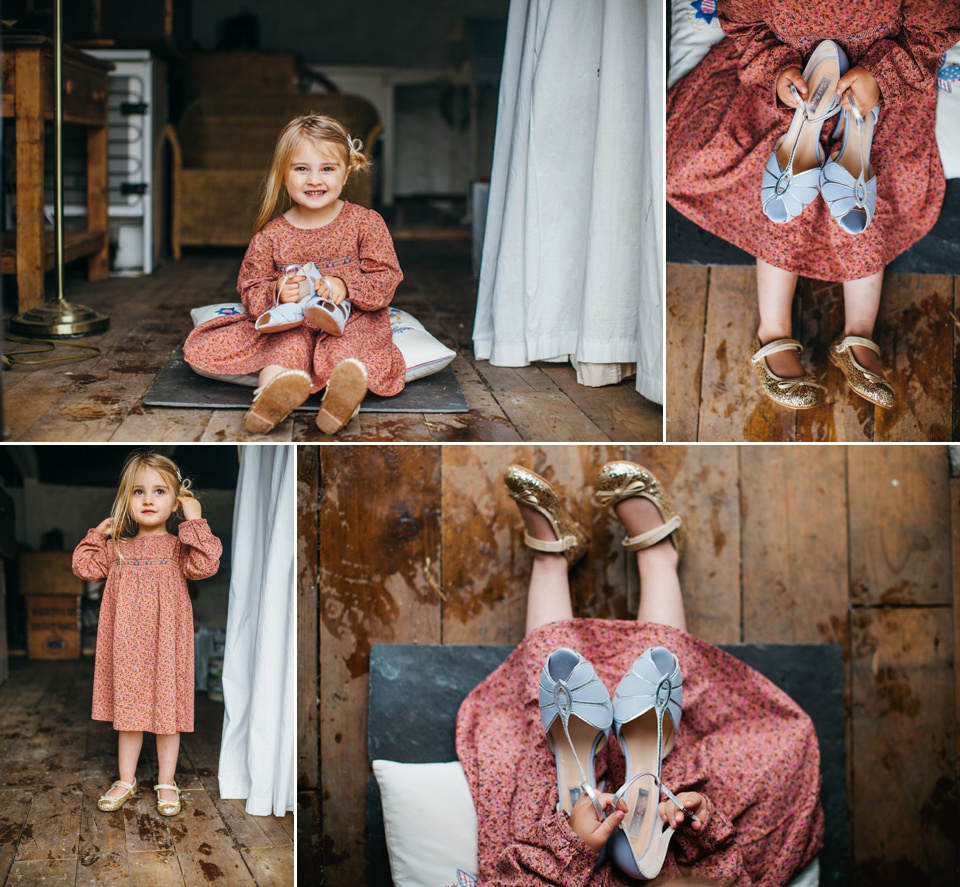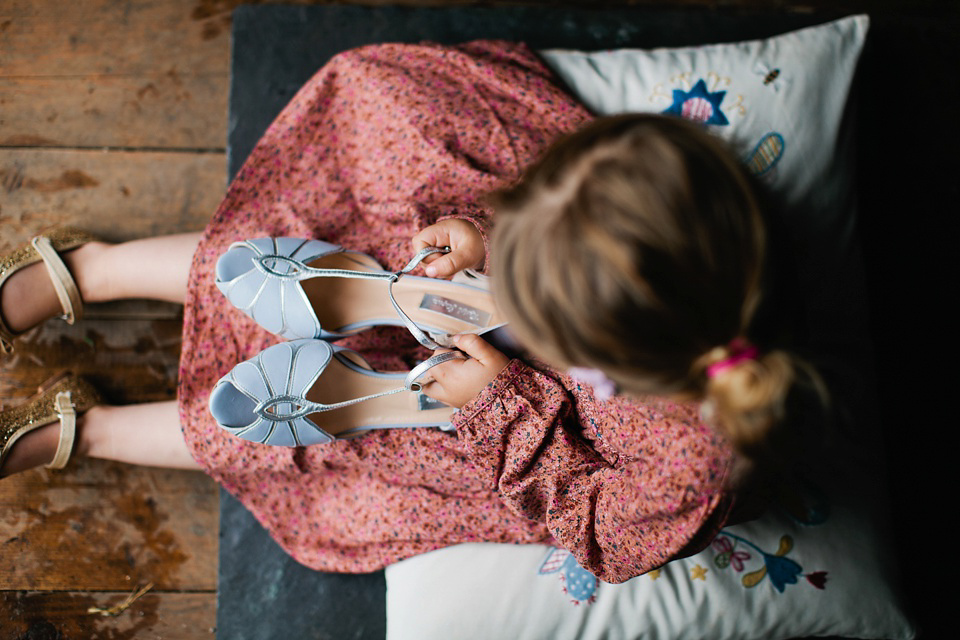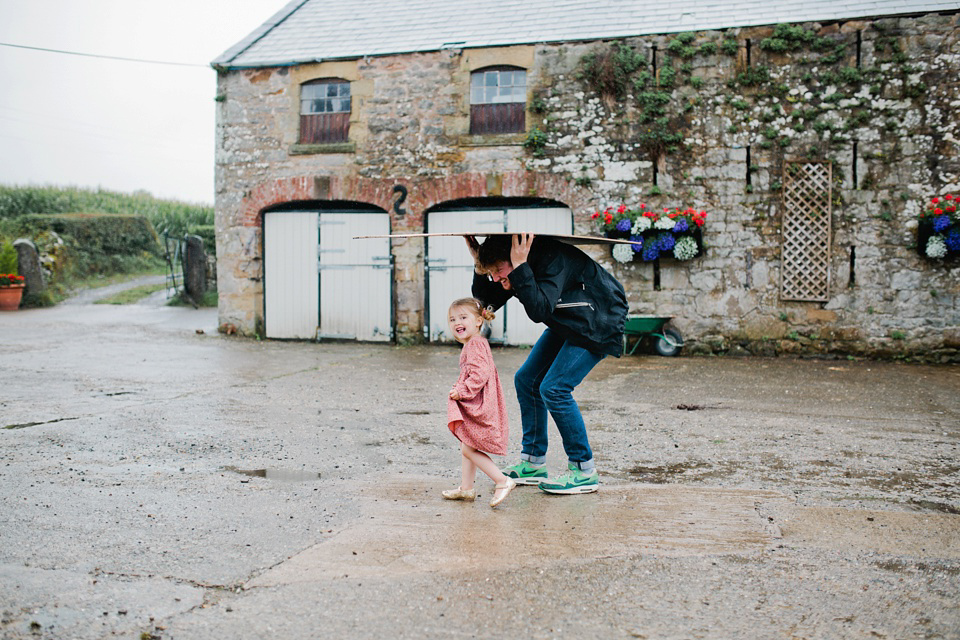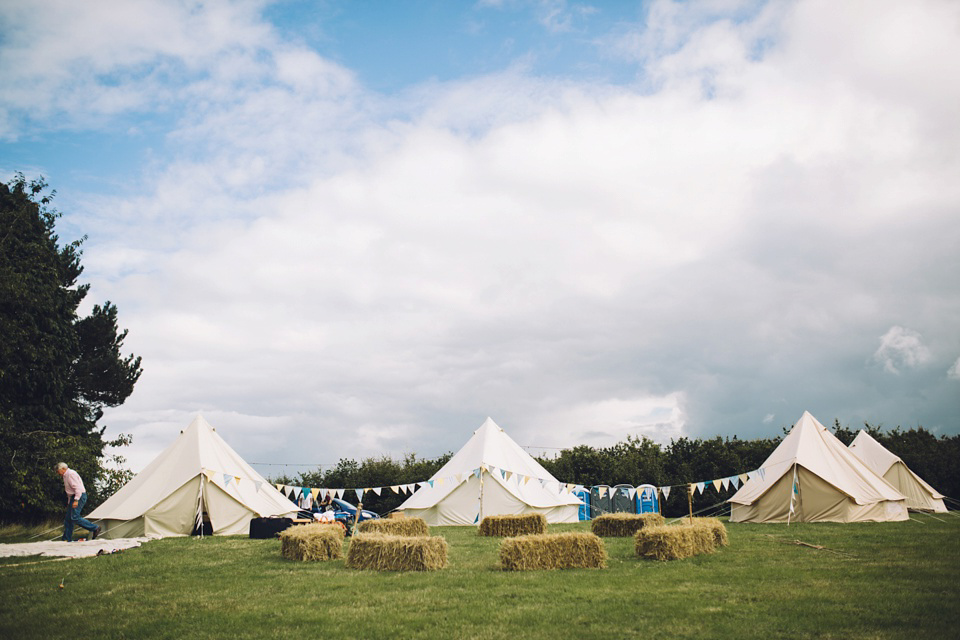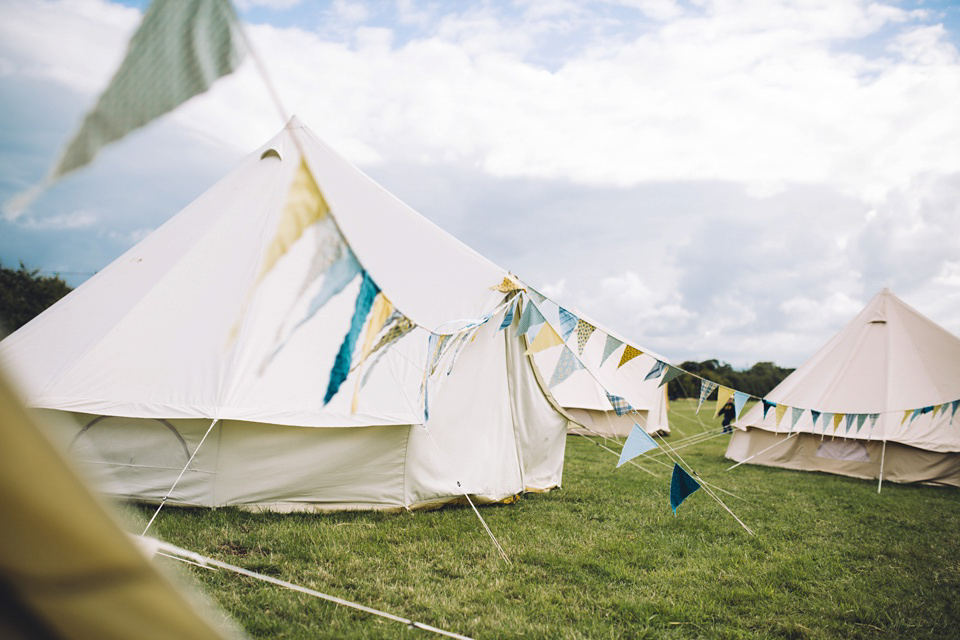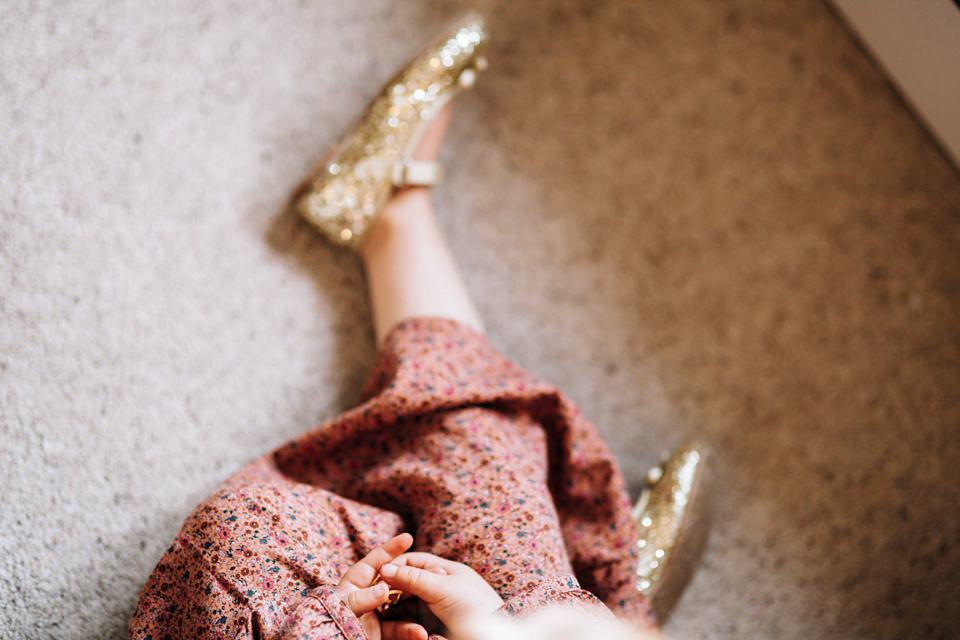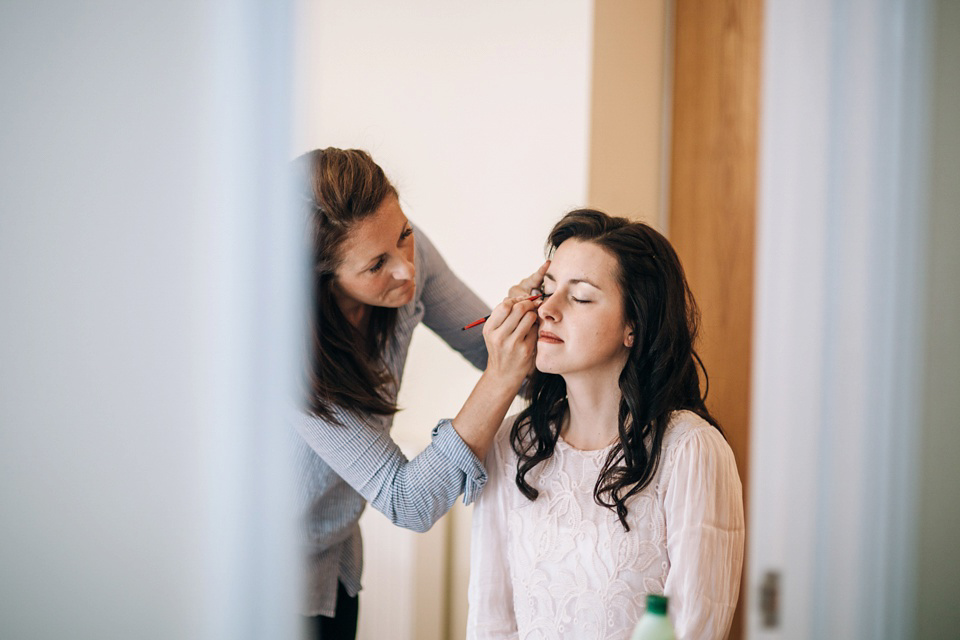 The bride added a spritz of 'Princess' by Vera Wang and butter amber stud earrings from Henryka and her hair and make up was done by the lovely Susan Reynolds. Indigo was her gorgeous mum's little helper and sported the sweetest little outfit. I would quite like an adult-sized pair of her fabulous shoes!
"Indigo was both bridesmaid and flower girl and she wore a mustard yellow crochet lace dress from Zara, paired with gold sparkly pumps from Next."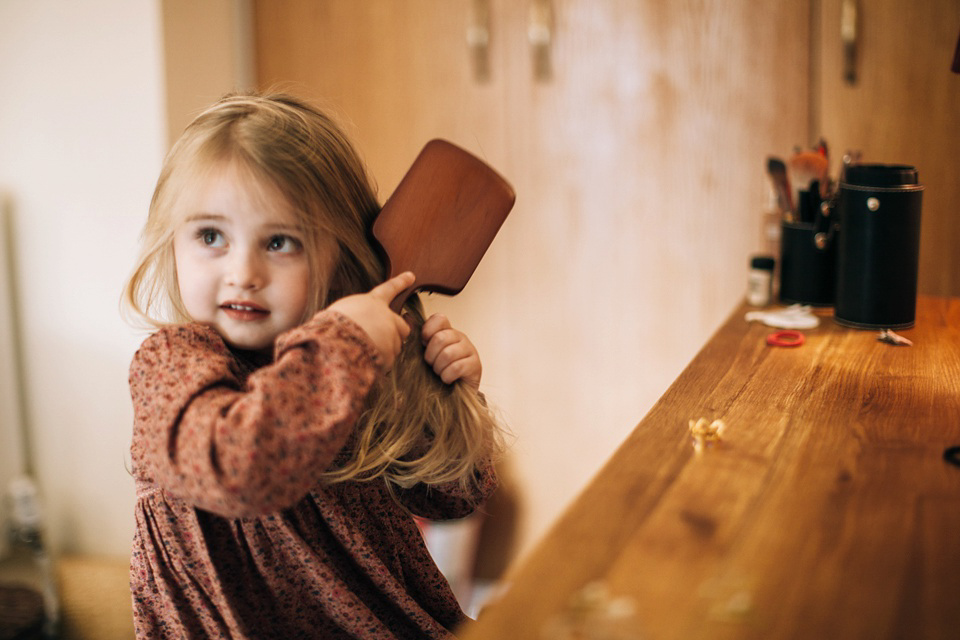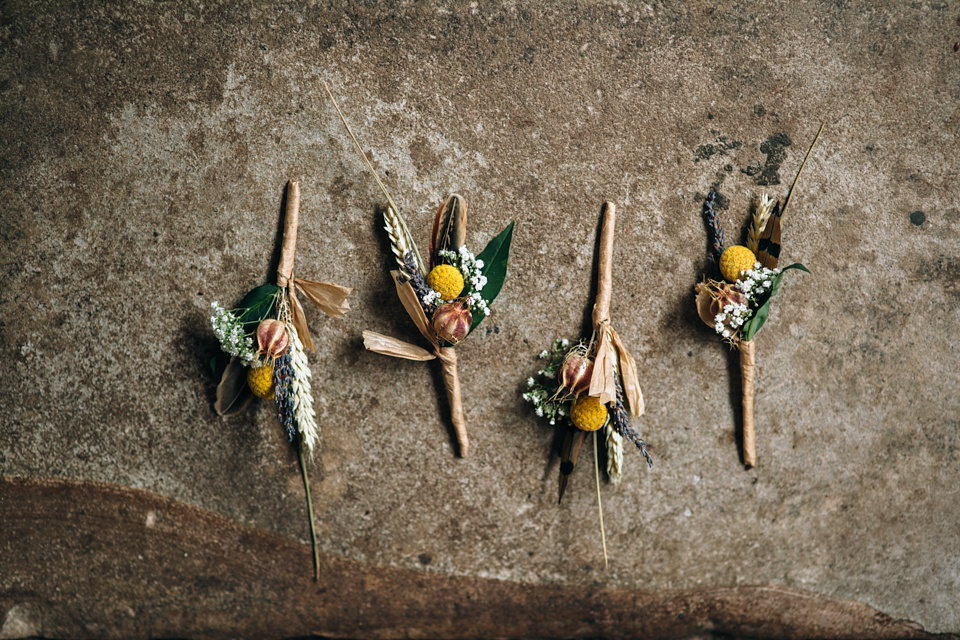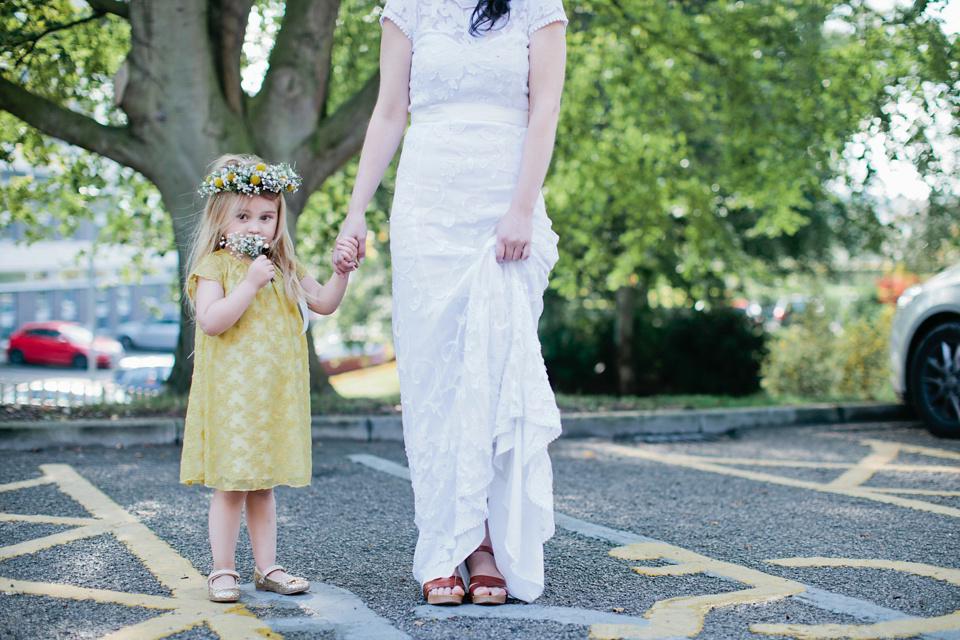 Indigo and Eva walked down the aisle together to 'La Vie En Rose' by Daniela Andrade. This is one of the most touching aisle walks I've ever seen and these pictures speak a thousand words.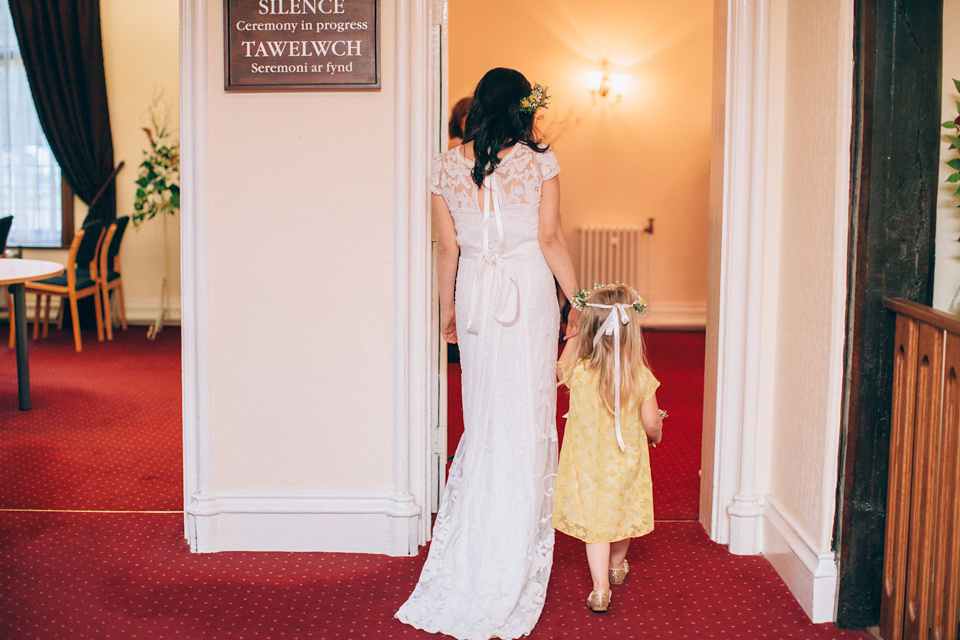 Eva's shares her favourite moment of her big day:
"Walking down the aisle with our daughter and seeing Ralph waiting for us. His face was filled with joy, pride and love and a little tear of happiness. It felt so magical – I will never forget that! The first thing we think back on when we reminisce, one of THE moments, was walking down the aisle and the three of us standing in front of all of our friends to become one unit."
And this moment for Ralph was also very special for the groom, "Seeing Eva and Indigo was so perfect. My girls just looked so beautiful. It was one of the proudest days of my life!!"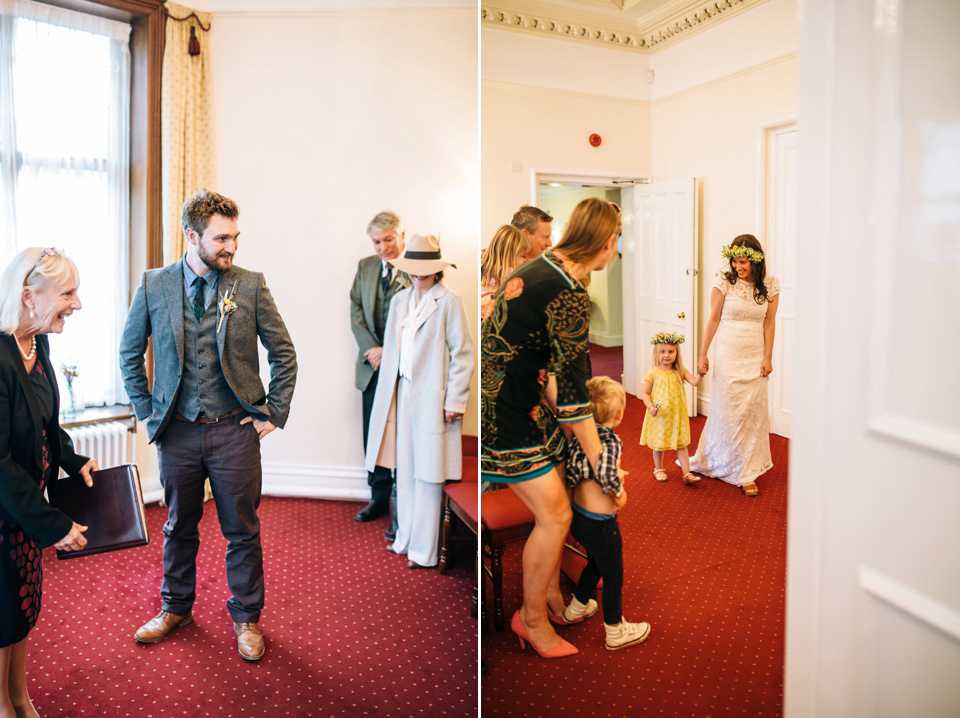 "Our rings were handmade by Tom Richardson via Etsy who is based near Falmouth in Cornwall. Being our first holiday destination as a couple, south Cornwall has always been a second home to Ralph and so we were delighted to discover this skilled jeweller, who was able to create our simple gold wedding bands while we were down there this summer." 
Ralph wore a Jigsaw jacket and waistcoat, trousers and tie from Ted Baker shirt from Finisterre, belt and shoes from Primark, and watch from Nixon. His button-hole was created by his sister, Jennie Dickinson. I really love these shots of the groom getting ready in one of the festival tents.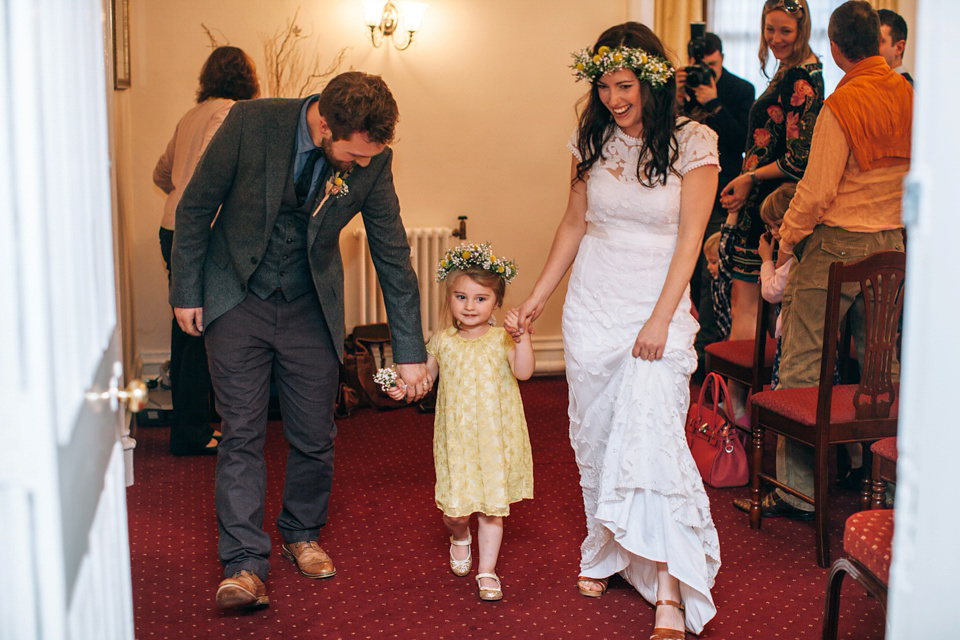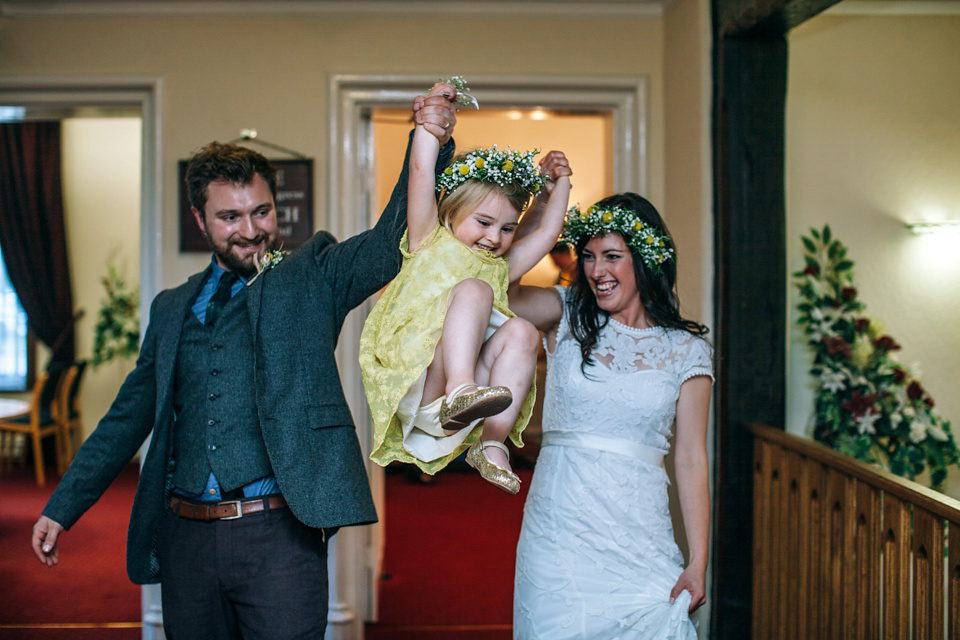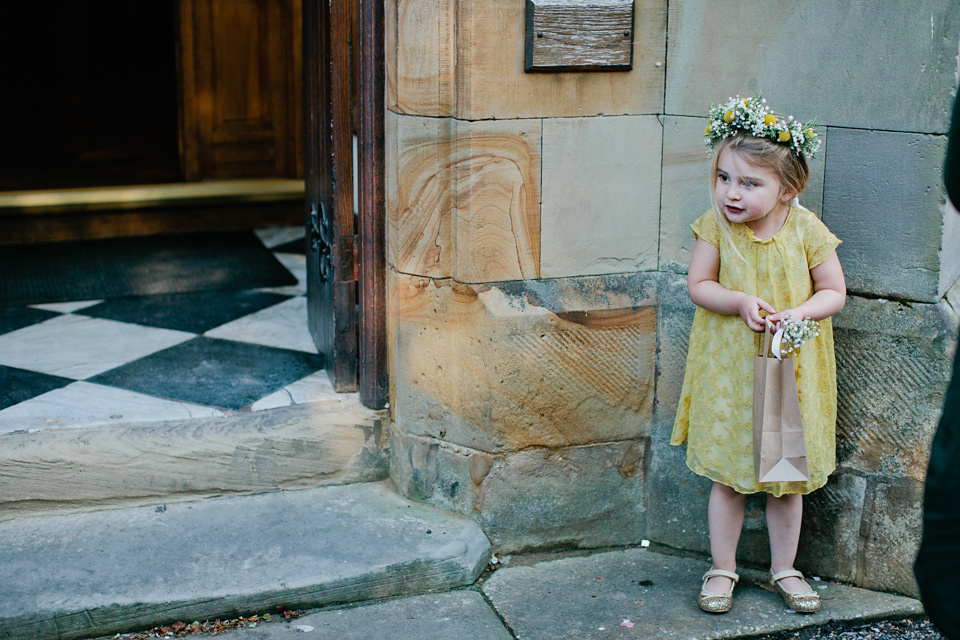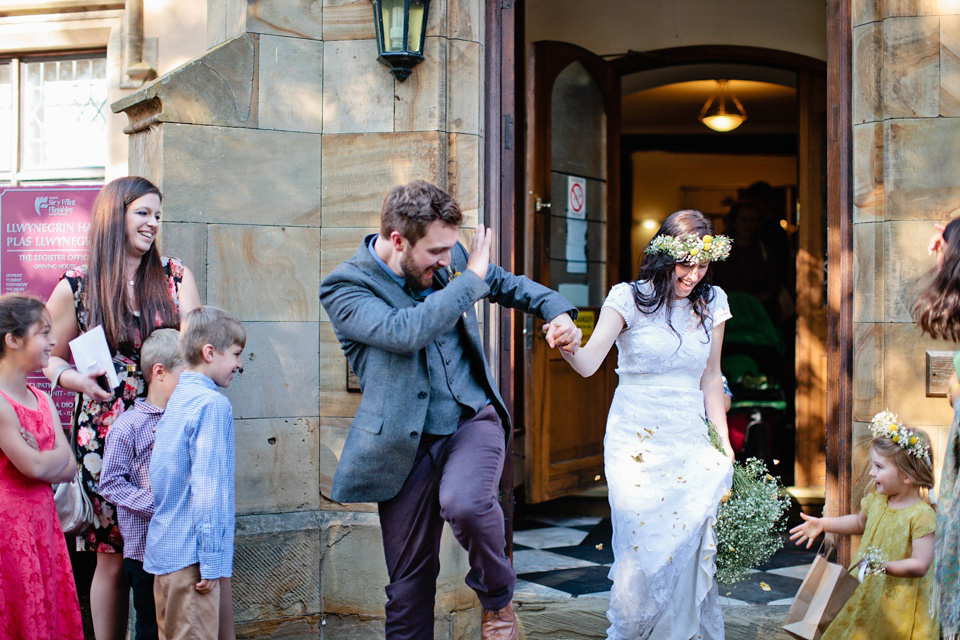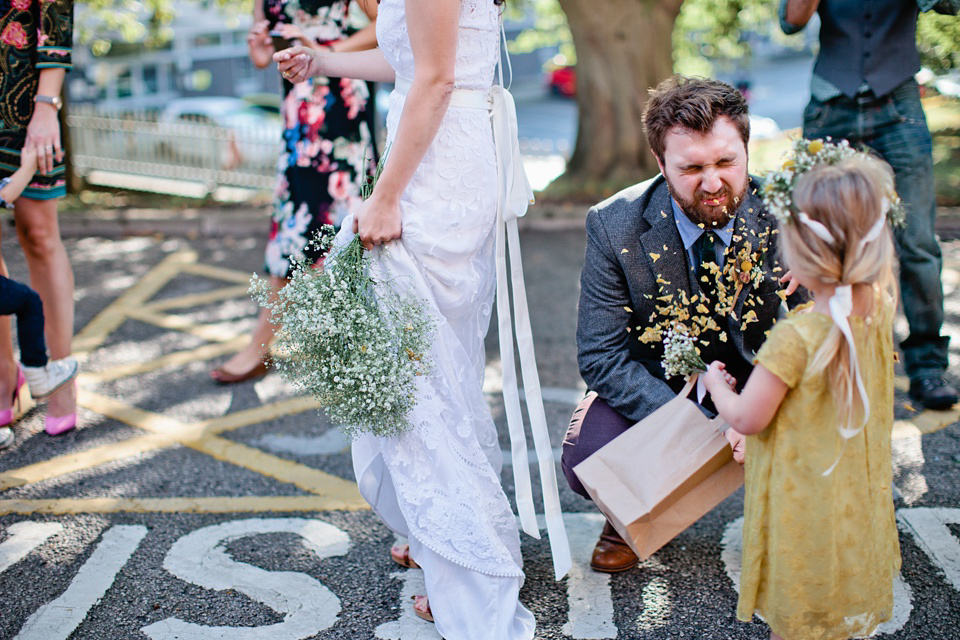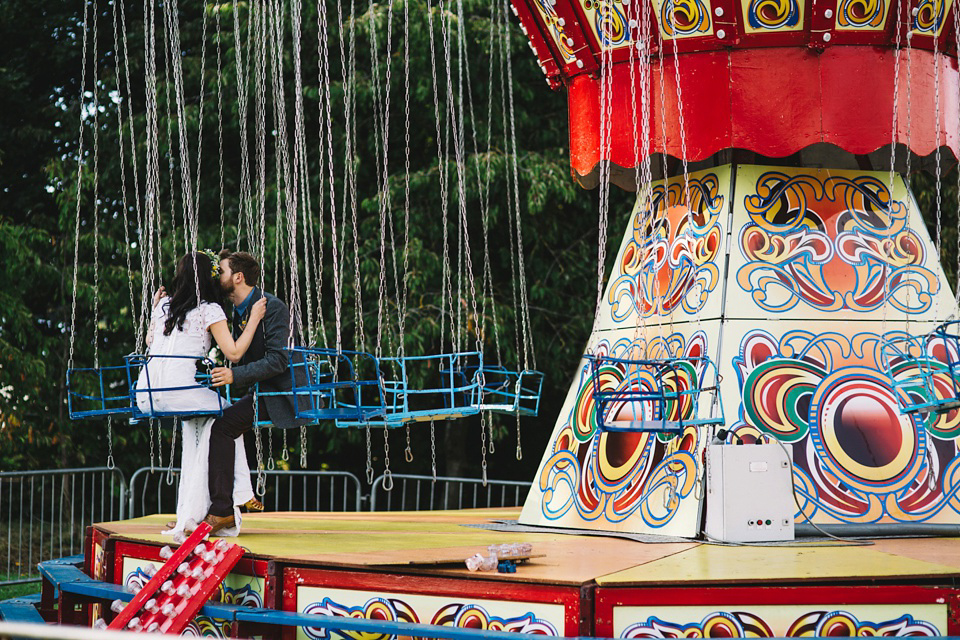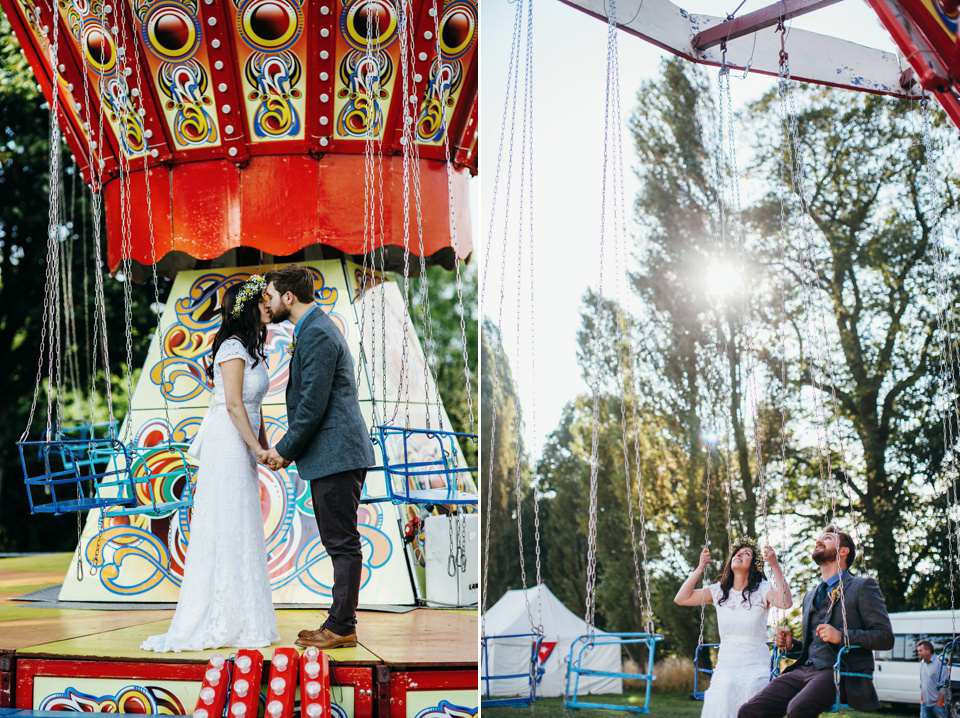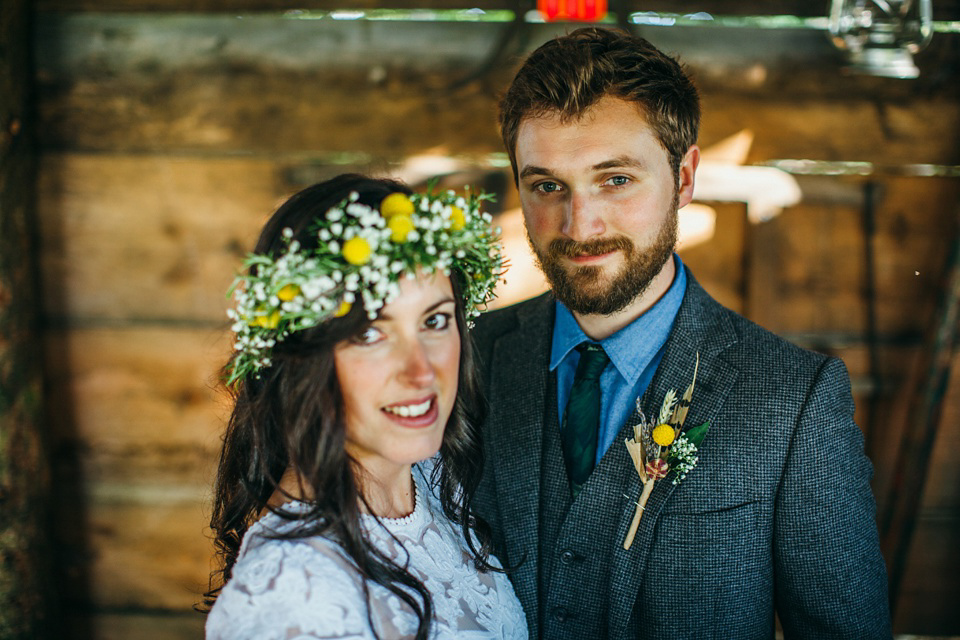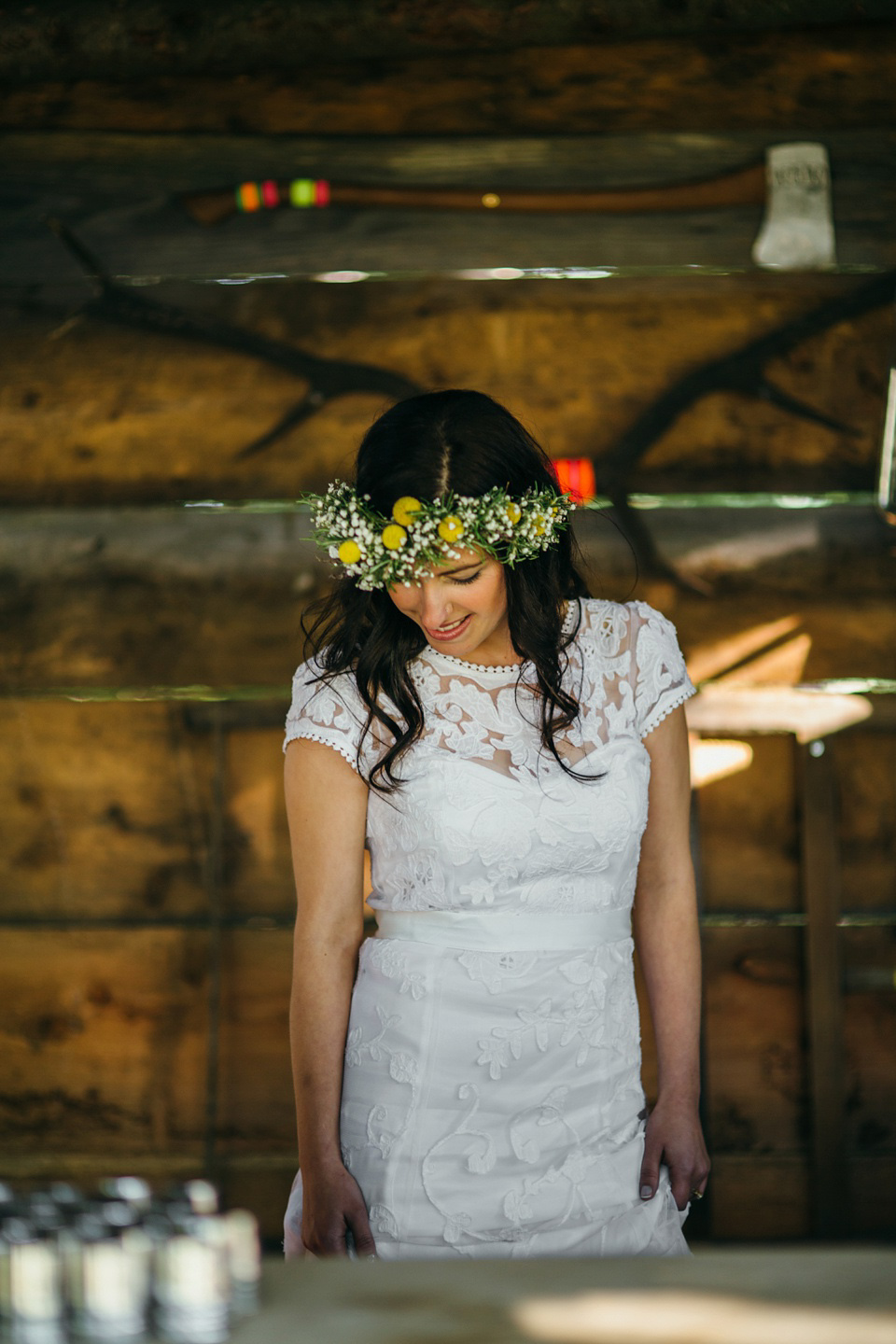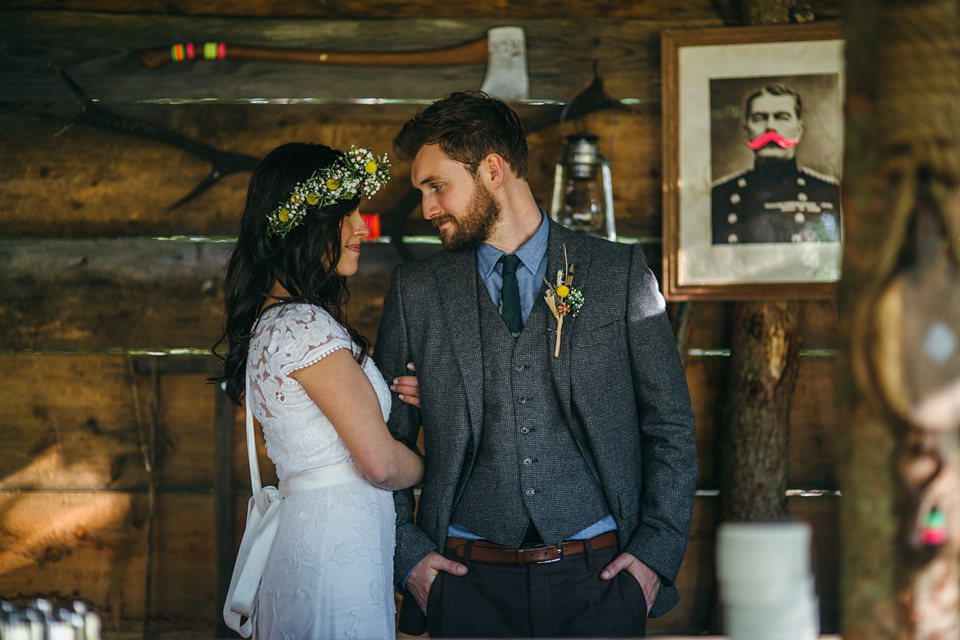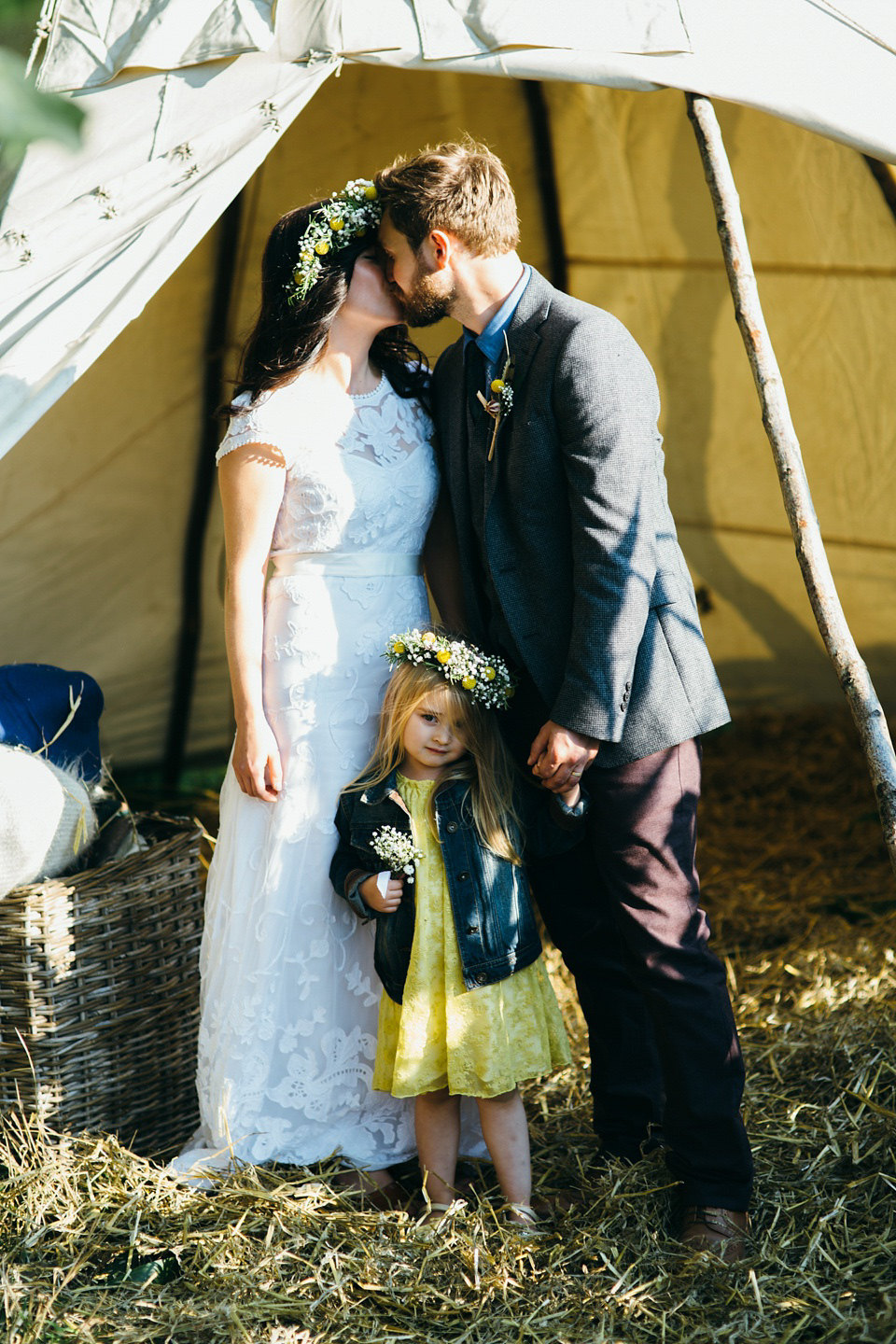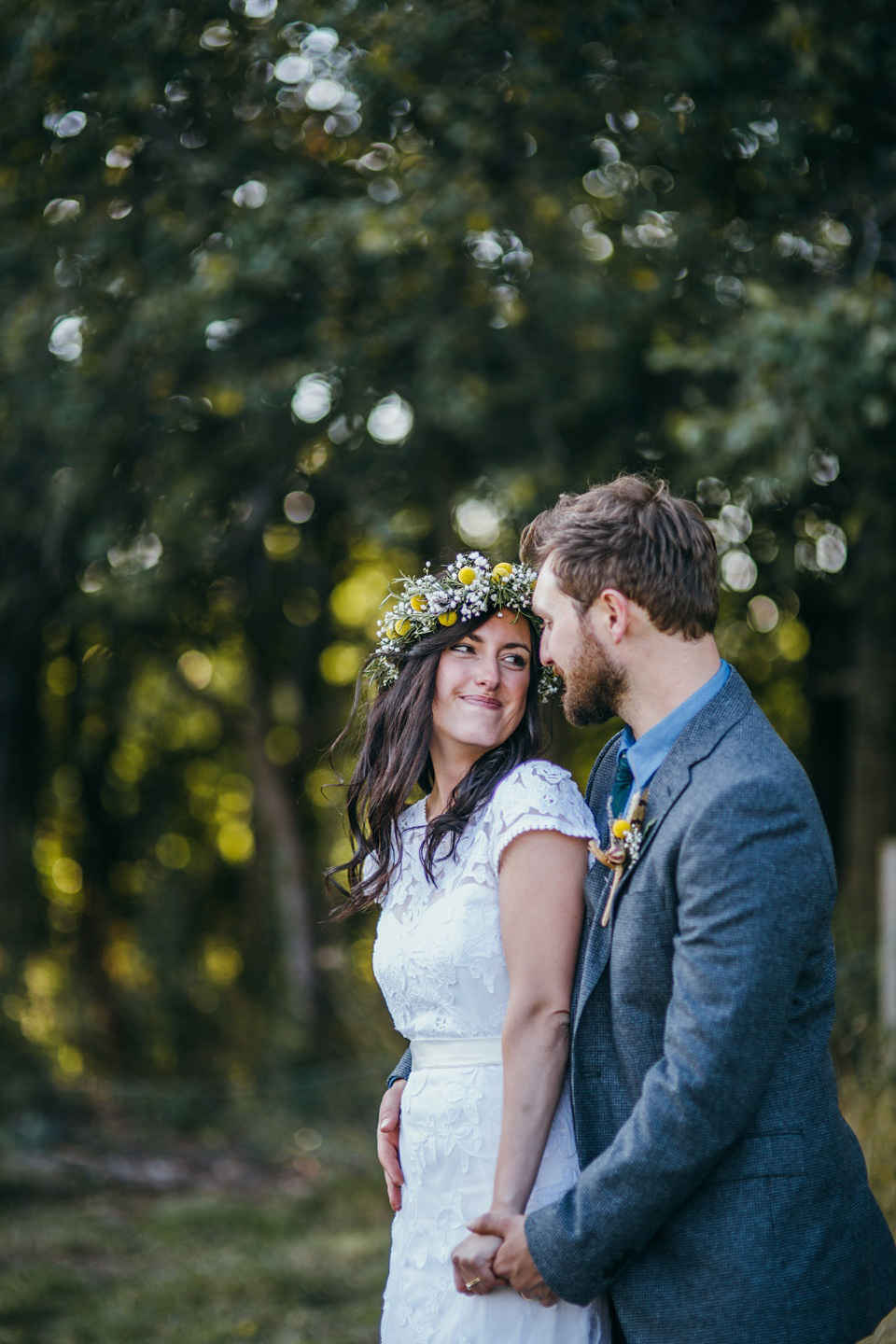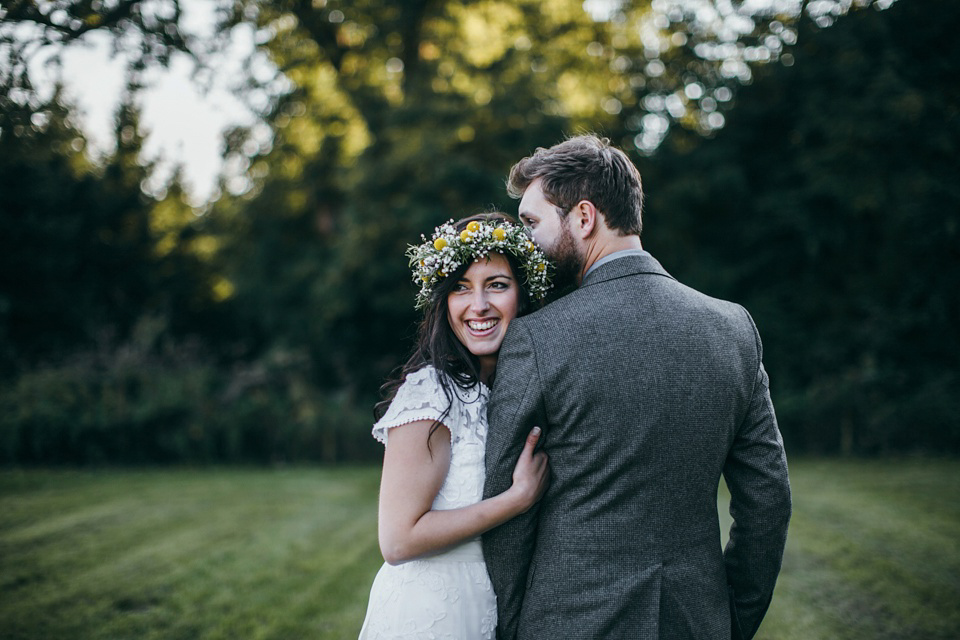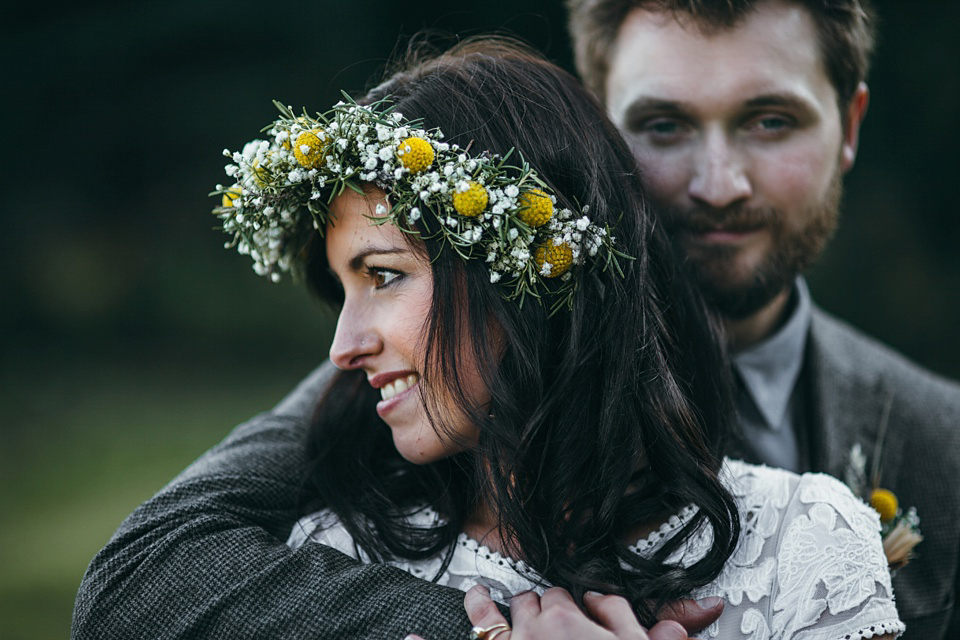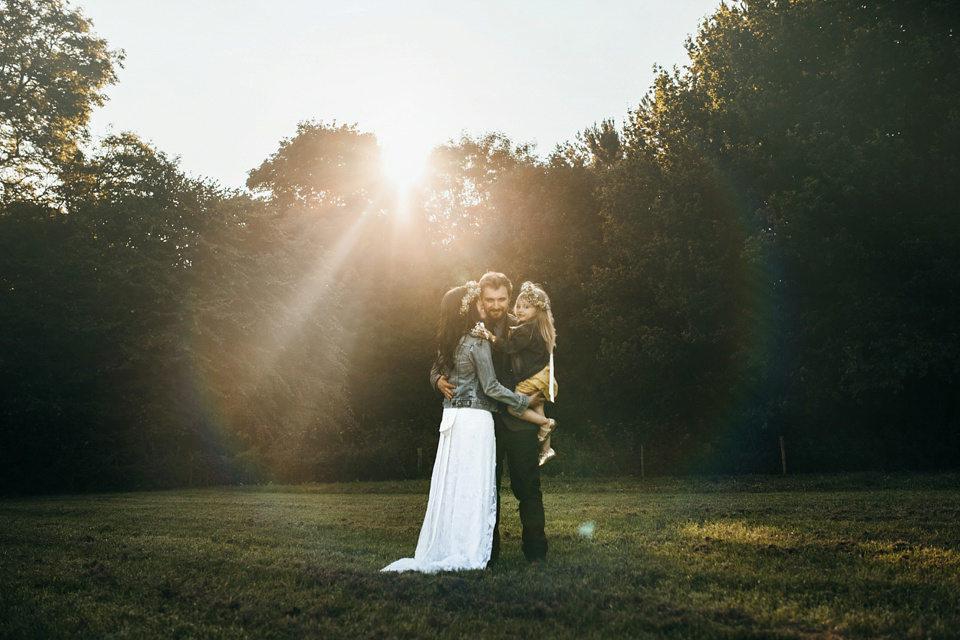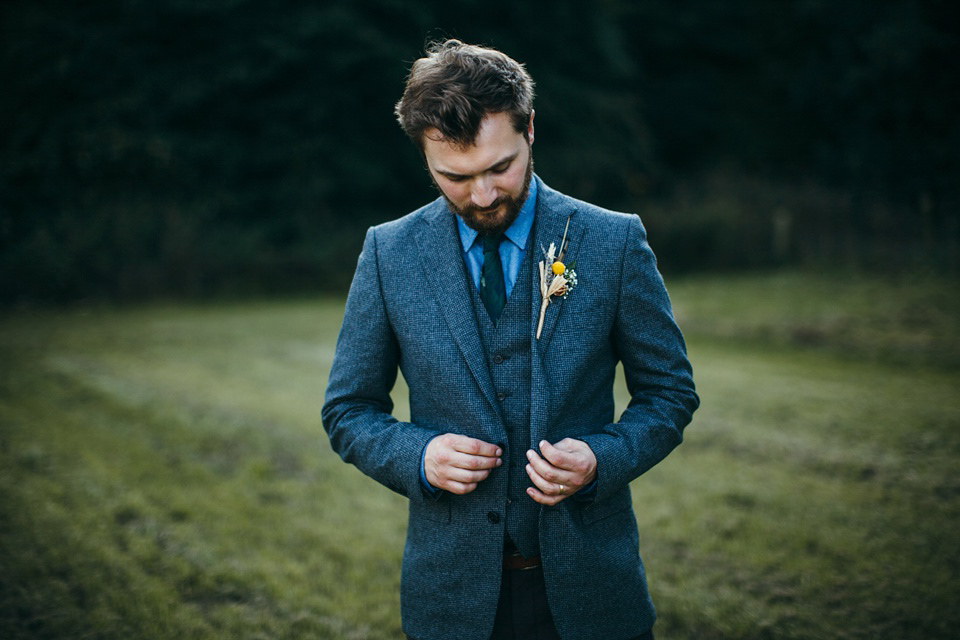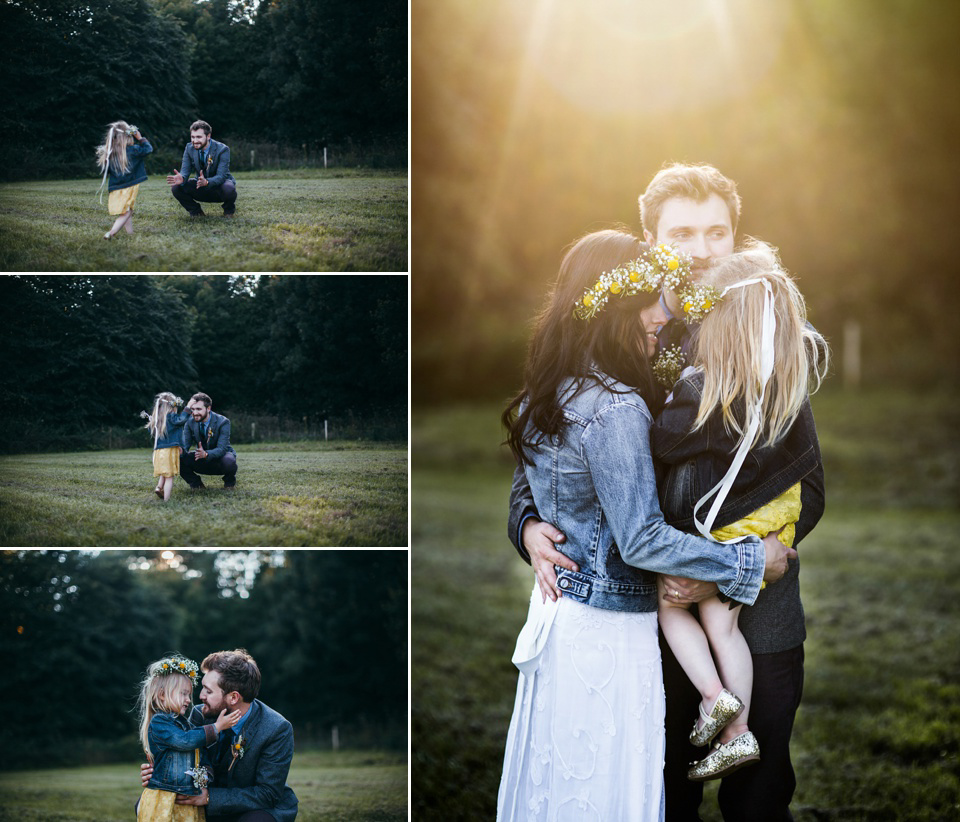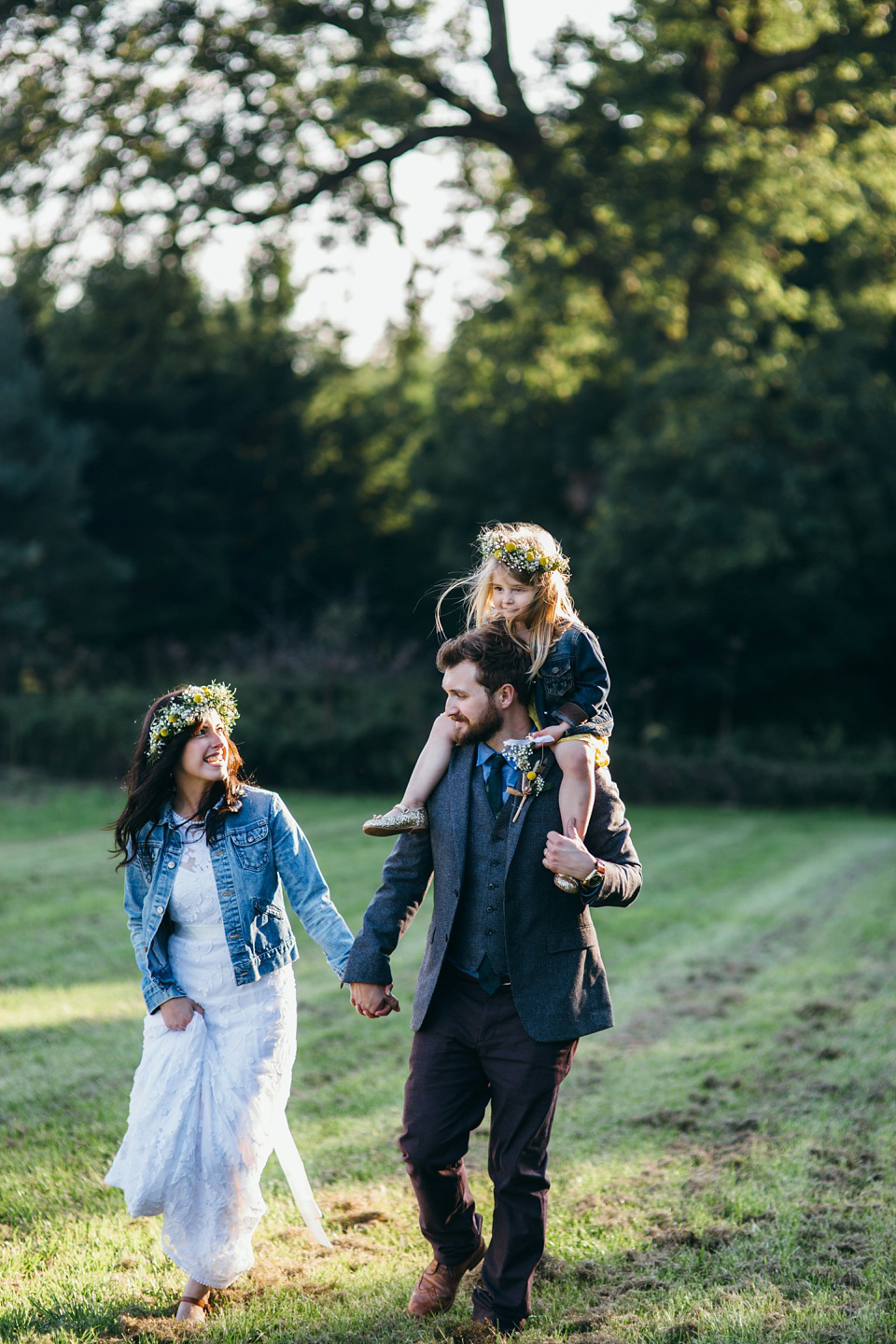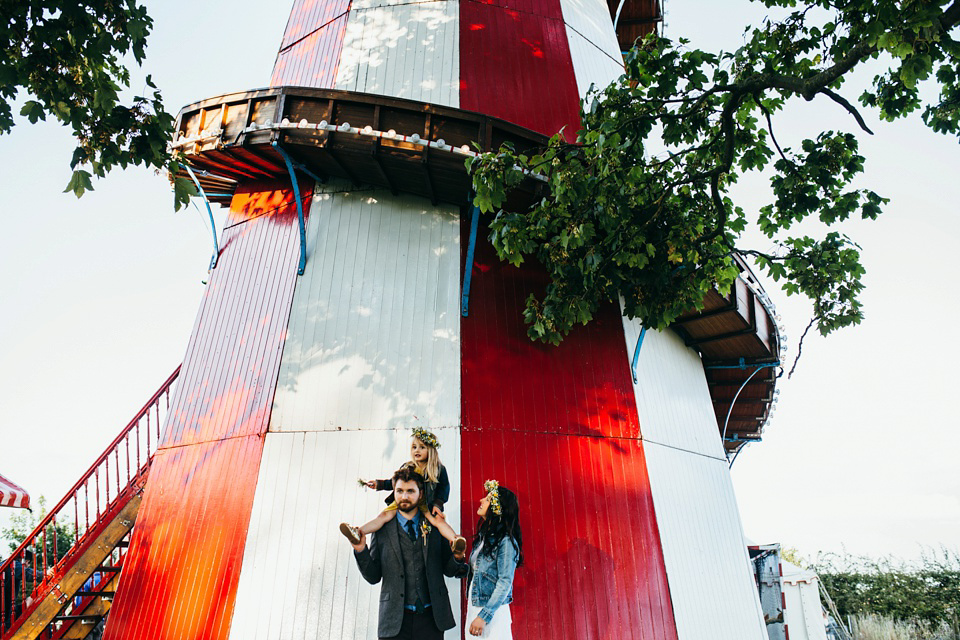 The couple, as part of their criteria, wanted somewhere unforgettable to marry, and they totally achieved this through The Good Life Experience. Essentially, their wedding was part of this three-day festival at Hawarden Estate in Flintshire, Wales; how utterly brilliant!
"We had some specific criteria for our wedding: keep it small, pay for it on a shoe string, make it unforgettable for all of our guests and unique to us – on reflection, a pretty tall order! We both love the outdoor lifestyle; summers are spent in Cornwall under canvas and on a boat and autumns are spent walking in woods and cooking on fires. We really wanted these elements to be reflected in our wedding. 
Fortunately this ethos and atmosphere comes beautifully packaged in the form of The Good Life Experience. A weekend festival which began last year designed to encapsulate simpler times, the good old days; a life that's fulfilled and considered, yes, but also fun and values the things that matter; family, friends and a real connection with the great outdoors. Throw in to the mix proper food, discovery and music that comes from the soul. To us, these are all the things that don't cost a great deal, but make life richer, more rewarding and fun – a pretty good metaphor for what we want in married life.
Eva came up with the (slightly tipsy) idea to ask if we could celebrate our wedding at this year's festival, and sure enough within twenty-four hours an email returned, welcoming this request with open arms."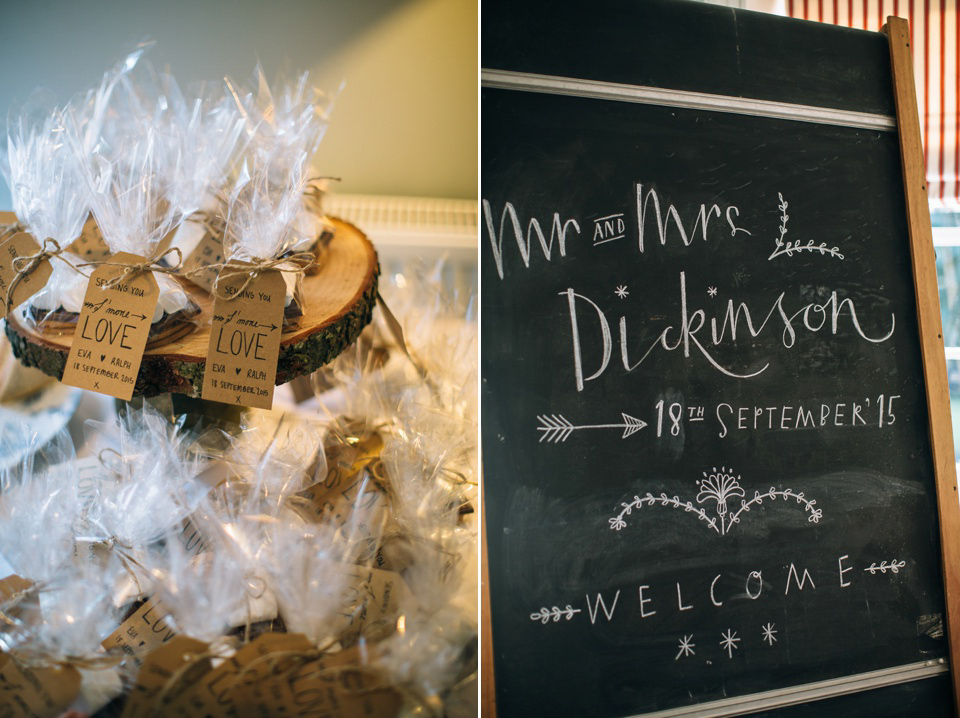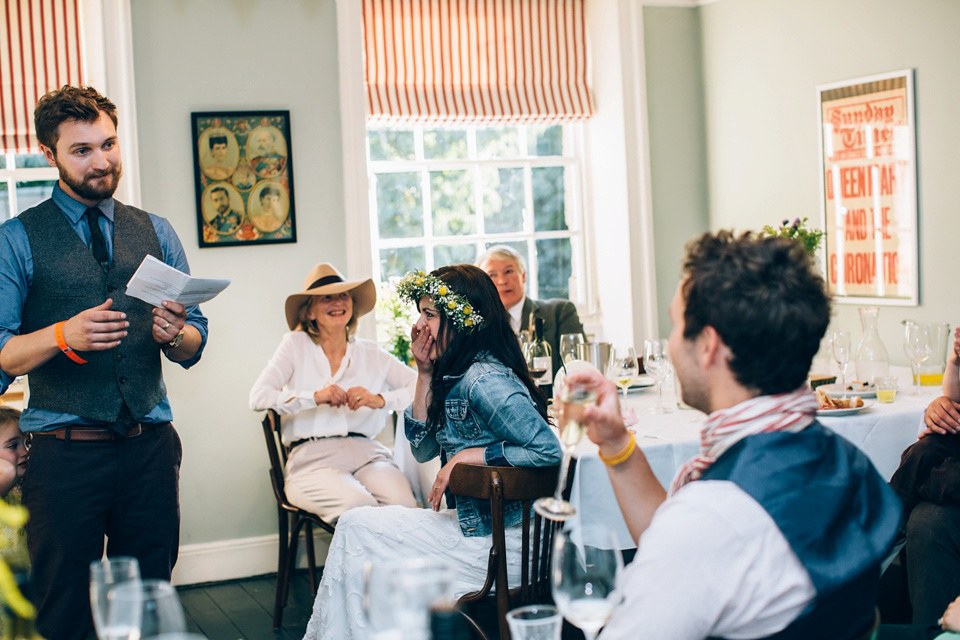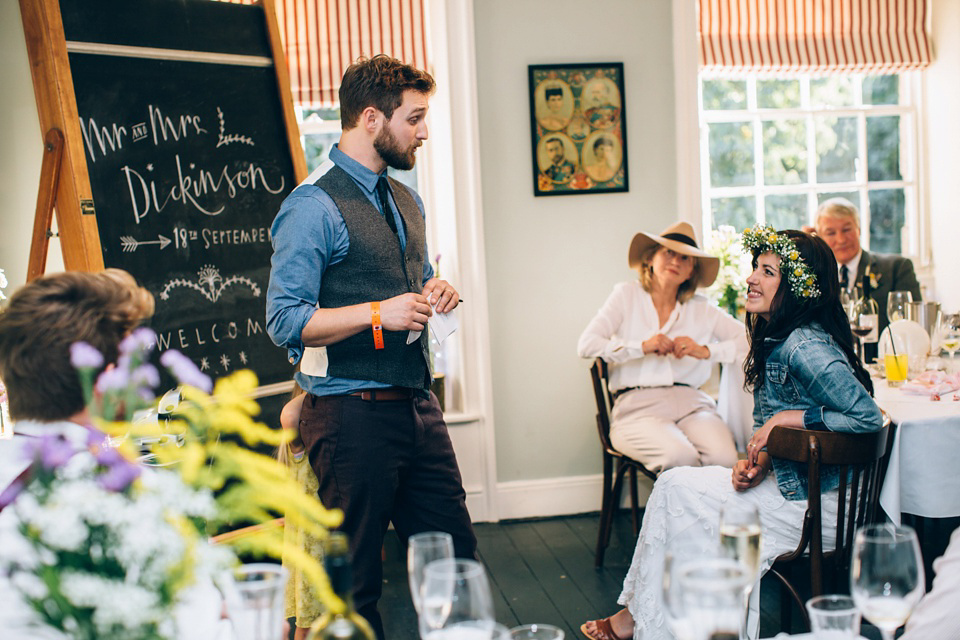 "Ralph's mum very kindly offered to bake our cake. So with a bit of Pinterest inspiration, she created this beautiful, rustic, tiered sponge cake; beautifully decorated with flowers and lavender.  In keeping with our outdoor theme, for our favours we decided to make the campfire favourite: s'mores. We bundled up small packs of marshmallows, chocolate and biscuits, which everybody loved."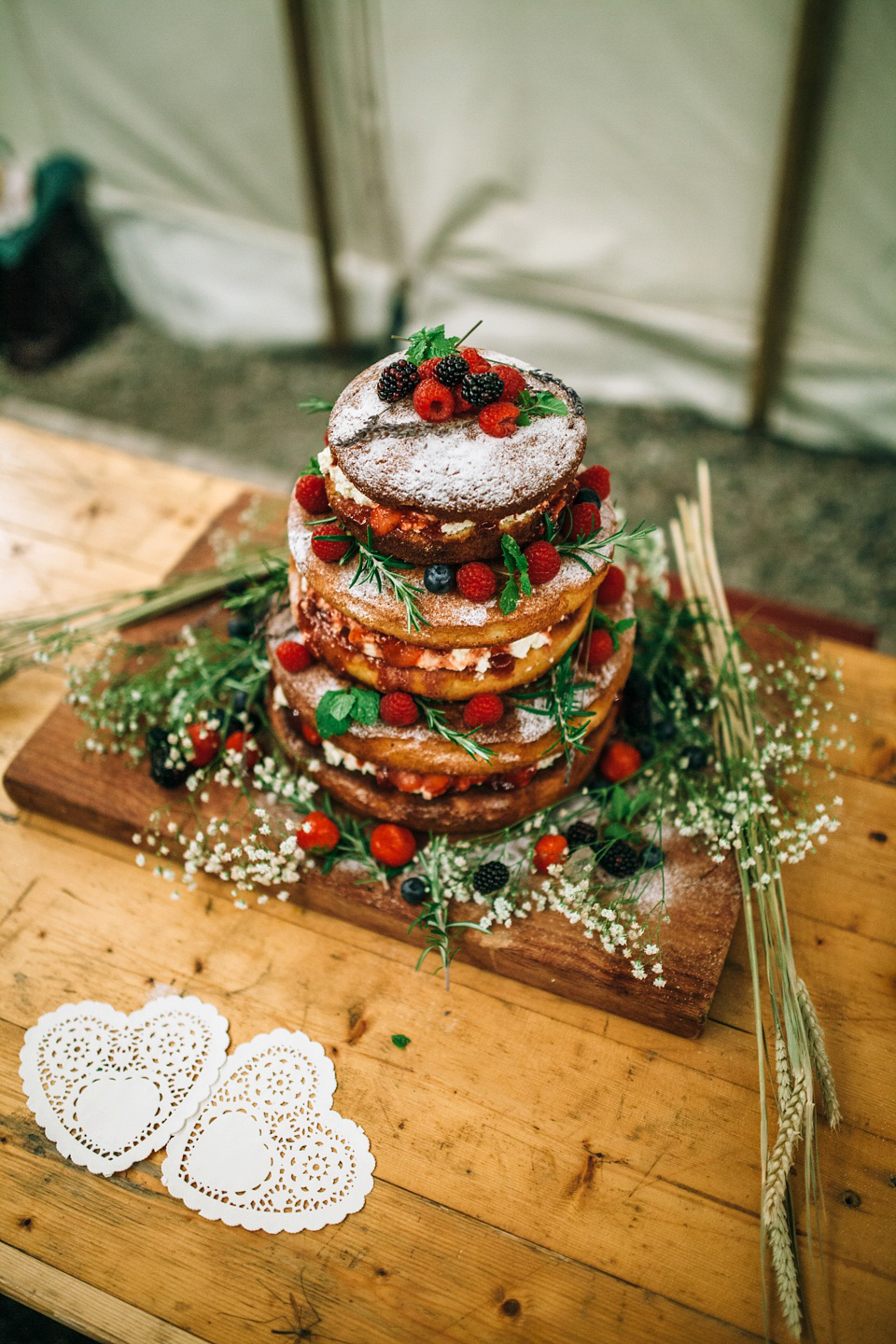 Holding your wedding party at a festival meant that music was already taken care of!
"This is one area we really didn't have to put much effort in – the beauty of holding your wedding party at a festival. The music for the weekend was curated by Cerys Matthews from BBC 6 Music and, as one of the founders of The Good Life Experience, she guaranteed an eclectic mix including cuban salsa, acoustic folk and multi-instrumental dance."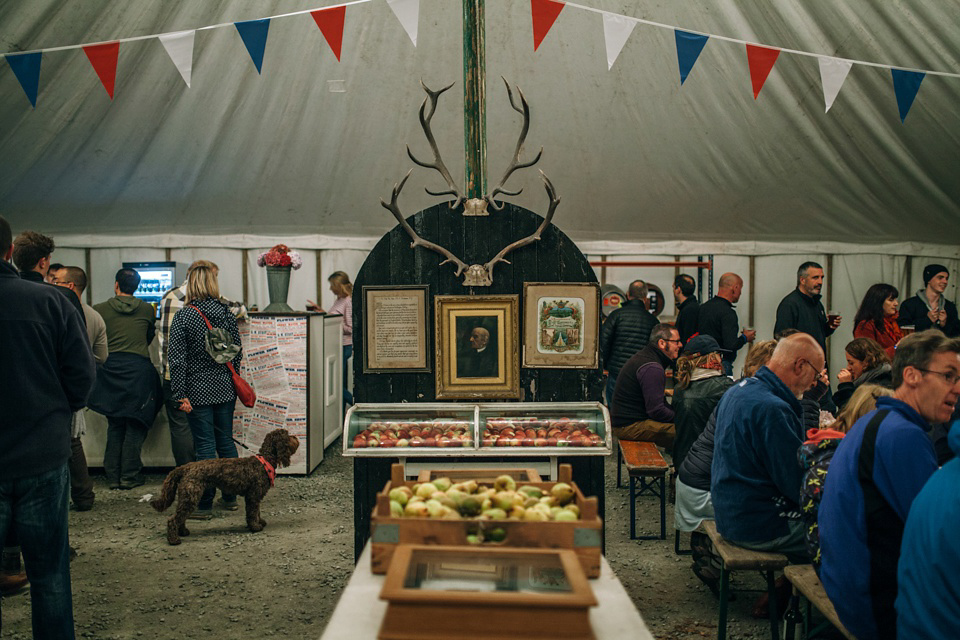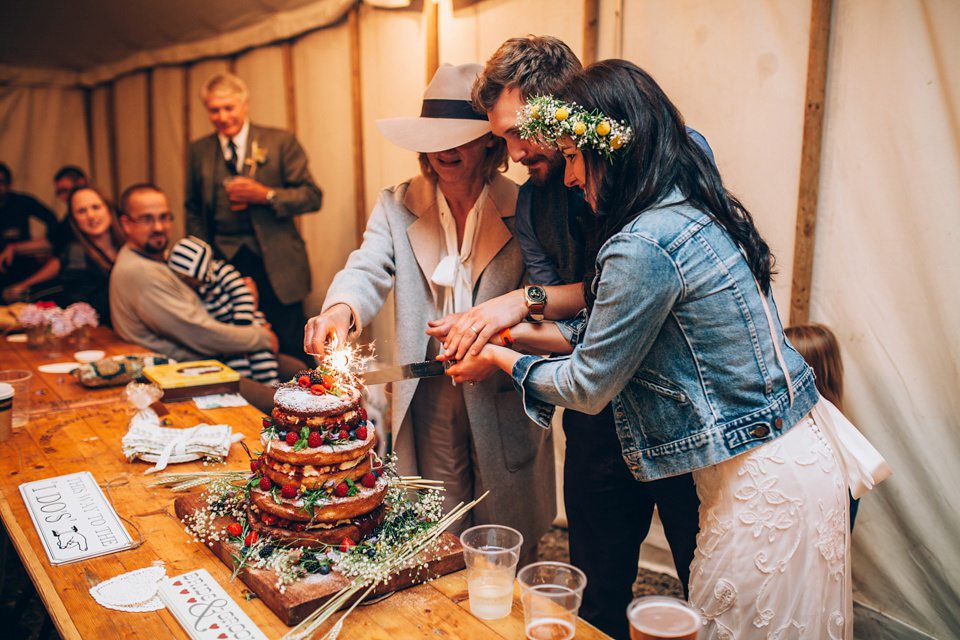 Words of Wedded Wisdom
"It's probably a very cliche thing to say but it really is true; make sure you enjoy every single second of the day. The run up, the getting ready, the moments of slight panic about shoes or flowers or whatever it may be for you, just take your time to savour every moment. People's faces, smiles and all the love and joy in the room. The day goes by so quickly! We really enjoyed every single element of our wedding, and getting hands on with the set up eliminated any stress on the day.
Everything was just how we wanted it. But at the end of the day, the most important thing to remember is that all that counts is the two of you, or three in our case!
We didn't have a first dance as such. There were certain traditions we wanted to 'skip' and this was one of them. Instead, we choose some of our favourite songs to play at the registry office and at the reception at The Glynne Arms.
Finally, Love My Dress was one of my regular reads and it was so inspiring – I just love how eclectic the real weddings are and there's a huge mix of wedding ideas. Prior to reading the blog, I felt a little out of my depth. Weddings really do involve a huge amount of organisation and knowledge. Reading the stories in the run up to our big day was such a ritual for me, and I still read them now that I am Mrs D.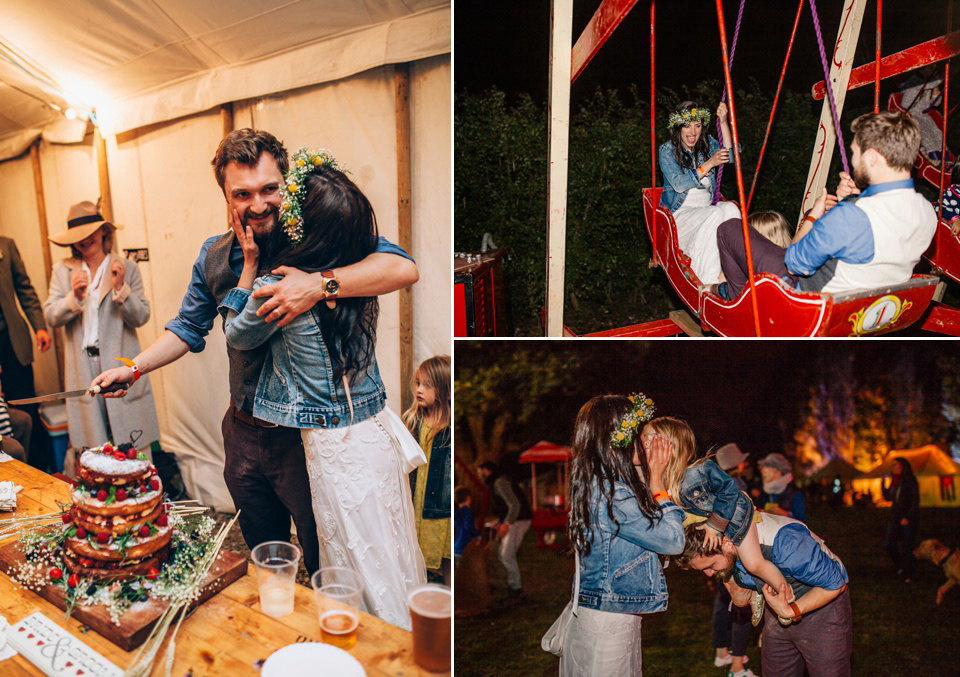 Thank you so much Eva for these very kind words. We love to inspire and help – and I just love that you still read about the beautiful brides and grooms and their own special days. Many many thanks to Sam and Diana from Green Antlers Photography – the shots are so engaging and the festival vibe must have been so fun to capture. I'd like to wish Eva, Ralph and Indigo a very happy future and thank you for inspiring myself and our lovely readers to enjoy the simpler life.
If you're thinking of incorporating a festival vibe in your day, be sure to see more festival-inspired weddings here.
Have a brill rest of week everyone!
Love Jo -x-
Photographer – Green Antlers Photography
Ceremony Mold Register Office
Venue – Reception at The Glynne Arms, Hawarden and wedding party via The Good Life Experience festival
Dress – Phase Eight
Shoes – Vintage tan leather clog sandals
Hair Accessory – Floral crown via The Great British Florist
Perfume – 'Princess' by Vera Wang
Jewellery – Butter amber stud earrings from Henryka
Bridesmaid/Flowergirl Dress –-
Bridesmaid/Flowergirl Shoes – Next
Groom – Jacket and waistcoat from Jigsaw + trousers and tie from Ted Baker
+ shirt from Finisterre + shoes and belt from Primark + watch via Nixon
Flowers – Donations
Rings – Tom Richardson on Etsy
Cake – Handmade by the groom's mum
Entertainment – Via The Good Life Experience festival
Hair and Make-up – Susan Reynolds