I am in total shock that it's December. I don't know where November went! Before I go into meltdown over the fact that I've not crafted any of my handmade Christmas cards or started any shopping yet, I'm sharing the most beautiful themed wedding today, with lots of touches completely unique to the couple, an incredible gown by our new designerKaren Willis Holmes and a gorgeous collection of images by photographer Joanna Nicole.
Lily, a writer, and Darragh, who works at Google, tied the knot on 15th August 2015, with their mutual love of books and Lily's career inspiring their style, plus some quirky touches influenced by their backgrounds.
Photography by Joanna Nicole Photography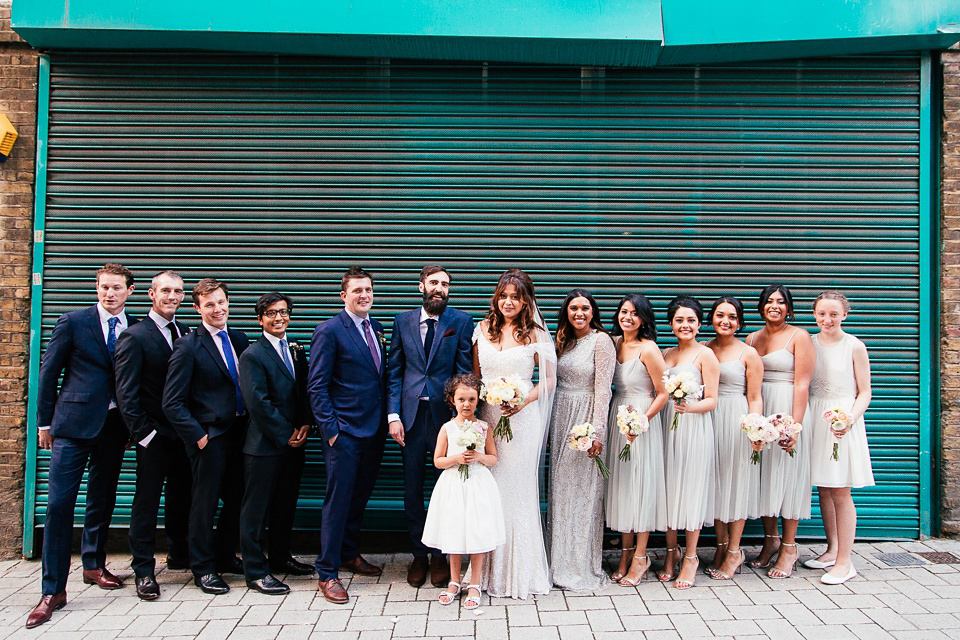 "We love books and as a writer, it was incredibly fun to plan a literary themed wedding. Darragh is Irish and I am Indian and we wanted to represent our backgrounds in a playful way. I arrived in an old Indian style Ambassador car and our table names were based on humorous Irish phrases – it was hard not to quote all of Father Ted!
We took our tones from the beautiful ceiling of the main hall and chose duck egg blues, soft pinks and creams."
The bride chose Australian designer Karen Willis Holmes for her most beautiful sequin gown – the 'Anya' style – which she then had customised.
"My dress was ridiculously glamorous and covered entirely in sequins. As our wedding started at 5:00pm, I wanted something romantic and chic and a little bit sexy. I adapted the dress with a bardot neckline and sleeves. Wearing the dress made me feel incredibly sexy and made the most of my voluptuous figure."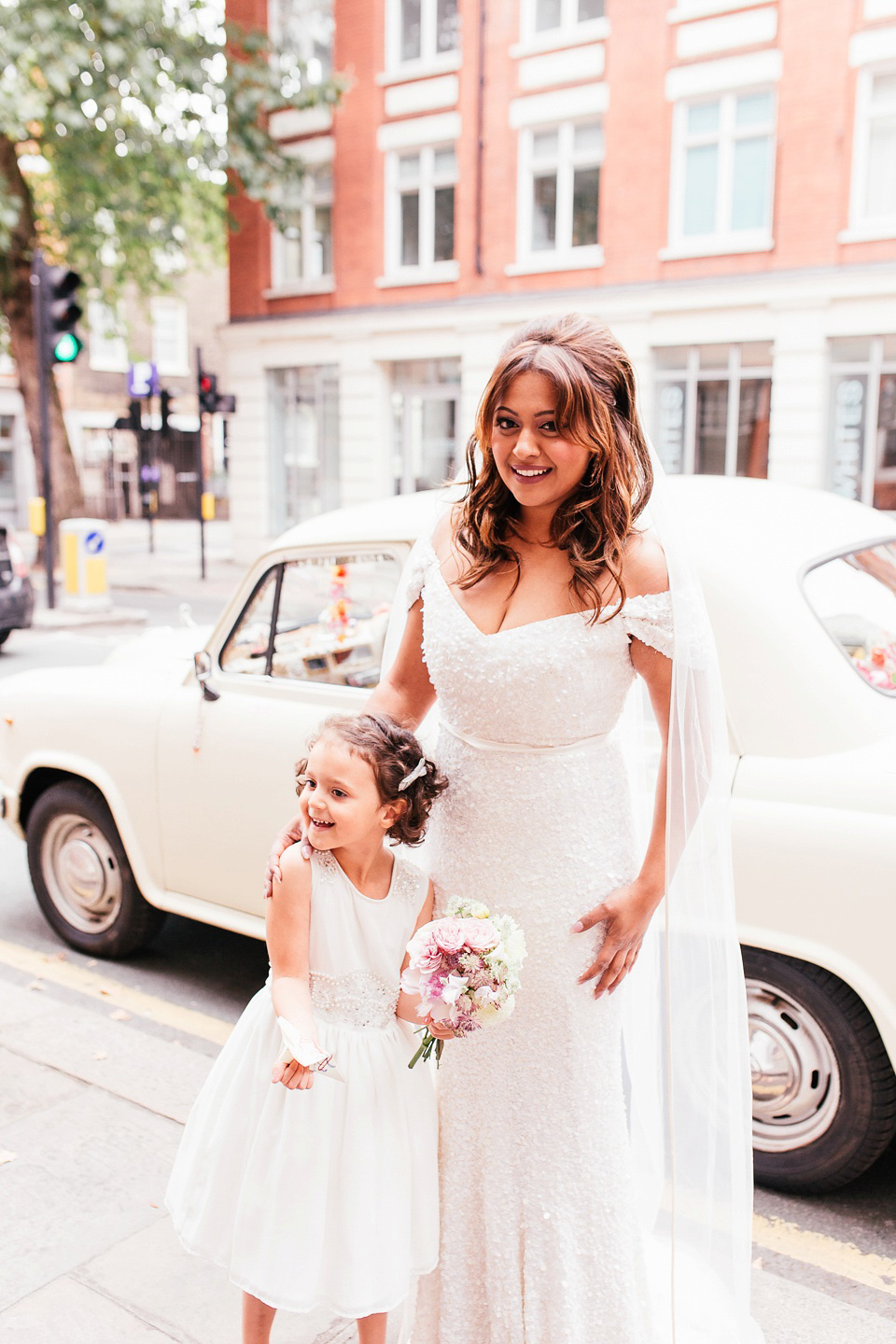 Dress by Karen Willis Holmes
See Karen Willis Holmes in our wedding directory, Little Book For Brides
Lily's maids wore gold glitter heels and sandals from New Look and gorgeous dresses from Needle and Thread. The gown donned by the maid of honour was a beautifully embellished maxi dress and the other pretty maids' design was the ballet midi dress, all in a sky colour. Divine! And that amazing car was supplied by Karma Kabs.
Karma Kabs drove the bride to the hall in total style. Lily's vintage ring was by Annina Vogel and Darragh's via Bernstones Hatton Garden and the stunning bride was given away by her best friend, to the tune of a penguin-related song.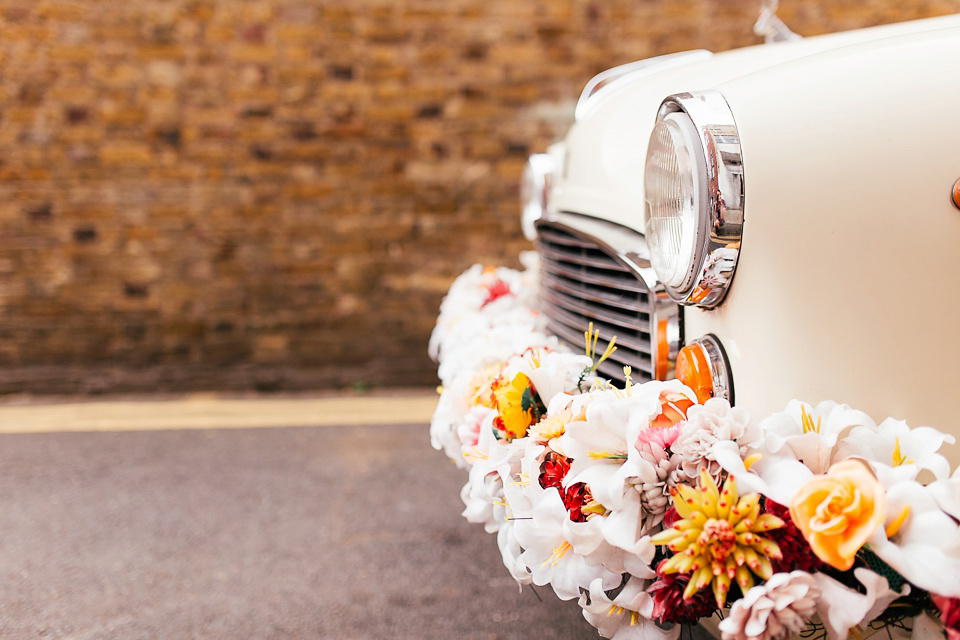 The couple didn't need a wedding planner, thanks to Lily's impeccable organisational skills. They married at The Old Finsbury Town Hall in Clerkenwell, London; a beautiful building with an art-deco entrance and grand chandeliers in the Great Hall and was a place which had very special meaning for the couple.
"I have a background in project management, thus the wedding was planned on time, on budget, with military precision. We chose this venue because it was beautiful and ornate and we had our first date at Exmouth Market, which is a stones' throw away. We drive past it almost every day and it's a lovely reminder."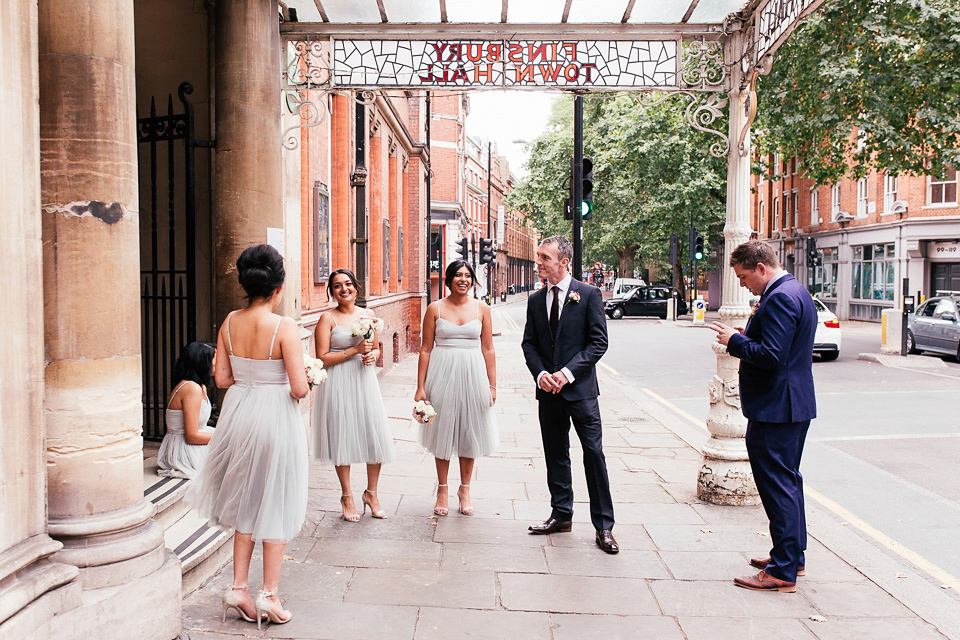 I love a good meeting story, and Lily and Darragh's is a beauty and guaranteed to make you giggle!
"I was writing about Tinder and he was a right swipe. His opening gambit was a sarcastic comment about the lack of variety in my selfies. I jokingly asked him to marry me in my second message. Our first date was in a pub in Exmouth Market the day after Valentine's Day. Unbeknownst to me, he was on the bus that paced my route on the way there. He must have watched me check my hair eighty-nine thousand times. Mortifying. He said I had a funny walk, which is what every girl wants to hear."
"We like to get out of London when we can and he took me to Paris last January. He knows I love the movie 'Amelie' and he had written to all the photo booth operators for their locations and planned an incredibly romantic trip for me. On our last night, we jumped into a little photo booth and he proposed just as I put the money in the machine. The pictures are awful.
I was so shocked that the ring went flying and we both scrambled to find it. We sent out telegrams to our closest friends and family in March with our wedding date. We were engaged for six months before our wedding day."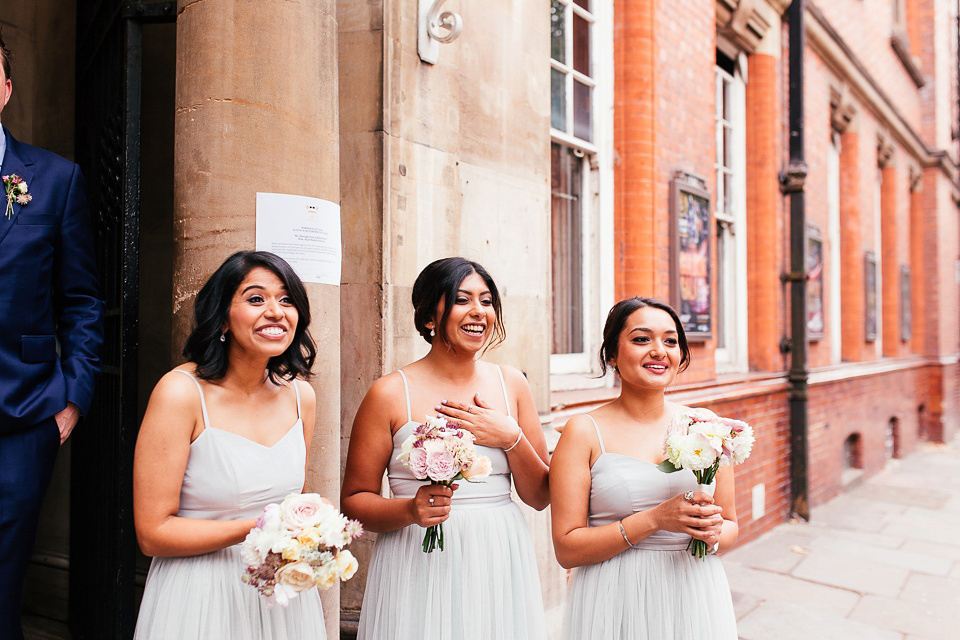 Lily was keen to mimic Brigitte Bardot and hair artist Oliver Amodio helped her and the elegant maids achieve fabulous up-do's, which were straight out of the 1960's.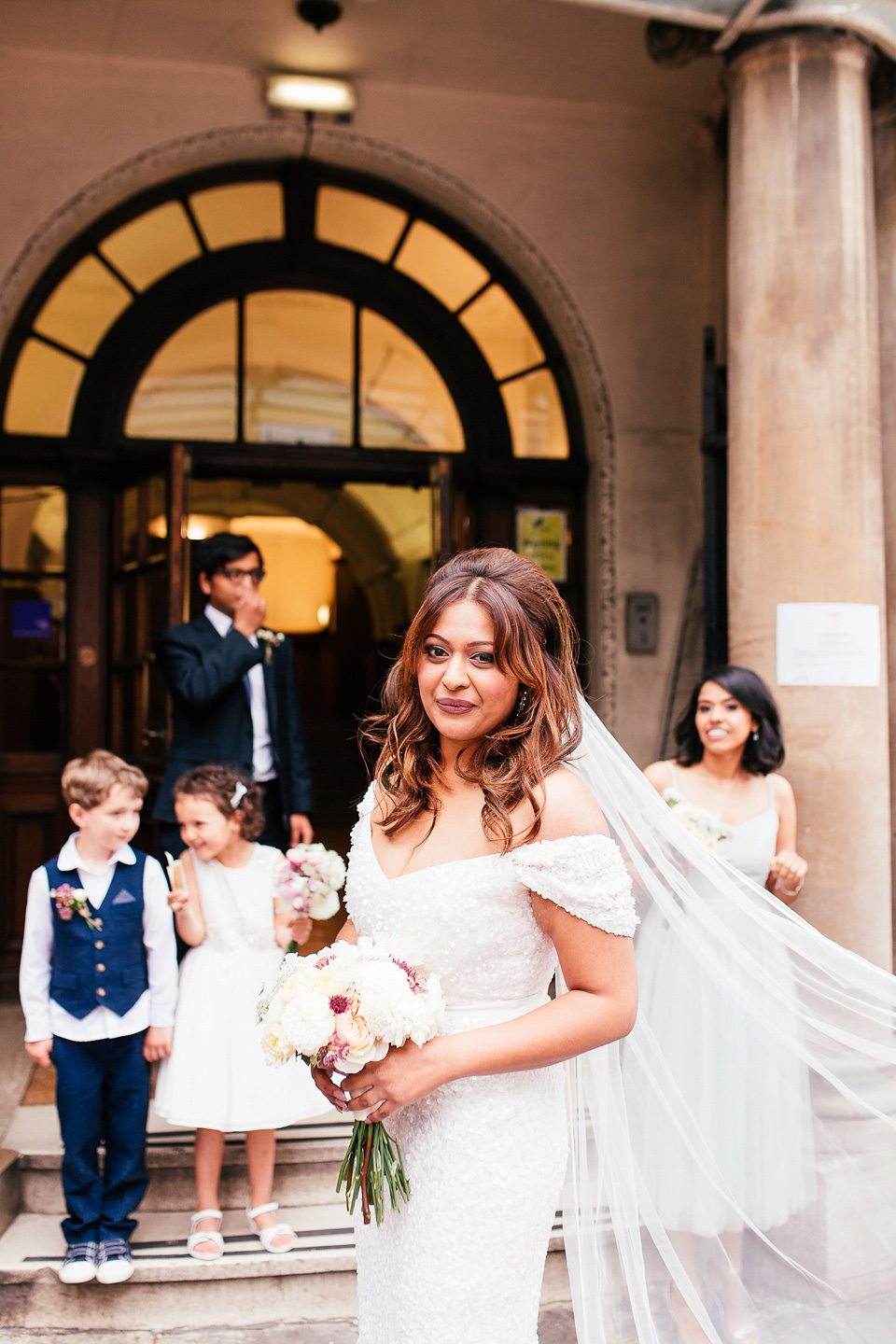 Darragh went for retro style, wearing a bespoke Richard James suit, Church's shoes and a Paul Smith white shirt. And his five groomsmen arrived in true Irish style.
"The groomsmen travelled from Ireland from the wedding, all horribly hungover from the wedding rehearsal dinner – they did an excellent job regardless!"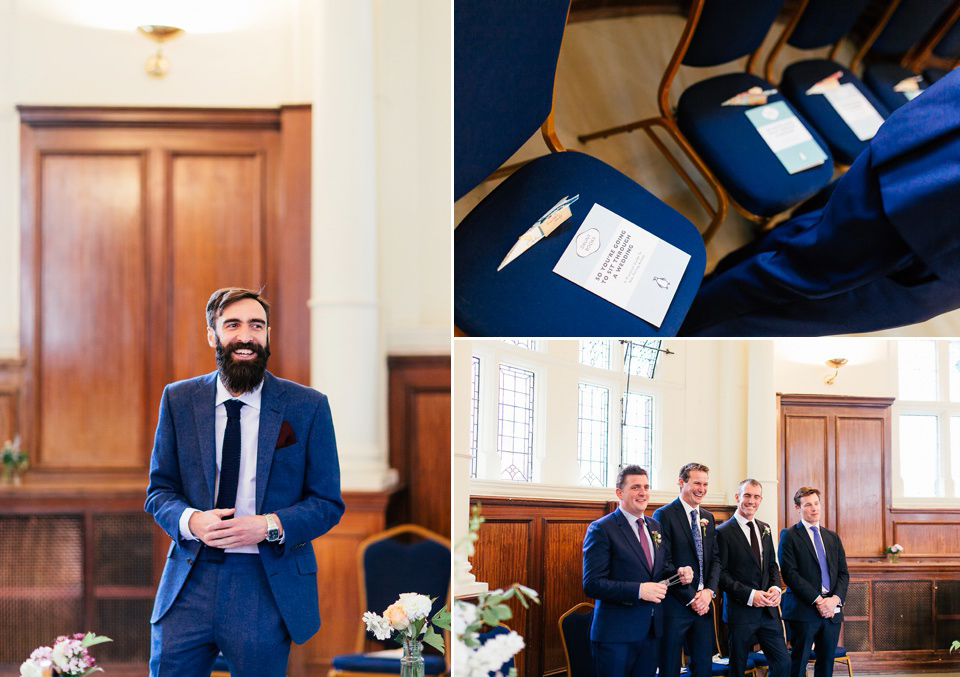 The Flower Appreciation Society created the couple's beautiful array of wild and natural flowers and helped out with a last minute emergency. I urge you to check out their quirky website; the little sketches amongst the photos are so effective.
"I loved their cut glass vases and Ellie was a dream to deal with and perfectly understood what we wanted – romantic, soft flowers that looked wild and natural. I realised on the day that I hadn't ordered enough buttonholes and the girls came to the rescue and made some up for us en route to another job. Total lifesavers!
You want a florist that can hustle in an emergency and The Flower Appreciation Society are a very capable, resourceful crew, with an incredible selection of vases."
"My best friend Toby gave me away. We walked the aisle to Tom Odell's cover of 'Real Love' cover. It was funny and perfect that it featured in a John Lewis ad about a penguin – very fitting."
Lily styled her gown with a Jenny Packham veil, incredible sparkly Aldo heels, beautiful Jenny Packham drop earrings in antique gold and a spray of her favourite perfume, 'Majestic Rose' by Yves Saint Laurent, Lily is the epitome of Love My Dress glamour.
"As it was a civil service, our vows were simple and honest and straight to the point.
Both of our readings were chosen for their real depiction of what love can mean. They were not sickly sweet and the second, an extract from 'The Velveteen Rabbit' by Margery Williams, was read by my sister and particularly poignant."
Joanna Nicole Photography captured natural shots of the couple and their guests and Lily and Darragh were very chuffed.
"My husband hates photographs and I hate photographs of me taken by other people. Joanna was like a wizard; patient and gentle and very very smart. The photos she delivered were gorgeous and natural and she had a shot of everything that mattered to us most. I just love her style. She's very talented."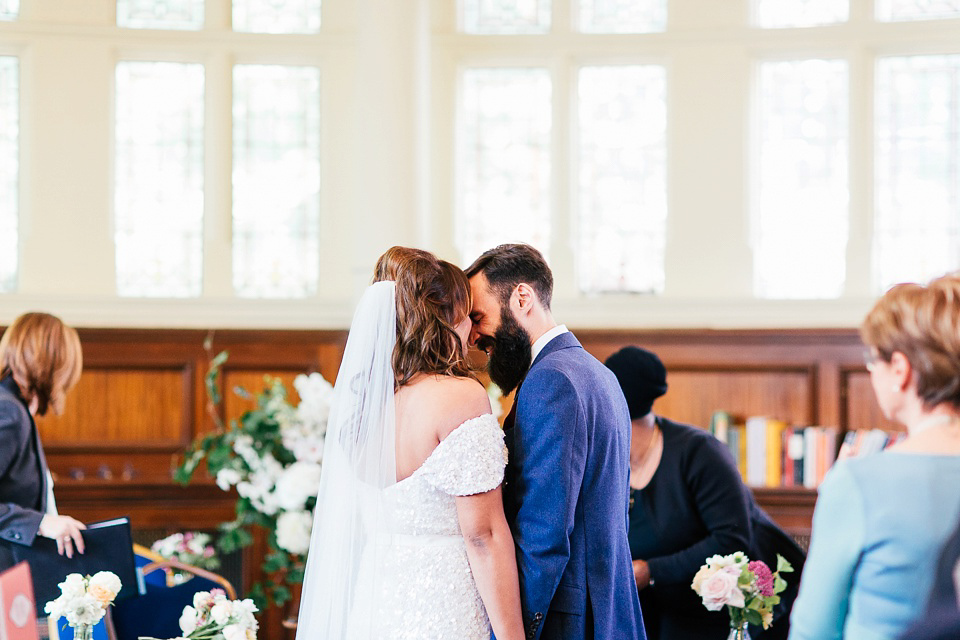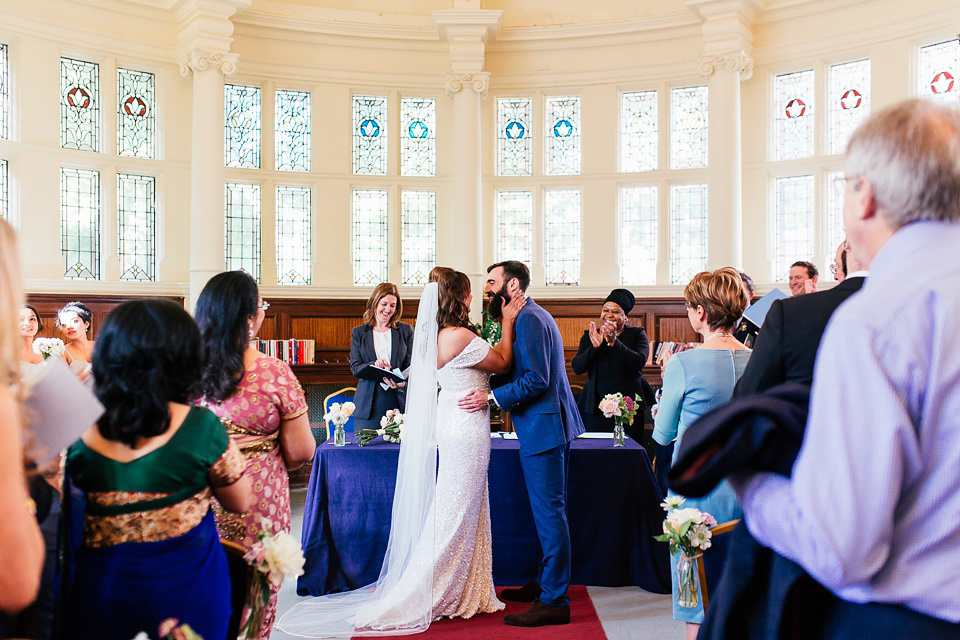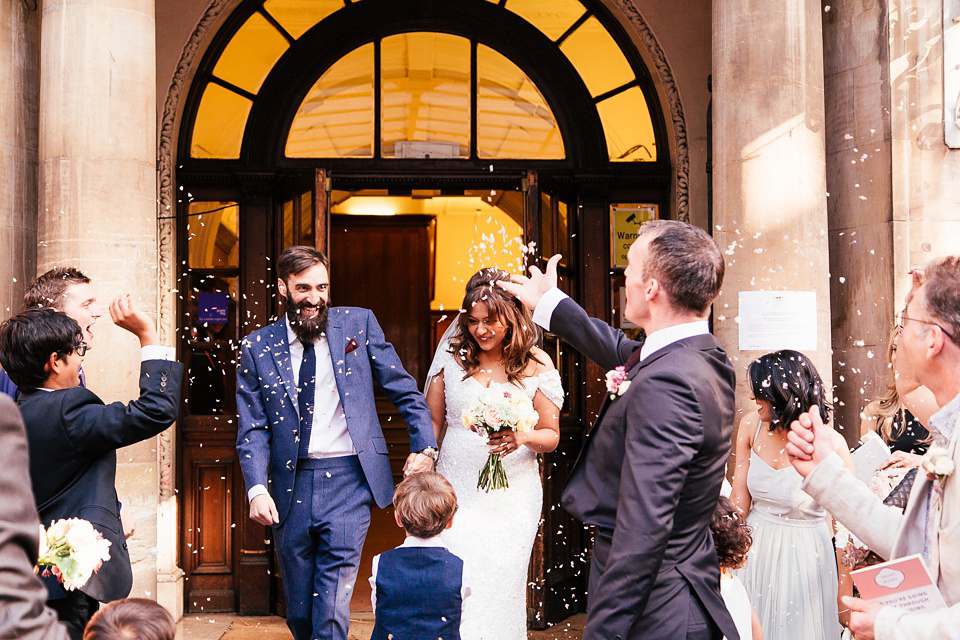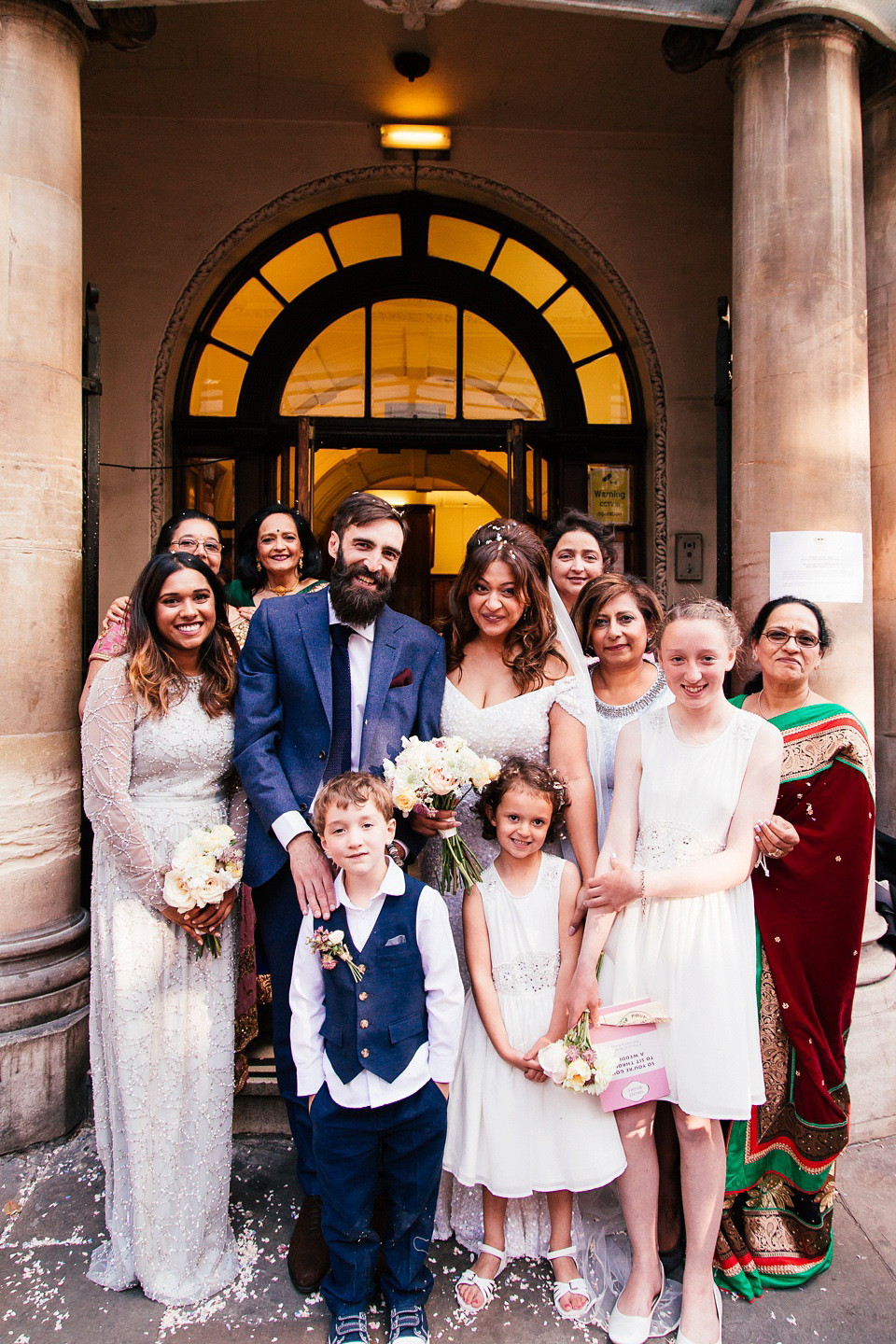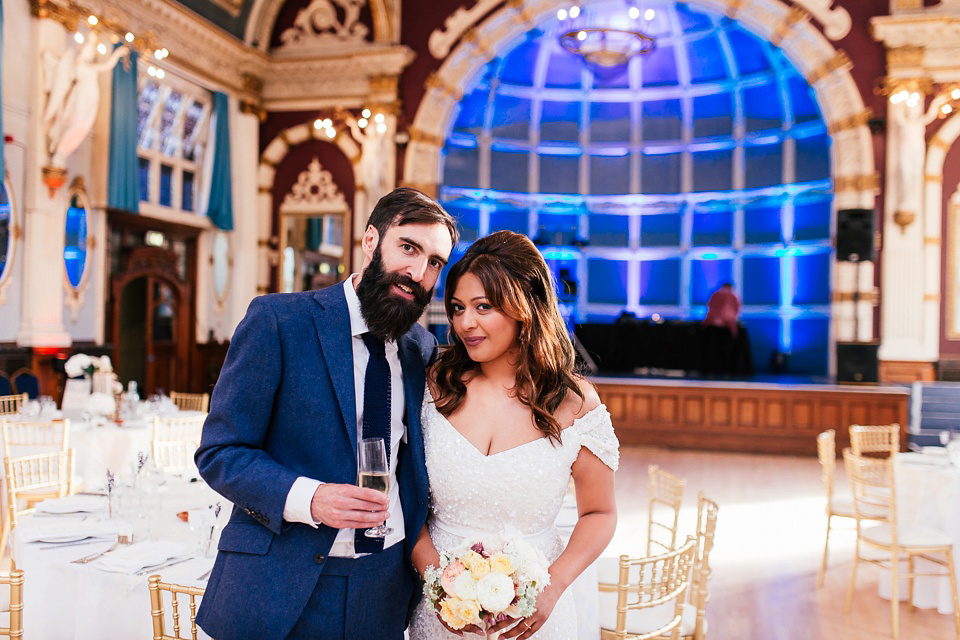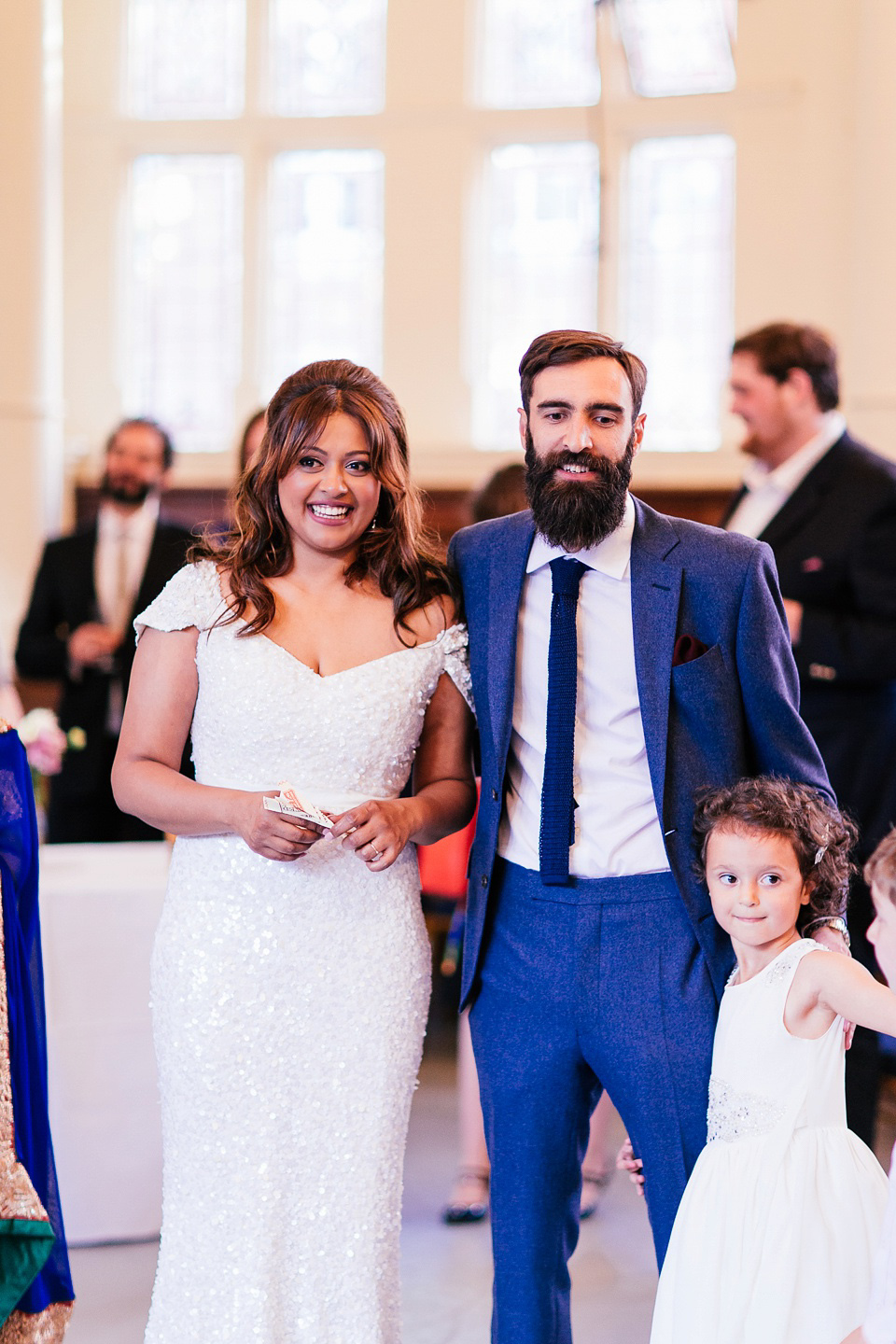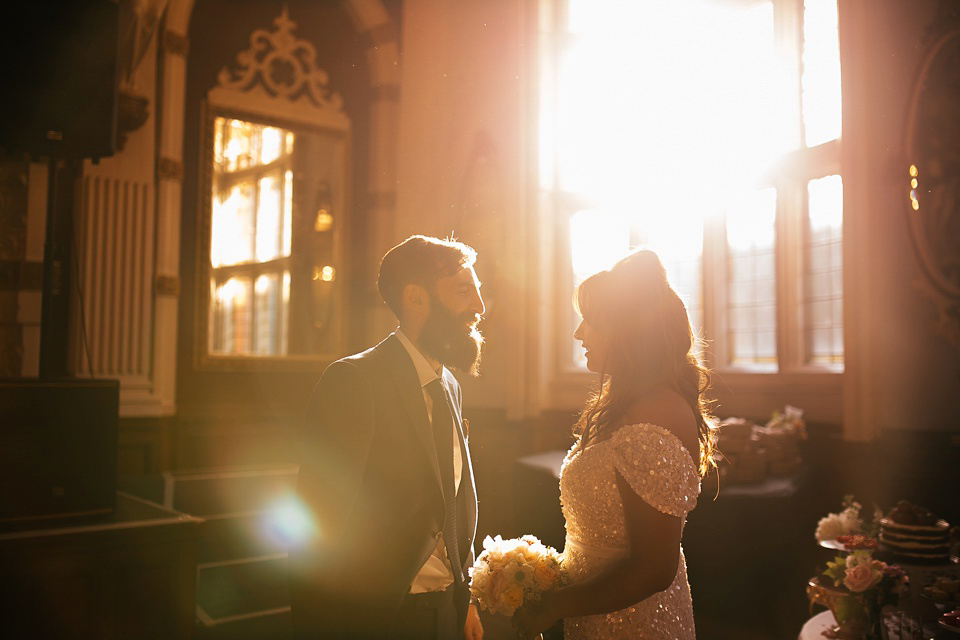 Oh my, look at this very tempting cake table. I may have to reach for the chocolate biscuit tin to satisfy my sweet tooth after spying this selection!
"Bea's of Bloomsbury made my favourite red velvet cake. We went with a selection of cakes, including Victoria sponges and chocolate fudge and mini macaroons. I'm so sad I didn't eat more cake! We love penguins and our cake toppers were two fabulous penguins getting married.
"Our meal was a delicious Moro-esque feast by Eighty Six. Our guests are still talking about the food and they were an absolute dream to work with. A big thanks to Daisy and Becs – they handled everything so well and are consummate professionals, as well as lovely humans. The food was delicious and to anyone who's weary of a sharing plate menu – don't be. It's like sitting around a big family table, the food is plentiful and there's something lovely about being passed/passing on a plate."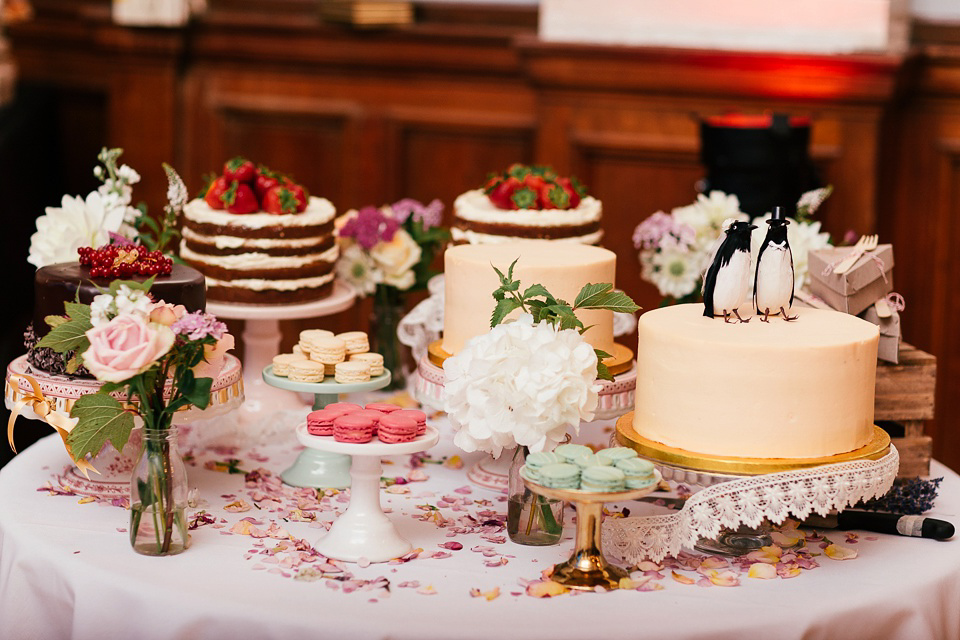 "My favourite part was stepping into the hall for a few minutes alone with my new husband. The room was flooded with light and our tables looked so pretty. Everything was sparkling and gleaming and I could smell our flowers. It was just the most perfect moment."
Words of Wedded Wisdom
"Just be cool. I planned the whole thing in five months and I approached it as though I were planning a party. I didn't sweat the small stuff. I think eating properly before getting married makes an enormous difference to your mental health. Pick a dress that suits your figure now, don't diet into a dress. It's stressful and really ruins the run up."
Excellent advice Lily! Readers, if you haven't already done so, you might like to read this love letter to weight worried brides by Emma Meek of Miss Bush Bridal fame for more wise words on this subject.
Many many thanks to Joanna Nicole Photography for sharing the couple's fantastic photos and wishing Lily and Darragh loads of future laughs and adventures. You've inspired me to have another read of my Penguin classics.
Have a jolly evening folks,
Love Jo -x-
Photographer – Joanna Nicole Photography
Venue – The Old Finsbury Town Hall, London
Dress – Karen Willis Holmes
Veil – Jenny Packham
Shoes – Aldo
Jewellery – Jenny Packham earrings
Perfume – 'Majestic Rose' by Yves Saint Laurent
Bridesmaid's Dresses – Needle and Thread
Bridesmaid's Shoes – New Look
Groom – Richard James bespoke suit + Church's shoes + Paul Smith white shirt
Flower girl – BHS
Page boy – Monsoon
Florist – The Flower Appreciation Society
Rings – Annina Vogel + Bernstones Hatton Garden
Catering – Eighty Six
Cake – Bea's of Bloomsbury
Stationery – New North Press + Bokaprint + Minted
Hair – Oliver Amodio
Make-up – By the bride
Entertainment – DJ Sue Grant
Transport – Karma Kabs
@misspotkin