Go on…grab a mince pie and the tipple of your choice, and take the time to enjoy this afternoon's stunning Autumn wedding, filled with lots of colourful blooms and vintage inspired décor, not to mention a beautiful bride wearing a Claire Pettibone gown with the most exquisite detailing. Doctors Wei and Tom tied the knot on the 26th of September at Styal Lodge in Cheshire.
"I absolutely adore Love My Dress, It gave me so much inspiration during the planning process, plus the list of suppliers is really helpful. I found the tips and advice really helpful I love all the weddings featured on the blog – every single one of them is so inspirational! We didn't really have a theme in mind but I've always loved everything rustic and vintage so I think subconsciously, I ended up styling the day in that way. Styal Lodge was the first and only venue we looked at and we loved it from the second we saw it. It was simple yet beautiful and we knew that we could really make it our own on the day of the wedding."
Photography by Emma Boileau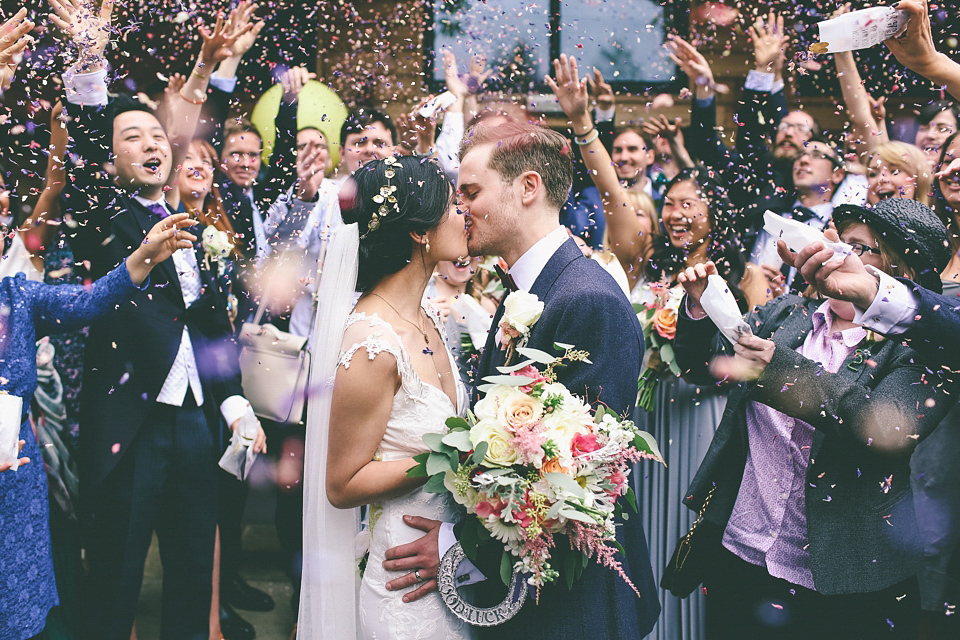 When it came to her wedding dress, Wei knew only Claire Pettibone would do. During a trip to The White Room in Sheffield, our bride fell in love with a beautiful lace gown called 'Papillion'. Just look at that sheer back with flower and butterfly embroidery – the detail is breath taking!
"After hearing about Claire Pettibone from a friend I became totally obsessed with all of her designs. I went to The White Room in search of my perfect Claire Pettibone gown during a designer's weekend and found 'Papillon'. I loved the exquisite details on the back of the dress and my mum absolutely fell in love with it which sealed the deal."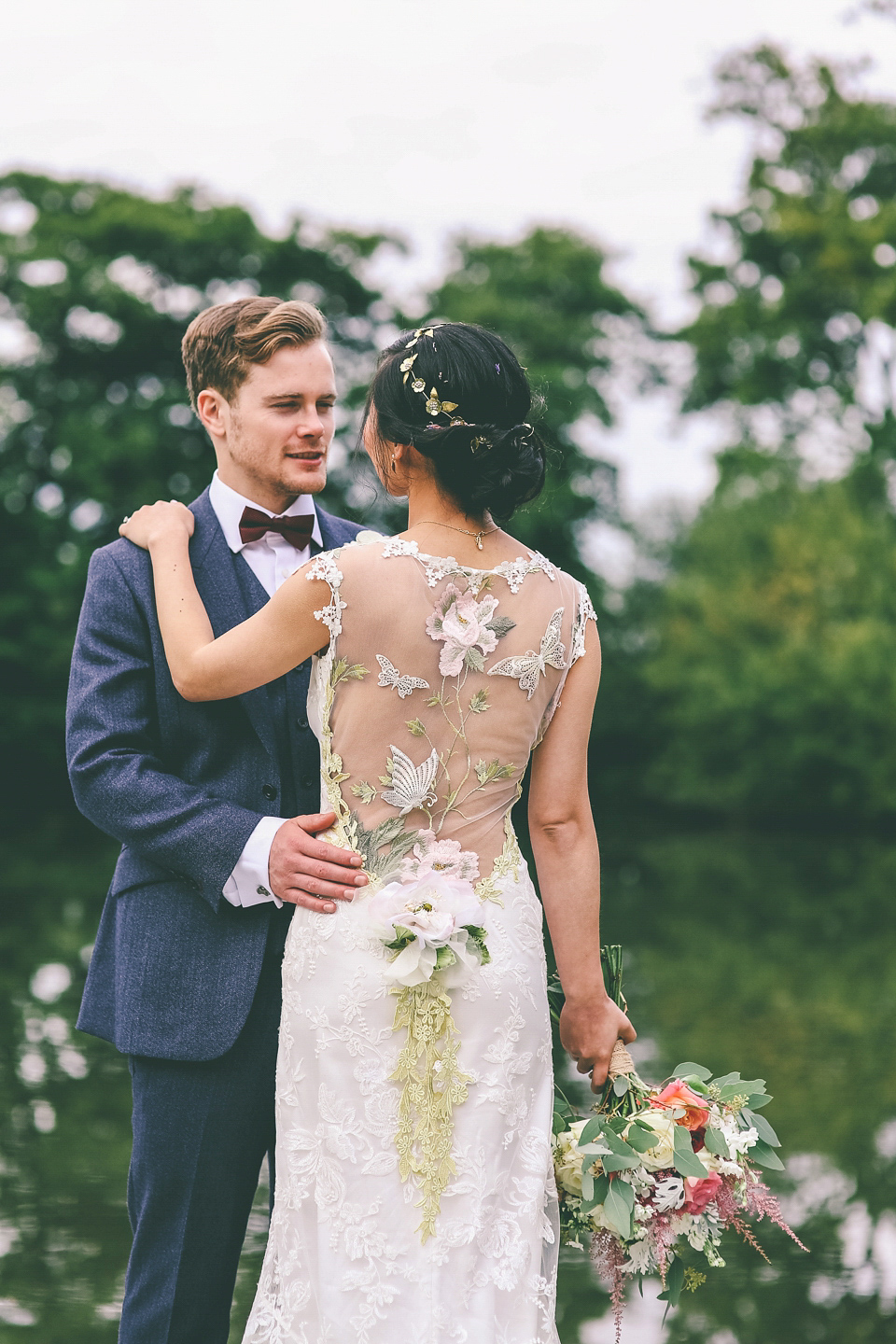 Wei and Tom's little pug, Trevalina, acted as our bride's 'flowerdog'! Trevalina wore a flower crown around her neck which the couple purchased from Etsy.
"Our flower girl was Trevalina, our little pug. She plays such a big part in our lives and it was really important to us that she didn't miss out on our big day. We bought a flower crown from Etsy to put around her neck. I think she really enjoyed herself with all the attention!"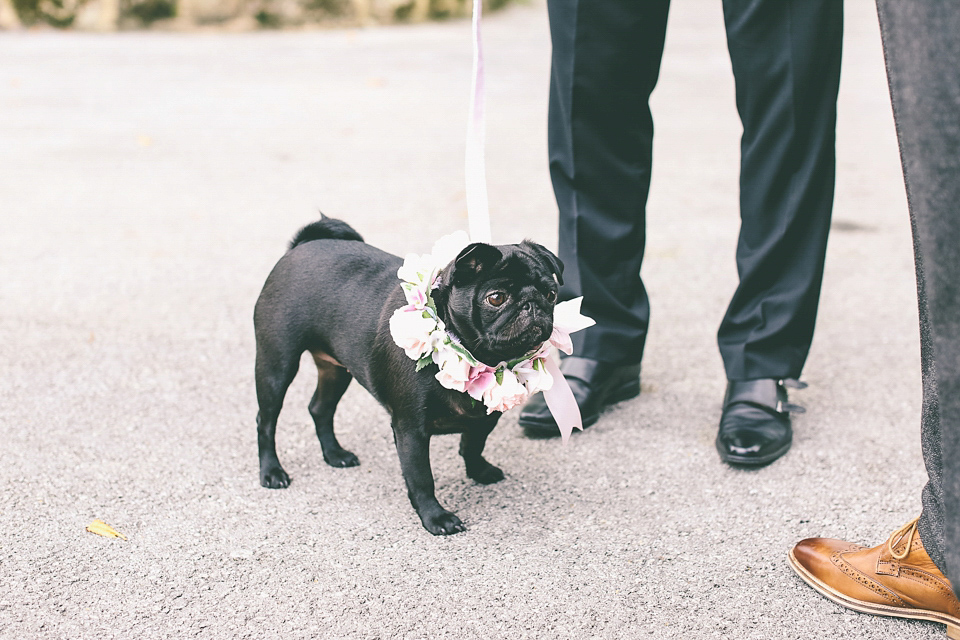 "The venue was styled by Emma from Special Days who really went above and beyond. I also hired lots of vintage furniture from Kate at Vintage Style Hire. Her collection of furniture is just incredible and she has such a good eye for beautiful vintage pieces. The overall result was everything that I wanted – lots of hanging fairy lights, ribbons and vintage charms!"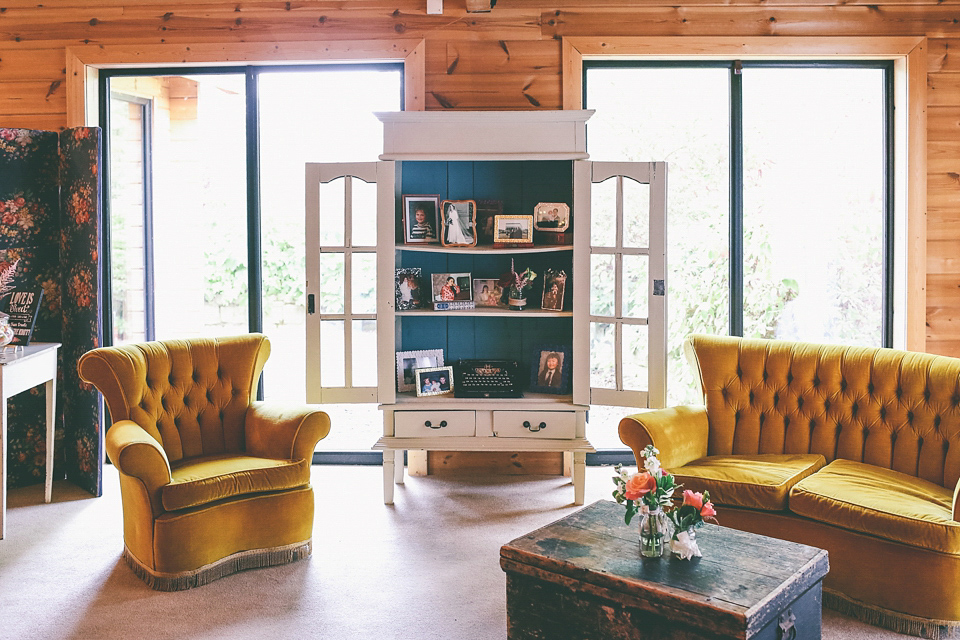 "Tom and I met during medical school. We were both on placement in Blackpool for a year and Tom lived in the flat below me. We instantly clicked and I suppose the rest is history! Tom proposed in Crewe hall where he booked a lovely spa weekend for us to 'celebrate me finishing an exam'. He made a red scrapbook similar to the ones that you get on 'This is your life' with the last page posing the all important question! We were engaged for 18 months before the big day."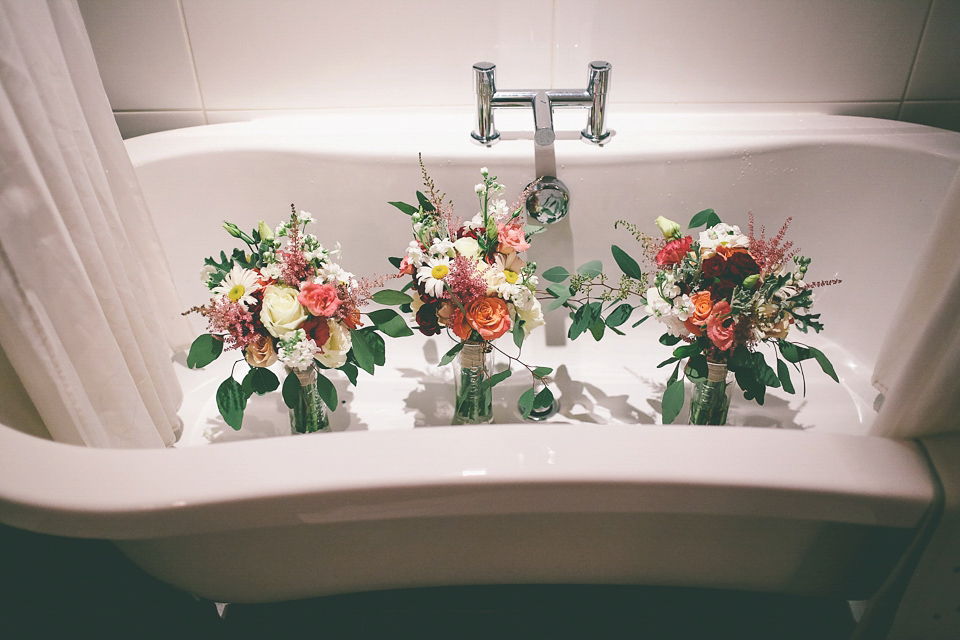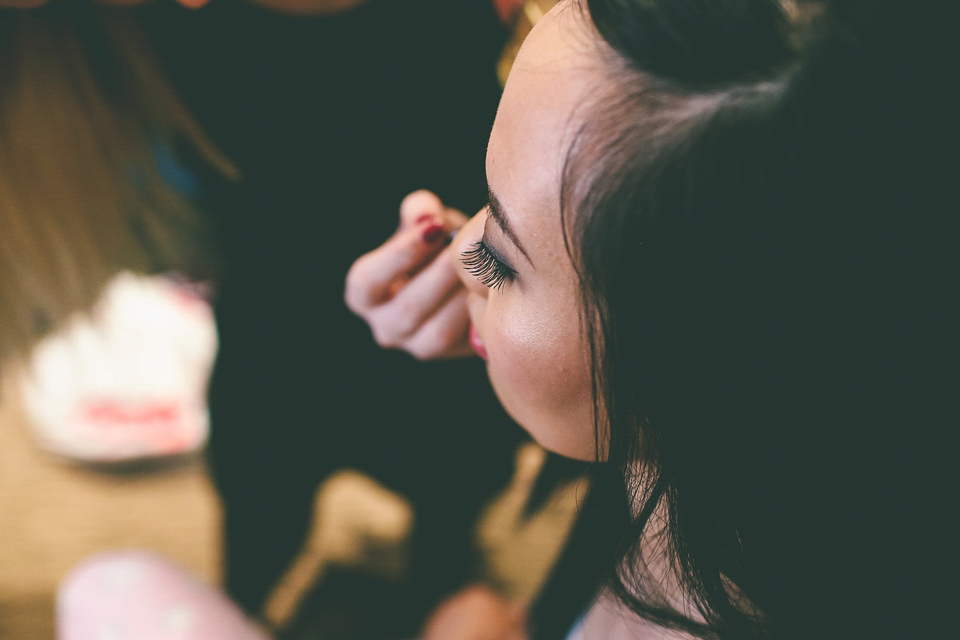 "At 5ft 1 I'm quite short so I wanted heels that had a good platform to them. I decided to treat myself to a pair of Jimmy Choos. My shoes were incredibly comfy and I didn't take them off until well into the night when I switched to a pair of Converse!"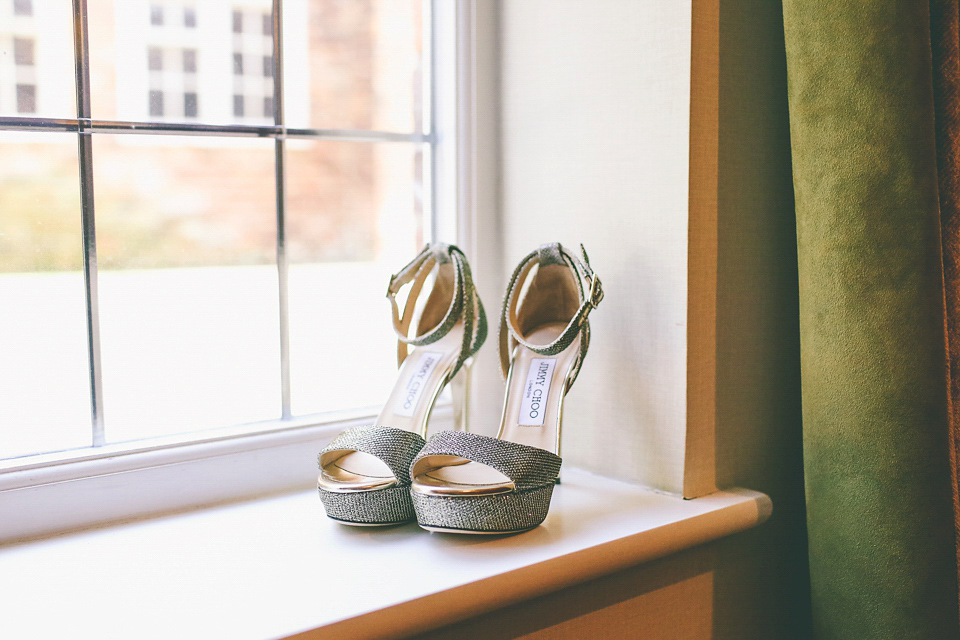 Wei paired her Claire Pettibone gown with a Cathedral length veil, also from The White Room and completed her look with a blossom and leaf headpiece and matching earrings and necklace, from Laura Donovan.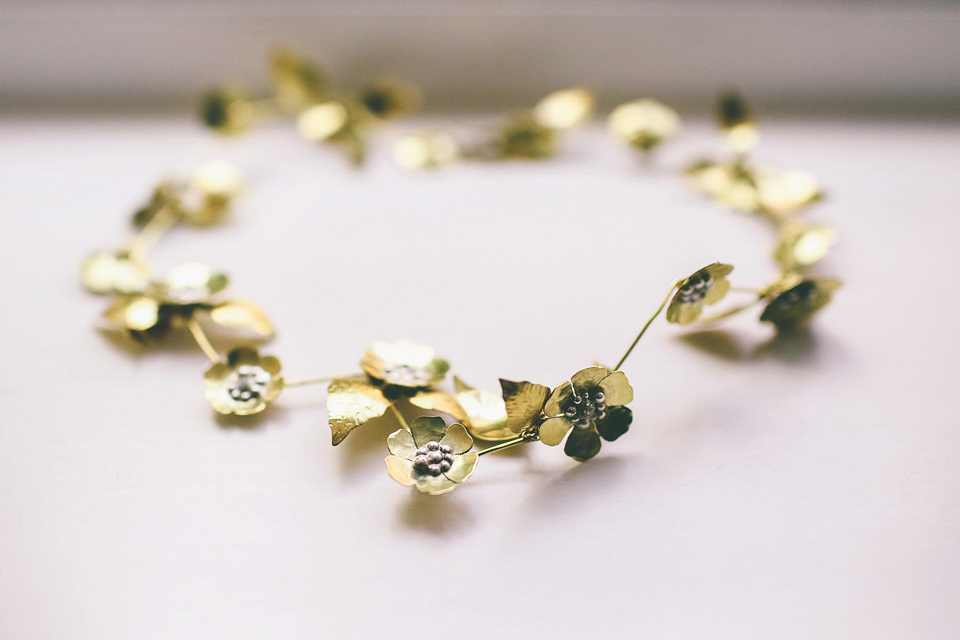 "I first came across Laura Donovan Jewellery on Love My Dress. She was so lovely to work with and super talented! I was so happy with the finished products and received many compliments."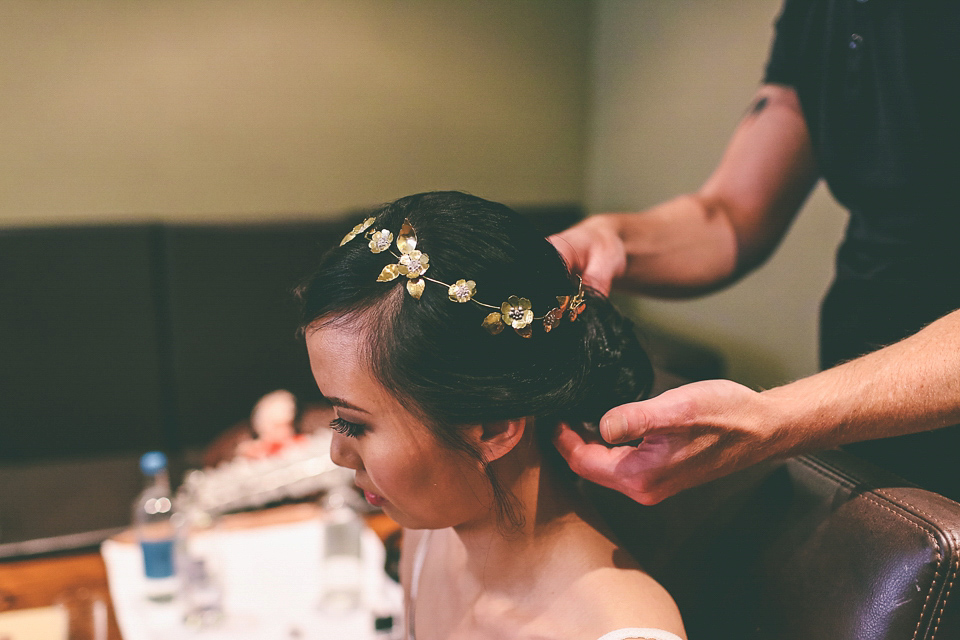 "The ladies at The White Room made the whole experience so lovely and I couldn't thank them enough. All the dresses in that store are insanely beautiful!"
You can find the wonderful Claire Pettibone listed in our recently launched wedding directory: Little Book for Brides. If you are searching for a wedding supplier I highly recommend taking a peek at this beautifully curated resource!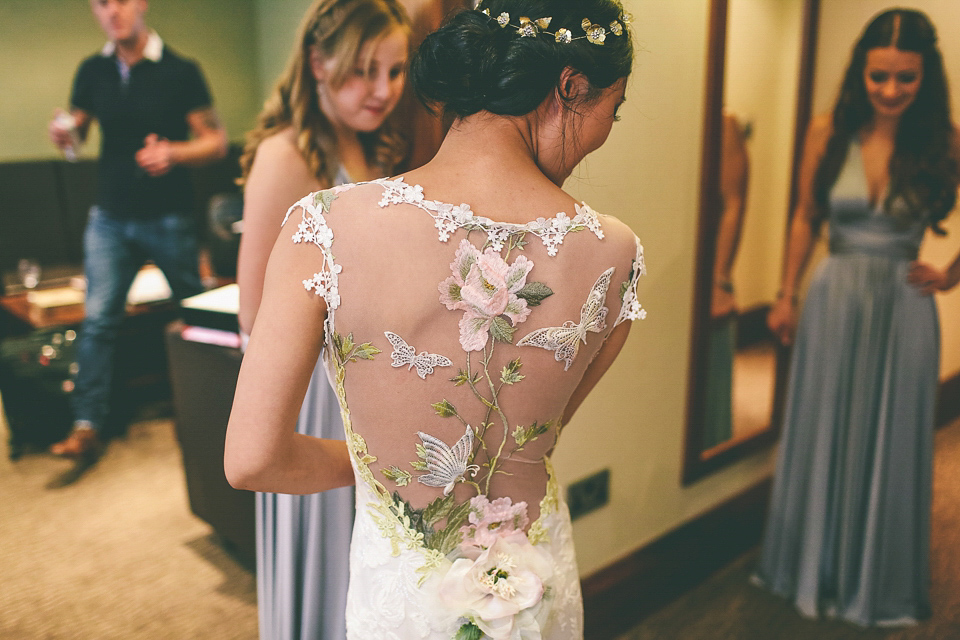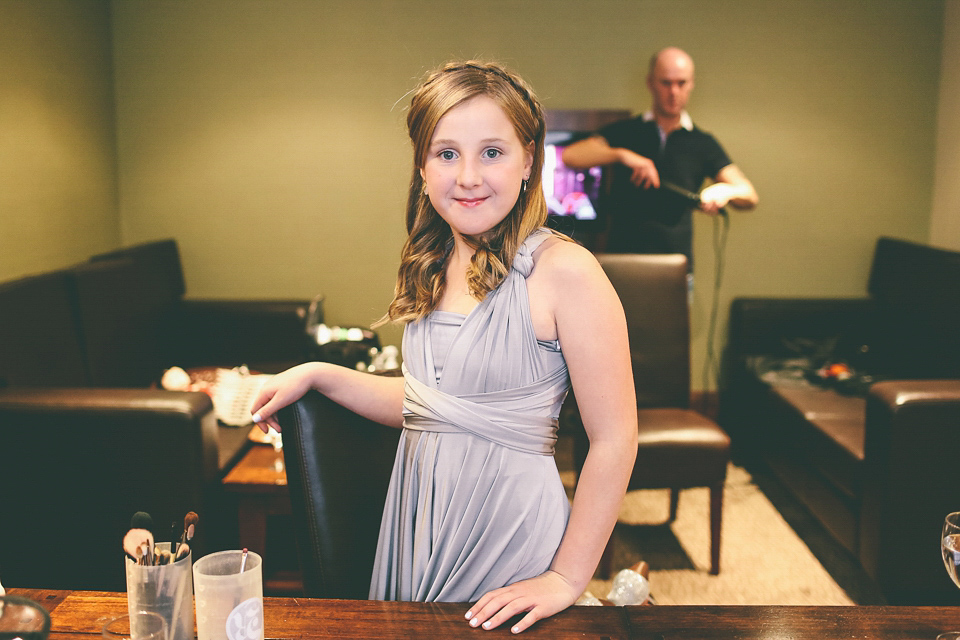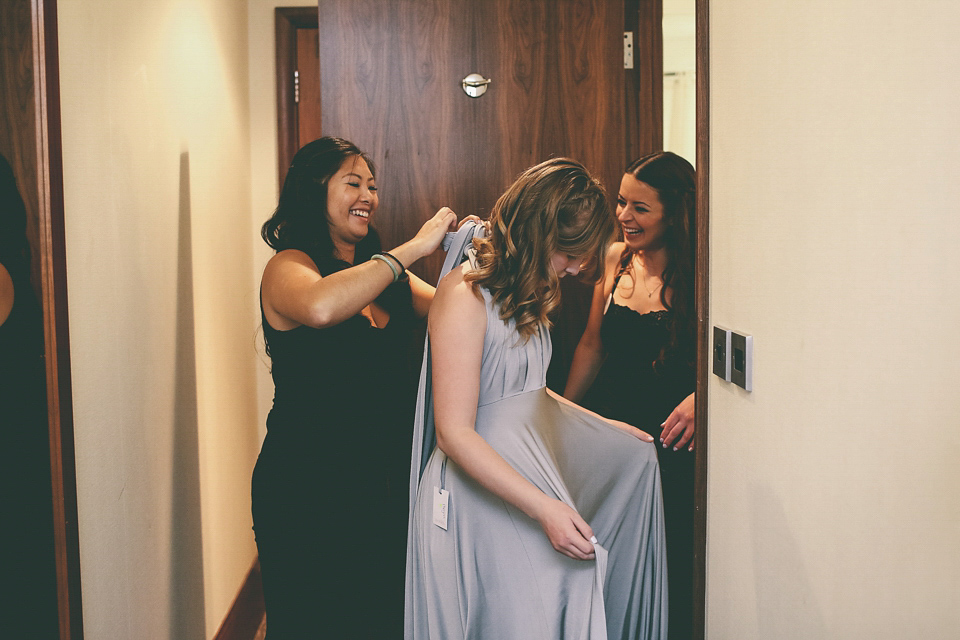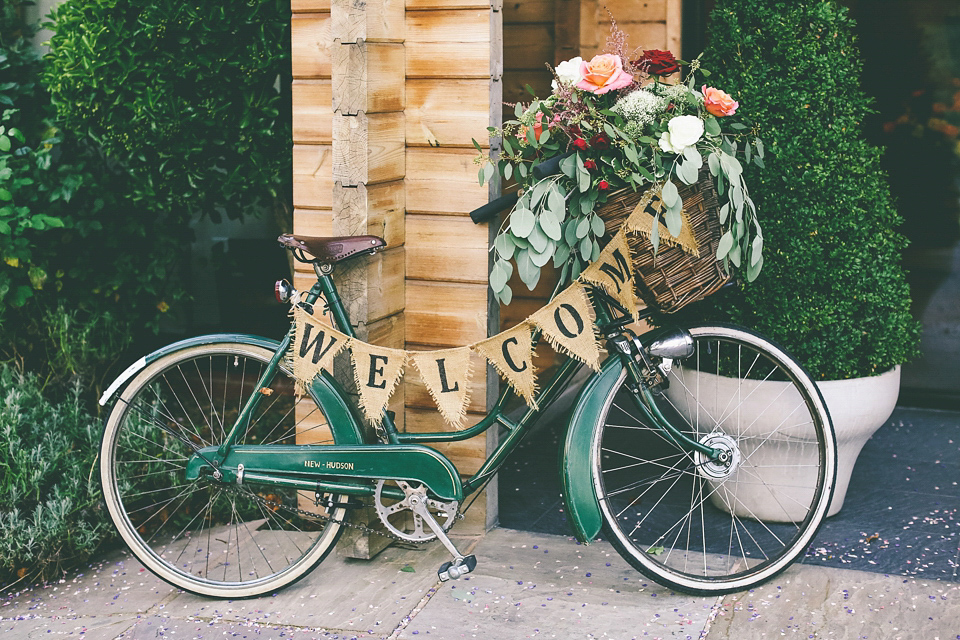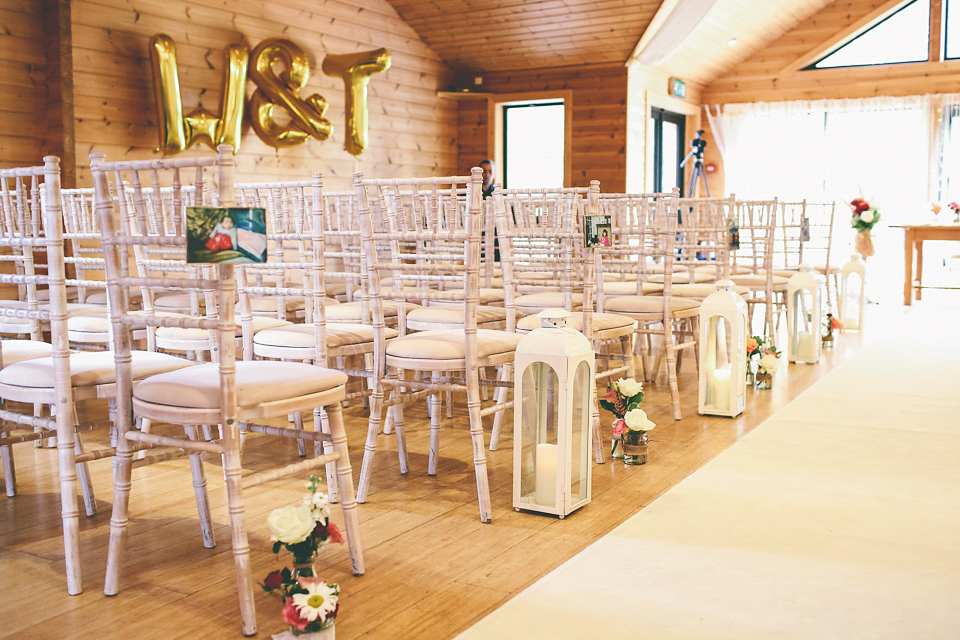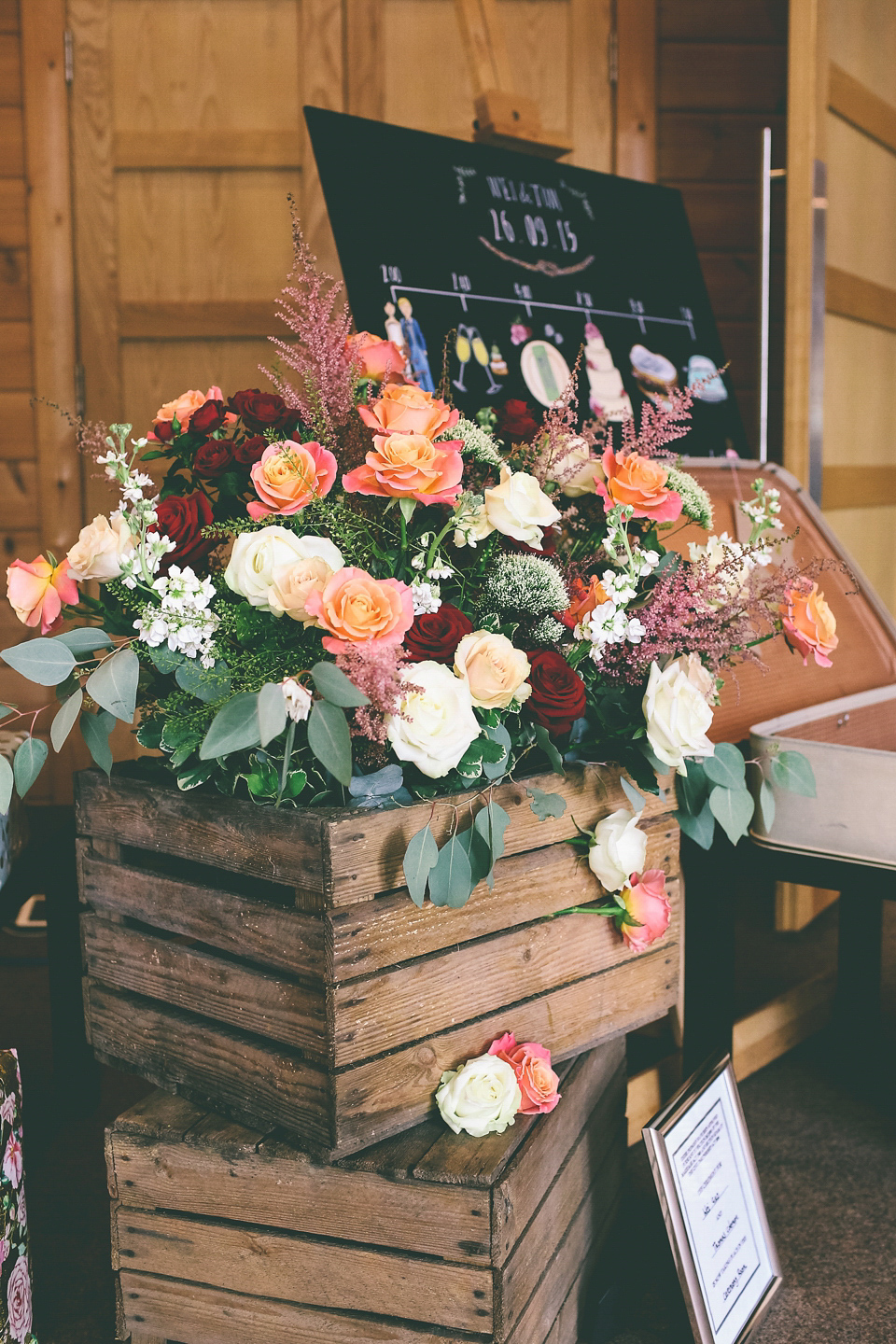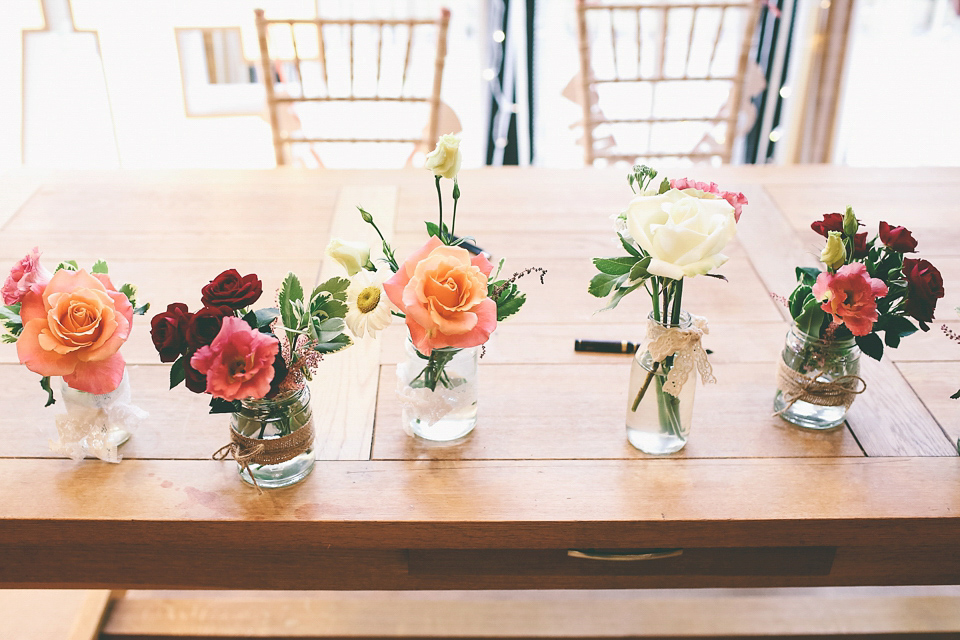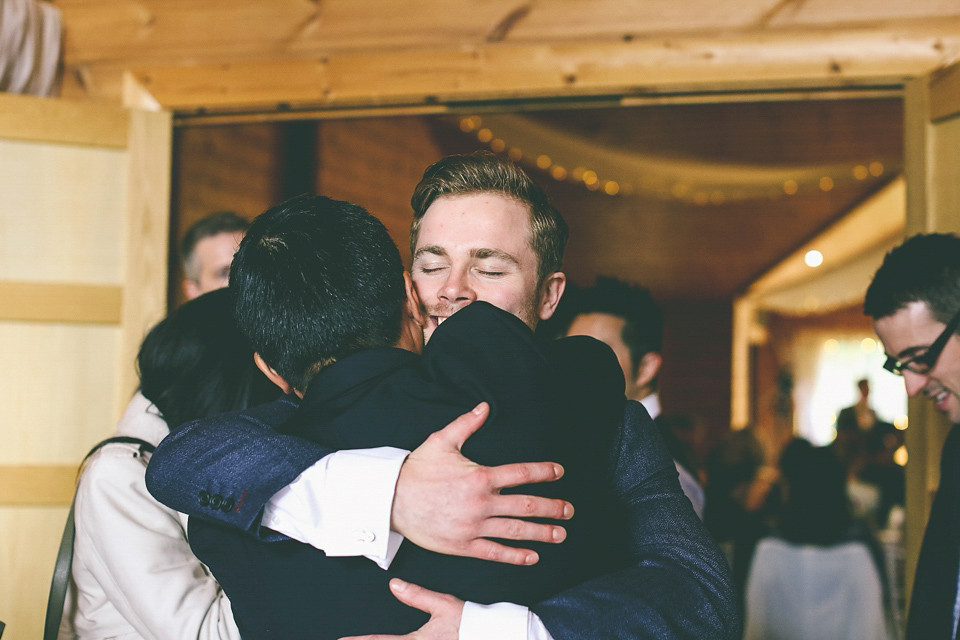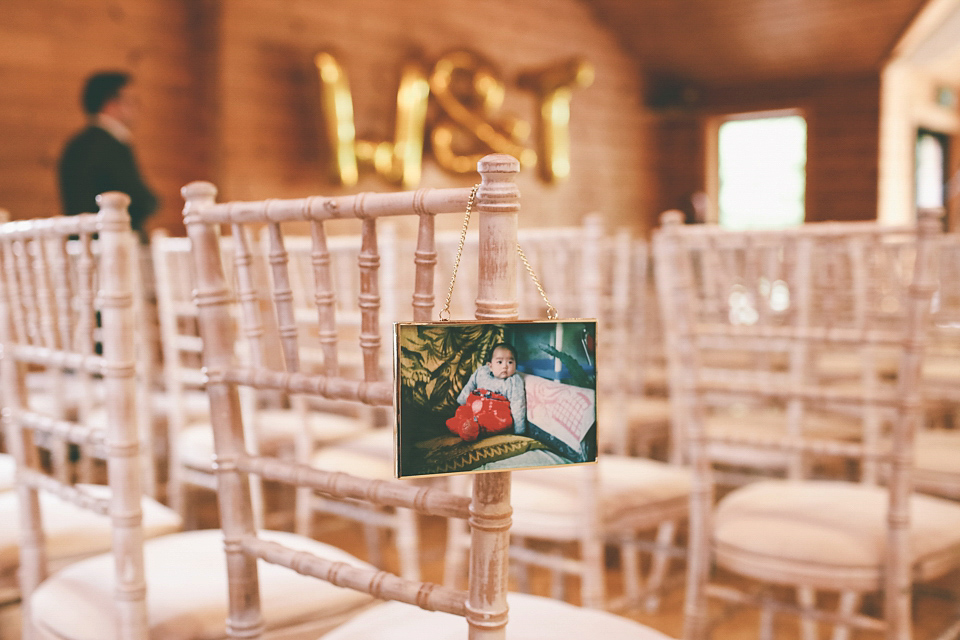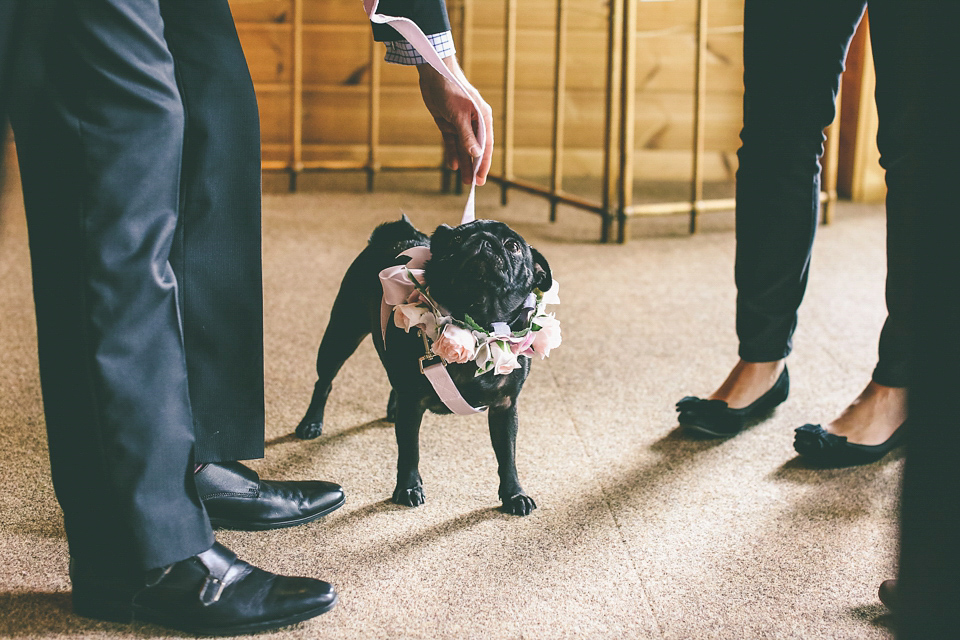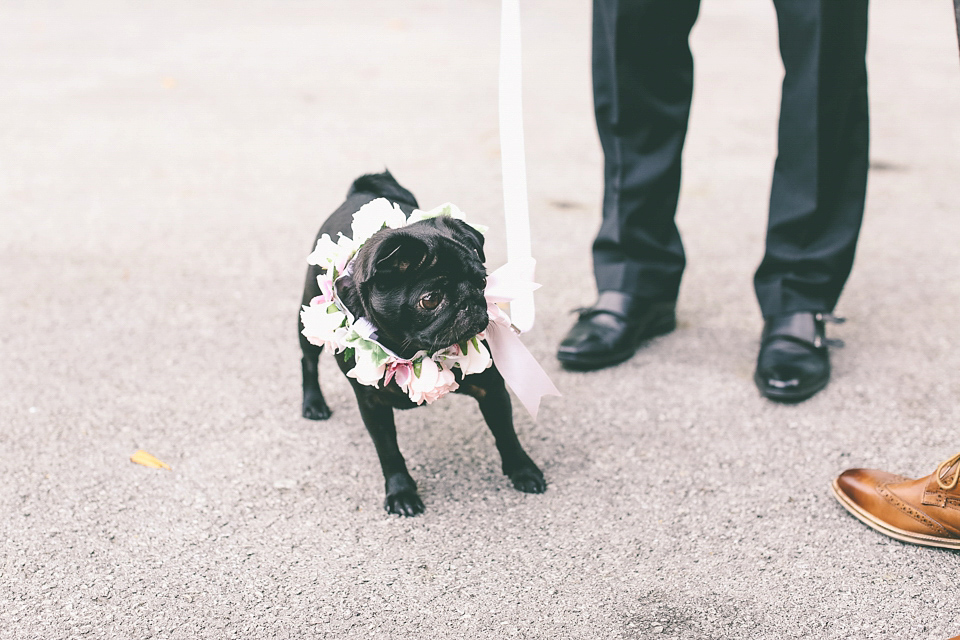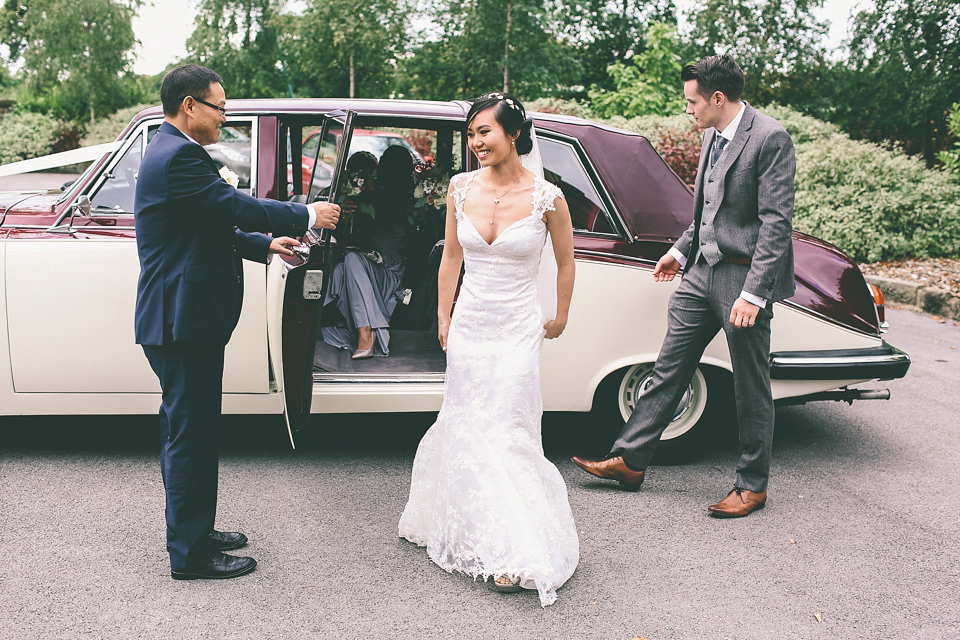 Wei's dad (who flew all the way from America to attend the wedding) walked his daughter up the aisle.
"Pianist Ben Gordon played background music whilst our guests were waiting for me to arrive and I walked down to 'Can't help falling in love with you' by Elvis Presley performed by Lucy Styles from DG Music. I was absolutely blown away by how beautiful her voice was!"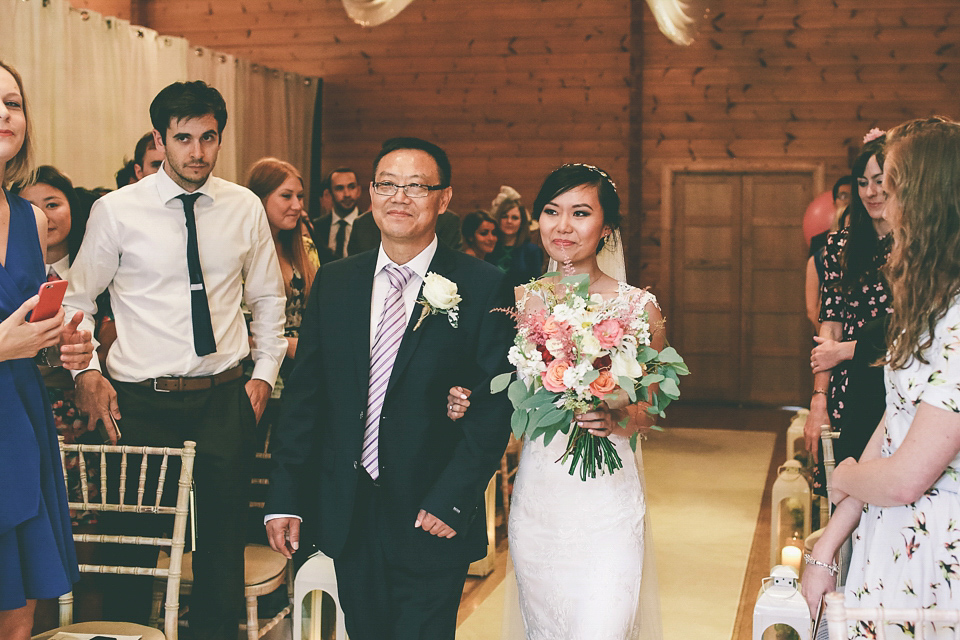 Tom looked very smart in black tie attire. Our groom wore a bespoke, three-piece,  midnight blue suit created by King & Allen of Wilmslow and a pair of chain link cufflinks from Not on the High Street.
"Tom was adamant that he wanted to pick his own suit so that it was a surprise when I saw him at the end of aisle. He knew he wanted a bespoke suit and found King & Allen, a neat little shop nestled in Wilmslow. The suit fitted perfectly on the day and he looked very dapper! Tom is a massive fan of cycling so he bought himself and his groomsmen matching bicycle chain link cufflinks from Not on the High Street."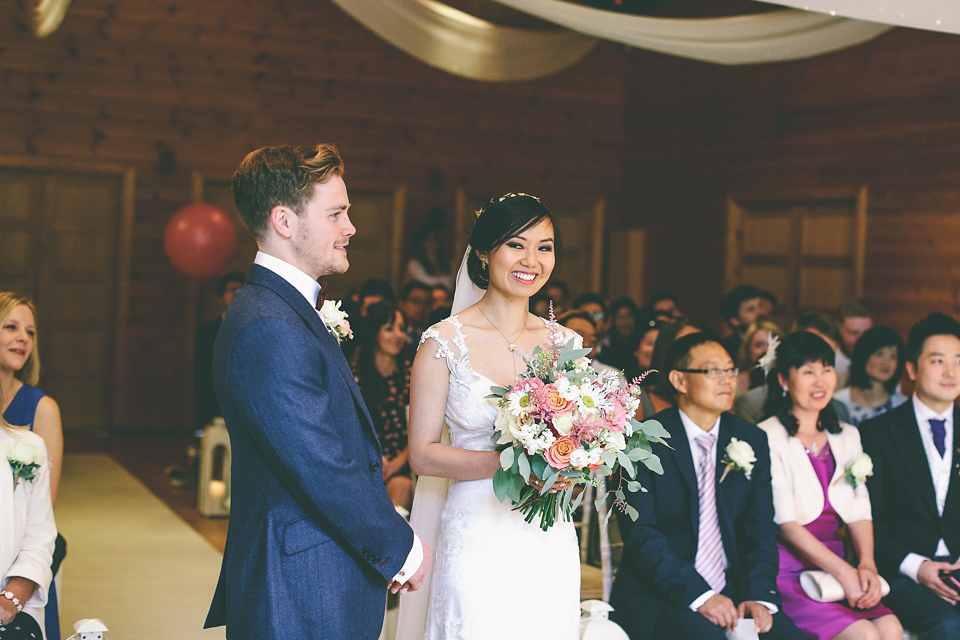 "My favourite part of the day was seeing Tom at the end of the aisle for the first time looking so excited and nervous. With so much planning and anticipation, it seemed at that moment that everything was finally real."
"We kept the vows fairly traditional. Initially we wanted to write our own, but when we met with the registrar the vows she recited had everything we wanted to say to one another."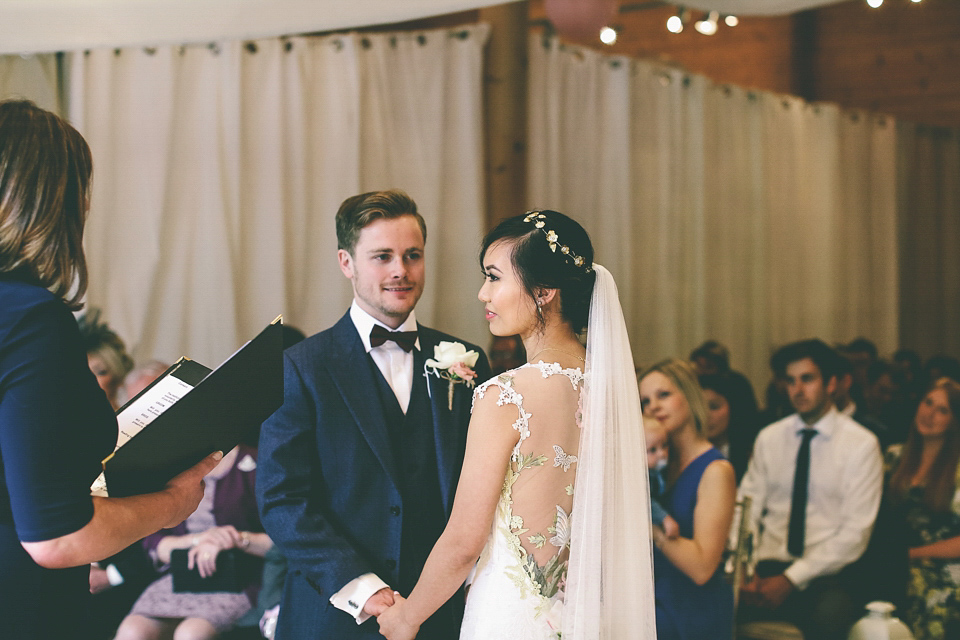 Our dog loving couple chose two readings; 'How falling in love is like owning a dog' by Taylor Mali and 'The One' by Cheryl J Barclay.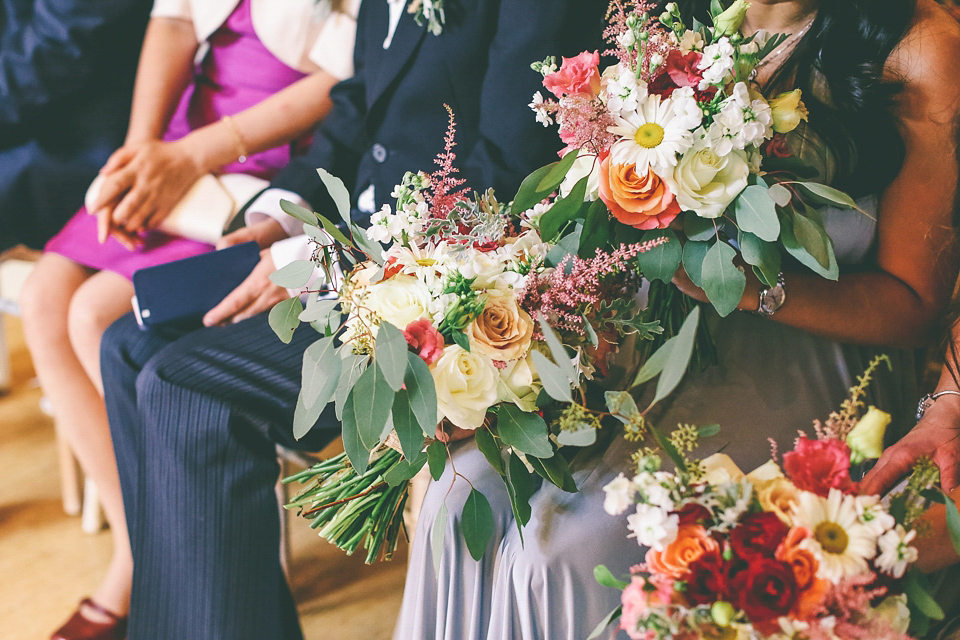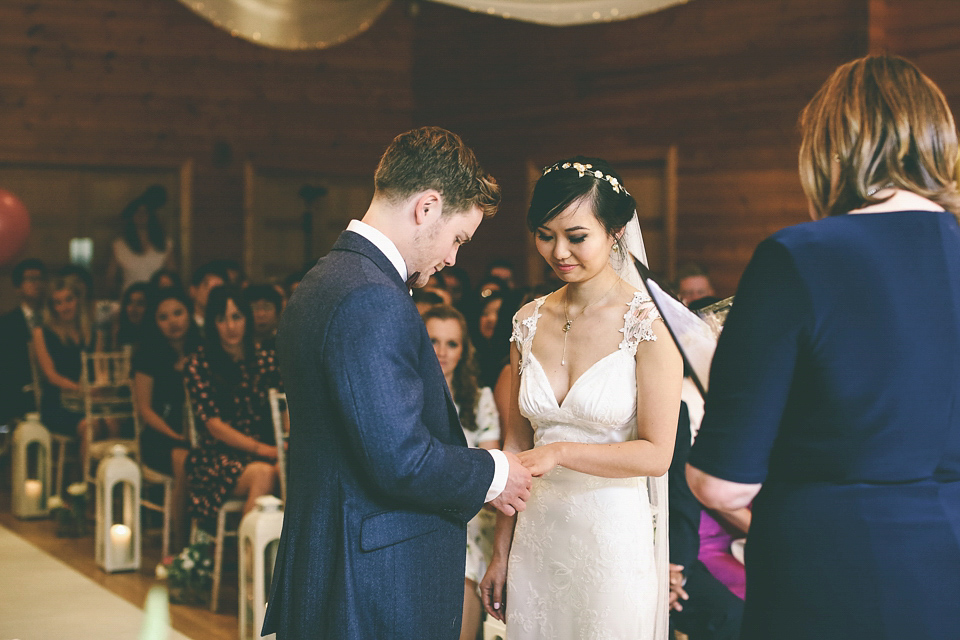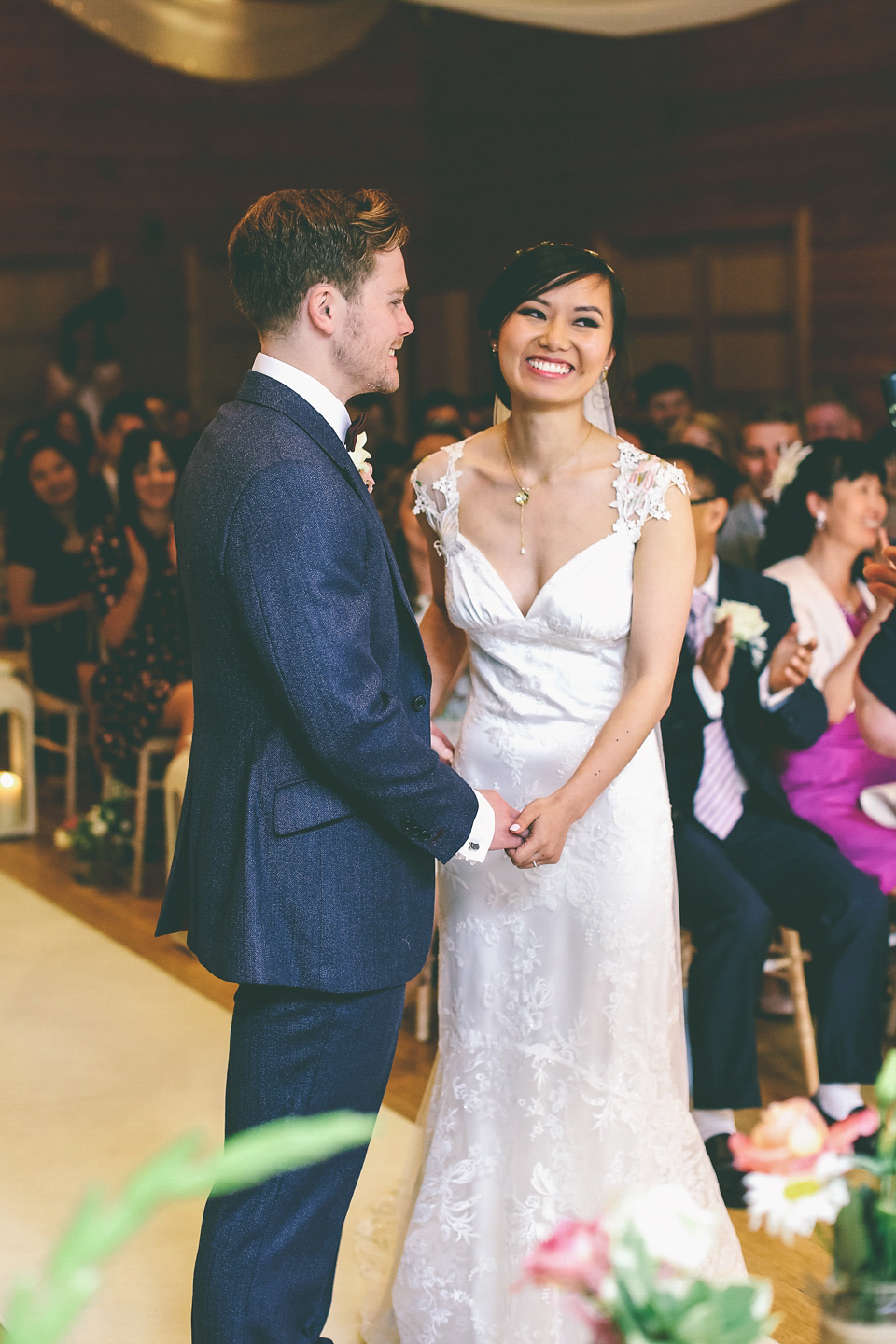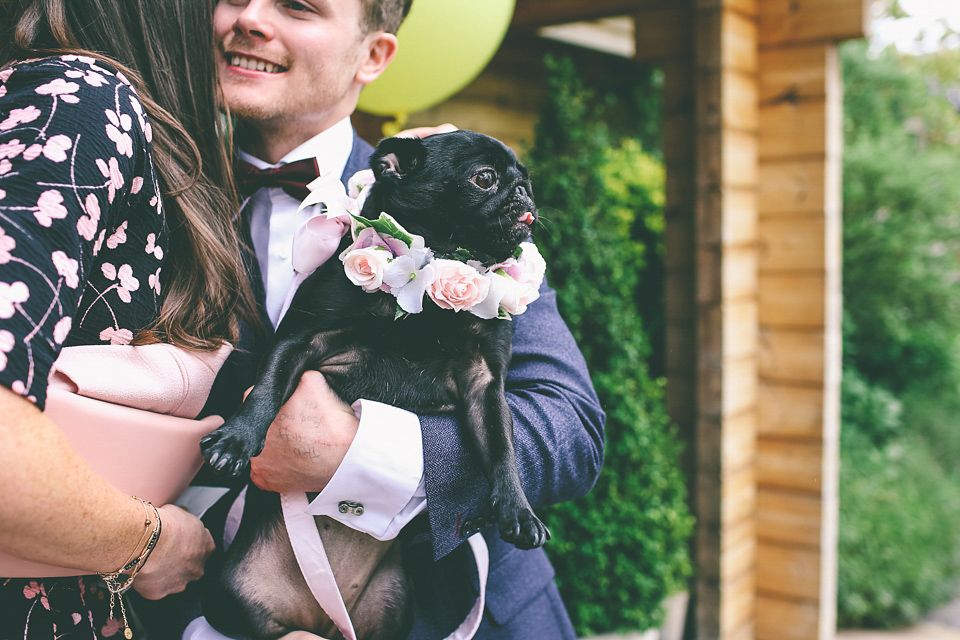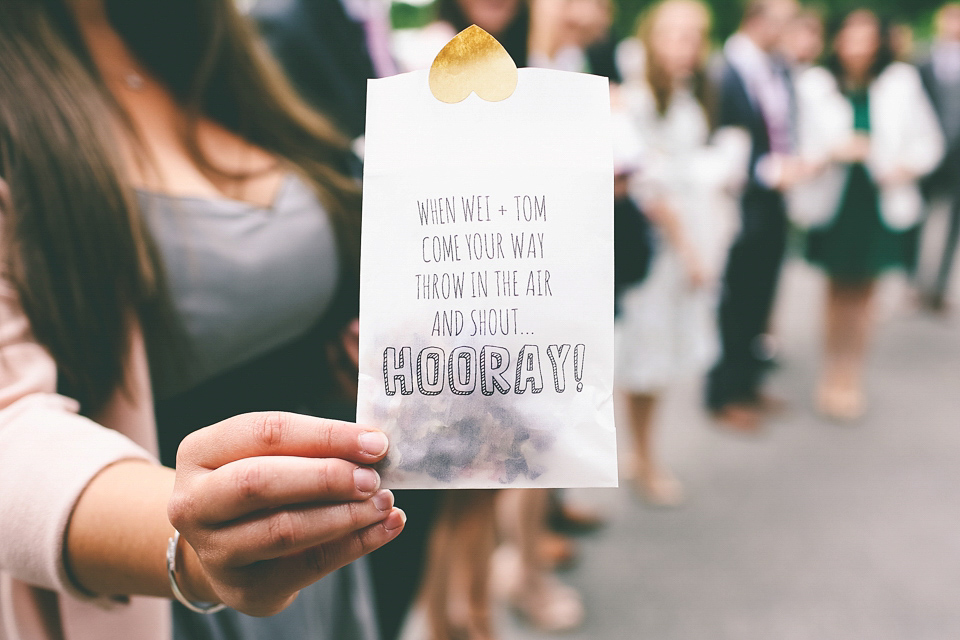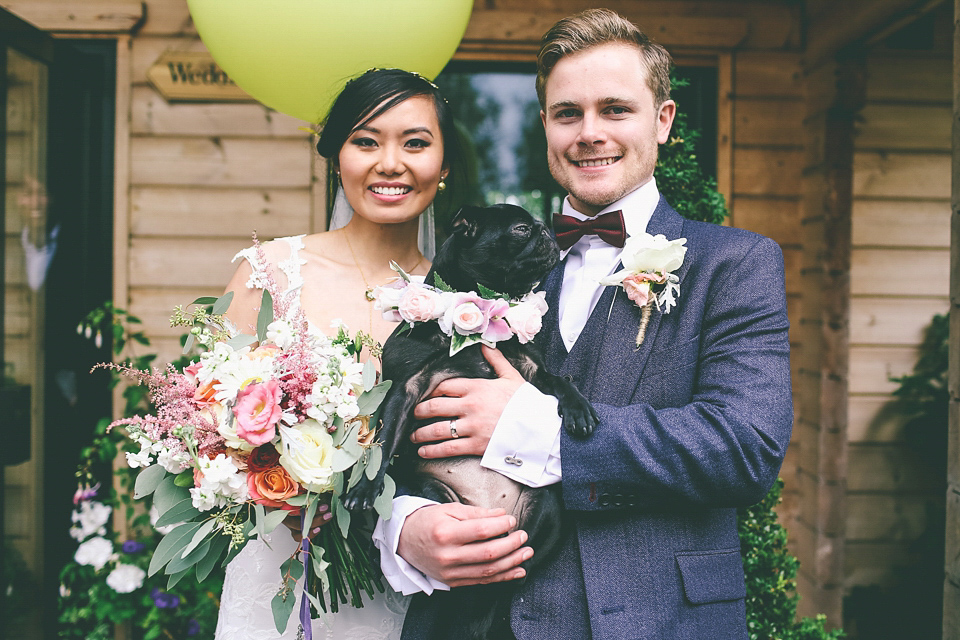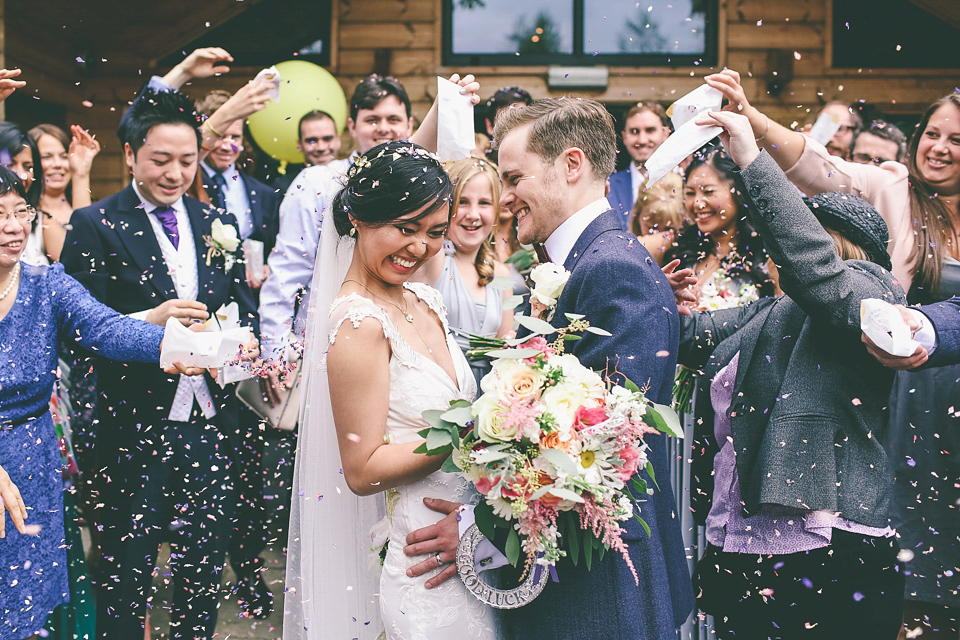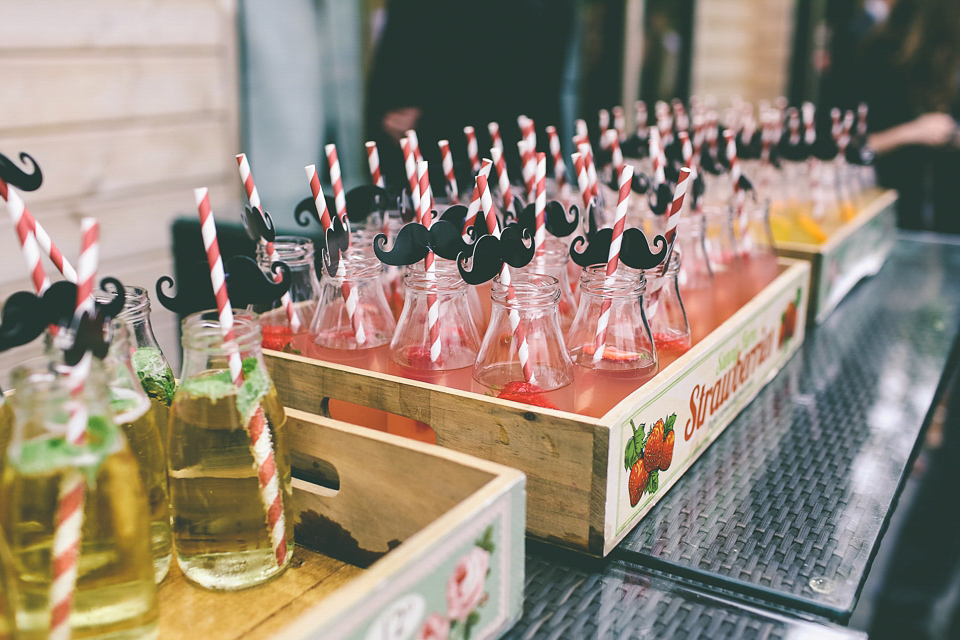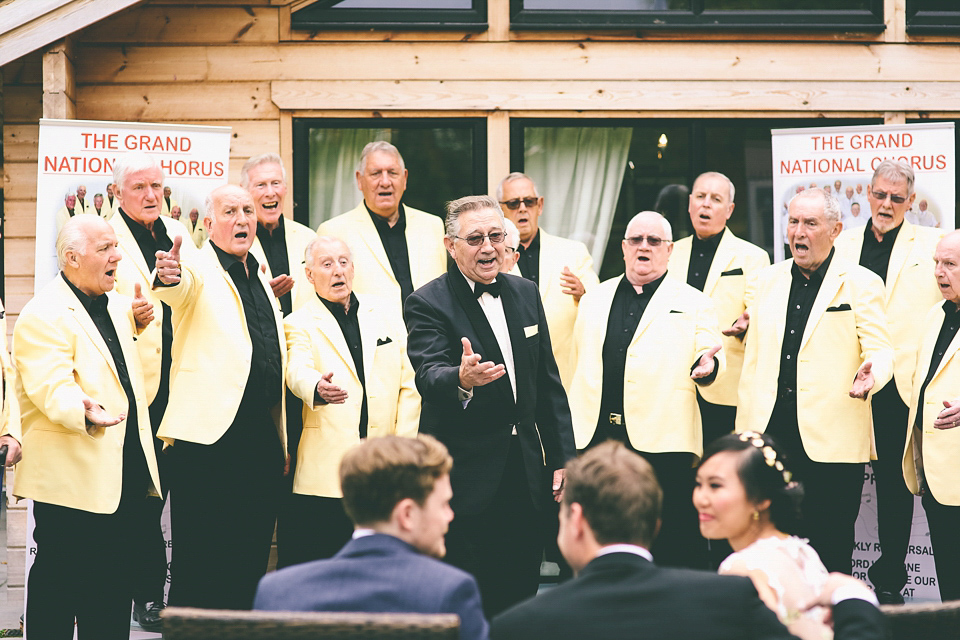 Wei dressed her bridesmaids in elegant silvery grey dresses from Twobirds and gave each 'maid a pair of teardrop earrings from Not on the High Street as a gift.
"We all went together to pick the dresses and I really wanted something that the girls felt beautiful and comfortable in. They all looked absolutely stunning on the day."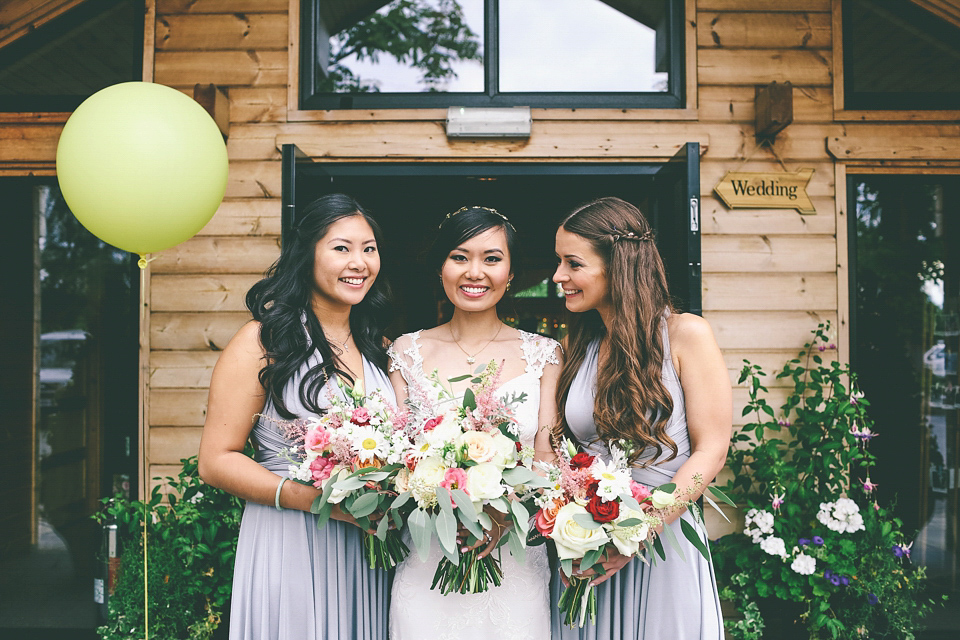 "Emma worked closely with our florist, Jill Naughton of JN Flowers. I knew that I wanted an array of colourful flowers with a rustic and unstructured feel to them. What Jill created for me on the day was beyond my expectations. Our flowers were so beautiful."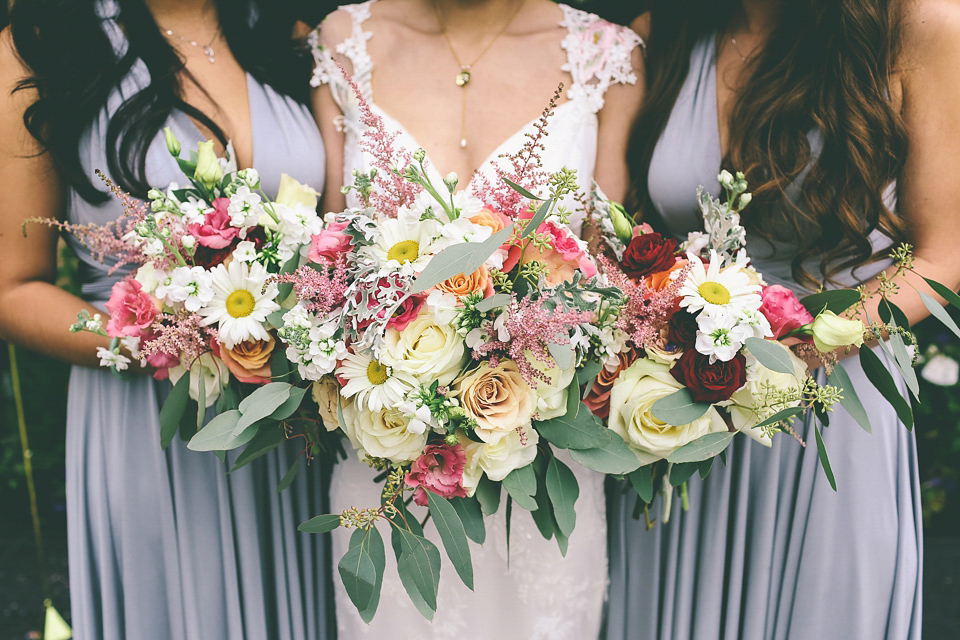 "Our photographer was the very talented Emma Boileau. I first came across Emma when I was researching photographers that had shot at our venue. I was instantly drawn to her photos as they were not only beautiful but creative, natural and really appeared to capture special moments."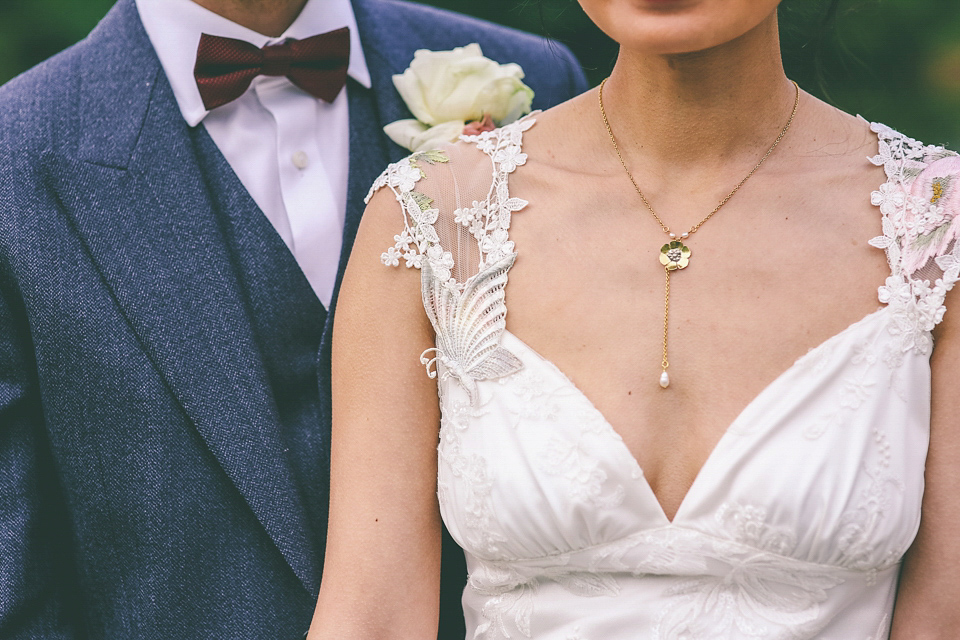 "From the moment of contact, Emma was just the loveliest and friendliest person. We went for a pre-shoot in Delamere forest and even the rain was unable to deter Emma from capturing some memorable photos and alleviating our camera anxieties."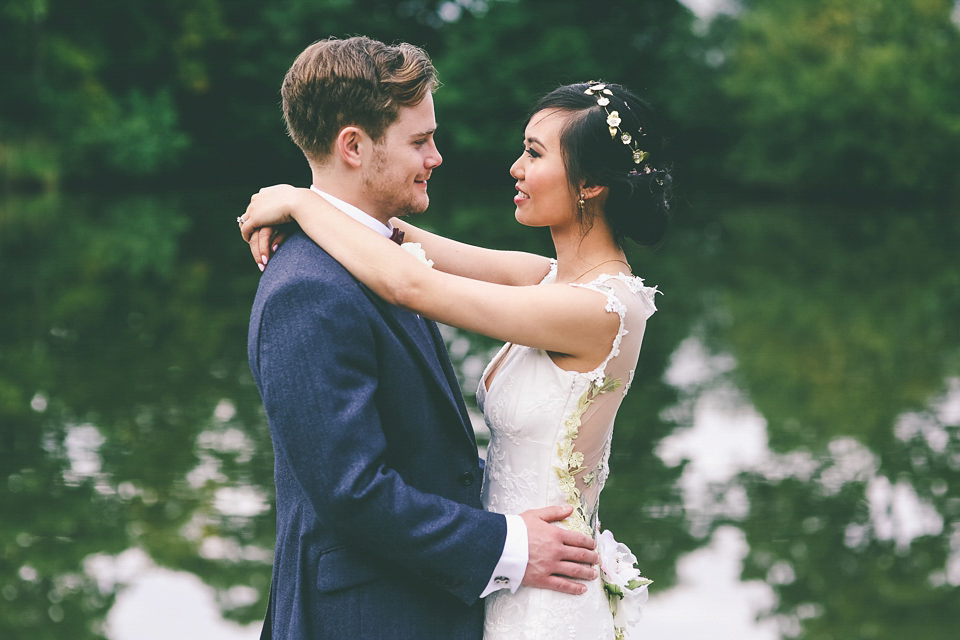 "On the day of the wedding itself, Emma went above and beyond being a photographer and even helped Tom wrap my wedding present! The photos that she has delivered are just incredible and really captured the story of the day so well. I could not recommend her enough."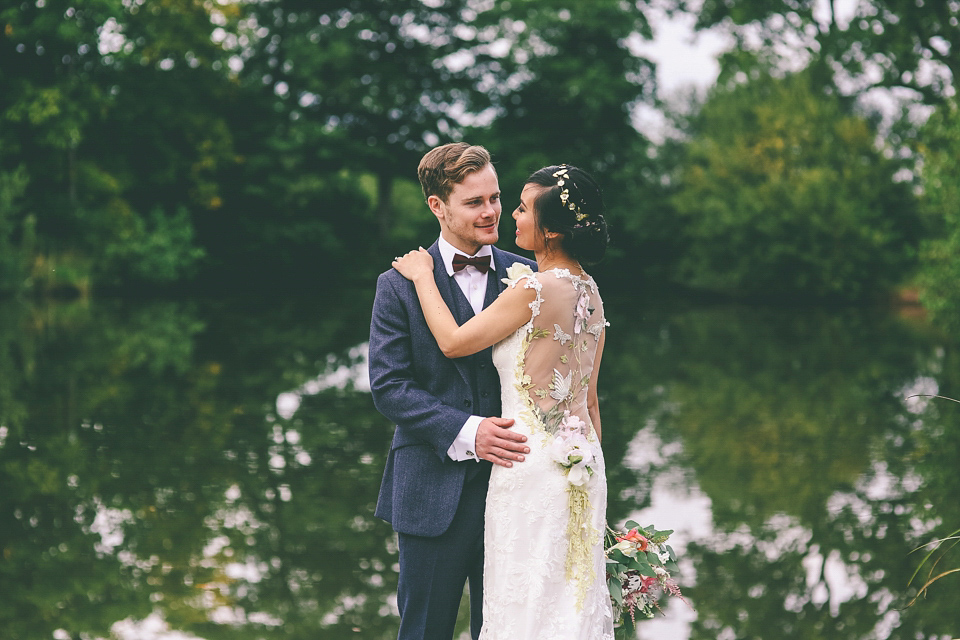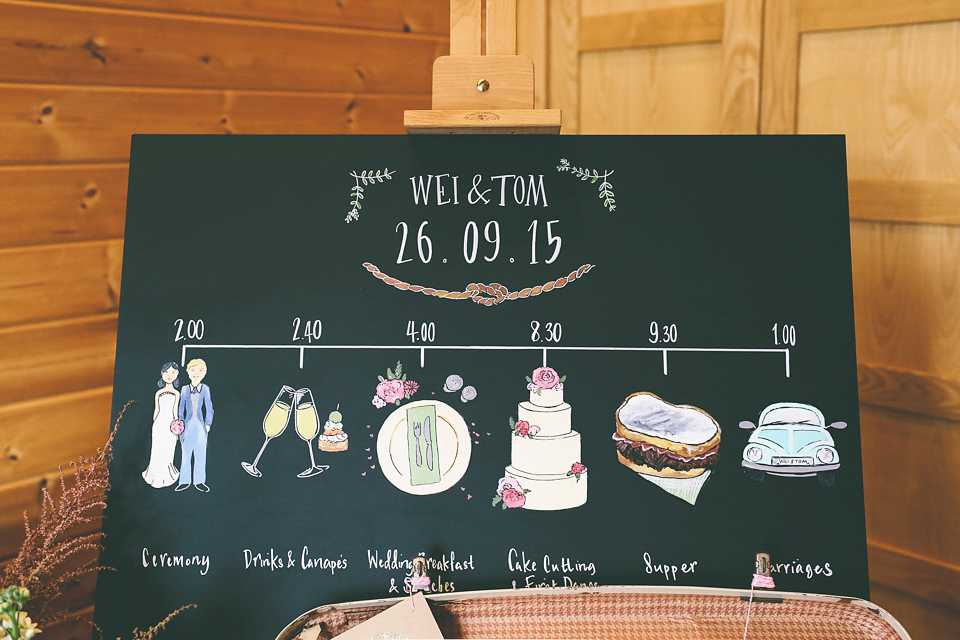 Wei and Tom's wedding breakfast was catered by family run business Pink Pepper and our couple were very pleased both with the food and the service they received from proprietors Sarah and Neil.
"So many of our guests have commented that the food on the day was 'the best they'd ever had at a wedding' and the service we received from Neil and Sarah was incredible. They also have a large collection of vintage teacups!"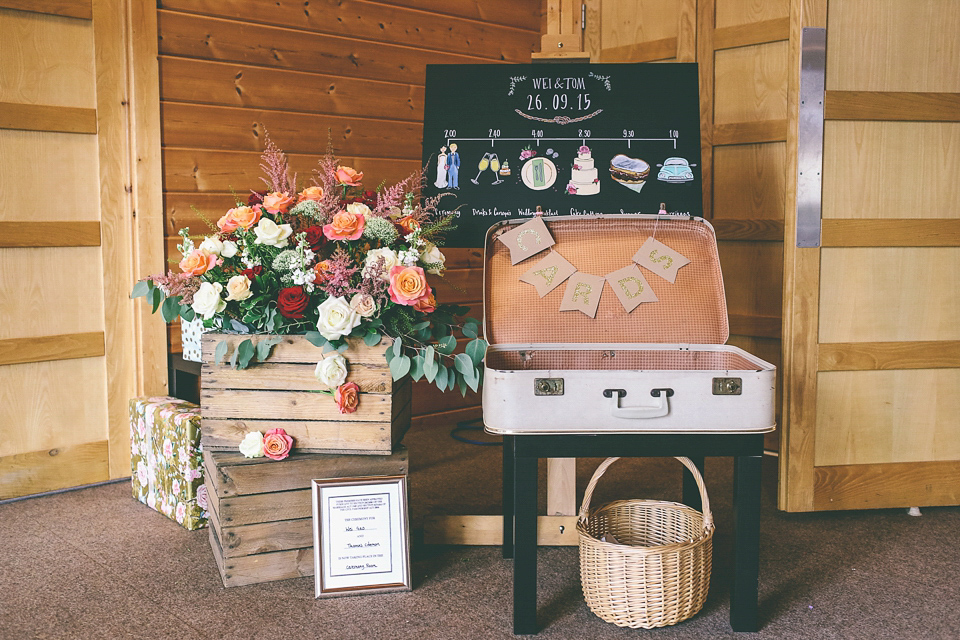 "We created all of the stationery for the day ourselves. For the table names, we had photos of me and Tom at different stages of our lives and for place names we did some serious Facebook stalking to create Polaroid mugshots of everyone. I displayed the table plan on a large window styled garden mirror. For our menus we made origami fortune tellers, Tom spent hours on the computer perfecting these!"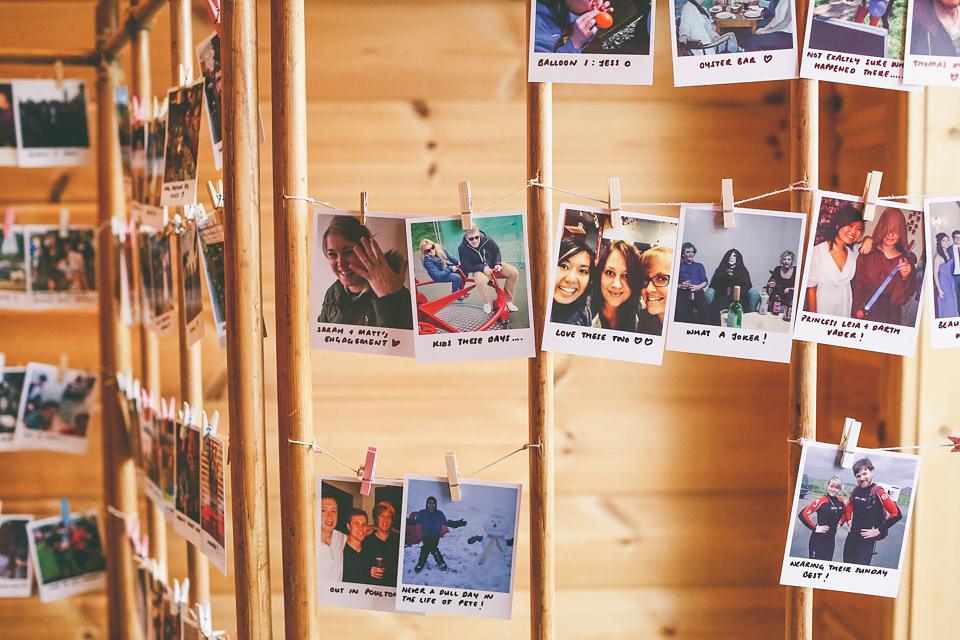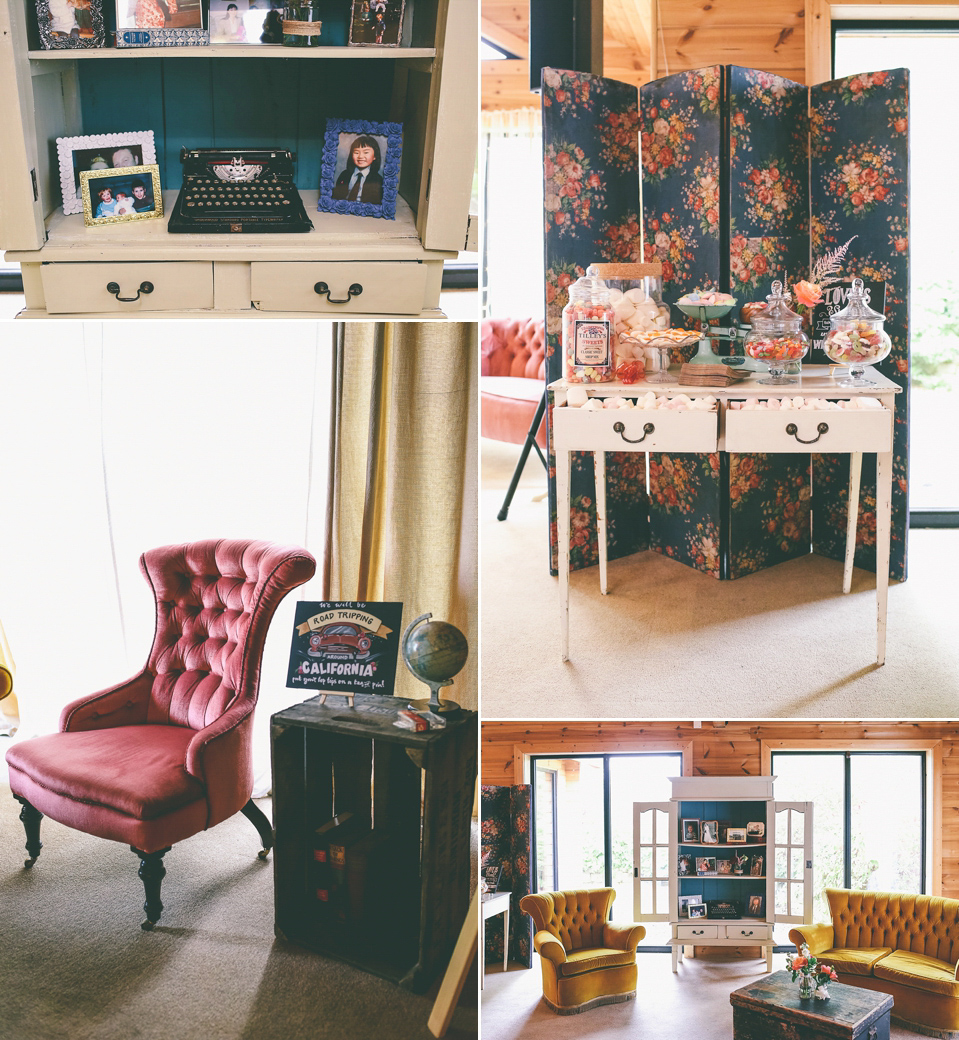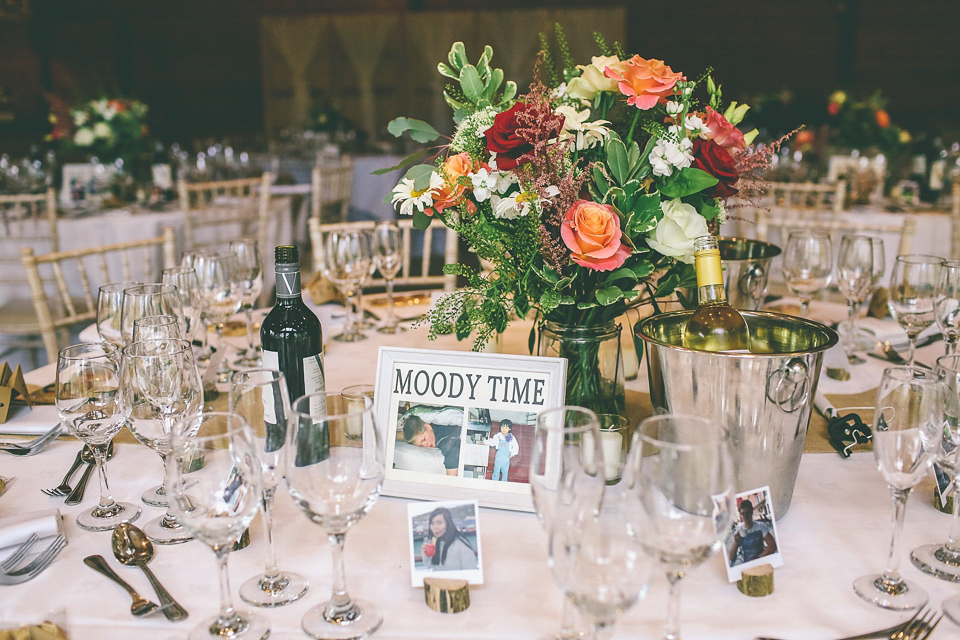 "As favours we gave our guests pug and bicycle shaped cookies (two things that we both love!) created by Eat My Cake London."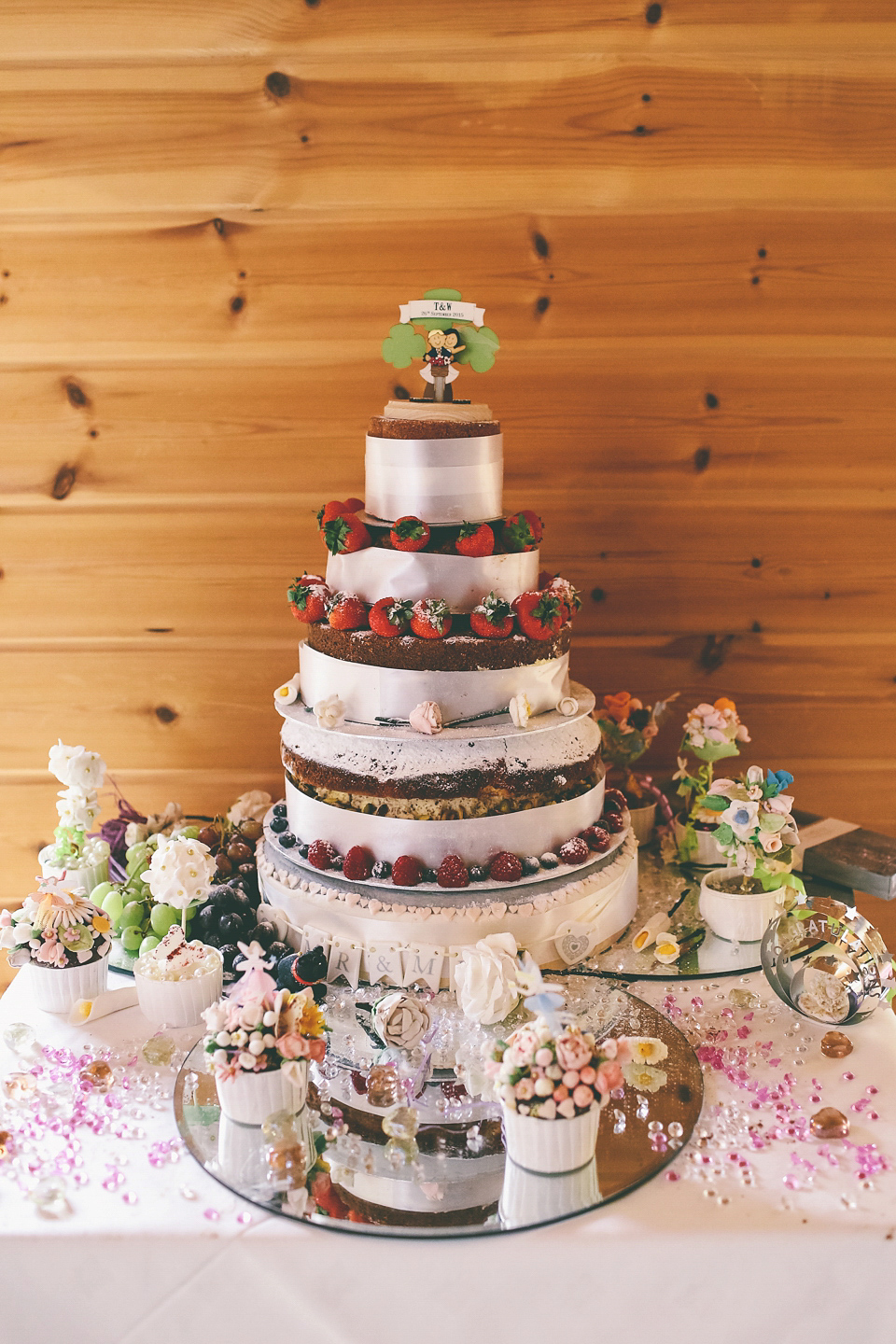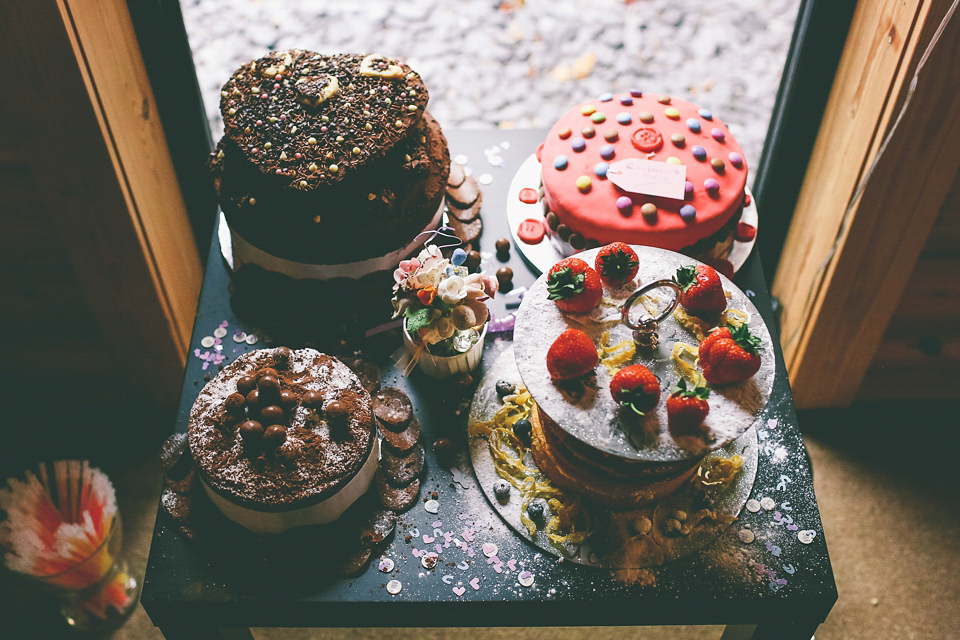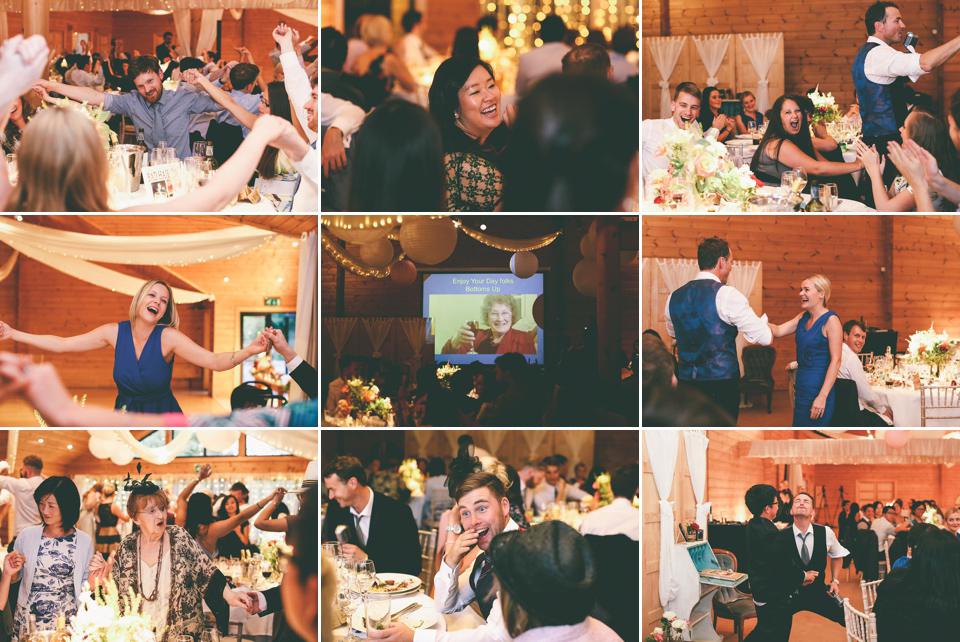 Entertainment was a priority for our music loving couple with Wei and Tom hiring a number of groups and individuals to help keep their guests entertained throughout the day.
"We love live music and wanted to keep our guests entertained, so we had lots of it! As well as the live music during the ceremony, we listened to The Liverpool Harmony Club sing a collection of old classical tunes during the drinks reception. We then had the one and only Howard Wing who provided non-stop laughter and entertainment throughout the wedding breakfast. Everyone was up and dancing before dessert had even been served!  The night ended with Madison Party who were amazing.
Our first dance was to 'Kiss Me' by Sixpence None the Richer. We chose this song because it reminded us of all the rom-coms that we grew up watching in the 90's/early noughties."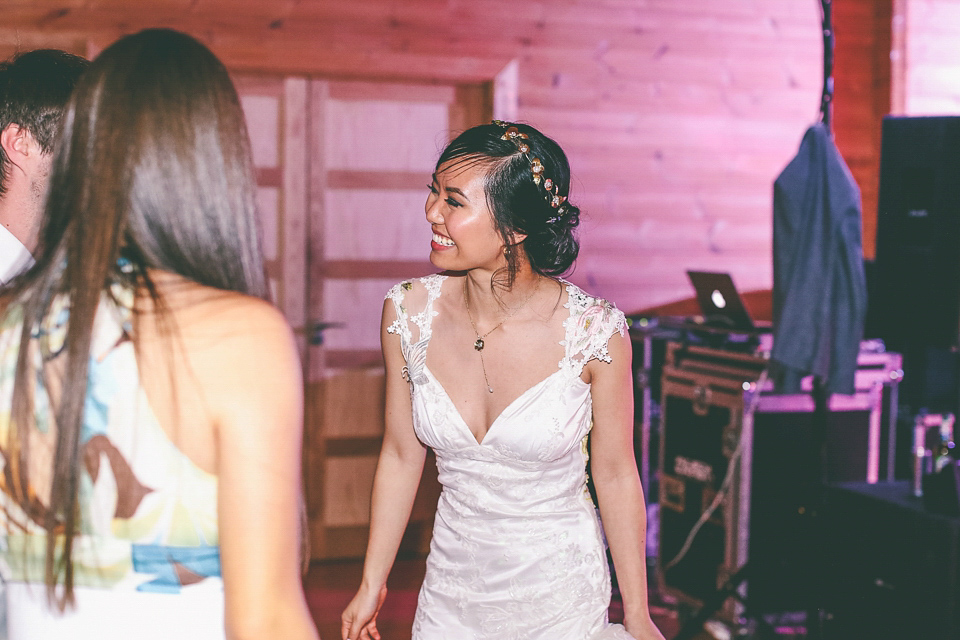 Words of Wedded Wisdom
"Be organised during the planning stages and don't leave anything to the last minute although it's easier said than done. Don't be swayed from what you want just for the convenience of others as it is your big day.
On the day itself, make sure you take a step back with your new husband to take everything in as it really is a surreal moment in your life! And finally, as stressful as it gets during the preparations, it really is all worth it on the day!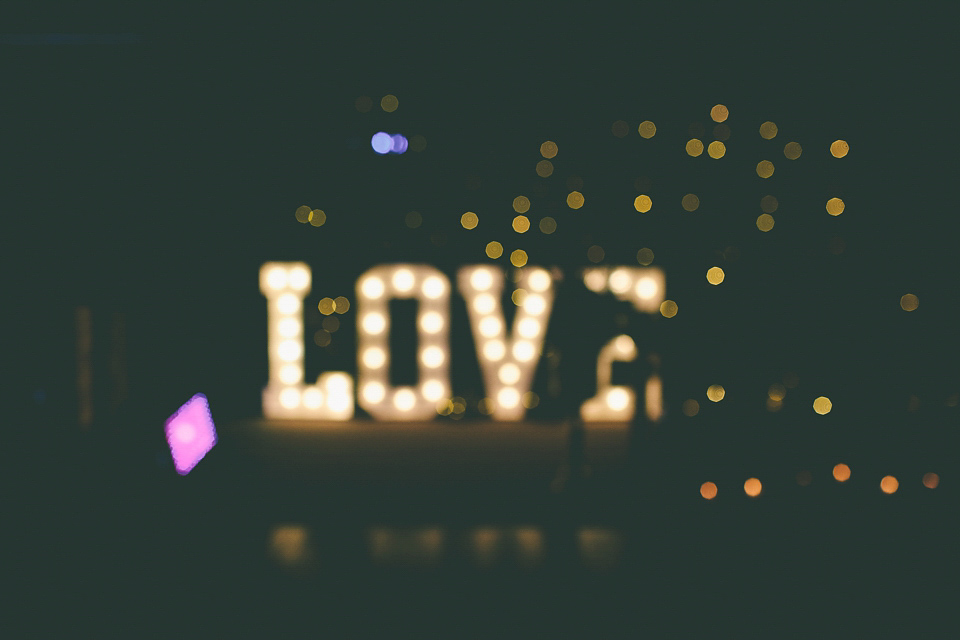 Thank you so much to Wei and Tom for sharing the details of their big day and to Emma Boileau for capturing it so beautifully. If you'd like to see more beautiful brides wearing Claire Pettibone's designs, please follow this link. You can find more pug related mischief here!
Have a fantastic and festive weekend lovely people!
Annora x
Photographer – Emma Boileau
Venue – Styal Lodge, Cheshire
Venue Styling – Emma from Special Days
Wedding Dress – 'Papillon' by Claire Pettibone, purchased from The White Room, Sheffield.
Veil – Cathedral length veil purchase from The White Room, Sheffield
Headpiece – Laura Donovan
Shoes – Jimmy Choos + Converse
Accessories – Earrings + necklace by Laura Donovan
Groom – Bespoke suit by King & Allen + chain link cufflinks from Not on the High Street
Bridesmaids – Twobirds dresses + teardrop earrings from Not on the High Street
Flowergirl – The couple's pug wore a flower crown around her neck, purchased from Etsy
Florist – Jill Naughton of JN Flowers
Cake – Created by the mother of the groom
Transport – Keyhole Motors
Entertainment – Pianist Ben Gordon + Lucy Styles from DG Music + The Liverpool Harmony Club + Howard Wing + Madison Party
Rings – Marlow's in Birmingham Jewellery Quarter
Catering – Pink Pepper Catering
Favours – Pug and bicycle shaped cookies from Eat My Cake London
Décor – Vintage furniture hired from Kate at Vintage Style Hire
Stationery – Created by the couple
Hair Stylist – Mark Izzard
Makeup Artist – Rebecca Frances