One of my favourite things about the weddings we share on Love My Dress, lovely readers, is how our couples make their day unique; filled with personal decor touches, adding special poems for their ceremony, or including a lost loved one as part of their attire. For today's couple, it was the location that held a special meaning for them. So as the Christmas festive season gears up, let's continue the party vibe and head on over the seas and board a boat in amazing Amsterdam; yes, you read that correctly!
Kaz, a Marketing Manager, and Stu, a Design Director, tied the knot on a Dutch sailing barge owned by Remco Voorneveld of Lounge Klipper on Saturday 1st August 2015. I love their little meeting story – and the years they spent in Amsterdam sparked the idea for where to hold their nuptials.
"The inspiration and idea for the wedding came from enjoying these years living in Amsterdam and partying on boats on the canals. We wanted to bring our family and friends to a country that was not our birth country, but has been our home for a very long time."
Photography by Taran Wilkhu Photography
"We also knew the weather would be better in Amsterdam than if we were to get married in our home country of Scotland. In fact, we had sunshine, warm weather and a blue moon."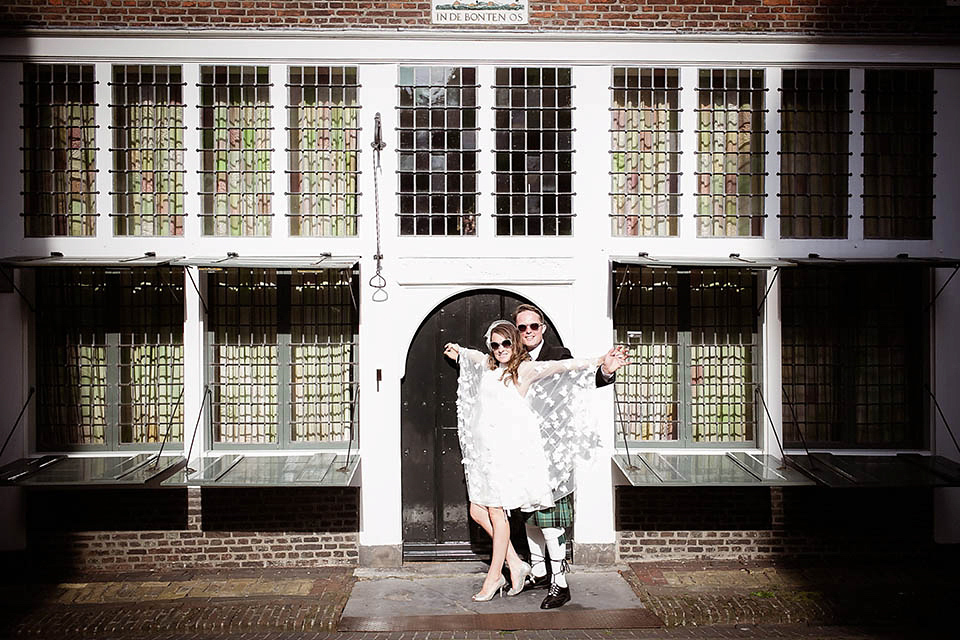 Kaz's incredible 'Swinging Papillon' dress from the Papillon D'Amour collection by German designer Kaviar Gauche was found at the Berlin flagship store. I am speechless! This floaty design, featuring exquisite embroidered butterflies, is so very beautiful.
"As the wedding was on a sailing barge, I felt that a floor-length dress would not be appropriate. I loved the fact that the dress is knee-length, but still has drama. I can honestly say that it is the most unusual wedding dress I have ever seen, but was perfect for our very non-traditional wedding."
"We have just moved to Portland, USA and before departure we wanted to give our friends and family one last amazing party in the Netherlands and so we decided to marry on a traditional Dutch sailing barge called 'Umoja' (a Swahili word which means "unity"). The wedding ceremony and evening party took place on the boat. The boat was harboured in a small fishing village called Monnickendam, which is just outside Amsterdam. The whole wedding weekend took place in this village.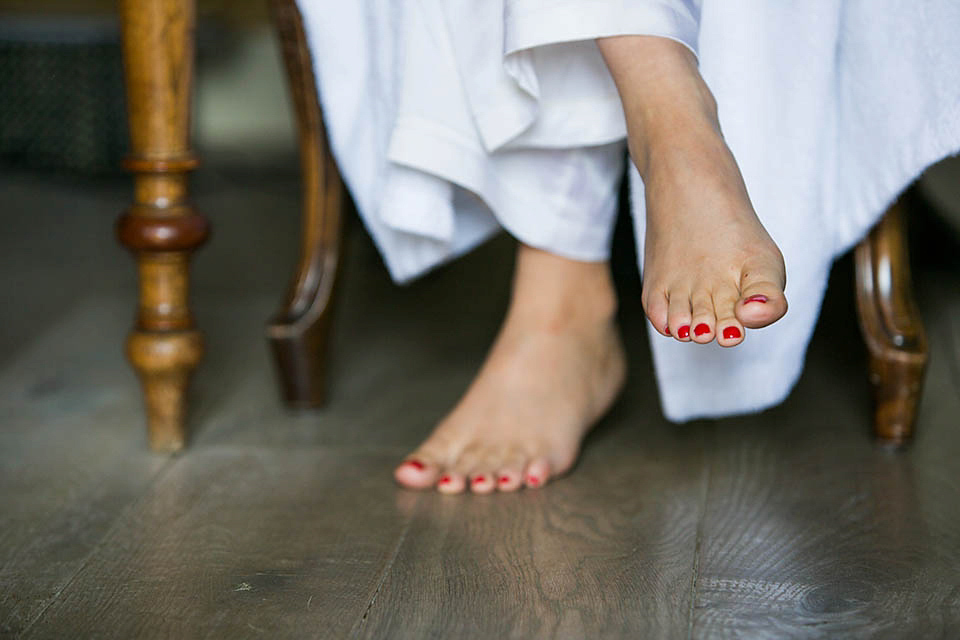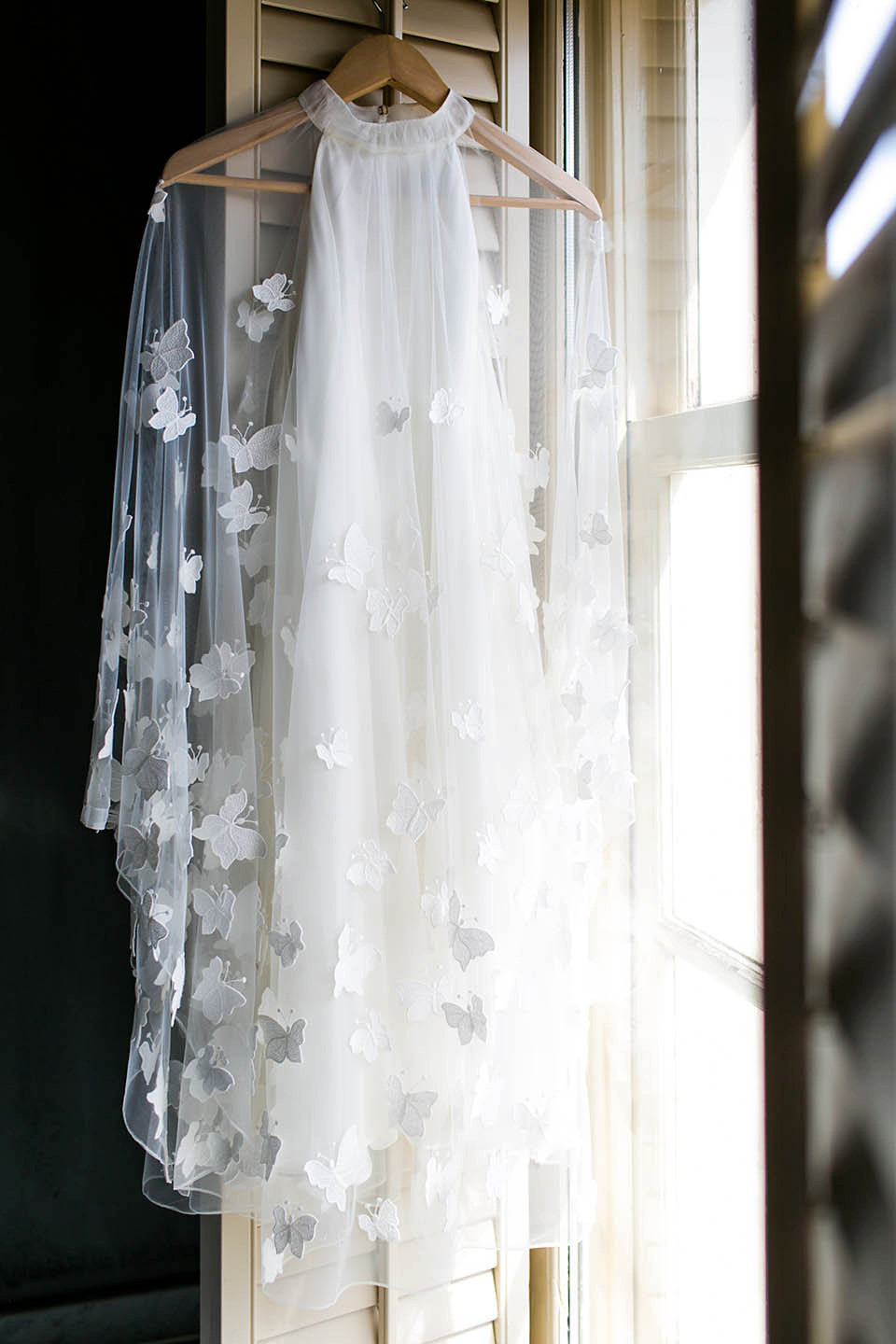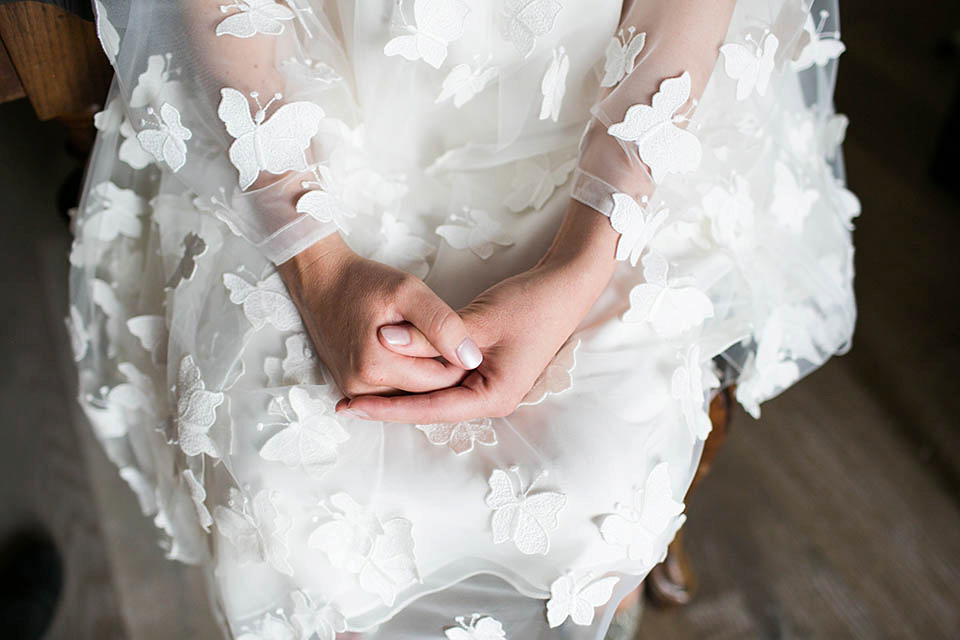 Kaz added a vintage birdcage veil from ebay, a fabulous pair of Jimmy Choo peep-toe pumps, a spray of 'Stella' by Stella McCartney and accessorised with black-and-cream-striped Armani sunglasses, with make-up by Amber Weijers. She then changed into comfy shoes in the evening and added a very groovy hat, with a touch of tartan, giving the outfit a totally 1960's vibe.
"In the evening I changed into a flat version of the daytime shoe – Jimmy Choo leather ballerinas – and I wore a white 1960's style cap hat with a flash of McArthur tartan. McArthur is my husband's surname (now my surname) and was made for me by a milliner from my hometown of Edinburgh."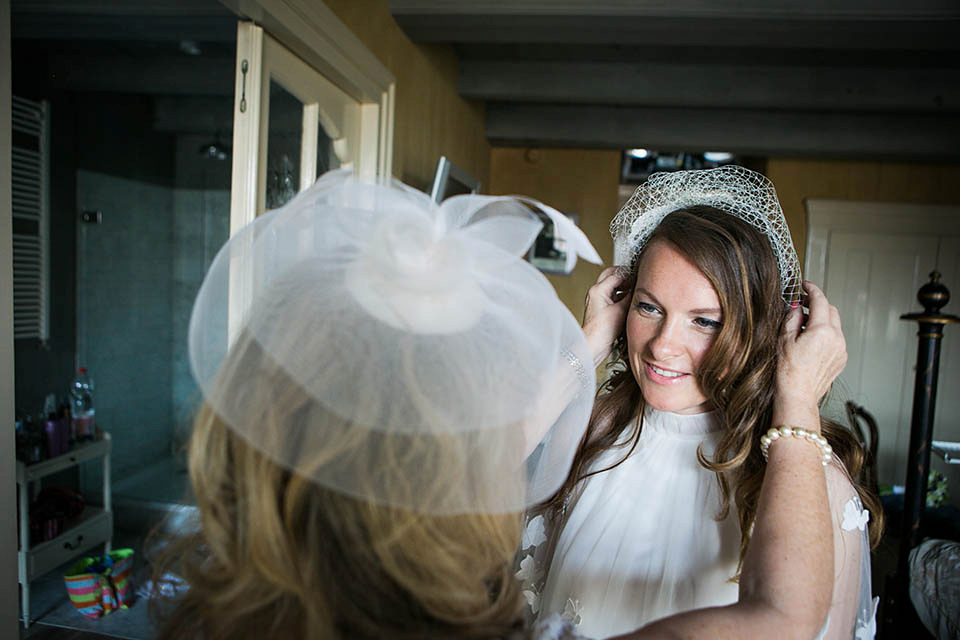 The flowers were designed to go with the family tartan – what a unique idea and so very effective.
"We wanted the flowers to complement the Stu's family tartan. The McArthur tartan is dark green, yellow and black. We wanted to bring in the colour purple, as the male members from my side of the family wore purple, black and grey-coloured tartan. The thistle flower, the emblem of the Scottish nation, tied in the purple colour nicely. The florist we used, Sas Bloemiste, is in the neighbouring village of Edam."
"My father gave me away on the boat. All guests were on the boat and he walked me through the village to the boat where everyone was waiting for us.
"We first met February 2001 at a fashion party in London. We spoke briefly and then I left the party, never to be seen again! Almost one year later, we met again on a Sunday morning at a Duffer of St George sample sale. Within a second of seeing each other again, we fell in love. Stu's work took us to Amsterdam, where we lived for thirteen years. We grew up together, our love grew stronger and we have two amazing children. 
We planned the wedding in only eight weeks. We had seventy guests, a bag piper, a Scottish ceilidh dance band, a London-based wedding photographer, the ship's crew and a gang of friends who helped decorate the boat the day before."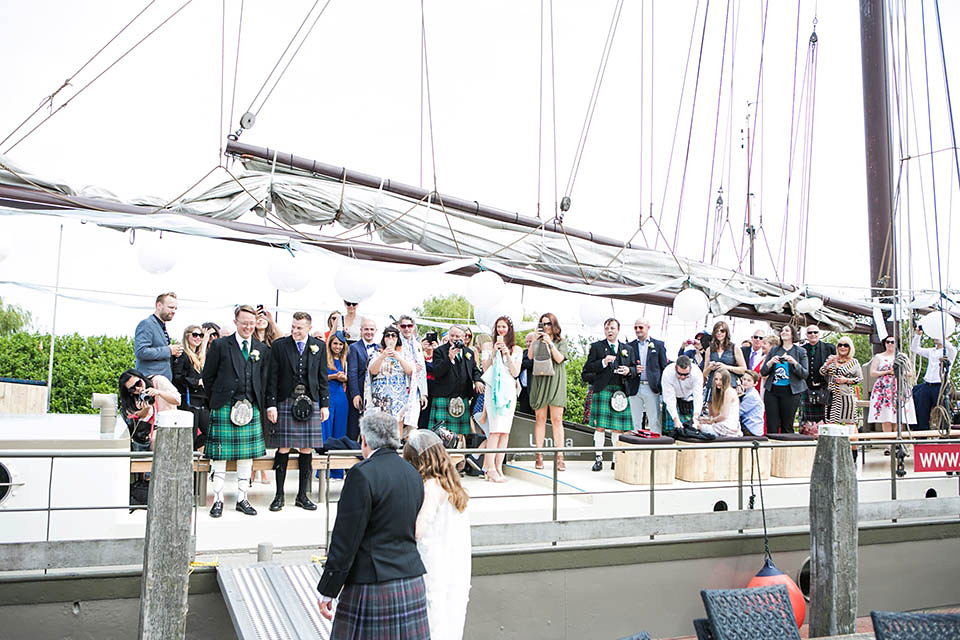 The wedding ceremony was conducted by a professional storyteller who wrote a Scottish fairytale that was symbolic to us and our relationship. He play-acted his story to our guests. Then Stu and I exchanged our vows and then gave each other rings by Stefan Witjes Edelsmid, a local Dutch designer. This is the beginning of the storyteller's fairytale about our relationship:
'Once there was a fisherman called Stuart Alan. He wasn't rich, but his grandma had said to him many times: "Better born lucky than rich".  Stuart strongly believed these words. But he didn't feel very lucky, since he was living alone. He had no soul mate. One night he was lying in his bed, wide awake. He couldn't sleep and decided to make a stroll on the beach near his village. As Stuart walked towards the sea he heard some laughter and jolliness. Was there a beach party going on? Indeed! A group of youngsters were dancing and singing in the moonlight.'"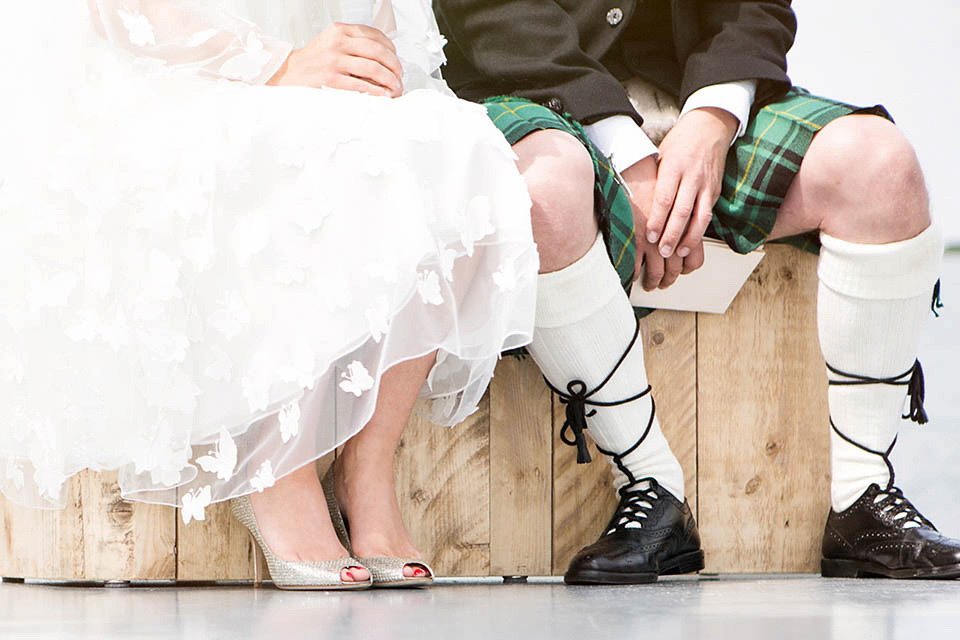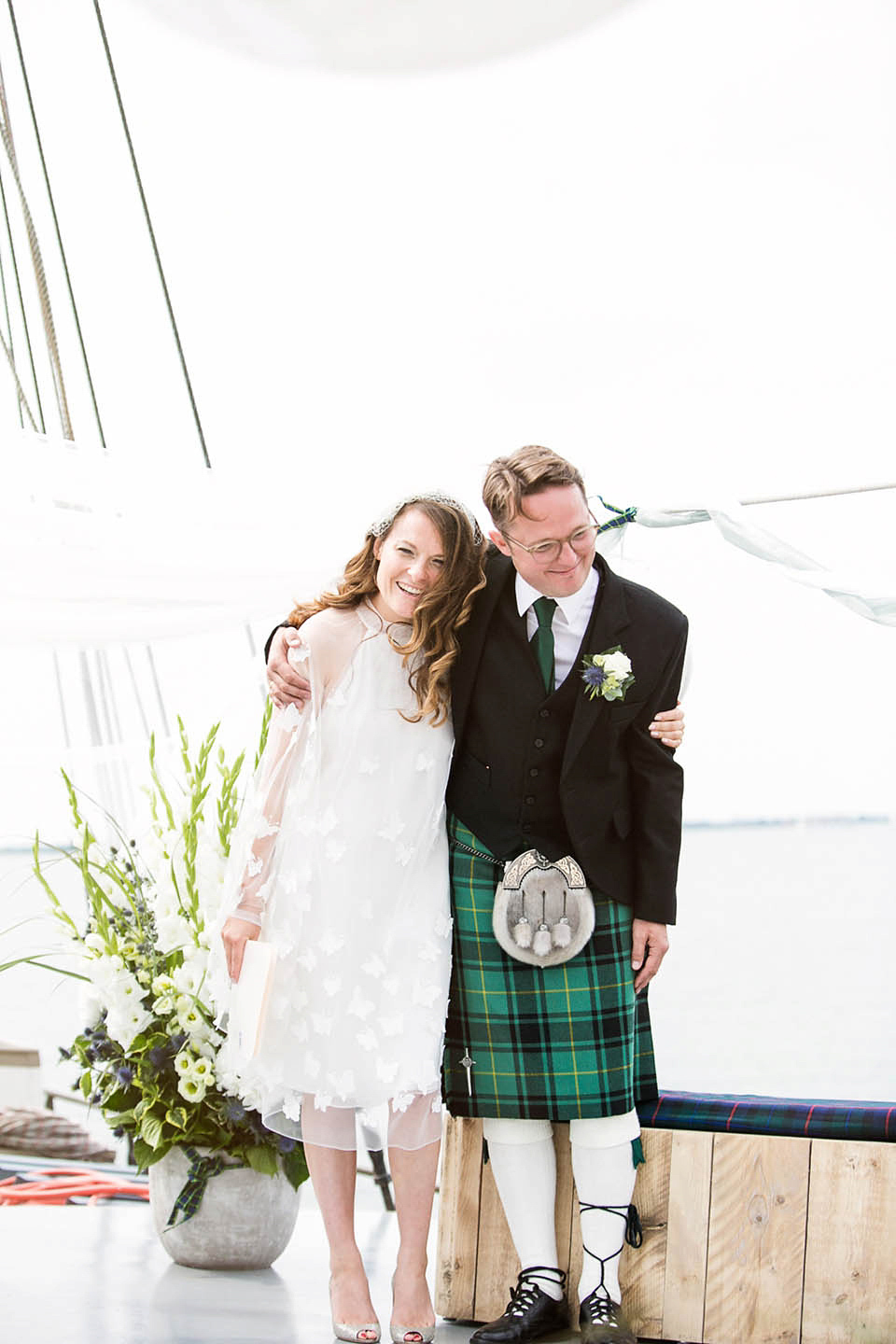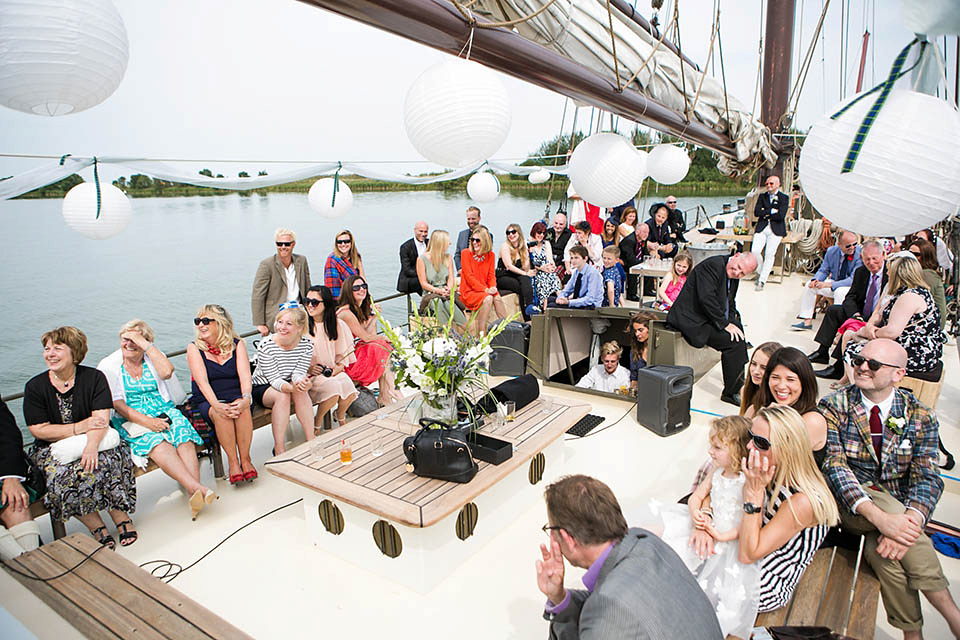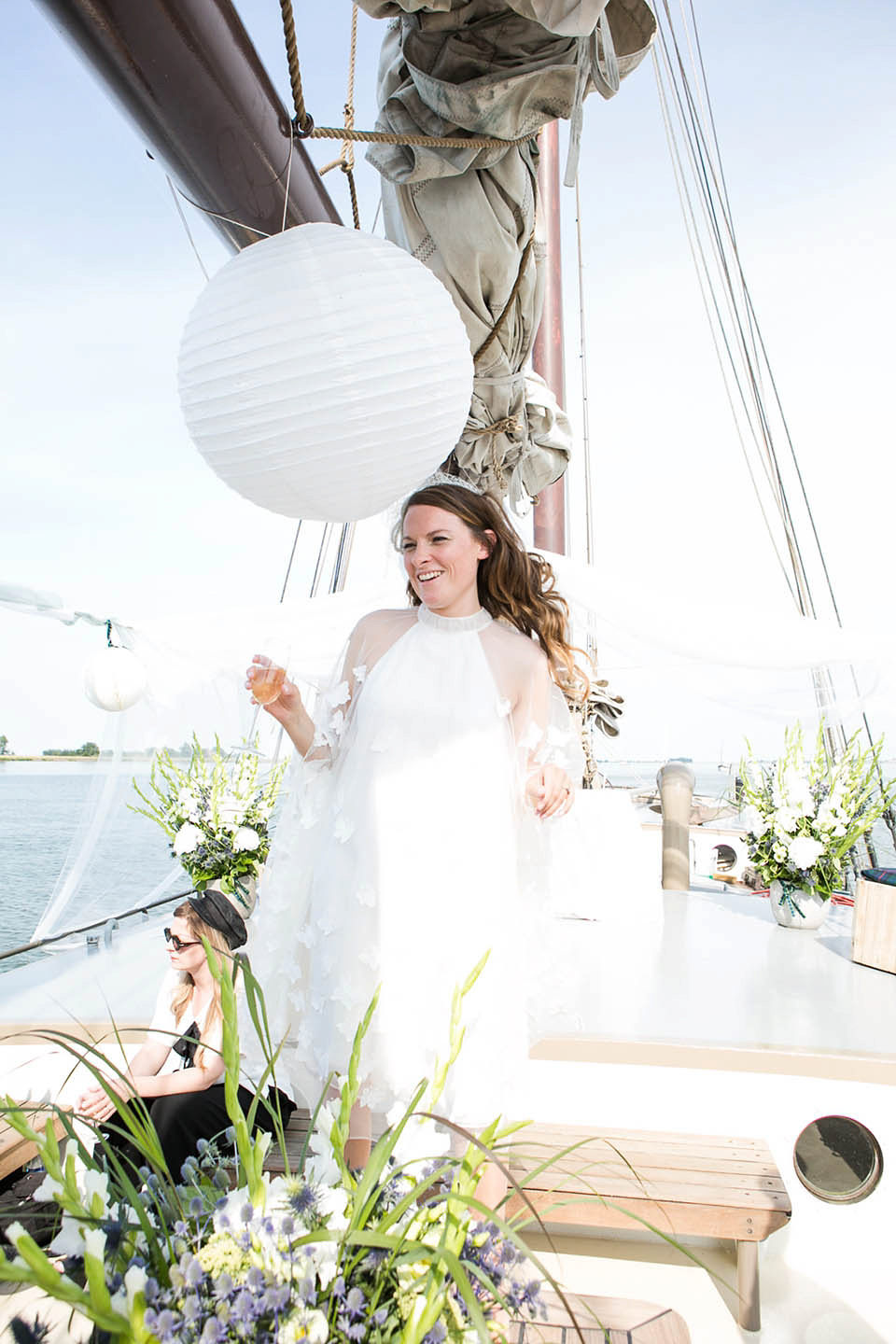 "The evening dinner was a BBQ at a very famous Michelin star restaurant in Monnickendam called The Posthoorn. We went for informal eating (no seating plan and tables in the garden part of the restaurant) but we still wanted high-end, quality food and the type of service we enjoy.
 All seventy guests spent the weekend in the village of Monnickendam; staying in various types of accommodation from the four-star Posthoorn hotel, B&B's, friend's houses and twelve guests slept on a large sailing barge that we hired. The evening party was out on the lake called the IJmeer. We had a speedboat on hand to take guests back to the mainland.
Due to the fact we were on a boat, we decided to have a tower of cupcakes from Sjoerds Keuken as our wedding cake. It's quirky, easy to eat and just fitted with the fun, party feeling we created for the day.
The couple was so happy with the outcome of their candid shots by Taran from Taran Wilkhu Photography.
"We decided to book Taran to be our wedding photographer because we liked his unique photography style. He showed us images from past weddings and we loved the fact that he took 'reportage, candid' shots as opposed to just portraits. We wanted a photographer to capture in their shots the party atmosphere of our wedding on a dutch sailing barge and Taran had the credentials to do this job."
"Taran very quickly became an integral part of the wedding, turning it into a pleasurable and fun experience and we think this comes through in the images he created. The shots and the composition are amazing. He managed to capture the whole wedding and more; some of the evening activities he captured were ones we didn't even know had happened! We are thrilled to have the story of our wedding captured on camera and will treasure our wedding photographs forever."
Now, it's not a Scottish wedding unless there are tartan kilts and sporrans, and Stu and all of his groomsmen and male members of the family were kitted out in the full attire.
"Stu and all of the male family members and groomsmen wore traditional Scottish highland clothing, which consists of a tartan kilt, a sporran, kilt socks, kilt flashes, kilt belt, ghillie brougues, clan crest kilt pin, kilt jacket and waistcoat. 
Stu added Herve Domar glasses that were purchased from a shop in Amsterdam called Nesoptiek – the clip-on sunglasses are also from the same shop."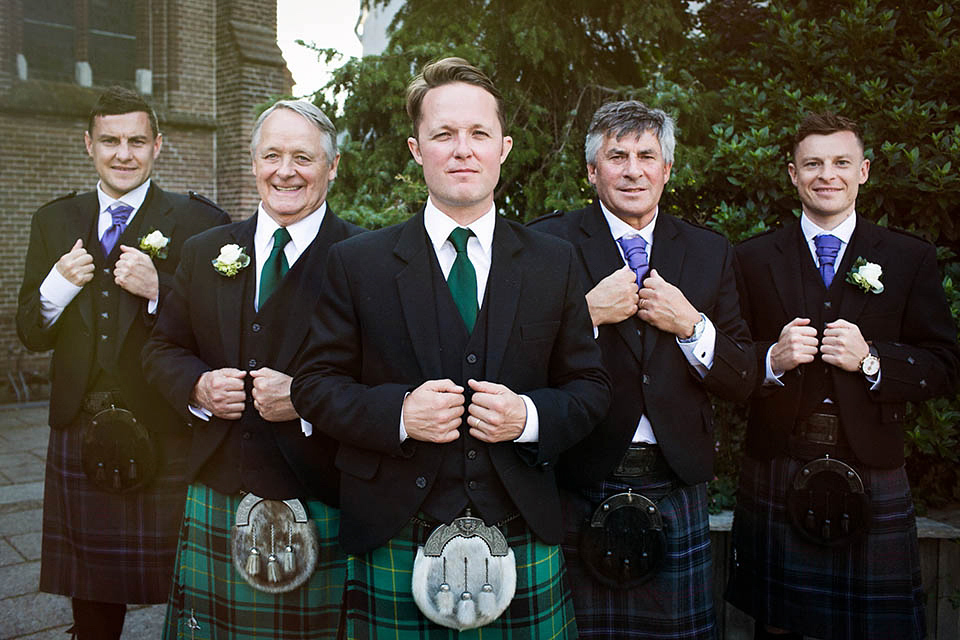 The bride chose not to have bridesmaids; instead, her daughter and niece were flower girls. And her son's outfit comprised tartan trousers and a matching bowtie … too cute!
"My three-year-old daughter Beatrix and fifteen-year-old niece Charlotte were my flower girls. Beatrix wore a very similar dress to me – white, knee length and covered in white fabric butterflies, together with a floral handmade headband. Charlotte wore a cream knee length dress that she selected herself and a floral cuff. My one-year-old son wore tartan trousers with a matching bowtie from a Scottish cashmere company called Johnstons of Elgin and was styled by his Auntie Fiona, who works there."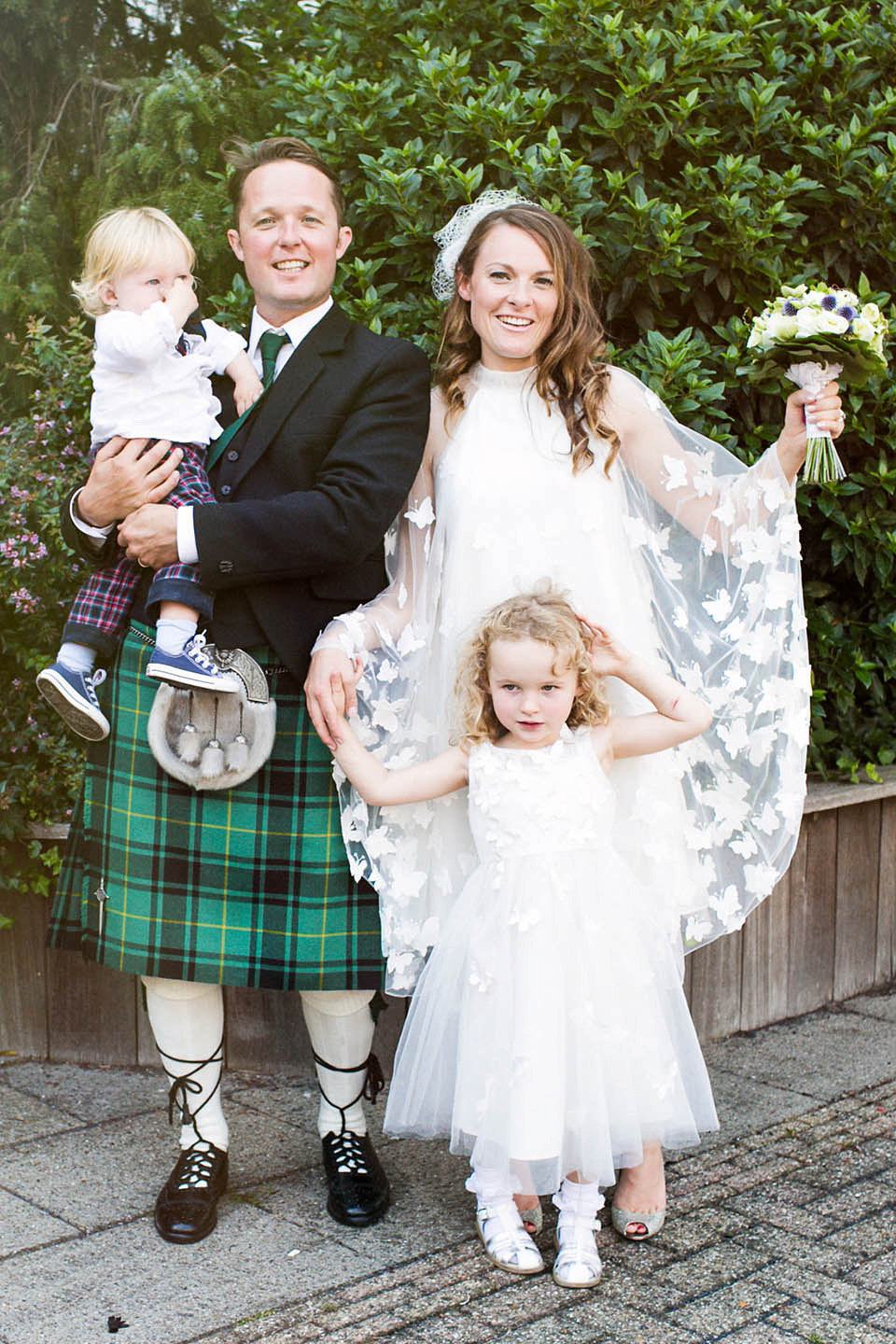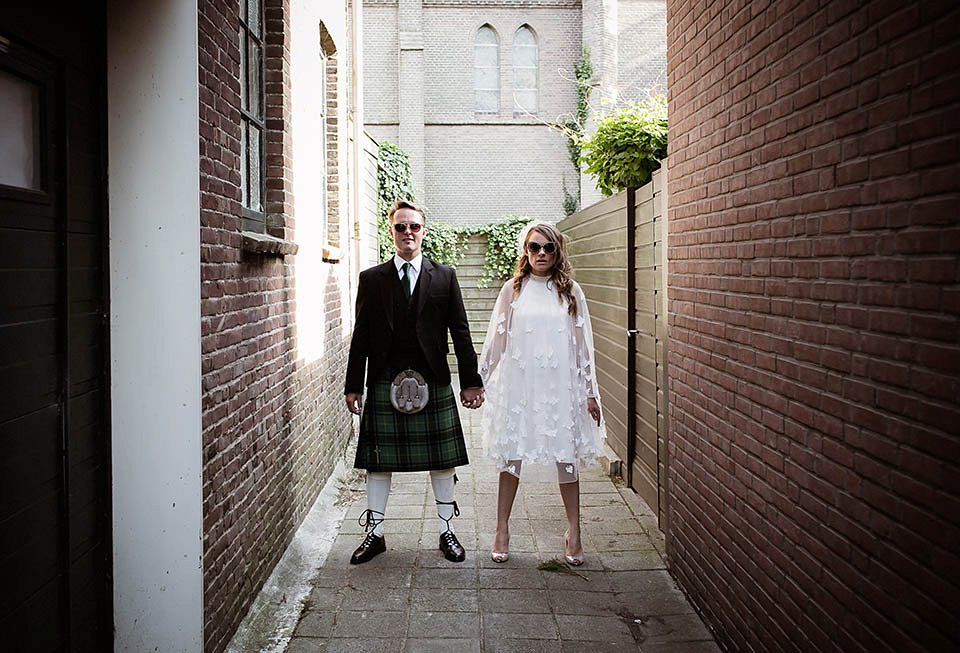 "For us, one of the highlights of the day was doing the 'wedding march' around the village with Alex the Piper and all our guests after the ceremony. The whole village came out to see us, taking pictures, waving, and joining in the march. It was a magical moment and a very special way to announce and celebrate that we had just got married; like church bells ringing when the married couple leave the church after a traditional wedding ceremony."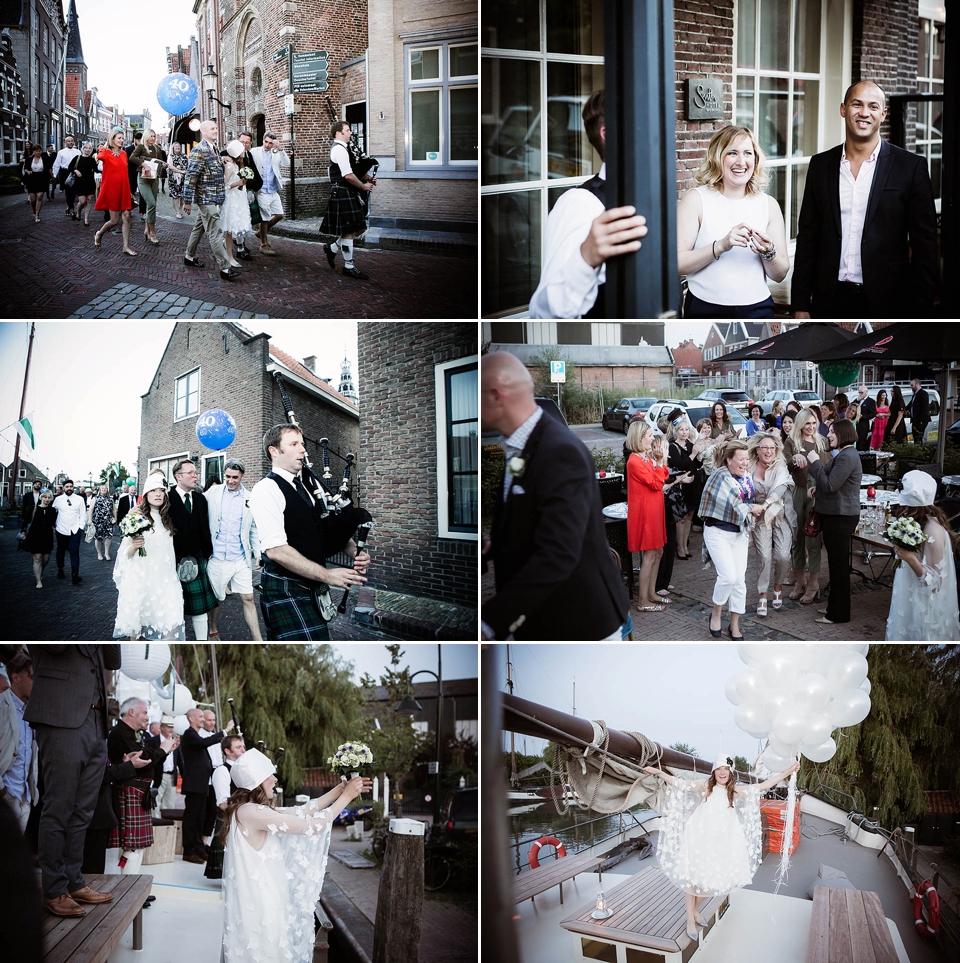 Kaz was particularly keen to have a ceilidh band for her big day and the hired band kept everyone dancing and entertained.
"I have always wanted traditional Scottish music at my wedding. I had to do it. We hired Òr Ceilidh Band from Edinburgh – a three-piece band that played traditional Scottish folk music on the outside deck as sunset and the blue moon rose. When it became dark, we headed to the lower deck for a full-on ceilidh dance, and whilst we didn't have a particular first dance, Stu and I were first on the dance floor." 
"Stu designed the wedding invite and order of the day. We wanted the wedding to be informal and so we had no formal seating, no place cards or menus.
We decorated the boat with hessian fabric, tartan fabric, white paper lanterns, and large and small vases of flowers. The boat lit up at nighttime with bulbs everywhere.
My husband is from the Island of Arran, a small island of the West Coast of Scotland. Our wedding favour was a gift bag containing bath and body gifts from Arran Aromatics."
I must share with you these lovely words from the beautiful bride about this beautiful blog. Thank you Kaz!
"I love the fact that most of the weddings you feature are in a lot of cases weddings that one would consider to be a non-traditional wedding. Stuart and I are of an age where we have been to a lot of weddings over the years. For us, we wanted to give our family a unique wedding. We wanted our guests to have loads of fun. Your blog helps give people the vision to do these types of weddings and I personally think that is a great thing."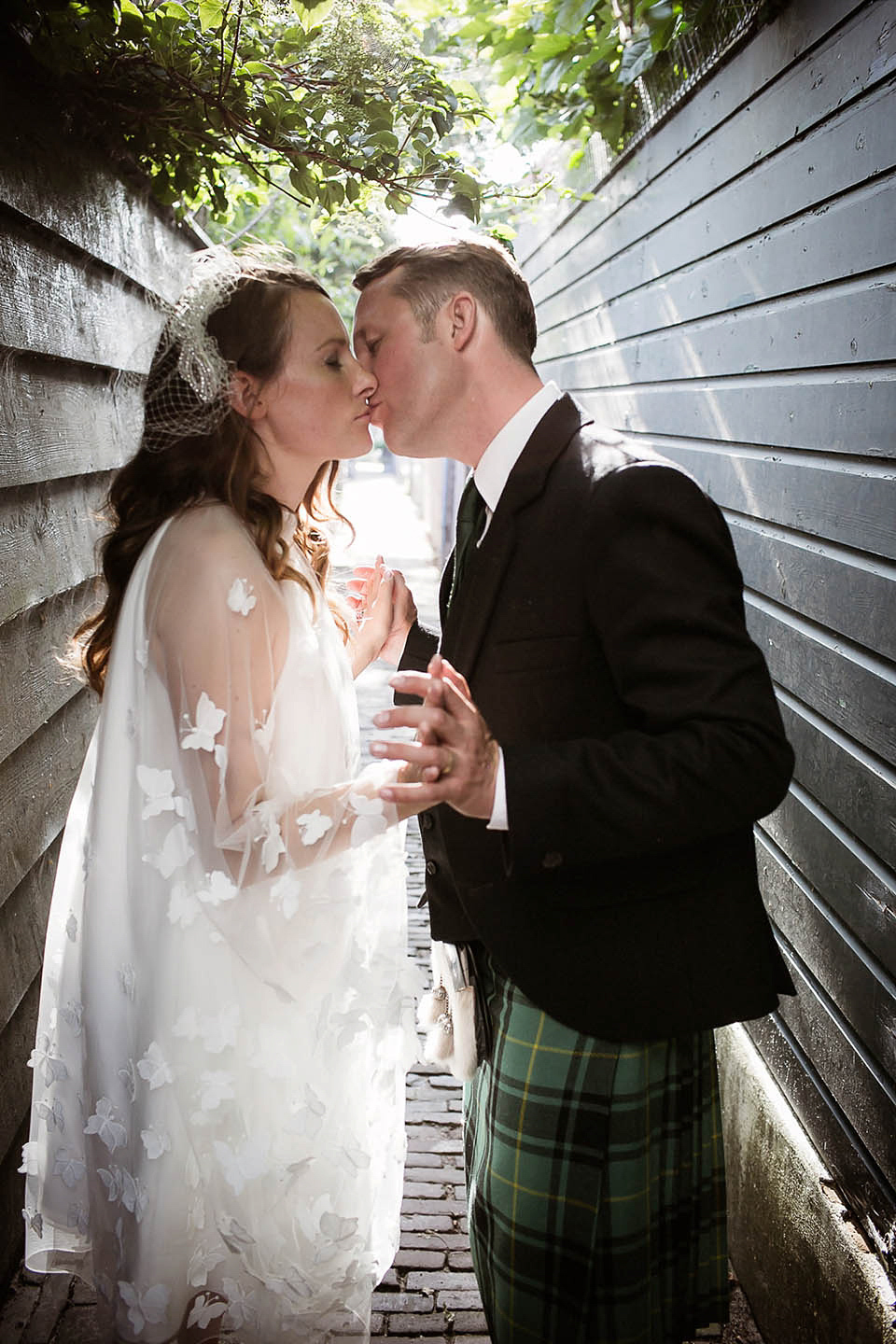 Words of Wedded Wisdom
"Follow your own dreams and your own ideas. Don't listen or overly worry about what others think you should do on your wedding day. A lot of our guests wanted us to have a wedding in a church in Scotland. We almost did.  We are now glad that we did it our way. The wedding was a massive reflection on our personality and for that reason the wedding worked, the day went smoothly and everyone had an absolutely wonderful day."
What an utterly delightful wedding Kaz and Stu and thank you so much for sharing your day with us. As a lover of butterflies, I'm in total awe of your beautiful dress Kaz and your addition of the cap with a flash of tartan and flats for the evening is genius! And special thanks to Taran from Taran Wilkhu Photography for sharing these picturesque images and capturing the happy couple's day so wonderfully.
If Kaz and Stu have inspired you to hold your wedding overseas, be sure to see here for more destination weddings we've previously featured.
Wishing you all a fantastic rest of week … I'm off to start my Christmas shopping, eeek!
Love Jo -x-
Photographer – Taran Wilkhu Photography
Venue – Aboard Dutch sailing barge 'Umoja', Amsterdam (via Remco Voorneveld of Lounge Klipper)
Dress – Kaviar Gauche
Veil – ebay
Shoes – Jimmy Choo
Accessory – Armani sunglasses + 60's cap handmade by milliner in Edinburgh
Perfume – 'Stella' by Stella McCartney
Groom + Groomsmen – Traditional Scottish highland attire + Herve Domar glasses via Nesoptiek for the groom
Flower girls – Dresses and floral headband/cuff (suppliers unknown)
Pageboy – Tartan trousers + matching bowtie from Johnstons of Elgin
Flowers – Sas Bloemiste
Rings – Stefan Witjes Edelsmid
Cake – Sjoerds Keuken
Catering – The Posthoorn
Stationery – Designed by the groom
Favours – Arran Aromatics
Entertainment – Alex the Piper + Òr Ceilidh Band
Make-up – Amber Weijers