Evening all! Treating you to something lovely this Friday evening to see you through to the weekend – a most delightful wedding set in West Sussex that saw Festival & Volunteer Coordinator Helen marry Web Developer Aaron on 20th June this year. The couple chose the beautiful Bignor Park in Pulborough as their venue which provided the most beautiful setting for their bohemian inspired celebration.
I'm was particularly delighted to learn that Helen's gown was made by one of my absolute favourite independent designers, the wonderful Dana Bolton. I was lucky enough to wear one of Dana's dresses myself at an event not so long ago – i was absolutely truly and utterly beautiful.  I also love that this is another couple we're able to add to our 'married couples who met online' category. Way to go Match.com.
"I loved the bohemian themes I had seen in magazines, Pinterest and from my within my own imagination. The pictures of lots of flowers and bare foot brides getting married outside really appealed to me! The venue and gardens gave us an amazing starting point and we had hint of the 1970's present in the overall style."
Photography by Horseshoe photography
"The bridesmaids wore or bought their own sandals from a variety of places such as Accessorize, they were mostly gold but all different. I found their dresses at ASOS and Debenhams – they were all different!"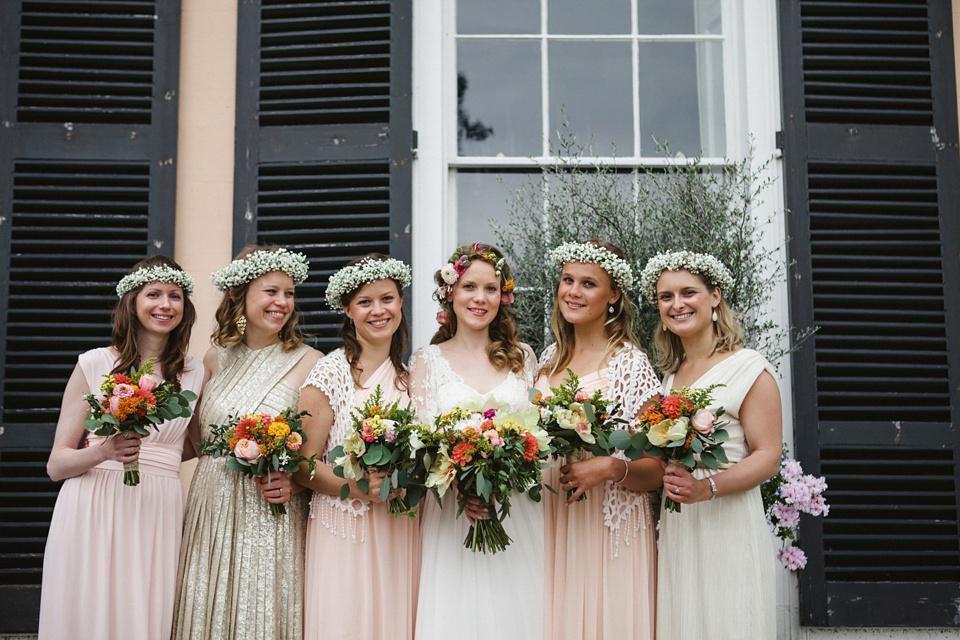 "I had my dress made by independent designer Dana Bolton. It was unique and I loved the elbow length lace sleeves! I loved the blush silk underlayer and silk chiffon top layer."
Dress by Dana Bolton
See Dana in our wedding directory Little Book For Brides
"I wore a long lace trimmed veil bought from Proposals in Chichester – it was called 'Spellbinder' and made by Rainbow Club."
"I grew up in Sussex and we both love the countryside around that area. We both fell in love with the venue straight away, the gardens are amazing and huge! (reminded me of the Secret Garden!) and the outside ceremony at the Loggia is beautiful and unusual, which is what we wanted. I have always wanted to get married outside so the Loggia sold it for me.
I did the creative side of things. I have a Fine Art and Curating/Events background so enjoyed the organising, although it did get a bit stressful in the last week! Our parents and bridesmaids also gave us advice and helped with the planning."
"My hair was styled by Claire Fraser, a freelance hairdresser who I found through a friend. My makeup artist was Holly Pyle of Blissful Beauty, who is also a friend. Both were amazing and kept calm even when everything became rushed! I loved my hair! Claire curled, then twisted and plaited my hair around the flower crown."   
"I wore a pair of gold sparkly shoes by Roland Cartier, which I bought for £60 from Debenhams!" 
"I didn't wear any jewellery apart from some rose gold moonstone sparkly earrings that my Mum and Dad gave me the night before ."
The couple turned to Angel Like Flowers to supply their beautiful blooms.
"We wanted wild, colourful (peaches, bright pink, apricot, bright yellow, green foliage and blue added to just the flower ball) but romantic flowers to give a Boho look – we wanted the flowers to feature quite heavily so we had a flower curtain where flowers were suspended on clear string on either sides of the Greek Loggia, scattered petals leading up to the ceremony area, a big flower ball in the stables where we had our reception and a large wild and colourful bouquet!
We also had flower decorations on the tables – flowers in different sized jars organised by Angel. Me and bridesmaids also had flower crowns and our flower girl had a flower wand. We had a few flowers on the garden swing and table plans too. Angel did an amazing job."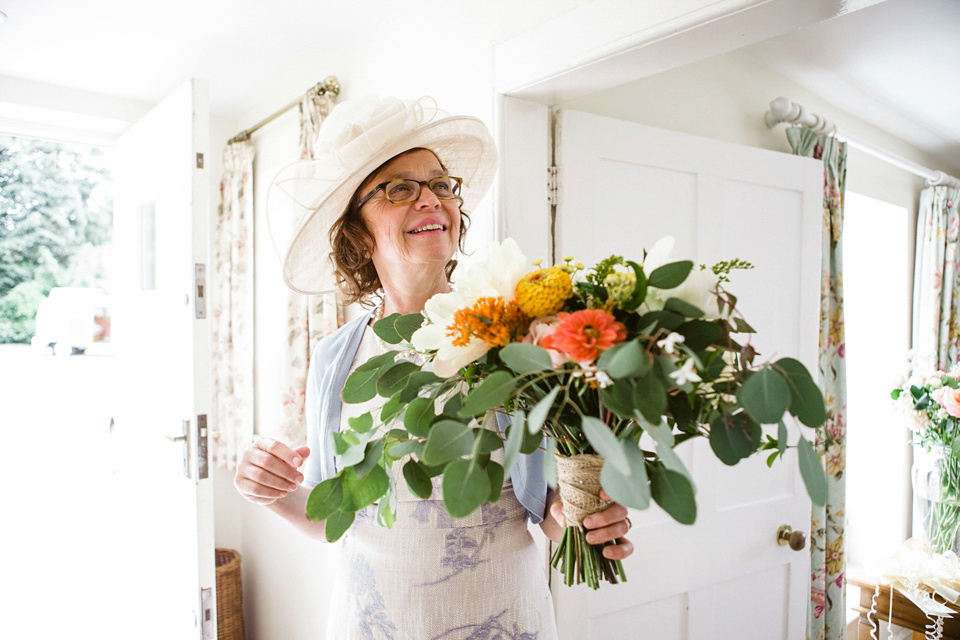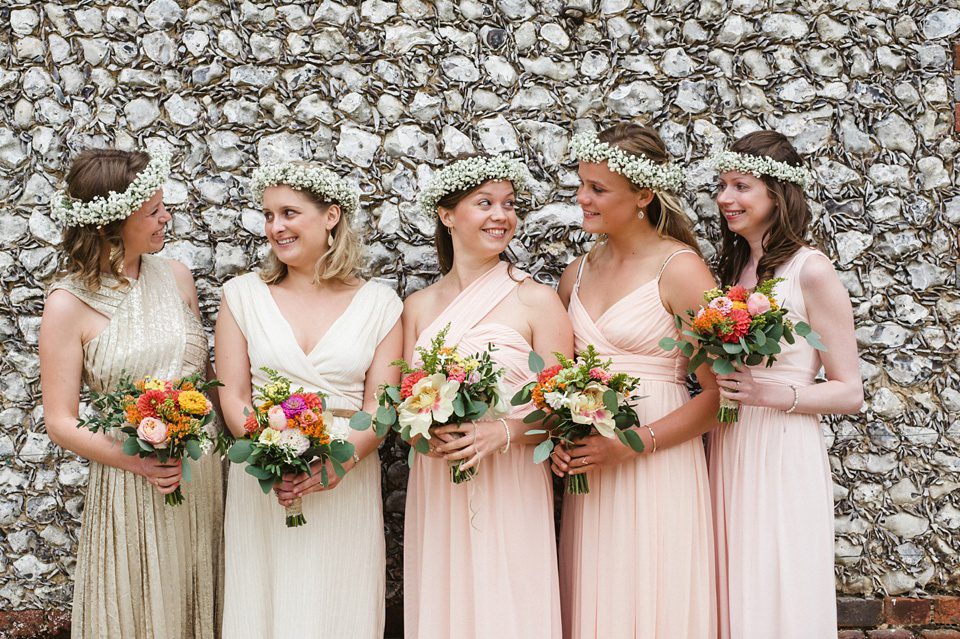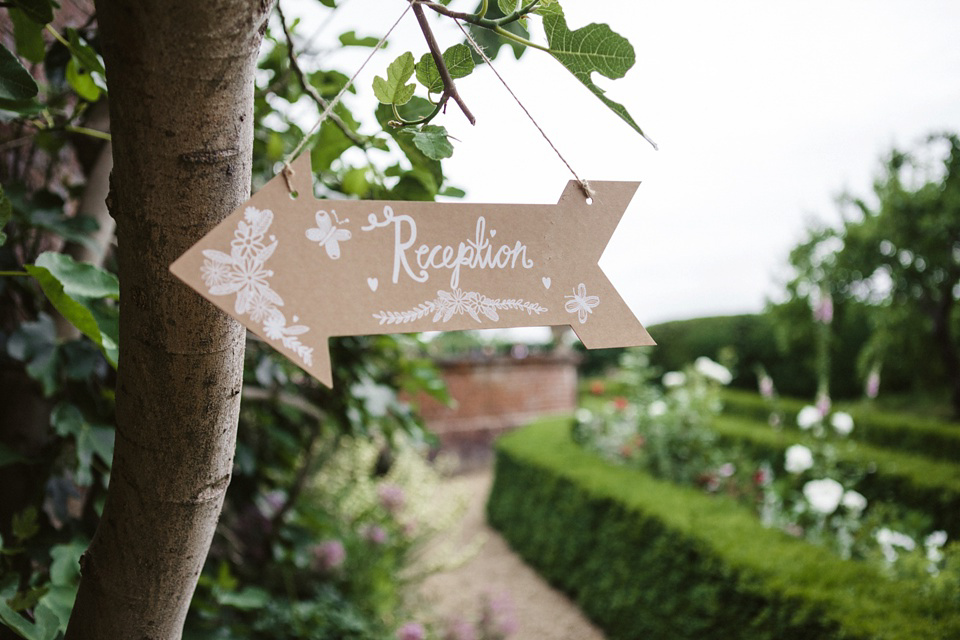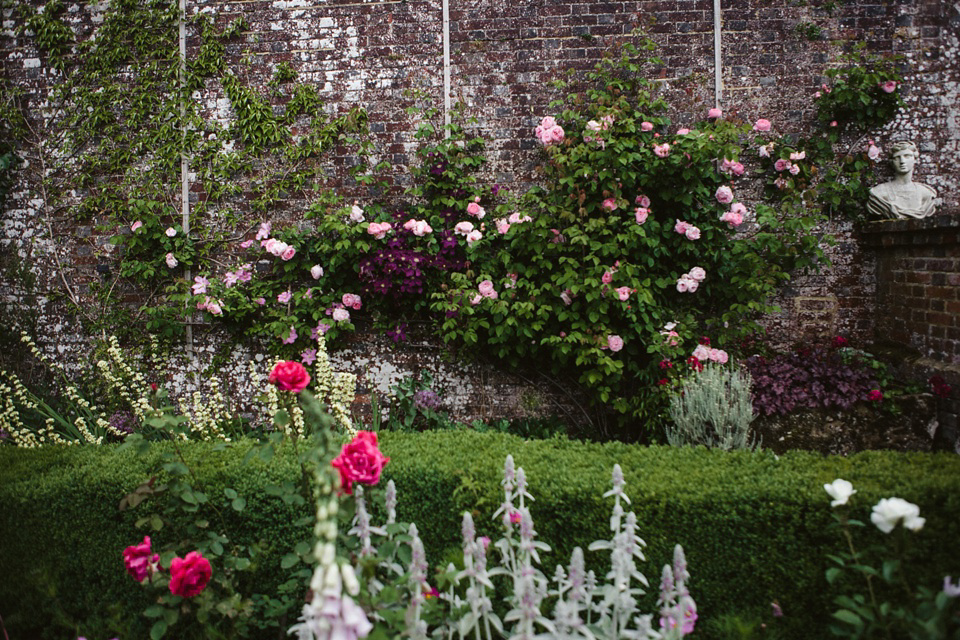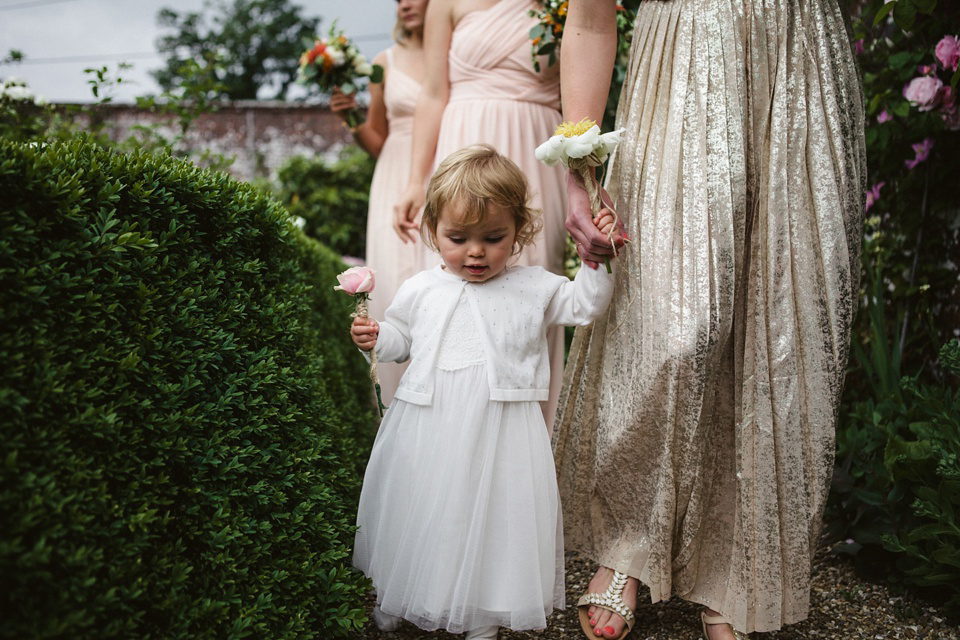 "My Dad walked me down the aisle to an instrumental version of 'Turning Page' by Sleeping At Last. Unfortunately the track hadn't downloaded properly so it never got to the bit of the song I liked! Bob Marley's steel drums came in instead at one point, which made a few people laugh!"
"We met on Match.com in February 2012! It was both of our first dates on Match and we met for a drink in Bricklane London (we both live in London). We ended up going for a curry and it was snowing really heavily so we had to link arms to avoid falling over! I moved in a year later then Aaron proposed to me in the Bluebell woods in Patching on 19th April 2014. It was magical with all the Bluebells and tall woodland trees, one of my favourite places. We had Prosecco and were sitting on a blanket when he went down on one knee and proposed – it was very romantic!
We had a pre-wedding Indian party in May which included other family members who we weren't able to invite to the wedding. We had Indian drummers with pots and music and I got to wear a beautiful sari. Some of our family are Sikh and Christian, others are Buddhist (including me) so quite a mix. Neither Aaron or myself are very religious."   
"We wanted everything to look natural and relaxed with nothing too formal. We used lots of colourful wildflowers – we wanted the flowers to feature quite heavily so we had a flower curtain where flowers were suspended on clear string on either side of the Greek Loggia, big flower ball in the stables where we had our reception and a large wild and colourful bouquet! My bridesmaids and I also had flower crowns. We were really pleased with how it all looked."
The couple wrote their own vows together, an extract from which is below…
Today,
I give you my heart, My promise
That I will love you,
As I join my life to yours. That I will walk with you Hand in hand,
Wherever our journey leads us.'
To Adore and respect you
Today,
I promise to give you my heart forever.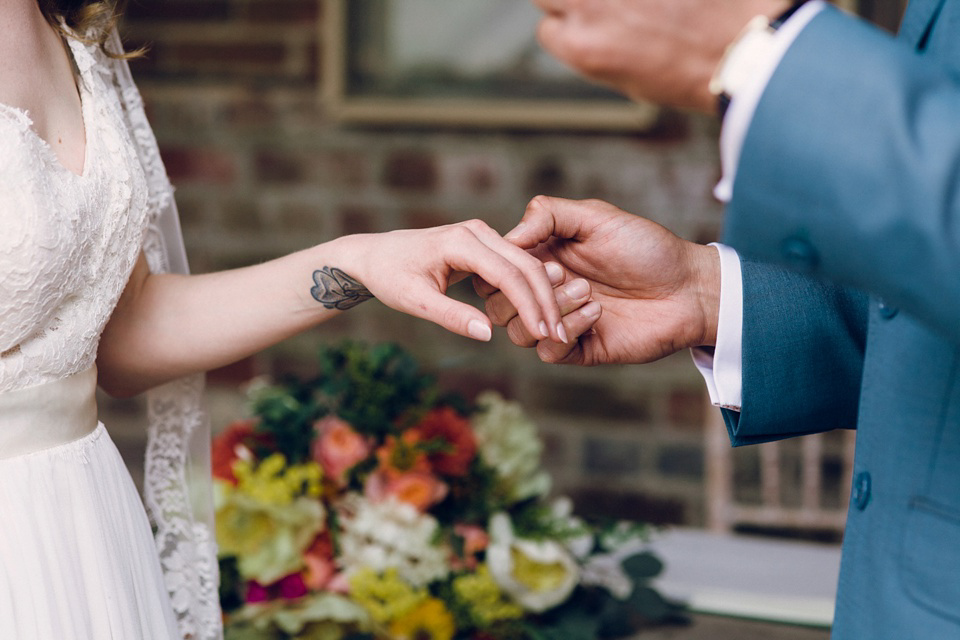 "We had three readings during our ceremony; 'Us Two' by A.A Milne, because I call Aaron 'bear'! and he calls me 'bee'! It's a story about Pooh Bear and Piglet and their relationship together as best friends and how they do everything together.  We also had 'All My Life' by The Beatles read as a poem. This was  a more romantic reading about loving someone more than anything. And finally, we had  an extract from the Amber Spyglass by Philip Pullman…"
I will love you forever; whatever happens. Till I die and after I die, and when I find my way out of the land of the dead, I'll drift about forever, all my atoms, till I find you again. I'll be looking for you, every moment, every single moment. And when we do find each other again, we'll cling together so tight that nothing and no one'll ever tear us apart. Every atom of me and every atom of you. We'll live in birds and flowers and dragonflies and pine trees and in clouds and in those little specks of light you see floating in sunbeams. And when they use our atoms to make new lives, they won't just be able to take one, they'll have to take two, one of you and one of me.
"We liked the Buddhist philosophy behind the extract, the idea that you can have a connection to someone that never disappears and that you can find your way back to each other again in another life."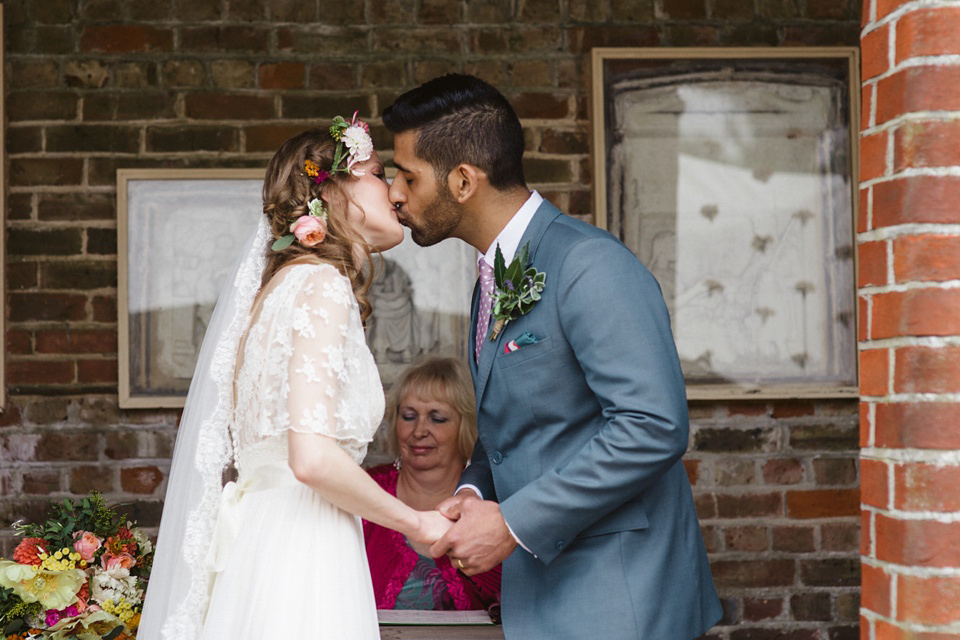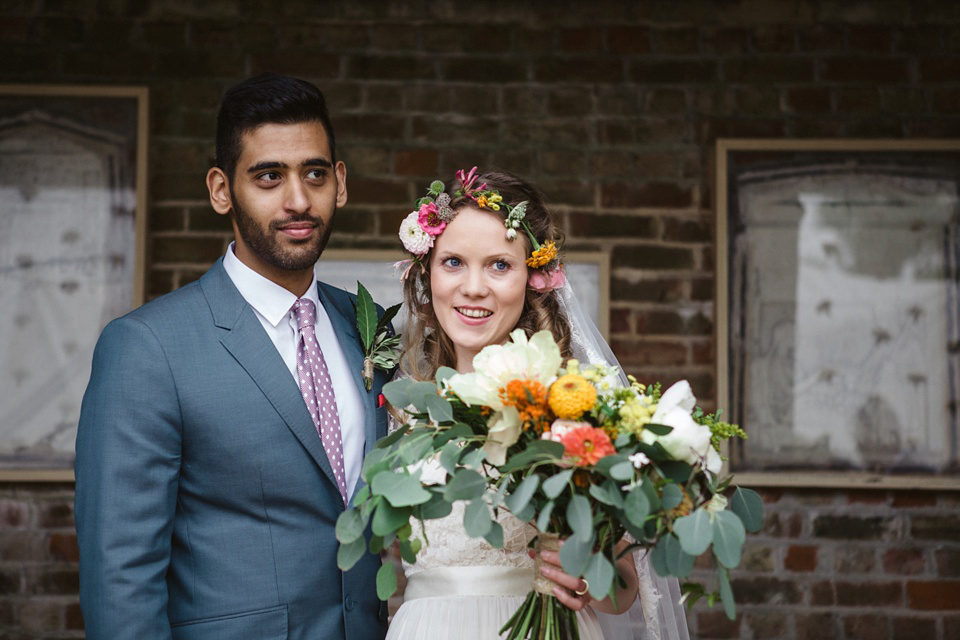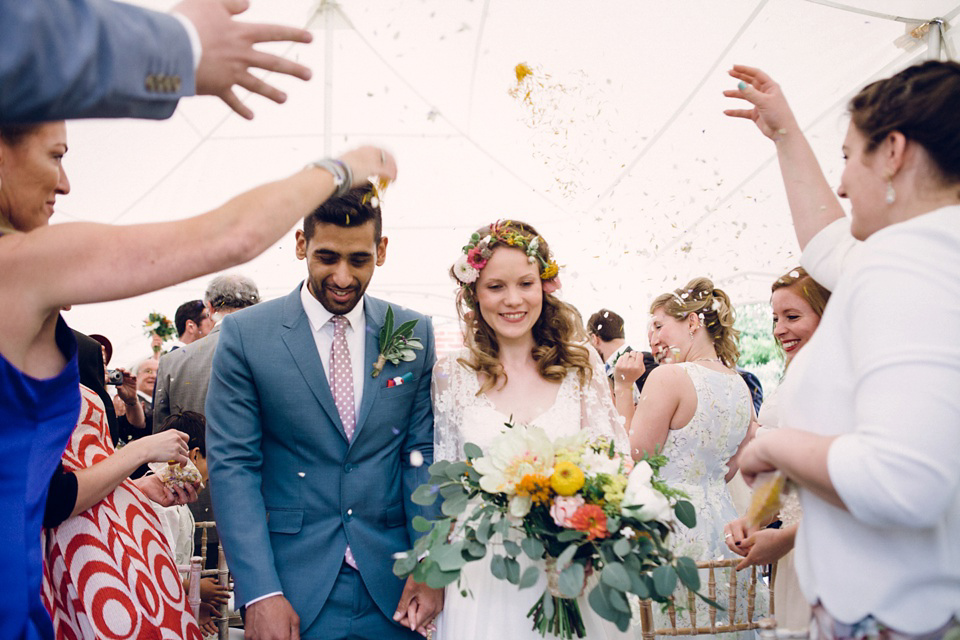 "We provided little bags of orange and cream/blue confetti bags for the ceremony. We also had festoon lights in the courtyard area and gold sparkly sequin table runners which were quite a mission to put up and lay out but looked great! We hired them from Not Just For Hire.'"
"We hired Bugbar to entertain – there was a really good party atmosphere and we were dancing outside in the yard for some of the night. The Bugbar also looked really cool – it had Indian garlands/decorations and pink umbrellas."
"Our photographer was Jo Thorne of Horseshoe photography – we loved her style of photography straight away."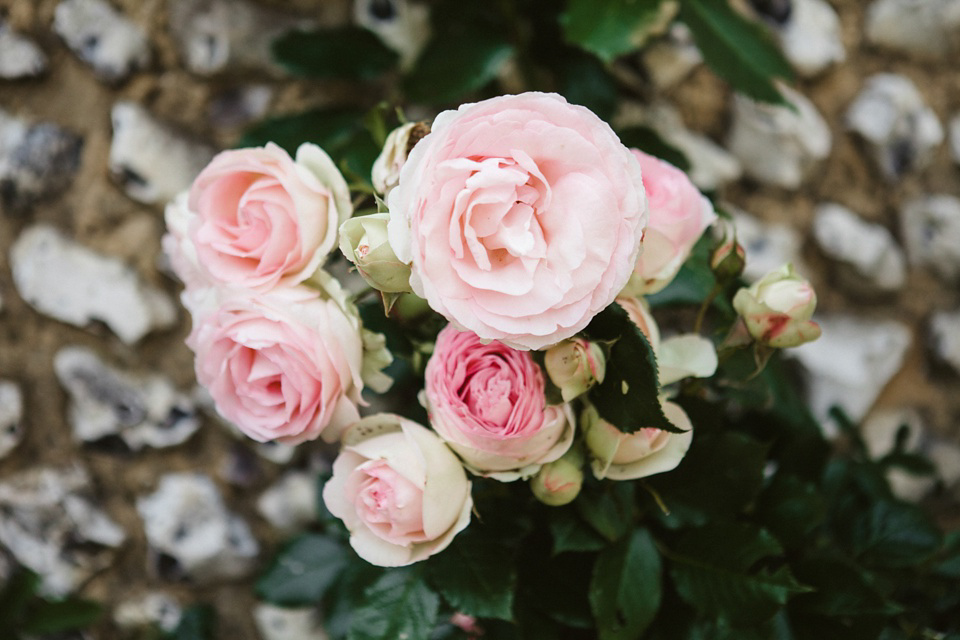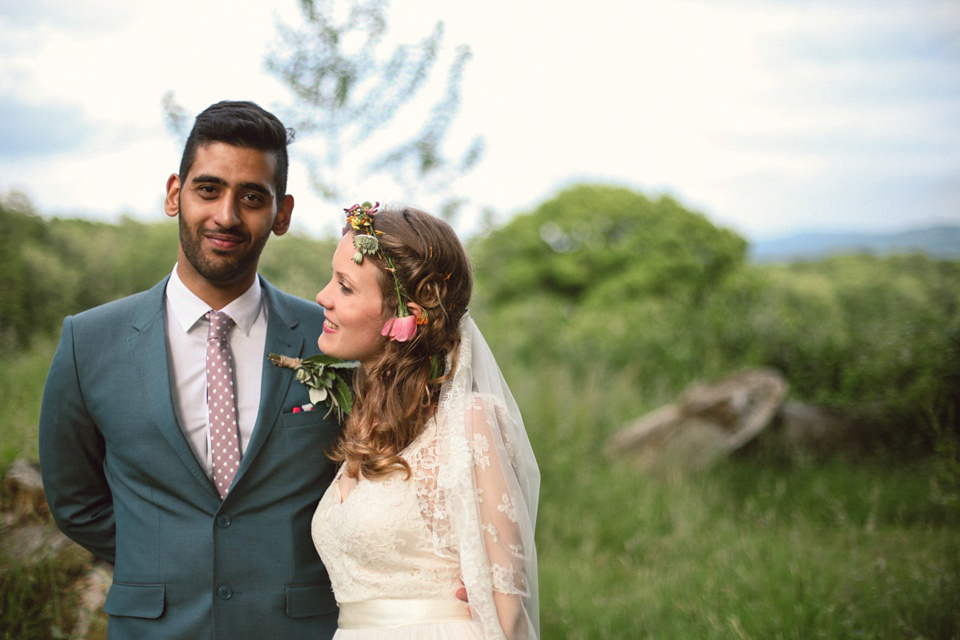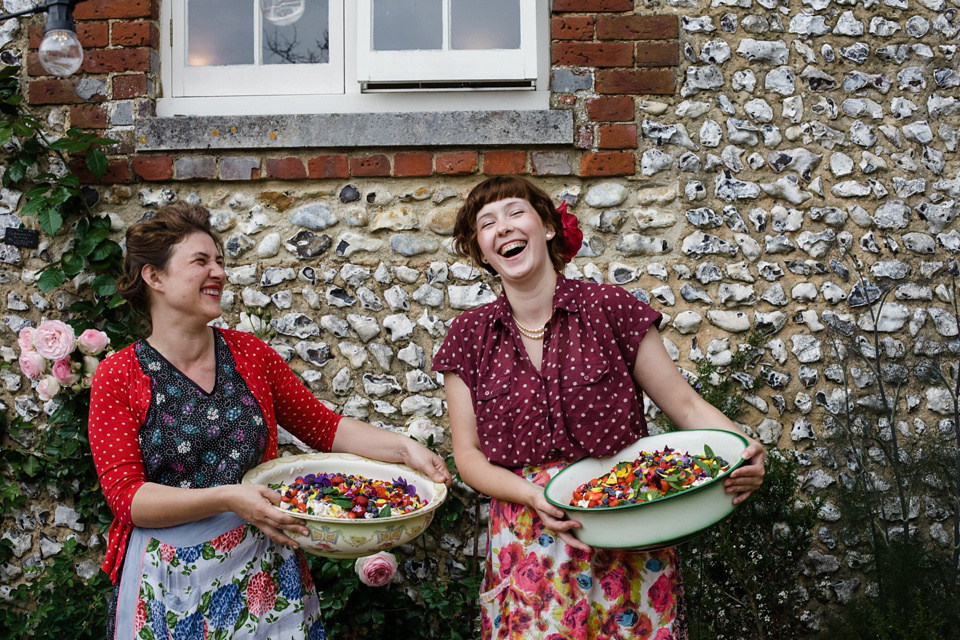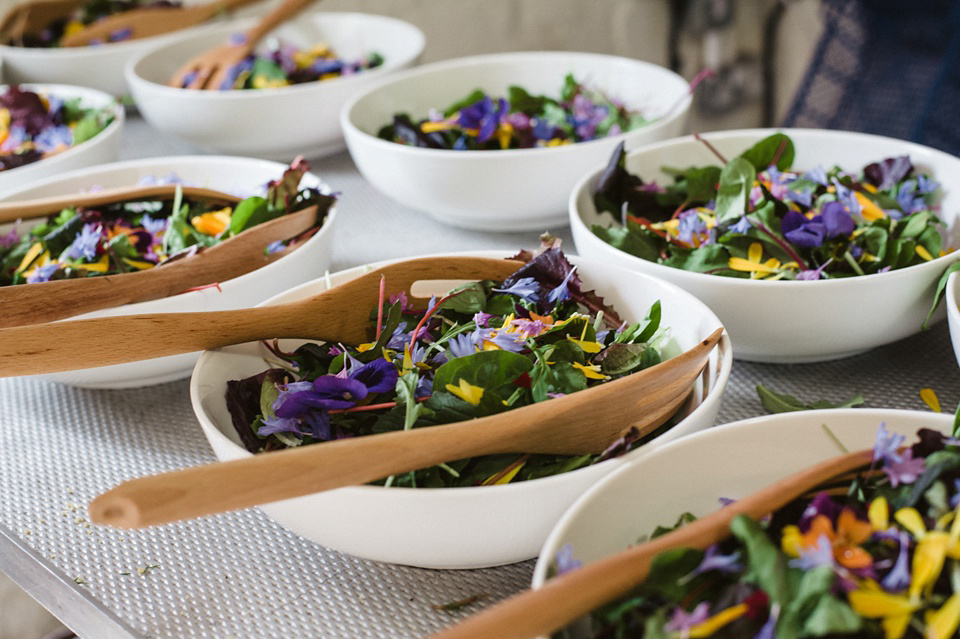 "We had three cakes displayed on a stand – Aaron's Mum made the large cake ad we had the other two top cakes made by a local cake baker in Chichester 'The Exclusive Cake Shop and Vintage Tea Rooms' run by Carol Sharp, which my Mum found for us.
We bought a cream vintage style cake stand online and Angel from Angel Like Flowers added the flowers on the top. We were really pleased with the cake as it looked amazing even though we hadn't spent much time or money on it!"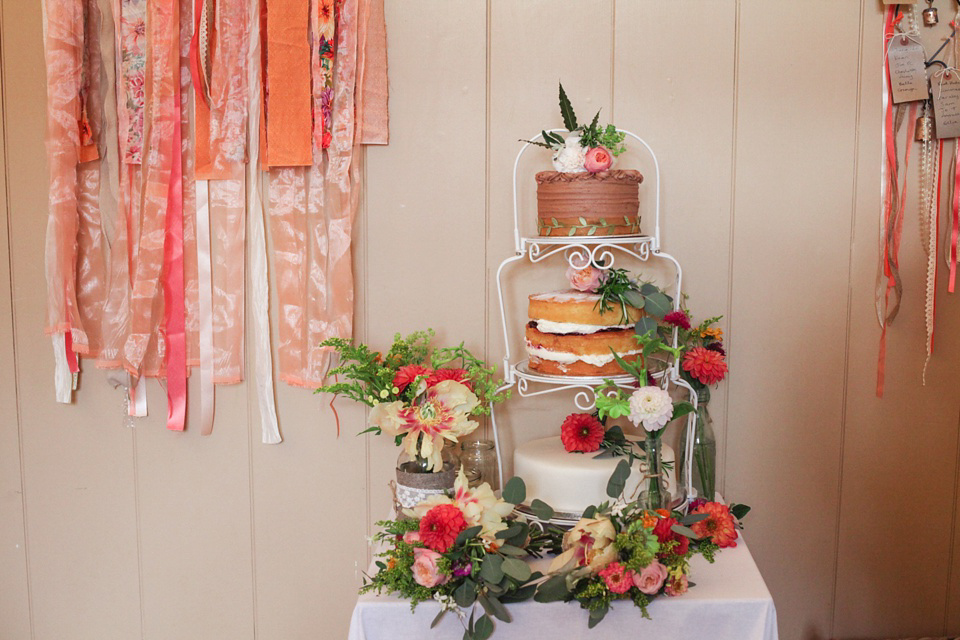 "By the evening (and after a few proseccos!) I was more relaxed and really enjoyed the evening dancing and DJ. I also really loved the speeches and our first dance – I got a bit emotional!  Saying that I think the best moment still has to be the ceremony and actually saying the vows to Aaron – we were both really nervous and I made quite a few mistakes! Standing in the wrong place, saying 'I do' too quickly, and then not having a copy of the vows handy (the Registrar had to rip them out of her book!), but this actually made it quite funny and really memorable!" 
"Our first dance track was 'Let's Stay Together' by Al Green. We decided on the day! It was between this track and Lana Del Ray – Drive. We found it hard to choose a song as we both love our music and there was so many songs we liked, many of which wouldn't work as a first dance song!" 
Words of Wedded Wisdom
"Something is bound to go wrong! Having organised quite a bit of the wedding with Aaron and being a massive perfectionist, it was hard for me not to be a bit upset when the music went wrong, although I didn't let it ruin the day – looking back you'll be more annoyed if you let it get to you rather than just forgetting it! All the little funny mistakes here and there make the day memorable.
However much time you think you have getting ready in the morning, add another hour! It goes like lightening speed as did the reception canapés and photos after the ceremony. People always say to try and take everything in, I think it's almost impossible as there's so much to take in, it's quite surreal, so I say just go with the flow!"
What a beautiful day, huge thanks to Jo Thorne of Horseshoe photography and all my love and congratulations to you both too Helen and Aaron. Ladies, if you adore Helen's dress as much as I do, you an see more from designer Dana Bolton on Love My Dress here – you might also like to explore Dana's page on our wedding directory, Little Book For Brides.
Happy Friday evening all,
Love Annabel xx
Photographer – Horseshoe photography
Venue –Bignor Park in Pulborough
Wedding Dress – Dana Bolton
Veil – Rainbow Club via Proposals in Chichester
Floral Crown + Florist – Angel Like Flowers
Perfume – Vera Wang – Princess
Grooms Suit – Ted Baker
Bridesmaids –ASOS + Debenhams
Flowergirls –Monsoon
Cake – The Exclusive Cake Shop and Vintage Tea Rooms
Transport – Vinnie's Vintage Vehicles
Entertainment – Bugbar
Rings – Hatton Gardens
Catering Company – Petal & Feast
Stationery – DIY