Good morning everyone – I'm so genuinely delighted to be sharing this particular set of images on our beautiful wedding blog with you today. The designer of this dress is Kate Beaumont, an incredibly talented independent designer based in Sheffield in the UK. I've enjoyed supporting Kate since 2012 after having shared her own wedding here on Love My Dress (which featured the most fantastic first looks ever to be caught on camera!).
Student Nurse Charlene married Treasury Analyst Simon on 8th August this year at Stockport Town Hall. Their wedding was one of relaxed and effortless elegance and in terms of design and aesthetic, the couple paid homage to their respective Irish and Italian heritage, alongside the bride's love of the Edwardian era.
"Heritage is very important to Simon and I, and so we tried to honour ours as much as possible by including plenty of Italian and Irish influences wherever we could! The only other theme was our love of history, in particular, the Edwardian era (basically the themes were traditional Italian, Irish and Edwardian!)"
Photography by DSB Creative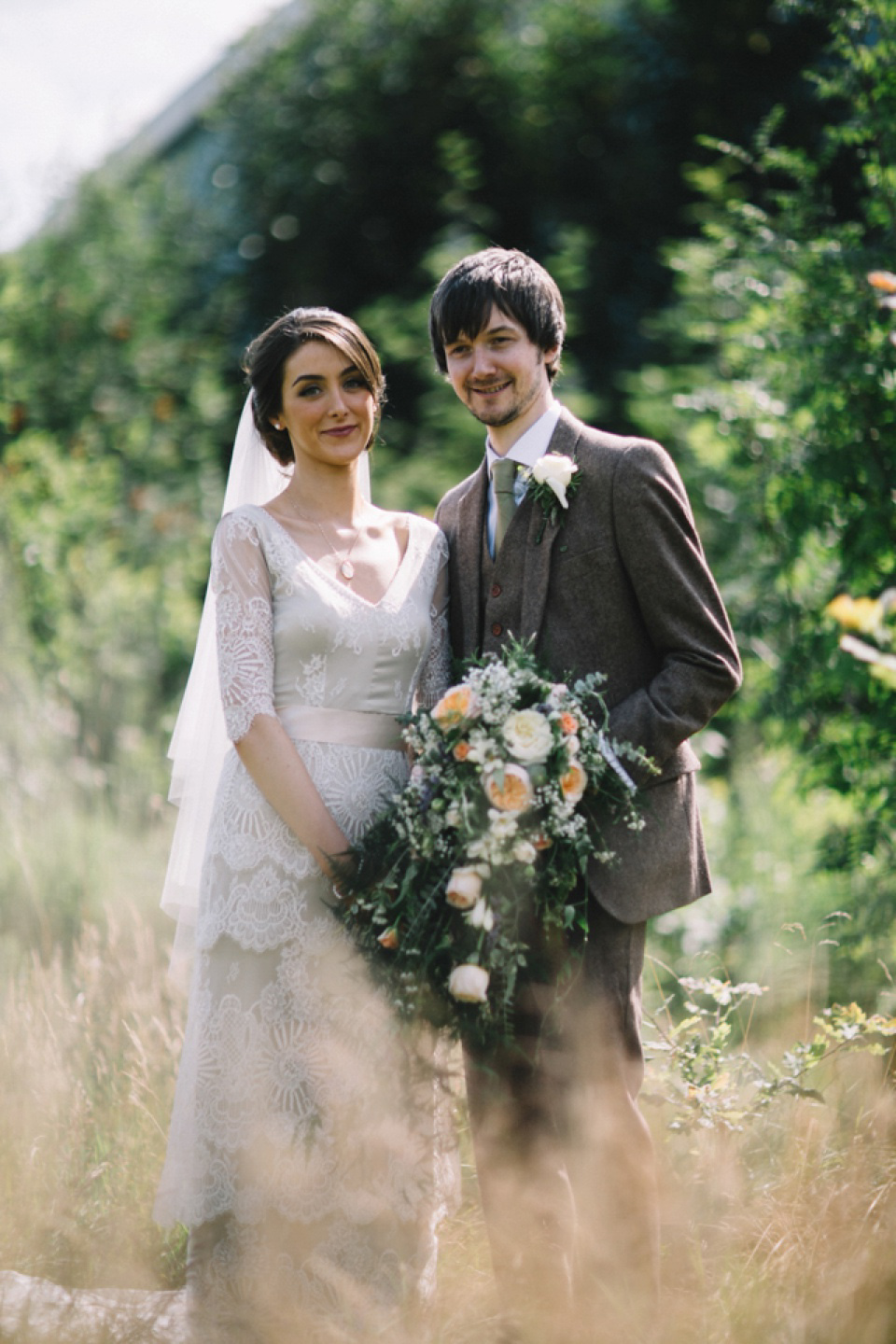 Dress by Kate Beaumont
See Kate Beaumont in Little Book For Brides Wedding Directory
"I initially came across Kate and her designs on Love My Dress! When we first got engaged a friend recommended I look at Love My Dress. I have to confess that this was pretty much the only wedding blog that I used and I used it a lot!"
"I wanted something Edwardian inspired, but without looking like I was in fancy dress. I also liked the idea of having my dress made by hand, as it would have been done in the 'old days'. Kate was a pleasure to work with straight from the off and I love the idea of passing the dress down through the family, along with the story of how is was made! We were also honoured to have Kate attend our wedding reception – I really can't recommend her talents enough."
Veil by Jane Bourvis 
The couple turned to Damian Brandon at DSB Creative to document their wedding in images.
"Damian was a brilliant choice of photographer. He really listened to what we wanted and captured so many special moments throughout the day with such attention to detail. Damian's photographs always tell the story of a day, from start to finish, and he is especially good at capturing the 'little moments' that can so easily get missed in the grand scheme of the day. We feel so fortunate to be able to look back on the story of our day, thanks to Damian. We can't recommend him enough."
"Simon and I met through mutual friends on a train journey from Manchester to Liverpool. We were travelling to The Cavern Club (of Beatles fame!) to watch a mutual friend's band play. We had been together for six years when Simon proposed. Simon proposed on a winter walk in the Peak District, three days before my 25th birthday.
We had been engaged for two and a half years before our wedding day, as we planned the wedding around my decision to train as a nurse – very exciting times!"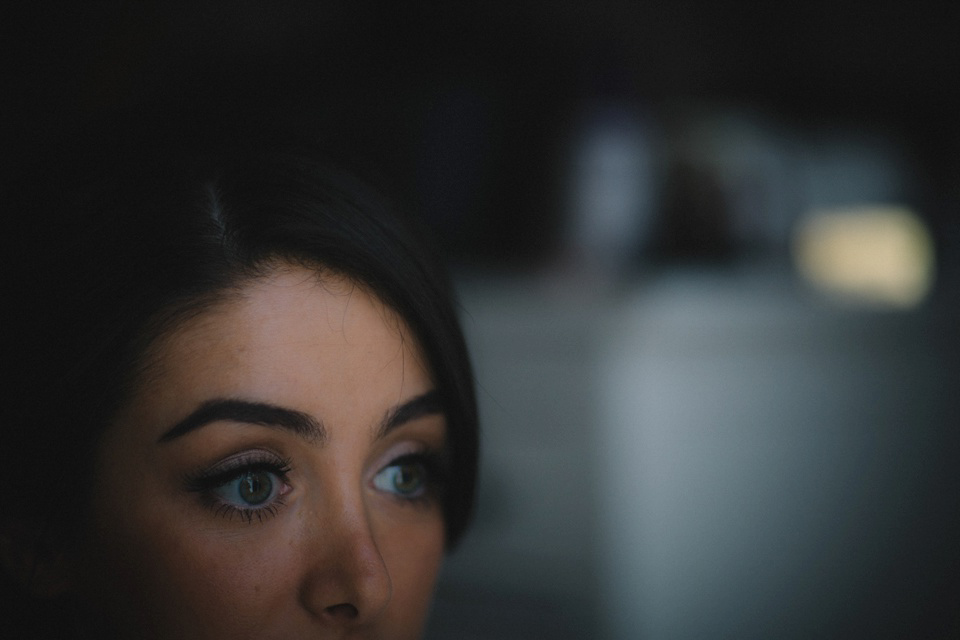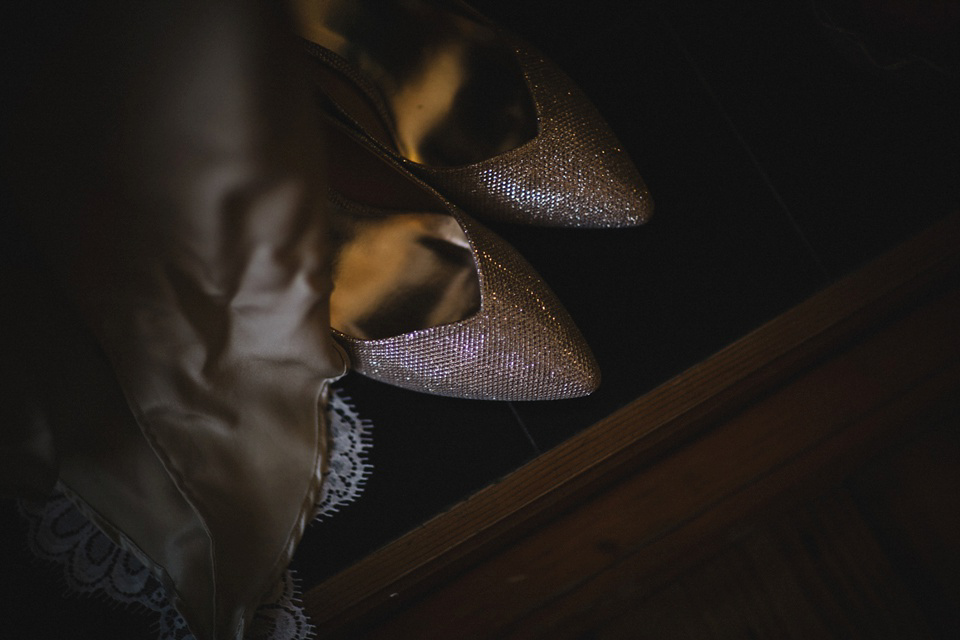 "My veil was by designer Jane Bourvis – my sister and I travelled to London especially to visit Jane Bourvis in Notting Hill in search of veil material. I'd seen some of their work on Love My Dress, and given the old fashioned, traditional theme of the wedding and my dress being handmade, I quite liked the idea of buying material and having my veil hand-made also.
I bought a lovely piece of vintage tulle and subsequently had a comb hand fastened to the veil back in Manchester. I hope to pass my veil down through future family generations also."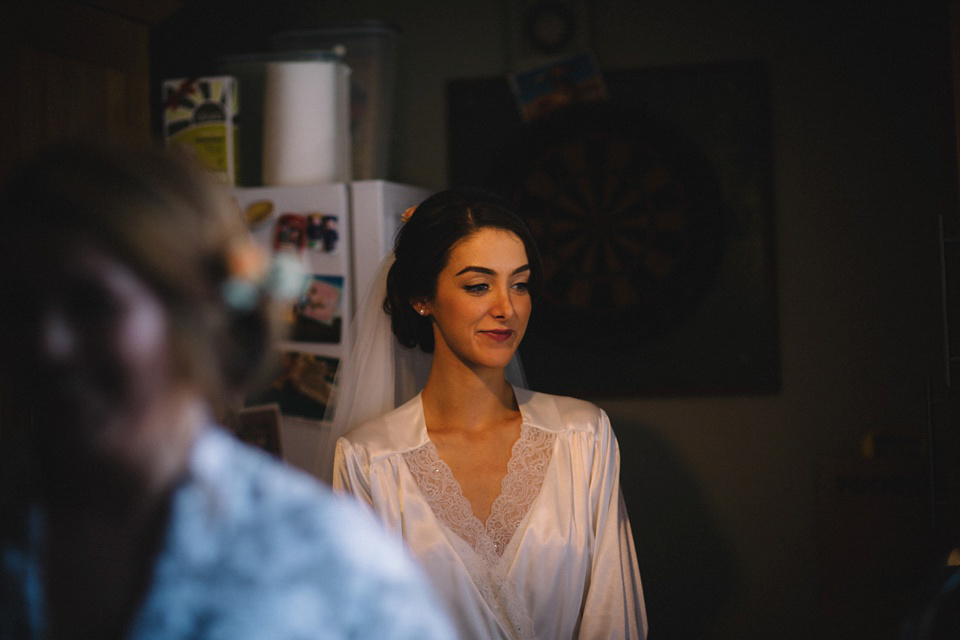 "My necklace was an old vintage gold locket that I'd had for some time. I wore vintage pearl earrings from Jenny Jones in Manchester who are vintage jewellery specialists and the pearl bracelet I wore was a wedding present from Simon."
"We're lucky enough to have a lot of family and friends, so we knew that our wedding was going to be on the big side. We wanted it to be a big and traditional celebration with as many of our loved ones present as possible, so we kept things local with our marriage taking place at our church in Chorlton (St John's RC Church) and our reception at Stockport Town Hall, just down the road from where we are in Manchester."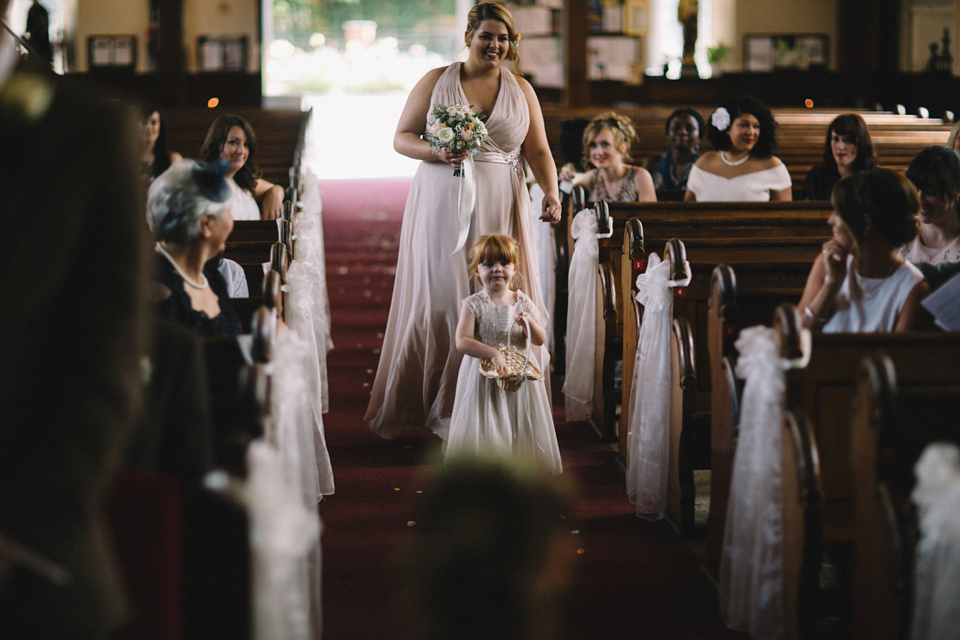 "I lost my parents when I was young and so my sister walked me down the aisle to our mum's favourite song 'Dirty Old Town' by The Pogues. It was very emotional but everyone who knew her definitely felt her presence at that moment, which was very special – we had a traditional Catholic Wedding Mass to honour our shared heritage."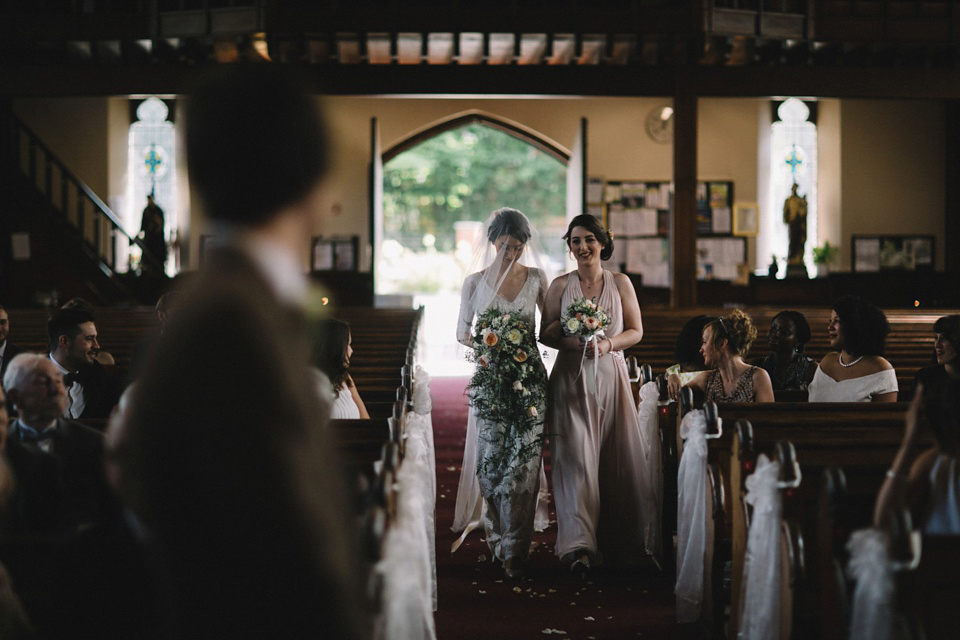 "We had our wedding rings hand made. My engagement ring is an Edwardian emerald, diamond and gold cluster ring. It is over 100 years old and because they 'don't make them like they used to' I struggled to find a wedding band that fit around the unusual shape of it. Having our rings made by hand made them feel extra personal."
"Simon's Nonna used to make old fashioned 'twist' ice cream cones by hand when she first emigrated to Manchester from Italy. We hired an ice cream van from the local area and by chance, the owner was Italian and remembered Simon's Nonna and her traditional ice cream cones from all those years ago – what a coincidence!
He served similar cones (sadly not the same of course!) to our guests after the church ceremony and it felt like a lovely way to honour her memory. The weather turned out to be one of the hottest days of the year too, so perfect ice cream weather!"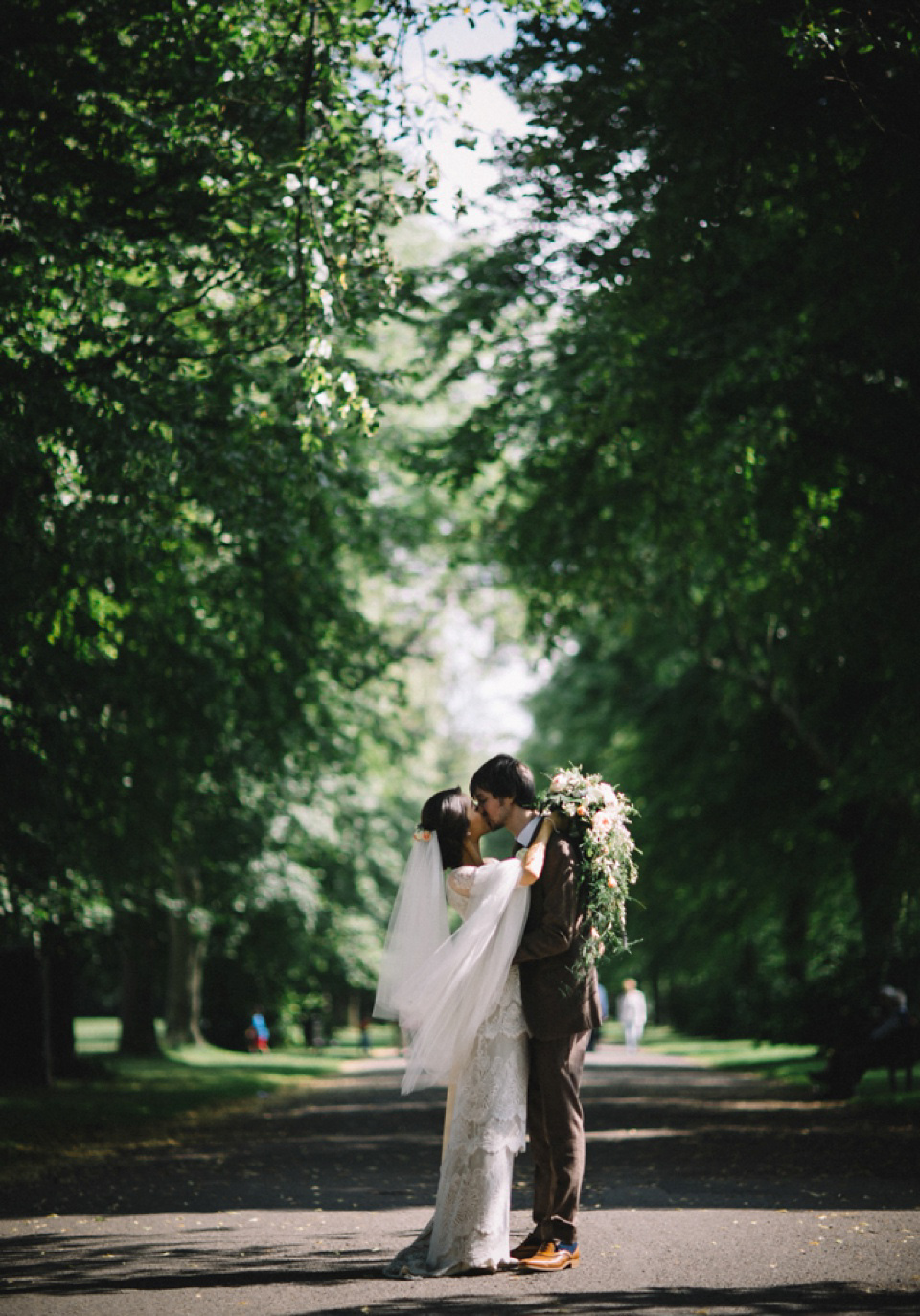 "We're big fans of The Godfather films and the wedding scenes are some of our all-time favourites. A very talented and charismatic relative of Simon's sang some traditional Italian songs before our wedding breakfast and he's also Sicilian, which was very fitting with The Godfather concept! Needless to say, he went down a storm and it was truly one of our happiest moments from the day."
"Paula at Orchard Designs was the perfect florist. Paula's approach is very consultative and she really listens to what you want. I had a large, cascading, Edwardian inspired bouquet with plenty of foliage and herbs which smelled amazing! I received so many compliments on the bouquet and on the fresh flowers in mine and the bridesmaid's hair – they were perfect."
"We are big history fans and I have a particular obsession with the Edwardian era. We decided on Stockport Town Hall for our wedding reception because not only was it an Edwardian building with marble staircases and stained glass windows, but it had an Edwardian ballroom to accommodate our ginormous guest list. The venue was very large and versatile so we were able to use various rooms.
We enjoyed our wedding breakfast in the wood panelled committee suite which felt very traditional and intimate, and we moved into the ballroom for the evening's celebrations!" 
"We decorated the venue with a sparkling dance floor hired from VSL Event Hire to help add a touch of glamour. We also hired giant light up letters from The Word is Love that spelled out 'Amore' – this was in nod to our Italian family as well as 'That's Amore' by Dean Martin being one of my Nanna's favourite songs!"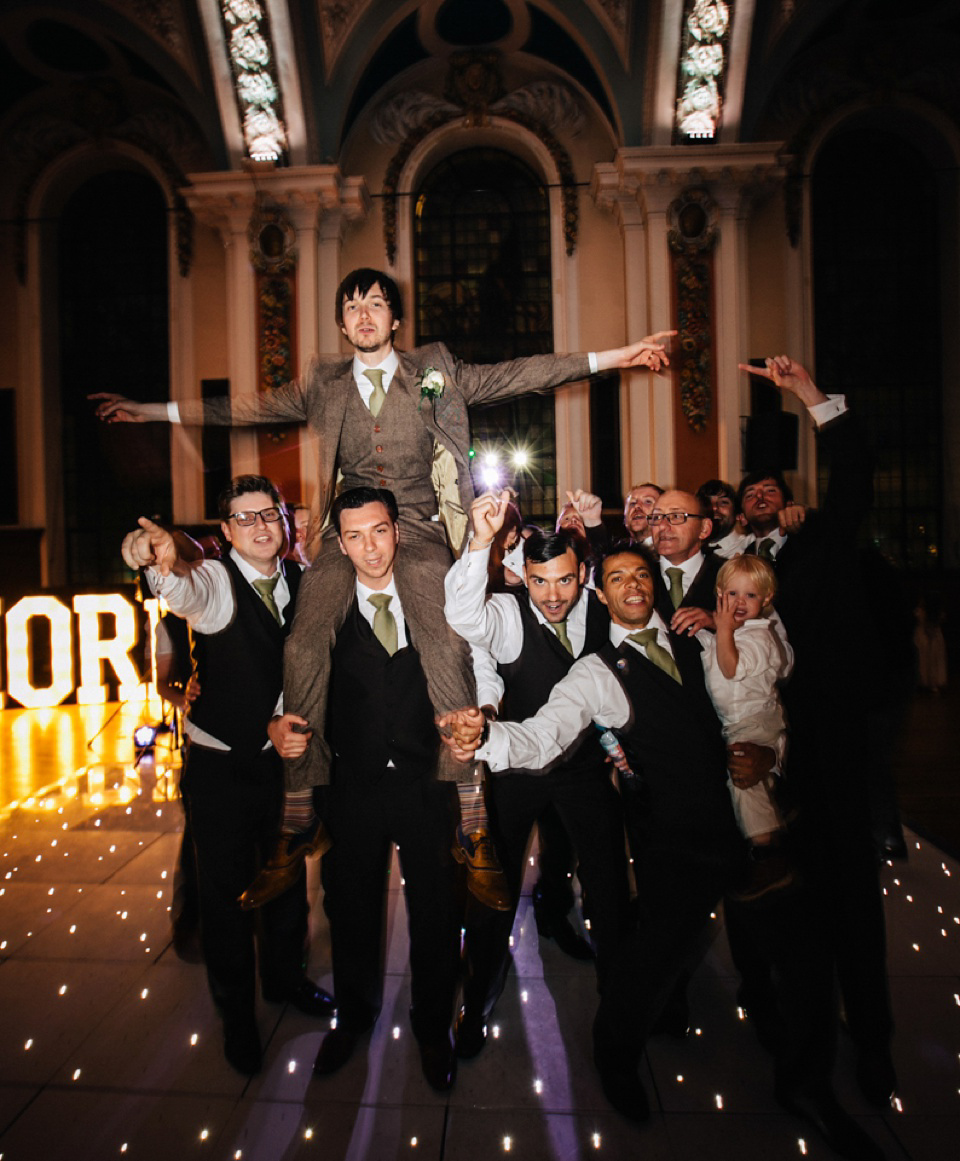 Words of Wedded Wisdom
"As a nursing student, I spent the year leading up to the wedding juggling wedding prep with studying for exams. My final exam for the year was not long before the wedding, so needless to say, it was a busy year! My advice to brides in the planning stages would be to relax and enjoy the planning experience. Some of my favourite memories are from the most hectic of times, so pour yourself that glass of prosecco and enjoy the madness!"
What an elegant day – my huge thanks to Damian of DSB Creative for sharing these beautiful photographs and to the wonderfully talented Kate Beaumont too for helping to grace our pages with even more loveliness. You can see more from Kate Beaumont on Love My Dress here – you may also wish to explore Kate's page on our beautiful new wedding directory, Little Book For Brides.
Have a lovely Tuesday morning folks – we'll see you again at lunch time with our second feature of the day.
Love Annabel x
Photographer – DSB Creative
Venue – Stockport Town Hall
Bride's Dress – Kate Beaumont
Veil – Jane Bourvis
Bride's Shoes – Roland Cartier
Grooms Suit – Victor Valentine + shoes by Barker
Bridesmaid's Dresses – Jenny Packham + Next shoes
Flower girl Dresses – Monsoon
Florist – Orchard Designs
Perfume – Coco Mademoiselle, Chanel
Cake – The Groom's Mum
DJ – Hi-Life Entertainment
Rings – Parry's Jewellers, Cheadle, Cheshire. (no website)
Stationery – Rodo Creative
Hair and make-up Artist – Bethany Jane Davies
Dancefloor Hire – VSL Event Hire
Giant light up letters – The Word is Love